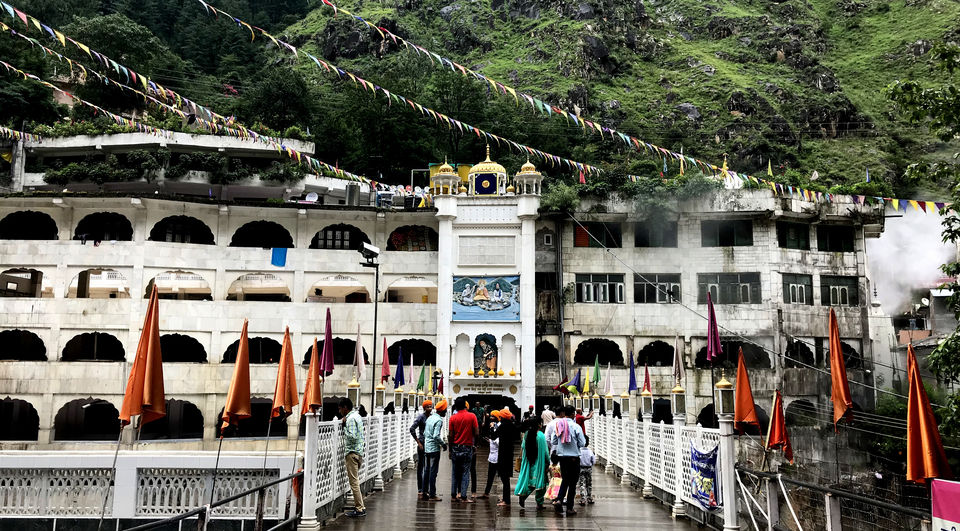 I know not what mesmerised me more—rain-soaked grey roads flanked by lush green landscapes; the Parvati river marathon-ing over rocks, leaping high in an attempt to touch yonder sky and spewing misty breaths in an adrenaline rush; tiny hamlets dotting the countryside that are a balm for tired legs and food for hungry stomachs. I knew then that I had made the right choice to visit Manikaran; I could already feel my senses soothed, smile on my lips, and peace in my heart.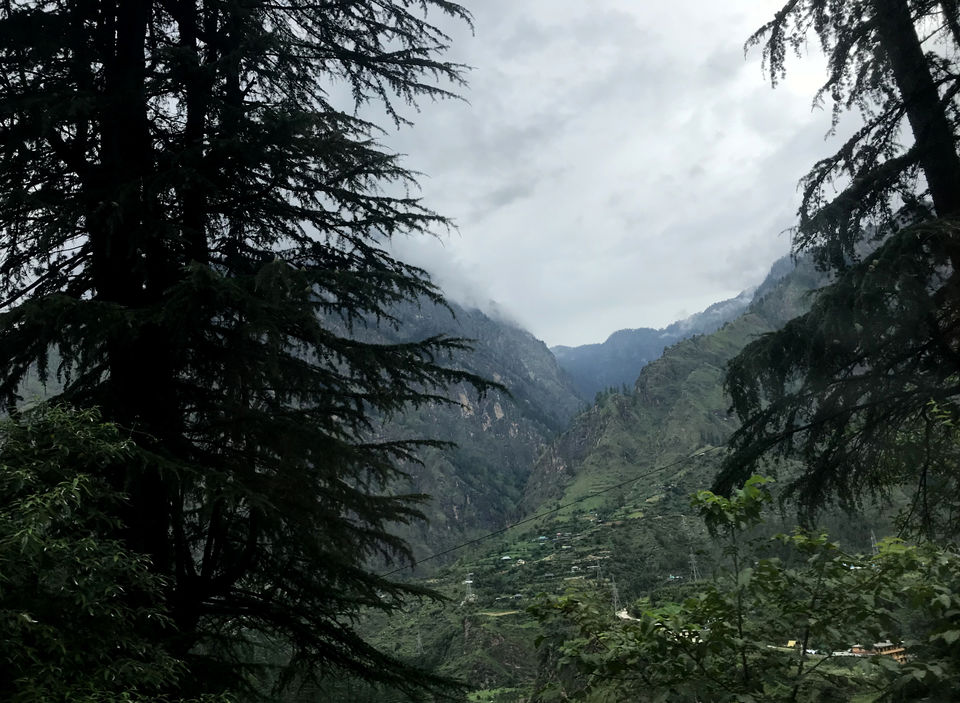 The drive from Manali to Kullu (via Naggar in Himachal Pradesh) had been a swift and uneventful one. We had seen villages pass us by, mountains peeking from beyond tall trees, and locals in their weekend frenzy greeting passers-by and friends with equal enthusiasm. But as the road took a turn to lead us to Manikaran, the landscape changed quite unexpectedly and pleasantly. Winding paths, moist breeze, and less vehicles blowing their horns made me roll down my window and peer out to catch the scent of mountain mornings. Soon after we crossed the 'hippy-town' of Kasol. Glancing at camp sites and quaint cafes strewn across I made a note that some day, very soon, I should come back and saunter the paths of a town that believes in living and not just breathing.
Motorcyclists rode with us, overtaking us and beaming at us, all on the road to Manikaran to visit their god. As I got off the car and walked towards the entrance, my heart raced at the first sight of the Gurudwara looming large, the overpowering rush of the river, and the chatter of pilgrims making their way across the bridge.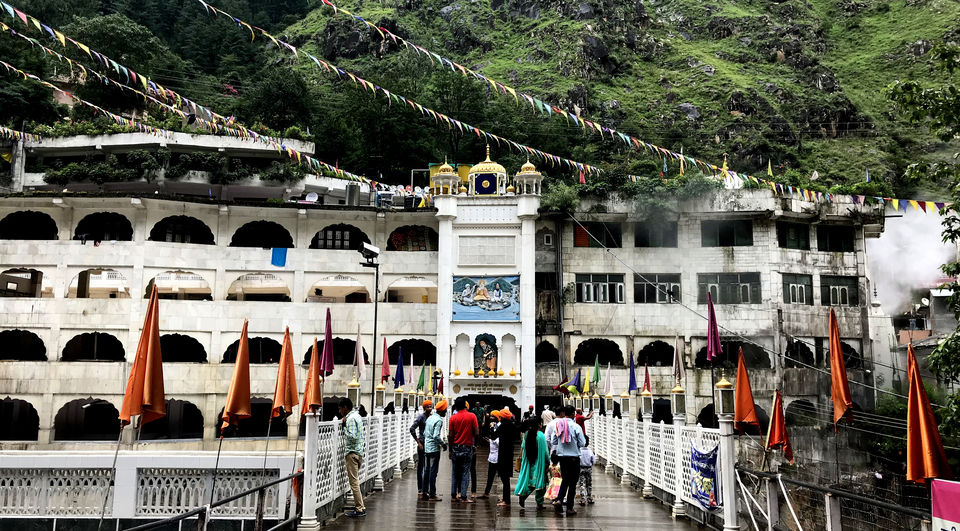 I stood on the other side of the bridge for some time, gaping at the serene structure of the Gurudwara. I had done a bit of reading on the history and significance of this place, but no one had warned me of the hypnotic effect Manikaran has. A few steps more, and I stood stupefied in the middle of the bridge that leads up to the Gurudwara, standing strong above the roaring Parvati.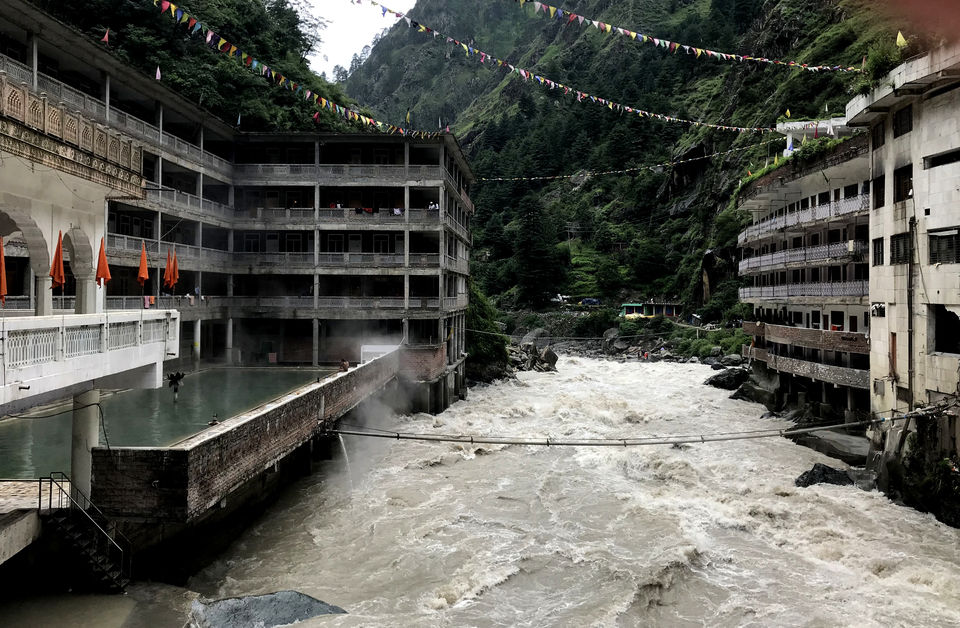 The rumbling noise of the river followed me inside and left me only as I entered the main shrine of the Gurudwara. What engulfed me then were soft chants and the sense of peace. I sat there for some time with my eyes closed, aware only of my breathing.
Down two flight of steps, I followed some people entering a passageway on the left. Filled with fumes and a misty smell, it led to kund(s) where pilgrims and tourists can soak in water from natural hot water springs. This water, usually at boiling temperatures, is rich in minerals and is said to have uncanny healing properties. Leaking from pipes and filling huge tubs or kund(s), this is a unique public-bath concept that is typical of many places across Himachal. With separate women and men baths, one can enjoy privacy and spend desirous amount of time soaking up the goodness of mineral-rich hot water. Someone happened to stop me and ask, "Is this for free?" I beamed, "Yes, it is!"
Emerging from the passage on the other side, I entered the marketplace. Narrow path lined with shops on both sides, there is a lot of pick up from—religious articles to touristy stuff, and some tea and snacks if one is in the mood. But what is intriguing about this narrow marketplace is though it is busy and crowded often times, it has a sense of order and people have ample time to entertain questions and tell tales.
The marketplace happened by chance; I was more inquisitive about the ancient Shiva temple just adjoining the Gurudwara. (The temple is located on the right-hand side as one exits the passage and onto the marketplace.) As I trudged down damp steps, only blurred sights of a temple stood in front of me. The smoke was from, undoubtedly, the hot water running below and beyond the temple.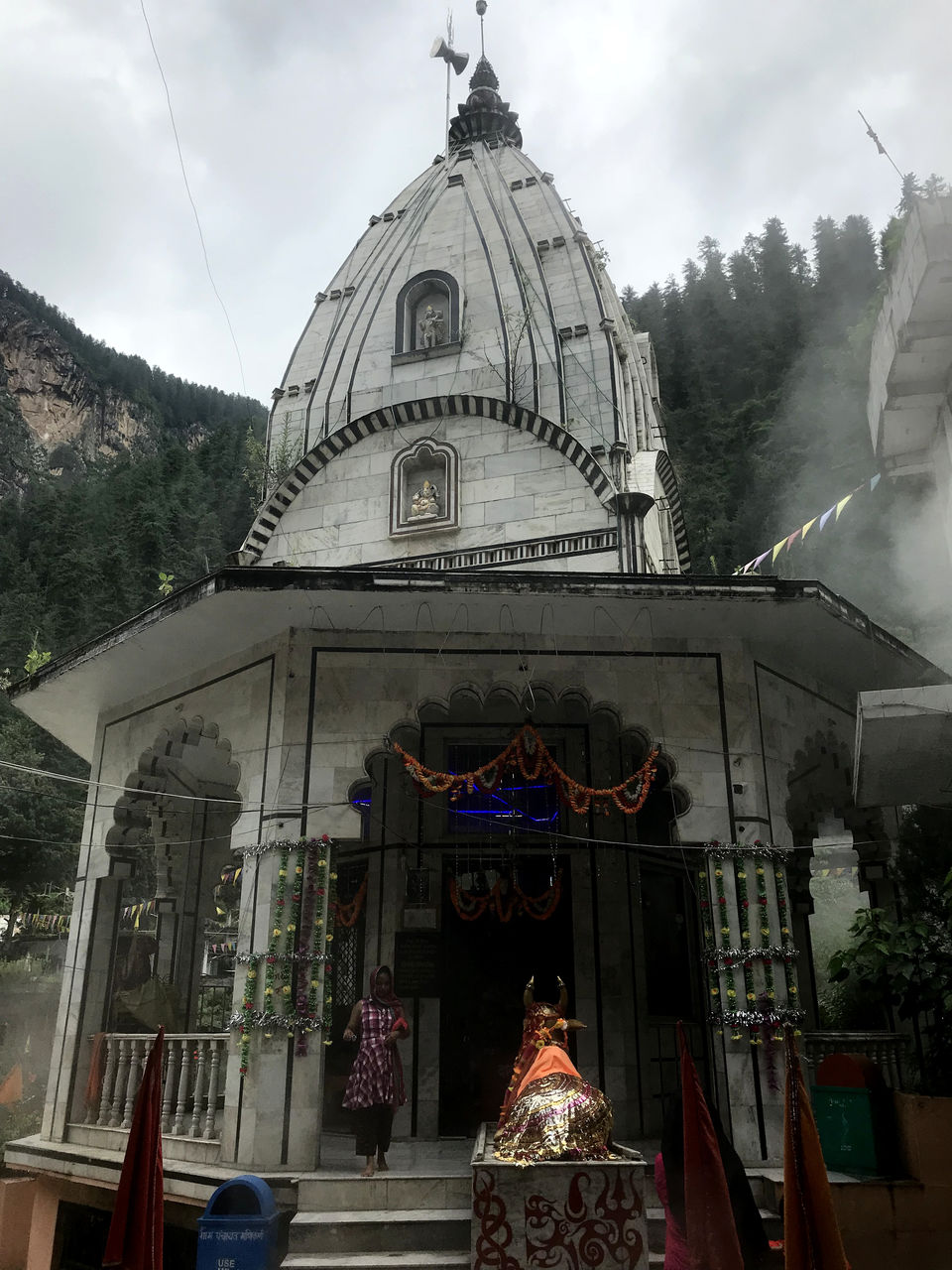 Just as I climbed down the steps, neatly placed rows of wooden planks guided me to the temple entrance. I saw people balancing themselves on it, and I followed. I know not if the myth about the Shiva temple is any close to reality, but the dynamics of the place and the sheer existence of a temple there, is overwhelming.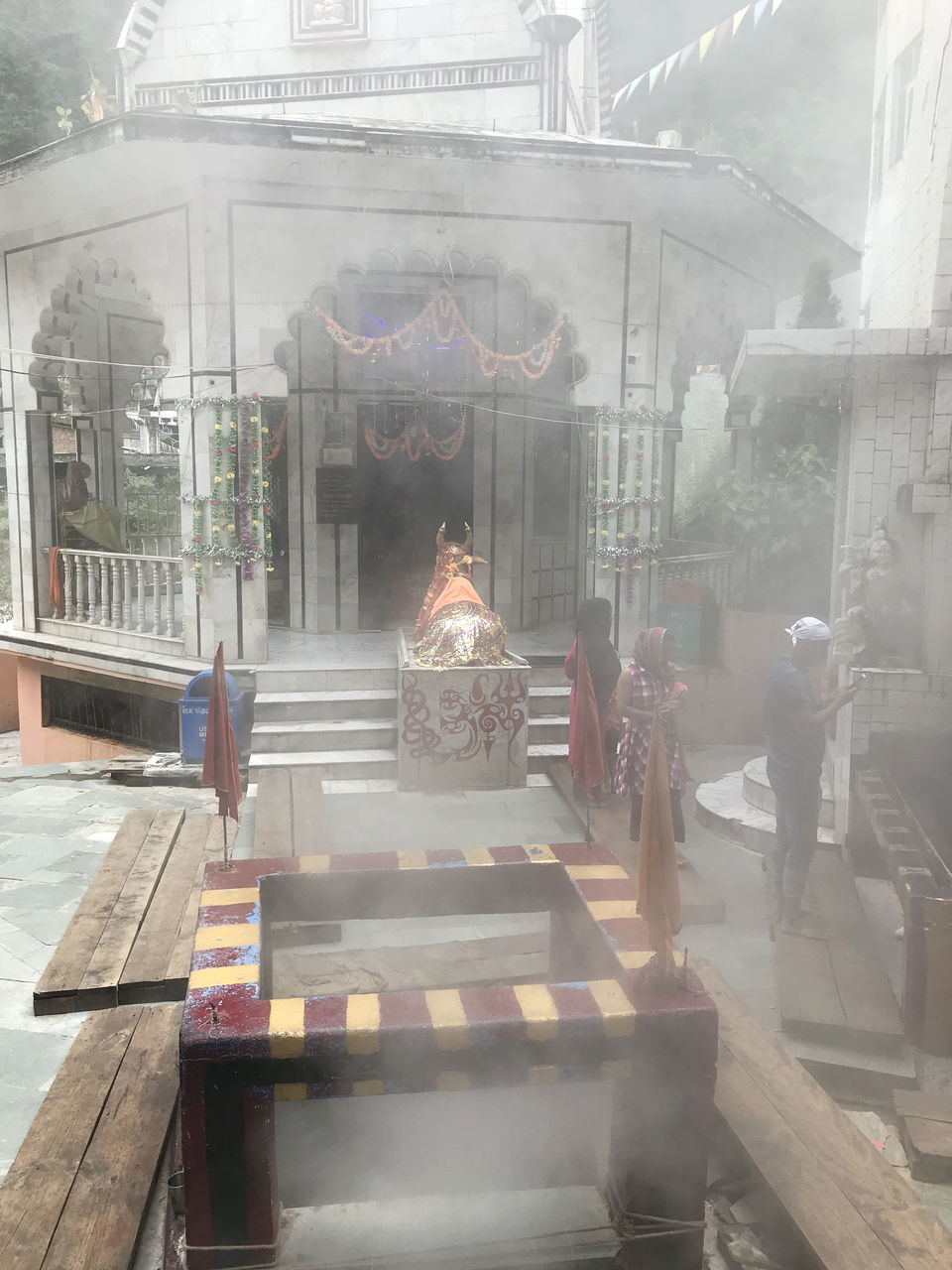 At least I could say a part of what I had read is true; there actually is a small kund of more-than-boiling hot water where devotees place grains of rice wrapped in bags and in a matter of minutes the rice gets cooked and is then offered to the deity.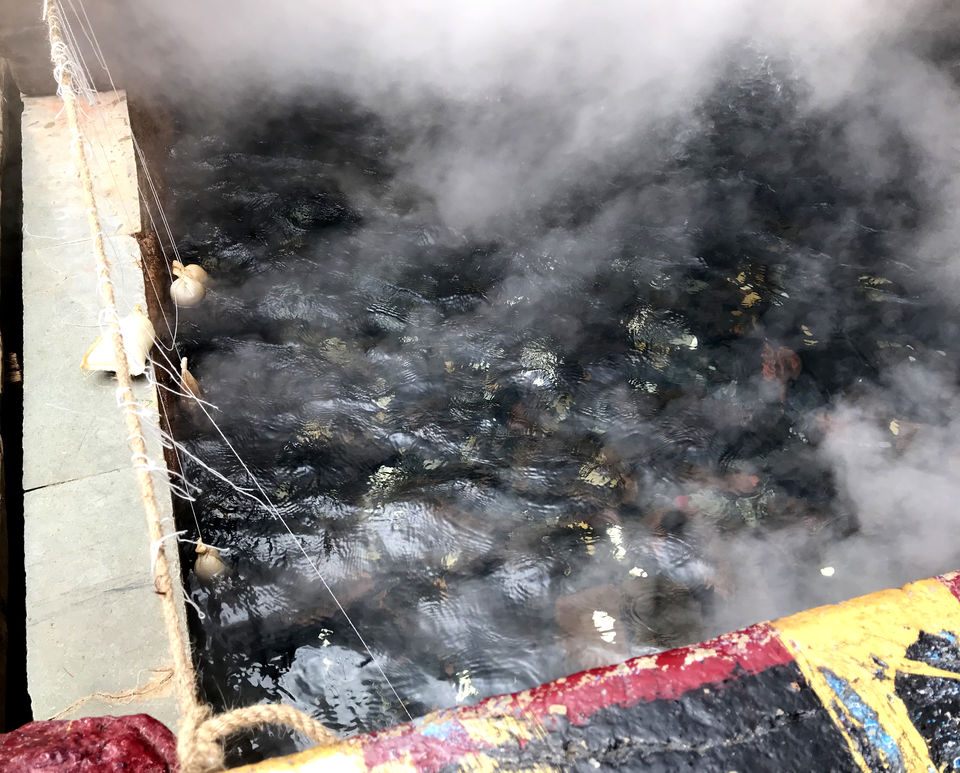 The floor of the temple courtyard looked inviting and I wondered why people chose to tiptoe on the planks. I hopped off them and no sooner did I start walking on the white floor, I felt my feet melting away. Lesson learned: Follow the crowd or just ask before getting yourself burnt.
All the excitement, calm, and divinity sure made me hungry. And I ended up at the langar hall that serves food to all without discrimination from eight in the morning to around ten at night. I have had the opportunity of eating at many Gurudwaras, but this experience was beyond comprehension. What keeps one company while eating here is the ceaseless chanting by devotees serving food, hushed conversations by people, and rhythmic clatter of plates being washed, but the most overpowering is the Parvati river peeking at you from behind the windows and reminding you of her constant presence as long as you are in Manikaran.
As I walked out and across the bridge, I felt my eyes watering up. My only regret was I couldn't spend enough time in Manikaran. If I ever get to visit this place again, I promised myself to wander its nooks, sit in silence with my eyes closed and listen to the river roar or watch the world move by, listen to tales, and shop at the dainty marketplace.
Manikaran may not be a regular in the list of places to halt in Himachal; it is often considered as pilgrims' hangout. The allure of Manikaran lies not only in its village-setting, hills and open valleys, and a long pile of things to do. But what really sets it apart from other (much-talked-about and famed) Himachal destinations is its purity of interaction between humans and humans and god, the coexistence of not only faiths but forces of nature, beliefs that run as mighty as the Parvati, and the kindness that is infectious and untainted.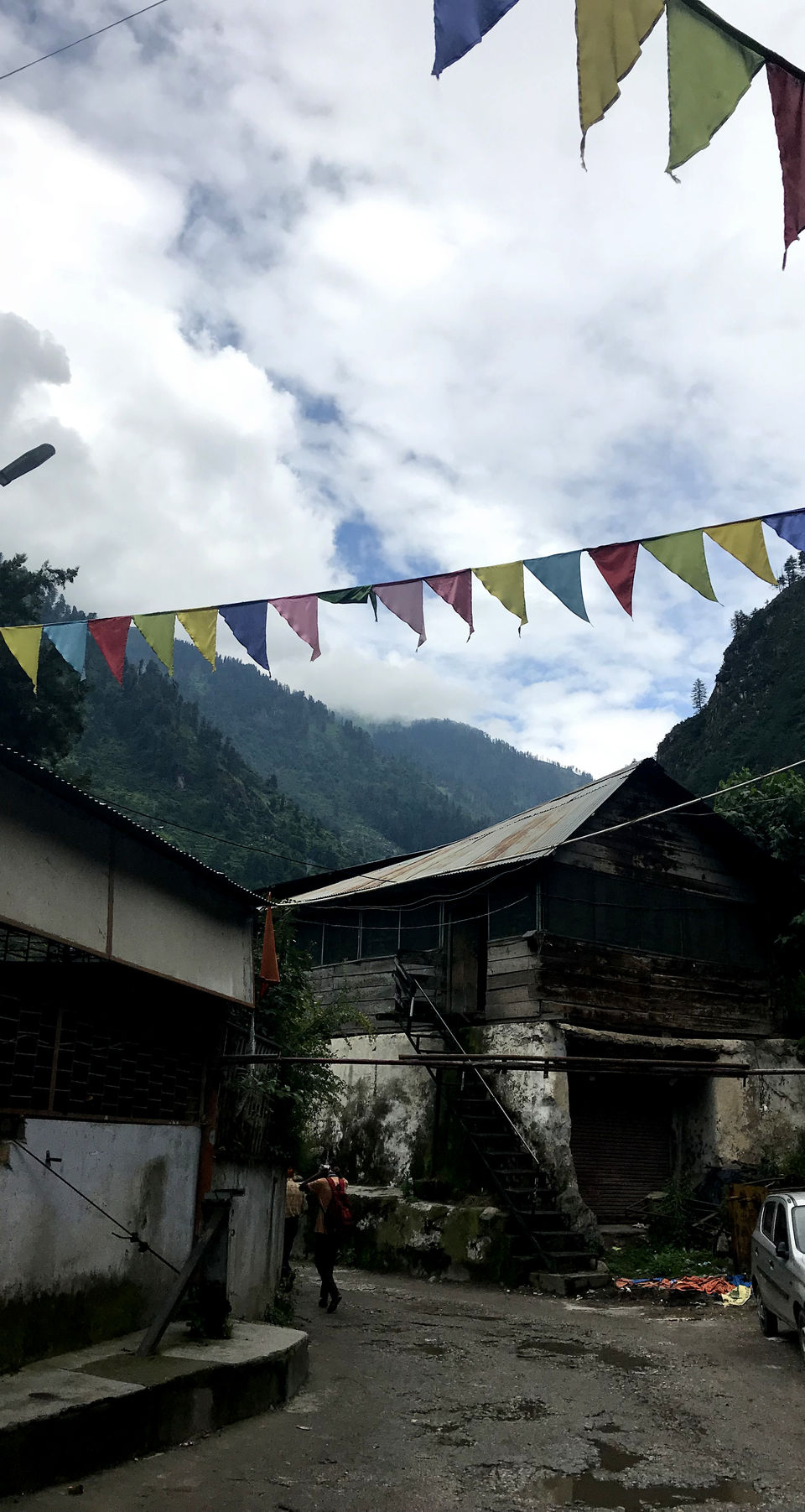 Travel Advise
Getting There:
Manikaran is very well connected by road from Delhi, Chandigarh, as well as Manali. It's best to drive or ride down, though you can also take a bus or shared cab. Once you cross Kullu, you know you are 35 kilometres from it. Make a stop at tea shops on the way or at Kasol for a good meal.
Stay Options:
You can opt to stay at the budget hotels at Manikaran. I would suggest getting accommodation in Kasol, which is around five kilometres away. You can choose from budget hotels, home -stays, and camps.
Happy Tummy:
One word – the langar
For the Eyes:
The usual—Manikaraan Gurudwara, Shiva Temple, Rama Temple, hot springs
The unusual—Green valley, misty roads, raging Parvati river, narrow lanes, tall mountain views