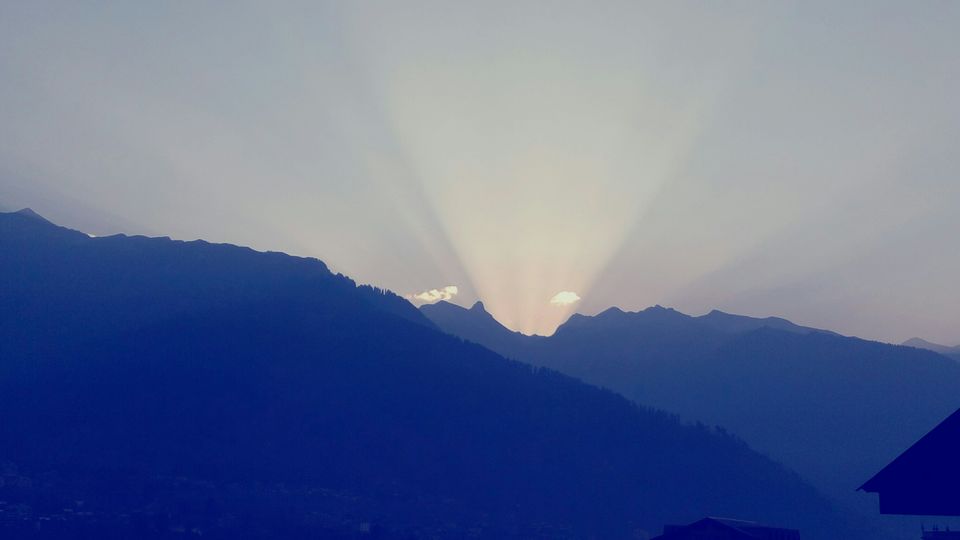 I have been following a lot of travelers who write blogs, have great accounts on Instagram and are regular solo travelers.
I always wanted to travel solo to somewhere and see what is feel of it, will I be excited or skeptical and whether I can actually be with my own company and no one else! So after almost 6 months of reading blogs, searching and researching various destinations, I decided to go somewhere during New Year's 2017 weekend and tick this thing off my bucket list.
Mountains have always enticed me more than oceans, I love to travel to mountains and I never get bored of it. They are my go to place when my heart searches for peace and answers.
So after a lot of encouragement from my sister, I decided to go to Manali, I had been to Manali when I was a little girl and I had the memories of snow covered mountains intact in my mind. And I really wanted to go back to this otherwise cliched destination just to revive my memories.
I started searching for places to stay and read a lot of reviews on Tripadvisor and other websites so that I book the right property since I was going alone and didn't want to take any chances on my first solo trip. I checked for Volvo services that ply between Delhi and Manali and checked the timings so that I reach during the day time.
I had booked The Himalayan Ecstasy for my stay in Manali, the place looked nice in pictures and I wanted to stay at a peaceful place so I selected this and I booked the Volvo starting from Delhi on 30 Dec 16 night and reaching Manali the next day.
Even after packing my stuff I was very nervous and had second thoughts of whether to take this risk of travelling during such a busy time of the year and specially since there are so many unpleasant incidents happening with females all over India. But then I thought if I will not go now, I will not be able to gather the courage again. You should always listen to your heart and take that first step. As its said you only needs 20 second of courage to do something crazy and that's exactly what happened with me too.
On 30 Dec night, I boarded the bus from Delhi and started my journey, praying and hoping to have a great experience. The kind of which people tell their friends and write the stories and blogs about.
The journey till Chandigarh was fine, though the driver was a little laid back but after Chandigarh once he took the turn towards the Baddi road, the roads are awful for initial few kms, so my first lesson, always call the bus operator and check the route they will be taking so that you don't end up travelling through pathetic roads. Somehow after the very bumpy ride we reached Mandi in the morning, it was foggy and cold and we stopped for tea in a small Dhaba in Mandi which was again dirty and unhygienic. But then when you are travelling through public transport you don't have much of choice. We left from Mandi and started the journey uphill, the road conditions after Mandi are not good for some extent. My bus driver was so slow that instead of reaching Manali at the scheduled time of 10 am we reached at 3 pm on 31 Dec.
Unfortunately the whole day was a total waste, I was tired and sleepless. But wait! the next and real adventure awaits..
I reached The Himalayan Ecstasy located on Kanyal Road in Manali which is almost 7-8 kms from the private bus parking and auto charges an exorbitant 300 buck. Yes! that's the auto fare for 7-8 kms in Manali. After reaching the property which is way uphill from the main road, I came to know from the care taker that they didn't had any rooms vacant. I was petrified after hearing this. It was almost 4 pm, I was alone, I had no room booking and I was tired, hungry and sleepless. To my surprise I was not the only without a booking, there were several others.
Then we started arguing with the caretaker as to exactly what happened to our bookings, and he didn't had any reply to it. He was very casual and just said its not my fault, I am just an employee here.
So here is what happened exactly, I had made a booking through booking.com and my mistake was I didn't recheck the confirmation with the property assuming that the room will be confirmed. These cottages don't update their inventory on the travel portals and people keep booking the rooms which are actually sold out since they don't know that hotel is not available and once the guests reach the property they get the shock of their lives by knowing that they don't have a room. So always recheck your booking before travelling and see that everything is in order to avoid such shockers.
After a lot of convincing, threatening and persuasion this guy finally arranged few rooms at a nearby property. Now I got a room at The Sunrise Cottages which is 3-4 kms downhill from the previous property. I reached their and took the room without being choosy since it was getting dark I didn't want any new adventure. They gave me a room on top floor, the room was nice and clean, view of the Himalayas was great the only bad thing was they charged 500 bucks for a room heater while it should have been complementary considering the weather which was extremely cold.
This was my first night on my own, in an unknown city and on a New Year's eve, I didn't know whether I should be happy or sad that I was in my own company. I watched TV, ate the food which I ordered from there only since I was very far from market place and slept before the clock struck 12 cause I was exhausted.
Next morning, Voila! these people didn't even provide me breakfast and said its not complementary. The caretaker was rude and unfriendly unlike the Himachali people and the whole experience was rather saddening. And icing on the cake was there was no electricity and no back up as well. At the same moment I decided, I have to leave this place and I searched for other available property at a better location. I checked the availability and found this other property by the name of Sylvan Cottages available for the night. Called up the manager and he very warmly spoke and even gave a discounted price since I was alone. He kept room for me just by the word of mouth on such a busy day of the year. So I packed my stuff and left for this property. I reached Sylvan Cottages to check in and keep my luggage so that I could explore the city and Mr. Dinesh welcomed me and gave me the room immediately. I checked in and kept my luggage and left to explore mall road, and other tourist attractions of the beautiful city. Being first day of the new year, the city was full of tourists, it was crowded and vibrant and I had a great time exploring.
Did some shopping at the Mall Road and ate nice veg food, there are a lot of options to eat on the Mall Road and various things to shop on, don't hesitate to bring in your haggling skills at work.
I went back to my room, the room was nice, huge and had a beautiful view of the snow capped mountains. I ordered for tea which was refreshing and later on dinner which was very homely and sumptuous.
The next morning after breakfast I checked out and left to explore the old Manali side. Because it was so crowded with the tourists I couldn't enjoy that much but overall a nice experience of traveling alone for the first time and below are few first hand tips for solo female travelers.
Tips:-
1. Before booking your accommodation, read the reviews and book through trusted sites only, always reconfirm your booking to avoid shockers
2.If you are travelling through public transport, always check the route they will be taking and also that there are other ladies as well in the bus
3. Always book the stay near to the market place or city center so that you don't end up paying extra to auto,taxi and bus for local travel
Tips:- Specifically if travelling to Manali
1. Always book Volvo if you are travelling from Delhi and never book the 2x2 A/C buses since they take a very bad route with almost no roads for few kms and trust me it does take a toll on your body
2. Book your stay in Mall Road, Old Manali, Simsa Village, Bahang Village or any other area and try to avoid Kanyal Road since its uphill and far from the market and any eating joint
3. While shopping at Mall road or any other shopping area always haggle else you will end up paying a lot than what its worth