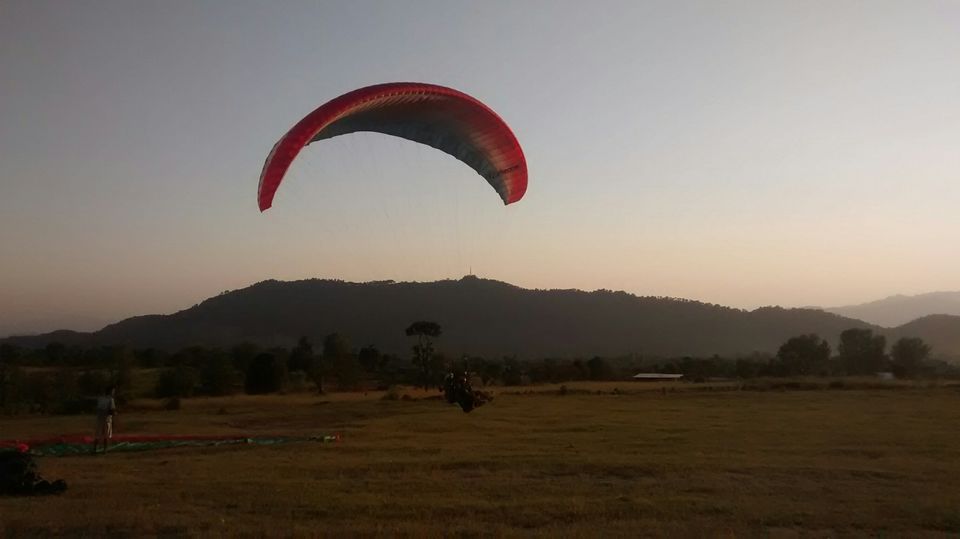 We woke up to a misty summer morning in the picturesque hill station of Mcleodganj. We had spent the previous night in a quaint hill-top resort, a few miles away from the city and far away from the cacophonous rush of daily life. We were now feeling well rested and were raring to go on a new adventure in the beautiful Himalayan countryside. So we decided to drive a hundred miles away to the idyllic hill hamlets of Bir and Billing. Bir is the landing zone while Billing is the take off site for thousands of Paragliding enthusiasts who visit this region of the Himalayas during summer months. So we were off to Bir-Billing, a world famous paragliding hotspot where the Paragliding World Cup was also being organized at the same time (October, 2015).
As soon as we hit the road, happy hormones rushed in our body as we began to anticipate the thrill and excitement that awaited us at our destination. As I have now come to know from my travels, the journey in itself is as rewarding and as beautiful as the destination and every moment of it should be absorbed until all senses have been totally overwhelmed by its mesmerizing beauty. So we enjoyed the picture-postcard like scenery along the way, pulling over whenever we wanted to feel the magic of the nearby gushing river or behold the serenity of the towering mountains. There were several temples on the way dedicated to mountain goddesses and God Shiva. The most revered temple is Baijnath Dham, dedicated to Lord Shiva, where pilgrims come from far and wide with a hope to fulfil their wishes or to express their gratitude. After the temples, we passed through the city of Palampur where the vast expanse of tea gardens was a surreal sight to behold. As we neared our destination, we entered the protected area of the Great Himalayan National Park. When we had covered a few miles into the park, the change in the landscape was very much visible. The dry shrubs and deciduous forests made way for a much greener and denser alpine forest. When we got out of the car, the forest was replete with echoes of melodious bird calls and the cool breeze brought with it a moist and pleasant scent of the jungle. When back inside the car, I was constantly looking outside my window with the hope of catching a glimpse of some exotic Himalayan fauna like Black bears, foxes, pheasants or even Elephants that are known to live in these valleys. My curiosity bore fruit as I got to witness a magnificent pheasant with a brightly coloured plumage just when it flew from one tree to the other. On our way also came several small rivulets with cold white and blue waters rushing in them with subtle ferocity. Mountain Rivers roaring fiercely in the distance seemed to be scary yet they fit in seamlessly with their surroundings as if wanting the nearby forests, valleys and mountains to sing along with them. Taking a cue from these rivers, we moved on toward our paragliding destination.
Our flying slot was booked with a local adventure club which has well trained pilots and organizes several flights daily during summer months. We called them once we had reached and got to know that the team would arrive at the landing site in another thirty minutes. We were happy to use this free time in indulging in some local cuisine at the nearby cafe. We had a filling Thukpa (basically a wholesome Tibetan noodle soup) after which we felt good and all set to take the flight. Once the team arrived outside our cafe (at the landing zone), we hopped into their SUV and headed straight to the take off site. We enjoyed ourselves thoroughly as we basked in the joy of anticipation for what was to follow. The breeze felt colder as our car climbed up the mountain and it was almost evening by the time we reached Billing. As we ran out of the car and excitedly scaled the cliff from which we were supposed to take off, we had butterflies in our bellies all that while. We smiled and said our best wishes to each other while we readied ourselves with all the safety gear and flying paraphernalia. I was still struggling with my gear when I saw one of my mates running forward and literally jumping off the peak. Luckily his parachute opened just fine and he flew like a large colourful bird into the sky. This surely boosted my confidence and I got more than ready to take the plunge. My pilot instructed me on how not to trip over and how to run fast with all the force I could muster. I stood there like a statue, breathing hard and my heart thumping really fast, as my pilot waited for that optimum intensity of wind that would be just fine for take-off. It felt like a really long wait but then I heard him counting numbers and I remembered instantly that I had to begin the run once he reached three. As soon as he uttered three, I began to run insanely towards the cliff ending. I could hear the huge parachute opening behind me and fluttering madly against the wind. I immediately felt an intense backward drag which stopped me for a brief instant. I pulled with all the energy that I had got from that Thukpa and was able to counter the drag effectively. I kept running for some time and a few moments later, my body began to feel light and buoyant even as my feet lifted from the ground. I was still cycling for a while in mid-air as I couldn't believe that my body was actually airborne. When I saw the green valley below me and heard my pilot asking me to relax and sit on the glider seat, I heaved a sigh of relief and focused all my attention on the beauty around me. As I flew like a free flying bird, I could spot green fields, meadows, tea gardens, forests and beautiful little huts from high up in the air. Ten minutes went by in no time and I could now spot the cafe where we had dined and also the landing zone where I was about to land. Now I was so near to the ground that I got worried and had to ask my pilot about the next course of action. He instructed me to keep the legs straight parallel to the ground even as he himself adjusted the glider's direction and arrested its speed. After a slow and gradual descent, I landed pretty gracefully at the landing zone.
I experienced an incredible joy when I was flying with great speed just inches from the ground. When I was flying high up in the sky, I thought I was moving slowly; but when I came closer to the ground, I could feel the actual speed at which I had been flying. The thrill of speed during the last leg of the flight really made the whole flying experience very exciting and adventurous. Flying like this like a bird was a liberating experience, one through which I got to know what it's like to be truly free.
Once I had landed and my incredible flight was over, I just sat there on the ground motionless. I kept sitting there for a while not wanting to stand up and walk. Walking just doesn't feel right when one knows how to fly!