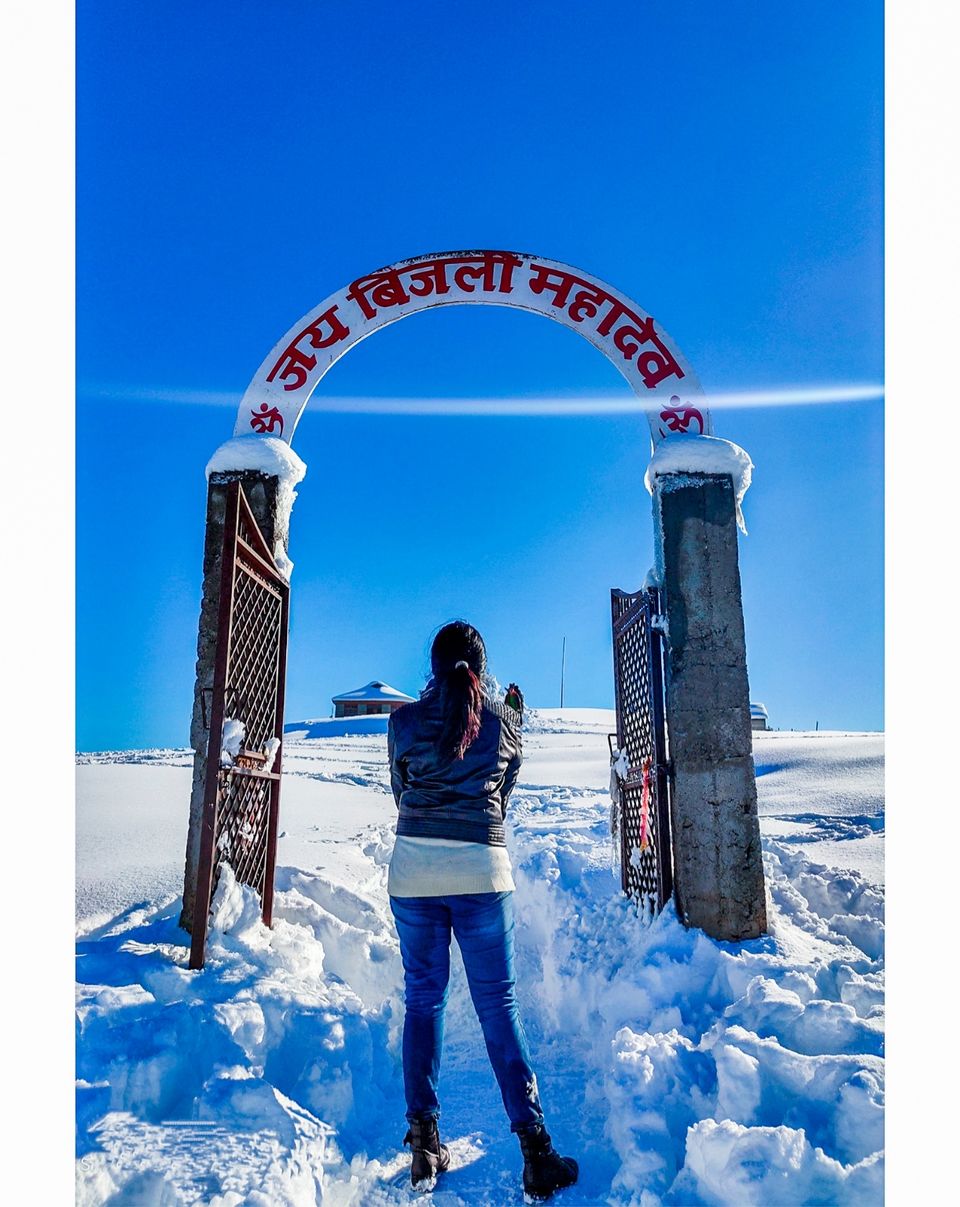 If he is all you have, you have all you need.
On the 4th day while returning from Pah nala, my eyes caught the glimpse of a majestic snowy peak. As I asked about it, I got to know that it's Bijli Mahadev (Makkhan Mahadev). Sitting at the height of 2452 meters, it lies at a distance of 24 kilometers from Kullu. The story behind it being called Makkhan Mahadev or Bijli Mahadev is that lightning incidents occur like one in 12 years, and Shiv Linga breaks into pieces. Then the priest puts it all together with unsalted butter. The temple is said to be a defender of the valley, as it bears the brunt of every thunderstorm.
The Trek goes through a well-forested path and a beautiful view of the Kullu valley. Here's where I learnt another new thing. Snow can also be ridiculously deceptive. The peak appeared near, and did not seem like a difficult climb, but the actual climb to the peak from the point I saw it, seemed never ending. Climbing approximately 600 stairs (Covered in snow) left me breathless. Just a few more stairs, I thought to myself, but they didn't seem to end. My feet started turning numb from the cold, my fingers had been numb for a while already and I couldn't feel my face. I began wondering how in the world I was going to climb down without falling over when climbing up itself was so difficult. As I reached the top, I found myself in the lap of majestic Himalayas, Deep snow all around, a 360 degree view of deodar and pine forests and snow covered mountains, and an ever shining sun. One can witness the whole Parvati valley and Kullu valley from the top, Bhuntar Airport's strip is visible as well as the peaks like Rohtang Pass and many others.
The initial gateway to the temple (around 100 meter before the temple) gives a feeling as if one is entering into a heavenly abode. Just outside the temple are a bunch of idols of the divine bull Nandi, the mount of Lord Shiva with a long pole in between where the lightening supposedly strikes.
Winters are the off-crest season at Bijli Mahadev. Just a couple of local people make it up the slope and the shops were shut. But it was the ideal time to find the different aspects of peacefulness.
How to reach:
The trek is named after the temple itself. It requires climbing more than 600 stairs, stiff climb for first kilometre and 2 kms of gentle and comfortable ascent.
One can take a cab or a bus from Kullu bus station to reach the starting point of the trek. Its approx 24 kms. Once you reach there, the trek takes about 2 to 3 hours, depending on the weather and the season.