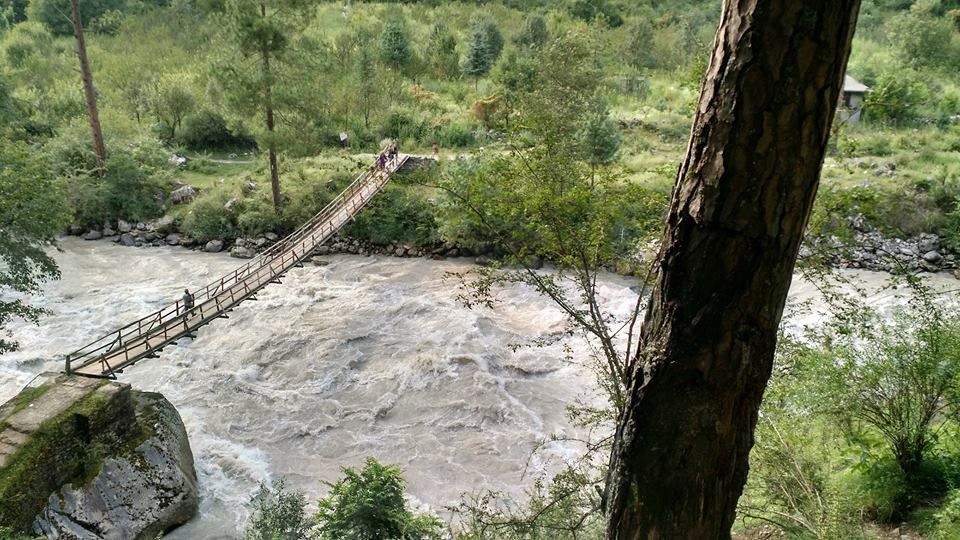 In my previous trip, I had written in detail about KATAGLA Forest Retreat (KFR). That place stands CLOSED now. Thankfully, the whole team from KFR has moved, lock-stock-barrel, to the new property called PARVATI WOODS CAMP that is located next to the main road. It is a camp site and while stay ingredients have changed from wood and slate to canvas, the hospitality remains unchanged and so does the taste from the hearth. Some more, later!!
1. Kasol town is getting too crowded and is headed for the same sad destiny as that of Manali and Simla. There are issues with parking, with garbage disposal and such like matters. Even though the town retains its charm because of its natural beauty and a vibrant crowd, you may not really like to stay inside the town for long. Room rents have also gone up because of an ever tilting demand-supply ratios over past two years. A better option, therefore, would be to stay 'around' Kasol and walk around the area, including Kasol town, instead of plonking yourself inside the town.
2. When we look at the options 'around' Kasol, there are some distinct segments.
(a) Ahead of Kasol (towards Manikaran)..... there is virtually nothing once you leave the town and travel for half a Km or so towards Manikaran. The only place that offers guesthouse accommodation is the Village Choj that is across the river. You will have to get down at NHPC complex, around a Km after Kasol, walk over the footbridge to reach the place. Rs 300-500 per head per room (300 for longer stays) is the rate now in 2016. And some basic facilities are available. BUT the village itself is notorious for drug mafia activities (Unfortunately, marijuana, as we all know, is one of the USPs of Parvati Valley). So, the place is best avoided.
(b) Short of Kasol, along the road and this side of the river, most of the accommodations, like Himalayan Village (high end) and Parvati Kuteer are expensive for budget travellers.
Parvati Woods Camp, sandwiched between Parvati River and the main road, is managed by an enterprising manager, Ajit Kumar (09882110469). It has three categories of tents, viz large, medium and small. Tariff varies from 900 to 2500. A fully functional cafe, Bunker, dishes out magical meals and ambiance is simply awesome.
Parvati Woods Cottage has a variety of rooms from 500 per head to 5000 (double to quad occupancy per night). They also have bonfires and offer basic home cooked food (around 150 per head per major meal).
Contact persons for reservations for both the Camp and the Cottage are Prakul (9805275343 and 9990992220) Anshul 9899171787/9805767073).
There is also a hotel, Hotel Anupam, on the main road. It is a good looking property but one is not too sure about the quality of service there.
(c) There is no motorable road that runs over Parvati River in and around Kasol and that is why the area on the other side is peaceful and serene. The area across can be divided into two parts - first is area of Village Chalal (bang opposite Kasol). Himalayan Camp is run by Om Negi (9805716616 ) there. The tented camp offers basic food and basic accommodation but the location is too good. One has to walk for a Km or so reach the place. Charges range from 300 to 500 per head per day for accommodation but he allows as many people in one tent as possible.
There are other properties like Chalal Cafe, Shiva Cafe, Shanti Cafe, Greenpark Cafe, Maya Cafe and Guru Cafe. All these are cafe patronised by Israelis and accommodation is very basic. Stress is on 'Shiva's Regal' rather than Chivas Regal and associated brands. Many of these places also involve long walks though area is beautiful to walk through. A call can be taken by you in this regard.
The second chunk of area, and the one that we would rate higher than Chalal, is to the West, ie, across the river but short of Kasol. It is roughly opposite Parvati Kuteer. The area is called Katagla. The access is through a footbridge over the river. The drop off point is Temple at Jai Nallah (all bus guys know it). From there, you get down to the river, cross it to reach Katagla area (though actual Katagla Village is slightly ahead). Musik Cafe is to your left as you step on terra firma across the bridge while there are few good places to the right of the bridge..... White House is the biggest of all in the area but has a concrete building, is patronised by Israelis and their attempts to create a pool inside the property has run into a legal hassle. A beautiful property, Katagla Forest Retreat stands closed now (Unfortunately!!)
(d) For those seeking adventure and some real backpacking, Tosh - a village ahead of Barshaini and Manikaran- offers some good options. Anshul and Prakul have a property (Tosh Rooms) there too. The area is frequented by foreigners more than their Indian counterparts though.
Kasol is a place that is one of the trendiest niches in HP today. Because of road issues, the area remains beautiful and less cluttered, barring Kasol town, ie. If you are heading for any of the properties listed above, please make sure to book in advance. BTW, all these properties remain open even during winters! That is another incentive to re-visit such places once you have been there during summers.
BUT remember, these places offer you peace and tranquility to unwind and break free from the stress at least for a while. There is a personal touch of hospitality and guys will take you out on treks if you so desire. If, however, you are looking for luxury or hotel like services or even if you are a TV addict, you may look-see somewhere else. This point needs to be absorbed before you pick up your phone to dial a number!
HAPPY HOLIDAYING!
This post was originally published on 'Staying options around Kasol in Himachal Pradesh'.
Frequent Searches Leading To This Page:-
himachal tour package ex chandigarh, himachal tour packages dalhousie, himachal tour package for honeymoon, himachal tour packages from gujarat, himachal pradesh tour packages in new delhi, himachal tour package shimla kullu manali, himachal tour packages from katra, luxury himachal tour package, himachal tour packages from mumbai for couple, tour package of himachal pradesh, himachal tour travel package, himachal trekking tour package, tour package to himachal pradesh