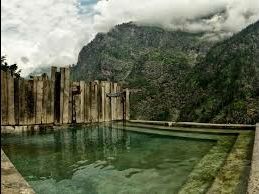 Kheerganga.
Kheerganga ( Kheer Ganga) in Parvati valley of the Indian state of Himachal Pradesh offers a mystical journey into woods and is one of gifted abode for Natural Sulphur Hot water springs. The valley offers beautiful view of Parvati River and the Glacier of Lahaul Spiti. The valley echoes of mystical power of nature and has lot to offer to the travelers.Kheerganga is a small village in slopes of mountains. The other side of the mountain opens towards Lahaul Spiti valley. There are lots of popular treks in the area but Kheerganga is THE place to trek amid nature and and relax along with Hot spring baths. Kheerganga trek starts from village Barsheni which is motorable from popular religious place of Sikhs – Manikaran. Its a 22 km stretch in the mountains from Manikaran with Untouched nature and simple village landscapes.
The trek has lots of interesting spots enroute like a Shiv Temple, Rudra Naag Waterfall and lots of interesting rock formations. It also offer variety of flora on the way to Kheerganga and one can even trek towards Pin Parvati pass from this area. The Pin valley is well known for snow leopards and other secured wild life. Kheerganga is infamous for Charas ( Marijuana) as there is lot of cultivation of it in this area.
2) Orientation:
Kheerganga (altitude 9700 ft) is located in Kullu district of Himachal Pradesh. The place is well connected by road.One can reach by road using public transport Taxi / Bus or car easily. One can reach Chandigarh ad from there on to Chandigarh Manali Highway. Once you reach Bhunter, which also has an Airport, Kheerganga is 45 km by road. The route towards Kheerganga passes through Jari , Kasol and Manikaran.
The nearest village accessible by road is Barshaini/Barsheni and one can plan a overnight stay at Kasol or Mainikaran with all facilities. Though Barshaini village do have guest houses but a basic one with little resources.
While driving from Chandigarh it takes 5-6 Hrs to reach Bhuntar and another 2-3 hrs to Barshaini./ Barsheni The road is excellent till Bhuntar and after Bhuntar it is single road with reasonable built quality. You will love the drive to barshaini as it traverse along with Parvati River and sound of Flowing water sums up a distinct tranquility to your mood and experience. On the way you'll get lots of restaurant and hotels. My Personal spot to stay overnite is Kasol. In Kasol, you will find all kind of cuisines. Kasol offers good stay , varied meals and excellent River view. The walk along the Parvati River is mesmerizing. You would find lots of Israelis and hippies in the area of Kasol and Kheerganga.
3)Places around Kheerganga:
Kheerganga is a great getaway destination and can be reached overnight from Chandigarh and other major places in north. One can do lots of things in and around Kheerganga.
1. Snow line: One can go ahead of Kheerganga and can reach snow line in three hours. You can have a good experience of snow and glaciers.
2. Pin Parvati Trek. One can go ahead to Pin Parvati from Kheerganga. The Trek is hard and needs preparation.
3. Mantalai Lake.(13500 Ft) To experience high altitude lake this is good option.
4. Manikaran. A popular Sikh religious spot en route to Barsheini. Known for Hot water Sulphur springs.
5. Kasol. It is small quite town before you reach Barsheni and Manikaran. Famous for River side spots, foreigners and base camp to many important trek routes in the region.
4)Facts and Tips for Kheerganga Trek:
Kheerganga is one of the best nature trek in Himachal Pradesh. It is open seven months a year and maximum height you gain is 9700 ft. The place is well-connected by road till Barshaini and it take 5 to 7 hrs to trek. The distance covered is 14 Km on foot.
Best Time: April to November. Though you can reach in winters too but the trails is slippery and very dangerous.
Stay and lodging: Kheerganga offers basic accommodation in village. There are numerous option for guest house available to stay overnight and cost as less as Rs 150 per night per Bed. No attach toilets are available in any of them.
Camping: One can camp with own tents in Kheerganga. It offers few good sites to camp. Once you reach main Kheerganga area explore the meadows on to your right.
Food: You need not worry at all for food as there are lots of option starting from Indian food to Continental and Israeli food. Though the serving ambiance is basic one.