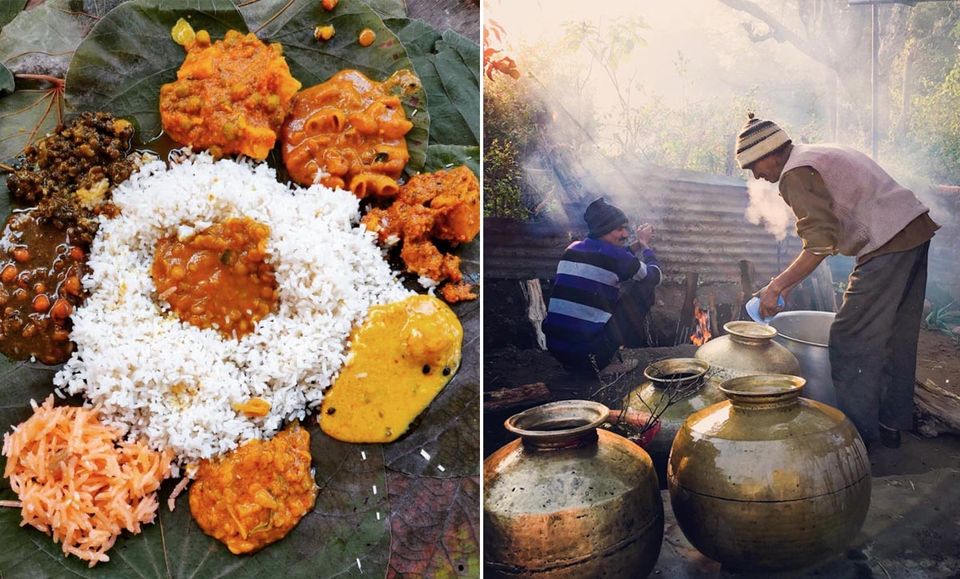 Beyond its rolling hills, gushing rivers and mysterious forests, Himachal Pradesh is still at heart, a land of simplicity. Right from the customs to general lifestyle and even food habits, the people of Himachal believe in leading life the simple way. So much so that the most royal meal native to the state also happens to be completely vegetarian and saatvik!
Some consider it to be a feast that should be only offered to the goods. For others, this meal is considered to indicate the start of a new phase in life. Meanwhile, nutritionist have gone all the way to call it as 'balanced as meal as it should be'. But for travellers like you and me, dham is an experience that just shouldn't be missed! Himachal on your mind? Make sure dham is right up there on your bucket lists!
The origins of Himachali dham
Locals claim that about a 1000 years ago, a Himachali king went to Kashmir and fell in love with the wazwan. Upon returning, he ordered his chefs to make a similar spread and that's how, the dham was born. Ever since then, dham has been considered to be a meal that is offered to the gods. It is because of this religious connect that dham is a completely saatvik meal – no ginger, garlic or onions. Apart from being perfectly balanced from the Ayurveda point of view, dham is also considered to provide all vitamins and minerals that one must look for in a meal.
What makes a dham?
Himachal Pradesh, as a state is divided into more than 15 'regions' – all with starkly different cultures, traditions and lifestyles. This diversity finds its way into the dham as well – for instance, Shimla's dham will be completely different from the one you get in Lahaul Spiti region. Factors such as availability of produce, geographical conditions and life habits determine what dishes go on to form a part of a dham.
The rules and regulations of dhams
Since dham is no ordinary meal, there are a lot of rules and regulations that have to be kept in mind while preparing and serving the feast. Traditionally, dhams were only prepared by botis, Brahmin cooks who learnt the process from their ancestors. Not just that, local priests would also declare an auspicious date months before the feast for when the meal could be cooked.
Where can I find an authentic dham now?
Owing to the fact that preparation of a dham is a labour intensive process, it is no longer made in temples. Instead, it is now considered to be a meal that is made on special occasions and on auspicious days. Here are some of the top places in Himachal Pradesh where you can sample some of the many several of dhams:
Chamba Dham
Intersetingly, Chamba is said to be the birth place of this extravagant feast. Chamba's version of the spread includes two prominent curries – rajma madra and kaala chana, both cooked in generous amounts of ghee. In addition, you will also get kadhi, a tangy vegetable preparation called khatta, mushroom pulao and a sweet dish.
Where to eat Chamba dham: Mame da Dhaba in Sultanpur
Mandi Dham
Mandi's very own version of the dham, known as the Mandyali dham begins with a sweet dish, usually boondi ka meetha. The main course includes sepu badi (spinach cooked with deep fried vadis made of black gram), sweet and sour pumpkin, maah ki dal (black lentils), rajma and kadhi. The Mandyali dham ends with a tall glass of buttermilk called jhol, a digestive drink to rightfully end this massive feast.
Where to eat Mandi dham: Sharma Dhaba in Mandi
Kangra Dham
The Kangri dham is held in high regard by the locals of Himachal Pradesh and is arguably the tastiest of them all. A typical Kangri dham includes a generous serving of rice, moong dal, and a serving of rajma or chhole. However, the most unique dish of the Kangri dham is something that the locals call maash dal – a combination of moong, urad, and masoor dal cooked using a smoking technique and topped with a sweet and sour tamarind khatta. The meal ends with a flavourful sweet rice preparation called meetha bhaat.
Where to eat Kangra dham: Thakur Dhaba in Maranda
Kullu Dham
If you're looking for a meal that's elaborate and still reminds you of simple homely food, Kullvi dham is your best bet. Kullu's rendition of the dham includes chhole madra, kaala chana khatta, chana dal and maah ki dal. The meal ends with a local delicacy, meetha bhaat, or sweet rice.
Where to eat Kullu dham: Sapna Sweets in Kullu
What is the most elaborate meal that you've had while travelling? Click here to share your hidden spots with the Tripoto Community.
Get travel inspiration from us daily! Save our number and send a Whatsapp message on 9599147110 to begin!