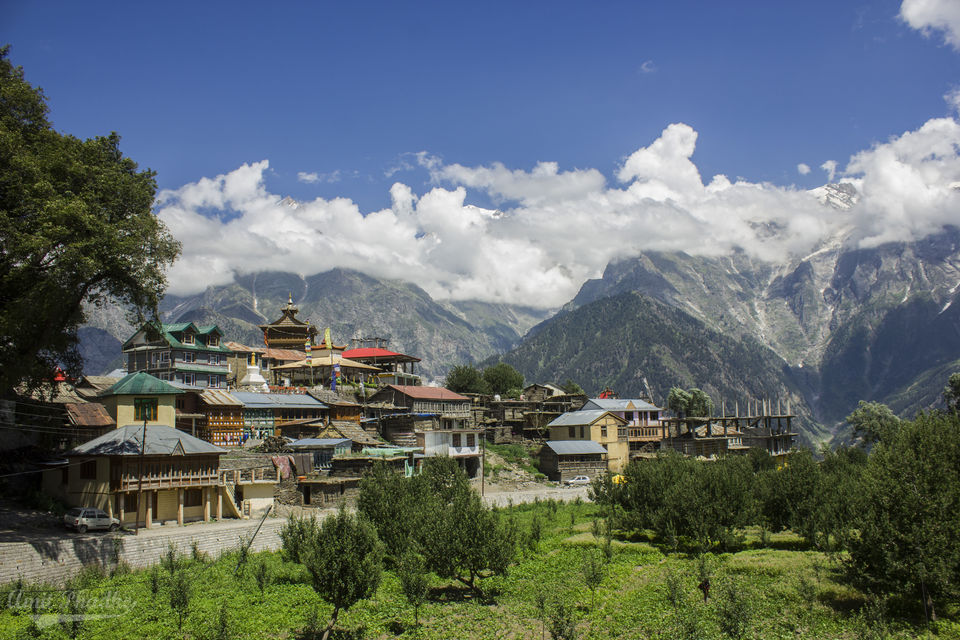 This summer I had announced to that i was going to Spiti Valley and anybody was welcome to join. Well after a lot of people confirming and cancelling finally two had joined. So we planned and planned then we then we decided that we will not plan anything and go with the flow. Going with flow is exiting but it comes with mistakes and funny mishaps. But its the experiences (the BAD ones) that our are best teachers. Lessons we learn from these mistakes stay with us for a lifetime. Our first stop in this Spiti trip was the town of Kalpa.
Before going there here's what we knew and about Kalpa. It is a small town in the Kinnaur valley in the eastern part of Himachal Pradesh and is a part of the Kinnaur District. It used to be the district HQ but now it shifted to another town called Reckong Peo just a few kilometers away from Kalpa. Easiest way to reach Kalpa is from Shimla. There are frequent buses to both Reckong Peo and Kalpa from Shimla. From Reckong Peo you can get many buses to Kalpa. You can even Hitch-hike if you are up for it. There is one direct bus from Delhi to Peo(the one which we took), provided by the HRTC. A word of warning It is back breaking Journey but will get you to Peo without the hassle of waiting for buses in Shimla.
We started our journey in Delhi. We had a few hours to kill as our bus was in the evening. After visiting a few places in Delhi we took a metro to Kashmiri Gate ISBT to catch our bus when our first mishap took place. My friends phone got pick pocketed in the Metro. Well a good start to a journey. So instead of the bus station we went to the police station from where we were directed towards the metro police station. In all this we missed the only bus from Delhi to Peo.
Lesson Learned : Take care of your belongings and if anything happens on metro grounds go to metro police.
Like i stated before there are ample number of buses from Delhi that take you to Shimla. The bus ride was quite relaxing till Chandigarh where a huge crowd got in and thus began the longest ride of our life. Somehow we managed two hours of sleep in the crowded bus of small seats with our heavy rucksacks on our laps. We were tired after all. With the bright morning light came Shimla. We thought of taking a short break here. Grab a bite and freshen up a bit but as we got of the bus we saw another one with the board "Shimla to Kalpa". We looked at each other and ran towards the bus. Only thing in our mind was reaching Kalpa as soon as possible. Luckily we found seats, unluckily they were the worst seats ever. The ride was bumpy, crowded and slow. Our bus broke down at one point so we had a long wait. we reached Rampur at around 2 pm in the noon where most of the bus gets vacated. Here is where the condition of the road starts deteriorating. We reached Reckong Peo at around 5 in the evening. We went to the bus stand to inquire about buses to Kaza in Spiti Valley where we found out there is only one bus that takes you to Kaza and is generally crowded so getting seats is difficult. Which put us in a pickle since we were going to be in Kalpa which is atleast 20 mins away from peo and has no buses in the morning to peo. Our only option was a taxi which is costly or Hitchike. We had already booked a hotel in Kalpa so we had little choice than staying in Kalpa. Our hotel was a short walk from Kalpa bus stand. By the time we reached the hotel we felt like zombies wanting warm grub and warm beds.
Lesson Learned : If you are going to Kaza it is better to stay in Peo. If you want to see Kalpa then take a bus to Kalpa later in the day and come back to Peo by an evening bus.

Kalpa is small town tucked in the Himalayas overlooking the Kinnaur Kailash peak. The town is a mixture of Tibetian culture mixed with the Pahadi Culture. If you google "Kalpa" you will find a Indo-Tibetian Temple. However, this village has lot to offer. Just walk around and you will see many beautiful sight this village has to offer. Apple orchards, mountain views, sunrise and sunsets and friendly townsfolk. You will find a few places to stay a kilometre away from the bus stop along the upper road. Here you can get good rooms from 800 rs to 3000 rs.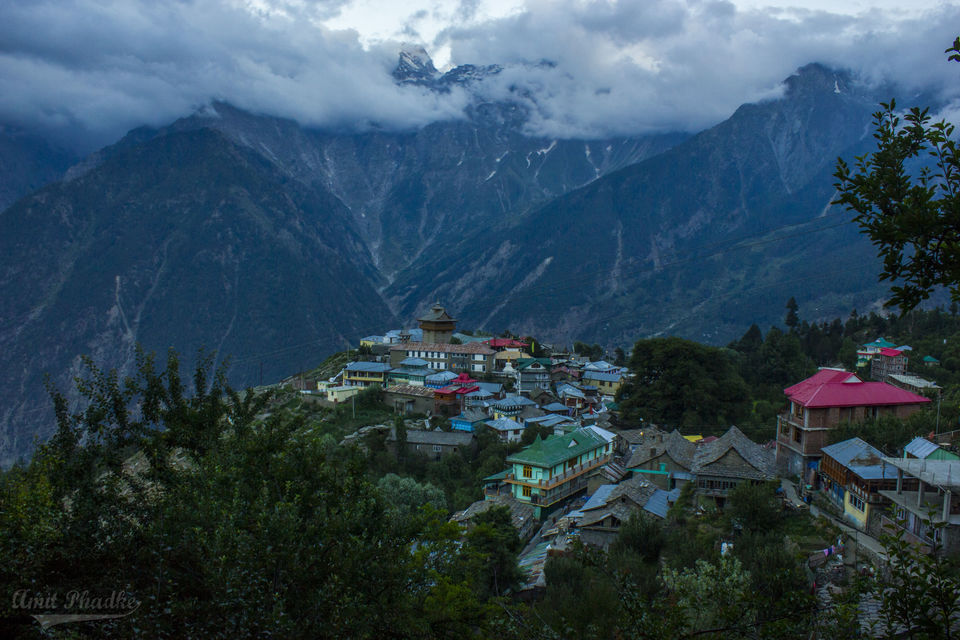 The first thing we did is check out the famous Indo-Tibetian Temple. As the name suggests the temple is a mixture of Tibetian architecture infused with classic Hindu Temple architecture. The temple has a beautiful view of the kinnaur Kailash in the background. It boasts of a wood cut entrance depicting Hindu and Buddhist Deities. After a Light lunch in a small restaurant in the local market we proceeded to see a small Buddhist Gompa right in front of the place we were eating after we which we went back to our rooms for a light nap. Evening light tempted us to go exploring so we went out for a walk literally to nowhere. We found apple orchards on one side of the road while the other was taken up the Himalayas. We ended up walking 2-3 kms away from the town towards the Roghi Village chatting up with a local man which gave us more beautiful view of the mountains and the sleepy town of Kalpa tucked inside. That's the beauty of this place you can just start walking and you will end at great spots.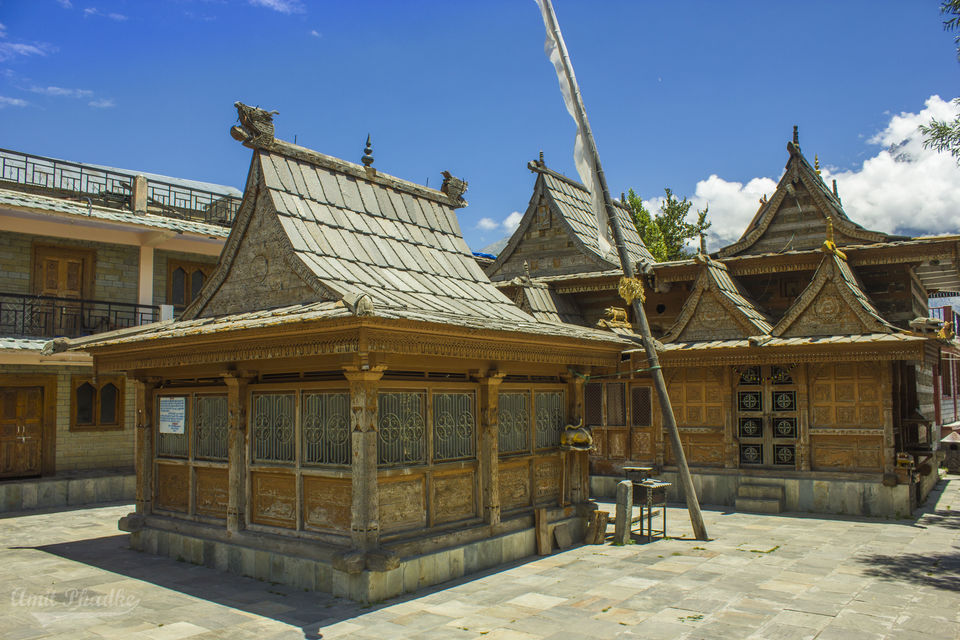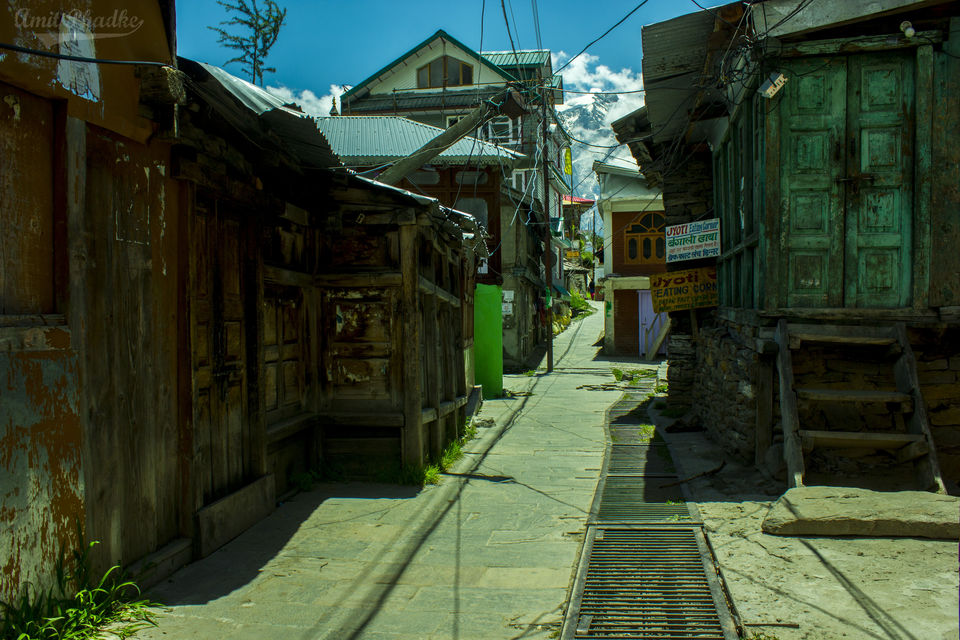 We roamed a little bit more inside the village, finally again into the market looking for a place to eat. Kalpa was an amazing town so far and we had not done justice to it by just putting it in our plan as a halting place. We really wished we could stay a day more probably check out a few more places around but we were restricted by prepaid bookings which we wished we had not done.
Lesson Learned : Avoid Prepaid booking as much as possible. Keep your plans flexible as possible to make sure you don't miss the really beautiful parts of a trip.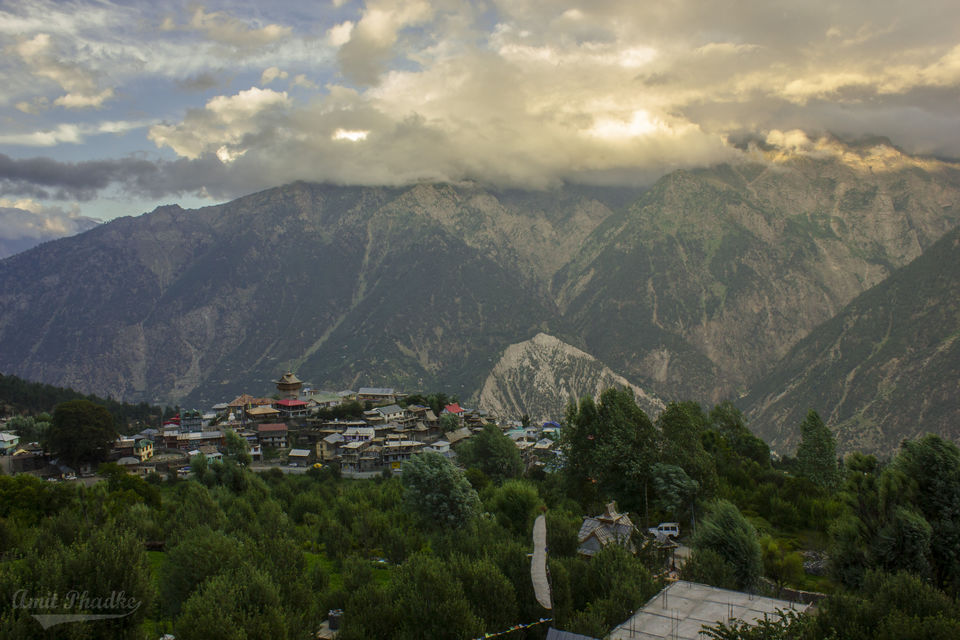 There were few more places that i wished to see in and around Kalpa. Roghi Village was still 8 km away says to have beautiful view of the valley that would have been amazing to add to my photo collection. One of the local that we met here told us about two treks that can be done from Kalpa, one is toward Chakka that takes about half a day and the other is Scaling the Kinnaur Kailash range itself which to 2-3 days. Next we caught our Kaza bus and were of to Spiti Valley.
Lesson Learned : Stay here for more than one day. This Place is worth it.