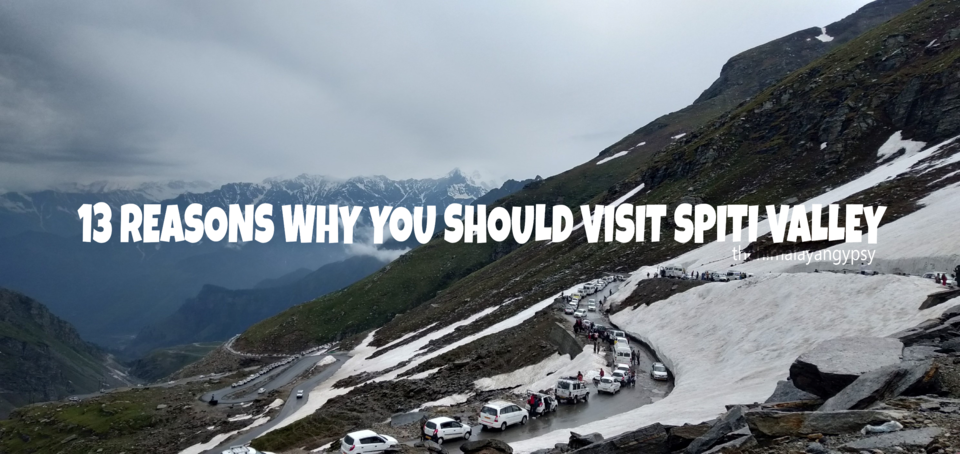 1. Adventures at Rohtang Pass
Rohtang Pass or Rohtang La, which means "Pile of Corpses" is one of the two entrances of the Spiti valley. The other route is through Kinnaur. Rohtang Pass is most famous among tourists coming to Manali, because of the natural beauty of the place. It is located at a height of 13,051 ft. Distance from Manali to Rohtang pass is 51 Kms approx.
2. Peace and enlightenment at Key Monastery
Key monastery also known as 'Kye Gompa' is a beautiful Tibetan monastery perched at an altitude of 4,112 meters above sea level in the Kaza region. Overlooking the Spiti river, it is the most famous and largest monastery in Spiti Valley with a resplendent Lord Buddha shrine and a treasure trove of ancient Buddhist literature, manuscripts, thangkas and murals. The fort like structure of the monastery bears resemblance to Chinese theme and comprises of a striking assembly hall and fascinating Tengyur room which is richly adorned with exquisite paintings. The monastery also serves as a religious centre where the lamas receive their education and training. Witness an astounding dance of the Lamas, accompanied with musical instruments such as pipes and horns.
3. The picturesque Chandra Tal Lake
Located at a height of 4,300 meters, Chandra Tal Lake is the most strikingly beautiful lake in Spiti Valley and the name derives from it's crescent shape. 6km from Kunzum pass, the lake is a paradise on earth with shimmering crystal blue waters swathed with vast lush green meadows and snow crested alps. The lake is a spectacular vision in the morning when the brilliant rays radiating from the sun bathes the lake in various hues of red, orange to blue and green while at night the pristine waters reflect a still black hue and is a breathtaking unparalleled sight to behold. Chandra Tal lake is popular with trekkers and campers for its mystic beauty, thrilling trails and the brilliant night sky making it a gorgeous destination for camping.
4. You must try the organic food
You might have eaten momos and Thukpa elsewhere but you will long remember food at Nako & Tabo. Locals pick fresh ingredients from the fields and organic is the only way of cultivation here. If you are in the right season, then apples at Chango & peas at Nako are huge delights. A secret find is to ask villagers for the very healthy 'seabuckthorn' juice and jam, it is locally called 'Tsetsalulu'.
Coming from Shimla side, tasty mushroom sandwiches are available in Narkanda, which is also known for orchards of cherries, plums, peaches, apricots and apples. Buy on the road, straight from the orchards!!!
5. The Amazing Kibber Village
Kibber is located at a height of about 14,200 ft in a narrow valley on the summit of a limestone rock. It is only 16 kms from Kaza and a bus service plies between these two places in summer. Kibber is a rather pleasant village with plenty of cultivation. The moment you get down from the bus you are greeted by lush green fields which look strikingly refreshing against the arid backdrop of lofty hills. There are only 80 houses in the village. There is a monastery in Kibber which is named after Tsenzhab Serkong Rinpoche of Tabo. The lama breathed his last in Kibber in 1983 and when he was being cremated a water source erupted from that spot. Even today the source is used by the villagers. There is a traditional trade route from Kibber to Ladakh over Parang La. The Spitians go to Ladakh to barter their horses for yaks or to sell for cash. The trek to Ladakh takes minimum 3-night halts. Permits are required for this trek.
6. YAK SAFARI
The best way to experience Spiti is by living and traveling like a local. So, whenever you're done with trekking and wish to have another unique experience, opt for a local ride, i.e. a yak safari. Almost, all the village families have at least one yak with them, which makes the ride even more accessible, and an experience worth having in the valley.
7. See the fossils which date back to the Jurassic Era – Yes you heard it, dinosaurs were here
The black mountains near the medicine Buddha at Langza are a goldmine for geologists, dig anywhere and you will find a fossil of any kind of small reptile. I have seen tourists carry these fossils to sell in the open market and kindly request you to leave the fossils as they are.
8. Drink chhang (local barley beer)
You can drink it in a mug in the remote village of Mudh in Pin Valley, lose yourself and sing and dance with the locals. Craziness is justified in Mudh, there might be some snow left here – even in July. Incredibly beautiful shades of green and purple are visible in the fields while clouds descend on earth.
9. Feel on top of the world staying with the monks at Komic
At 4587m The Tantric Tangyud Gompa is claimed to be the highest monastery in all of Asia. The good news is there is accommodation in the monastery guest house, there will never be a better chance to live with the monks. It is also possible to stay at the Ki monastery and take part in the soulful morning prayers. If you are really lucky, then it is possible to see the annual ritual of masked dances at a monastery in Spiti.
10. Suraj Tal Lake – The Sun Lake
A picture perfect lake, Suraj Tal is a dream painting come alive especially for photographers. Literally translated as 'Sun Lake', Suraj Tal is a spectacular lake, located below Baralacha pass and is most frequented spot by nature lovers, photographers and trekkers. The lake is fed by the Baralacha glaciers surrounded by trails ideal for trekking and mountain biking.
11. Kunzum Pass
Located at 4,590 meters above sea level, Kunzum pass is a gateway from kullu and Lahaul to Spiti Valley. The drive on the rugged terrains offers a stunning panoramic view of the Chandra Bhaga range, Spiti Valley and Bara Shigri glacier. Trekkers can trek to the pass from Chandra Tal lake. One can also seek blessings at the Kunzum Devi temple by taking a complete circle of the temple in your car. It is believed to protect travelers from any mishaps that may occur on such rough roads. The colourful Buddhist flags swaying in the wind add to the beauty of the place.
12. Baralacha Pass
Located at a great height of 16,040 feet above the sea level, Baralacha Pass is a challenging pass situated on the Manali-Leh highway in the Zanskar ranges. The 8km long pass connects Lahaul to Ladakh and offers trekking, mountain biking and camping opportunities with magnificent views of the mighty snow clad Pir Panjal, Great Himalayas and Zanskar ranges, glorious glaciers and the Bhaga river which originates from Suraj Tal Lake. Embark on an exhilarating adventurous trek and camping to Baralacha Pass from Chandra Tal lake which takes a week to complete.
13. Pin Valley National Park
Set amidst frozen streams is a beautiful Pin Valley National Park situated in the cold desert bio reserve of Spiti Valley. Situated at a height of 3,300 meters, it is home to rare and endangered diverse species of flora and fauna. One can encounter wildlife such as Siberian ibex, Himalayan snow leopard, snowcocks, Tibetan gazelle, wooly hare, chukar partridge amongst others. 22 rare medicinal plants have been discovered here apart from the cedar and deodar trees populating the park. Adventure seekers can also trek to the park through scenic beauty and regal backdrop of snow-capped alps.
Here are some other blogs on this series:
Spiti Valley - The Little Tibet or the Middle Land
Spiti Valley complete Itinerary
Permits for Kinnaur – Lahaul – Spiti Valley Route