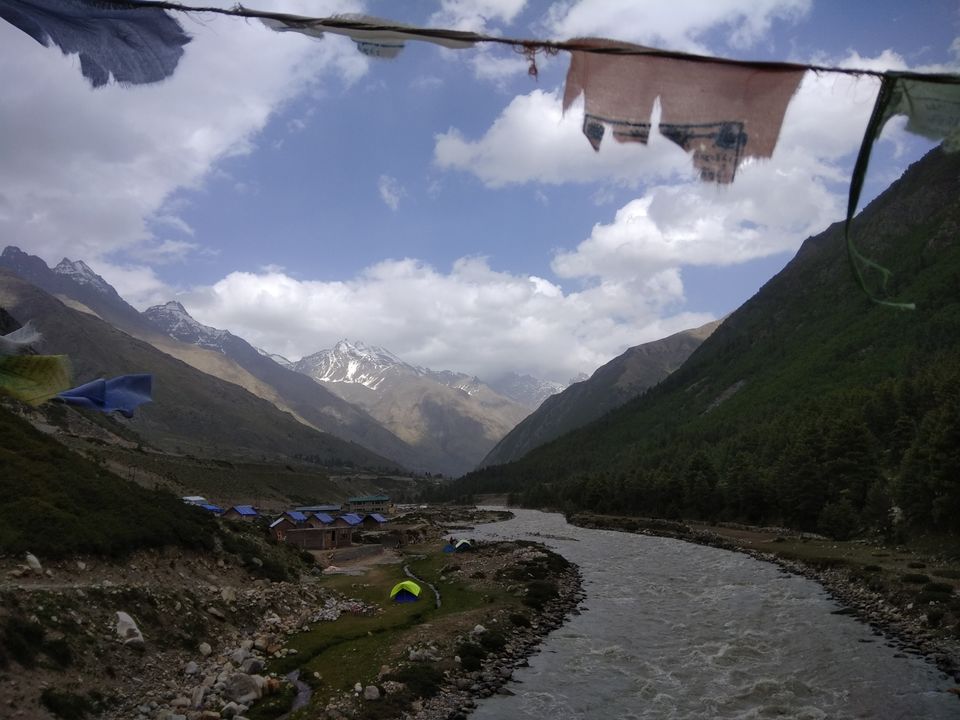 Insta - @khanraahil
I was planning this ride from last two months. Initially I was to be accompanied by one of my friend and rider buddy but few days before the ride he told me that he won't b able to join me due to some office works. Since, I was very determined for the ride, I choose to this 1250kms round trip all alone and also my first solo ride for such a distance..
My name is Rahil Khan, and I am a proud owner of Yamaha R15 V 1.0. I am saying this proud owner thing just because this bike has taken me to so many places in last 1 year very comfortably and happily.
So I started my ride at 3:30 AM on 14 June from my home in Delhi for Kalpa (Total dist. 530km) and the first disaster came in form of my Bluetooth intercom stop working which means I was to ride all day without listening to songs.
After getting my tank top-up from outer of Delhi I continued on NH1. As u all know that the roads on this highway is pretty good so I took my first stop after crossing Panipat before Karnal (100km done) for a cup of tea. This pic was taken while sipping my tea and waiting for the sunrise.. Doesn't she look beautiful 😉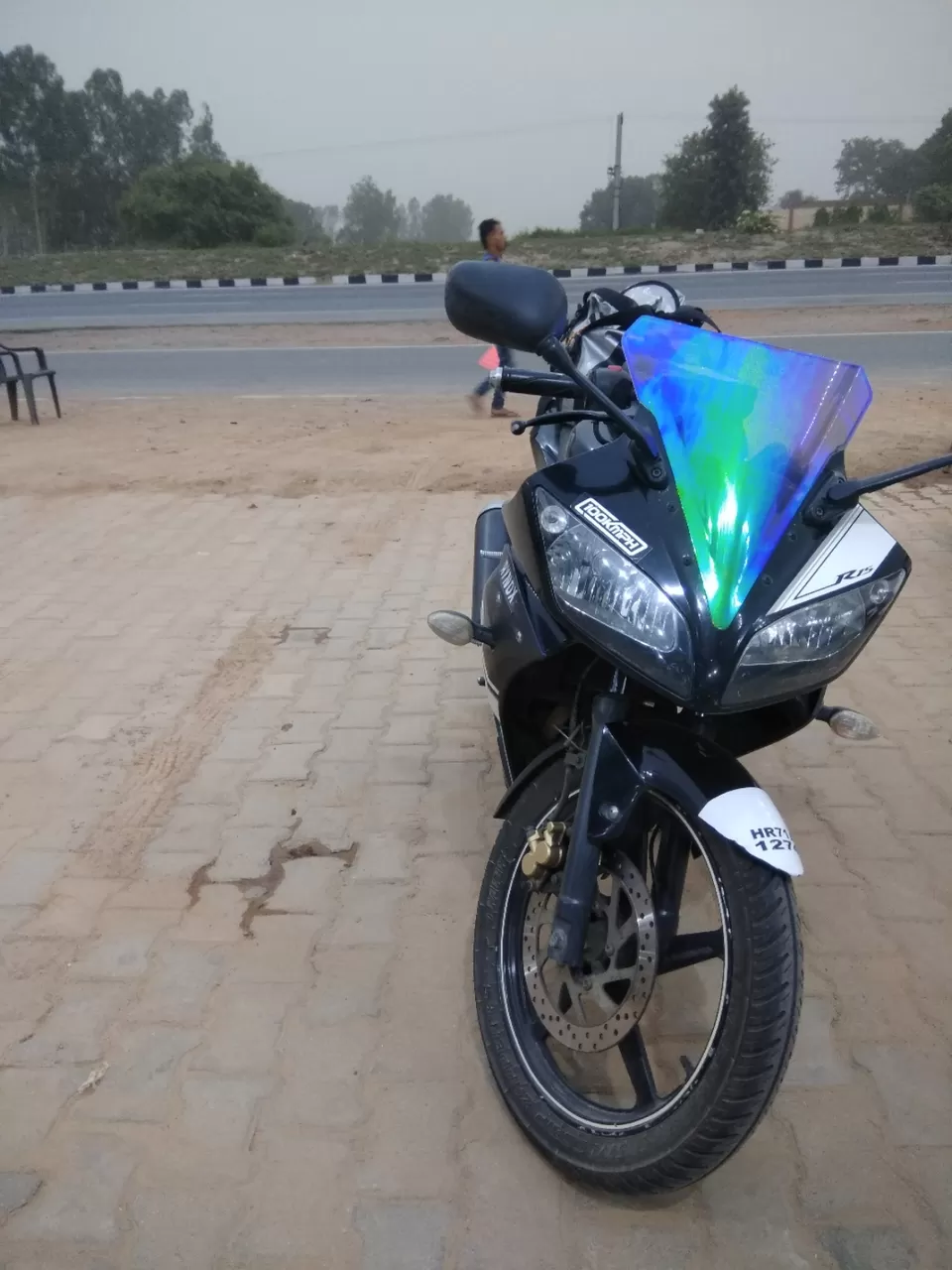 The stretch between my first and second stop was the worst one because of weather condition at that time. By this I mean dust and lots of dust in the atmosphere because of which even the sun was not visible. Below picture will make that understand..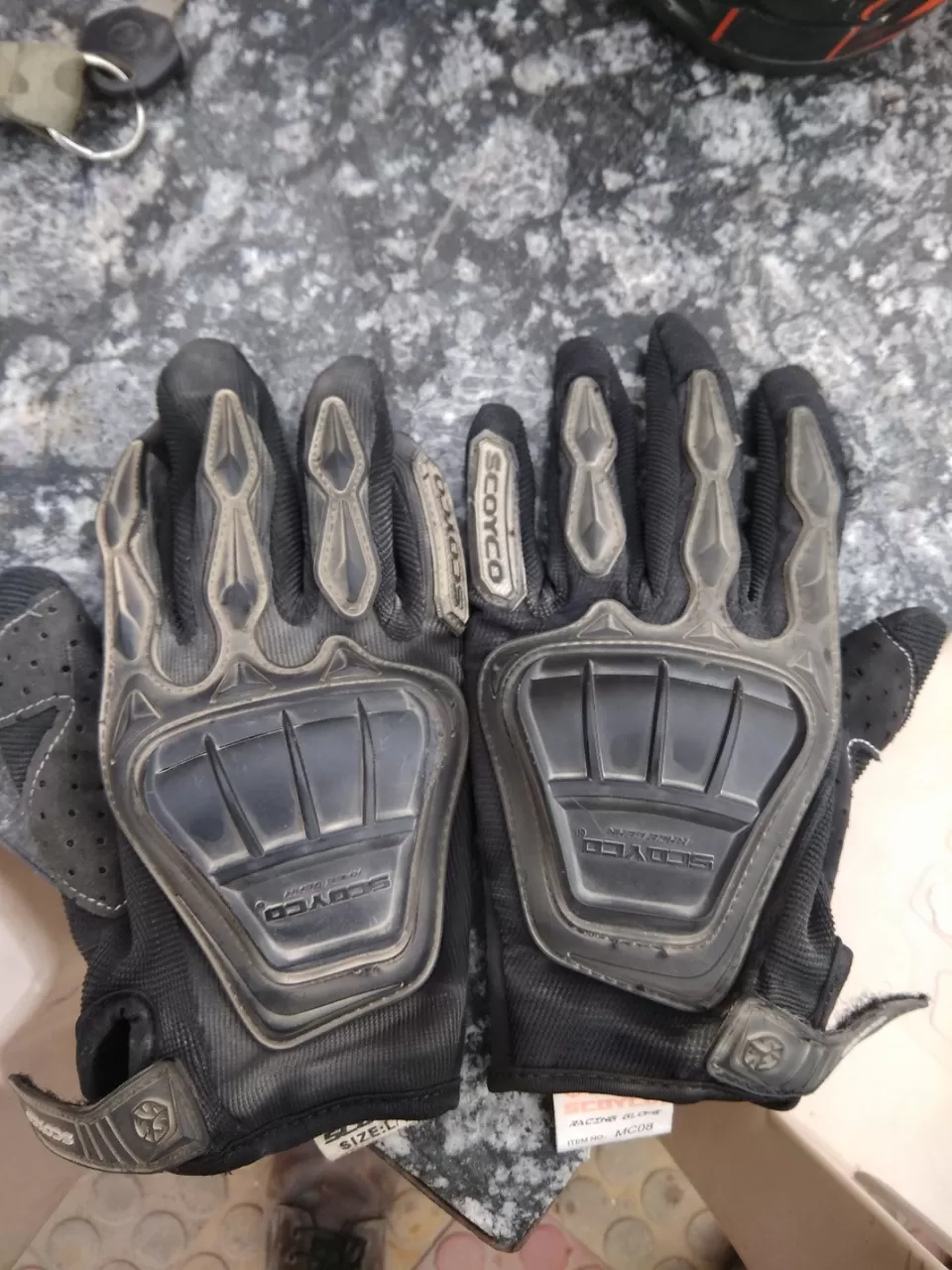 By this time I had covered most of the plain roads and hills were just 30 min ride away. Since this was my first ride on Himalayan expressway I was very excited for it. The roads were good for few starting KMS but then diversions took over and the ride was not fun anymore(and dust was there to ruin the scenic views of hills 😡)
Somehow I reached Solan and Shimla was just 40kms more to go. Also, this was my first time when I was visiting Shimla and was happy to see the beauty of it. I reached Shimla at around 12PM and was directed towards a longer route by a local for Narkanda. But few good people helped me and guided for the shorter and better route to take for Narkanda.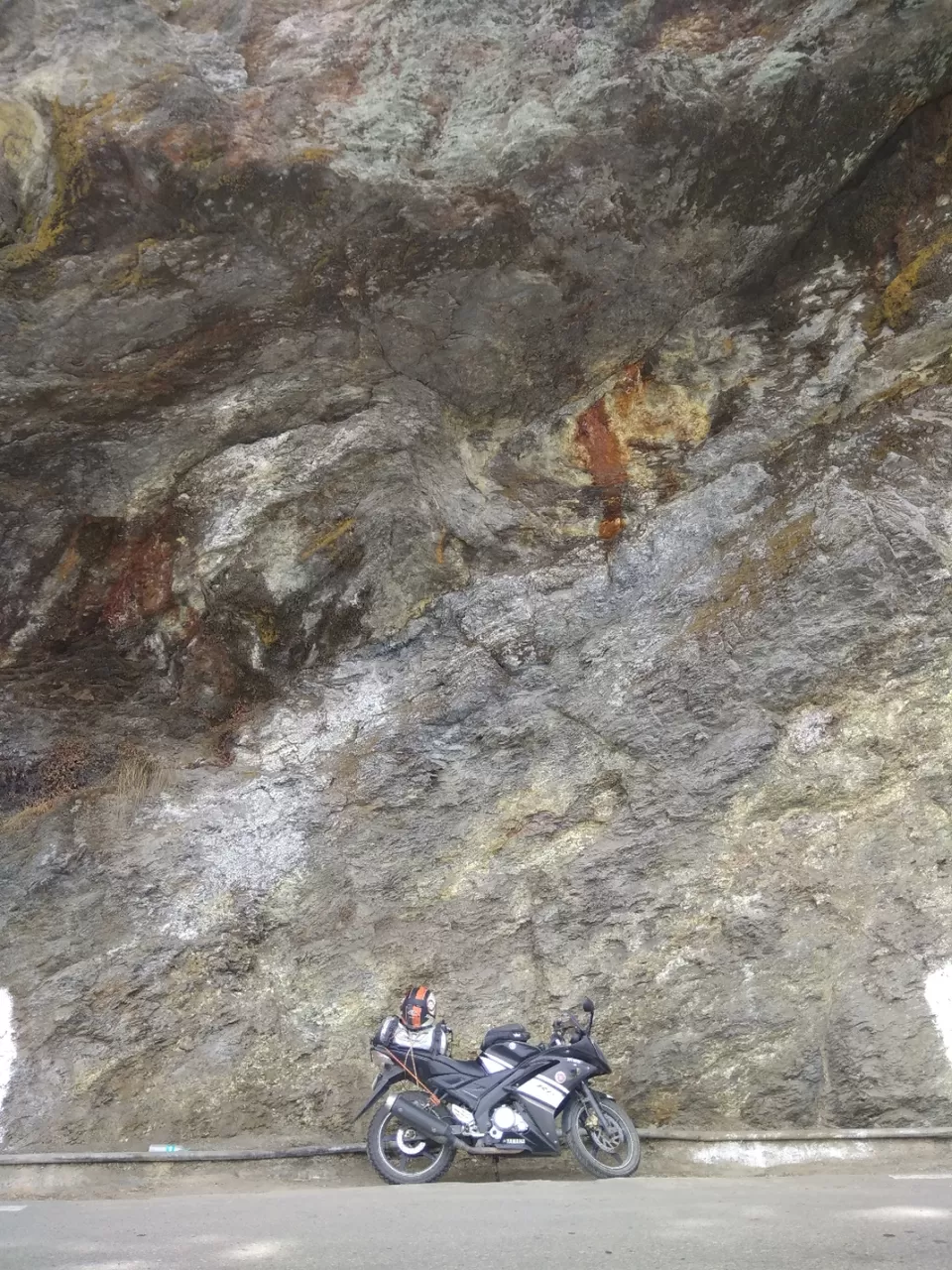 The Main ride started now as I was riding completely on mountains up and down and was enjoying the most. Few stops for tea and to click pictures and I reached Narkanda at around 2PM. On a safer side, I again toped up my fuel tank and moved for Rampur bushar. From Narkanda to Rampur it's 60km and that too complete downhill. Well, that was a piece of cake for me since that's what my bike love to do. Mountains, leans, downhills. R15 is a perfect companion for a road like that.😉
I entered Kinnaur and stopped to take the below pic. Yes. It was indeed needed.😉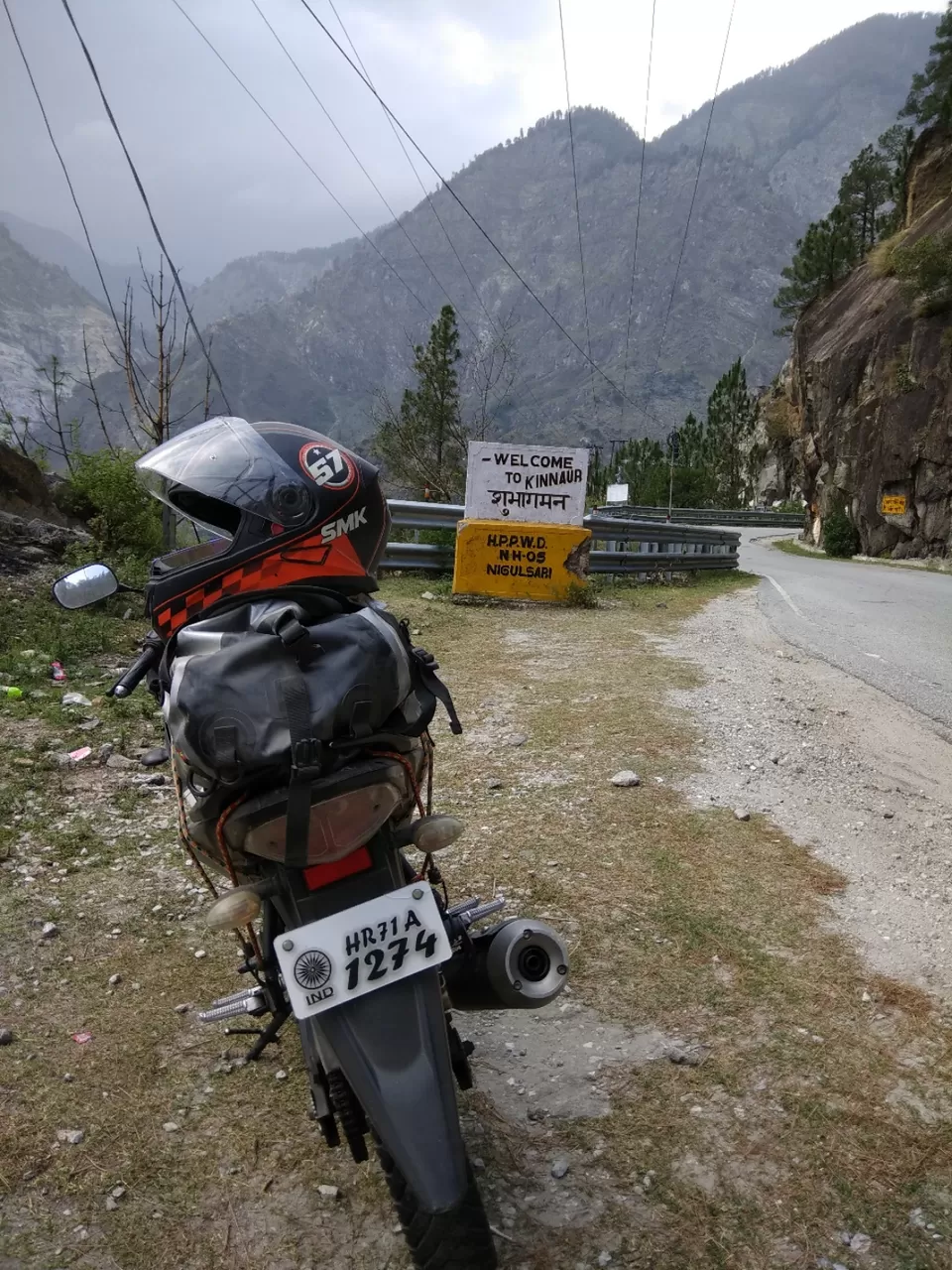 After crossing Rampur, I stopped for lunch and By this time I was pretty much tired and my first priority was to reach kalpa asap since it was already 4:30pm in the evening and kalpa was more 80kms to go. Also, riding on mountains in dark is what I don't like at all.
After having my lunch, I moved for Kalpa but the breathtaking views I got on the route made me stop many times to capture them in my phone. See below what I got 😋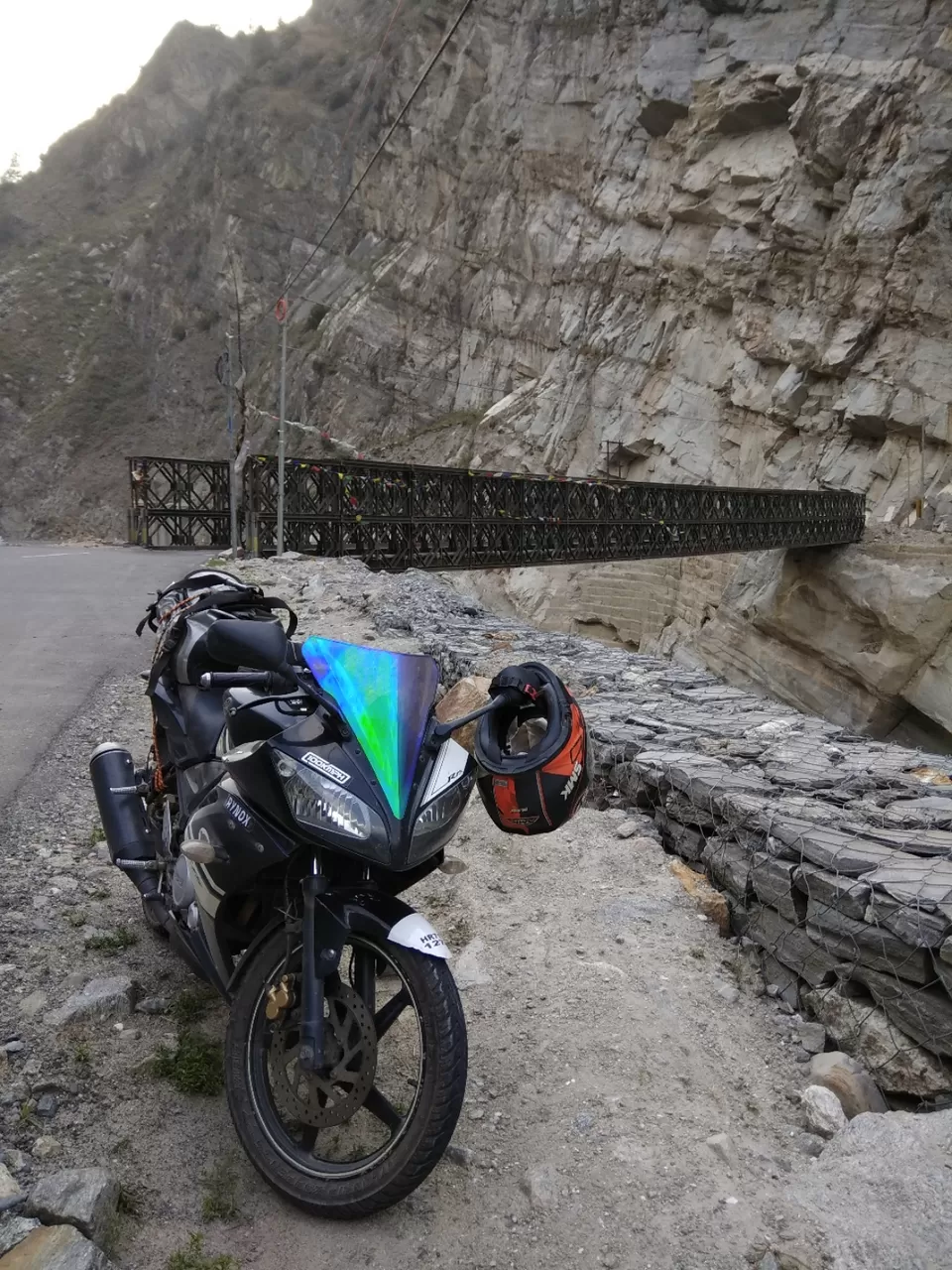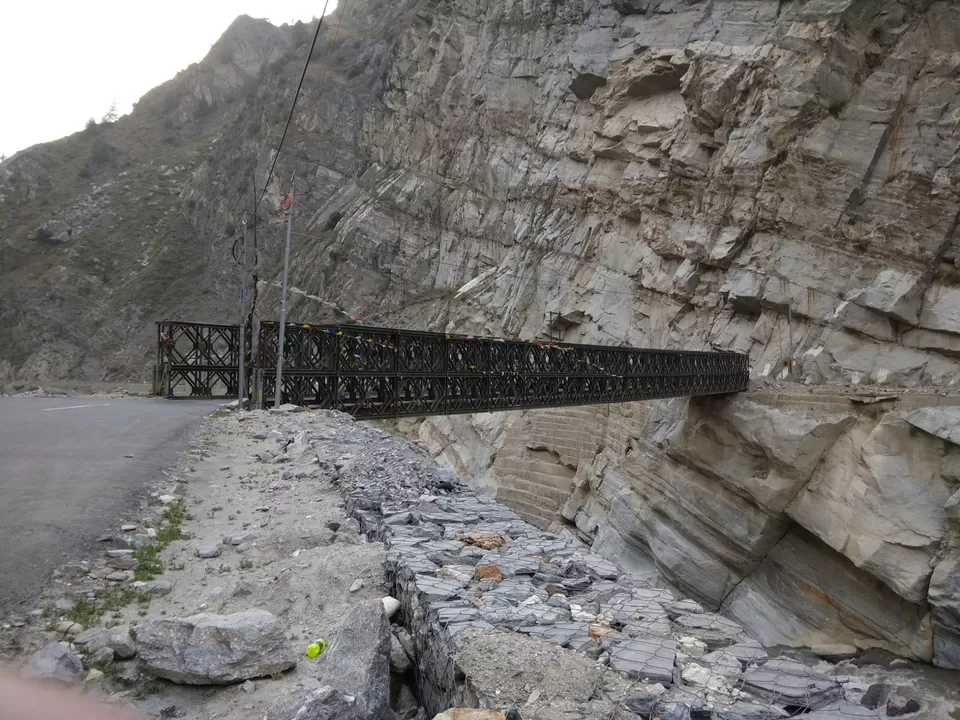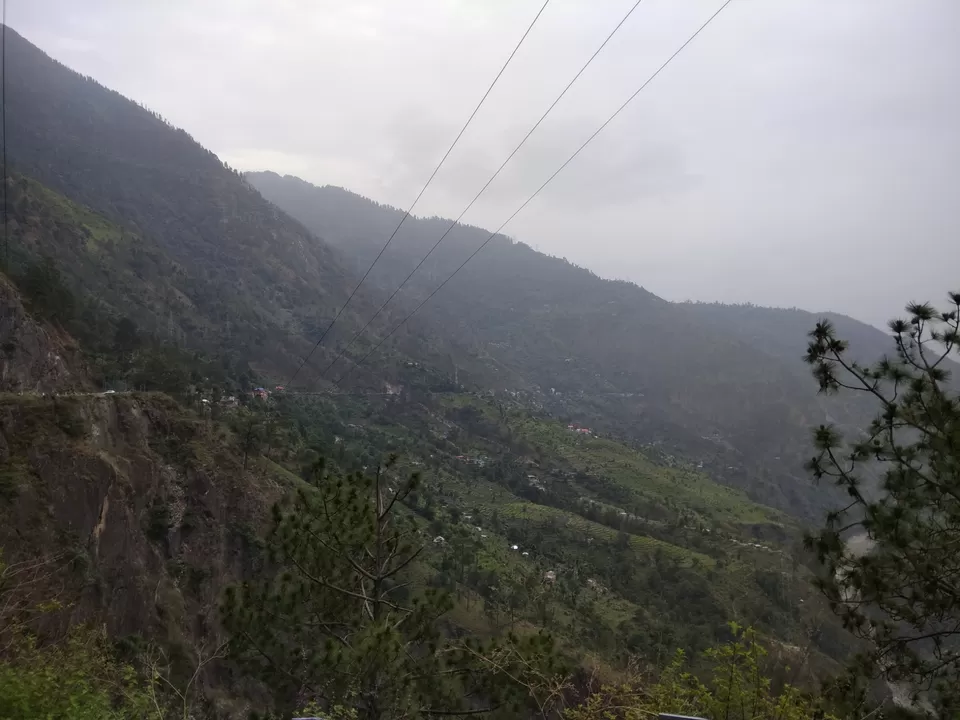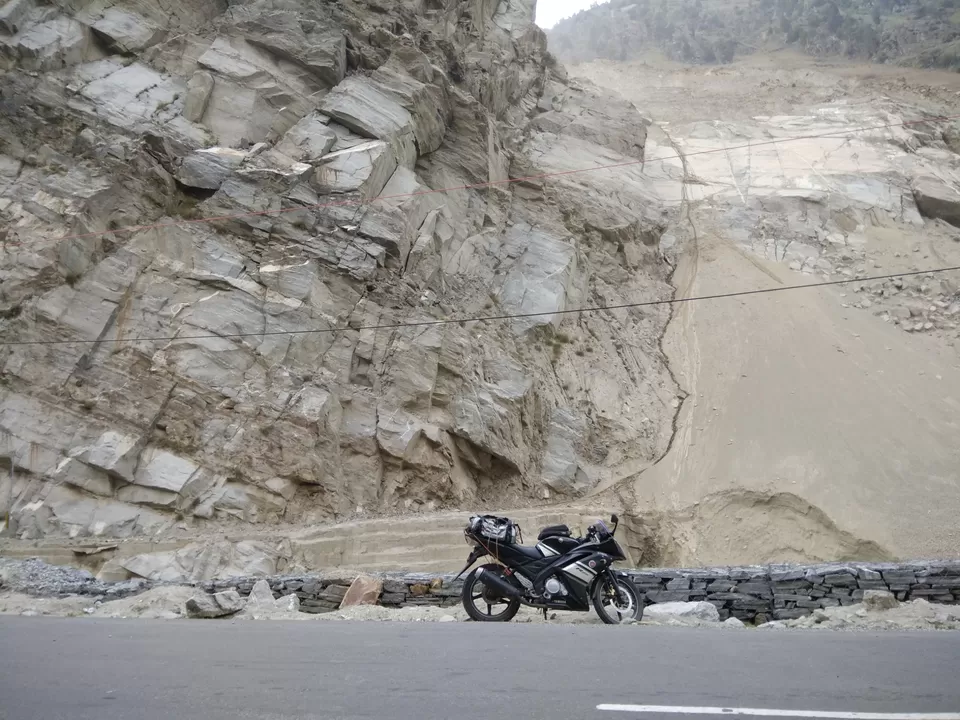 Finally I reached kalpa at around 7:30 pm and got a hotel there. Since it was pretty much dark, I was not able to see the Kinnaur Kailash mountains which made me more curious for the next day. After having my dinner and a cup of tea, I slept since a beautiful tomorrow was waiting for me.
I woke up at around 6:30 AM and the view I got from my hotel room was astonishing. I never saw anything like that in my entire life from so close. Excited to know what I saw.? Well, here is the treat for ur eyes too. Presenting you "Kinnaur Kailash mountains"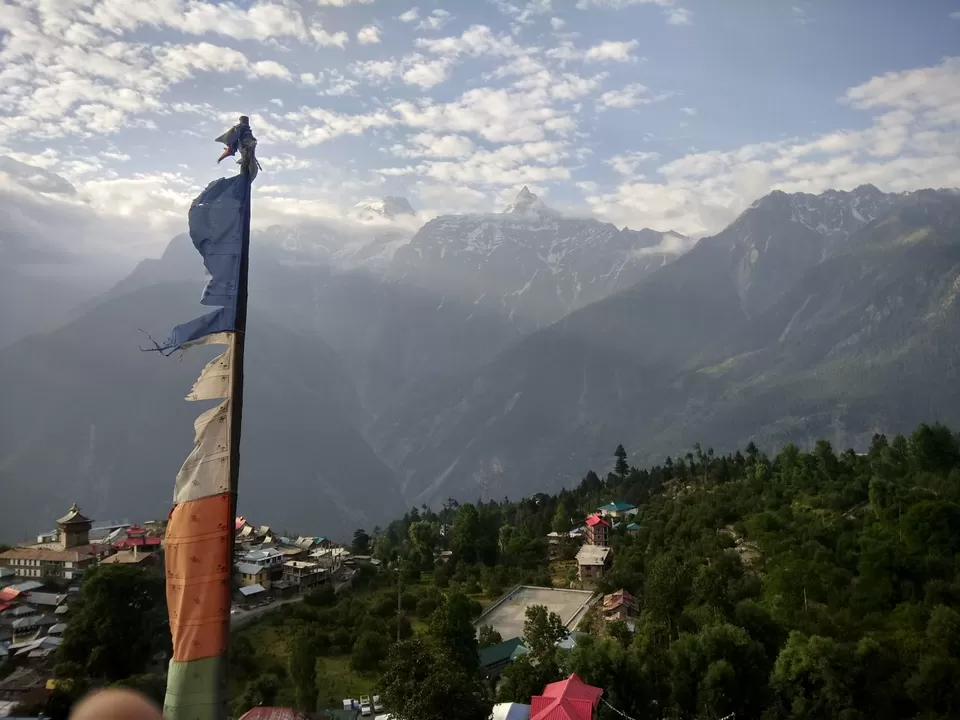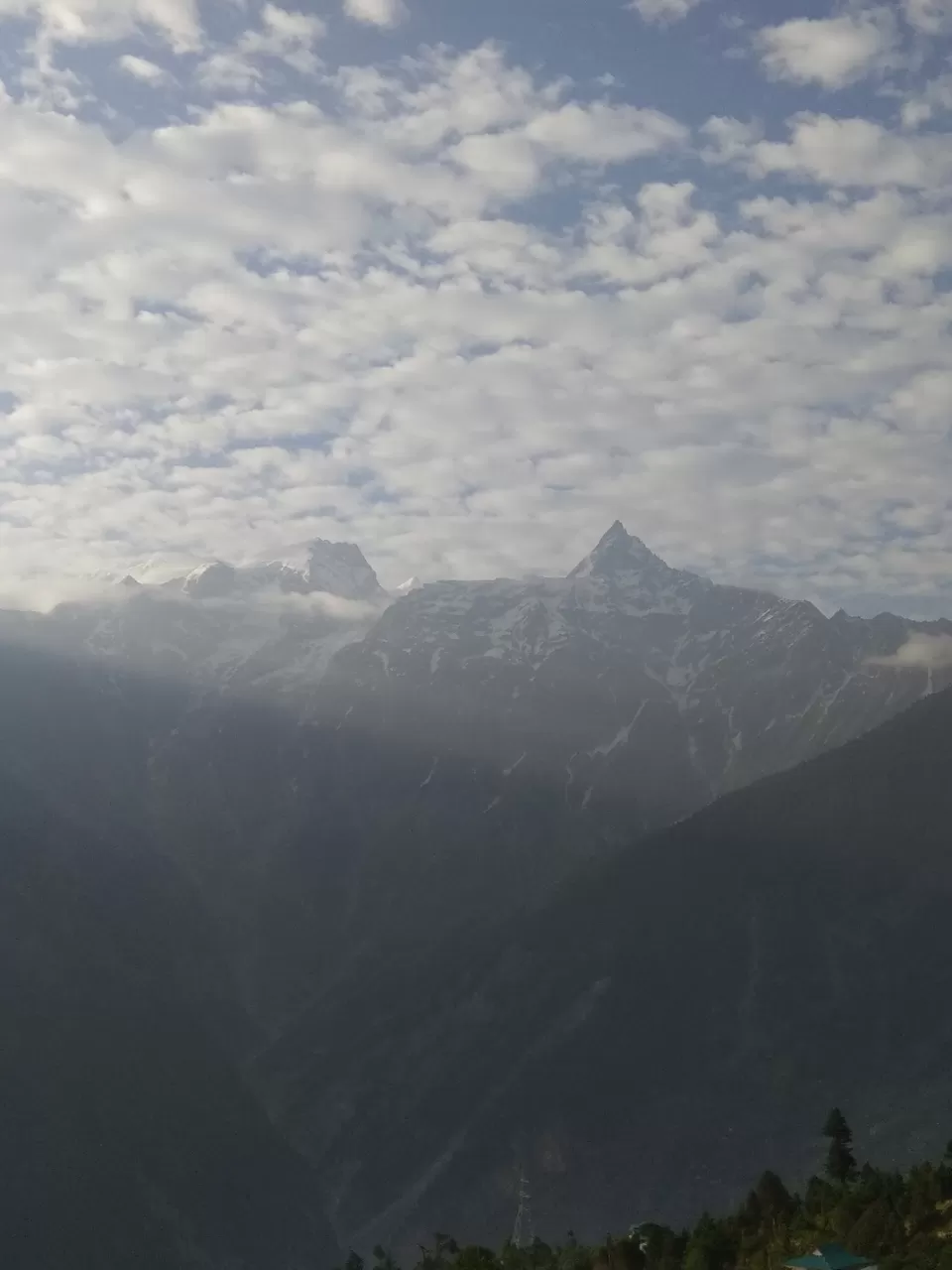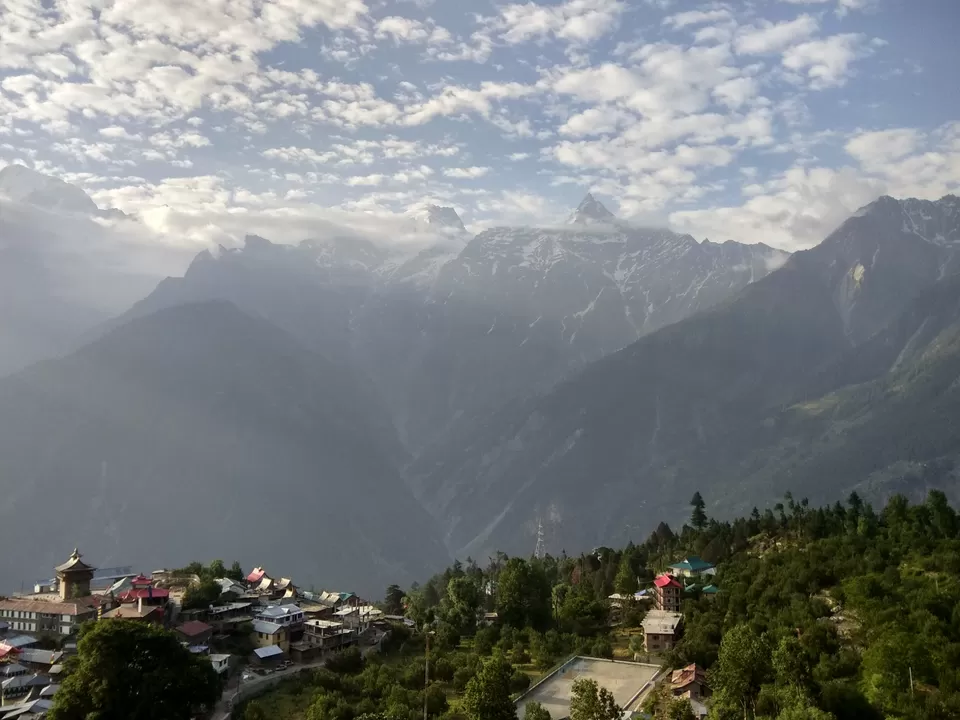 The moment I saw this, only one thought came to my mind and that was "Worth the ride "
Since I washed my riding jacket and it was still wet, I decided to go to the famous "Suicide point" in roghi village in kalpa. After enquiring from the hotel staff, I came to know that it was just 2km from my hotel. And trust me.. It was BEAUTIFUL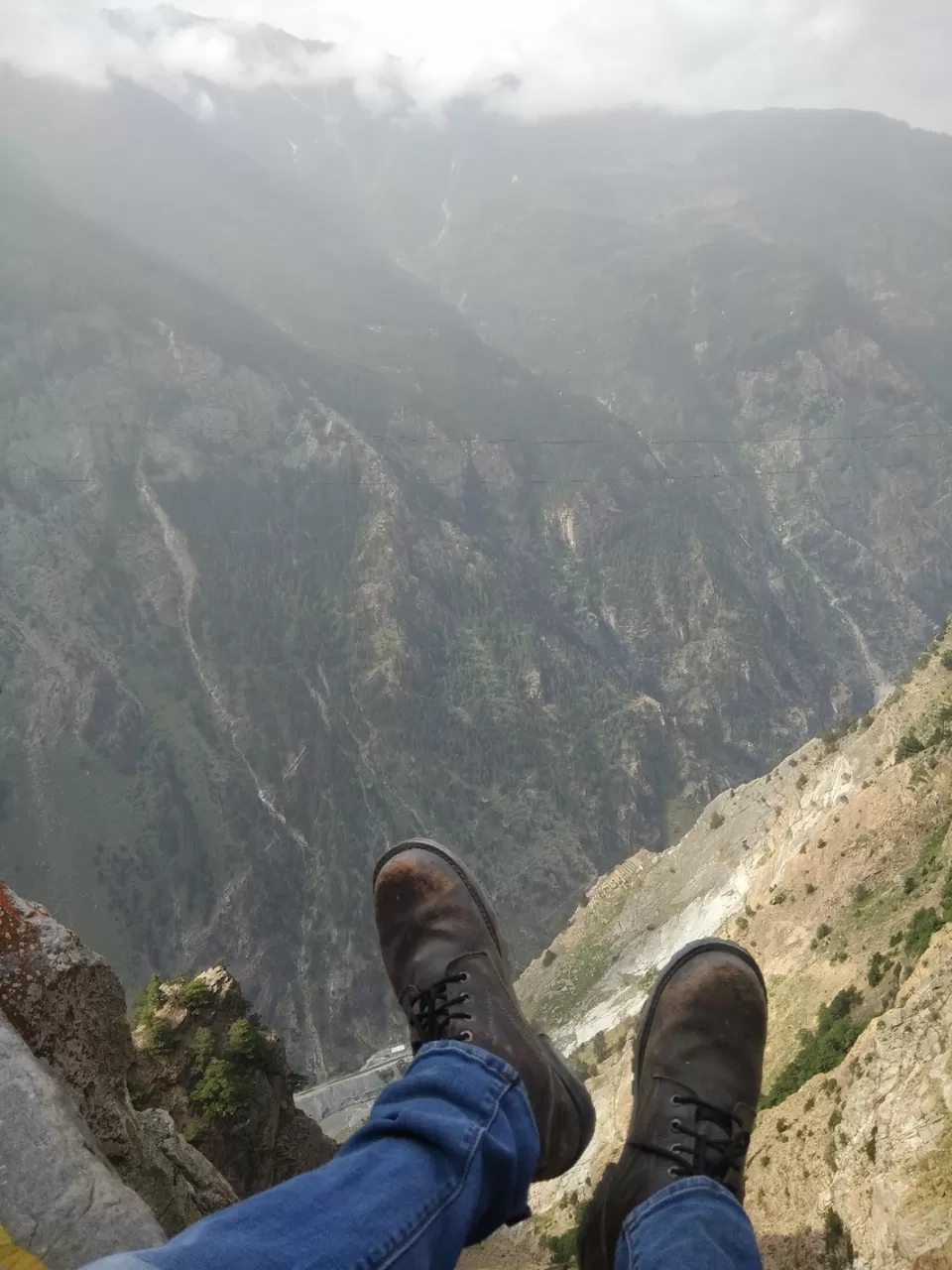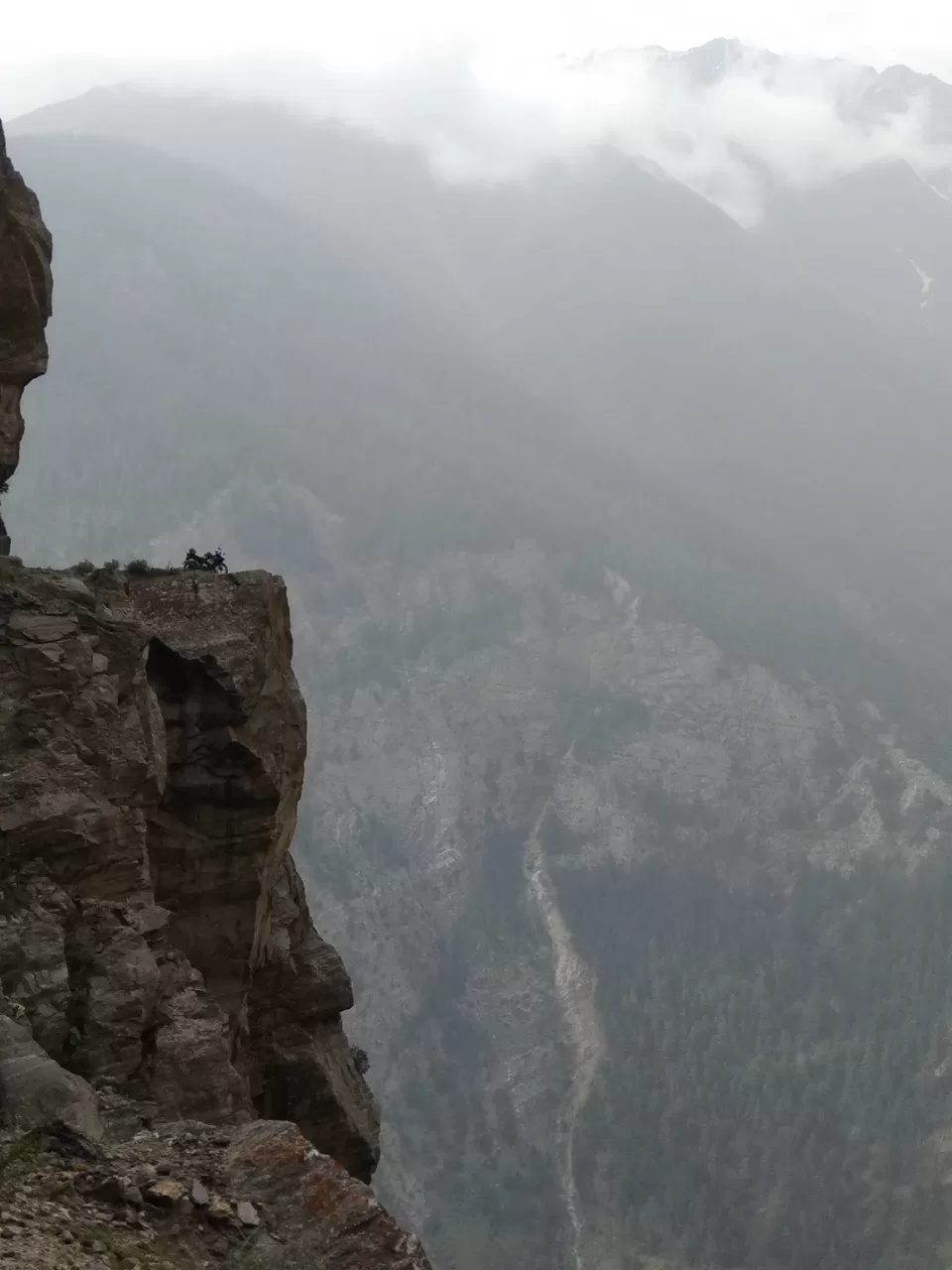 I went back to hotel after spending some time here and moved forthe ultimate destination CHITKUL.
The road to chitkul was narrow, lots of bumps, somewhere even no tarmac but the view was fabulous. At few places I felt the effects of high altitude but deep in my heart I was happy and excited.. These pics were taken on the way to chitkul.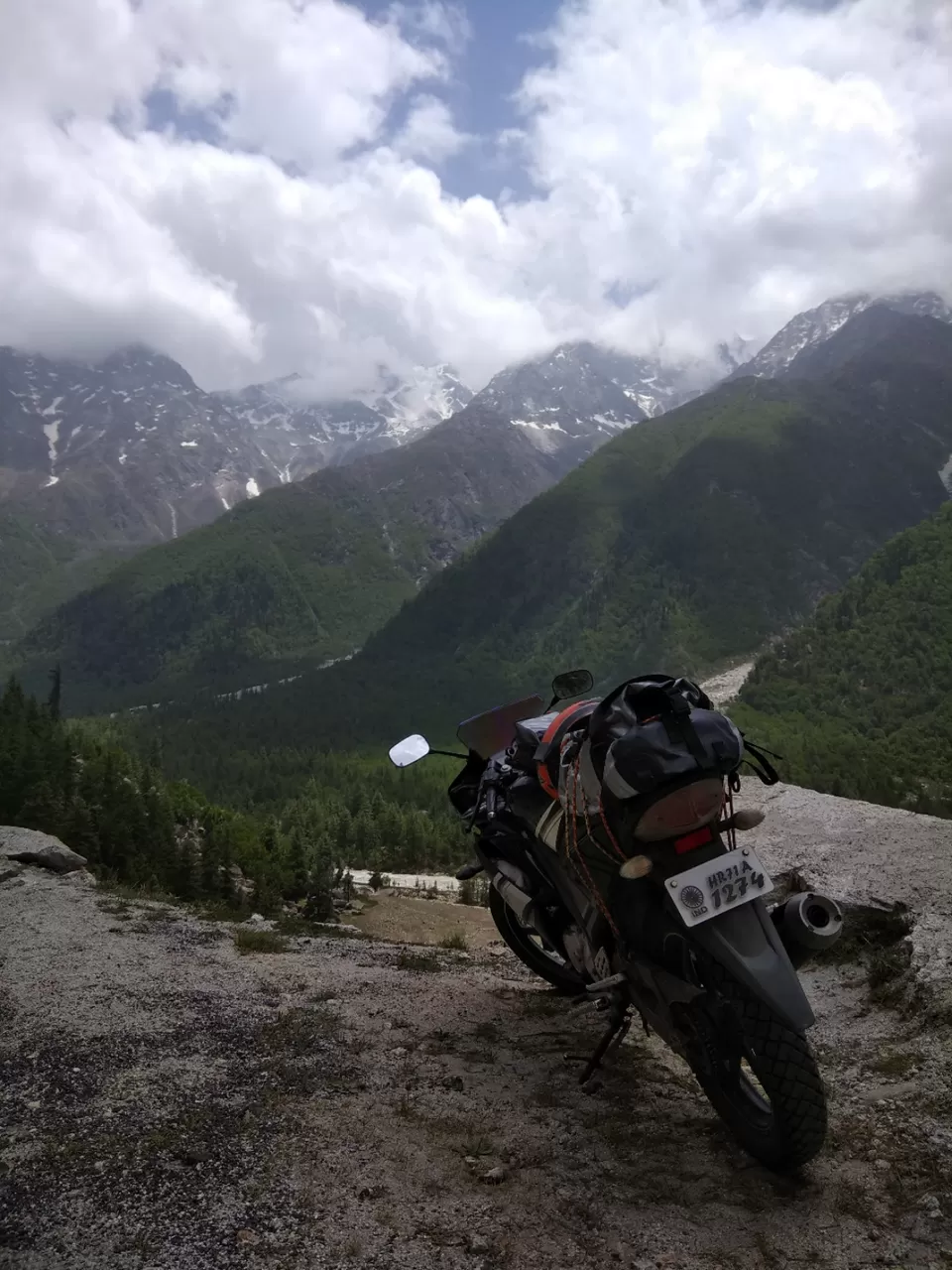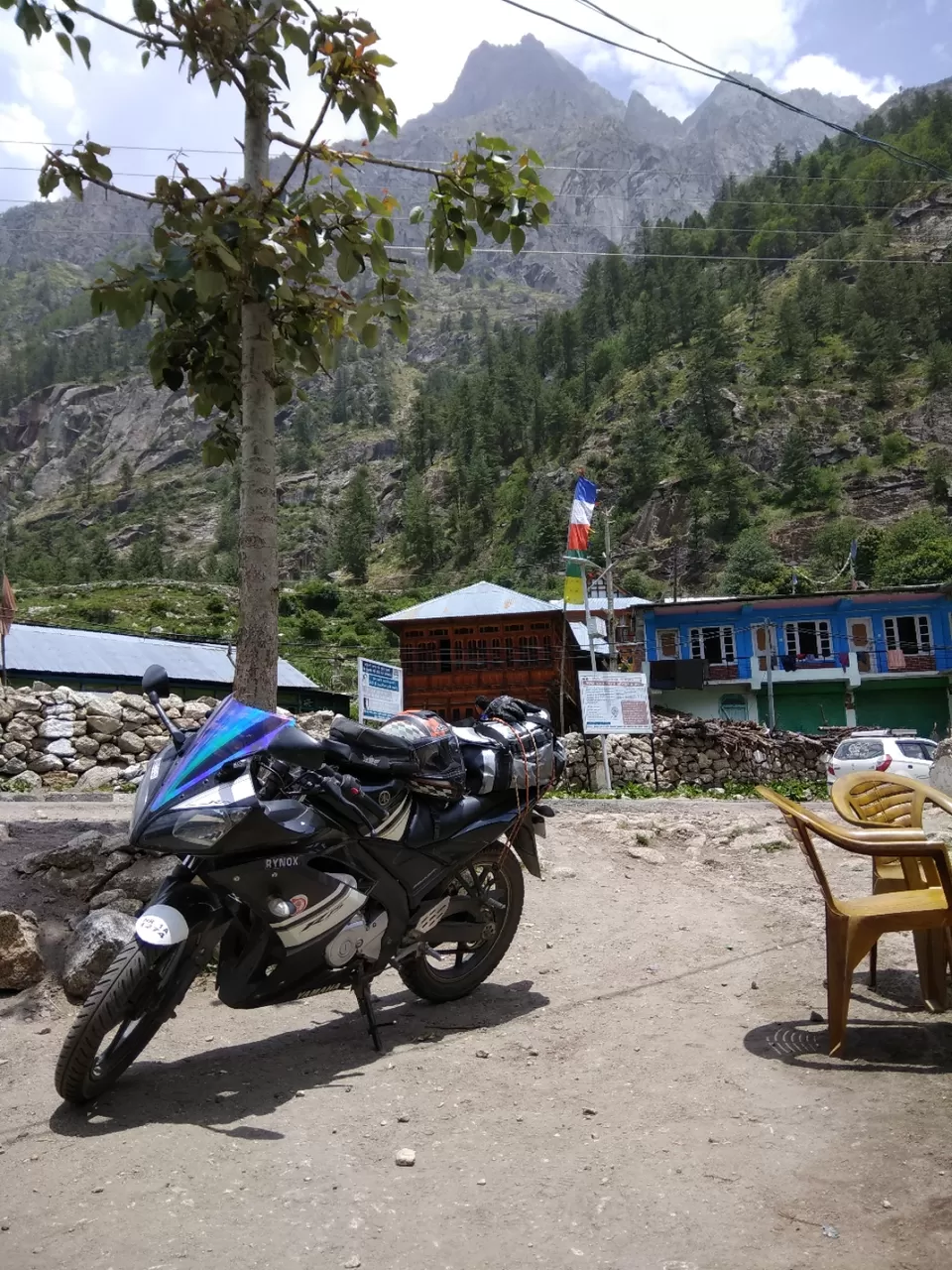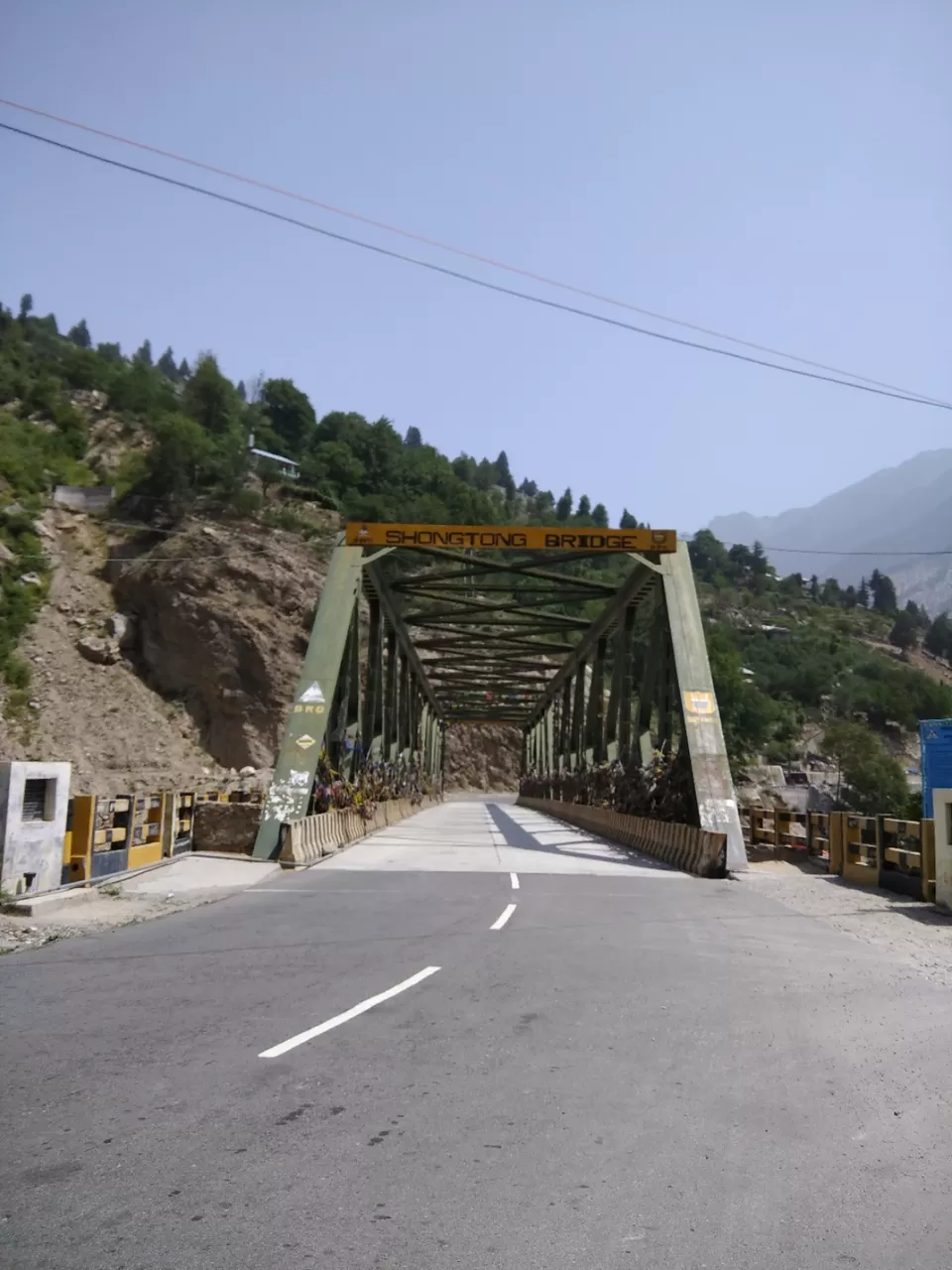 After covering a distance of 65kms in 4 hours i reached chitkul and was welcomed by this.😉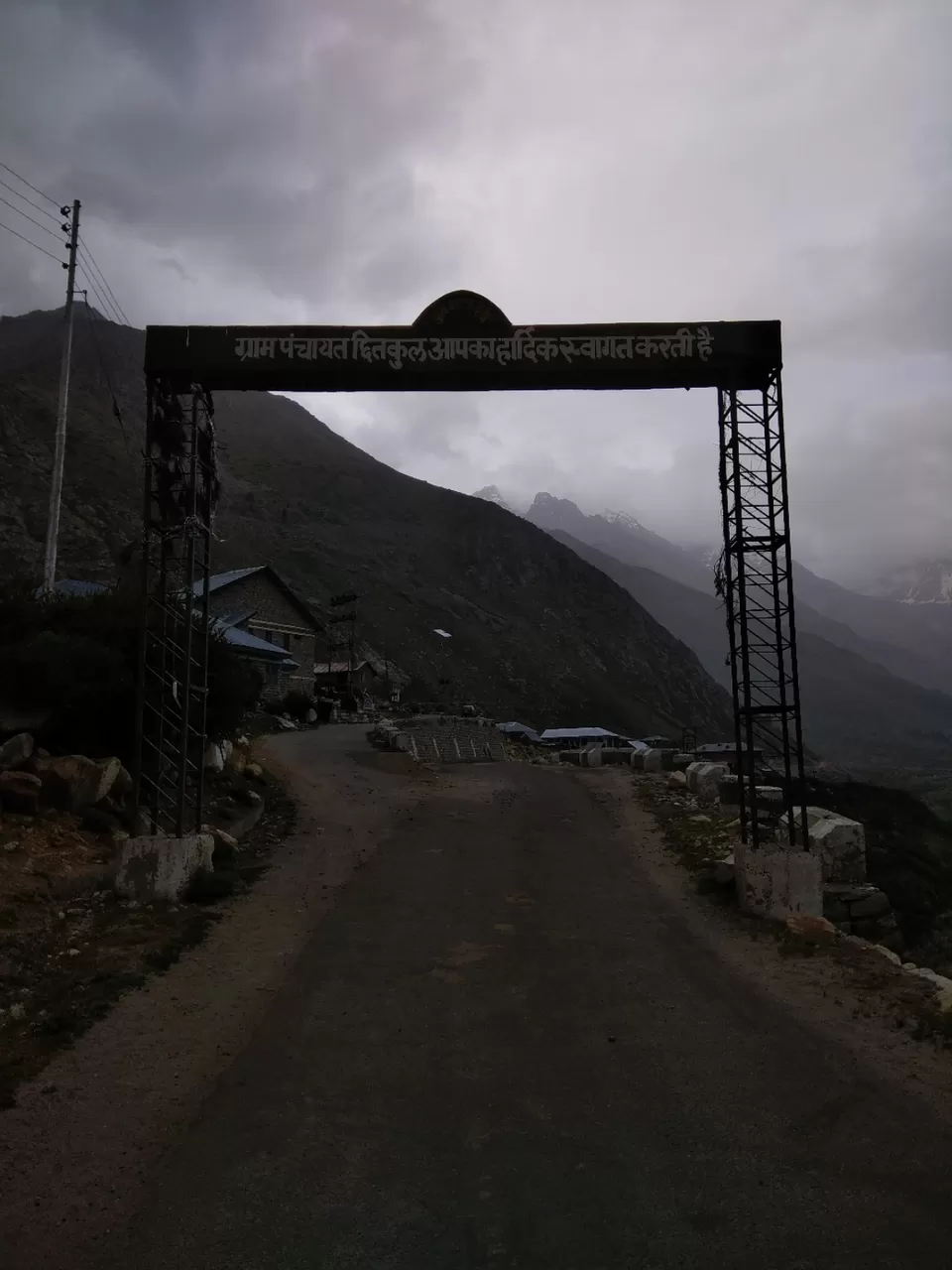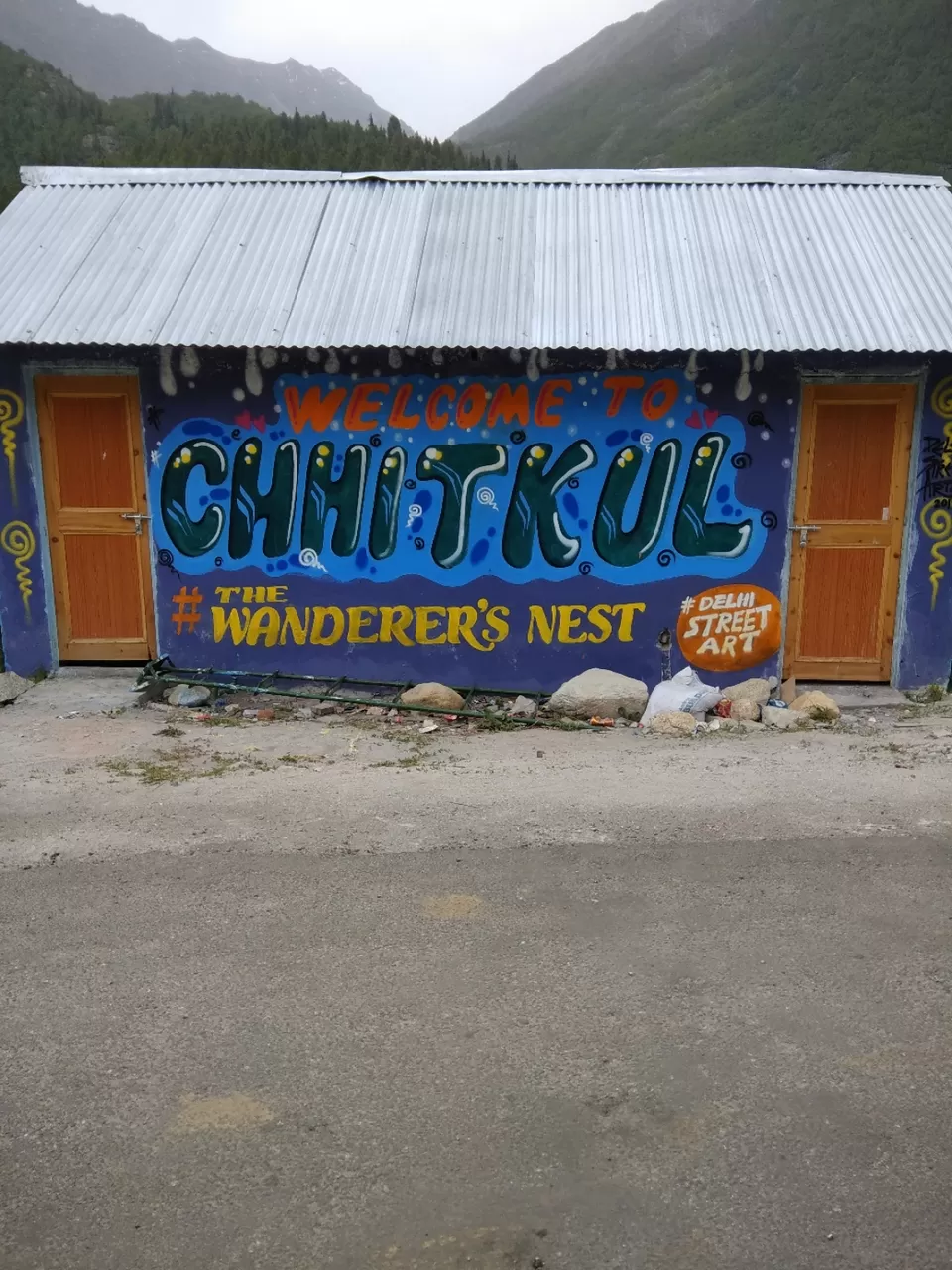 Few things about chitkul is -
Last inhabited village of India before China border
Cuts from rest of the world in winters due to heavy snowfalls
Potatoes produced in chitkul are the most expensive ones in the world
No petrol pump, No ATM
Last petrol pump and ATM is in sangla(30km before chitkul)
I got a homestay for the day and came to know from the owner that there is a ITBP post 2 km from the village upto where civilians can go. After that, the total distance of 80km upto China border is in under ITBP and Indian Army control. I went to the post which was also the first defence and met the soldiers there. They were a little shocked when I told them that I came all the way from Delhi all alone on my bike. I spent sometime with them and came back to my room. Few clicks I got while returning from the post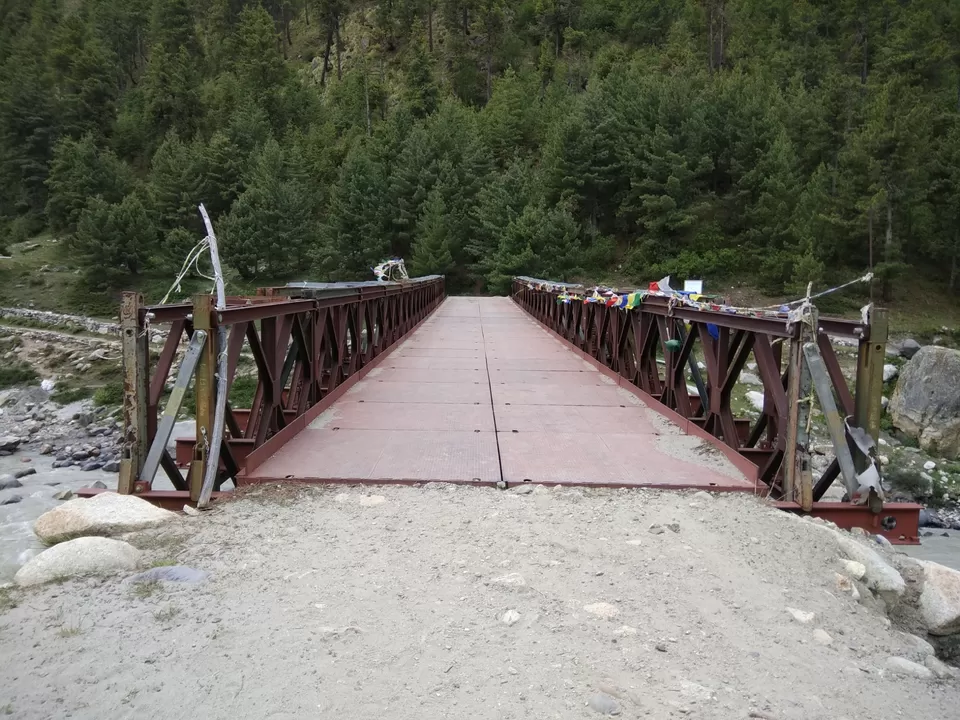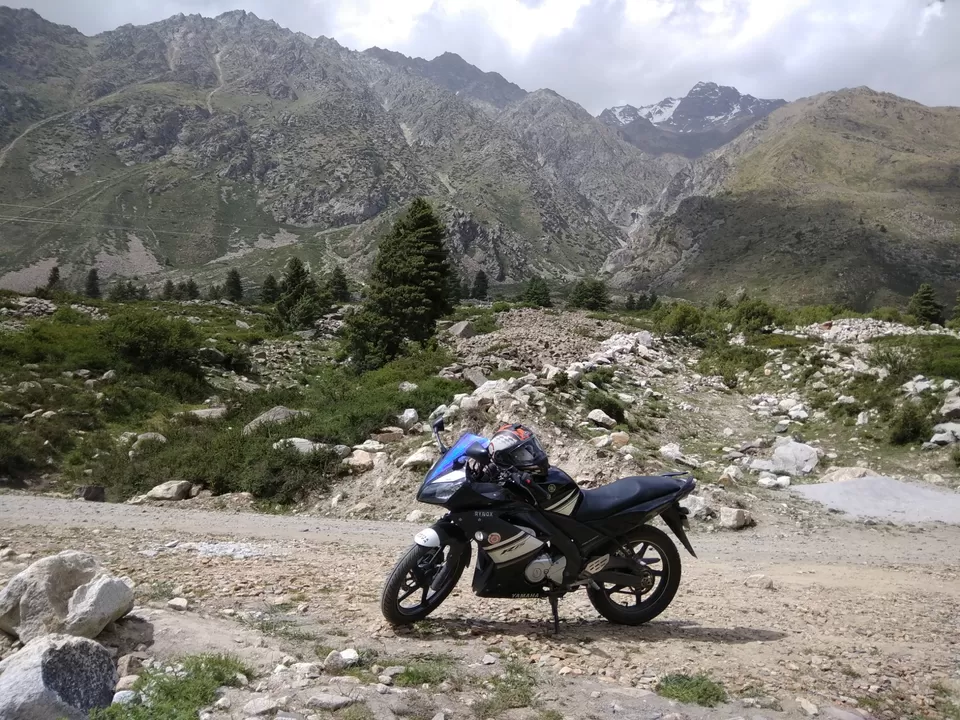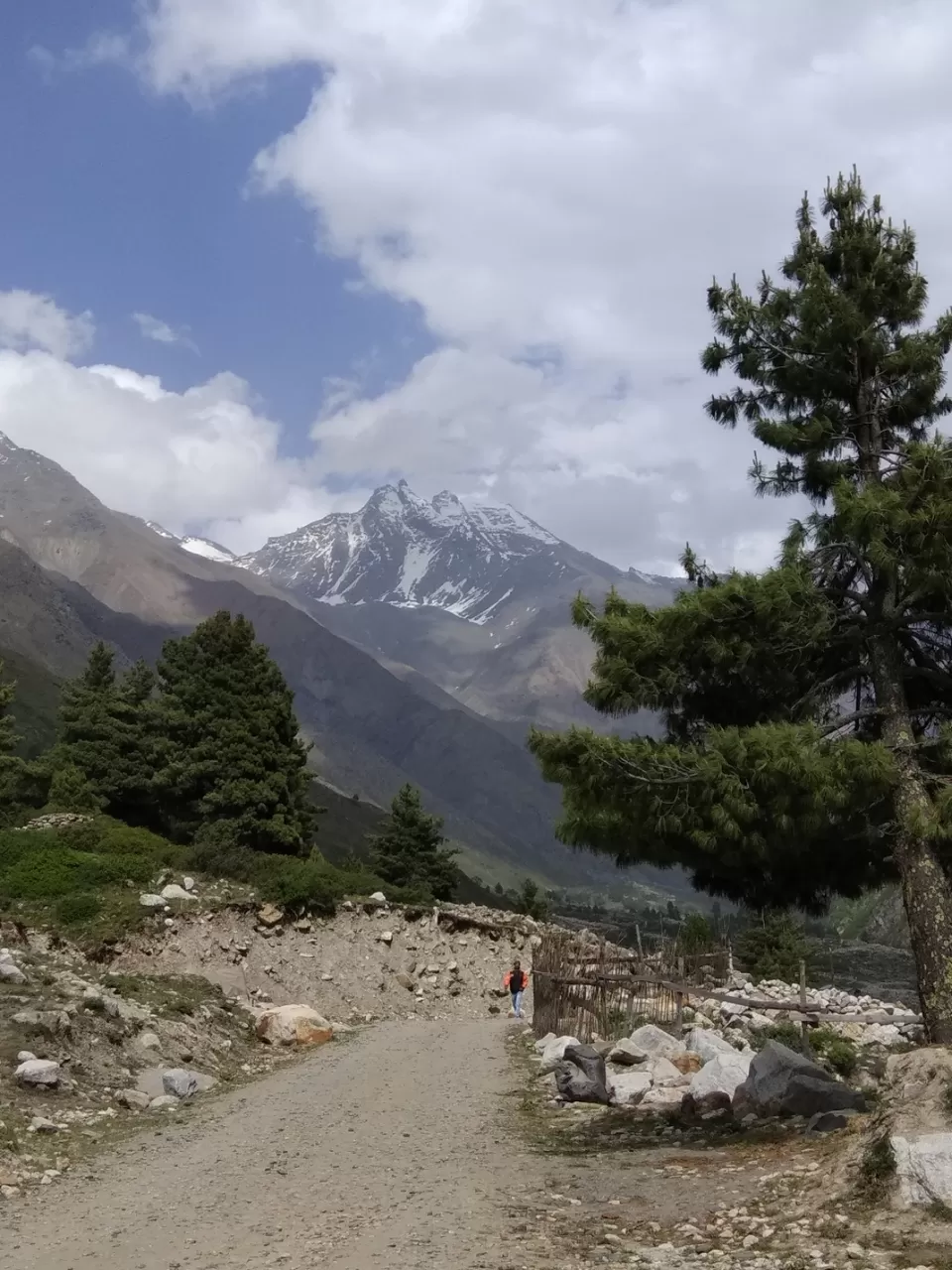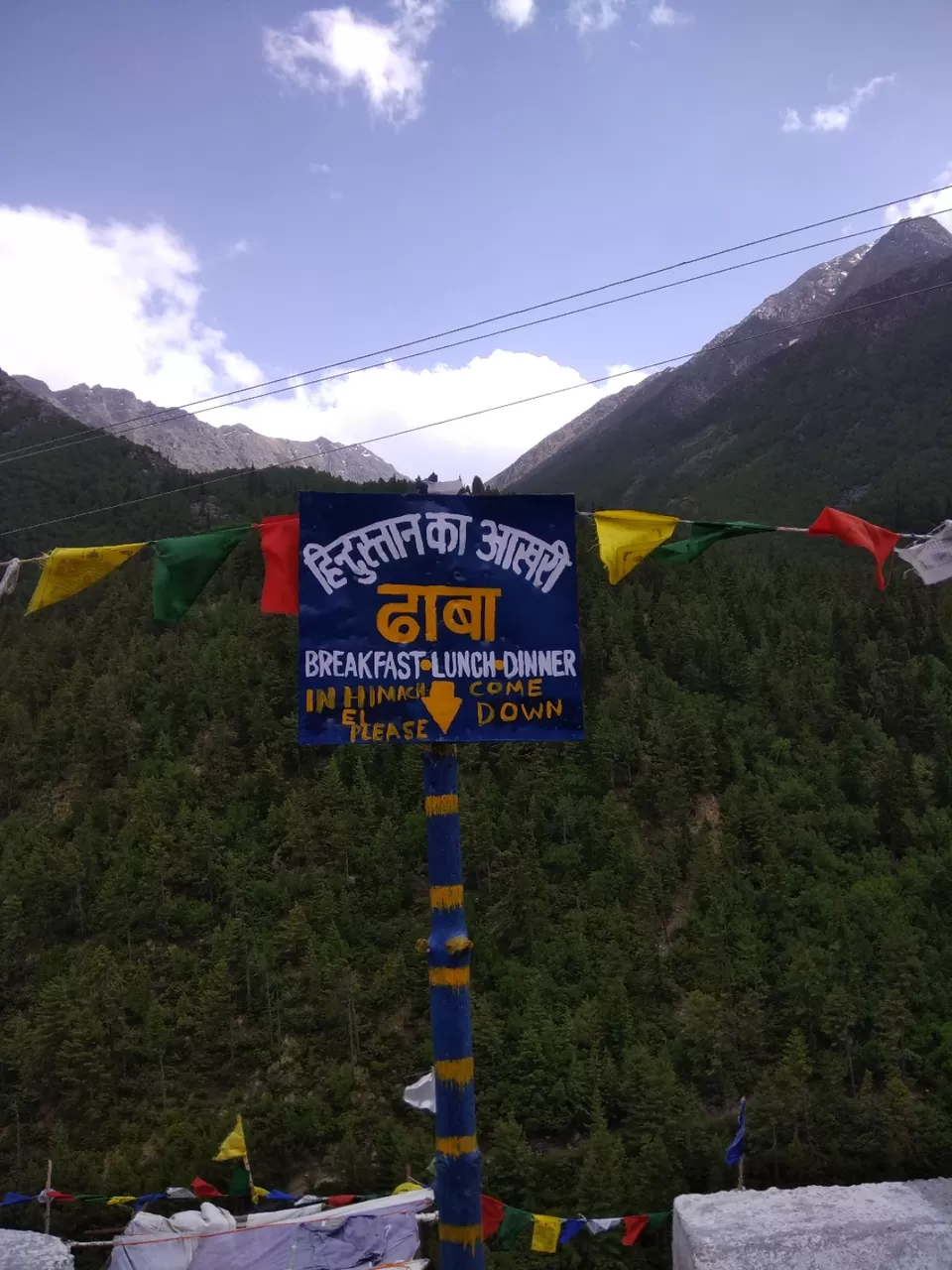 I spent my whole day by sitting in the lawn in front of my homestay and talking to locals about how's their living in the village, what facilities are there and much more. Met few bikers who came from Gurgaon talking about the bikes n ol. The hospitality, the warmth I got there from the locals was exceptional. I went to the banks of baspa river and sat there for some time. The music of the running water took all my tiredness away and I was feeling refreshed all again.
Next few hours passed by when I took a round of whole village by walking and exploring the place. They provided me their local dish for the dinner which was very tasty and unique in its own way. I slept at around 9pm as it was very cold there and nothing much to do.
I woke up at 8am after getting a sleep for about 11hours as it was much needed. My initial plan was to leave chitkul at around 6:30am but i was in no mood to leave the blanket so early 🤣 That's the morning I got at chitkul.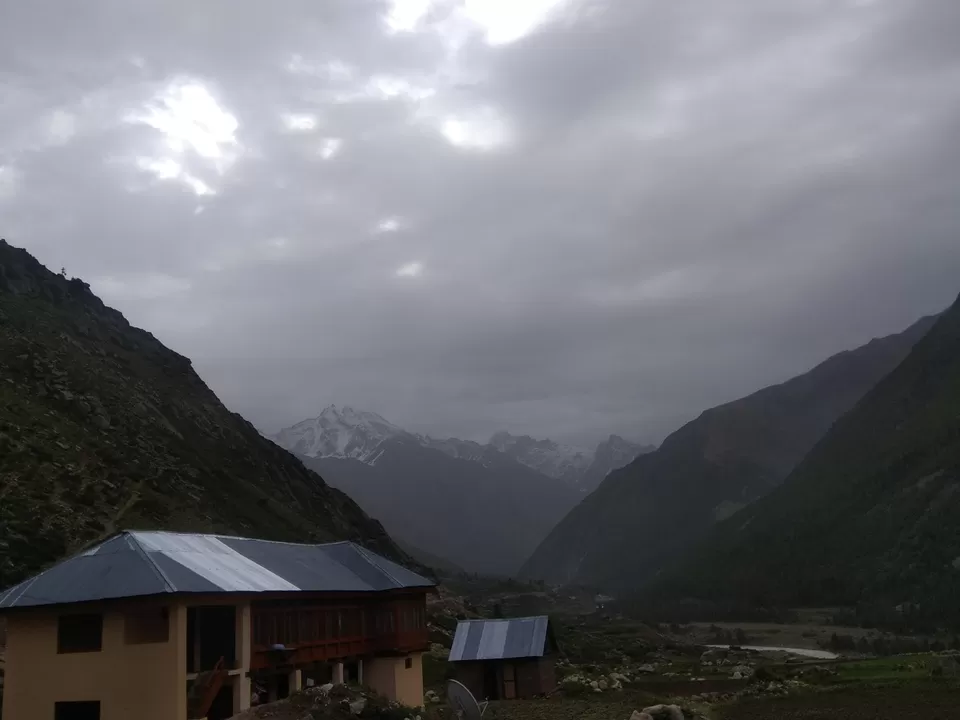 After getting a cup of morning tea, I left chitkul at around 8:30am but I promised them that I'll b back soon specially for their local festival which happens in first week of October month. My destination for Day 3 was Narkanda as I wanted to visit jalori pass and hatu peak and also one of my friend was coming from Delhi to join me there. But destiny had some other plans and my friends bike broke down in Shimla due to which I dropped the plan and went to pinjore to spend my night at my friend's place.
After a hectic ride of around 14 hours, I reached pinjore at around 11pm. Spent some time with my friends family and went to sleep straight ahead after the dinner.
Now Day 4 was going to be boring since we had a 240kms of plain NH1 roads in front of us. Btw, my friend from pinjore was accompanying me for Delhi now.
We reached Ambala where a kid asked for a lift upto 30km for his home. He was very happy to ride with us and also took two awesome pictures of mine while riding.😉
After dropping him we continued our ride for Delhi and reached there by evening.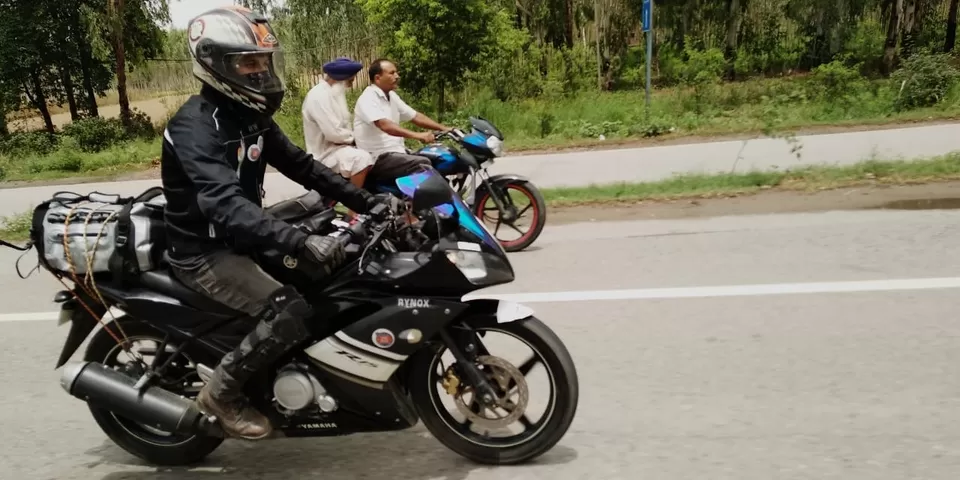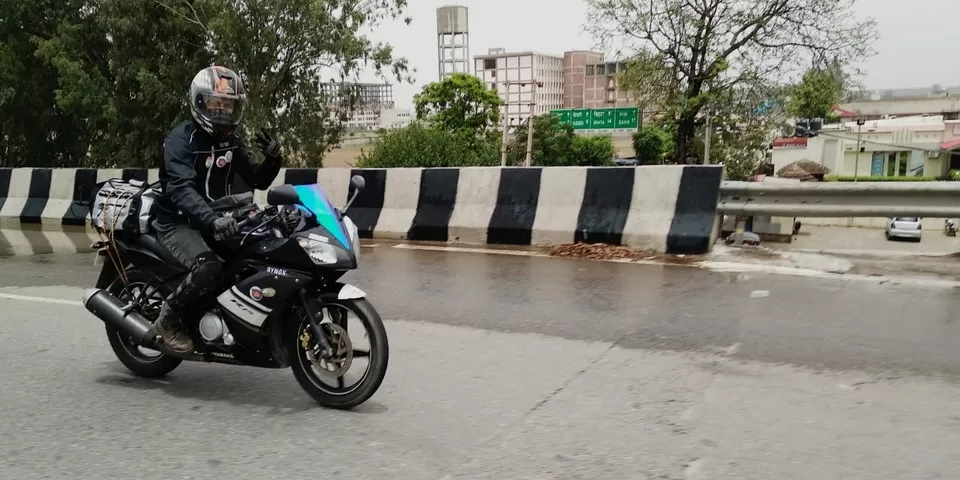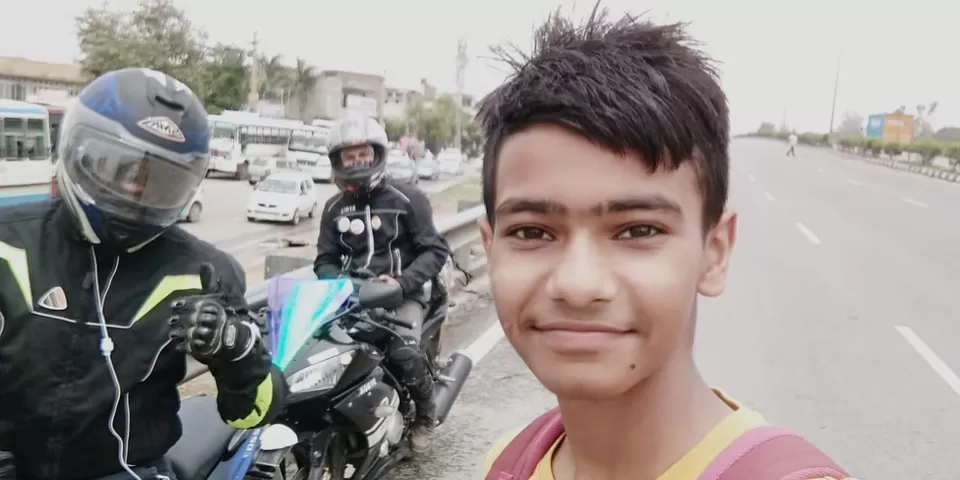 All I want to say after this ride is "Once in a life time do travel solo. Be it riding a bike, driving a car or a public transport, but do it. U know why.? Because it helps u connecting to urself. It helps u to understand urself better." 😊
Insta - @khanraahil