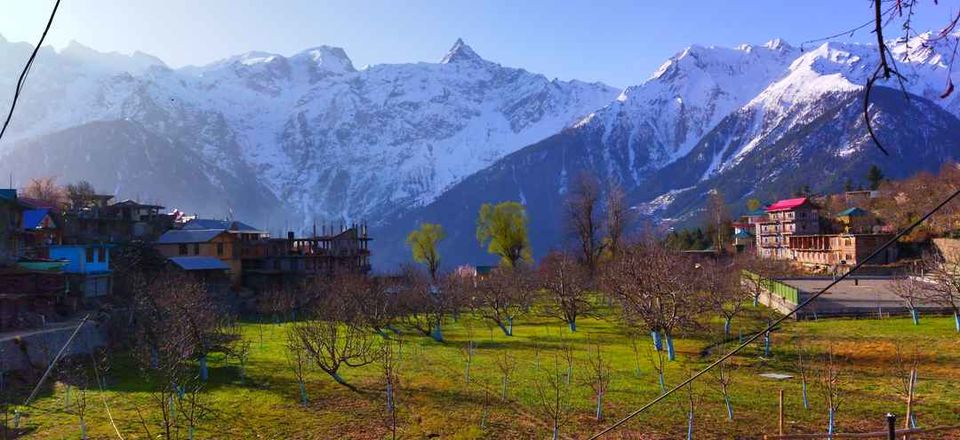 I had my last trip in Jan2020 before we all got introduced to the biggest life scare known and experienced by everyone born after Independence. Covid 19 came into our lives and everything went for a toss in everybody's life. In normal circumstances where we couldn't have survived 6 months without traveling , we had to give up even a single thought to travel anywhere. People started to travel once the lock down went off but it was quite late to open up in Himachal Pradesh. So finally I got a chance to visit my dreamland Himachal with my childhood bestie and travel addict friend Varun.
Both of us have travelled together to Hills since school days , so it was going to be a much needed break from everything that Covid has bought along with it. We started off early morning from Chandigarh at 6am for Narkanda. It was last week of March so the temperature was on the rise in Punjab but was expected to be cold in Himachal. The drive to Shimla on the newly laid highway was very rejuvenating.
We reached Shimla in less than 3 hrs and parked our car at the parking near the Lift. It was a sunny morning in the hills but we could feel the chilly air. People were enjoying the sun on the Ridge , sipping a cup of tea & coffee. No shops were open at that time and it was a very peaceful out there. We too grabbed our coffee and enjoyed the views from the Ridge which were wide spread and clear.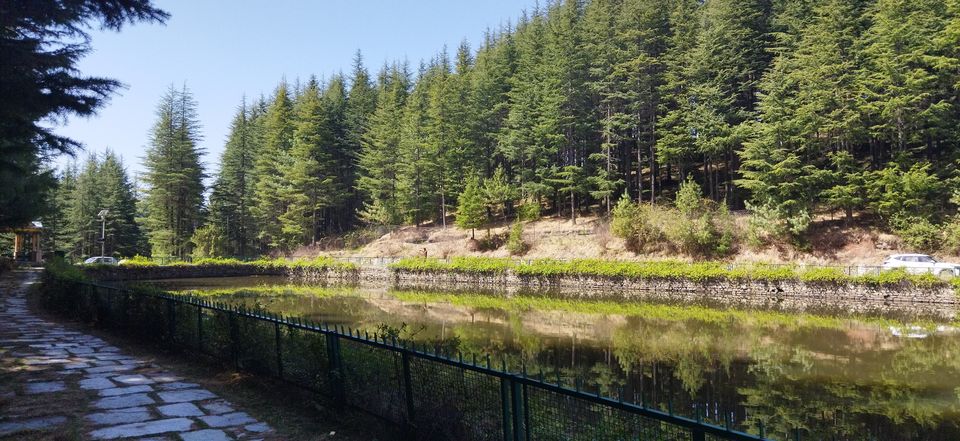 The road conditions were by enlarge good except for few stretches here and there. The only Big town which we crossed was Rampur on way to Kalpa. People Here were seen following the covid protocols very well.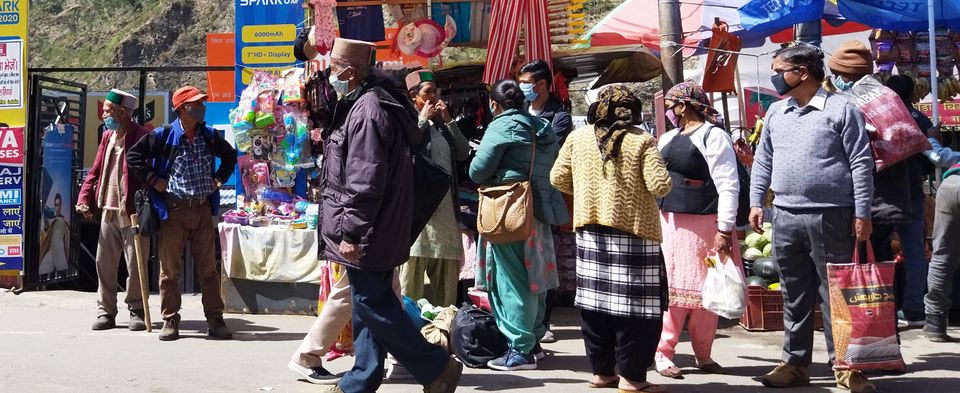 I must say one should really explore the village when in Kalpa as it has some really old buildings that we don't see often. You come across some amazing views which put you in doubt if you are in India only !!! Kalpa is surrounded by apple orchards from all sides, unfortunately it was off season for the fruits when we were there.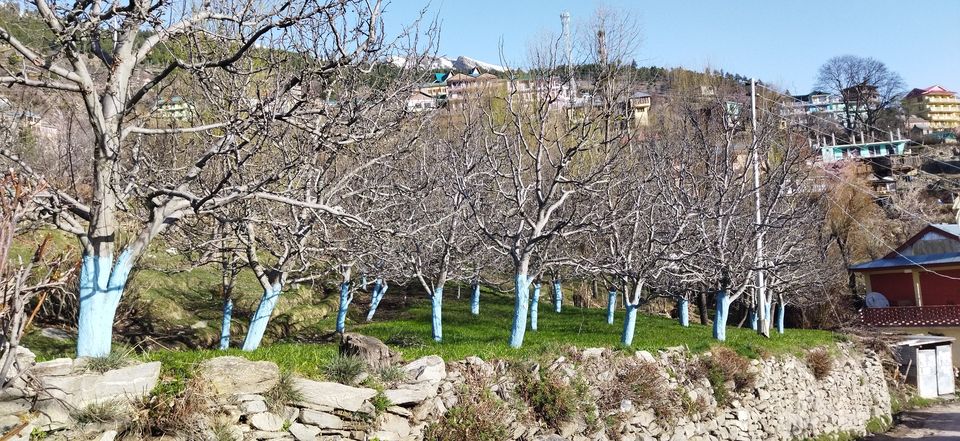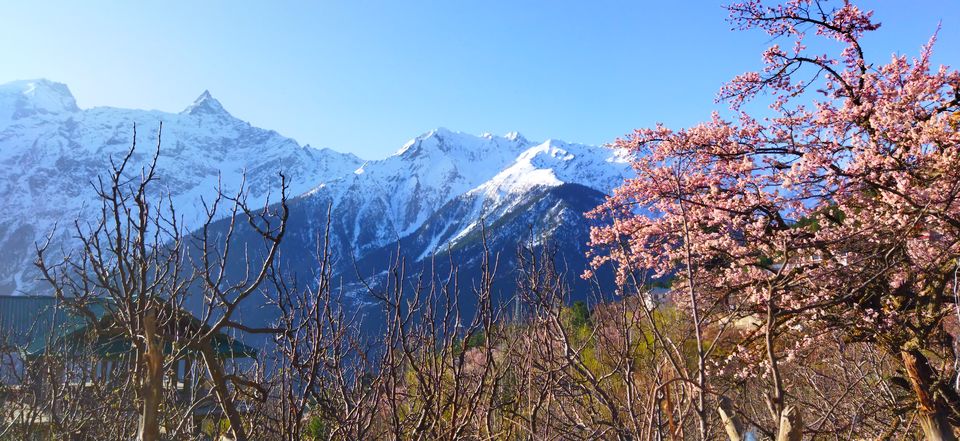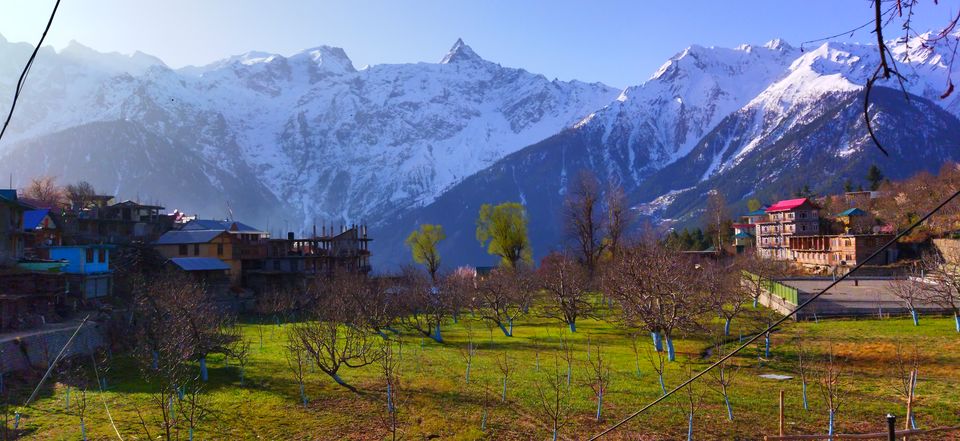 We walked across lakkar bazaar and refreshed our memories about the place while walking across the ridge & clicking some Iconic Shimla pictures at The Mall. We had our breakfast at Sher-e-punjab Dhaba and left for Narkanda at around 11am.Narkanda is approx 60kms from Shimla and we hit the road again. The buzz around Shimla was just getting to rise when we left from there.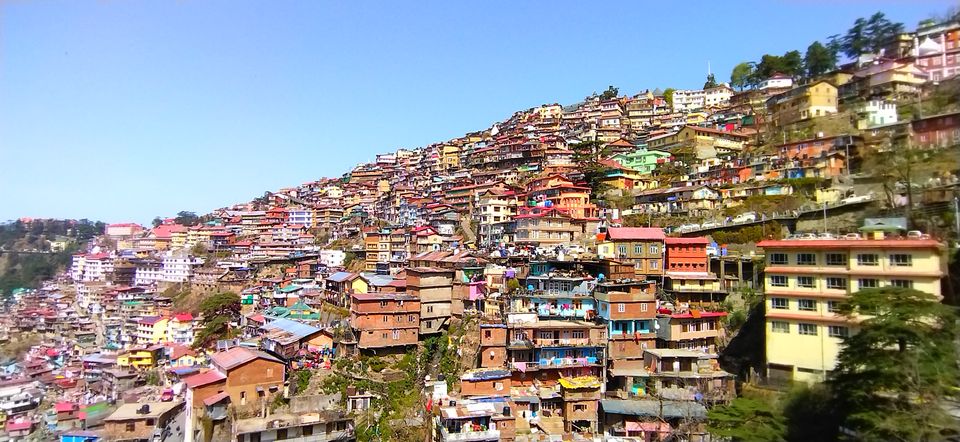 We went passed by some great landscape views at Green Valley near Kufri and soon we left behind all the traffic and the road was almost with no traffic. The road condition was very good as we reached Narkanda comfortably before 2 pm. We got a room at The HPTDC property The Hattu at Narkanda, which was on top of a steep road on the right side from the main market of Narkanda.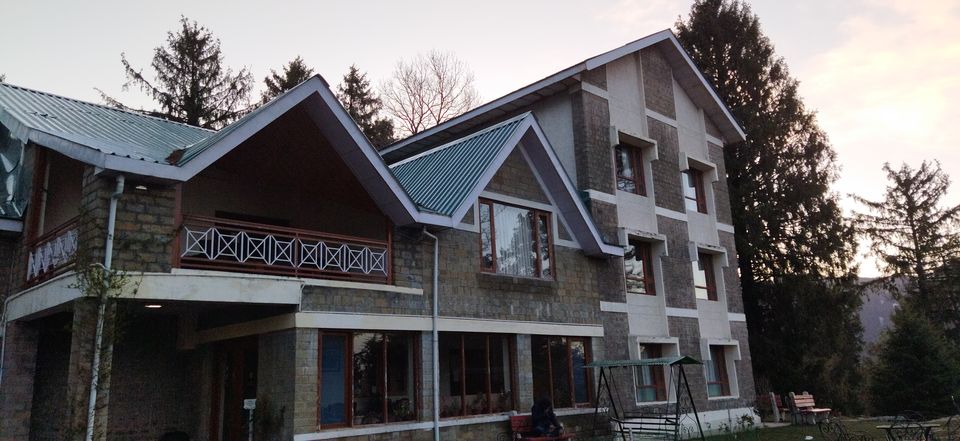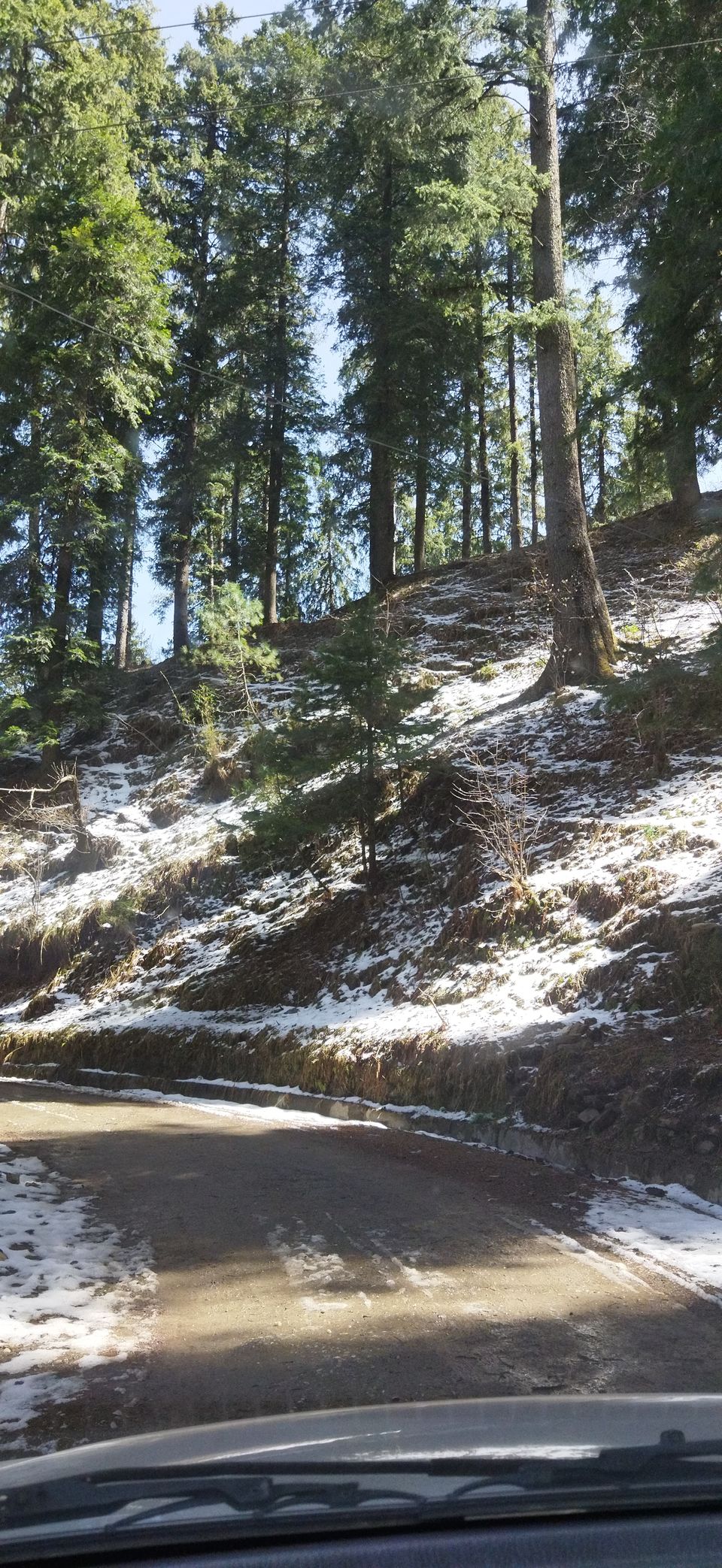 We were surprised to see snow gathered on the edges of the garden walls at the property. The room was spacious and clean. It was good to see that the staff was maintaining the covid protocols. We checked in and had rest for a couple of hours and decided to visit the Hattu peak for sunset. The Hattu peak is 7 kms from Narkanda and the road is quite narrow & steep.But the drive is amazing through dense Deodhar Forest area. We had just come 3 kms and found that road ahead was closed due to snow accumulated on the road ahead, thereby making it risky for vehicular movement. We also came to know from the chai shop that a car slipped off the road into the gorge the very last day. So we parked our car at a safe place and went for a walk around the spot.The views around the spot were so mesmerising that we enjoyed the sunset view from there and returned back to hotel room around 7pm.
Next early morning we went for a small drive around Narkanda to enjoy the views of Sunrise and the chilly cold breeze.After check out from the Hotel we planned to go to Tani jubbar lake which is around 30 mins drive from Narkanda. Although the lake is small but its location is great. Surrounded by tall Deodhar trees the view out there gives a feast to eyes. A must checkout mention goes to a magnificent property called The Wilderness , which is situated just a 2 min walk above the lake & this property has probably the best views of the Himalayas in Back drop at Narkanda. Although its for the ones who enjoy luxury travels but can be considered if you are looking for such place to spend your vacation.
It was 11am and we were not sure where next we should head to… So Kalpa came to our mind which was around 160 kms ahead. I haven't been to Kalpa before but it was on my wish list for long. So in no time we hit the road again towards Kalpa !!! The landscape started to change as soon as we left narkanda behind and entered the Kinnaur region. Soon we came across the roads which seemed to be hanging out of the big rocks of the mighty mountains of Kinnaur.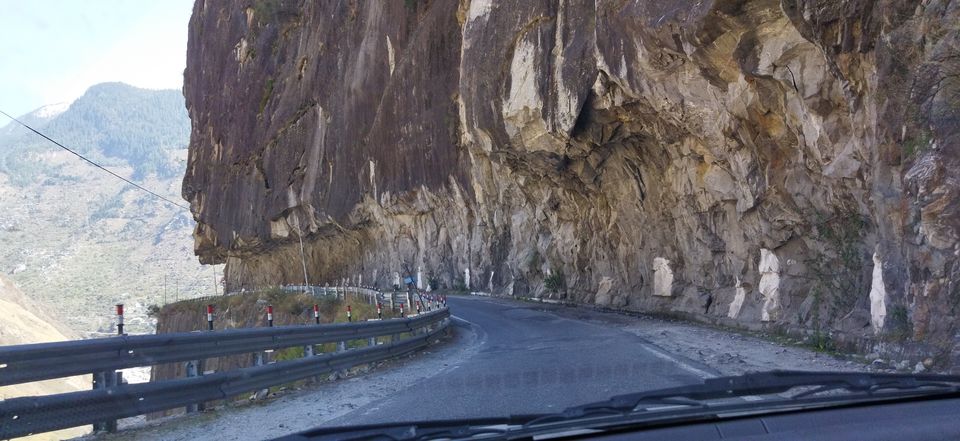 We reached Reckong peo at 5pm and the famous Kinner kailash mountain started to appear.Kalpa is just 20 mins drive from Reckong peo & it was getting chilly as the sun was going down.We tried to find a stay at the HPTDC property The Kinner Kailash but it was closed due to maintenance, so we checked in a Hotel nearby. You will find a number of good Hotels & homestays in Kalpa and probably all of them will have the majestic view of Kailash mountain. Our hotel staff told about the significance of the Mount Kailash-The 79 ft tall Shivling which appears to be very small from Kalpa. Kalpa itself is at a height of 2950mts but Mount Kailash is more than 4000 mts in height above sea level. Soon it got dark and we made our way to our room and had rest.One unique thing we noticed at night was the extra bright light of moon that we could see from the room balcony, I haven't seen such a bright moon ever in life and it appeared to be so close.
The next morning we went for a walk around the Kalpa Village , which is nestled between the mountains and a narrow road goes deep downwards which gets you there.
The village was really quite and peaceful and shops were closed too as it was just around 8 am.There are a couple of temples and a Monastery in Kalpa village. The views from the temple were exquisite. (It's worth a mention that movie Highway was shot in the same Kalpa village)
After breakfast we checked out from the hotel and went to the famous Suicide point which is 5 kms away from Kalpa. The landscape just changed in 5 mins and where we felt so close to Kalpa village 5 mins back , we came across some really deep gorge that requires guts to look down from the edge of the road.The name suicide point actually justifies itself.
The road leading to the point is so narrow that only one vehicle can pass through in one go.So just pray that you don't encounter a bus coming from the opposite side if you are driving towards suicide point. We spent half hour there & it was a nice experience. It was time to start our journey back home so we started around 11 am from Kalpa and reached Chandigarh at 10pm with a couple of pit stops.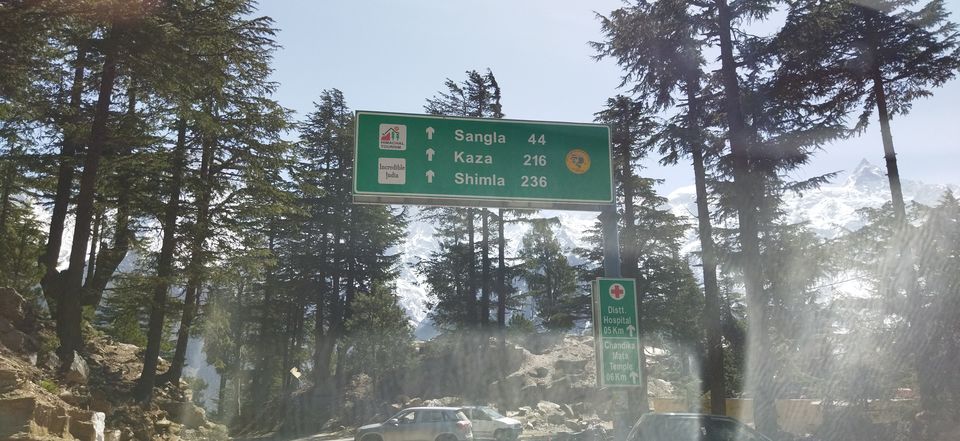 If you wish to disconnect from the buzz of our modern city life where we all spend our days sticked to gadgets, then I highly recommend to spend sometime in Kalpa and enjoy nature and refresh your soul.We just spent a day there and still felt that it refreshed us in a big way. We were short on time but would like to add Sangla & Chitkul to the itinerary next time.
Hope you liked the blog and Thanks for reading !!!
Please leave comments & feedback below , will be much appreciated !!