After the first failed attempt to one of the most stunning and picturesque valleys of northern India, it was my second time when I was embarking on the roads which would lead me to the Spiti valley.
As I have already travelled to Sangla and Chitkul, so I planned to spend some days in Manali and enter the Spiti valley from this side only but this time my excitement levels were beyond skies because I was gonna hitchhike all the way to Kaza.
Well at least the initial idea was that, keep reading to know about what happened.
On the morning of may 24th, I along with my three newly made friends whom I met at my hostel where I was staying in Manali, started walking on the road going towards Rohtang Pass (Leh-Manali highway) and after 2-3 kms outside of the main town of Manali, we stopped and started asking people going in our direction to give us a ride!
The plan was to cross the Rohtang pass and reach Gramphoo (from where the road splits for the Spiti valley) by the time the sun goes down because I was a bit nervous about hitchhiking and wanted to avoid the possibility to travel in the dark.
Finally! after asking some people, a truck driver agreed to take us with him and drop us at Gramphoo. Then we all got into the truck feeling all excited and lucky to get our first ride without alot of hustle or hours of waiting.
We started settling in the space inside the truck while having some conversations with the truck driver and we were lucky enough to hear some interesting stories from him. I must admit that he was a hell of an intellectual guy, I mean I have never thought that I would be having some serious discussions about the American president with an Indian truck driver, meanwhile slowly moving uphill in a truck at the same time, gazing upon the mesmerizing lush green views of Solang valley.
Soon the sun went down and we still were nowhere near the Rohtang pass. So when we reached Gramphoo it was already so dark that we couldn't see anything or any place where we could rest for the night so that we can start moving again in the next morning. Seeing the circumstances, the truck driver decided to take an unplanned stop only for us at Gramphoo and offered us the cabin of his truck to rest for the night. I was overwhelmed by his kindness and terrified of the fact that I was in the middle of nowhere with a complete stranger but I think that is one of the main reasons for which I travel, getting out of my comfort zones and trusting my surroundings and people in it. So I agreed to take his great help and spent the following night sleeping in a truck. It was quite an adventure when I think about it now.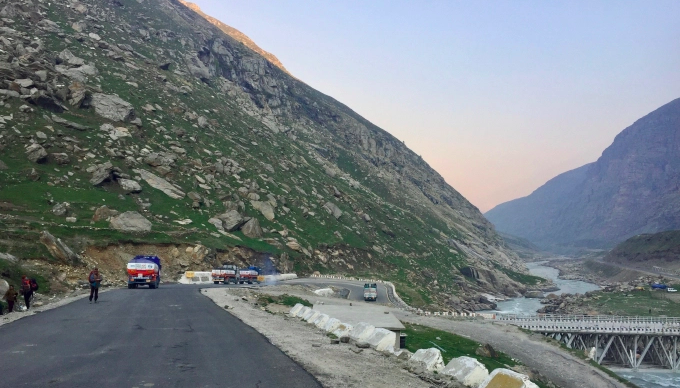 Next morning we woke up at 5 and said goodbye to our new friend as he drove towards Leh meanwhile we started looking for our next ride which could take us to Spiti valley.
We waited for around 5 hours but couldn't find a ride, so we decided to walk in the direction of Kaza instead of just waiting in one spot, after 10-15 mins of walking I saw one bus approaching us from behind, it was the same bus which starts from Manali and goes all the way to Kaza. Seeing the bus, all four of us started jumping with joy and waving our hands at the bus driver to stop for us, next we hopped on to the bus and after a long bumpy but fun ride we reached Kaza at 10 pm.
Later, me and my friends separated our ways for them to find some sort of room for accommodation and for me to spot a place where I could camp for the night. I asked many locals for their permission to spare me some piece of land in their property but got rejected everywhere, at last I went to the local PWD guesthouse and the caretaker there, was kind enough to let me pitch my tent in the garden of the guesthouse. I was really excited to finally spend my first night in Spiti valley.
I spent the next 15 days in Spiti Valley and lived some of the most adventurous and memorable days of my life.
Stay connected to read more about my other adventures!
Follow "beggarontherun" on to get latest updates about my travels. Facebook and Instagram
Use the comment box down below to share your views.
hello people! I am beggar on the run, a young budget traveller/backpacker from India. I love visiting all sorts of places but mountains are my home. And like most of you guys I want to travel the world. I also happen to have a keen interest in photography so stay connected with me and see some offbeat and beautiful locations through my lens and explore the world with me. View all posts by beggarontherun
Published