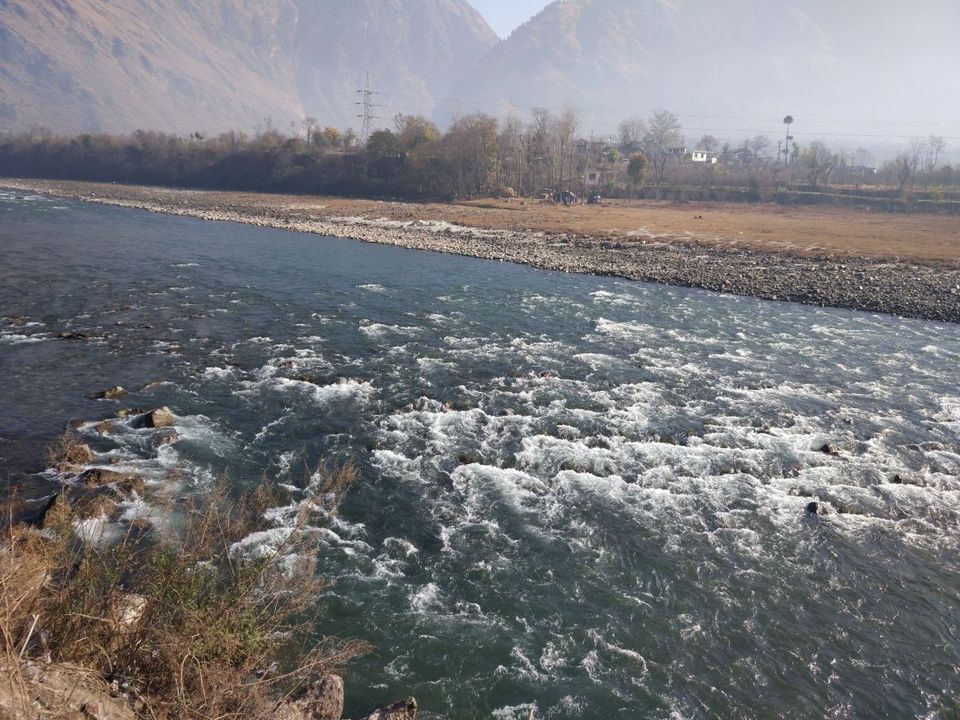 If you have read my previous blog you might be knowing my experience and the ecstatic feeling I found on my trip to the Himachal. I made it a point in not including one prominent place I visited in the same trip.
Don't worry there is not much of a continuity to that but I would like you to read my previous work also. Its named "The Christmas Retreat"
In the whole trip after we were done gallavanting Manali and Solang which was planned, we decided to take a detour to this place called KASOL on our way back. Things got pretty exciting as it was a sudden change in plan. Then we googled the route to Kasol and we headed to our destination.
Kasol has been described in various fervors and tastes by people with different taste buds. It is always a very exciting thing to check out and have a personal view on the place first hand. So as we headed towards the small hill town of Himachal called KASOL. I personally started searching for a good place to eat. Eateries in that place are also well known and then I zeroed upon one among the lot, and that was the JIM MORISSON café.
Being a classic rock fan myself I was super excited to visit this place. JIM MORISSON being the cult figure of his time and still carrying the same respect for his work among his fan. So for me it kind of became my main reason to go to Kasol.
The beauty of Kasol was very much evident just by the landscaping views we were seeing on our way. So after reaching there, without wasting a single moment we found a place to park our car and we started our trek to the café.
For people who haven't been to this place I would suggest you to ask locals if possible for the direction. Google won't be much of a help.
It's situated in a secluded place high above a hill, distant from the hustle and bustle of tourists and the honking of the buses and cars. The directions to the place is marked on the trunks of the trees through which one has to go in order to reach this place, which to some might feel a bit tricky but to us it was something new which we don't find in the cities. Our excitement level was increasing each moment. And then after a 20 odd minutes of trek we found our café. By this time our hunger also had shooted up to the level of Himalayas which was more visible from this place.
The picturesque view of the café in the background of the hills and Himalayas was wonderful and mesmerizing. As we entered the café it was a totally different experience. Things you would notice in there would be the music which is Rock and trance both. I loved it personally, after all that was one of the biggest reason which made us go there apart from our hunger.
The ambience of the place was very different from any general café which I have visited. Sitting was on sofas placed on the ground with a backrest. The whole feel of the place was very laidback and relaxed. There was no hurry or rush to eat and go. People come there to relax and get the feel of Jim Morrison himself it seemed. Large posters of Jim Morrison and bright colored painted walls gives the place a vibrant look. The owner of the place is an Israeli lady who was sitting at the counter and playing the music as well along with doing other stuffs.
Comes the food menu and it is a totally veg café serving a lot of variety from pasta to pizza and different platters. The variety is great and taste is also very good. As we were famished so we did not waste much of the time and started gorging as our order arrived. It was delicious. Though we are non-vegetarian still we loved the food here.
We sat there for quite a bit of time and started our journey down the hill again. Getting down was quicker and felt short. This half day experience of Kasol was overwhelming and this slight taste of the place made it more important for me to go there again.
This was what traveling does to you, it inspires you to travel more. And that is what has always driven me to travel since my early college days.
Bon Voyage folks!!!