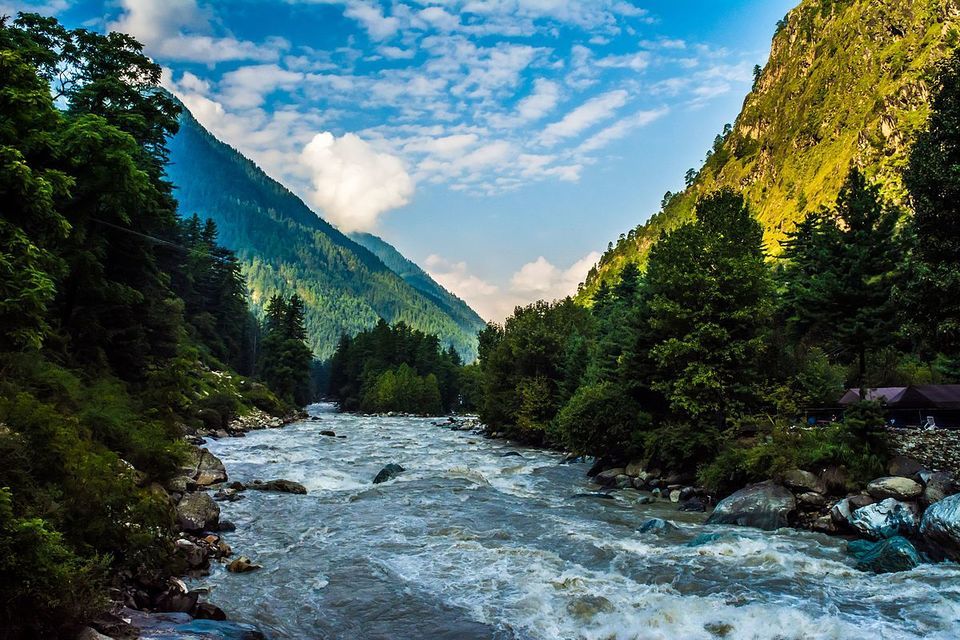 With the rapidly increasing number of backpackers and explorers looking for relaxing getaways in north India, the popularity of Kasol – a picturesque village in Kullu, stretched along river Parvati – has seen a sudden surge in the past five years. It's on everybody's checklist and the place hasn't disappointed any of those who planned a Kasol trip based on feedback from friends; family and serious travel bloggers.
The serene little village is 42 km away from the Bhuntar Airport offering a treat for the mind and the soul. It is on the way as you tread towards Manikaran, a holy place for Sikhs best known for its hot water springs. There are abundant treks and mini hikes that take you to tremendously beautiful villages. Not all of them are clustered with luxury stays and world cuisine restaurants, but you'll be surprised with the warm hospitality of the villagers and locals in the Old and the New Kasol, separated by a small bridge. Peruse the article and then plan your Kasol trip accordingly.
WHEN TO GO?
Best time to visit Kasol
Though Kasol is a year-round destination, it is best visited during the summer months of May and June. However, people also love to visit the destination during the winter months of November to February.
WHAT TO DO ON YOUR KASOL TRIP?
Things To Do On Your Kasol Trip For A Memorable Experience
A lot has been written and blogged about the same cliché things to do in Kasol. While not all of them are absolutely useless, there's a lot more to experience here – simple things that will give you simple joys.
1. Go on Hikes and Treks: There's nothing more serene that walking along lush greenery.
Kasol offers multiple exploration options for casual walkers, trekkers and everyone who falls between these two categories. Best people to give you an idea of the difficulty level of each are the locals. You could either get in touch with a local when you visit Kasol, or plan your trek in advance with the help of our verified local agents.
2. Binge on Israeli Food: Life's good with a Shakshouka, a Bureka, and a lemon cake on my plate.
Having covered the best places to visit in Kasol, you'd definitely love on gorge on some amazing food. If you have not tried the cuisine, this is the place to start. Go one dish at a time and keep repeating the ones you like. Don't forget the trout! And desserts are mind-blowing; we recommend Hello to the king and Hello to the queen at The Evergreen and the fresh bakes from The German Bakery at Moon Dance.
3. Stay in a Tent Camp: If you haven't done it yet, try it here.
Confused about where to stay in Kasol? While there are a few options, but try your luck at the Forest Department tents. Beautifully located beside the fiercely flowing Paravti, they offer one of most gorgeous morning and evening views in the valley. Also, the camps are quite comfortable and neatly maintained. Prices are as low as Rs 150 during the off season and Rs 300 during the peak summer (May-June).
4. Find Peace: Do what you love the most while you're still surrounded by the mighty peaks and a powerful river.
Kasol is the place to stir up old hobbies that get lost in your urban routine. Read a book, pen a prose, sketch/draw/paint, create a song, dream, ponder or do anything that you love doing, in a spot that makes you peaceful inside.
5. Play Games: Have a little fun.
You can play chess, carrom, volleyball and many other games in Kasol.
If you have a chance to plan your visit, pack that dusty archery set, the almost lost air gun, or that carelessly tucked away badminton set. If you are in a group, play a game of pithu; volleyball at Cottage Cafe; or carom at Jim Morrison Café.
WHAT TO EAT AND WHERE?
Best Cafes in Kasol include Jim Morrison Cafe, The Evergreen Cafe and Stone Garden Cafe
Left (top to bottom): Buddha Place Cafe; Alpine Guest House Cafe
Right (top to bottom): Jim Morrison Cafe; The Evergreen Cafe; Stone Garden Cafe
Indulge in Israeli Food at the Best Cafes in Kasol
If you thought mountains and Malana cream are the only attractions in Kasol, you are wrong. The hippie village offers you abundant options from Israeli, Italian, Chinese and Indian cuisines. Almost all places have Shakshouka, Falafel, Schnitzel, Bourekas, and the desserts at German bakeries are to die for. Some of the popular cafes that must be on 'check-it-out' list are:
1. Stone Garden Café: A 24-hour café with awesome food and ambience.
2. Freedom Café: It's the music and the legacy of 'freedom cafes' that keeps it bustling most time of the year.
3. Jim Morrison Café: Great music after a small trek makes it special. Food is all vegetarian though.
4. Shiva Shanti Café: Terrace seating allows an enchanting view of the valley and the surrounding peaks.
5. The Evergreen Café: Don't miss the church behind and the great food.
6. Moon Dance Café: Lovely setting, great food, and irresistibly good bakery.
7. Bhoj Café: One of the oldest cafes is a different experience altogether.
8. Buddha Place: Vibrant music and interiors.
9. The Art Café: Go here for some peace.
10. Alpine Guest House Café: A scenic café along the fiercely flowing river Parvati.