Vibhu Grover, a young boy aged 17 is probably the most difficult person to catch hold of–not because he's locked in his room and stuck to his phone like a typical teenager, but because he just cannot stop travelling from one place to the other!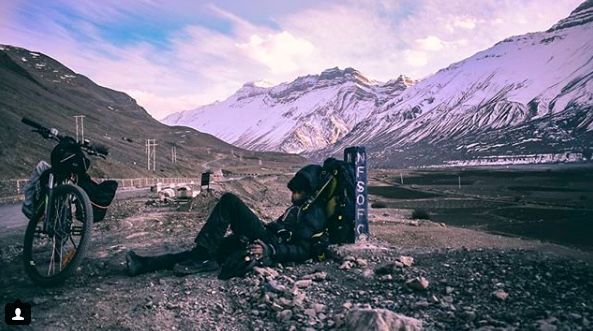 Ever since he was 10, Vibhu was passionate about astrophotography, and it's this passion that gave him the idea to trek to Triund at the age of 14. He was so excited when he found out about Triund, that he started planning his trek that very night. Remembering his first trip, he says, "I fought with my parents to let me go, for six months."
"I tried to bribe them by saying I'll do well in my exams, but they never agreed. So in the December 2015, I made a fake school trip consent form and decided to go to Triund all by myself, that too during winter!"
Surprisingly, it worked out perfectly, and even better than I could have ever imagined." Ever since this trek, Vibhu fell in love with the idea of enjoying the wild, in tough conditions, so he just continued his quest for more.
It's baffling to know how such a young boy can have such a wonderful, wholesome perspective towards life, when most teenagers end up spending money on fancy, materialistic things. As Vibhu fell in love with travelling, he realised that it was more important to save up for trips, trekking and shooting equipment, and realised the futility of spending on other things. He says:
"That's one of the many lessons you get when you're close to nature, living in the most simple manner, realising how less you need to feel complete."
"I can't explain that feeling, but after Triund, I just felt this pull towards the mountains. I would come back from a trip, and start planning my next. I just wanted to keep climbing mountains, keep being on the road."
What's even more interesting is that Vibhu has continued his spirit of travelling. Like every traveller, he too has his quirks, his friends tell me that he once survived an 8-hour-long trek on 20 boxes of Tic-Tacs! During his travels, Vibhu also picked up photography and his Instagram handle gives us some serious goals.
In fact, Vibhu has recently returned from an extremely exciting and adventurous journey!
In February 2018, Vibhu didn't just visit the majestic Spiti Valley that tops most of our bucket lists, but cycled all the way till the valley!
He wanted to do something really special and make a mark for himself by setting some kind of record. "After a point, it wasn't about being the first, or the youngest, but just about enjoying this heavenly place, in my own way. The freedom, the excitement, the thrill of cycling with my heavy rucksack underneath the dodgy cliffs of Kinnaur, being responsible for every small decision I made, climbing any random mountain in Spiti, going out to find snow leopards or other wildlife, and doing everything on my own was an immeasurable experience."
You would wonder how a boy still in school managed to pull this tremendous feat off, well there's an exciting story behind this too. Vibhu had planned to leave for his epic cycling trip after his boards were over.
But one day before his exams were to begin, he decided to quit school all together! He had been seriously considering open schooling for a while, and once his parents agreed to the idea, he decided to leave for Spiti Valley right away!
It was in Spiti when Vibhu came face to face with his most difficult yet exciting travel story, when he cycled from Nako to Khab.
"I started at about 2pm from Khab, and then right after a turn, there was a 3,000ft climb right in front of me; the zig-zag roads seemed to laugh at me as I stood there staring, shocked at what I had gotten myself into. Nonetheless, I kept pedalling, and in no time it was 5pm. I was still 10 kilometres away from Nako, drained and giving up. The sun was about to set, it started to get freezing cold, my water was over, and I genuinely had no clue how I would reach Nako before it got even darker. When suddenly a Jeep stopped, with four soldiers in it who had seen me in the morning while I was cycling, and hours later while they were coming back, I was still cycling. They gave me water, their number and motivated me to get myself up, which I did. Not only was I scared, but I was so mentally drained that I had almost given up. I just wanted to return home. However, something inside me kept pushing me to go farther; and I did."
Finally, in a few days he had achieved his aim and completed his trip, having cycled over 400km from Shimla to Kaza only in 7 days! In fact, he even climbed Mount Kanamo, a high-difficulty trek in Spiti, not just once, but twice!
Once he was back from his cycling trip, one would think that he rested for a while, but no, he visited Delhi for an event, went to his house for 30 mins, and made an impromptu decision to leave for Narkanda to catch a meteor shower. From Narkanda, he went to Bir to paraglide, and is currently trekking around Mcleodganj. Truly, there's no stopping him!
I had to know how he manages to achieve so much every single day, despite being answerable to adults since he hasn't even come of age yet. I asked him what his suggestion to young travellers would be.
"Well, I wouldn't really suggest to everyone what I did, I lied at home and went for solo trips twice before I got caught. Finally, my parents and I had a deal, of how I'll always tell them where I go and they will allow me. But the one thing I realised is that once I started trekking regularly, my parents started having confidence in me, they started having that comfort of how I'll be fine.
"In fact, travelling has become all the more easy for me because I know I have my parents' support. They've seen how passionate I am about it. Even for the cycling trip, I didn't have to convince them, I just told them my plan and they started helping me with my preparations!"
"Many a time I would ask myself, are these the same people who I fought with to go on a 7km hike, for six months?"
It took me 2.5 years to get to a point where I have the freedom to go anywhere, anytime! So start now, and you never know where you'll be in a matter of a couple of years.
I remember how I used to come back from an epic trip and tell my mom about it, and she would show no interest. But, now whenever I upload a travel video, she is the first one to share it in family groups!
The young boy also has a special message for everyone who yearns to travel and pursue their dreams.
"No matter what you're passionate about, in the end it's the same for everyone, be it trekking, photography, filmmaking, anything. It's you who turns it into reality, if you want it badly." So don't let anything stop you, fight if you have to, but give your dream the try it deserves!
Do check out his Instagram Handle here to read more of his stories and see wonderful pictures from his travels across the country.
Have you too experienced something this inspiring? Share your adventures with us on Tripoto by creating a trip here. For more travel inspiration, check out Tripoto's YouTube page here.