Don't you think that nature is one of the best teachers? Why do we feel so complete when we are close to nature? What happens to us when the soft breeze or the warm sun touches us? I believe that nature has the best healing powers. Just a walk in the woods or a stroll by the beach or an early morning walk can evoke happy and calm feelings. If you're craving that kind of bliss, we've found just the escape for you.
Glamp Eco, a unique property located near Manali, offers a fantastic experience. At Glamp Eco, you can stay at their mud-house, or the very special, one-of-a-kind geodesic domes. Have a look!
Ideal for
This place is perfect for those who are looking to experience peace, adventure and the pleasure of being far away from commercialisation.
About the property
Glampeco offers two kinds of experiences – glamping and eco stays. Glamping is a type of camping that is more comfortable and luxurious than traditional camping. Eco-stays are environmentally sustainable accommodation that keep in mind the environmental factors in order to minimise any harsh impact on nature.
Glampeco is located in Hampta, Himachal Pradesh, just 12 km away from Manali mall road but seems like a different world altogether. The place offers you direct contact with nature, so enjoy the mountains and infinite valley views. Located at a height of 2,600 meters above sea level, this is the first eco- glamping site with geodesic dome tents and rustic mud home in the Himalayas.
The good folks at Glampeco follow all the little things to be eco-friendly and explore conscious ways of co-existing with nature and the local community. If you are an animal lover, you will love the presence of the friendly local dogs at this site. Feel free to pet or play with them. There's free WiFi to cater to your Instagram and Facebook feeds, along with hot water, blankets and laundry services. Electricity can be an issue sometimes, but with views like this and so much to explore outdoors, this is barely an issue.
Accommodation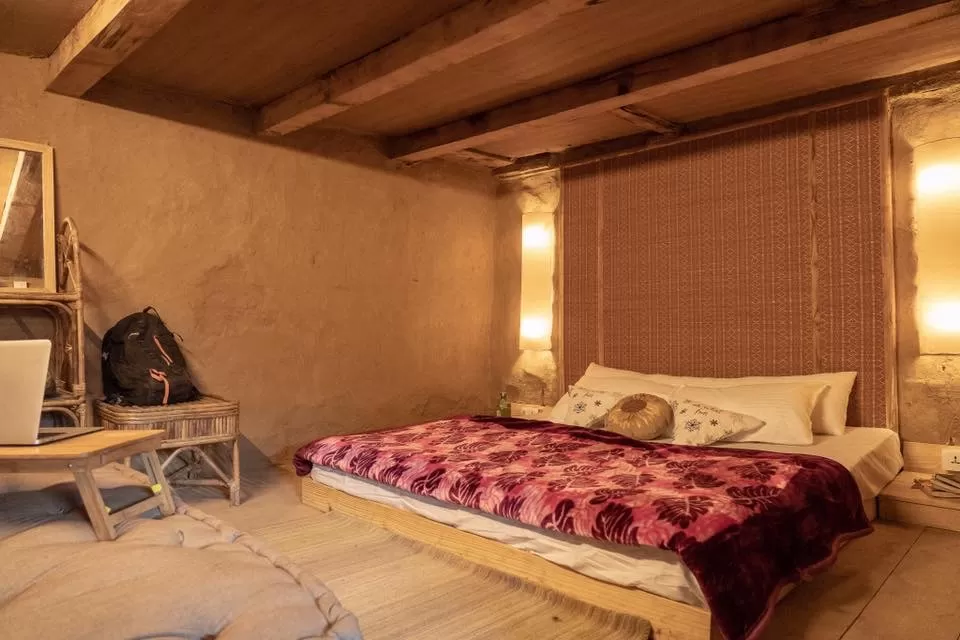 Glampeco offers two kinds of accomodation – the traditional mudhouse rooms and their signature, geodesic tents. No matter what accommodation you choose, the valley views are going to leave you spellbound.
The Mudhouse
Rooms in the traditional mud home have been refurbished to suit modern needs while being eco-conscious while retaining an old world charm. In addition to private rooms, the mudhouse also boasts of a gorgeous dormitory, a common room, a fully functional kitchen and washrooms. The traditional mudrooms are well insulated and are sure to keep you warm during winters. The rooms are located on the first floor with a shared balcony overlooking the endless mountain views. The dormitories offer an amazing view of the apple orchards, deodar trees and an endless valley view. The two double bunker dorm beds can easily accommodate four people and there is a personal locker, universal charging point, and a reading lamp to take care of your basic needs.
The Geodesic Domes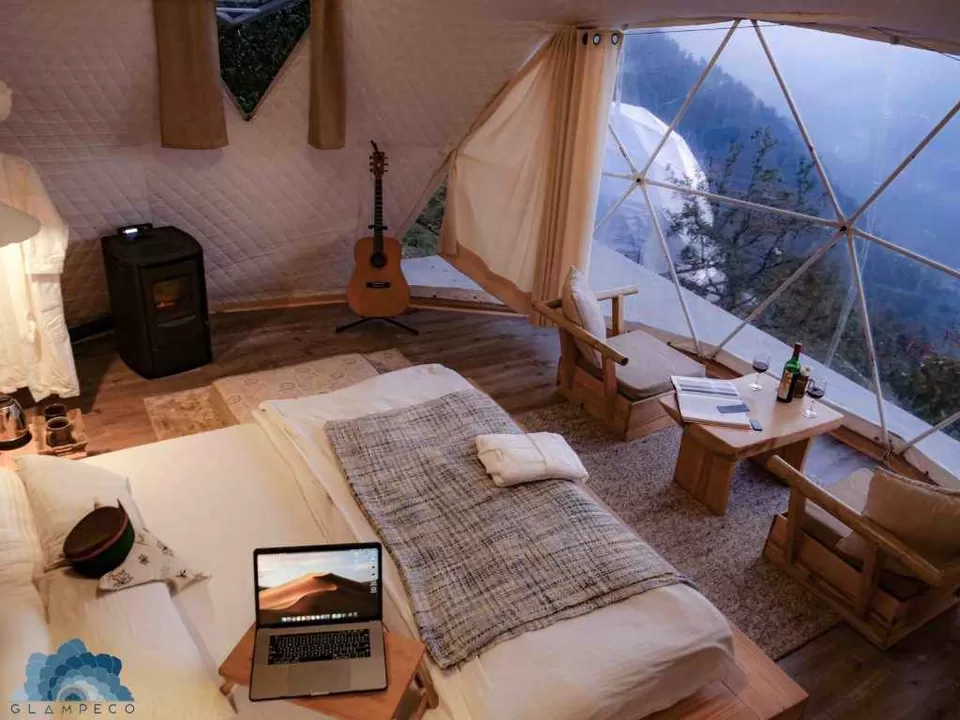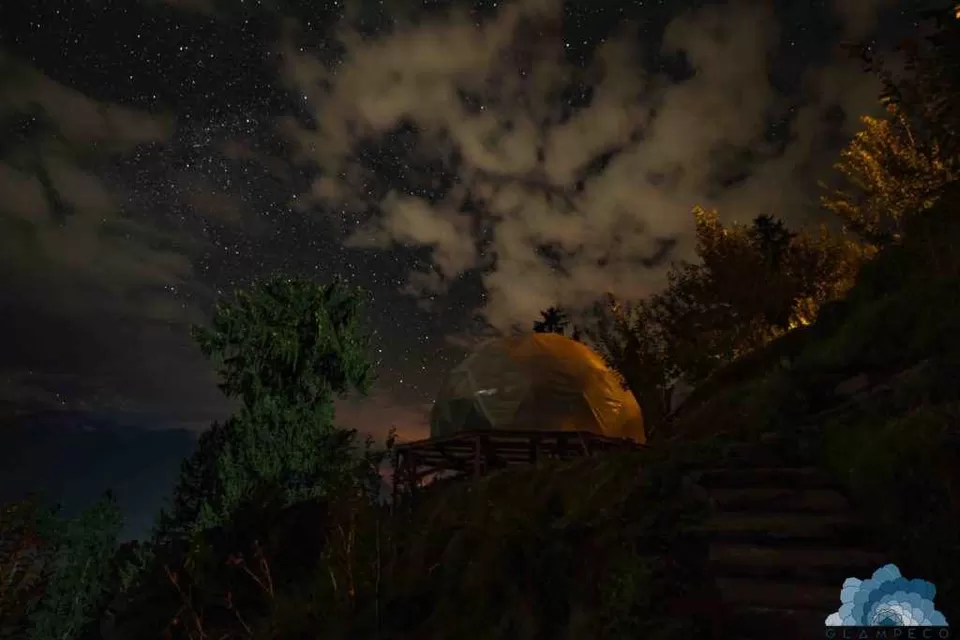 Two geodesic domes have recently been added to Glampeco, and there's no surprise that they are the property's star attraction. These luxurious tents are ideal for the upcoming winter as you can cozy it up in your bed, while watching the snowflakes descend and cover everything in white. These are India's first-of-its-kind domes, so don't delay your trip, head to Glampeco to have an experience like never before.
Food
Gorge on local delicacies along with comfort foods like pastas and pancakes, prepared on request. Regular lunch and dinner are priced at Rs 200 and 250, veg and non-veg respectively. Breakfast costs a 100 bucks only with options of parathas, poha, or bread with eggs. Morning and evening tea is complimentary for all guests.
Activities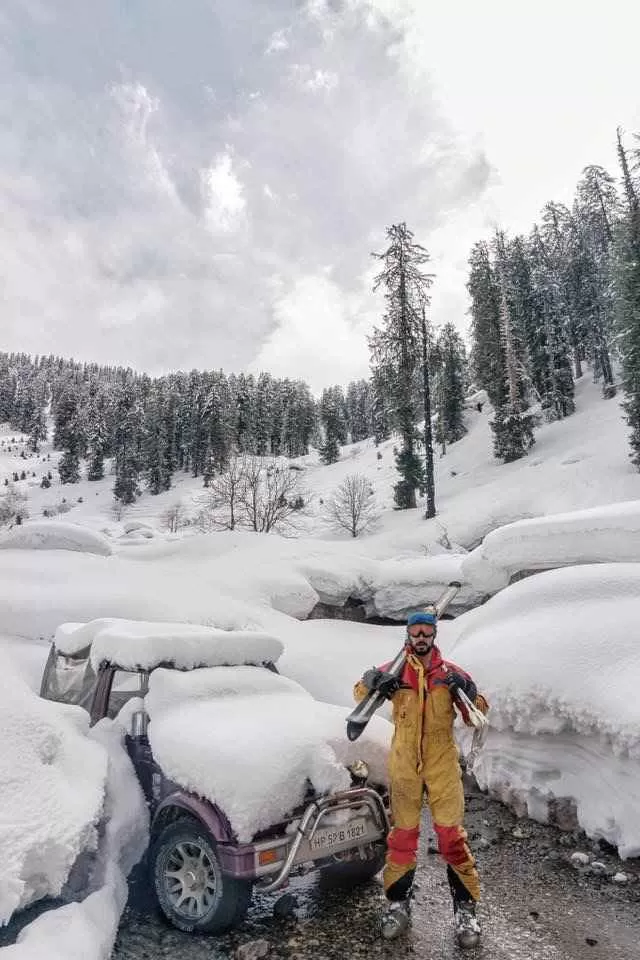 You can explore the nearby forest, walk till Sethan village and check out the igloos there. If you are an outdoor person and love skiing and snowboarding, inform the staff well in advance so they can arrange for gear and lessons at an additional cost. Apart from lazing around, wake up to the sunrise and watch the beautiful sunset. These are some of the activities that they can plan for you apart from exploring new ones yourself.
A slow nature walk along the mountain trails, the hampta pass trek (five days), bouldering (Sethan village), paragliding and rock climbing popular around. If the weather conditions are not great outside, enjoy the indoors by sitting with a book from their select collection, or playing cards or carrom or even an acoustic guitar. If you don't feel like doing anything just get your group of friends around the traditional tandoor in the evening and warm up with endless conversations.
Best time to visit
Manali can be visited throughout the year. You can visit both in summer and winter seasons, either to beat the heat or to catch the snowfall.
What to do around the property
Sethan Village
Sethan village is at an altitude of 2,600 meters. The village is located at a distance of around 4 km from Glampeco and you can explore the places nearby walking. The village has around 15-20 houses, three local dhabas, three stupas, a small Buddhist Gompa, water reservoirs for the dam and is famous for being the first "Igloo Village of India". It is also a preferred destination among skiers and snowboarders.
Hampta Pass Trek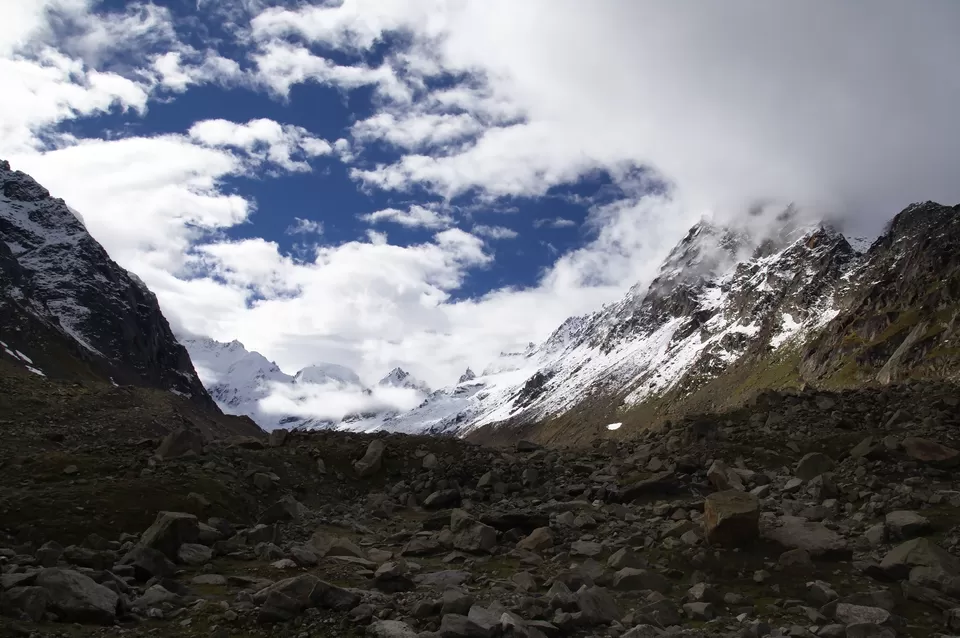 If you wish to do this trek, you can ask the people at Glampeco and they'll make the necessary arrangements accordingly. Hampta pass trek is considered the easiest and the most convenient of all the treks. The pass offers breathtaking views of the two different sides of the Himalayas. On one side you can see the lush green Kullu valley and on the other the desert valley of Lahaul. The most exciting thing about this trek is the Chandratal lake in Spiti. The scenic landscapes, open green pastures, valley views make this trekking expedition to Hampta pass an exciting one. It generally takes 4-5 days to complete this trek.
How to Reach?
By Air
Fly to Bhuntar Airport, located 52 km from Manali, regular taxi services are easily available. There is no public transport to Glampeco and the closest that you can get here by public transport is till prini. From there you will have to arrange a personal cab which can drop to t.
By Rail
The nearest Railway Station is Joginder Nagar Station which is approximately 166 km away from Manali.
By Road
You can drive down on your own or take a bus from Delhi to Manali. You would need to get a personal cab from Manali till Hampta Village.
I think this is the perfect place for planning your perfect offbeat summer getaway . Do you know any such hidden gem, please share your story here.
Bored of flipping videos, checkout Tripoto's Youtube Channel for interesting videos.
Get travel inspiration from us daily! Save our number and send a Whatsapp message on 9599147110 to begin!