I had reached Manali yesterday evening. It had rained all night and there was a bus strike as well. I wasn't sure whether I'll get a bus to Naggar or not but I was all prepared to go whether by hitch hiking or bus. The weather was favorable for the trek in the morning, no rain and I also got a bus to Naggar. It's a very small town by the highway, crowded as well. After you start your trek it keeps getting quieter.
I purchased some groceries and maggie packets for the trek as I always carry my Wood Burner to make noodles, tea and to boil water. It's very efficient plus it saves me a lot of money.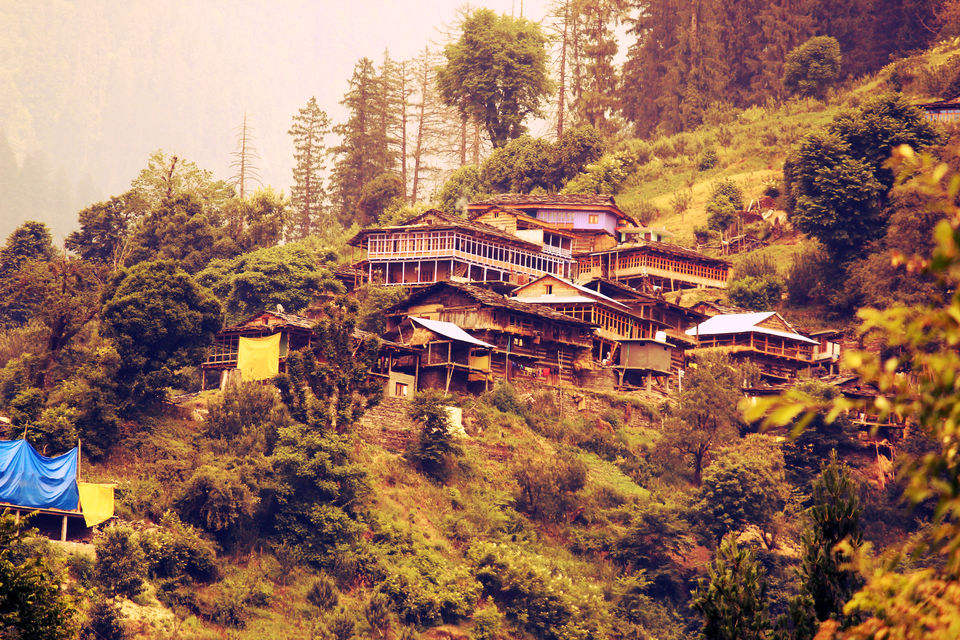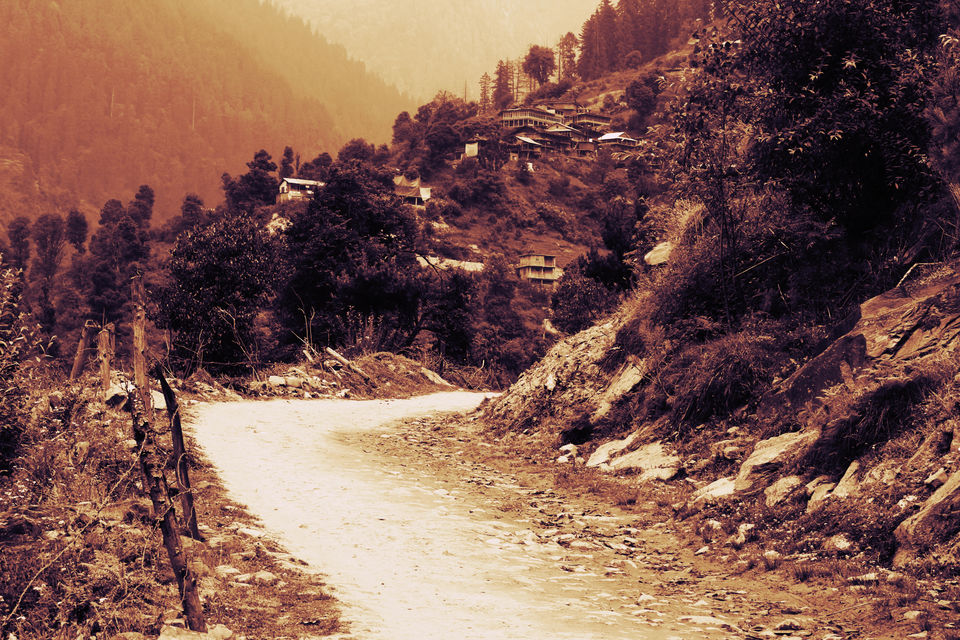 Rumsu is the first step of the trek. It was awful quiet here and I wonder why. After some inquiry I got to know that there was a volleyball match nearby and all the people were there. There was no one to ask for the directions and I was lost again. I was in the jungle, it was getting dense. I had to be more careful because of the wild animals mainly Bears.
"Whenever you are trekking alone, please make sure you have enough time to come back to a safe place in case you are lost. Mark your trails for returning. If possible inform someone before starting a trek and giving them specific details how you intend to cover the trek and duration. I always keep 2 hours time to return whenever I'm lost."
In this trek as well I got lost at around 3pm. I was hungry and I don't think straight when I'm hungry. I quickly made noodles using woods and started finding my way. I was about to go back to Naggar and start tomorrow morning but I was lucky I met some Nepali people who gave me shelter in their camp. They were cutting the forest (non growing trees) for a contractor.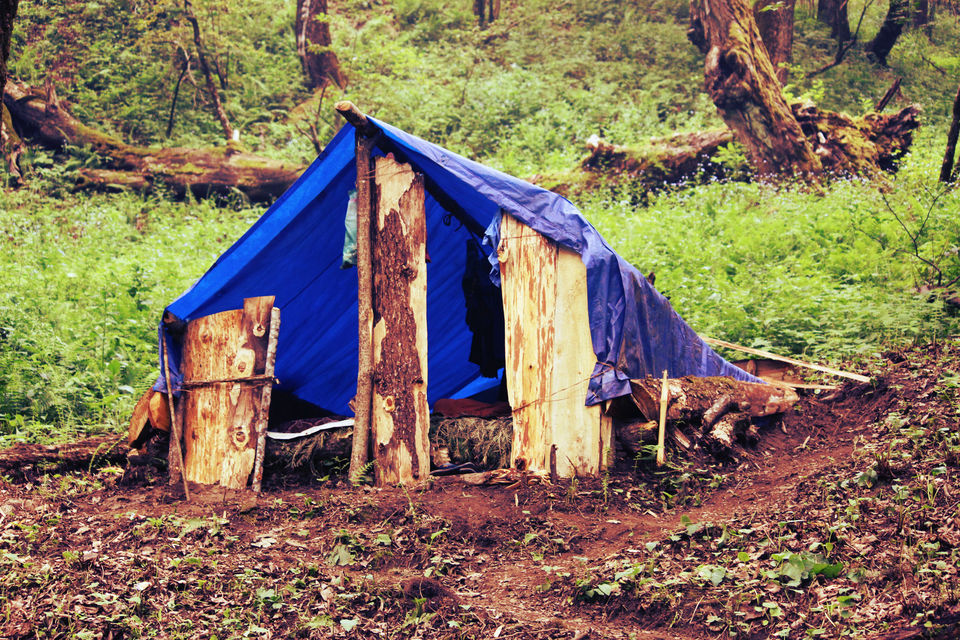 It was warm inside. We had a long conversation after my trips and theirs. I asked them how they came to India? They told me they crossed the border and came here without any passports and Identity proof. They stay in the jungle for 6 months then move to Kashmir for the next 6 months. We listened to old 80's and 90's songs while having food. It was all wild plants in the food and it was damn tasty.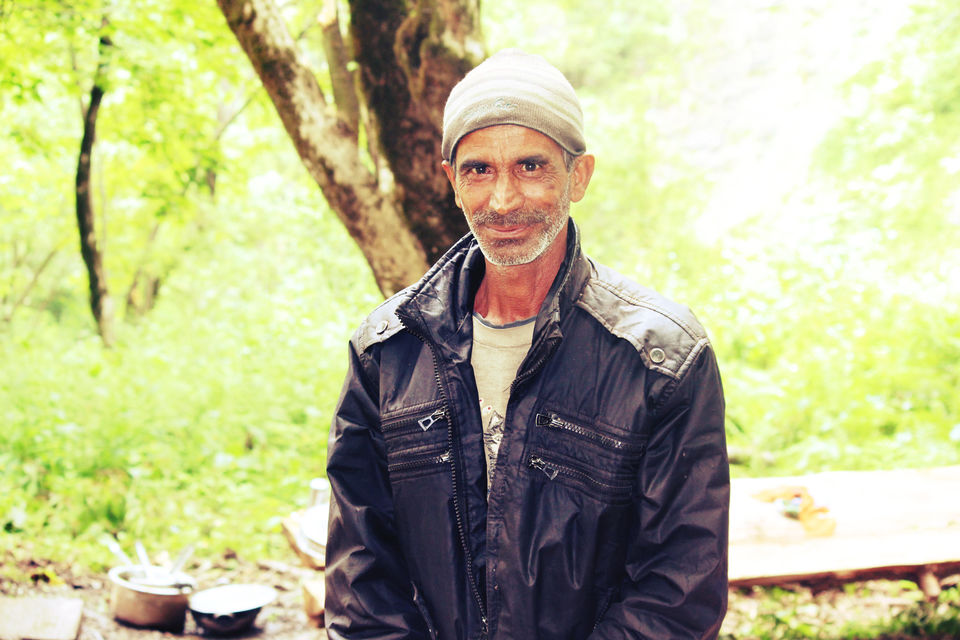 Weather was not good, showered few times. I wanted to stay with them for few days. I enjoyed their company and hospitality. But I left around 1pm and after another hour showers turned into heavy rainfall. I kept walking ahead thinking I'd stop once I'm out of the jungle and in the open where I can see the route but rain didn't let me continue. It was freezing. I had to change clothes to stay warm. I took shelter under a tree for 2 hours. It was almost evening and I was still finding way. After a while I was out in the open, I could see the way but there was no way I could do it due to the weather. Luckily there were some people staying there. They arrived yesterday there, camped and would stay there for the winters. They happily let me stay with them and gave me food.

This was the next mornings view and the only view of the surrounding peaks. The weather was again turning bad, fog started to build up. I didn't want to get lost for the third day so I started fast and kept that pace for the next 3 hours. I met some people at "Naya Thapru" which is only 3 kms from the top. I joined with them, and reached at the top without getting lost. I was really happy to make it but I couldn't see anything because the fog was so dense. It didn't rain that was a plus point.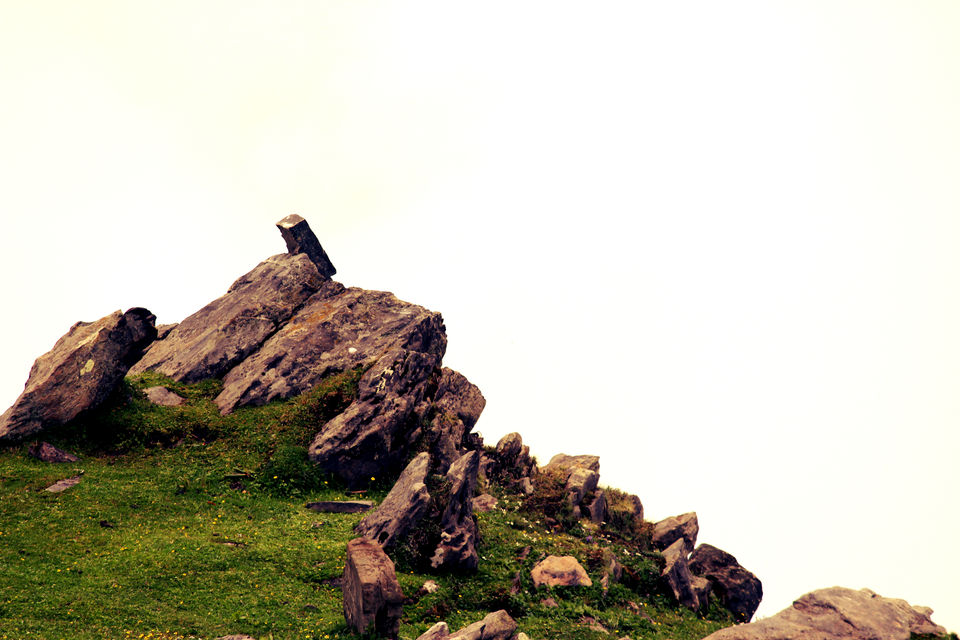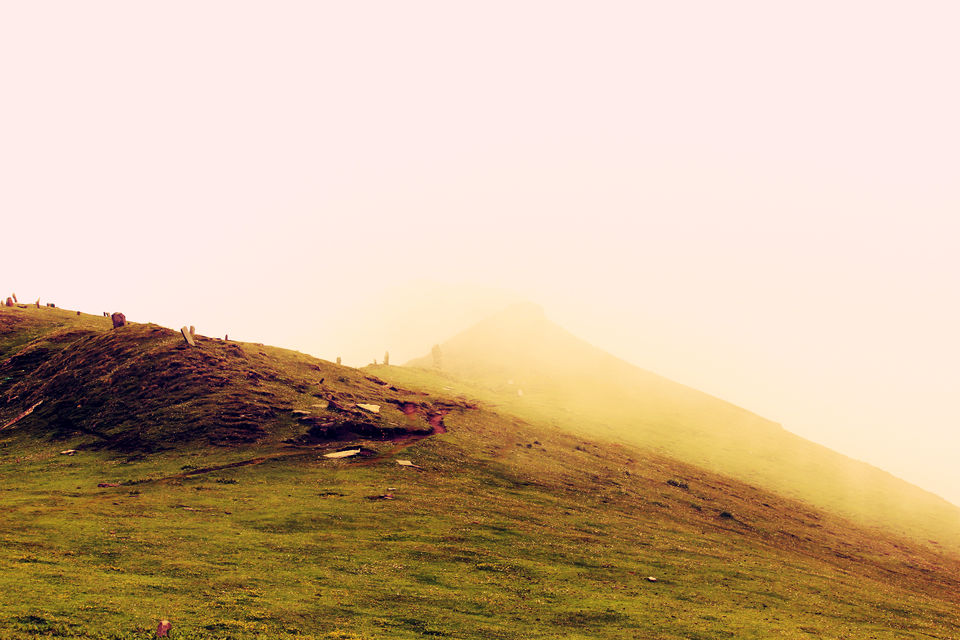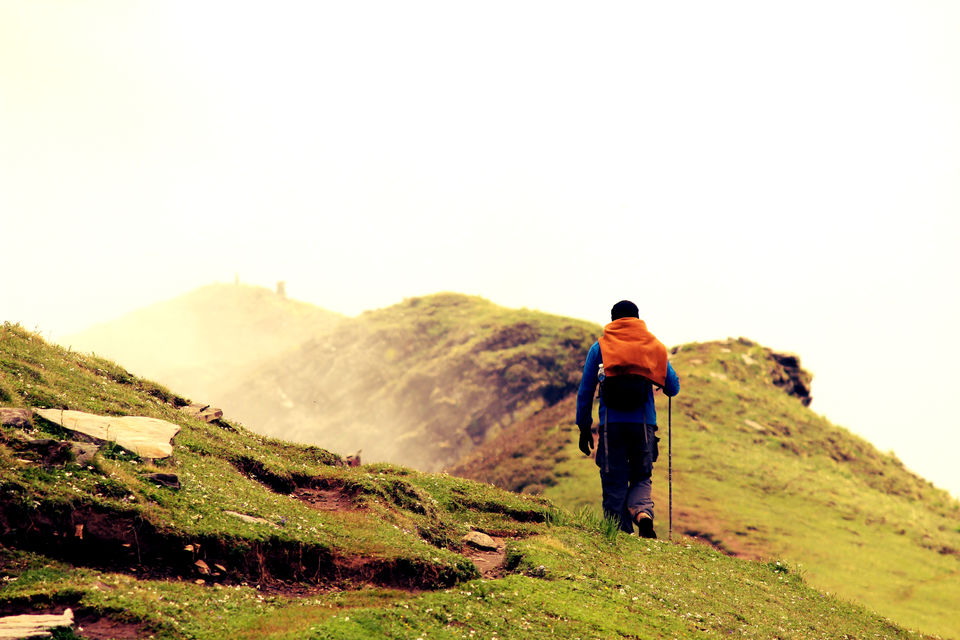 It was very relaxing when we reached the top. Air was refreshing and cool. We rested there for half an hour to re energize. And started the trek to Malana. I was sure that I'd rain, I was only hoping to reach there before it rains.
The route so far was easy, not challenging at all except the part where I was lost. But as soon as we were on the way to Malana it changed to extremely difficult. It was steep 45 degree descent. It was very hard to walk there, first because of the rocks and secondly because of the backpack. It took us 3 hours to cover that part. As soon as we entered Malana, it started raining and kept on raining all night. I shared room with a Swiss guy which I met on the trek to save some money.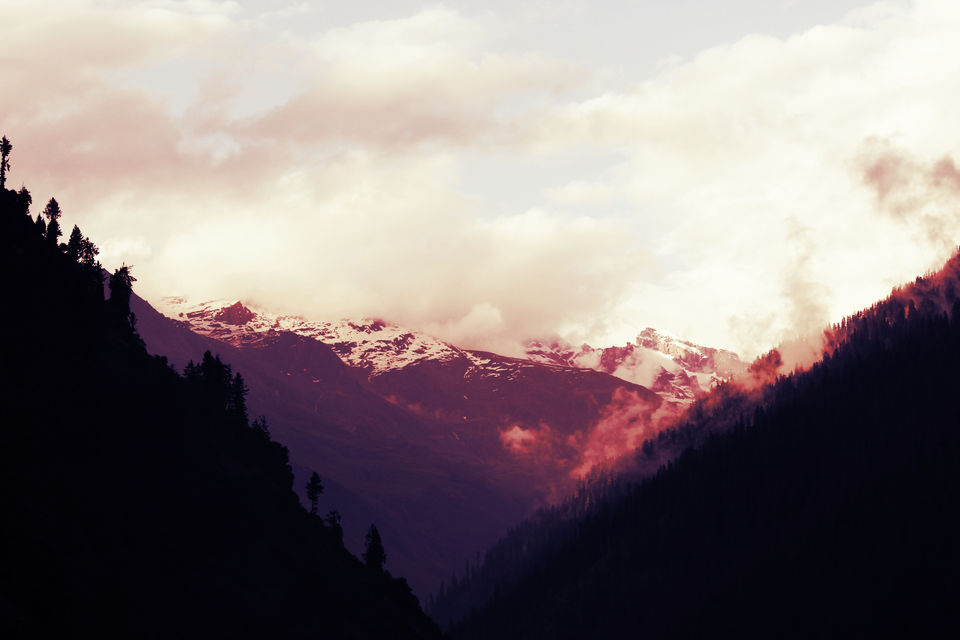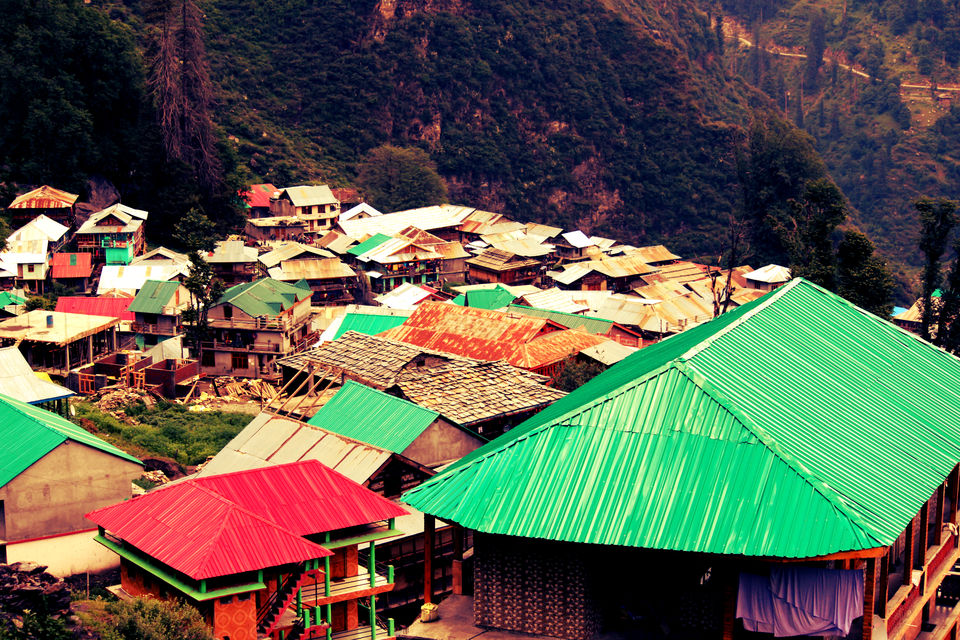 I didn't like the atmosphere there. It was very alien like. You are not allowed to talk to the locals, walk on a specific path made, no touching. It's good for only one thing.
I trekked to the main taxi stand and got into a bus to Manikaran where I'd be spending my next 3 days in the Gurudwara to relax my leg and then "Kheerganga". I got a bad cramp in my knee on my way to Malana.
"Just one advice, don't trust anyone which seems bad. Don't hire guides in between the treks. Always contact the agency before hiring guides. I've heard some incidents where people were killed on this trek mainly on the way to Malana from Chandra Khani. Stay safe."
Will upload the next story soon. Please read and comment. Lemme me know about your views and message me if want any help regarding the trip. Thanks.