"Not all those who wander are lost."
                                         – J.R.R. Tolkien, 'The Lord of the Rings'
       Sometimes all you need is a ticket in hand and a book in your bag-pack to escape from the monotony of your life and spend some time alone, finding solace in the nature. I decided to do something similar after my second year of college. I am not in IIT or any other big college of India, but studies do take a toll on you at a certain point of time, and at that moment you feel like you just want to run away for a few days. I spent my last couple of exams searching for travel destinations in the Himalayas and no sooner was I on an overnight bus to Dharamshala. The main objective was to go on my first trek, and spend a night on Triund hill.
I left Delhi late in the evening and I was in Dharamshala by 8 a.m. Summers were at peak in those days and so were the prices of hotel rooms in popular hill stations. After inquiring a little, I got to know hotels are cheaper in McLeodganj (10 km from Dharamshala) and Bhagsu Naag (further 1.5 km upwards). McLeodganj wasn't cheap enough either, so I ended up in Bhagsu Naag where I found a hotel which goes by the name of Sweet Dreams. Attractive, no ? Well they provided me with 24-hour running hot water, free Wi-fi and a clean room for just 600 rupees.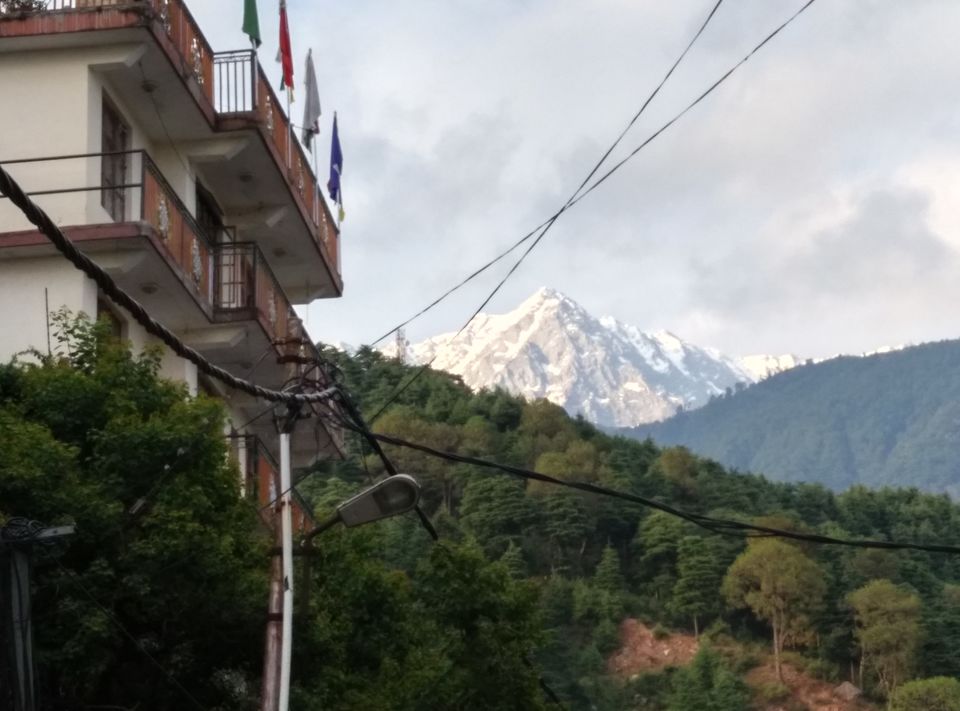 View of snow-capped mountains from McLeodganj
After visiting the Bhagsu Naag temple (by which, I mean passing by it, from the outside), I went on to see the Bhagsu falls which are a 15 min walk from the main city. The falls also offer an opportunity to have a bath in a small pool of cold water formed nearby. Another kilometer or so upwards from Bhagsu was Dharamkot village. Famous for its Israeli immigrants and restaurants, this small village offers a lot to eat. I ended up sitting in 'Pizzeria' which offers delicious wooden-oven pizzas. From Dharamkot came down a road, straight to McLeodganj, thus forming a triangle between the 3 cities. Famous for its monasteries and Tibetan food, McLeodganj offers much more than what meets the eye. Small ornaments in the market, Buddhist monks offering their blessings and stupendous views of the mountains around makes it one of the most beautiful destinations to travel to. After spending the whole day out, I came back late night and decided to leave for the trek early morning on the following day.

With the rising sun, I woke up, checked out of the hotel, and headed straight to McLeodganj to rent a tent an a sleeping bag for the overnight stay. You can also get a room in the Forest Guest House on the hilltop or even tents to stay in, if you reach there early enough. I didn't know that, so I ended up carrying another 2 kgs of baggage with me. Pro Tip : Travel as light as possible. The actual trek starts from Gallu Devi temple which a brisk walk away from Dharamkot village. You can take a taxi till Gallu Devi. I preferred walking from McLeodganj, taking the 1.2 km stretch of steep road up to Dharamkot. From Gallu devi, it is a 7 km long trek which takes approximately 3 hours under normal circumstances. The initial parts of trek pass through high-headed pine forests. It is a gradual incline from there on. A cafe at Gallu Devi temple, and Magic View cafe mid-way down the trek are the only two cafes on the route, along with a couple of them on the top of Triund hill. They offer almost every possible variety of biscuits, chips and eggs and Maggi. Pro tip : Food and water ain't cheap, prices are double at these cafes, so take a water bottle with you and fill it at the cafes with clean mountain water for Rs 20, instead of buying a new bottle for Rs 40. Keep the surroundings clean with minimal use of plastic.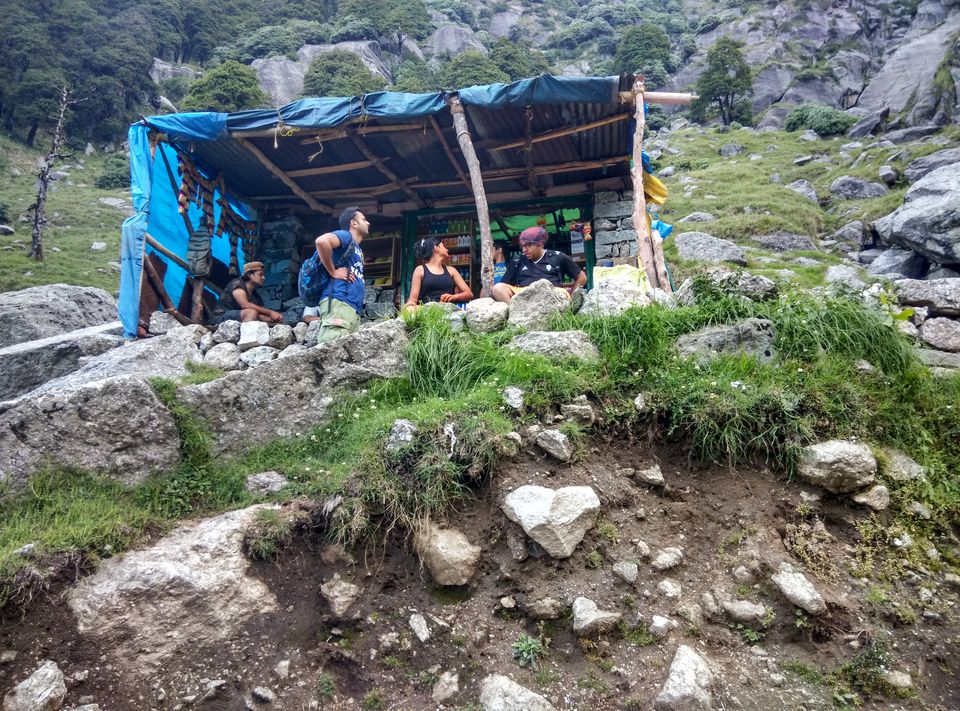 Magic View Cafe (What did you expect ? A CCD ?)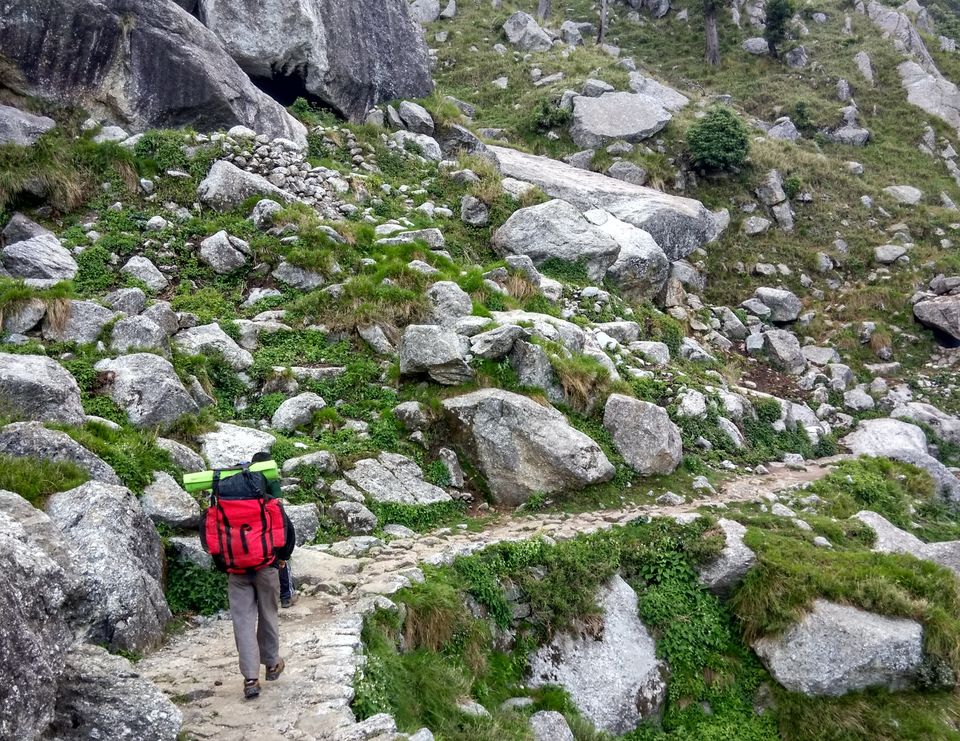 The trail is well marked throughout the trek. You won't lose it.
The last 2 km of the trek are quite steep and tiring, though not difficult as such. After 4 hours of trekking, I reached the top of Triund Hill and the view from there absolutely drained all my weariness. I dropped my bag and ran to the other edge of the hill. Kangra Valley on one side, and the mighty snow-capped Dhauladhar Ranges on the other. Imprinted in the memory, forever. The changing colours of the evening clouds, bonfire at night, and stars all around. Serenity, which the city-life can never offer. I spent the day exploring the hill top with my new-found friends on the way up and I spent the night staring at the sky full of stars and ultimately drowsing off in my tent. I don't think any caption is required for the pictures below.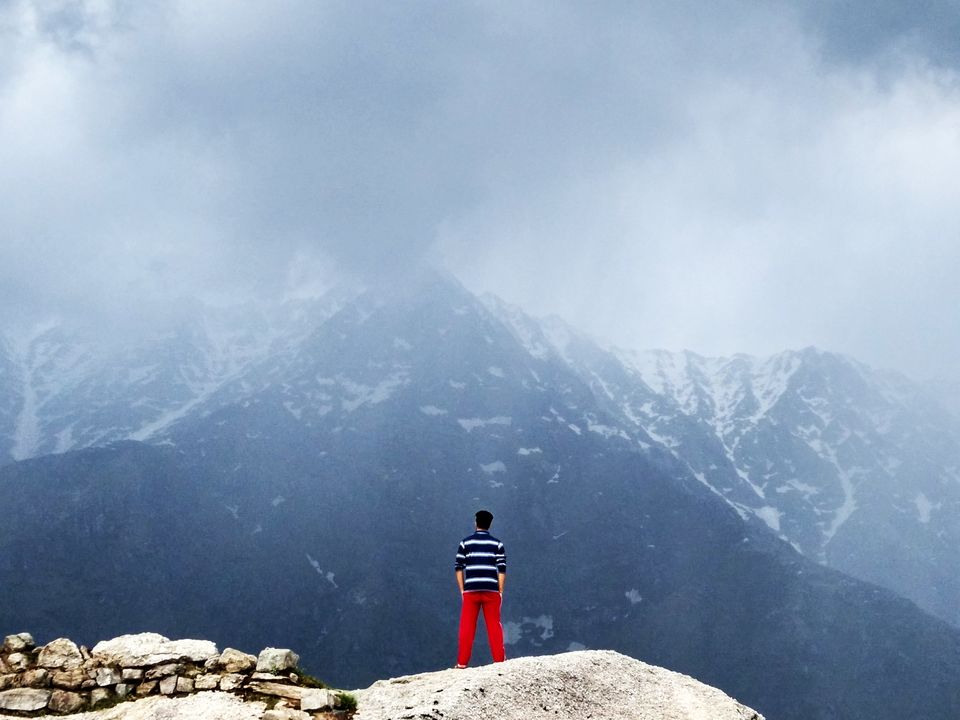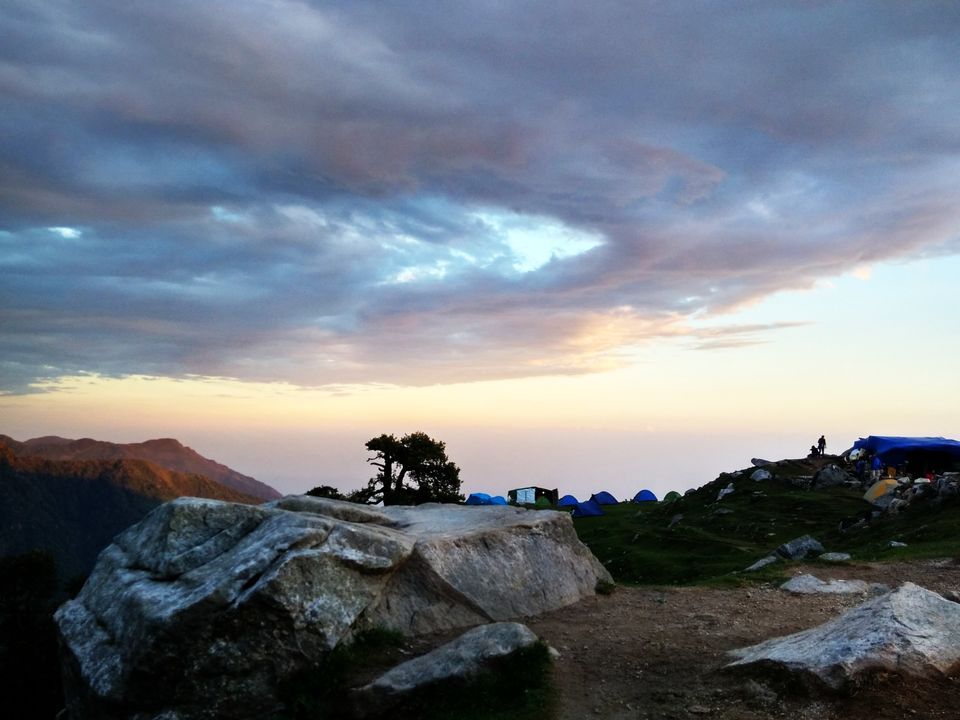 I came back down the following day and roamed around Dharamshala, trying the local cuisine and visiting the famous cricket stadium. Carrying the mesmerizing views back with me, I caught the bus back to Delhi late in the evening.


Few add-ons for those who intend to go here :
The forest guest house is available in Winters as well, though the cafes close down due to snowfall in peak winter months. Beginners shouldn't trek in the snow alone.
There are no washrooms up there. Dense forests will come to your rescue.
You can go till Snow Line or even further till Indrahar pass with expert tour guides and by adding a couple more days to the trek.
Carry the tent or make pre-bookings for Forest Guest House. Tents might be full on weekends during peak months or if you reach late in the evening.
All the photographs have been clicked using my mobile phone, which was a Xiaomi Mi3. So you can well imagine how beautiful the actual view would be.
Feel free to contact me regarding any other query or questions.
Mail-id : raveesh1995@gmail.com