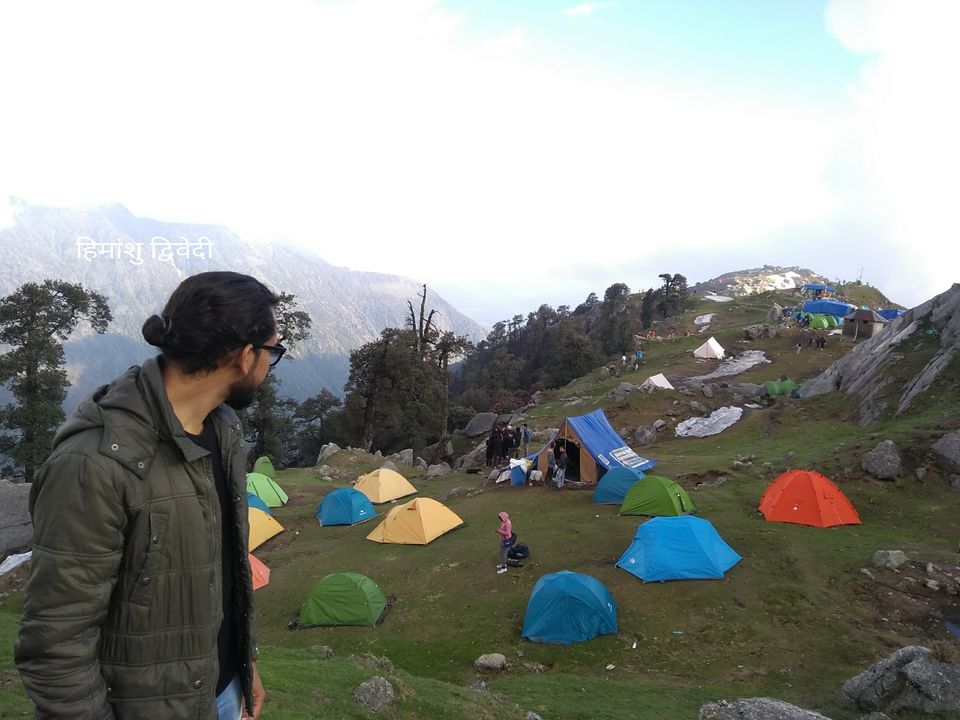 Triund, located in green lush valley of lesser Himalayas, in Kangra district of Himachal Pradesh, is a must visit place for trekkers looking to get into the groove with relatively easy and short trek.
Triund is situated near McLeodganj, which leaves visitors at peace, as there are some Yoga centers in the lap of the nature, where Yoga can be learned and practiced along with meditation in pin-drop silence.
Let's get ready to find more about Triund; a perfect blend of adventure and spirituality.
Elevation. 9300 feet above sea level.
Time to visit. Months from April to June & September to October are considered good and comfortable to visit Triund. Otherwise, it might get little tricky with rain and snow in other months.
Where to stay. There is no dearth of hotels & guest houses in McLeodganj. Still, it is suggested to book your hotel in advance if you are visiting on weekends, I have seen people roaming around in search of hotel on weekends. 'Bhagsu road' and 'Main square' are two real good locations where stay can be planned. Apart from being very close the market, these locations mark the starting point of Triund trek. You can always stroll in the market as you will be residing very close to the market.
Places to visit. Though Triund is the main attraction in McLeodganj, I would suggest you to club it with a visit to following places, it will take around 5-6 hours to explore all these places. A taxi can easily be availed from Bhagsu or Main square to explore these places:
1. Dalai Lama temple
2. John's Church
3. Naddi view point (a trail to walk on and soak some scenic beauty)
4. Bhagsu falls (perfect place to have a cup of tea sitting at the cafe near the foot of the water fall)
5. Dal lake
Trek to Triund: Trek distance from McLeodganj to Triund is approx 9 km. However, if you want to shorten the distance further, you can easily get a taxi from Bhagsu to Gallu temple, which marks the beginning of the trek, no vehicles are allowed beyond Gallu check post, from here, trek distance is approx 7 km, which can be covered in 3-4 hours.
In adverse weather conditions, Forest department restricts or closes the entry at Gallu only, hence, to ensure hassle free entry, start early in the morning and reach Gallu till 11 am Or get in contact with local guides/agencies, they people will manage it for you. Otherwise, you can start your trek anytime, ensure you reach Triund well before sunset.
If weather is good, there is no need get the guide, as trails are pretty clear & you will find lot of people on the way. You just need to reach the Gallu check post and book your tent from nearby shops. Tents can also be availed once you reach Triund, but it gets little risky considering weekend rush. I would suggest you to book it at the beginning of the trek from Gallu only. Of course, you can negotiate.
Remember, always plan a night tent stay at Triund, instead of coming back the same day. Give yourself some time to connect with nature, you are certainly going remember this experience lifelong. Just sit back on the grass and relax, notice how the air is fresher than ever, how the stars are twinkling brighter than ever, how sky is appearing cleaner than ever..!!
On the way up, you will find many cafes and selfie points to refresh yourself. You need to carry some warm cloths as temperature may go down to anywhere between 2 to 10 degrees in the night, depending on the month you are travelling in. Also, carry as much water as you can. On reaching Triund, one water bottle may cost you approx 50 INR. As there are no dhabas or restaurants available up the hill, the only source of your breakfast, lunch and dinner will be the tent providers who cook food for visitors and for themselves. Though, you won't get many options, but believe me, those would be the best bowls of 'dal-chawal' and 'maggi' that you will ever enjoy, sitting in the lap of the nature, surrounded with snow clad mountains. A full moon night will add the flavour to the food.
Places to tickle taste buds. Main square is the food hub of McLeodganj, where you will find variety of restaurants. A trip would not be successful without visiting 'Tibet Kitchen' in Main square. They serve variety of Tibetan & Bhutanese food. Don't forget to try momos.
Come back & re-live the memories.
Please do not litter, leave the place in the condition you would like to find on your next visit.
Happy travelling !!
If you need more information about Triund and McLeod Ganj, let me know in the comment section.