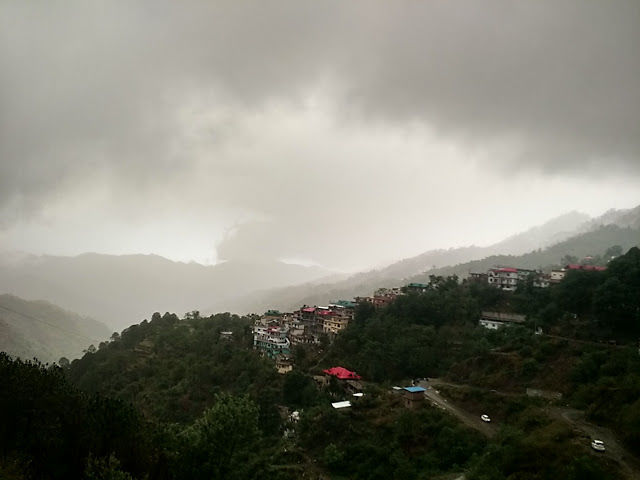 Away from the tumult of the usually crowded hill stations, there lies Kasauli, a sleepy little hamlet amid the opulent green treasures, often surrounded by mist and elusive clouds. The colonial houses, peaceful lanes, lovely orchards and the stunning view of the mountains together make Kasauli a perfect holiday getaway. I was looking for a quiet, relaxing place and hence chose this pretty little place for my summer escapade in mid June.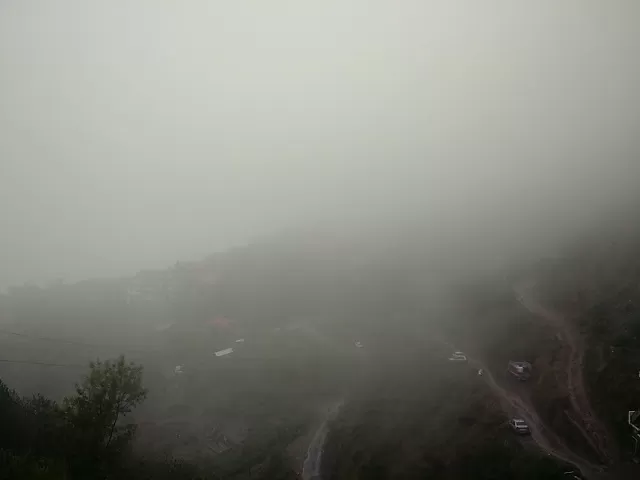 Be prepared for sudden change in weather from sunny skies to cloudy and rains. When entire North India was blanketed by dust storm, Himachal wasn't untouched. As we drove through Punjab, the dusty brown sky turned out to be a huge disappointment. We (husband and I) fretted on our holiday being spoiled. But as I said, one needs to be prepared for sudden change in weather, the rain god heard us and it poured late evening, clearing the dusty sky and making the romantic weather more charming.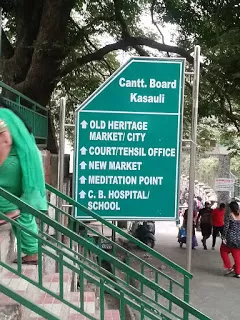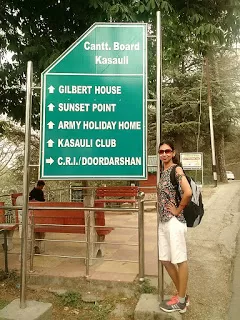 Kasauli isn't a very touristy place as there are few places only which you can cover on foot in few hours. Since the best things in life are enjoyed at ease, one can enjoy in Kasauli while strolling on the roads, admiring the beautiful houses (many are open for home-stays) and breathing in the fresh air. The place isn't for party goers or adventurous ones but for those who wish to take a break and relax in the bounties of nature.
Kasauli Canontment board is an Indian Air Force base hence is well maintained and clean. This reminded me of my trip to Lansdowne which I found equally spotless like Kasauli. I wish people proactively kept all places litter free. Why should someone else clean your trash? Even drinking and smoking in public is prohibited in the cantonment. The cantt is also dotted with posters dedicated to war heroes and martyrs. A big salute to all our brave hearts.
Places you can visit in Kasauli:
Sunset Point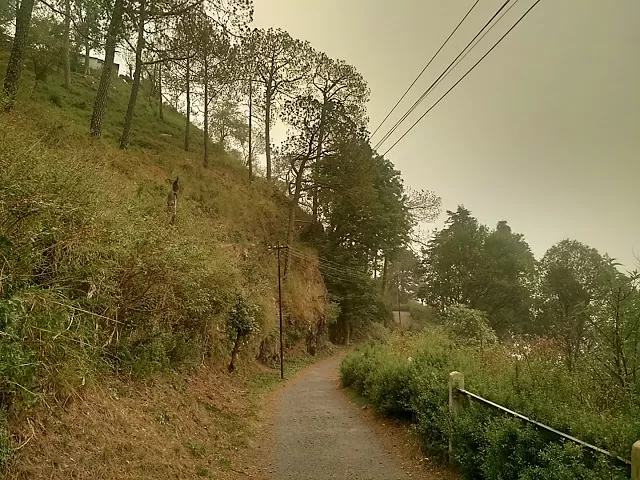 Every hill station has a vantage point with beautiful views of sunset. This point was the same with an exception that nothing was visible because of the blanket of dust. You can relax here watching the glazing sun set in the mountains, take pictures (of course), let your kids enjoy on colorful swings or grab a bite at the tiny eatery.
If there was no dust, I might have spend some time there. Few meters away from Sunset Point is the Sunset Point Mountain walk which is trail through a mountain that ends near the sunset point area. Its an easy hike while you soak in the greenery. Oh, I met a little pup at the entrance of the Sunset Point Walk which was apparently adopted by the army official there. And my day was made :)
Manki Point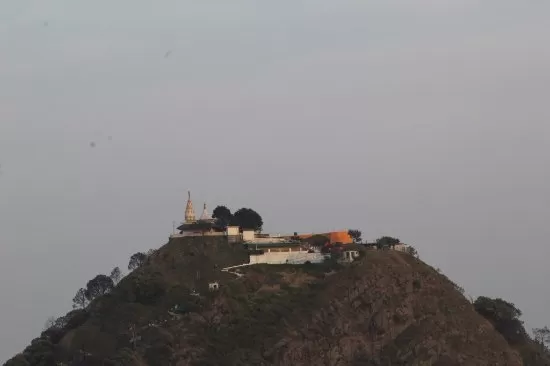 Nested in the Air Force base and in the shape of a foot, this is the highest peak in Kasauli. Legends say that Lord Hanuman had set foot on this place while he was returning from his search of "sanjeevni booti" for Lord Ram. A small temple dedicated to Lord Hanuman draws crowd as well as monkeys. Be prepared for a thorough checking and frisking at the entrance.
For Manki point:
-No entry fees.
-Takes about an hour to see the place at leisure.
Gilbert Trail
The 1.5 kilometer trail is a treat to your senses, literally. Gilbert Trail was my favorite place in Kasauli. Known as the most picturesque trail, it offers marvelous natural beauty and serenity which ends at the Airforce Station near Manki Point.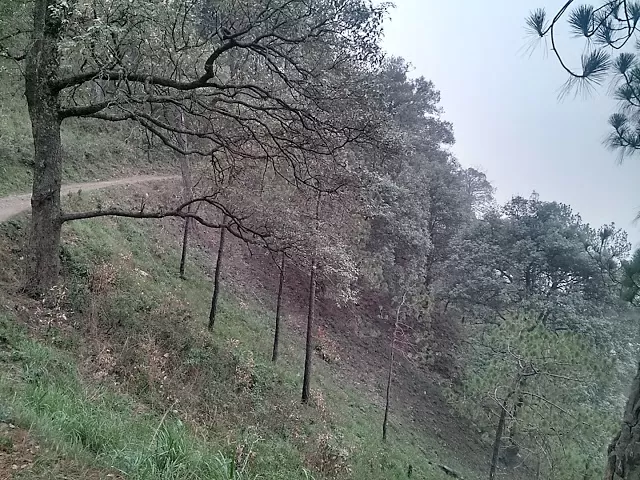 Husband and mine joys knew no bounds amid the lush greenery and chirping of birds. The misty backdrop was the cherry on the cake. Its quite an easy hike that suits all age groups. The walk leaves you refreshed and elated. Needless to mention the natural props along the way give you immense photo opportunities.
-No entry fees
-Can be visited all seasons.
The Mall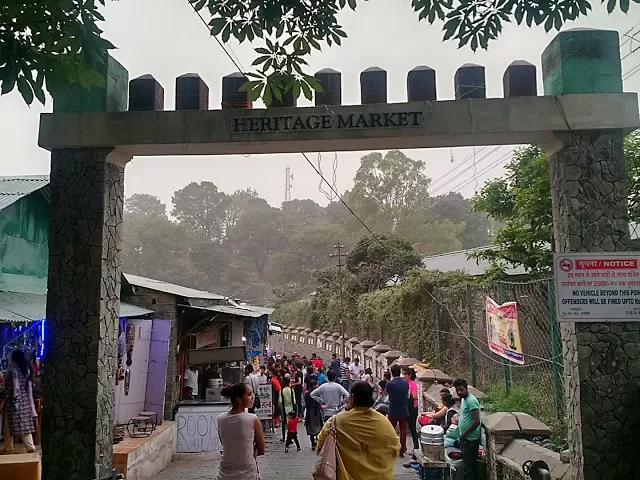 No its no mall. This is the vintage mall road housing several shops from busy eateries to selling colorful handicrafts.Mmall road is thronged by visitors all year in all seasons. Hunt for the most sought after momos or juicy burgers, the mall is a traveler's paradise. And yes, a lot of friendly canines also roam around in the streets, often fed and looked after by locals. No wonder they are healthy and plum. I loved watching them lazing around and sleeping to their heart's content.
-No entry fees but parking your vehicle can get very difficult.
-Take as much time as you want for hogging or on shopping spree or simply hop around.
My first day was spent strolling and hogging in Kasauli. The next day we visited Barog. Will post about Barong in my next post.
How to reach Kasauli-
By road- You can drive to Kasauli from any city nearby. The place is well connected by good motor-able roads. Route we took: Gurgaon-Delhi-Murthal-Panipat- Karnal- Kurukshetra- Ambala-Zirakpur-Kasauli via NH44 with 5 tolls on the way. The last one was Rs 100 to enter Kasauli. (They charge this fee each time you enter the barrier gates. This helps them maintain the roads and keep traffic under control. Thankfully we had booked a hotel 4 km before Kasauli)
Trains- There are no trains to reach Kasauli. The nearest railway station is Barog for the toy train that plies from Shimla to Kalka. Main railway station is at Kalka 26 km from Kasauli.
By air- Kasauli has no airport either. The nearest airport is at Chandigarh located 70 km away from Kasauli.
P.S- This trip was in the month of June 2018.