Ask anyone in Delhi and they will tell you how difficult it is to find a weekend getaway spot. Most decent places around are at a distance of at least 400 km and if you are anything like me, that's just too far (unless it's a road trip, in which case it might be too short). I have always struggled to find a decent weekend getaway from Delhi and it is a tiresome process.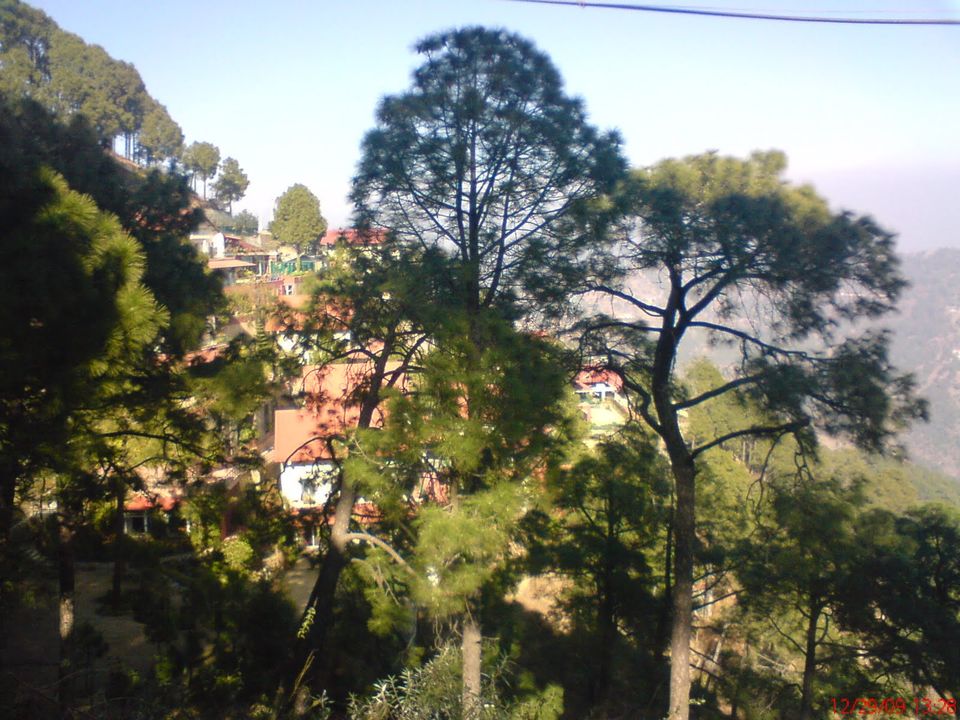 Until Kasauli happened.
Kasauli is about 3 hours before Shimla and about 6 hours from Delhi. I always thought Kasauli will pick up as a tourist spot and become annoyingly crowded. But as recent as a month back, it is as quiet as it always was. So if you are heading to Kasauli, here are a few things that may help (some of them are a surprise)!
The food here is yum!
Wherever you choose to eat in Kasauli, you will not be disappointed. There are numerous restaurants within town and a few restaurants once you head towards the highway. Remember to order dishes that don't demand too much experimentation and also remember to go well in advance and not when you are on the verge of starvation. Food here takes its time since it's usually made as and when it's ordered.
Try the small restaurants at the mall road. Though they may look uninviting, the food here is a must try. Usually most hotels allow non-guests to avail dining services, the one that stands out is Hangout, Rooftop Bar and Restaurant located in Kasauli Regency. The restaurant is a little cramped but the view of the surrounding mountains really takes your breath away.
The food here is great and the service staff is courteous and knowledgeable. Come here well-packed with your warmest jacket because even during summer, it's quite cold here. The restaurant is quite busy during weekends with DJ nights and live performances - a first in Kasauli.
Another of my favourites is Giani da Dhaba. I know that's anyway on everyone's list but really why shouldn't it be? Their lemon chicken is absolutely amazing and though the quality has gone down, it's still better than a few other options on that highway. I am honestly a fan and have been since that last 20 years!
My next option to eat in Kasauli is a little complicated to explain to someone who isn't familiar with the area. But I'll give it a shot. If you take the road leading you towards Chandigarh, within two km of Kasauli, you'll hit a small market on your left selling chips et al. Here you will find two brothers selling chowmein and momos, stop, because really these are the best momos you would have had in a long time – I promise. Totally worth it.
Peace begins here
What Kasauli also offers you is peace, serenity and such breath taking beauty, that there's little you'd want (I guess!). The surge of resorts and hotels here offer all kinds of travellers umpteen opportunities for a budget stay as well as a grand holiday. The resorts here are very well managed and their staff is exceptionally courteous. Though most people don't step out of their resorts since there isn't much to do around Kasauli but if you are curious and want a little bit of adventure, you can try out the various trekking trails around your resort. The most famous trekking trail here and the most well known leads you to a mandir but the trail itself is a sight to behold. Though the mandir is not too famous, you can ask any local to lead you to the most famous trek here. Monkey point (the stairs!) and Sunset view aside, the walking trails here are really something.
Secrets
Yes, there are secret hideouts in any hill-station that we don't know about and no, it definitely doesn't imply that there won't be anymore. I believe as travellers, we want to explore something new, something that no one has explored before – perhaps it's the excitement of the unknown or the rush of being the first one there. Irrespective, new places are always a delight.
Though there are many places in Kasauli that will surprise you, the charm of discovering them yourself is unmatched. There are no grand sight-seeing spots or must-visit places; there are however umpteen corners where each traveller will find what they are looking for.
My experience with Kasauli was as surprising and one place that stood out was the river at Dagshai. Located about 12 to 14 km from Kasauli, this small army cantonment leads you to a peaceful river tributary at Dagshai. One has to constantly ask for directions and though some people will insist that there is no such river, it's best to ask people once you reach Dagshai. Though there is nothing spectacular about the spot, it is a break from typical touristy sights. Don't expect to find anything here besides a small village nearby and it's best to go with an experienced driver, since the roads are quite tricky.
Kasauli is a charming hill station, some would consider it boring but for me it has an aura that instantly puts me to ease. For all my failed plans, unexpected cancellations, it has always saved the weekend for me and I hope it does for you too.
A small army cantonment area, Dagshai is about 12 km away from Kasauli. Ideal for picnics, it's a great option if you'd like to explore places beyond Kasauli.