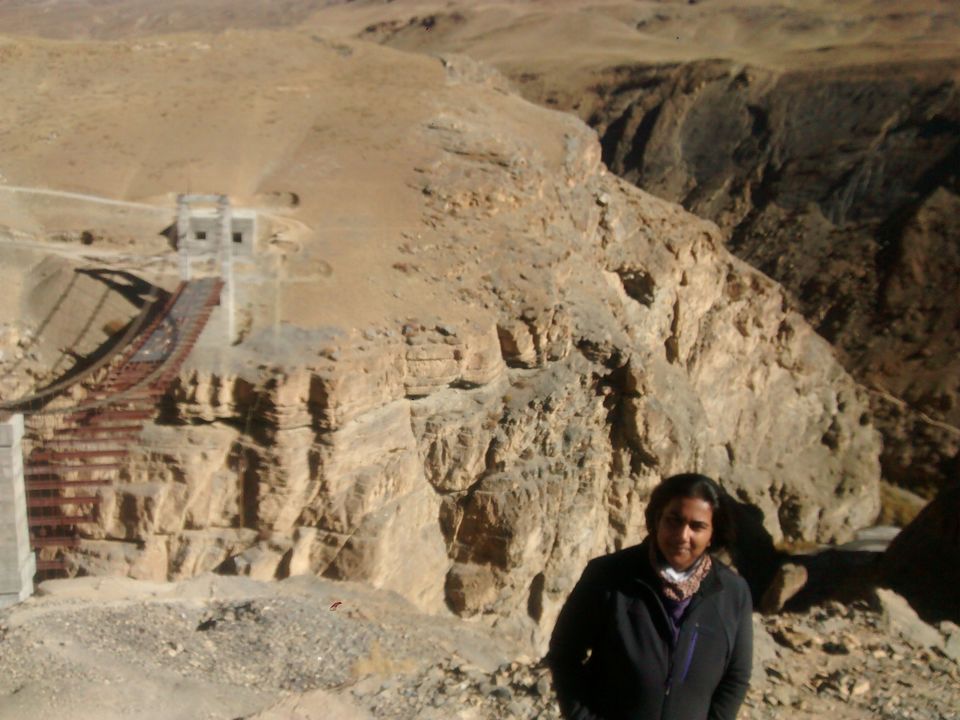 This article is about our trip to the beatific valleys of Lahaul and Spiti. Initially I
didn't bother myself to put in the efforts to write an article for the trip, but scrolling
through the gallery after two months, I decided to pen down my experiences as the
magnificence of the Himalayas is too pleasing to avoid the task.
We started our road journey on a rugged two wheel drive. Our destination for day
one was Reckong Peo. After fifteen hours of drive across some beautiful, smooth
roads and areas where roads shall be defined as mere uneven paths made of
nothing but fallen rocks having the ability to burst car tyres, we finally reached our
destination.
Next day, we yede to Chitkul, the last village of India across which lies the
Chinese border as defined in the maps. We drove through Sangla valley, with
gigantic and gorgeous Himalayan Mountains around us.
Next day, we drove a little over hundred kilometres to reach a trifling village
named Yang Thang. The way to our destination was nothing less than abode of
Gods. The Mountains rose high gloriously. The slight vegetation comprising of
apple orchids made the scene look even more beauteous. We passed by some
trifling villages on the roadside. A couple of names I recall- Hurling and Dubling.
We fed ourselves with a local dish called Thukpa. I wish I could praise that too!
What overwhelmed me was the hospitality of the local inmates. We spent the night
at a small guest house, and the care taker served us with delicious Rajmah Chawal,
which were, I would say, the best I've ever had.
Next day, we reached Kaza. We were quite desperate to reach Kaza, as it had a
petrol pump there and after running several Kilometres, our car was running out of
fuel. Enroute Kaza, we had a pleasant stop at a station named Tabo. Tabo is a
tourist attraction as it has a 1200 year old monastery, which had now been acquired
by the Archaeological department of India. The monastery was serene and every
second spent there made me feel as if I were in heaven! After another four hours in
the car, riding through treacherous roads, we finally reached Kaza. For the first
time throughout the trip in the valley, we reached a place so crowded. The place
had a number a hotels to stay, with numerous tourists and some good restaurants
with relatively tastier food to what we had eaten before. The following evening was spent roaming on the streets and interacting with the locals and some fellow
tourists.
The following morning we went to see Key Monastery, the largest one in Spiti. We
had a good talk with the monks residing there as they showed us around.
The next destination was Lossar. Again, those roads surrounded by barren land, a
river flowing in the valley, as we could see, an absolute bliss! The temperature was
freezing cold. The water we had stored for ourselves was at the verge of being
frozen. We stayed in a guest house, where the caretaker served us with a delicious,
steaming dish called thempthuk. And with a quilt weighing almost 10 kgs put upon
us, we had a sound sleep.
The following day was the most awaited one, as we were to visit Chandra Taal. It
is a lake situated in the middle of mountains and I had seen some photographs
already on the Internet. We enthusiastically dressed up and headed to Chandra
Taal. To reach Chandra Taal, we had to take a de-route off the main road. The
distance was of about 14 kilometres. These 14 kilometres were the toughest ones in
the entire trip. The pave was just enough to allow a single car pass, and in case
there was a vehicle from the opposite side coming, I can't even explain how it
passed. But we were enough motivated to drive through. We reached the base
camp of Chandra Taal after sweating out under pressure. Now the deal was to trek
2.5 kilometres uphill as our car wasn't fit enough to climb up the route. We
decided to take up the task, as we didn't want our effort of driving here to go in
vain. Halfway through we had a rethink over our decision, but some fellow tourists
who were on their return trip, motivated us to go ahead. Exhausted, we reached the
Lake. The view was breathtakingly beautiful and worth every calorie burnt. The
water cold and clear, the mountains were gorgeous beyond explanation and it felt
like all my life had come to a halt. Sadly it didn't last too long. We headed back,
and luckily we got a ride towards the base camp. A group of local people gave us a
ride in their Sumo. Thereafter we headed towards Manali.
As knowingly our trip was coming to an end, but the challenges weren't. Two of
our tyres punctured, and we only had one spare. We inflated it with the help of our
hand pump. With minimal oxygen in the air, giving in this energy was a tedious
task. It was 6 in the evening and it was already dark, and we were in the middle of
nowhere. We stopped at a place called Chattru. The place had no electricity and an inmate advised us to head towards Manali. We did so, but the condition of the
roads didn't allow us to reach Manali. We then rode five kilometres downhill, off
the main road, to a small village called Koksar. Luckily we got a decent place to
stay.
Next morning we started fresh and finally crossed Manali. On the journey back
home, I realized how blessed I am, to have visited there and how my soul had been
fed with amazing adventures.
It's been months since we've come back and settled down in our regular routines,
but a part of me still roams around the Valleys of Lahaul and Spiti.