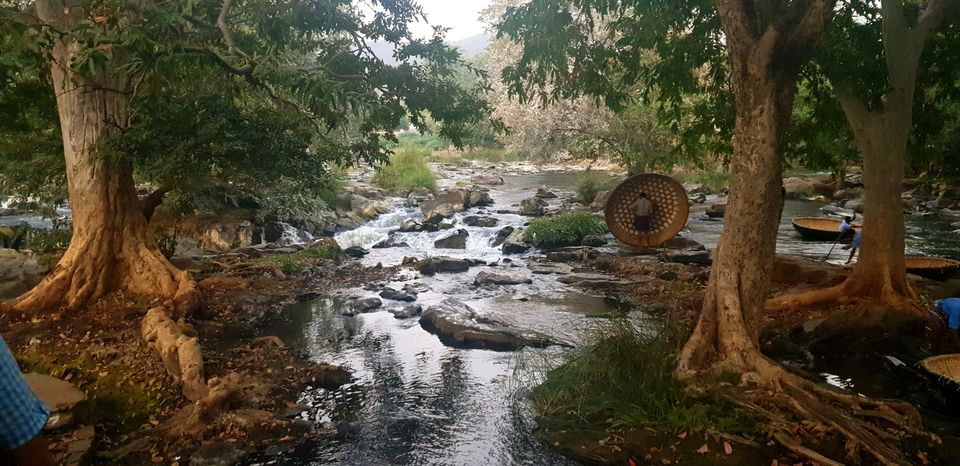 A break from the old job and a festive mood at the end of the year, and there you go - Plans for a road trip.
This trip took a lot of effort to plan since half my set of friends had gone back home and the rest were vegetating here in Bangalore. Also the fact that, on the D Day we had more people than what my car could carry. So the 6 of us decided to take a bigger car, which belonged to one of the friends and started off.
Hogenakkal Falls is approximately 130 kms away from Bangalore. You can choose to go through the MDR 588 route or the NH 44 (This is a slightly longer route).
Starting off at 9:30 am, the ETA was 12:30 PM. Our need for adventure, food and much more led us to reach by 4 PM. Yes, 4 PM! Nevertheless, excited to enjoy whatever time we could, we found a few boatmen who could ferry us in the river ( More like they found us and followed us for 3 kms, helped us park our car and then offer to ferry us). The Boat or Vanji as is it is called is a round circular floating object, which can hold upto 4 people excluding the boatman. The charge was Rs 750 per boat. We took 2 and split into groups of 3. After waiting in a queue for the boat to be floated, we all took seats. Everybody had to sit at the periphery of the boat and equally spaced to balance the boat.
It was going to be an hour long ride, and from the time we got in, we did not want to get out. Glad we had reached late and did not have to bear the hot sun in the afternoon, we captured the falls and rocks in their natural glory. I was really excited to see "Business in a boat", where men and women had made stalls on their Vanji and floating around the river to offer food and drinks to the tourists. There were fishermen (and women!) who were fishing and served hot fried fish across the boats. Who could say no to that?
Anyway, the highlight would have to be the waterfall, or small waterfalls since this time of the year is way beyond the rainy season. The boatman rotated the boats so that we could get under the waterfall. It was refreshing, a mini shower under the waterfall :P We spent some more time rotating on the boats and moving around the river. While getting back to the edge, there was a queue for a good 15 minutes. Again, a peaceful time to spend as the boat passed through a gorge.
Needless to say, we required a change of clothes, which we fortunately had planned and carried. We started off to go the Crocodile Park, but it was a little past their closing time and hence decided to return home. At the speed we had reached that place, it was better starting off then :B. Our quest for food did not end with the fishes, but we found out a Punjabi Dhaba called Balle Balle on our way home and ordered the Punjabi-est dishes possible - Grilled Chicken, Butter Chicken, some more chicken and Butter Naan. Oh yes, one of those vegetarian friends had Dal Makhani. Can't review the Dal Makhani though! Finally we reached home tired but happy and slept off (no I am not that boring, just don't remember the details :B)
Strongly recommended for a one day road trip/excursion/break. Oh and you can stand in a queue and pay 750 Rs for the boat or pay the boatmen 100rs extra along with boat fees and get on ahead of the line.