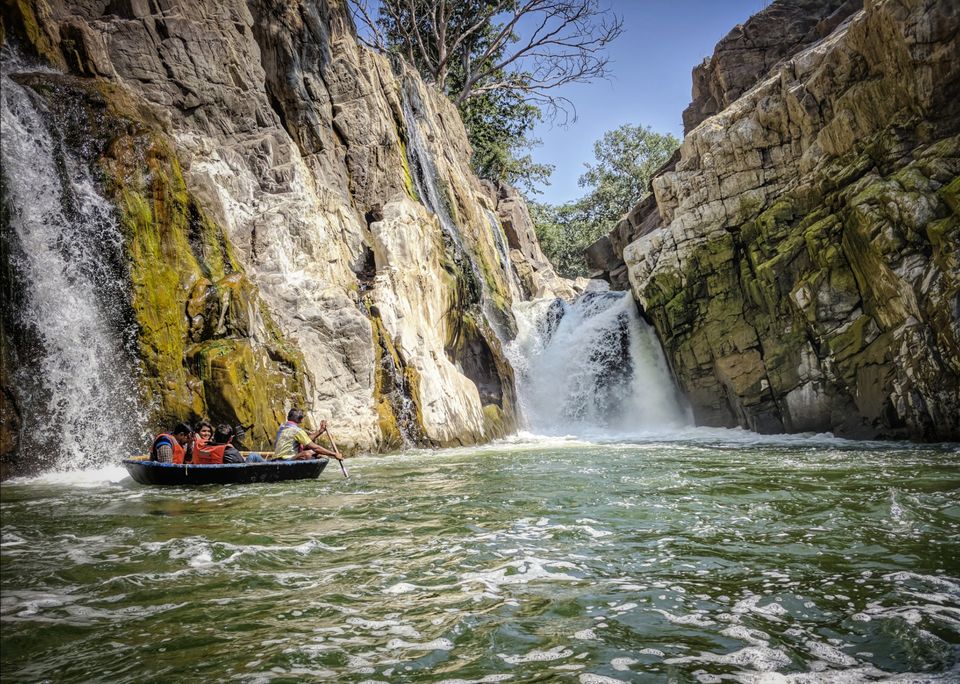 Everything happen for a reason,right..??
There DEFINITELY will be trips that you would have planned for long but just WON'T happen due to X,Y and Z factors/ reasons..Such was my desire to visit HOGENAKKAL waterfalls AKA the " NIAGRA OF INDIA".
I have been staying at Hosur,Tamil Nadu(30km from Bangalore)for the past 2 years. Being just 90 km away, Hogenakkal was on the top of my bucket list as I could visit the much-hyped place within a day and come back comfortably.
But due to one reason or the other, the plan kept on crumbling like a pack of cards. I became more and more irritated after coming to know that my friends from Kerala(native place) have visited the place before me within this time.
Finally, I got my due and it was WORTH THE WAIT..!!
On a fresh weekend Sunday, we(a group of 8 people) started from Hosur to Hoggenakkal(90km approx) around 9:00AM. Never once did I think that I would enjoy the RIDE equally as the TRIP. It was damn awesome. Picturesque landscapes coupled with amazing small roads and excellent climate. That too by riding a RE Desert Storm 500cc. What more can I ask for..!!
We reached the place by 11:30 am and I could sense my excitement levels,as always,soaring up high as always😍after parking the bikes, all non-vegans in the group started searching for Fish to be bought for lunch( Hoggenakkal is very famous for Fish Dish😁). Afterwards,we took the tickets and started towards the mighty..!!
After neatly dressing up in life-jackets and customary photo sessions, we entered the famous basket-boats(which costs Rs 750/boat-for 4 people excluding the boat driver😁). The boatoat ride in itself is loads of fun as it will twist and twirl many ways.It always turns as that's the crux behind it's movement mechanism ie rowing from both sides.
First,he took us around 100 metres and asked us to walk to the main starting point. From the top,I could see water but not much because it was off-season.
The initial starting point in itself is a sight..!!I could see lots of tourists waiting to get in and lots waiting anxiously.(pics attached😊).And the most interesting sight being the drivers taking the boats upside down in an inclined manner from one place to another..Yes,they actually CARRY the boats by themselves,puts it in water,let people in,show them around,get them out and take the boat to the shore..Hats off to them..👏
We started the boating by around 12pm. Slowly and steadily our boat started to move towards the best-looking, awe-inspiring gorges available at this season. If that in itself could create this amazement in me,then I have no doubt what the real ones would have created on people.
We thoroughly enjoyed boating through the rock canyons and then to the main open field where we could see the sand deposits like a beach ,the famous fish kitchens and the dancing man(who dance by standing on the rocks- for money). And our boat driver made the experience further enriching by explaining some history about Hoggenakkal.
After some water-fun like splashing water towards other boats,boat-rotating😂 etc, we started back and reached around 1:00pm. Then we began the journey back to Hosur
I always believe that people should enjoy whatever they have and whatever they experience and never ever have thoughts of what if it could have been this way or the other. Finding joy in one's environment is a difficult trait to have.Its something we have to train ourselves to live a happy life.
I know that I would have had maybe a much better experience if I had gone here on the peak season.But I would have missed a lot of fun like the comparatively less crowd, ability to see the rock-canyons,people sitting and fishing on the rocks,dancing man etc.
Hoggenakkal is an experience to cherish. I am very sure that I am coming back here some other time to witness the true grandeur in all its glory.Next time I want to do that body massage too..!!😂