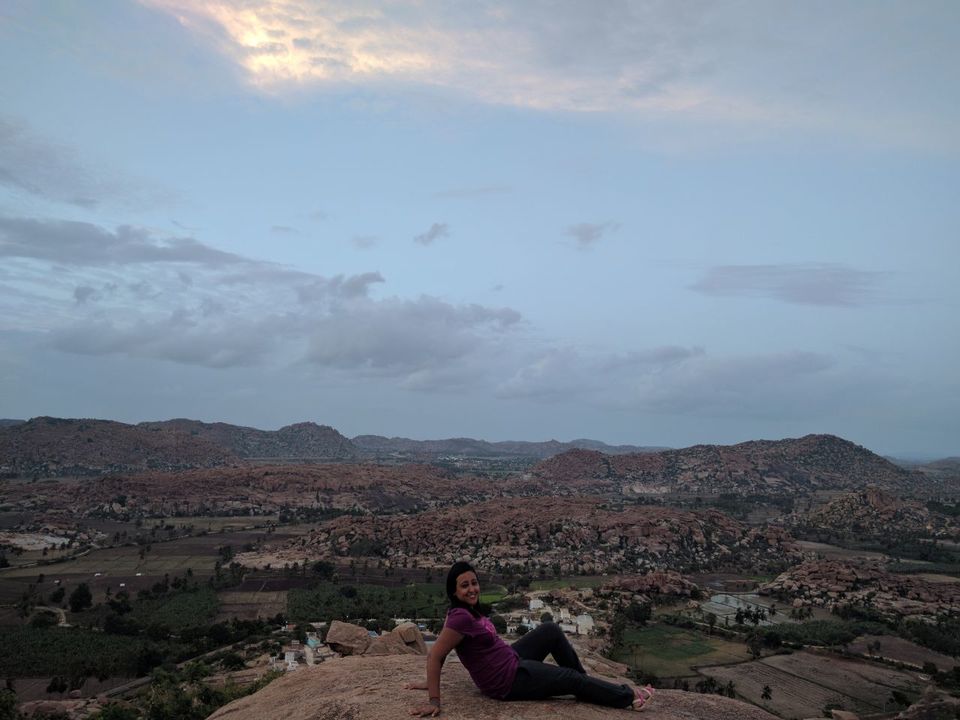 "Difficult roads often lead to beautiful destination".
There cannot be a truer quote for our journey to Hampi than this! Our decision to arrive at Hampi after almost 12 hour journey from Coorg-Hassanpur-Hampi in local bus and taxi wasn't one of our smart decisions. Hampi was one of the planned destinations in our Karnataka Road trip, however, it is not easily reachable from Coorg from where we left for Hampi.
Hampi, is a really small village in Karnataka with a mere population of 2500 people. What makes it distinctive is that it is a UNESCO World heritage site and also, a known backpackers paradise! In case you travel a lot, chances are you would have heard about it!! So, if you are fond of Kasol, Manali, Malana, Pondi, Goa- you have found another Ghetto!
Welcome to the Other Side of Hampi!!
Now, Hampi is really small. You spend 48 hours and you will get a hang of all the lanes, shortcuts and every auto rickhshaw guy to cafe people will start recognizing you. Cross a small stream of the Tungabhadra River to reach the opposite side of the river, and voila, you reach your backpacker ghetto!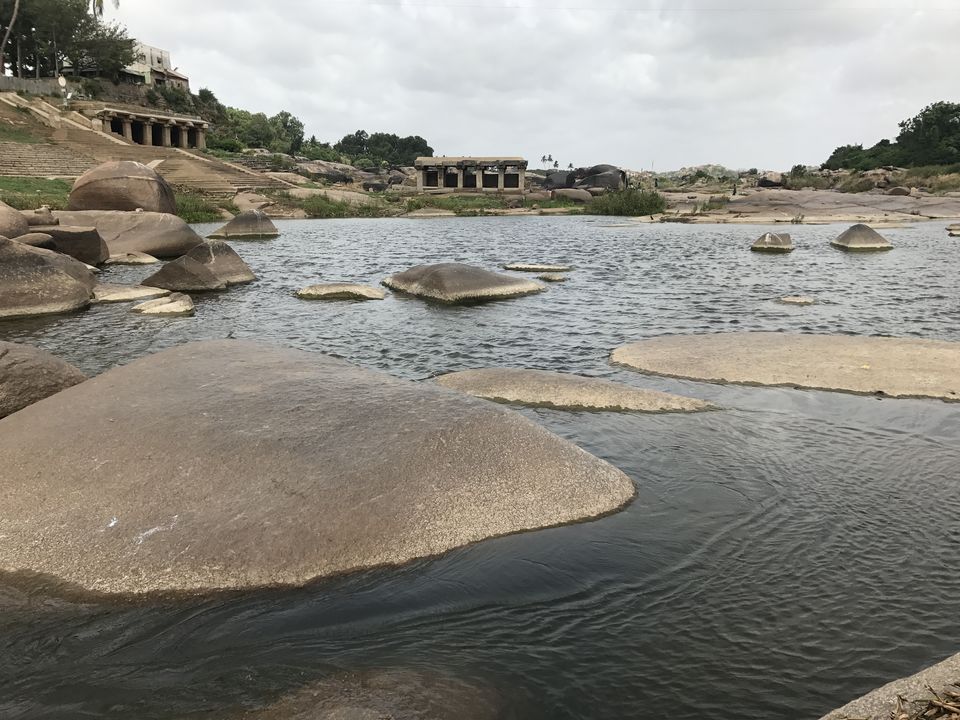 Once, you have jumped over these stones or used the boat in case you are too lazy or drunk- you will see a lane which will be dotted with cafes, tour and travel shops and some street shopping places. Hire a scooty, mopet or take a cycle to roam around and explore! If you are not too fit for cycling and are in a group, just get an auto for a day- who would take you through the 6-7 sightseeing points (we got a deal in Rs 700 for 5 hours for all sightseeing points)!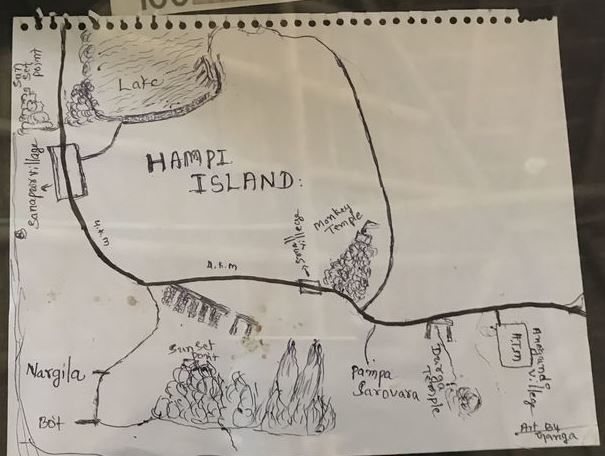 Enjoy the best food ranging from Israeli, Chinese, Indian, Continental to Mexican. Definitely spend some time at Laughing Buddha cafe for some Israeli Breakfasts and great burgers at Nargila Cafe! You will be spoiled for choices!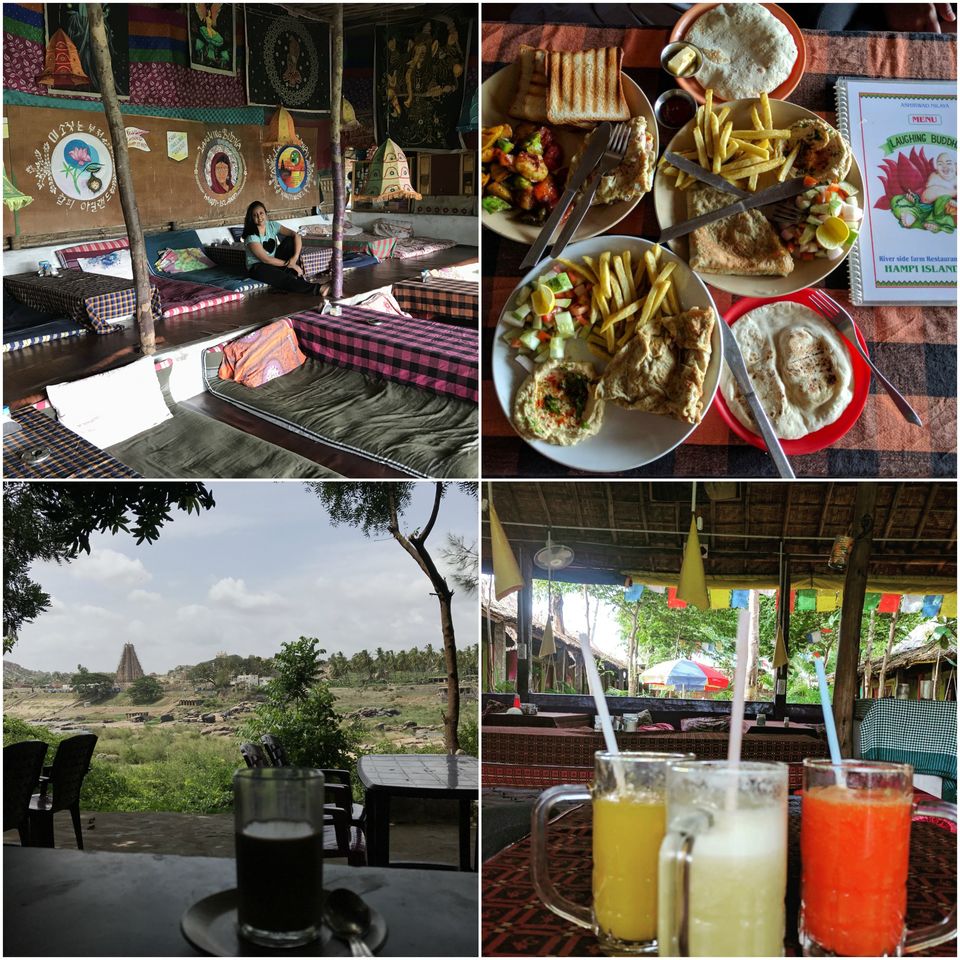 Sightseeing: So, we 3 decided to take an auto, and he patiently took us through some amazing places..So, must visit:
Hanuman Temple- Now I am not fond of temples nor climbing stairs! However, I definitely recommend it. The view that you get after climbing 575 steps is so worth it! So day 1, I went with one friend and another one stayed at the bottom, she hates walking! Day 2, another friend of ours joined us from Delhi and I literally pushed her and the one who missed it, to experience it. And, of course, this was my 2nd climb in day 2. Yes, It is that good! Think of it as your daily cardio and just Do it! Remember, to take an auto who stays for 2 hours till the time you finish the climb, relax at the top and come down again as you will not find a transport easily from there. Carry a water bottle definitely and also some snacks and in case, you want to enjoy a picnic! Be there by 5:30 pm to enjoy a surreal sunset!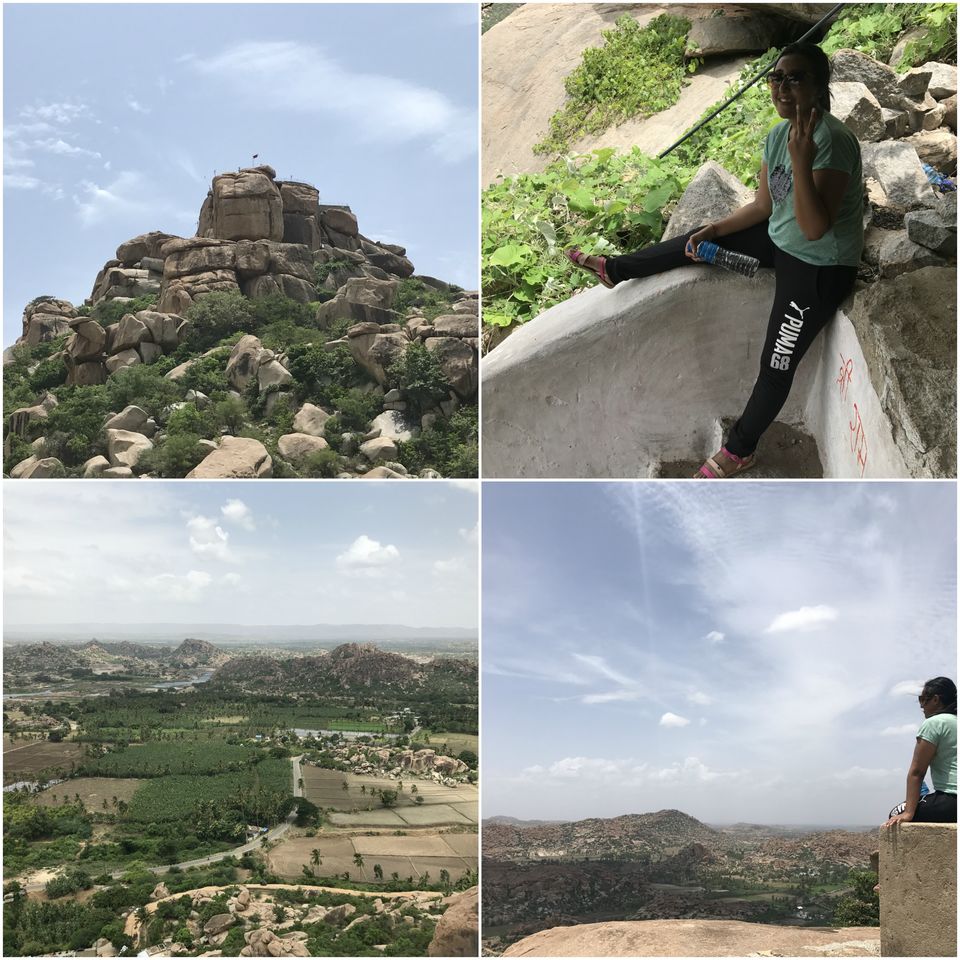 What else? Try your hand at 'Coracle Ride' or Dongi Ride on the magnificent Tungbhadra river, laze around the lake, experience the sunset point, get some braiding done, enjoy the movie nights at cafe, have some sheesha, do some boulder climbing-there is enough and more..however, at a relaxed place!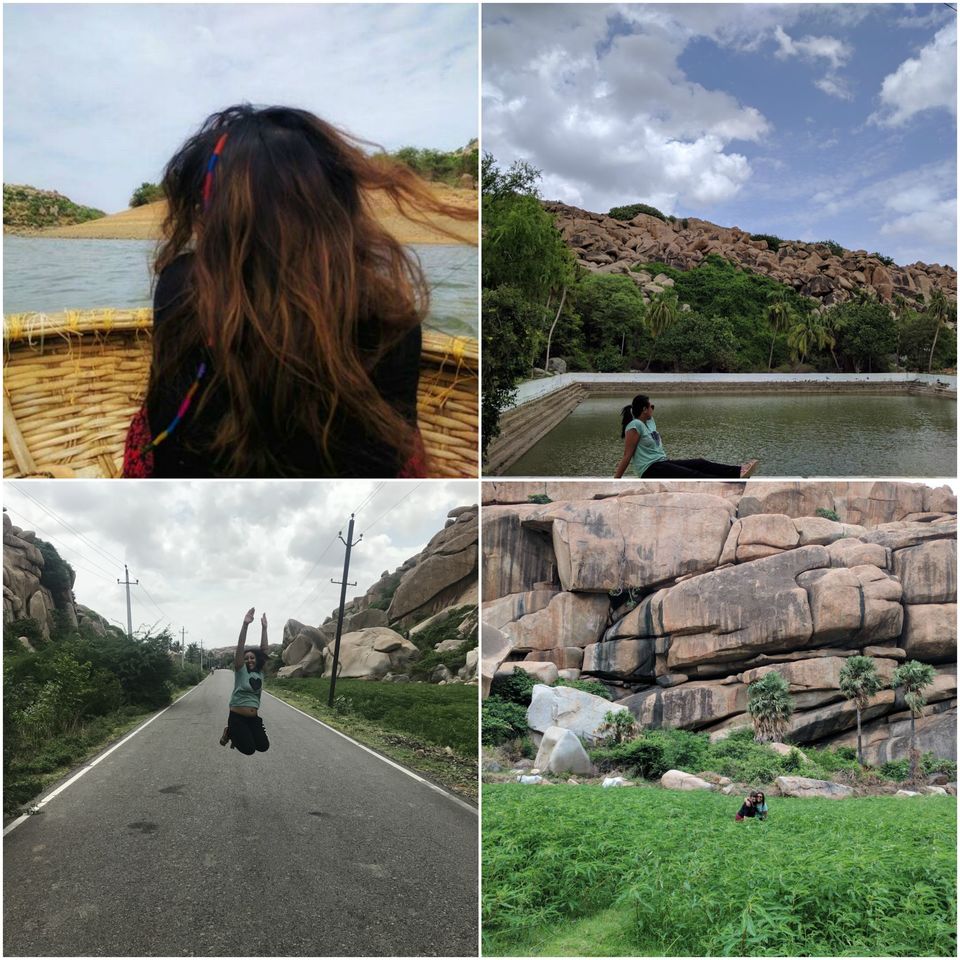 And, finally, when you feel, you really know this place, spend some more time here. Tell me, your experience, at this Backpacker Ghetto!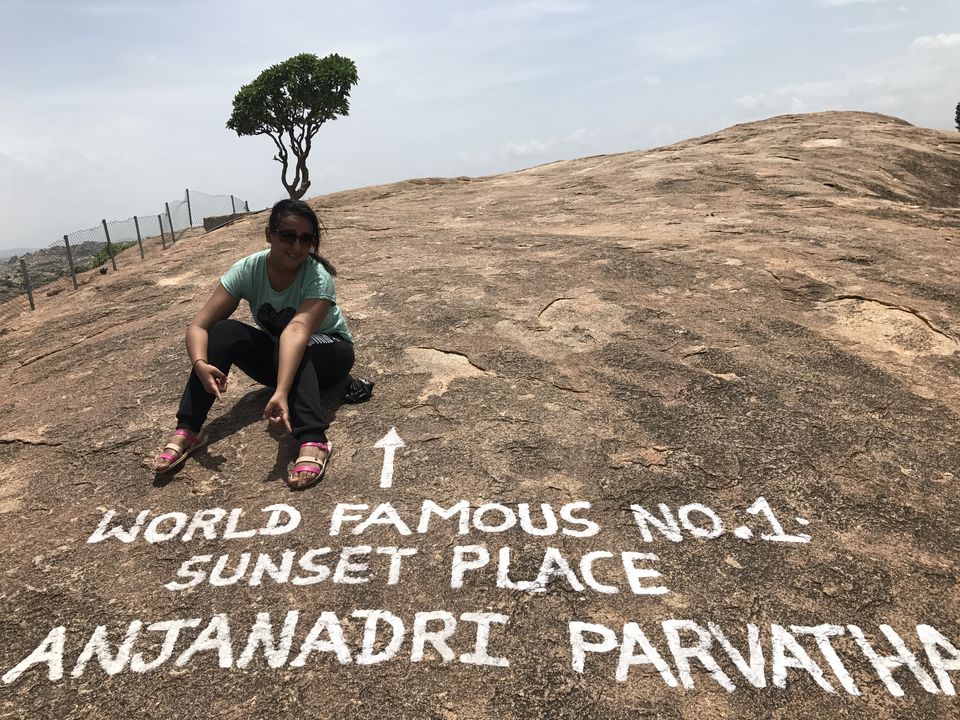 Some points to
note:
1. Carry cash, ATM machine is at a distance and cards don't work! In case of desperate situations, you will get shops which will swipe your card in exchange of cash at 3% interest. Do have the sunscreen and glares on, its hot even in the monsoons!
2. You can stay on this side in some really cheap and clean rooms starting Rs 500 complete with community bathroom and your personal hammock. However, we did not stay here as we had some moolah to spend on a luxury stay!
3. We had bizarre experiences while reaching Hampi. It is not very well known among locals. So, in case you are coming through local buses, the stop is Hospet, which is the nearest district. We literally got stranded at Hassanpur and after 6 hours of back breaking journey, we used Justdial to arrange a cab!
4. Carry your own booze otherwise get ready to have Romonov at Rs 190 for a peg!
Do enjoy this gorgeous moment and start planning your trip here!
https://www.facebook.com/BeaTravelNinja/?ref=br_rs
**All photos are unedited & unfiltered!

Originally written for travelninja.co.in