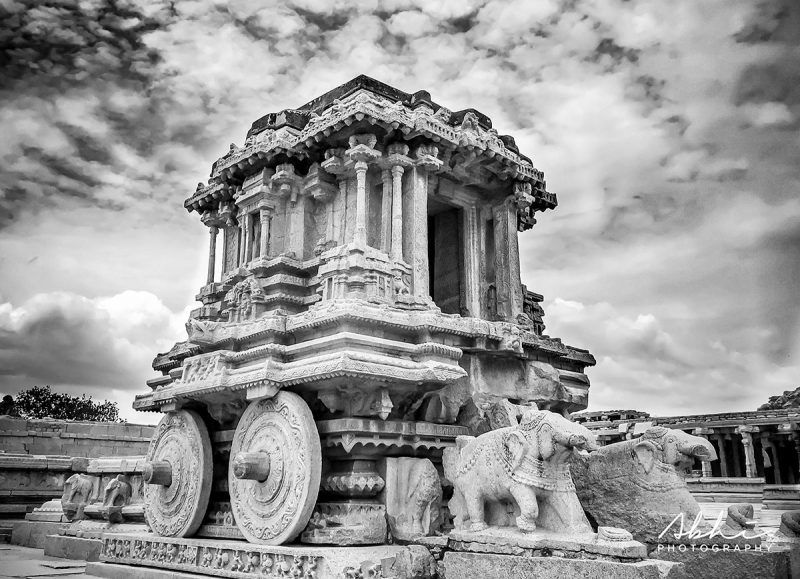 At Hampi (Vijaynagar), the past comes alive. It's a journey into the world of kings, battles, magnificent monuments and tales of the bygone era.
I had no plans for coming weekend in Hyderabad, and a solo trip to Hampi seemed like a really good escape. Most of my travel plans are made on the spur of the moment, and this one was no different. I booked my bus tickets one afternoon, with a cellphone only and without any travel plan.
Hampi is a UNESCO World Heritage Site in India located near Hospet town in the Karnataka state, India.
Among the attractions of Hampi are beautiful temples, ruins of palaces, remains of aquatic structures, ancient market streets, royal pavilions, bastions, royal platforms, treasury buildings... the list is practically endless. Hampi is a backpacker's paradise, the same way a pilgrim's delight.
How to reach Hampi?
Hospet is the nearest railway station from Hampi (about 12km). Bus There are a lot of buses from Hyderabad to both Hospet & Kamlapur (3km away from Hampi), and it costs approx Rs 800 for a 7 hour journey.If you're getting down at Hospet, then you can take a local bus from Hospet to Hampi, which is at a frequency of every ten minutes and costs around Rs 15. A rickshaw from Hospet to Hampi will cost you Rs 150-200.
Finally, I started my travel on friday night and boarded a sleeper bus though I don't like traveling in bus, however it was quite ok ok journey.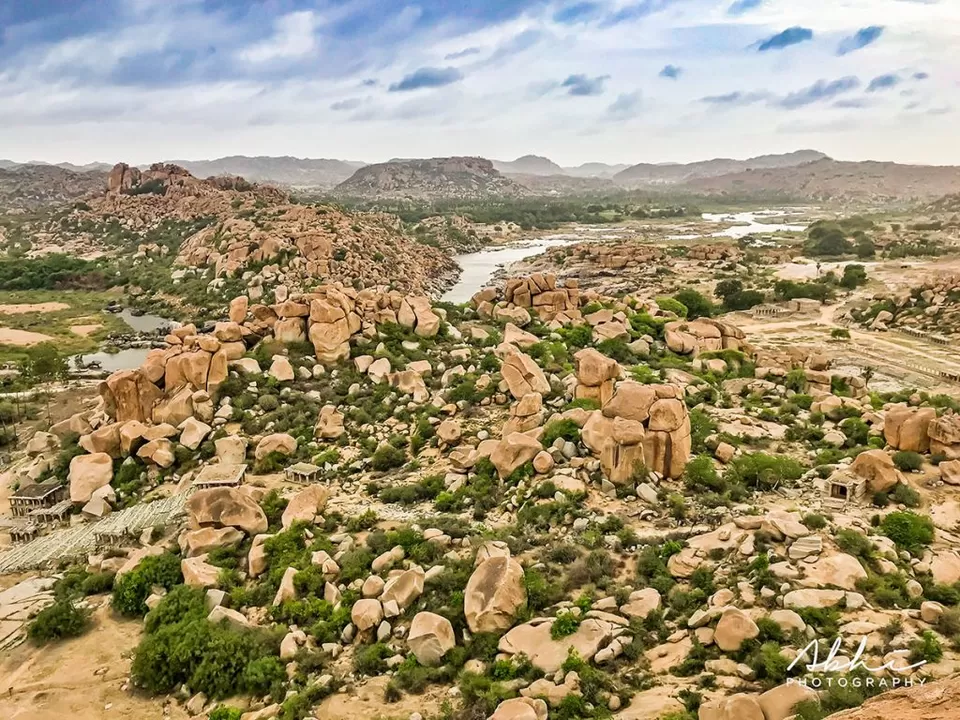 Day 1 in Hampi!
It's 6 in the morning and I can see the boulders around now I am worrying how to roam in Hampi since I haven't plan for it. I was in Kamlapur (3 kms away from Hampi) and I decided to get down here. As soon I get down few autowala's are around the tourists and asking for heavy charge for nearby places.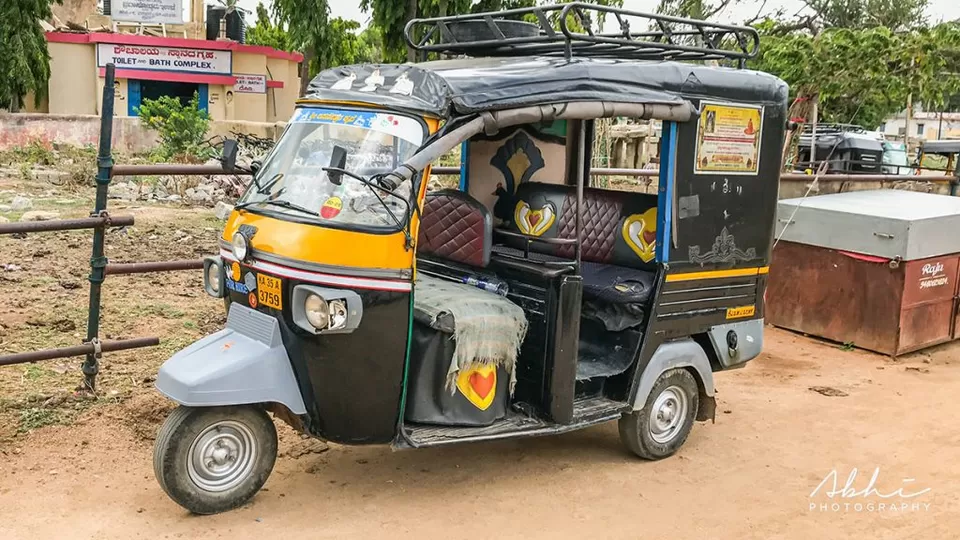 Since it was my unplanned trip so I took little time to plan my day and I booked a home stay in Hampi village in affordable cost. While I was travelling in auto rickshaw and enjoying the beauty on my way, I also learn how to commute and see nearby areas, even autowala was really helpful, he gave me many tips and his number too, incase I need to roam in Hampi.Busses are the best options which ply in every 10 mins and it cost you only Rs. 8 from Kamlapur to Hampi.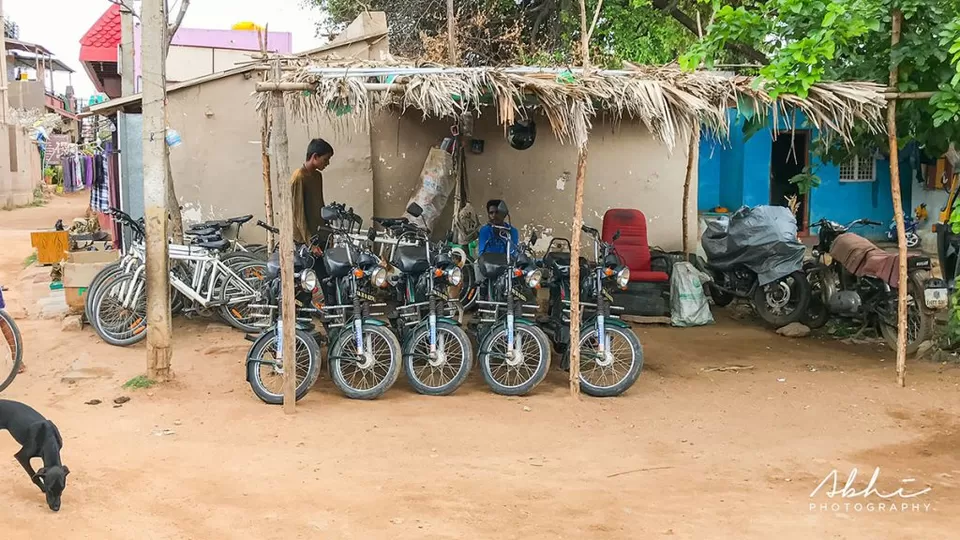 If you're a solo traveller, or if you're going with a group of youngsters, then cycling is the best way to explore Hampi. A cycle can be rented for Rs 150 per day. I went in rainy season (July) so bicycling was fun!!!. However I recommend to get other options in summers, its really hot here and you cant enjoy on Bicycle, you will get dehydrated very soon or feel sick so avoid bicycle in summer.Buy a map from Hampi bazaar, and explore everything yourself. Half the fun is in getting lost and figuring out stuff on your own, so I did the same.
You'll come across rickshaw-wallahs speaking fluent english, who'll offer to take you around Hampi for an entire day. They charge Rs 800-1000 per day and might cost you more; saying that the temples are really far away, and that they'll show you everything quickly.IGNORE THEM! Backpackers don't go around in a rickshaw. All that's meant for uncles and aunties.
An escape to the once magnificent capital of the Vijayanagar empire will prove to be a remarkable experience. You can expect to witness only the remains of what was once a prosperous site. Hampi is hence with due respect referred to as the 'City of Ruins'.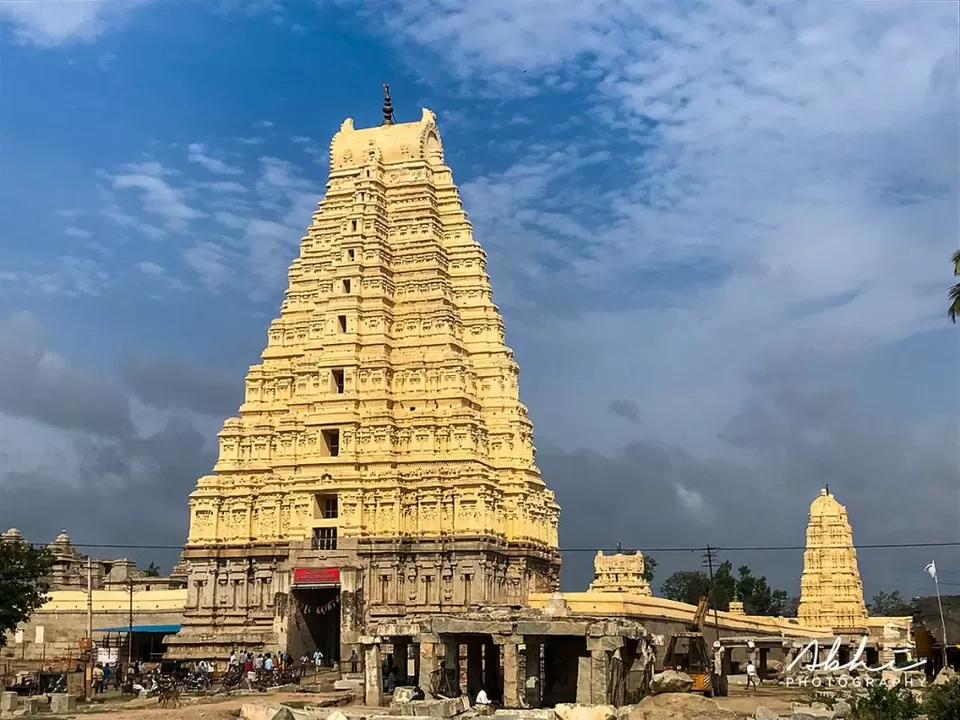 Virupaksha Temple
Believed to functioning uninterruptedly ever since its inception in the 7th century AD, Virupaksha temple is the oldest and the principal temple in Hampi. This is easily one of the oldest functioning temple in India as well.. Know More
Fortunately the home stay I selected ( Sudha Home Stay) was just400 mtrs away from Virupaksha temple and the view from the rooftop of my stay was so beautiful, one side you can see Tungabhadra river on other side all boulders and temples. You can find many small stores for cloths, antiques, food stalls, bike and cycles on rentals and restaurants.
I started my Hampi tour at 8 in the morning by taking a bicycle on rent. I got a local map with all popular places to see in Hampi. My first point was Virupaksha Temple and then I moved to Kadalekalu Ganesha at walkable distance. Many points are closely located in Hampi village for this you don't need any commutation but autowala's will not tell you all this.
Kadalekalu Ganesha
This giant statue of Ganesha was carved out of a huge boulder at the northeastern slope of the Hemakuta hill. The belly of this statue resembles a Bengal gram (Kadalekalu, in local language) and hence the name.
My next points were Krishna Temple, Badavi Lingam and Ugra narasimha.
Krishna Temple
This temple was built by the king (Krishnadevaraya) in 1513 AD to celebrate the conquest of the eastern kingdom of Udayagiri or Utkala (in the present day Orissa state).The main idol installed in the temple was the figure of Balakrishna (Lord Krishna as infant). This idol is now displayed in the state museum at Chennai. A huge slab installed inside the courtyard of the temple states the story of this temple and the conquest of Ulkala.This is one of the must see sites in Hampi. The carvings are especially spectacular with the Yalis (the mythical lion) on the pillars and the entrances to the temple hall flanged with impressive carvings of elephant balustrades.
Ugra Narasimha
Ugra Narasimha Statue in Hampi is a statue of Laxmi Narasimha. The statue is carved out of a single block of stone. This single stone structure of Lord Narasimha is a major tourist attraction in Hampi, a UNESCO inscribed World Heritage Site and is considered to be an important monumentamong the entire group of monuments and relics at the site. The Ugra Narasimha Statue is located to the south of Hampi. The statue of Ugra Narasimha, Hampi is 6.7 meters in height. The Ugra Narasimha at Hampi is placed on the top of the Hemkunta Hills.
Badavilinga Temple
This is the largest Linga image in Hampi. Located next to the Lakshmi Narasimha statue the Linga is housed inside a chamber with an opening in the front. A close look on this icon can reveal three eyes (depicting the three eyes of Shiva) carved on it. Legend has it that this was commissioned by a peasant woman and hence the name (Badva means poor in local tongue).
If you are traveling solo or if you spend some time quietly with these temples and pillars you will hear the story they speak, you can relate that with the time when people must have carved them.
Indeed this place is very beautiful and very clean and maintained by government. You will find guards in every ruins and no garbage in Hampi.
Since I was on bicycle I had additional to enjoy the nature and scenic beauty. I was alone so I took many photo breaks and explored every inch of my journey. Weather was pleasant and breeze was awesome.
Thereafter i moved to see some royal and maintained monuments. It's peculiar to note that this is one of the beautiful structures that were left undamaged during the siege of the city.
Lotus Mahal & Elephant Stables
Also known as Chitrangani Mahal and Kamal Mahal, this falls under the secular or nonreligious categories of structures in Hampi. It's peculiar to note that this is one of the beautiful structures that were left undamaged during the siege of the city.This long building with a row of domed chambers was used to 'park' the royal elephants. There are 11 domed tall chambers; some of them are inter- connected. The center one is specially decorated and big. Probably the musicians and the associated band troupes had been using this during ceremonies involving elephant processions.
Still I was excited to see the most awaited monuments and was imagining the beauty and architecture of it. If you see by names or according to Hampi.in you have 85 places to see. This big list can't be covered in 2 days and most of them are so small and close to each other that you don't even know that you have seen so many place in small time.
Last year when I booked my stay for 3 days which unfortunately got cancelled hence it was in my pending list. So this time I made this plan for 2 days trip and I managed to cover all the places.
My next destination was Stone Chariot and you can see the beautiful monument and its surrounding are also that beautiful.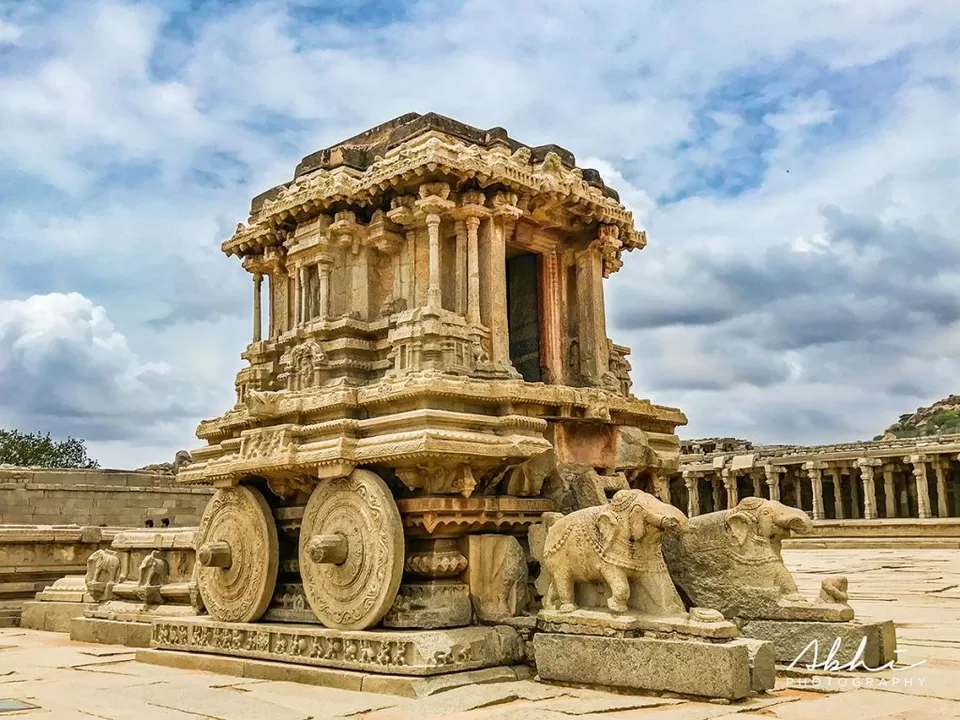 The "Stone Chariot", as it is often referred is the flagship tourist attraction of Hampi. This is not a chariot, as the name suggests, rather a shrine built like a chariot.
Stone Chariot ( Vithala Temple )
The "Stone Chariot", as it is often referred is the flagship tourist attraction of Hampi. This is not a chariot ,as the name suggests, rather a shrine built like a chariot. This is located inside the Vittala Temple campus. You would be visiting the Stone Chariot as part of your Vittala Temple tour.In mythology Lord Vittala is an aspect of Lord Vishnu (See Gods of Hampi and Mythology of Hampi). Garuda (lord of eagles) is the vehicle (mount) of Lord Vishnu. The Stone Chariot once contained the icon on Garuda, though the shrine is empty now. This shrine is in the axis of the massive Vittala Temple and faces the sanctum of Vittala Temple.
I am almost done with the day 1 tour and was tired so decided to take some rest and plan to enjoy the evening at Hemakuta hill and like to say goodbye to sun ????
It was indeed a beautiful day and I covered all the famous points. I planned to start the 2nd day with sunrise view from Matanga Hill.
Day 2 in Hampi!
After having a wonderful previous day I planned to start my day lil early to experience the sunrise from Matanga Hill, for this I woke-up early in the morning and start walking towards the hill around 5:20am. I had to reach on time to see the sunrise and continuously looking at my watch to see the sunrise, I found many youngsters are also climbing the hill for the same goal.
Its 600 steps and some very edgy path to clim top of the hill. It took 25mins for me to reach on the top, view from the top was mind blowing and worth coming to his point. I was on the roof of the temple where the Pujari (Priest of temple) was talking to people in fluent english and serving water and tea free of cost.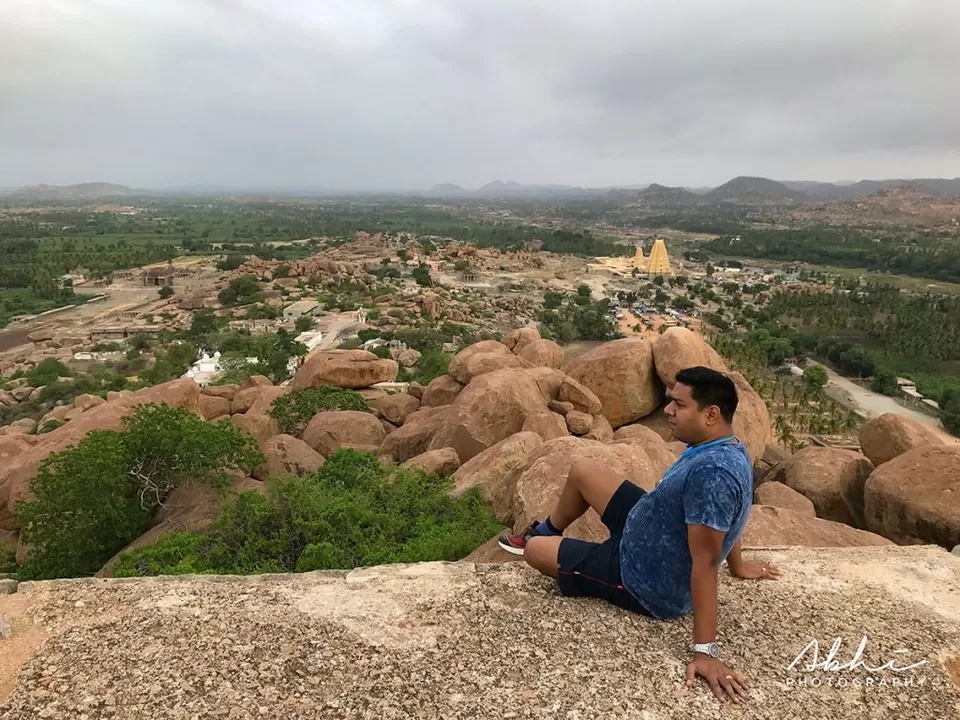 Matanga Hill
Now, I have a plan for the rest of my day, I couldn't see the sunrise as expected because of the clouds but the experience of climbing and sitting on the top of the hill, the view, the breeze and freshness made my morning so energetic and motivated.
I took the bicycle on rent again and moved as per the map to see some more interesting monuments. My next destination was Queen's Bath, Old Palace, Mahanavami Dibba, Pushkarani, Hippie Island, Coracle Ride, Hampi Bazaar and Hemakuta Hill Temple Complex.

Queen's Bath
For some mysterious reasons this was called as the queen's bath. But in all probability this was a royal pleasure complex for the king and his wives.

Pushkarni
Pushkaranis are sacred tanks attached to temples. Most of the large temples in Hampi has a tank attached to it. The tanks cater to the ritual and functional aspects of the temple and life surrounding it.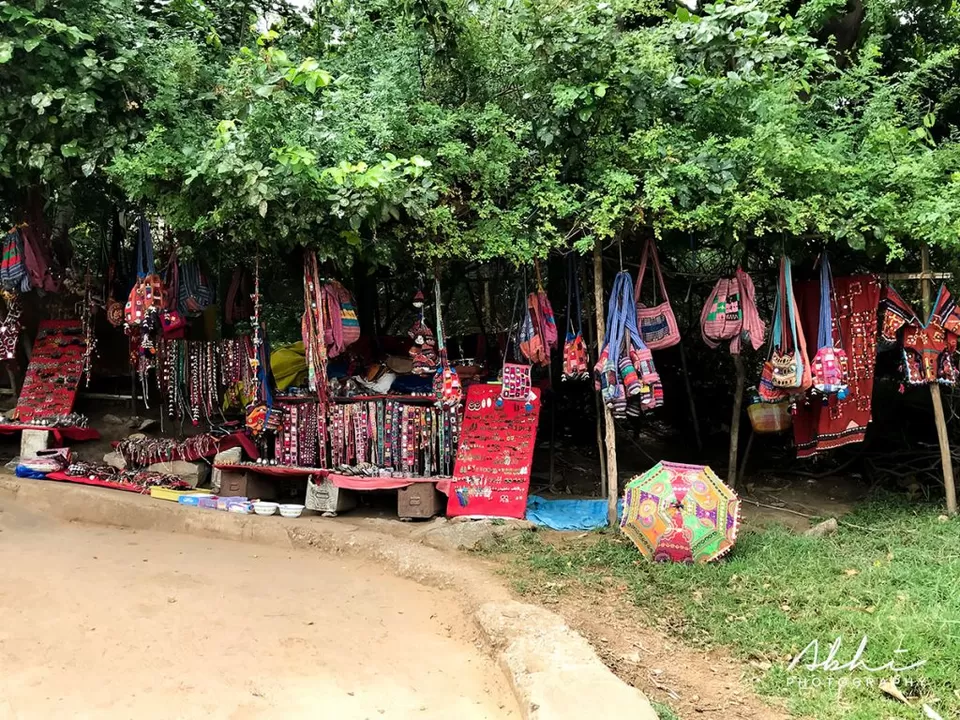 Hippie Island Virapapur Gadde or also known as Hippie Island in Hampi, is a small place located across the Tungabhadra River, separating the historical part from an area with a smooth rhythm.Things to do in Hippie Island in Hampi
Hippie Island in Hampi is a delight for backpackers, a symbol of scenic beauty known for laid-back environments and the location of all guesthouses, hostels or campsites.
Most guesthouses also have restaurants serving fantastic food combined with cold beers, banned in Hampi, with a great view of the river and the ruins, or the beautiful rice fields.
way from luxurious living, staying in small huts or rooms, savoring the taste of Indian and Western cuisine, lying on any terrace overlooking the river, you will definitely develop a great attachment to this place.
Many of these cafes also serve as guest houses, where you can find rooms at a reasonable price and very simple, or others more luxurious.
Spending a few days at this place will keep you busy, with lots of things to do but, above all, do nothing, just relax. Here are some suggestions on what to do on this Hippie Island, and why it's a mandatory stop in your trip to India.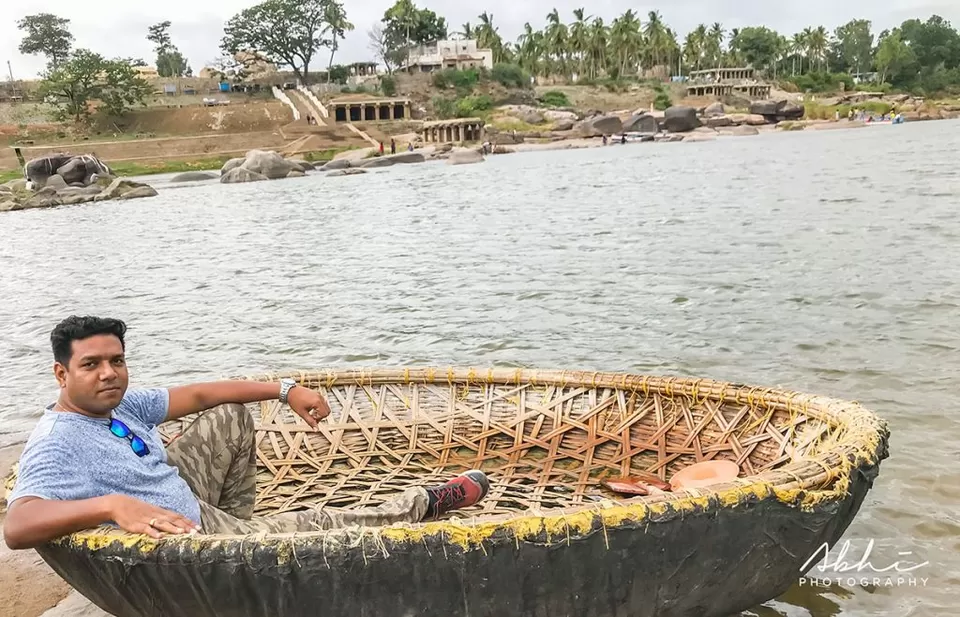 Coracle Ride A circular shaped country boat to cross the river. A huge floating basket is a more appropriate description than calling it a boat. They are huge flat craft to ferry people & sheep (yes sheep!). About 6 feet in diameter, coracles are made of bamboo, cane, plastic sheets and a fine coating of bitumen to make it leak proof!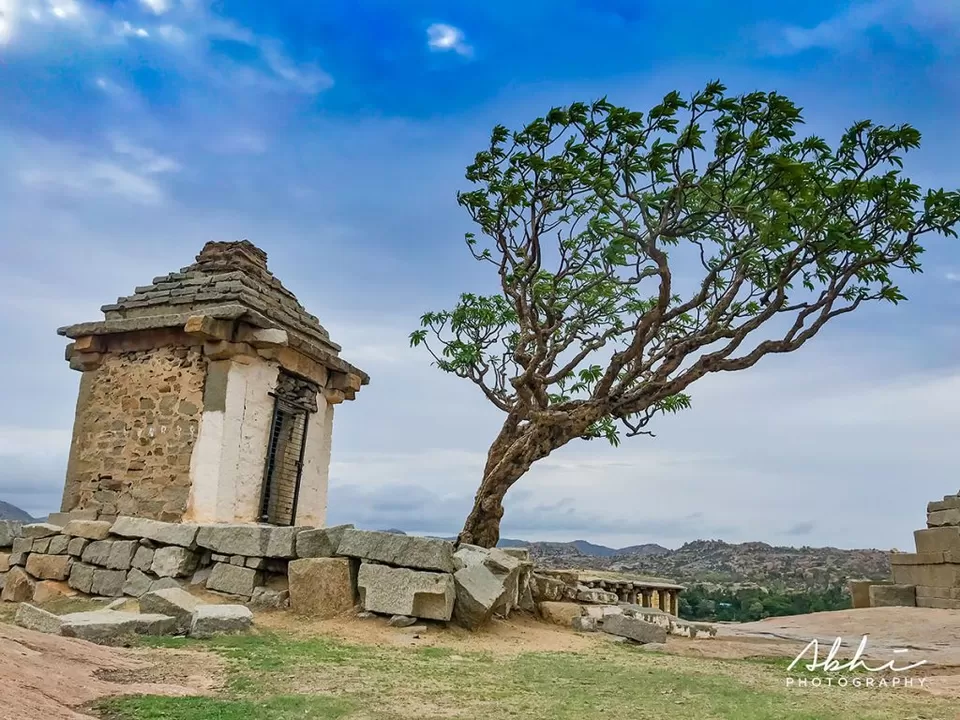 Hemakuta Hill Temple Thanks to its architecture these temples are mistaken for Jain Temples. In fact most of them are dedicated to Siva worship. These smart looking compact temples with pyramid-like roofs resemble that of the Jain temples.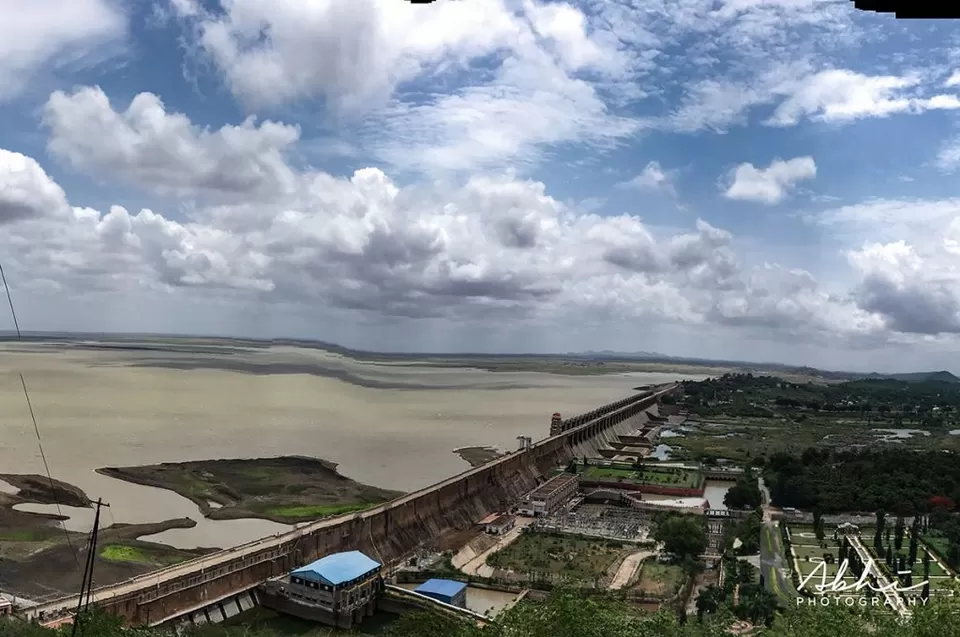 Tungabhadra Dam, Hospet
The Tungabhadra Dam also known as Pampa Sagar is constructed across the Tungabhadra River, a tributary of the Krishna River.[ The dam is in Hosapet, Ballari district of Karnataka. It is a multipurpose dam serving irrigation, electricity generation, flood control, etc.Where to Eat in Hampi?
Hampi is strictly a vegetarian and non-alchoholic place. However if you do want non-veg food or booze, then you need to go to the 'Hippie Island'.
These restaurants below are a must visit in Hampi.- Mango Tree restaurant: Located in Hampi Bazaar and I have been here for dinner and breakfast. Hygienic food, great place to chill, music in the background, & tourist friendly.- Tibetan Kitchen- All Tribes Coffee shop: Coffee & Chai place, filled with tourists. Sadly, I didn't get a chance to go there.- Evergreen restaurant- Open air restaurants in the guest houses in Hampi Island - Mowgli, Hema, Funky Monkey, Nargila guest house etc.Great food, slightly overpriced. If you're looking for a place to lie-down or to read a book, or to play cards; with relaxing music in the background, then these restaurants are a must-visit.
Why go to Hampi?
Peaceful place; away from the chaos of city life. Forget 3G, most areas barely any phone network. To spend a night in Hampi's 'Hippie Island'.Hippie island is a backpacker's paradise and is on the list of every wanderlust lover. Come to this island for solace :p It's just an overnight journey from Bangalore/Hyderabad :-Hampi is probably the best destination in South India for a 'weekend backpacking experience'. For a cycling tour to explore all the ancient ruins, the forgotten marvels, the religious history, and architectural beauty. For the open-air restaurants, replete with travellers, where you can sit for however long you want.
Hampi solo travel is worth every bit, not just in terms of money, but also for the time that one would spend there. It is a unique destination for what it has to offer. The mammoth boulders and ruins of the temples and palaces are bound to set one wondering about the past of the village. It is for this reason that this locale is sprawling with travelers throughout the year.
I went on a backpacking trip to Hampi and fell in love with it the instant I landed there. I'm sure any passionate traveler planning a trip to Hampi will feel the same way.
Highlights of Hampi Solo Trip
Hire a Bicycle and enjoy the beauty of Hampi and nature Best place for photographers Camping on the hills are not allowed Booze and non-veg are not allowed in Hampi Solo trips are very very safe Must follow Hampi.in as your guide for any trips Best time to visit is September till March, I went in rainy season and I liked it Capture as many photos you can take home the memories 2 Days are enough to cover every point in Hampi
Now its your turn to visit and experience the kingdom ness of Hampi...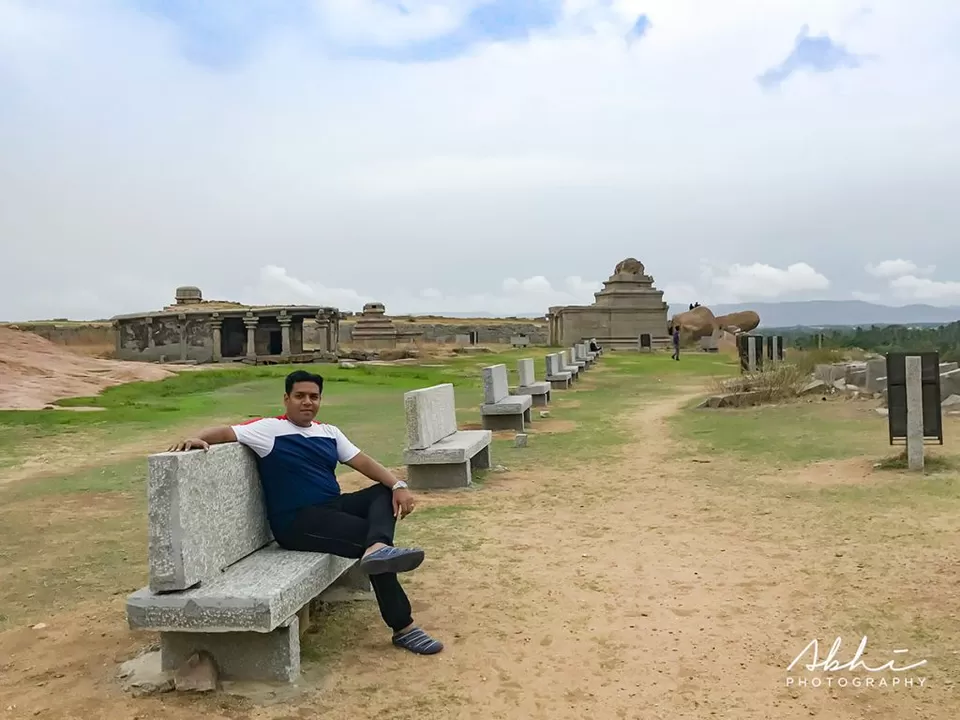 Full Screen Gallery
Must click photos to see in full screen, it covers all the points on Hampi and Hospete.
For more blogs visit- www.whatsabhidoing.com