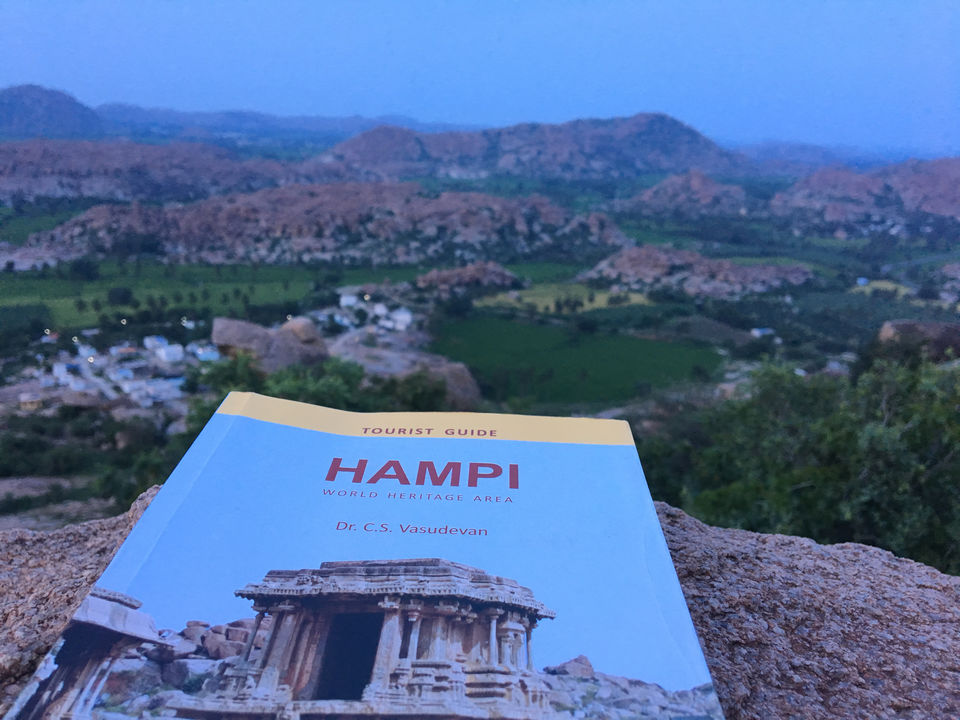 So after going through a lot of Itineraries and Blogs for the places that I had in my mind for a few chosen ones, I finally jotted down 2-3 of them for my first solo trip.
At first I was terrified, but I knew I had to do it. I kept putting it off for weeks until I finally came to a conclusion that If not now, I never win.
Going through a bad phase in life already helped me to take a quick decision and within 3 days prior the trip I finally thought of traveling to Hampi!
This place was on my list from a really long time. No doubt how much of efforts it took me to convince my parents to let me take a Solo Trip.
Hampi, The mysterious land.
I had never seen such a landscape before and completely fell in love with this land of ruins.
Huge rocks, mountains out of bizarre rocks. Monkeyland. Land of crocodiles but I had seen none lol. And Hippies! A lot of them all around. Ancient destroyed temples, surreal boulders, lushy green paddy fields and ruins, magical stories of myths and legends – what enormous kingdom it must have been!
Chilling restaurants besides very poor huts, guest houses that partly seem to crash soon, but promise 24 hrs water and electricity. In few streets you find goats, cows, souvenir shops, some farmers, very inviting roof bars with some tourists, Huge temples and round are always in the background.
A very common information:
It is located within the ruins of the city of Vijayanagara, the former capital of the Vijayanagara Empire. Predating the city of Vijayanagara, it continues to be an important religious centre, housing the Virupaksha Temple, as well as several other monuments belonging to the old city. The ruins are a UNESCO World Heritage Site, listed as the Group of Monuments at Hampi.
Hampi is never enough of it's stories and all those cannot be put down into words. I really want more and more people to take a trip to the Heritage yet laid back Hampi and genuinely feel about this land atleast for once in a lifetime.
See and spend!
So to start with my experience, I feel a 3-4 days of exploring is good enough to wander around both the sides of Hampi. Yes, Hampi has it's two uniquely different sides consisting of Heritage temples and The Hippie Island.
The two sides are separated from each other by a river. There are coracle and ferry rides to switch over these two places.
The Heritage Hampi
I found that the more you soak up the stories that paint a vibrant picture of the significance of Hampi, the more I fell in love with this place. Learned about the myths and legends, and how they still have a big influence on Indian culture even today. The people you meet on this side believe in spirituality and have kept up their cultural terms.
After the hotel check-in, I walked to the
1.Virupaksha Temple.
This is the only temple still in use because, unlike the others, the idol was never destroyed. Laxmi, the temple elephant offers blessings in here and it's an overwhelming feeling.
2.Hampi bazaar.
A local market for tourists to buy exotic stuffs giving feels of vintage era.
3. Sunset at Hemakuta Hill.
Alert! 'Do not miss the sunset'
It's a 5 minute climb where I watched the first sunset in Hampi during the trip. The feeling was mesmerizing but I expected a better sunset.
Day 2:
On this Day, I hired an auto and covered the below places and a few I might have missed to mention which took the first half of my day.
1. VijayaVittala temple
2. BadaviLinga temple
3. Achyutaraya temple
4.Lakshmi Narasimha temple
5. Hazara Rama temple
6. Bala Krishna temple
7. KadalekaluGanesha temple
8. Lotus Mahal
9.Elephants stable
10. Hazara Ramachandra Temple and Pansupari Bazaar
11. Mahanavami dibba
12. Queens Bath
13. Stepwell
14. Krishna temple
In the other half I spent my evening on the Matanga Hill to witness a beautiful sunset. Remember spending an hour with my thoughts compiled as the sun went down spreading into joyous colors and taking away disturbing thoughts.
See through Pictures!
Day 3 In Hippie Island
This was the most awaited place after wobbling into temples for two days. A much needed laid back time in the laid back Hippie Island.
Hire a bike, hunt into cafes, try numerous shakes and drink lots of Ganne ka juice( sugarcane juice ) and coconut water.
I spent the whole day wandering into the emerald paddy fields, watching great landscapes and then climbed about 545 steps to reach the top of Anjanadri Hill.
The hanuman temple and the mismatch arrangement of rocks enhances the beauty of this hill.
The best sunset In Hampi one expects to witness and that justifies the trip.
Let's check pictures so you'd believe me?
Last Day, day 4 !
I wanted to make the most of this day. I got up early for the sunrise and then rode around the sanapur lake and till Tungabhadra Dam for the next hours. If you're in Hampi and don't take this ride towards sanapur lake and beyond, it will be an incomplete trip. The ride takes you into an escape of the city life. It is beautiful to watch deep blue lake in middle of boulders. You will not be able to see the lake till you reach very close to it as it is completely hidden.
After spending a good time I came back to my guest house, had the best lunch and left for Mumbai with a lot of memories and alluring landscapes in my mind.
Where did I stay?
Hampi has a lot of accommodation options right from low budget to luxurious stays. One can easily book through booking.com accordingly.
I stayed in Padma Guest house (most recommended one) on day 1 and Hermen's guest house for the other day. Both were a comforting stay.
Hippie island stay : Sunny guest house, not budget friendly but convenient.
How did I travel in Hampi ?
Hire an auto and negotiate with the driver about the charge. My auto driver charged INR 800 for a day tour where he covered all the temples and sights. Off seasons might cost you very little. Hire a scooty, moped bike in Hippie Island and tour around. They cost you about INR 250-300 a day.
How did I travel from Mumbai to Hampi?
There are many options via Flights, trains and bus. I took a bus journey from Mumbai to Hubbali (ksrtc AC sleeper)-INR 1000. Costs you lesser if you book early on time.
Hubbali-Hospet (Local Bus)- INR 150
Hospet-Hampi (Local bus)- INR 13
There are buses directly from Mumbai-Hospet and then you travel to Hampi which is hardly 30mins from Hospet.
Gobbled into cafes like:
1.The Mango Tree
2. Top secret (Shh do not tell about it :p)
3. The tibetan kitchen
4. Laughing Buddha
5. Gauthami
6. Sunny restaurant
7. Uma
So that was a lifetime experience where my first solo trip came to an end. Met a lot of kind humans on my way. Back to my life with forever stories from Hampi but a part of me is still left behind. I'm glad I took this trip or else I would have never met the other me.♥️
There are going to be a lot of pictures on my instagram feed, why not escape into Hampi through it?
Follow
https://instagram.com/the_greedy_nomad?utm_source=ig_profile_share&igshid=18y6nesdn9fr7