Hello #TrAvelers.
Glad to meet you all on this #Tripoto_Community...
Today I'm gonna sharing my Adventurous trip which I traveled with my bestie's after my Breakup..
Coming to introduction,
I'm an Embedded Software Engineer Working in an MNC at Hyderabad... My hometown is Karimnagar,
I was in love with a girl since 2 years from my college days, due to of misunderstandings we were separated & my love broke in September 2018,
Trust me Man, Those days are tough in my life,
I was went to a situation Where I'm can't stand on my legs,
Then after, I was realized & Step back to my life, With all the Focus & Confidence and Got a Job in MNC in the month of November 2018.
(The Party begins Here)
So, I was planned to travel a Devotional & Entertainment Trip for me & as well as to my friends too, for refresh & relax..
Then, after on 27th December I decided to travel to the Ancient Narasimha Swamy Temple
"Hemachala Laxmi Narasimha Swamy Temple"
Which is located at Malluru is located approximately 90 Km from Bhadrachalam (famous Sri Rama Shrine in south India) & approximately 130KM from Warangal City.
we are 3 members me & my 2 friends decided to go with the bike journey...
Here we go
Day-1
Me (Arun) & one of my friend (Shiva) are from karimnagar & another friend(Suraj) is from warangal,
Me & Shiva started on morning 4:00 am (it's very cold) in bus towards the Warangal,
we reached the warangal at 6:00am, my friend suraj picked us on bike.
Holaaa, here our Journey Starts
We started on Bike (with full tank of petrol, because its a pure jungle with no petrol bunks's) along with my friend Suraj , Towards our Devotional Love,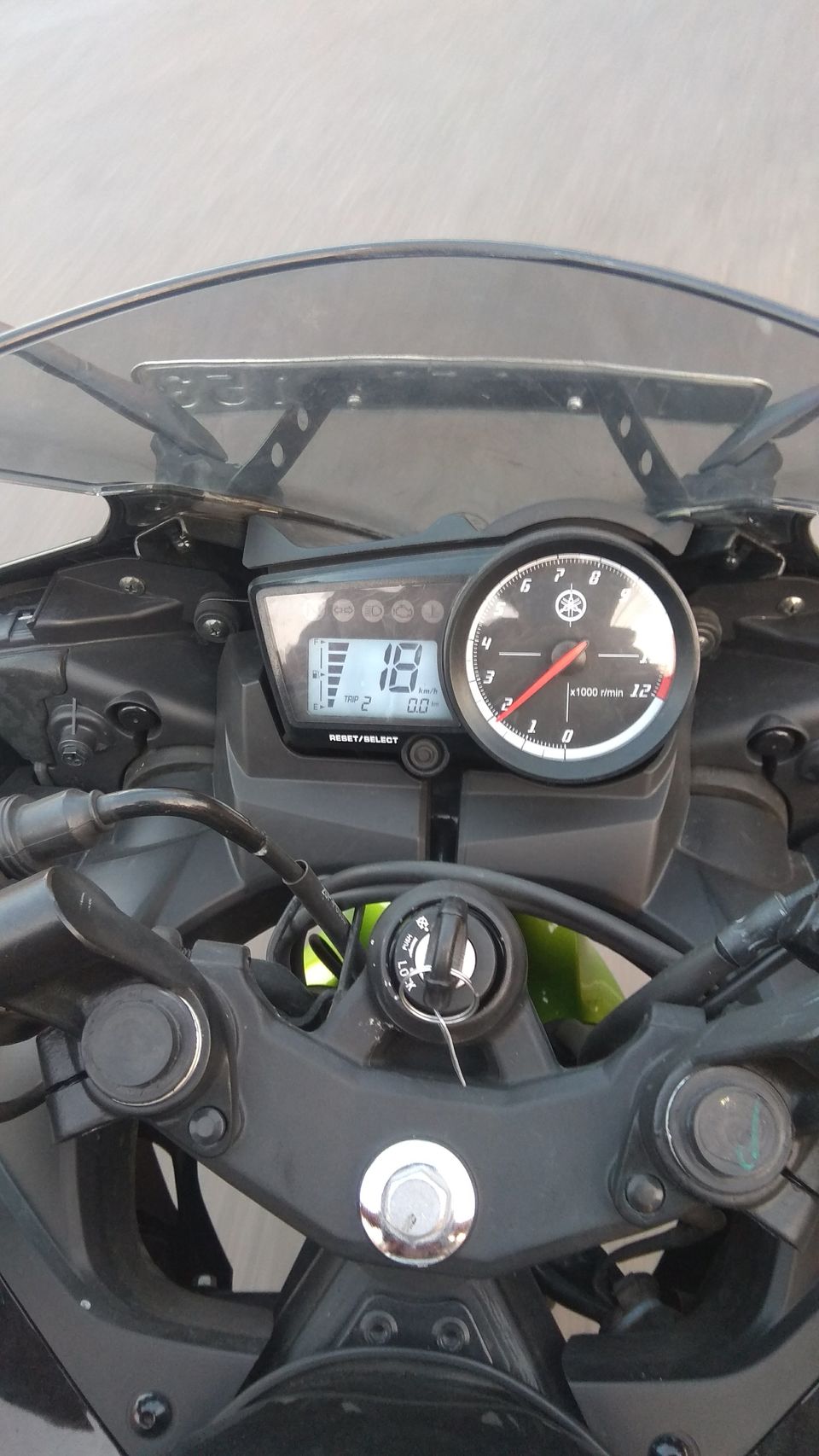 "Trust me man its totally jungle even we can't find a man or vehicle often 2-3 minutes, & the road way is completely mixed with the Snow & Coldness, even there is sunrise at that time"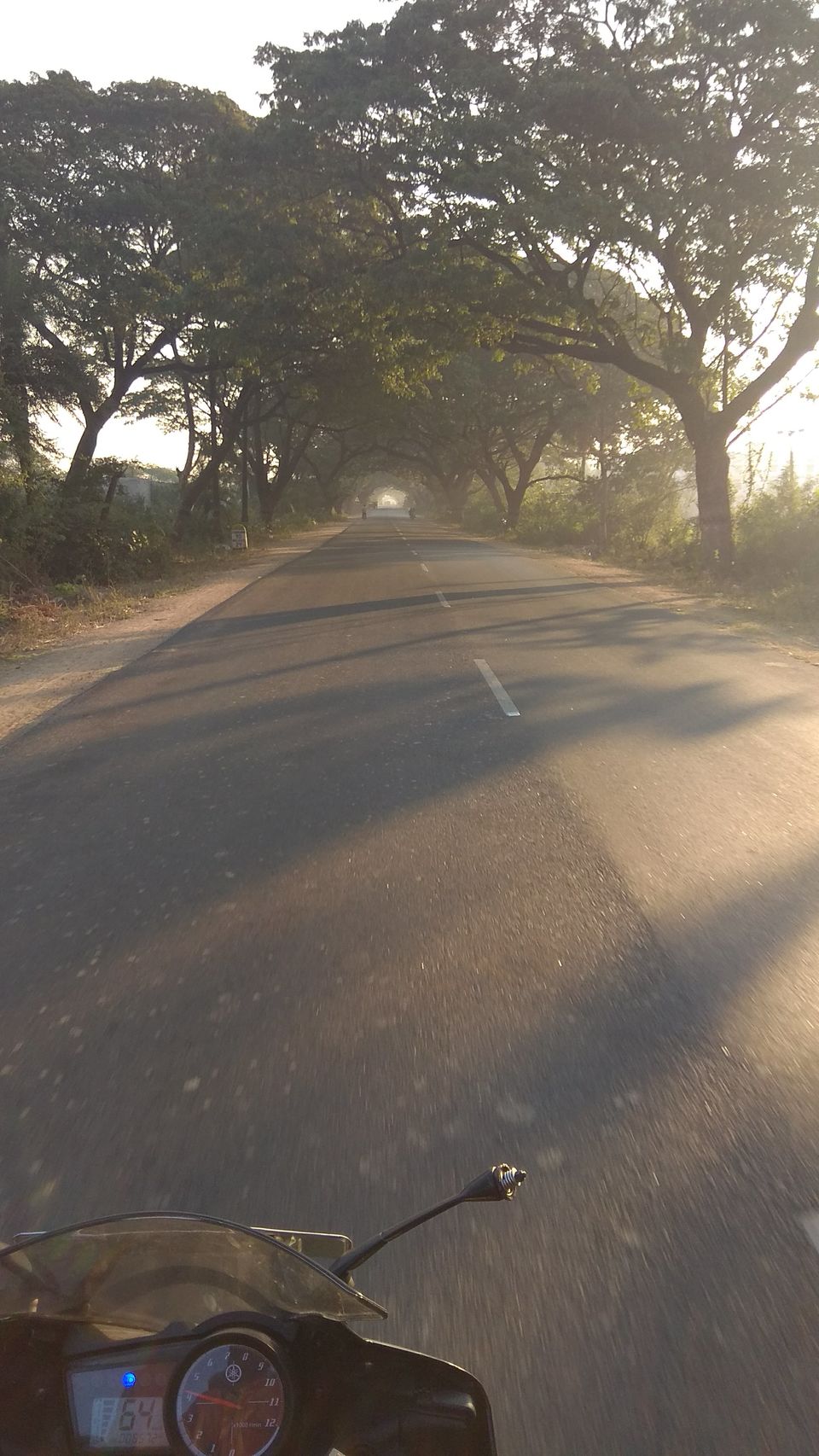 Our hands,legs & we completely got that Too much coldness, & we are shivering although, we are very happy because we riding on the bike with a speed of 80-90 in that coldness with full of talking silly jokes & fun moments,
So, we are not ate any thing !, we are stopped our bike at a Tea-Stall at Tadvai & we had some tea & Breakfast there..
While on the journey we just crossed a village that is famous place in Telangana Especially..!
Do u want to know ??? (2nd Place),
Let Me Complete this 1st place first,
Then again we started with full of refreshnes & joy, after a while we are stopped our bike at a Channel Of River(Sunrise is going on) a beautiful place with completely silent & those warm sun rays are touching our body, Ahh, we are completely mingle with those beautiful place, we had some fun their at a time of 15mins,
Then again we stared, this time so much fun,
while its a jungle, & there is no people flow at their, we saw so many Jungle animals while on journey, Like Peacock, Wild Boar, Monkeyes ( some monkeys are pursuited us too), but, we are in already hign in riding (hahahaha) with totally Highness Of Happiness of 90-100km speed,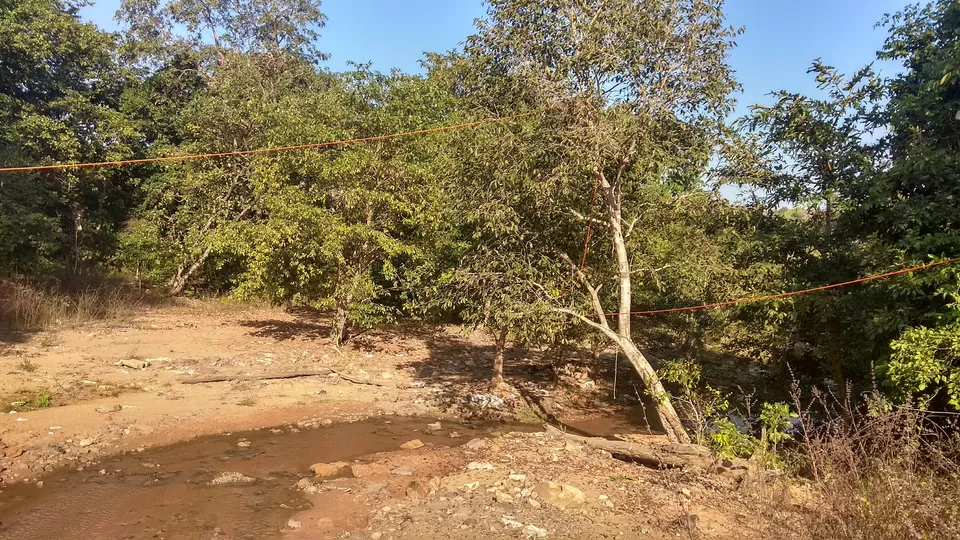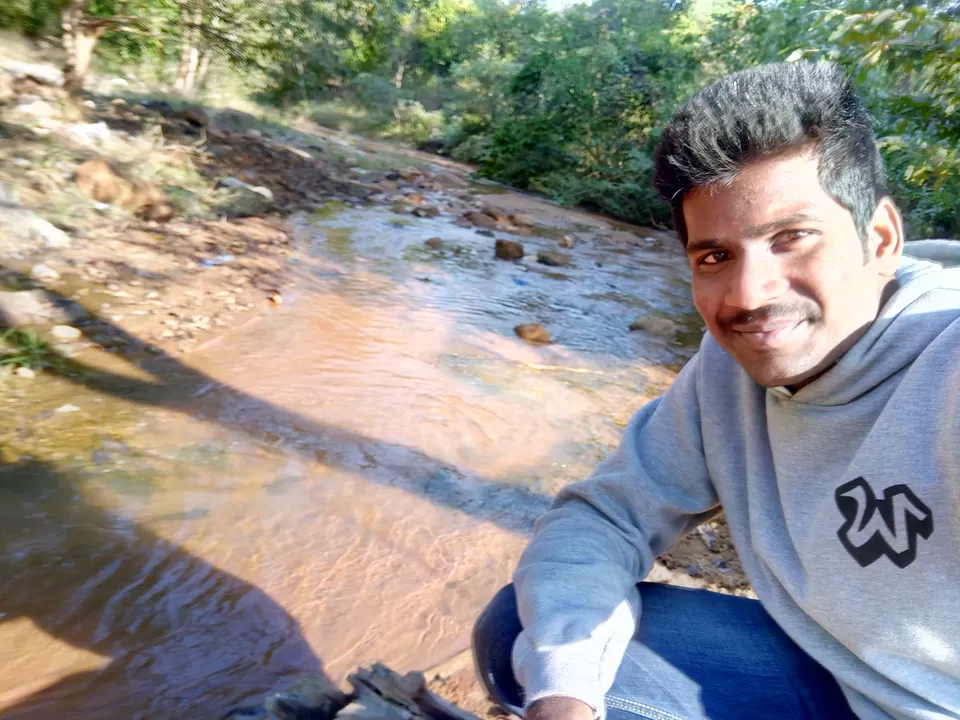 Going on Journey,
We reached the Temple at 10:00 Clock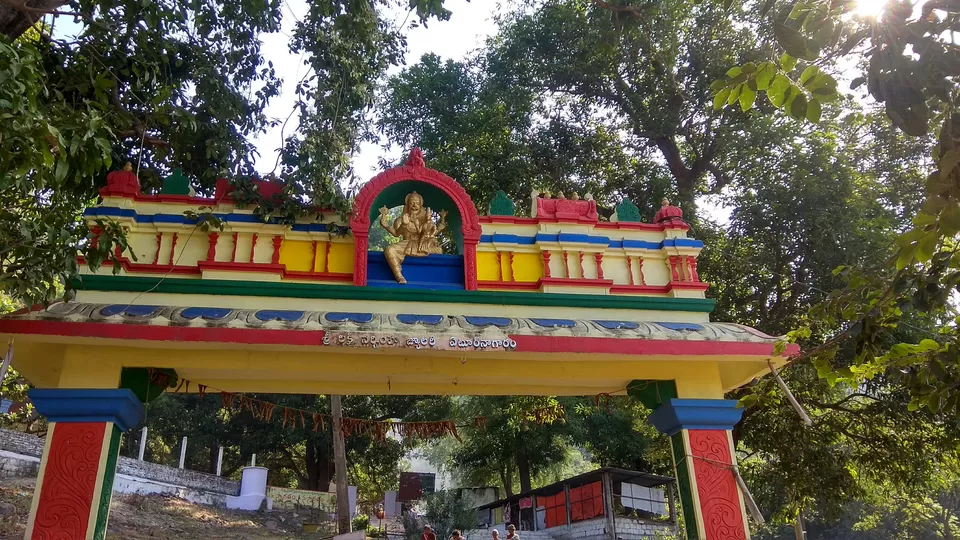 (Eyes With excitement, Heart with happiness)
We parked our bike at parking place, & there are stairs to reach up place for temple visit,
Right side of stairs, There is a continuous water flow near the temple, where its from the top of the hills. named as
"Chinthamani Jalapatham" (Akkadhara/Chelledhara)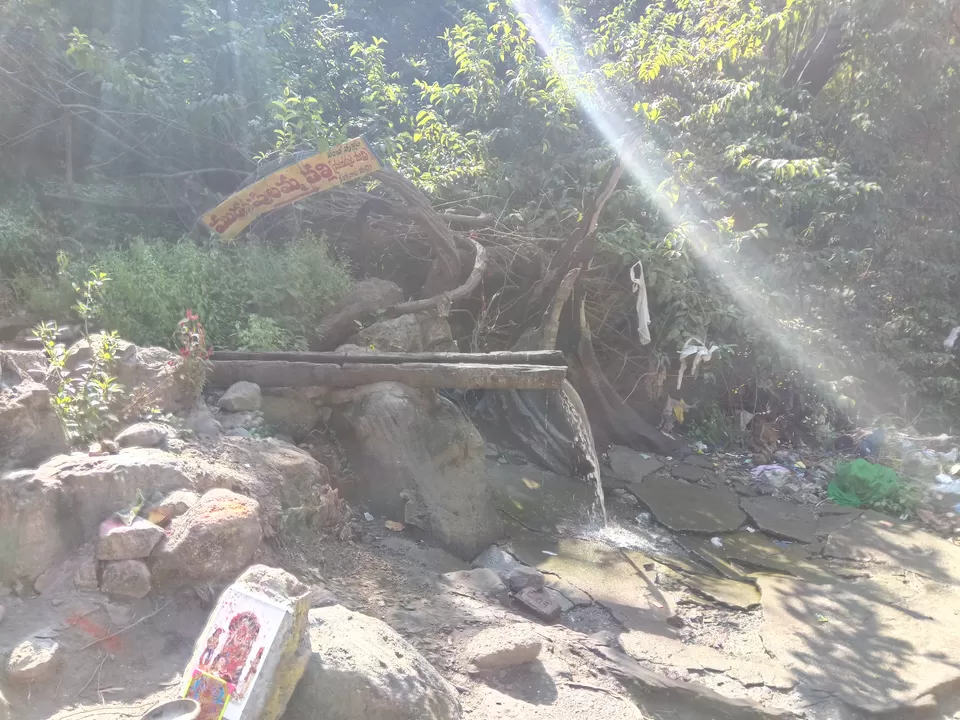 the water was very pure & very rich in minerals & healthy
as they are coming from hills & touches all the different trees roots which makes the water rich in minerals,
we drunk those water really very sweet taste..
Then we are heading towards
"Mudupulamma Thalli Tree"
(combination of 5 trees in a one tree)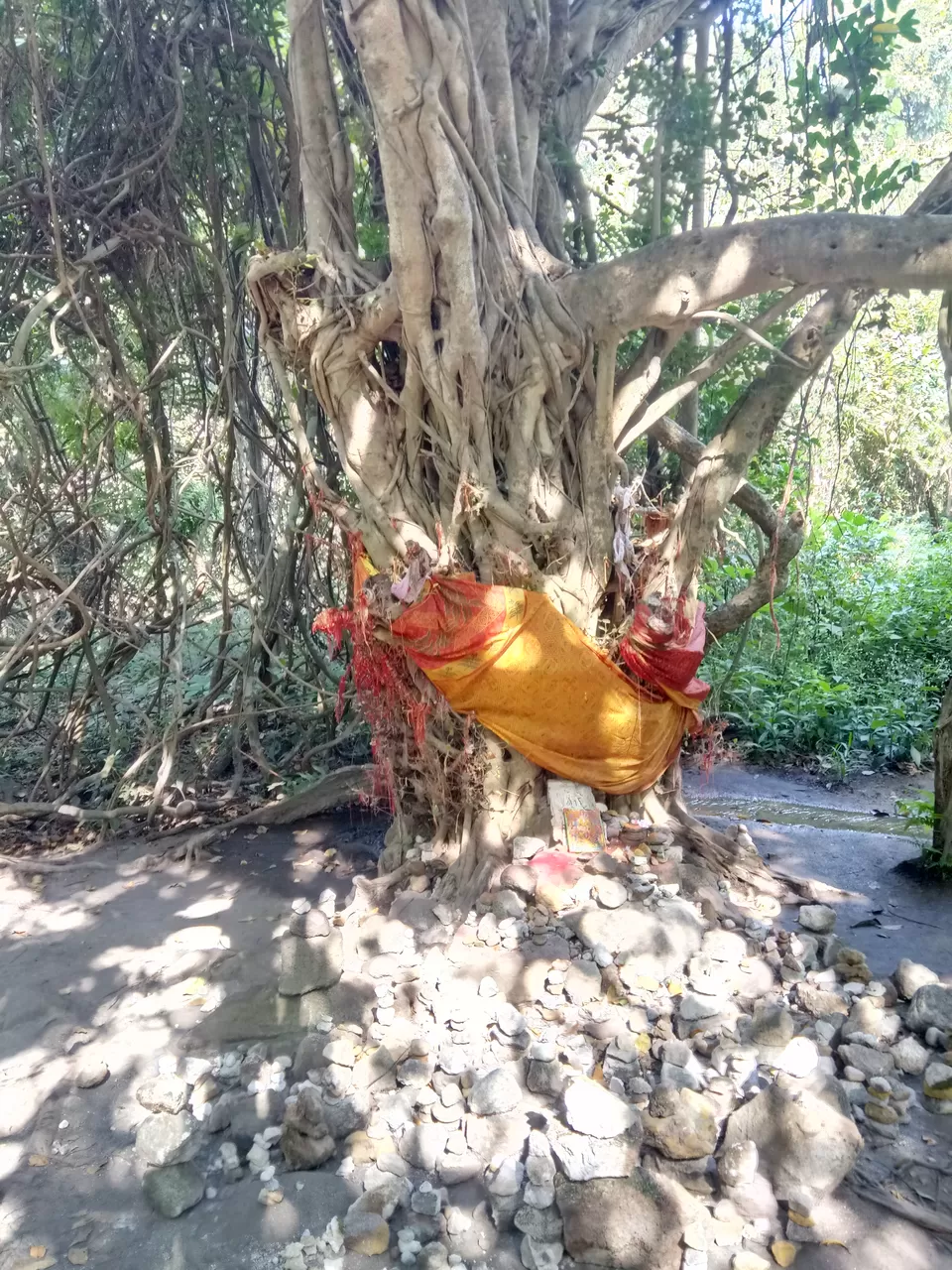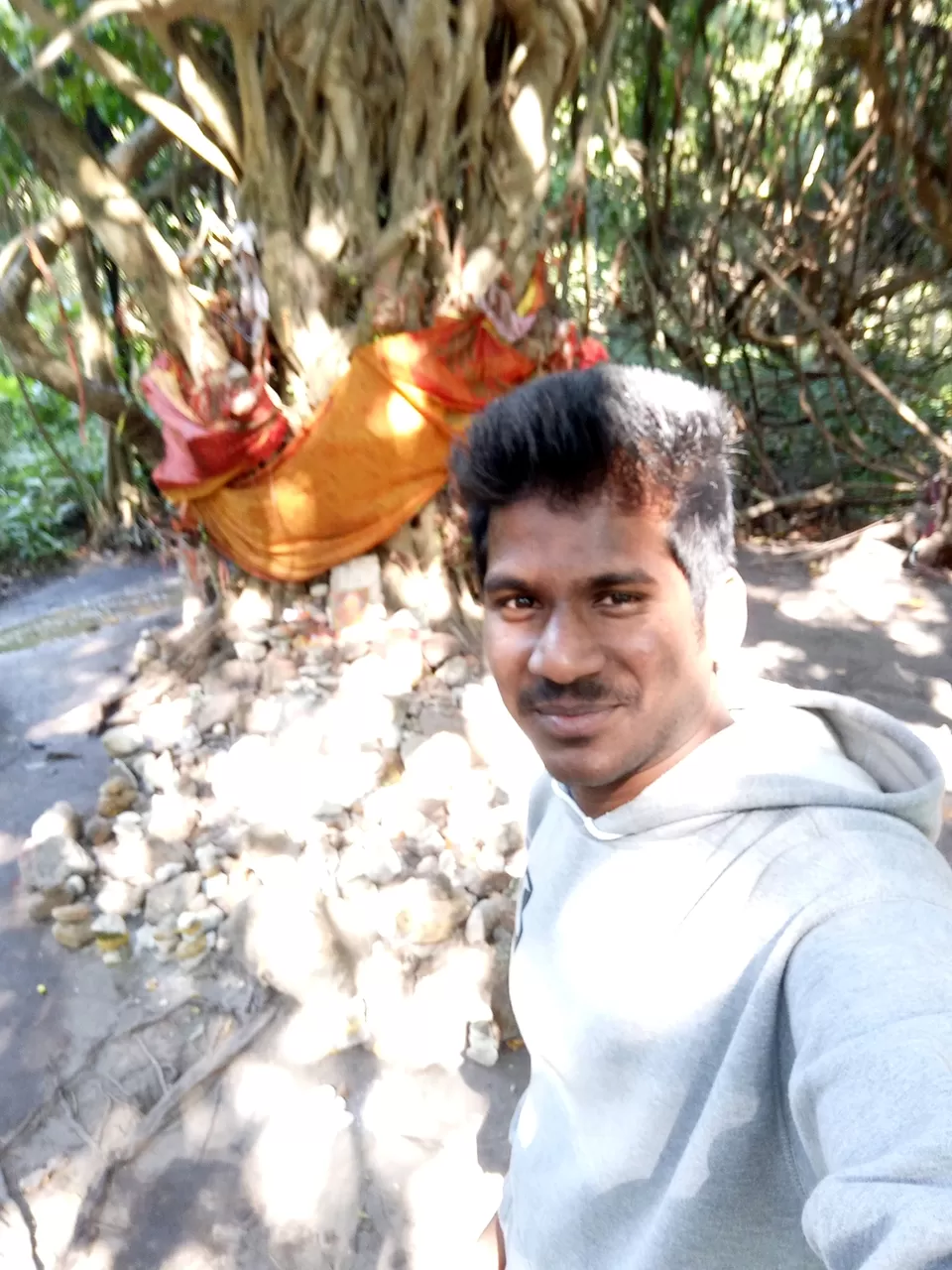 after the visit,we heading towards the Temple,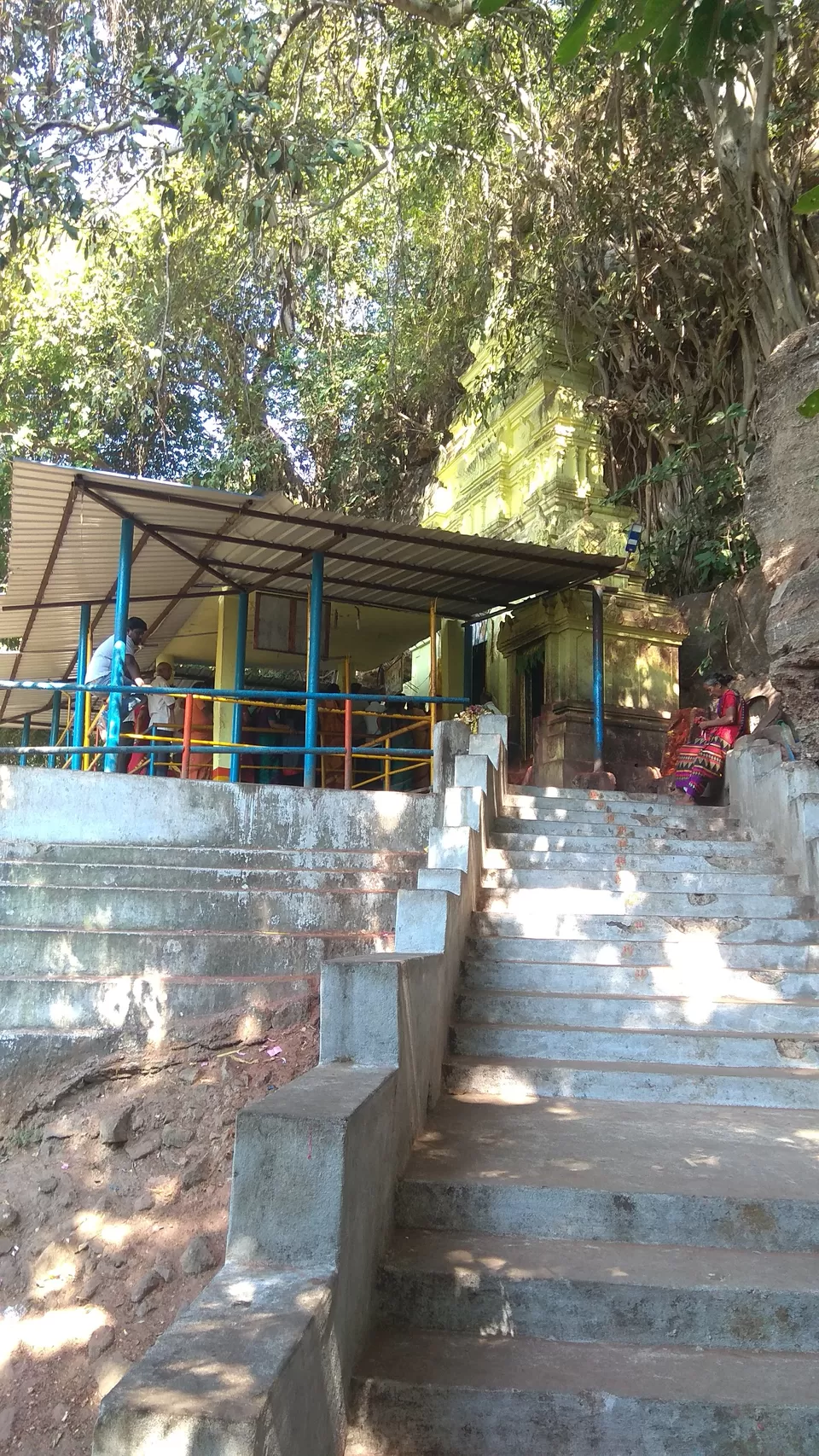 The temple has been renovated during Godavari pushkarams 2003. The temple is located 4km from into the forest from the village Mangapet, which is on the Eturunagaram-Bhadrachalam Highway. This temple has many specialities, the height of mula viraat Sri Narasimha Swamy is upto 10 feet. The Belly part of Moolavirat idol is soft as human skin. The dwjasthambha here at the temple is nearly 60 feet in height.
There will be an annual proceeding here in the month of apr-may every year. Many people visit this temple from the surroundings during oct-jun. There are APSRTC buses from Bhadrachalam to Hanumakonda (via eturunagaram, manuguru), which have a halt at mangapeta on the road. Own Transport or Autos can be preferred from mangapeta to the temple.
we are done the Archana & Visiting the temple (Heart With Peace & Happiness Feeling)..
There is a rockformed Ugra Anjaneya Swamy Statue near to the temple. which is attracted me very much...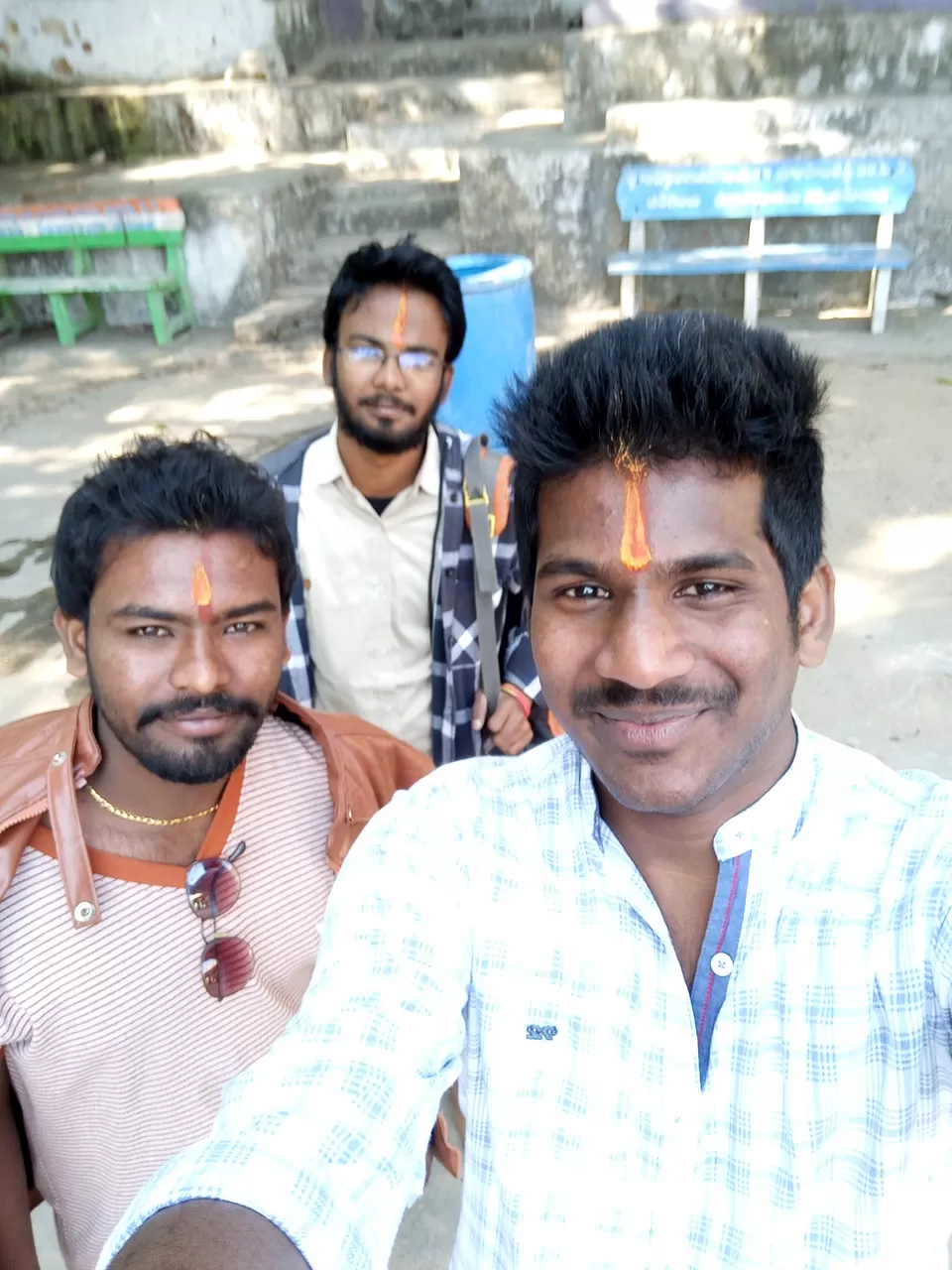 i enjoyed the visit & we stayed their a 1 hour time, the time is now(11:15am) After That,
We decided to return back,
(Not soulfully, its very hard to leave the place, but we have to do)
So, we return back from that place to another place(?????????)
2nd Place:
Its "MEDARAM" is a village in Warangal district which is very famous for the Religious Jatara named as "Sammakka Sarakka jatara" takes place for every two years in the month of February for a time "3 days" held by the
"Koya tribe Of Telangana & Surrounding States", it is a Biggest Tribal Festival in Asia which is attended by 2 crore people on an average..
so, we reached to this place at 12:45 pm & visited the place with very much devotional feeling, Completed the temple visit all those things by 1:15 pm,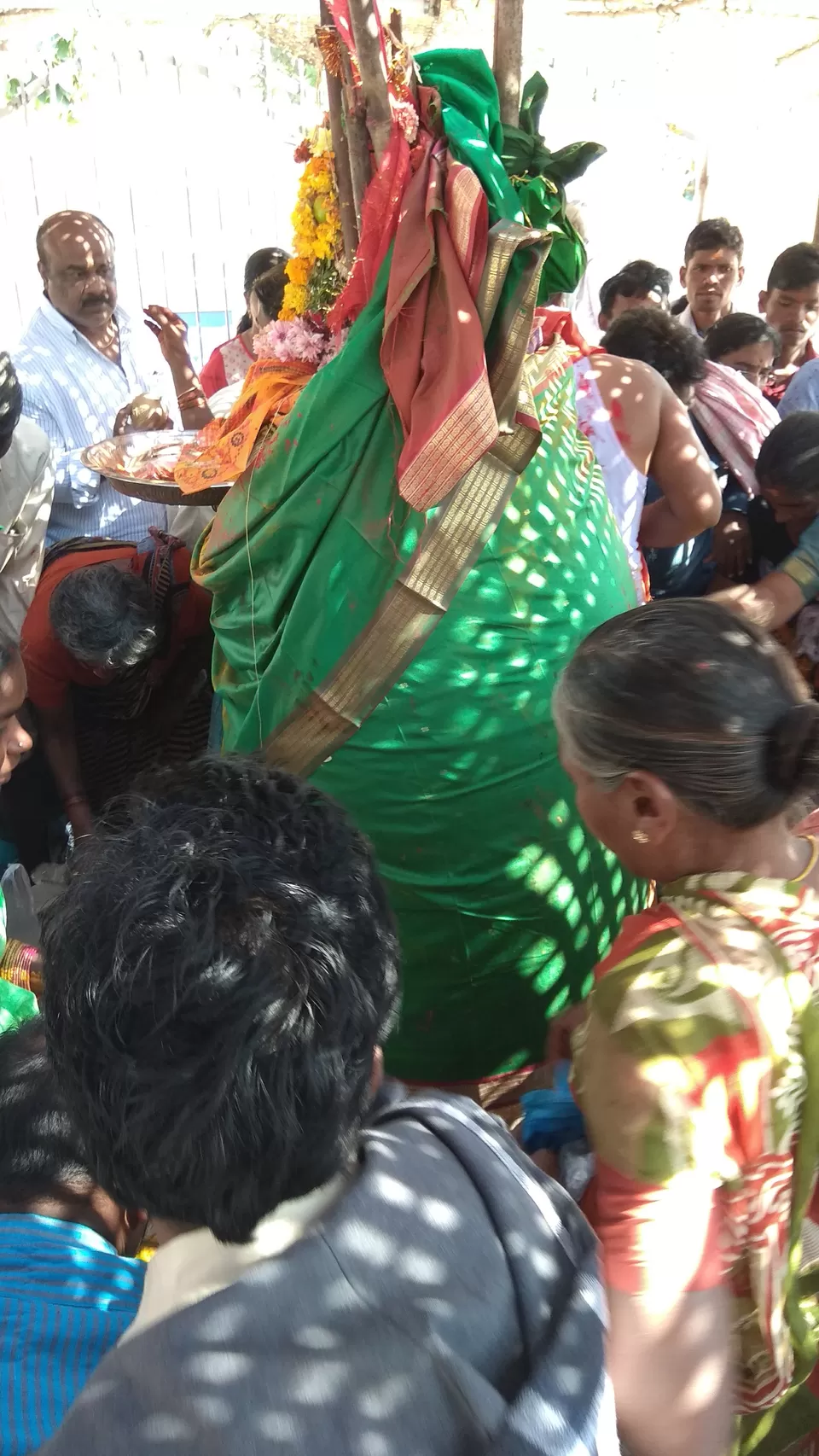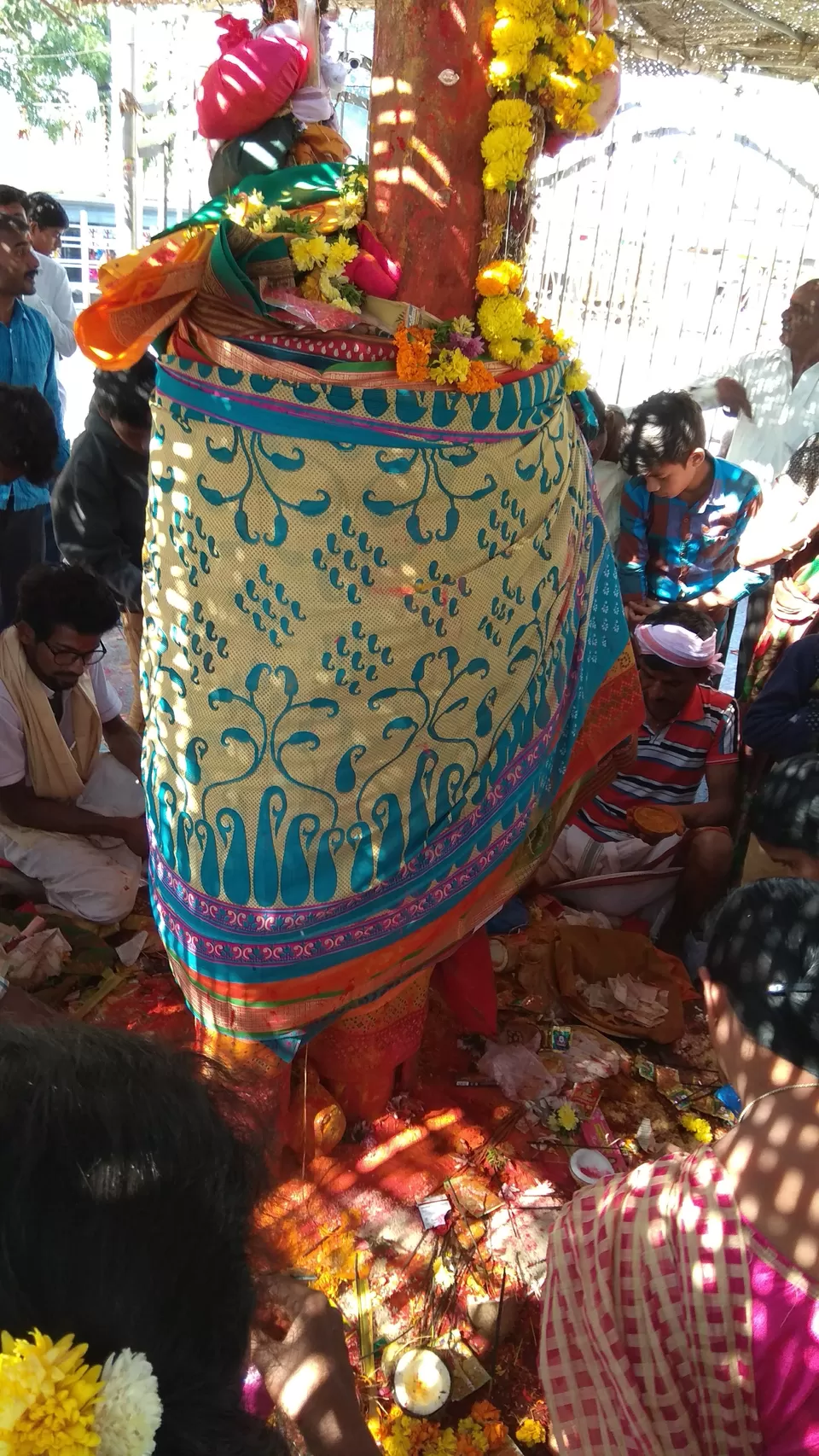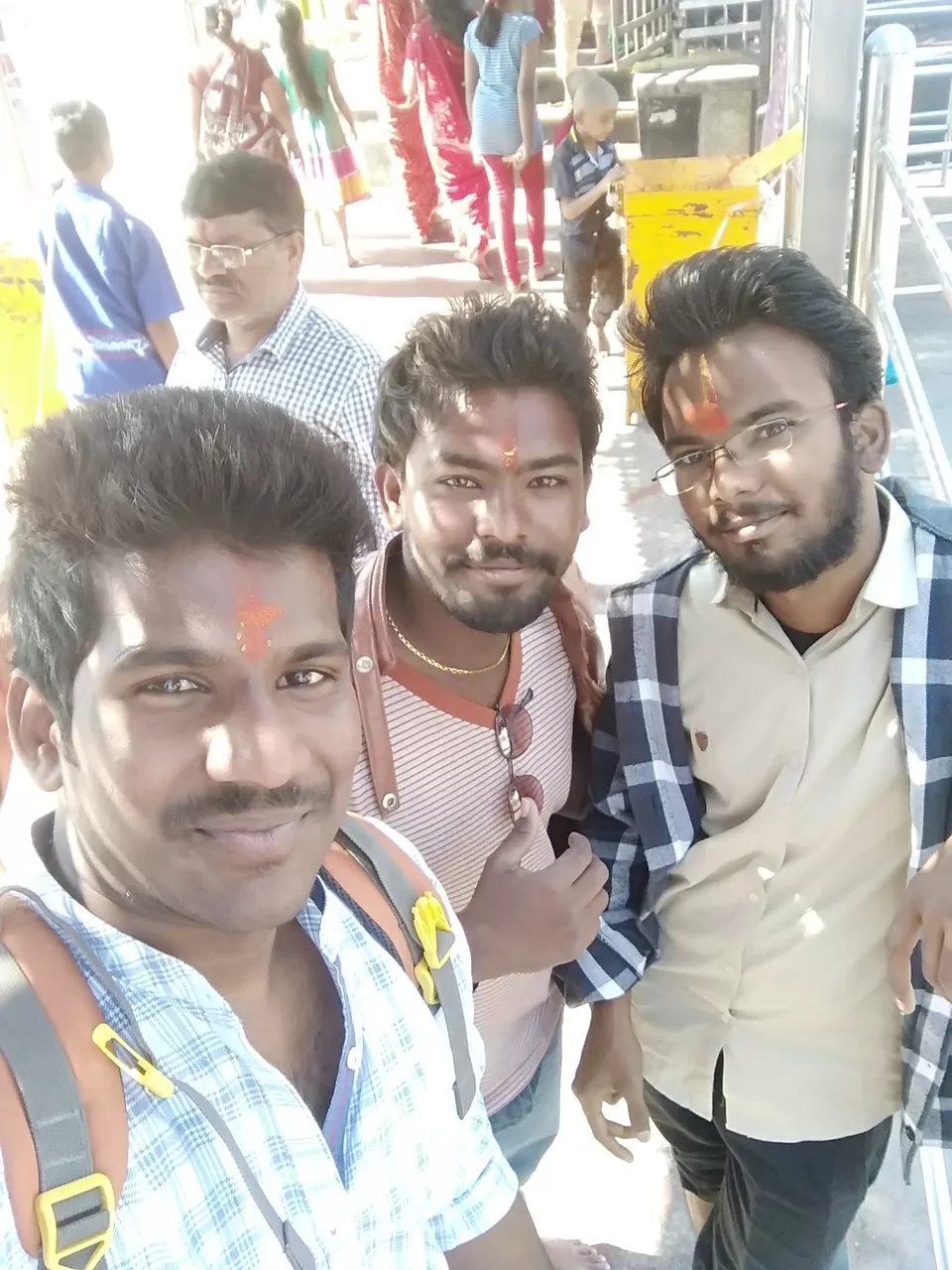 Bike Started Heading Towards 3rd Place(???????)
3rd Place:
it is "Laknavaram Lake" which is located in Govindaraopet Mandal & is 80 km away from warangal city, it is a trending picnic spot..
This lake was built by the Kakathiya's in the 13th Century A.D, which is breath taking beautiful lake is an amazing and popular tourist spot in Telangana. It has about 13 islands in it and has a 160 metres long hanging bridge, which connects three islands.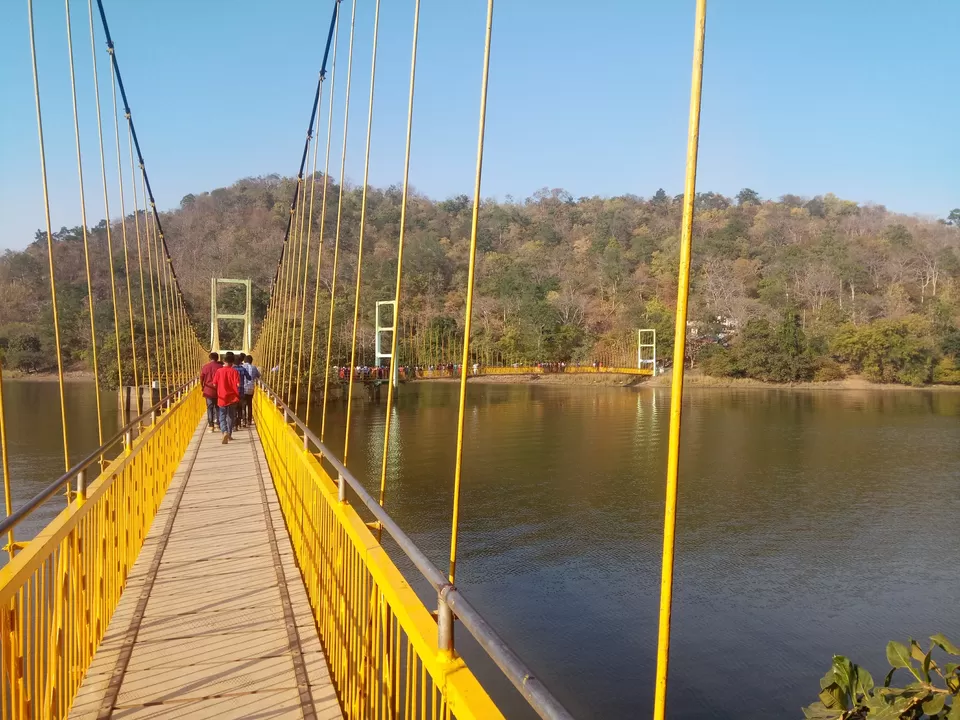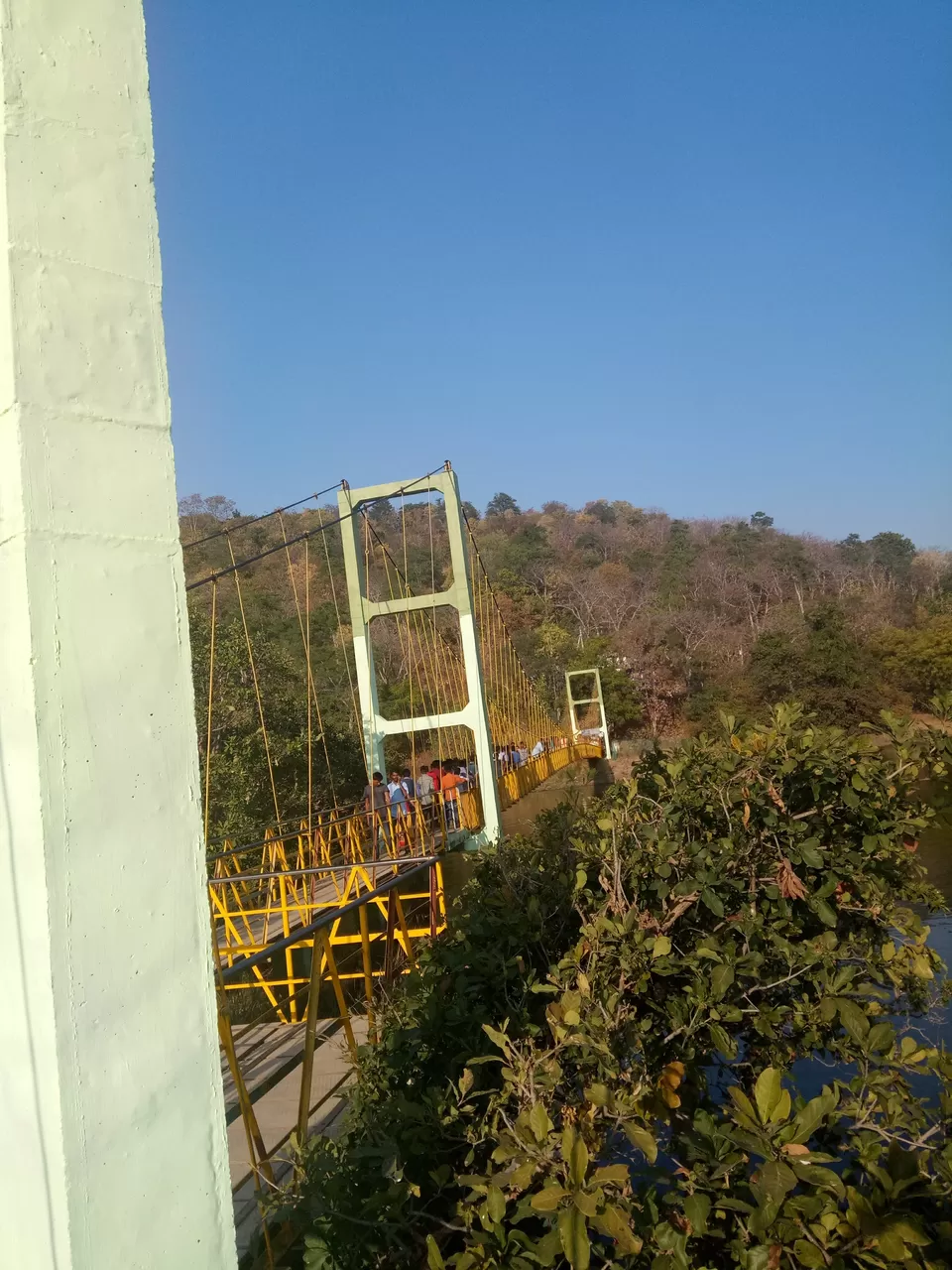 It is surrounded by a thick deciduous forest and it is a very popular tourist spot. we reached to this place at 2:30 pm, to walk on the hanging bridge we have to buy the ticket, so we bought the ticket & walked to other side of island in the lake, There is a "Haritha Hotel" which is developed by the Govt.Telangana,
We have the Lunch there at 3:00pm ... here, we also have the boating facility also,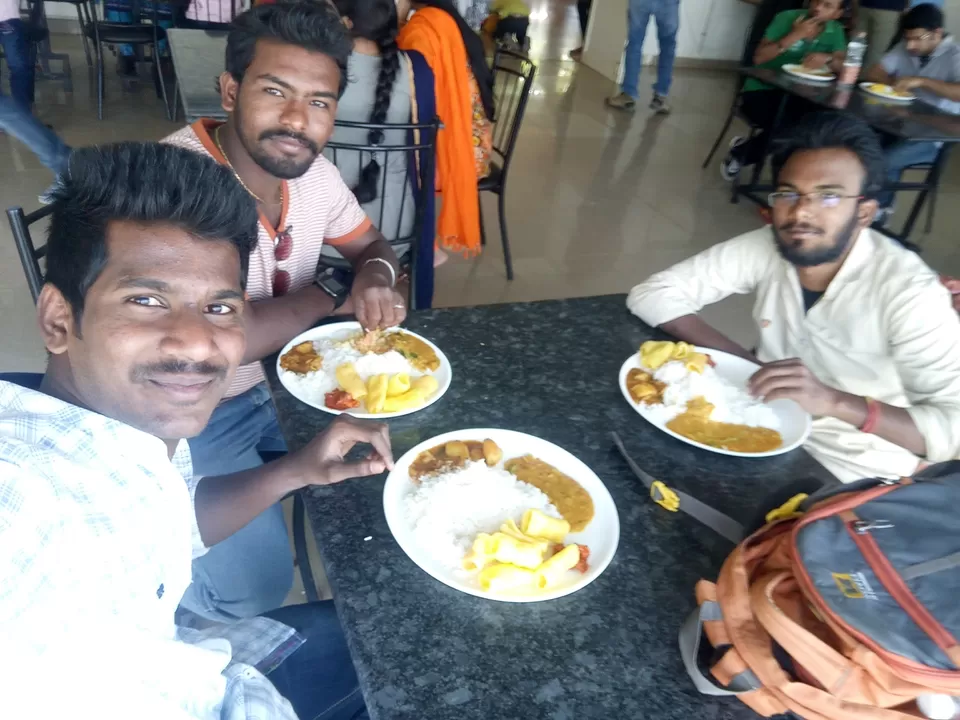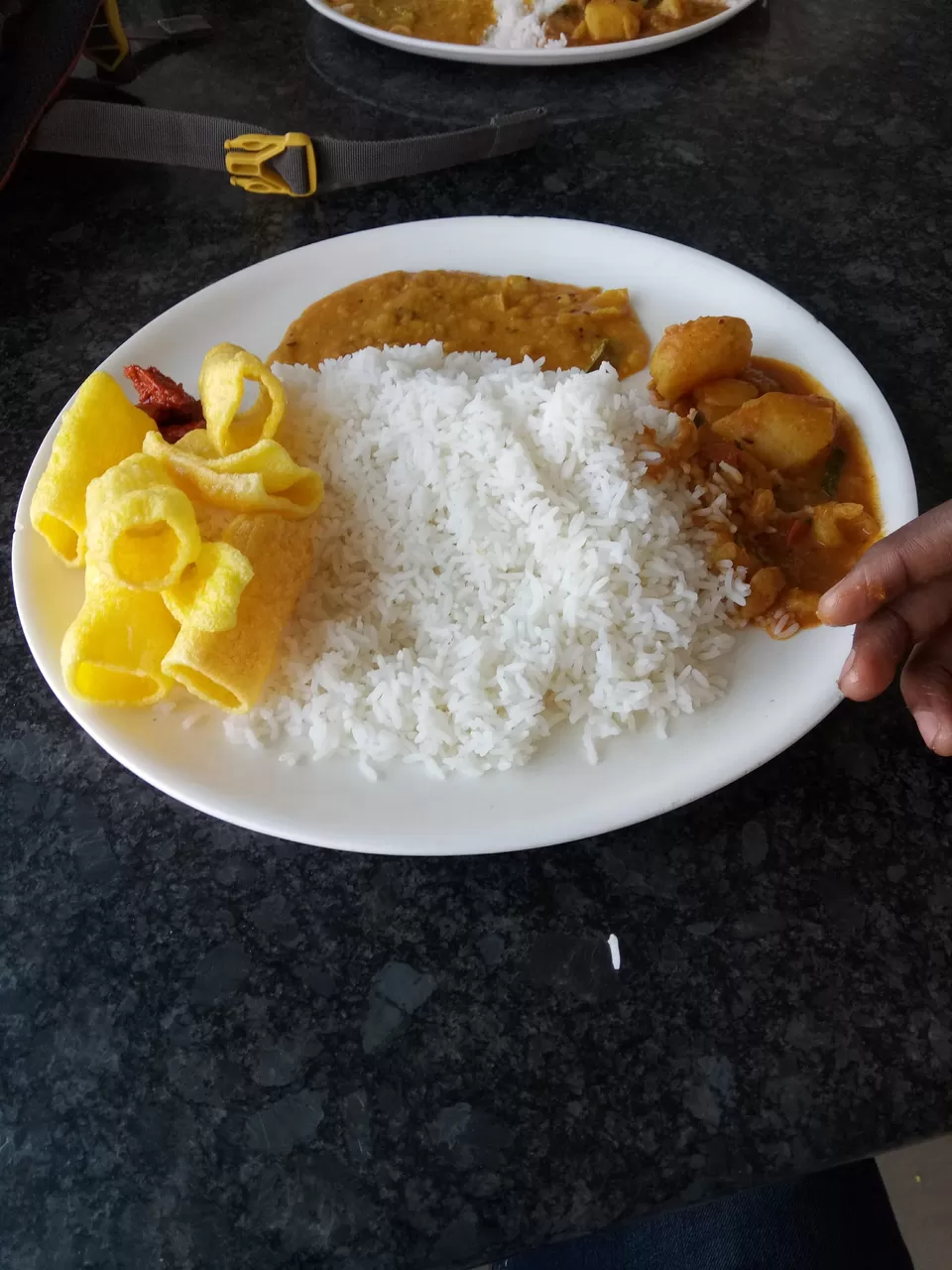 so we went to the boating for a while, to see the beauty of laknavaram lake... We spent around 1 hour here, by enjoying the cool & green nature of Laknavaram Lake,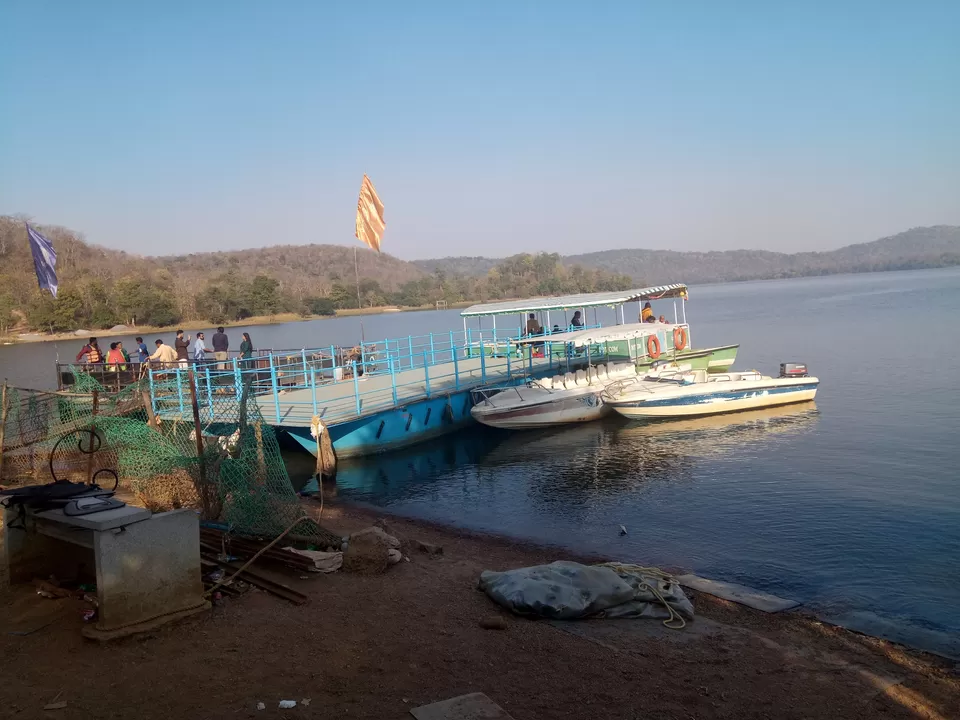 at 4:00 pm we returned back from this place to another place (?????????)
4th Place:
Its "Ramappa" is a ancient temple which was built by "Kakathiya's" while they are ruling, its a capital of Kakathiya's Dyanasty, which is just 77km away It lies in a valley at Palampet village of Venkatapur Mandal, in erstwhile Mulug Taluq of Jayashankar Bhupalpally district,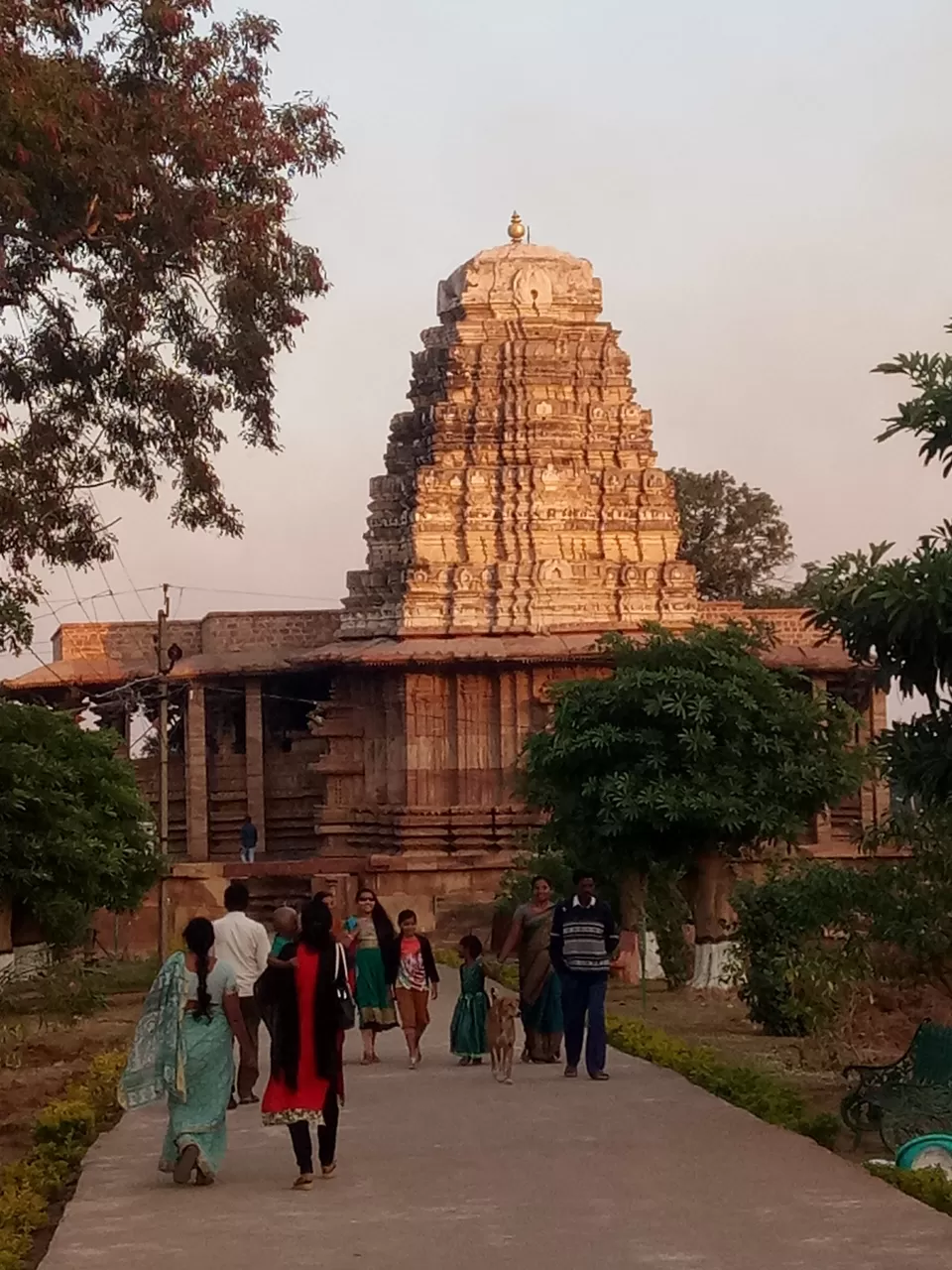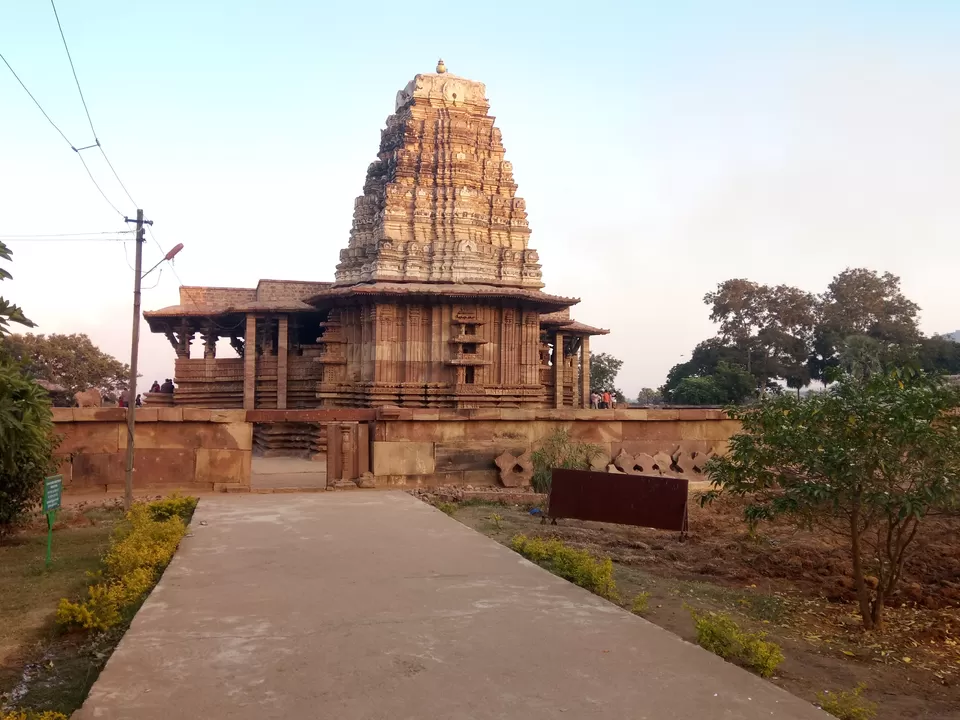 a tiny village long past its days of glory in the 13th and 14th centuries. An inscription in the temple dates it to the year 1213 AD and says it was built by a General Recherla Rudra, during the period of the Kakatiya ruler Ganapati Deva.
So we reached to this place at 4:30 pm, went to the Temple for visiting the temple & see the temple beauties, the temple was attracted very much because,
The temple is a Shivalayam , where Lord Ramalingeswara is worshipped. It stands majestically on a 6 ft high star-shaped platform.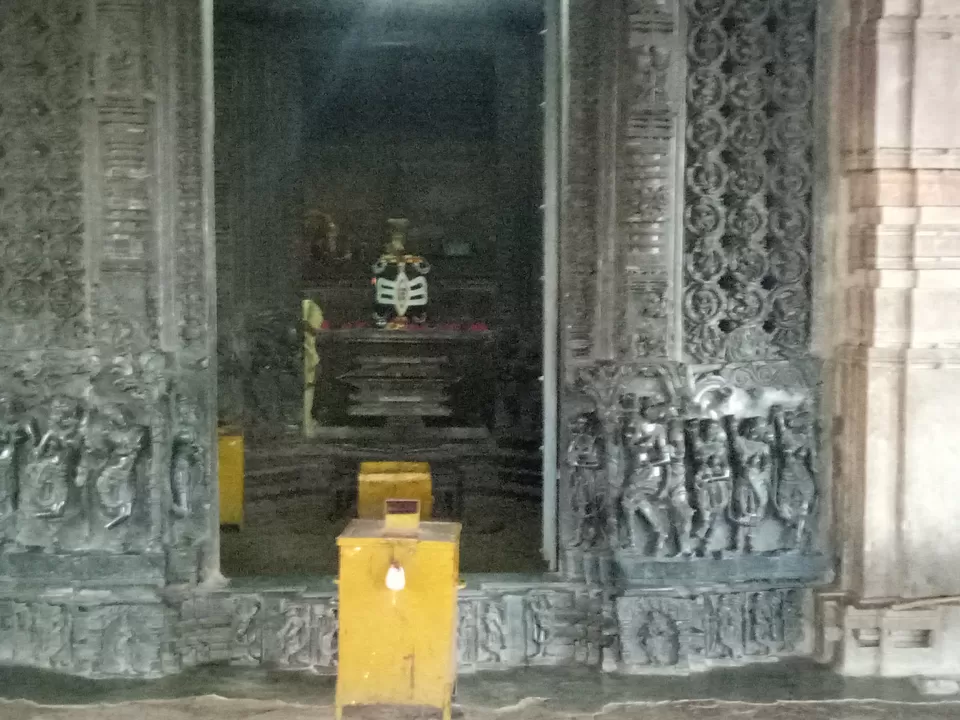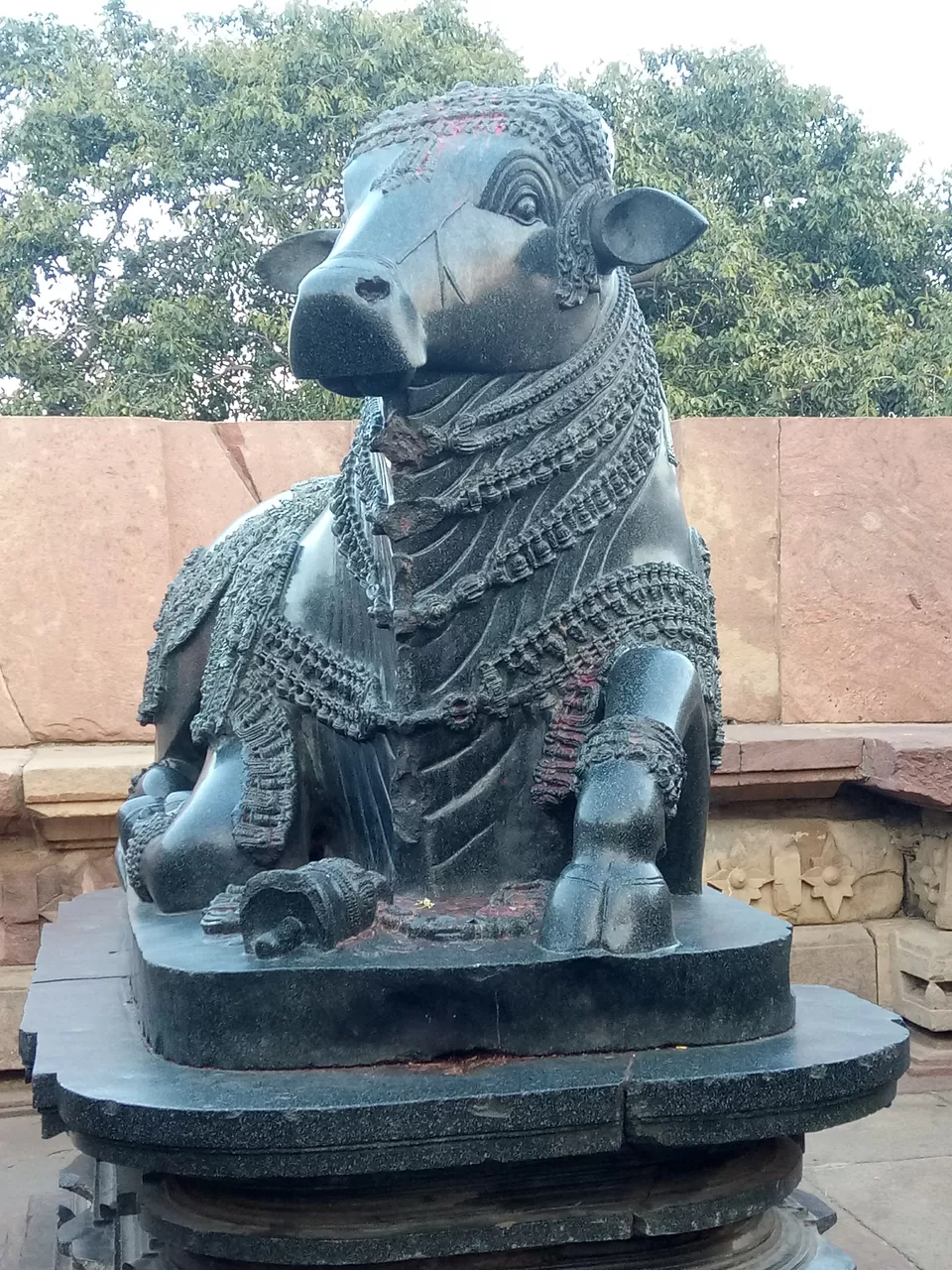 The hall in front of the sanctum has numerous carved pillars that have been positioned to create an effect that combines light and space wonderfully. The temple is named after the sculptor Ramappa, who built it, and is perhaps the only temple in India to be named after a craftsman who built it.
History says that it took 40 years to build this temple.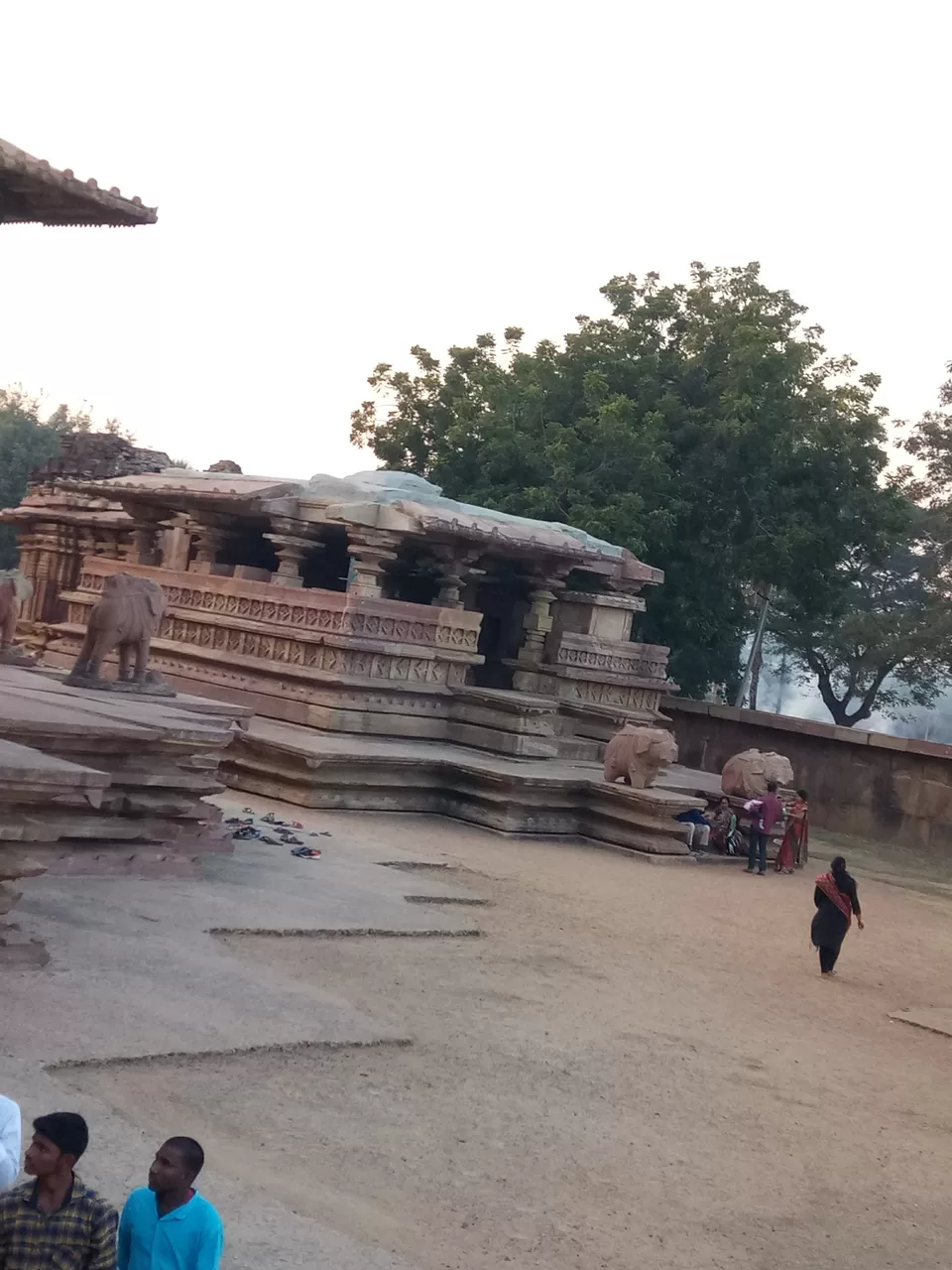 The main structure is in a reddish sandstone, but the columns round the outside have large brackets of black basalt.
These are carved as mythical animals or female dancers or musicians, and are "the masterpieces of Kakatiya art,
notable for their delicate carving, sensuous postures and elongated bodies and heads"
So, we are take some rest here & also took the cool selfies,(hahahaha)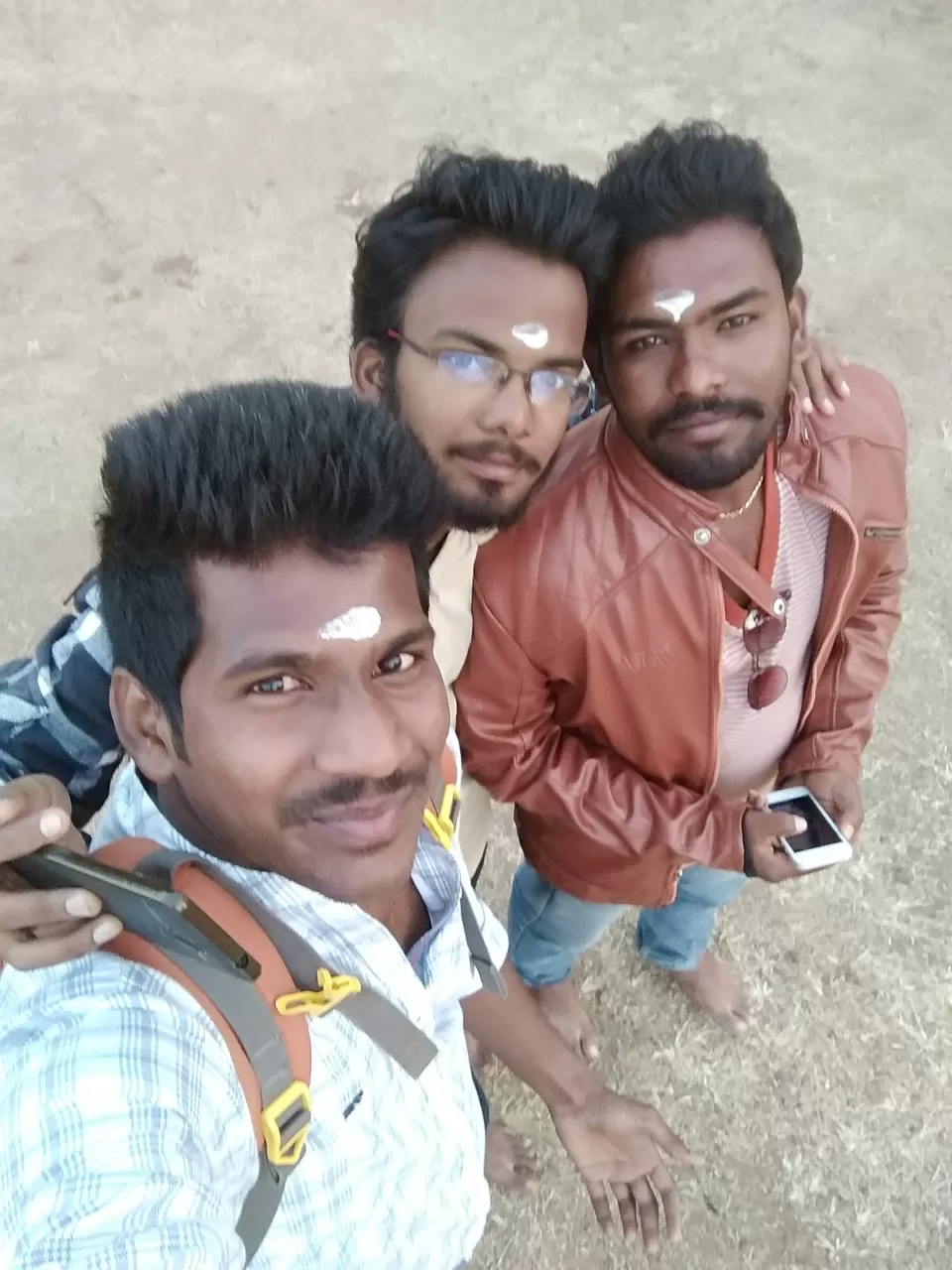 after, we heading towards the Ramappa lake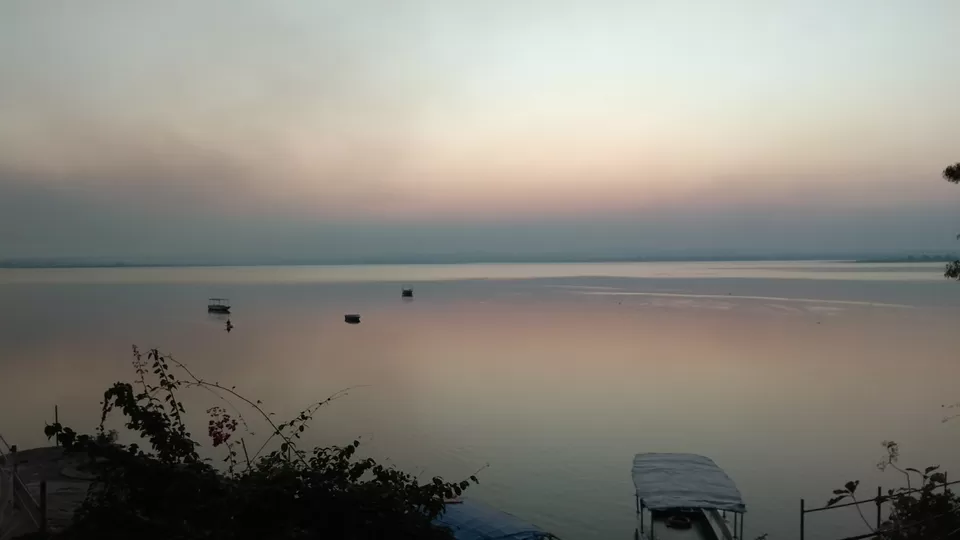 The lake is one of the prominent reservoirs built by Kakatiya rulers only,have the specility is that
"when we through a stone in this lake it will never sinks, it will buoyed up on the water" (sorry, i'm not tried but)
in the evening the weather was simple superb, with heart touch feel we felt it here,
our heartstrings filled with the nature sweetness...
i'm totally happy & peaceful at that time, & return's towards warangal (again hardly we are started)....
Bike Goes On................................................
Finally, we returned back to warangal at 6:00pm, & ended up the journey with total of 327km...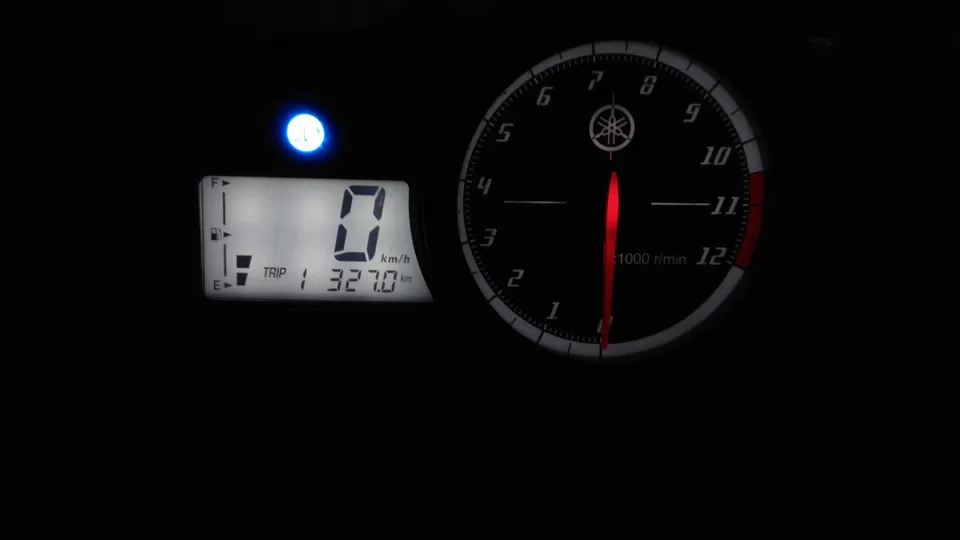 So, Finally guys this is Travel journey,
Hope you guys liked it...
I'm summerizes journey with my experience is
That's how I enjoyed The My Journey & got
Refreshed & Relaxed by this Journey...
Total Journey Is On Riding & Chilling enjoying The Nature & Adventurous Feeling I earn on this Journey...
One thing I learned from my life is
"Sometimes Karma Goes very well , Beyond Our Imagination"
We done the mistakes, Even though We realized, we can't get it back (we have to accept it)
So, The Best Anti for all the situations is
"Travel"
Instead of paying money on the Ordinary things,
Invest On Travel,
Give a Special Place To Travel in your Heart,
You can't Worry,
You can't feel sad,
Beacause, All the Panchabhutha's will help you get rid from all those things...
This is my Story,
Hope You Guys Likes It...
Have a Happy Travels A head... ????????
"Life is simple, we have to gone through Toughest Situations or easiest situations, although we have to make it better way for our own"
"Give a special place to Travel In your heart, it can't move Away from us"
#trekkinginwinter
Signing Off:
Arun Abhimanyu