Our drive from Jannaram to Laknavaram took us through the heartland of Telangana, instead of the Karimnagar-Warangal highway, we chose the alternative route that took us through Mancherial, Ramagundam - the coal and power industry belt of Telangana. It was lunch time when we reached Mancherial but being Sankranthi day, most hotels were closed. We went ahead to Ramagundam. Growing up in Madras, every time there was a power cut that extended for a whole day, we would hear people tell us that there was grid failure in Ramagundam ! During summers, when we checked the newspaper for temperatures is various cities, Ramagundam would range around 49-50 degree celsius, we always wondered how it would be to live in such a place, now finally, we had stepped into Ramagundam.
Huge industries and coal mines greeted us as we passed through Ramagundam, it was still January but the region was dry and dusty already, no wonder summers are a nightmare here. We did not find any hotels at Ramagundam either and it was already past lunch time, there were no other towns where we could find a place to eat, flipside of taking the less popular routes. We stopped at a bakery just out of Ramagundam, bought a few samosas and some snacks, we decided to make do with that for lunch.
After Ramagundam, we followed Google Maps, which never fails in showing us routes that have no roads ! Take this one for example:
This is actually the dry bed of the Manair River, a bridge is being built here and for the time being, there is a make shift mud road that is actually in the river ! Or this one: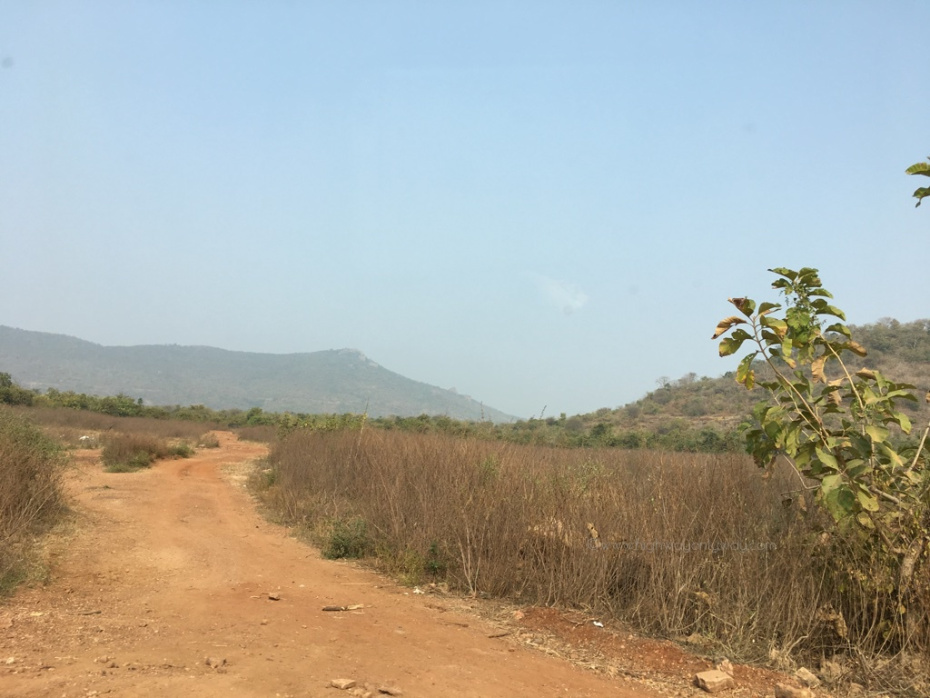 Unknown location, no roads known for a several kilometers ! We need to thank Google Maps for adding some flavour to our trips.
Chaos meets festivity
Thankfully, the bad roads ended as we reached closer to our destination, by 3.30 PM, we reached Laknavaram. Laknavaram Lake is a huge almost man-made lake built during the Kakatiya times. In the 13th Century A.D., the Kakatiyas built several lakes to store rain water and cater to irrigation and drinking water in the otherwise dry region of Warangal. The fact that the present Telangana Government has taken up a project called Mission Kakatiya to restore all lakes in Telangana, once again for irrigation purposes, goes to show what an ingenious idea the Kakatiyas came up with 800 years ago !
Laknavaram located some 60 kms from Warangal, is one of the lakes developed under the Kakatiyas. The lake, we read on the internet, is spread over 10000 acres and has about 20 islands. Telangana Tourism has built a resort to stay overnight on one of those secluded islands and that was where we were going to stay. There is also a walkway suspension bridge that connects two other islands where the tourism department has a park, restaurant and boating house. We had been to the lake in 2012 but that was a short day trip.
Now, back to our present trip, about 3 kms from Laknavaram, we were shocked to find traffic completely blocked ! There were vehicles and people everywhere, traffic was haywire, vehicles honking, people running, ambling, shouting everywhere ! Then it dawned on us that it was the festive crowd, Sankranthi being a holiday, it looked like the entire Warangal District had descended on Laknavaram Lake !
There seemed to be no way we could go anywhere near the lake, leave alone getting to the resort. To make matters worse, phone signals were weak and we barely managed to connect to the hassled receptionist at the resort, who simply asked us to somehow manage to park our car, walk across the suspension bridge and reach the reception !
After a struggle for about 20 minutes, we managed to park our car about a kilometre away, navigated our way through the hundreds of selfie taking people on the suspension bridge, some of them inebriated and finally found the reception, which was just a single desk in the tourism run restaurant. The restaurant was overflowing with people, who had made a mess of it with litter, water and food thrown everywhere. It was mad and chaotic. We were worried if our stay would be any good.
Thankfully, the receptionist was pleasant and completed our check-in procedure quickly but the only problem was, we had to walk back all way to the bridge and on to the road where we had parked our car and pick up our luggage. While two of us stayed back with the kids, the other two set out on the adventure. We thought it would take eternity but somehow, the two guys managed to return in half an hour, only to be called back by the forest department people saying we had parked our car in their place ! We had to walk back the entire distance of the bridge and park our car at another spot. It was 5 PM by then and people were leaving the place as the lake closes by 5.30 PM for general public.
Turns out, the Laknavaram Lake is one of the most popular holiday hangout places in Warangal and is over crowded on festival holidays. On normal days, there are hardly any visitors, so the Tourism department does not seem to have tried to improve the infrastructure and crowd management on holidays. However, we must say, the person at the reception and few other staff were quite nice in guiding us and patiently answered our questions despite the rush. They even took our order for dinner because the island does not have a restaurant and food is supplied by boat from here.
Not wasting any more time, we boarded a boat that was full with people taking a boat ride in the lake and then we left that chaos behind.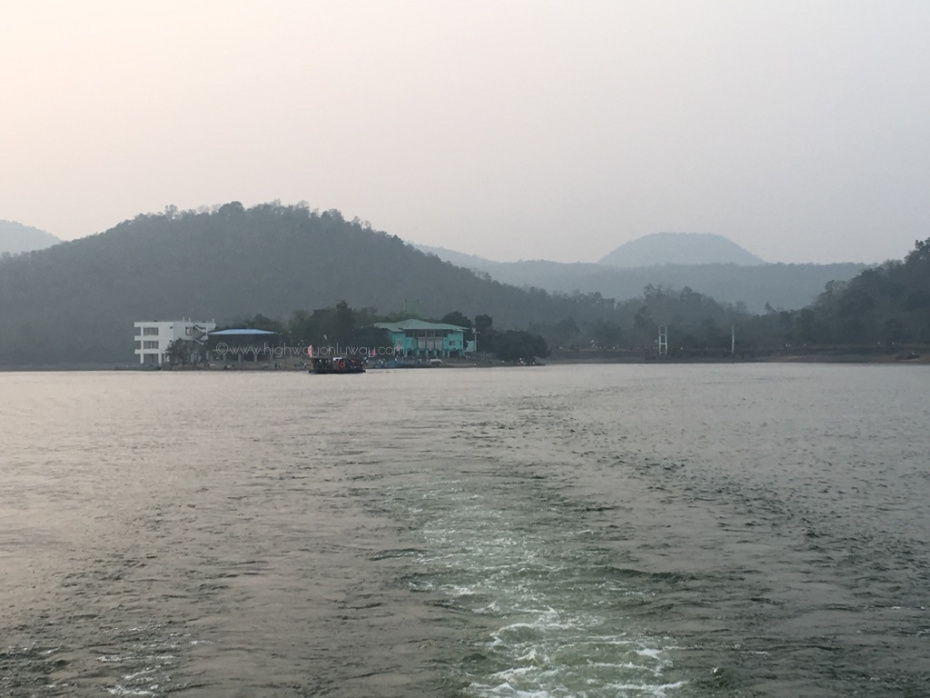 The boat ride to the resort takes just 5-10 minutes but that was enough for us to catch a glimpse of the beautiful sunset.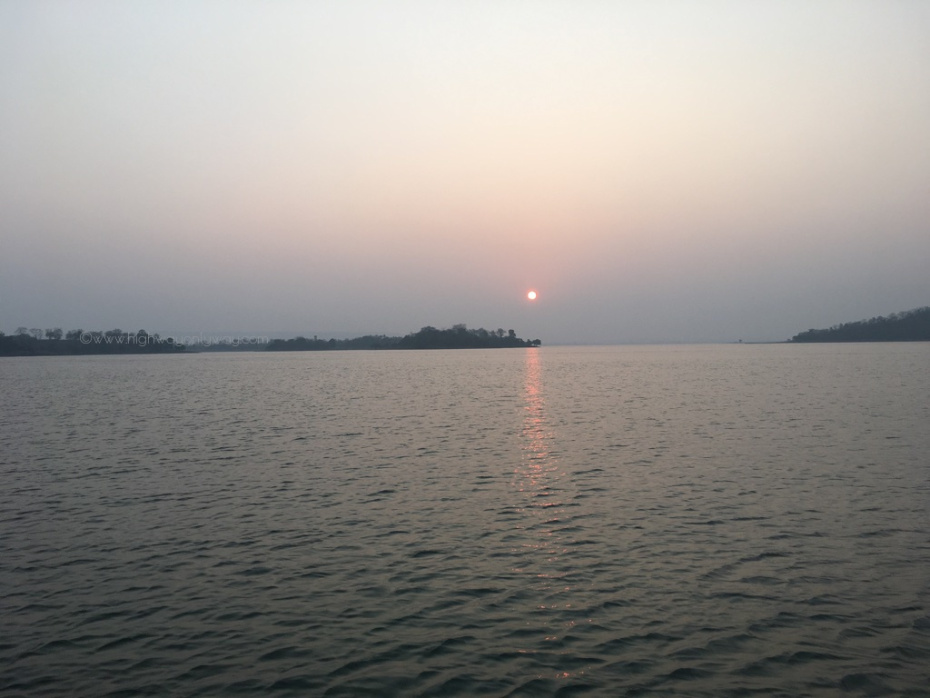 It was like the noise and the mayhem never existed, with one glimpse of the silent nature, it was all erased from our mind.
Just Nature and you !
As the boat approached the island, we could see the glazed cottages on the shore, they made us exclaim "aha" !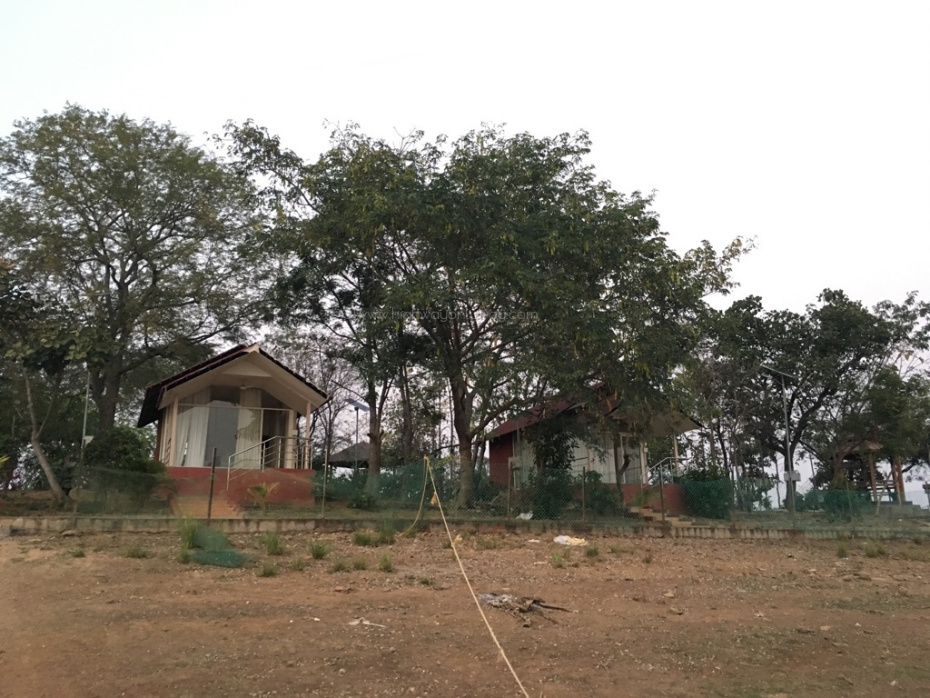 The boat dropped us off at the island and we were met by two staff members of the resort, they checked us in to our cottages.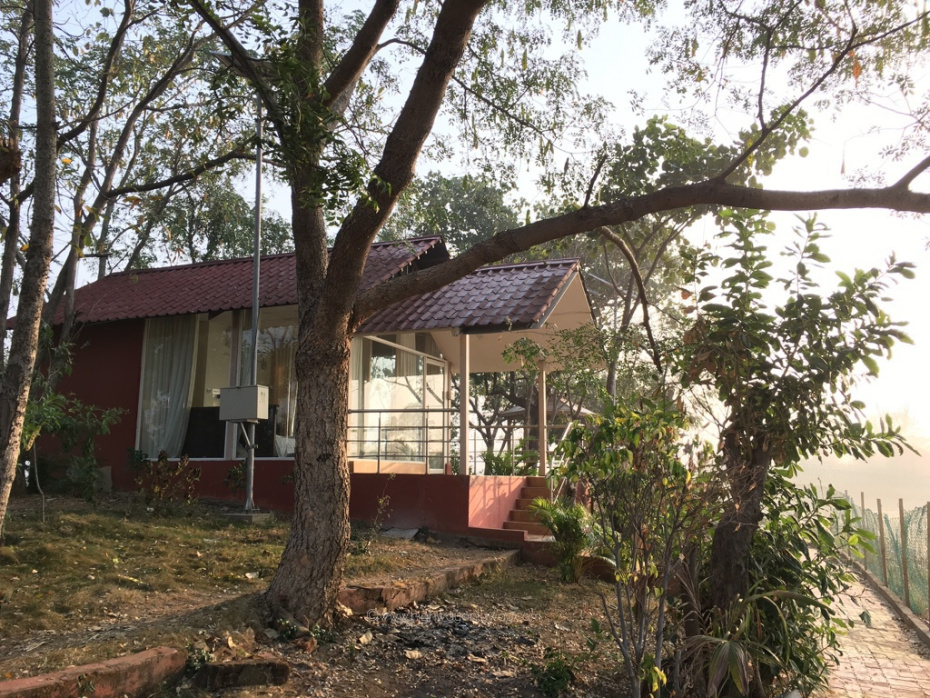 Glazed on three sides, with views of the lake from every corner of the room, it was simply put, BEAUTIFUL !
Contrary to reviews on the internet, we found the staff quite friendly and helpful. There is one rule that we follow while holidaying at resorts or hotels and it has worked for us most of the time. Despite the fact that we pay and that we are guests, we always try to be understanding and non-fussy, if something is not upto the mark, we are usually ok with it because our purpose is to have a nice holiday, we do not focus too much on value for money. We do understand that the people employed at the resorts are humans too and mistakes, bad days happen to everyone.
The moment we settled into our rooms, the first thing we asked the guys there was for some tea ! We were tired after all the driving, running around and chaos. We were treated with some heavenly, refreshing tea !
Our energies back, we took a walk around the island. It takes just about 5 minutes to complete one round of the island, it is that tiny. Apart from the two glazed cottages, there are two wooden cottages.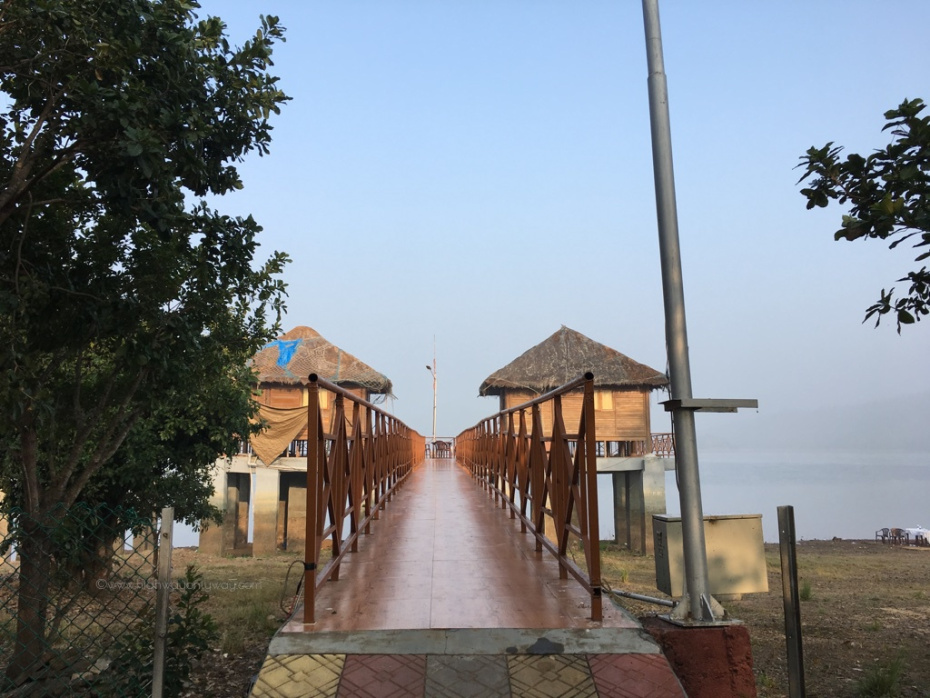 A watch tower that is not in a very great condition but the garden around is very pleasant to laze.
From our cottage, we could just sit and stare at the lake and the hills beyond.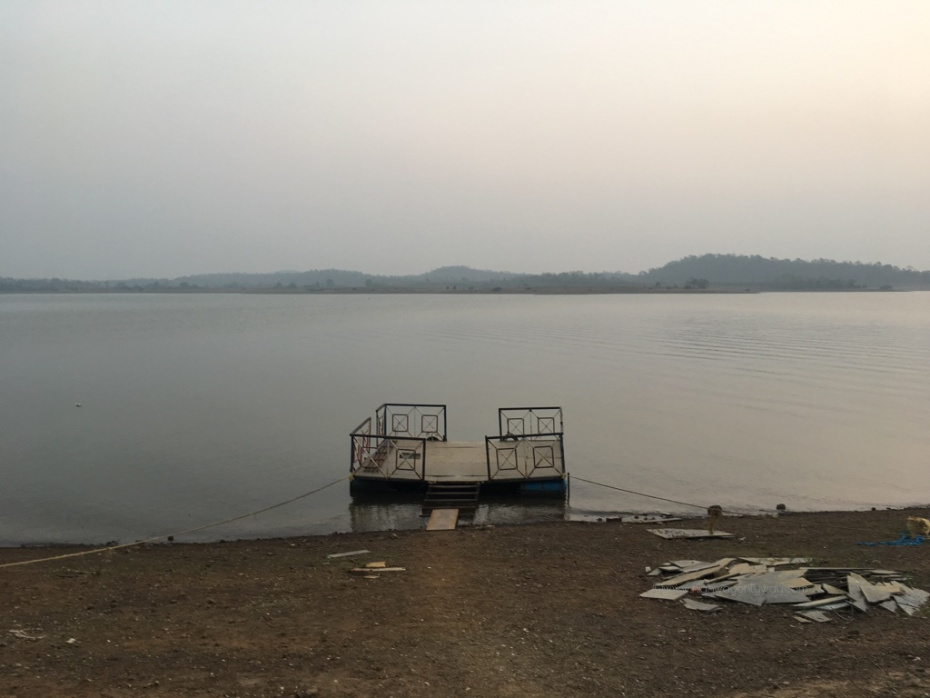 There is another tiny island nearby, one can walk to it during the dry months, come rainy season, the water in the lake rises and the path is cut off.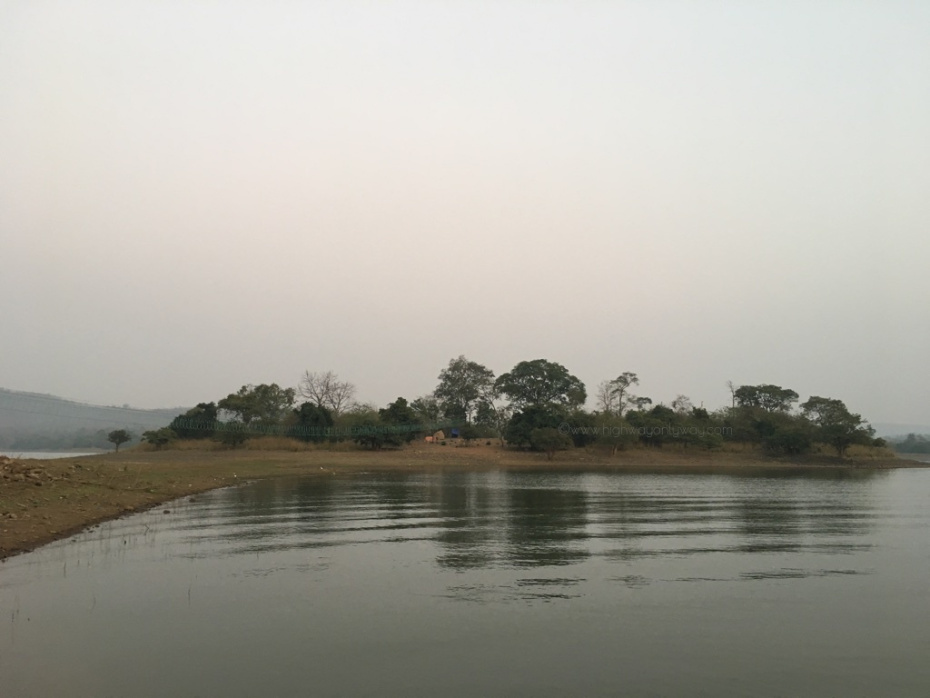 We were told they organise camping in the island for larger groups as part of eco-tourism at Laknavaram. The staff told us not to venture there after dark as there could be snakes ! It looked like those forbidden islands that one reads in adventure stories !
There was one sore point - garbage ! The tourism department has not made arrangements for garbage disposal and all the trash is dumped in one corner of the island, which is extremely sad to see. There are no dustbins anywhere on the island, including the cottages. Even with dustbins everywhere, our fellow citizens are experts in littering, now imagine, if there were no dustbins around ! Telangana Tourism needs to up its act on garbage disposal at Laknavaram.
We ignored the garbage and spent all our time savouring the absolute peace. There was a group of people who left before darkness set in and then, it was just Nature and us.
We sat outside on the porch and chatted, while the kids engaged themselves in some painting and colouring.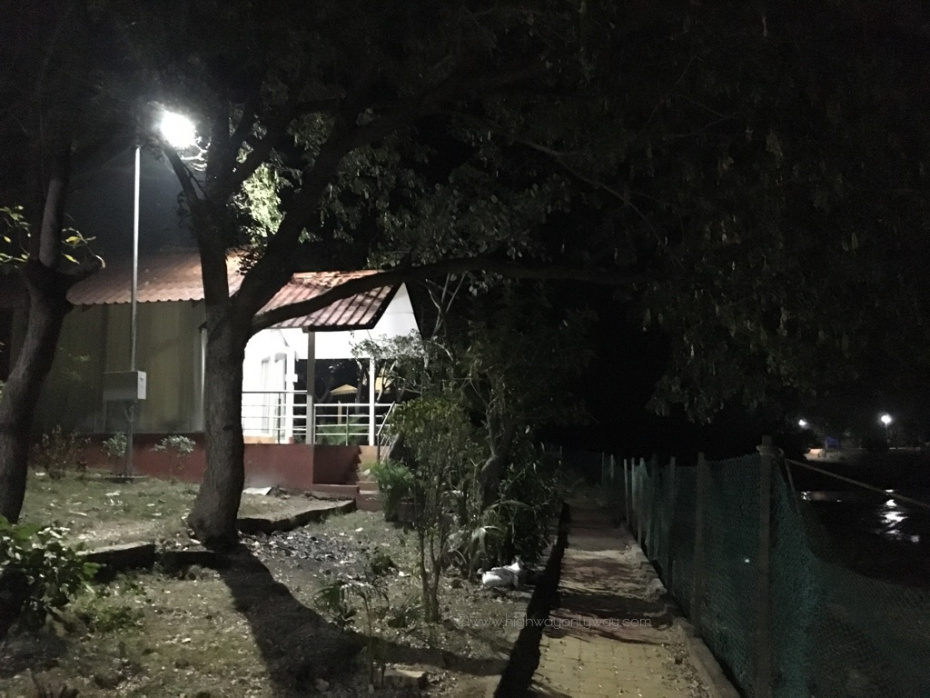 Then, we lit up a campfire on the shore and more happy talk followed. It was like we had all the time in the world and everything was kept on hold, it felt like we were living our fullest in that moment !
Around 8.30 PM, a family arrived to check into the wooden cottages and then our dinner came along by boat ! The resort guys set up a nice table for us out in the open, the food was lip smacking delicious and we had the time of our lives.
We went for a stroll to ease up our heavy tummies and then sat by the campfire again. It was pleasantly cold by then and the warmth of the fire was perfect for it. We finally called it a day at 10.30 PM. We had planned to wake up early and catch the sunrise, the attendants at the resort told us there would be a fog cover early in the morning.
Waking up in a fairy land
When we woke up at the stroke of 6 AM and drew the curtains, this is what we saw: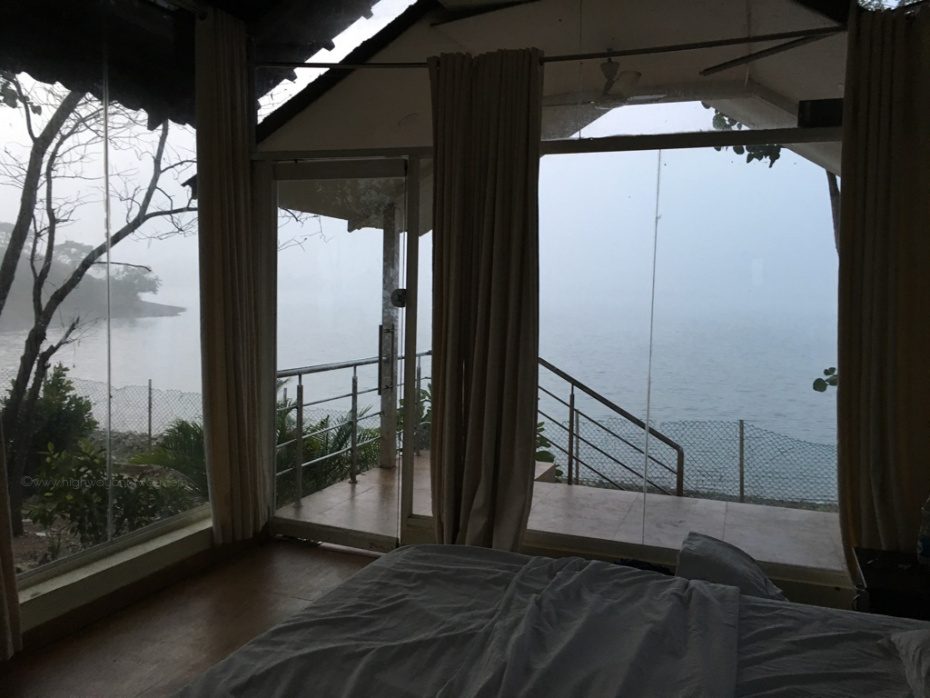 It felt like some enchanted world, living on a deserted island and waking up to find such views outside your room.
Fog had covered the lake, we couldn't see the surrounding hills, we just lay in bed looking out at the dreamy scene.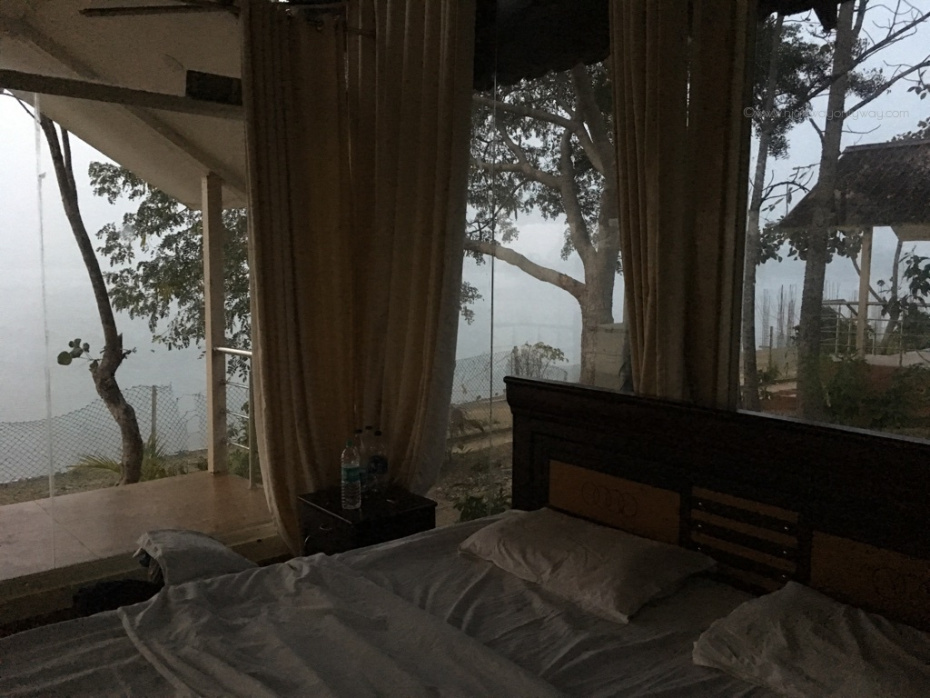 Then, we stepped out into the early morning freshness and chill. Standing at the bank, we could only see fog all around.
In moments like these, are transfixed with wonder. We went for a stroll in the gardens with the fresh dew drops falling on us.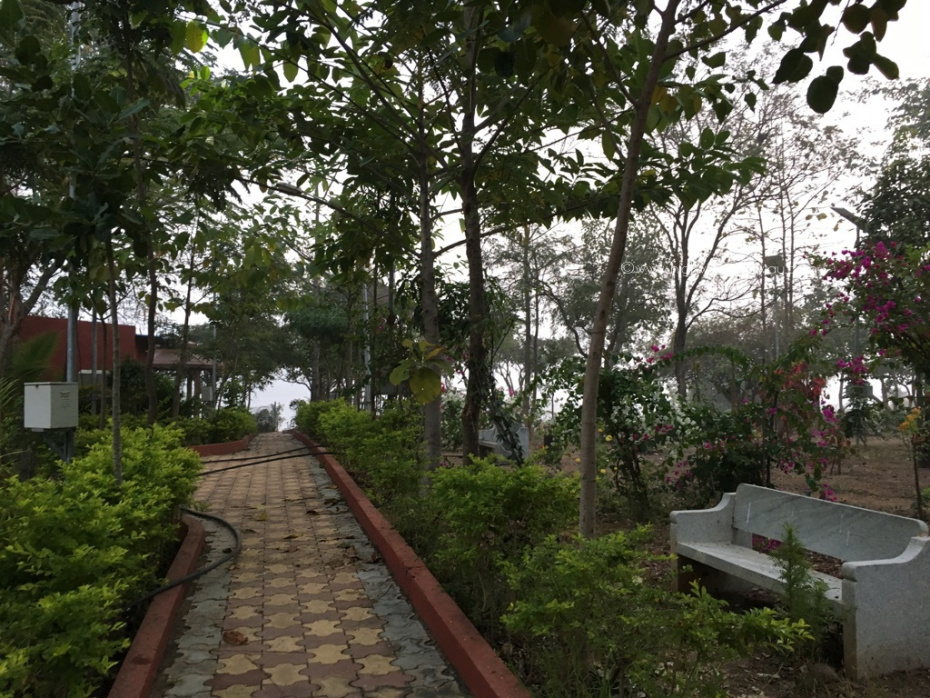 While we were strolling and talking to the resort guys, the sibling called us to hurry over to one end of the island, the sun was rising over the lake !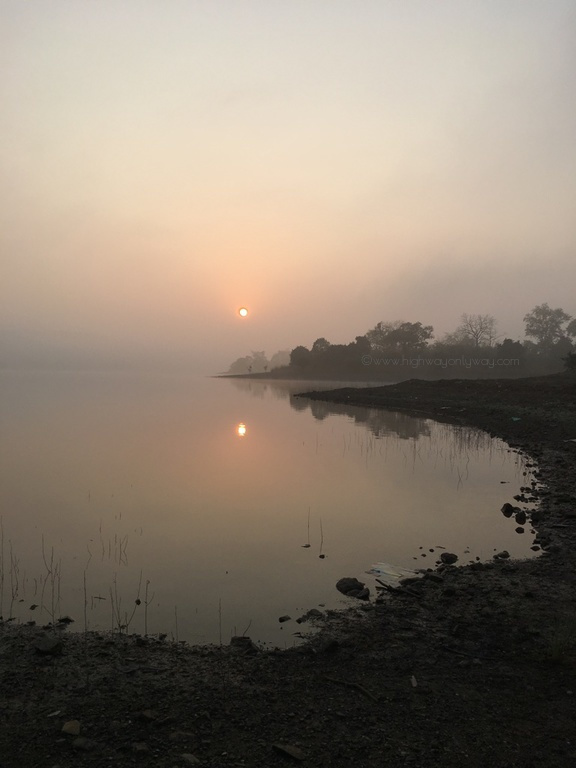 Standing by the lake, in the cold weather and watching the sunrise, life is made by such moments. We missed our camera for a minute but then thought that it was good that we didn't have one, instead of trying to get a good picture, we watched Nature paint the most beautiful picture ever !
That was not all, as we were watching the sunrise, we could also see the fog slowly drifting away from the island, we could literally see the cloud of fog float above the ground, we don't know how to even begin describing it. We tried to capture it on video but the camera couldn't catch that subtle movement. This picture is to remember that moment, not that we will ever forget it !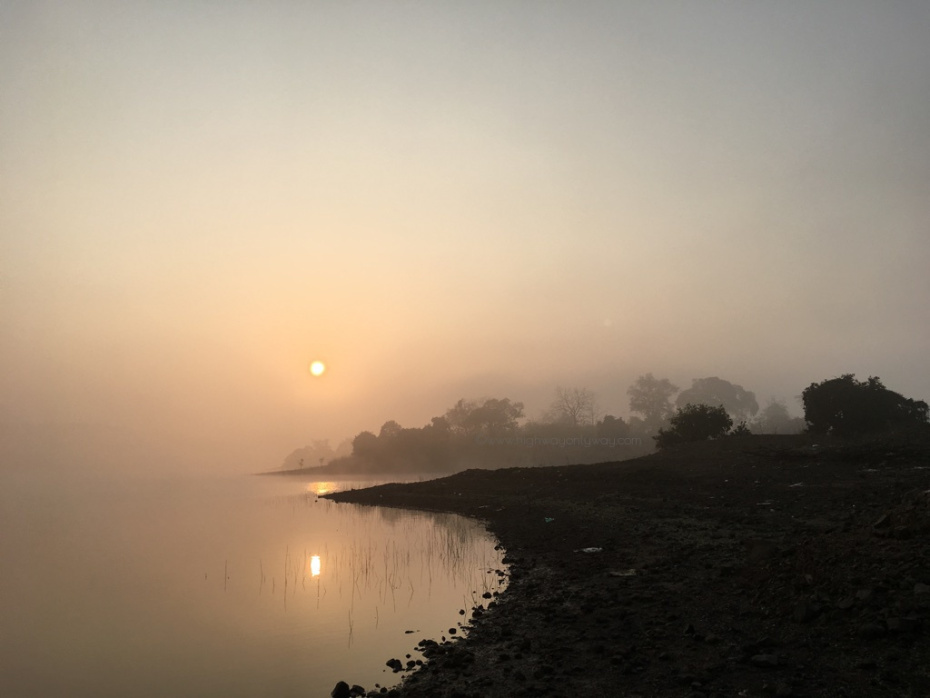 As a double bonus, we were served amazing chai - watching the gorgeous sunrise in beautiful weather and sipping hot tea.
Our checkout time was 9 AM and we had about 2 hours left, we wished we had come there much earlier the previous evening, we were in love with the place and did not want to leave so soon. The idea was to make the best out of the 2 hours that we had. How do you do that at a Nature's paradise like Laknavaram? You sit back, relax and feel one with Nature.

When we went back to our cottage, we saw the sunlight streaming in and lighting up the room.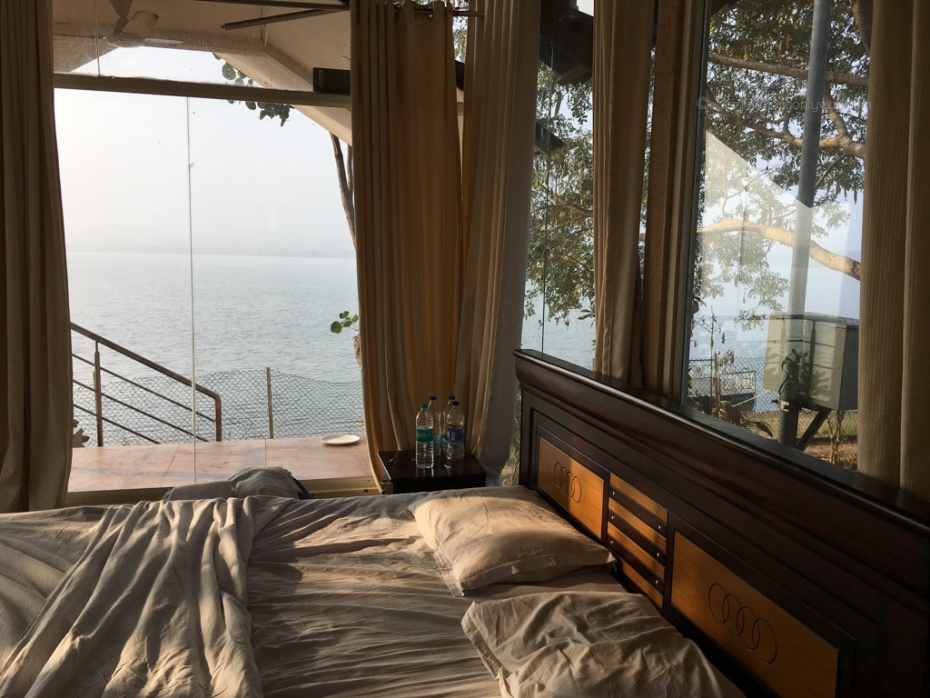 One just wanted to lie there and do nothing for the rest of their life !
There was one more thing we had to do, check out the neighbouring island. The tents on that island looked inviting. We walked over on the narrow strip of land connecting the two islands.
From the distance, under the fog cover, the area where the tents were located looked like the perfect camping spot.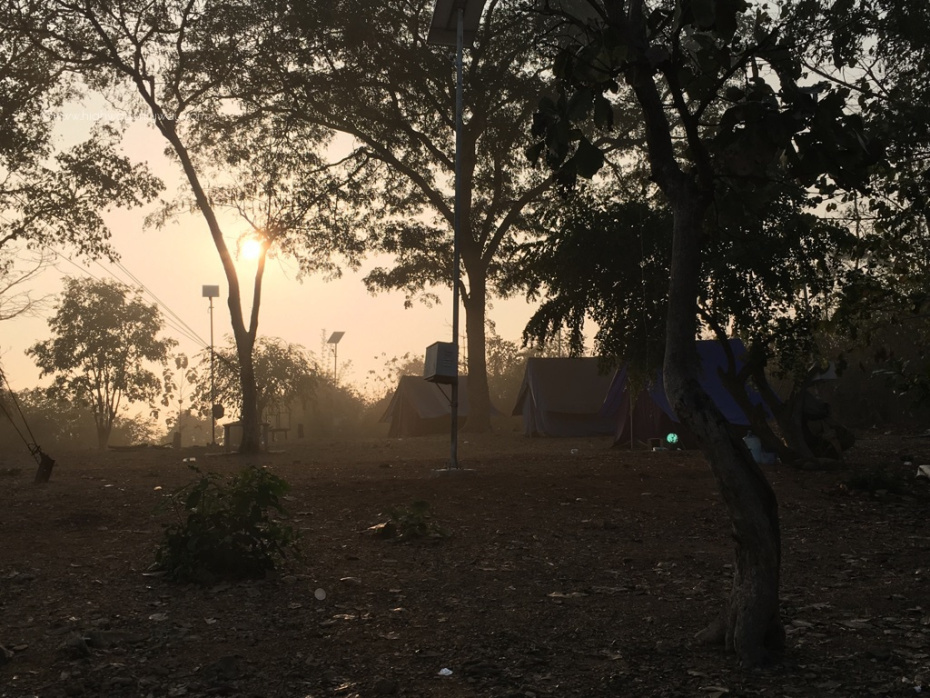 It was only after going closer that we realised what a mess the place was in ! We were told a group had camped there a few days ago. The place was littered very badly and nobody had bothered to clean up. The resort people not bothering to clean the place is one thing, educated people throwing garbage around, expecting someone else to clean up after them and complaining about cleanliness in the country is the biggest problem ! Alcohol bottles, tissue papers, plastic cups, plates, food, everything strewn around, the make shift washrooms were not flushed or cleaned. It makes you feel disgusted about your fellows citizens, next time someone harps about our great culture, we need to show those pictures !
The island by itself was beautiful, silent, green and serene, an ideal place for camping and gazing at the stars but if this is what people do to it, we are better off leaving those places along, we don't need tourism at the cost of ruining nature.
Keeping our anger aside, we went back to our cottage to freshen up, we asked for lemon tea and were served one of the best lemon teas we ever had, nicely flavoured with honey and mint.
It was past 8 AM and we quickly got ready and spent the rest of the time walking along the lake and just marvelling at Creation, how did it all this come to be and how fortunate we are to be able to see, feel and experience it !
By 9.30 AM, we were ready and waited for the boat to take us back. While waiting, we saw this most amazing sight, hundreds of birds flying in a formation and gliding onto the lake. We could not capture it properly on our phones, but the sight was unbelievable !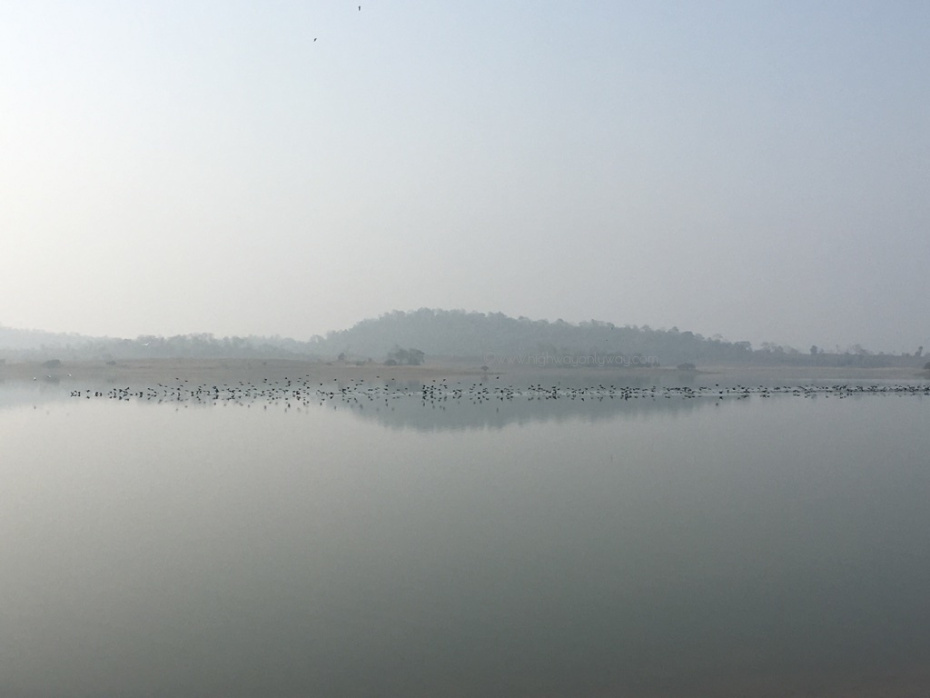 What you see in the picture is no where close to the magnificent sight, it was like nature was giving us a farewell gift to that we would save in our minds forever !
Our speed boat arrived soon, we need not tell you that we didn't want to leave. We kept looking back at our cottages, wishing we had spent some more time there.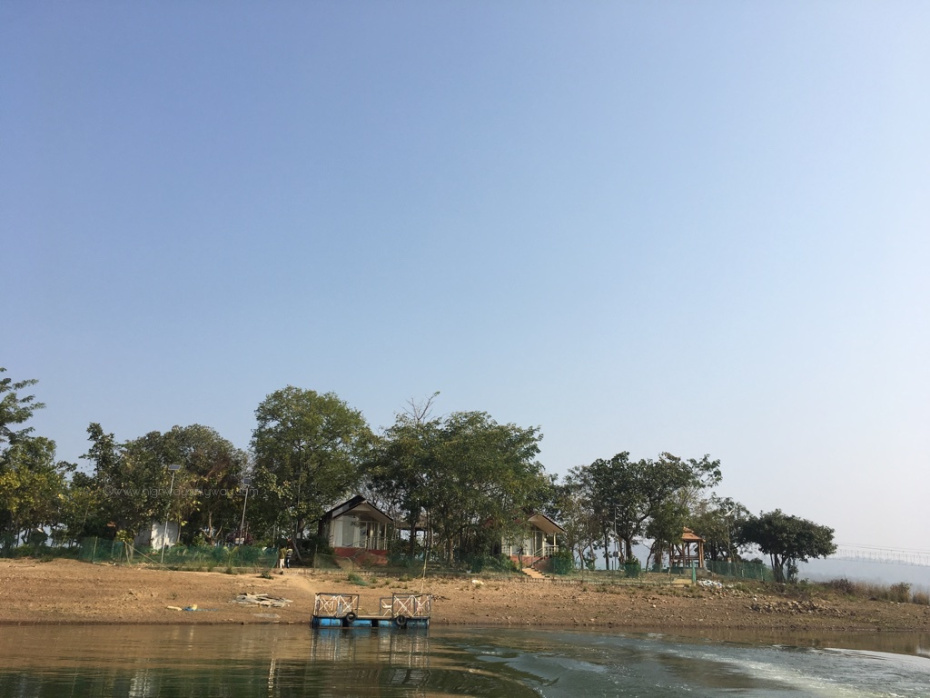 The 5 minute speed boat ride back to Haritha Resort was fun and gave us some lovely visuals of the hills,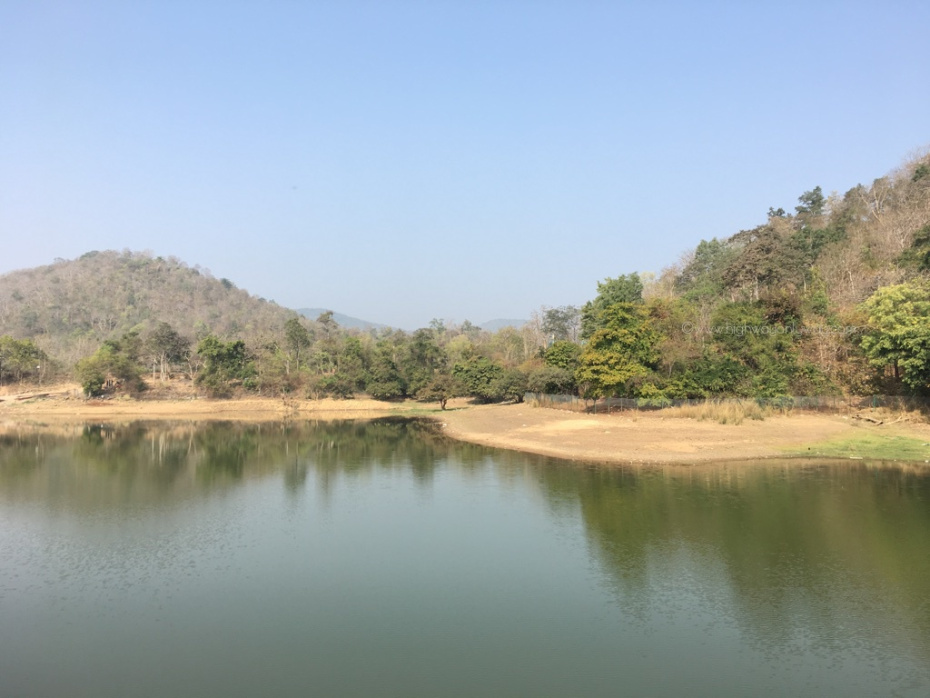 and the suspension bridge.
We reached Haritha Resort reception which still had not recovered from the mess that people had created the previous day. However, our Puri breakfast was enjoyable.
After breakfast, it was time to wind up our vacation and head home. One more click of Laknavaram before we left.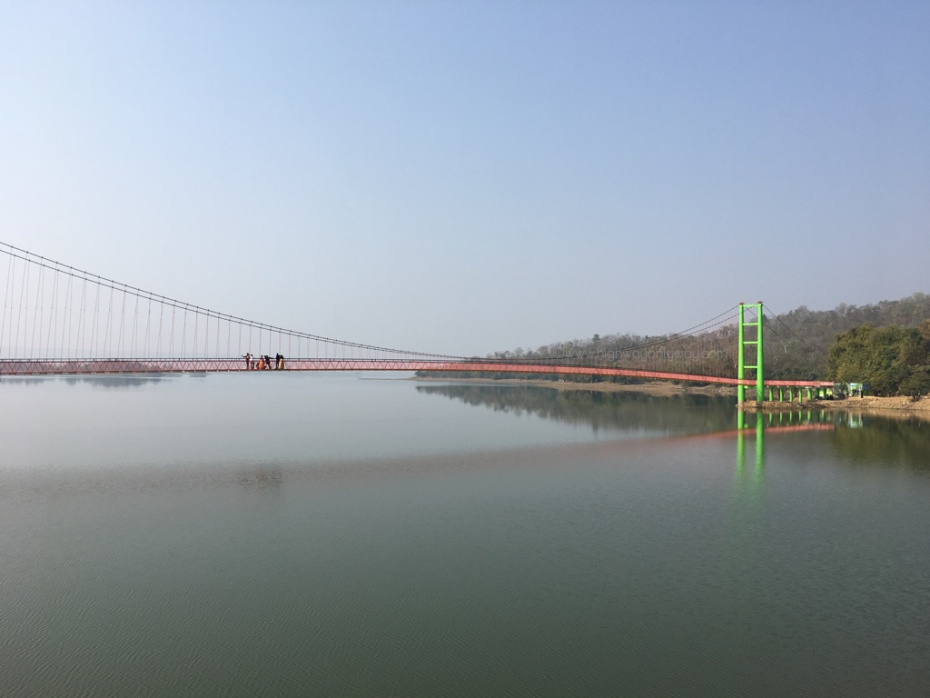 The same place was teeming with people just the day before, now it was all quiet and calm.
Our first stop out of Laknvaram was Ramappa Temple, this is one of the architectural and sculptural marvels of the Kakatiya era. We have written about it in detail here.
The journey back home started from Ramappa Temple via Warangal. Chilli fields on either side of the road kept us company. Here are the famous Warangal Mirchi !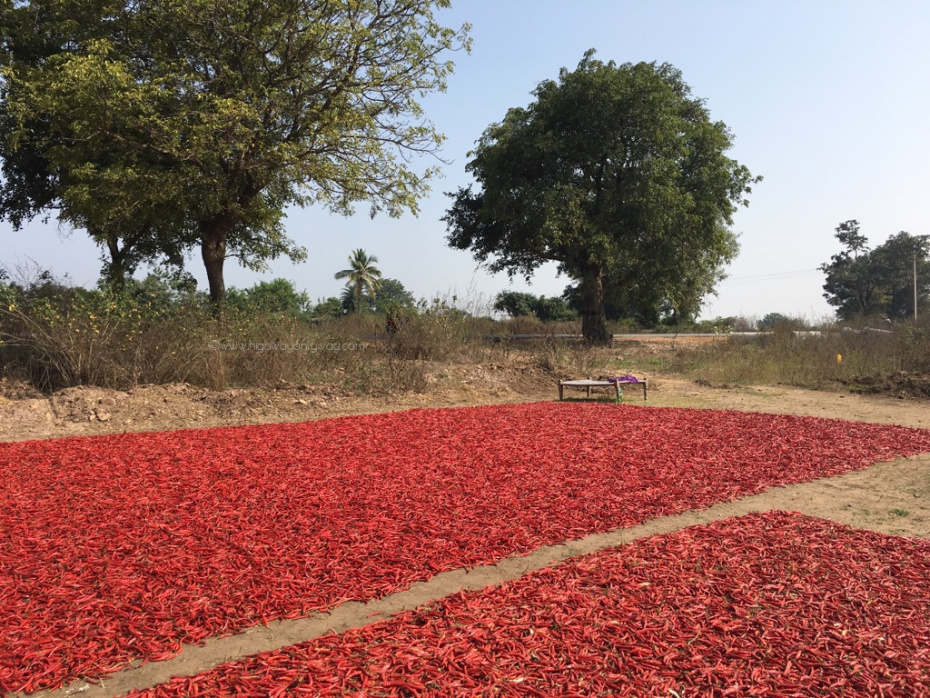 We reached Warangal past lunch time, made a quick drive by the Warangal Fort and decided to head for lunch. 2nd week of January and Warangal was already quite warm in the afternoon. We wasted about 45 minutes searching the internet for a good hotel for Warangal Biriyani, someone suggested Kalinga, Shalimar and so on, finally, the heat had drained us and we went to Kalinga restaurant and binged on Biriyani. Stuffing ourselves, we drove back to Hyderabad, with half the people in the car dozing off.
It was evening by the time we came back home, the dry heat and the travel seemed to have exhausted us, we had a simple meal at home and just crashed into sleep.
The next three days were spent chilling at home and then Sankranthi vacation drew to a close, it was time for the family to go back to Nellore, the kids to school and the rest of us to work.
On days when we find falling asleep difficult, we are sure, we would be remember the stunning beauty of Laknavaram and drift off to sleep with those happy memories !
Info tidbits
Laknavaram is about 67 kms from Warangal. We are not sure if there is direct public transport available from Warangal. If you are not taking your own vehicle, hiring a cab could be a good idea. This can be a peaceful weekend getaway from Hyderabad. One can book a stay at Laknavaram island through Telangana Tourism online booking portal. The Glazed Cottages have the best view, the wood cottages are nice too. The tariff for both the Glazed and Wood Cottages is Rs.2500/- per night. Check-in is 9AM to 9AM. There is no play area for kids, so if you have kids with you, take something to keep them occupied. There is plenty of space for them to run around and play in the wild. The cottages are decent, may not be your regular luxury cottages. Laknavaram is also a good idea for a day outing. The place is crowded on weekends, weekdays should be pleasant. AP Tourism runs a boat ride on the lake. We are not sure how to book island camping at Laknavaram, one could get in touch with Telangana Tourism for the same. We did come across island camping events conducted at Laknavaram by some adventure groups on bookmyshow site."The content and pictures on this blog are owned by the authors of http://www.highwayonlyway.com and are not available for copying or reproducing elsewhere without any written consent from us."