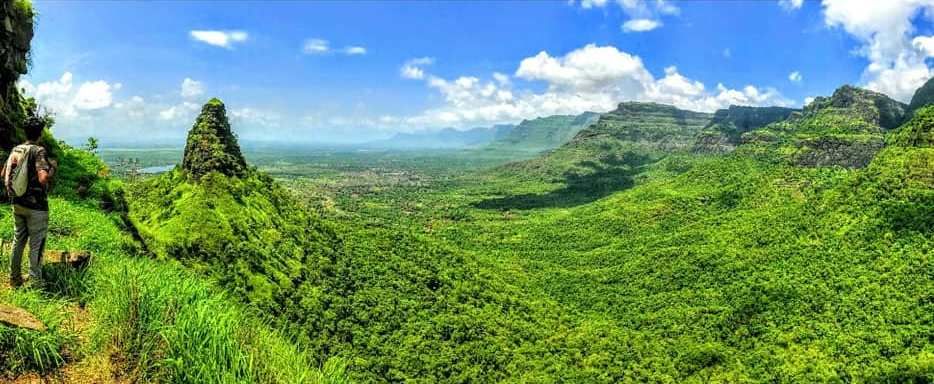 It is imperative to say almost everyone is fond of the rains. It takes away the gloominess and monotony of daily life just like rains wash away the heat of summers. A weekend is always around the corner if you're optimistic enough for remaining 5 days just like this one already here. The monsoons of western ghats are a different experience altogether, so pull up your socks and laces tied up because I have brought five amazing getaways if you're tired of the hustling life of Mumbai or monotony of 9 to 6 office in Pune. Some of these can be done without any assistance while for some you might want to get in touch with experts for the best experience. I hope these 5 weekend options can compensate the 5 hectic weekdays.
1. Rajgad Fort Trek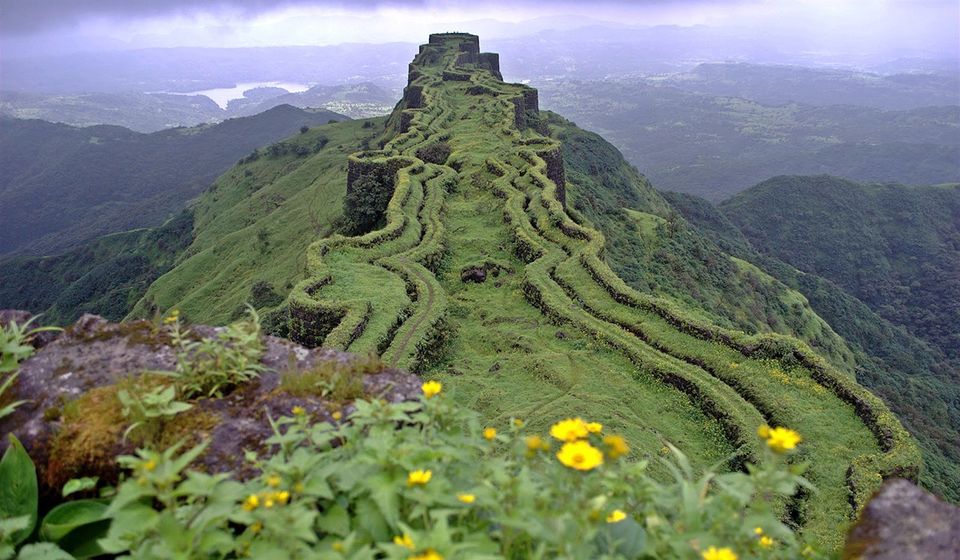 Formerly known as Murumdev, the Rajgad fort aptly derives its meaning as the King of forts in Marathi. This fort has served as the capital of the proud Maratha's for 25 years and one of the first few to be captured by the great Chhatrapati Shivaji Maharaj himself. The fort is located 65 km south-west to the Pune railway station and a little over 200 km from Mumbai, which will be pleasurable long drive on the Mumbai-Bangalore Highway. The trek to this fort is beautiful and as vivid as it's history. There are three different routes to do this trek namely:
Pali village is the easiest of all to start from leading you straight to the main door of the fort.
From Gunjawane village which is a little tricky to climb as it takes you to the Chor Darwaza or thief door of the fort. But the most fun-filled one pumping your adrenaline at times and giving you to best feeling on reaching the top.
The Bhor route is the least used one but hey if you isolation while on a walk and want to do it differently, this is the one for you.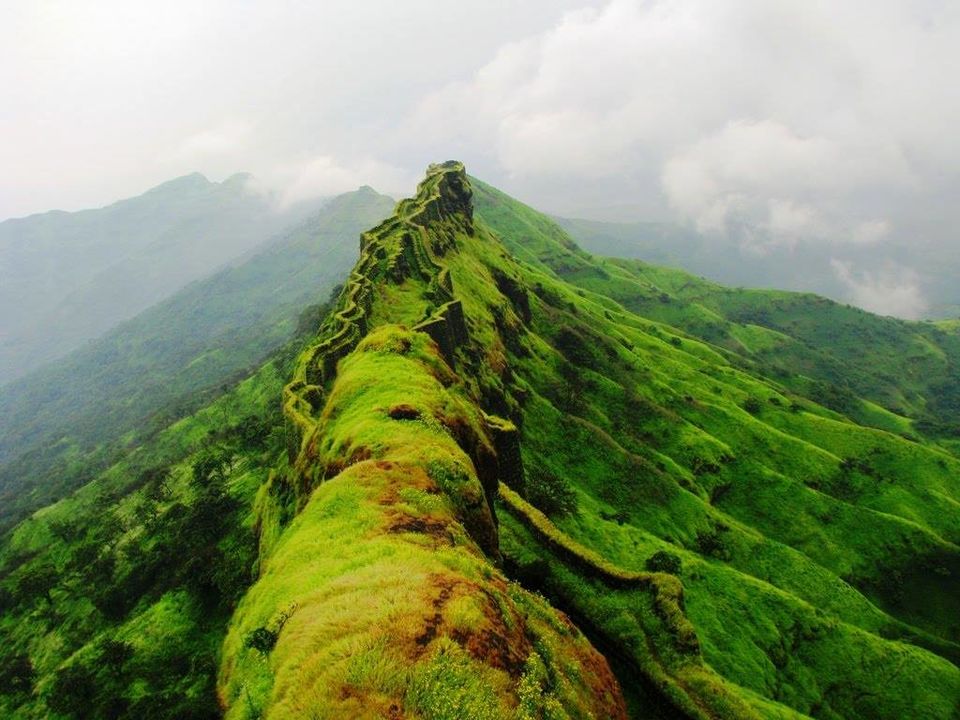 It will be a one day trek and alternatively can be done in 2 days with camping if you do it from the Torna Fort ridge. You can surely do this trek without any professional assistance.
2. Andharban Trek and Camping at Bhira Lake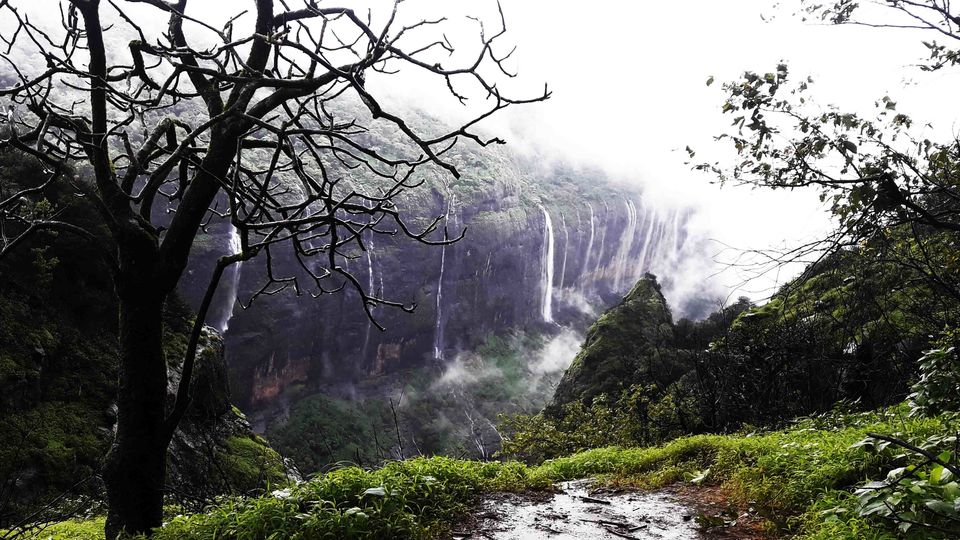 You would require a local guide for this trek as the trail leads into the dark forest which happens to be the meaning of the name Andharban itself. The trail route can vary from 8km to 13kms depending on the entrance route you take into the forest. The trail is filled with beautiful waterfalls and streams along the way with rocky and muddy stretches in between. The professional guidance from the Hike'n'Fly team made sure that my journey through the forest was safe and pleasurable at the same time. You can do the trek and come back in one day however my recommendation is to give another day and camp by the lake Bhira where the trail ends .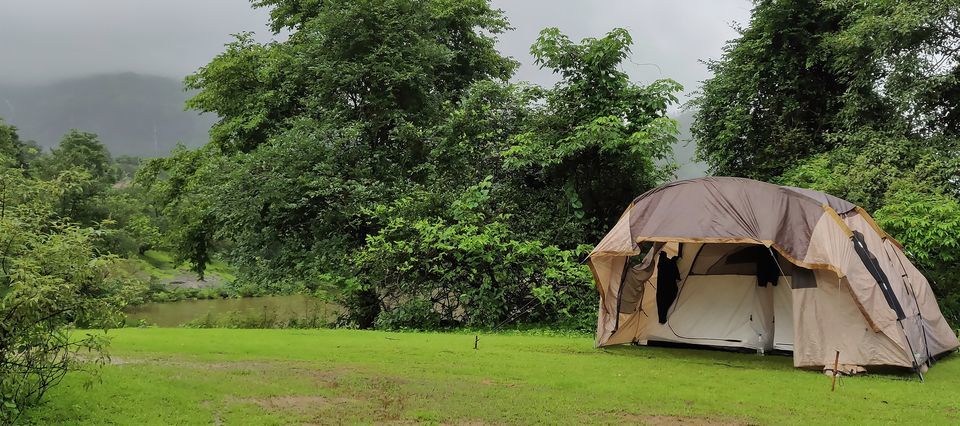 If almost an entire day of walking through rocky and greasy terrain was not fun enough, you can get up in the morning and head for Devkund waterfall. Devkund is one of the best seasonal waterfalls in the vicinity and route to the fall is adventurous too.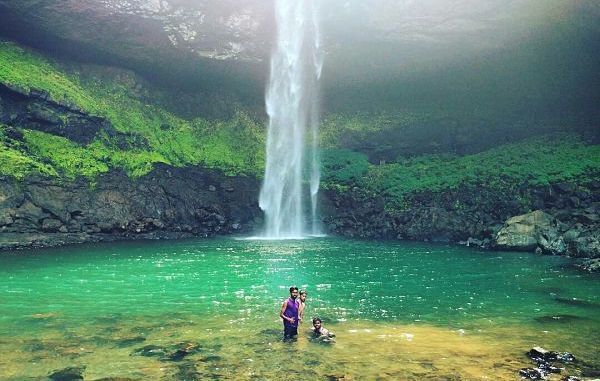 3. Plus Valley Trek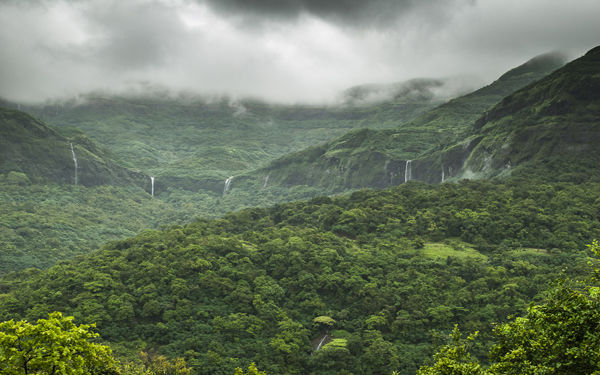 A lesser-known beautiful trek to the laps of waterfalls merging together to form a mystical pool. The nearest base village for this trek is Nive in the Tamhini Wildlife Reserve region. The valley derives its name from the '+' sign created by the gorges in the surrounding areas which is covered with dense forest and waterfalls merging into the Kundalika river. The total trek distance is 4-5 kms so can be easily done in half a day's time if you start early.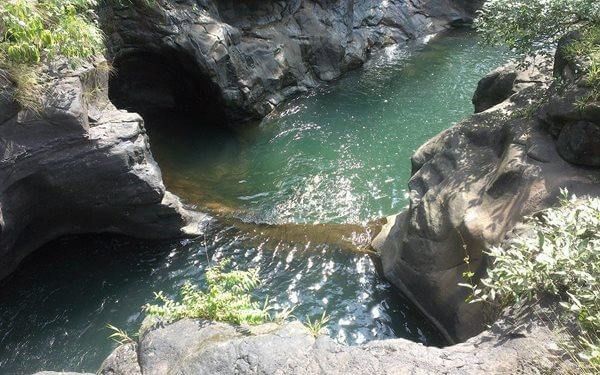 Usually, the trek can be done without any professional expertise however during monsoons the water flowing over the rocks can be very dangerous to walk on. You can either take assistance from a professional trek guide or cover the trail yourself with extreme caution. Remember it's always better to be safe than sorry.
4. Dodhani Waterfall Rappelling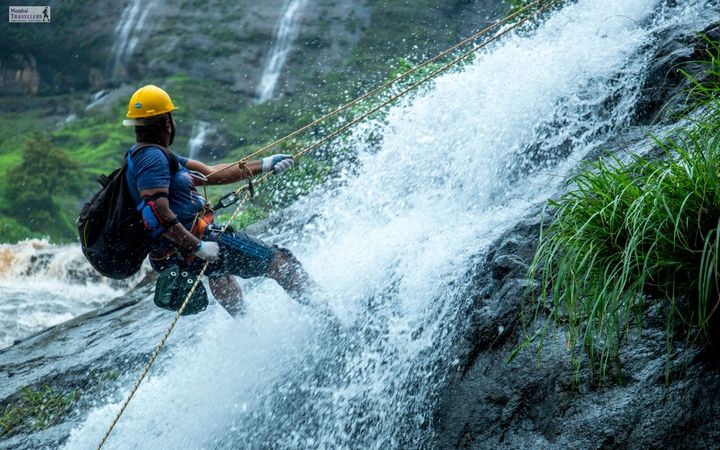 It is needless to say this would require someone or team with proper equipment to do this unless you have years of experiences climbing & down on a rope while water stream is gushing over you. Located in the feet of Matheran Hills Dodhani is a beautiful waterfall in itself easily accessible from Panvel via road. Rappelling is an adventure activity used for regulated descend over rocks or edges of mountains, so a waterfall rappelling is descending from a cliff with a waterfall. I believe just imagining such an activity should fill you with excitement let alone doing it for fun.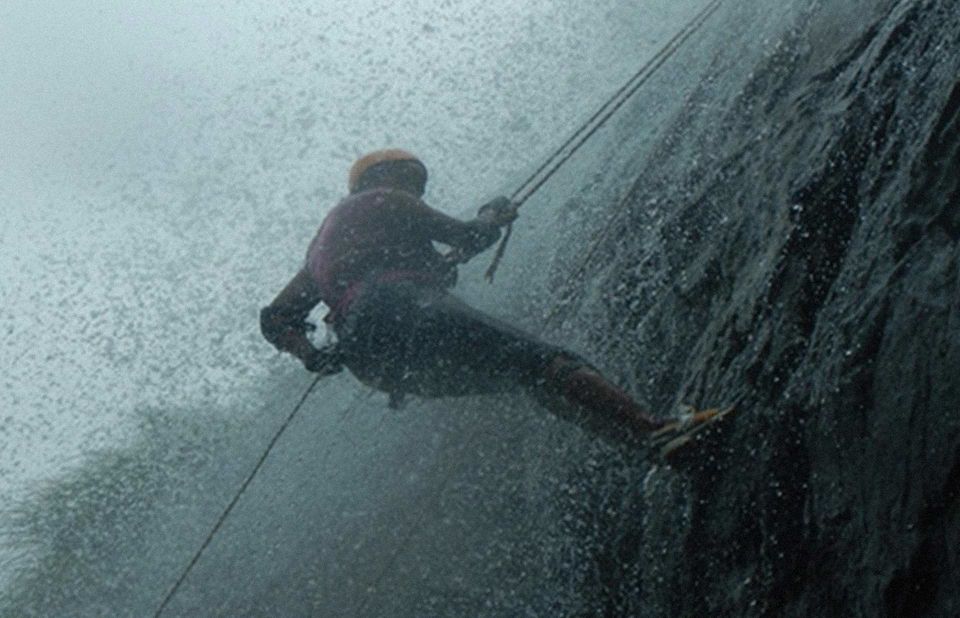 Using high-quality ropes, descender, seat harness along with gloves and helmet for safety, my friends at Mumbai Travellers can assure a safe & adventurous trip up and down the Dodhani Waterfall. You can connect with them through the website or call them directly on the given numbers for booking your slot.
5. Rajmachi fort Trek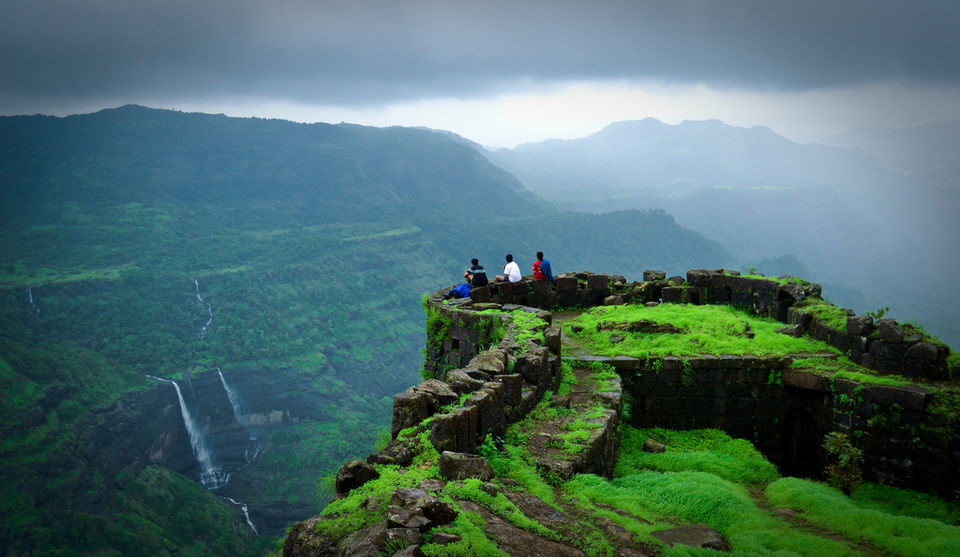 An all-time favorite and probably the most visited fort in monsoons still makes it to this list because of its sheer capacity to bring a smile to your face and joy to your heart every time you hike on this trail. Consisting of two fortresses Shriwardhan Ballekilla and Manaranjan Balekilla sitting on a plateau, Rajmachi surely sits in high clouds for trekkers, campers and nature lovers alike.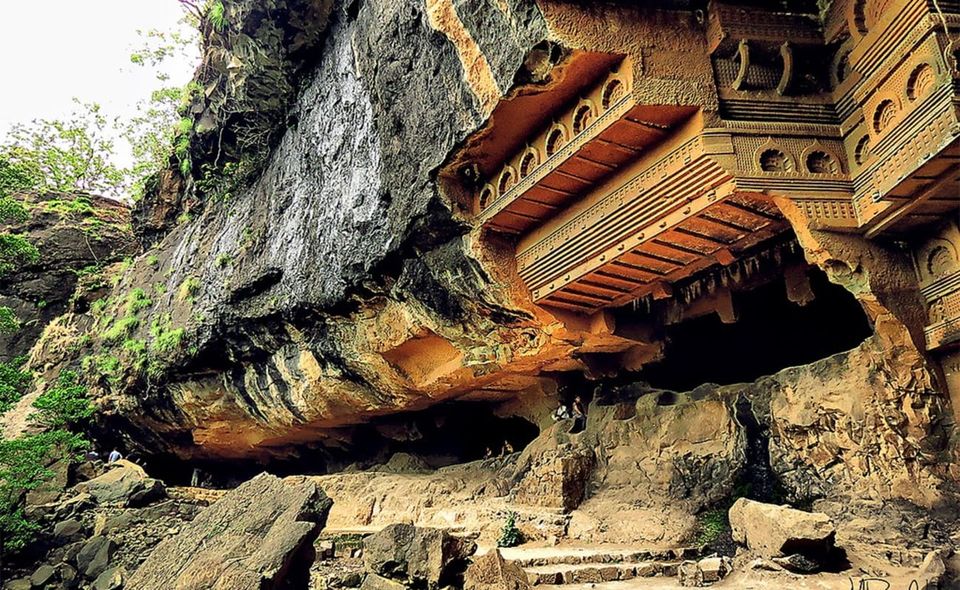 Rajmachi trek is doable from Mumbai and Lonavala side with almost equal fun. This is an easy trek and does not involve any technical or tough rock climbs. All it requires is your capacity to enjoy the monsoon rains because it sure rains there like there's no tomorrow most of the times during monsoons. To and fro journey both from Pune and Mumbai is possible in one day however if you want to spend some quality time you can always camp there. Rajmachi fort is an ideal fort for camping. There are 2 caves in the fort that can provide accommodation for 40 persons. If not in the fort you can also stay at Kalbhairavnath Temple which is at the base of the fort, only to wake up to a serene view in the morning.
Bonus alternative: Gorakhgad Trek
Since you have made this far down the blog, let me give you one more adventurous alternative for a day. Trailing through the meadows, Gorakhgad provides great opportunities for rock climbing. Due to only one neighboring peak Machhindragad, the view from the Gorakhgad pinnacle is marvelous.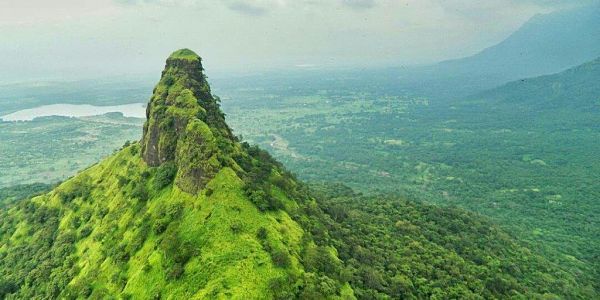 Gorakhgad comes under the Dehri village which is accessible from the Kalyan station. There's hardly any historical significance to this place & hence attracting a lesser crowd making it a perfect jaunt for the people who would like a comparatively solitary time while trekking. Doable without any assistance but just in case you want to join along a random group and meet some new travel enthusiasts do get in touch with Mumbai travelers.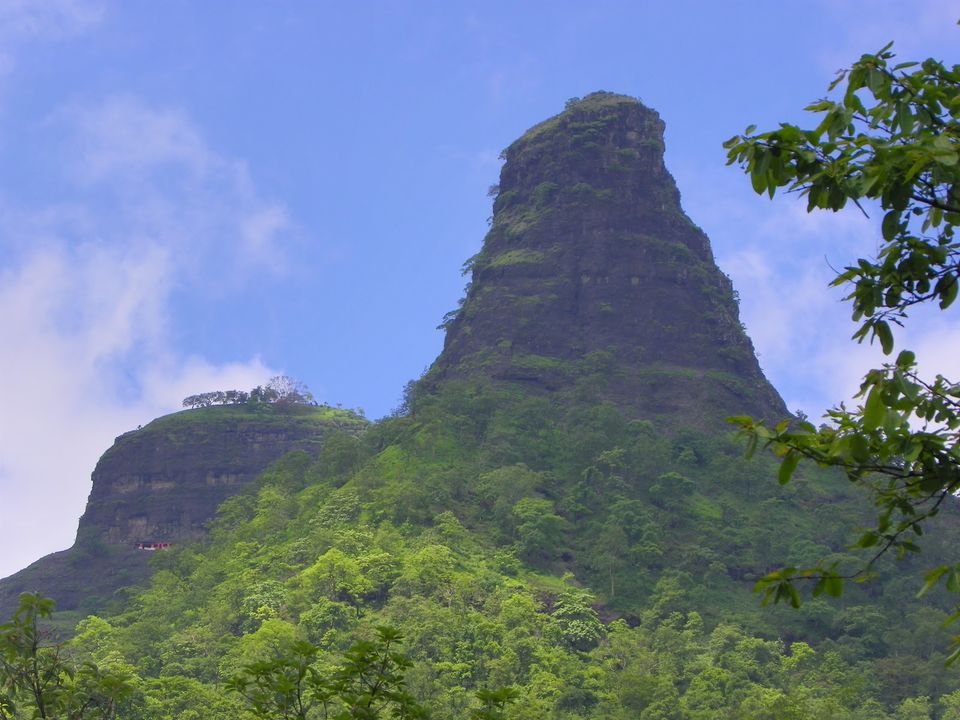 PS: Always carry reusable water bottles while on any trek to keep yourself hydrated and the environment protected. Please avoid taking disposable water bottles while trekking or on any nature's trail as we tend to throw them here contributing to environmental pollution and harming the local flora and fauna knowingly or unknowingly.
Follow me on Instagram: bhunesh_bhaskar