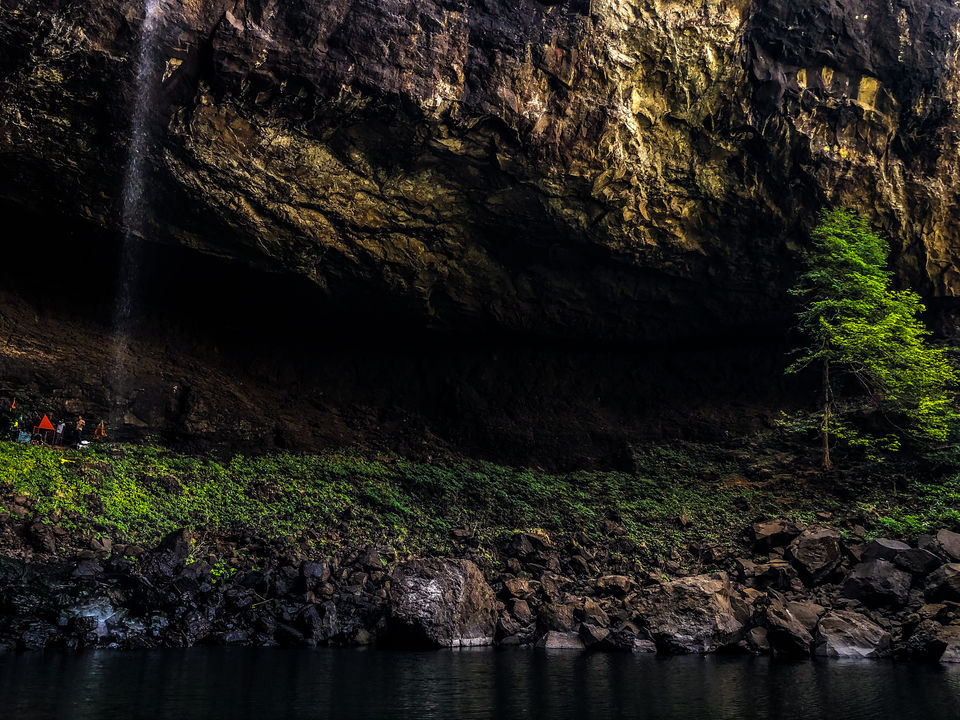 The strenuous efforts to get through 2020 unscathed was a constant burden, but not being able to travel and explore places, meet new people and do some adventure activities for a time span of almost a year was unfathomable. Eventually, I got through it, we all got through it. Towards the end of 2020, many started travelling and I finally completed my first trek post lockdown to Devkund waterfall, the place that is said to be the origin of Kundalika River.I have to say it felt like salvation.Well, for those who haven't gone out yet, a trek to here in the western ghats of Maharashtra might be the perfect escape and here are some reasons for it.
Accessibility and Distance to base village
By road : Bhira village, the base village for Devkund is very much accessible by road and the distance from Mumbai and Pune to Bhira is around 135km and 100km respectively. Both are also the closest airports. All you have to do is feed 'THE OLD POWER HOUSE, TATA POWER BHIRA' in google maps and follow it. Once you are at the location, a left turn will take you to the pay and park spot and you will find a small cafe from where the trek starts. It is advisable to take a vehicle with good suspensions because the state highway does not have the best of roads. Avoid doing this trek in monsoon as it can be dangerous.
By Railway : Mangaon which is around 30km away from Bhira is the closest railway station. It is also accessible from Lonavala and Karjat railway station, both being around 80km away from Bhira.
2. A Trek for beginners
Trek duration : When I say 'BEGINNERS', that does not mean you take the trek lightly and be irresponsible, forests and mountains are no joke. But yeah, if you move at a decent speed, it won't take you more than 2.5 hours to reach the waterfall and 2 hours to descend. A rookie mistake that needs to be avoided is starting the trek late when the sun is right over your head. Always start the trek right after sunrise. The trek is more of a gradual ascend with just the last 20 minutes being a steeper climb compared to the rest of the trail. Another common misconception is that descending is easy, trust me you need to be extra careful while coming down and make sure you walk a little sideways. There are local guides available as well if you wish to hire one.
Things to carry : One needs to carry a couple of water bottles and maybe something like a protein bar. Good shoes and tracks/ shorts are necessary and jeans should be a strict no. You will find a few shops selling refreshments along the trail.
3. Mesmerizing Views
Landscapes, when trekking in Maharashtra, are usually arid, except the monsoon season, but that's not the case for Devkund. The trail initially goes through dense green forest that takes you to the bank of Bhira reservoir amidst the mountains. Walking along it, you will also come across a few arid and some green grasslands. After crossing a few streams, comes the best part of the trail.
Walking along the Kundalika river in dense forests with a constant sound of small waterfalls. Then comes the steep climb through the forest with some amazing views of the western ghats taking you to the dry river bed full of boulders. As you walk on the river bed, the sound of Devkund waterfall reverberates in the valley and eventually you will see the first glimpse of it.
4. The destination, Devkund waterfall
"Oh man! Something so beautiful, so heavenly, so gorgeous is just a few hours away from Mumbai and Pune". That was my very first reaction when I saw the waterfall in all its glory that forms the divine pond with fresh bluish green water. Surrounded by greenery and mountains, the cold breeze would make you feel extremely relaxed after a tiring trek.
One can also bathe in the pond or just dip your feet in the cold water but of course, you need to be careful. Rest for a couple of hours near the pond, have some snacks and indulge in the therapeutic environment, I am pretty sure you wouldn't want to leave that pristine place.
5. Activities around Devkund
Apart from Devkund trek, there are quite a few activities you can indulge in if you are spending a couple of days or more around Devkund.
Camping near Bhira reservoir : After completing the trek, you can spend a night camping near the reservoir and make some good memories around the bonfire.
Trek to Ghangad fort : Ekole is the base village for this trek, which is around 50km from Bhira. The trek is considered easy and it takes around 1 hour to reach the top.
Kolad river rafting: You can have an adventure of a lifetime and do river rafting in Kundalika river. Kolad is around 30km from Bhira.