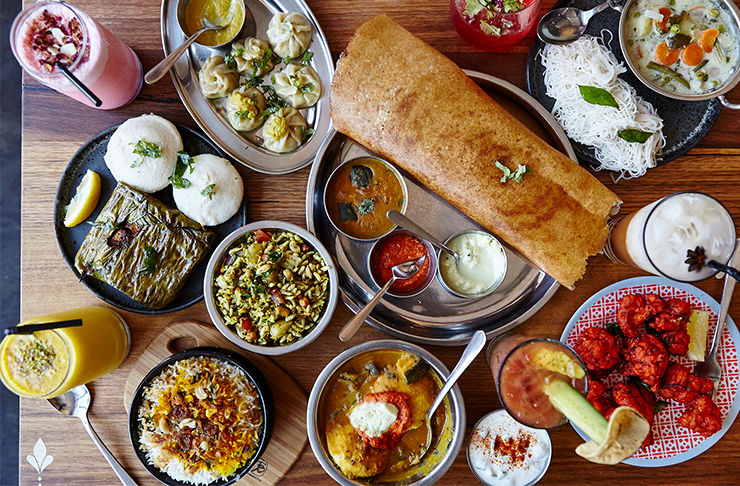 Can anyone imagine how any IT professional can switch to the food sector ? To get full clarification, do visit the Dosa Express, which is located near the tank road market. Though it is a very small shop like outlet and just some tables are lying outside the outlet, but here we had one of the "yummiest" treats. The wondrous thing about is that this small outlet offers not just 10 or 20 or 50 types of dosas, rather it serves exactly 131 variety of dosas.
This outlet was opened up by Mr Chaudhary , who is an IT professional and worked with HP computers. His passion for food and cooking took him to Mumbai where he learnt preparation of varieties of dosas. Thereafter he switched to Delhi with his new outlet of dosas.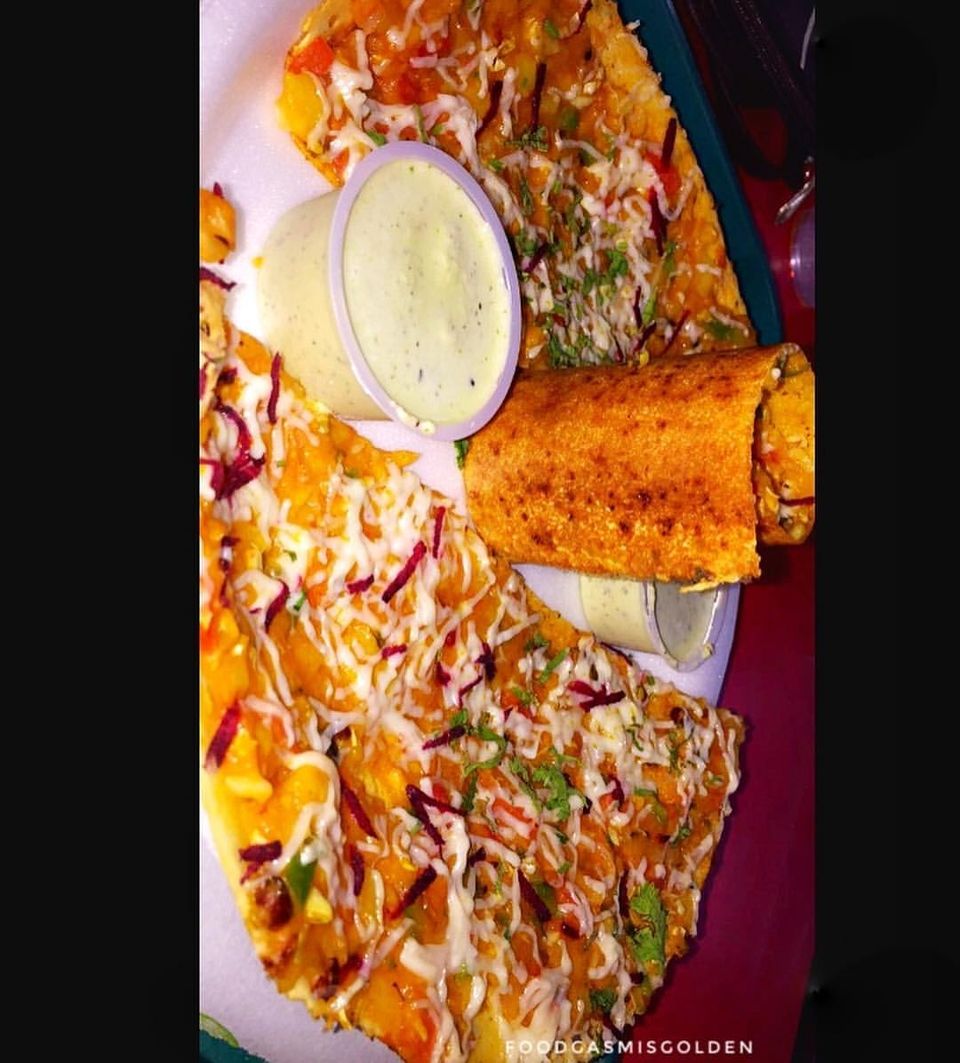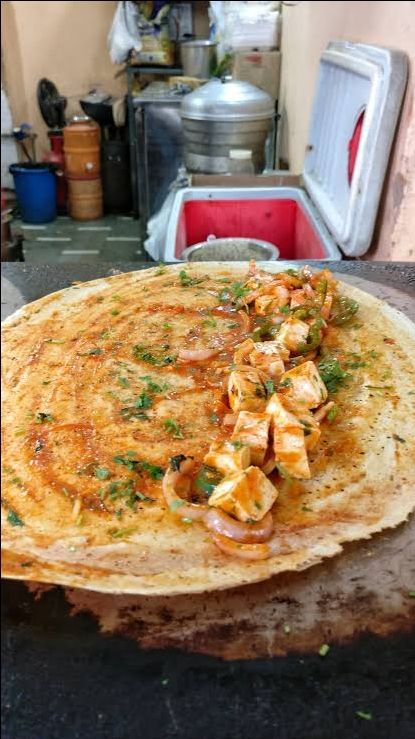 There are delicious categories under which the delicacies are served –like- Uttappam , Jain Dosa and Uttappam (without onion and garlic), Sada dosa, Masala dosa and Special Dosa. There is yet another category which is very interesting, sweet and crunchy, which is the Fruit Dosa. This nice eatery was discovered by my friend who was eating chicken at a nearby dhaba. There he saw a signboard indicating to this outlet of Dosa. We had 3 dosas, out of which Golmaal Dosa and Chilli Paneer Dosa became our favorites.
How Much: Major varieties of Dosa are less than 100 INR.
#2. PUCHKA
Ever heard of puchka flavoured roshogolla or even better green chilly infused? Try Bengal's favourite sweetwith twists as exciting as it gets and handmade with love!
What Is It?
Kolkata is famous all over the world for its juicy Roshogollas! Traditionally made of chena and infused with kesar or in some places with the flavour of gur, this Indian sweet is a ball that melts in your mouth leaving behind oodles of sugary goodness that is bound to give you the rush you so well deserve. Already salivating? Wait, there's more! This diva of a lady, Swati Saraf hailing from Kolkata itself has taken the city's obsession with this Indian sweet to a completely another level! She has changed the way Roshogolla's have been conceptualizedsince immemorial times and today offers more than 270 flavours of the same! Yes, 270 and counting, so forget the usual and get set to experience a riot of flavours bursting in your mouth as you indulge on this culinary ride like no other!
What's In It?
Operating under her brand 'Swati's Flavours Of Rasgolla'she specializes in Indian sweets. However, the attraction of course are the insane, mindboggling and absurd flavours that she has been able to stir up for the age old Rasgolla to make them even more exciting, mouth wateringly delicious and truly bursts of joy! Think Kairi Rasgolla, Cappucino flavoured, Strawberry, Black Current, Mangosteen, Gundi Paan shot Rasgolla, Green Apple, Thai flavoured, Elaichi or sauf rasgolla, Red Guava, Barley lemon flavoured and much more! Sounds crazy? It really is but wait till you get your hands on them and you shall know how well balanced and constructed the flavours are to give you something really different and yet tantalizing! Expect happy bright colours, exotic flavoursat their best and all made fresh and from actual fruitsall round the year. So who said that Rasgolla's could only be sweet?
What To Order?
Our top picks would be the Organic Rose, Watermelon, Blueberry, Alphonso and Litchi flavours if you like your desserts fruity and on the sweeter side. These add even more charm to this age old Bengal delicacy and bags of yummy flavour of your favourite fruit or ingredient! If you're feeling gutsy and would like to snack differently, we highly recommend trying the green chilly or puchka flavours! Might sound mad, but they are ever so exciting and real riots of flavours in your mouth. Especiallygreat for gifting (since it's something so unique and attractive for both kids and adults alike), you can order from Swati, a minimum of 25 pieces for each flavour for home delivery.
How Much: 25 INR per piece
#3. Amritsari Kulchas
Bansal Amritsari Kulchas in Chandigarh dishes out 56 types of buttery kulchas to indulge in.
What Is It?
Bansal Amritsari Kulchas located in MDC Market is a home for all the kulcha lovers in Chandigarh. The kulchas are layered with desi ghee and taste absolutely divine for a sinful 'Kulcha indulgence'.
What's In It?
There are varieties like aloo, pyaaz, paneer, matar, cheese, gobhi, kheema, onion and more. All the dough used to make the kulchas is 6 layered and filled with desi ghee.
They provide 100% wheat dough kulchas, just like the ones in Lahore. We highly recommend the Spl Chur Chur Garlic Kulcha that is stuffed with the goodness of garlicand ghee.
You can also try Mushroom Kulcha that comes with chunks of mushrooms. All the kulchas are served with loads of butter and served with chole. The spice from the chole goes perfectly well with the scrumptious kulchas. Use the tub full of butter provided along with the chole kulchefor the perfect taste.
Lose yourself in this kulcha 'chappan bhog'.
How much: Less than 100INR
#4. Fateh Ki Kachori
A small food stall on Raj Niwas Marg in Civil Lines, Fateh Ki Kachori sells the most delicious kachori. The kachoris are very well prepared and rich in flavour; needless to say, they're well worth a visit.
A unique concept where a crispy Kachori is first lavishly smeared with Peeli Matar and then topped up with two kinds of Chutneys, Masala, Salt, Copped Green Chillies and Coriander. It is a delight to watch it getting prepared and an absolute enjoyment.
Fateh ki Kachori, a place that should not be missed if you are around Kashmiri Gate area.
While variety isn't something you'll find here, the man has clearly aced the one thing he sells here. The mouth-watering kachoris are one of the best in Delhi, and are bound to have you hooked. I gorge on them quite frequently, and would definitely recommend asking for more chutney.
How much: 25 INR per plate.
#5. GHUGNI CHAAT
A popular northeastern chaat from the states of Bengal and Orissa. A flavourful peas mixture that is eaten as a chaat and can also be had as a side dish.
How much: less than 50INR
#6. Fafda- jalebi
Fafda- jalebi is a match made in heaven and Gujaratis treat themselves with this great combination on Dussehra. But have you ever wondered why do they only consume these two food items as breakfast and nothing else?
I will tell you why!
Because it's a belief!
During Navratris, people observe fast for straight nine days and it is said that this fast should only be broken by having something made out of gram flour. Fafda, being the most common snack of Gujarat, makes its way to every house on Dussehra. On the other hand, Jalebis are served along with it because they taste nice with each other! But, there is another reason for that, it is believed that Lord Rama's favourite dessert was 'jalebi', which is why it is served on Dussehra, the day on which he won the battle over Ravana.
Because it keeps you fit!
It is a proven fact that hot jalebis dunked in milk cures migraines, while gram flour is light on the stomach and is considered a healthy option after fasting. Also, the combination of fafda-jalebi is believed to be a good source of energy. Speaking on this, Ayurvedic doctor Nisha Lakhuli said that "Jalebi has recently been in the news for being one of the most fattening sweet, however, as a last minute resort, jalebi releases certain chemicals in our body that reduce the risk of migraine attacks. After the weariness of dancing for nine days, jalebis help reduce the fatigue".
How much: less than 50INR
#7. Momos
Every Tibetan family has a slightly different momo recipe, with various theories on how to make them the most juicy and delicious, or how to keep the dough skins to the desired delicate thinness.
The variations are endless – momos can be meat, vegetarian, steamed (the most popular), fried, and cooked in soup.
How much: less than 100INR