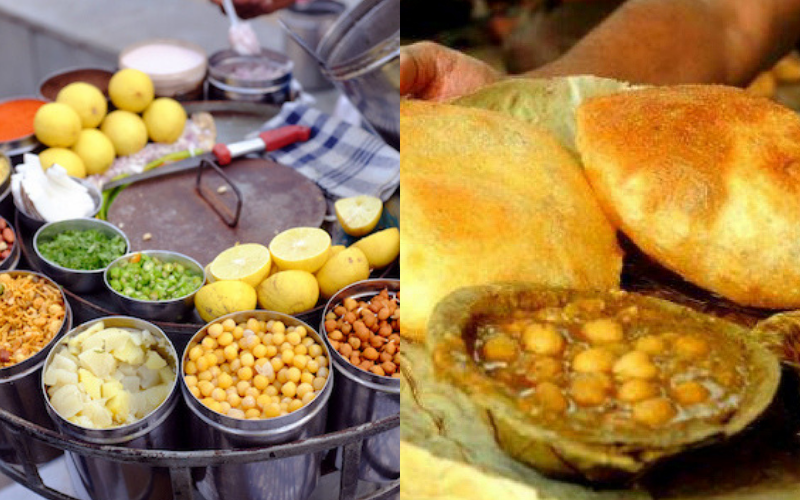 The minute anyone touchdowns in Calcutta, they make a beeline for the street food. Street Food in Kolkata is not just food, it is a cult, that has a massive following of people from all across the globe.
A sensory extravaganza for your taste-buds, the city has a culinary offering like nowhere else and you must begin right from the streets!
Fellow foodies, here's the list to get started:-
1. Puchka
An explosion of flavours in your mouth, Pani Puri or Gol Gappa as we know it, is Kolkata's most beloved street-side snack and is called Puchka.
Snuggled in every nook and cranny of the sweet city you can spot a 'puchka-dada', and the locals of that area are will vouch for the taste. The puchkas come with different fillings - ghughni onions, mashed potatoes, mung etc.
1.) Dilipda's Puchkas
Touted as the ultimate in Kolkata, near Southern Avenue Dilipda has a fan following even in Bollywood! The tamarind water has raw sliced mango and Gondhoraj Lebu, giving it an aromatic and delicious tangy taste. He uses purified water and offers hand sanitizers for his customers.
Cost: 20 INR for 6 puchkas, Ragda Chaat for 40 INR
Where: Maharaja Chaat Centre, Kavi Bhartati Sarani, Hemanta Mukherjee Sarani, Lake Terrace, Ballygunge.
2.) Pravesh Pani Puri
Chocolate puchka, Dhokla puchka, Schezwan puchka, Chur mur puchka, Bullet puchka, Rocket puchka, the combinations keep getting wackier.
Cost: 85 INR
Where: Near Woodland High Building and Garden Cafe, Alipore.
3.) Victoria Memorial
Aloo dum puchkas, dahi puchkas or the go-to crispy puris with the sweet and tangy water. Well, you get it all near Victoria Memorial where you can spot plenty of Puchka and other street food stalls.
Cost: 20 INR
4.) Vardhaan Market
This stall makes the puchka with a secret recipe, an assortment of spices like Jeera, Methi, Ajwain, Dhaniya, Saunf, Kasuri, that come all the way from Krishnakant Sharma's kitchen.
Where: Vardaan market on Camac Street
Cost: 25 INR
5.) Bijay Prakash's Puchka
This legendary puchka stall is almost half a century old and was previously run by his father. Their unique selling point has always been the size of puchkas which are bigger than any other in the city.
Cost: 10 INR for five puchkas
Where: New Alipore
Pro-Tip: You can try 'Churmur' at any of these Puchkawalas. Made with crushed bits of puchkas, mixed with mint-tamarind water, smashed potato, boiled peas, and spices.
Cost: 40 INR

2. Chinese breakfast
Chinese for breakfast sounds a tad bit odd? However, the street vendors (most of whom are home-cooks) set up at 5 am and by 7 am all the food at this "khau gali" gets devoured by early-risers, late-night workers and party-goers. Strongly distinguished by the wafting aroma and a cacophony of busy noises early-morning, Sen Yat Sen Street has vendors selling all sorts of Chinese street food. Soup noodles, steamed baozi buns, dumplings in both steamed and deep-fried forms, momos, Tibetan bread, fish meatball soups, and congee as breakfast options.
This is definitely one of the must-do things in Kolkata for every food-lover.
Where: Sunyet Sen Street is near Poddar Court behind LalBazar Police Headquarters and near the Central Metro Station in Bowbazar, Kolkata.
Cost: Under INR 80
3. Ghughni
Steaming hot peas are added to a small leaf bowl, mixed with tomatoes, onions, coriander, tamarind water, and lime juice, served with a wooden spoon and known locally as ghugni chaat.
Though Ghughni is available all around the city, this food vendor is famous for his Dahi Kachori, Dahi Vada and Kanji Vada.
Where: Outside Satyanarayan Park AC Market, Burtolla St, Raja Katra, Bara Bazar
Cost: 30 INR
4. Jhal Muri
From roadside stalls, bus stops, railway stations to schools and colleges, you can see vendors selling the staple "Jhal Muri" literally everywhere in Bengal and most parts of Orissa. Consisting of puffed rice, fried dal, peanuts, chopped onions, bhujia, coriander, a variety of ground spices, amchoor, along with mustard oil and a dash of tamarind water, Jhal Muri is served in small newspaper bags!
Each seller has his own style of making Muri, and the process of watching him as he combines elements with airy movements is fascinating. Handfuls of plain white muri, powdered masalas, all mixed together in a steel tin, as the fragrance of the mustard rises to your nose.
Where: Outside Victoria Memorial, Near New Market and Vardhaan Market.
Cost: 20-30 INR
Mamu Ki Muri
While the usual Jhal Muri is black in color and dry, this one guy has been making spicy red muri which are semi-wet, along with broken pieces of samosas since generations now. Definitely, a must try!
Where: Near CAG School in Barabazar Market.
Cost: 50 INR
5. Real Fruit Kulfi
Kulfi in Kolkata are not just made with real fruits, they are made inside the fruits! The Kulfi Wala makes the kulfi by freezing it on the inside of a scooped-out orange and mango. They serve it by cutting it up into quarters like a real orange! And it's divinely delicious.
It is amazing to watch as he scoops out the kulfi from a real mango and orange! The sitafal and chikoo kulfis are also melt-in-the-mouth.
Where: Opposite Vardaan Market on Camac Street.
Cost: 50 INR
6. Radhavallabhi
Deep fried kachori with stuffed lentil, just like a Khasta Kachori is called 'Radha Ballavi' in Kolkata. Immensely popular, this dish is served piping hot with ghugni, chola dal, aloo dum or aloo torkari.
The Radhabollobi (as they pronounce it) is not a snack but a complete meal in itself.
Where:
1.) Ganguram outlets all over in Kolkata.
2.) Bijoli Grill, Raja Basanta Roy Road
3.) Abhu's Hot and Fresh at Salt Lake City
4.) Gupta Brothers outlets in Chetla and New Alipore
5.) Banchharam, Tiretti Bazaar
Cost: Approximately 30-50 INR per plate
7. Aloo Dum and Luchi
Lucchi is similar to puris while Aloo Dom is the Bengali version of Dum Aloo. Very popular among tourists and locals, this authentic meal has a dollops of Bengali-ness.
Where:
1.) Fairlie Place, Esplanade
2.) Koshe Kosha at Golpark
3.) Banchharam, Tiretti Bazaar
4.) Many small joints in Ballygunje
Cost: 35 INR
8. Brown Chenna Jalebi
A Bengali version of the Jalebi, this streetside sweet is called 'Chenna jilipi' or 'Paneer jalebi' since it is made of chenna or fresh cottage cheese. They also have different variations like Kesari and Pistachios Jalebis.
Where:
2.) Kaali Godam
3.) Tea House on Elgin Road.
4.) Maharaja, Sarat Bose Road, Opp. Monalisa Guest House.
5) Tasty corner, Anil Roy Road, near ITI Gariahat are also recommended for Jalebi lovers.
6.) Nandalals Sweets, Near Ram Mohan Library, Burrabazar
Cost: Around 30 INR for 3 pieces
Know of any other place that deserves a spot on this list? Click here to share your magical travel tales with the Tripoto Community right away! Get travel inspiration from us daily! Save and send a message at 9599147110 on Whatsapp to start.