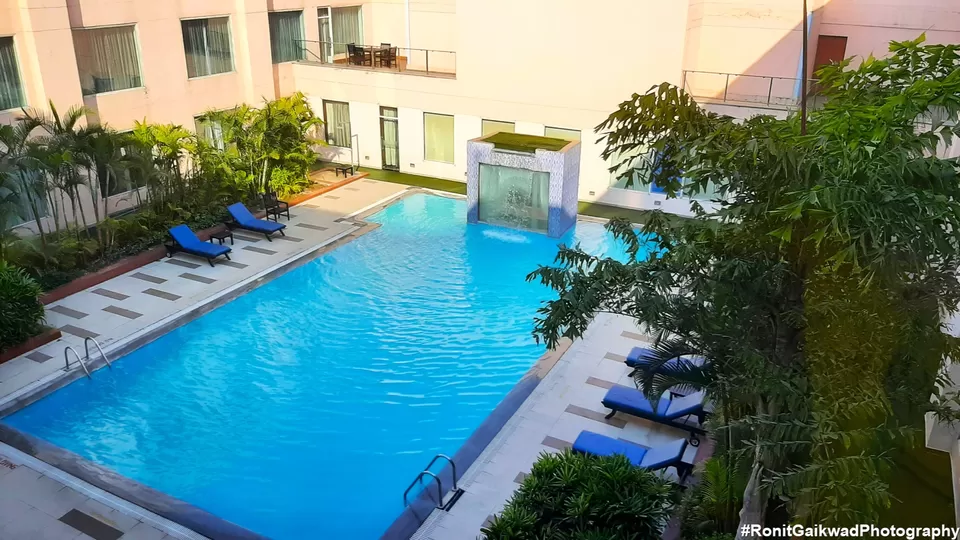 We were looking for a good place to stay at Haridwar as the original hotel booked for us was horrible. We found this on google and decided to give it a shot. We stayed here for two nights, and one disadvantage is that it is located in the industrial area of Sidcul, which is very far away from the central city. Almost 30-35 mins single side.
The hotel has a nice lawn at the entrance, and the lobby is huge. The staff at the reception were warm and welcoming and helped us check in quickly as we were already late. The lobby has a jewelry shop, some nice seating areas, a banquet hall for functions, and a cozy restaurant and dining area.
A great thing they did was offer us rooms on the higher floor as we had asked for the same. While one of our rooms faced the swimming pool, the other faced the industrial area and also had a nice view of mountains at a distance. The rooms were exceptionally spacious and clean. The bathrooms were well-maintained and sanitized when we entered for the first time. Also, they ensured to keep all the toiletries, towels, etc., in the bathroom. The ambient lighting in the room was great; connectivity-wise, the Wi-Fi was fast enough to have video conferencing.
The hotel serves breakfast in the morning from 7.30 a.m. to 10.30 a.m. Now here was one problem I found out. I have been to many Radisson hotels across the country, but we discovered that 95 percent of the menu items were repeated on both days. Also, we had to repeatedly inform the staff to keep filling in the food, which was strange as it is the restaurant staff's responsibility to ensure all the items are available. In fact, it was identical to the point that even the fruit juice flavor was repeated.
However, apart from this rest, everything was great. Thus, the stay was excellent. The only disadvantage is that the hotel is located too far away from the city, leading to huge spending on local transportation as cab aggregators are hardly present here, and the breakfast spread is average. However, in terms of rooms and other facilities, it was near perfect, so I would recommend giving this Radisson a try if you are looking for a great hotel in Haridwar.