No matter how many times you visit Taj Mahal, its sheer beauty manages to mesmerize you each time. So once again, in the run up to our anniversary, we were on a quick weekend getaway to Agra. Our abode for the weekend was Radisson Agra, located at a stone's throw from the Taj Mahal.
We checked into a Business Suite which was expansive- a living room with attached washroom, bedroom, walk-in-wardrobe and spacious bath with sink-in tub. In the bedroom, a beautiful crib was placed for my five-month old. The hotel has 142 rooms and suites, across categories. Spacious living room, plush bathroom with toiletries and ample space for my little one, it was indeed a luxury weekend stay for us.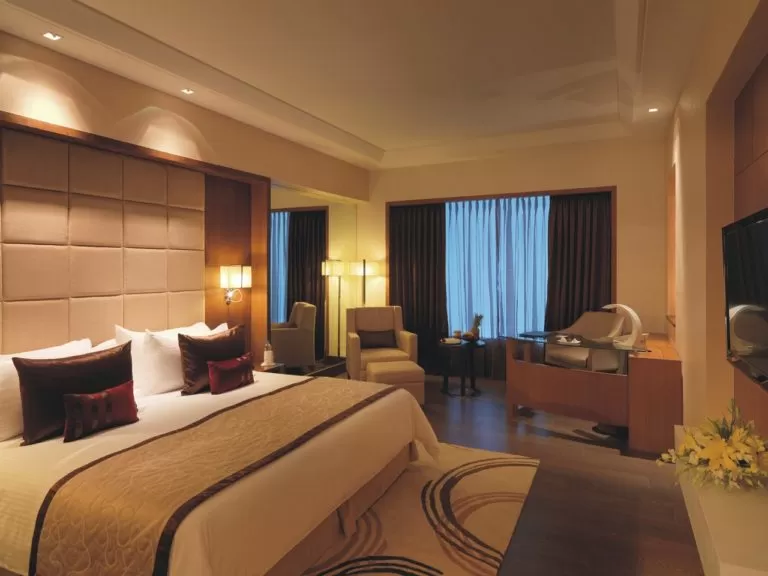 Food
Radisson Agra surprised me with its restaurant options. There is a fine dining Indian cuisine restaurant Daawat-E-Nawab, all day dining The Latitude and barbecue poolside bar Colorbar. To unwind, there is also the Liquid Lounge Sports Bar. It was a gastronomically satiating weekend that we spent trying out both the restaurants and sipping some cool drinks at the Colorbar.
Chef Mihir Mukherjee at the Daawat-E-Nawab rustled up a great Indian meal for us- the melt in the mouth galauti, delish seekh kebabs and perfectly done Awadhi gosht biryani. The sumptuous main course also included dal makhani, aloo bhindi ki sabzi and khameeri rotis. The chef from Kolkata narrated some interesting stories and we chit-chatted about the latest season of Masterchef India.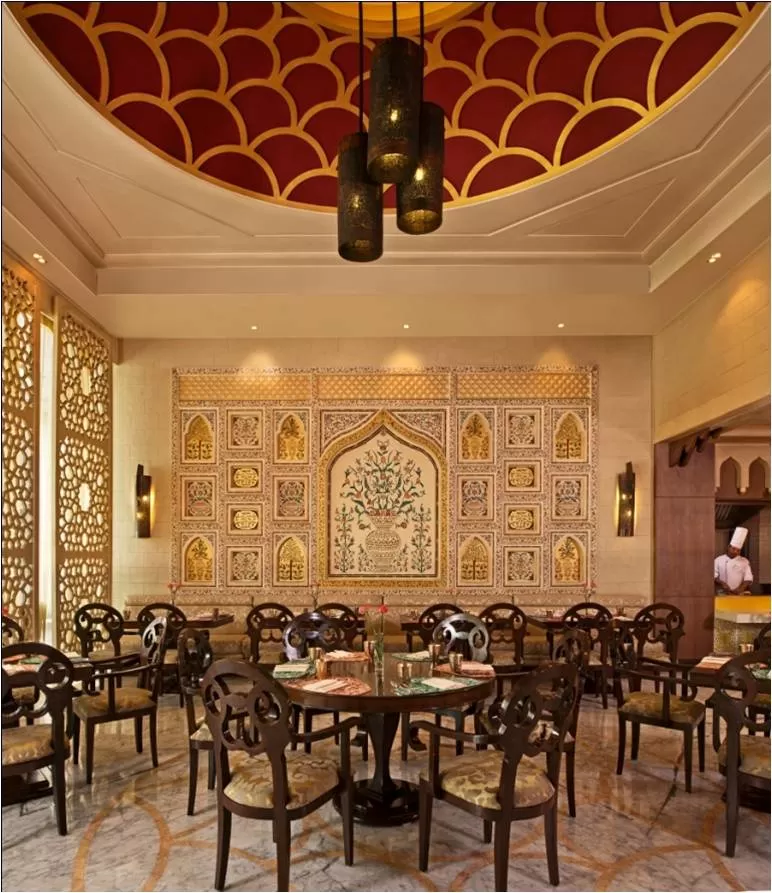 Our lunch meal at The Latitude was equally satiating. The buffet spread was elaborate and flavorsome catering to international guests. The taste was subtle and variety a mix of Indian, Chinese and Continental. Our curated ala carte meal too had a mix of cuisines. I had recommend their HongKong Fish, tofu curry and tandoori chicken pizza. The showstopper of our meal that afternoon was the dessert- rabri in chocolate cup and the day-night dessert, dark and white chocolate. If you are ever there ( I am sure you will be after reading this review), you must try this dessert.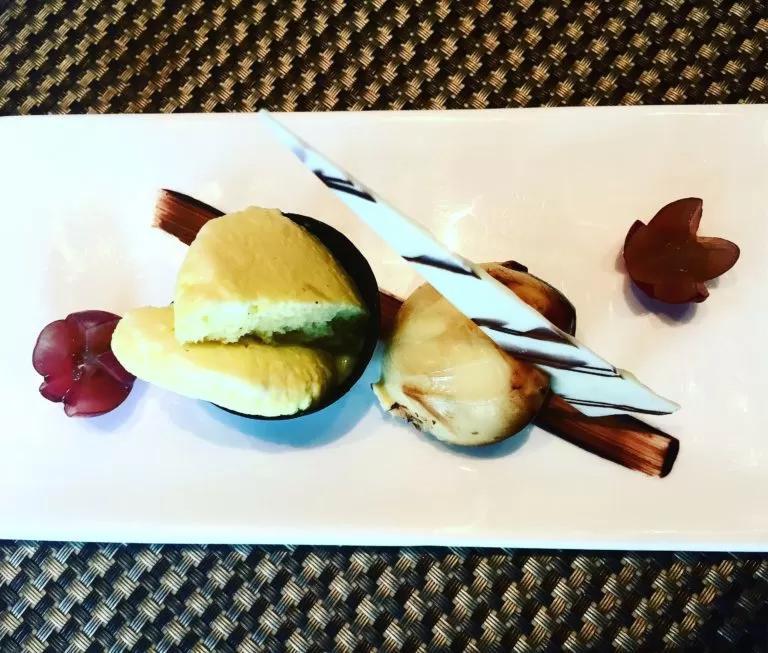 The weather was perfect for spending the evening at Colorbar. There was live band and the bartenders special concoction with paan (betel leaf) and petha ( Indian sweet that Agra is famous for) made it heady for me, while my husband stuck to his Grey Goose (Vodka). This corner of Golden Triangle is fast becoming a happening destination, thanks to brands like Radisson.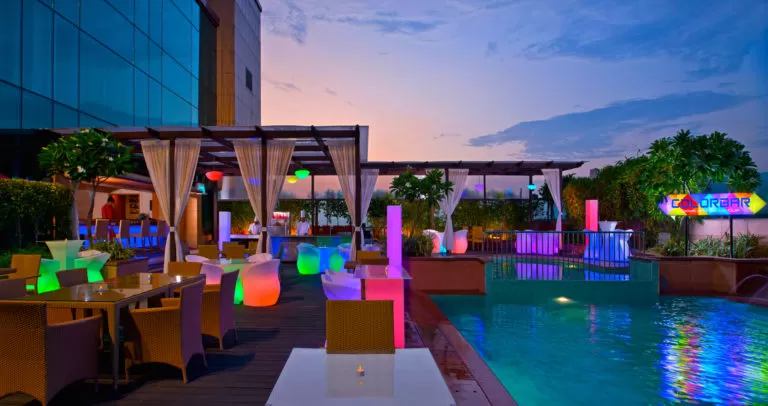 The Taj Show
When I read the itinerary that mentioned the 'Taj Show' I thought it would be another boring history lesson but Subrata, a front office staff person who doubles up as anchor for the show narrates the gripping story of the Taj in a manner that leaves you hooked and asking for more. A huge marble replica lies in the middle of the room, playing with lights just like the original monument, Subrata tells us about Shahjahan's love for Mumtaz, how the monument was built and what the symbol of love means today. Munching some canapés we also watch a documentary that unravels the mystery of the 'Black Taj'. In the end Mohammad Zahid, who's from the family of masons who built Taj Mahal, shows us the intricate marble work that makes Taj magnificent. When we ask him if its true that Shahjahan got the arms of those craftsmen who built the Taj Mahal to be cut-off, he tells us that its a false story, just another myth about this magnificent monument.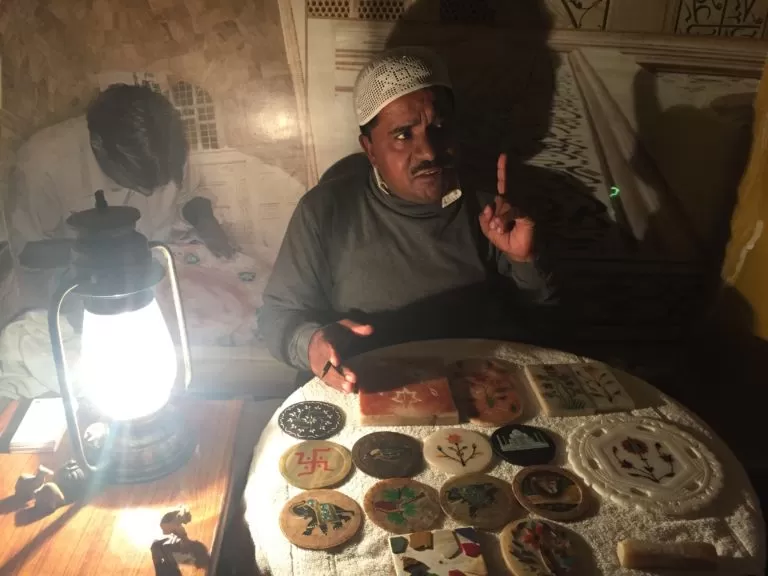 Next morning when we visited the Taj, it was with a fresh perspective and renewed interest.
Beyond Rooms
To a new mother nothing sounds as rejuvenating as a spa session. At their spa- Alive- the therapist suggested I go for the Swedish massage since I wanted a medium pressure massage. The treatment room had in-room shower and jacuzzi. The one hour session was invigorating and just what the doctor ordered. Alive Spa has a concise menu that offers a mix of oriental and ayurvedic treatments.
The hotel also has an interesting shopping arcade, kids play area and 1200 square feet of space for meetings and events. Since I was travelling with a baby, I must add that this is a kid-friendly hotel. Every area is accessible by pram and from car seat to crib, hotel has everything in perfectly working condition. No wonder I saw many toddlers at the restaurant.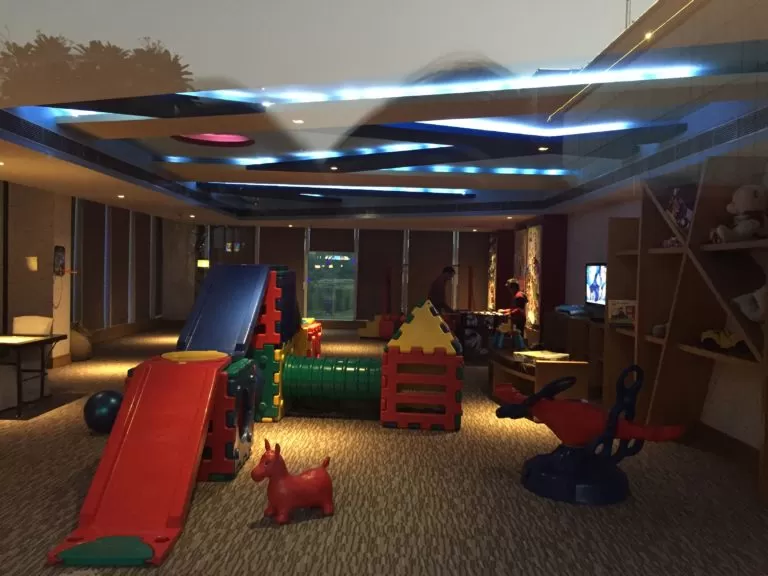 THE Verdict
Radisson Blu Agra lives up to its brand name. Efficient staff, great dining options and its proximity to Taj make it a perfect stay option in Agra.
Fast Facts
- The Radisson Blu in Agra is located on Taj East Gate Road and you can walk to the Taj Mahal from the hotel.
- It has 142 rooms across categories- Superior, Deluxe, Business Class Suite, Executive Suite and the Radisson Suite.
- The dining options include The Latitude, 24-hour coffee shop, poolside bar Colorbar, Indian specialty restaurant Daawat-e-Nawab and Liquid Lounge Sports Bar.
- The hotel has free wi-fi, spa Alive, banquets, rooftop pool and kids play area.
RADISSON BLU AGRA TAJ EAST GATE : YOUR IDEAL HOTEL IN AGRA: OVERVIEW
LOCATION ☆☆☆☆☆
SERVICE ☆☆☆☆☆
FOOD ☆☆☆☆☆
BANG FOR THE BUCK ☆☆☆☆
Great!☆☆☆☆
Summary:Radisson Blu Agra lives up to its brand name. Efficient staff, great dining options and its proximity to Taj make it a perfect stay option in Agra.
This blog was originally published on The Hotel Explorer.