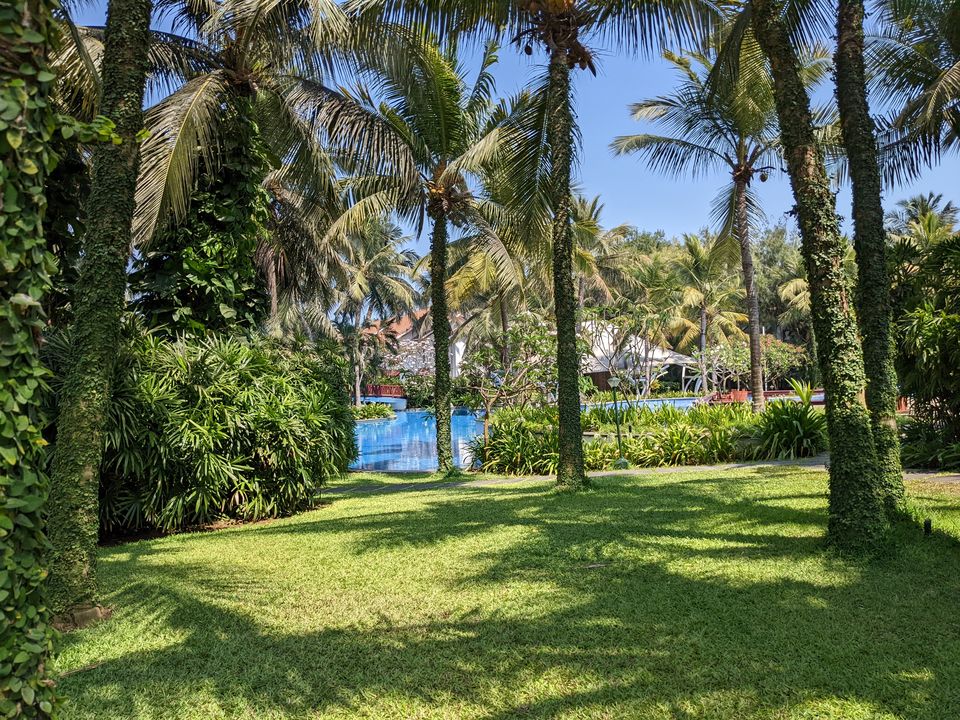 A lazy beach vacation by a private beach. An infinity pool offering stunning views of the majestic Bay of Bengal. A meandering 27,000 sq ft pool which makes its way between pool villas, so that you can just step outside your room and jump into the pool. Beautiful rooms with perfect views(whether you choose garden, pool or sea). Sounds like a dream?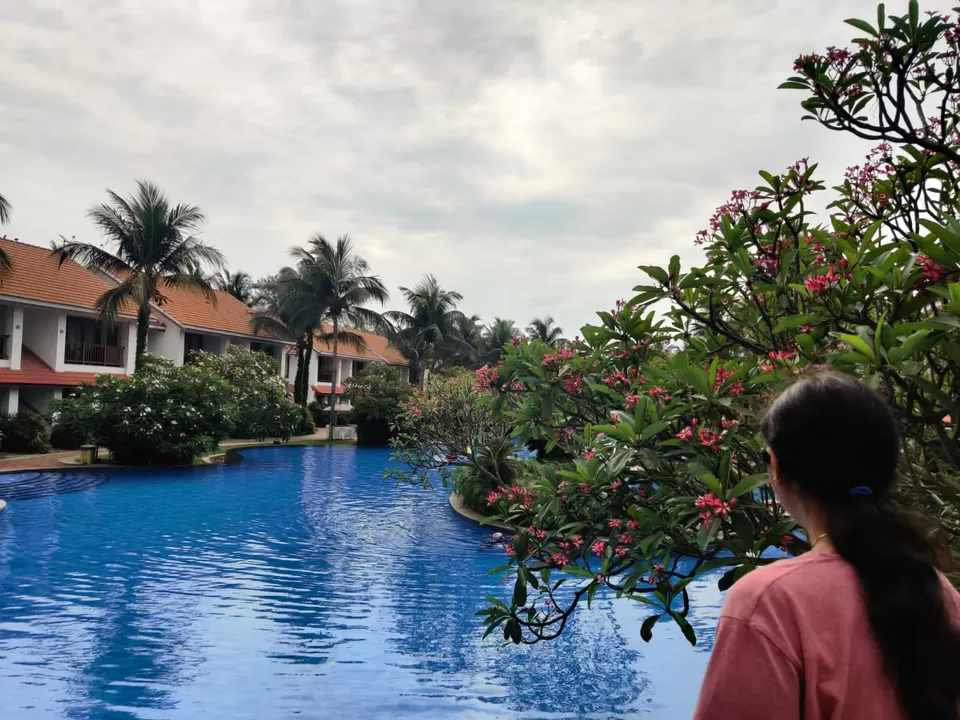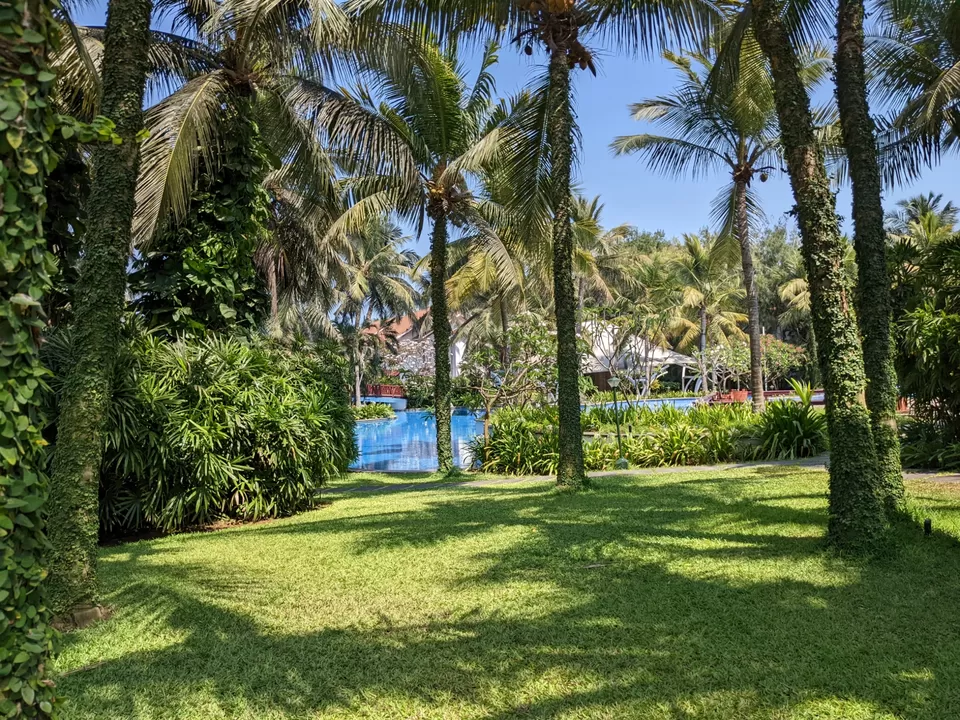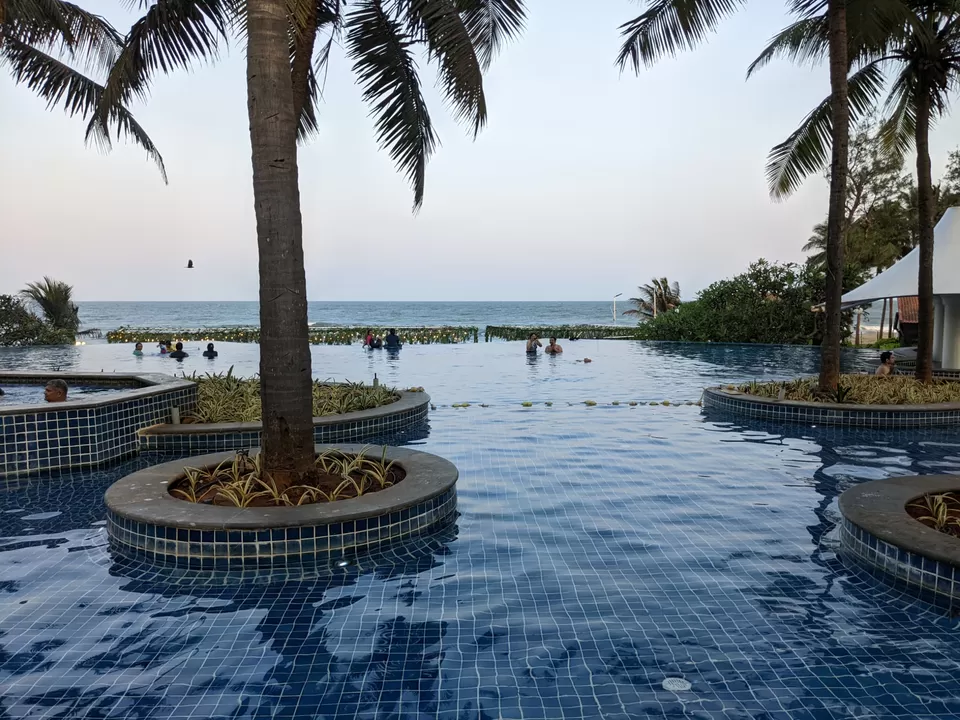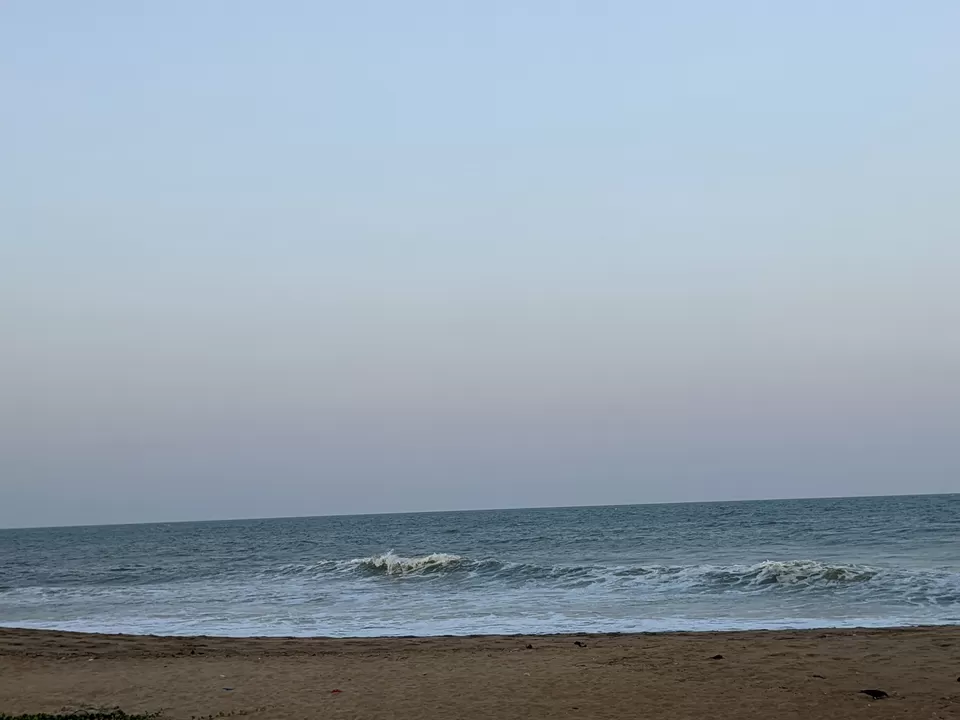 We just found a place where all these dreams can come true, and more!
Just a 7 hour drive from Bangalore( or an hour's drive from Chennai) landed us at this haven-Radisson Blu Resort Temple Bay at Mahabalipuram (Mamallapuram).
About The Property
Set in an expansive area of 44 acres, the property offers villas and chalets done up in traditional décor. The lush landscaped gardens stand in stark contrast to the town of Mahabalipuram, with sand and stone all around.
The check-in was done in a traditionally styled reception area. After check in, a buggy transported us to our room. They are available from the reception and can be requested at the room as well.
We had opted for a pool view chalet, and our room was on the first floor (no lift). However, that little inconvenience was worthwhile, when we saw the view from our balcony.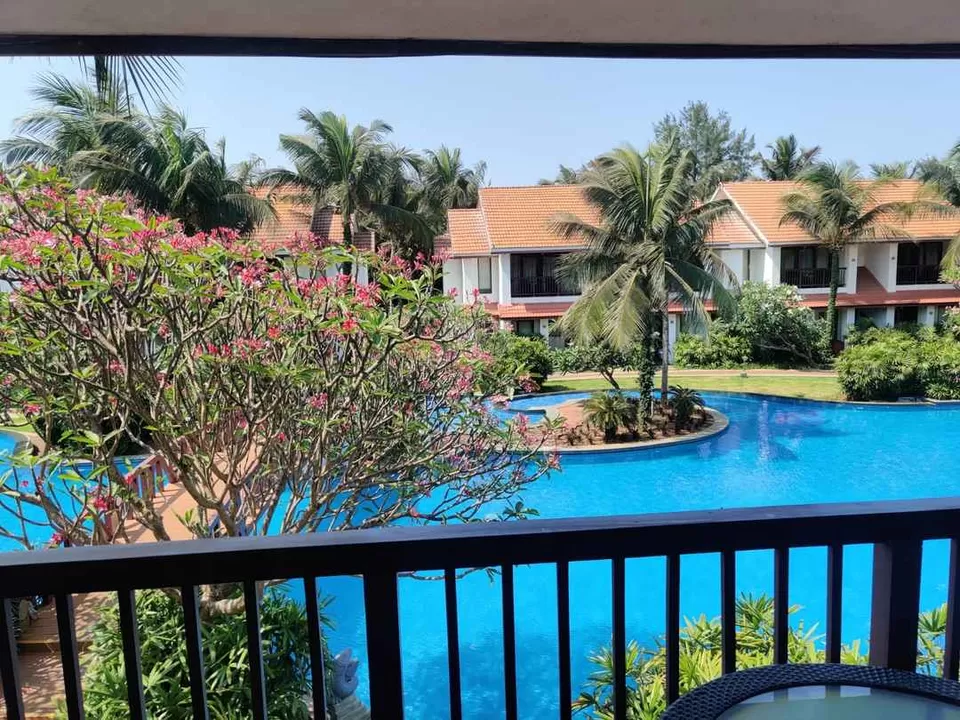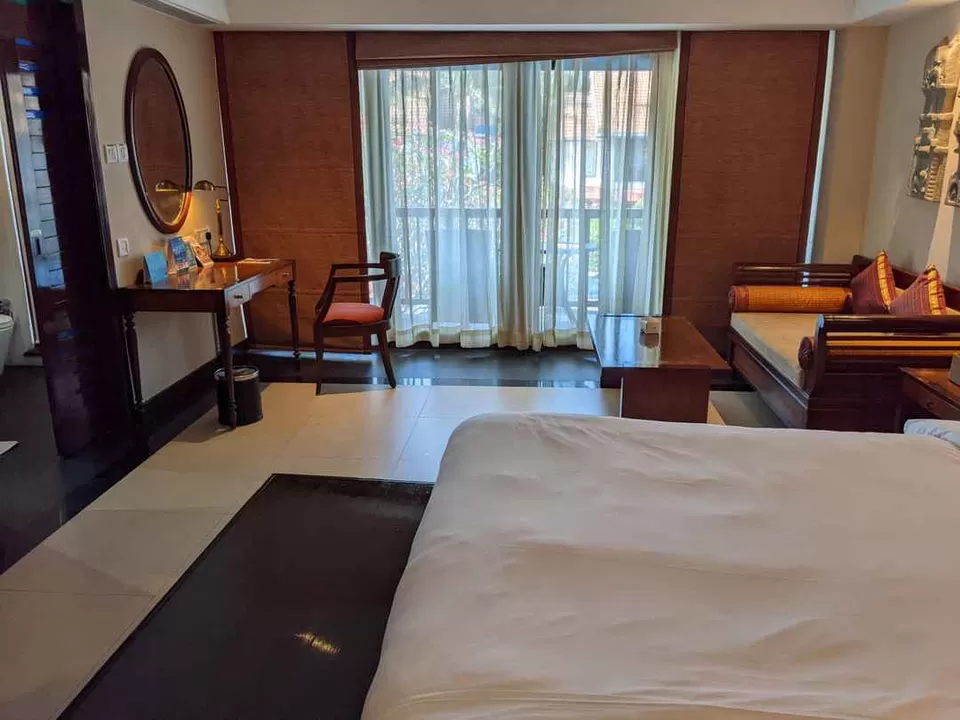 The meandering pool cuts across the chalets and villas and is supposed to be the largest pool in South Asia.
They have 2 restaurants. The Wharf 2.0 is located on the beach side, and has a romantic vibe(though menu is a bit limited, and service slow). But sitting there, we felt like time had slowed down.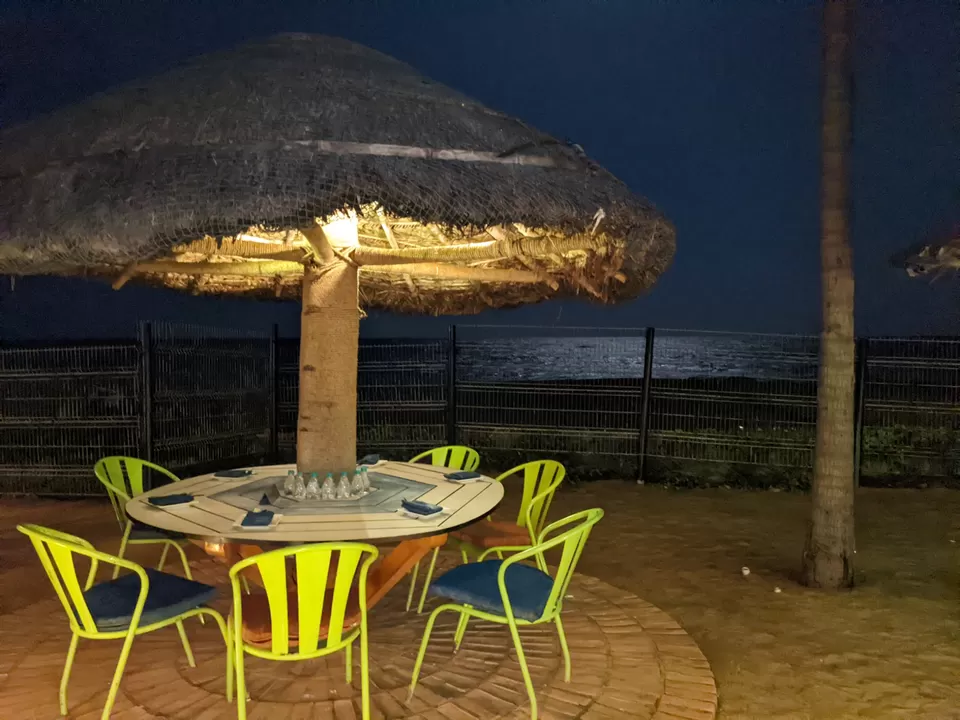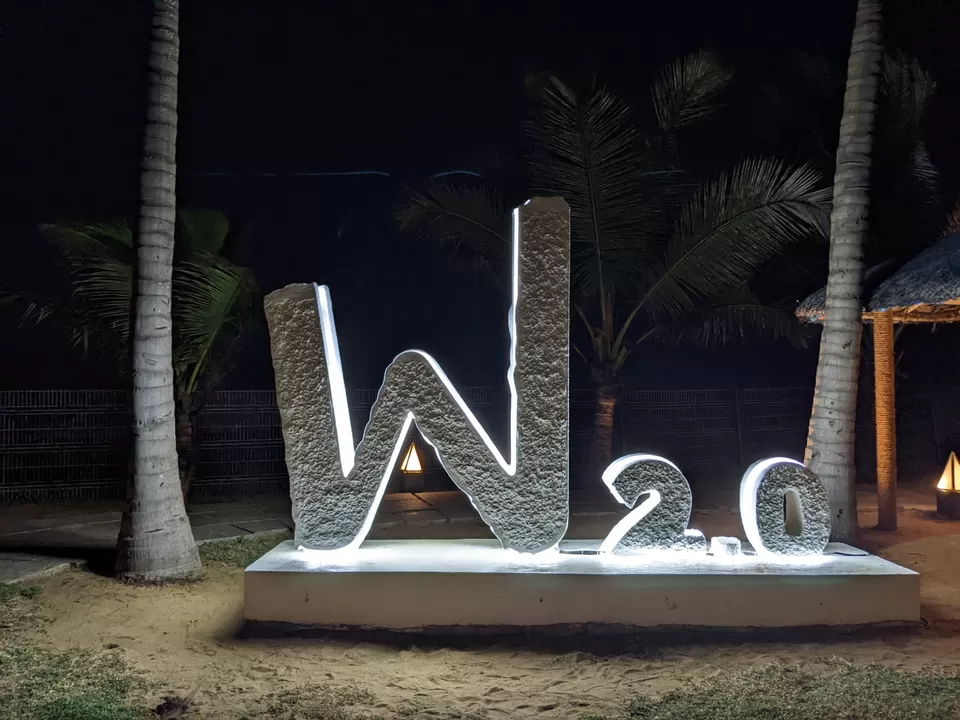 The Water's Edge Café is their main restaurant having an extensive menu and delectable spread.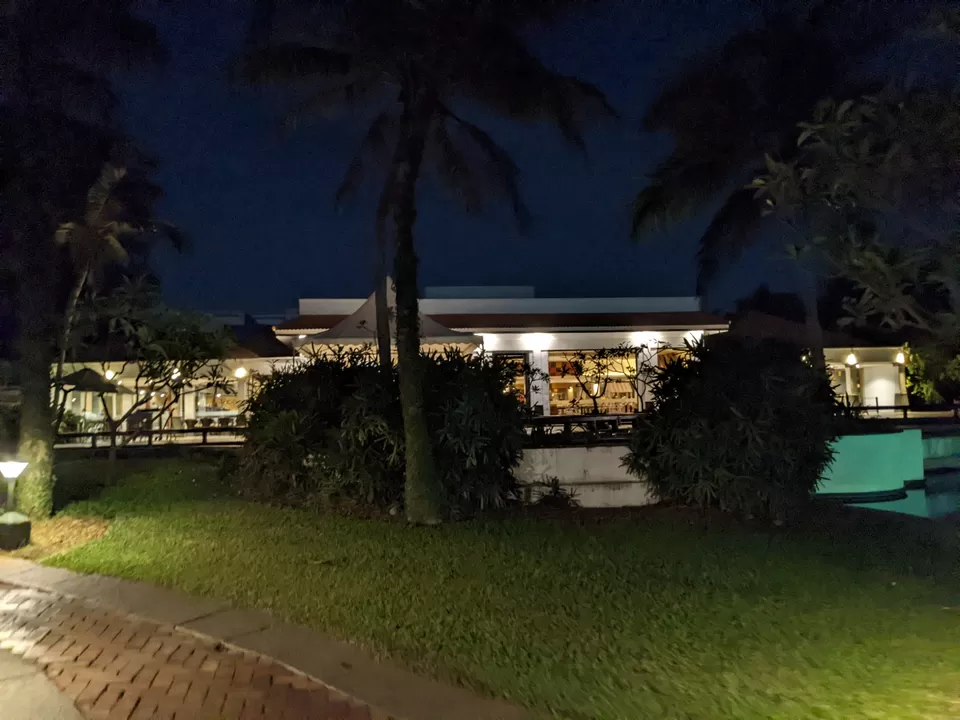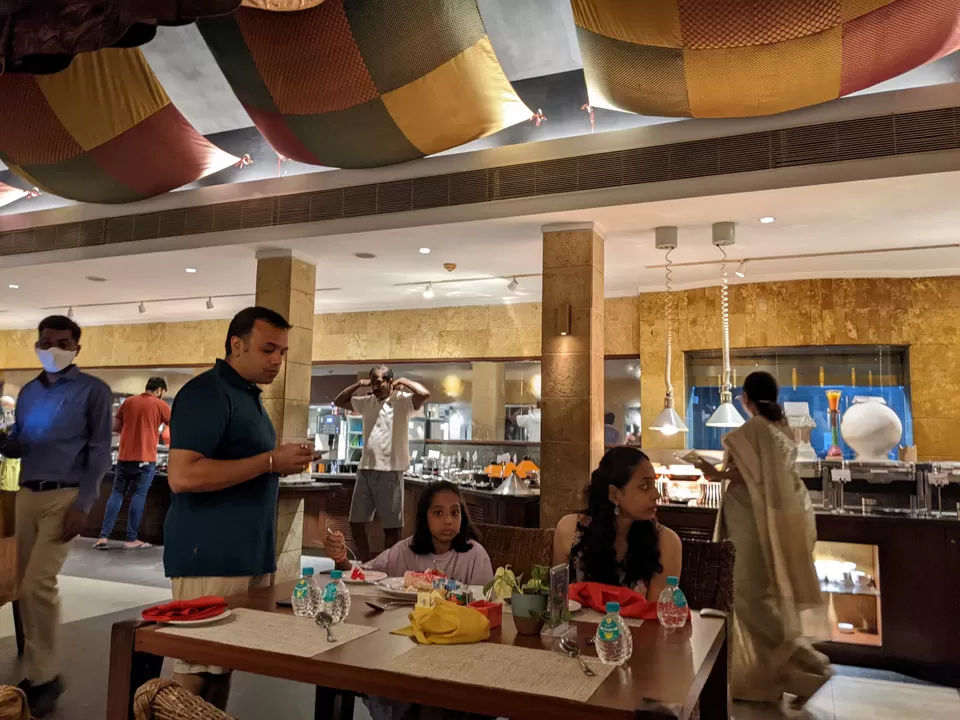 Things To Do At The Resort
1. Private Beach: Enjoy your day, or an evening at their private beach. I'd recommend evenings, because it gets really hot during the day. They also have seats facing the sea, if you are not inclined to dip your feet in the water.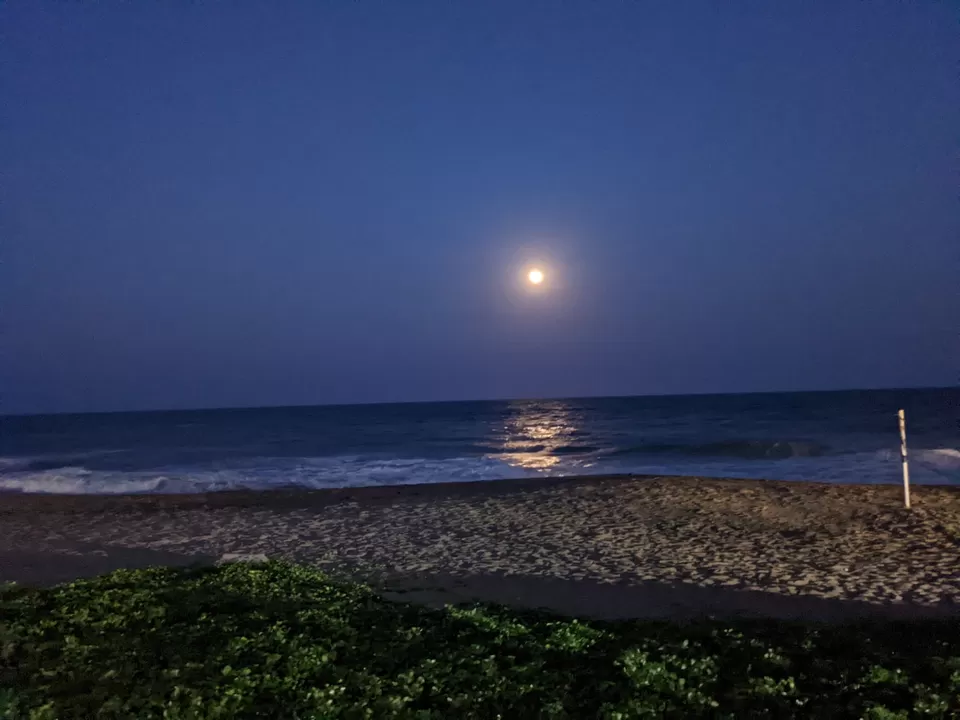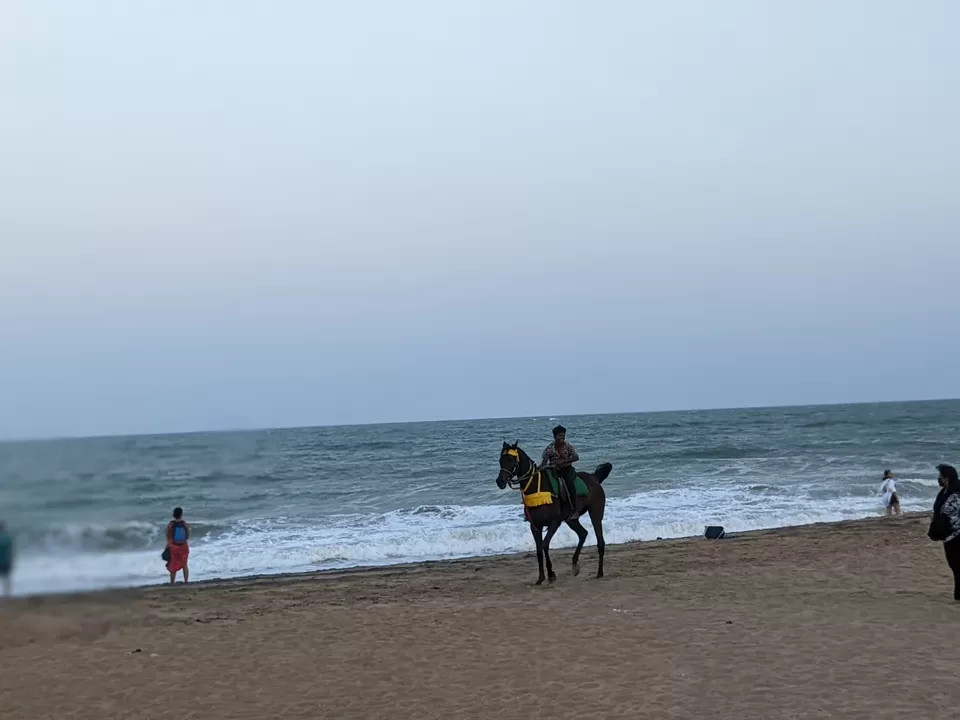 2. Pool for the Water Babies: They have 2 pools at the resort. One is an infinity pool overlooking the sea. The other one is a meandering 4 ft pool, where you can jump in from anywhere. They also have a raft to enjoy the long pool, and some other pool activities as well.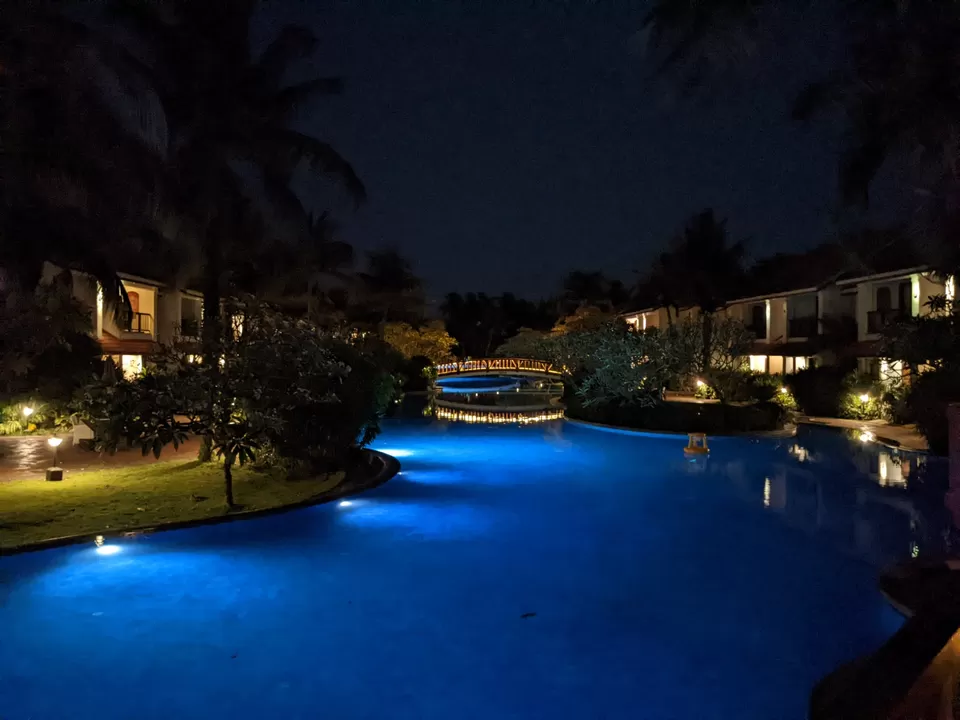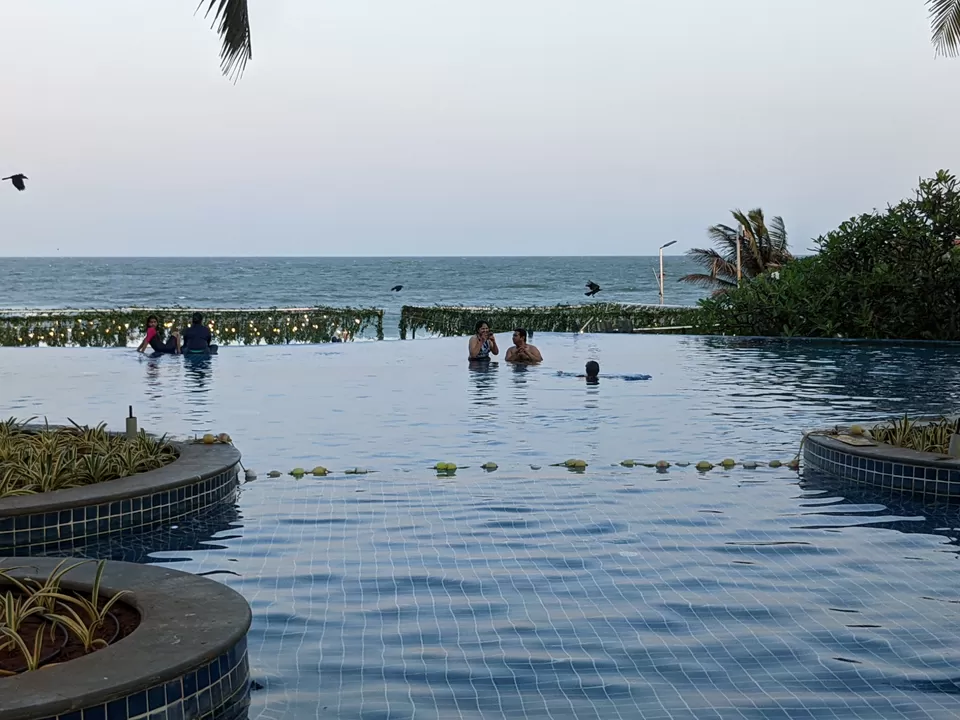 3. Child's Play: This is a kid friendly resort, having a separate kids play area. They also organize different activities and games on a daily basis. Some are free and some are paid. In case you are looking for a game of chess Harry Potter style, the huge outdoor chess board should be your go to place.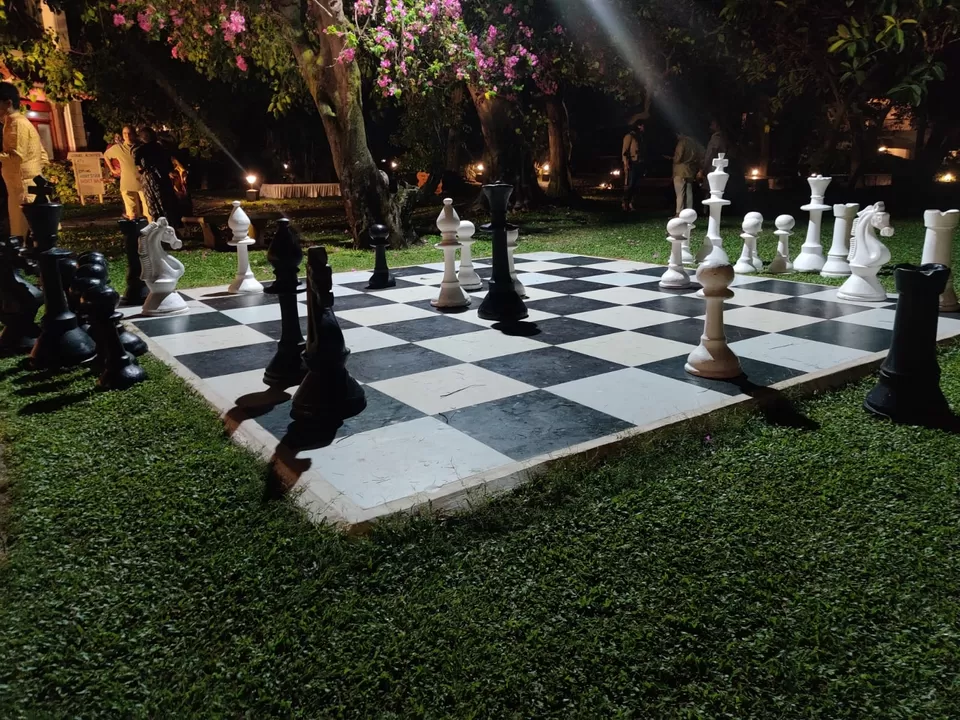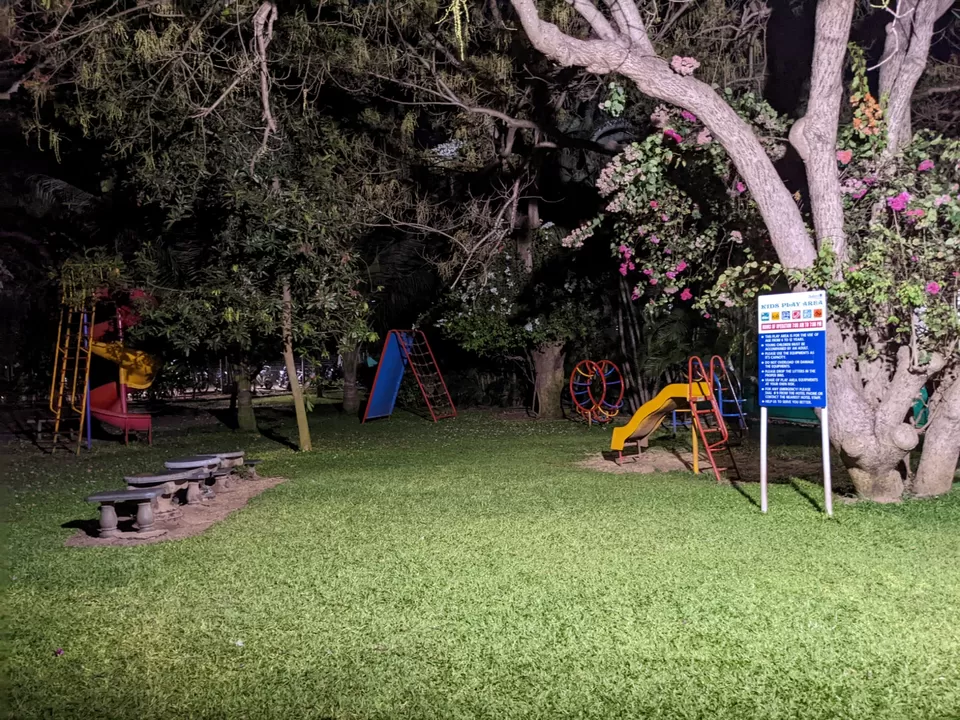 4. Other Activities: They offer cycling, ATV rides etc. for enjoying in the resort.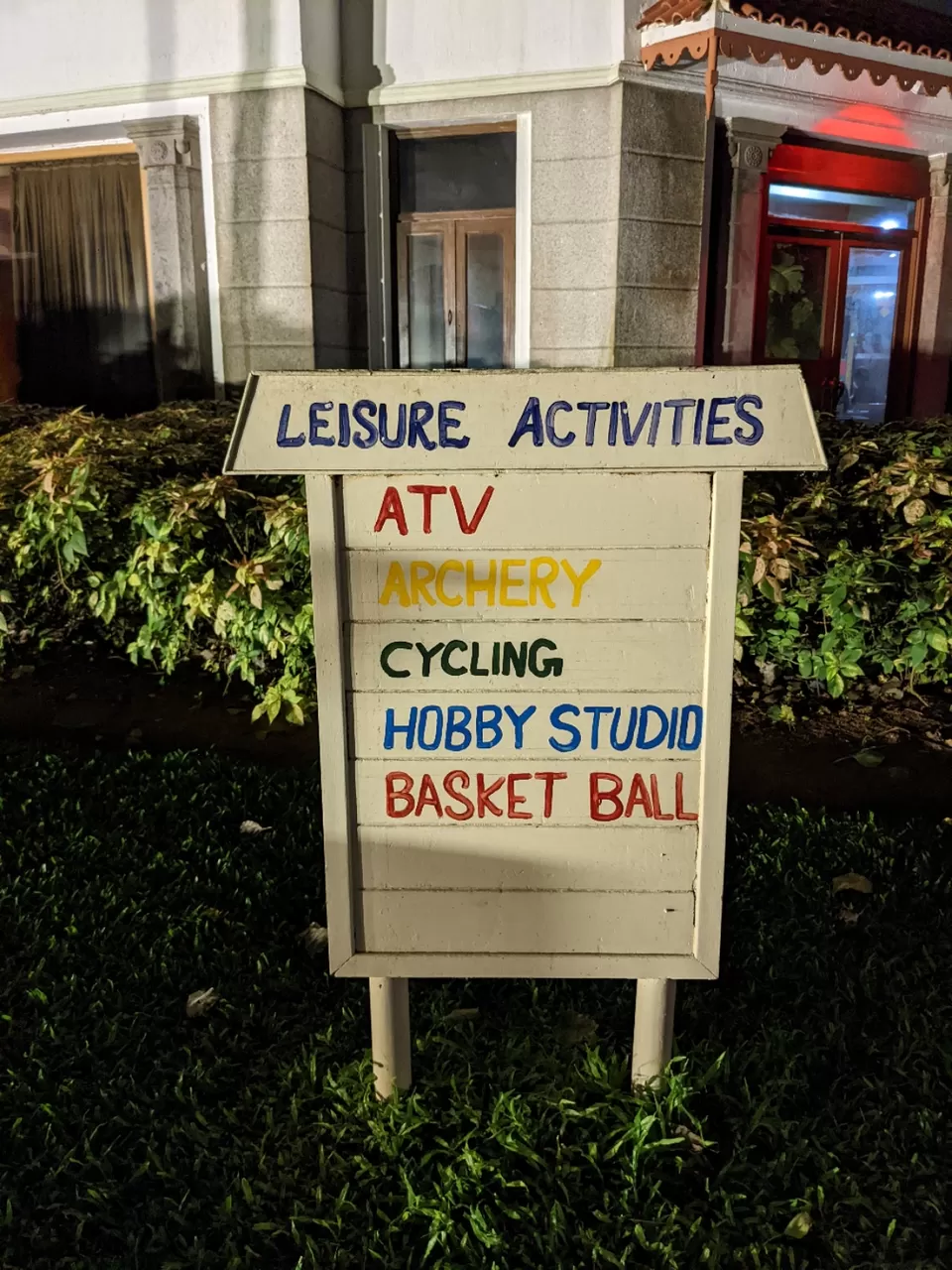 5. Spa: The Bodhi Spa on campus will make sure you are completely relaxed on the vacation. My husband tried out a foot massage, and he assured me that it was an amazing experience.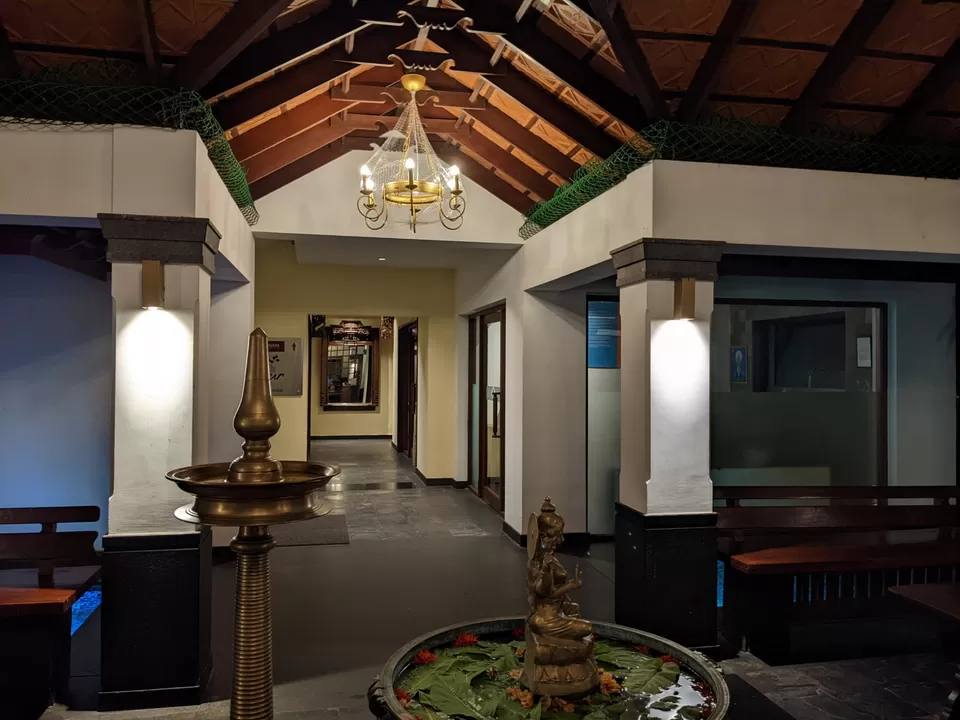 6. Enjoy a romantic dinner by the sea side: The Wharf Restaurant is a perfect setting for unwinding with drinks and your partner. We really enjoyed the ambience here.
7. Photoshoots/Special Celebrations: We saw a beautiful beach side wedding while we were there. So, for all those searching for a destination photoshoot, celebration or wedding, this is a mind blowing venue
Things To Do Around The Property:
1. Visit a UNESCO World Heritage Site
The resort is located a stone's throw away from the Mahabalipuram Monuments, which are declared as a UNESCO world heritage site. In case you want to step out of the resort, make sure you visit these 7th and 8th Century Pallava Monuments. However, try to visit them early in the morning as the town gets really hot during the day.
2. Surf the Waves at Mahabalipuram Beach
For those who want to explore the town, Mahabalipuram offers a beautiful public beach. Surfing is an adventure you can try out. We've been there before, so skipped it in favour of the public beach
3. Enjoy sunset at a Blue Flag Certified Beach
Covelong(Kovalam) is a 20 min drive from the resort, and is known for spectacular sunsets. It also happens to be a Blue Flag Certified Beach.
4. Visit India's Oldest Lighthouse
India's oldest lighthouse, commissioned by the Pallava King Mahadevavarman I stands next to the modern lighthouse. I came to know this only after visiting Mahabalipuram. The lighthouse has been opened to the public since 2011
5. Extend Your Trip to Explore India's French Connection
Pondicherry, which was a French colony in India, is just 95 km away, and can be a perfect day trip or another pit stop for your trip
Ideal For:
-Couples looking for a romantic getaway
-Families (especially with small children)
-This resort is also pet friendly so no need to leave your furry friends behind
Best Time To Visit
November to February
How To Reach
The best way to reach Mahabalipuram is by road. It is connected by road to Chennai and other major cities/towns
Nearest airport is Chennai(50 km away)
A Small Tip
Lunch at the resort ends at 3 and dinner starts at 7. So make sure you reach before lunch or after having lunch. Their all day dining had only sandwiches and burgers. We faced this issue on our first day here.
Also, it's an expansive property so service might be a bit slow. However, the gorgeous resort, the courteous staff and the plethora of amenities and activities are sure to win you over.
How To Book?
Rooms start from Rs. 11,000 per night. To book directly, click here. They are also available on most of the hotel booking sites.
We loved every bit of our stay here, and each corner gave us tons of memories to cherish. If you are looking for a memorable beach holiday, then this stunning resort is the perfect destination.
Think we missed out on something? Tell us about it in the comments below. Or write about it here on Tripoto.