It was suppose to be a 10 hours bike ride but end up in 15 long hours....
Heard about a place, Velavedar? It is one tiny (34 sq. km) wildlife abode, situated in Gujarat, near Bhavnagar. Many years ago I had created a list of places in India which I wanted to explore in future. Velavedar was somewhere down the list.
This was going to be 'Vol. 2' of our last year's Jaipur trip. Same 6 of us minus Parag this time. Jaipur was a backpacking trip, this was a bike ride.
My friend 'Google' estimated a 10 hour long road journey. Around 547 kms, one way. The plan was, Friday leave early morning and reach Velavedar at evening, Saturday visit the park in jeep safaris, Sunday back to Mumbai. Everything went as per plan. I made it sound simple, but we experienced one of our longest ride, beautiful 2 jungle safaris.
Friday at 6:30 am, three Royal Enfields left Mumbai. Nainesh aka Bhau with Shalaka aka Vahini, on Electra 350. Rahul aka FishMan and Poonam on Thunderbird 350. Shanti and Me (aka Storytellers Diary) on Bullet Standard 350. As usual me and Shanti were late in the morning. At 6:30 am we left Mumbai.
For many of us this was first trip in Gujarat also riding first time on Ahmadabad highway. Also first long ride for Bhau and Vahini. It never occured to me, about first ride. For a first time rider, till Lonavala, is what I recommend. Being a non rider, Bhau, not only completed this ride but he did not crib about a single thing. All the time his spirits were high. I got to learn few things from him.
I know Rahul for a long time now, we met through our common interest wildlife and trekking. I no longer pursue wildlife. He does. He's a trekker, wildlifer, one of the very few people I know who goes on actual expeditions, professionally he's into ornamental fish business. Don't miss his Tadoba tour. You'll be mind boggled by his knowledge.
Poonam (Rahul's wife) is our role model. We always think of leaving our corporate job and just travel for the rest of life. She did it. She left her high paid corporate job and now she's pursuing a career in travel.
So the Ahmedabad highway, It's a straight road. No non-sense turns. Now I know the reason why most of sport bikers and Harley owners prefer this road for touring. It's flat. It's straight. It's wide. It has got some high speed patches. Though there is small/major truck traffic on the way. I personally found the highway a bit boring. Coz I don't have a speedy machine, our max speed was 80kmph. (While coming back Shanti woke me up twice, on this road. Going slow maybe safe for everyone else, but it is dangerous for me. I need speed or curves to keep me awake.) We took lot of small halts on our way. Around 2pm we stopped for lunch. Had some Gujarati food. I ordered my favorite Sev Bhaji. I love the way Gujarat government have maintained roads. These roads mostly carry heavy trucks. Thanks to industrialization. This is one more reason to hate this highway. It's polluted!! Specially near Surat. Diesel smoke, chemical smell, smoke coming from chimney. Fresh air finds you, once you leave main highway at Karjan.
The state highway from Karjan is a drag racer's dream. If you draw a straight line on a paper with the help of ruler, it is exactly how they have built this road. As far as you can see, you see road. Later at some random city, we saw black ibis flock. Just after leaving the place an ibis was flying parallel to our eyesight for few 50 meters. I slowed down my Bullet to match his speed. Then he crossed us above our head and went his way. Then we stopped for some delicious Guava. After sundown our speed dropped down to 60. It is safe to take it slow in unknown territory. But it also depends on driver's judgement. You see you're on a road trip, there is no fun if you can't take risk. Minor traffic situation at the final leg on Bhavnagar highway. A right turn 50 kms before Bhavnagar, will take you straight to Velavedar. This road becomes a part of sanctuary so be careful of animal crossing the road. Road started with almost no vehicle. It's a straight road again. I can see headlights far away but they are not coming closer any time soon. There were no big trees on either side of road but I felt that 'jungle lonliness'. Not scary, it was some feeling. Cold winds of jungle, started freezing my fingers inside the gloves. At 9:30 pm we parked our bikes at Kaliyar Bhuvan Forest Lodge, Velavedar. By the end of our ride I was not badly tired but I had enough for the day. My hands were shaking by cold. Bhau was almost to give up in that last leg. For him this was the first time, 15 hrs on saddle.
At Guest House, servants were waiting for us, coz we asked for dinner. Their usual leaving time was passed before an hour. We haven't had a proper food since lunch. And the last stretch was little long. We quickly washed our hands and attacked on food. They made some amazingly tasty dinner. We booked food for rest of our stay. This lodge is a well maintained property. Just next to entrance of park. It's not government owned. It belongs to local communities around. A good income source for locals. Their services are good and food too (If you are reading my blogs, you know how much foodie I am). After dinner we seated on the staircase and looked back, what happened earlier today. Talked about things we shouldn't do and what we should do while going back. At bed, Bhau and Rahul started snoring within couple of minutes. I fade out later in Shanti's arms.
I have a thing. After a long ride I wake up early. I was up in my bed by 4:30 am. Went out to see some stars. Not much stars but compound was lit in LED lights. It was definitely colder. After some time, everyone's alarm went off and we got ready for morning safari. Ours was an 'Ecco' booked. At gate our booking guy gave us an option of a self driven Jeep. Who will drive? not a problem, Rahul and me were excited. The excitement and thrill of driving a jeep in a National Park.
One can see wildlife right standing at the gate. While waiting for Jeep, we already spotted a herd of Blackbucks. Rahul spotted a solo Blue Bull standing far. His size and outline was enough for identification. The jeep arrived in 10 mins.
I had drove a Mahindra Marshal Jeep earlier. Mumbai to Ratnagiri and back. That was very long ago. Jeep's are better on these jungle road. Ours was Mahindra Boloro. Closed jeep. Rahul took the steering wheel on hands and I was with my Fujifilm. His theory was, I should get the benefit of morning soft light. I can click better while not driving. Which worked. Morning light in this park is the best lighting conditions.
Velavedar has appx 1,500 Blackbucks. Thanks to the good conservation effort run by forest department in past decade. On safari, if you gaze anywhere, you'll find blackbucks. Lot of herds grazing on either side of road, crossing the road, jumping along the road. Male Blackbuck's are absolute delight to watch. The dark black skin runs from head to back. Bottom is equally opposite colour. Eyes are circled with round white patch. Horns stand tall and handsome. Usually they stay in a group, we saw few full grown solo males too. Park has some watch towers in middle of nowhere. Actually whole area is a grassland ecosystem, so on horizon few trees marks a thin boundary. We spent some time at watch tower. Saw some herds at distance. Blue Bull pair was sitting near. Sun was enough into the sky by now. Dull brownish grass had turned golden. A Shrike was sitting on a branch of Acacia, near tower. When we left tower, the Bull pair was now in some mood. Female started running, male started chasing her. This is their typical mating behaviour, females choose their partners on the basis of how long they are being chased. Within minute they reached far away, we started our further safari. Before going for breakfast, we saw couple of Cars stopped at one point. Slowly we reached there. People were pointing towards the grass nearby. I saw an animals's back just coming above grass. Next second it disappeared in grass. Other cars said it was Hyena. Now it is little complicated when I say "We saw Hyena". But technically...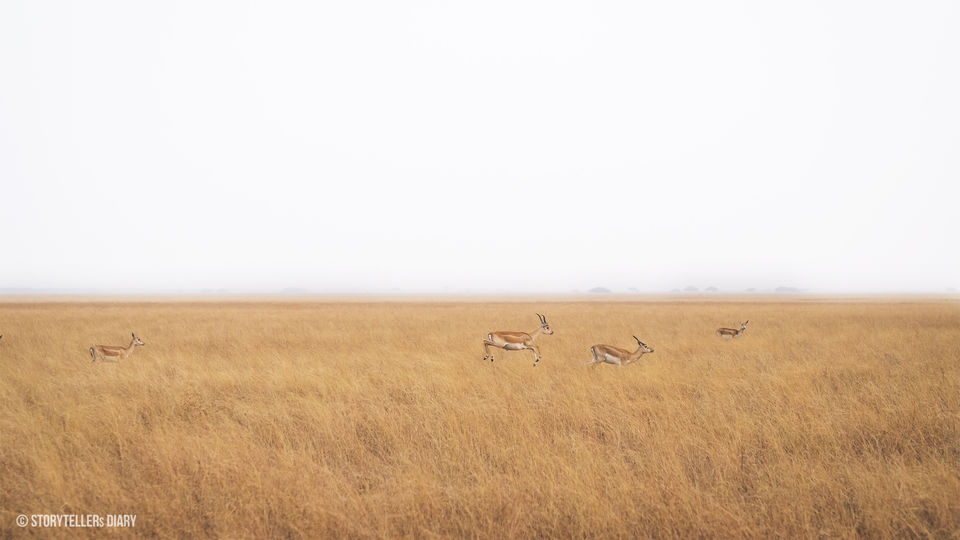 No luck with predators in the morning. We saw lot of birds. Drongo, Shrikes, Doves, Collard Doves, Harrier, Black Shouldered Kite. Full battalion of common cranes.... At 9:30 am we came back to our lodge for breakfast.
Velavedar do not have big carnivores like Leopard, Tiger, Lion. Main predators of this park are Wolfs. There are Hyenas who steals from wolfs. Then there are Jackals and Jungle cats. I have never seen any one of them except Jackal. To cover these animals in two safaris will be pure luck.
The road which comes from Bhavnagar Highway (yesterday night's last leg) to Park's entry, it divides the park in two area. Left area (Grassland), we explored in morning. In later morning, we decided to explore the other side of park which is known as Wetland. This time jeep's wheel was in my hand. Rahul was now concentrating on photography and sightings. Most of the land here is covered with white salt layer. May be the salty water from nearby creek will be spreading on this flatland, during high tide. We reached near the water. As we were late in the morning, bird activity had reduced drastically. There were few Mallard ducks in the water. And some other waders. But it was much less than expected. The actual creek is very far from road. There were few birds but out of our reach.
Our first safari was not bad. In-fact we loved it. We were back at lodge. Once again hungry us attacked on delicious lunch. Sev Bhaji, Chapati, Rice, butter milk, Mirchi, Pickle were common through all the meals we had here.
Evening safari starts at 3:30pm. This time we decided to skip wetland part and focus on carnivore. First we checked out the Hyenas spot. No activities there. It is difficult to spot animals here though it is plain grassland. We can't follow pugmark. Birds don't raise alarm call. First two hours were dry. No luck with Carnivore. We visited a museum, which has coloured pictures of fauna in the park. Museum also talks about history of the park. The park was created for hunting purpose. Kings who ruled here, they used their cheetahs to hunt blackbucks. After museum, Rahul took control over jeep. We were left with last one hour of our safari.
Clueless us started our return journey. Now the plan was to spend some time at Hyenas place. A Harrier passed us. 100 meters ahead, Rahul saw something came out from trees on north right direction. He was coming straight towards our jeep. We were not sure between jackal, Hyena or Wolf. As he approached near, Rahul confirmed it was a Wolf. Slowly from the grass, he came about 50 meters in front of jeep. Stopped for a look at our jeep. Crossed the road and went in grass towards our direction. He passed us from left and went to south direction. When he passed us, it was the much closer look of such a beautiful carnivore. He had a big jawline. Built was healthier and taller than a jackal. Dark brown skin with dark patches. His eyes tells a blood history. Jackals eyes are cute but Wolf's eyes are opposite nature. His eyes shows a hunger for blood. Before disappearing he looked back to us from a higher ground. If we draw a straight line from where he came out of woods and where he disappeared, the jeep intersects it somewhere in middle. We were standing in his path. I can totally understand the fierce look we received. Moving ahead about 100 meters, we again stopped for some action. It was a jungle cat this time. Walking slowly in the grass. On our left, little far from the road. We could see her but our camera lenses did not have super-zoom to capture it. She used to disappear in between the grass. After spending 10 minutes, realising she will not come out on road or near, we left the spot. Oh my god!! Everyone was so happy with the sightings. While returning towards gate we stopped for 5 minutes at the Hyena spot. No activities here, I guess we'll keep the hyenas for the next time.
The park turns into a magic at sunset. Far away a group of Blackbuck's makes a perfect silhouette shot. Blue bull is gathering his senses for the night. Vegetarians had their day, night belongs to scary souls. As we move ahead towards the exit, sun is playing hide and seek behind Acacia trees. He found a place below horizon and left us with twilight. This part of Gujarat is surprisingly quiet. Even people too.
Dinner was served earlier at 7:30pm. A Hare, at night, plays in our compound. We watched him for sometime, after dinner. While sitting on the stairs, we chatted about today and tomorrow's ride. I would suggest you to visit here in December, on a full moon day. The night here will be awesome. You can watch animals nearby. We left our guest house for a small walk nearby. We saw an owl and lot of stars. We Mumbai people are afraid of dark. There was no human soul nearby, no large predator, no traffic, no alien activity and very thin chances of ghosts. If we find stars above our head, instead of tungsten bulb, it means a sign of danger. Without going further we returned back to our guest house. Night went well. Peacefully slept.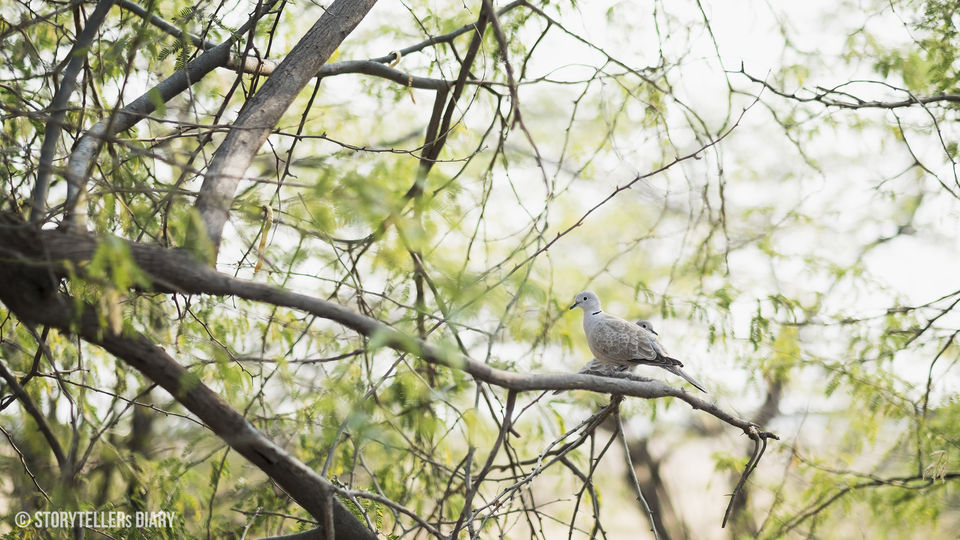 We were done with our business here. Two amazing safaris. Beautiful landscape. Unlimited blackbucks. Today's morning was a chill. We got ready, loaded our luggage on bikes. Left our guest house, parked our bikes at the Park's entry gate for our group photo with bikes. I should ask Royal Enfield to publish our photo, coz very less (almost no) biker rides here from Mumbai. The road is perfect for less experienced riders. Left velavedar at 7:35am. Just ahead we saw a Blackbuck's herd crossing the road. After them we started our Mumbai journey. While returning we had decided to keep our speed above 80-90. We were fast throughout our ride but took longer halts in between. 15 hours later we touched Borivali.
Ride was good, Experience was better and Memories are the best part. I don't know when i'll be doing a trip with these people again. Until then, I'm gonna miss them. Thank you guys.
Keep Travelling.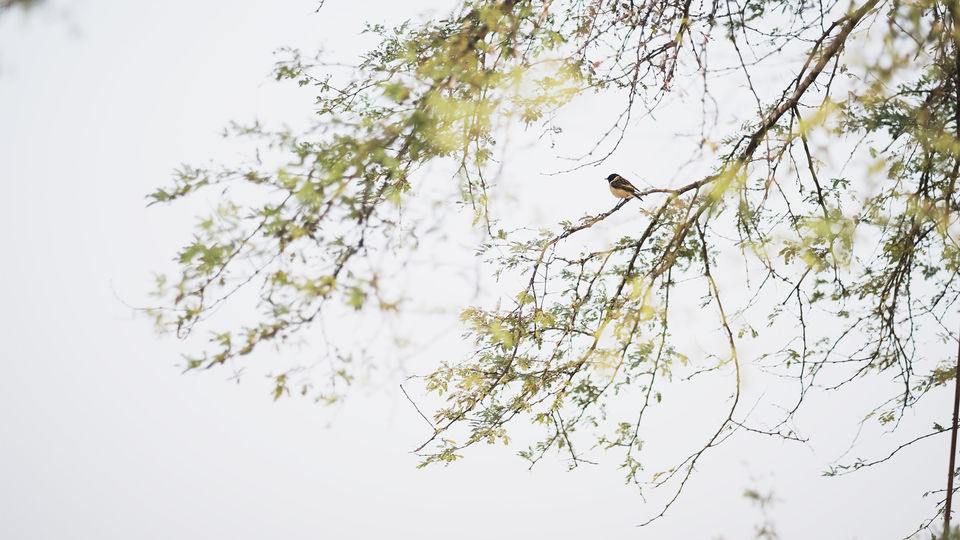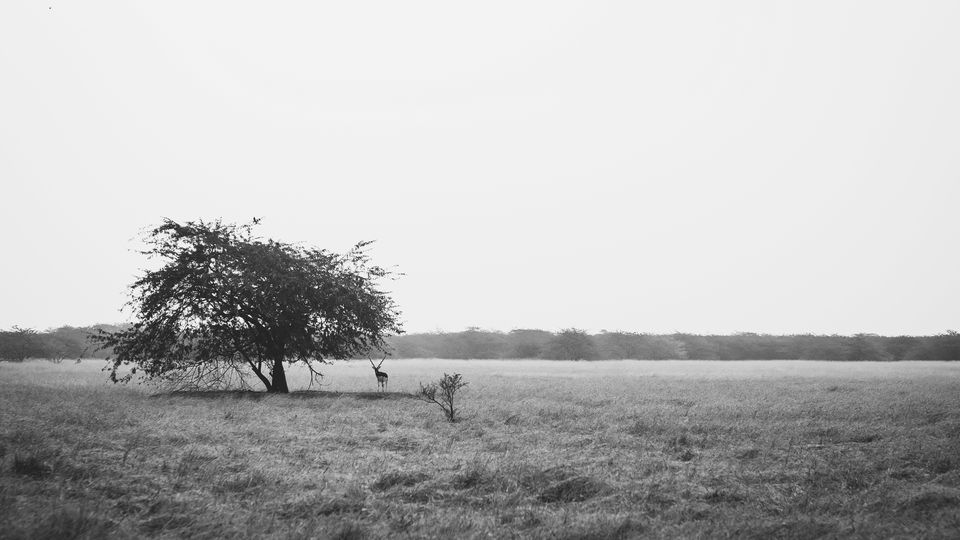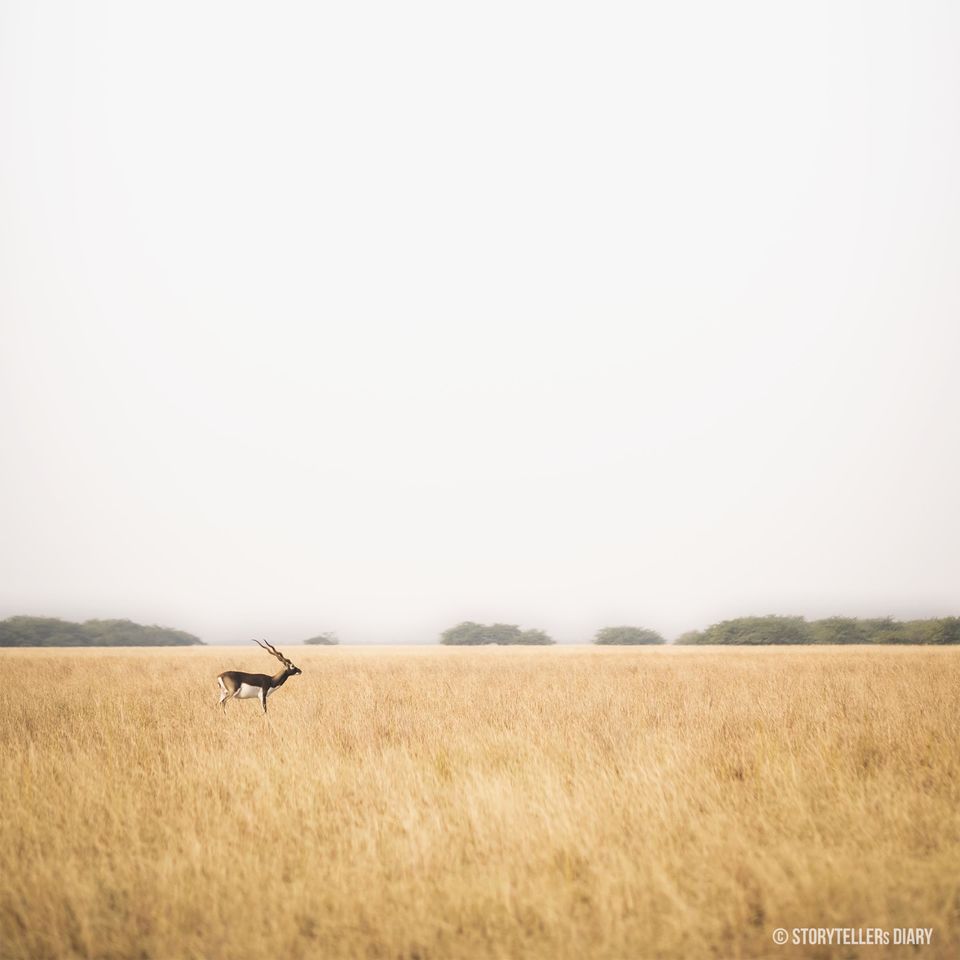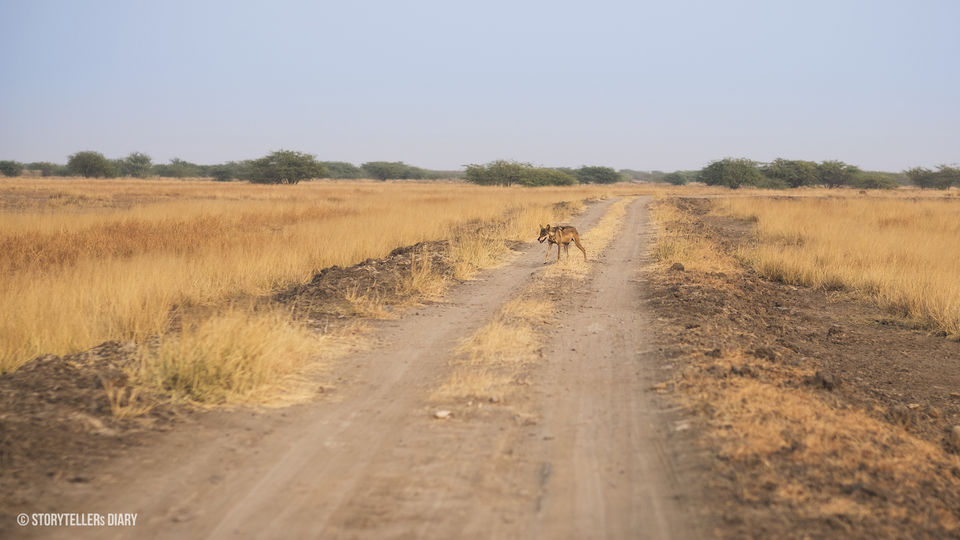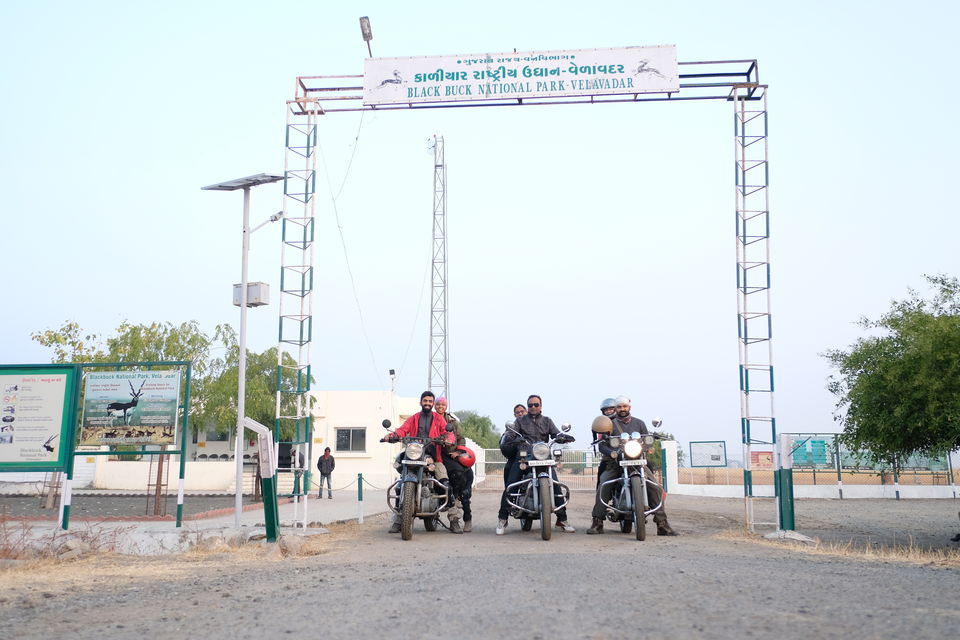 More pics on my fb page "A Storytellers Diary" a https://storytellersdiaryblog.wordpress.com/2017/02/17/a-diary-of-cute-wildlife-velavedar-bike-ride/