The trek in Great Himalayan National Park for 10 days was just finished two days back. And I was ready for another adventure. The region of GHNP is full of greenery and variety in flora is staggering. Lots of birds, butterflies, clean river ( Teerthan ), pine clad forests, fruits and welcoming people. Those 10 days of trekking gave me lots of friends and a different perspective in Himalayan trekking.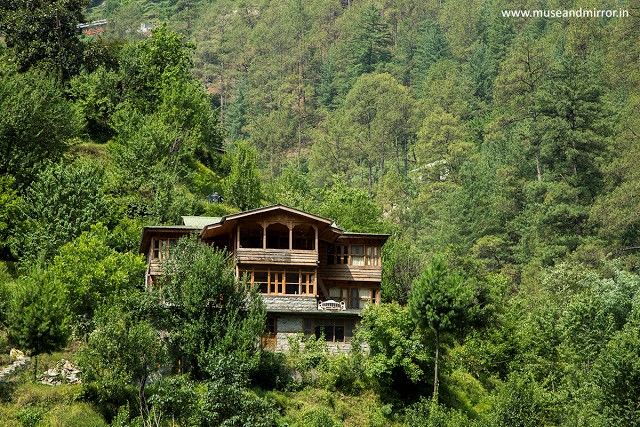 After that the new adventure was waiting. And everyday was different from the other. It was 14th June 2016 The plan was to cross Jalori pass. One of the most famous and also dangerous pass to cross. We had to cover the 65kms journey from Ghushaini ( 4500 feet) to Jalori Pass (10800 feet) to Anni town (6000 feet ) in a day. what you can see see in a day is really wonderful variety in mountain vistas, forest types, birds.
The difference in flora can be seen as you go up and down.
I met Rahul in Teerthan valley who was running adventure activities over there. When I told him about my plan for the covering Spiti and Kinnaur he told me they are also doing this circuit. And next moment I became the part of their journey ( of course after informing my better half :-) ) And we left for Jalori in his Gypsy. What a wonderful feeling to be ride in the Gypsy on Himalayan roads !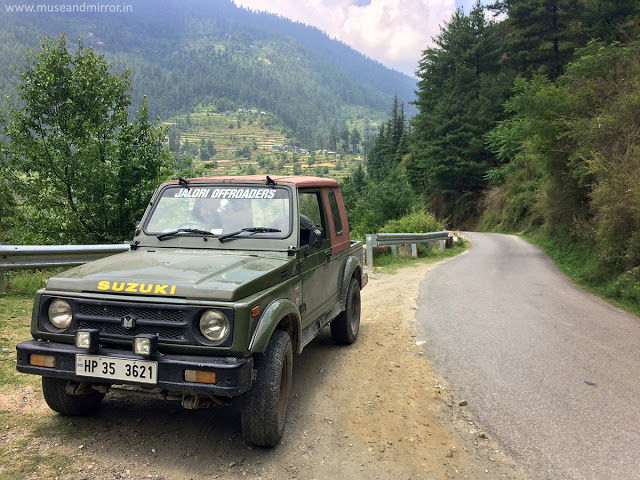 While going from Ghushaini we met this gentleman who was sitting relaxed allowed me to click him. The peaceful expression on his face and the cap made me to click him.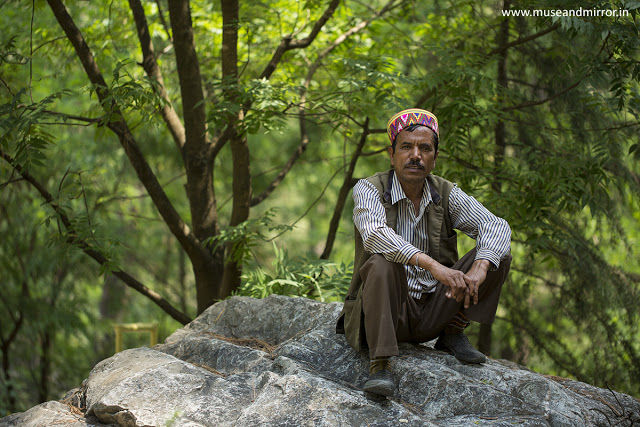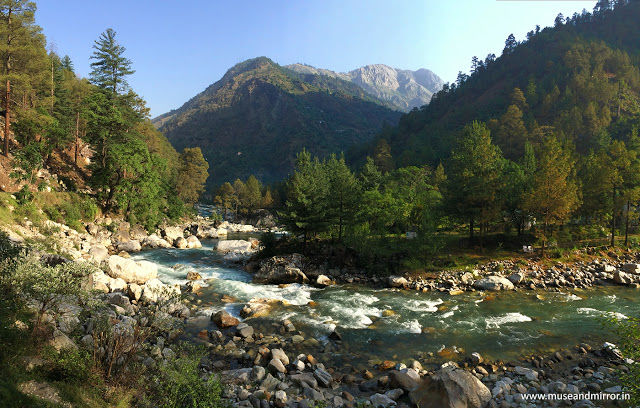 And it was a time to say good bye to the beautiful Teerthan valley. So we left by clicking the last pic of the valley with this butterfly/moth. Songs started playing in the Gypsy and I took out my camera to shoot pictures of the journey.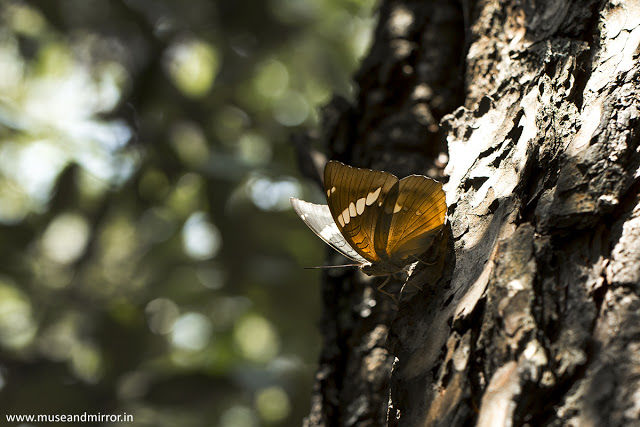 Rahul was driving the gypsy. After crossing Ghushaini comes the small town Banjar. You can get everything of your daily needs over here if you are planning for a trek in the Great Himalayan National Park or Teerthan Valley. One way leads to Jalori and the other goes to Kullu via Aut. From Banjar town's mini alleys our vehicle negotiated way on the left up. Pines of all shapes, sizes and various hues of green was spread till the distant horizon touching the sky.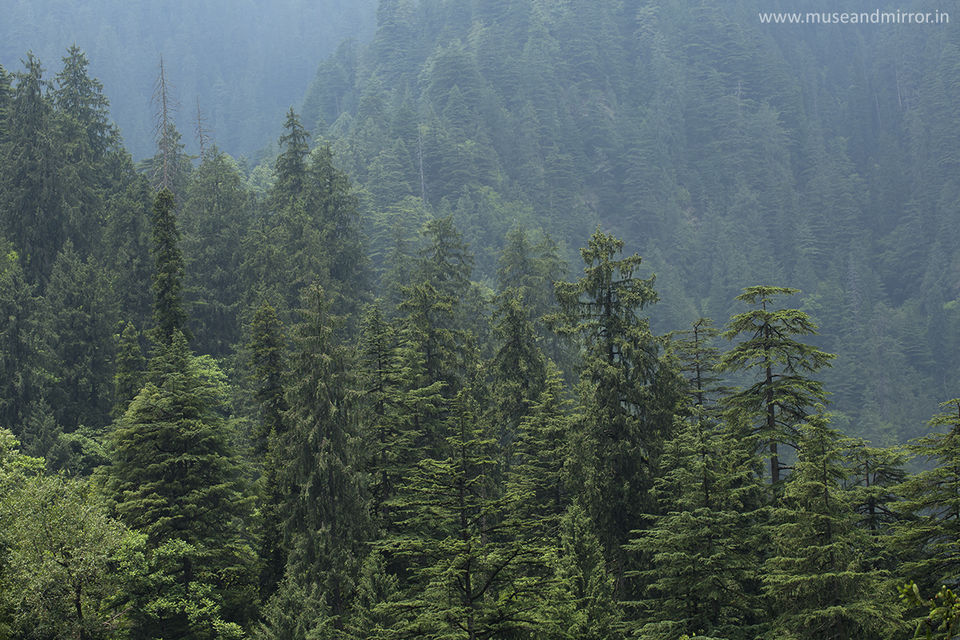 Rahul told me beyond them is the high point where the temple of Durga ( Mahakali) is situated. That is the highest point of the pass. I was enjoying every moment of the Himalayan beauty. We were discussing about the place, people, festival and activities to do in the area. He said the drive was going to be very steep and bad. I was half confident half skeptical. Before coming here I read warnings on various blogs. But the temptation was just enough to follow the heart. ( In rainy days this will be a difficult drive due to the no road situation. ) I was wondering about the bad plight of the road.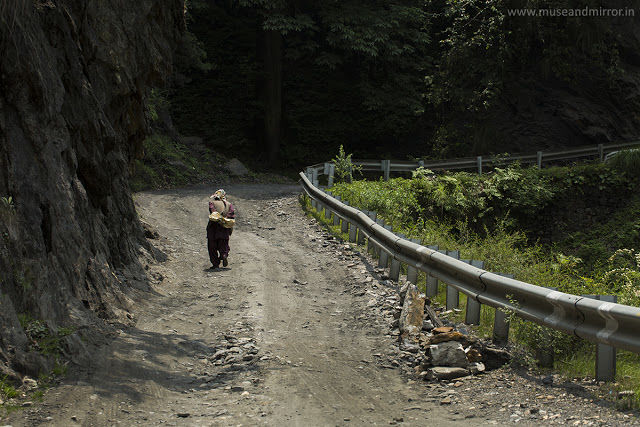 But when I saw this old lady silently walking to her destination. I was looking at a moment of someone's life going in a silent peril without a complaint. This picture clicked from the back. But when I saw her calm expression this gave a message without words. I was yet to meet so many amazing people like her. Living in a rhythm with the mountain in all situations. There's this quote; My life is my message.
It is true with people like her; who truly makes life beautiful even in most demanding situations.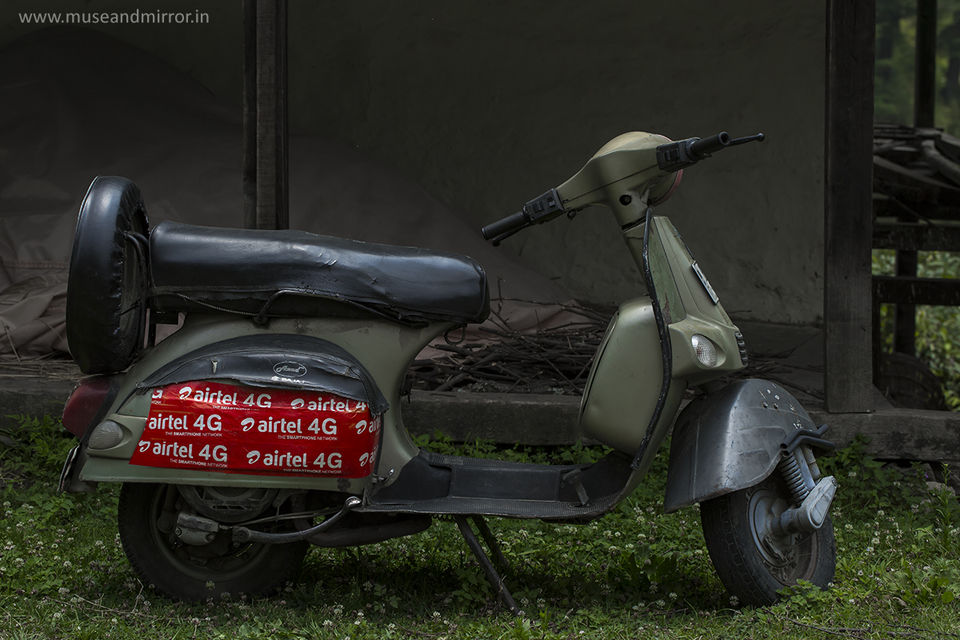 I found airtel's presence not in my mobile network but on a scooter. A very good idea to cover his vehicle by the owner.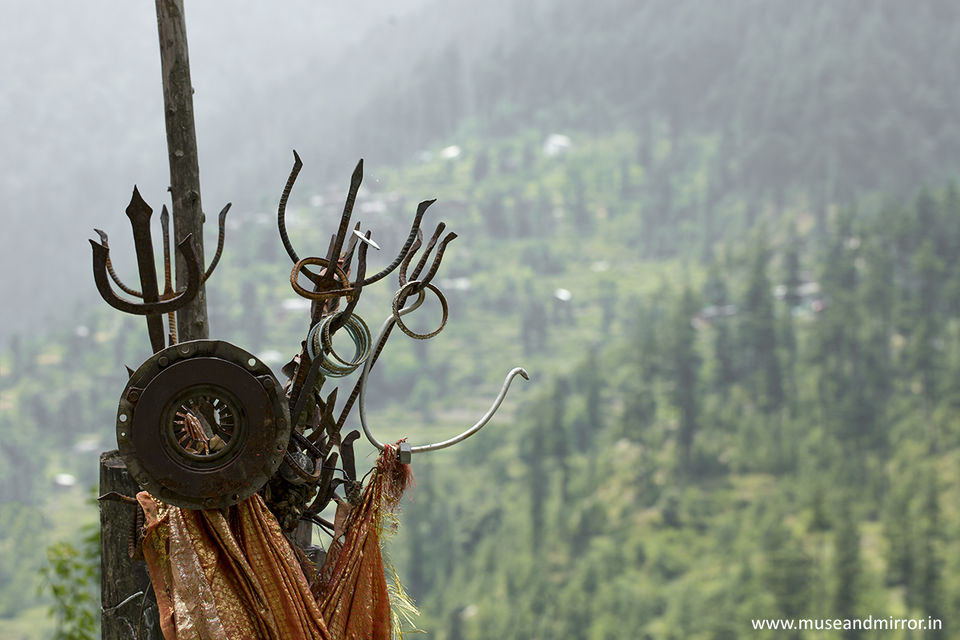 Sometime some things you don't see in your regular life. I saw these Trishul's at some mountain villages. Don't know why so many things are together but this must be a religious / sacred place worshiped by local.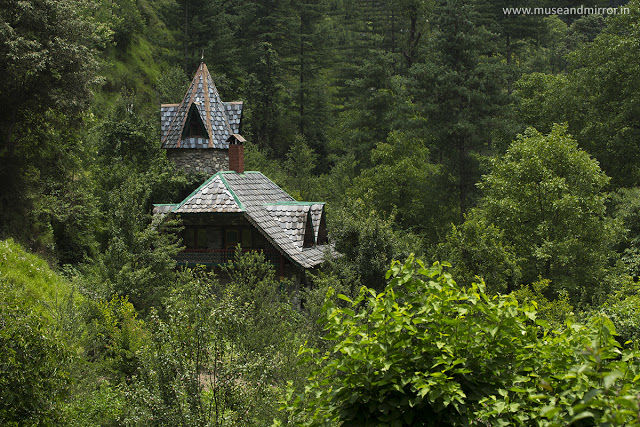 In Himachal local houses are very beautiful and some houses have colonial impact. These two cottages as per Rahul's information were built by the Britisher's. Not sure but indeed beautiful amidst green hill slope!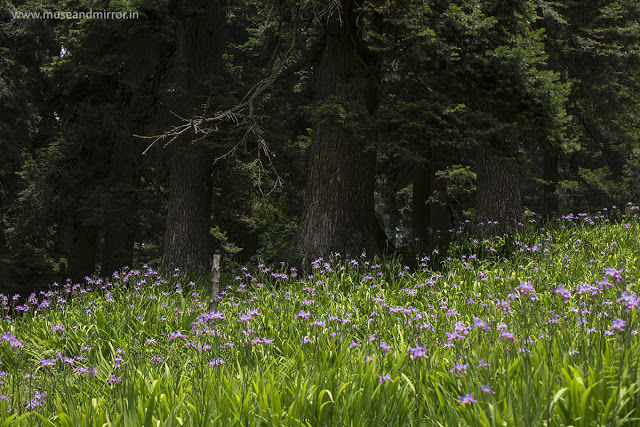 After attaining at certain height we saw these flowers all over on the forest floor below. It was looking like a garden from a fairy tale. Those flowers were accompanying us more than a kilometer. Soon our uphill journey came to an end after long and strenuous and safe drive of Rahul.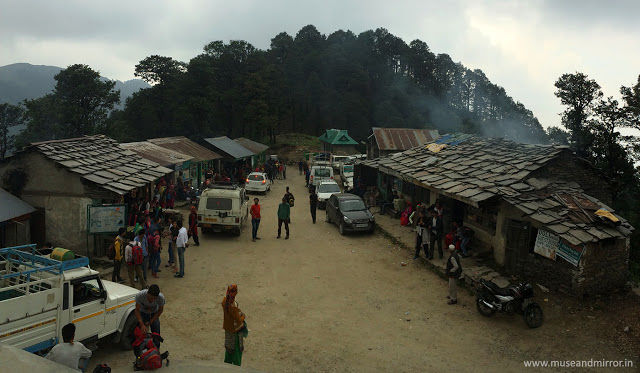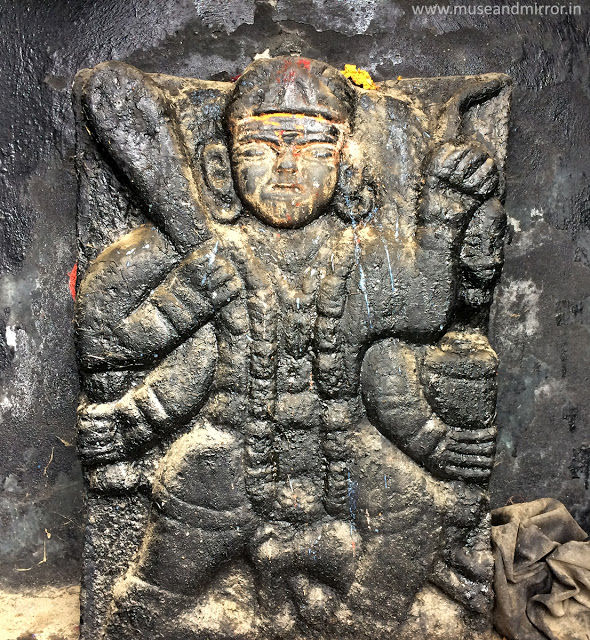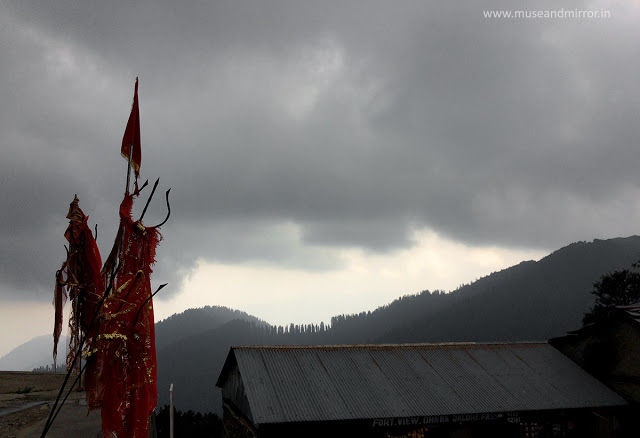 We came to the top of The Jalori Pass road. A small settlement market & hotels near the temple( Mahakali ) was bustling with local and travelers. We had a cup of tea in a hotel where I couldn't resist the temptation to capture the photo of fresh served Rajma & Chawal . It really delicious especially if you have it in Himachal. It is omnipresent here. At Jalori pass near the temple every shops has this menu ready & hot to serve on your platter.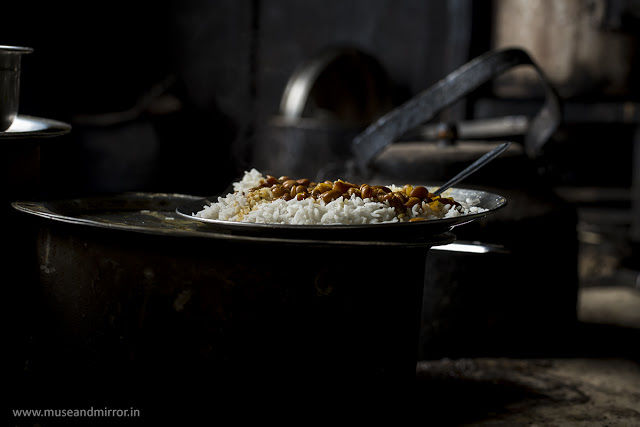 And then I left for the hill behind the temple looking for valley view. Fortunately I got some very beautiful pictures. Small wildflowers, moss, grass and much more to soak in the cool environment. Just a few meters above the temple was complete peace and floating clouds in the sky.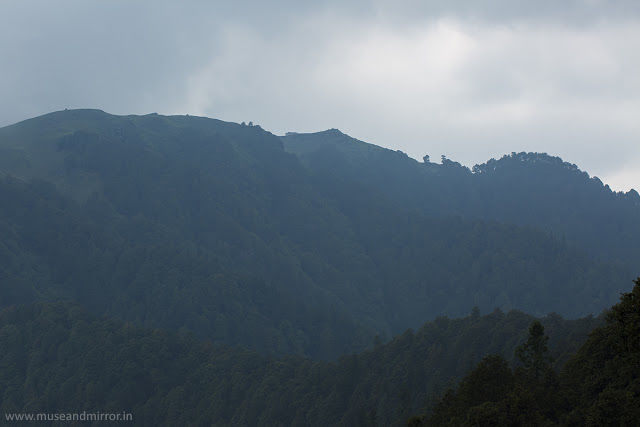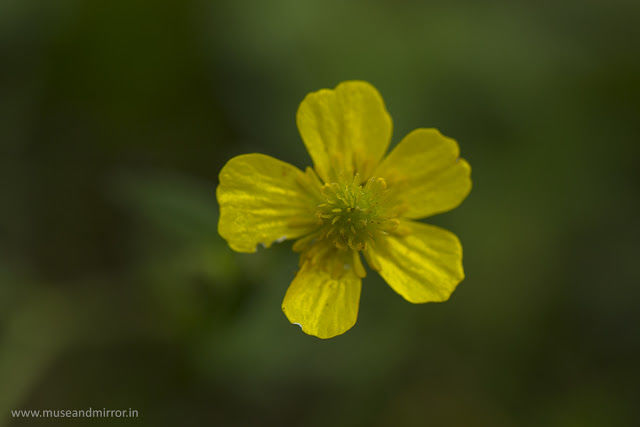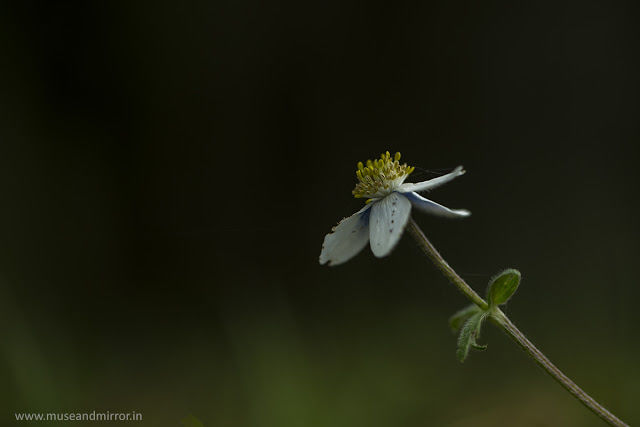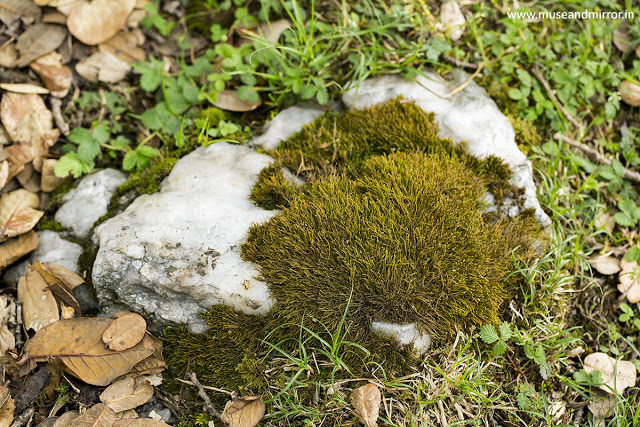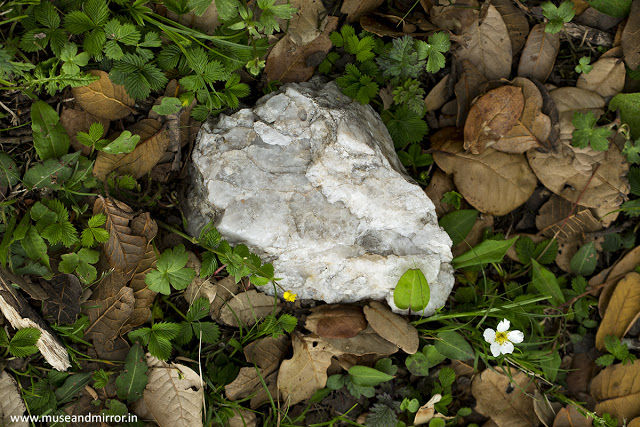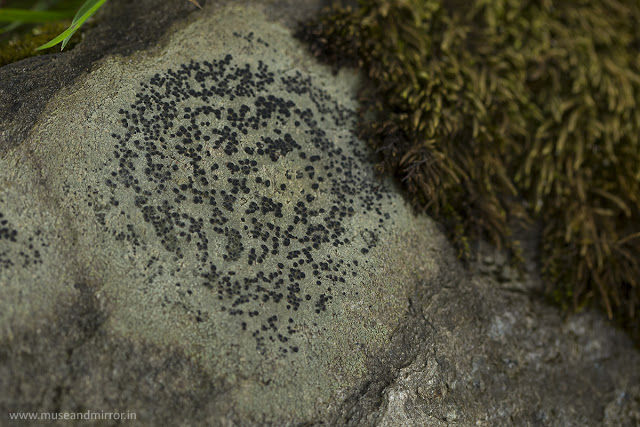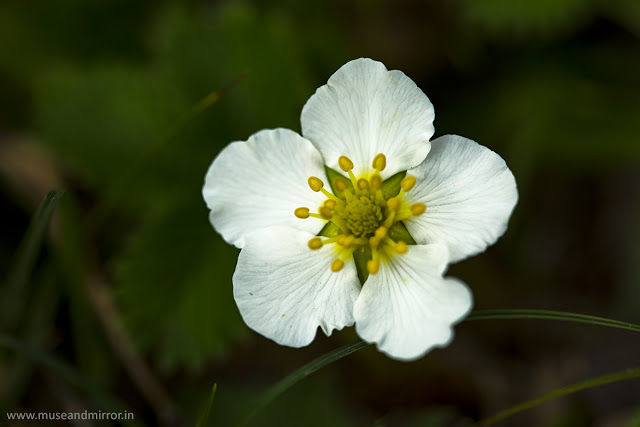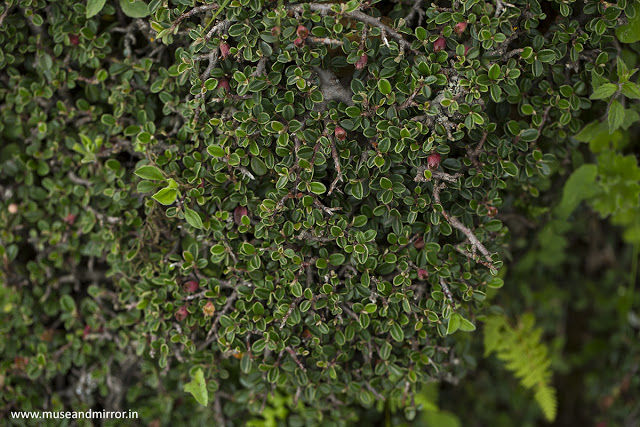 Now I was quiet after absorbing so much. The road was winding like a huge snake. Eventhough after encountering difficult terrain there was so much to see. And now we were entering into the Anni side. From here we were supposed to go to the Kinnaur by next day.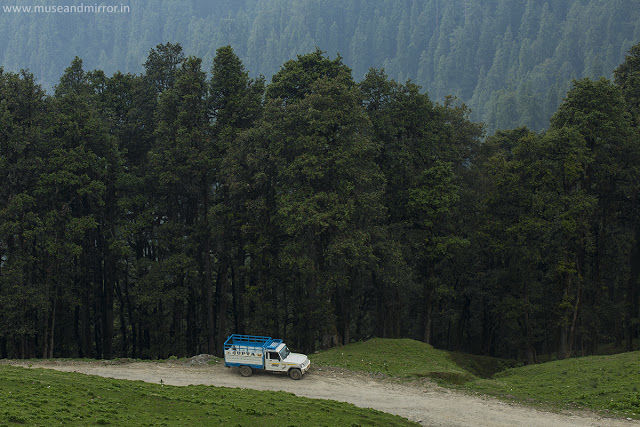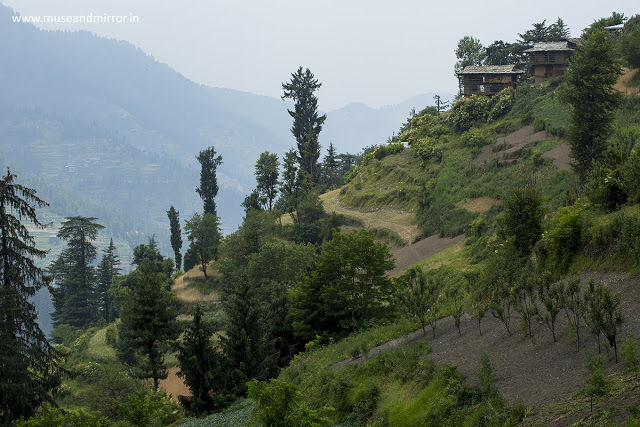 Here is a pic of the landslide en route ; these rocks always keeps coming on the road. Due to the time limit we couldn't do the Serolsar lake trail. Definately this place needs time to appreciate. We were going close to Anni; a small town in the valley. Will be posting about the journey and it's pictures soon in the next post.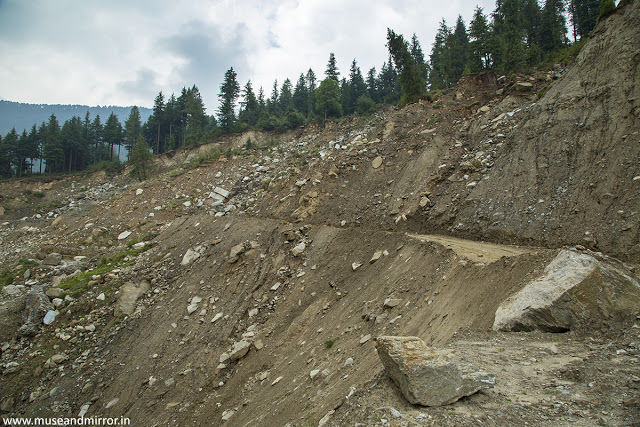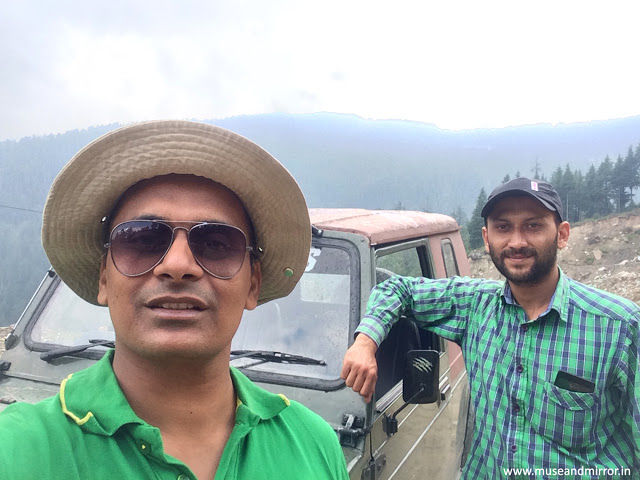 To see : Flowers, forest, Jalori mata / Mahakali temple , Serolsar lake trail, apple orchards, valley and local houses.
To eat : Rajma Chawal, Maggi/omlette by the valley side hotels or Siddu ( local food- must taste).
Take care : Most of the time on first gear, check the vehicle before planning for this trip, always have an expert / local driver. Sometime in the winter it closes and become slushy in rainy season.