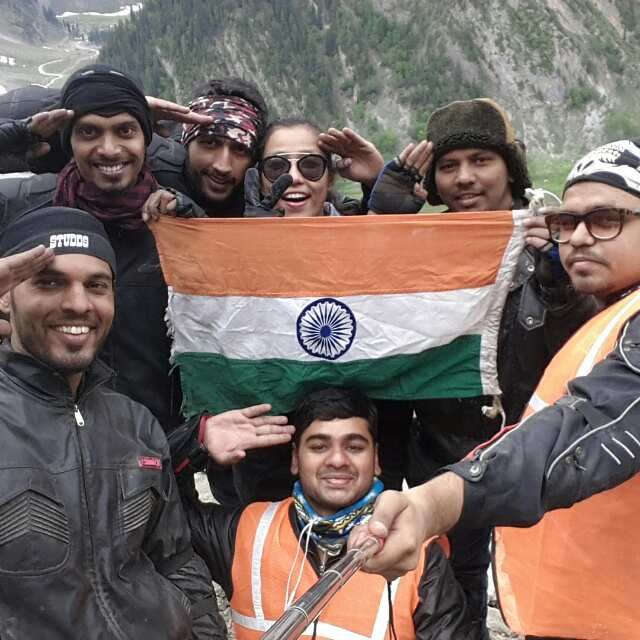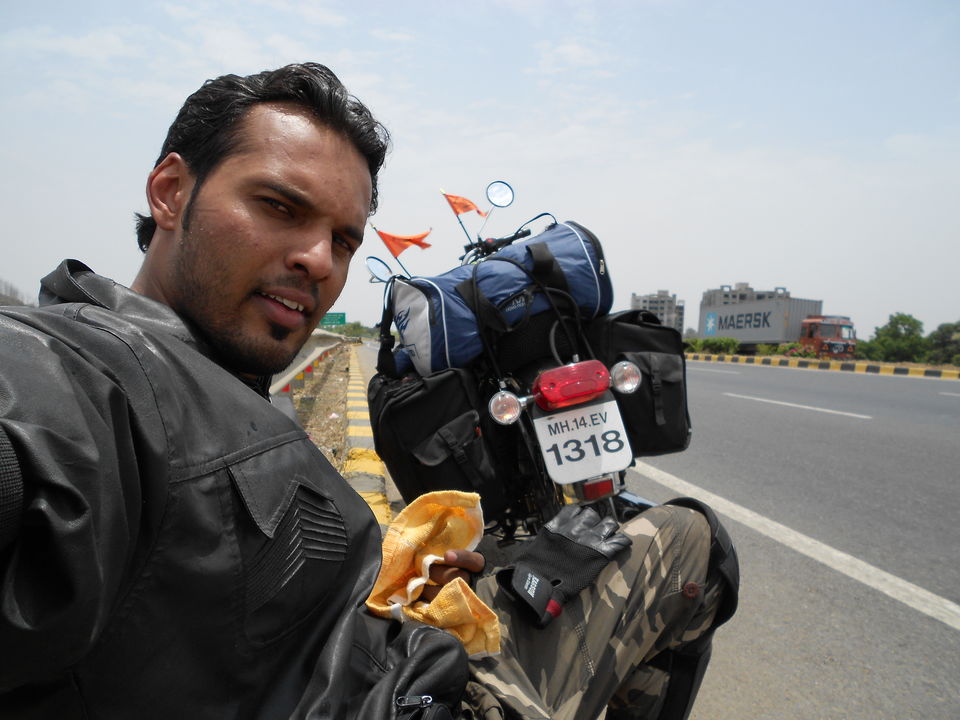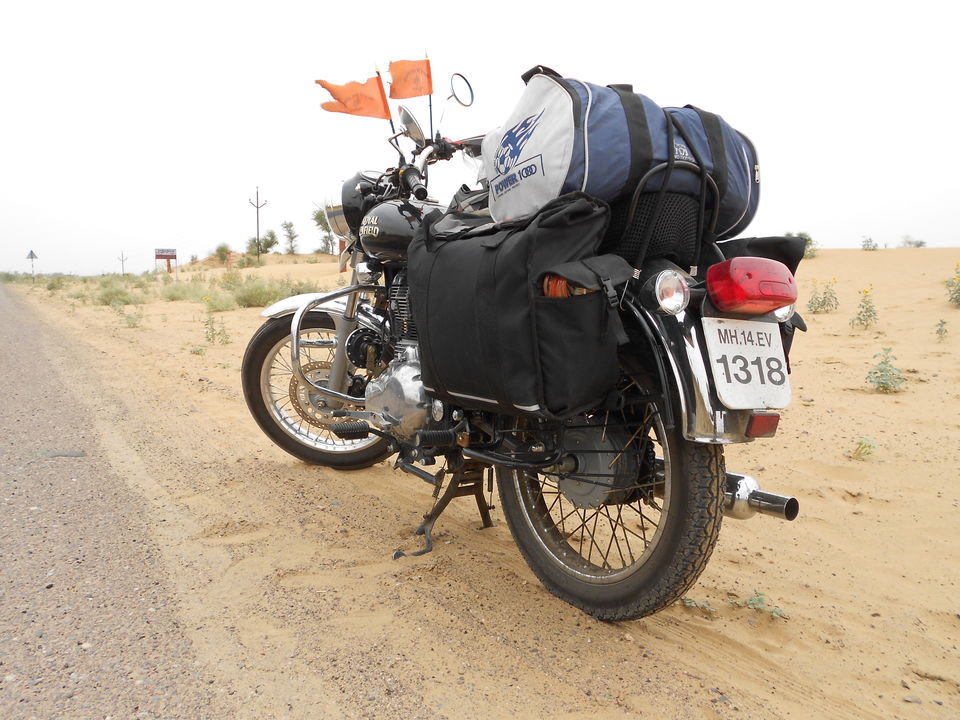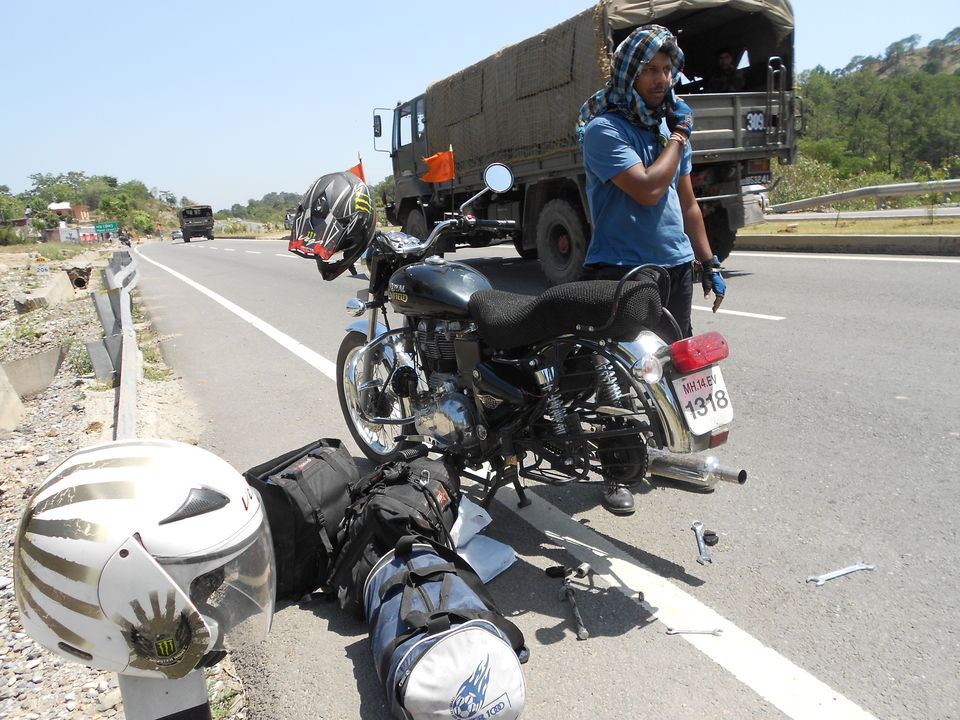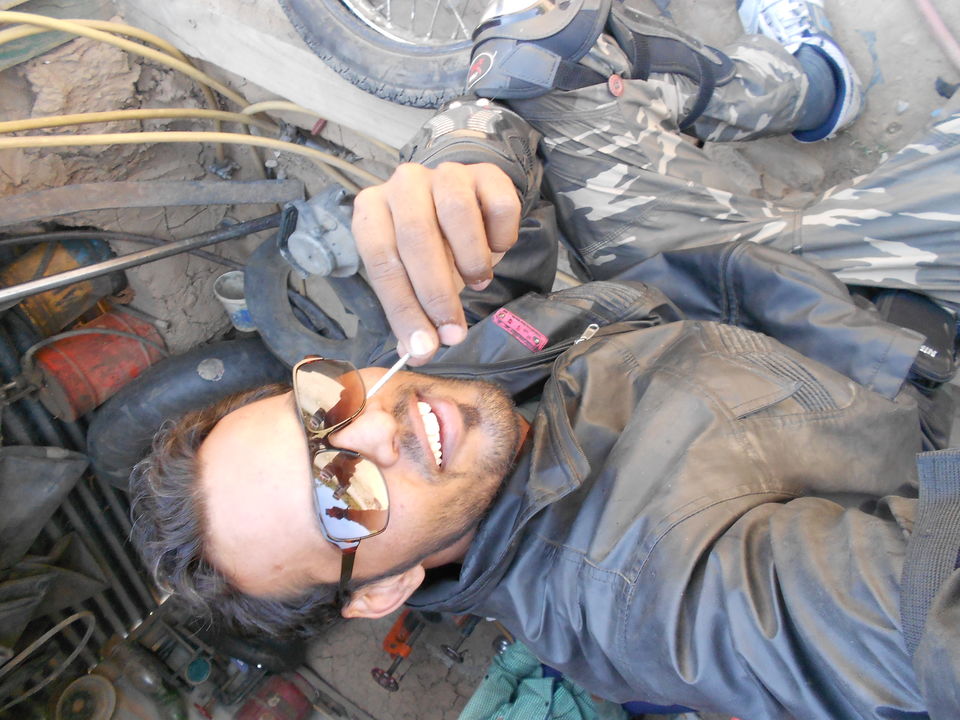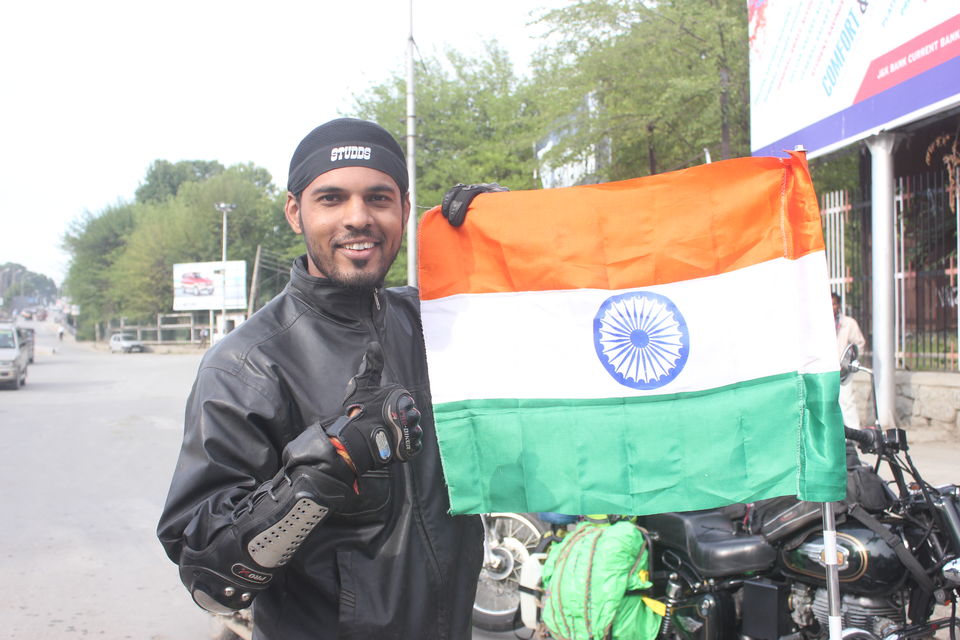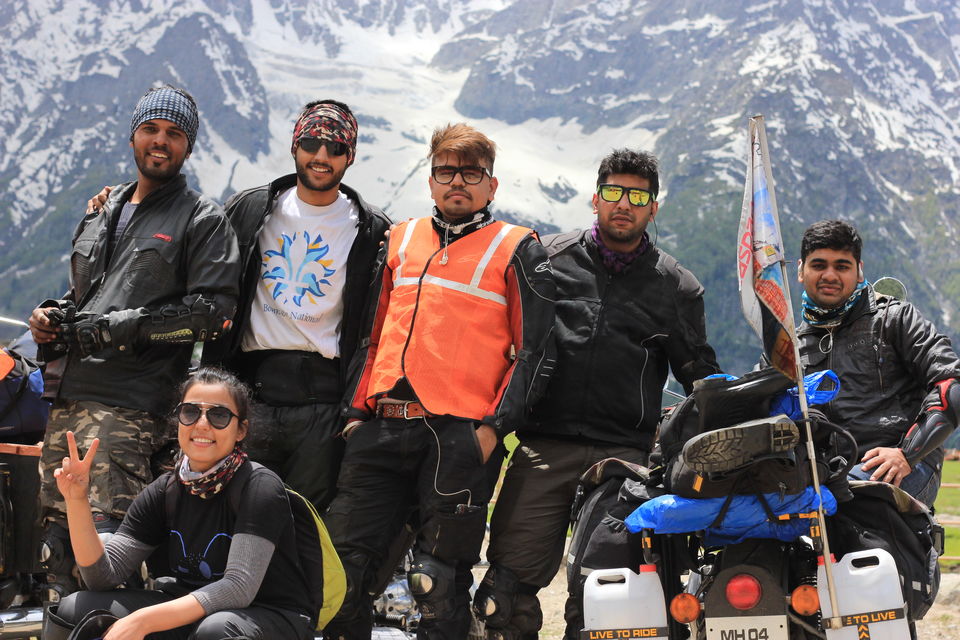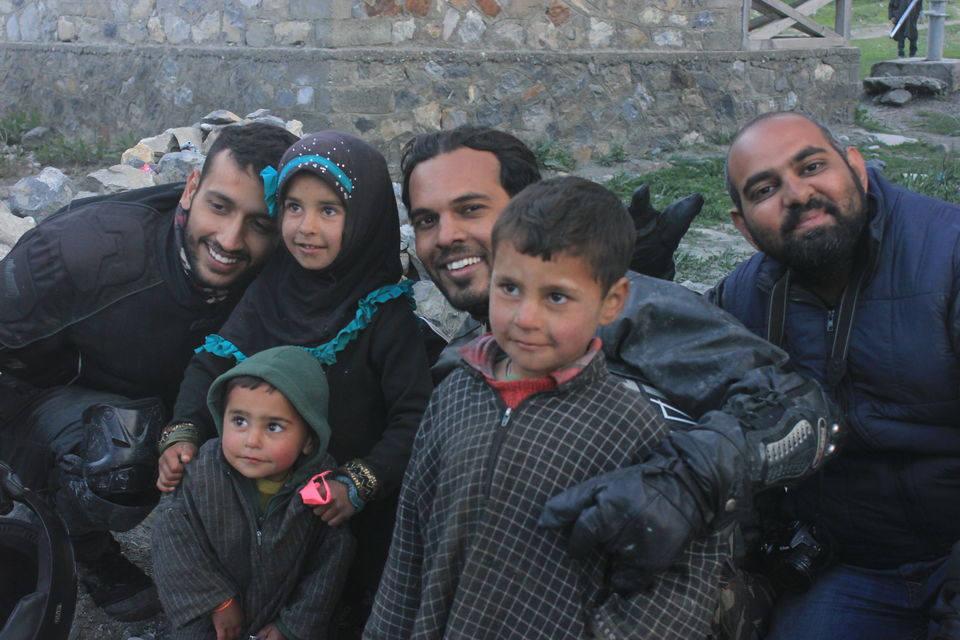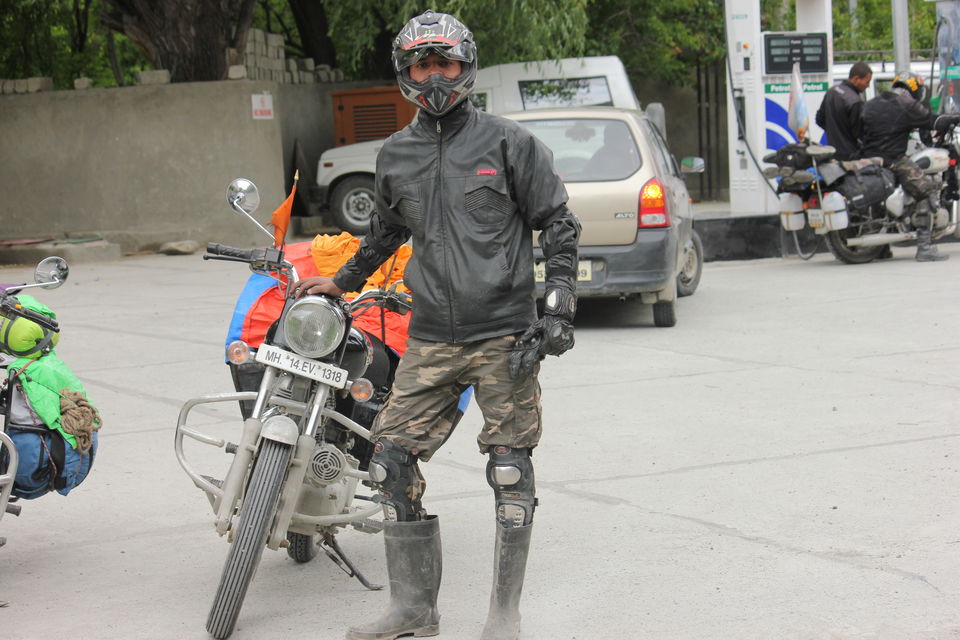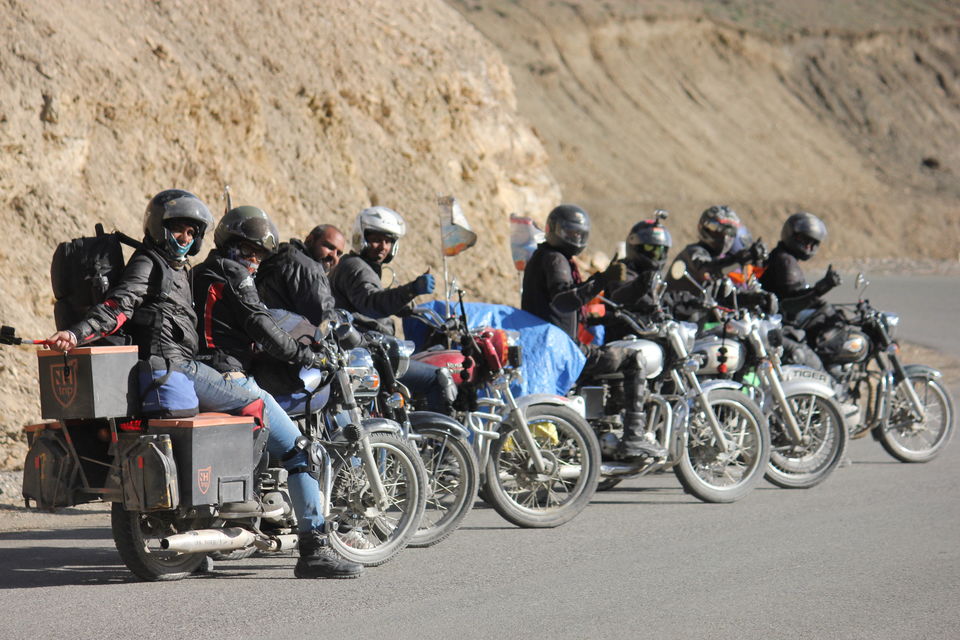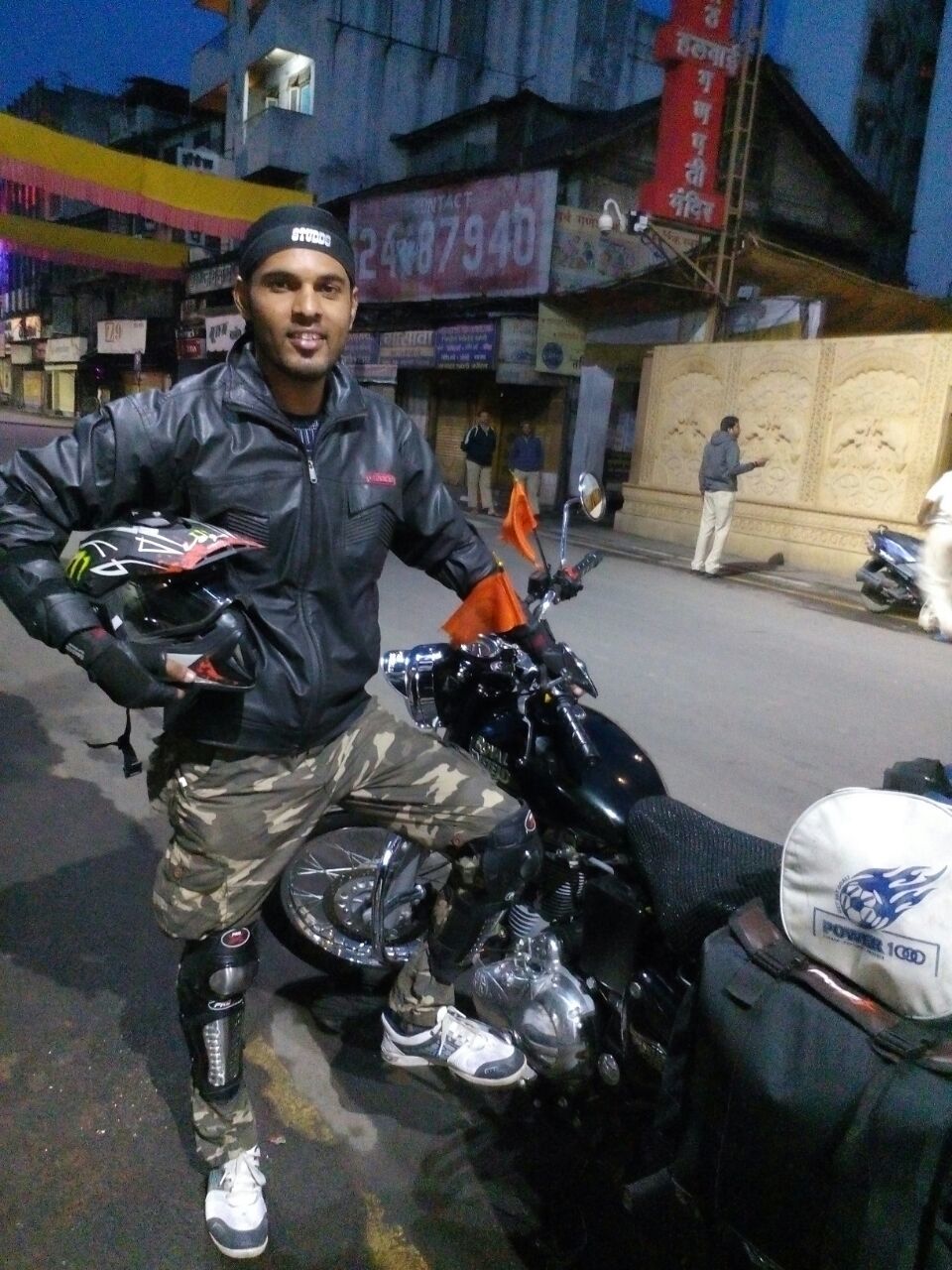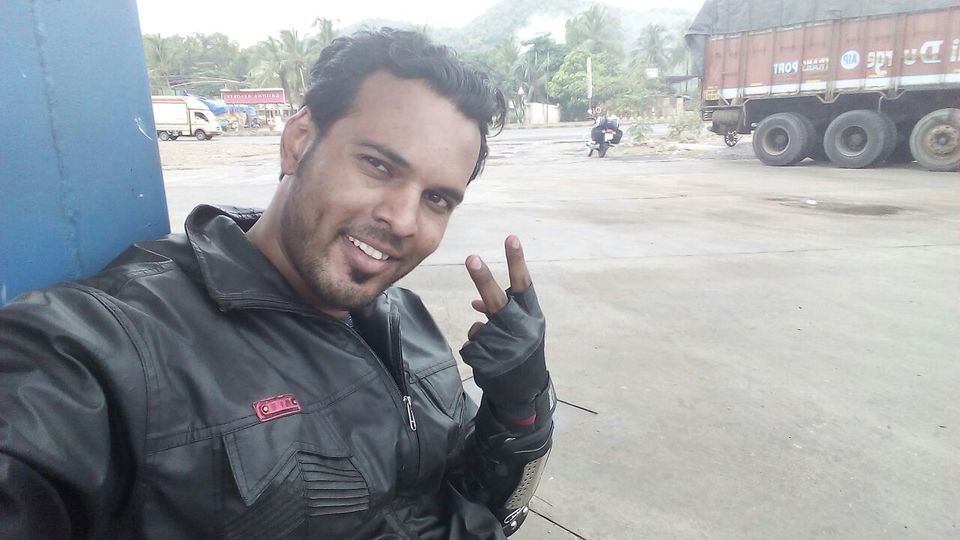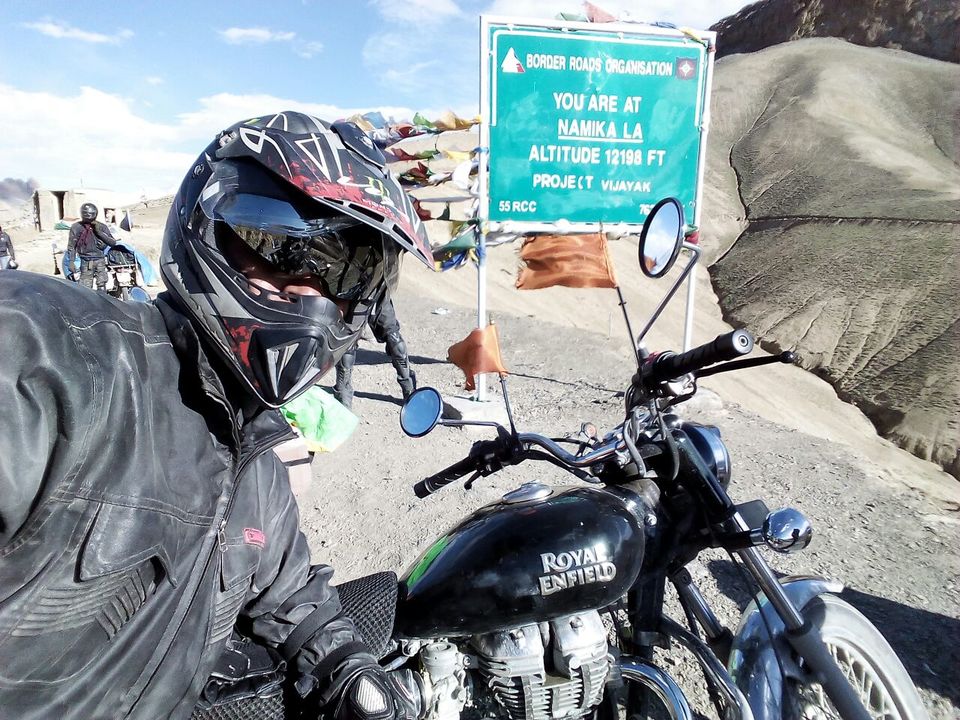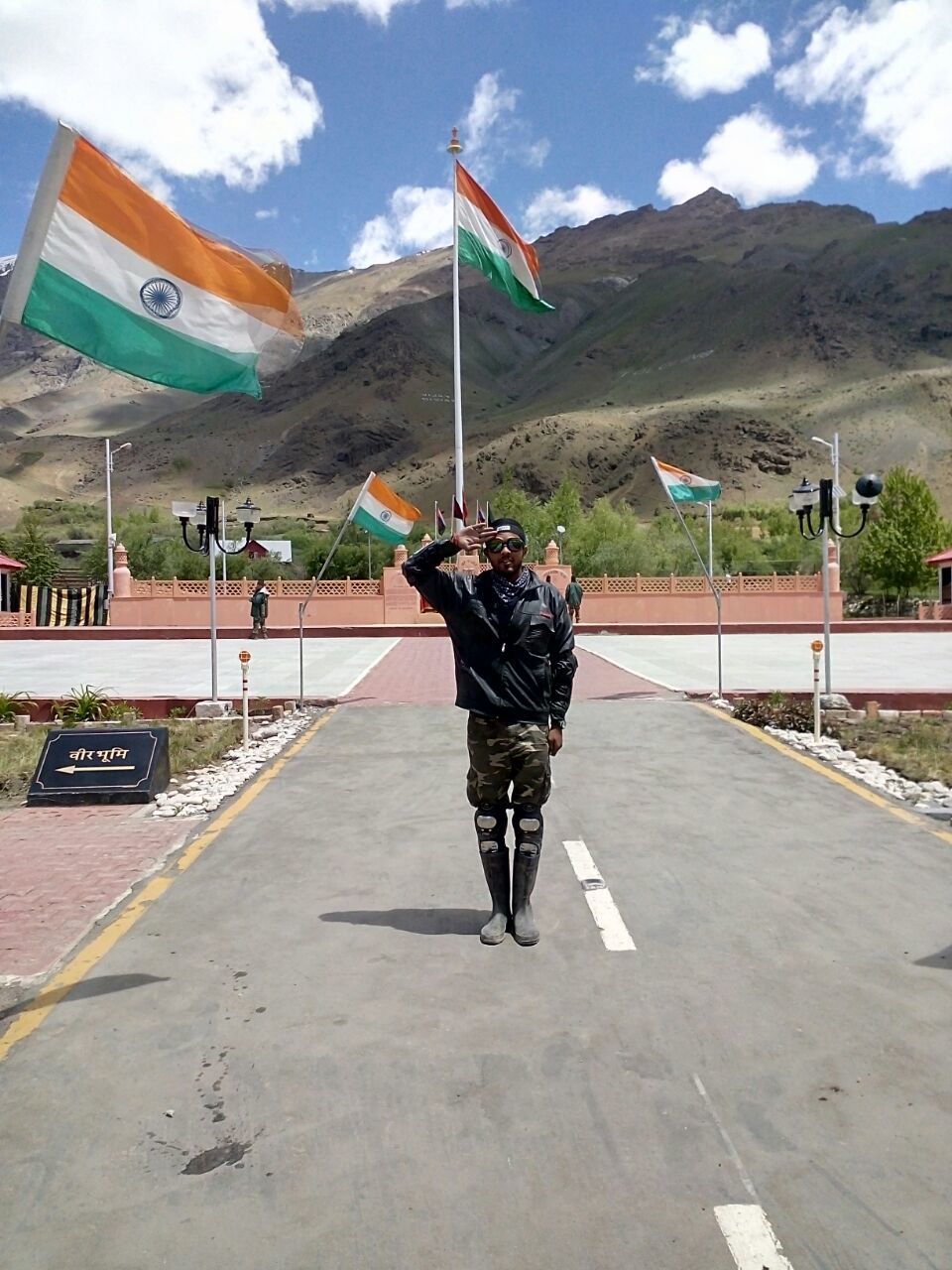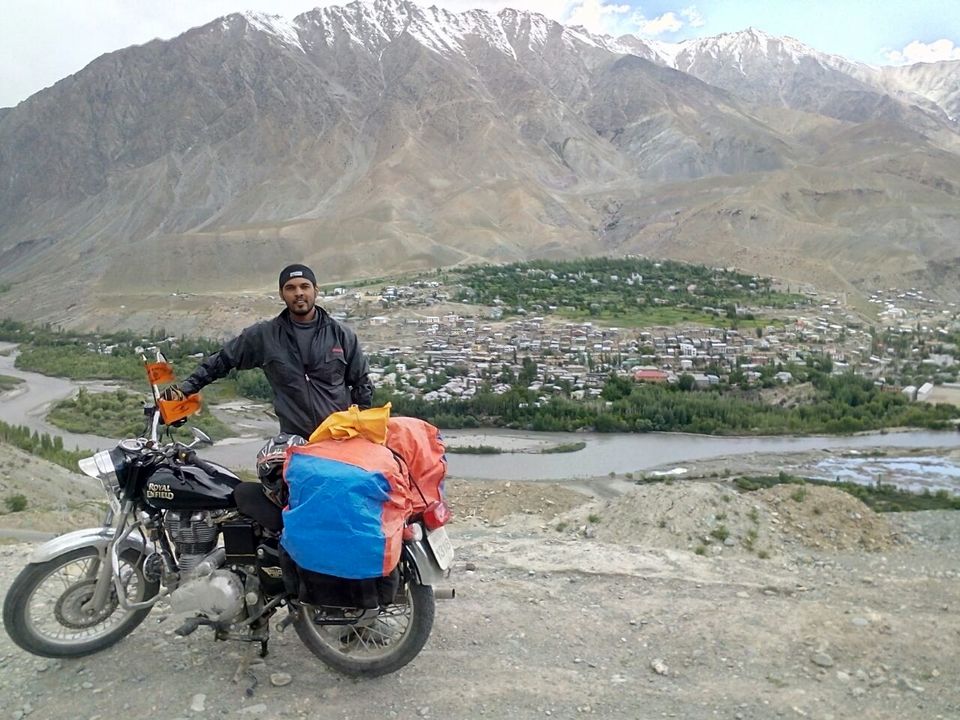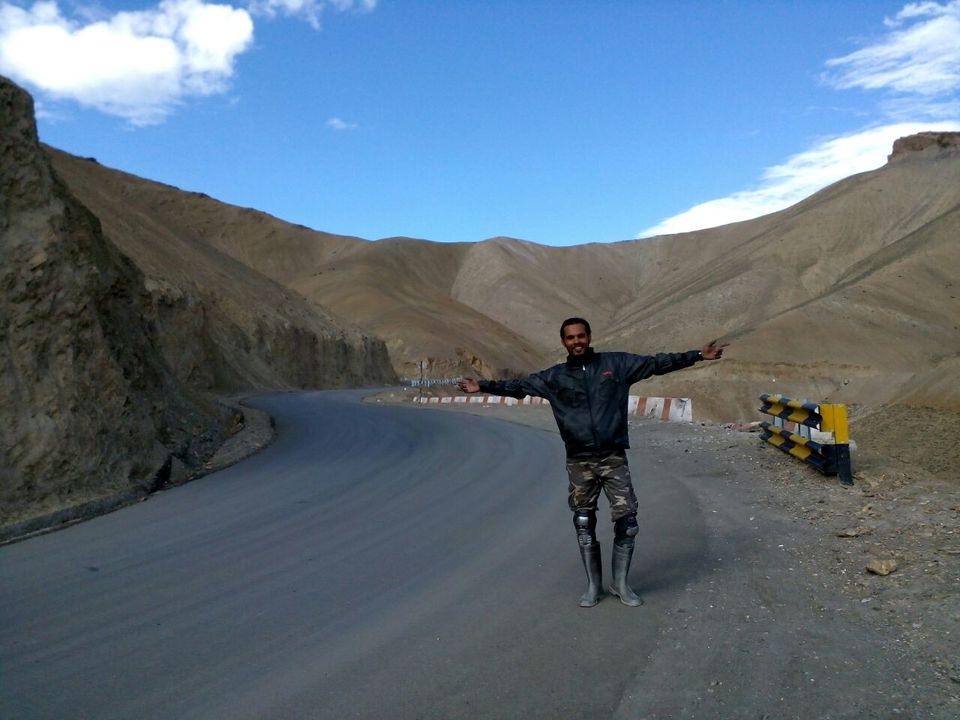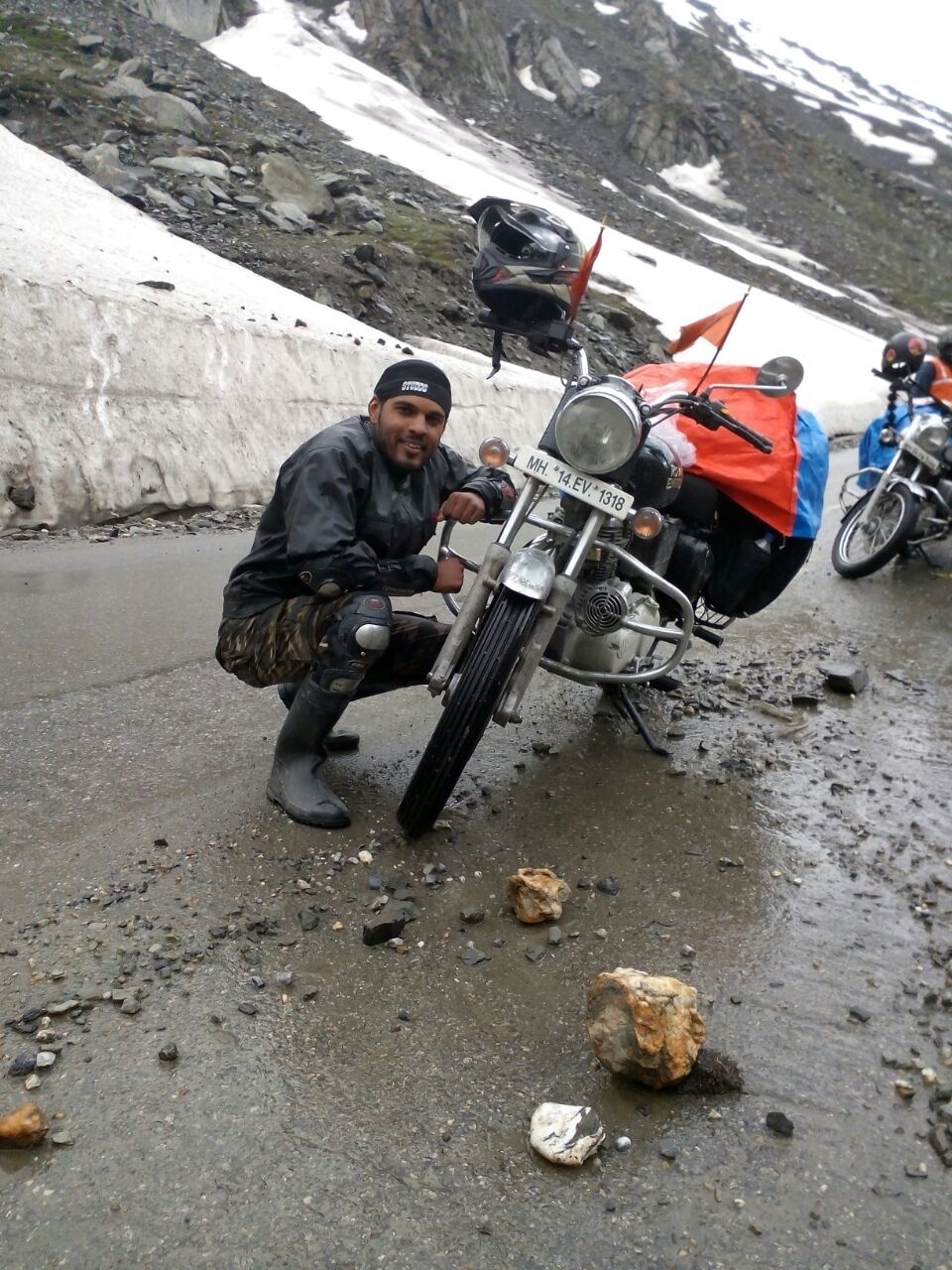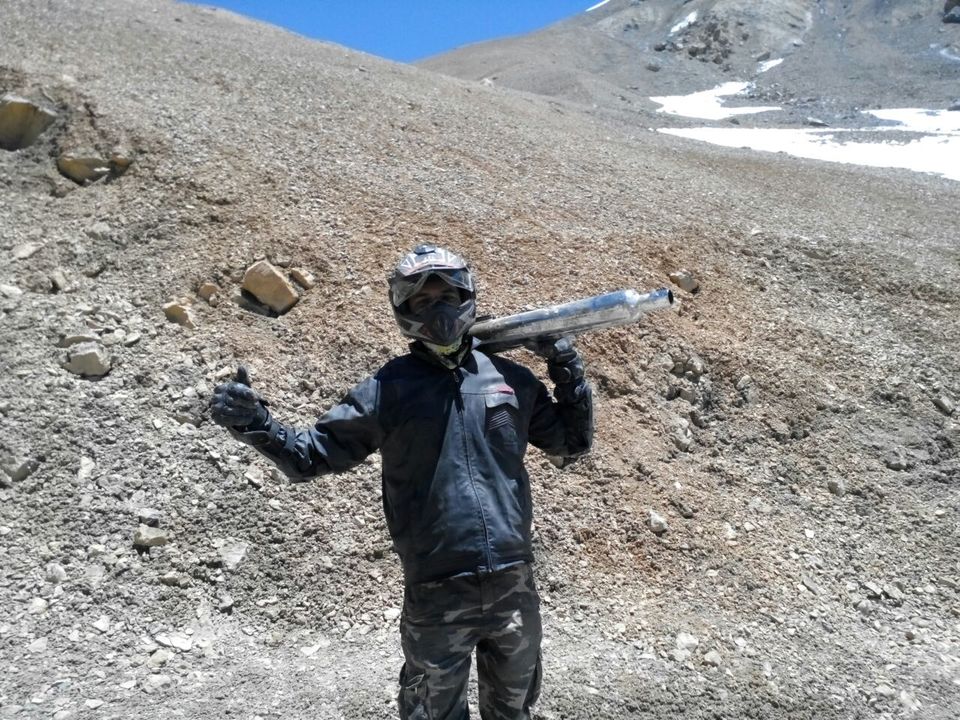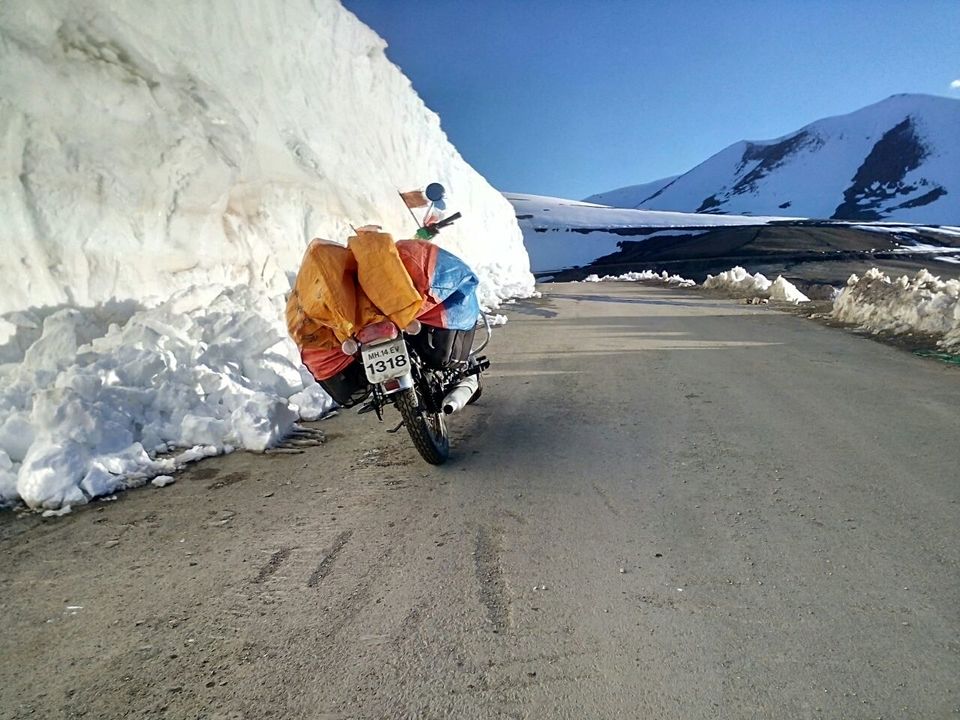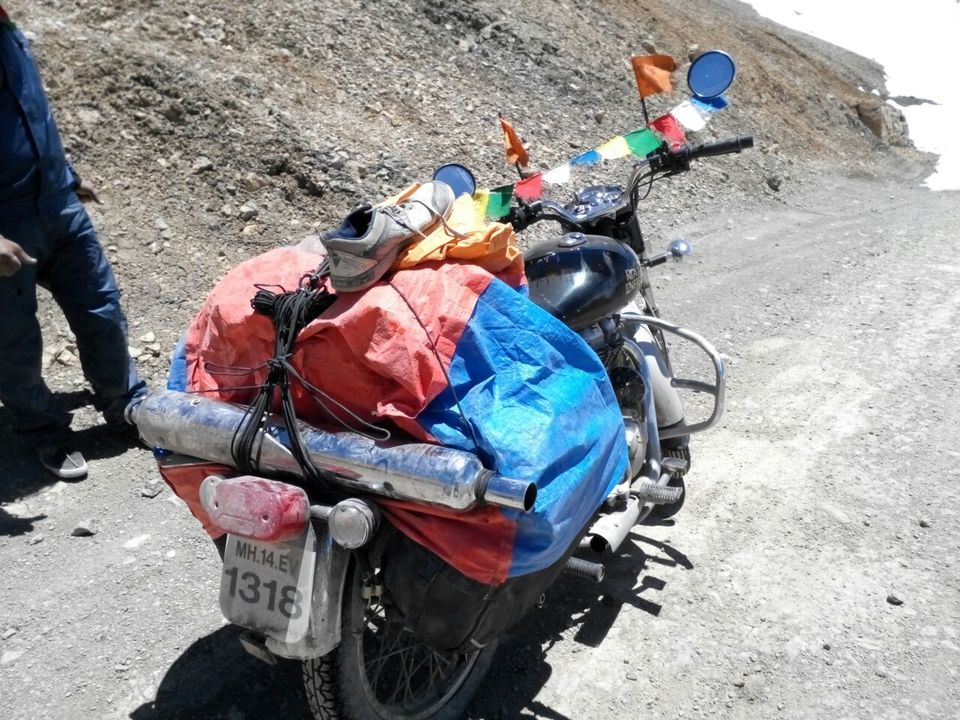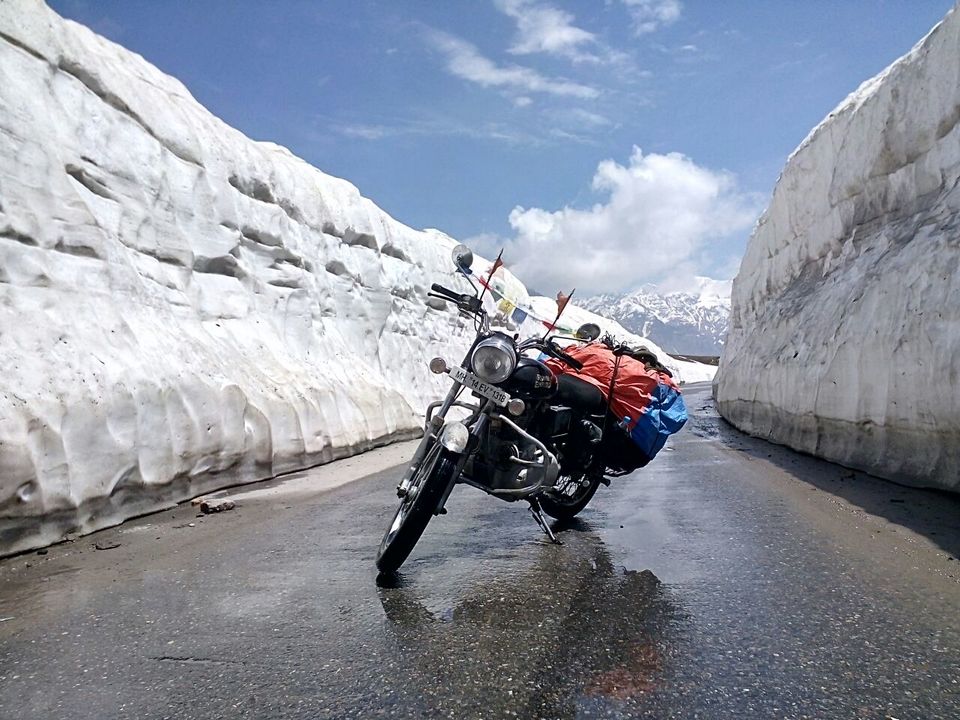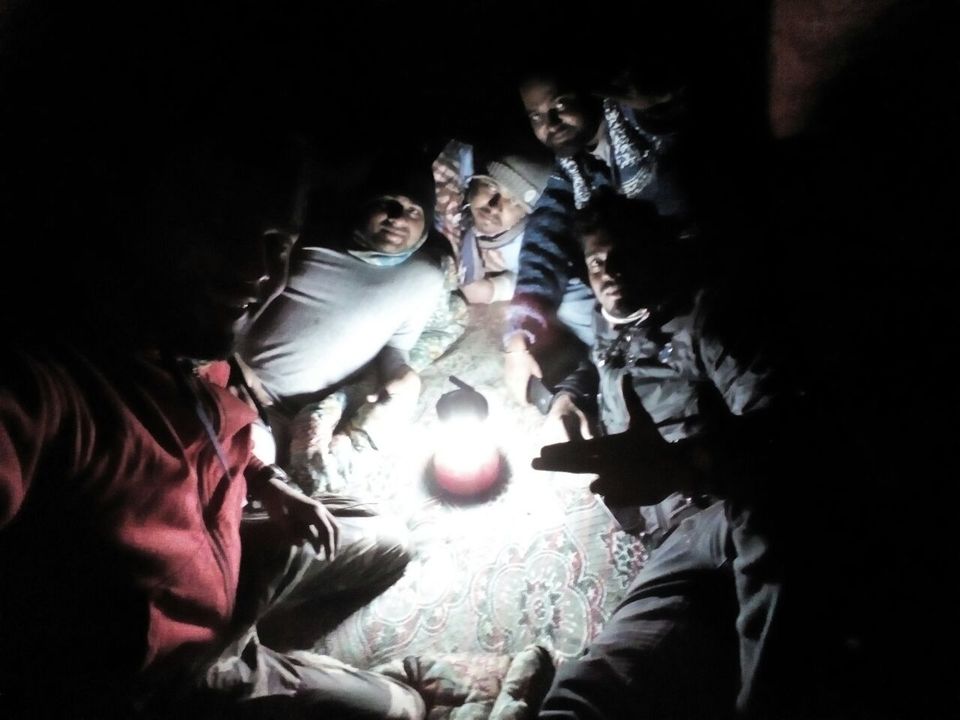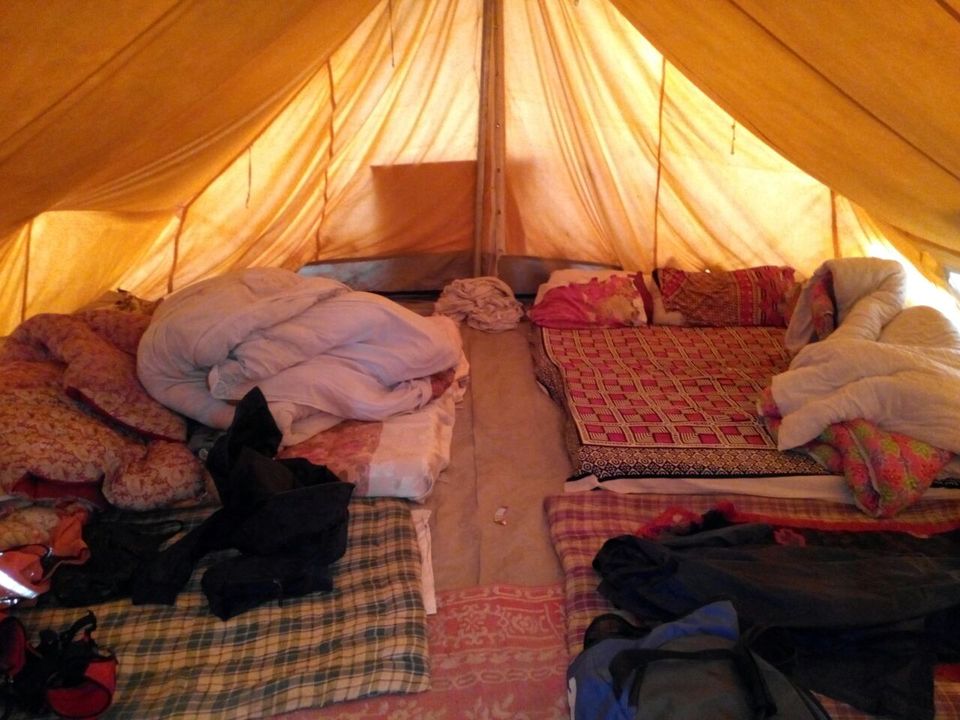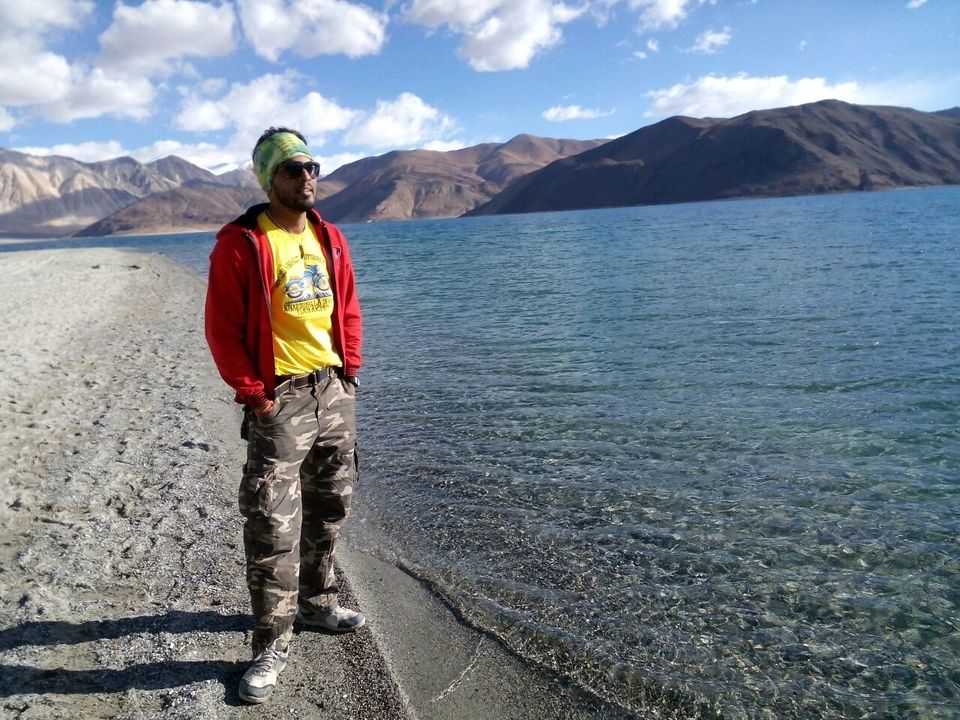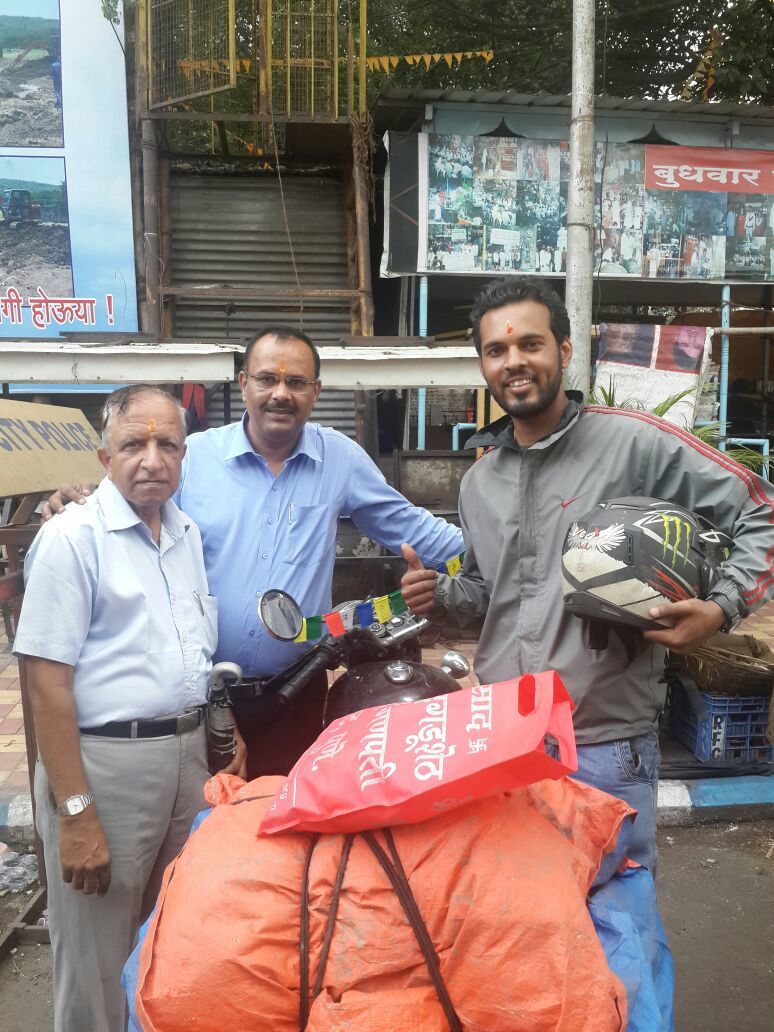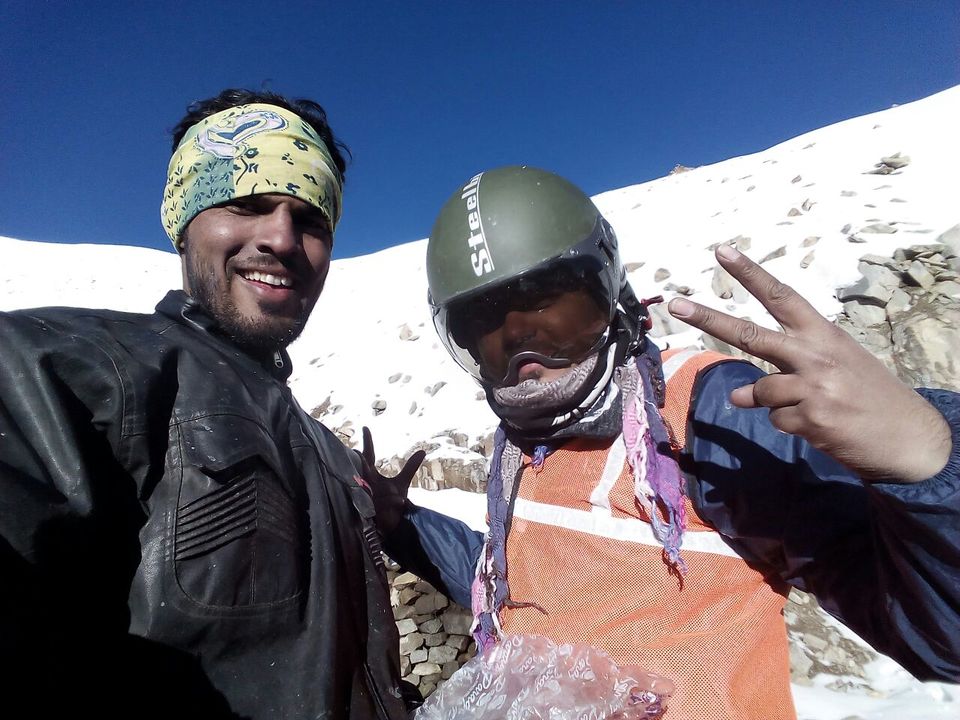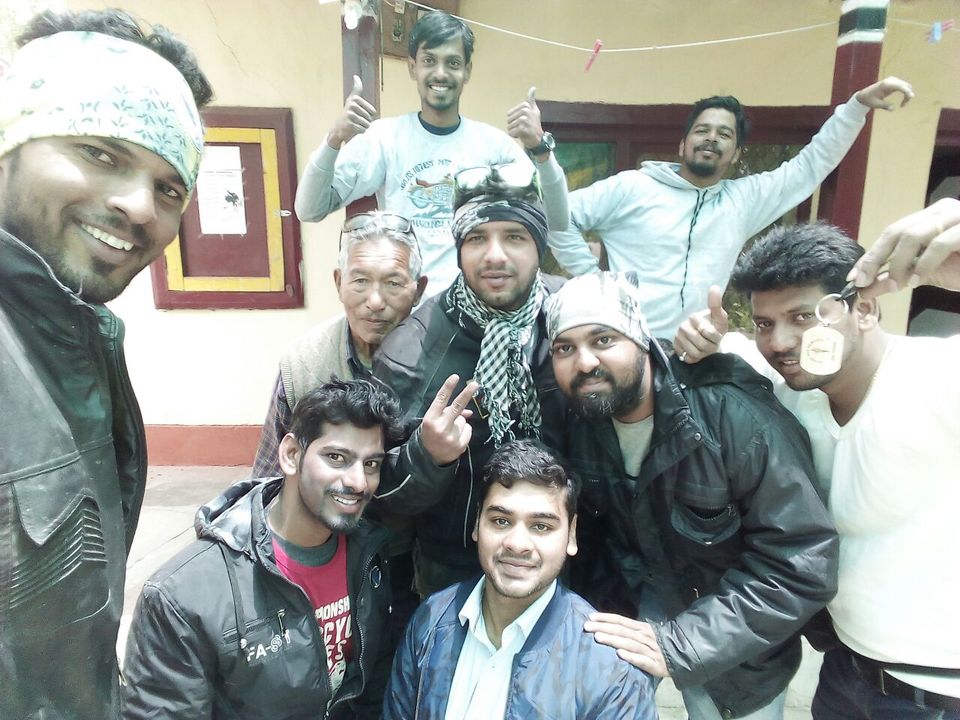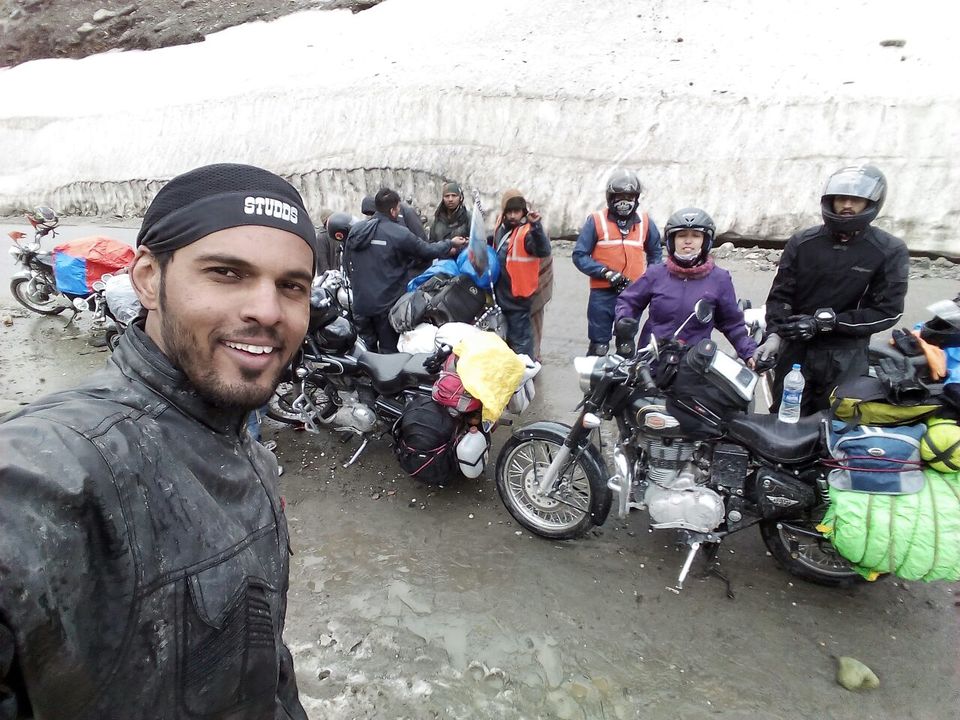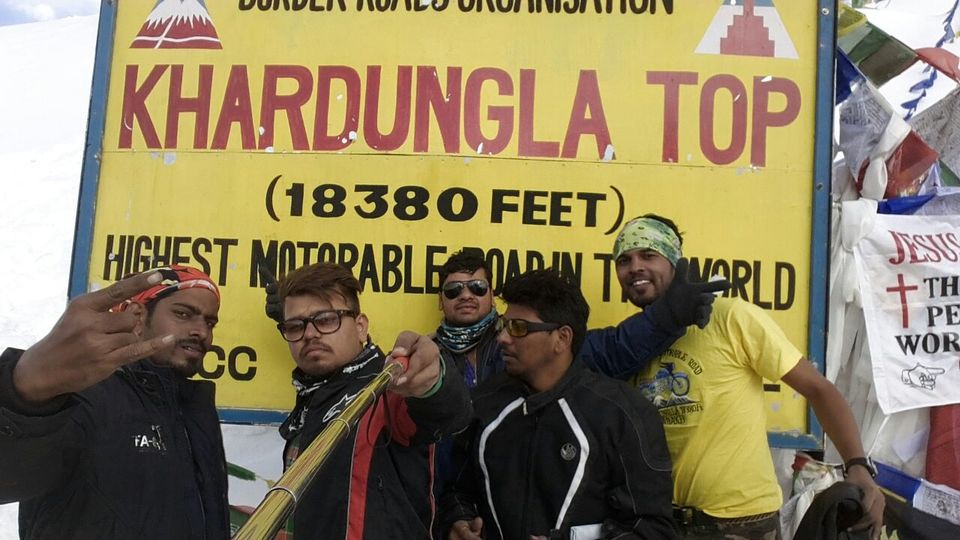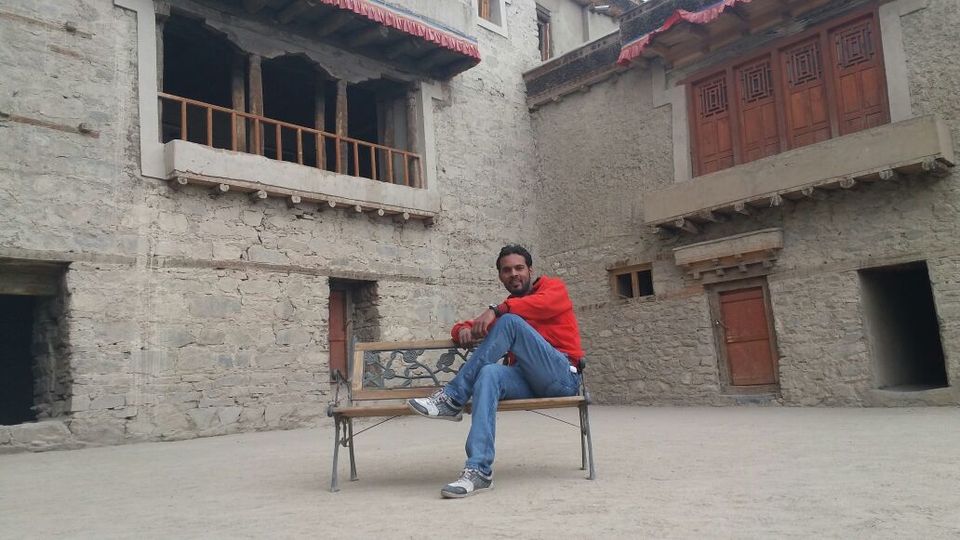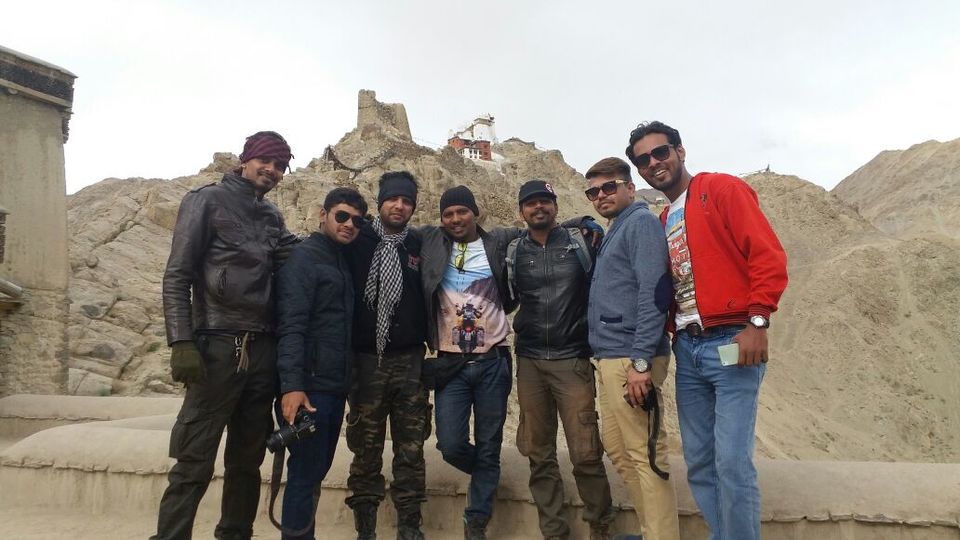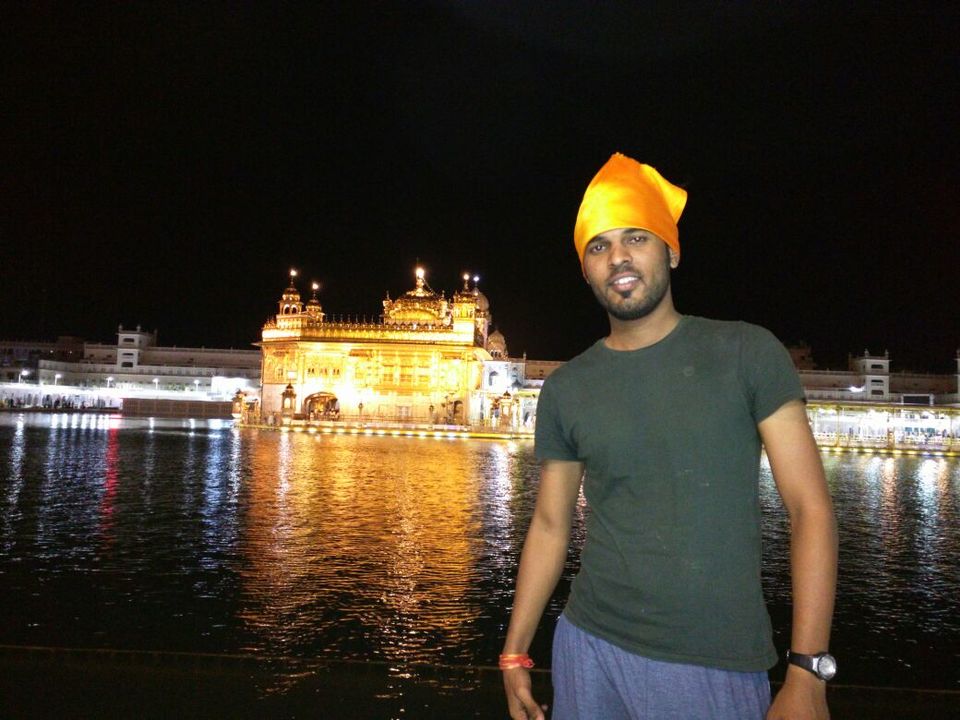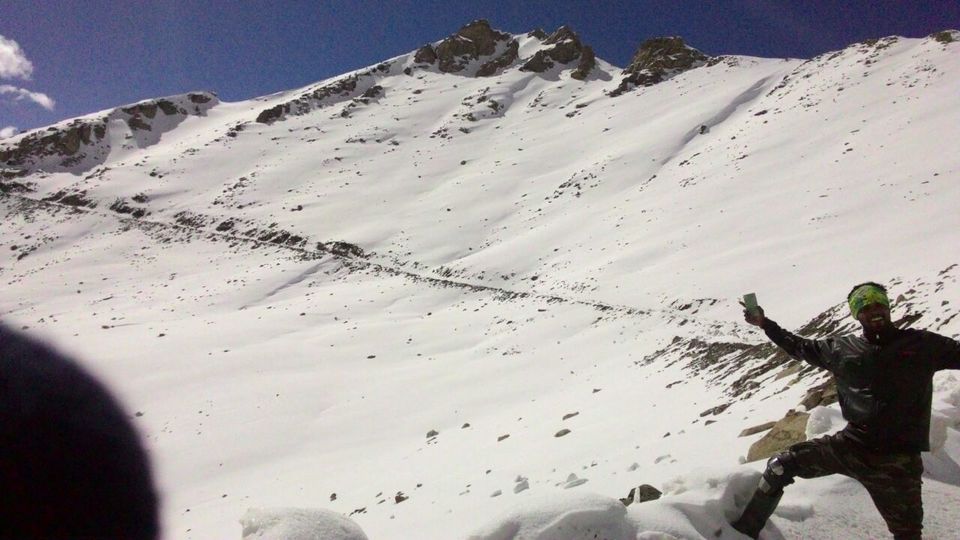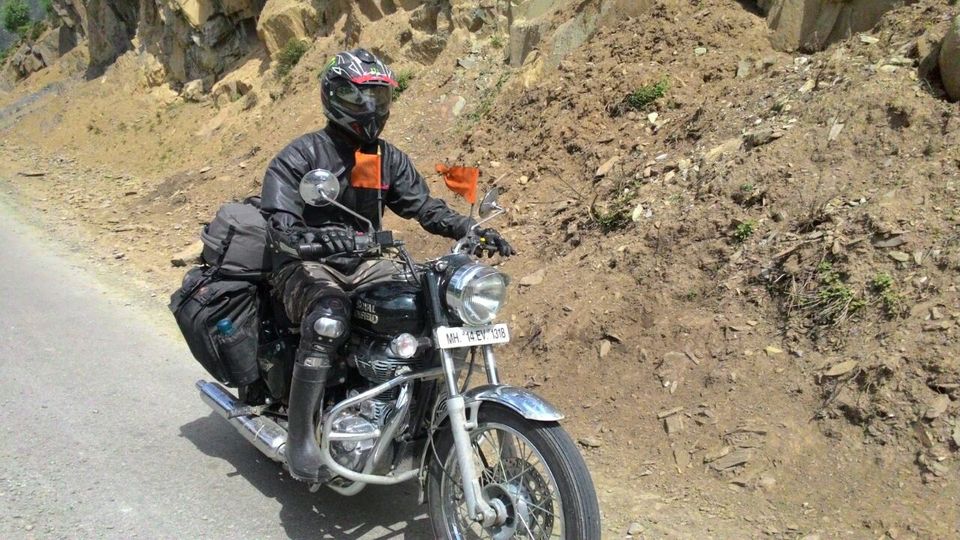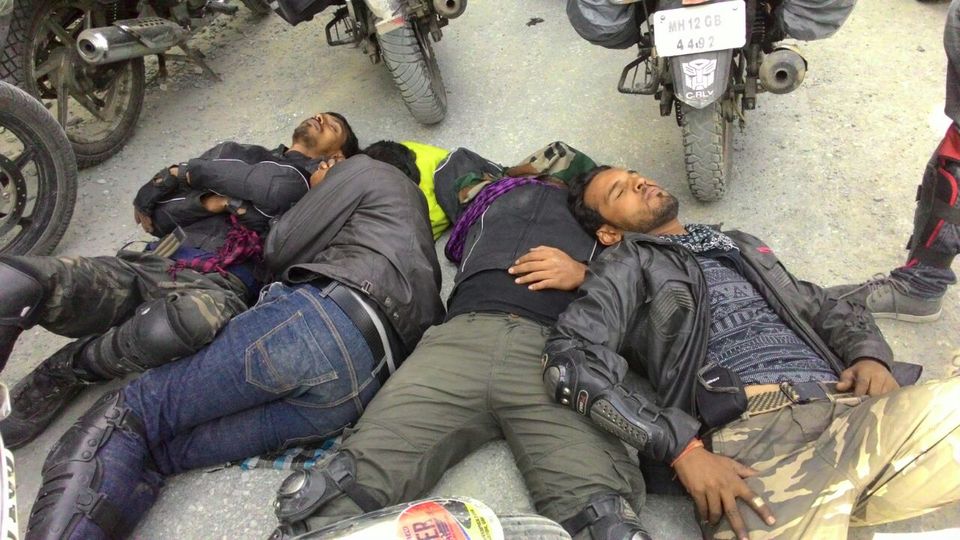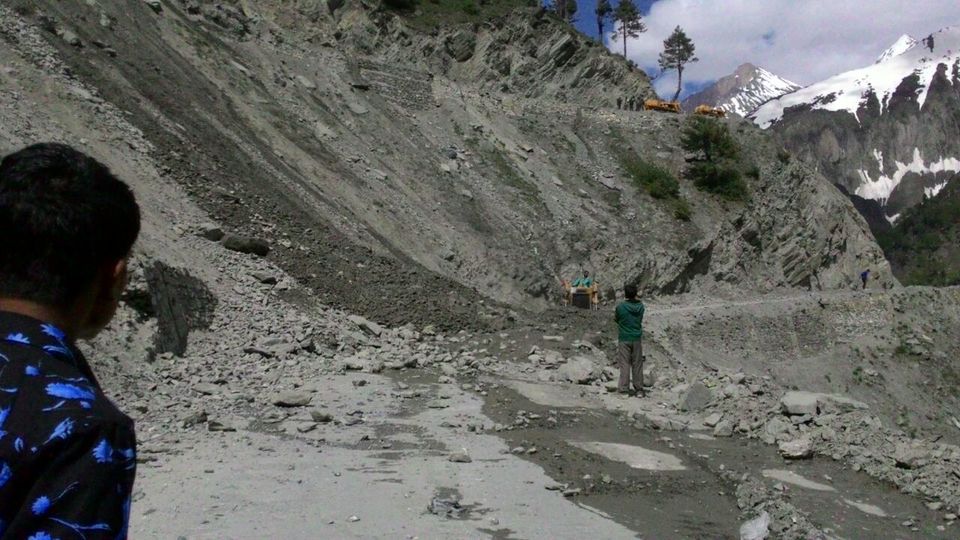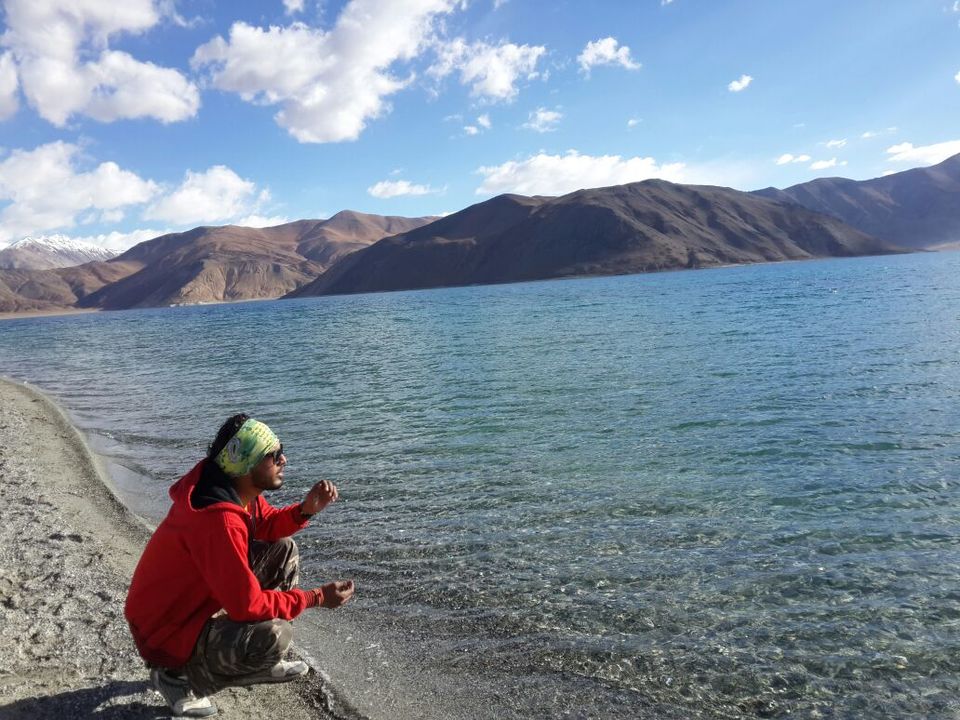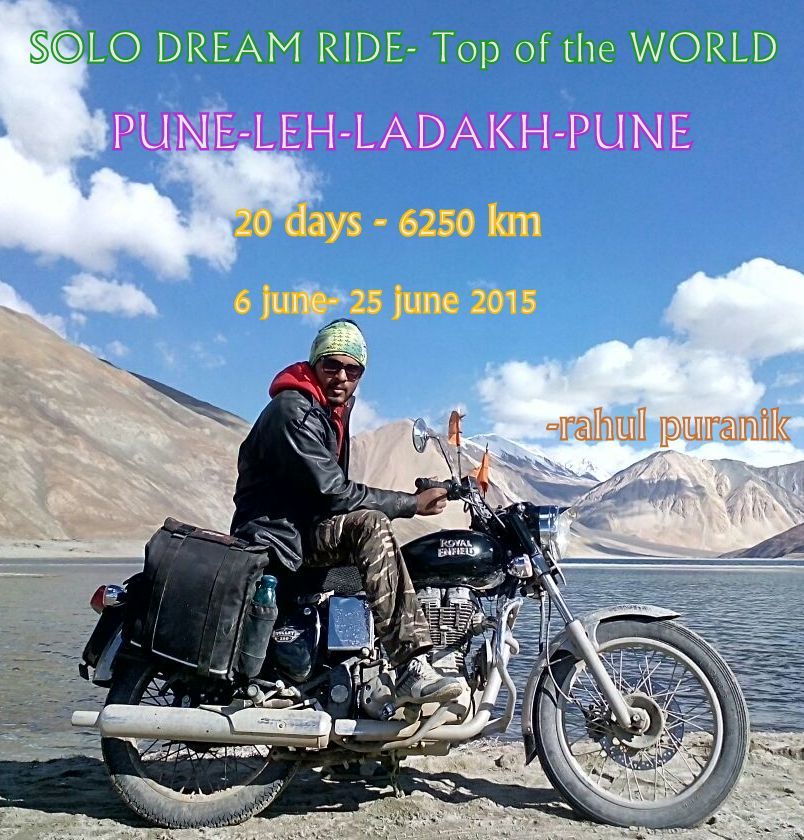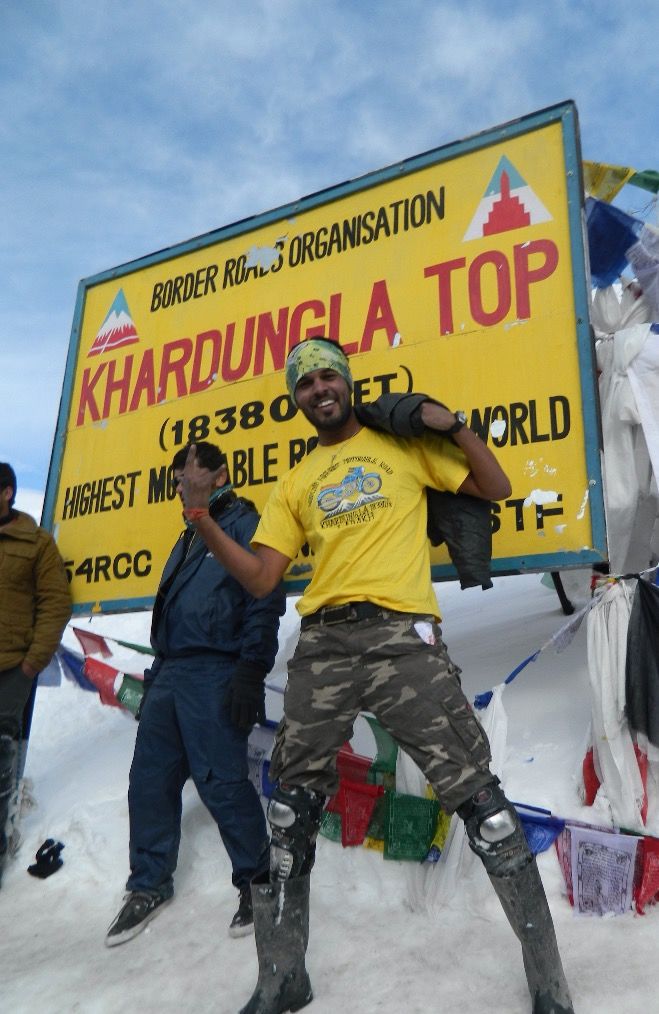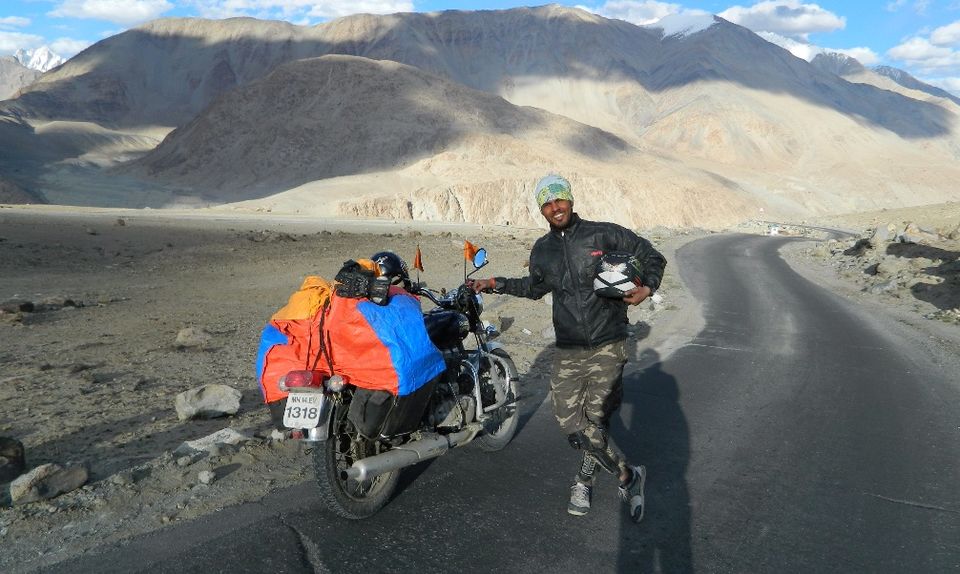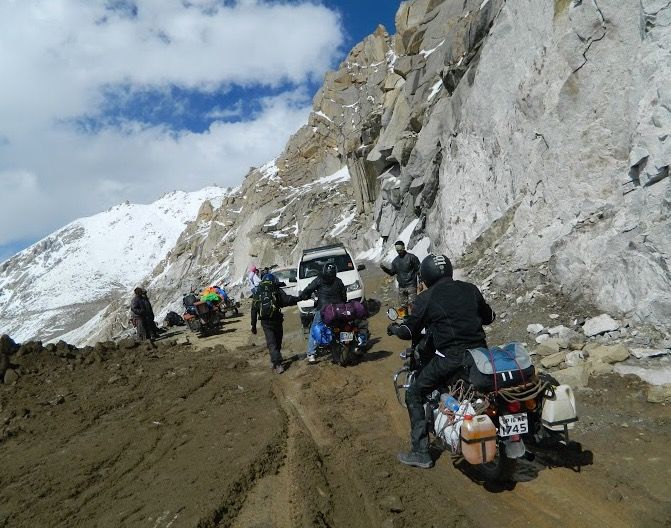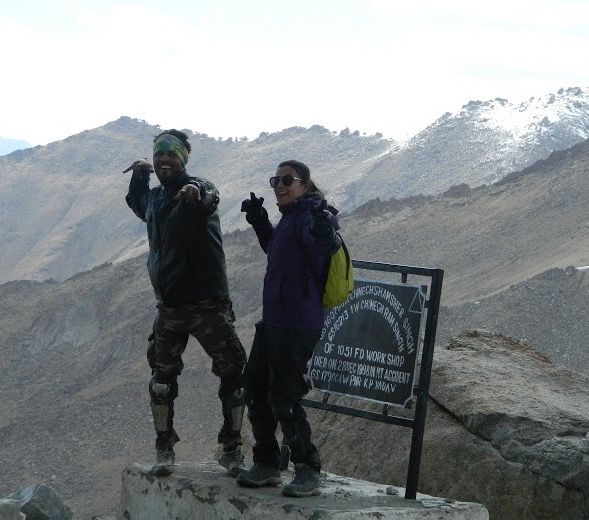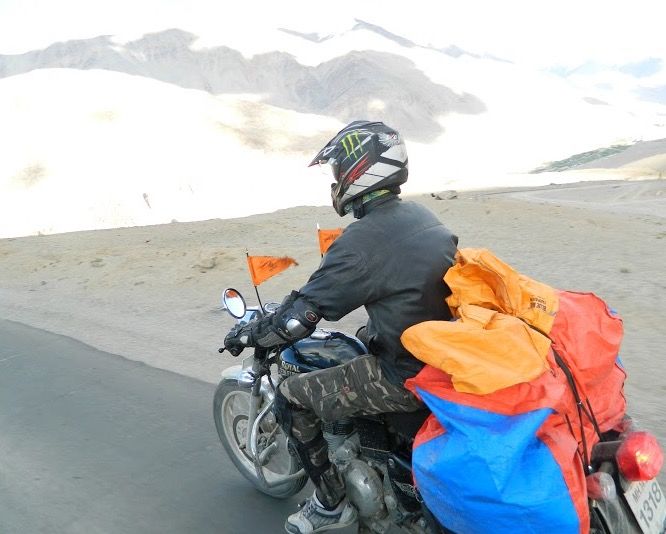 Ladakhi Saying -
"The land is so barren and the passes are so high that only our fiercest enemies or our best friends would want to visit us"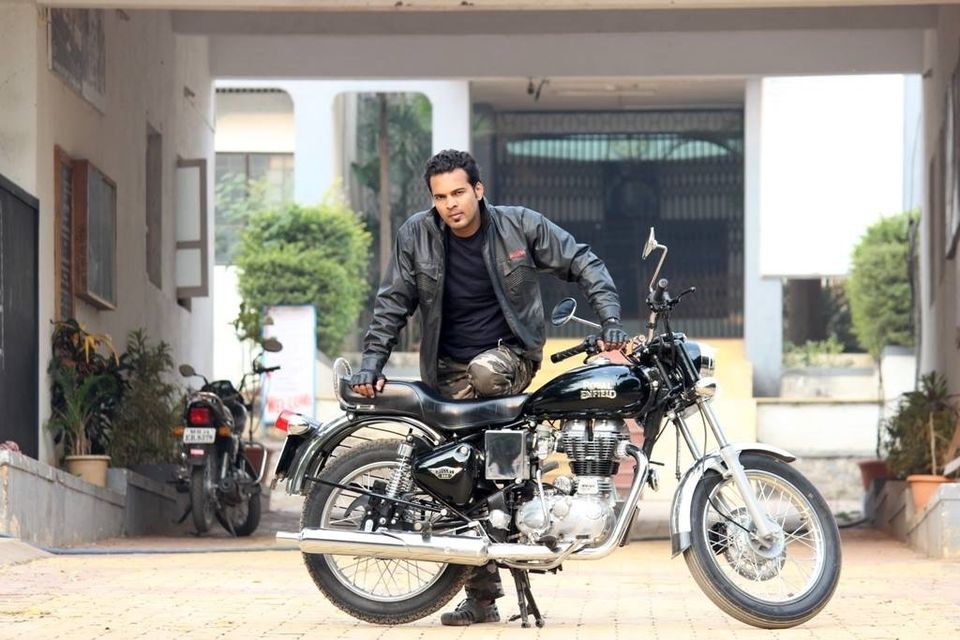 I am Rahul Puranik from Junnar, Dist-Pune, Maharashtra, India (from the land of Great Shivaji Maharaja) and basically hard core traveller. Just like a normal Sunday of march 2014, I read TOI and got fascinated by the article about LADAKH. I fixed that article on the wall of my room just near to my bed in a such way that everyday started by seeing it. That day still stands in front of my eyes while I am writing this article. Almost entire day, I searched about Leh-Ladakh on internet and I remembered, I was so involved that, I skipped my lunch and there only my journey towards ladakh started……
The next thought came in mind to go Ladakh by bike but it was sounding foolish to my friends because its too far and getting a leave from job isn't possible .
But, Ladakh hit my mind so hard that, I decided to do this journey and celebrate my 2015 birthday there. And then onwards Ladakh became my dream of every night.
So, to chase my dream, I decided to have my dream bike and the first step taken towards it by booking my ROYAL ENFIELD ELECTRA 350 CC on 29th Sept 2014. I went with Mahanand & I was so excited that day because it was Ganesha Chaturthi. And then onwards my bullet known as R'RE (Rahul's Royal Enfield).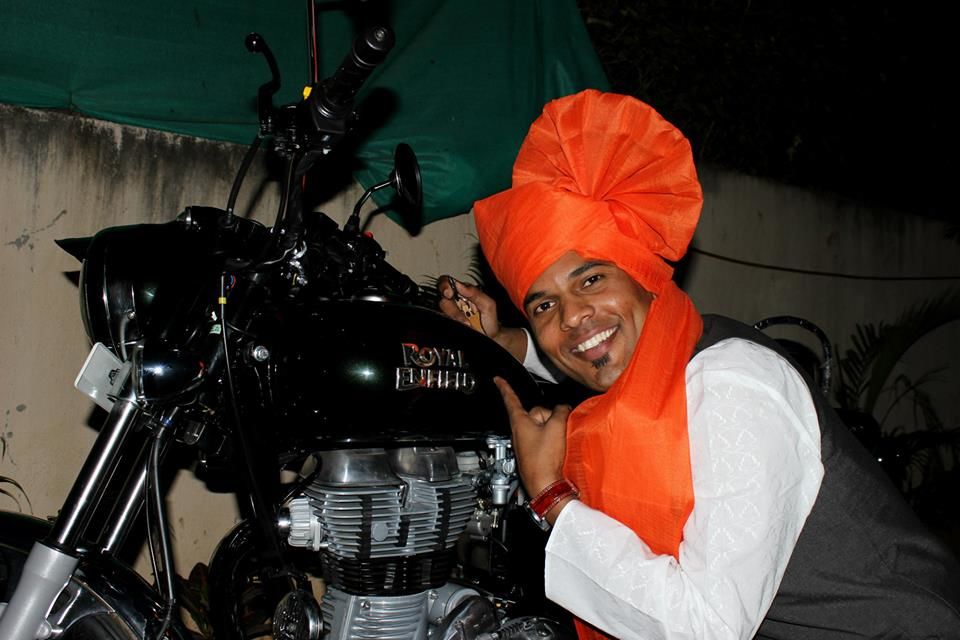 And the day by day kept on moving & my anxiousness also reaching on top. With the arriving of new year 2015 , my dream bike ROYAL ENFIELD ELECTRA 350CC finally comes to my family on 23rd Jan 2015.
With the arrival of R'RE, I came one step close to my dream bike ride and for the fitness purpose I kept on continuing swimming and healthy diet to make body fit in extreme conditions of Ladakh. And by doing all things May 2015 entered and my aim was infront of my eyes, my next step was shopping for the Journey finished with the help of mahanand.
And here the twist occurs, Because I expected few people to join me and last moment dropped out and at this point, I stand alone for this journey. I was little fumbled and decided to contact few tour guides but their packages were too high and they supposed to start journey from Srinagar. Also this people frightened me that you cant go alone & things at there so horrible, you might get in trouble. As I wanted to start journey from Pune, at that point I challenged those people and decided to do this journey Alone. Here this journey turned into solo and called as SOLO DREAM RIDE – TOP OF WORLD.
And all this incidences happened within span of MAY 2015 and I decided to start journey in June 2015. Meanwhile I met Mr. Yogesh (bike mechanic/friend) & Mr. Pathankar who already been there at Ladakh in past. And with the several meetings and their guidance , I decided to start on 6 June 2015. So that, I can reach on my birthday 15 June 2015 at ladakh.
And the expected obstacle stands infront of me about the leaves from job and this break was much needed for me . Finally I decided to quit my job. With this tough decision, my family stands behind me and I was actually happy. Because, I was free bird to live my further life and journey. Before the journey, I spent 2 quality days time with my bullet in garage under the guidance of Mr.Yogesh. An evening of 5 june was important because my Sanju Bhau (elder bro) met me and we had coffee over discussion. His few questions…..
By which way you are going?...I said….via Mumbai (NH8)
Big Question again….How many People?.....Having long breath , I Said…..ALONE
Next , after small pause Sanju Bhau(bro) said…..No, You cant go.
Respecting his worry about me, I forced him to allow me and looking with my preparation and confidence he allowed me with heavy and worried heart. And he was the only person in my entire family knows that I am ALONE not even my parents….And it was the toughest decision of my life to hide from parents. Finally Sanju bhau hugged me and gave few emergency contacts .And he took promise from me to inform my every day movement. And I told to mom that, I am going with my friends and they will catch me at Mumbai…..(Big Painful Lie of my life)
The night of 5 June 2015 was so nervous for me as I wanted to start next morning on 6am…
Finally the DAY arrived 6 JUNE 2015……………….TO BE CONTINUED
DAY 1:- 6 June 2015
PUNE – VADODARA (600KM)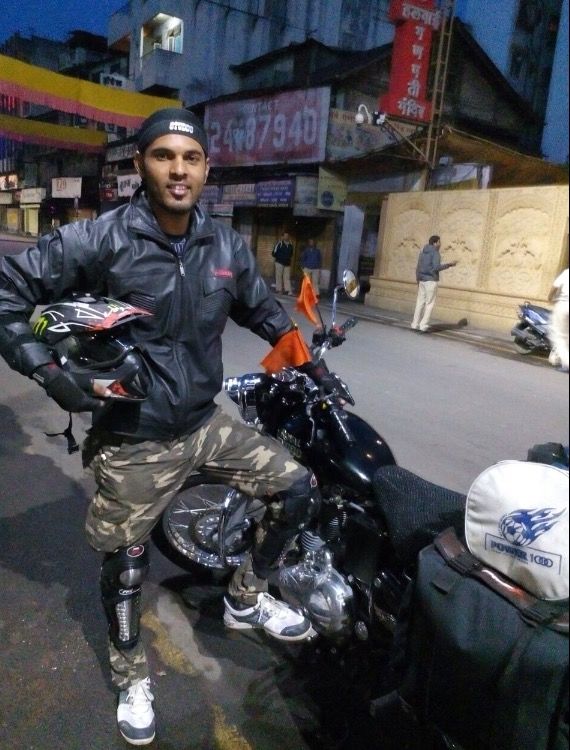 It was a special day of my and mahanand's (MK, room mate) life.MK completed his journey at 3am for saddle sore record for Worlds Toughest Rider(Pune-Banglore-Pune, 1725km) and he reached room. And then I started my journey from pune at 6am from home. As I am going on long mission, I first had Workship of Lord Ganesha - Shrimant Dagdusheth Halwai temple. For the see off, Mr.Yogesh &Arya ,Mr.Pathankar, Gayatri and few friends were there. And all of sudden, one group of cycle came close to me and asked
Where are you going?..I said Ladakh
Next question, So how many people with you?...I said ALONE…
And that fellow without any word SHAKE HAND with me and smiled and I captured his mind that he must be saying…..What a foolish man?.....
And I had a big smile on my face….
I started bike and my journey started. I chose to go via Lonavala – Thane – Ghodbandar – NH8 (towards Surat). It was good sunny day and reached Thane.
Later, headed towards NH8 and I took wrong route. Instead of going to NH8, I went somewhere and it was little bit of nervousness on the very 1st day of journey and that incidence put me into depression for some hours. And without loosing the confidence , I got the right track NH8 somewhere around 10:15 am.
At NH8 while refilling the petrol ,had my breakfast on the petrol pump with PARLE-G & Water. Again same incidence, one couple came close to me and shake hand with me and gave ALL THE BEST to me for journey. It was real pleasure indeed for me and felt like , I was living his dream as he was also passionate for this journey.
And it was so sweet road and R'RE was on 90km/hr speed and covered distance of 400km by 2pm and took hault for lunch just near to surat. I decided to have very light food, but I couldn't resist to do so as I am foodie person. But, It was overloaded and literally my eyes fallen down for an hour..haha. And it was an alarm for me to avoid this heavy food in journey. The next stop was just for tea after 100km because, I was feeling so sleepy while driving. And finally day ended at Vadodara at 6:30pm and took govt.cottage for stay of just 200 rs/night.
Here, I first time in journey played gimmic about my identity .As I was in army track pant few of people asked me,
Kya aap fauji ho (are you a soldier)? My reply with low sound was YES… by showing NCC (National Cadet Corps)id …….hahah.
And then onwards I got special treatment for room service and felt safer than earlier and decided to keep this new identity to avoid any problems as I was alone. Just had Pulav to avoid heavy meal again…and consumed 1st pill for backpain
It was a successful start to convert into big event of my life.
My conversion with MOM at night……..
You got your friends?.....Yes Mom, they are 100 km ahead & will meet tomorrow.
This is how DAY 1 ends.
DAY 2:- 7 June 2015
VADODARA - CHITTORGARH (500KM)
After the successful 1st day, again I started journey at 6:30 am and completed 1000KM of journey.. While going near through ahmedabad, I called my old friend Amir Jada to have breakfast with me and he joined me at 8:30am. And again same questions (hahahah….i m bored for same). By the 2nd day, I prepared my mind that this is real challenge to give answer throughout journey( very tough) ….It was nostalgic meet because we both started our job with same company and we were colleague.So, All old memories got cherished & it was good quality time. Instead of Running through the day, I prefer to meet people and had local famous food items…
By the afternoon 12pm, I entered into Rajasthan and road was almost melt and in bad condition due to super heat of >40 degree temp. My lunch was on mini dhaba near Parsad village with economical dish of shev bhaji (50rs). I still don't understand what is the logic to put tomato in shev bhaji? (hahah)…
It was again time for rest post lunch. A good quality sleep of an hour gave me refreshment for next journey. By the evening 5pm, I reached UDAIPUR and was thinking to stop but one Sikh Man adviced me to go ahead and stay at CHITTORGARH…I followed his word and it came true also because his advice gave me better accomodation and cheap also. I reached CHITTORGARH at 8pm by the time all city was quiet and got an accomodation at Jain Temple.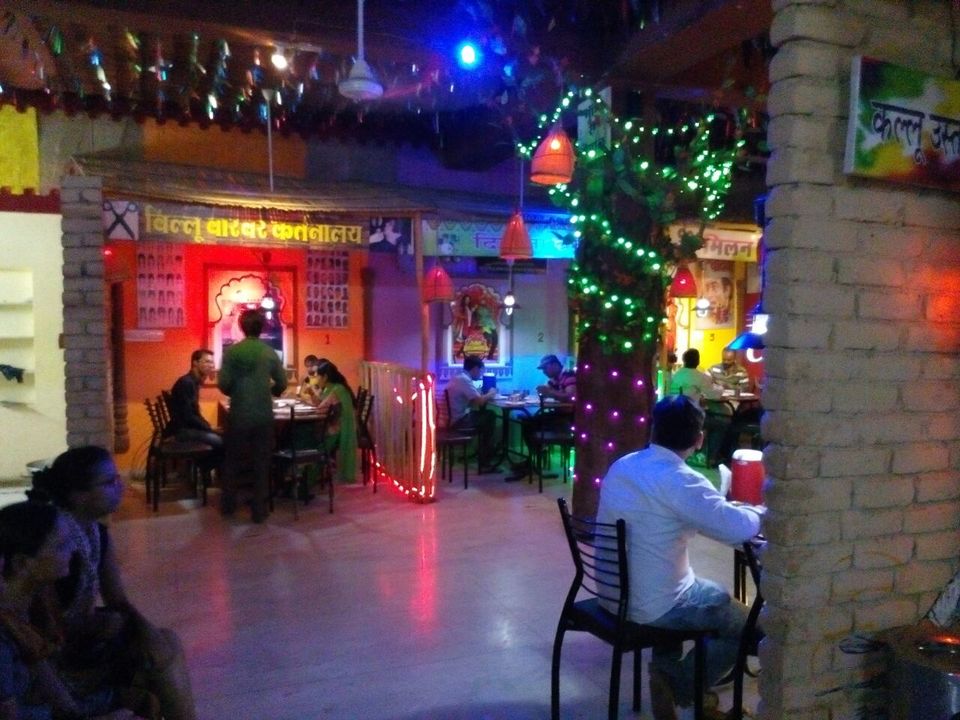 After getting fresh, I moved on for dinner just behind temple. This was antic hotel decorated on the concept of Bollywood movies and their dialogues.
Here, while having dinner I met with new person LOKESH. He worked here in private company and very kind human being and he was sharing his family background and somewhere we both connected. I sleep with 2nd & last pill of journey for back pain .
My conversion with MOM at night……..
You got your friends?.....Yes Mom, they are in next village & will meet tomorrow
Location of Stay-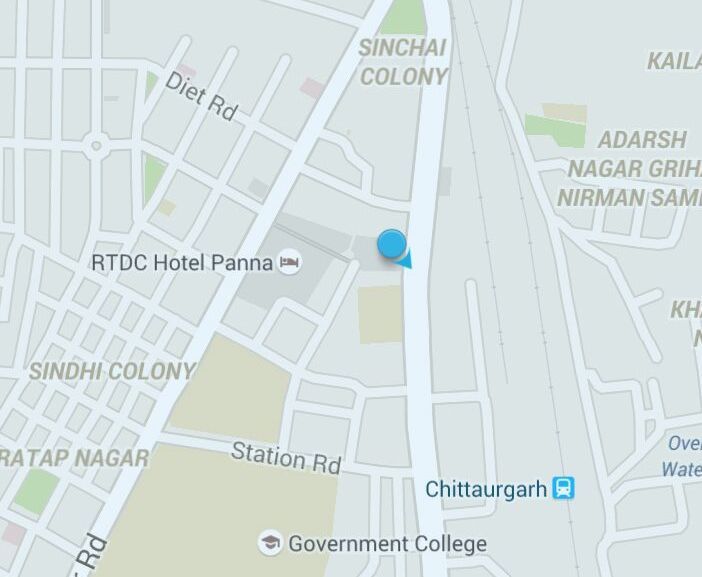 This is how 2nd day Ends…….
DAY 3:- 8th June 2015
CHITTORGARH-AJMER (300KM)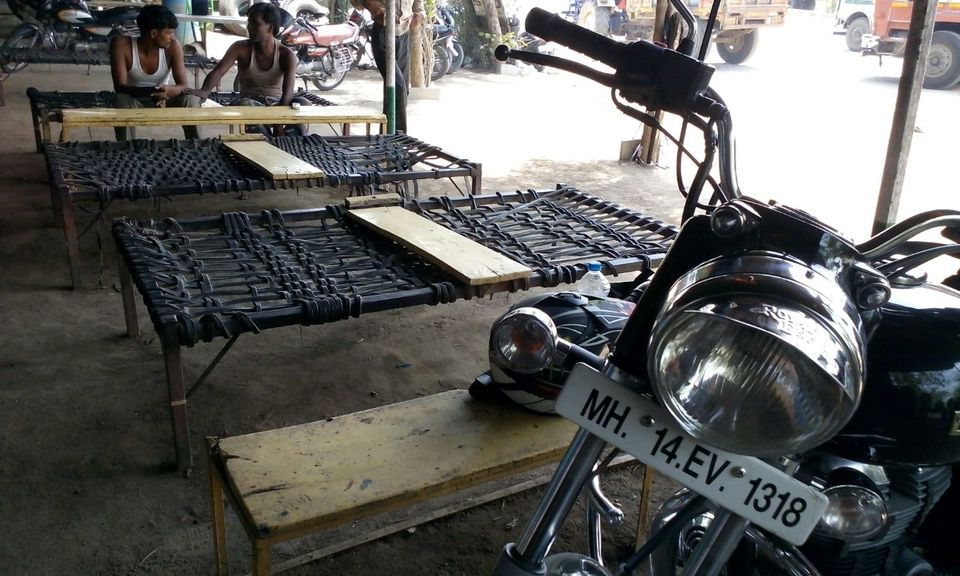 Day 3 starts with early morning as usually by 7am to further journey and first hault for breakfast at Bhilwada at 9:30am. But, the condition through this road was so tough due to hot temp.Bullet engine was also got hot by the time and suddenly by 1pm the 1st broke down happened. Bullet got the ignition problem. With the several kicks still it didn't start and by the time I was completely sweat and drunk 2bottles of water in an hour. I was so frustrated because of bike and standing under the hot sun, not even a single place to rest. I asked for help to couple of bikes but nobody stopped. Almost for 1km ,I pushed bullet and saw one truck was stopped . Finally, I got shadow under truck and cooled down myslef by listening songs . Meanwhile ,I had lunch of local food & my favourite dish Dal-bati. Later, I searched for near by bullet servive station for help and I got the contact at the end.
Finally service people came and we both moved to ajmer at there service station. After doing things right for bullet I went to AJMER DARGAH for darshan arround 6pm and decided to stay at Kisangarh only. But, while heading towards kisangarh again bike got stopped. And finally managed to reach kisangarh by 7:30pm.
I searched for local mechanic PINTU , he solved the problem by changing petrol lock only in 50rs. He was really a helpful guy and helped me for arranging local hotel stay. Thanks Pintu !!!!
After having dinner, my hand got swollen and all wrist nerves got tight. It was so painful and for a while, I thought my journey will stop here because , at that time I was not able to race the accelerator… I applied move spray and had sleep (Very horrible moment in journey)
My conversion with MOM at night……..
You got your friends?.....Yes Mom, they are in next village & will meet tomorrow
This is how 3rd day Ends……..
DAY 4:- 9th June 2015
AJMER – HANUMANGARH (450km)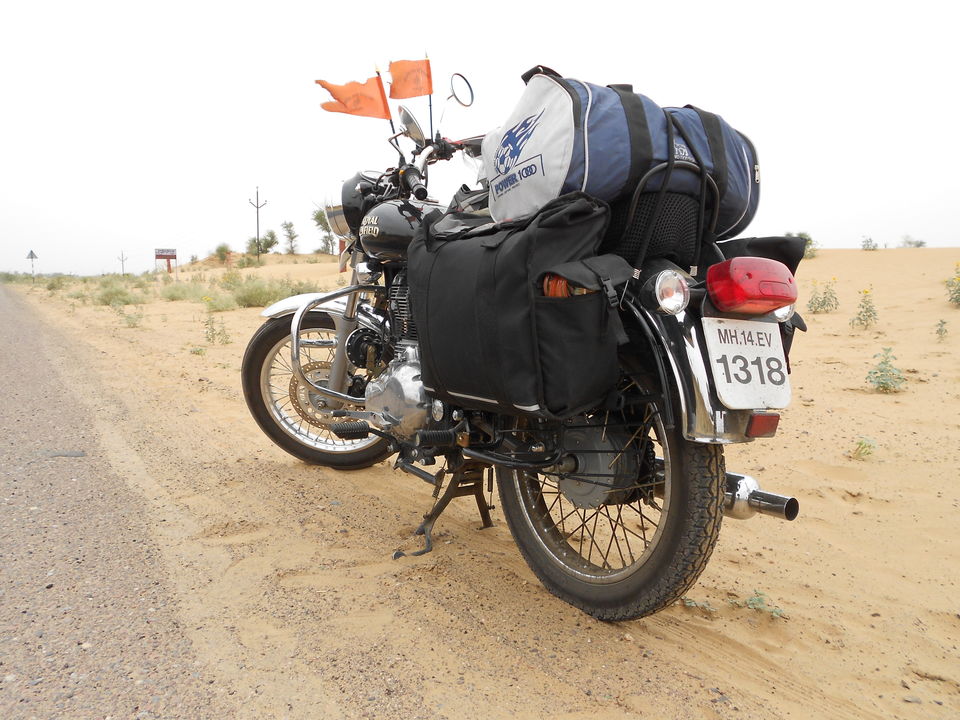 Because of last night wrist issue, I started a journey little late at 9am from kisangarh .As pintu told yesterday night, next day going to be exciting as I supposed to cross desert and it happened so. I was so excited to come across new experience. But, it was all different stuff than I thought. I was driving through desert and again with the super hot temp.Almost every half an hour, I used to stop bike and wet my eyes and drunk plenty of water. Literally, I was not able to see road because of dust moving through roads due to strong wind force & I have recorded this road in my cam. It was superb experience of desert ride.
I crossed through Sardarsahar, and I had darshan of Balaji Temple on the way . after having darshan , I had delishious food of temple and rest for sometime. Finally at the evening, I stopped for ROYAL ENFIELD service station at Hanumangarh .
Meanwhile, I met the owner Mr.Kapil and he offered me coffee. I felt like a good gentleman.
Suddenly he asked,
You left alone?...Your mates moved ahead…….. I said what?
He said….Your friends just went ahead….
I replied….My friends? ….Who?...How Many?....What are their names? (lots of question…I was little happy & fumbled also)
He replied….4 guys….Roshan-Sumedh, Vaibhav & Hiren…..Mumbai guys
By listening Mumbai, I got happy and asked them to give me contact no. And immidietly called Roshan, he didn't receive call & then I text him message…
I am Rahul from Pune going Ladakh…Can I join you? (Here, in mind I recalled mom…..You know why…..hahahahah)
With Mr.Kapil help, I stayed at good AC hotel at Hanumangarh.At night,I got a call back from roshan, and we decided to meet tomorrow at Amritsar.
My conversion with MOM at night……..
You got your friends?.....Yes Mom, they are in next village & will meet tomorrow (1st true with mom of this journey …..Feeling relax)
This is how Day 4th ends……..
DAY 5:- 10th June 2015
HANUMANGARH – AMRITSAR (400KM)
From Left…….Sumedh,Hiren,Roshan,Vaibhav & Me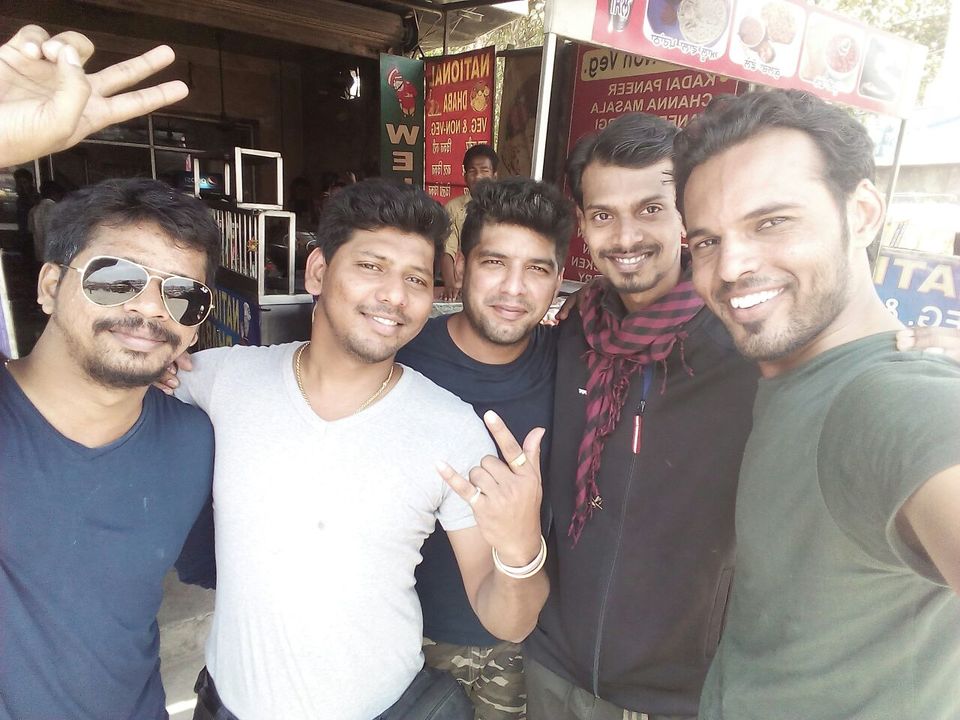 I started early at 5:45am, because I supposed to reach early to catch new buddies who are going to be part of my journey and gonna travel together. Today morning I called my friend Ashwini to meet in Amritsar and without any hesitation he said yes. He was coming from jalandhar to just meet me. And met with Mumbai guys in Amritsar over lunch. And above pic was 1st selfie of group with whom I roamed ladakh. Here, I got immediately connected to Sumedh, as he has connection to my home town(by identifying the flag on my bike).They were going ahead and I was going to catch tomorrow at Katra (Vaishnodevi). Till the time, Ashwini Arrived and we had Golden temple darshan and also lunch at lunger.We visited Jalianwala Baugh. It was so great feel to reach there on bike after covering so much of distance.
By 4pm our temple darshan finished, I parked my bullet there with luggage in ashwini car and we decided to go at WAGAH BORDER…
We were late there to see parade but the climate was so dangerous. All of sudden big storm came and it was a massive .But, for the 1st time in life I saw INDIA-PAK border closely. It was a patriotic feel.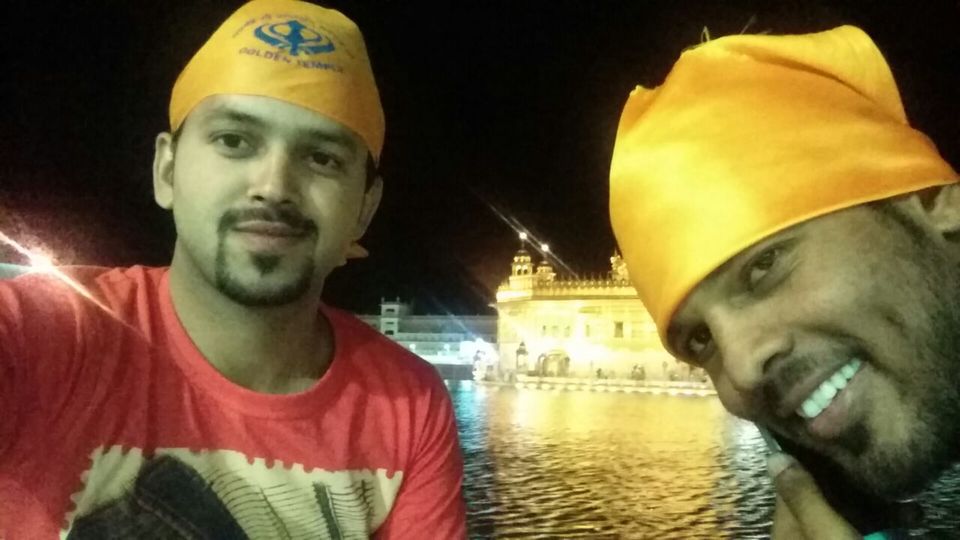 After seeing wagah border, ashwini decided to stay with me. After having dinner at famous hotel BADE BHAI DA DHABA (Big Brother Dhaba) we both roamed in city and visited golden temple at night again. It was so beautiful view at night.
My conversion with MOM at night
You got your friends?.....Yes Mom, they are in next village & will meet tomorrow (Finally gonna meet in true manner, I said very happily)…..i had a good sleep really…..Dont Laugh
This is how Day 5th ends.
DAY 6:- 11th June 2015
AMRITSAR-KATRA-SRINAGAR (550KM)….18 hrs constant bike ride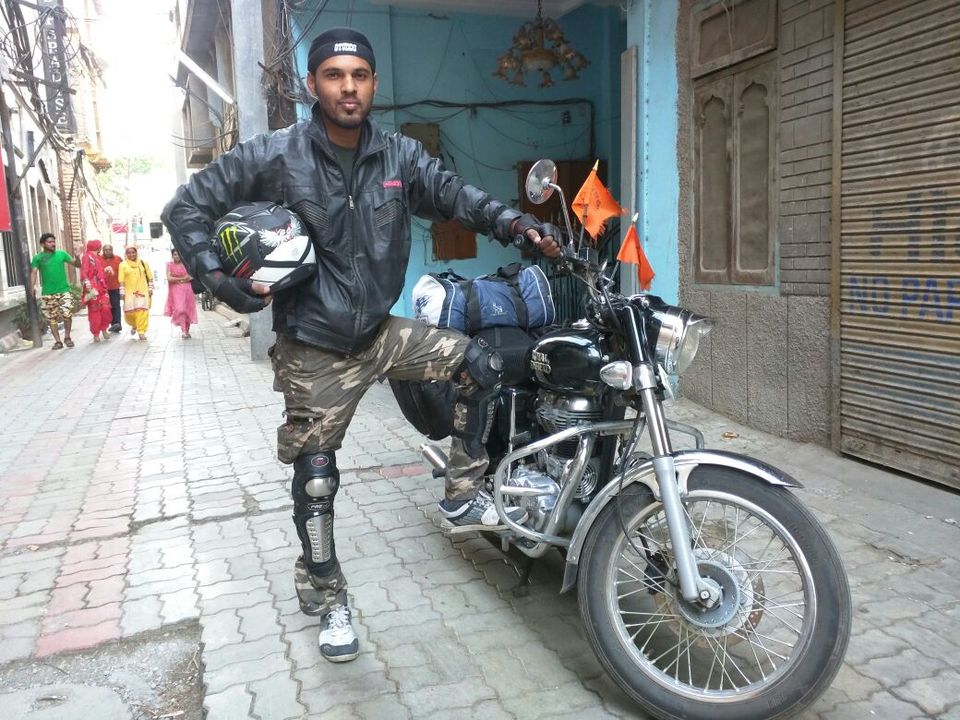 ALL set for the big and the most dangerous patch of the day……
This is how, I used to get ready every day for the riding bullet. I dint know that, 11 june 2015 going to be most challenging day of my biking life at the morning. Ashwini wished to join me but he couldn't because of his other priorities. He went for Jalandhar and I went towards KATRA (Vaishnodevi) to meet my new biker friends.
I started day at early 6:30am, and it was quiet a rainy atmostsphere. I left the Punjab and via Pathankot entered into Jammu and here I got so emmotional because, I was just entered near to my destination of Ladakh. All of sudden all mountain came infront of my eyes and I got so excited.
After passing toll, I entered to NH1 (Srinagar-Leh highwayS). It was so beautiful and crossed through most amazing ghat section and I couldn't stop myself to came back 2km and climb again….The most beautiful road till date. During the NH1 , I saw 2 big accidents infront of my eyes. 1 bus of vaishnodevi went down the hills & other watermelon truck hit on the side of road. All watermelons were on road, and water was running from my mouth.
But, I have to catch the mates ahead for further journey. And finally reached KATRA at 12:30 pm & met all buddies there. Immediately , I called Sanju Bhau(big bro) and told , now we are 5 people heading ahead . No need to worry. I am sure by that time , he must be relax & good sleep after this day…hahah
ROSHAN posted on FB:-
One more Passionate rider from Pune RAHUL PURANIK has joined our 4 pack…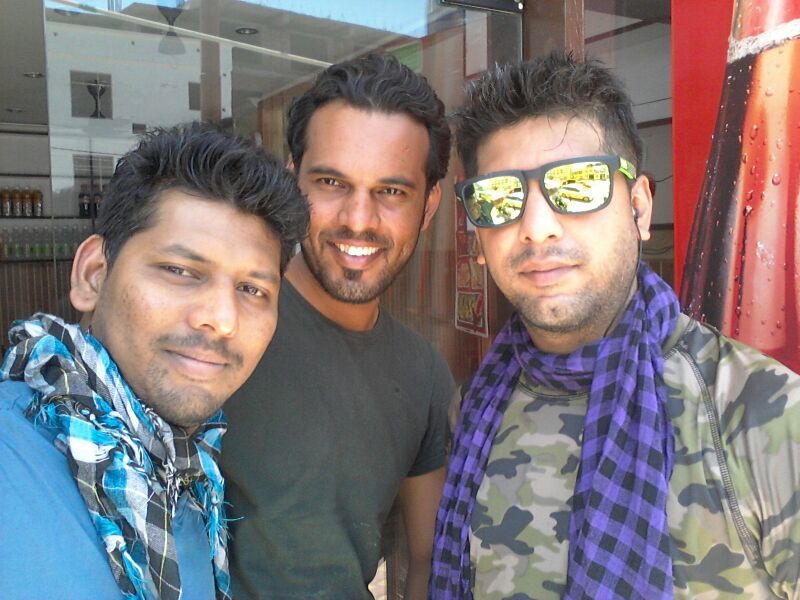 From here onwards, my journey took new way with this rocking guys. After reaching katra, I had vaishnodevi darshan by feet because It was time taking. After all got ready Sumedh (official photographer) gave an idea to all of us to come one by one on bike because he wanted to shoot video of me to joining them. Actually, On that moment only I came to know that he is really talented guy & he was taking all glimpse for making short film for this journey. Then we moved towards Srinagar,But the 2nd disaster to my R'RE happened….got big Puncture by screw of 10mm size.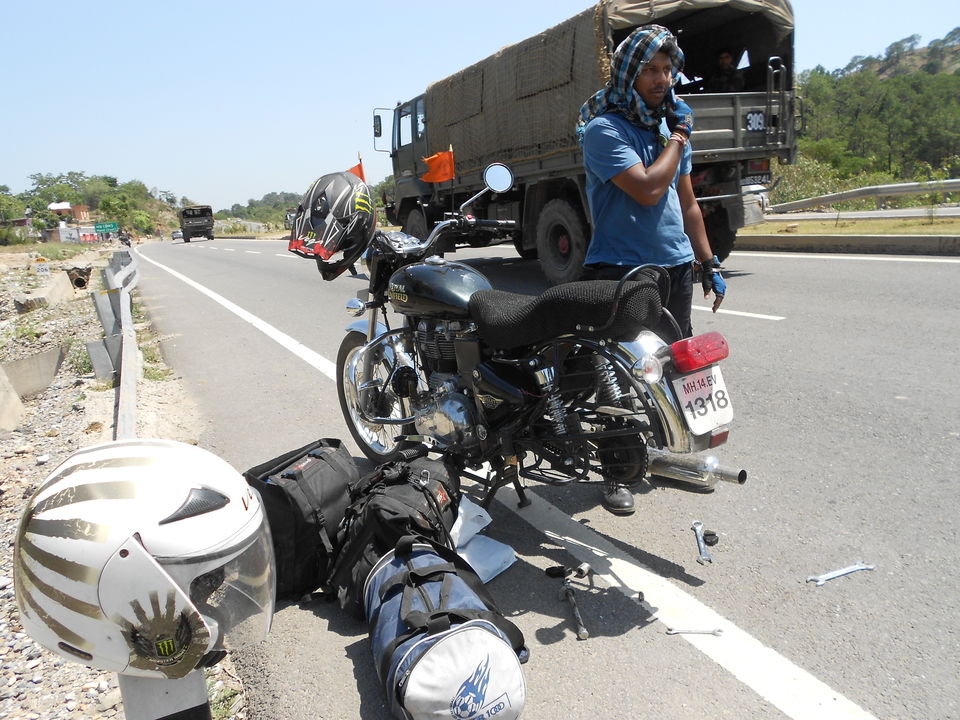 Roshan- Sumedh went ahead and Vaibhav & Hiren stood along with me .And what a fortune we had , the puncture shop was just infront of us.Hiren told us very interesting facts about this NH 1 highway , Every driver of vehicle touches this highway and take blessings for safe journey. And I already experienced 2 accidents early morning. So , we did the same as per Hiren thoughts & Finally corrective majors was taken and moved ahead.
After reaching some Kms ,we stopped at bike service center and came across new person -Soldier Dnyaneshwar Patil who was posted at Srinagar. He was also happy by meeting Marathi people at there. And we keep and continuing the journey til Patni top by 5pm & then we had snacks . It was so cold that we almost shivering and we were really chasing for the most risky night of entire journey. And Roshan decided to attach GOPRO cam on his helmet for the first time in this journey and we all were so exciting to this new change.
And finally we decided to move ahead and sun set happened . We were only 4 bikes running through this silent ghats by 7pm. By the time 9pm, we crossed the most dangerous river CHINAB sounding like an ocean (ice gets melt in afternoon & river behaves like ocean at night ). I was really scared and for few minutes, I was little back from all guys. I was just able to see there tale lamps of bikes.And by 11pm we crossed the JAWAHAR tunnel (single lane, 2.5km)which connects Jammu- Kashmir and it is on hit list of terrorist.
But we were really proud of all soldiers who were serving for nation in such extreme condition. And we met there another soldier Mr.Patil from Kolhapur who guided us not to stop anywhere in road . And after risky patch over ,we stopped at dhaba by 12pm which was the only in that kashmir valley and with the massive coldness we had rice-dal. And finally at 2am , we reached at BILAL GUEST HOUSE of Mr.Gulam Kadri at Dal lake. It was the lake which I read and saw in book and I was speechless by standing there at the bank. And after settling down, all bottle opened up to cheers !!!!....But I don't drink…hah……And the terrorist stories of Gulam kadri continued till early dawn..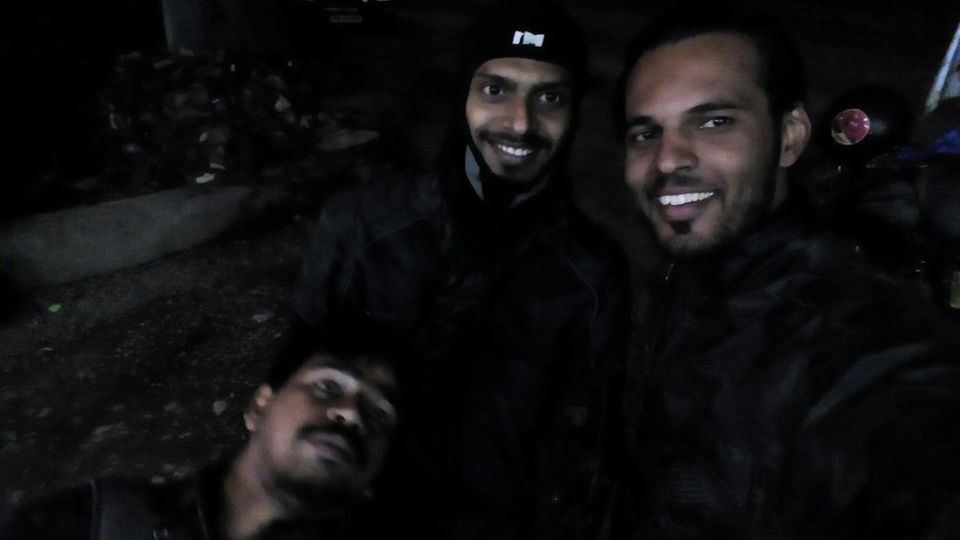 My conversion with MOM at night…….
You got your friends?.... Yes Mom yes…..Finally I am with them. (she must have sleep with relax mind)……..
This is how Day 6th ends……
DAY 7:- 12th June 2015
SRINAGAR STAY & BIKE SERVICING..
It was one of the coldest dawn of the journey. I and Hiren woke up early and roamed on the bank of Dal lake. It was an awesome view with the early dew on roads , we both experienced the shikara (boats) & others were just in bed. After having a great morning walk, we came back and by the time all were ready to go out again in market. We all had bike checking at RE showroom and my horn plate was broken and that was also repaired at the same time . I changed oil for the 1st time,and new members joined us , who supposed to join on next day in journey.
Then we moved ahead to shopping part and purchased the leather jacket and sumedh with the hat. And finally we had again market walk at night and the atmostsphere was like raining. The big mountain were looking so scary at night which we were going to chase in next days.
This is how Day 7th ends……
DAY 8:- 13th June 2015
SRINAGR – DRASS (300km)……Landslide at Zozila Pass
We start our day at 8am with having KABA (keshar tea) made by HEENA (the owner of geust house) and we were reached at Lal darwaraja Chauk , Srinagr where the rest of new people supposed to join us. , Anand-Prerana joined us first who were from noida and just in few minutes Dipanshu-Sumit also gathered .So, by this time we were 9 people now and going to chase big risky day of Zozila Pass. We were having tea and discussion , I purchased urdu paper just for a memory of Srinagar.
One Very bad incidence happened on that day-
Hiren kept Indian flag on his bike and suddenly one person came & asked him to remove that flag or else people will throw stones on you. And without an argument we decided to remove for a while and again after few Km he attached.
And after sometime one TN passing bike came near to us. Harish-Jaikar the pair like Jatin-lalit( muisic composers) came infront of us and joined with group.
So, now we were 11 people of group. And one thought moving through mind, I started one and now 11…. How destiny changed within 8 days?
One good incidence:-
Suddenly one Muslim Aged person came to me & looking at Saffron (Bhagwa colour) Flag on my bullet ,He asked …
" Are you from the Land of Shri.Balasahab Thakre(Founder of Shivsena Party,Maharashtra )"….
And with the Pride , I said ..YES……It was shocked to know about this. At that point I Came to know, People only kept Identity in this world …Nothing else .
We initially passed Sonmag, and it was so beautiful glacier and greenery. I got so speechless and just observing nature and lots of photo session. Hiren & Vaibhav moved ahead and we had omlet at nature atmostsphere.
This was the most Beautiful Breakfast of my life with the awesome nature. We all people started chasing vaibhav & Hiren as they went ahead from all of us. And here the big mess happened……Zozila PASS arroung 12pm.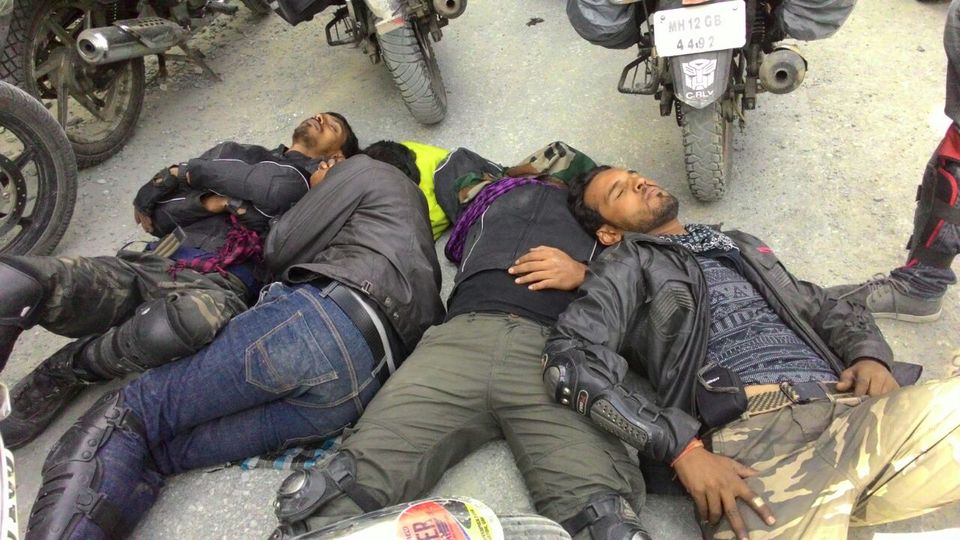 Zozila pass was full of traffic due to heavy land slide on road and for timepass we played songs & dance on ….Baby doll me sone di…..And you cant do better than this in such a bad condition. So, we all keep engaging and motivating ourself with such activities. Finally we got tired and had sleep on road itself. And after 5 hrs all road got open and we started journey towards Ladakh region and all of sudden rain started and my shoe got wet . I changed my sport shoes and wear Big Gumboots to protect from cold for legs but it also didn't work & I started suffering from cramps, which were so embarrassing . At one point there was a big pond of water, I tried to skip that and lost my control on the bike & bike falled down. It was very memorable for me.
We all crossed the check post to entered in ladakh region and army trucks started appearing infront of us for the first time. So, we stopped at the side of road and gave salute to almost 22 trucks Back to back and it was so proud moment for us and all soldiers were giving smile to us…..This moment can not be explained in right words but we experienced that. By the time, we experienced undisciplined riding .So, we decided to have formation…..
Roshan will lead followed by Rahul(me)-Anand(prerna)-Sumit(dipanshu)-Vaibhan-Hiren. And if any problem occurs just 2times play the horn & also keep on watch bikes in mirror.
Arroung 7.30pm, while we are all heading to Drass, suddenly I felt someone missing in mirror. I stopped roshan,sumedh,sumit,dipanshu and told about missing person and followed by anand joined and he was also repeating the same. We were in little shock because it was all dark and full quiet area and temp was around 8-9 degree. And we came to know that, Vaibhav,Hiren,Jaikar-Harish were missing. And roshan-sumedh & me decided to move back to find them and that time sumit shouted on us and told that we are together and will stay together. This words were so great to hear because we just met today and such a great attachment was built in few hours….Hats off to Brotherhood…..
So, again in formation we went back and suddenly saw Jaikar-Harish were coming infront of us and everyone was happy to see them safe . Their bike got puncture but Vaibhav & Hiren were missing and harish was saying that, they were together and after some distance they got disappeared. And all our heartbeats were on high and playing like drum….And suddenly, I saw truck coming and stopped him to ask about missing 2 bikes and he didn't know ,was the reply. By the time we asked for 2-3 truks and finally one truck man told 2 people are 3 kms back and had some problem with their bikes.We got little relax and we sent Anand-Prerna,Jaikar-Harish ahead to go at drass and arrange for stay and by the time Roshan-Sumedh, Sumit-Dipanshu & me went towards missing people.
And finally after few km we saw bike lights and we actually got relax to see them well. Vaibhav bike was not getting start and Hiren also stopped to help him ,so they stay behind. It was great commitment by hiren to stay along with him. And we checked spark plug, fuse still bike was not responding. And suddenly one car stopped and by seeing our problem he offered us Chain for bike towing. And we were trying all possibility to start bike but it was all waste and suddenly we saw 4 bike were coming towards us. And seeing a bike was a big relief on this road where hardly people roam at nights.
One sikh man(paji) came to bike and said,
Ki ho gaya (What Happened?)…Let me see bike.
And he removed pipe just below petrol tank and asked vaibhav to start kick….And miracle happened , bike got start and we were just jumping like mad person…. And that sikh man was PRITPAL SIGH….They were staying last night in previous village and that people were saying, don't stop in road because 2 bears are roaming in this area. And we started our bikes and straightly reached at Drass where remaining people were waiting for us…..And all incidences which happened was area of interest for everyone. Everybody said thank to PRITPAL for help on behalf of us…that was really a great BROOTHERHOODNESS…..
And I was so demanding in group because, only i had BSNL simcard and it was the only network there. So, everyone talked to their family by my cell and it was a great pleasure for me to help them in such extreme conditions where no other simcard were working. Let me tell you DRASS has recorded 2nd lowest temp of the world. And we were living in such city.
DAY 9:- 14 June 2015
DRASS-LEH (350KM)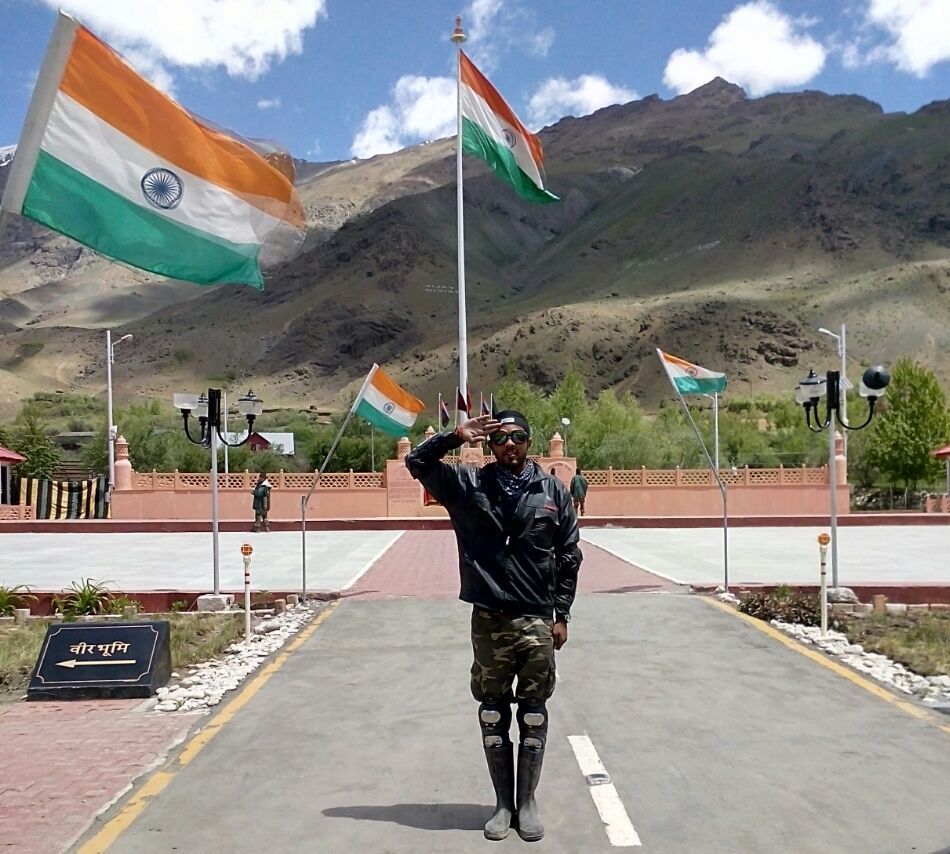 We all decided to reach Leh tonight before 12pm at any cost because all people wanted to celebrate Mine & Vaibhav Birthday on 15 June 2015. So, First we saw the Kargil memorial and I got so emotional to see that place .Because I have special connection with army due to NCC and I was junior under officer ,also participated in Pre-RDC (Republic day Parade). So, all my memories of army training came in mind and by seeing the memorial we all felt so patriotic and proud Indian.
We spent some time with museum there where all description of Ind-Pak Kargil war was displayed . Our army fighted with enemies for many days without having food and that information made all so shocking and that feel cant be explain in words.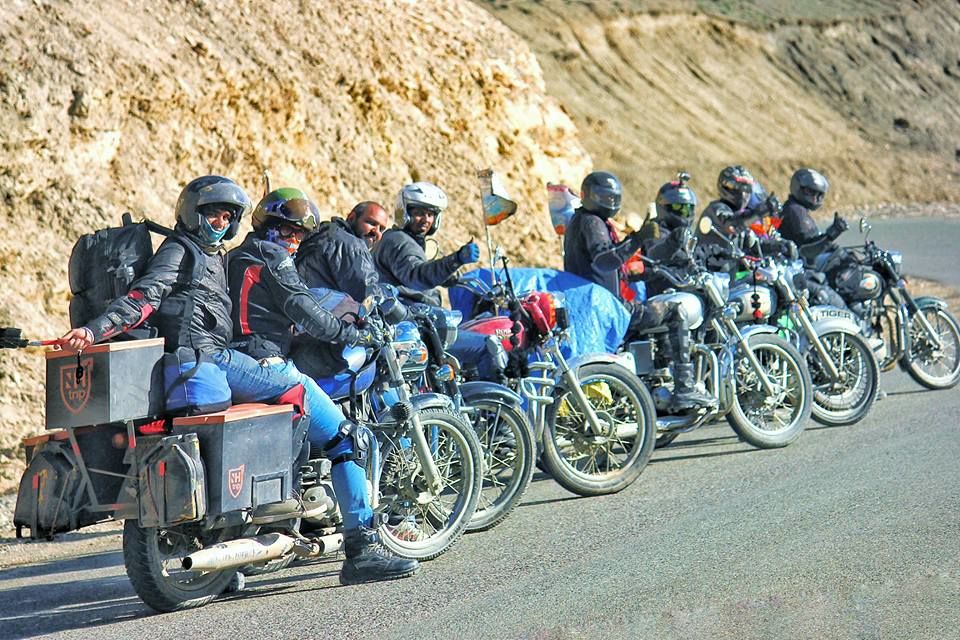 We all were so exciting for the first pass towards Ladakh was NAMIK LA PASS(12000 ft) and followed by FOTU LA PASS (13000 ft). While moving ahead we all crossed LAMAYURU monestry which is one of the famous and again we Sumit-Dipanshu, Anand-Prerana & me got separated from group and reached at petrol pump and refilled the fuel. Suddenly , Anand started complaining about bike break failed at 9.30pm but he still decided to drive the bike. Till the time rest people joined and decided to form formation and kept anand in between to avoid any misplacing issue.
And we were just 30km away from Leh , we crossed Magnetic Hill point. It is point where, if you stop the bike in that zone,bike moves automatically. And the last 30 km patch was so exciting and tested our patience because the dream we were seeing was going to be in real. And suddenly I start recalling my journey , dreams of ladakh and was so nervous because ,now I am going to be there. Literally in that excitement my speed reached to 100km/hr and that was the top speed of my entire journey . And now everybody started chasing each other because we all wanted to reach Leh early .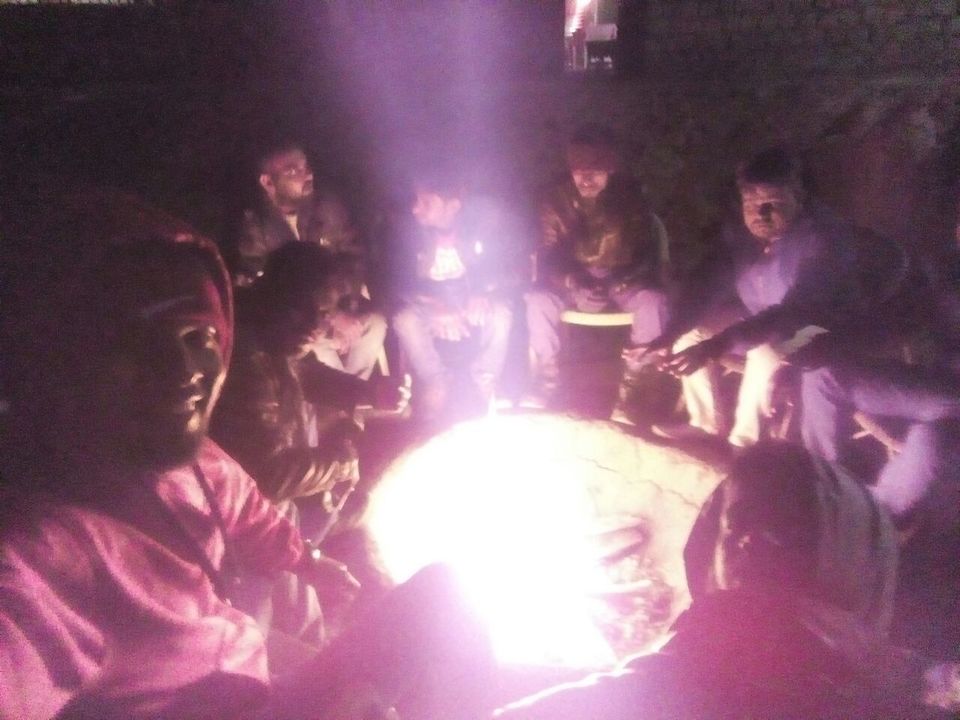 And finally 11:30 pm just before half an hour to birthday, we reached at Leh and Celebration started without seeing hotel almost in 3-4 degree. Party kept on rolling and we had cake cutting ceremony and all were enjoying the 1st night of dream place with birthday mood. And after party over we were searching for hotel and Gayatri called me and wished ,also gave a big surprise of room booking a hotel by sitting in pune . It was great shock but by this time room was booked and fortunately we got other guest house for stay. Still I would like to thank Gayatri for this arrangement. And the party over by 3 am and we all went to big relaxing sleep after many nights.
This is how Day 9th ends……
DAY 10:- 15 June 2015 (BIRTHDAY)
LEH (0 km)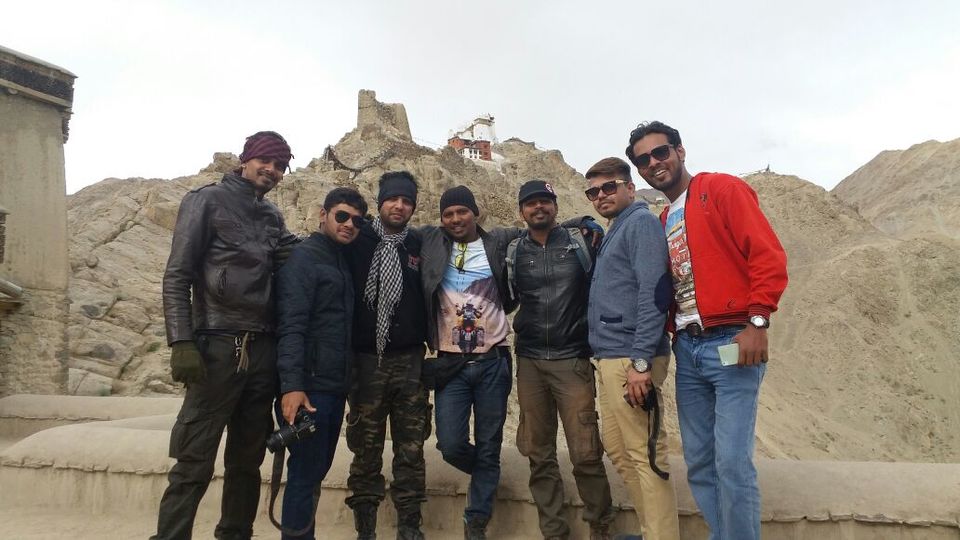 I woke up earlier than Sumedh at 9am because my dream place forced me to wake up . It was the first morning of my Dream Place Leh-Ladakh and it was amazing feel to be here after crossing 3000km from home. Then I came to know we are living at TSOTSO (Anand Localite friend) uncles place and it was so beautiful with the garden . I talked with my family ,they wished me for birthday and I am sure they felt happy by hearing my excited voice.
I was so hungry and suddenly by next room harish-Jaikar came out and we went for breakfast outside. We started searching hotels in lanes and it was time of 9.30 all people were opening shop and finally we got Punjabi hotel .
And very interesting incidence happened, I asked for cold water and that owner gave me outside bottle and then I asked for to give from fridge and he laughed and said- touch this bottle , you will feel more colder than fridge one. And actually it was , and we both were started laughing.
We had parathas and met with 2 foreigner guys who came here for trek from US. We had good discussion and we went to visit cyber café . After along time, I got internet and saw all good wishes from friends and was very happy to get connected with all.
By the time we all 9 people except Anand-Prerna went to LEH PALACE which is one of the ancient palace of world with 9 floor building. It was really a great historical palace to visit and followed by SHANTI STUPA. We all went for blessing for Buddha idol and by seeing that atmostsphere we almost spent 30 mins in meditation. The view from shanti stupa was just spectacular because wherever you look , you will get glacier mountains. And we met new person Meet Das who came from Kolkata by manali pass.
Entire evening spent in shopping & met one girl who started talking in Marathi (Maharashtrian Language). By seeing her, Sumedh & me got shocked and came to know about her Love story. She once came here and falled in love with Ladakhi guy and now she is Ladakhi.
It was time to throw a party to all from me & vaibhav. We all again met at one hotel and the party last till 1.30pm with the memories of Ladakhi stories by TsoTso, rap songs by Sumit, Malyalam songs by harish , Jaikar-Anand comedy chats……It was so memorable . And I talked with Punam who called me from Italy and she was so proud about me . Next day was KHARDUNGALA plan.
This is how day 10th ends……
DAY 11:- 16 June 2015
LEH – KHARDUNGALA (39KM)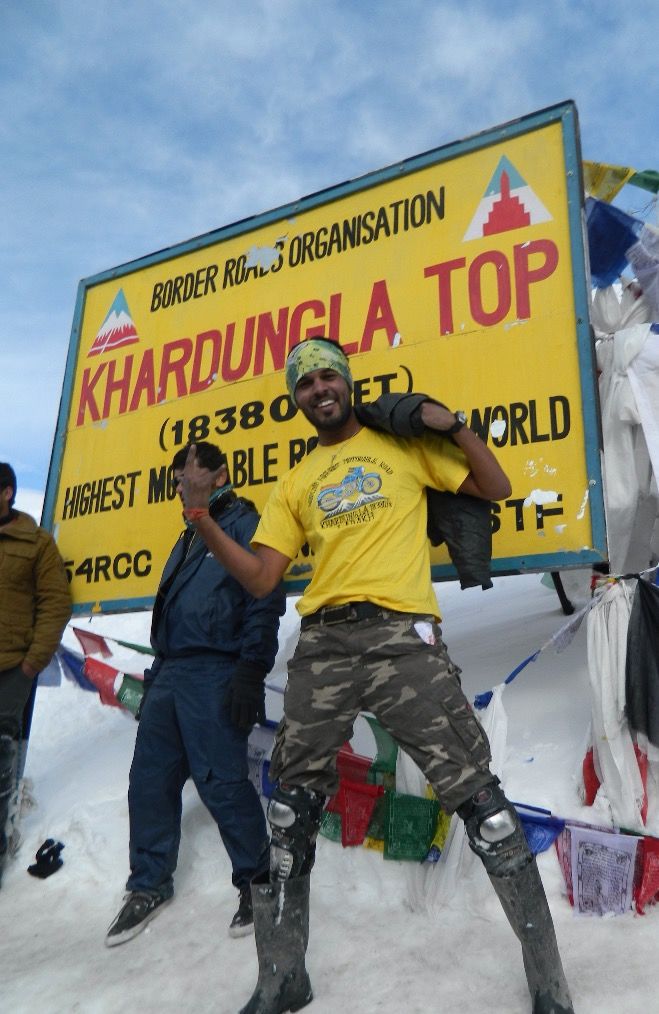 With new day, Here we supposed to get separate for different paths but god decided to stay all of us together again. And we Sumit-Dipanshu changed the plan and decided to go on KHARDUNGALA with Hiren,Vaibhav,Roshan-Sumedh.
They left early and we chased them from behind. At one corner and for sometime I was so far from them and little worried to get misplaced but finally they were waiting for me at one stop and it was so great feel .
We reached at the Khardungala entrance for permission to go ahead on top of world. There was a army base camp downside and road was packed due to snow fall , only vehicles from top were coming down .First time In life I experienced the snow fall and we were dancing like mad. And suddenly the vehicles started moving from down to top. And we filled the death warranty form stating that we only held responsible for any incidence, that moment was so horrible to digest. I was just seeing death infront of me and going to fight for life. The roads were full of ice and bike was sliping on very narrow road.
After 2 hrs , we finally manage to reach on TOP OF WORLD- KHARDUNGALA (18380 ft) high and I recorded video in mobile. We were facing problem to take proper breath on top and the army camp was still there to help for people with oxygen mask. At the top it was less oxygen level and because of hight fobia, Roshan decided to move back to base camp. But my routine of swimming and diet paid off here and I manage to stay there almost for 30-40 mins and my expression at top was I COME, I SEE & I CONQUERED…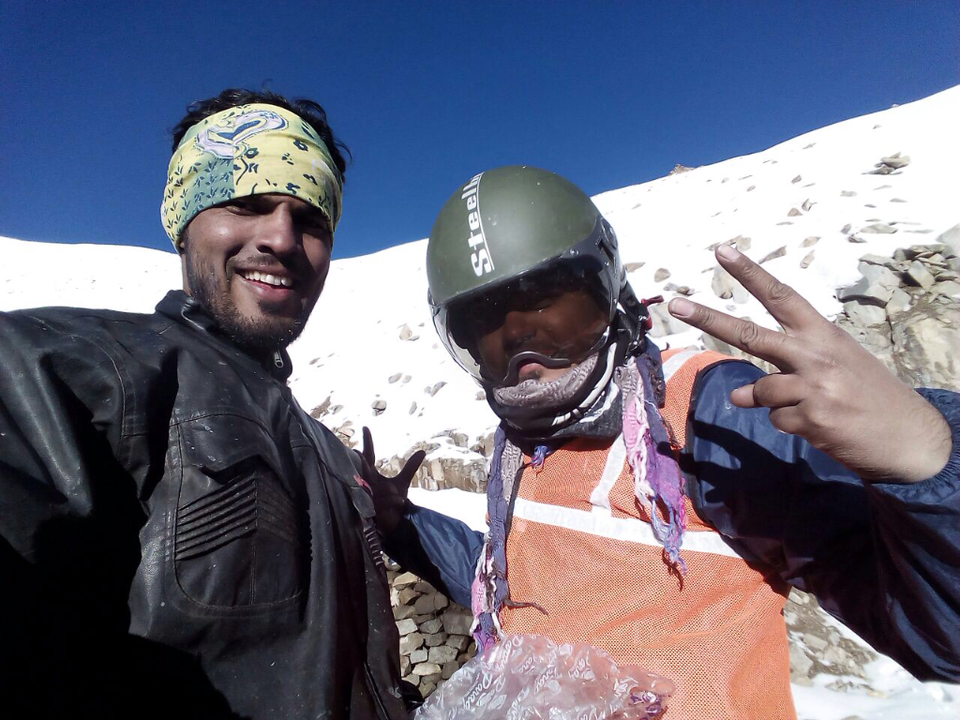 Finally we all decided to move down and roshan bike got strucked at one point due to break fail and still he was managing to get down…He is really a tough rider and challenged the all tough conditions…Hats off Man.. In between Sumedh & Dipanshu went in four wheeler by asking a lift. And after some point, everyone went ahead and when I was riding, I felt someone missing . Then I went few km back and saw Sumit was there and struggling to ride and he was so thirsty. So, I offered him a water and helped to removed his bike from mud, he actually lost energy. By this time we both were struggling to take breath
And we took a rest for sometime and then decided to move on. Here was a point we charged ourself by saying JAI MATA DI….LETS DO THE LAST LAP…It was a great source of motivation and finally we reached after a lot of struggle at base camp. Everyone was having maggy and tea. I was literally shevring due to cold and started rubbing my feet. After sometime got settled down. And my words were…..finally Life won over death.
By the time of 8.30 pm , I reached room early and took a hot water and dipped my legs into it. It was the bad cold I ever experience in my life.
This is how Day 11th ends…
DAY 12:- 17th June 2015 (PARENT ANNIVERSARY)
LEH – PANGONG (160km)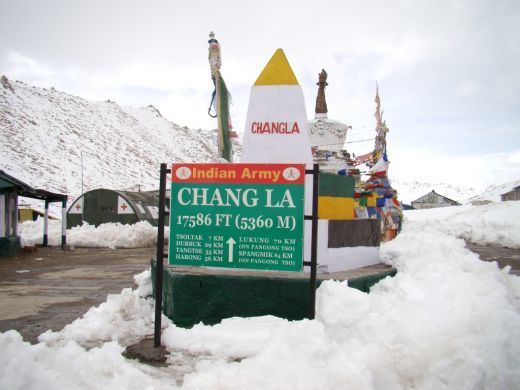 Here we got split into 2 groups because Mumbai guys wanted to go back and we (Anand-Prerna, Sumit-Dipanshu & me) went towards pangong lake where 3 idiots movie was shoot. We were started moving through Zig-Zag roads and it was very exciting to drive. In this journey TsoTso also joined us because further he was going with anand .
First we crossed CHANG LA PASS (17000FT, 2nd highest motorable road of world) gave a feel of khardungala and it was full of glacier roads. Driving through this roads was one of the tough so far. And by the evening we crossed TANGSTE VALLEY which is good treat for wildlife due to greenery. There were many army camps we crossed and finally reached at the destination from where Pangong came infront of our eyes. It was quiet along day ride due to bad road conditions. And here Anand-Prerna & TsoTso moved ahead and we split again . We (Sumit-Dipanshu & me) were decided to stay at tent just at the bank of lake and suddenly TN bikers (Harish-Jaikar) joined us from Nubra.
I came across with funny personality Phungsuk / Gyaltasan who was owner of this tents and few ladakhi songs were running when we reached. We all danced in ladakhi style and enjoyed that night.
The big concern was of range which was not at all there. So, again we lost the contact with family without informing them. I was so nervous because of this.
This is how day 12th ends…..
DAY 13:- 18th June 2015
PANGONG – PANG (350KM)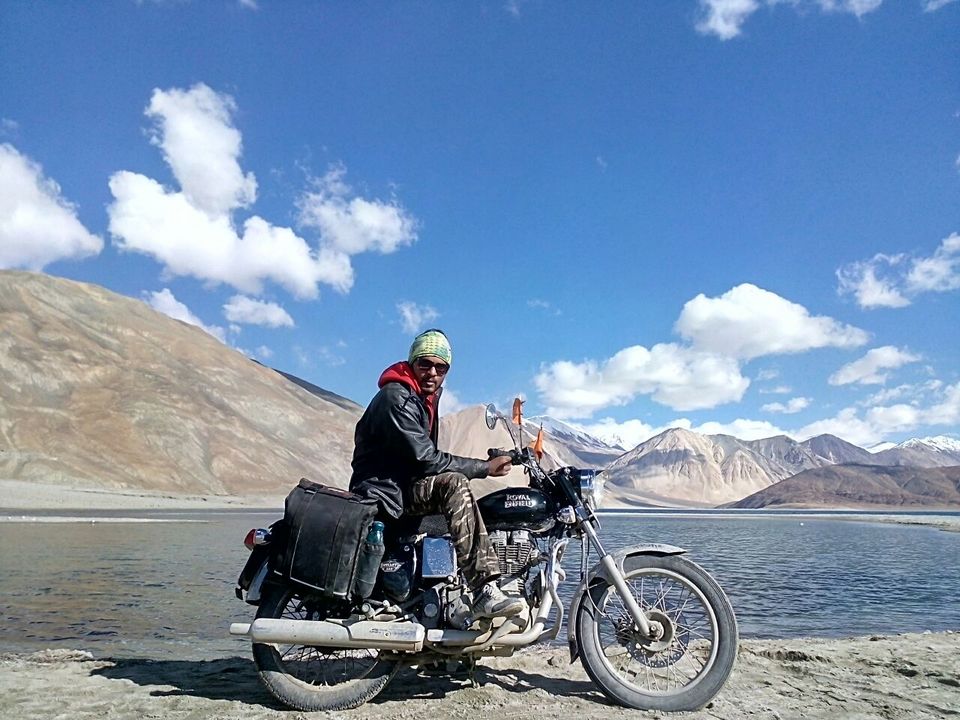 It was too cold morning at the bank of Pangong Lake which connects to china border at 70km. Pangong is about 130km and only 40 km comes into india region. Ladakh is such high altitude where day starts early 5am with clear atmostsphere and I saw that view, it was just unbelievable. We had very fast breakfast because we have to start return journey by today only.
My fuel was almost empty,so purchased fuel with 150/ltr from a hotel. And Me & Sumit- Dipanshu went for Pangong view from close and visited 3 idiots Movie spot. The water was so chilled and I filled one bottle of water and still have with me. Pangong lakes water reflects in 10-12 colour shades in day schedulded and that is so amazing to see . I had few of colour shades.
BY 11am , we decided to go by MANALI as the most risky Baralacha Pass was opened. So, we started to move towards Pang and while climbing the Changala Pass , sumit bike again came across problem of carrier breakage. We almost spent 2 hrs to fix that somehow. But his bike was not taking pickup , So he faced very difficulty but still he never gave up. And that's the quality of true rider ,whatever may happen we can still fight till last moment….Hats off man….
Finally we had mobile network at KARU and had talk with family after 2 days and they were so much worried due to loss of connection. We decided to move towards the next hault PANG which is known for less oxygen level.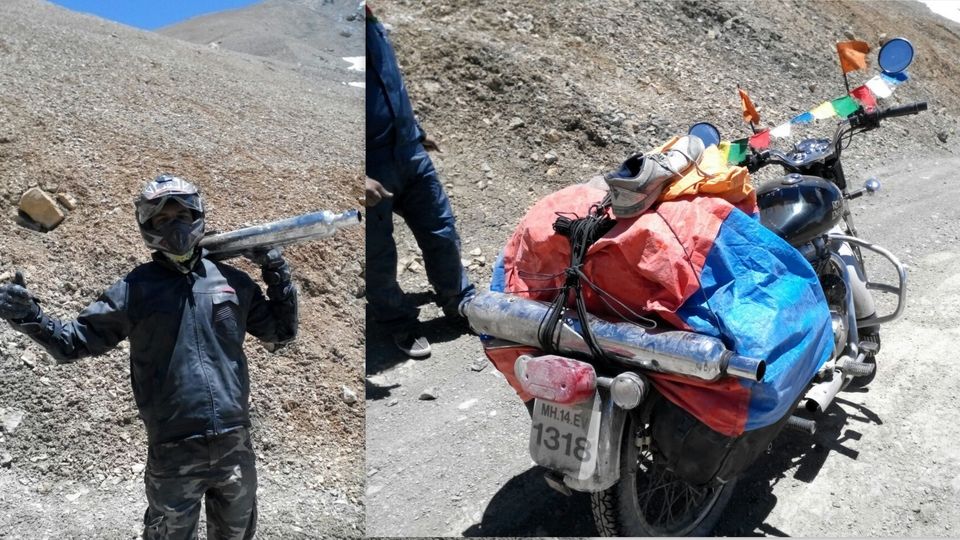 Now, it was a time to chase the TANGLANGALA pass (17000ft, 3rd highest motorable road of world) . My bullet had a pick up, so I was heading while sumit bike was slow. At that top of Tanglangala Pass, I was literally scared by seeing downside view and water of melted ice was running through roads on the slope at right side. The view infront of me was scary at the same time beautiful because sunset was going on. At this point, I was alone and not a single person was near by me and it was feel of disaster infront of me . Finally Sumit came by back and got a big relief.
After crossing the pass, bullet was getting tik tik sound and suddenly noticed silencer broke down . The silencer was too hot to touch, I directly throw in ice to make it cold. After getting cold , finally I tied that silencer on the backside and continued my journey till jaipur without silencer (1000km) .
And the next big challenge was BARALACHA PASS for which every bullet biker must have stories. This pass known for deaths and it happened every year because it is complete snow roads for 40 km. Baralacha pass is always in the condition of block due to heavy snow fall .
The crains were clearing the roads and I put my bike in wrong overtake and after passing that sumit came and shouted me very badly. And I really accepted my fault and irresponsible overtake to loaded truck which could have cause the big threat to my life.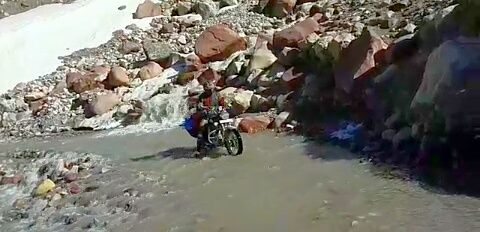 Manali route never gave a chance to breath & drive properly . And one by one many hurdles came infront of us. While crossing SARCHU, We found big water flow which must be hight till bullet seat. It was the biggest hurdle we faced yet and decided to cross this. Initially Sumit decided to go and his tyres were slipping on smooth stones and water was also cold that you cant keep feet in it. At one point his bike was not moving, so he needs me to push till the other side of flow.
It was my turn to pass and without silencer bike took good pick up and without any big challenge I crossed that flow and changed the socks because it was almost wet by the time. And we keep on continuing the tough tasks. Finally, we decided to stay at Pang in tent under -3 degree with less O2 level. We got a tent and the owner was so funny and behaving like a small kid. And I was really enjoying with her family. The temp was so down that We slept in tent with 4-5 blankets and with riding jackets.
This how day 13th ends…….
DAY 14 :-19 June 2015
PANG - KEYLONG (350 km)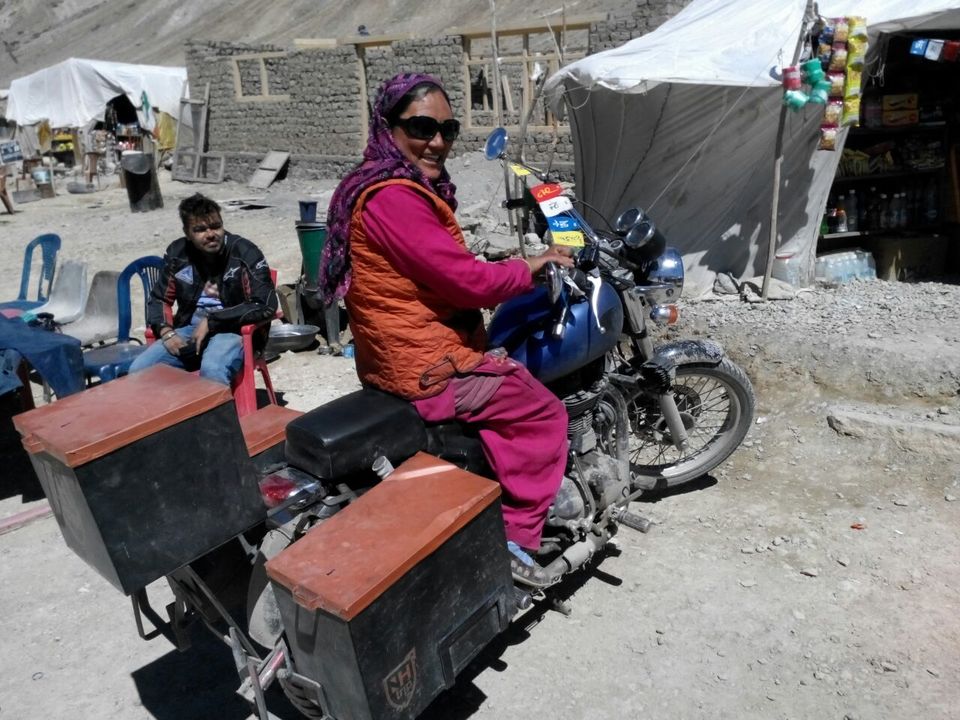 We woke up by 8am and had breakfast and decided to move till Manali . After having breakfast , it was a time to say bye to MADONA (funny women & owner of tent). And she played one ladakhi song, And started dancing. By looking her energy , I also shaked my legs with few ladakhi dance steps taught by Madona. While doing dance, entire people started noticing our madness and we hardly cared for them .
And I met her grandson named NIMA and he was so cute. And at the end of day, I decided to stay at KEYLONG and Sumit-Dipanshu moved ahead towards Manali.
This how day 14th ends…
DAY 15:- 20 June 2015
KEYLONG - CHANDIGARH (400km)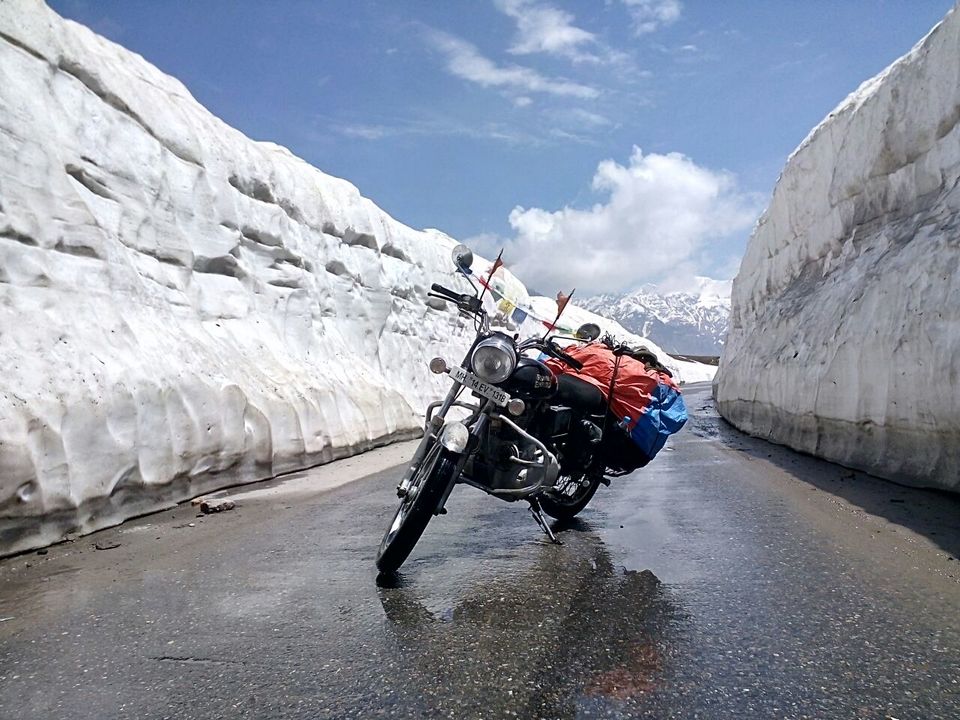 It was again a lonely morning, by the time I was habitual for company and again my alone journey starts from here. I started at 8am and refilled the petrol and headed towards ROHTANG PASS which connects the Manali. It was a Himachal state from which I was travelling and all complete greenery stands infront me and I was amazed to drive in such beautiful climate. By 11 am, I reached at the top of Rohtang pass and what a marvelous view it was !!!!!
Rohtang was covered by complete snow, and lots of people were enjoying with the ice and snow riding . I also couldn't resist myself to spend some time there. I was just feeling like I am coming in public area as I was riding through all barren places. And by the 2pm , I reached at Manali and wanted to fix silencer but RE showroom was closed. So, I decided to move ahead to next journey.
While going through old manali, I came across with other group of Mumbai guys (ashish & his friends). And then we decided to move ahead together. And we ended our day at Dhaba near to Chandigarh.
This is how day 15th ends….
DAY 16:- 21 June 2015
CHANDIGARH – JAIPUR (400km)
It was early morning 5am started from dhaba towards next stop jaipur with group. We crossed through Haryana at 9 am and had breakfast at road side dhaba. We experienced rain for an hour . Without wasting too much of time , we headed to Rohtak by skipping Delhi and turned towards the Jaipur highway(NH-8). By the evening , 8pm we reached closed to jaipur and decided to stay on highway side hotel.
DAY 17:- 22 June 2015
JAIPUR - HIMMATNAGAR (400 KM)
We started journey at 9am towards Gujarat . After crossing Udaipur we (sandeep & me) decided to go ahead at himmatnagar rather than staying at rajasthan. So, at 12 pm we stopped at road side dhaba. And here the big tragedy happened, I lost my new mobile with all ladakh memories. And I reported a complaint at Gamboi police and here I left alone and sandeep moved ahead for Mumbai. I was very shocked by my all memories lost. At morning, I checked tv footage of dhaba , it was clearly showing someone has stolen my mobile from my pocket while I was sleeping.
DAY 18 :- 23 June 2015
HIMMATNAGAR STAY
I stayed there for police complaint because I had a hope for mobile . Entire day I spent at police station and verified the toll naka tv footage .Because I had a hope to find out the vehicle no of thief in footage. But, it couldn't succeed. It was the most painful day of my life.
DAY 19 & 20 :- 23 & 24 June 2015
HIMMATNAGAR – PUNE (700KM)
With the very heavy heart, I left from there to back for pune . While coming back, at valsad I came across the very heavy rain fall . I was driving through tough condition and sad mind. When driving through highway at speed of 90km/hr and I got cut from 4wheeler very closely. I must say , I survived from that incidence. When I was coming on the boundary of Maharashtra , I gave big relief.
By the 10pm , I entered in thane and headed to panvel . Here first time , I got 1st accident of this journey. My bullet got slipped on road due to raining and I got little injury on right side of waist & my gloves got teared. And I decided to stay there at friends house.
And next day morning, I started last lap towards Pune and by 6pm ,I reached Dagdusheth Halwai temple,pune and Sanju bhau(big bro)arranged workship for me along with Avinash uncle, my Sister and her family.
* GLIMPSE of being LEH'D *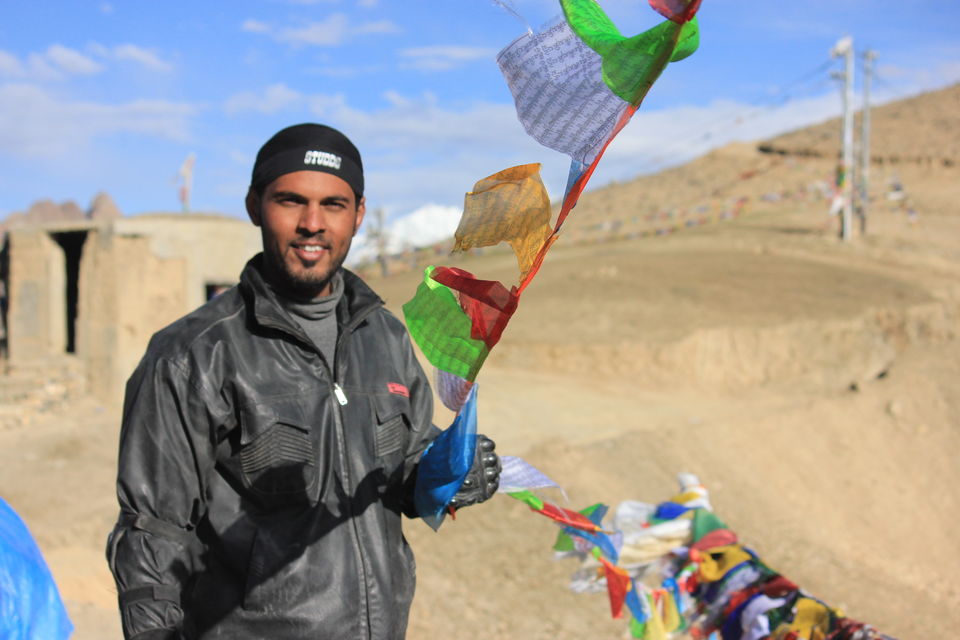 SOLO DREAM RIDE – TOP OF WORLD
PUNE – LEH – LADAKH – PUNE
6 STATES
6 June – 25 June 2015
20 DAYS
6250 Km
#LiveYOUNG #LiveFREE #RideSAFE
Article in "SAMANA" news paper
*THANK YOU NOTE….
To my Family who were always there & gave freedom to live my life.
Sanju Bhau, who supported me & gave a big moral support.
Patankar for guidance about Ladakh route.
Yogesh (Friend / Mechanic).To whom I gave sleepless nights though he was at home. He was always there as technical support.
To all buddies who met me in journey & who made my journey special.
To TSOTSO (Ladakhi friend) for taking care of all needs & helping out.
To Sachin Gore (Samna News Paper) for beautiful article on journey
To my all Wellwishers and friends who keep on supporting and checking FB.
To Sumedh for guiding me to write a blog.
To R'RE for being real life partner & taking care of me.
To God for making it happen in my favour.
It was not only a story but my intension is to urge you to travel across the country.
India is very beautiful…..Incredible India!!
This is how my dream ride ends………Will meet soon for next journey…
Till the time…#RideSAFE & #StayFIT……..B BYE.
Journey by –
Rahul Puranik, rpuranik777@gmail.com , Mob No- 9623573757.