We are a gang of friends working in Trivandrum. As there was a 10 day leave coming in September as part of the Onam holidays in Kerala, we planned to go for a bike trip from Manali to Leh.
Day 1 - September 7
The journey started with a flight from Cochin to Delhi via Air Vistara and then by bus to Manali.
We reached Manali by 9 am.
We went to Mall road and began purchasing some riding gears and other things for the trip which is to begin the next day.
We bought four 10 litre cans for filling petrol and two 5 litre cans for water.
Since there are many river crossings on the way and normal shoes will get wet easily, we bought new gum boots for RS 180.
One other most important thing is Diamox tablet for altitude sickness. Not all will suffer from altitude sickness. But it is safe to carry it.
We took it twice a day for the duration of the trip. If anyone don't feel any problems even after reaching Tanglag La which is at a height of 17000 ft, I don't think it is necessary for them.
We had decided to start from Manali by 6 am, but due to some problem with the bike, we could only start by 8 am.
We covered the Rohtang pass by 9.30 am.
The first petrol pump on the way was at Tandi which was about 100 km from Manali and we decided to fill petrol in all the bikes since the next petrol pump on the way was near to Leh.
The roads after Tandi had 3 or 4 river crossings which was an outstanding experience.
We had planned to reach Pang which was about 300 km from Manali since that was the best place to stay in the night.
For us to reach Pang, we had to cover Sarchu at least by 4 pm since the region after Sarchu had hair pins called Gata loops and it would have been difficult to ride on that path at night.
But we could only reach Sarchu by 8 pm.
We had read that it is not recommended to stay at Sarchu due to altitude issues but we had no other option.
We stayed at a tea house where the rate was 200 Rs per head for the stay.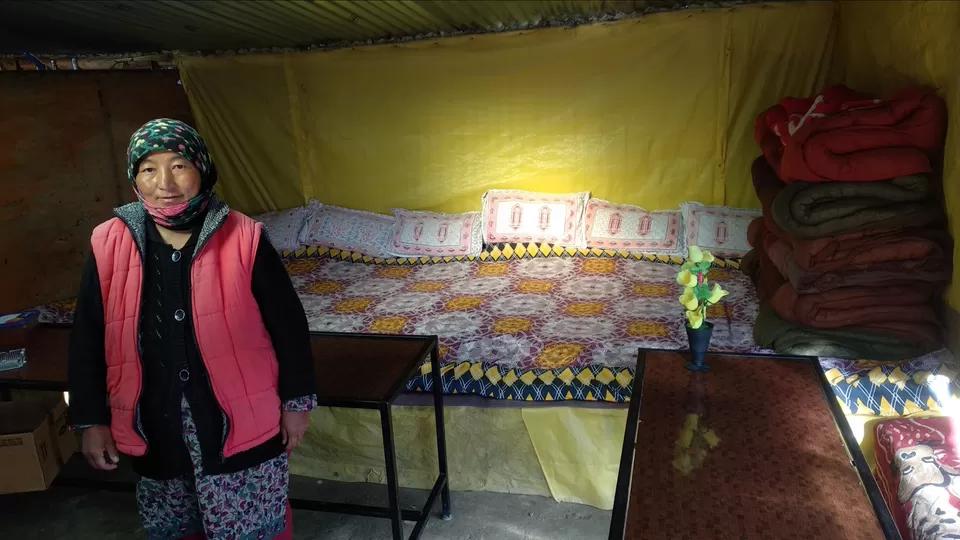 We started from Sarchu at about 8 am.
As I told before, the Gata loops was a difficult region to ride because of the narrow roads and never ending trucks.
We passed Pang at about 11 am.
The region after Pang called as Moore plains is a stretch of good roads with scenic view either side of the road.
Then comes Tanglag La which is the second highest road in the world.
Then after going some distance comes Upshi which is about 49 km from Leh.
This is where we have a diversion to Pangong lake(The place where 3 Idiots movie was shot).
We reached Leh at about 6.30 pm.
We stayed at a home stay in Leh.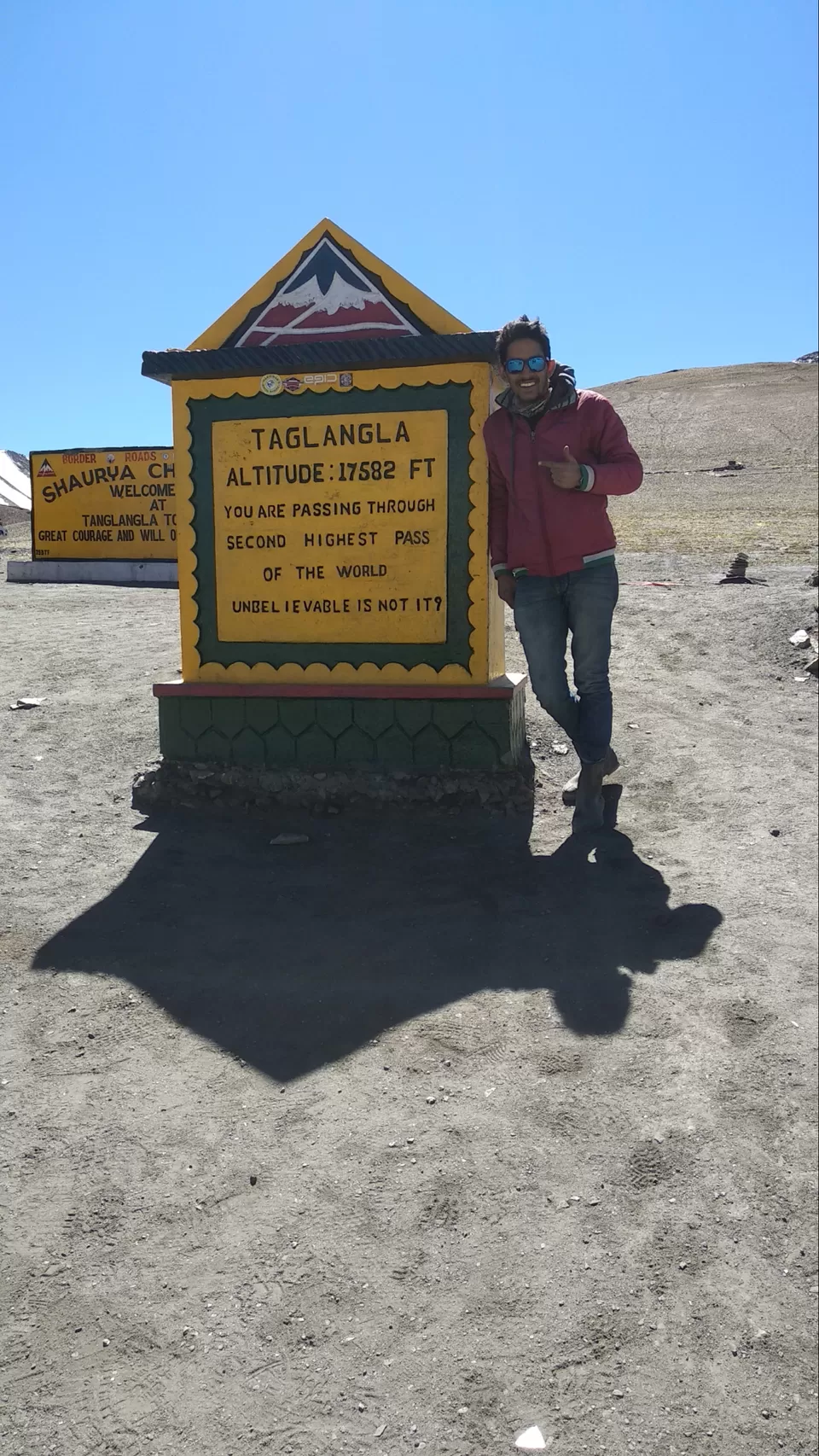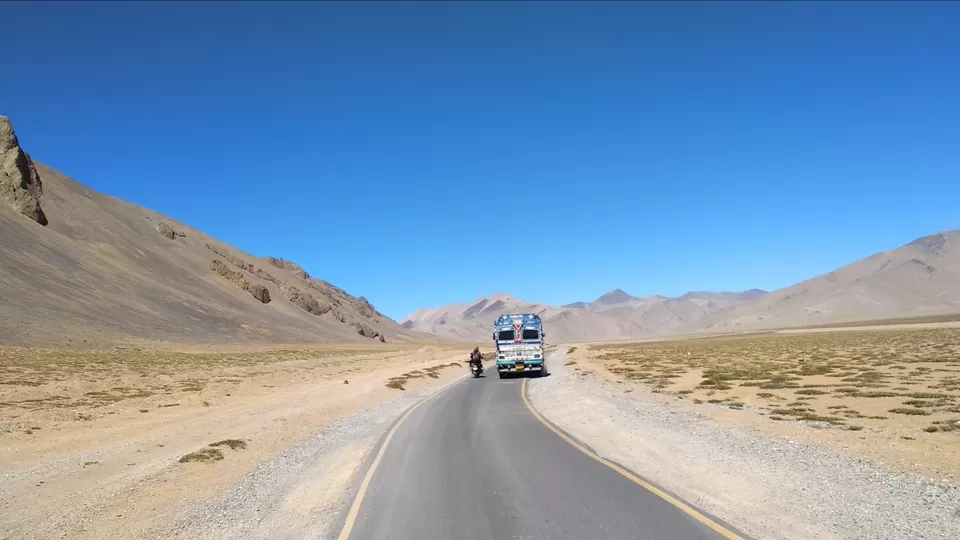 The main food in those 3 days was noodles and roti.
Since we badly wanted to have some South Indian food, we went to a South Indian restaurant near the Axis Bank.
And then we went to Khardung La, which is the highest motorable road in the world.
It is advised to not stay there for more than 15 minutes but we did not face any issue there as we stayed there for close to 40 minutes.
We had planned to visit Leh palace on the way back but we reached there by 6.05 pm which was 5 minutes late as the closing time was 6 pm.
It took us about 4.30 hours to go to Khardung La and back.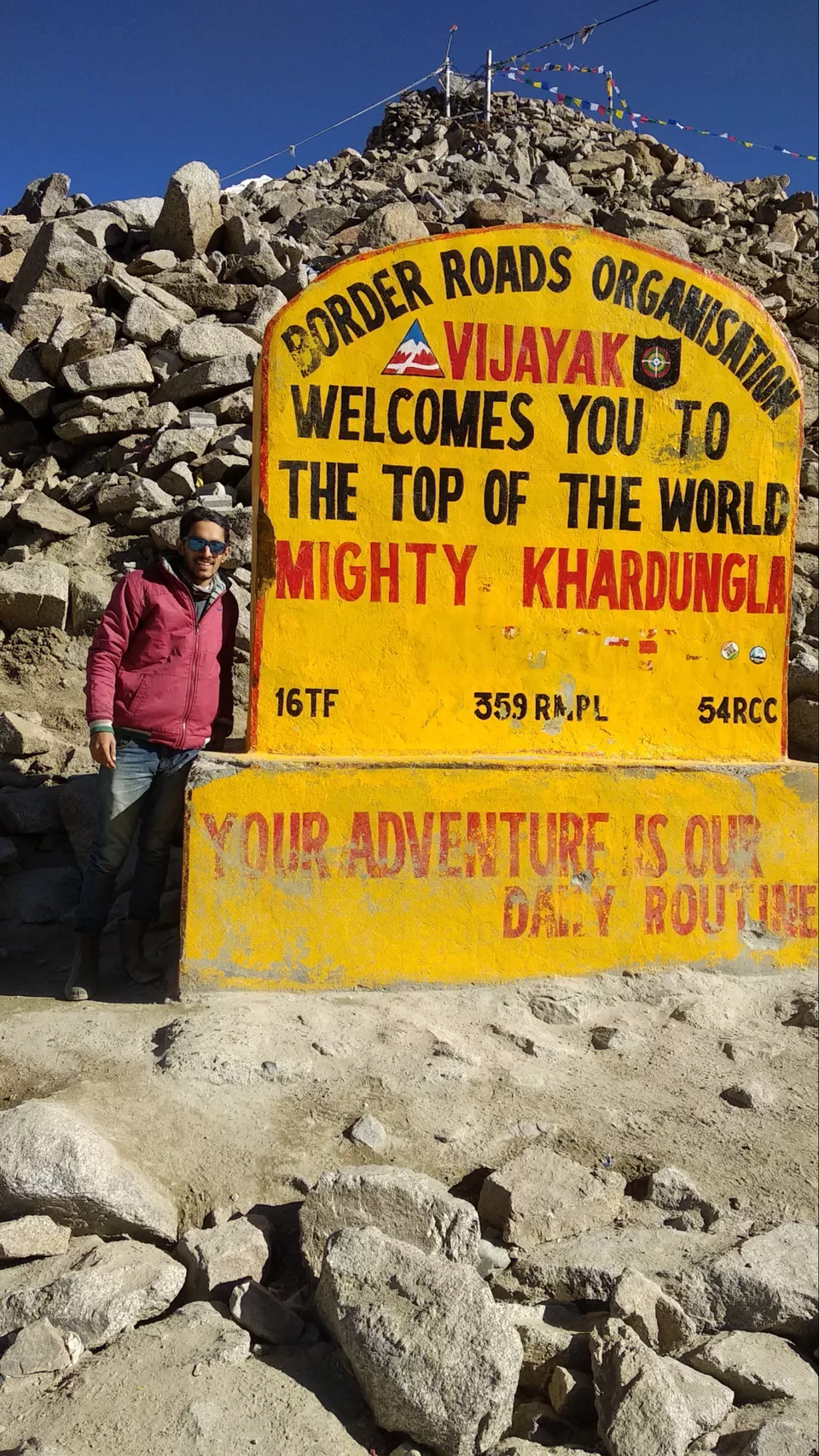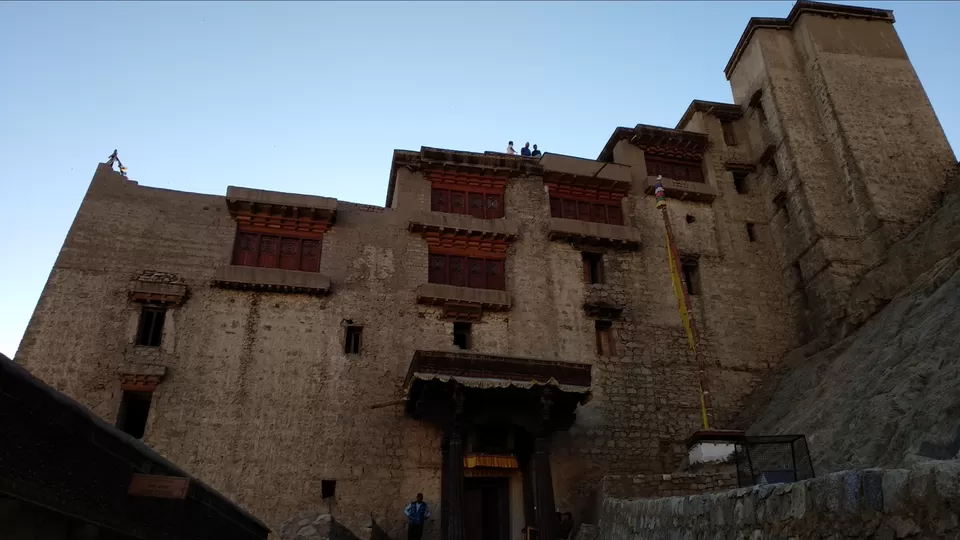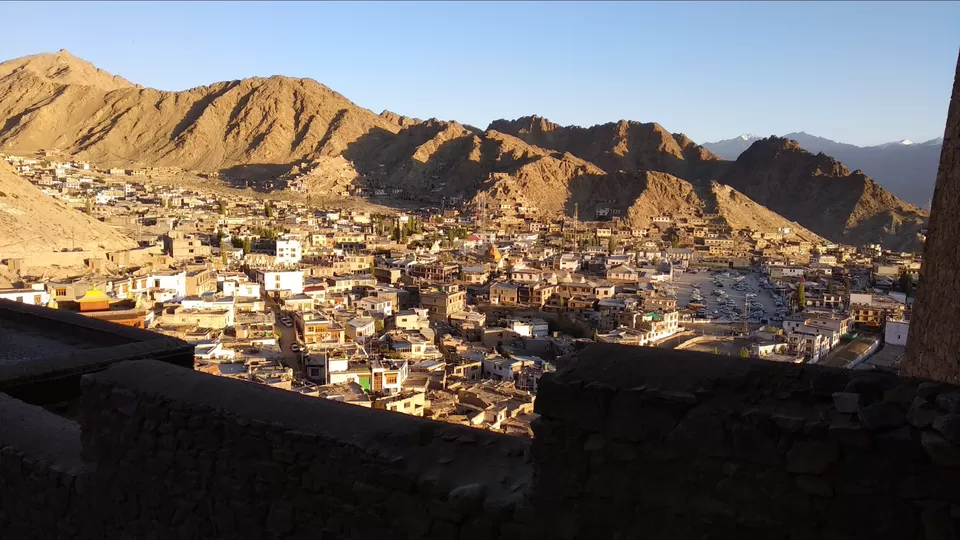 The way back started at about 11 am and the target destination for the day was Sarchu.
On the way back, at Taglang La, we met two 63 year young people who came in a rented car.
I was awestruck by their energy at this age and it again underlined that age is just a number!!
Again our plans went awry as we reached Pang only by 5.30 pm.
Hence we decided to stay at a tea house there.
I enquired the shop owner about their lives and he told me that his home is at Leh and they stay here until the Manali-Leh highway is closed, that is they stay here for about six months and the rest at their home in Leh.
During their stay at Leh, they don't have any work as it is winter and it would be snow everywhere. Hence the earnings they make in the other six months is their way ahead for the living in Leh.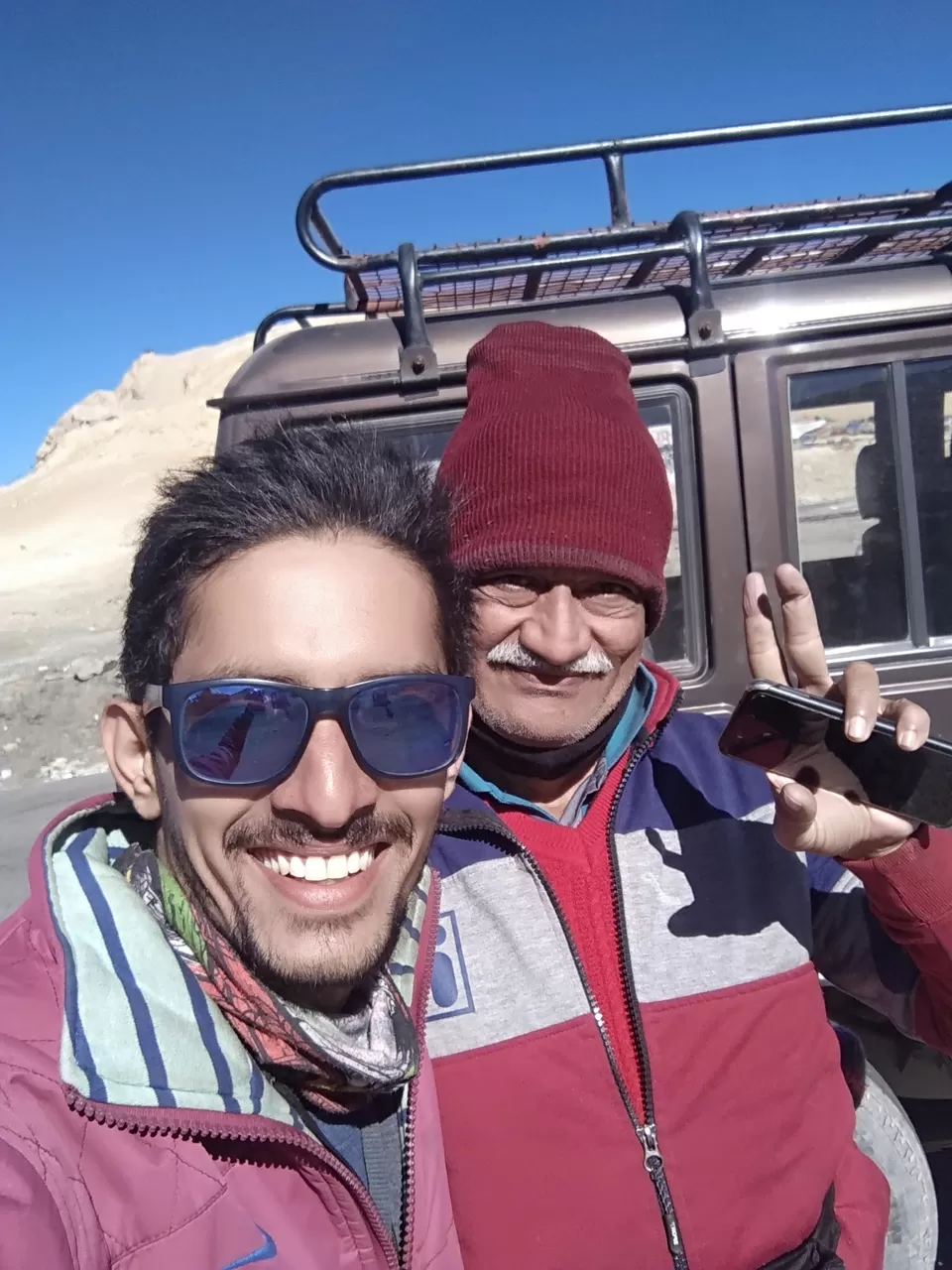 The next day, we started at about 8 in the morning and passed Sarchu by 11. We decided that we needed to reach Manali by night because we were badly in need of rest.
We reached Tandi by 4 in the evening. And by the time we reached Rohtang pass, it was already night and there was fog. It was very difficult to ride those hairpins because we could not see the road ahead. We were going at about 5 or 10 km/hr. It really was an adventurous ride and finally we reached Manali by 9.30 pm.
After a good night sleep, we went to Mall road for some purchasing and took a bus back to Delhi at 5 pm.
The flight back to Cochin from Delhi was at 3 pm and reached Cochin by 6.30 pm.
It was my first bike trip and it was a hell of an experience for all of us.