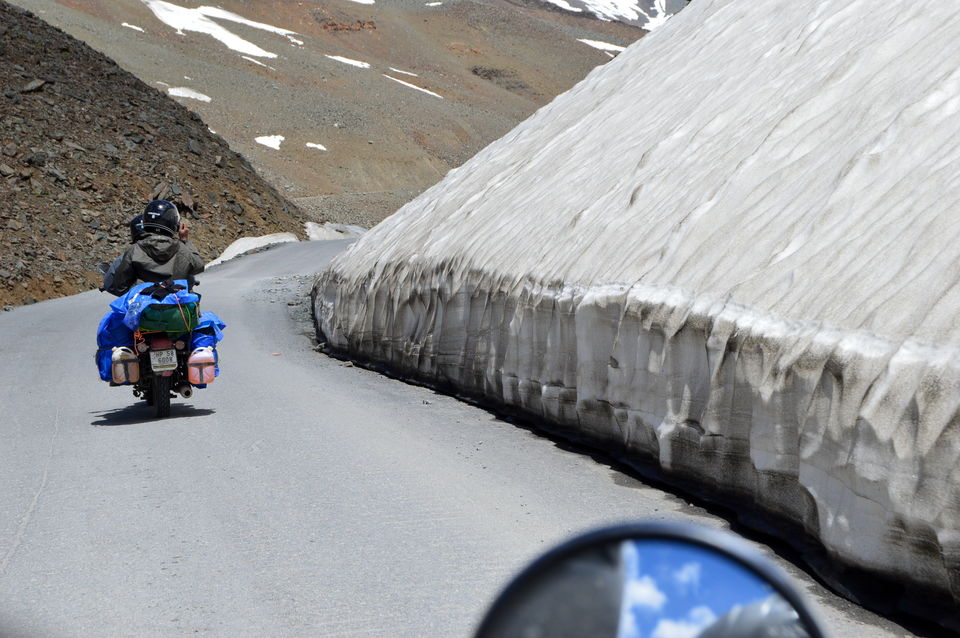 2500 kms, 12 Days, 2 States, 4 Souls, 2 Machines & World's Highest and Deadliest Roads.......MISSION LADAKH Accomplished!
[Manali -> Keylong -> Sarchu -> Pang -> Leh -> Nubra Valley & Hunder -> Leh -> Pangong Tso -> Leh -> Kargil ->Drass -> Srinagar -> Jammu -> Dharmashala & McLeod Gunj -> Manali]
[Rohtang La -> Baralacha La -> Nakee La -> Lachunglang La -> Taglang La -> Khardung La -> Chang La -> Fotu La -> Namika La -> Zozi La]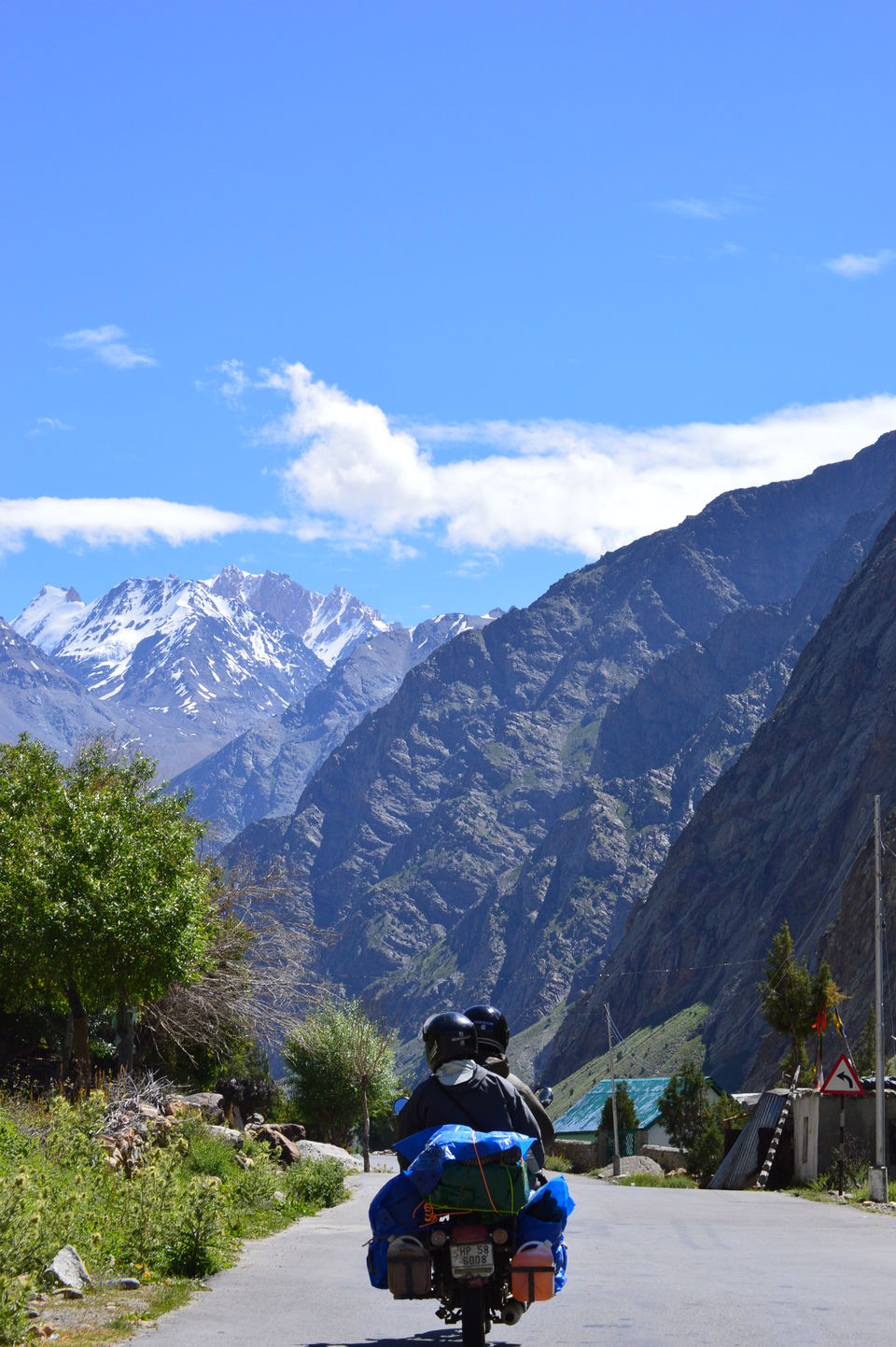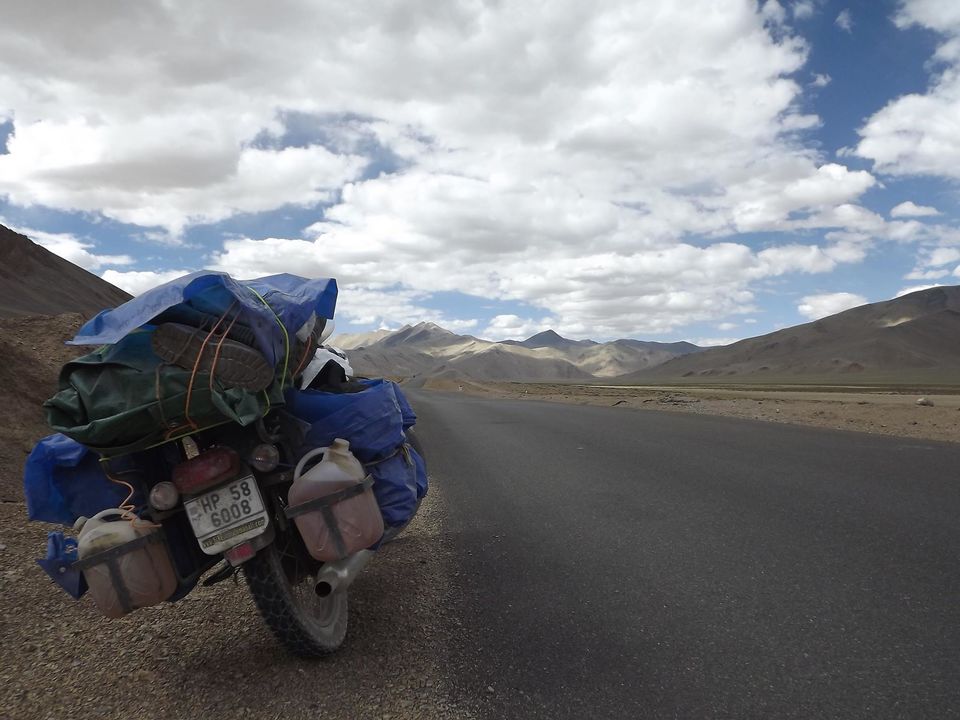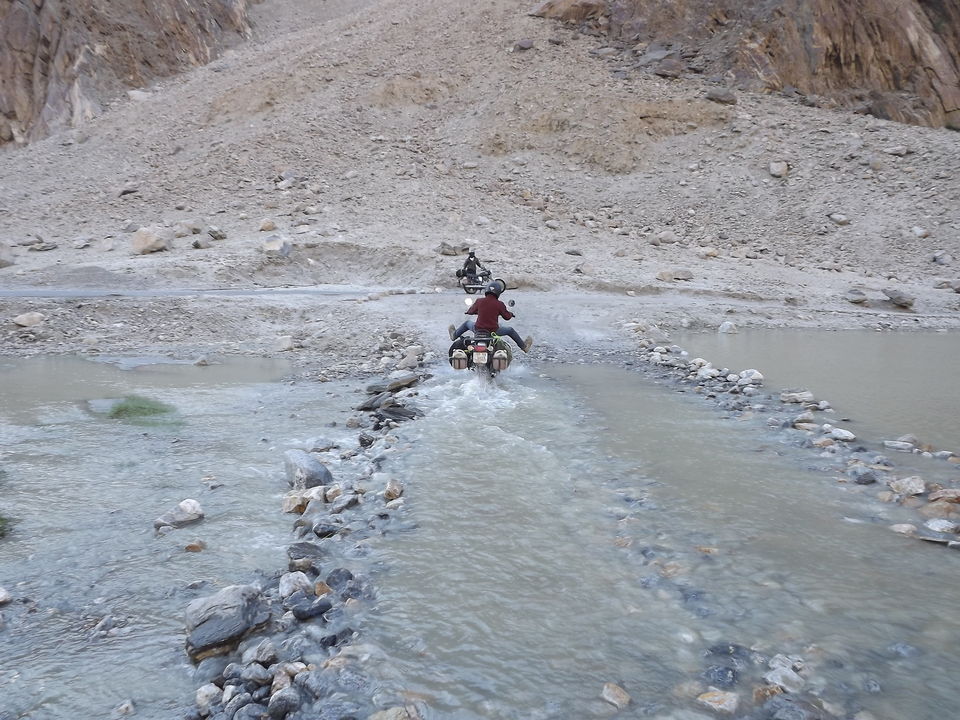 There are many blogs and published trips which very well talk about the adrenaline surge, high adventure and grandeur of this one of a kind Trans-Himalayan Bike Trip. I Would say all are true but none can describe the majesty of this journey fully, in-fact no one can. Its beyond the scope of words and view of cameras. You have to travel the path (perhaps many times) to experience the thrill and the beauty. Its a Pilgrimage for Bikers, Adventurists, Mountain Lovers and Broken & Lost Souls. After two years of persistent persuasion, i managed to get 3 of my friends; Shekhar, Anish & Nishant (also colleagues in office) to get on-board with me for this epic bike ride in July 2014. We planned every thing on our own & of course with a great help from internet and blogs of other bikers. We hired two bikes from a company "Bike Rentals Manali" and the bikes were in good condition.
All the information related to route, planning, preparation and journey are available in plenty. I would not write about those routine things. Instead, I would like to share few points which would help and possibly inspire an average and novice adventure enthusiast (like I and my friends were and are) to take this life time memorable journey on bike, successfully, and prepare for it without much difficulty.
It is said that Images speak louder than Words, so, I have also described our complete ride through the photographs clicked by us during the journey.
So here are the points from our successful trip:
1. Anybody with passion for mountains and hunger for adventure can do this. Does not matter how much biking experience you have. We guys did not have experience of very long distance biking and riding a heavy bike like Enfield Bullet, but we made through.
2. The season for the trip starts from third or fourth week of May and ends in mid of September. During May and June, lot of snow along the way will be there and during September, heavy rains can be expected. So, July and August will be relatively convenient.
3. To enjoy the trip to the fullest, prepare for it! You are going to ride at altitudes more than 15000 feet above sea level where air is thin. So before your trip starts, build your lungs to work in less oxygen. Go for jogging. As the saying goes: the more you sweat in peace, the less you bleed in war. Otherwise you may experience headache and vomiting after Keylong.
4. The roads from Manali to Leh are mostly in very bad shape every year despite the commendable work of Border Road Organization (BRO), due to landslides and running water streams, with some good stretches in between. So be prepared for this mentally and physically. I am sure you will enjoy this.
5. Before starting your trip, learn few things about the bikes you are going to ride. Like the tools, spare parts, how to remove, clean and put the Spark plugs back, replace Clutch and Accelerator wires, repair punctured Tyre, replace the Tyre Tube etc. Must carry the proper tools and spares like Spark plugs, Brake, Clutch & Accelerator wires, Tyre Tubes, Hand air pump, Electric Connectors, Engine Oil etc. You can ask a good mechanic about the common problems with the bikes you are going to ride and accordingly purchase and carry the things. These things are must.
6. Before your trip starts, go for a long distance trip on the similar bikes on planes, like we rode from Hyderabad to Bangalore to Hyderabad, to gain some confidence and know about the bikes which will be your companions on the mountains. This would be truly helpful, if you don't have previous long distance riding experience.
7. Bullet (any model) is a preferred option compared to other bikes like Pulsar, CBZ etc. Its more powerful, rugged, comfortable, you can carry more luggage and its a dependable bike. 350 cc will do fine. Bikes with self start are very convenient at high altitude roads having very bad conditions where the bike would stop many times due to lack of oxygen and you would have to start it again and again. We rode on two Bullet Electra, 350 cc, self start.
8. Book your bikes well in advance ( 4- 5 months before the trip) to get newer bikes from the rentals.
9. You can plan your trip with a large group or you can make your own small group, as you desire. But its better that your group consists of your best buddies who wont mind if you get angry on them and you wont mind if they get angry on you during the trip. The reason is, at high altitudes the temperament of people change due to stress and lack of oxygen, unknowingly. Its strange but true.
10. You can take a pillion rider with you.
11. After arriving at Manali, don't start your trip on the same day. One day must be kept for checking the bikes and riding around the town to detect any problems, loose parts etc and rectify them. We detected a broken bearing in one of our hired bikes. Next day, start early morning to avoid heavy traffic jam before the Rohtang Pass due of trucks.
12. Better to tie you luggage on bike using Bungee cords. Normal cords (which we used) will require wasting 30 - 40 mins time daily for loading and unloading luggage.
13. There will be plenty of stretches where chilled water streams from melting snow and ice will be flowing over the roads. For traversing through these road patches filled with mud and water, Boots are required. You can buy costly ones, otherwise cheap Mason rubber boots will also do fine. You can ride your bikes wearing them, provided fit is good. Two of us managed with Rs.200 mason gumboots. Carry raincoat with you, as it may be raining before and after Rohtang pass, before entering the Ladakh region. Cover your luggage bags with poncho or Tarpaulin sheets to shield against mud and water.
14. Riding gloves (not necessarily expensive) and Balaclava are very important. Its very cold with chilled winds blowing while crossing the passes. Good quality sunglasses are also very important, because once you enter Ladakh region after Pang, sun-rays will be very harsh and will be hitting the eyes. It becomes difficult to ride without sunglasses.
15. Don't rush from Manali to Leh in 2 days. Its waste of effort, loss of opportunity to enjoy the beautiful changing landscapes, very tiring and insufficient for proper acclimatization to high altitudes. People generally take 3 days to cover this and we did the same. But I would recommend to cover this in at least 4 days if you have sufficient number of days, to fully experience and feel the scenery and various kinds of landscapes along the way.
16. Stay at night at a place whose elevation is lower than the altitude which you have crossed during the day time. Regular stay places for bikers where shelter and food are available are Keylong (day 1), Sarchu (day 2) and Pang (day 3, if you cover in 4 days). Covering Manali to Leh in 3 days, requires riding around 252 kms and crossing three high altitude mountain passes on 3rd day. It takes 14 hours (for us it took) and various road stretches are very bad.
17. Between Manali to Leh, there is only one petrol pump at Tandi (28 kms before Keylong). After Tandi, for next 365 kms, there is no petrol pump. So you must carry petrol cans and get them filled at Tandi.
18. Drink of plenty of water all along the journey. This will help faster acclimatization. Don't consume liquor along the way and during night stays, as it leads to dehydration which is detrimental for acclimatization. You can of course celebrate once your trip is finished successfully and you are back to your home.
19. After reaching Leh, keep the next day for rest, local wandering and checking the bikes again through the local mechanic.
20. If you are visiting Nubra Valley and Hunder Sand Dunes (which you must!), I advise you to go ahead 77 kms from Hunder and visit the beautiful village called "Turtok" at India - Pak Border. This village was recaptured by Indian Forces during 1971 war. If you are visiting Pangong Tso lake (which again you must!), I advise you to go ahead 55 kms more and visit the village called Chushul and Rezang La pass at the Line of Actual Control (LAC) with China. This is the place where 1962 war was fought bravely by Maj Shaitan Singh and his Company till last man and last bullet, which ultimately led to saving of Ladakh region. We missed these two places and I deeply regret till today.
21. For visiting Pangong Tso and Nubra valley, you must keep inner permit form with you to deposit at the check posts before the passes, if the local police asks. Without these forms they wont allow you to go ahead. Forms can be obtained from local photocopy shops.
22. Carry a medical kit containing medicines, Volini or Moov spray, Crepe bandage, band aids etc.
23. Decent and cheap accommodation can be availed in State's Tourism Development Corporation Hotels. We easily found accommodation in these hotels in Kargil, Jammu and Dharmshala upon arrival.
24. During the trip, if at any point of time something unplanned happens, don't panic. Many riders will be there before you to help you out. Plus there are regular Army convoys and Traffic Control Posts (TCP) (after Leh).
25. Finally, either you are going through office tensions, heartbreak or other lows in life or you are happy with life, you must do this trip. You will experience deep solace and will come back with great satisfaction, clear thoughts and more motivation and ambition in life.
Our Trip through Photographs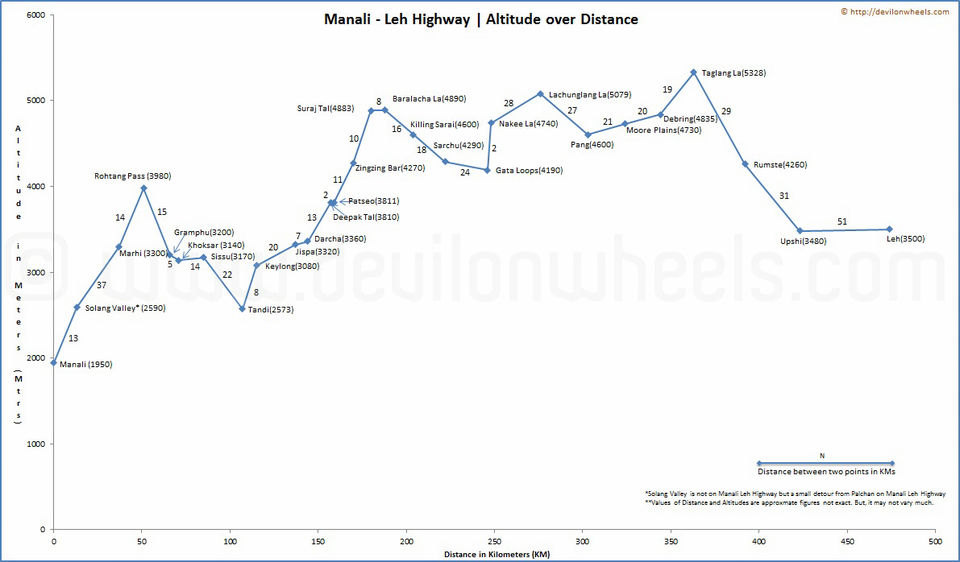 The Route Explained till Leh, Pic Credit: http://devilonwheels.com (with lots of thanks)
Day 1 Manali to Keylong (128 kms) crossing Rohtang Pass (13058 feet)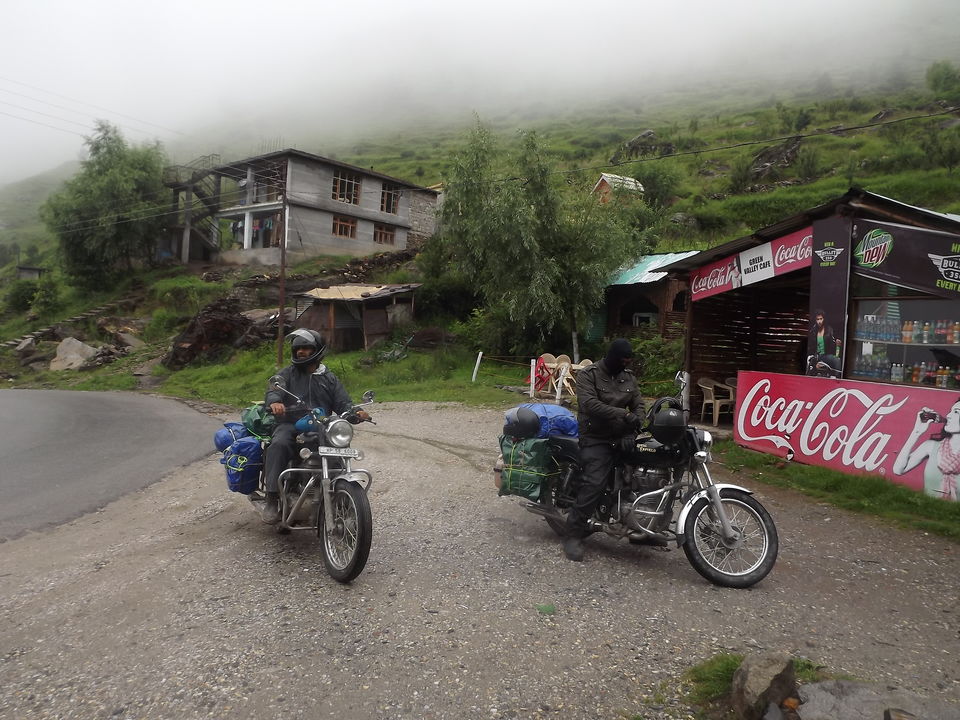 On the way to Rohtang Pass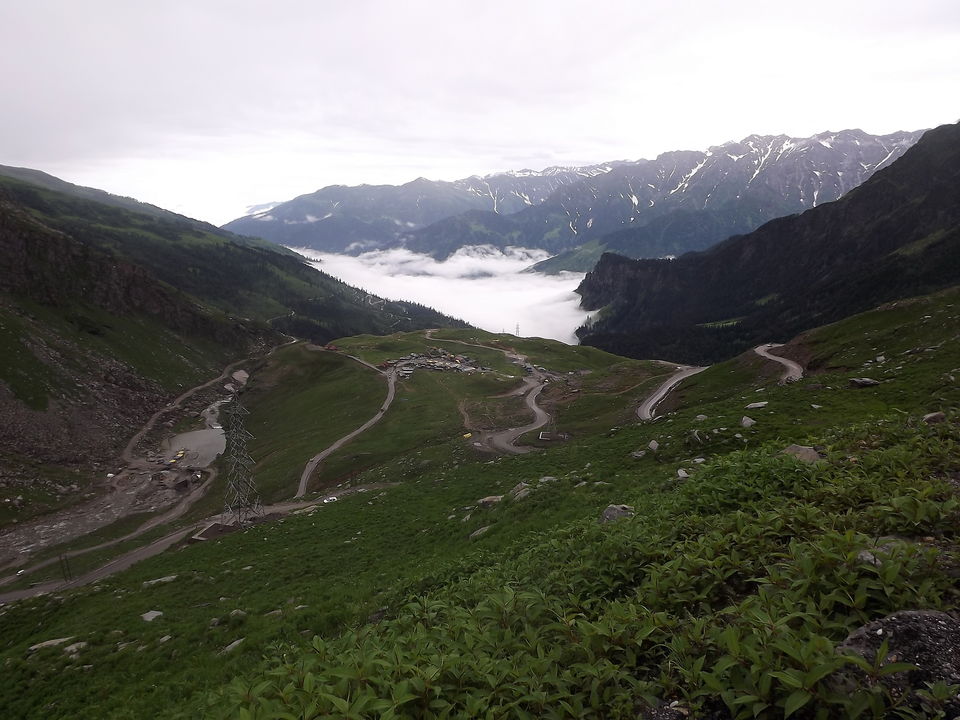 Ascending Rohtang Pass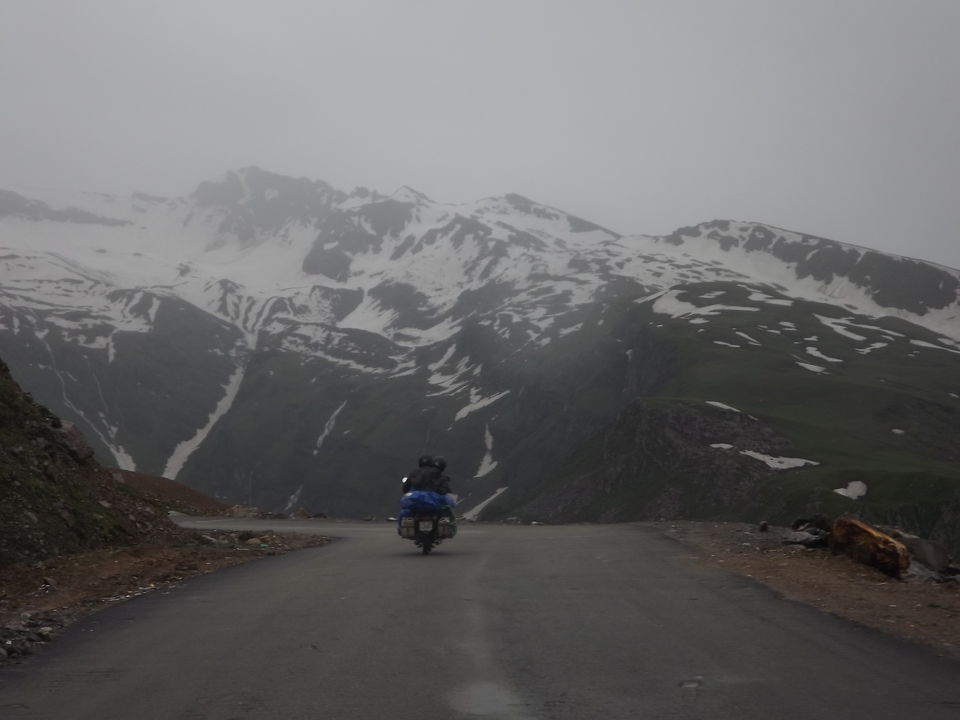 Towards Rohtang Pass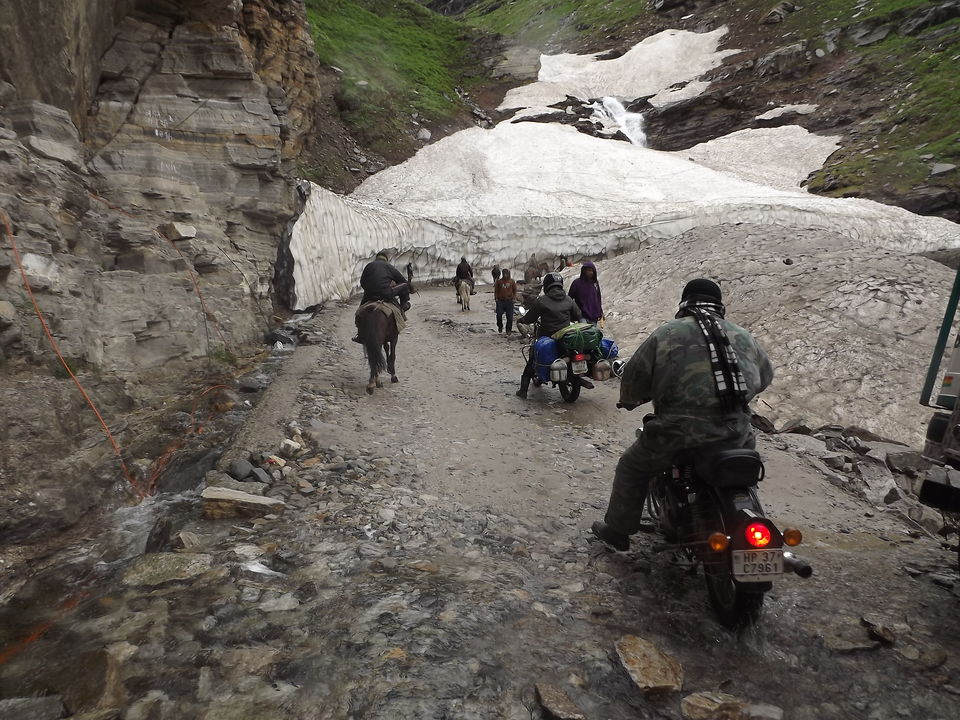 Challenging Roads to Rohtang Pass...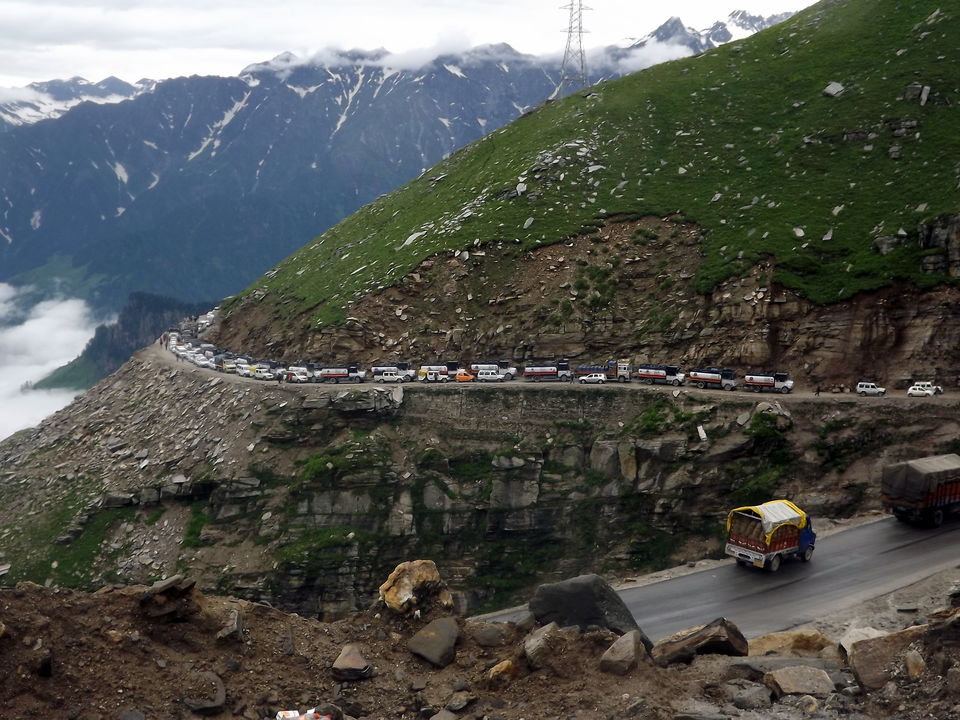 The Traffic Jam before Rohtang Pass, we were lucky we just crossed this stretch before the jam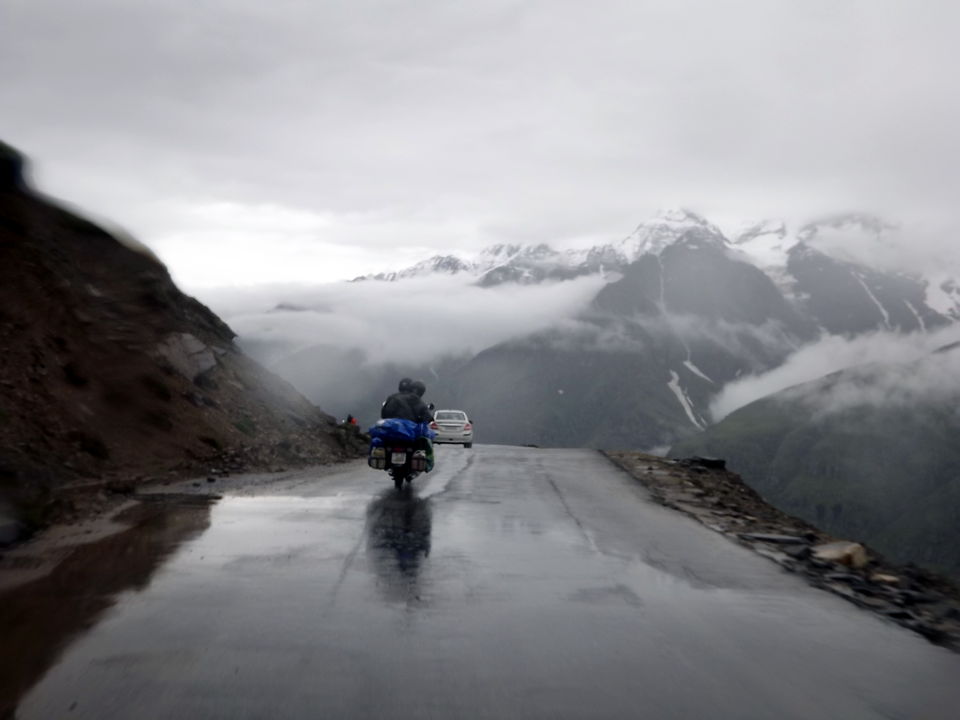 Crossing the Rohtang Pass (3980 mtrs)
Descending the Rohtang Pass -> mud, slopes, lorries (more difficult part)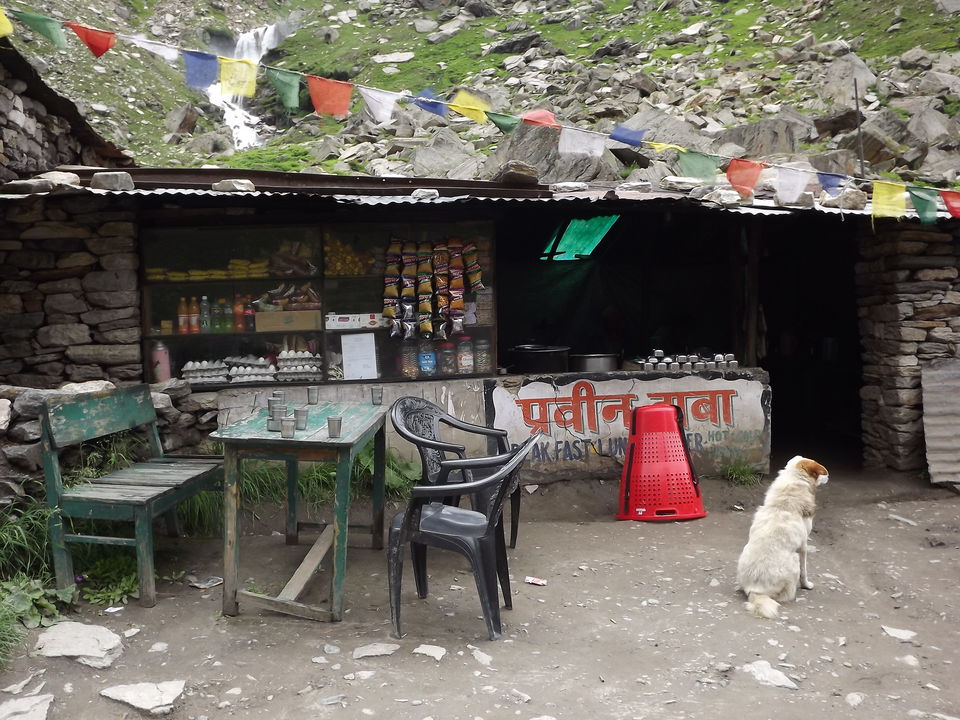 Our Rest and Refreshment station after descending Rohtang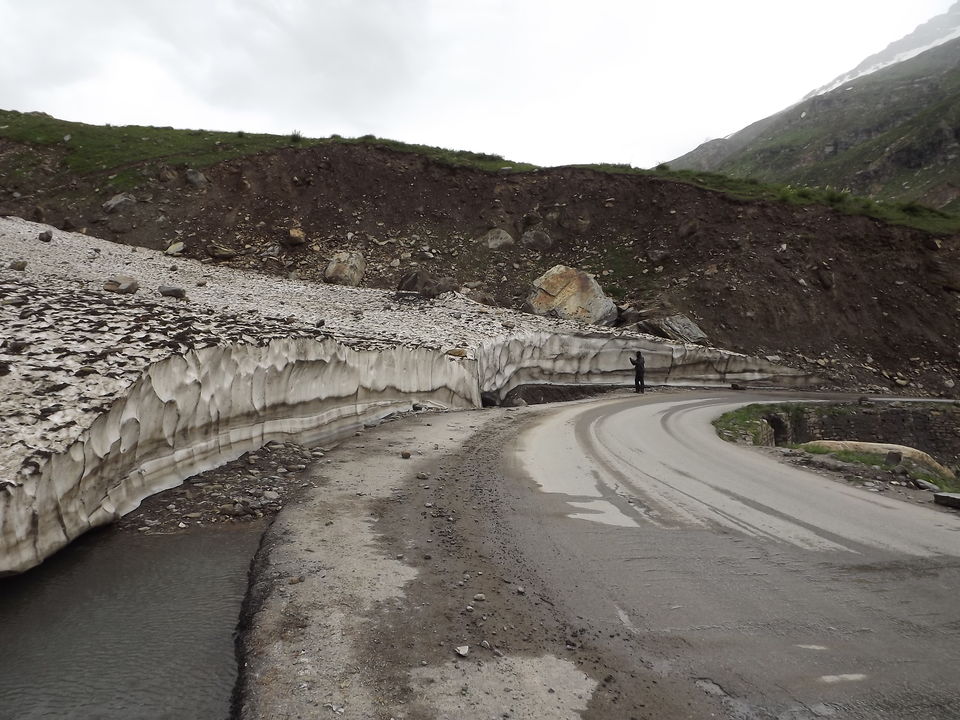 Melting snow, on the way...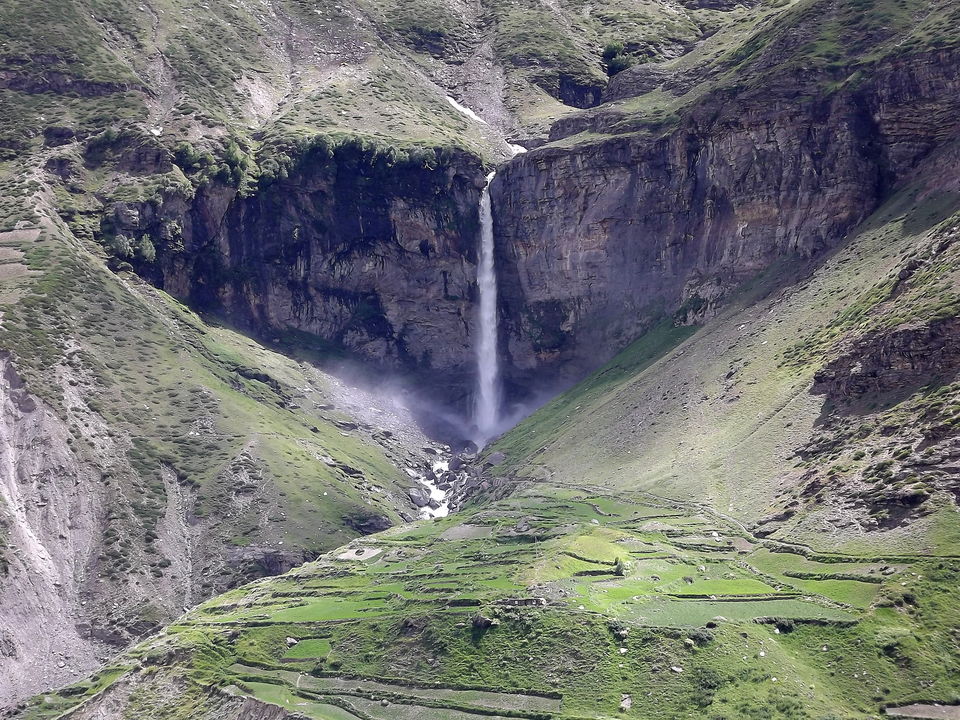 waterfall from melting snow at peaks...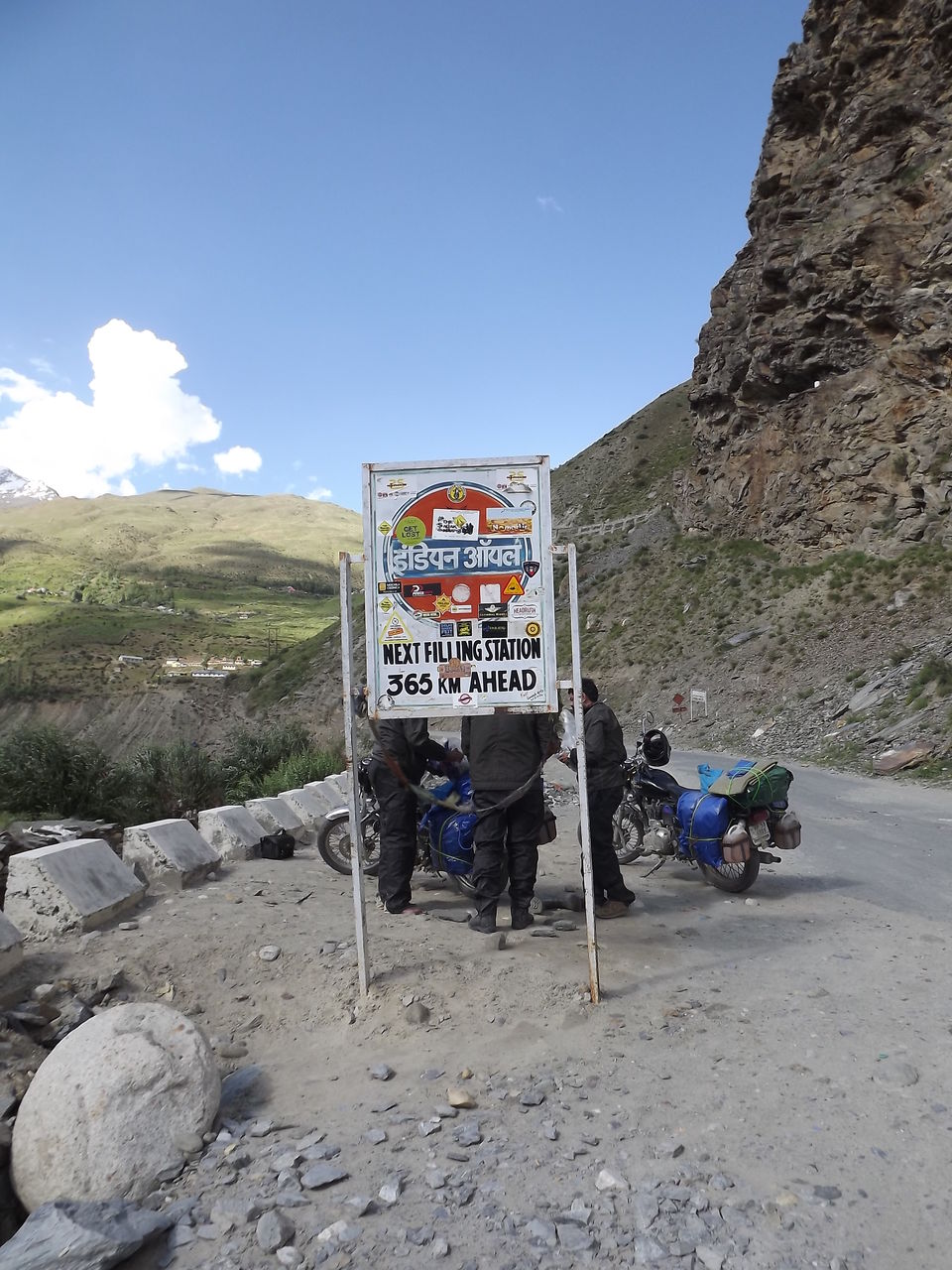 at Tandi, 8 kms before our day 1 halt at Keylong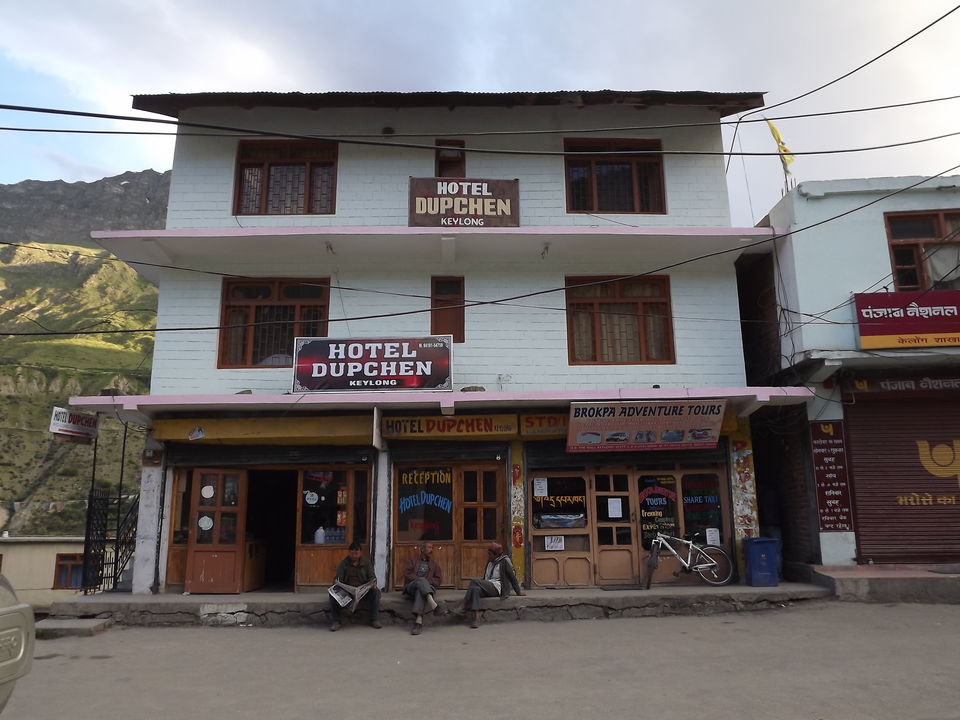 A cheap and good stay at Keylong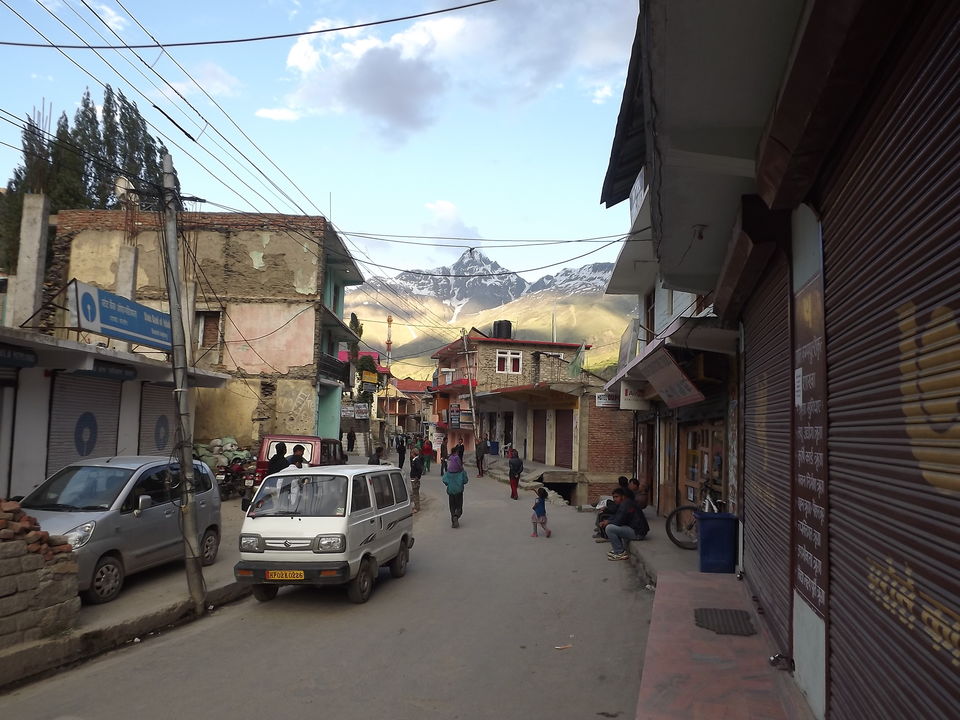 Keylong, a calm and serene town surrounded by mountains (last station for availability of many essentials before Leh)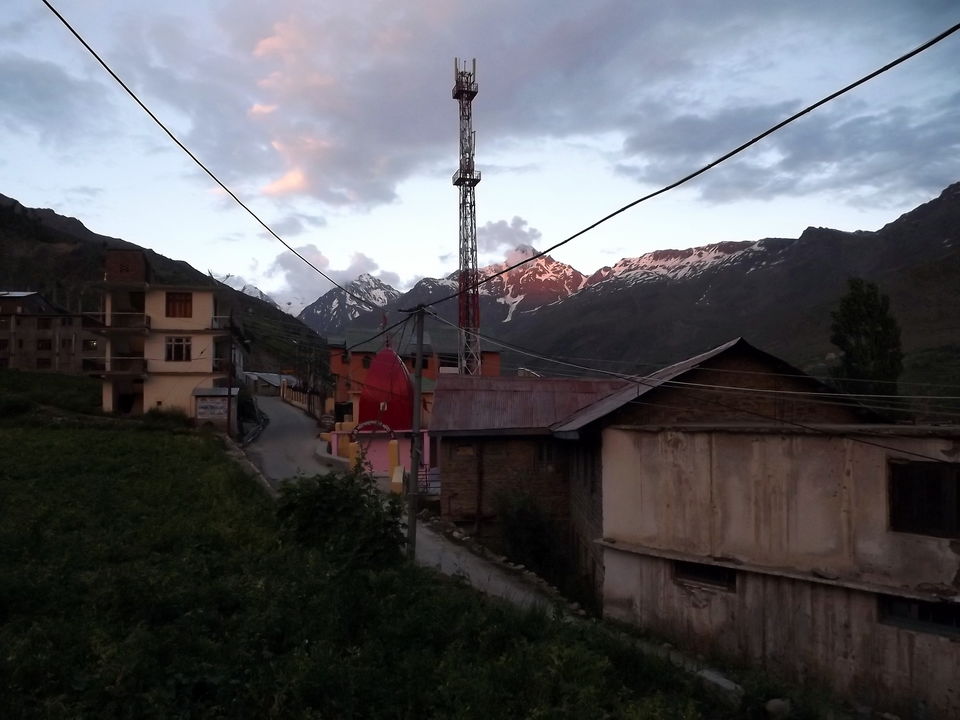 A quite relaxing evening after 1st day's adventurous ride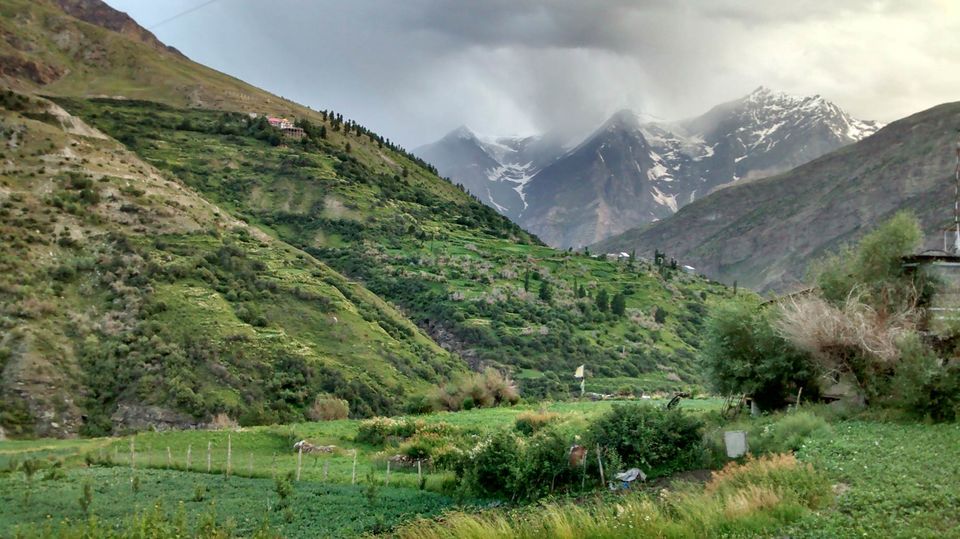 Day 2 Keylong to Sarchu (105 kms) crossing Baralacha Pass (16043 feet)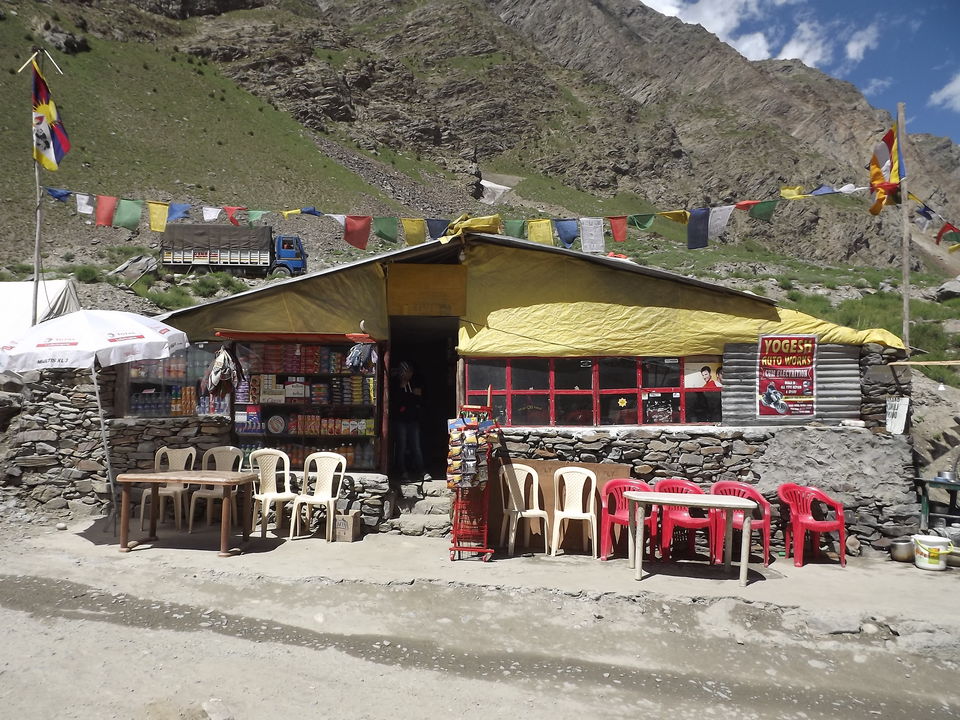 Refreshment point on the way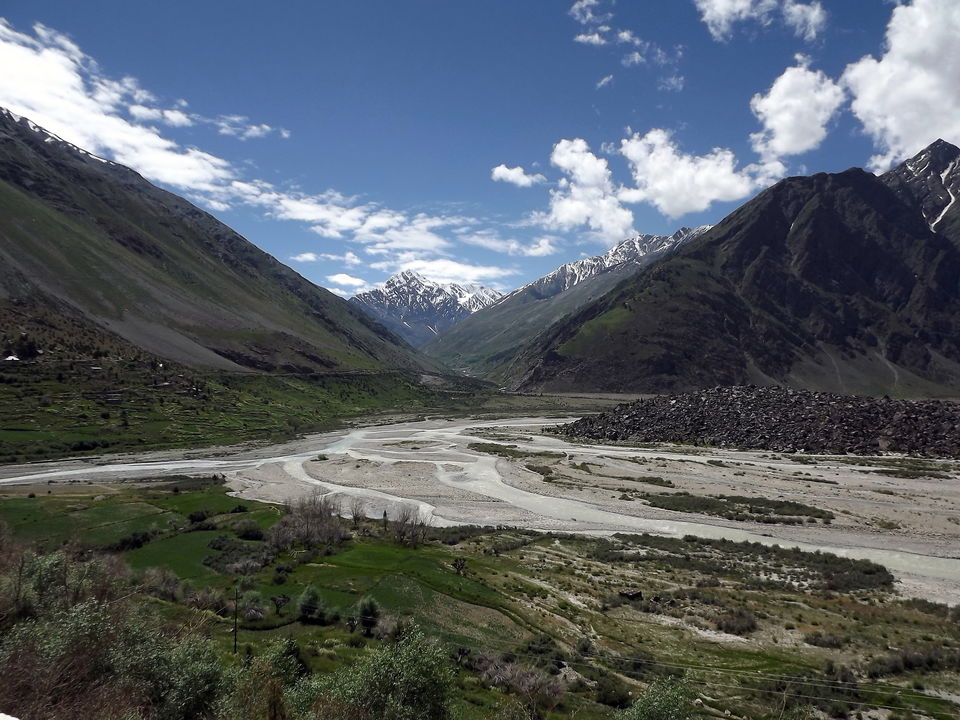 views on the way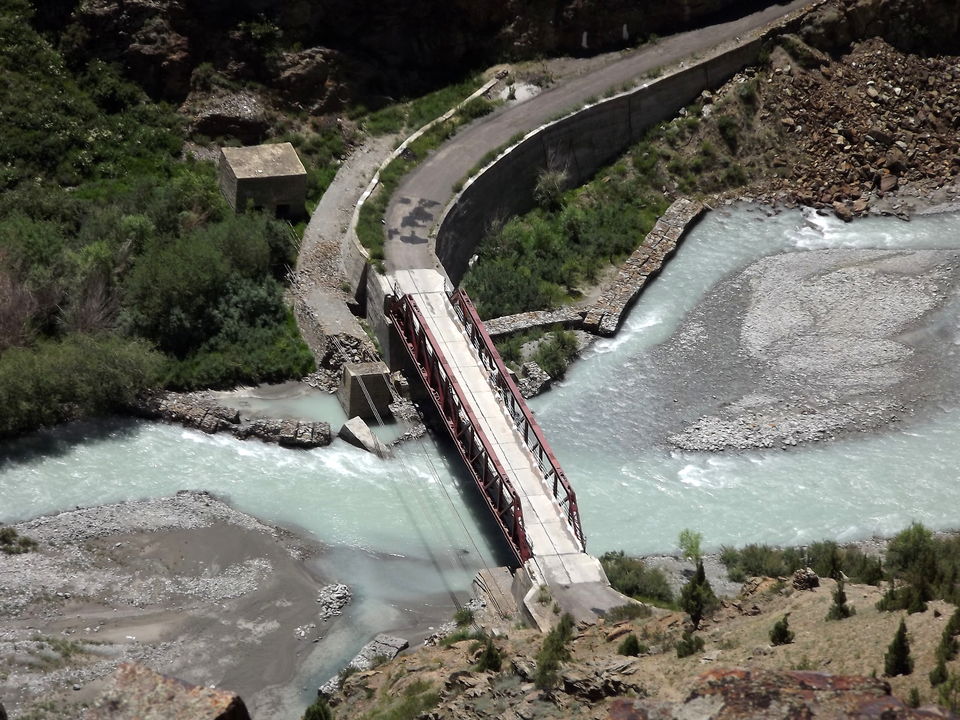 views on the way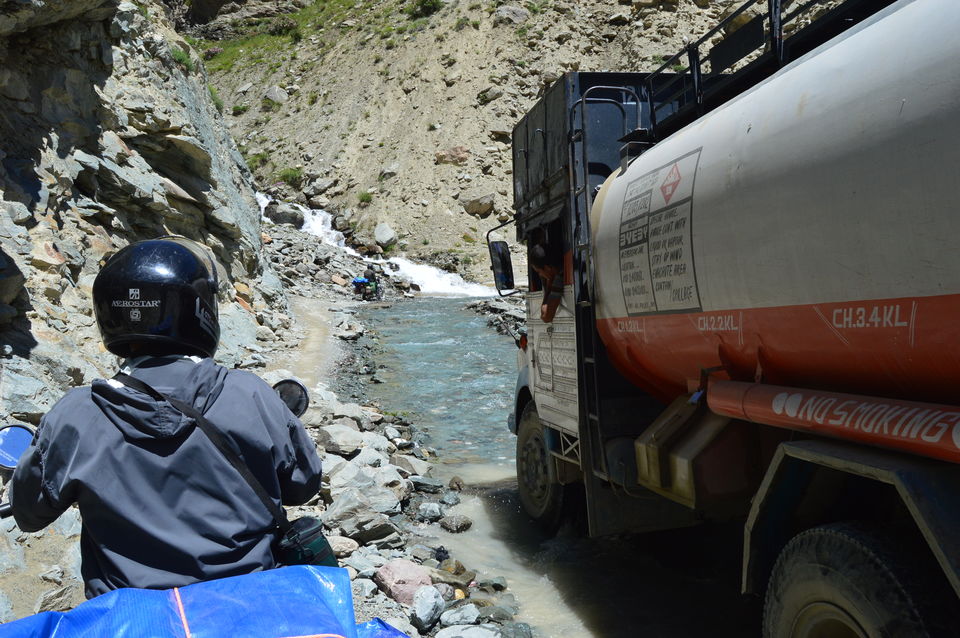 some difficult crossings...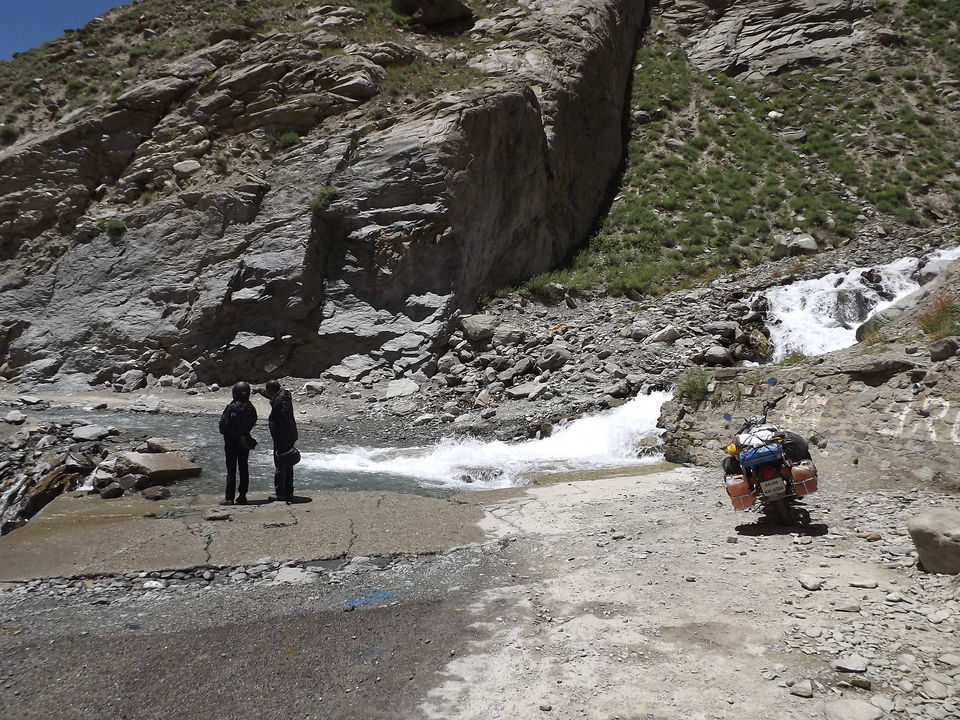 crossed, now on other side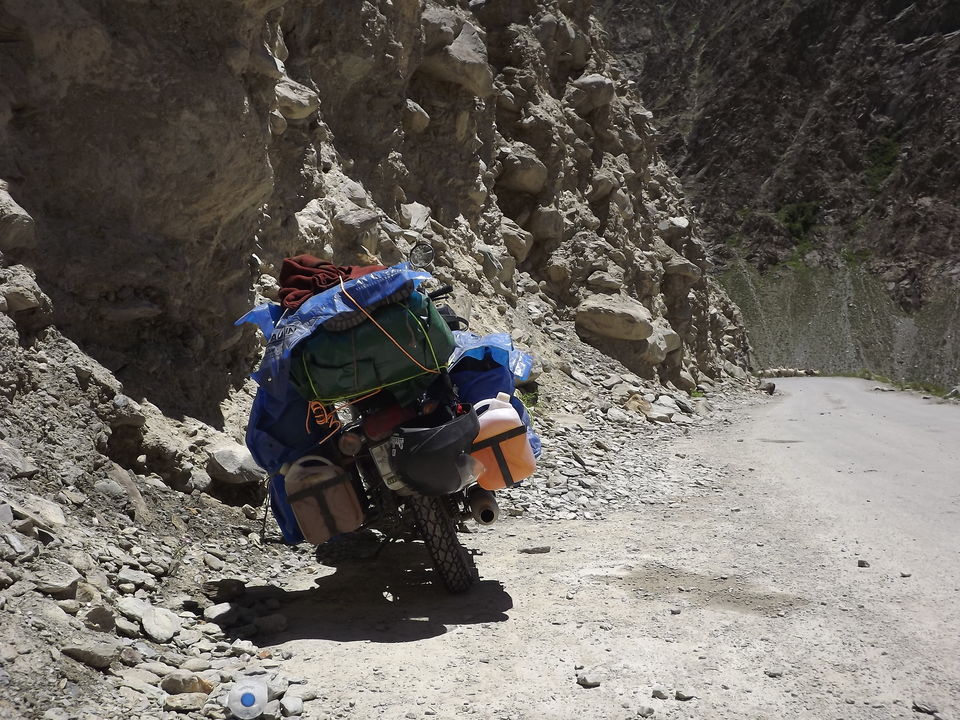 our machine, fully loaded...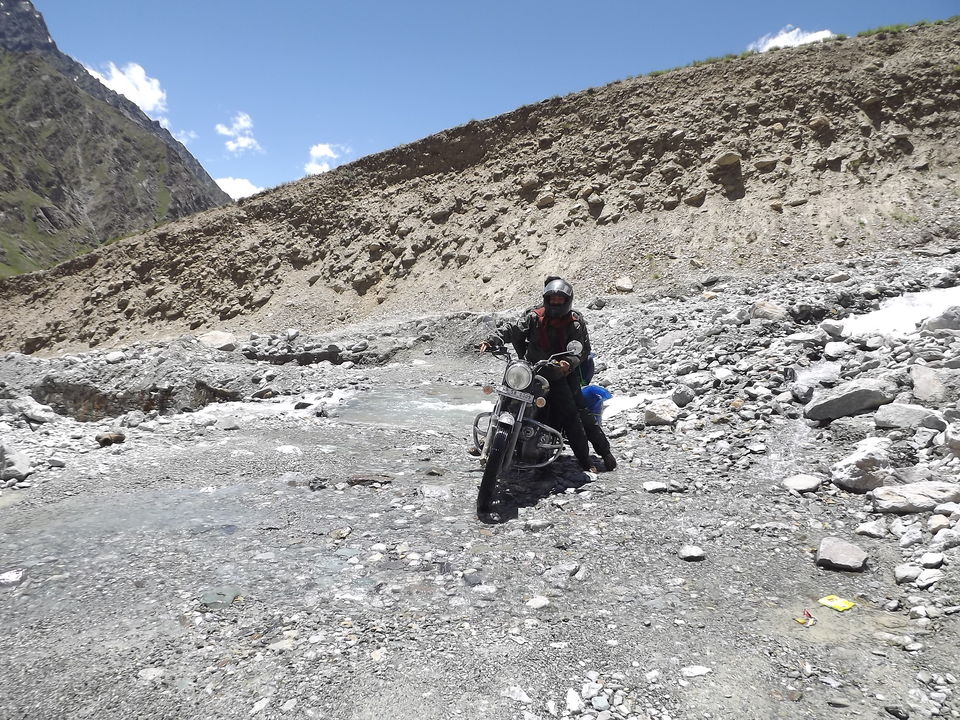 the bad stretches never end...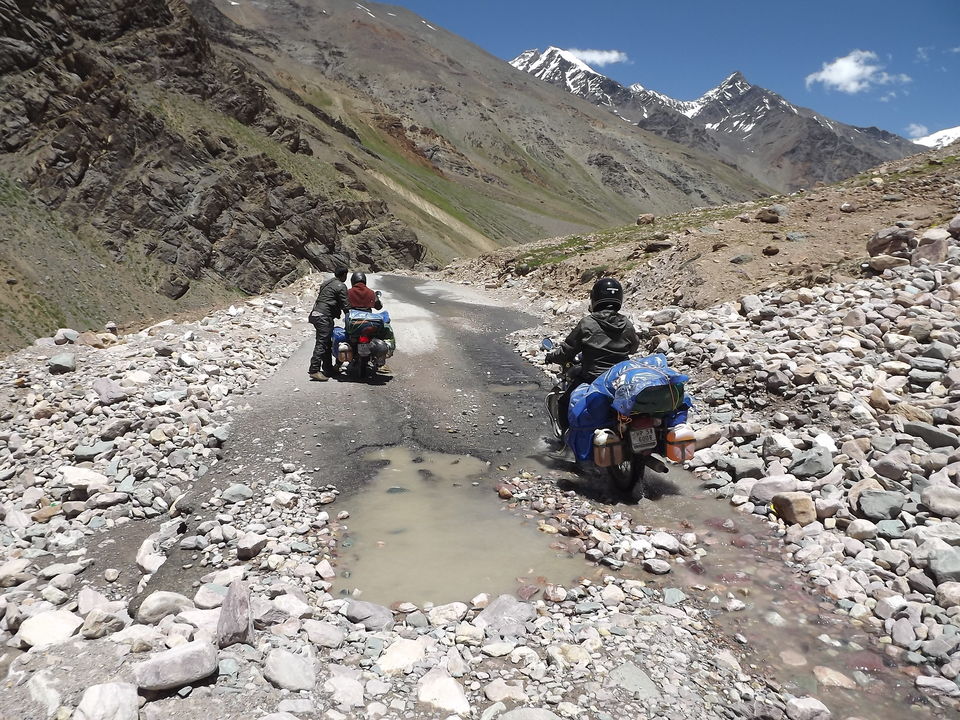 but we were also stubborn...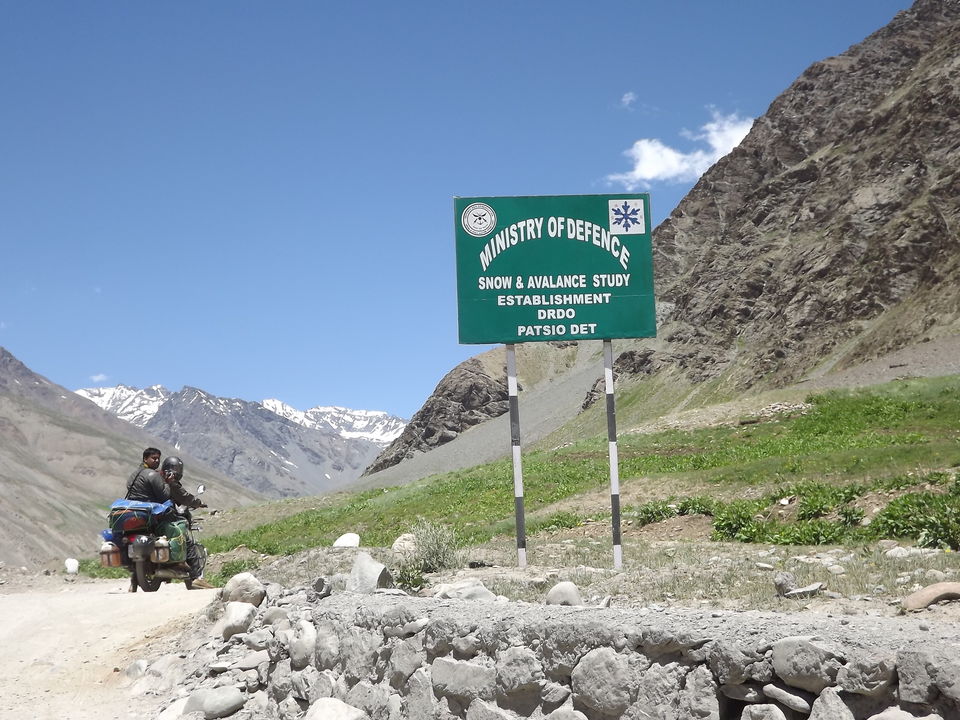 sahin hai...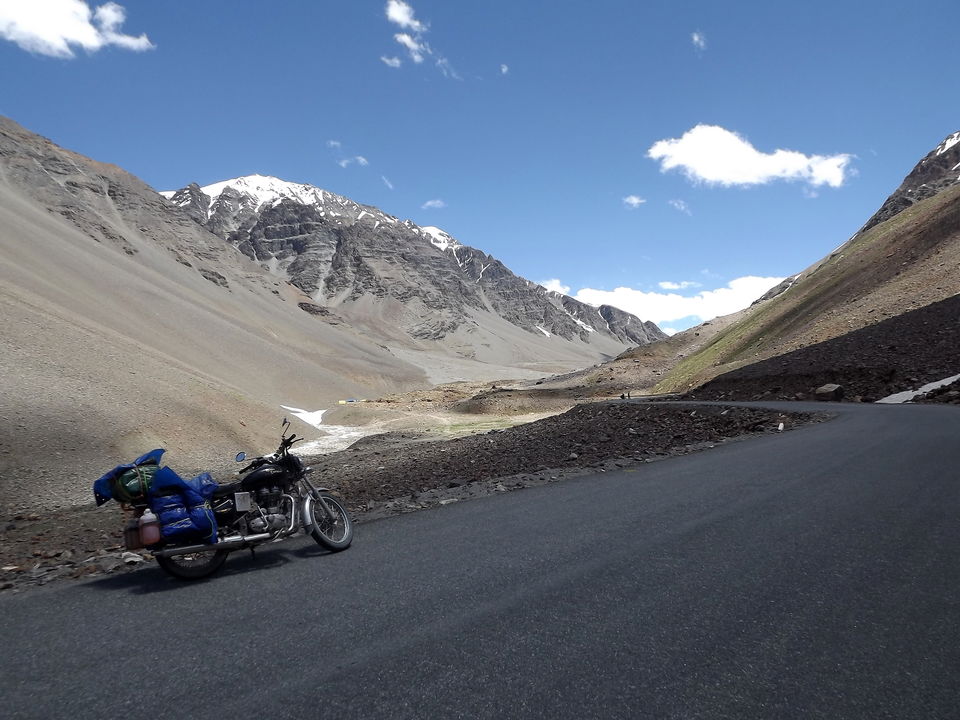 some stretches of good road...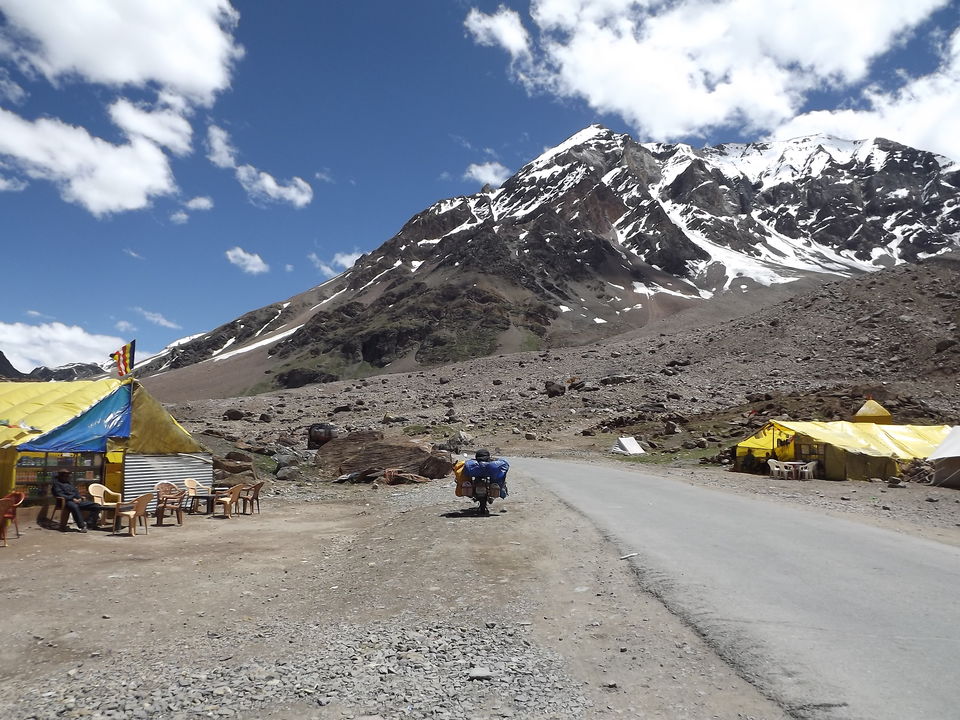 refreshment station before ascending Baralacha La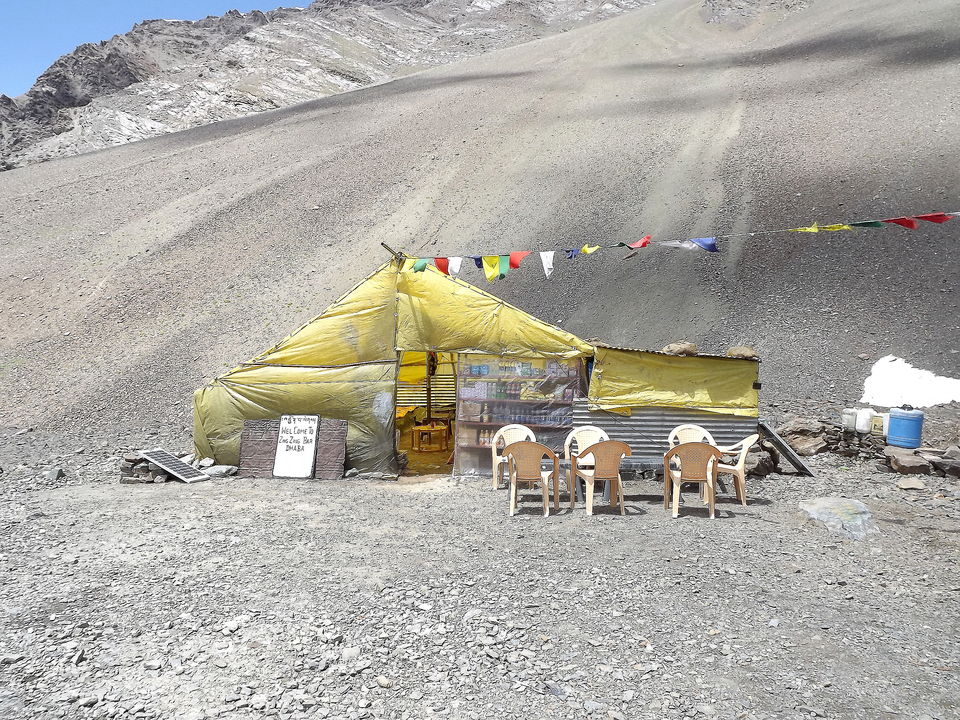 a refreshment point before ascending Baralacha La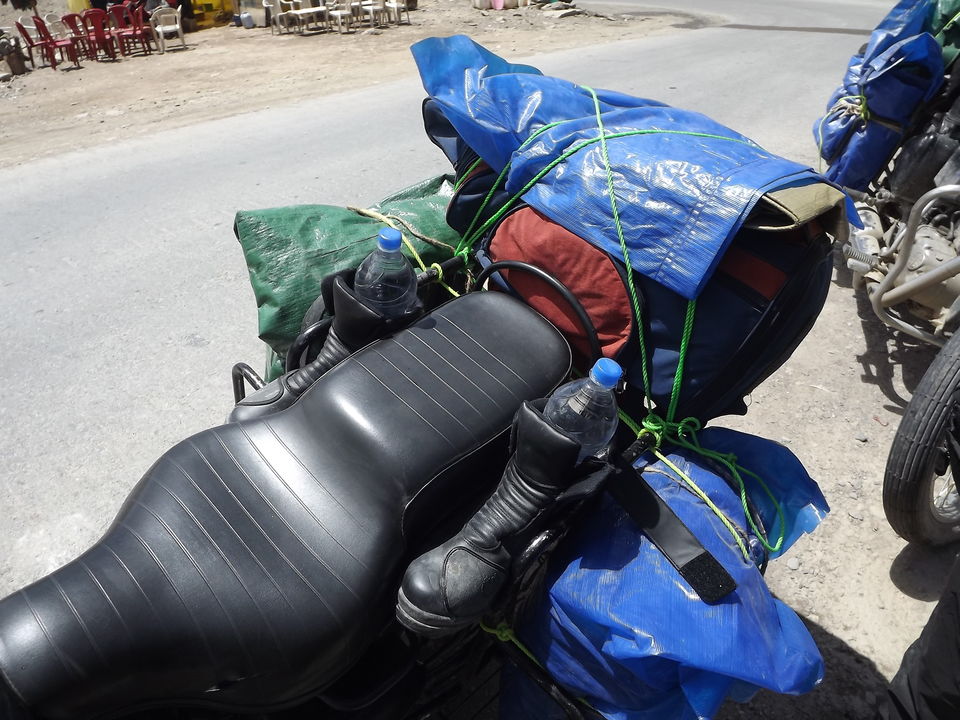 some Jugaad, on the way...
the pristine 'Suraj Tal lake' before Baralacha La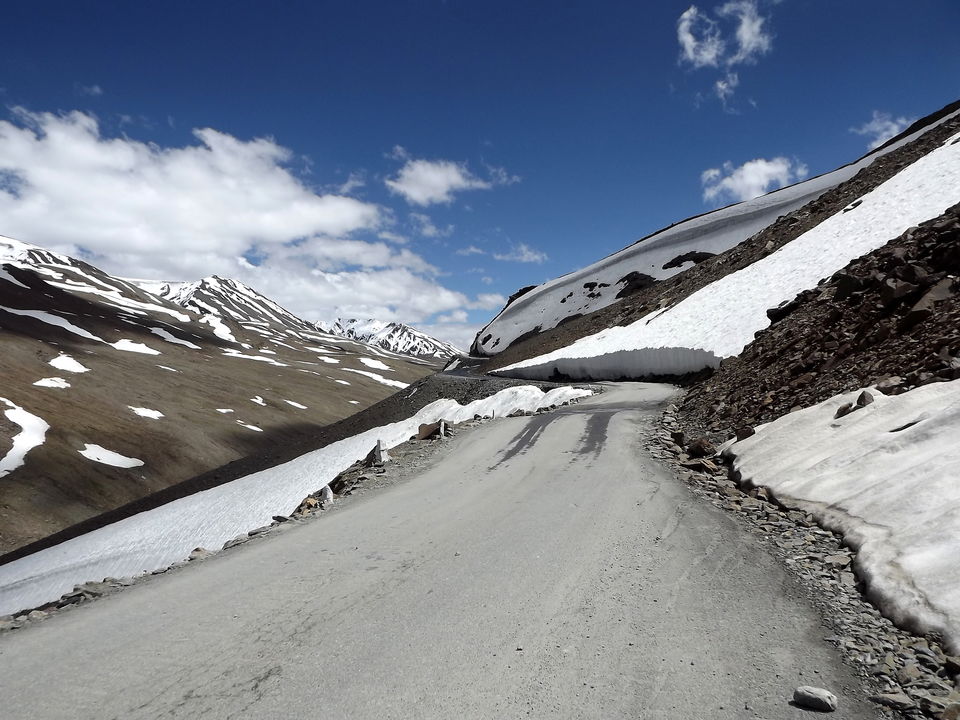 at Baralacha La (4890 mtrs)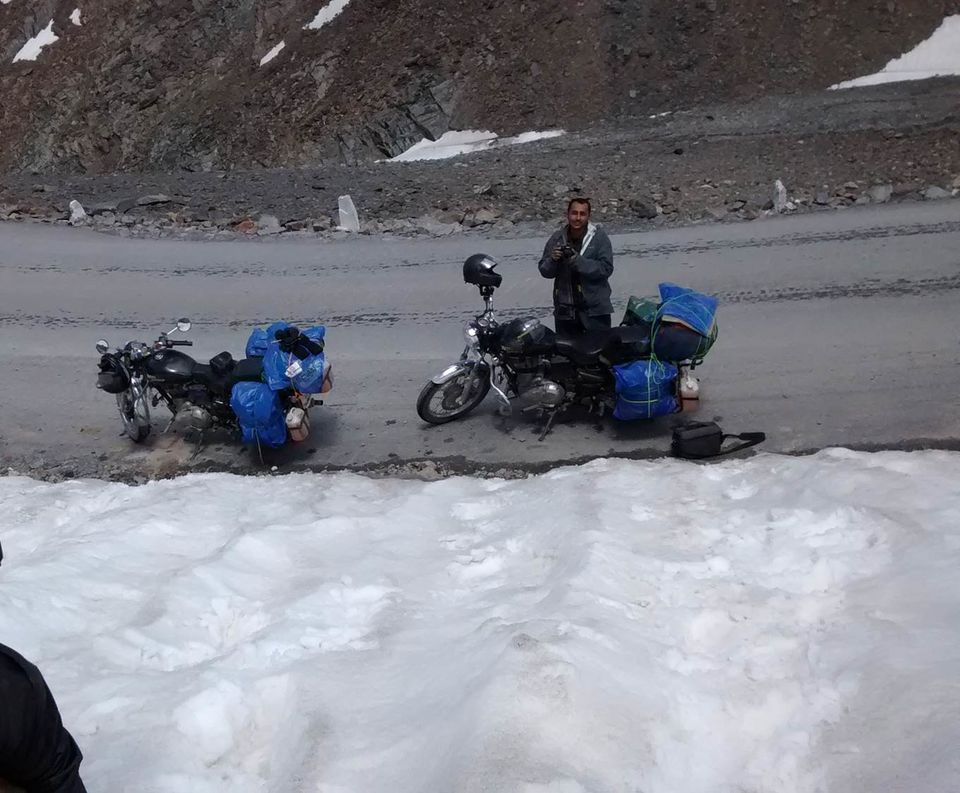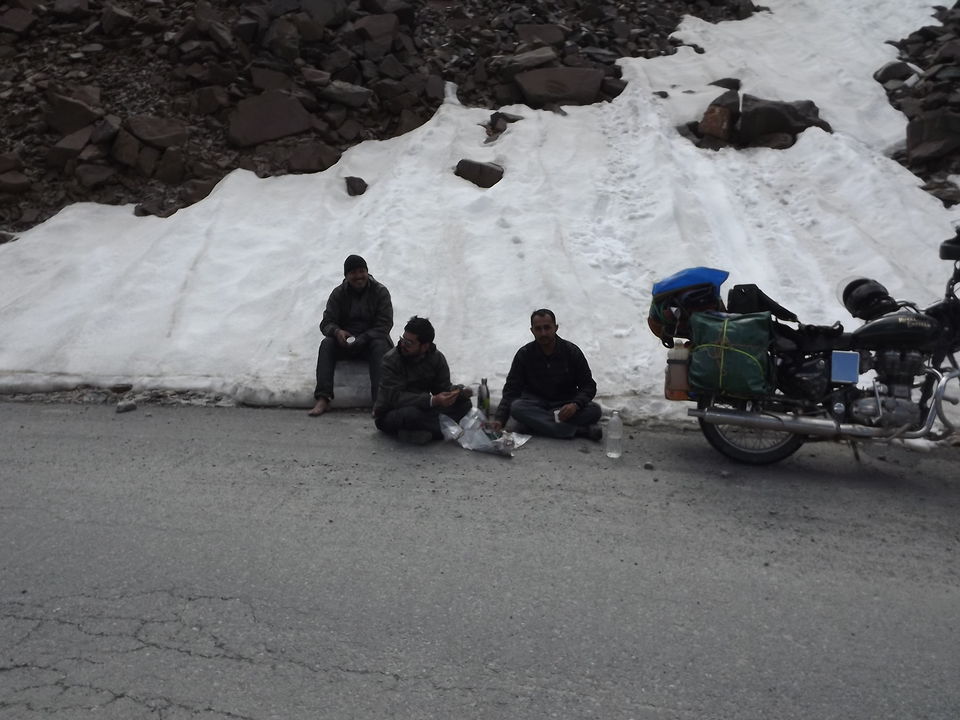 some Tea and Aloo ka Paratha on the road at 16000 feet above sea level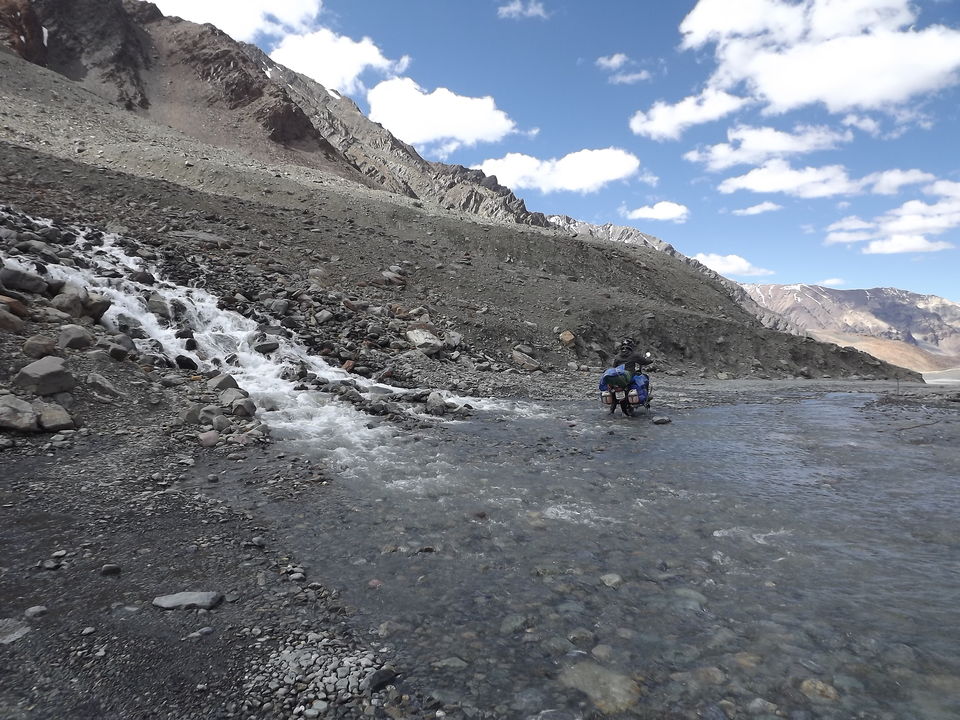 numerous flowing streams on the road...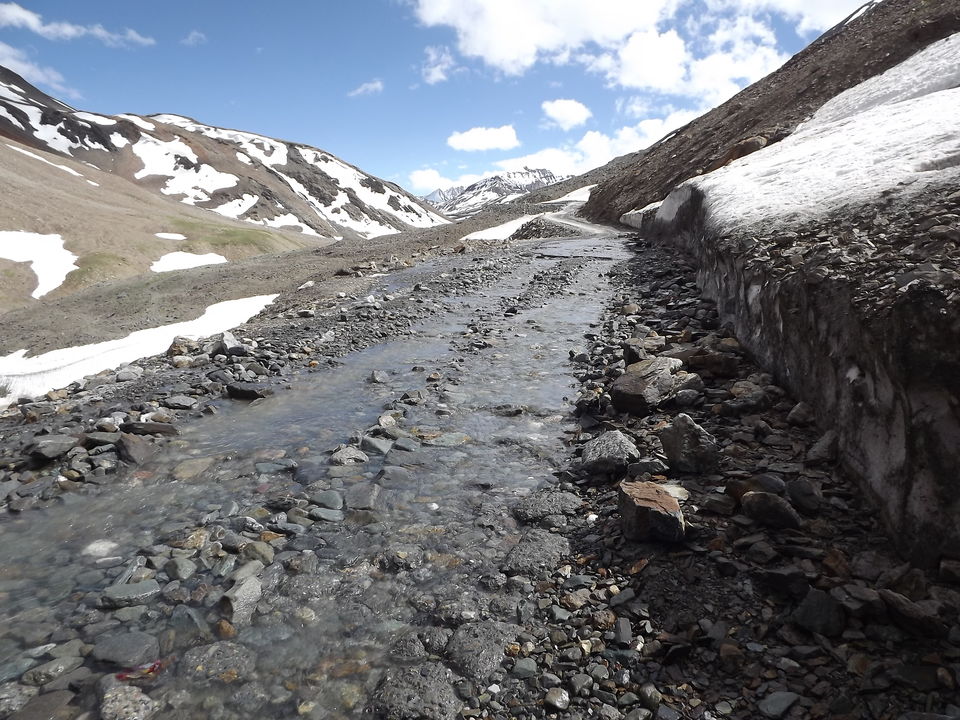 difficult roads...

views on the way...

views on the way...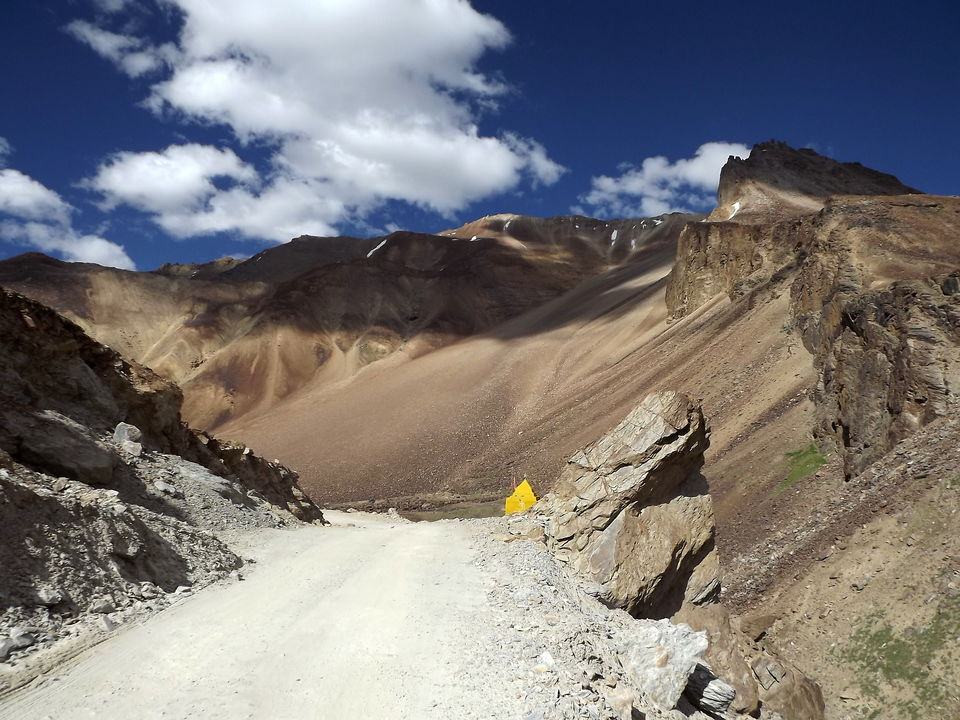 following the way through mountains...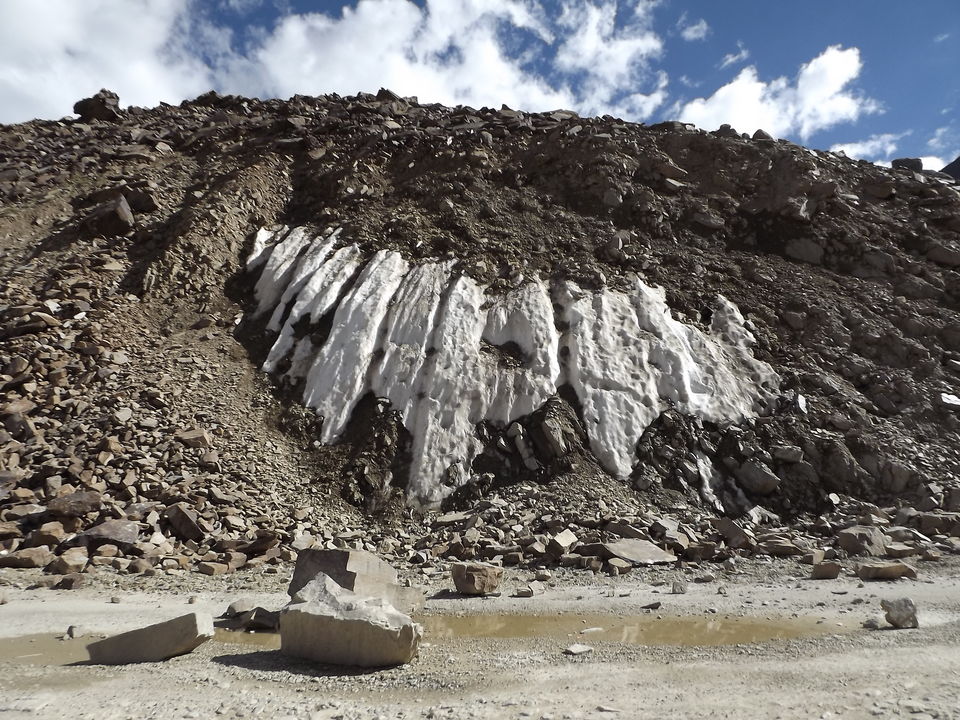 some bizarre structures on the way...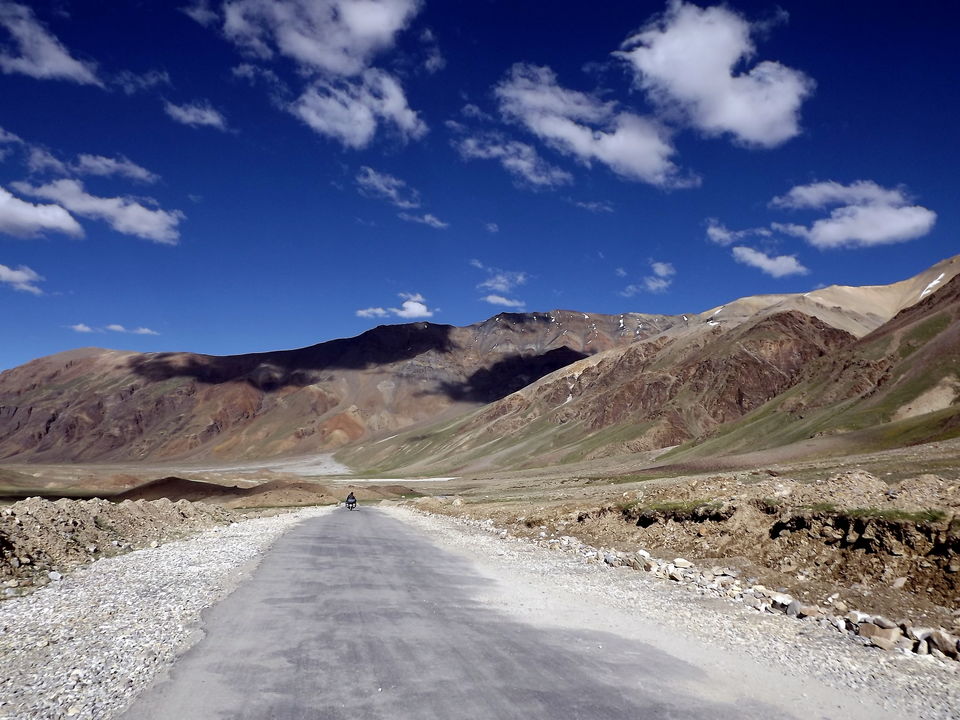 towards Sarchu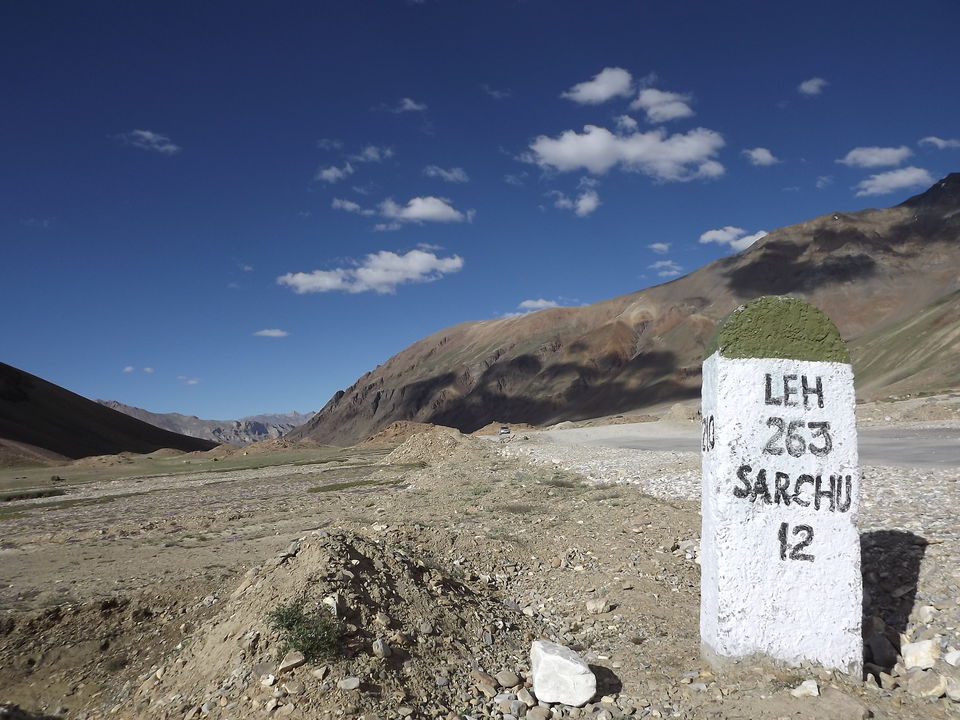 reaching Sarchu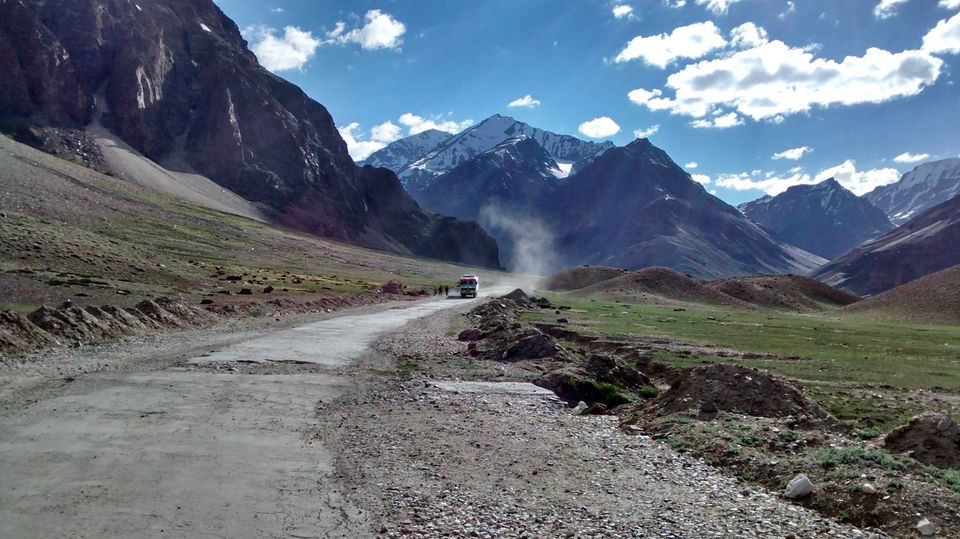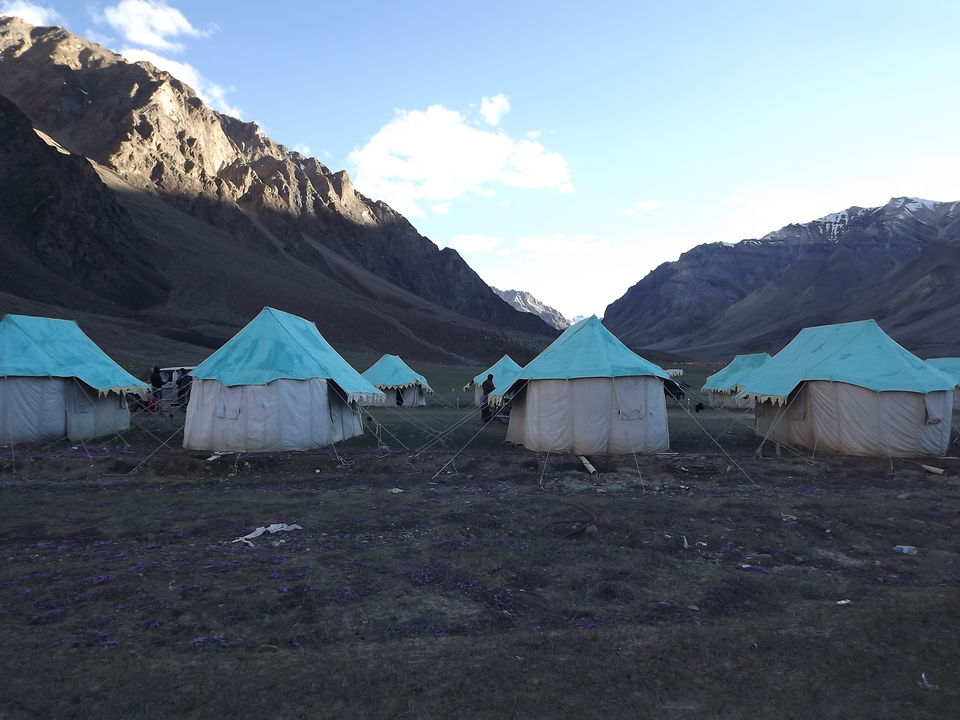 reached Sarchu, our 2nd day halt and got into our tents (with attached toilets)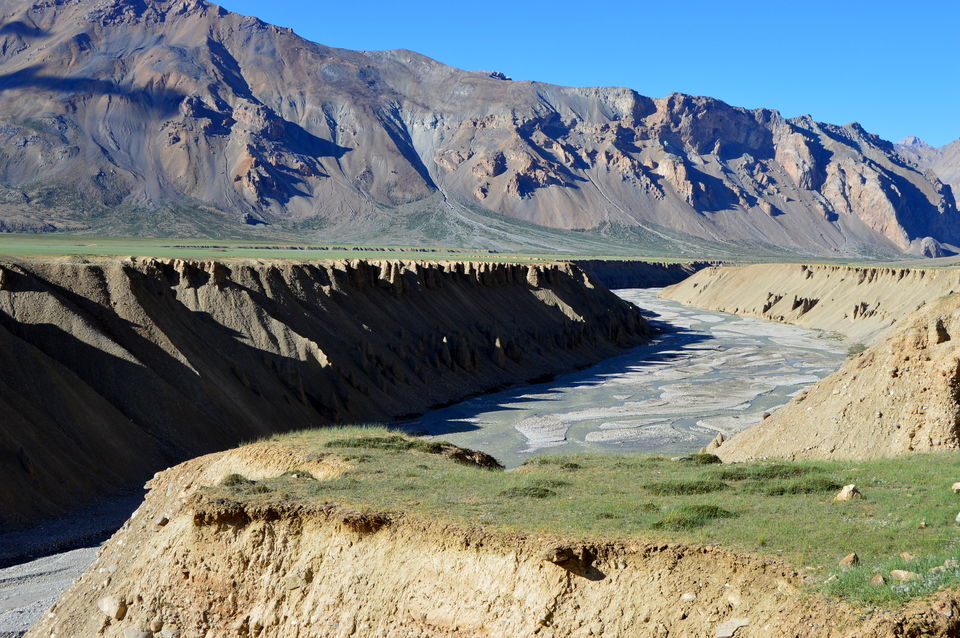 landscape at Sarchu...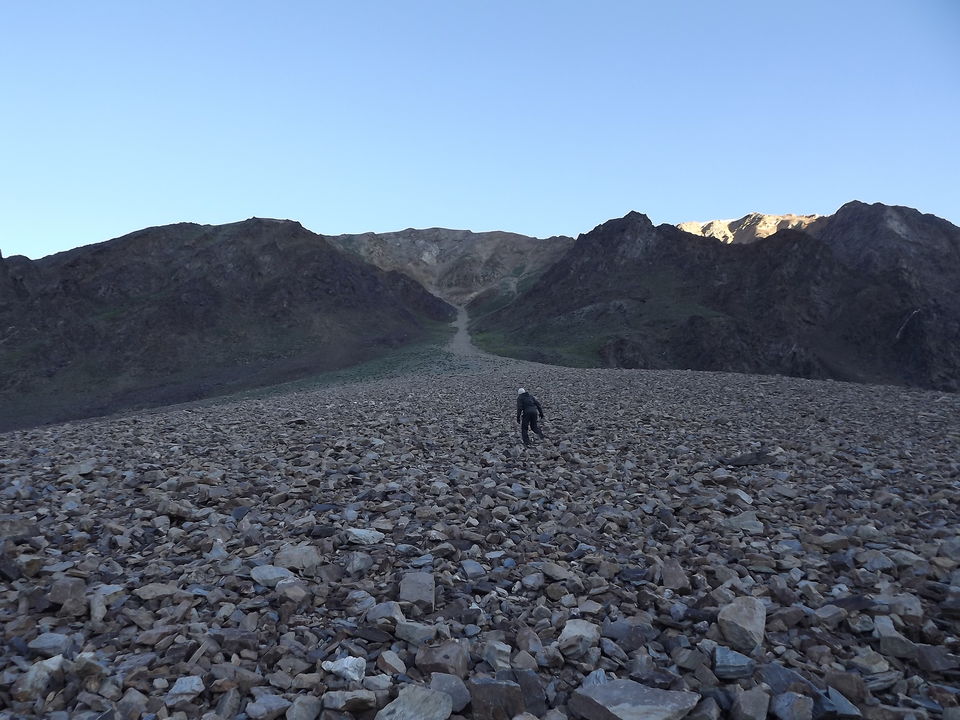 the evening we spent climbing the mountains around...

the view of Sarchu from a mountain we climbed...
Day 3 Sarchu to Leh (252 kms) crossing Nakee La (15547 feet), Lachunglang La (16659 feet) and Taglang La (17476 feet)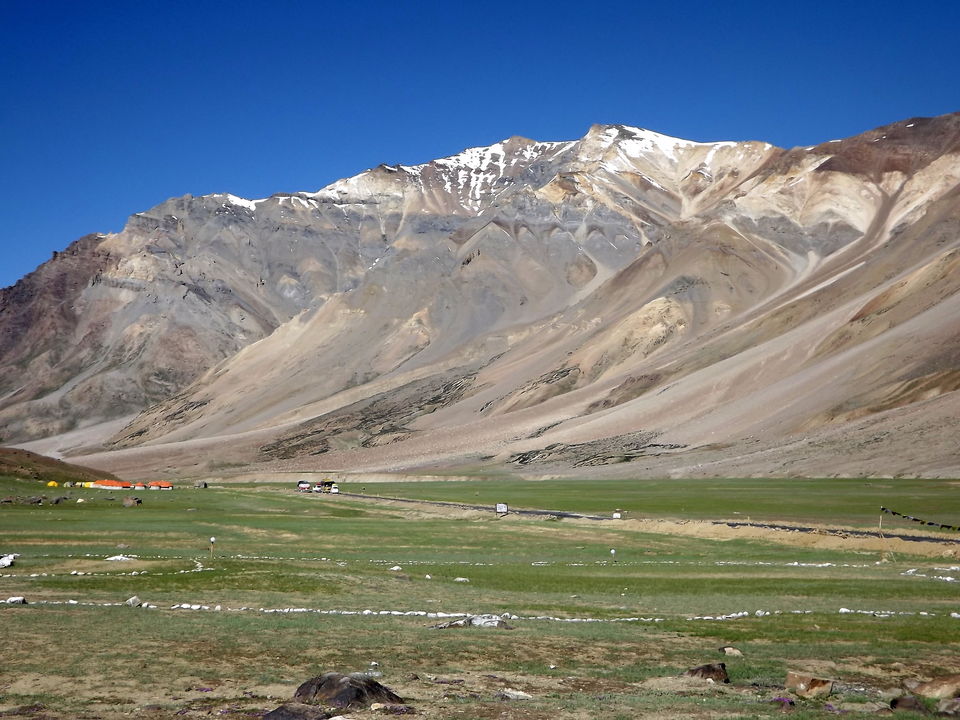 Sarchu in Morning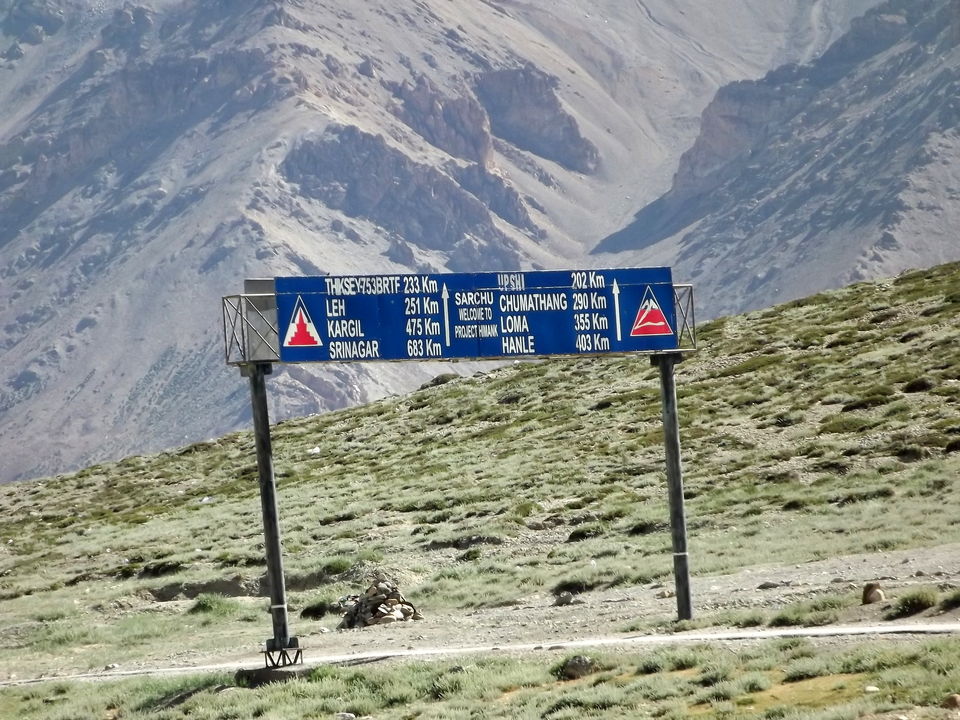 the path ahead...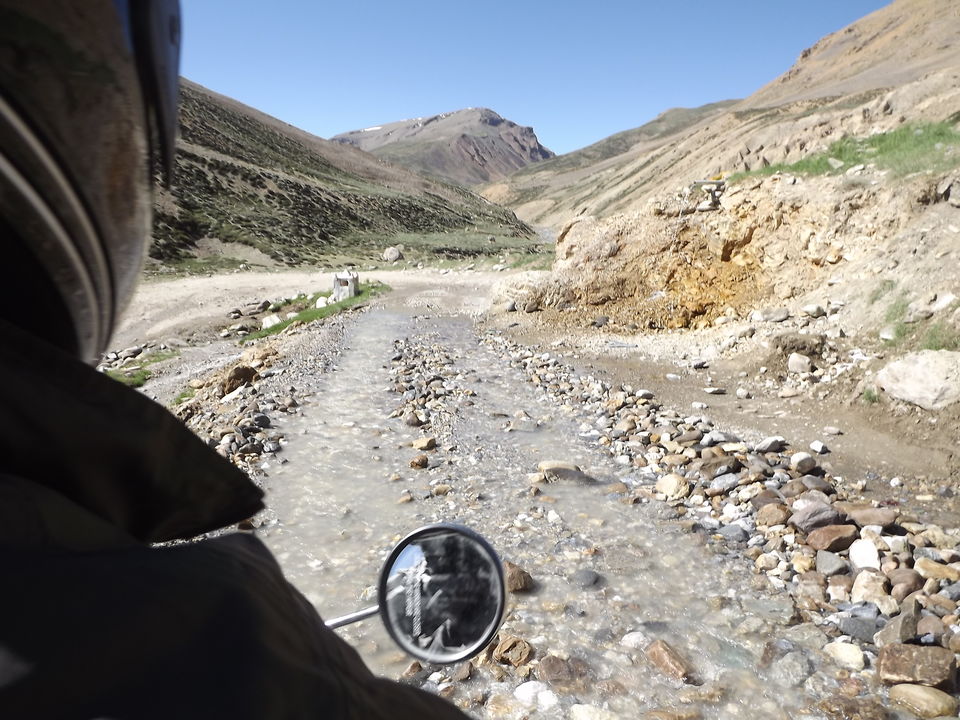 but the bad roads never stop to exist

ascending Nakee La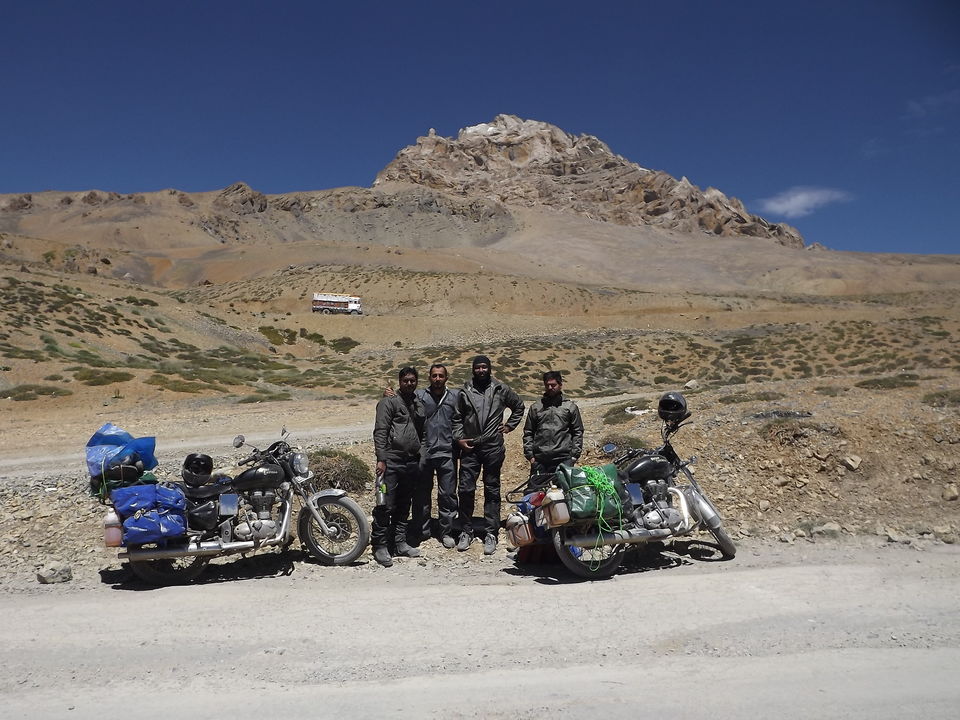 the Men, Machines and Mountains...accomplishing the Mission...
(from left: Shekhar, Gaurav, Anish & Nishant)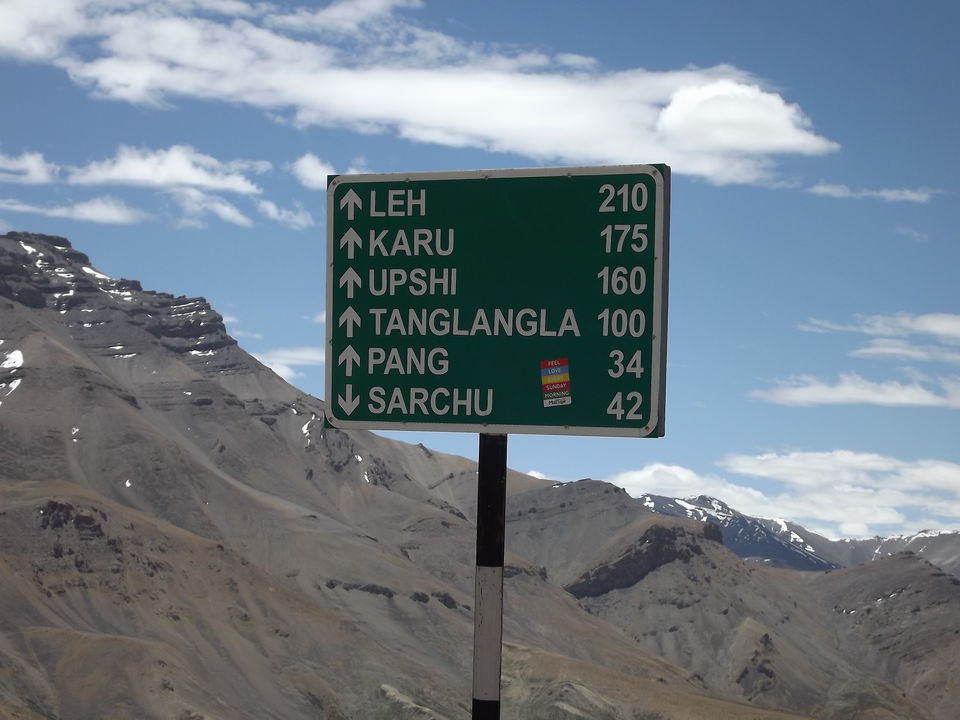 still a long long way to go...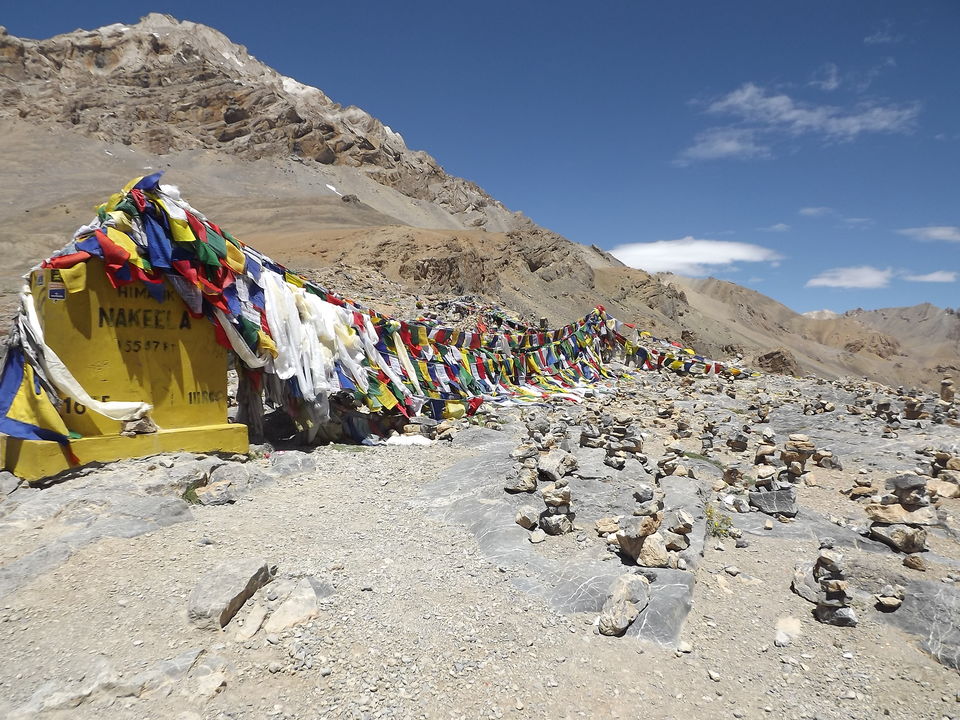 At Nakee La (4740 mtrs)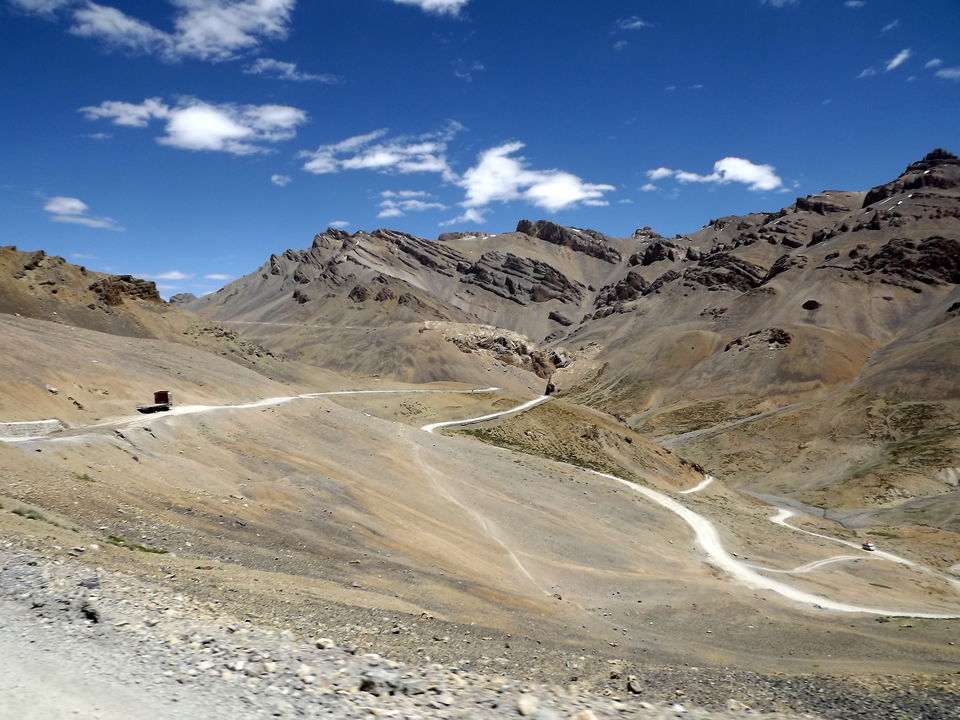 from Nakee La to Lachunglang La...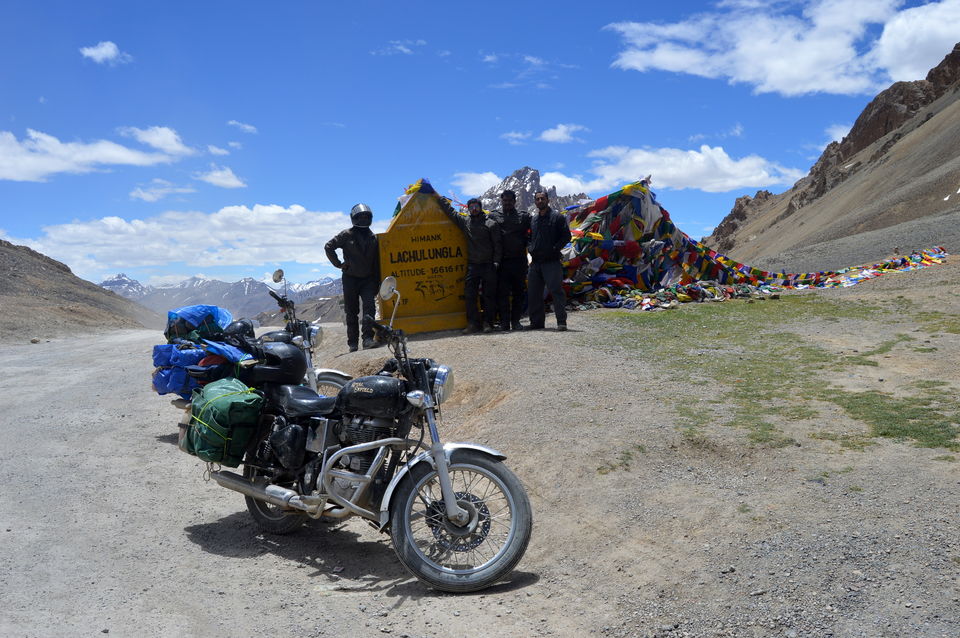 At Lachunglang La (5079 mtrs)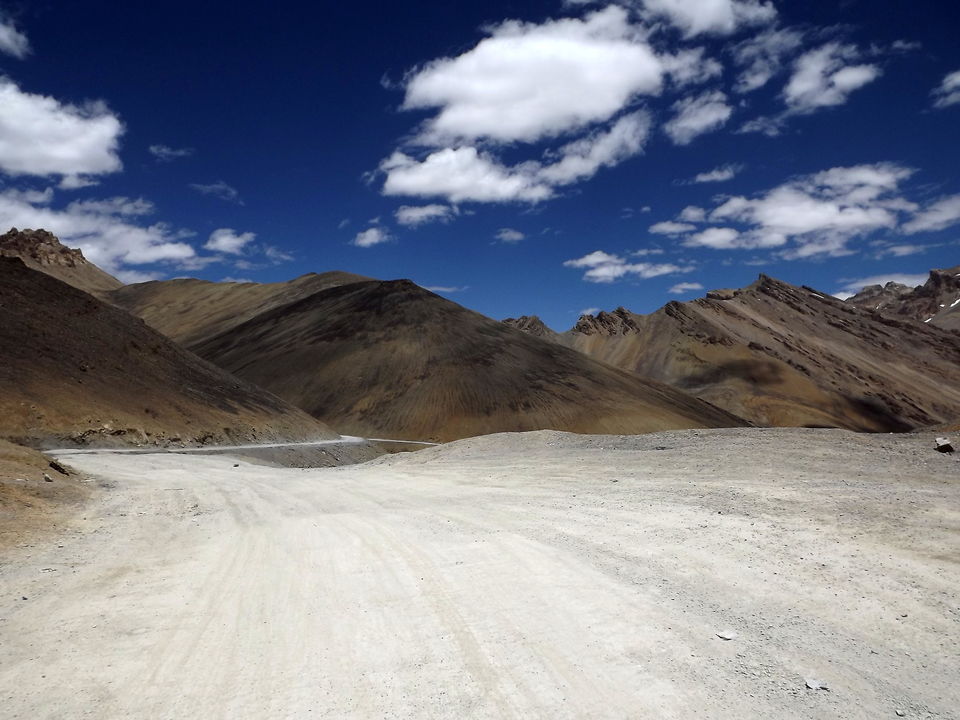 descending Lachunglang La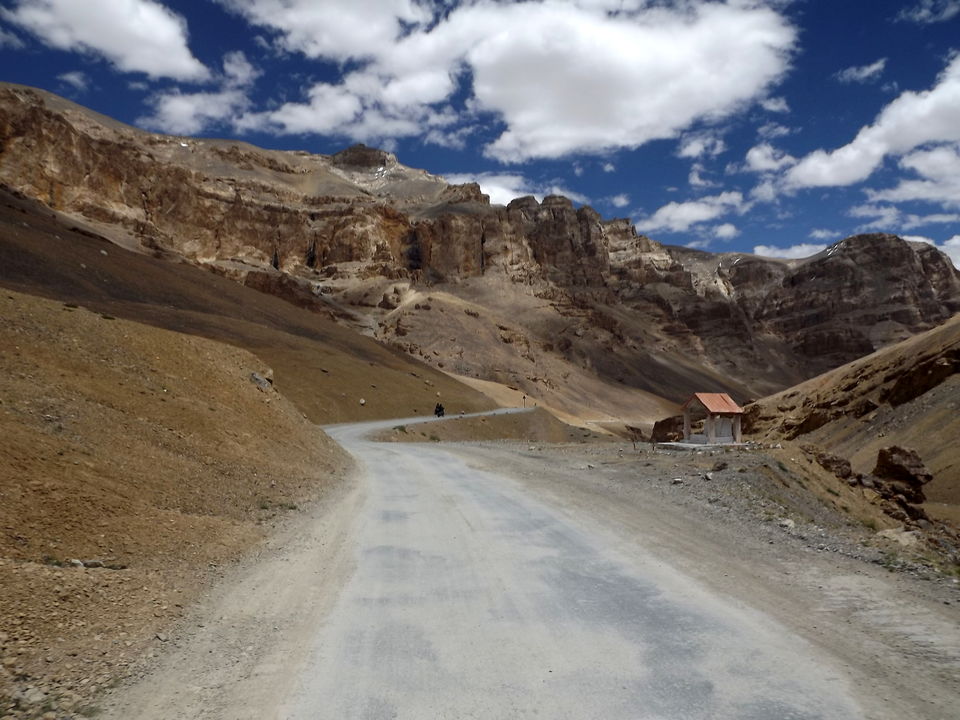 the road ahead...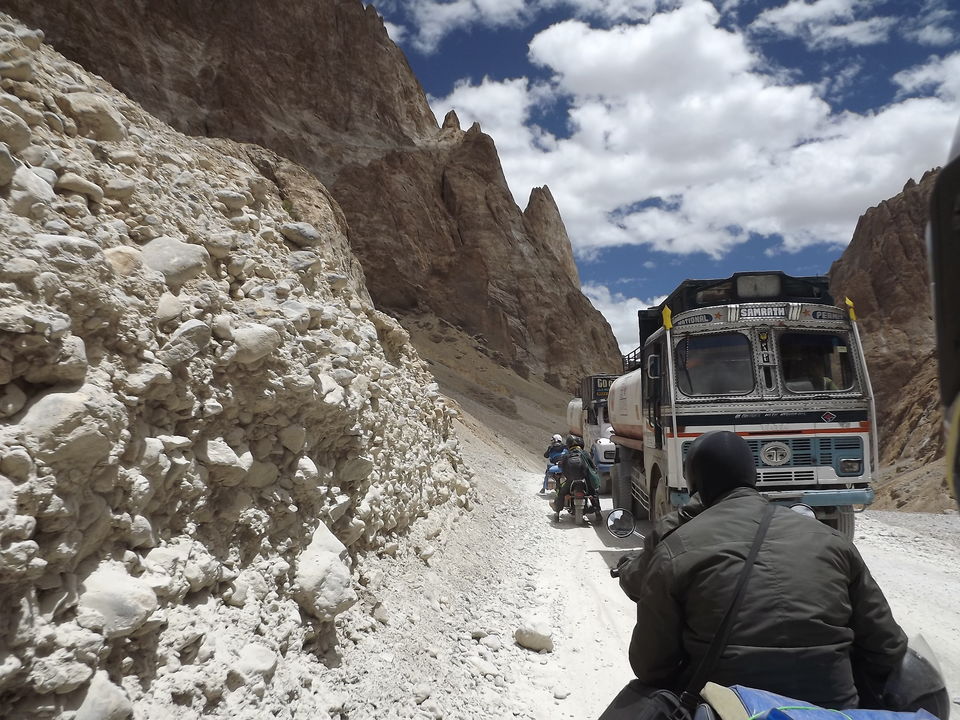 meeting bikers and lorries on the way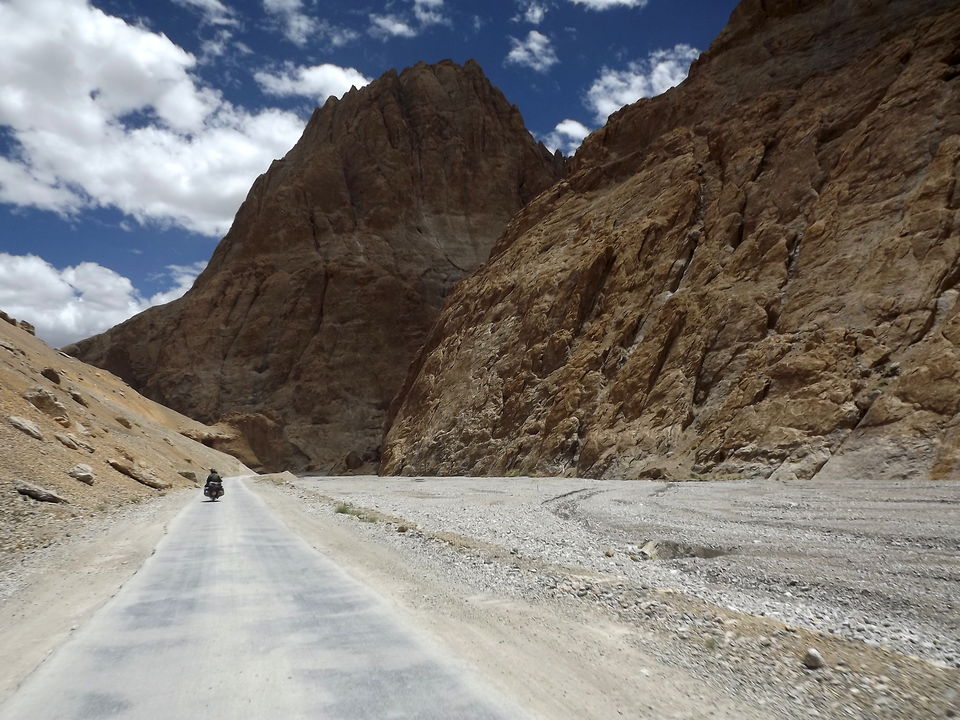 solitude riding...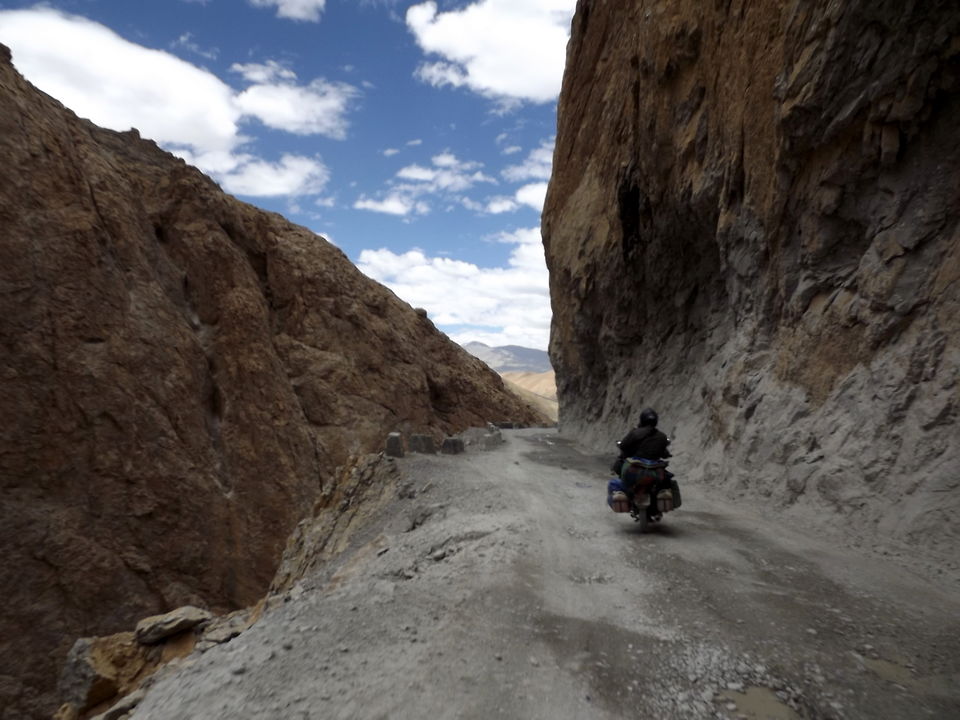 riding on the edge...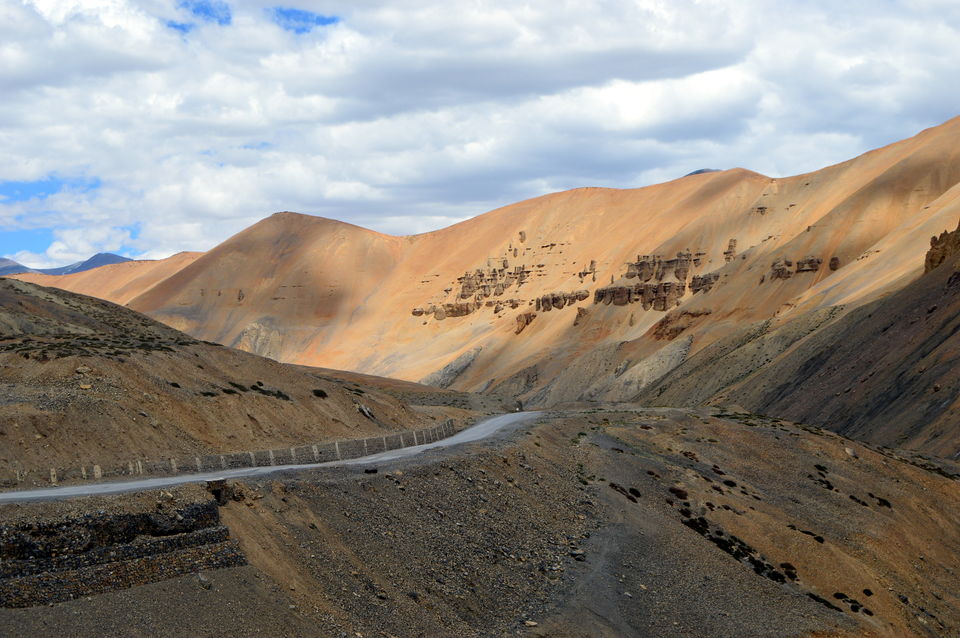 the part of the ride when some mysterious (Vismayeekaari in Hindi) shapes started emerging out of mountains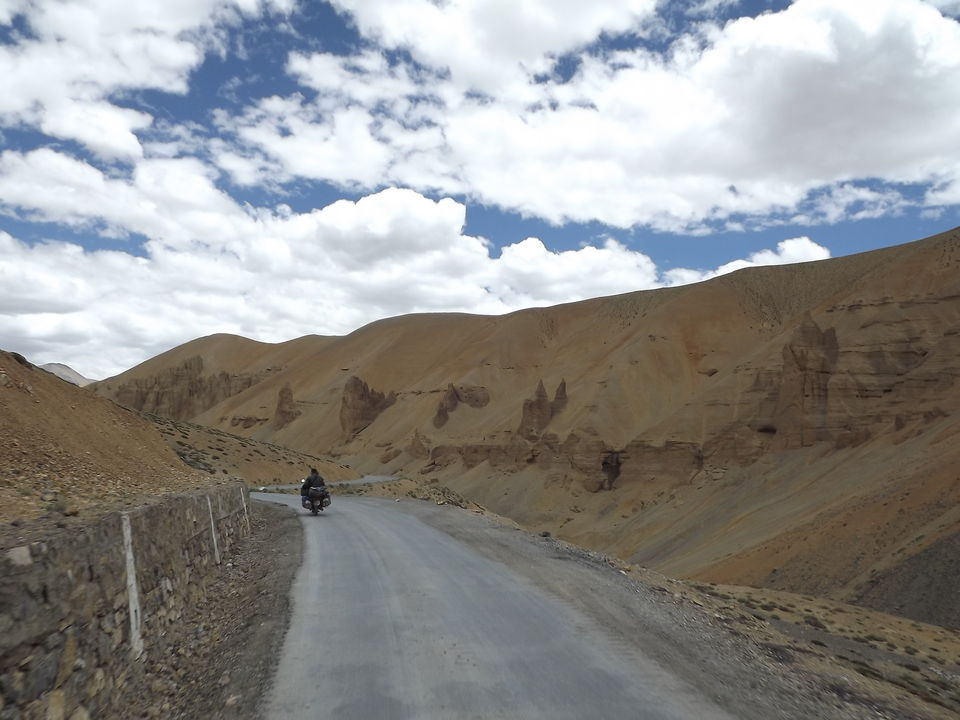 riding through the mysterious valley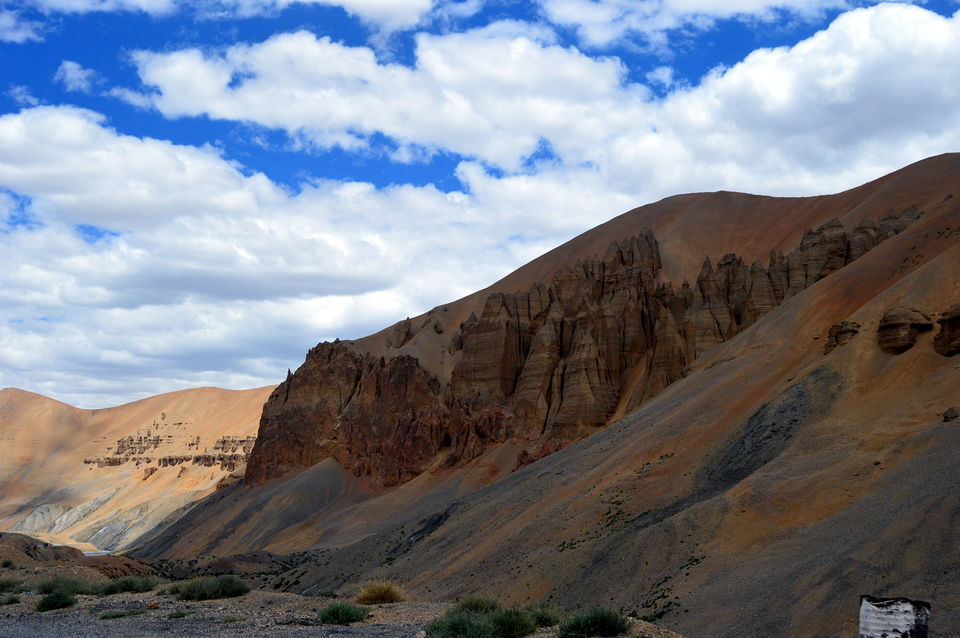 the mysterious structures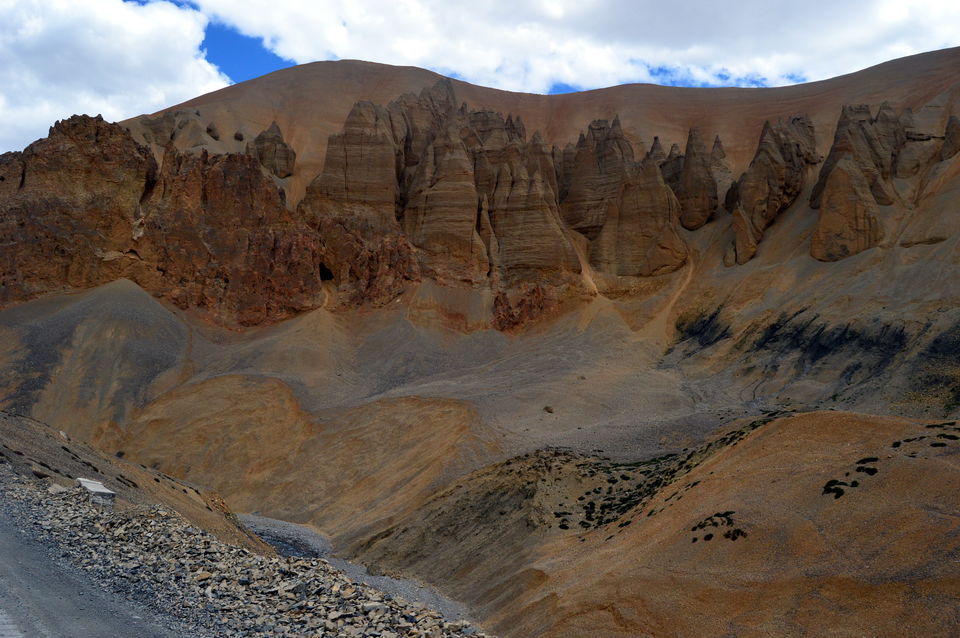 the mysterious structures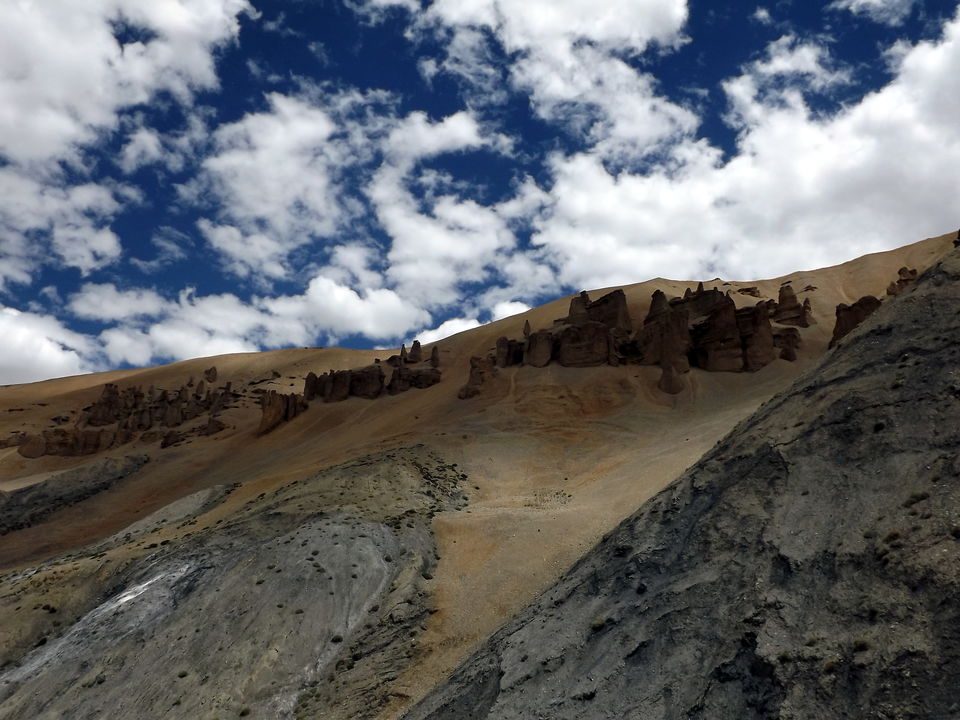 more mysterious shapes...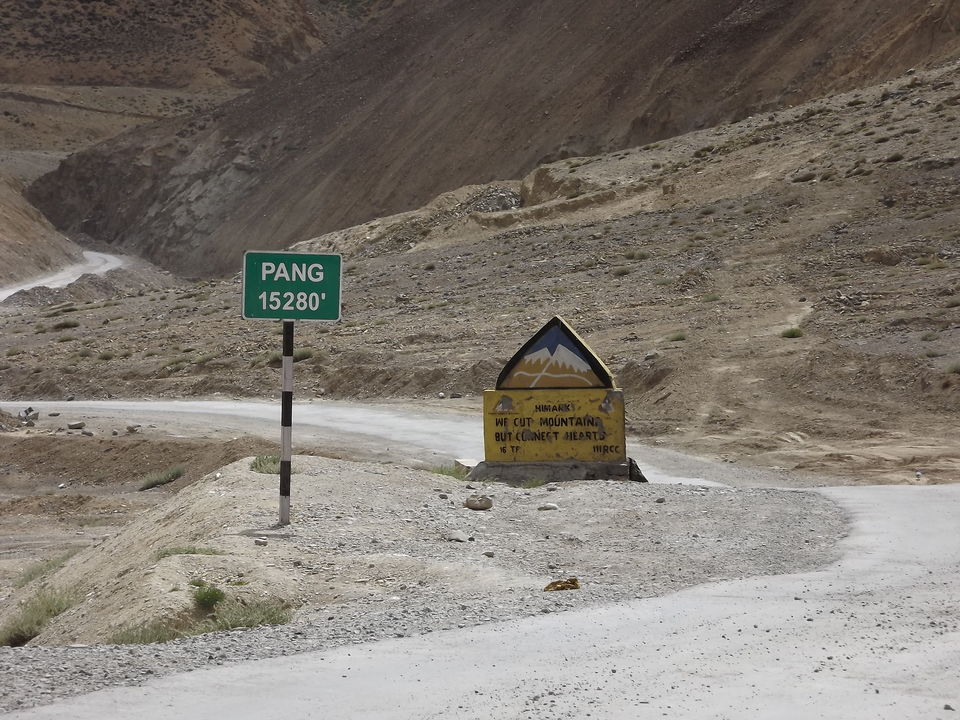 Reached Pang, entered Ladakh & the words by BRO...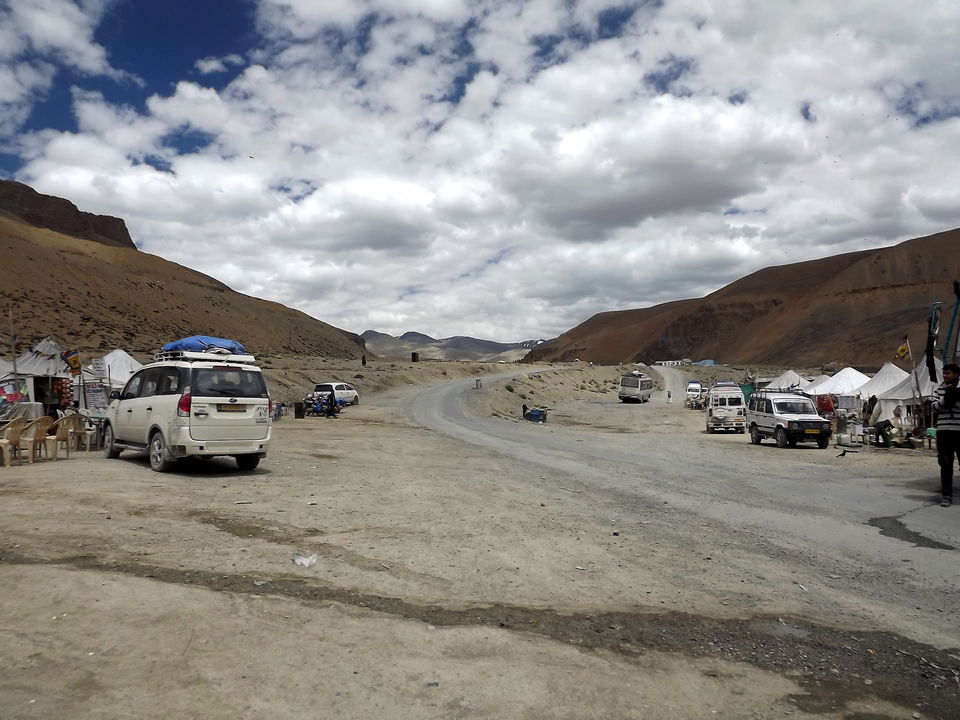 Pang...our lunch point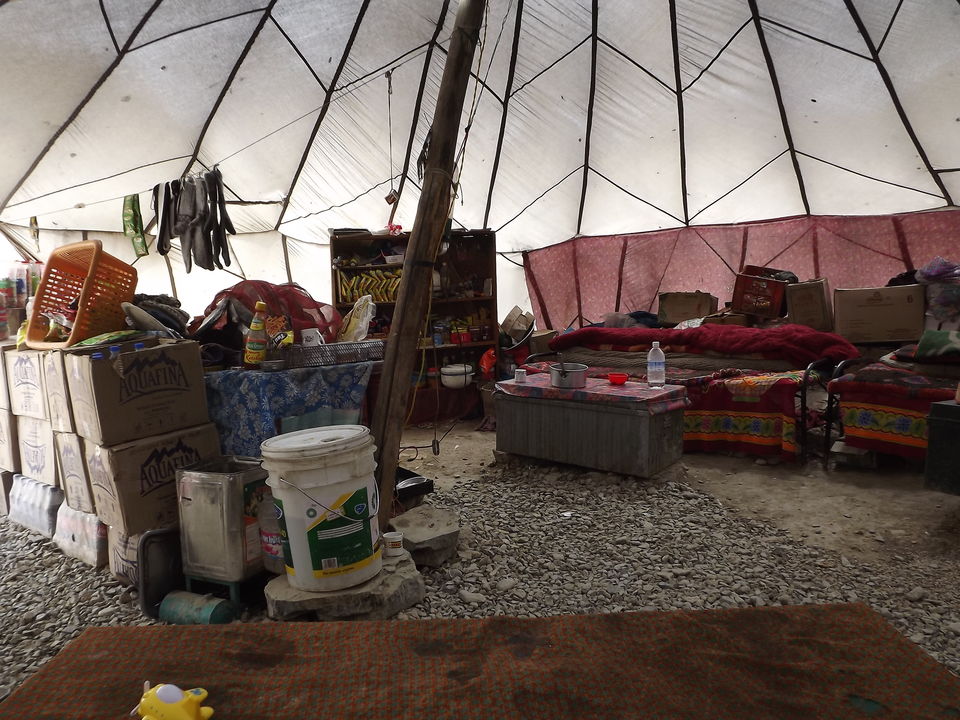 the rest and refreshment tent at Pang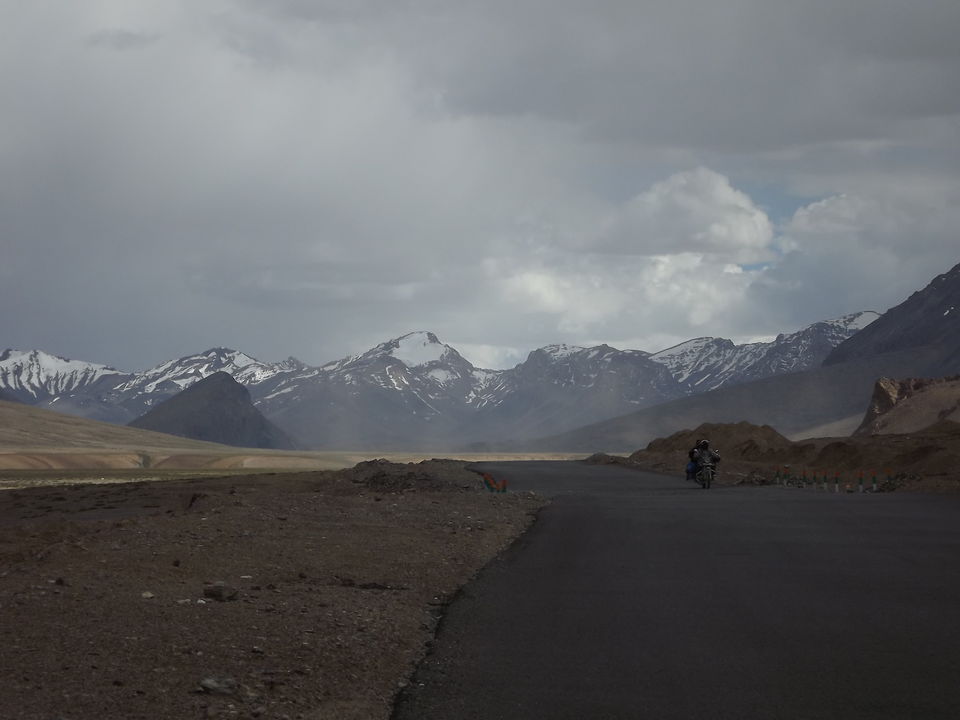 Reached Moore Plains...a 20 km long flat stretch at 4600 mtrs...completely magical!

The mystical, magical & majestic Moore Plains...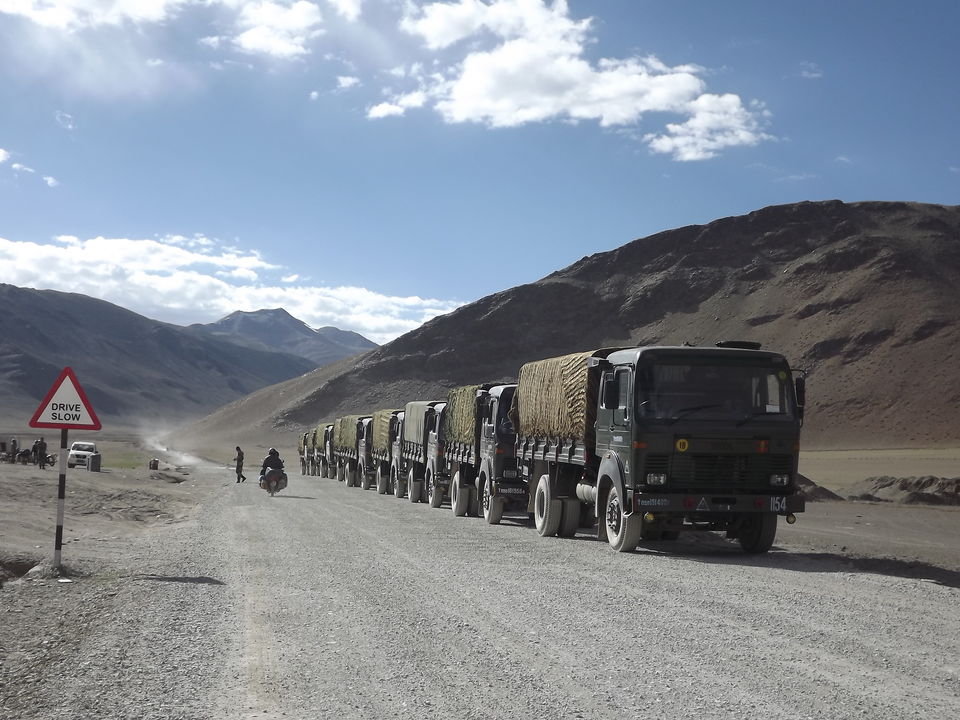 finally we met the ARMY convoy...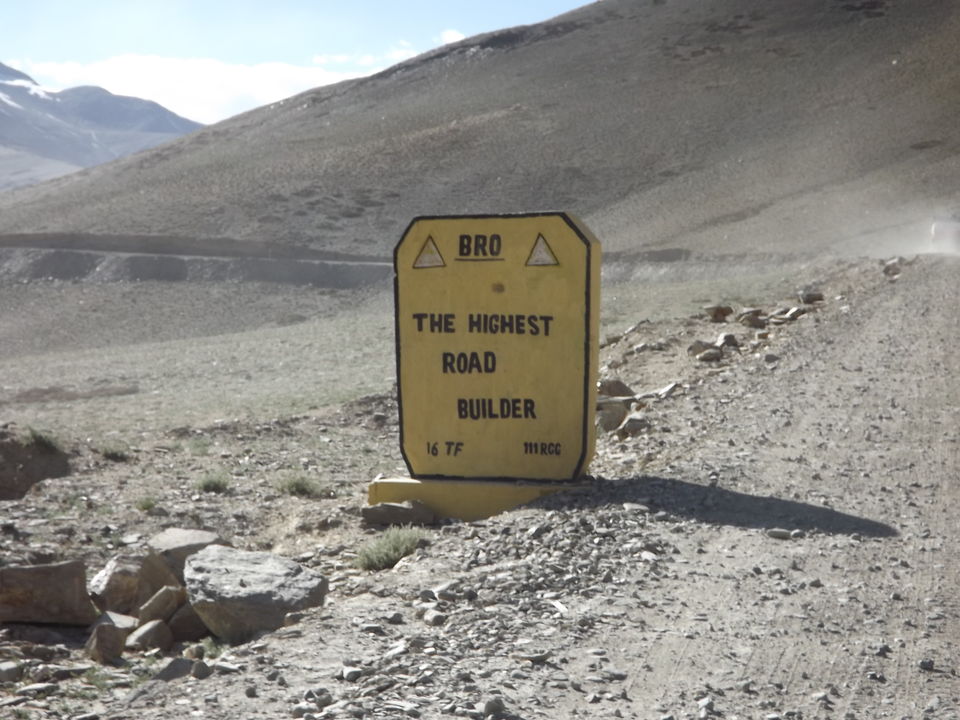 Indeed! My Salute to the Border Road Organization (BRO)...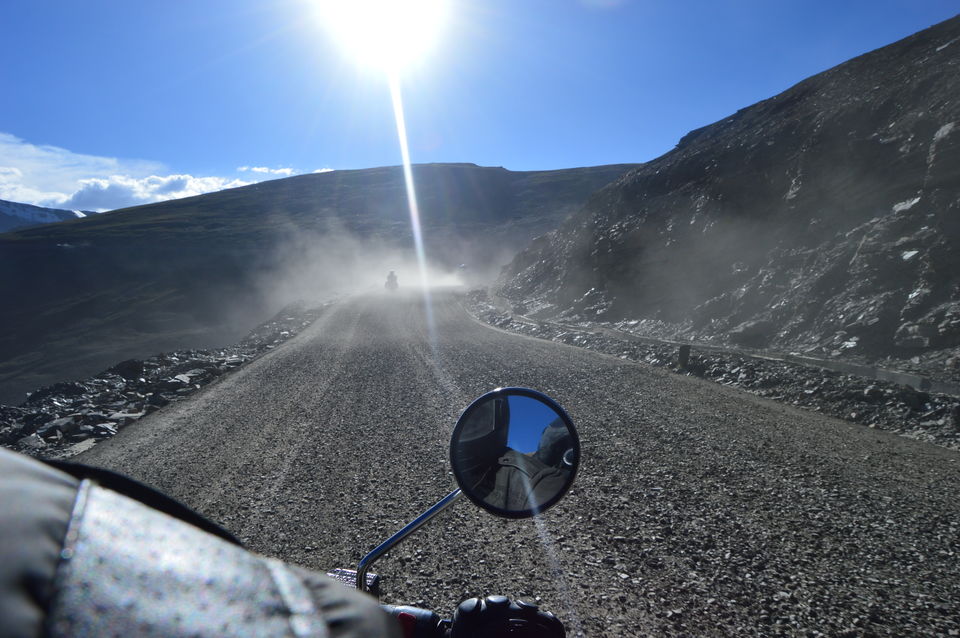 Ascending Taglang La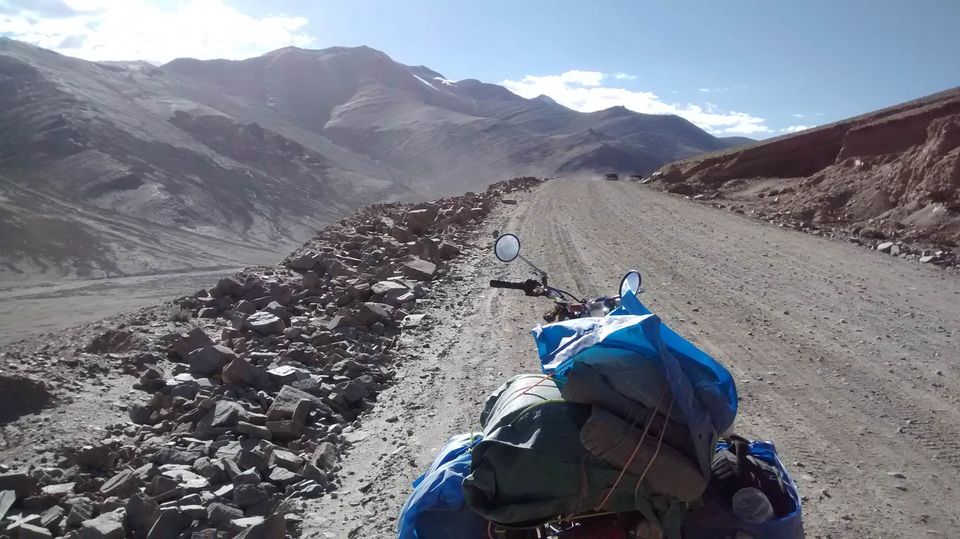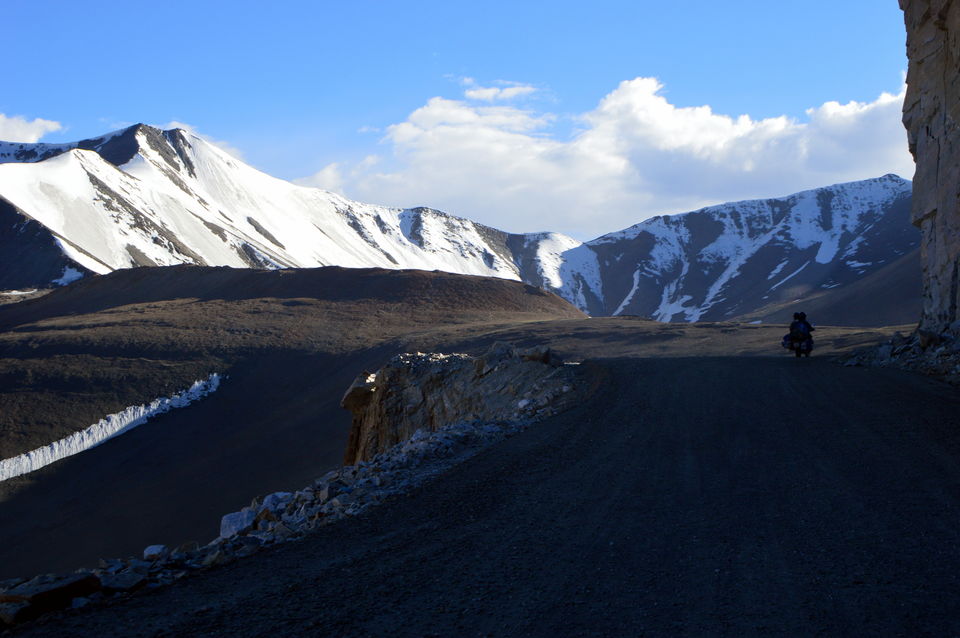 reaching Taglang La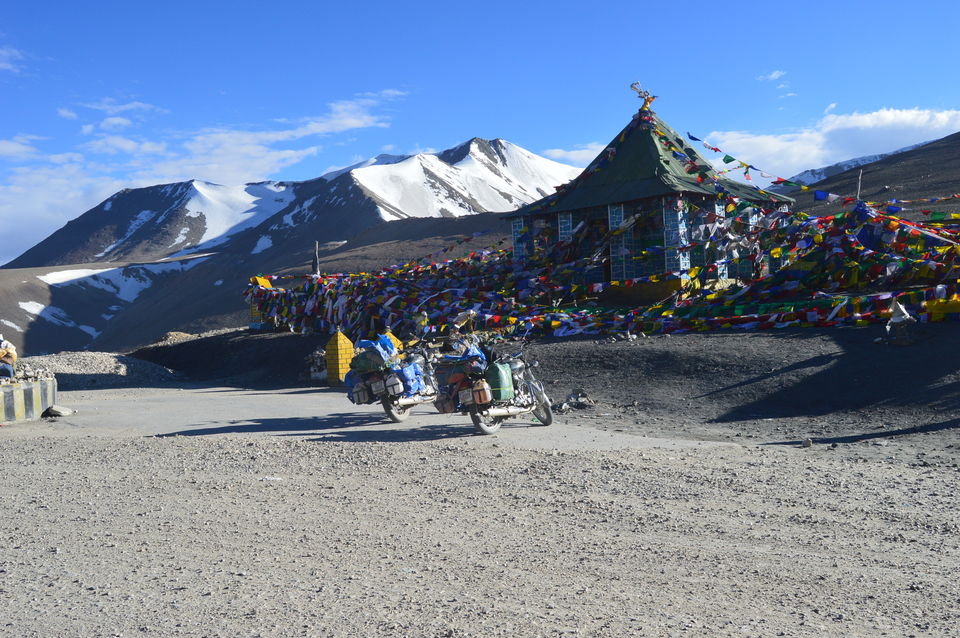 Reached Taglang La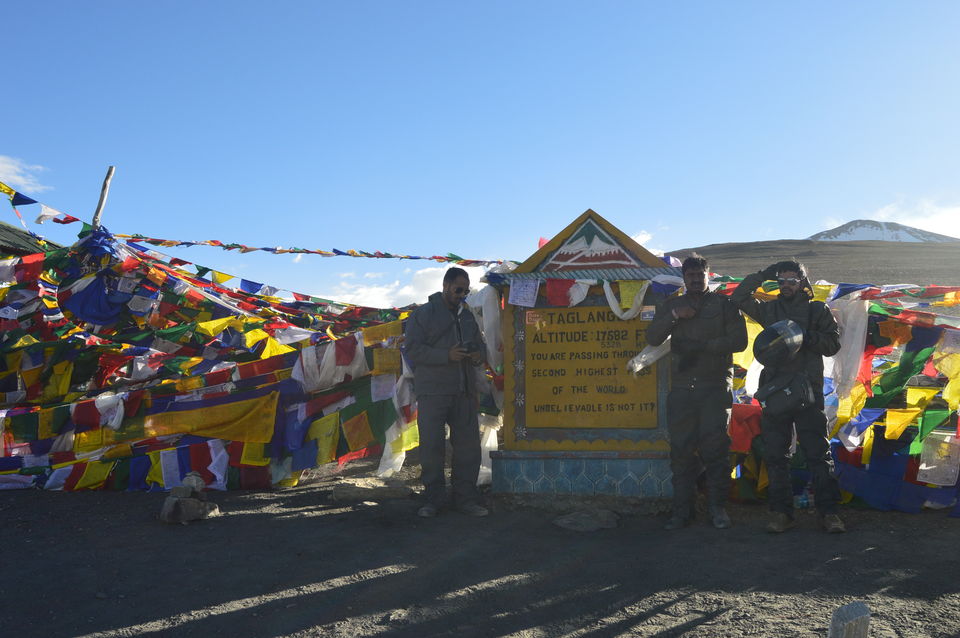 Taglang La, 2nd Highest Pass in the World! (5328 mtrs)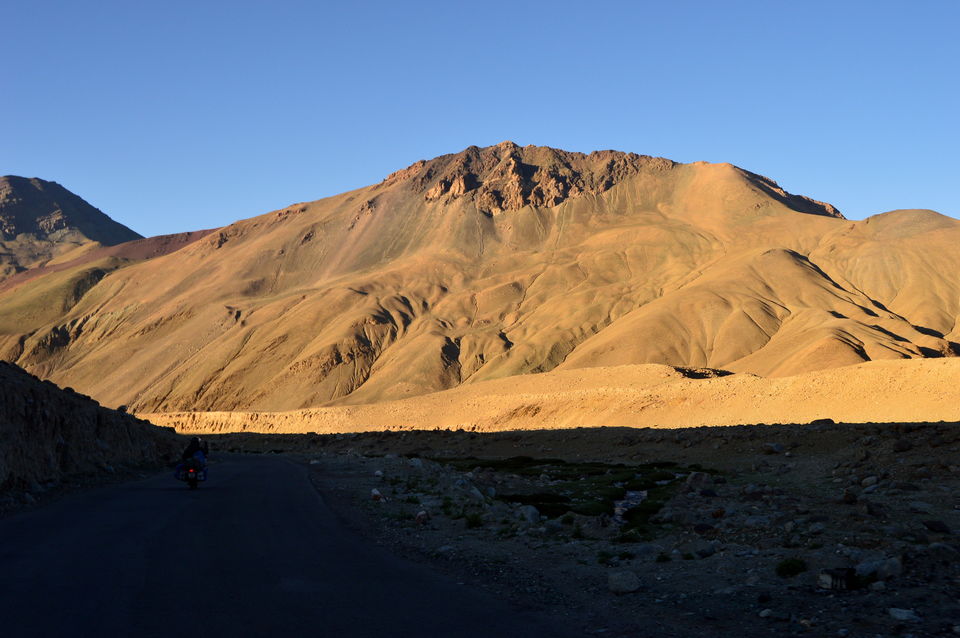 descended Taglang La...its evening but the Sun is still harsh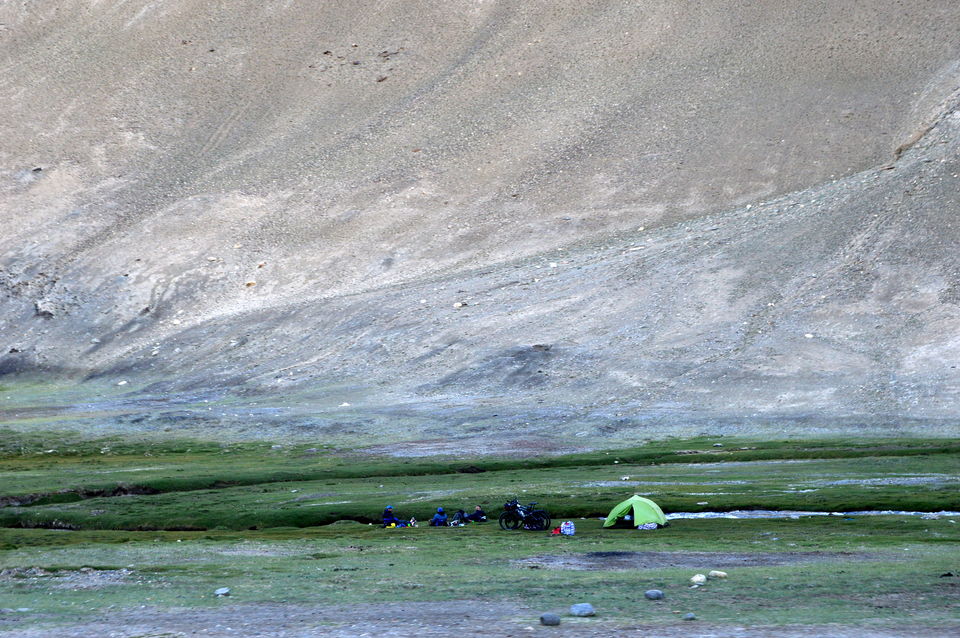 found some crazy souls on the way...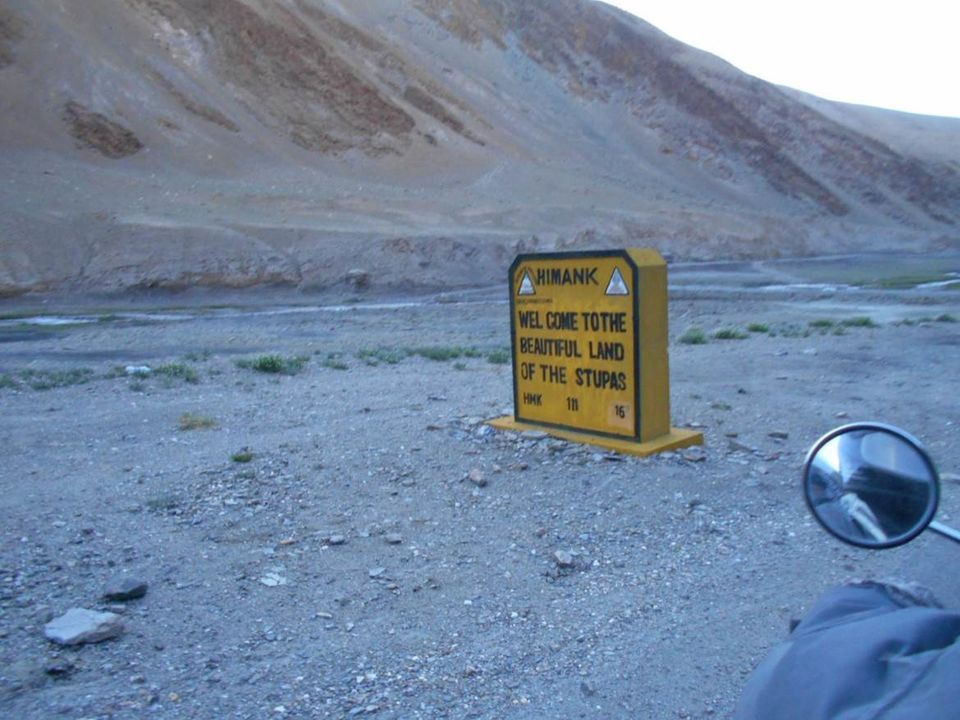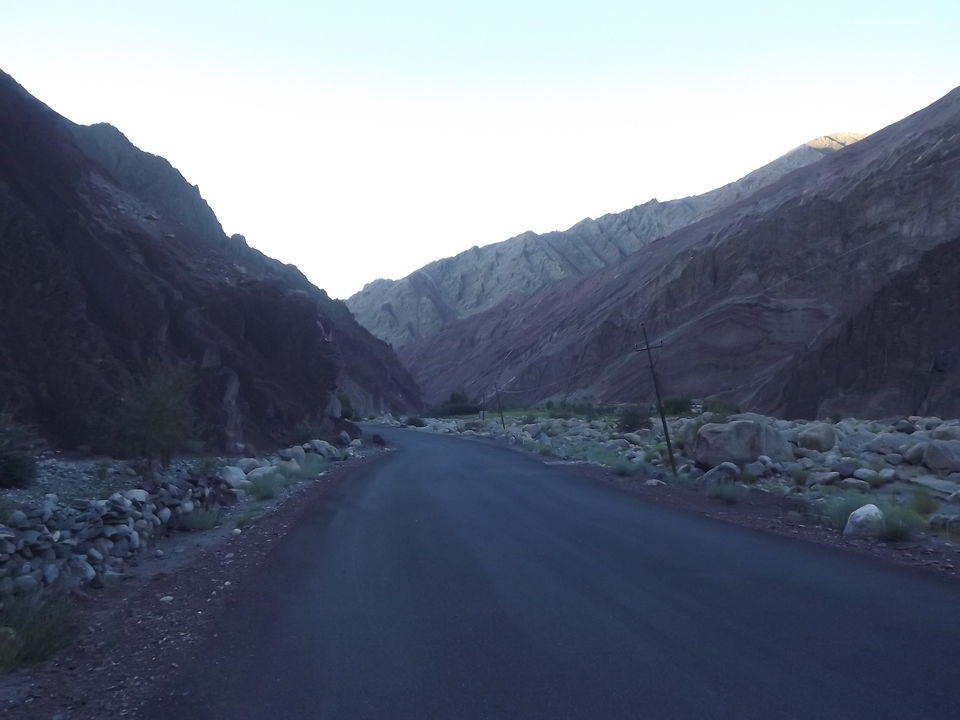 after descending Taglang La, towards Upshi, the mountains changed mystically to dark Pink color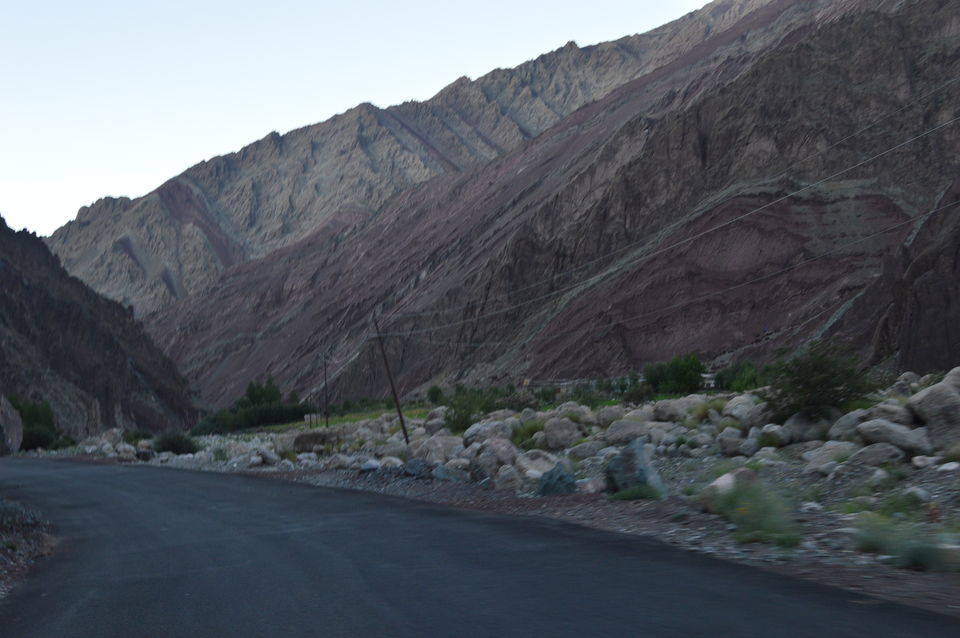 the dark pink colored mountains...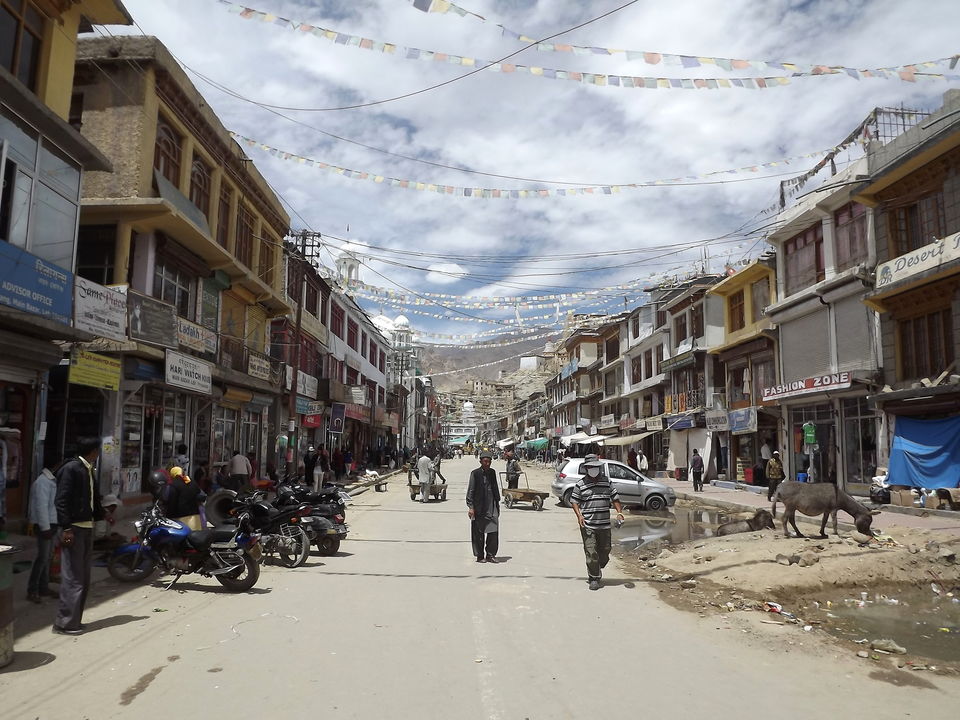 Leh Bazaar...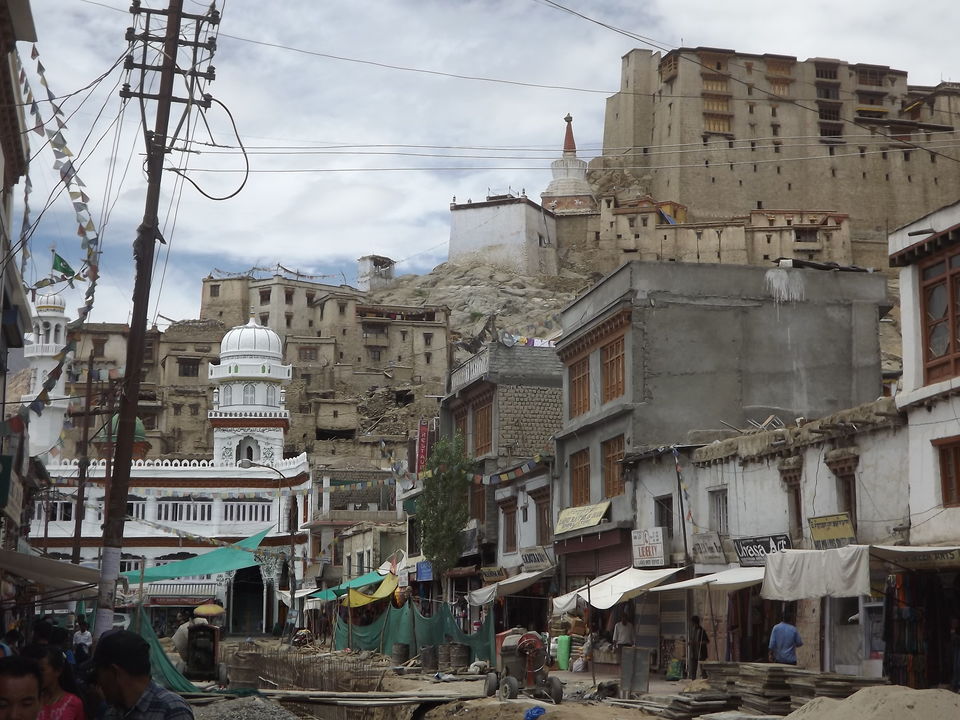 Mosque and Leh Palace...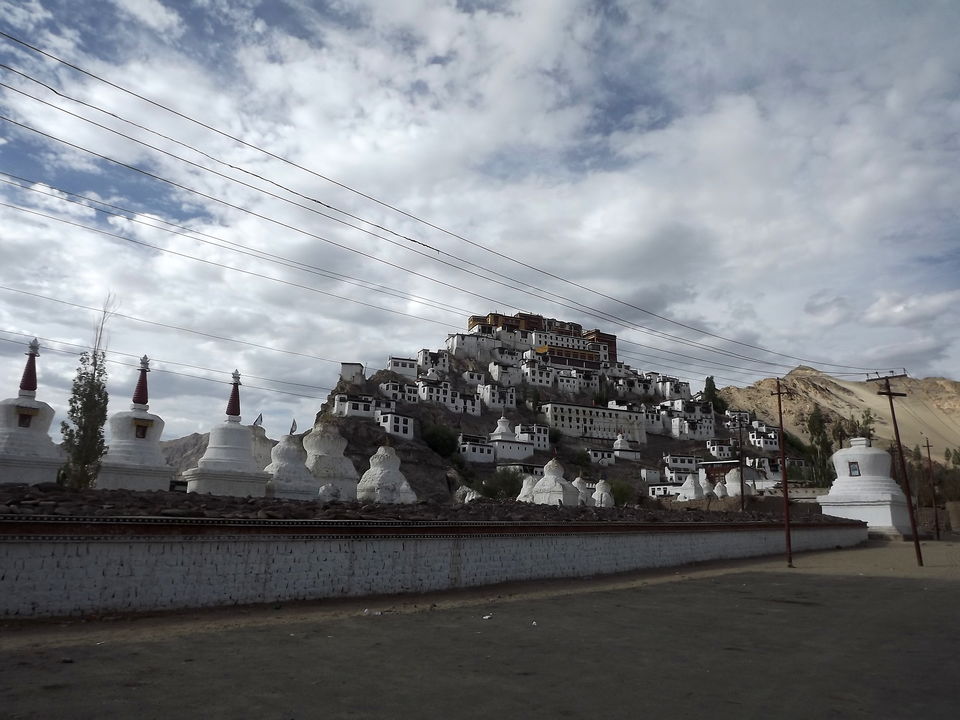 Thiksey Gompa (Monastery)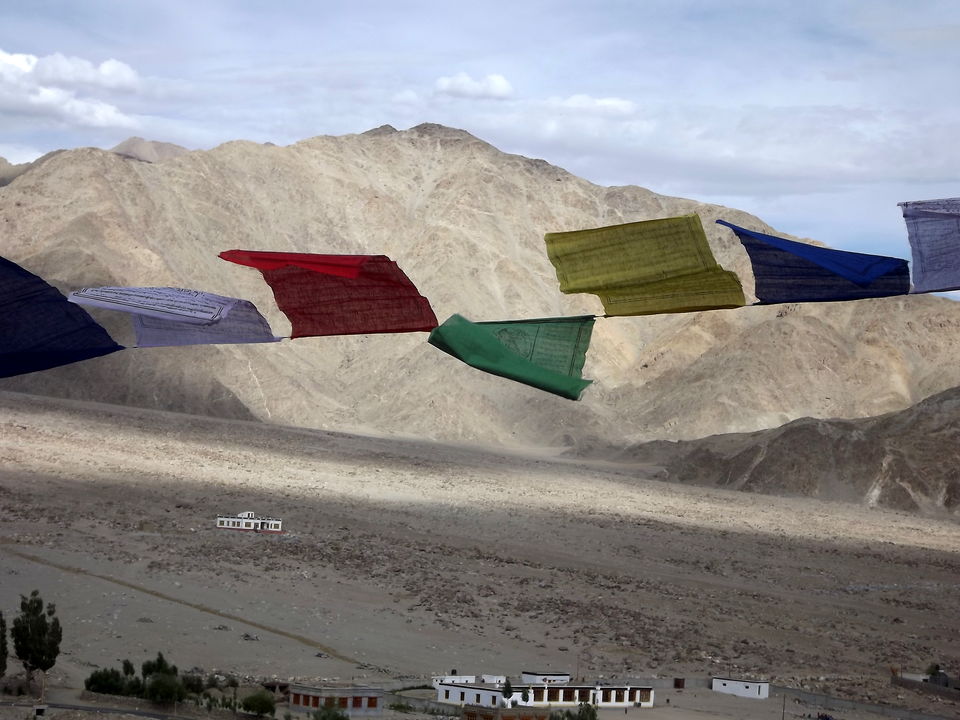 Visiting Thiksey Monastery...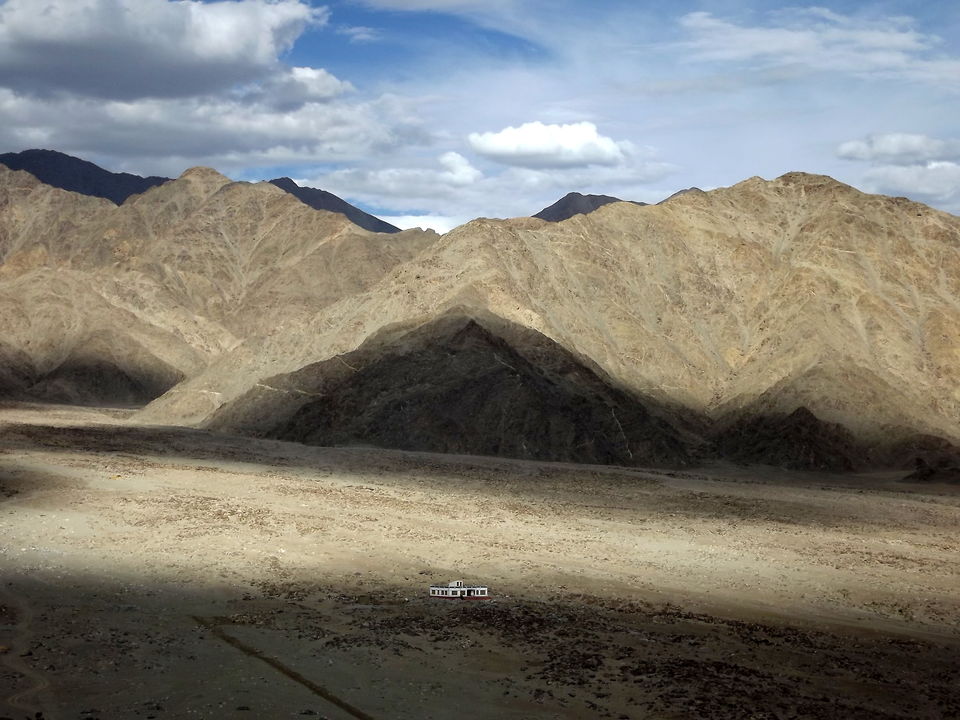 barren but beautiful, a view from Thiksey Monastery...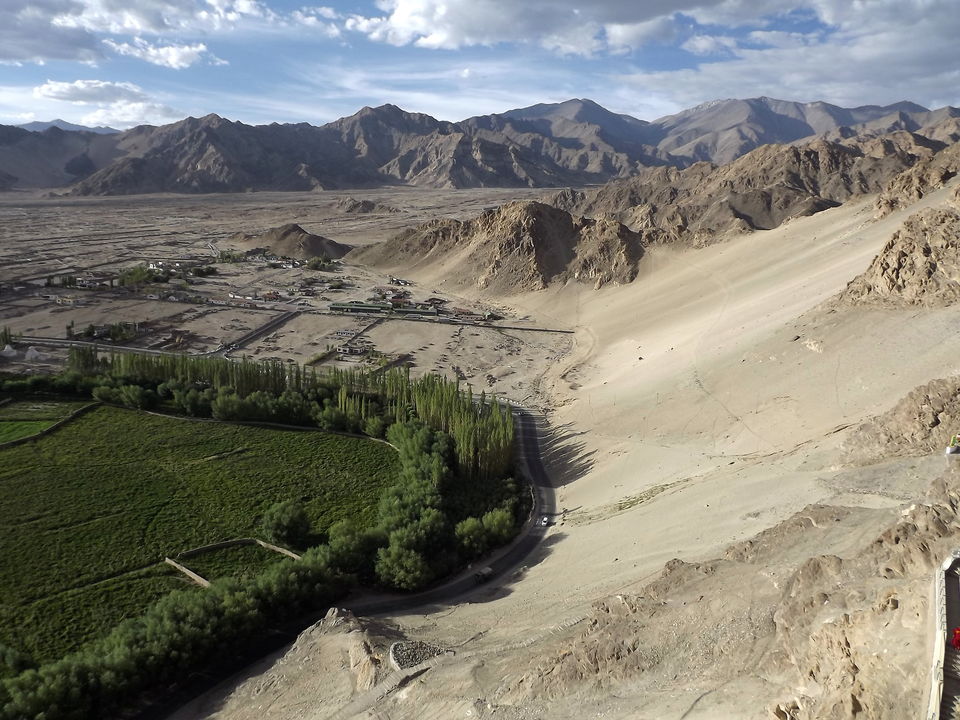 vegetation on barren high altitude cold desert...

a view behind Leh town from Thiksey Monastery...
Day 5 Leh to Nubra Valley, Hunder (128 kms) crossing Khardung La and Back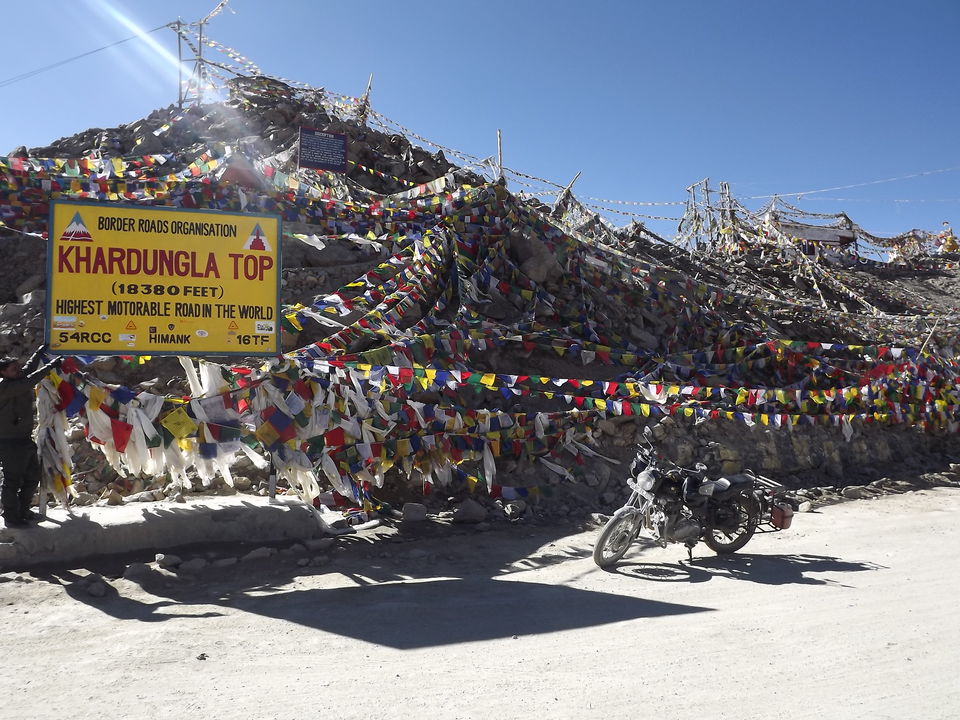 reached... 50 kms from Leh town

towards Nubra Valley, Greenery at a settlement in the middle of Barren Mountains...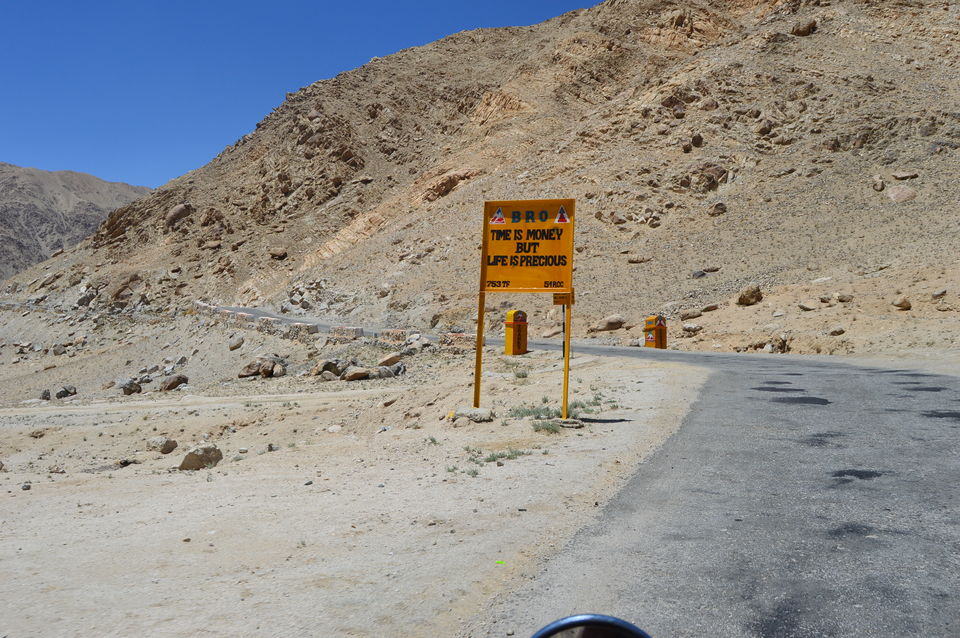 True...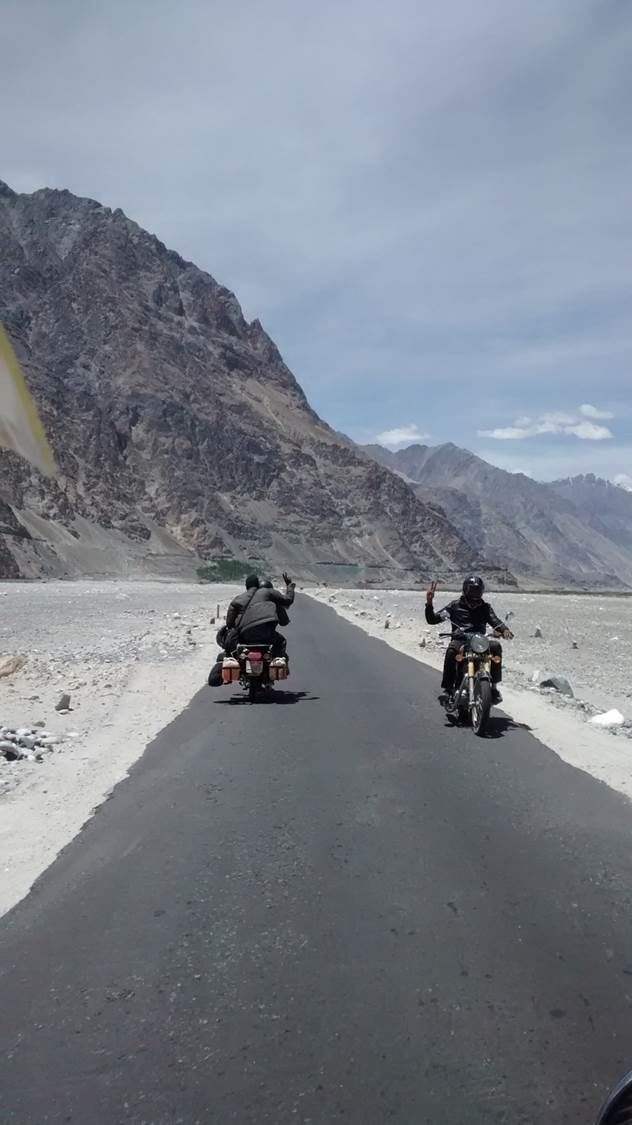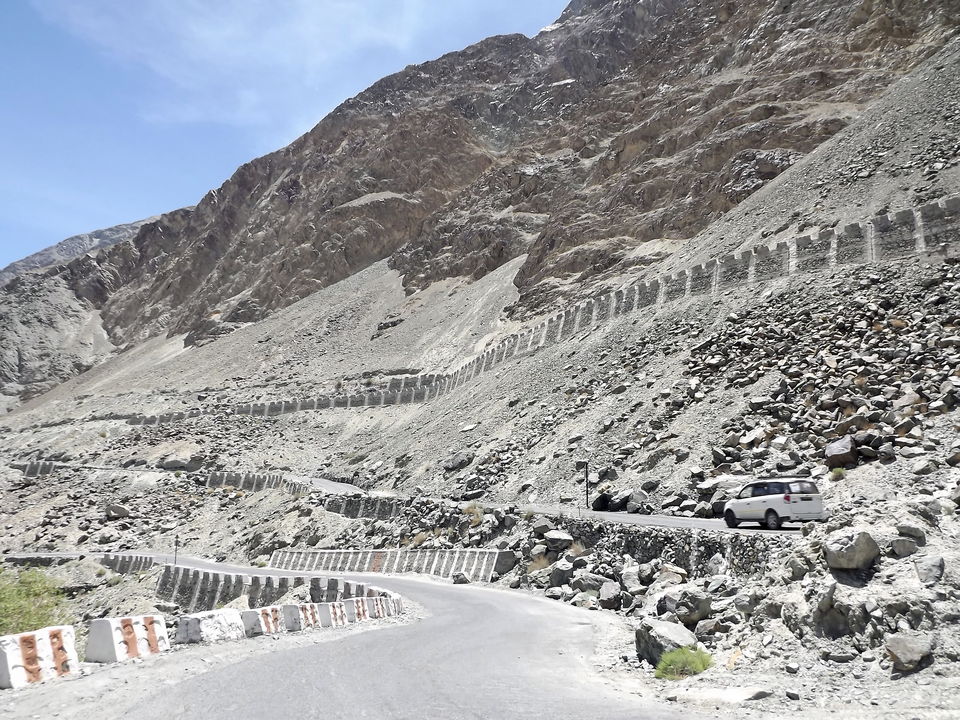 ascending again after descending Khardung La...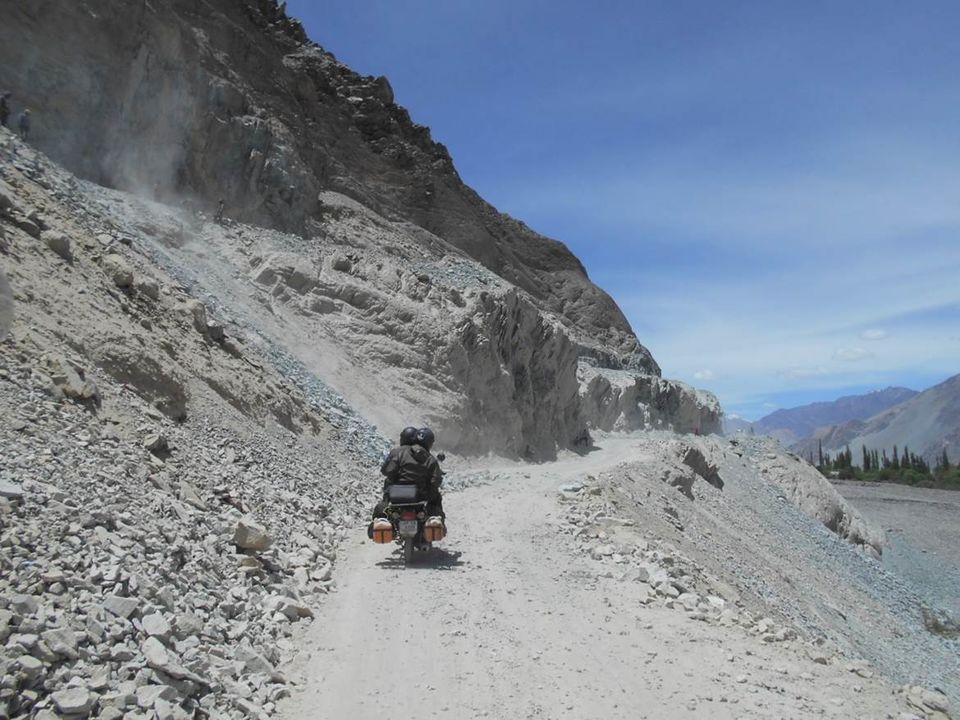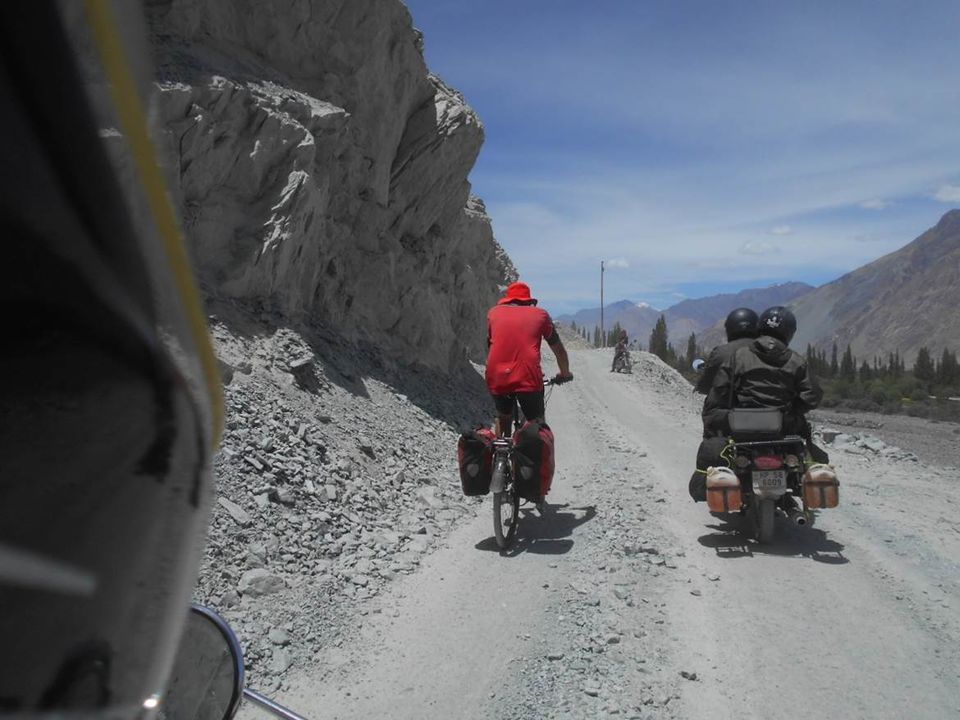 Hunder Sand Dunes...

The serene Nubra Valley...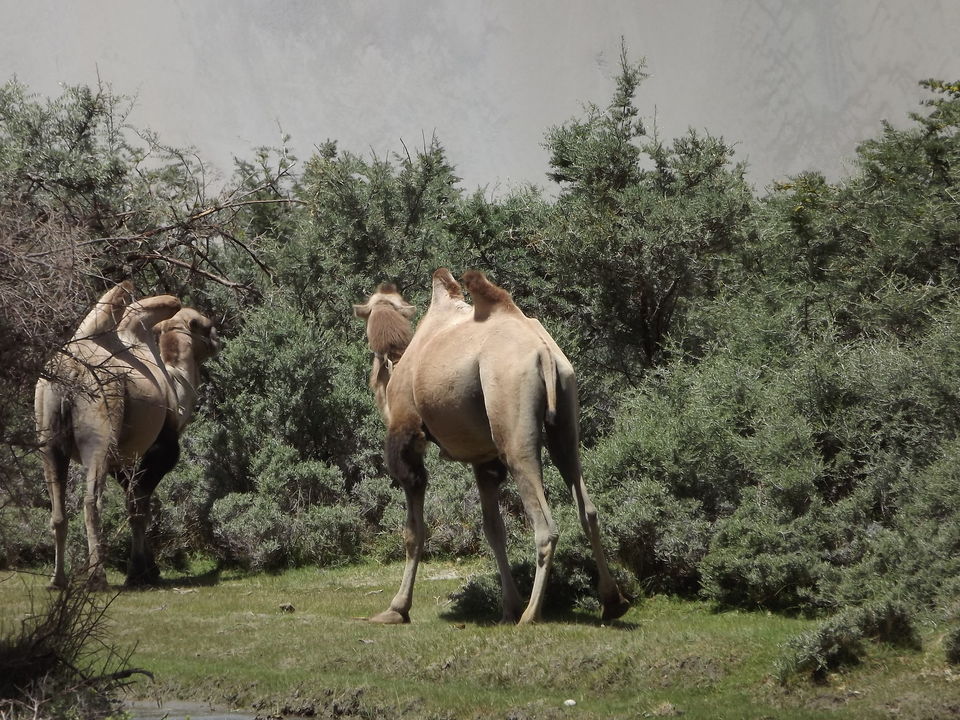 Double Hump Camels at Hunder...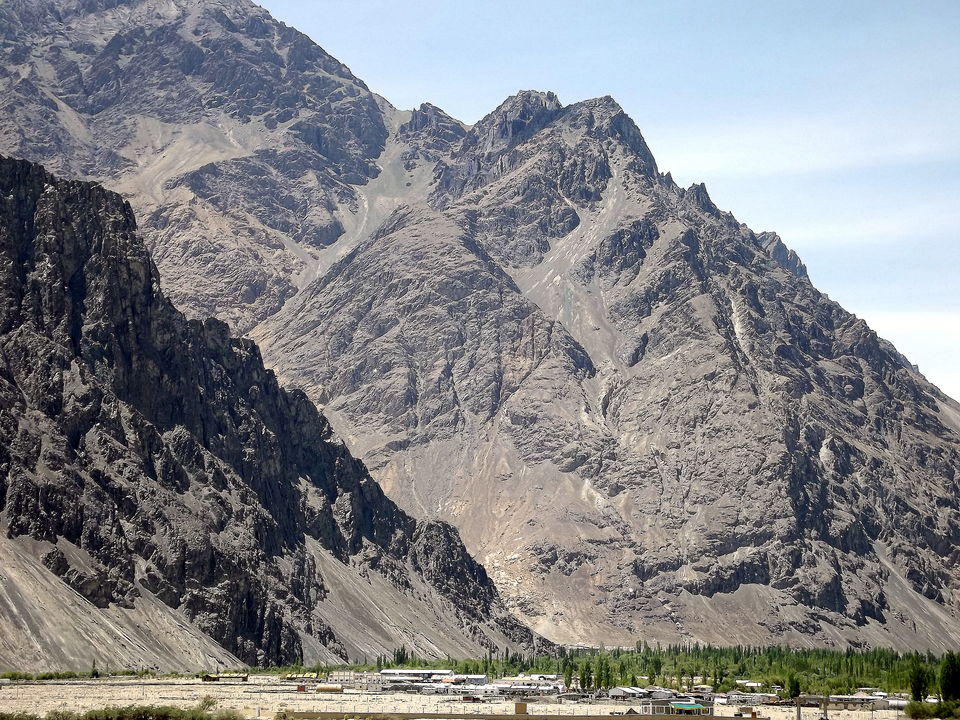 The Majestic Mountains...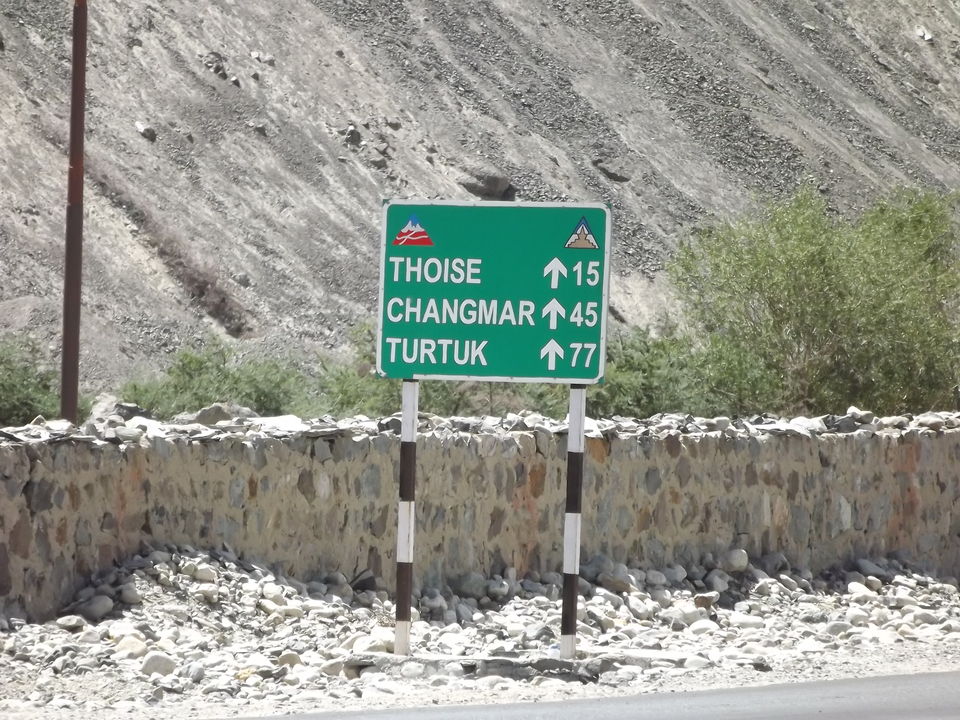 Turtuk, the last village at India Pak Border, i missed it Badly!!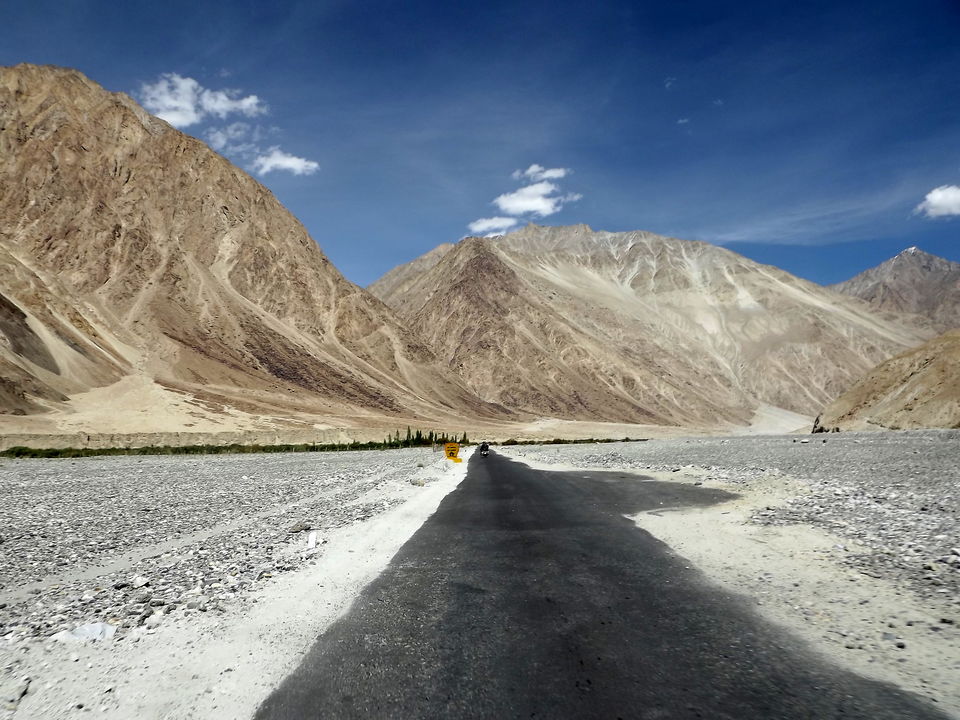 Back to Leh...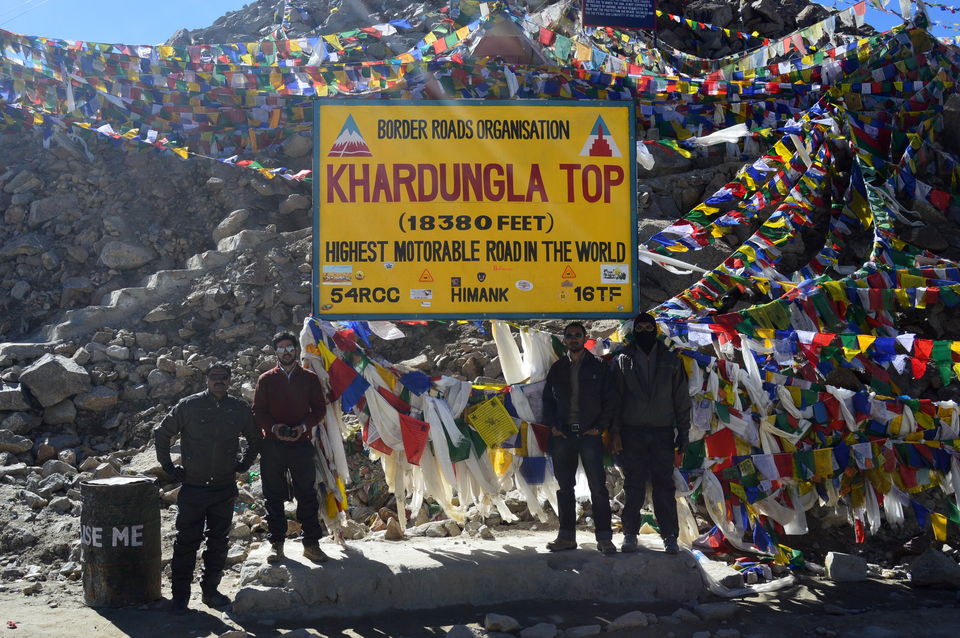 Crossing the Khardung La again
Day 6 Leh to Pangong Tso (175 kms) crossing Chang La (17688 feet)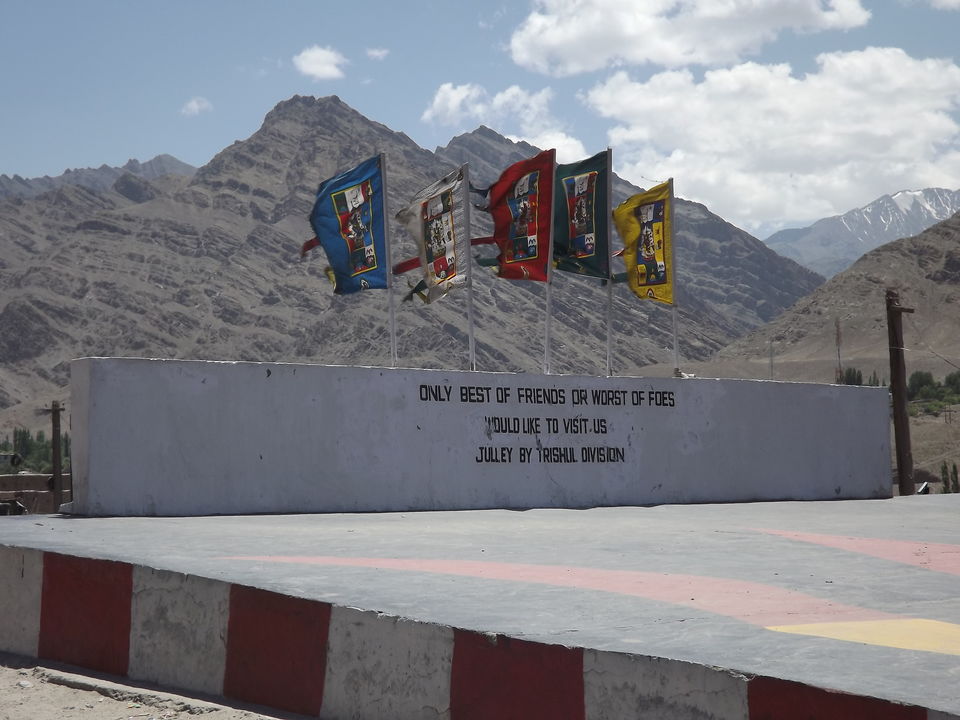 Greeted by these lines, motivated, we started towards Pangong...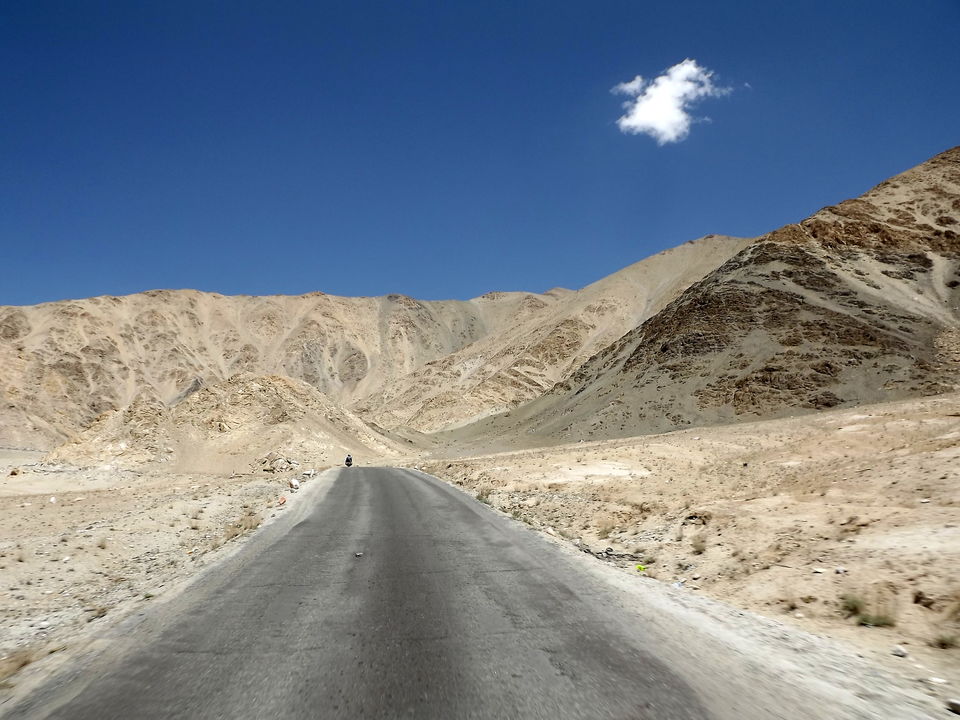 On the way...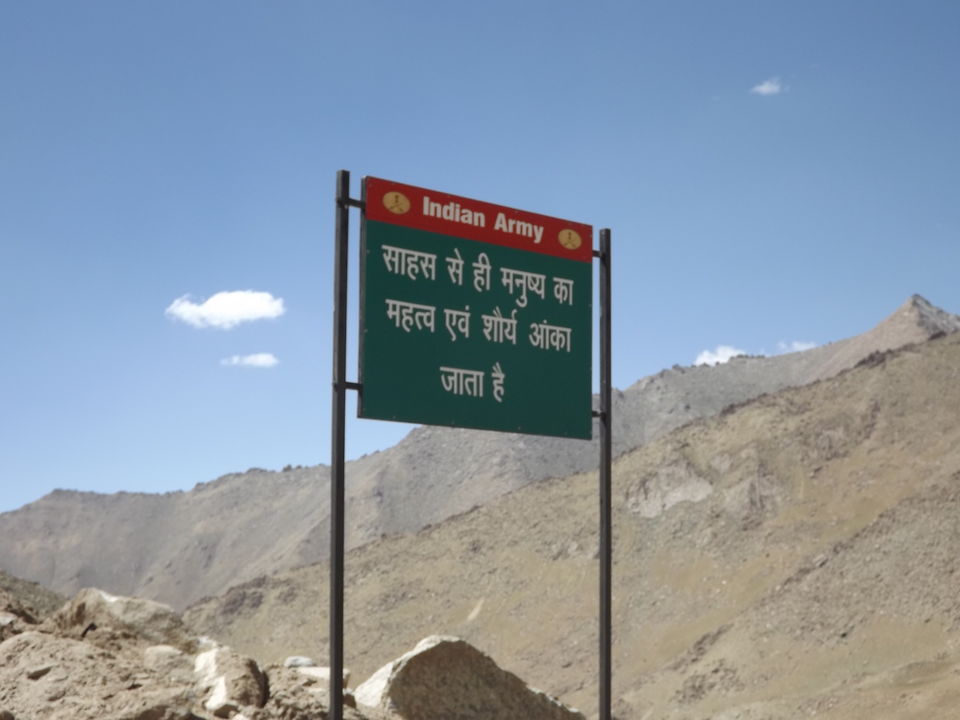 True Words...Salute to Our ARMY!!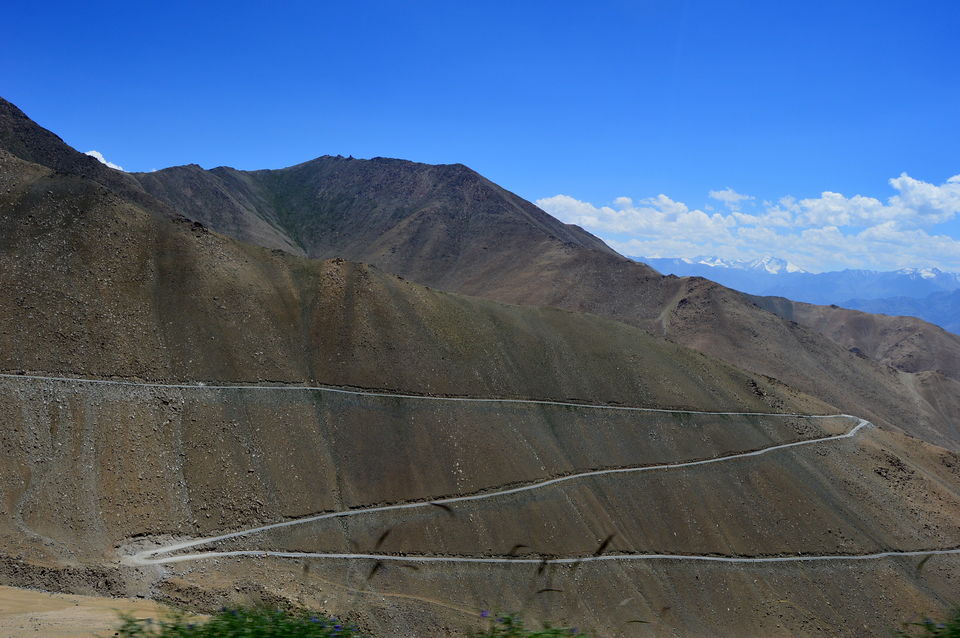 Ascending Chang La...curvy roads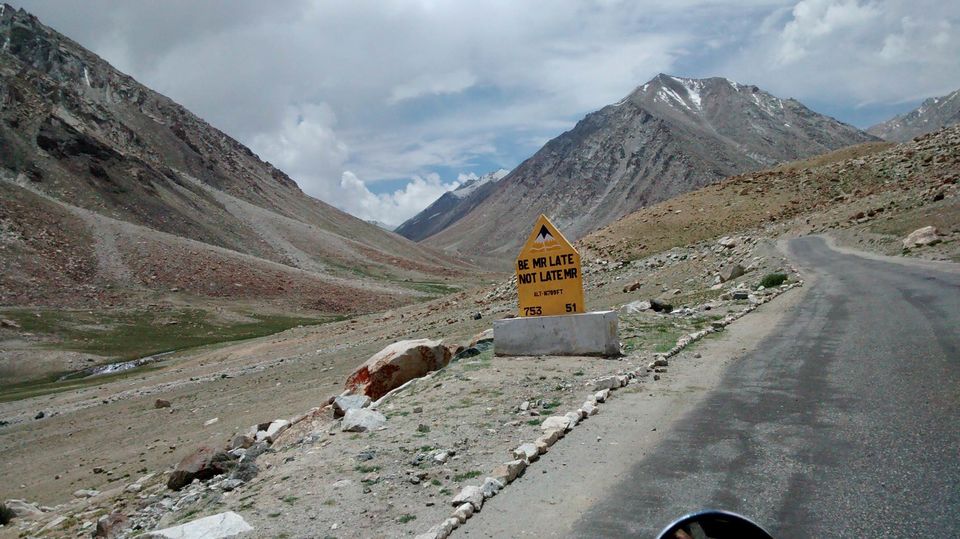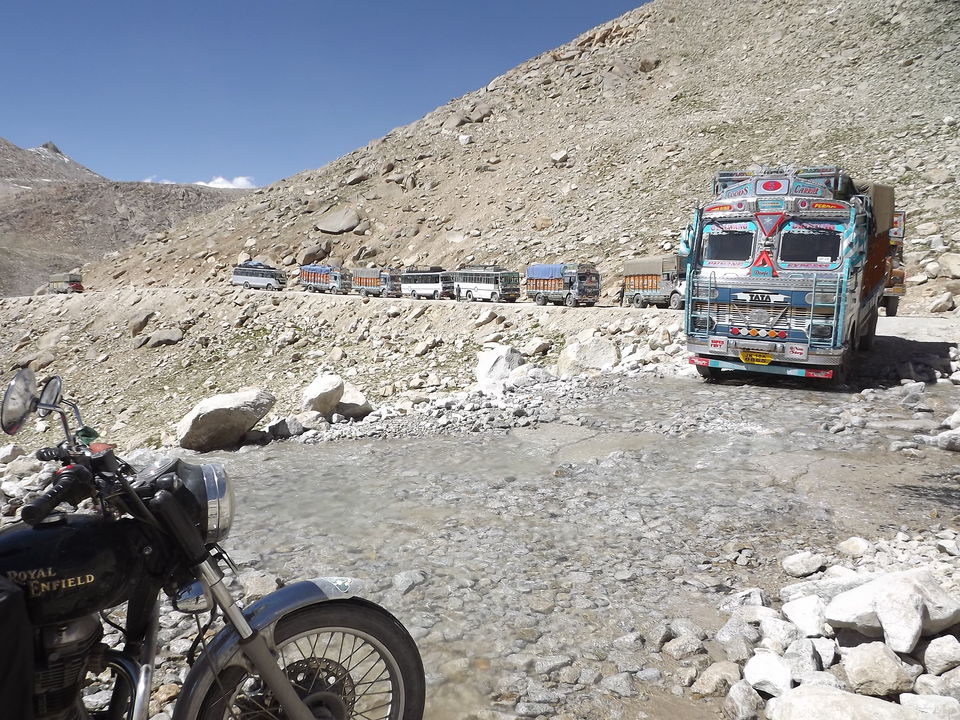 Bad roads & water streams never cease to exist...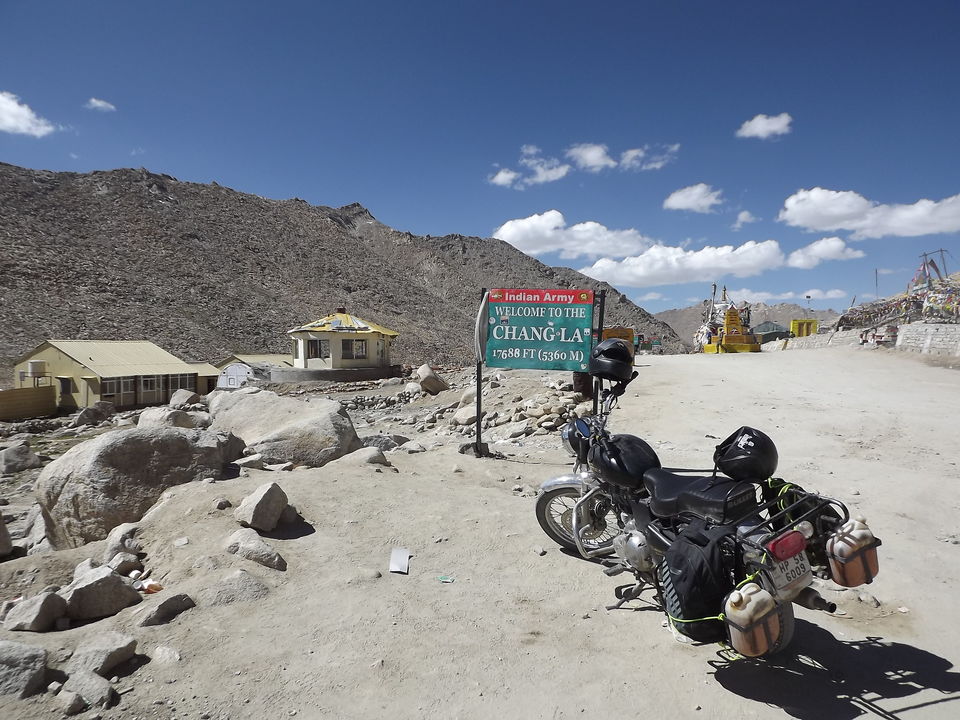 Reached Chang La...World's third highest pass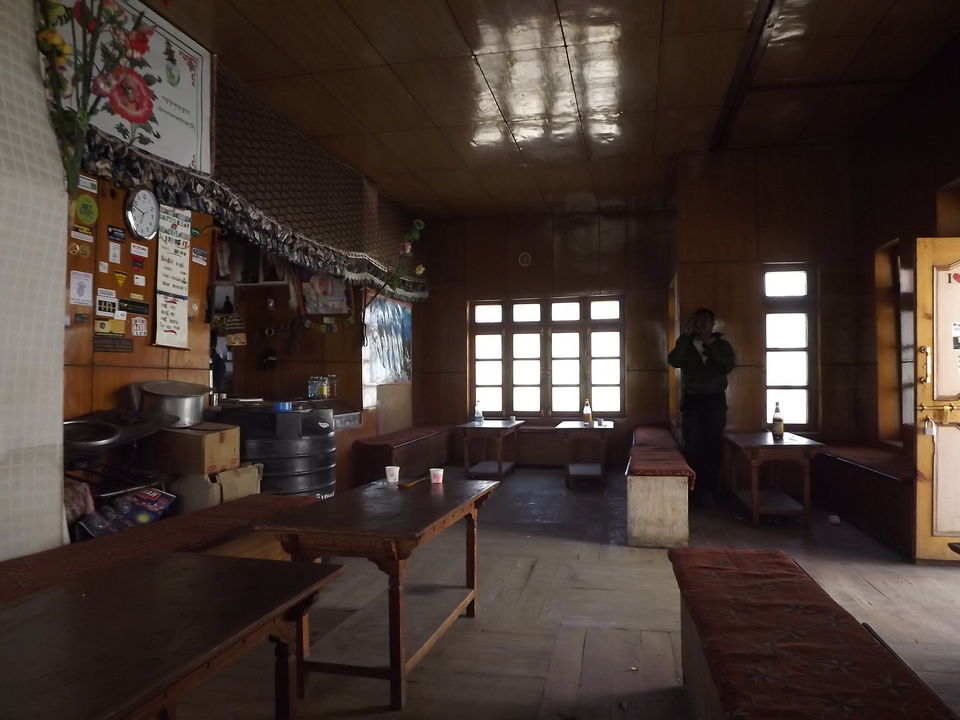 Cafe at Chang La...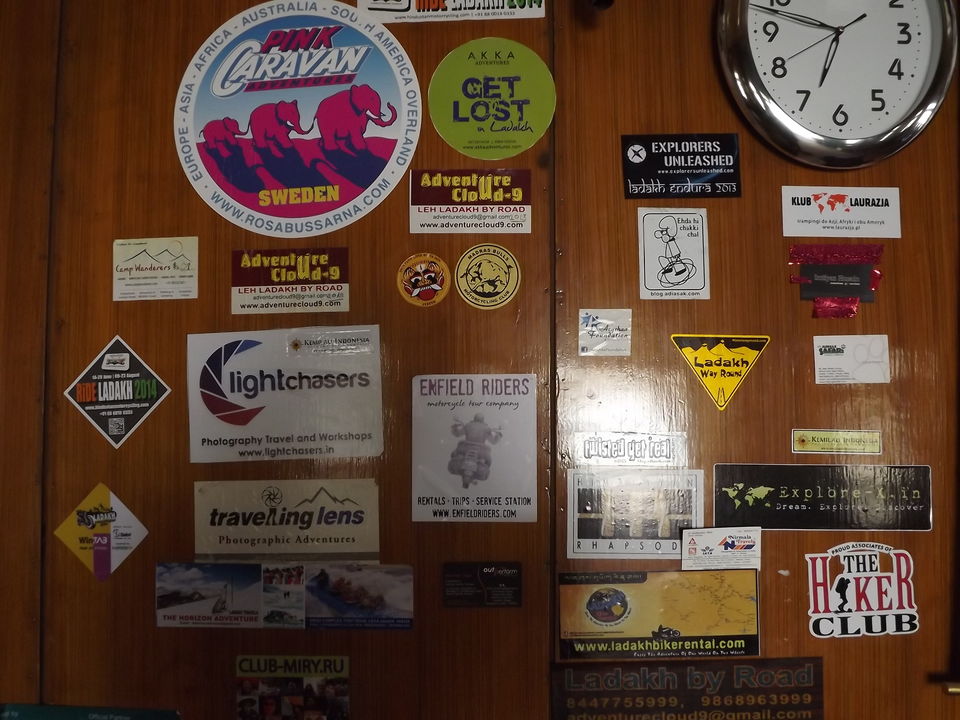 Foot Print of Riders...
Living the Moment...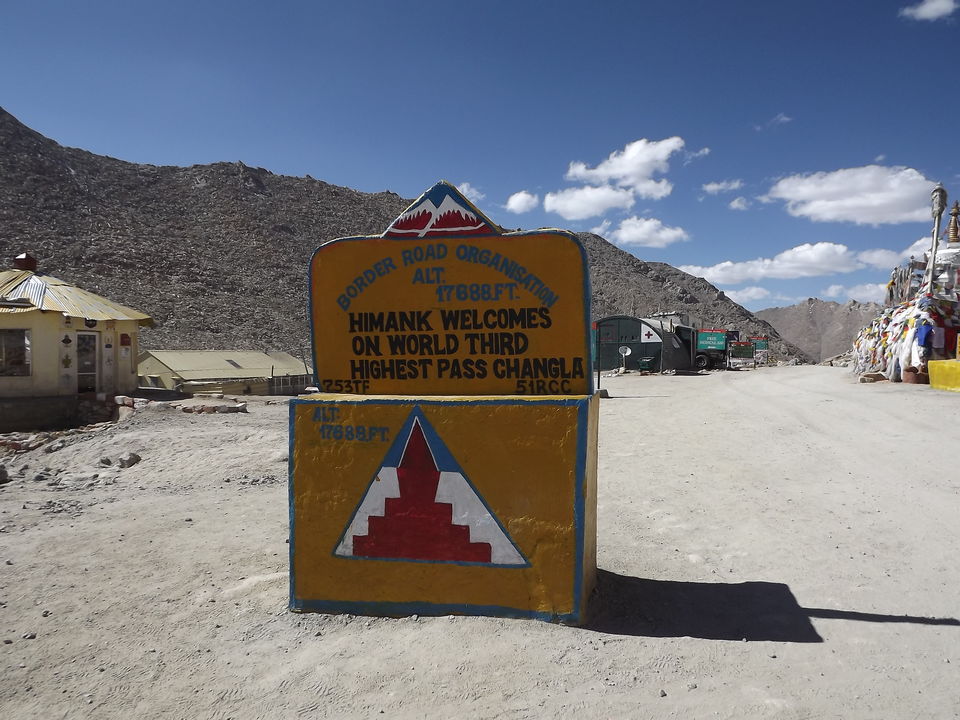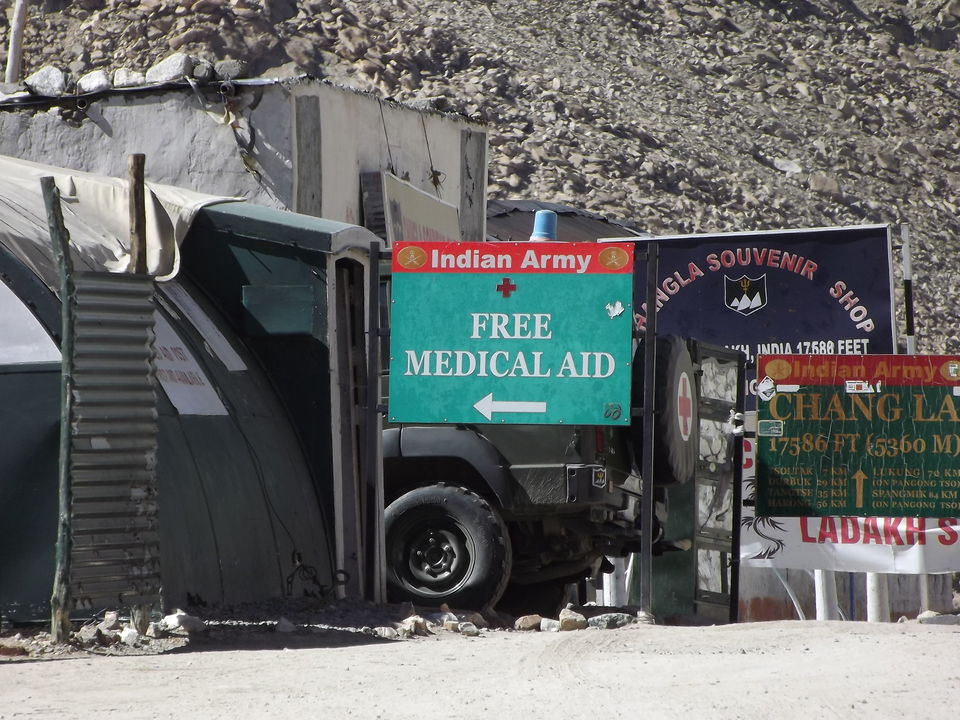 Indian ARMY, always there for you...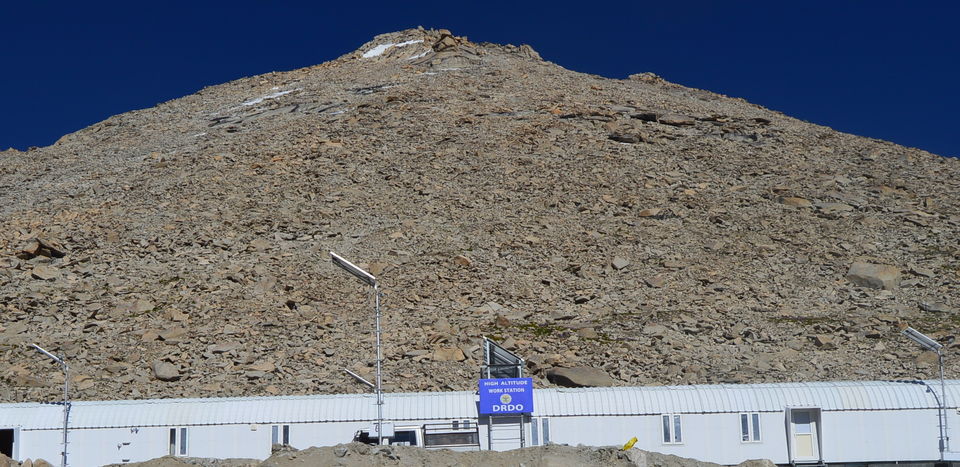 At Chang La, amazing...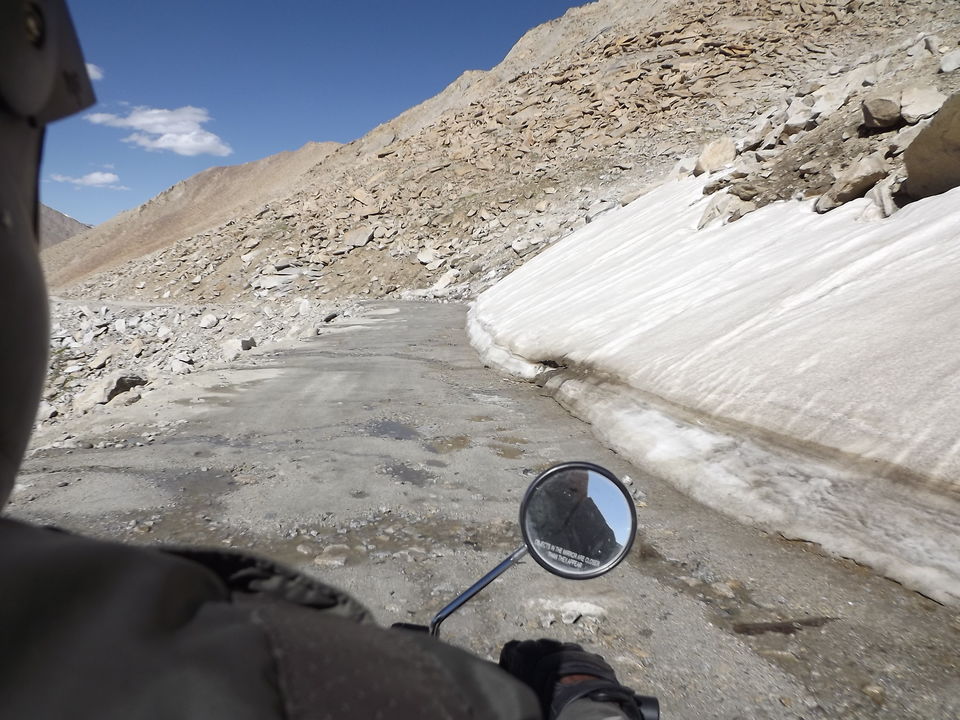 ok, time to descend Chang La and head to Pangong...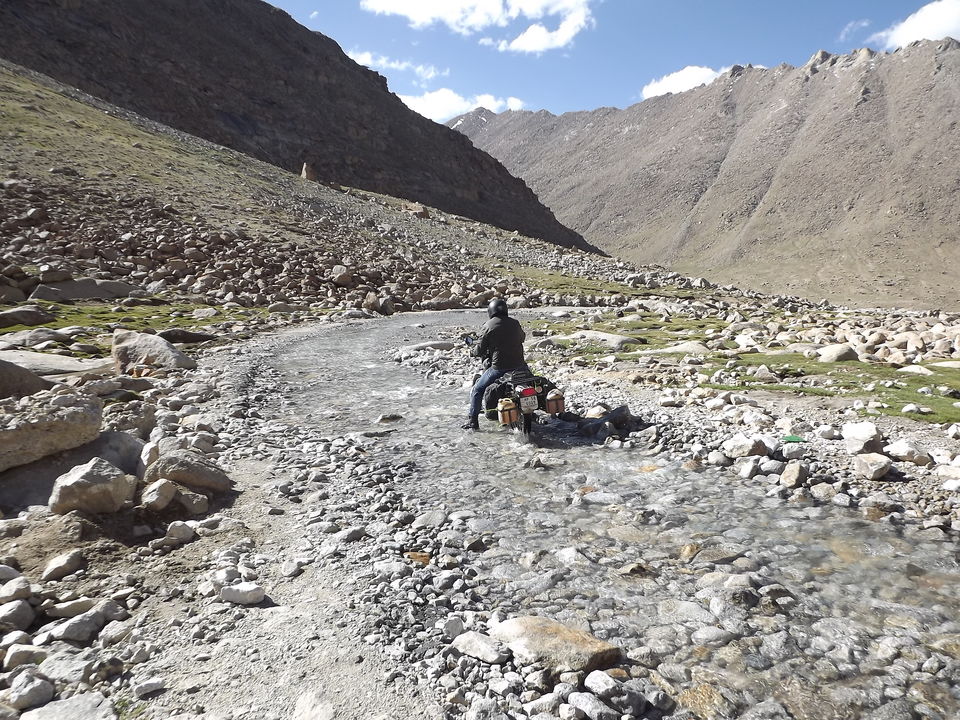 numerous water streams crossing the stony roads all along the way...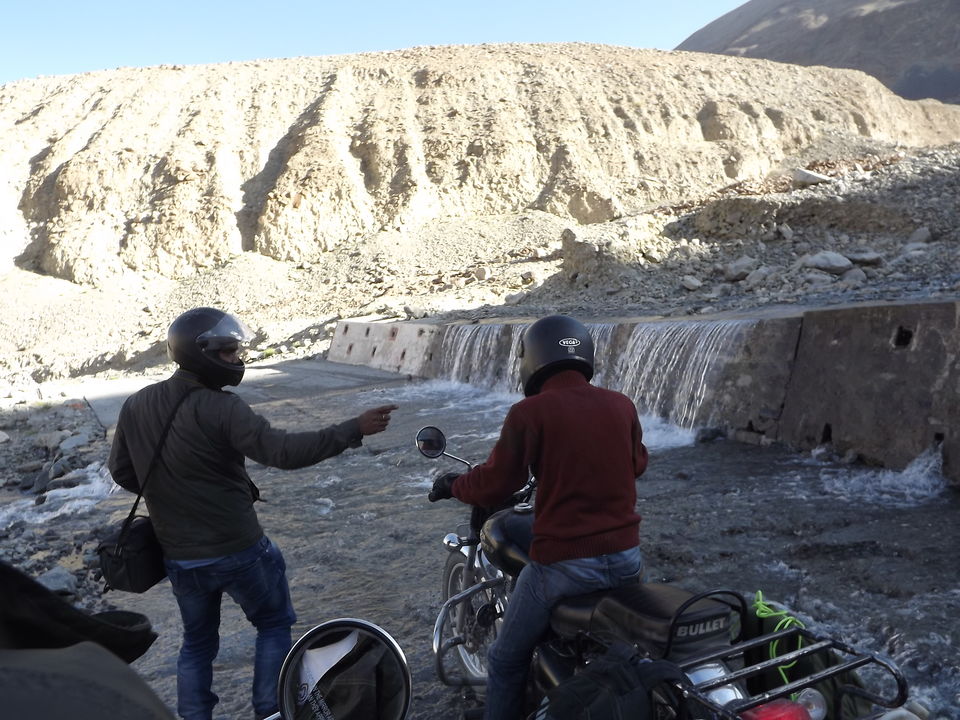 and this continues...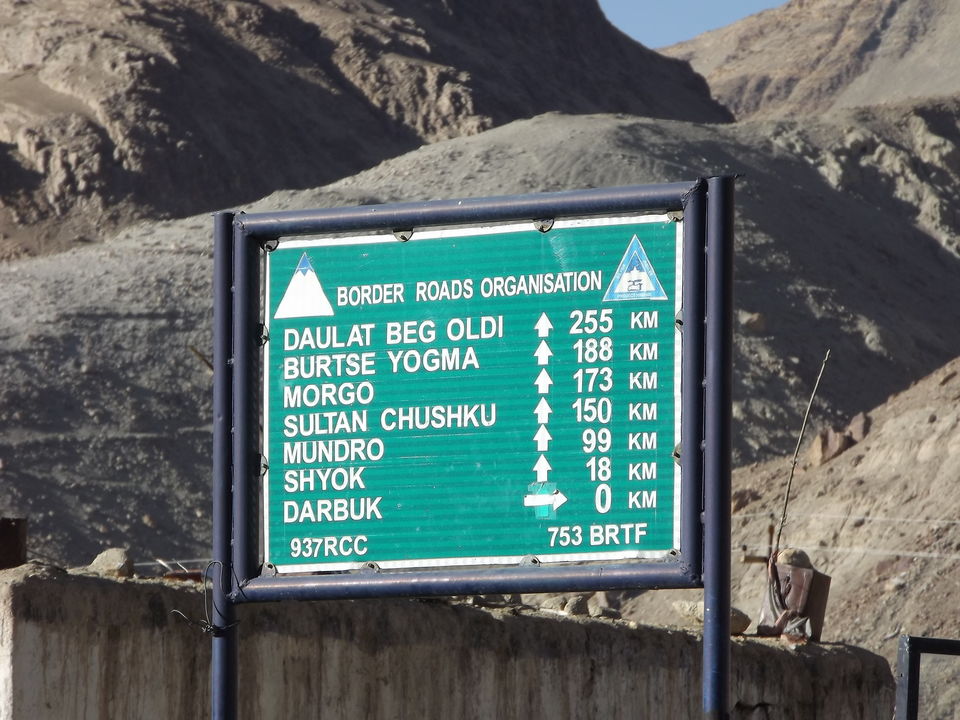 'Daulat Beg Oldi'...the Highest Airfield in the World...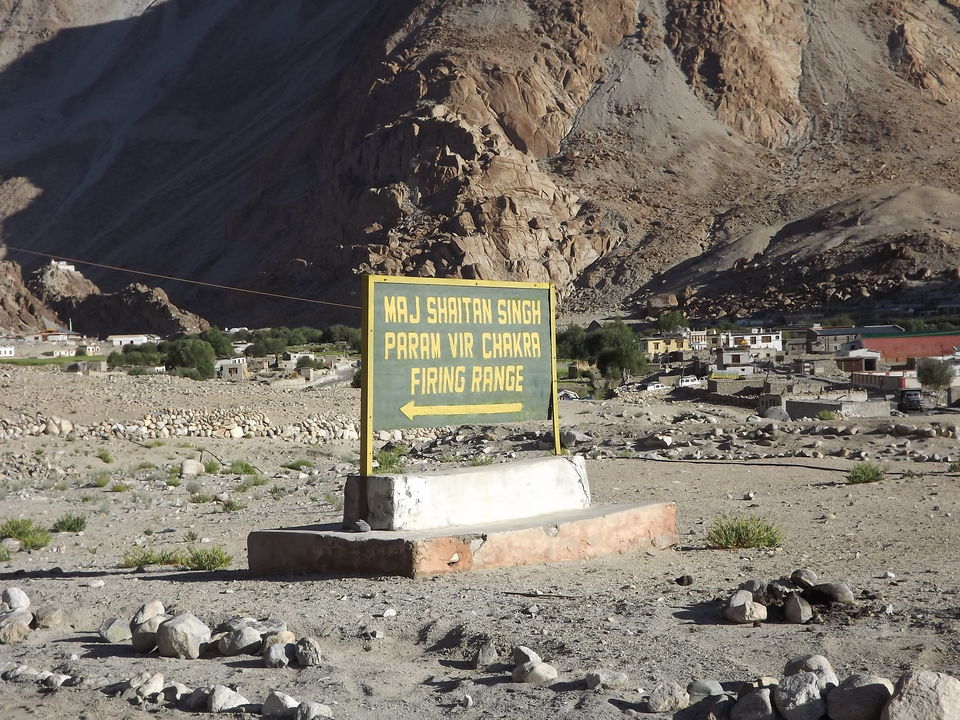 The Brave Indian ARMY Officer who fought till last Men and last bullet to save Ladakh against Chinese aggression during 1962 War. Grand Salute Sir!!!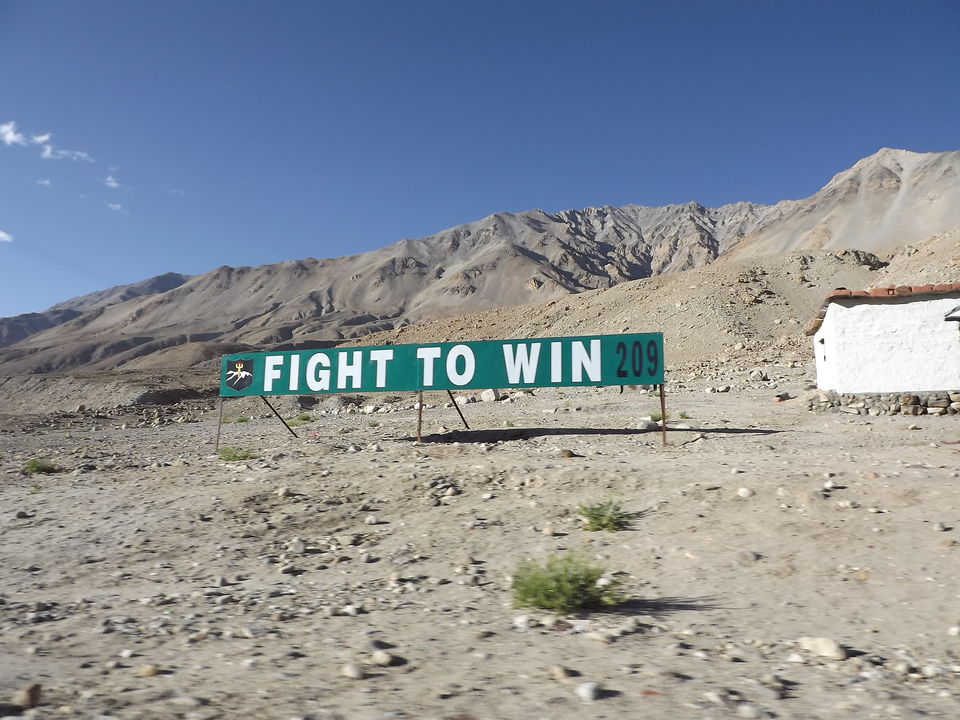 Motto of Our ARMY...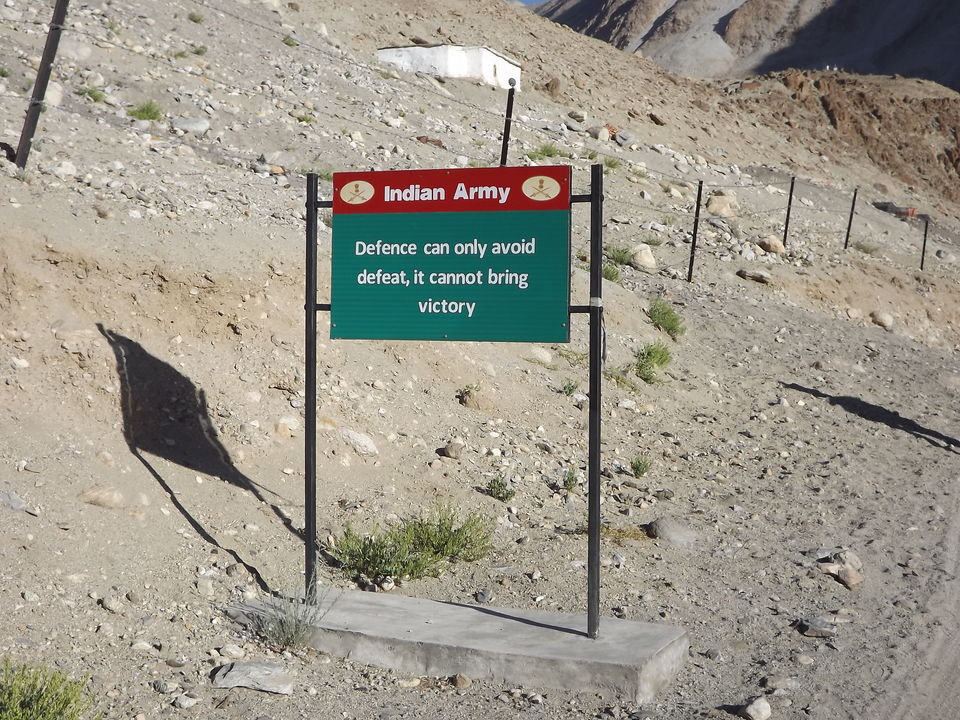 Indian ARMY the Best!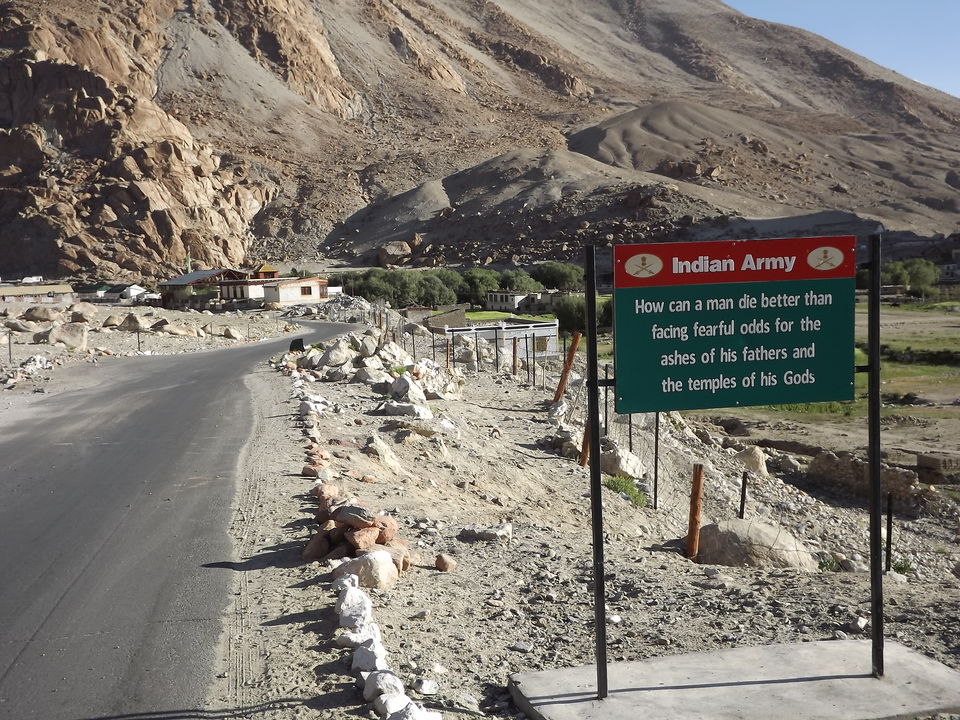 The Words...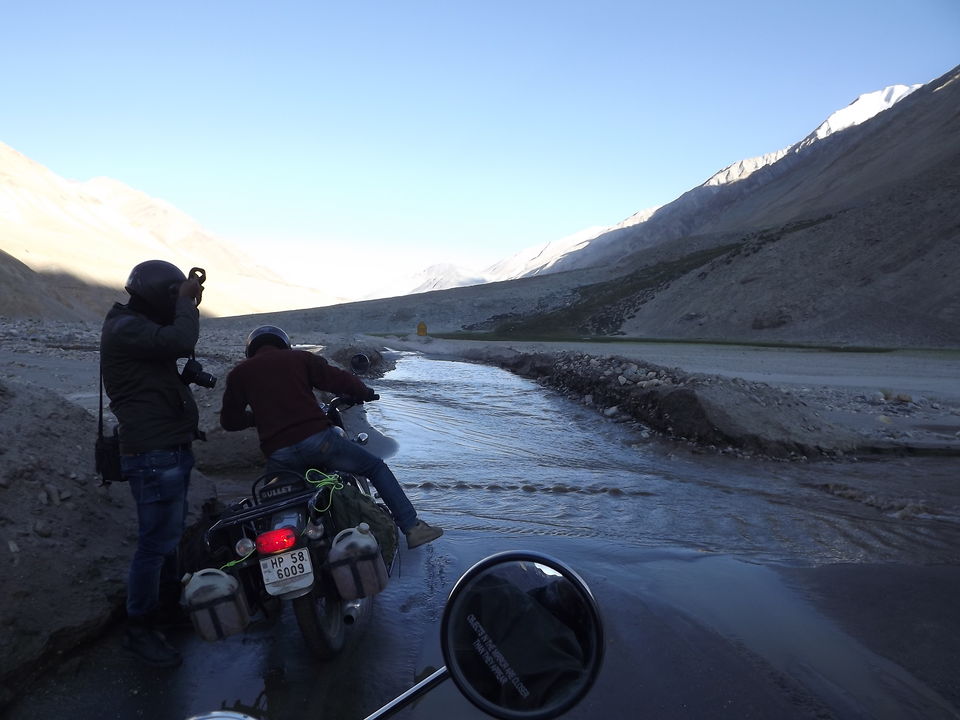 the streams continue...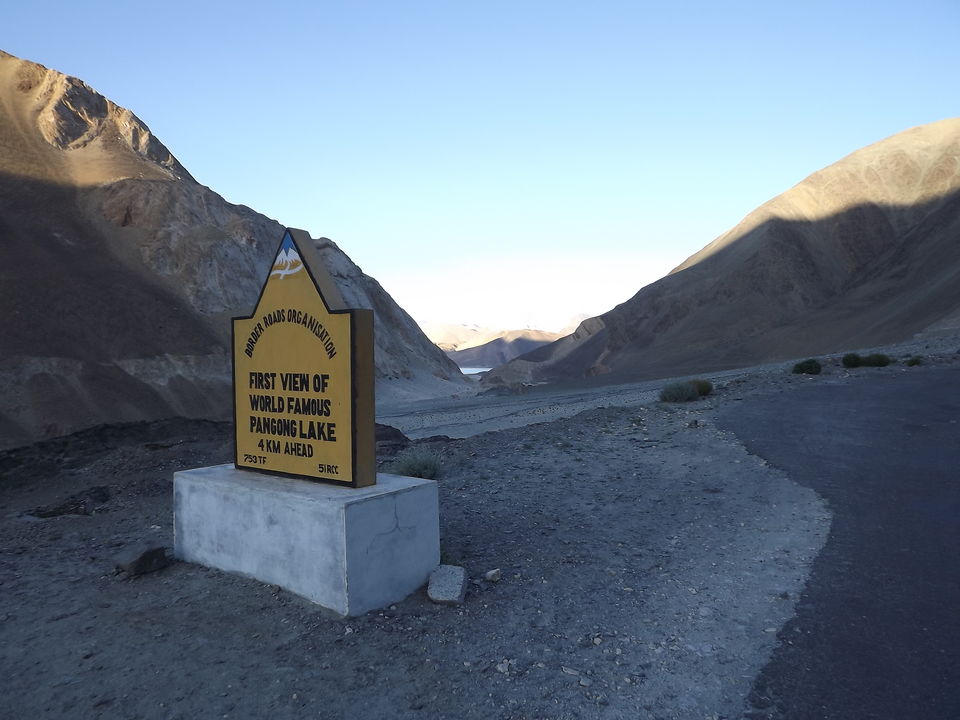 Finally, after full day of ride on bumpy, watery and high altitude roads...

The Pristine Pangong Tso in Evening...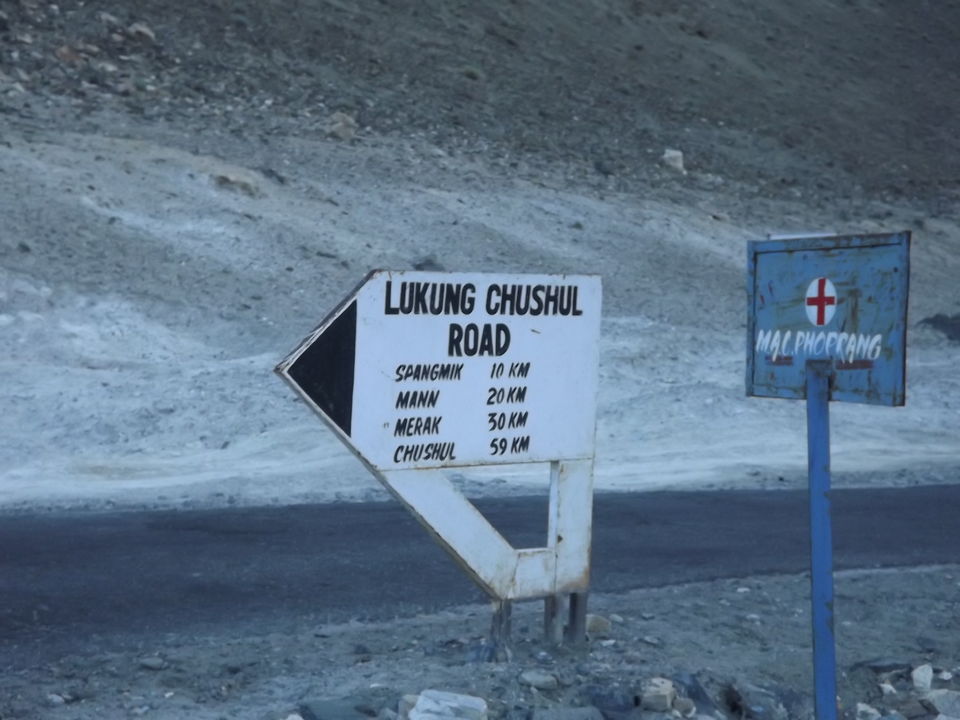 'Chushul' at India China LAC, missed it Badly...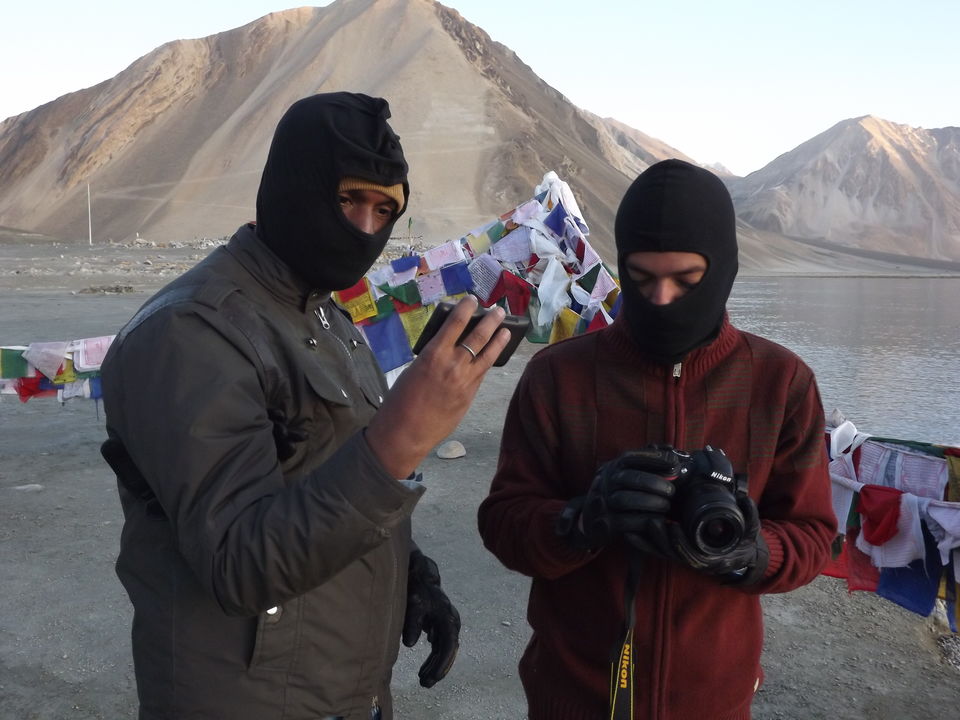 Morning was very cold...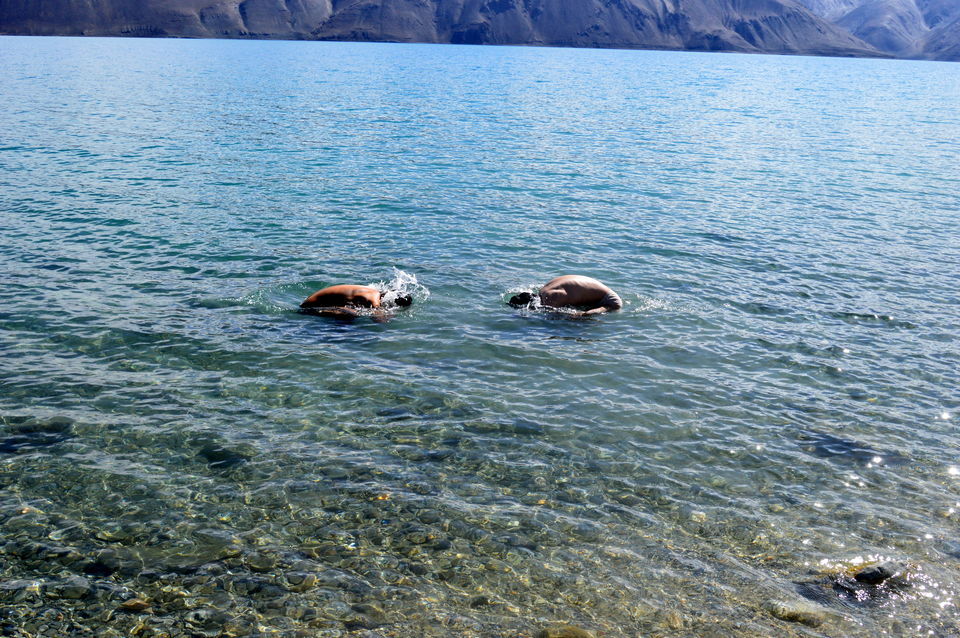 Nishant and me took Doobki in the Lake before leaving, the water was chilly, salty and very clear...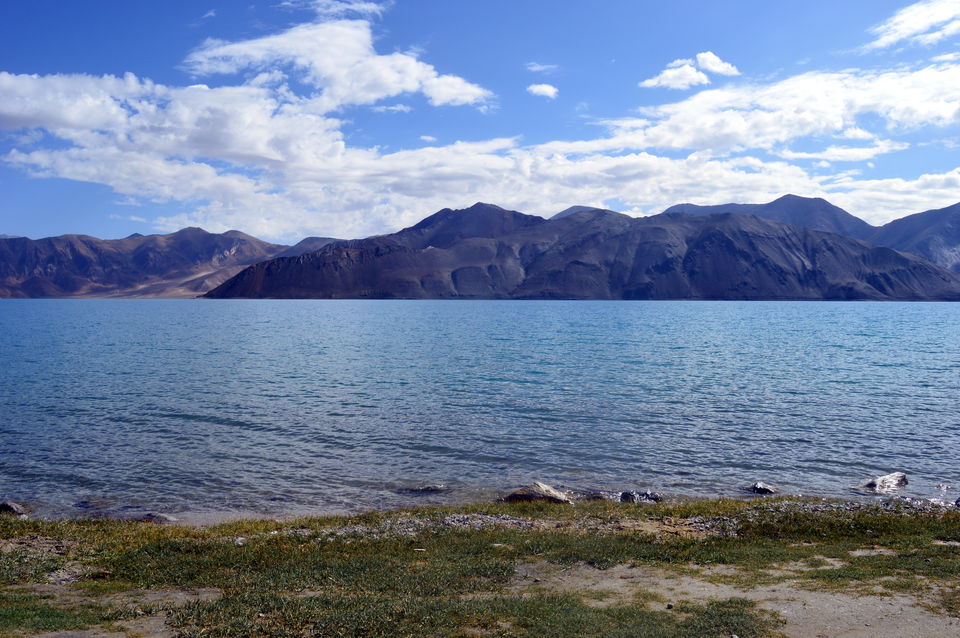 Pangong in Morning...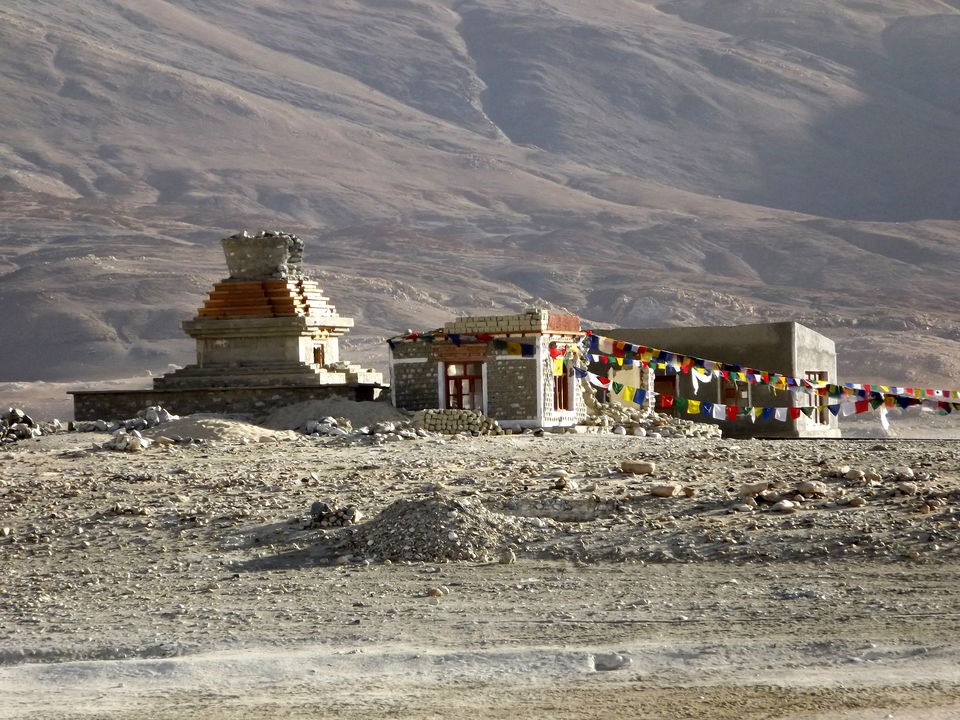 A Buddhist Stupa at the shore of Pangong...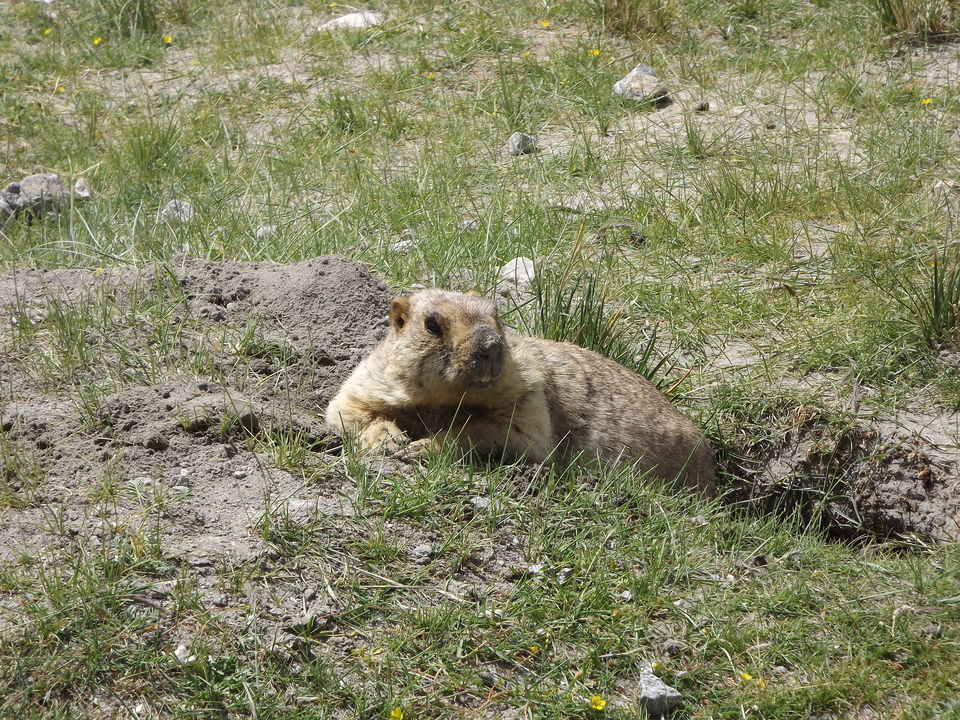 A Marmot looking towards travelers fearlessly, on the way...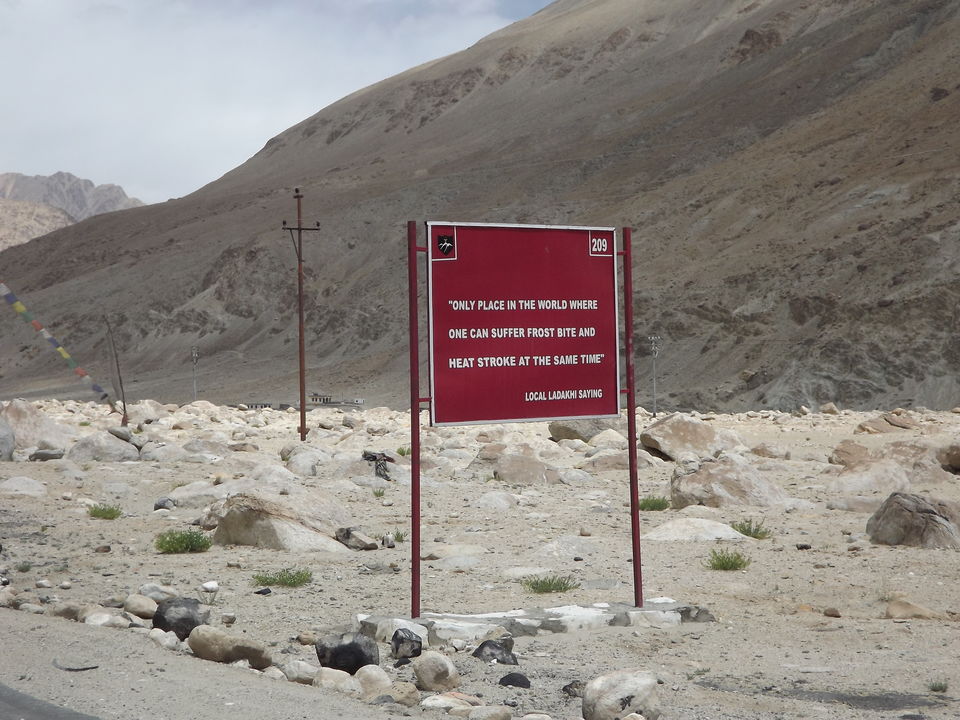 The only place in the world, indeed!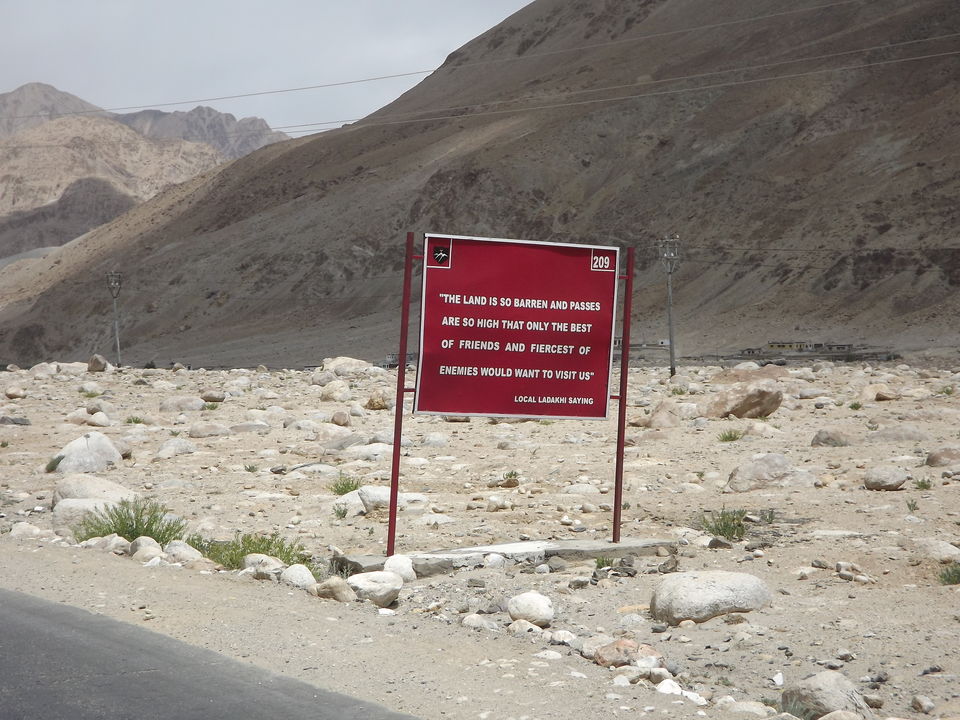 I have visited them thrice :)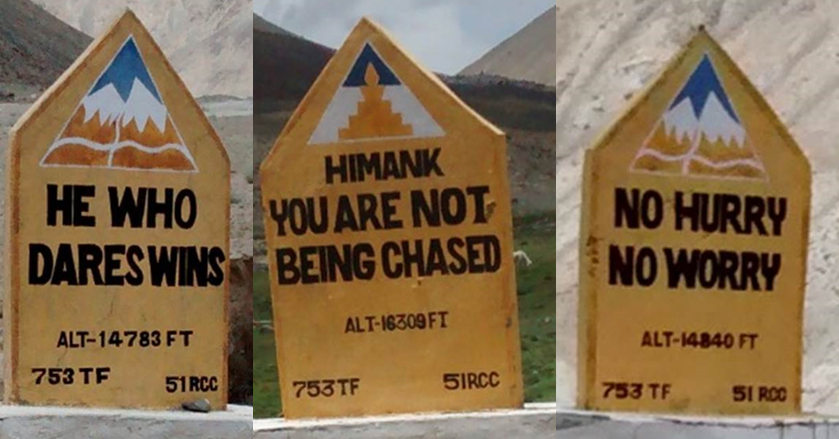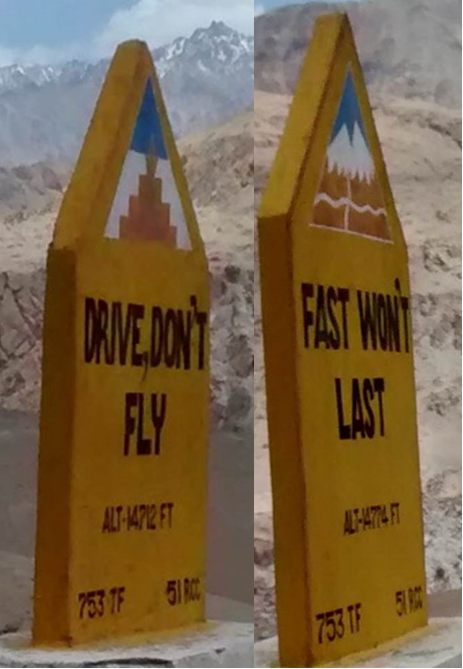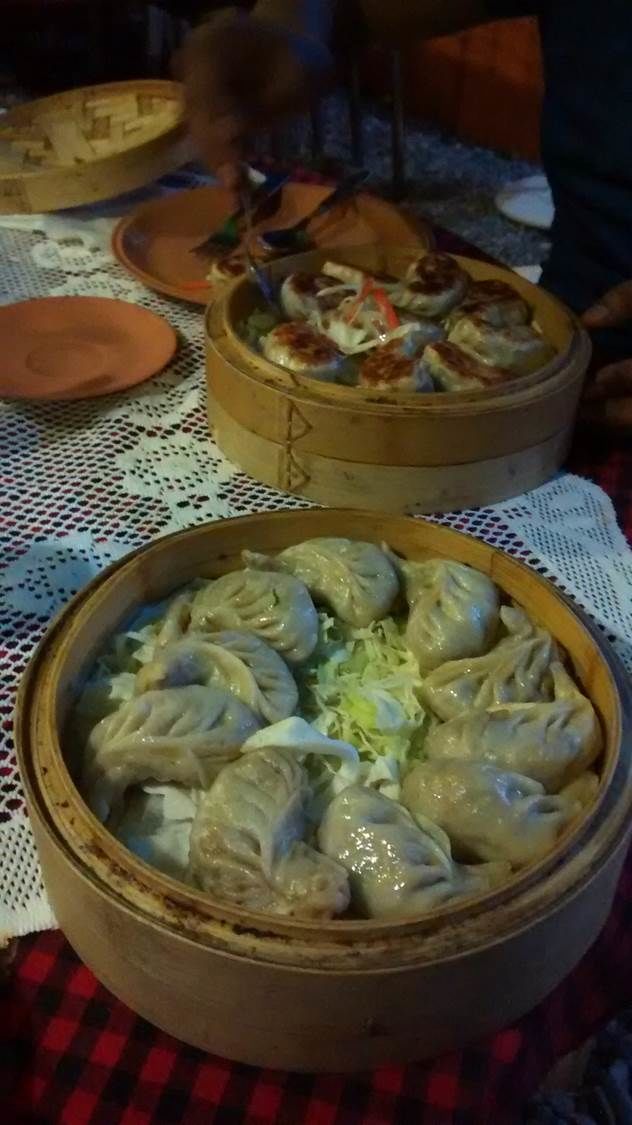 Day 8 Leh to Kargil (210 kms) crossing Fotu La (13479 feet) and Namika La (12198 feet)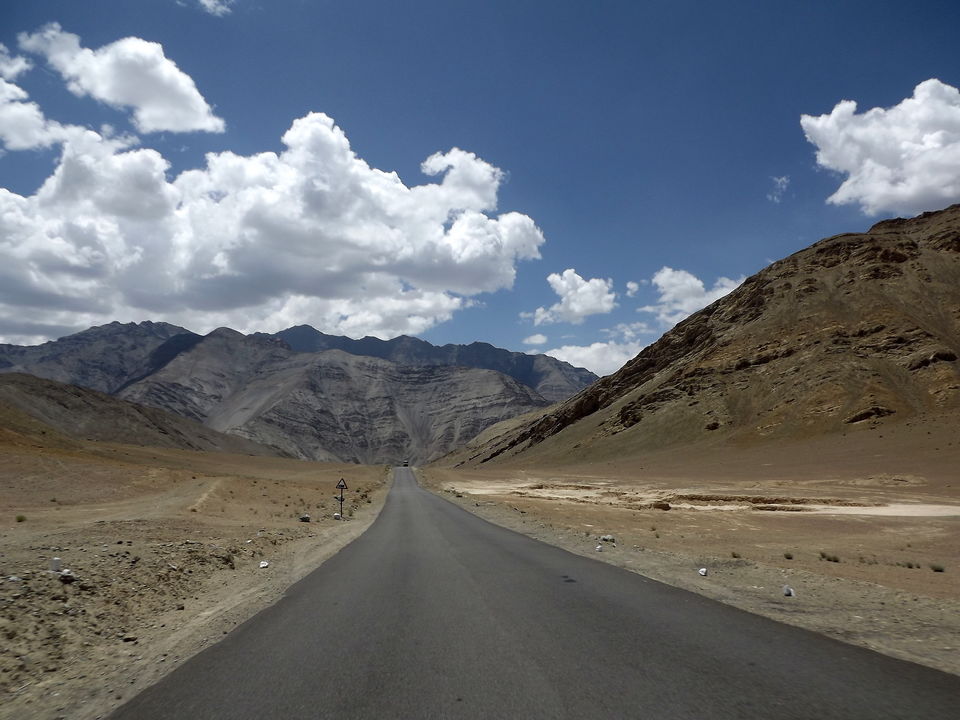 the Magnetic Hill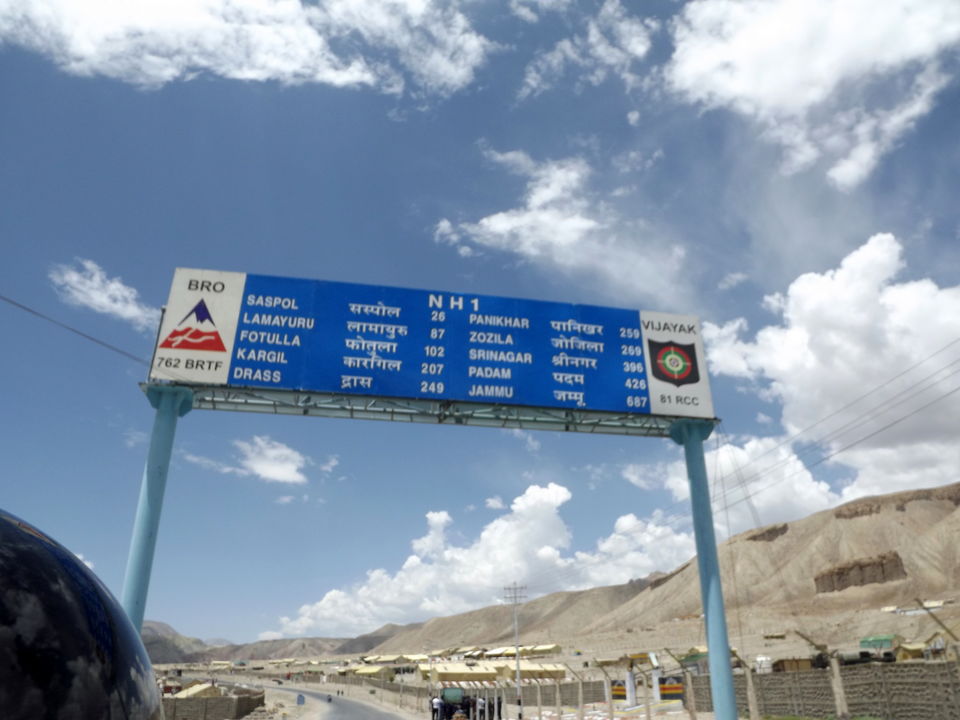 the journey ahead...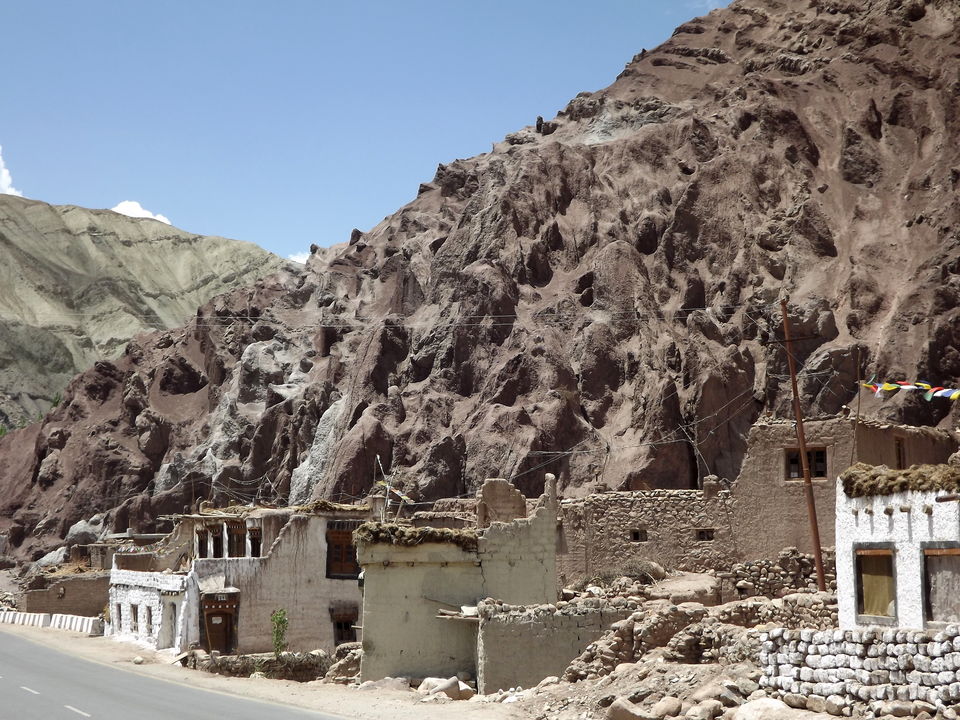 amazing mountains...

views leaving behind...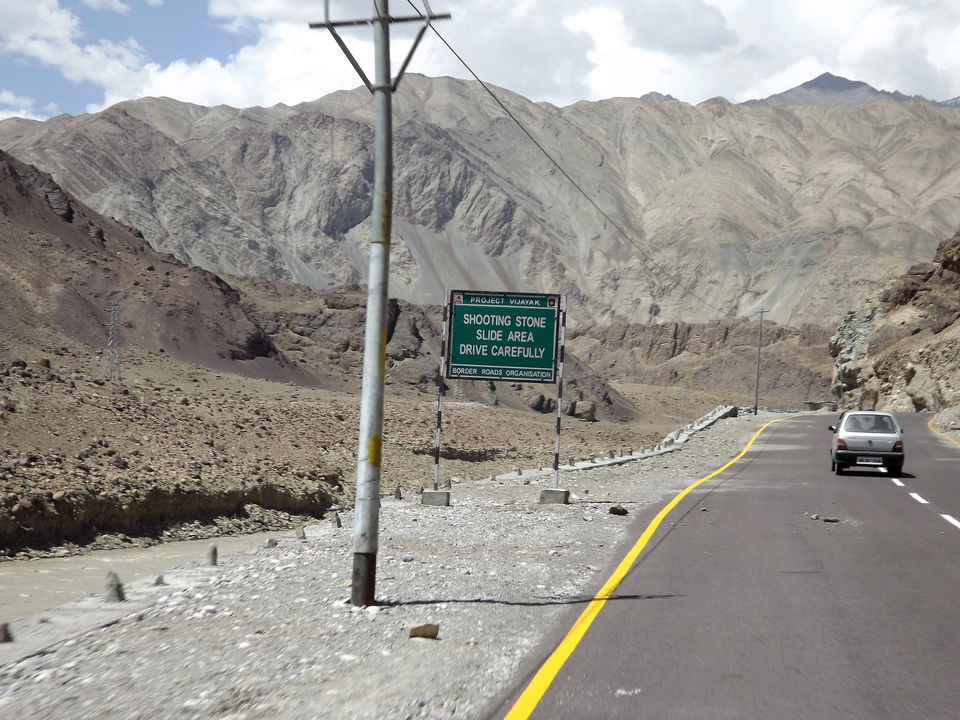 NH 1D...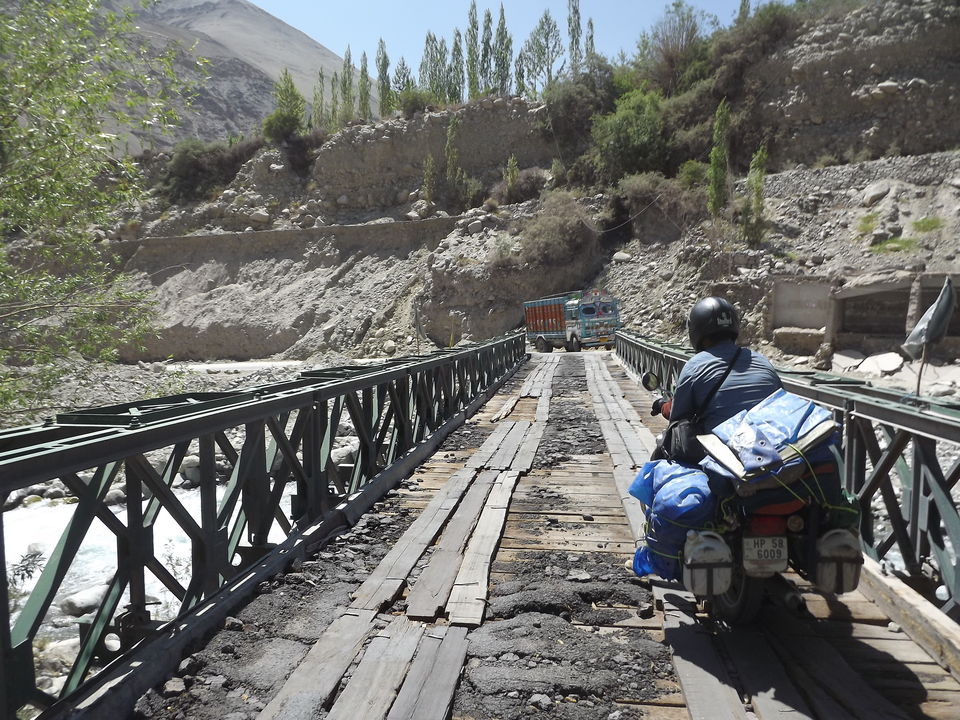 Bridges, the lifeline of the region...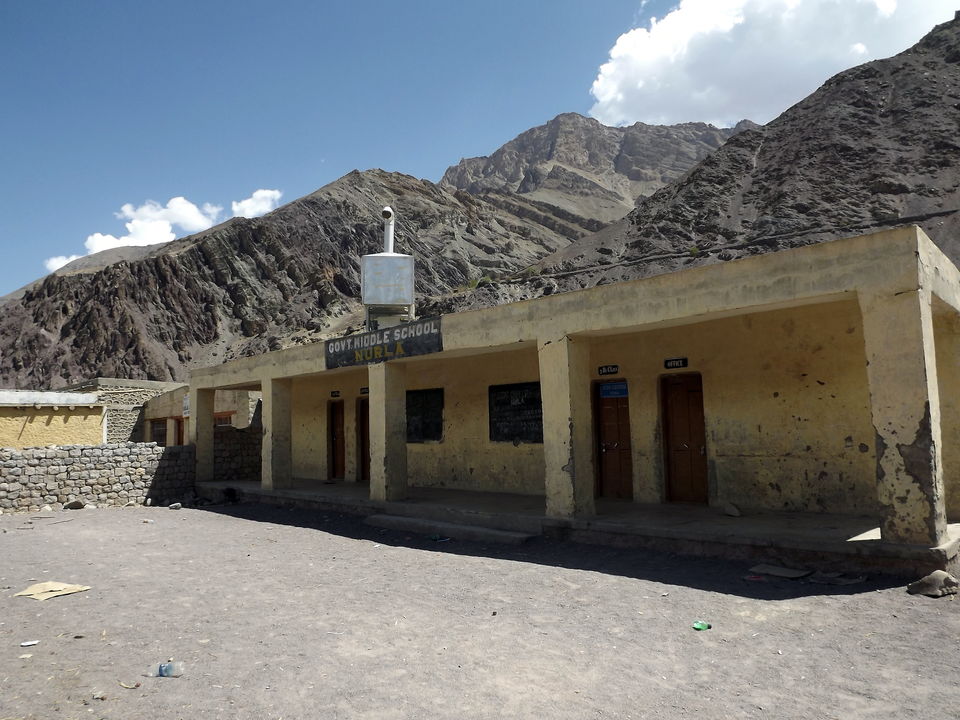 this place is covered with snow for major part of the year though weather is pleasant during summer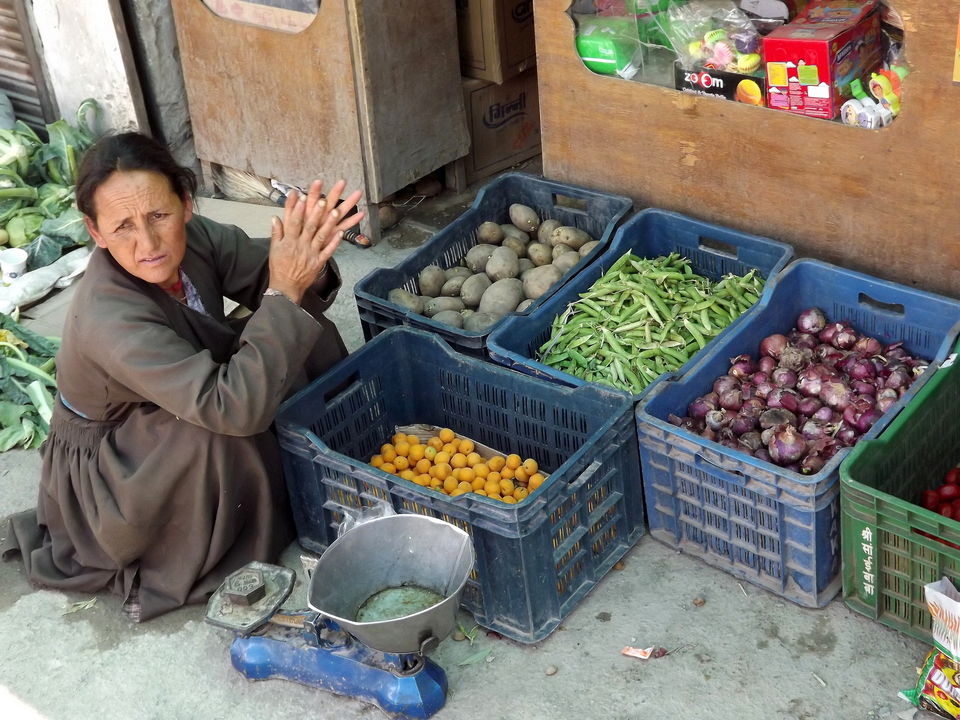 a vegetable vendor in the village Nurla on the way...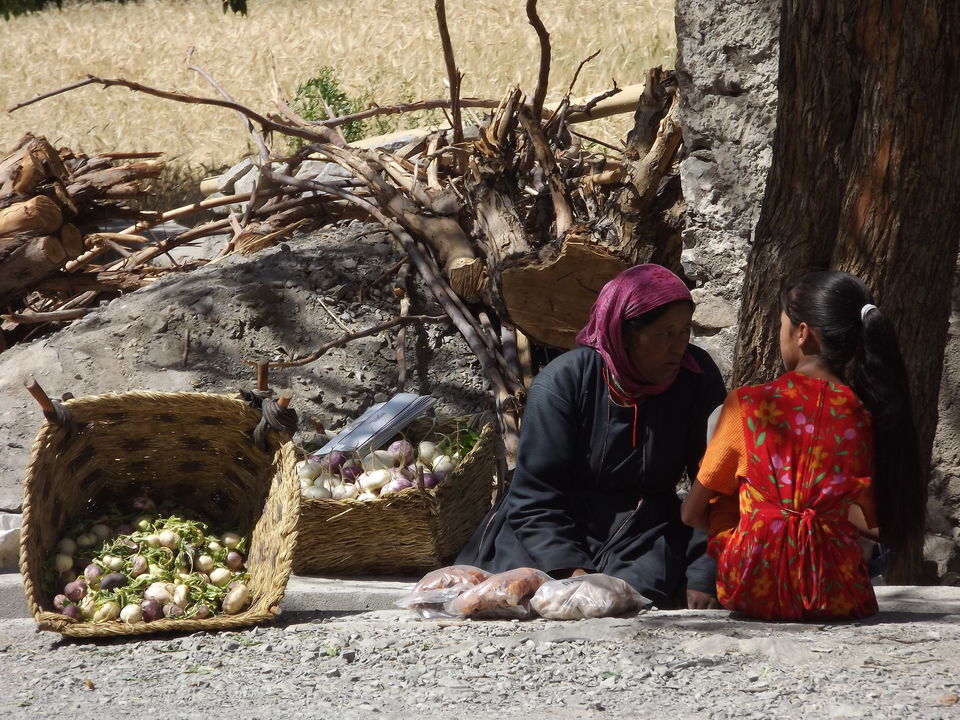 making the most out of the season...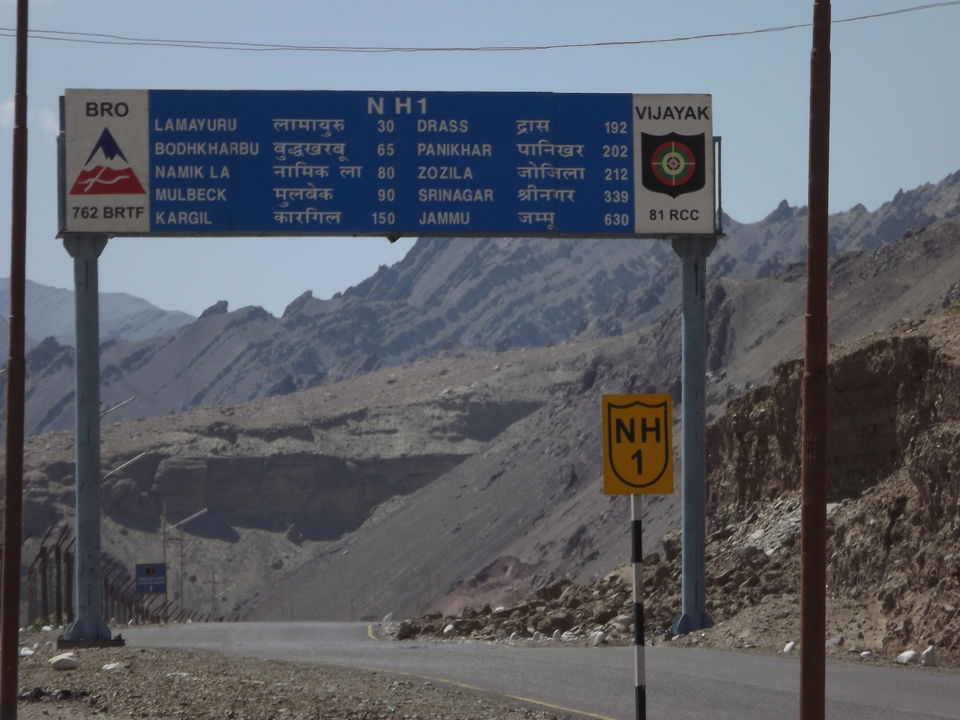 the way ahead...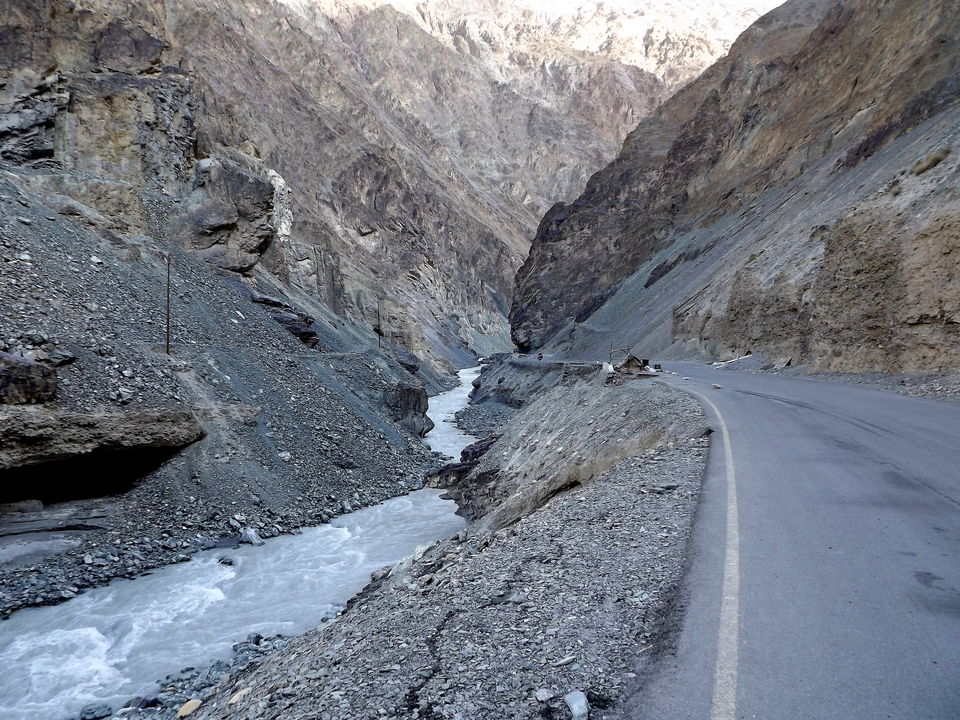 riding along the Indus River...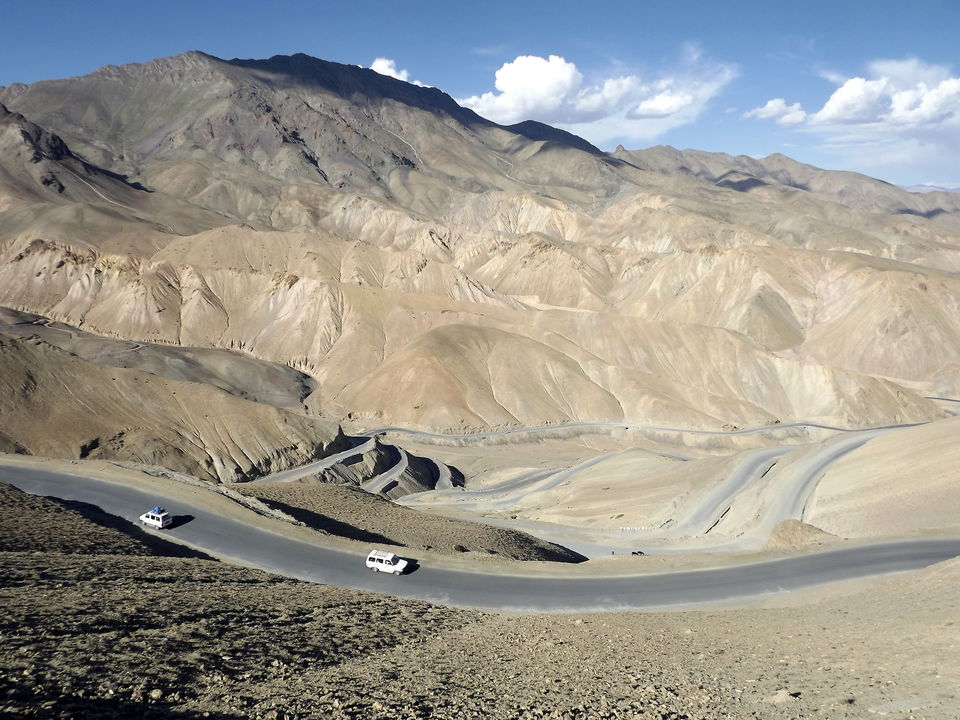 ascending the Fotu La through curvaceous uphill roads cutting across the barren mountains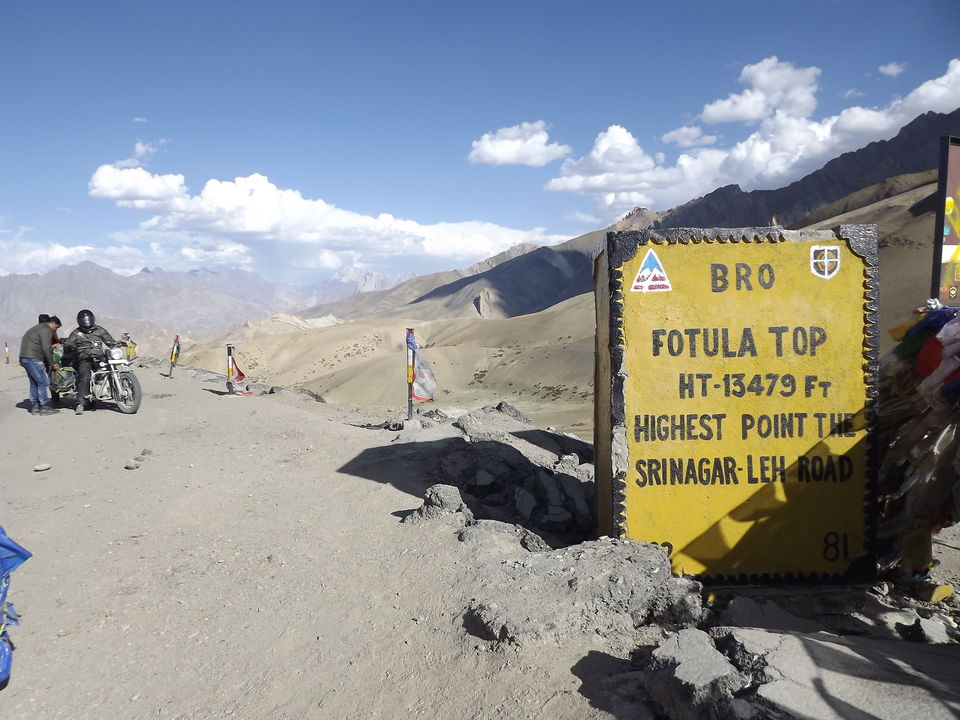 reached Fotu La...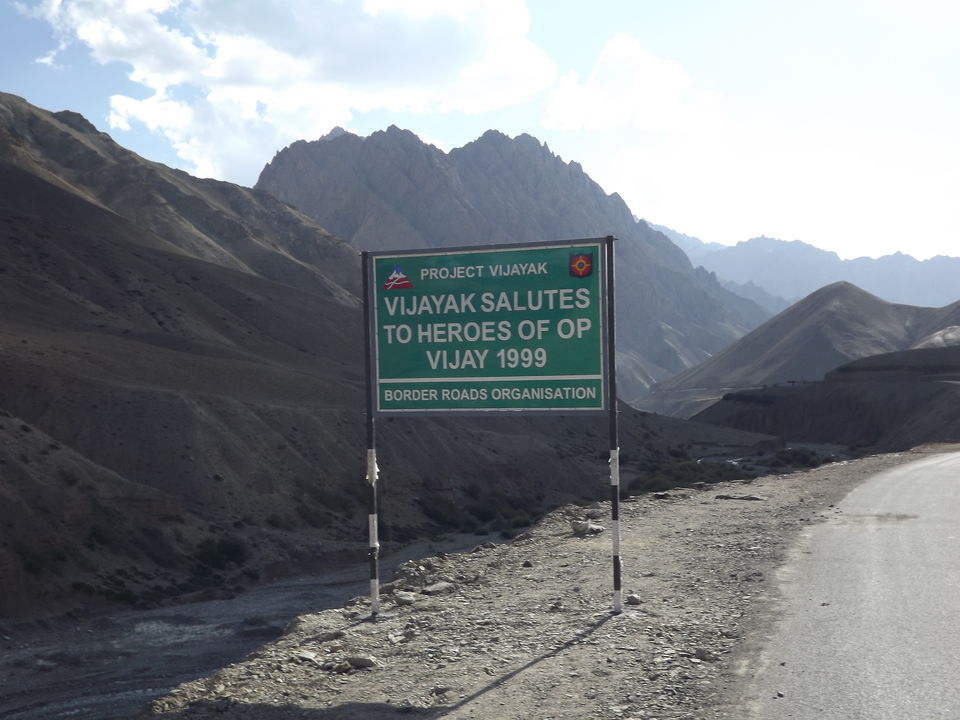 Grand Salute!!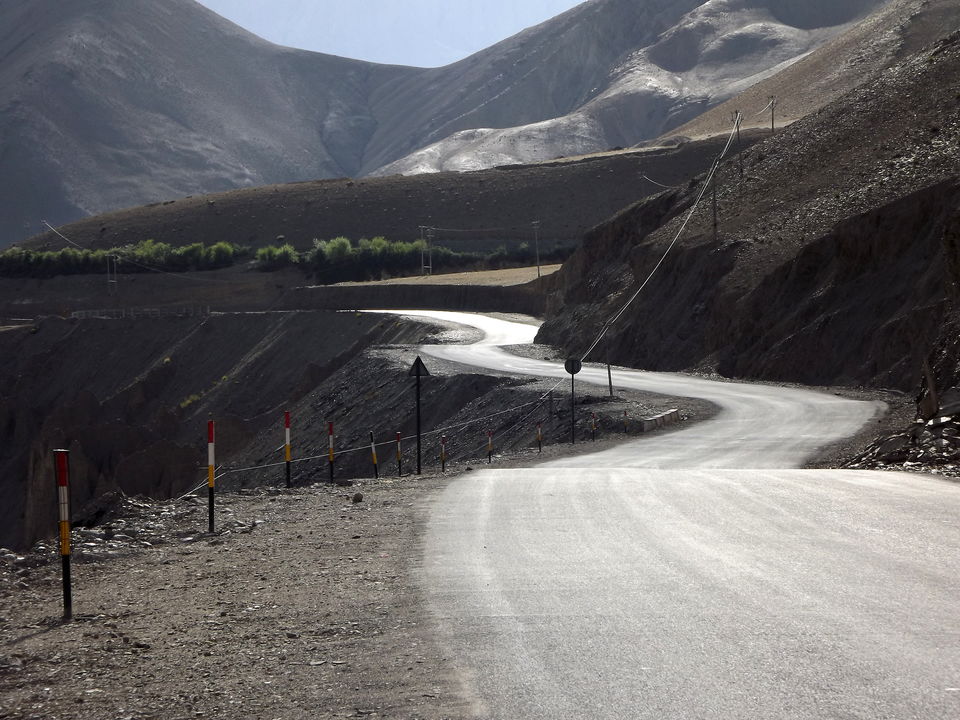 The curvy road resembles the holy word 'Om'...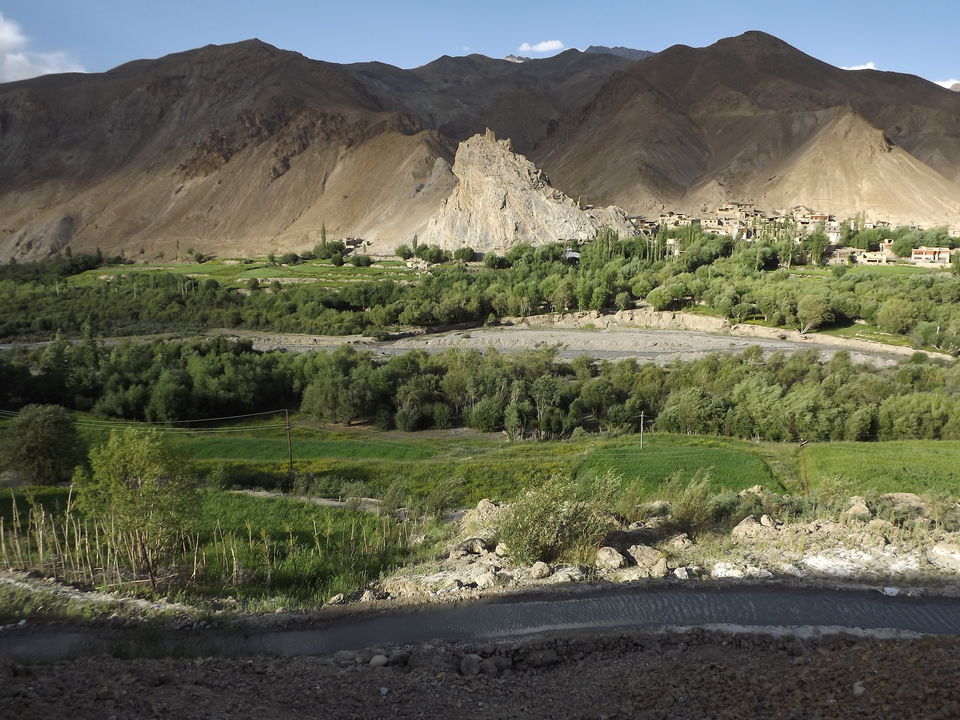 barren (but beautiful) mountains, greenery and streams running along the road side by side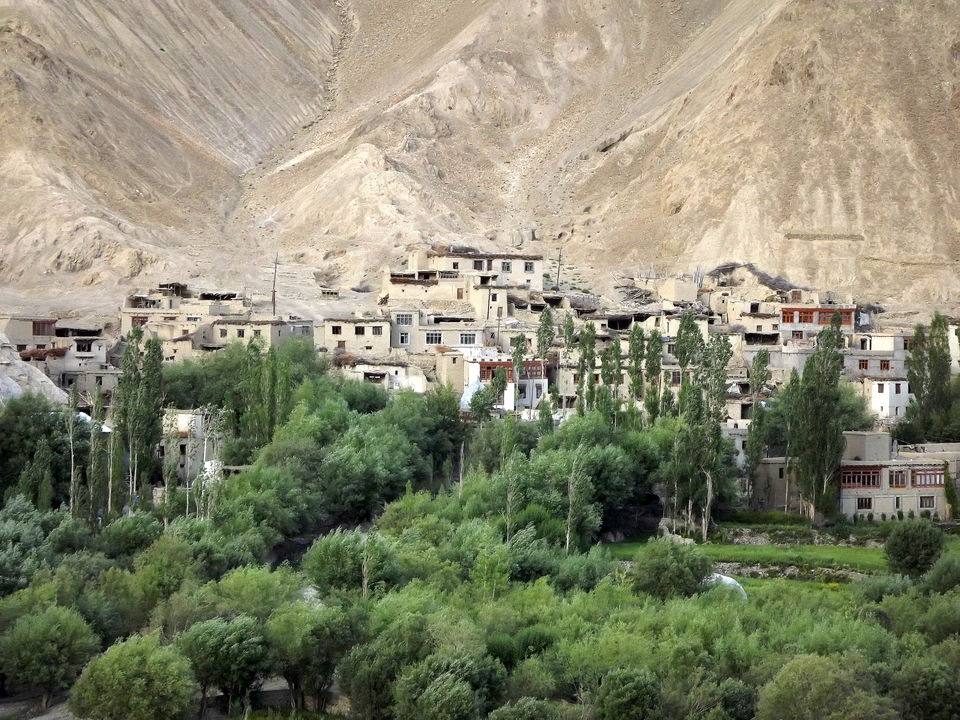 remote villages at the foot of barren mountains...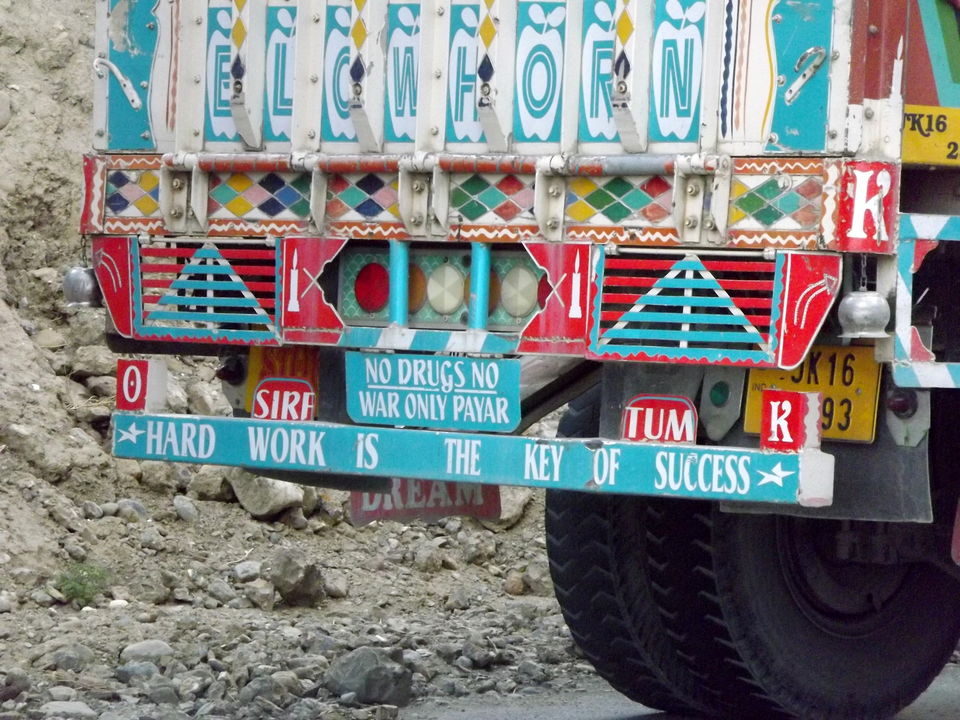 Drugs Di Maa Di...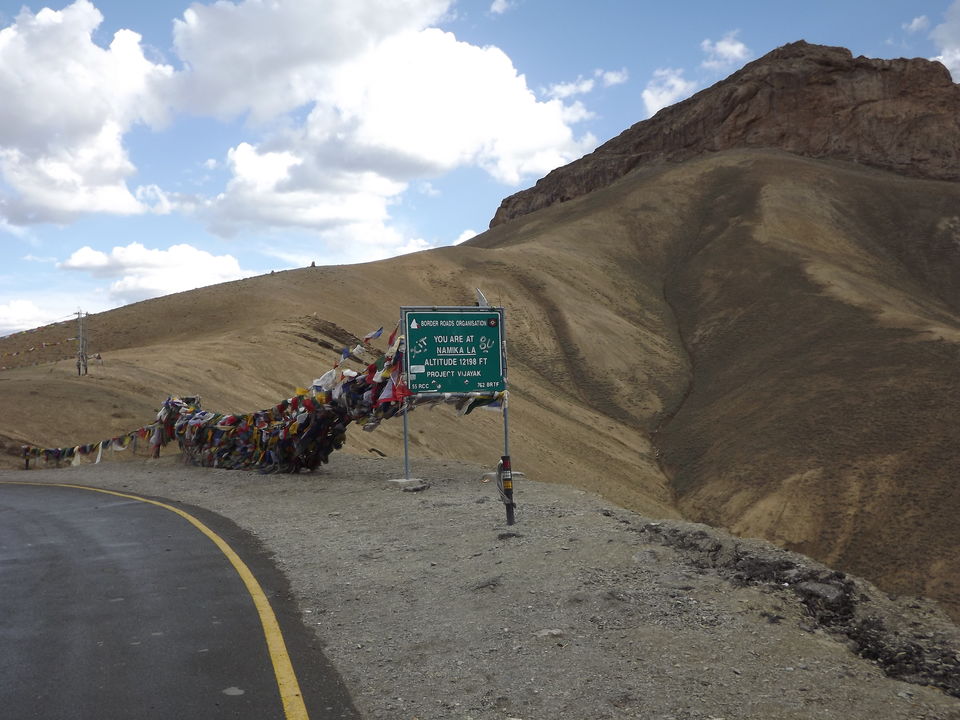 at Namika La...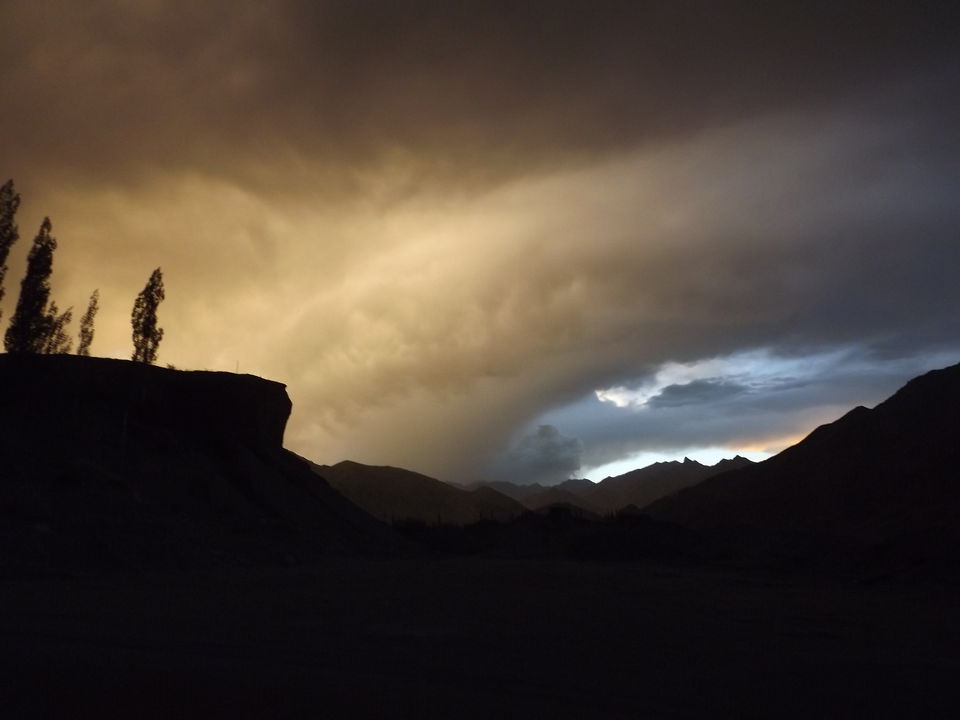 its evening and we are reaching Kargil...
Day 9 Kargil to Srinagar (202 kms) crossing Zozi La (11649 feet)

Kargil Town on the banks of Suru River in Morning...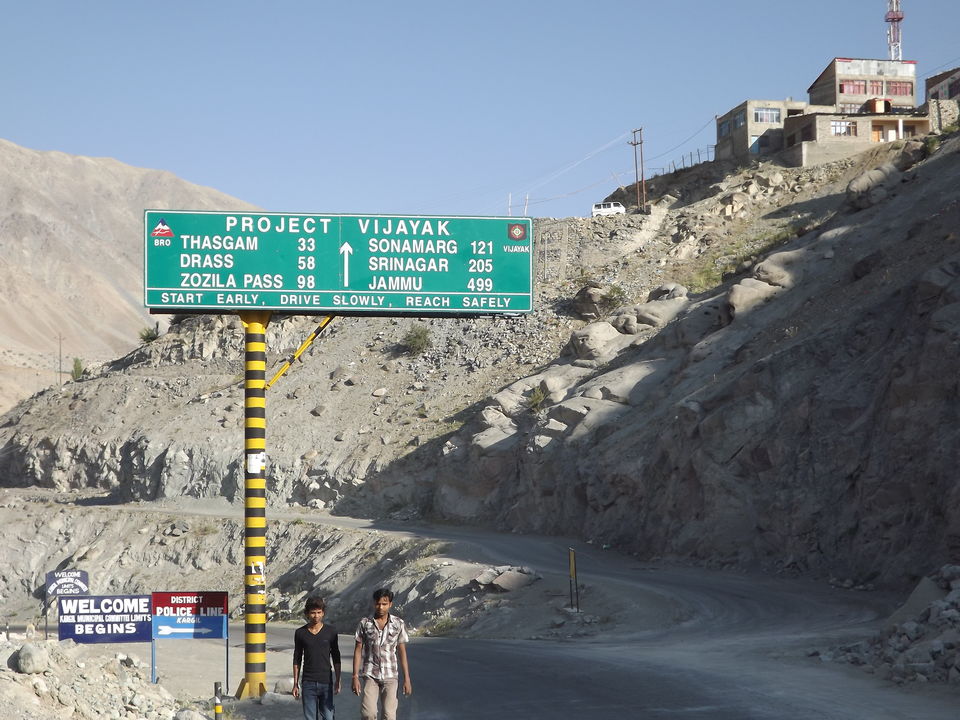 the journey ahead...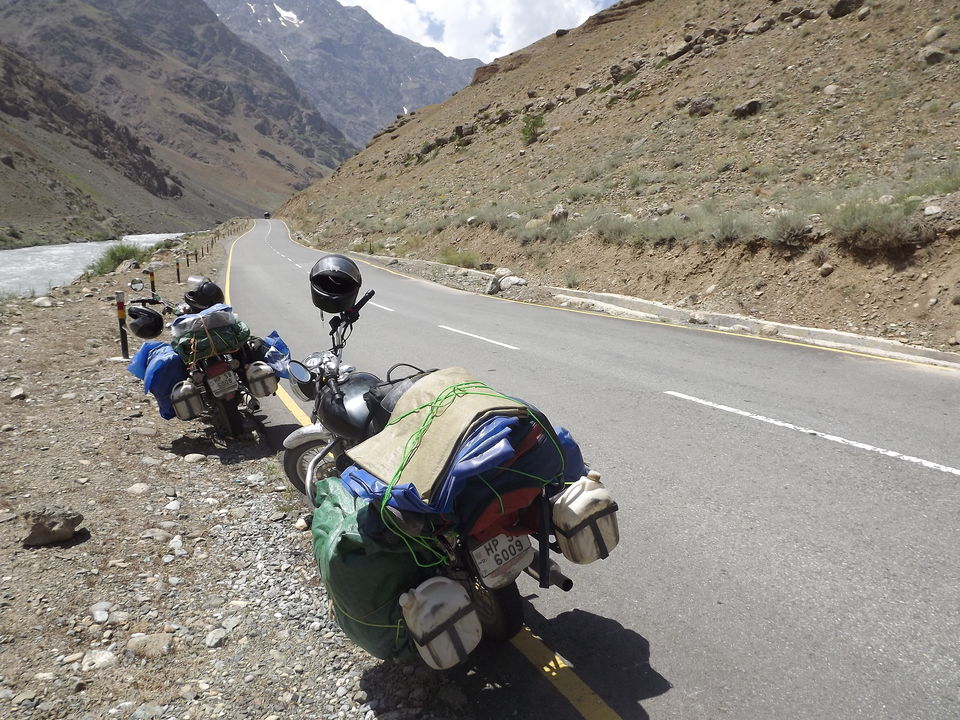 towards Drass...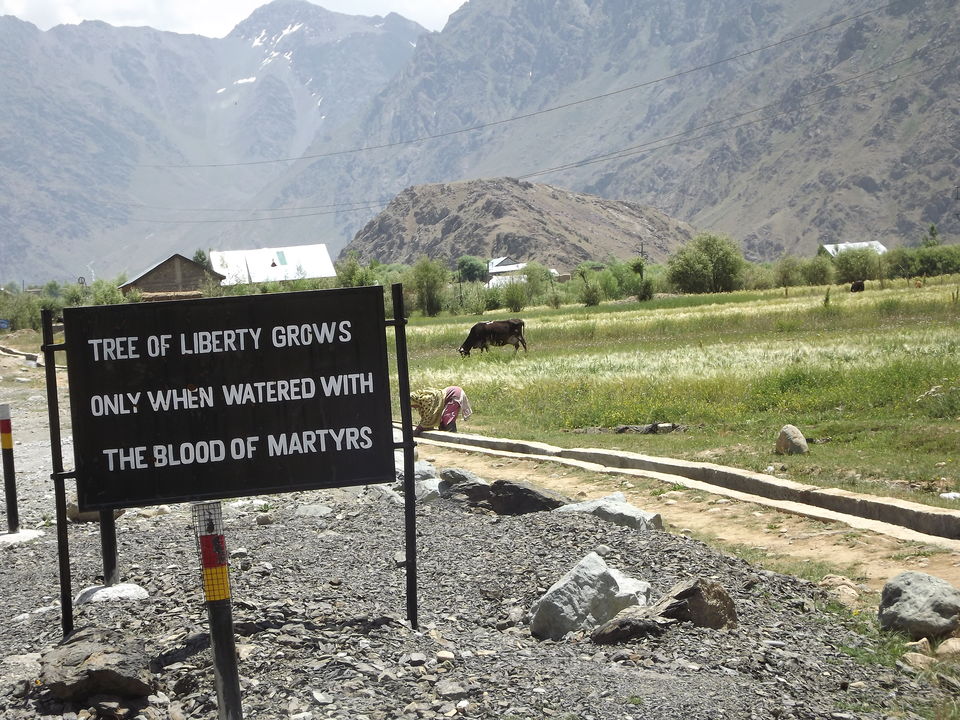 true words, salute to the Warriors...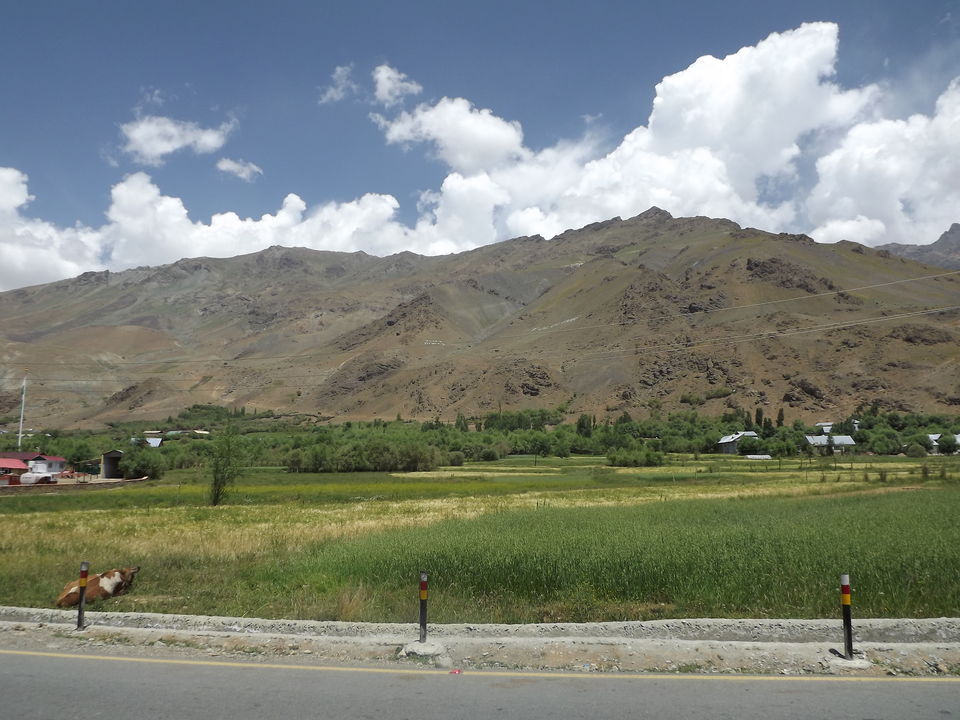 reaching Drass, the landscape started turning green again ...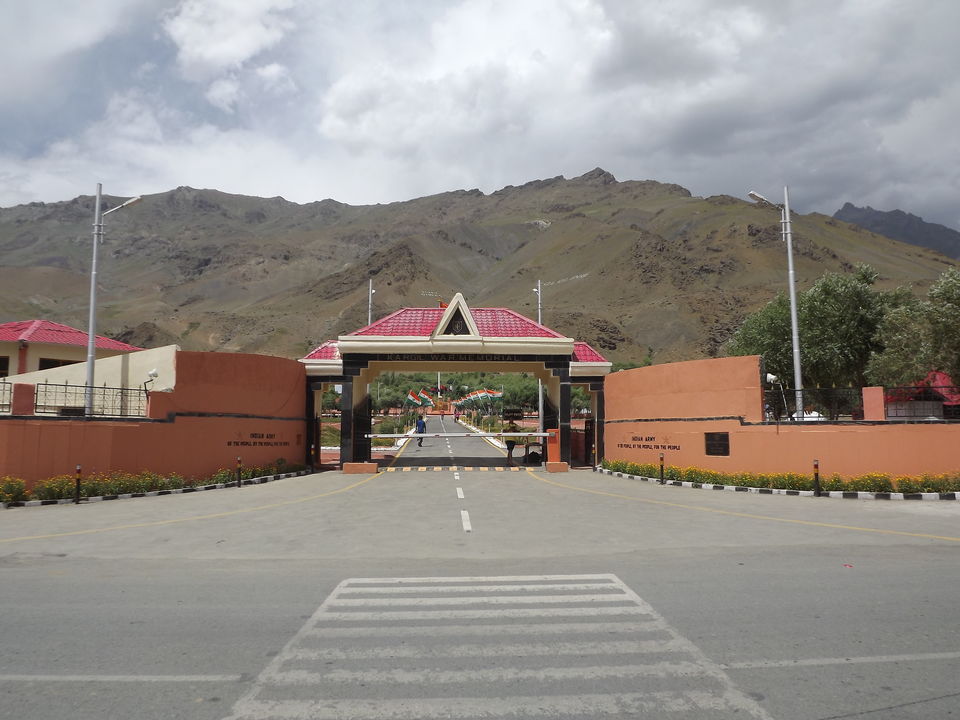 The Kargil War Memorial at Drass.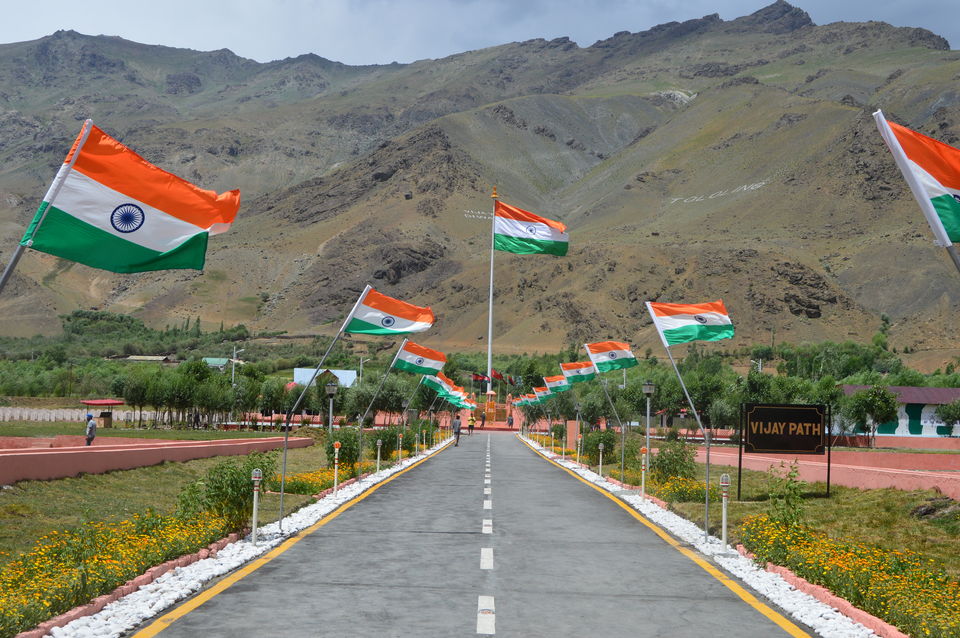 Inside the War Memorial...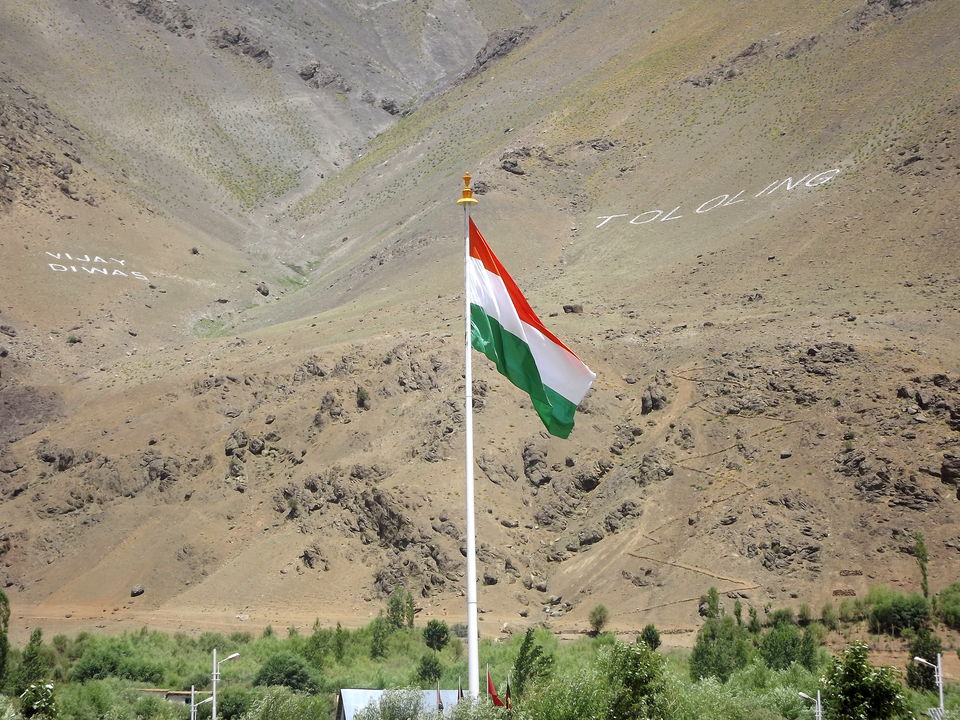 Our Flag flies with the last breath of each Soldier who died protecting it!
Tololing, the deepest point of intrusion inside Indian territory during The Kargil War, nearest to and directly overlooking NH 1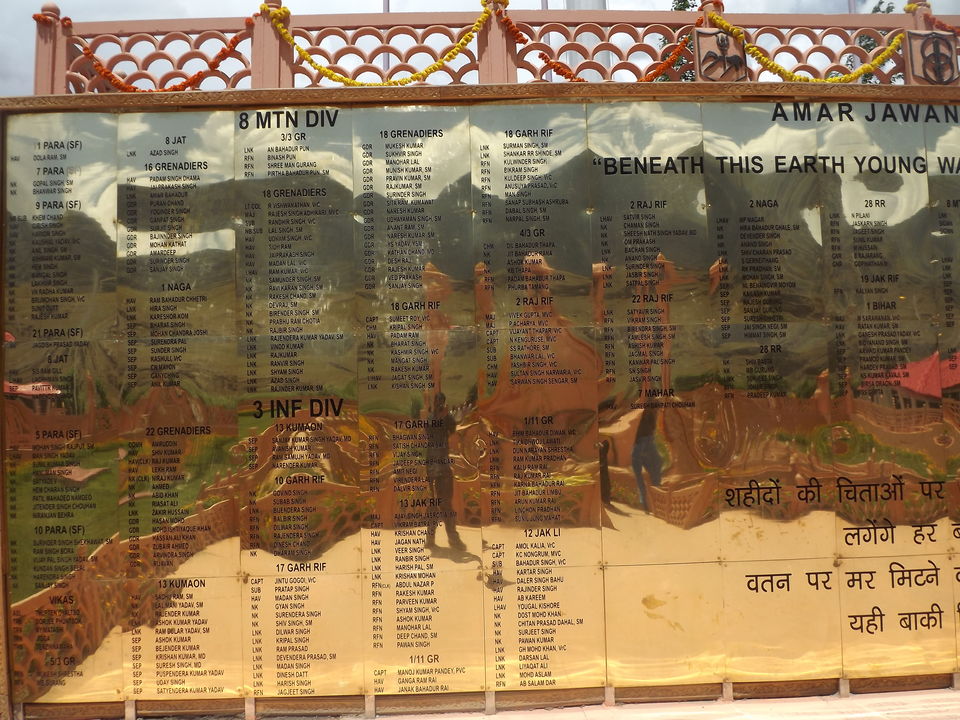 The Martyrs of War, Grand Salute!!!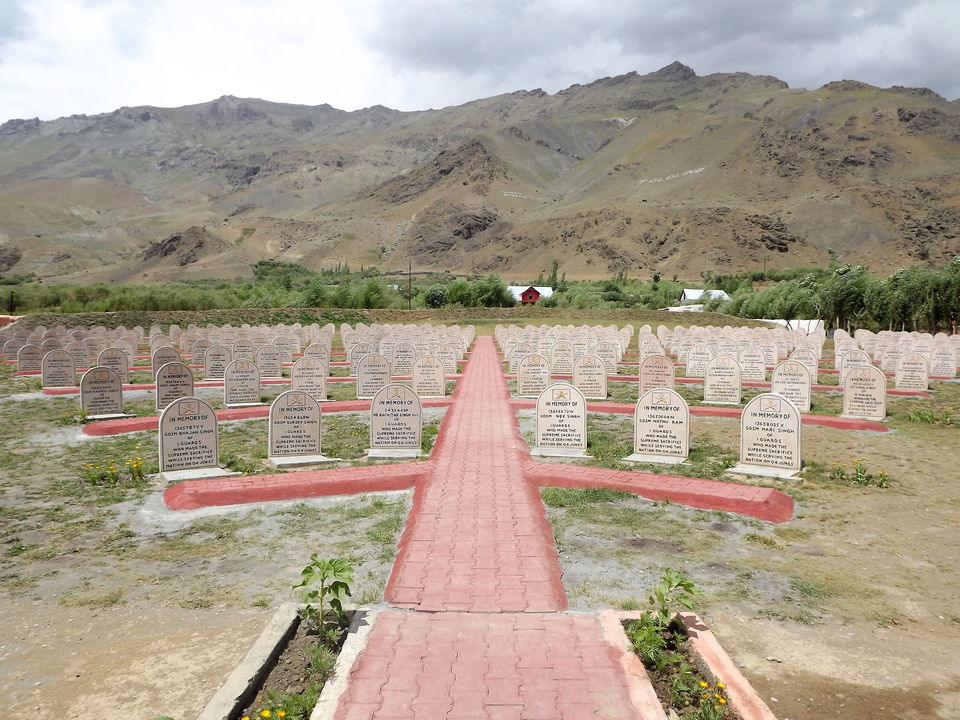 The Veerbhoomi...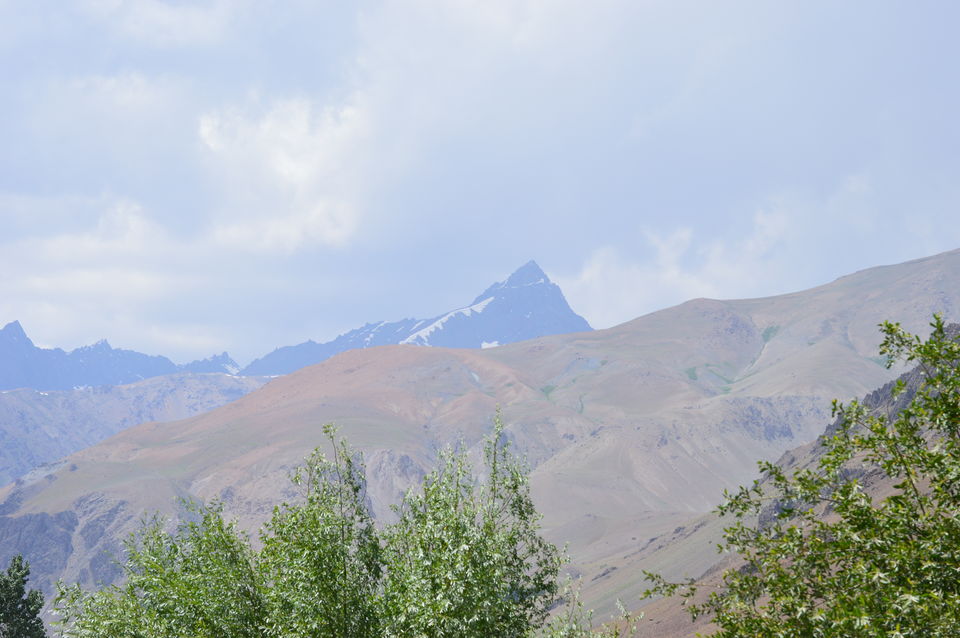 The Tiger Hill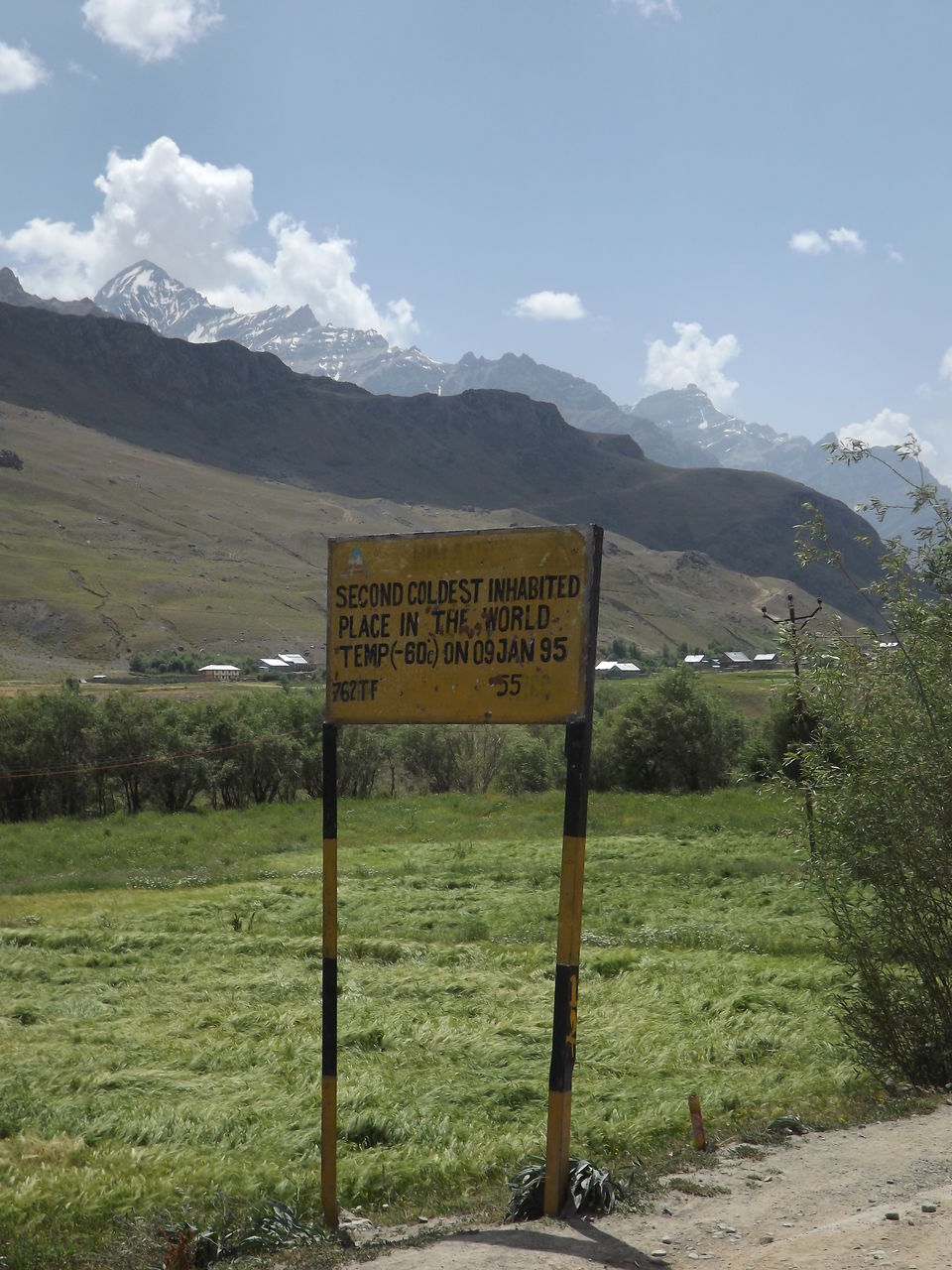 yes, its in India...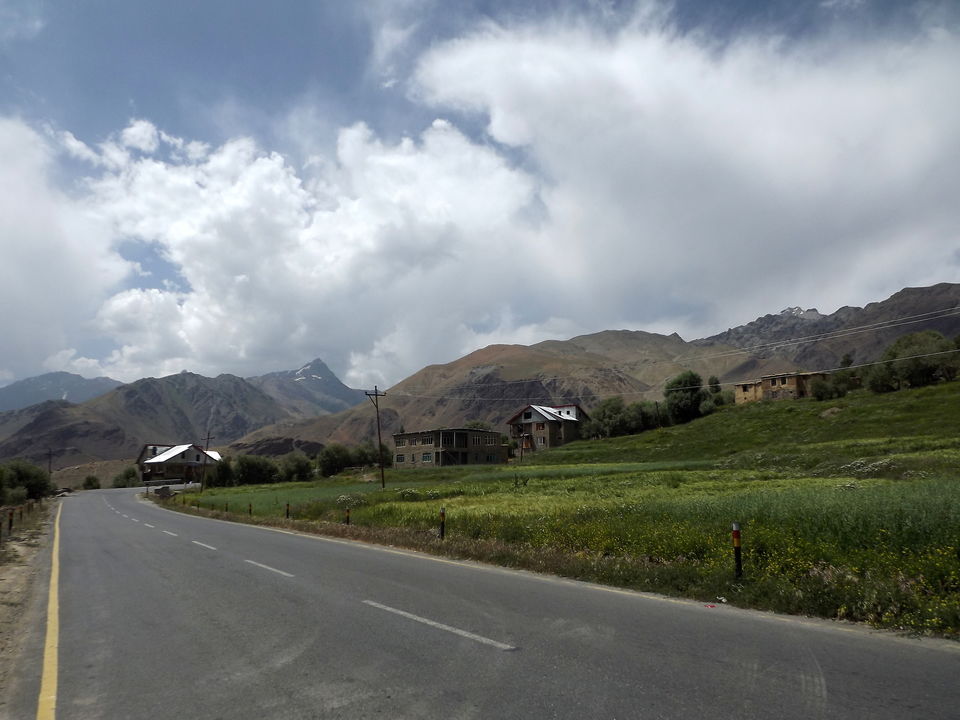 landscape along NH 1...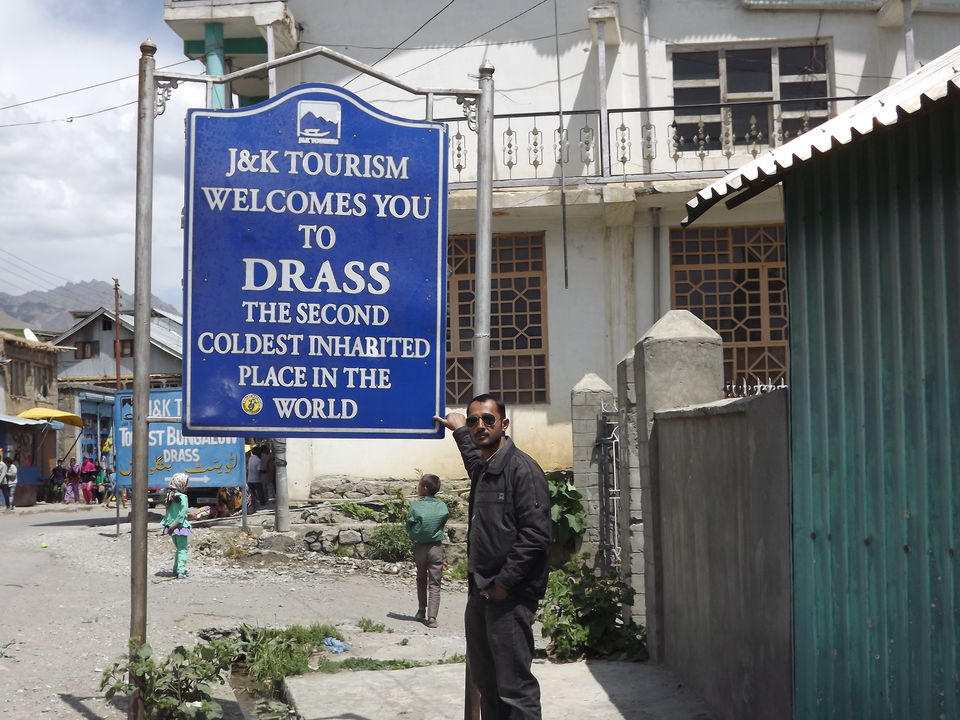 2nd coldest inhabited place in the world after Siberia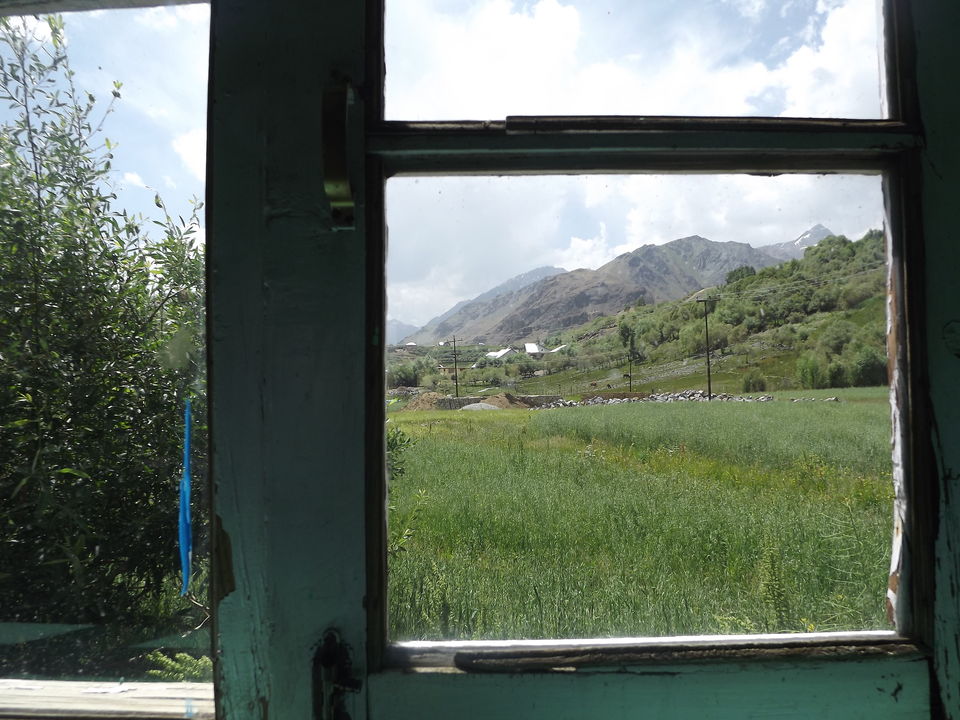 although the weather is pleasant during summers...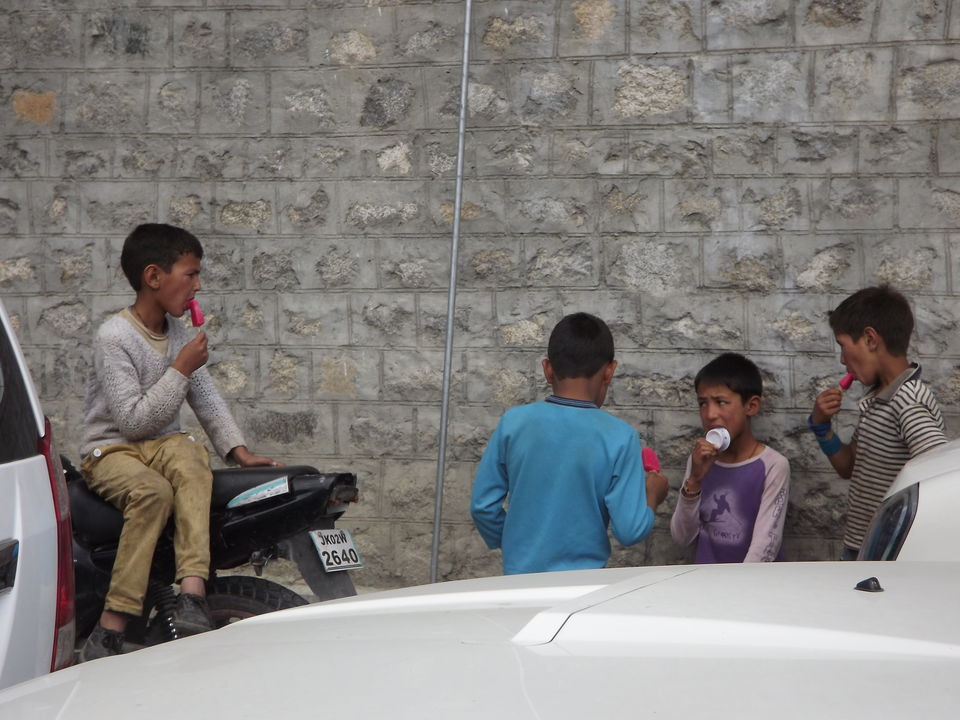 local children enjoying ice cream during summer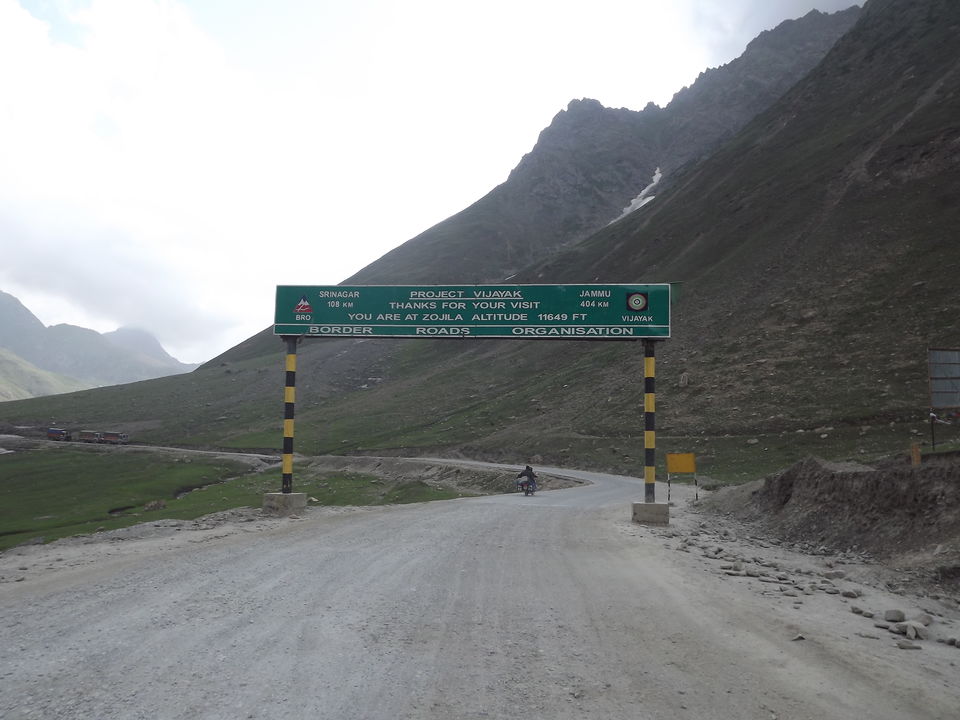 reached Zozi La...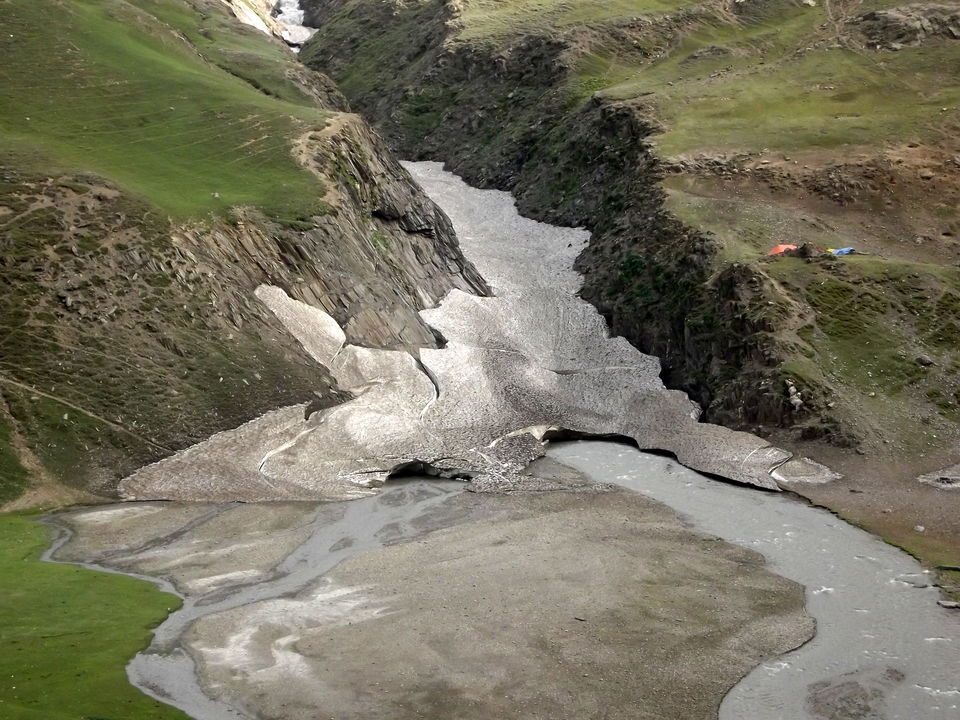 melting snow...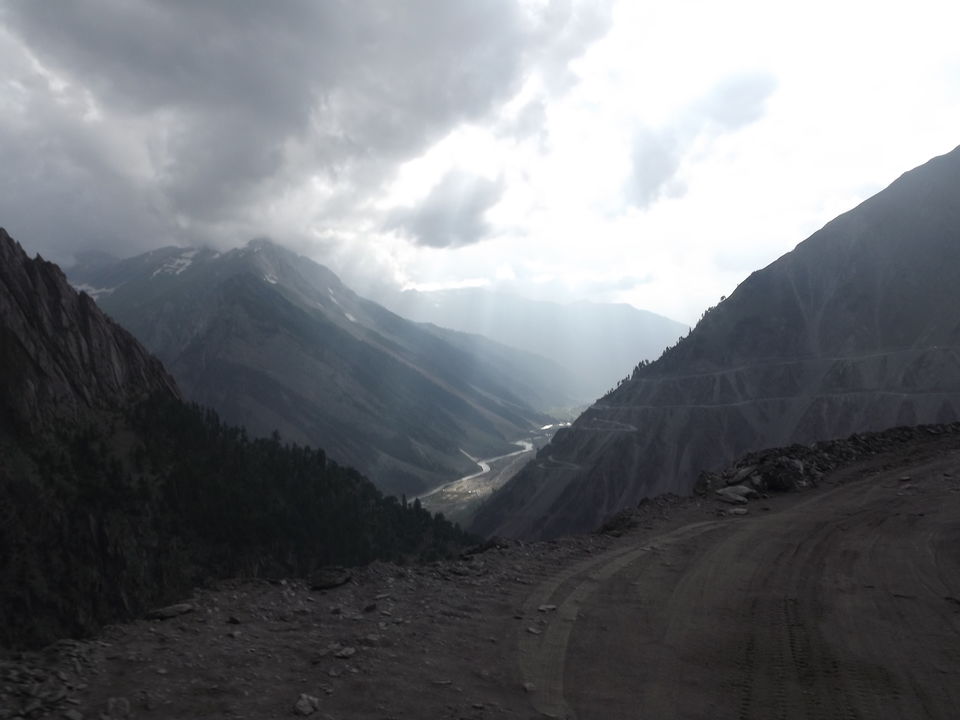 descending Zozi La to reach Sonmarg...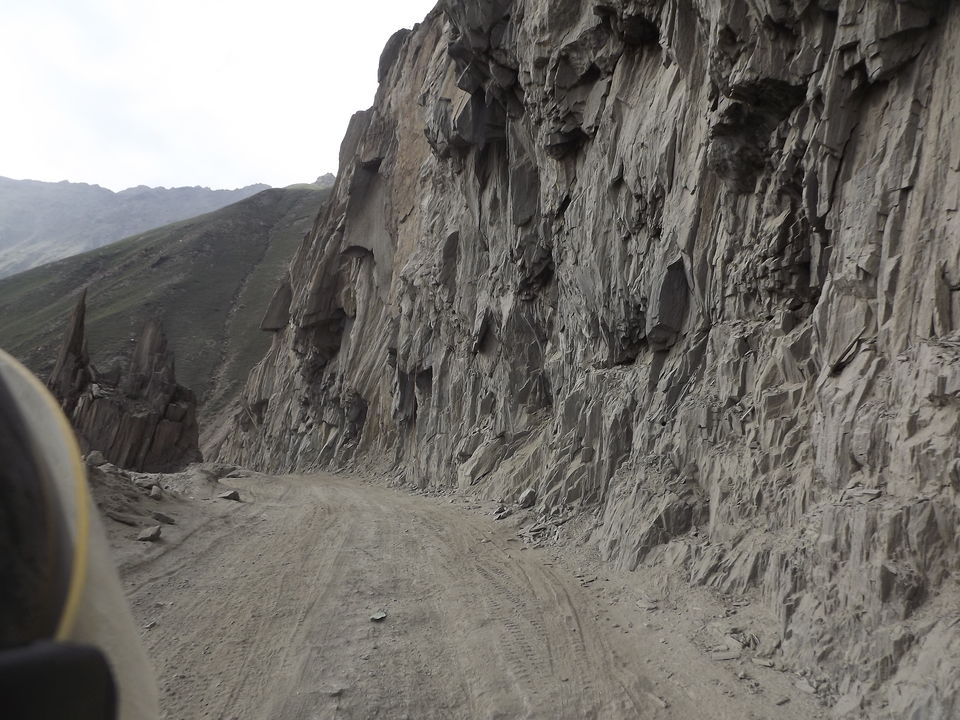 the bad roads at mountain edge...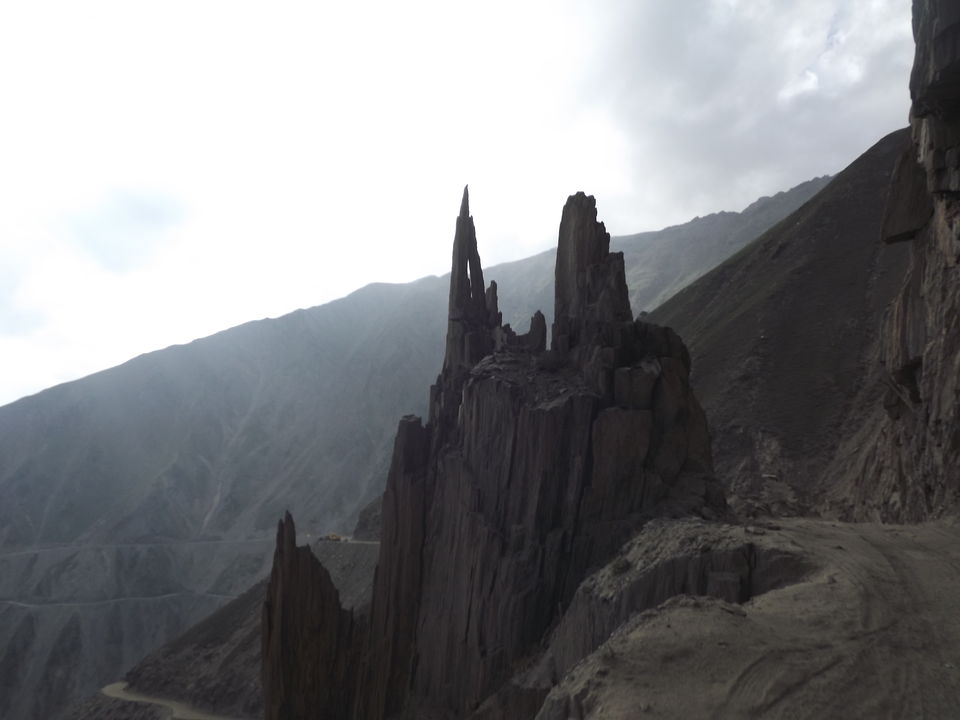 the bad roads at mountain edge...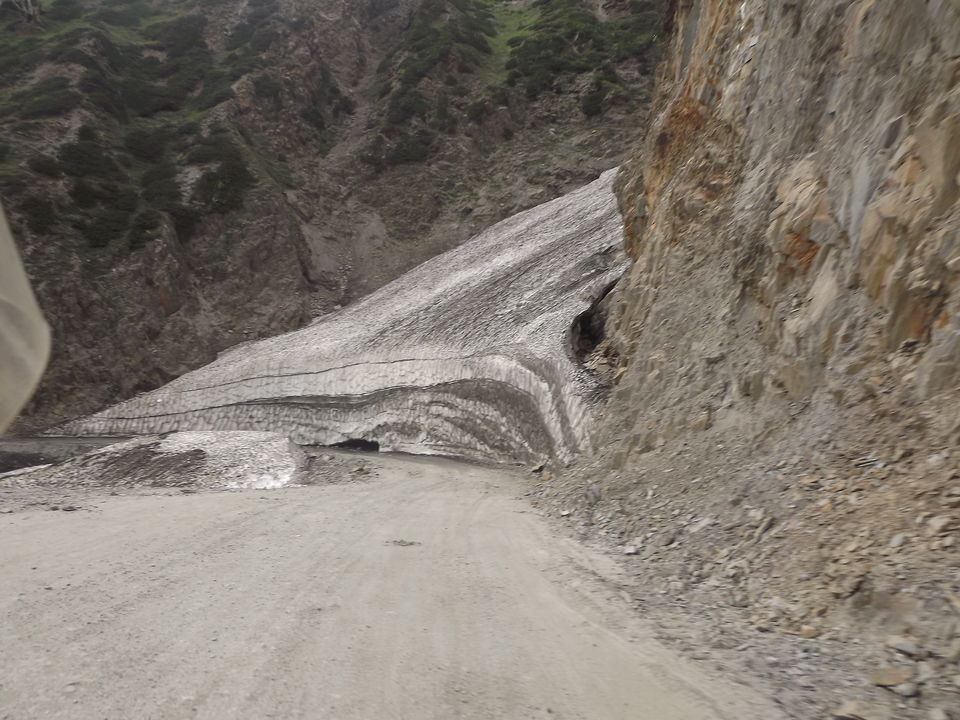 some snow yet to melt on the highway...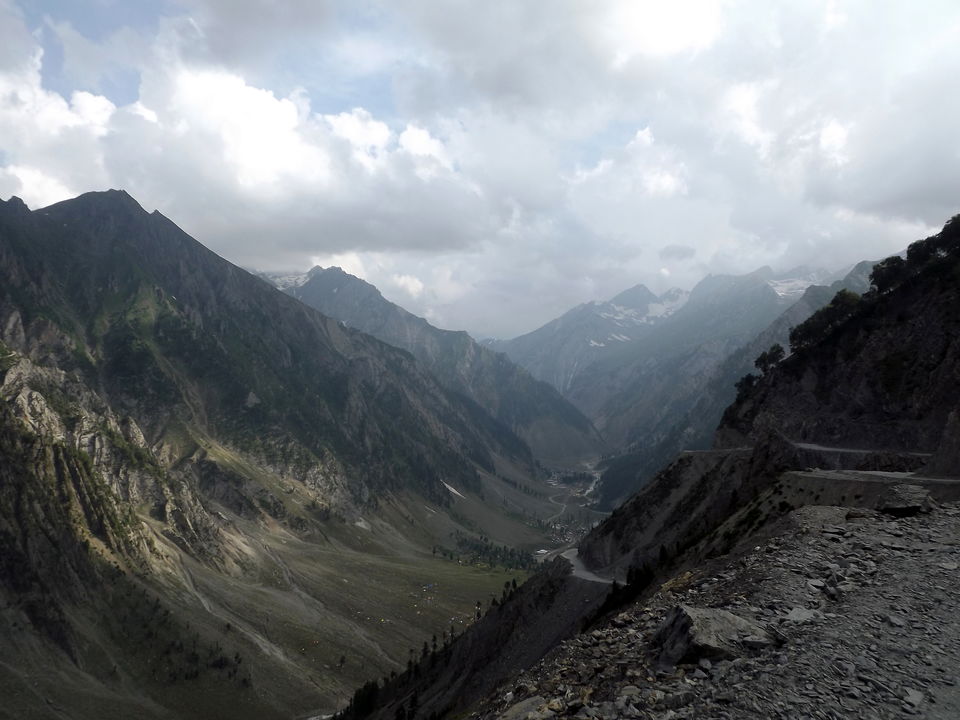 reaching Sonmarg...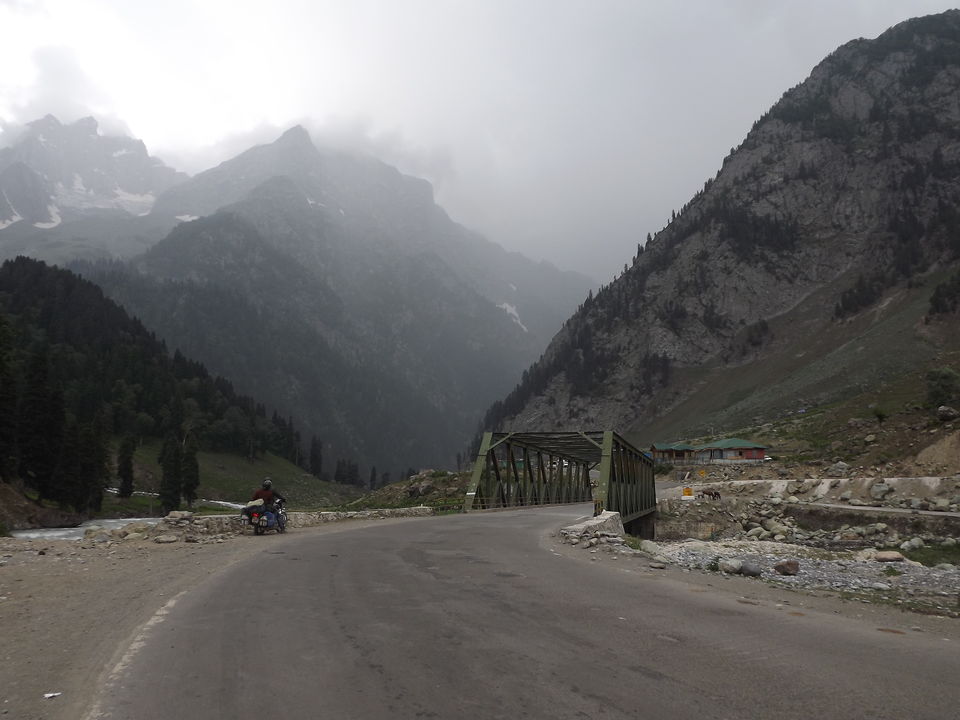 reached Sonmarg
Day 10 Srinagar to Jammu (294 kms)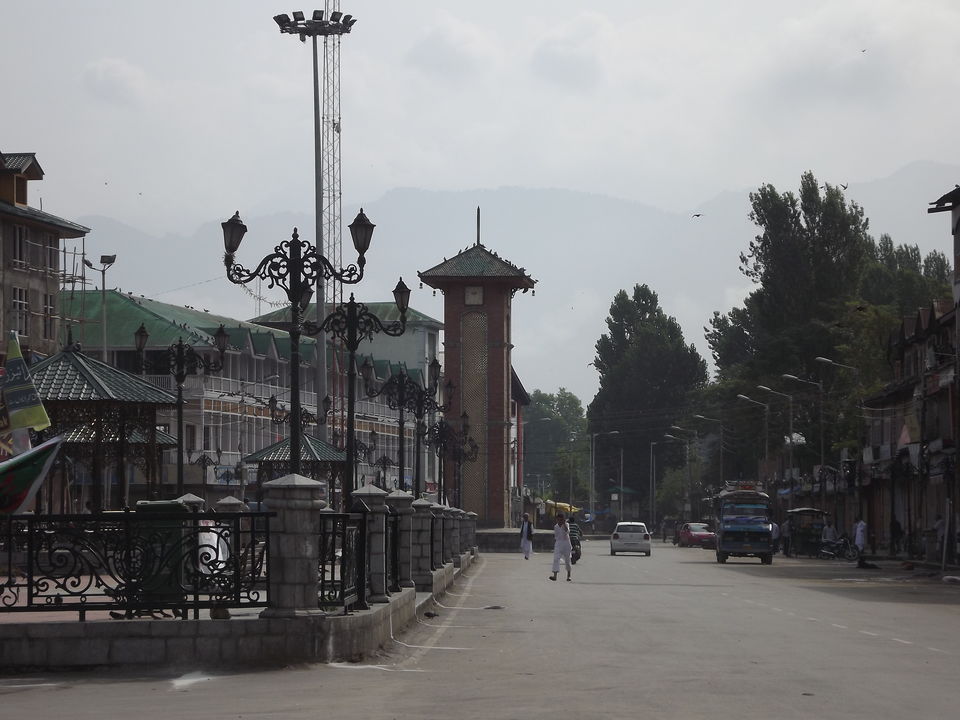 morning we toured around the Srinagar town and visited Lal Chowk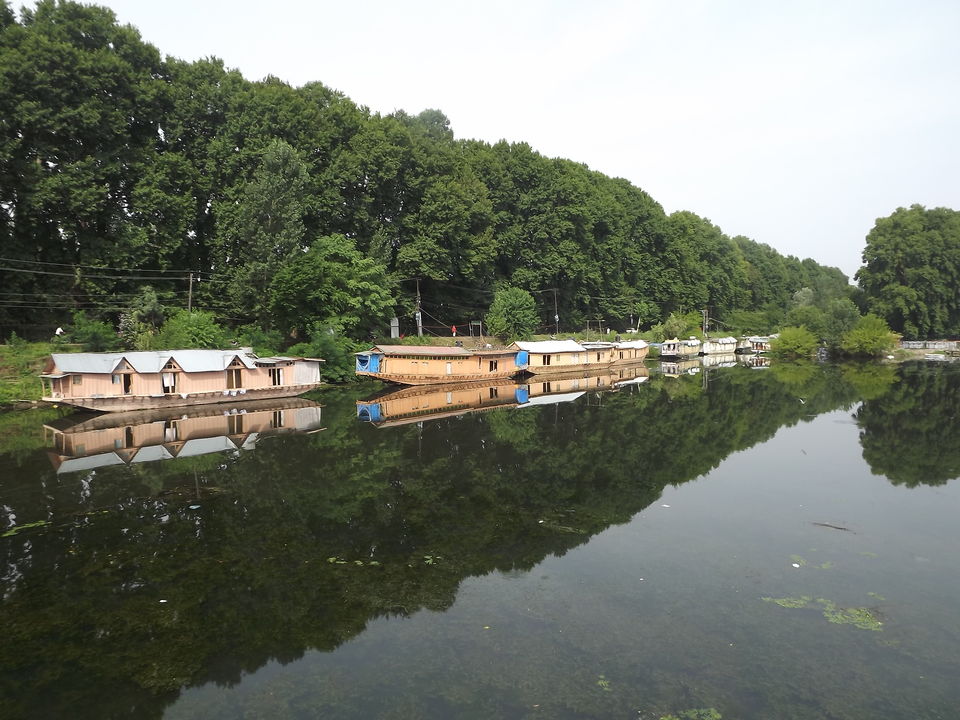 House boats on Dal Lake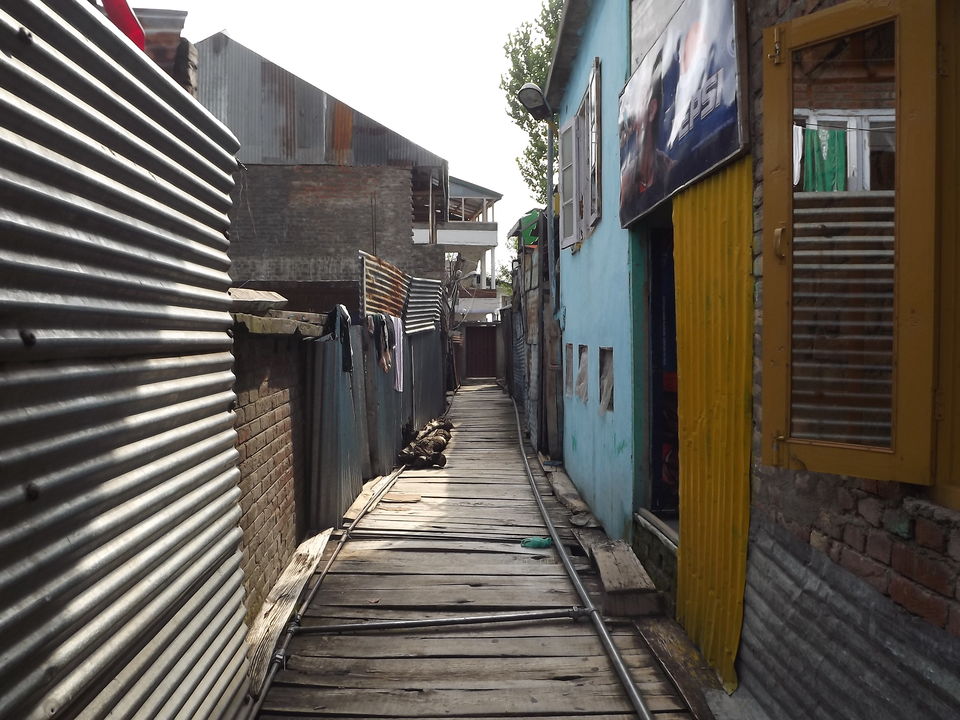 narrow lanes inside Srinagar...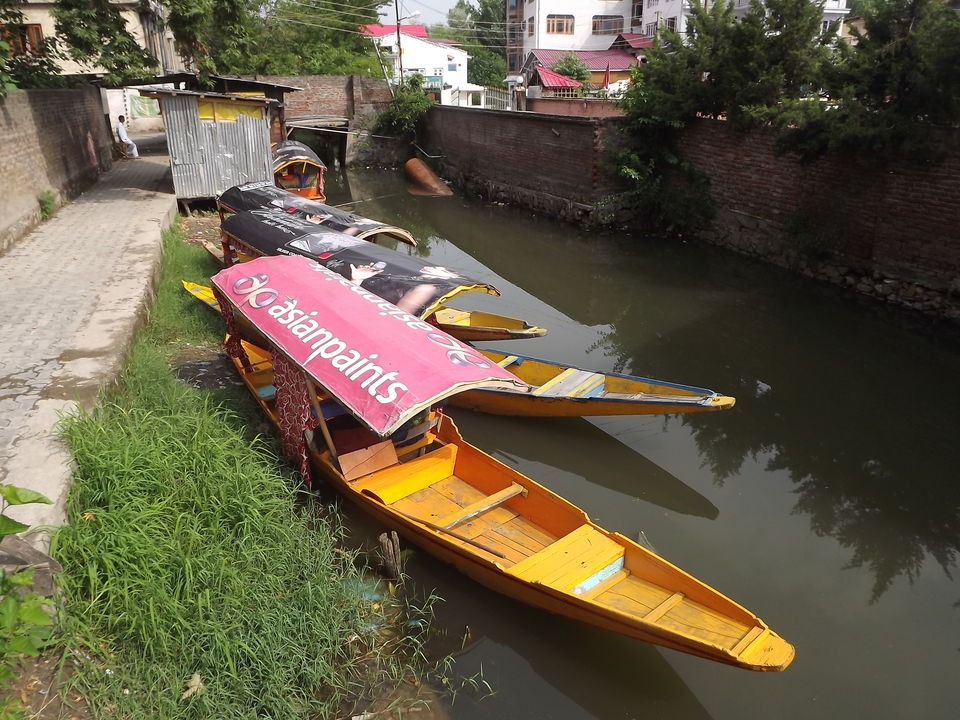 Shikaras...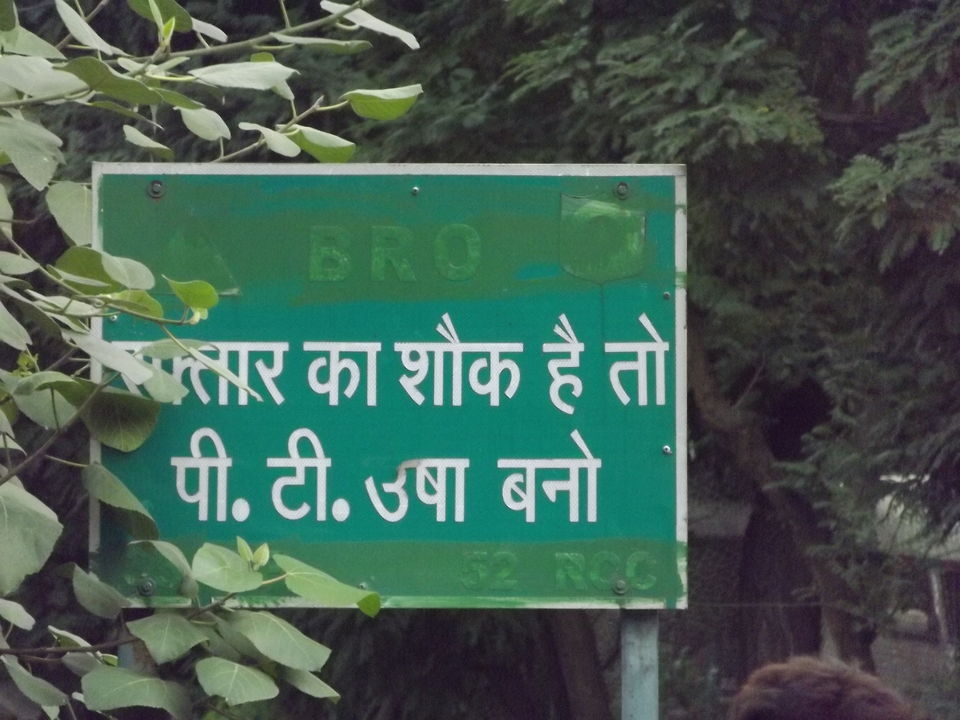 on Srinagar - Jammu Highway :) :)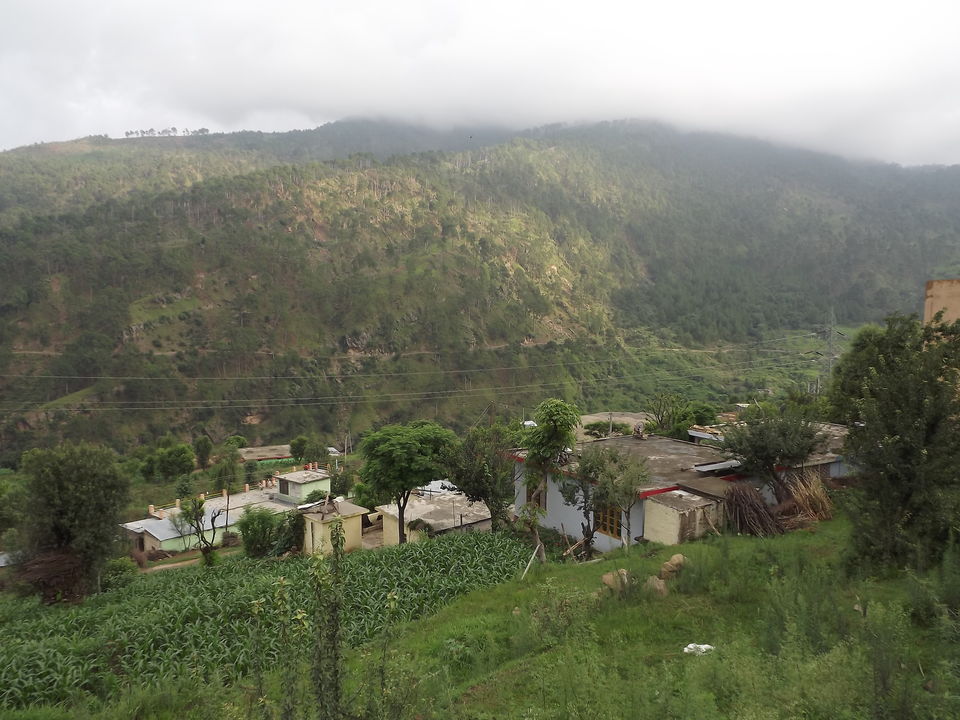 views on Srinagar - Jammu Highway
Day 11 Jammu to Dharmashala & Macloed Gunj (200 kms)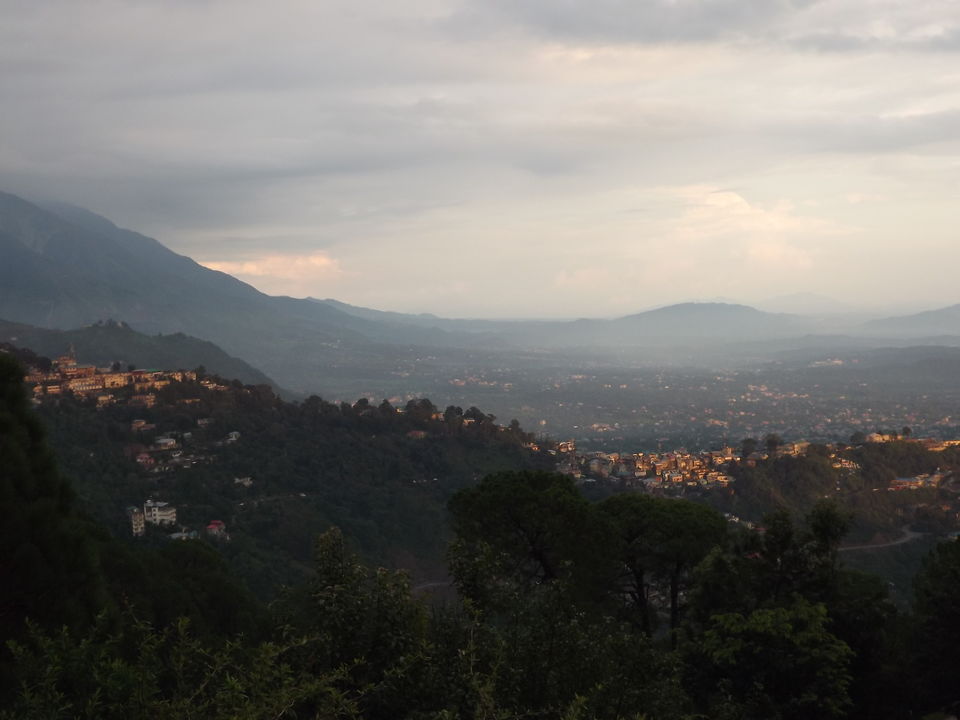 Dharmashala...
Day 12 Dharmashala to Manali (235 kms)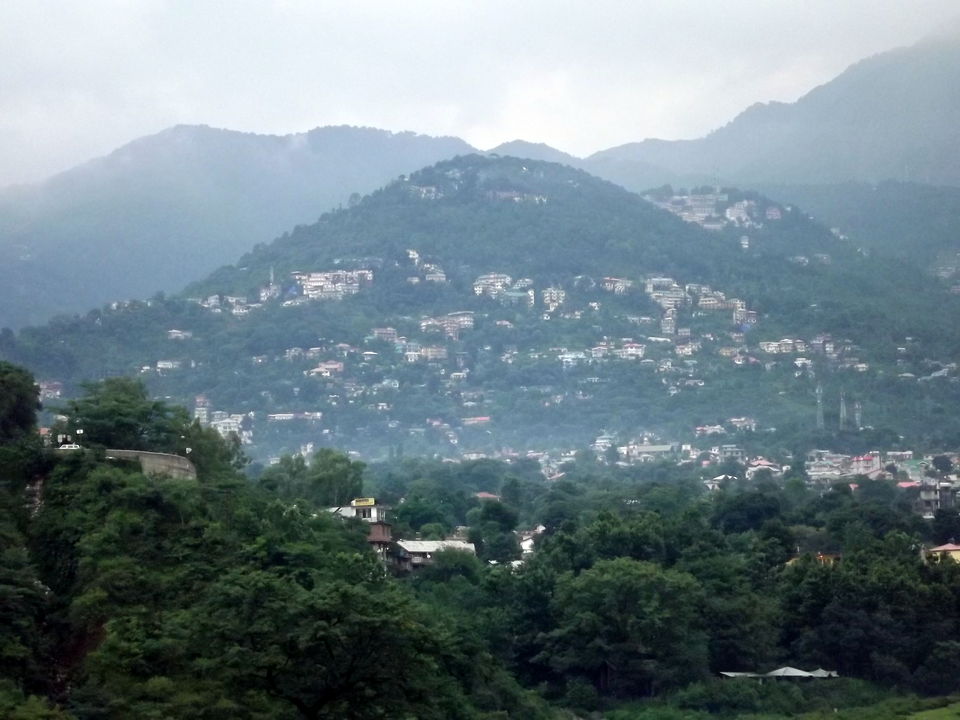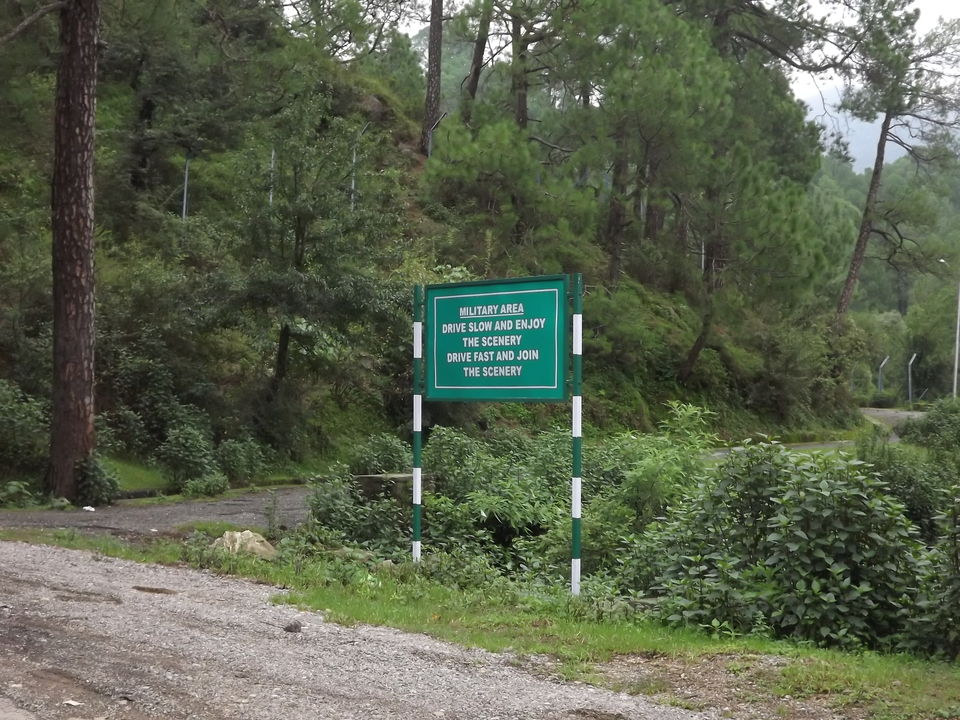 drive fast and join the scenery :)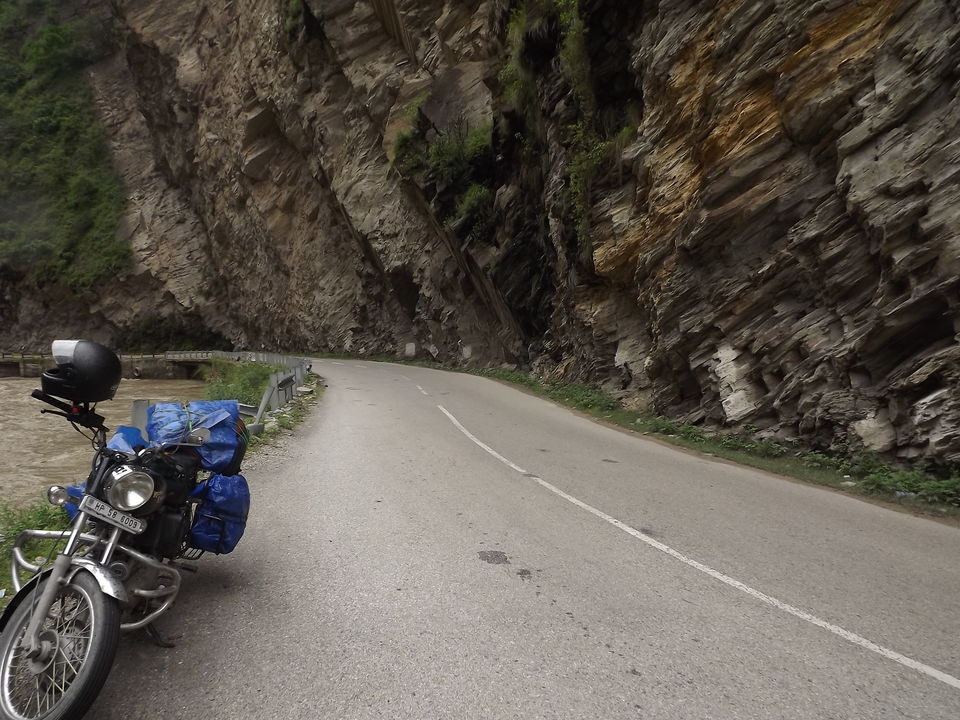 the last phase of Mission...
Day 13 Back to Manali (Bonus Day as we reached as scheduled)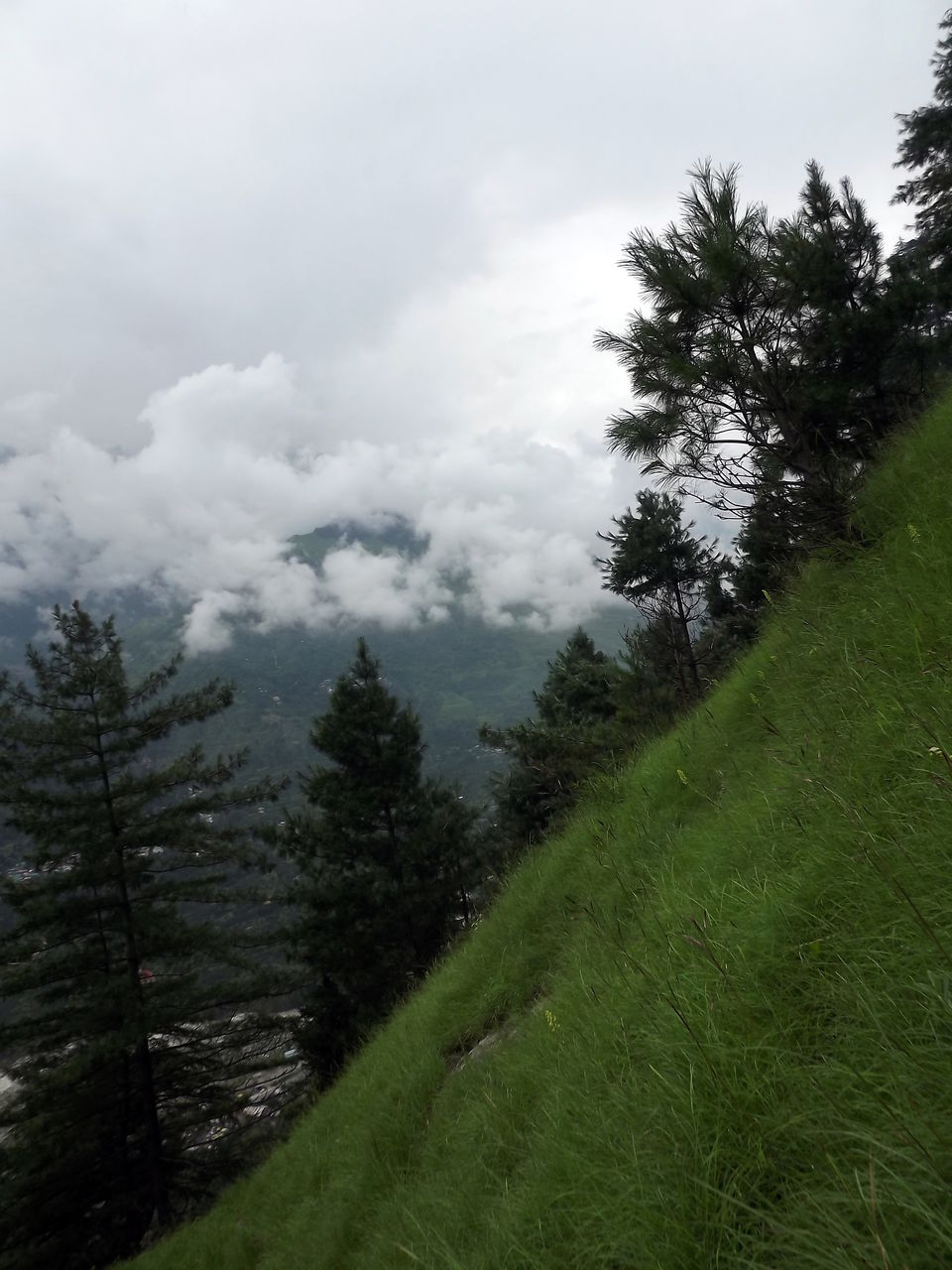 we went trekking the local mountains around...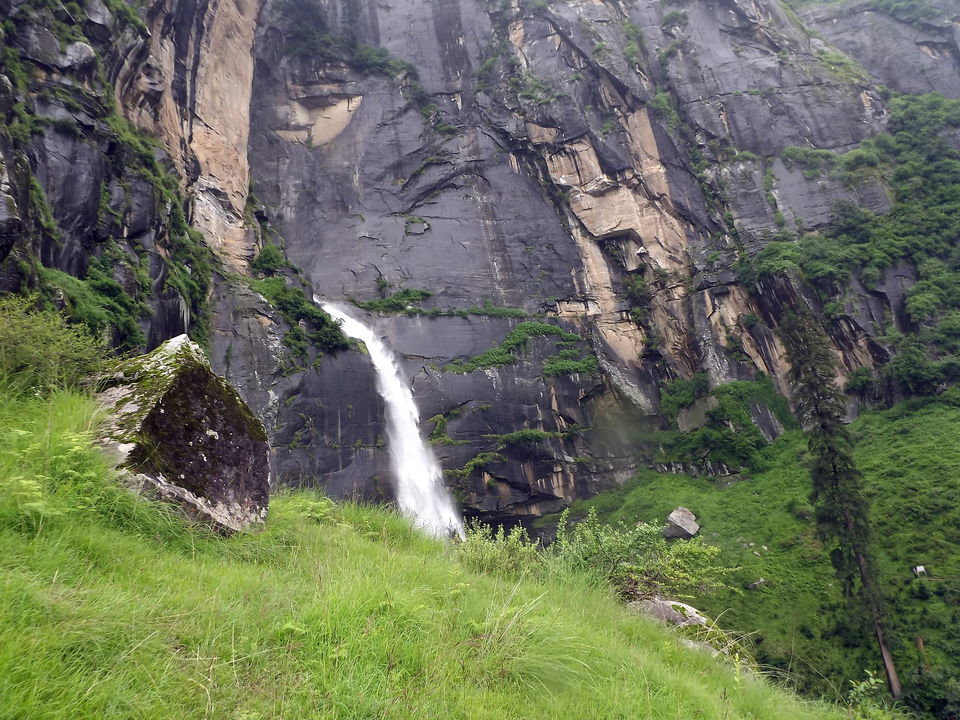 on top of a mountain...

view of a part of Manali from a mountain we trekked...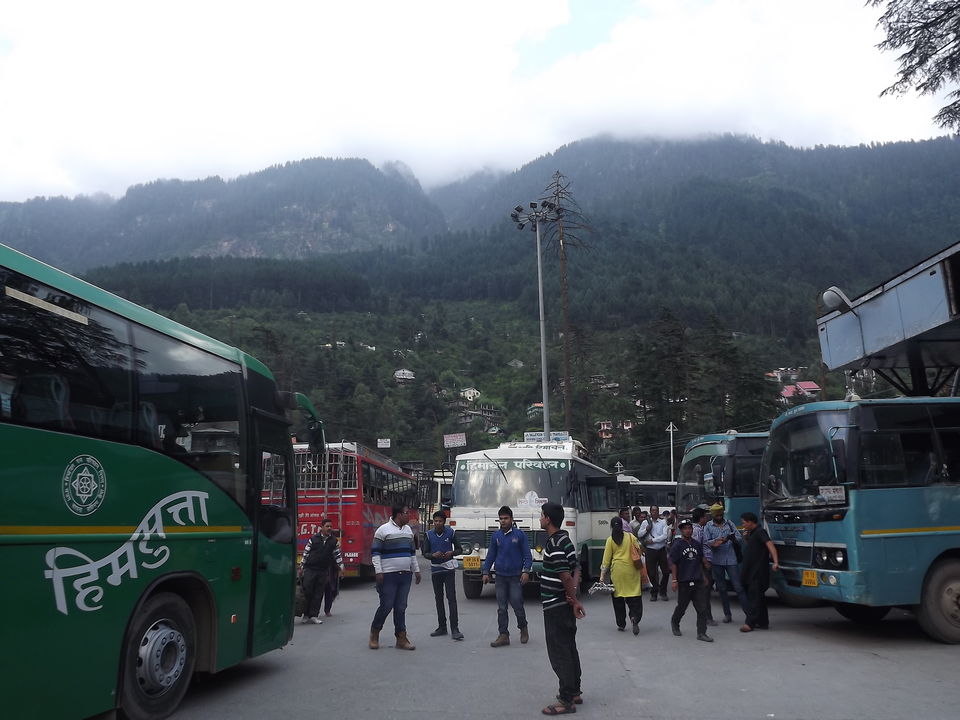 Manali to Delhi by HPSRTC Bus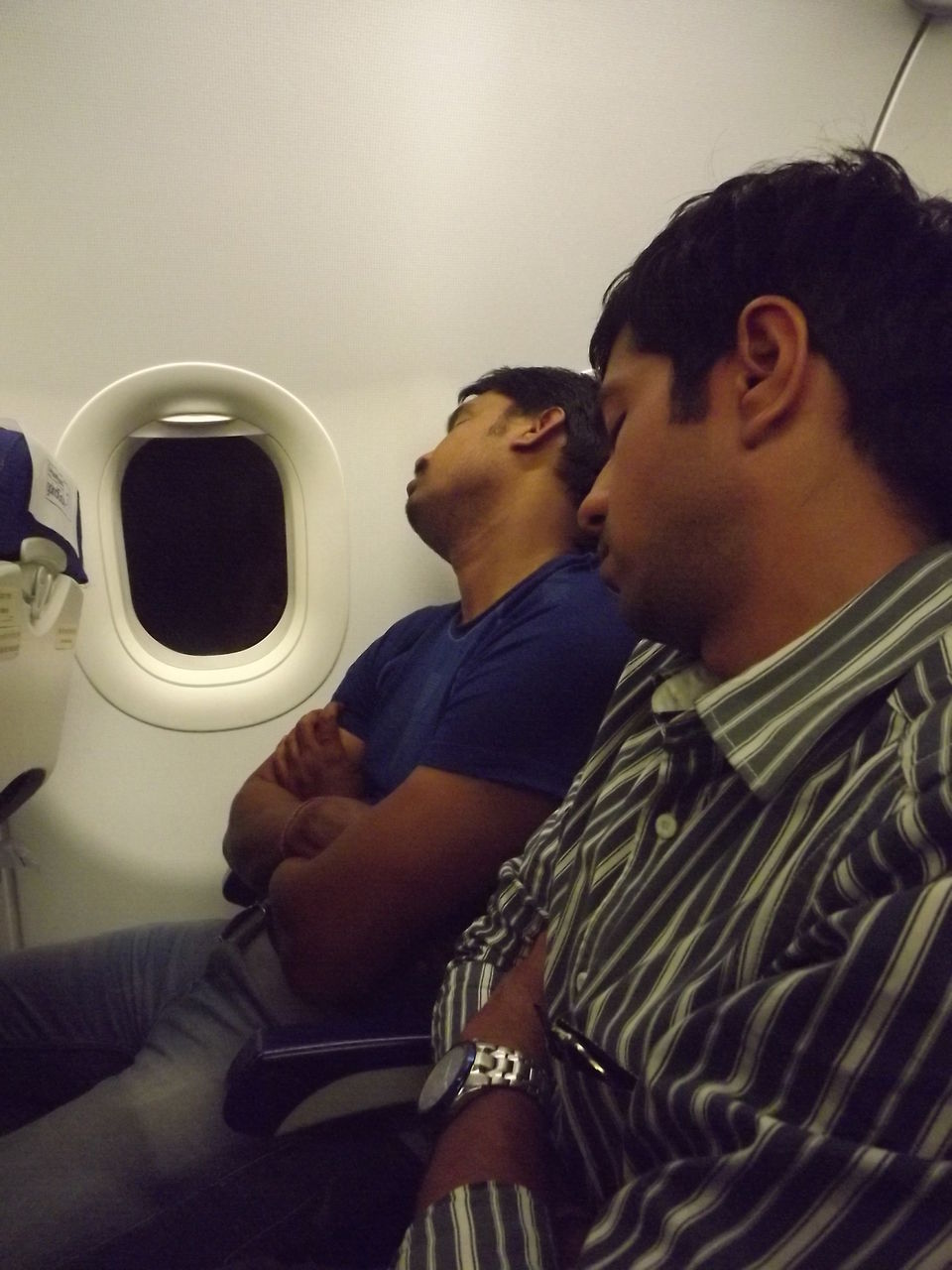 Delhi to Hyderabad by Indigo, my friends catching some sleep after 13 days of pack, ride, unpack schedule and as tomorrow is office...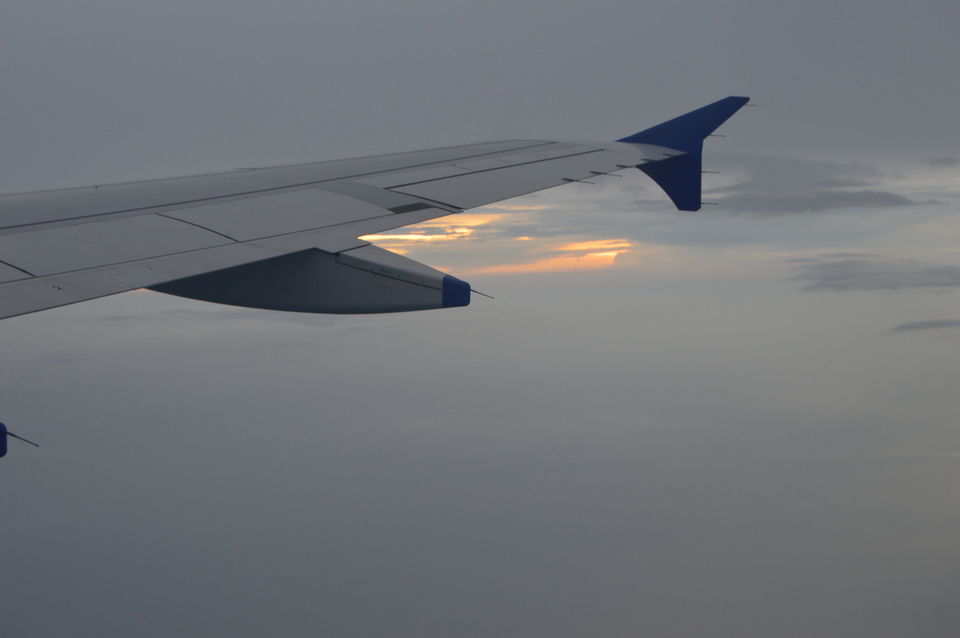 and the Grand Trip Ends, Mission Accomplished, but, We will be Back!!