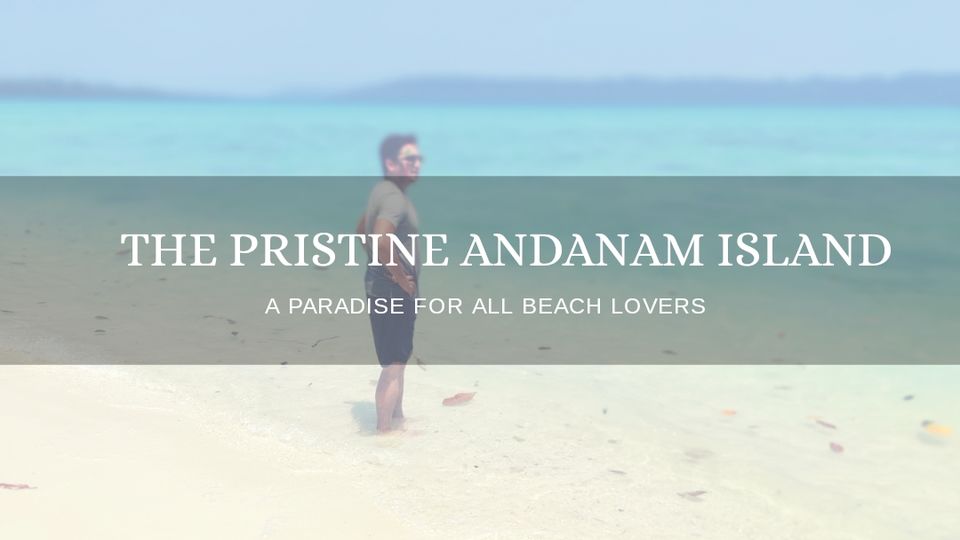 I would like to share a small memory of our recent trip to Amandan & Nicobar Island . Our original plan was to go to Bali but as the fear for Corona Virus was growing we decided to skip that idea and amended our travel plans for Amdaman & Nicobar.
The fascination to see pristine beaches with turquoise water has always been on the charts and fulfilling that curiosity by this trip was a great rejuvenating experience. We decided early march as the temperature seemed to be conducive and we wanted to avoid the huge season crowd. Base on recommendation, we decided to include Port Blair, Havelock Island and Neil Island in the itinerary. However, It was still a uphill task to make a traveling decision amidst the global COVID crisis as all our colleagues and family members were not if favor for this trip. Although, amidst the growing concerns we had done our thorough preparation taking all necessary precaution . We were extremely careful while at the airport as that was one of the key area for contraction of virus. We started our journey late night on 7th March from Mumbai and reached Port Blair at around 9 am next morning. As there are no direct flights from Mumbai we had to take a connecting flight from Chennai.
The bird's eye view of the island while landing will gear u up and refresh you from your tiring layover. Port Blair has a small airport but it took some time for us to get out as the screening procedures for COVID 19 was on for all foreign arrivals and passengers with traveling history.
Travel Tips:
- As the airport is at Port Blair, try making the first and the last day there as it will save time.
- If you are a traveling couple it is advised to do prior planning and booking for your trip including hotel, cab, ferry and accommodation . This will avoid last minute hassle and reduce stress. Travel triangle team was very helpful and supportive.

- As its a beach destination please ensure to carry essentials like sun's cream, cap and shades etc to avoid tanning.

7 travel safety tips for Andaman travel
Day 1:
Stay : Hotel Sentinel , Port Blair.
The hotel was quite comfortable with spacious rooms and essential amenities.
Dining: Hotel Sentinel(breakfast), The Waves, Corbyn's Cove Beach(lunch) & Sea Shells, Port Blair(Dinner)
In terms of dining experience Andaman is a bit expensive owing to the isolated location. Since we checked in at 10 am we had an appetizing breakfast at the hotel itself. The food was decent and simple. We visited Corbyn's Cove Beach during the day and had our lunch at the waves restaurant managed by the department of tourism situated on the beach itself. I would like to mention that you would not find a lot of eating outlets besides small stalls at the beach. Most of the dishes at the restaurant were also unavailable. Having a great location and view the restaurant management could have done much more with the product and service. For our dinner we went to sea shells hotel as we have heard a lot on the review forums. We went to the salt and pepper restaurant which is located at ground floor of Sea Shell hotel . They offer Indian cuisine buffet as well as a la carte. Seating and interiors are very soothing and aesthetic. Food taste, quality and presentation were simply brilliant. The service experience was also second to none as the staff was very caring and efficient.
Sight Seeing: Corbyn's Cove Beach & Cellular Jail
We started for Corbyn's Cove Beach at around 2:45 pm as we were informed that the we have to reach cellular jail before 5 pm or else we will miss the entry for our light & sound show. Corbyn Cove Beach is one of the most famous beaches in Port Blair, due to astounding scenery and mystical surroundings. It is just 8 kilometers from the city of Port Blair. This short distance has picturesque views and the journey is delightful. We had our lunch and a short walk on the pristine beach with cool sea-breeze before making our way back to the city. Our next destination was Cellular Jail. The distance between Corbyn Cove Beach to Cellular Jail is just 13 kilometers. The Cellular Jail is also called Kala Pani, which was a famous jail at the time of British rule in India. Even before the construction of the Jail, the island was a prison of India's First War of Independence of 1857. This jail reflects one of the murkiest chapters of in the colonial rule's history. My prior interest in history ensured that I dont miss on this opportunity. The cynosure of the event was the mesmerizing and thought provoking light and sound show which narrates the entire tail of the history of this marvelous architecture. There are 2 shows daily and the tickets for this are also available online.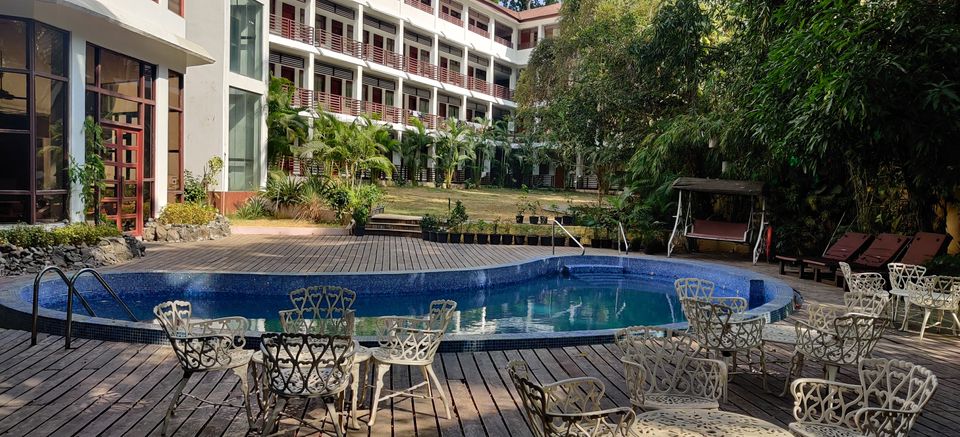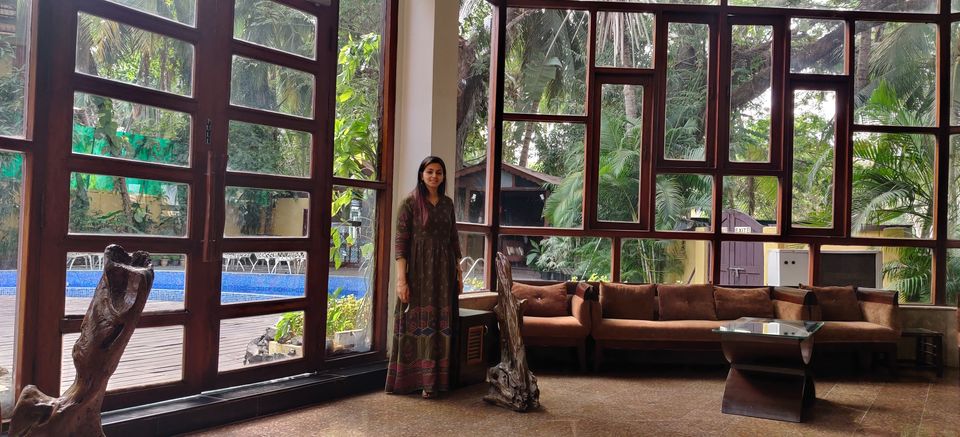 - The local people are very helpful in nature. Tourism being the primary source of income they have a great respect for all the tourist.
- Try taking the 2nd slot for light and sound show for better feel and experience.
- In case you are dining at Sea Shell for dinner, pre book an auto/cab if possible. Commuting is difficult at night and the auto/cab arranged by hotel is quite expensive.
- Port Blair Travel Guide will help you with all local information
Day 2 - 4:
Stay : Symphony Palm Beach Resort, Havelock Island
You will find plethora of hotel options while booking at the Havelock Island. However, we preferred Symphony Palms because of the good reviews and we were able to crack a fair deal to get an ocean view room for 3 days of our stay. While booking accommodation, I will always suggest to take a higher category room at a good hotel rather than taking a base category at a luxurious hotel. I would also recommend that if you want to enjoy all activities at the island along with having a leisure time for yourself you should keep your havelock stay minimum for 3 days.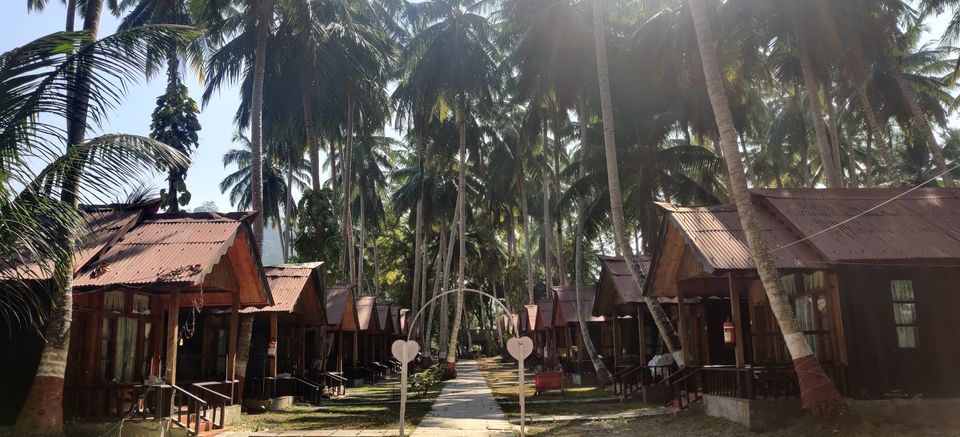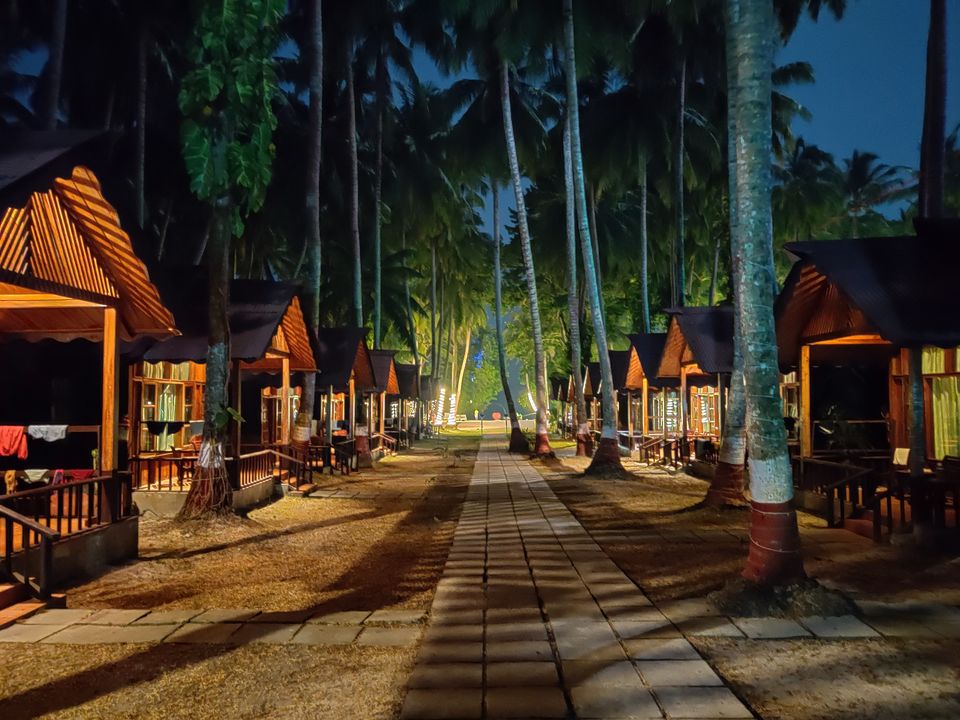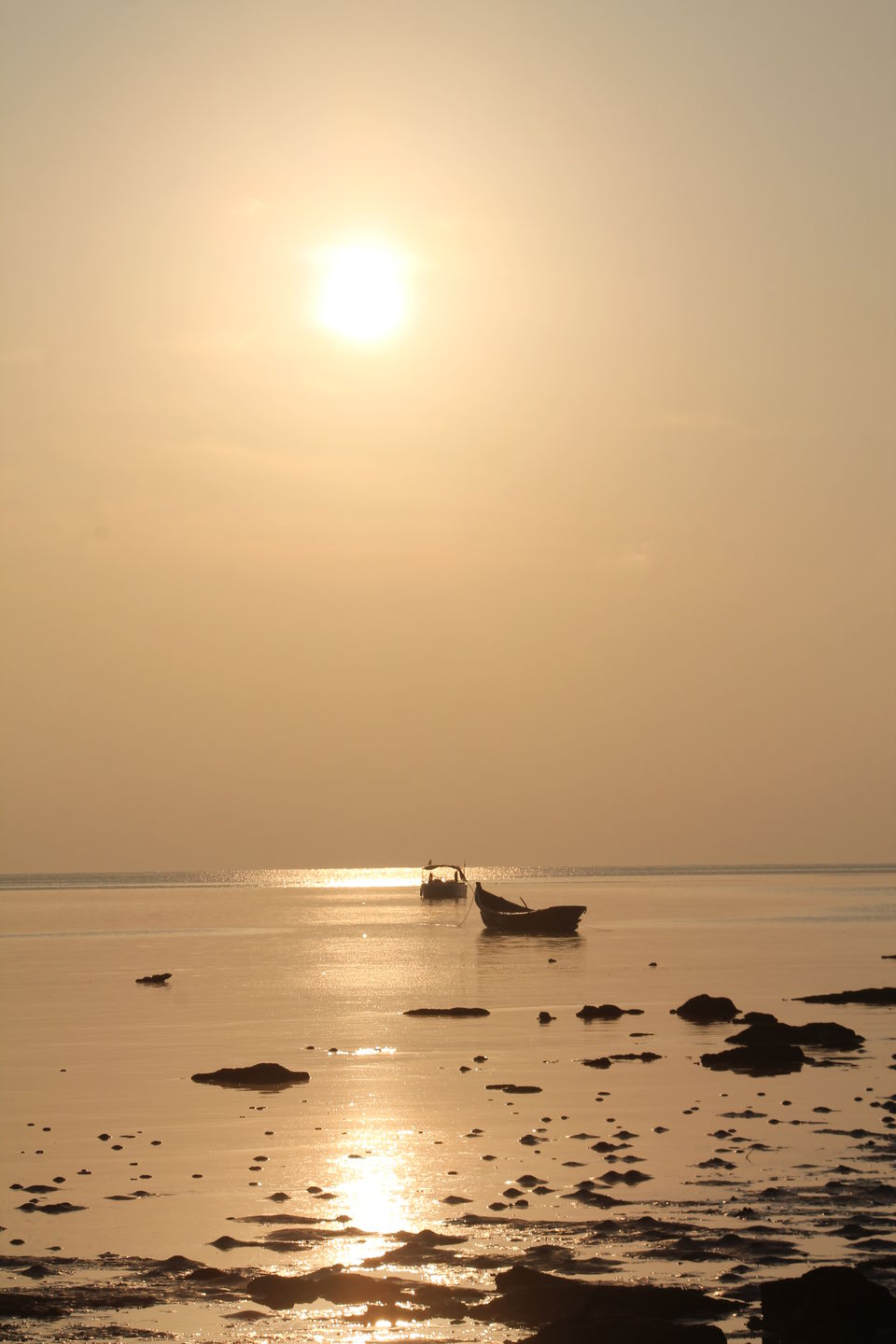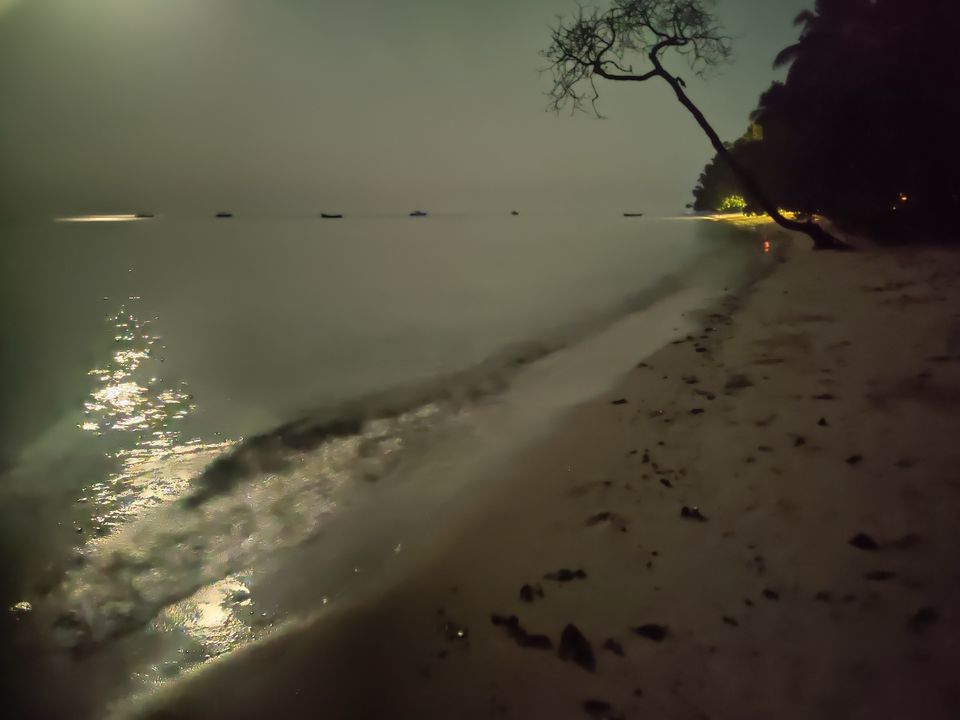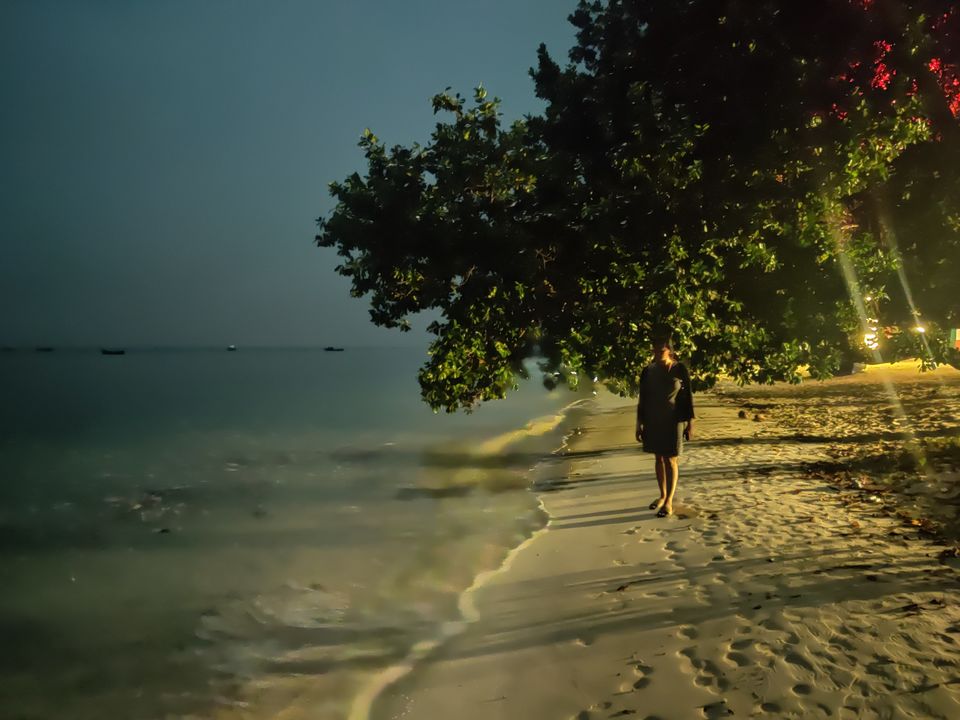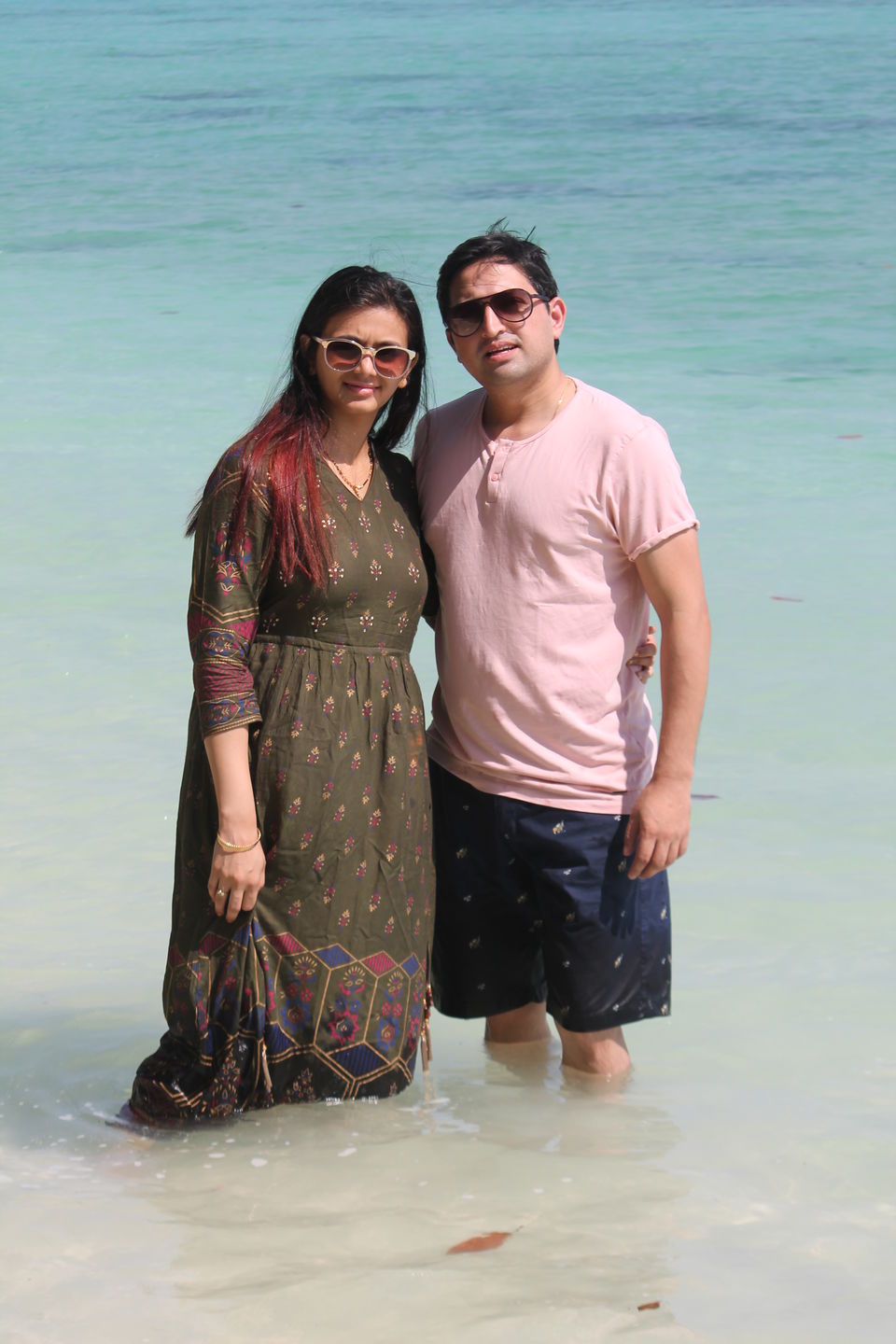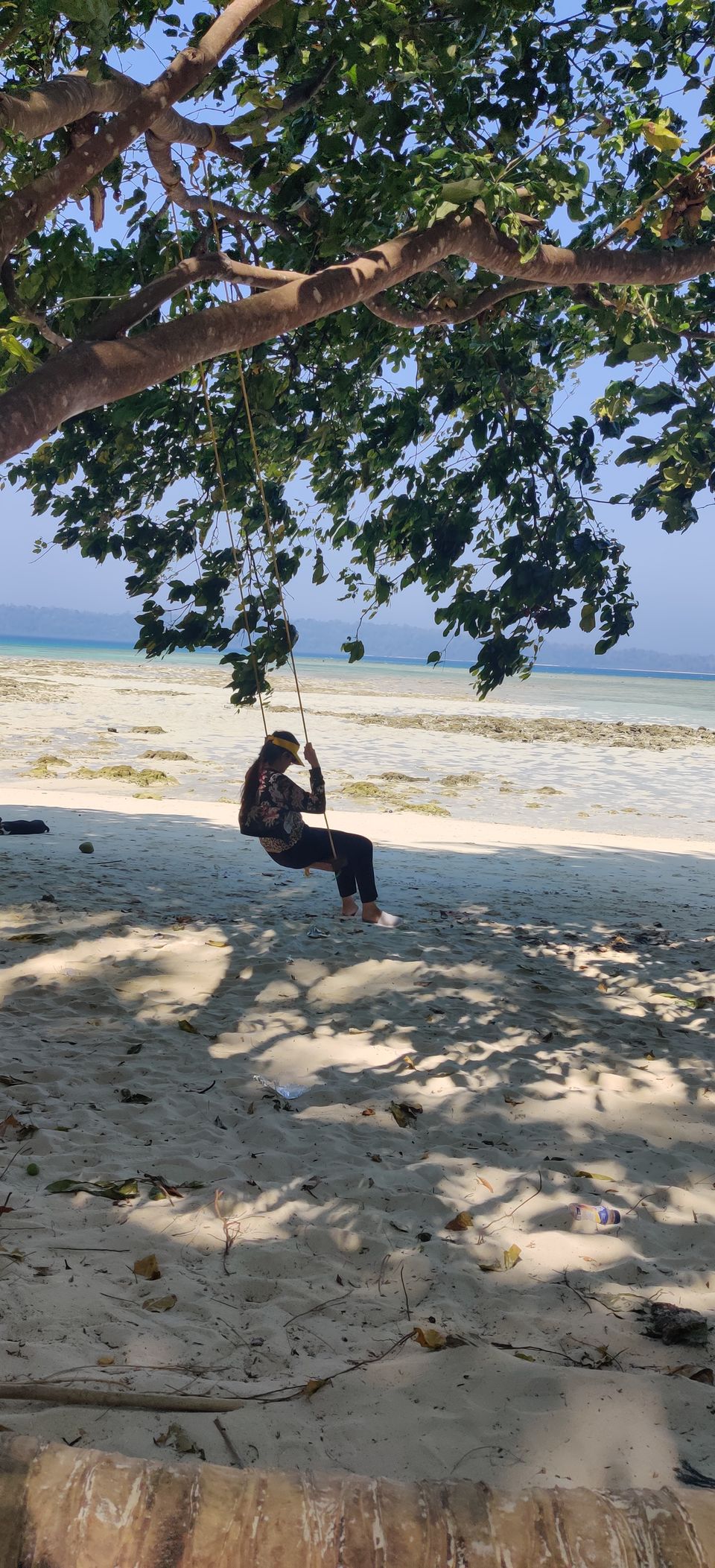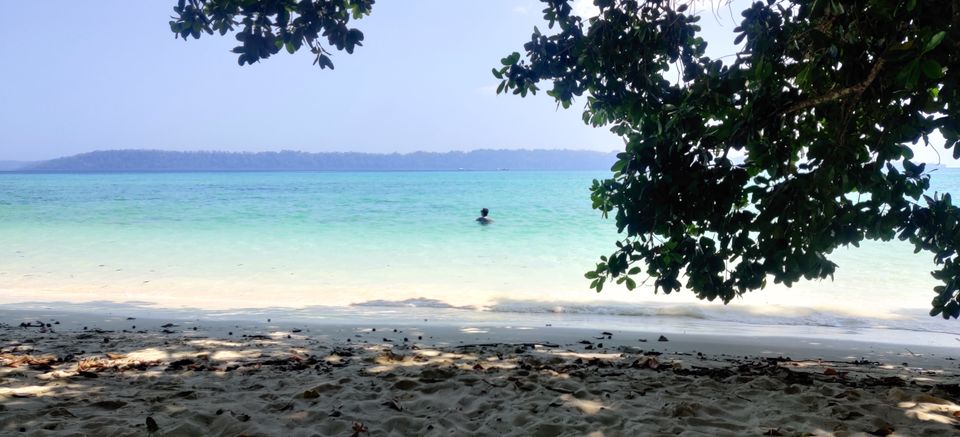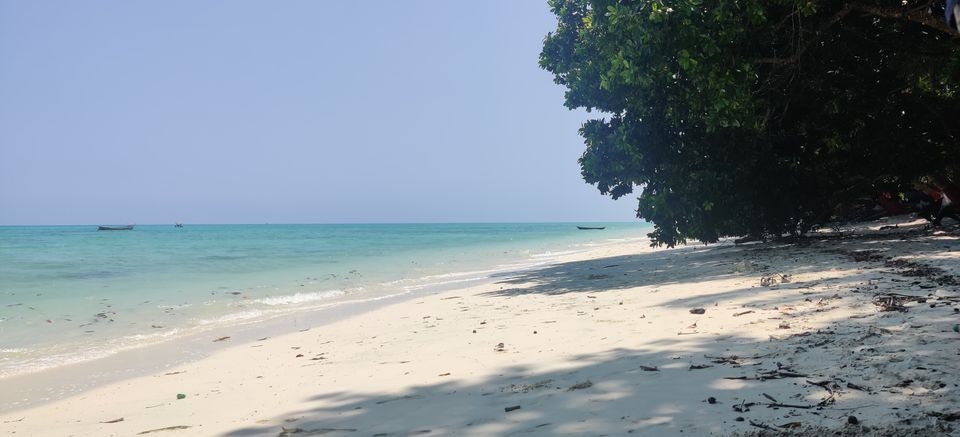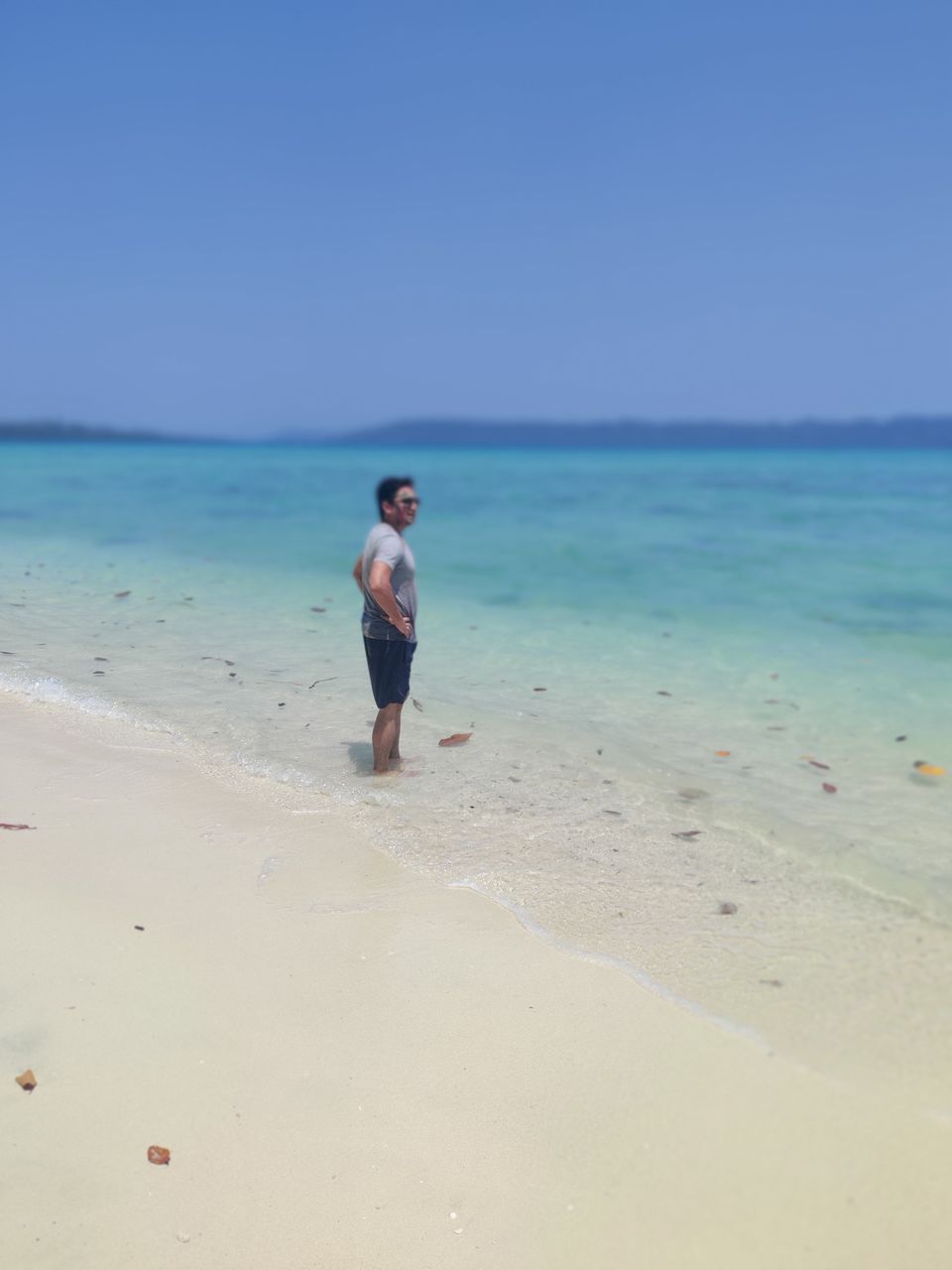 Dining Experience:
As our stay at Havelock was for 3 nights we had made up our mind that we will try to explore as much dining options as possible. Being a small island most of the restaurant are famous for its sea food.
Hotel Symphony Palms - All Breakfast and a lunch
The breakfast spread at the hotel was decent with plenty options available on Indian and continental items. The Hotel has a restaurant called charcoal grill where we had our lunch on the first day. The restaurant serves Indian, Italian, Chinese, International, Barbecue and Asian Cuisine. Considering the taxes the menu seemed to be bit overpriced.
Something Different - A beach side Cafe Dinner
While on your way to Havelock from Port Blair you will see a lot of recommendation and advertisement regarding this restaurant. I was really impressed with the aggressive marketing strategy of the restaurant management as you can see a lot of their representatives across all tourist attraction promoting the restaurant and taking reservation. It is also rated as the best restaurant in Havelock Island by Trip Advisor. The best part is that they have drop and pickup facility available no matter where you are staying in the island. The restaurant also arranges for an incredible candle light dinner experience by the sea side (INR 4000 for couple) which is mostly sold out if not booked prior. We had a great time as the food, mocktails and ambience was fabulous. Also the service staff was excellent and hospitable. The restaurant manager left no stone un turned in making our experience memorable. We were surprised to receive photo frame with our photo by the team to keep as a memory.
Cafe Salt Water : Lunch
This restaurant is located within Outback Resorts which was just 5 minutes walking from our hotel. We wanted to try something in continental and was suggested this restaurant. I would say that the appetizer was decent but the Pizza is a must try. The restaurant offers a beautiful ambience with an Eco friendly theme.
Anju Coco - Dinner
Anju Coco is also highly recommended and iconic restaurant in havelock Island. In terms of taste I would say this was by far one of the best experience we had. The menu was quite extensive and the place was jam packed. The restaurant serves Indian, Continental and Asian cuisine. The sea food dishes here are a must try. The informal seating arrangement and the vibrant and buzzing atmosphere was also very fascinating.
Full Moon Cafe - Dinner
The laid back ambience along with the rustic interiors will remind you of a hippi style cafe in Manali. The restaurant serves all kind of cuisine but the continental food here was delectable. This is a pet friendly restaurant also offering a beautiful seaside setting. It was great to interact with the head chef whose culinary experience has earned this restaurant so many stunning reviews.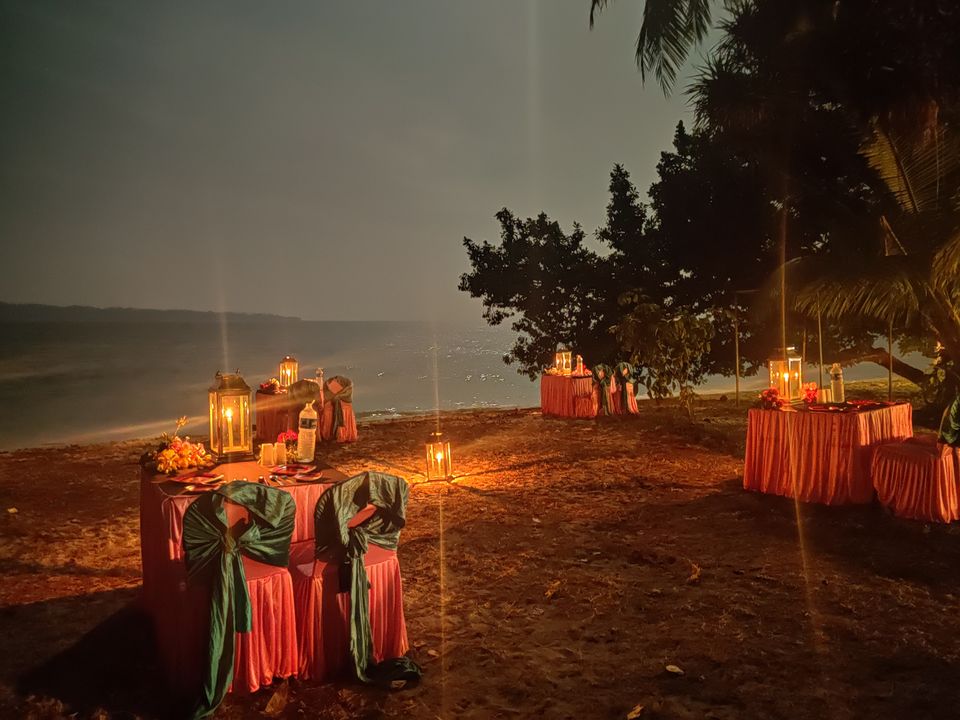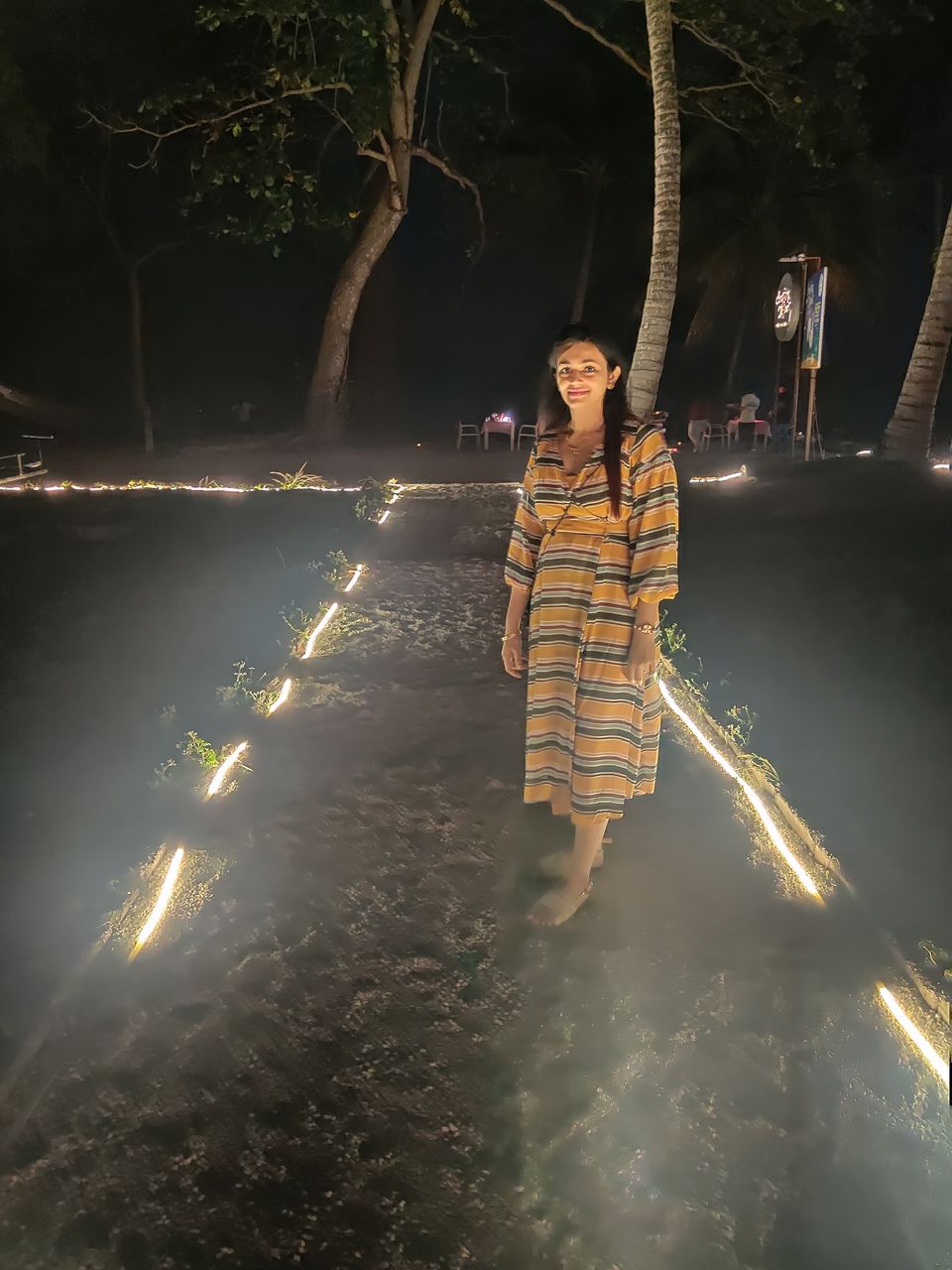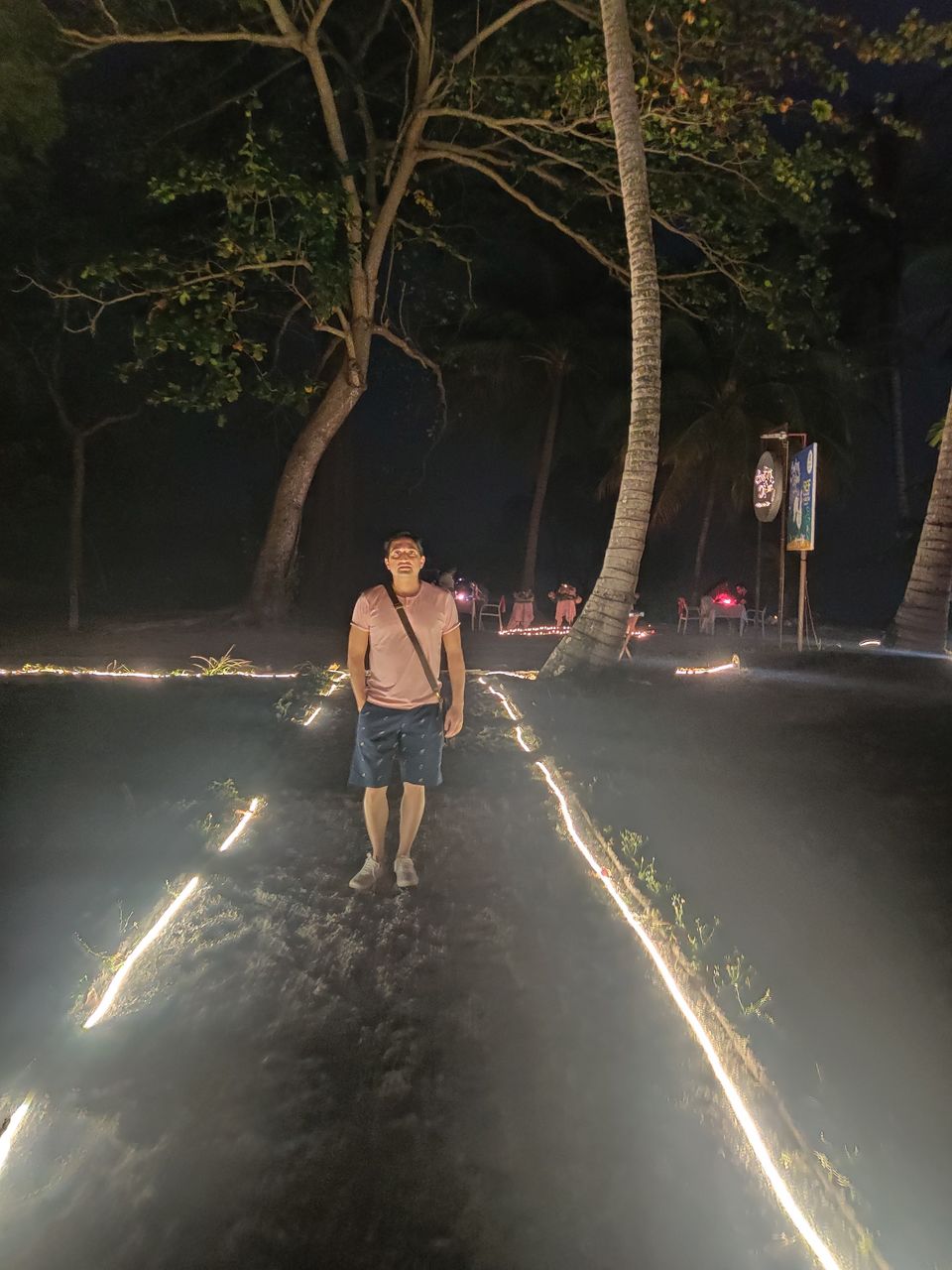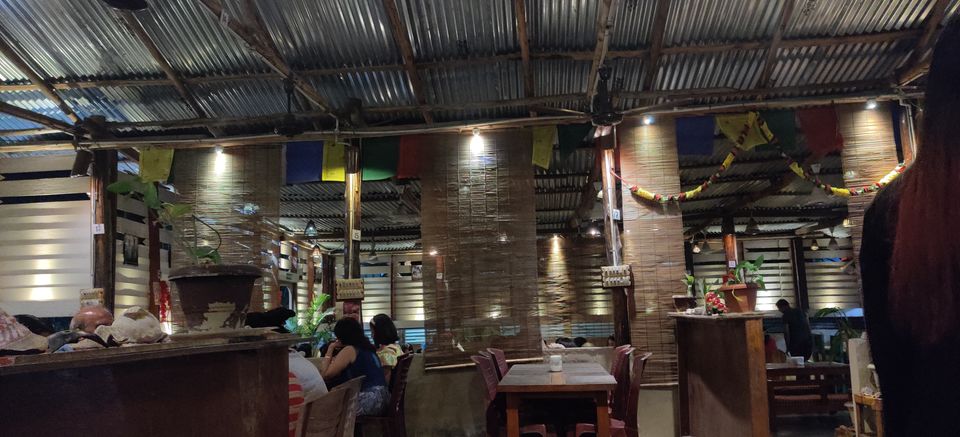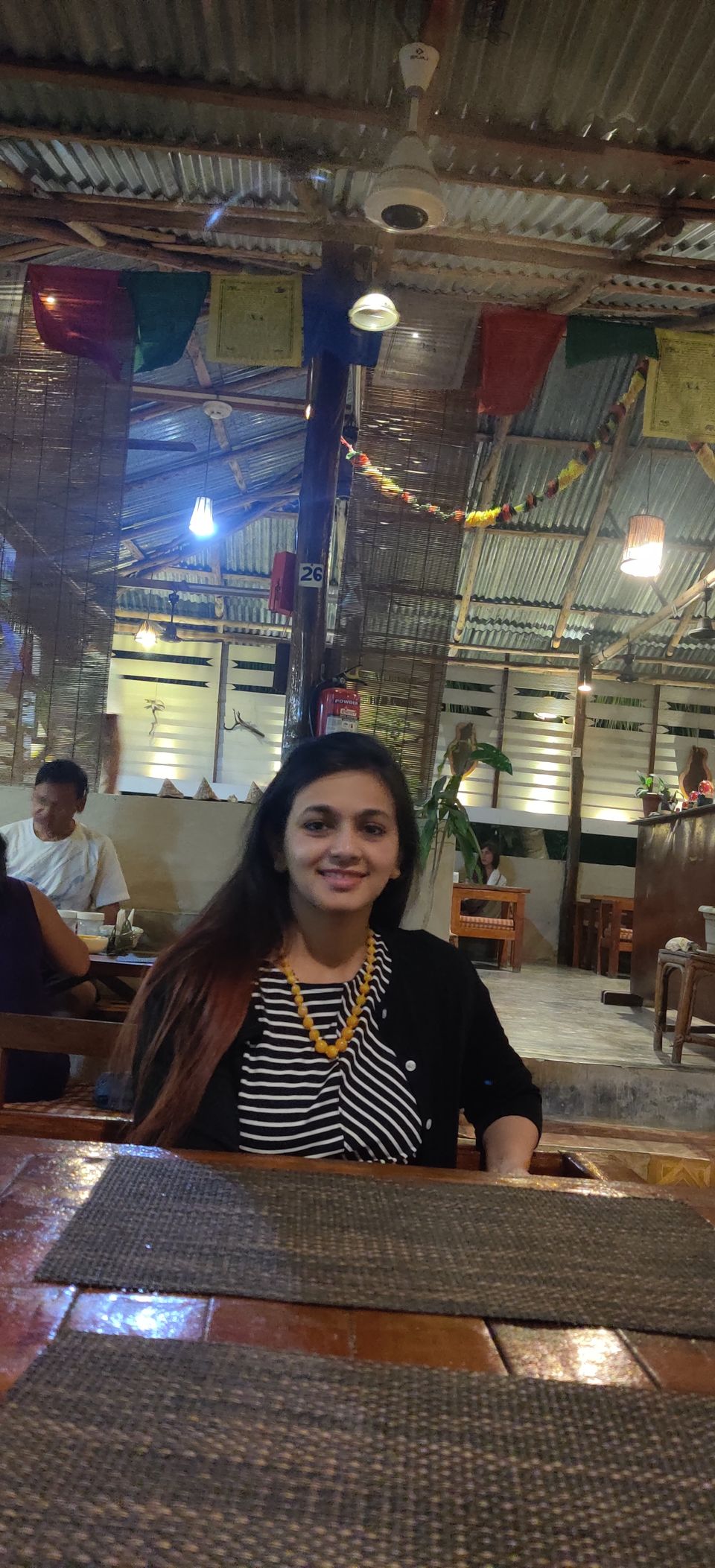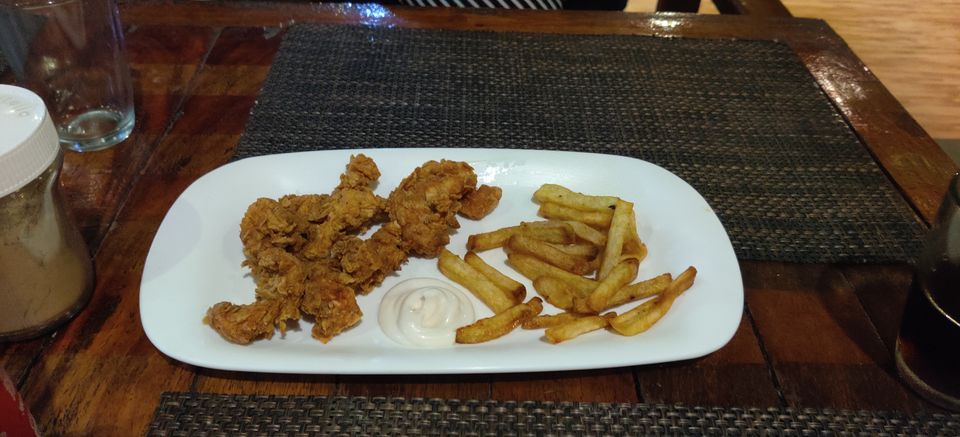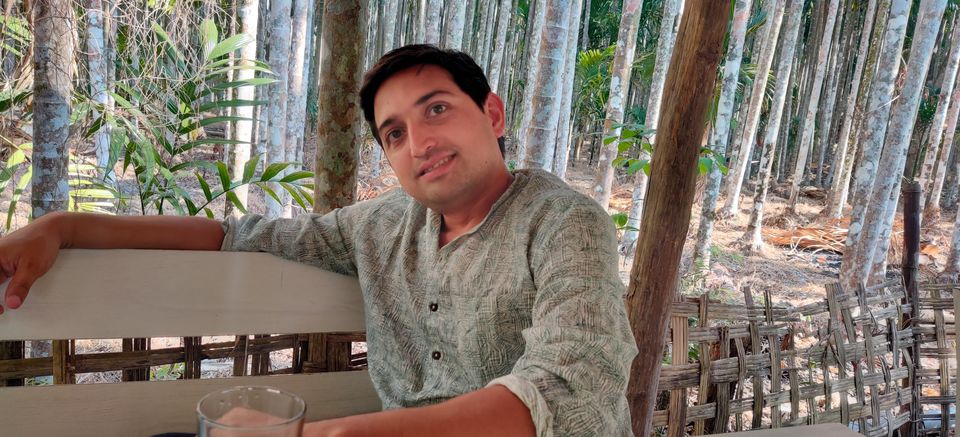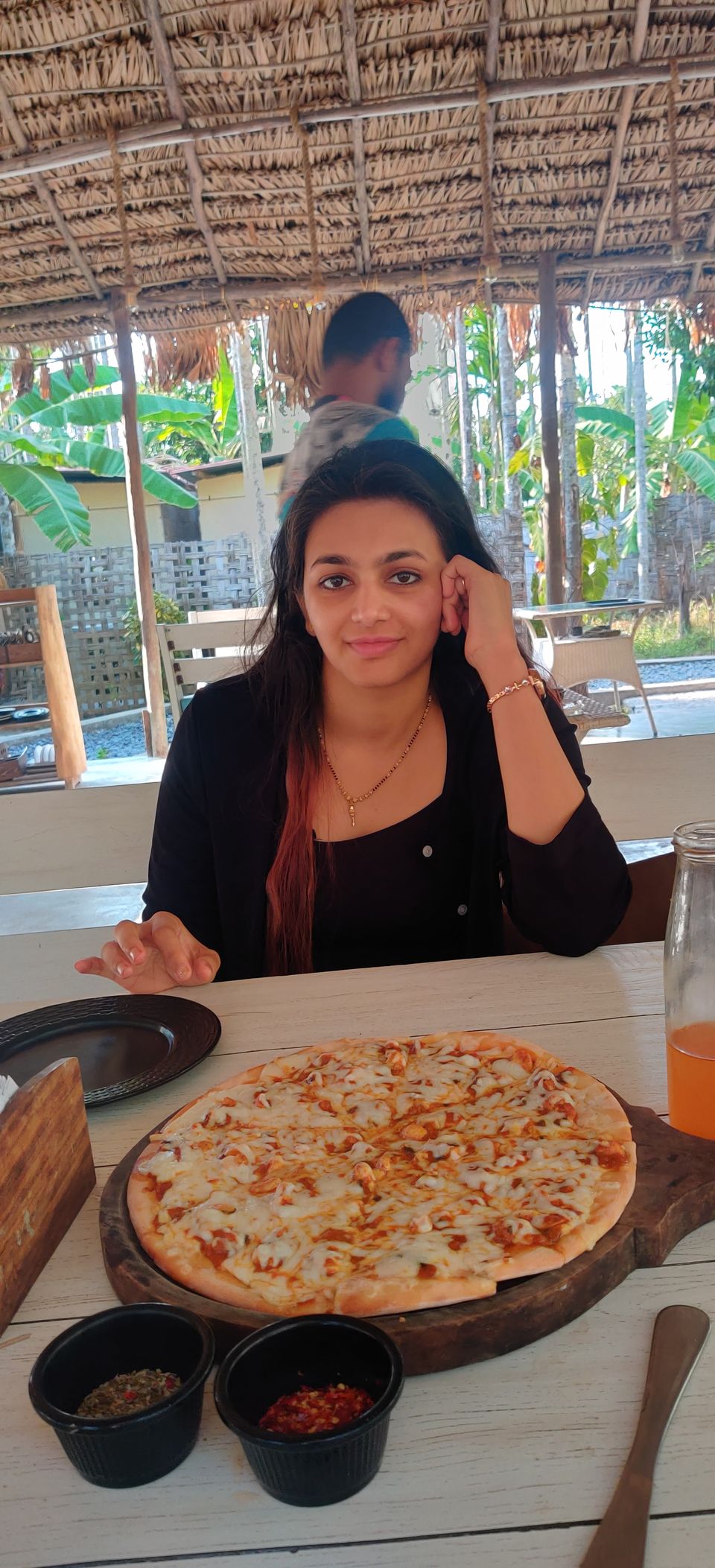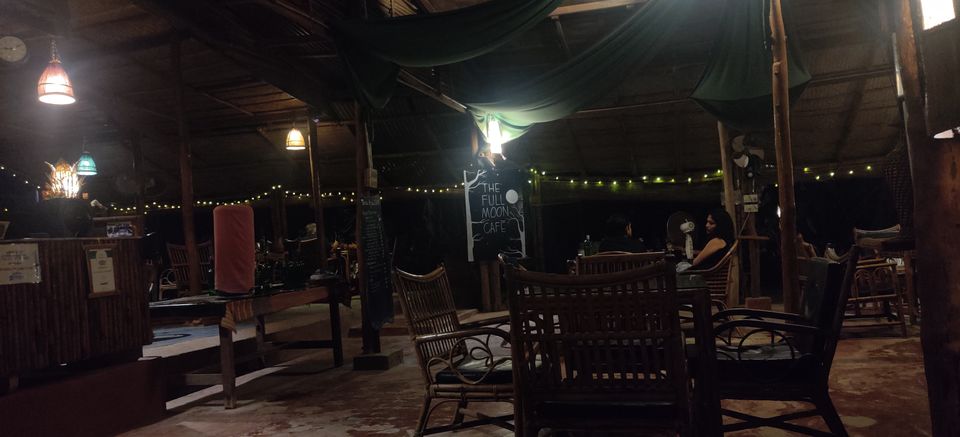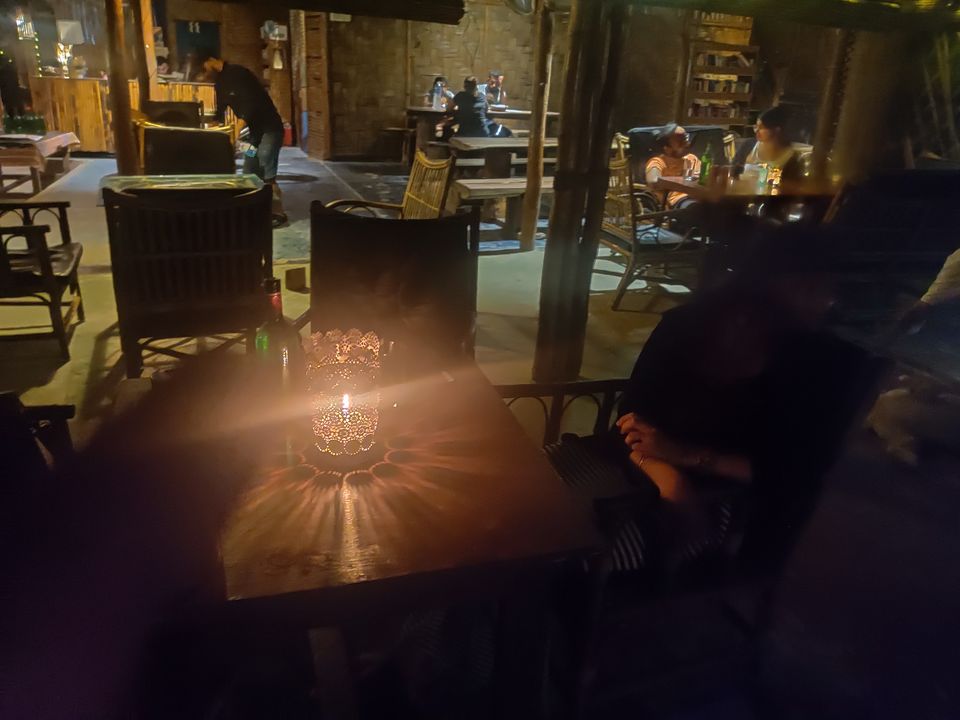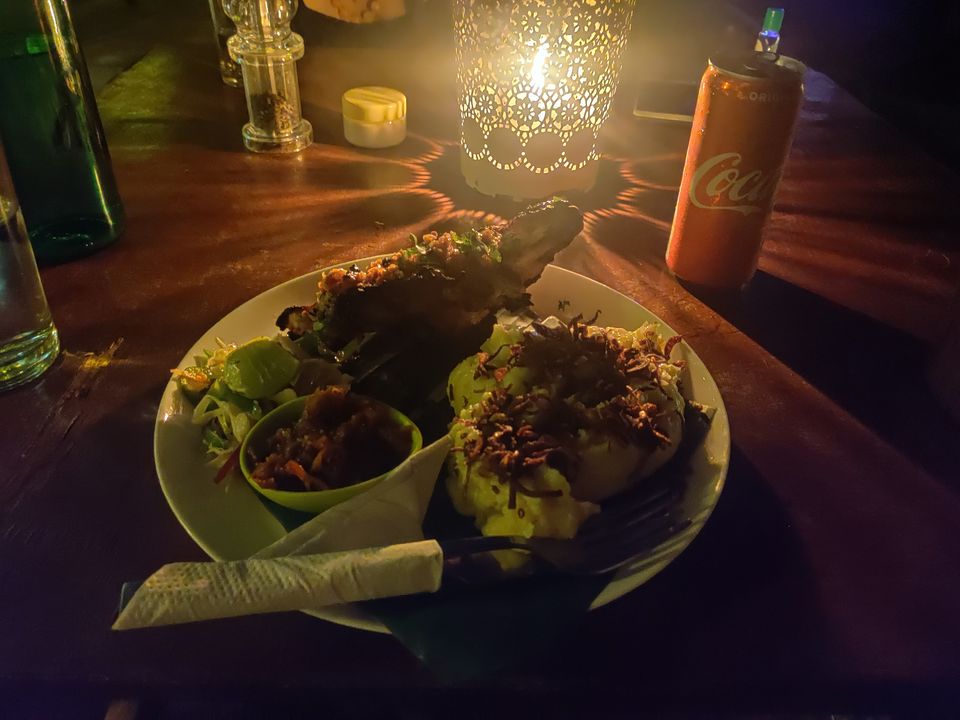 Sight Seeing & Resort Experience:
We had booked Macruzz Ferry for our journey from Port Blair to Havelock. We carried our packed breakfast and boarded the ferry by 7.30 am. Starting early gives us ample time to rest and also explore sight seeing options the same day. However, getting a room immediately on arrival at the hotel can be a challenge. Post Check in we rested for a while and the set out for Radhe Nagar Beach for sightseeing.
Radhanagar Beach is amongst the most beautiful beaches in Asia. This is one of the many highlights, not only in Havelock but also in the Andaman Islands. The beach is ideal for relaxation and swimming. The turquoise blue sea and white sand beaches of Radhanagar beach is an exclusive experience where you can relax and have a leisurely time with your partner or family. The beach may look crowded initially but you can walk along the pristine stretch of sand and find your own quite space to relax and watch the sunset. We choose a perfect location under the palm trees and experienced one the most captivating and spellbinding sunsets of our trip.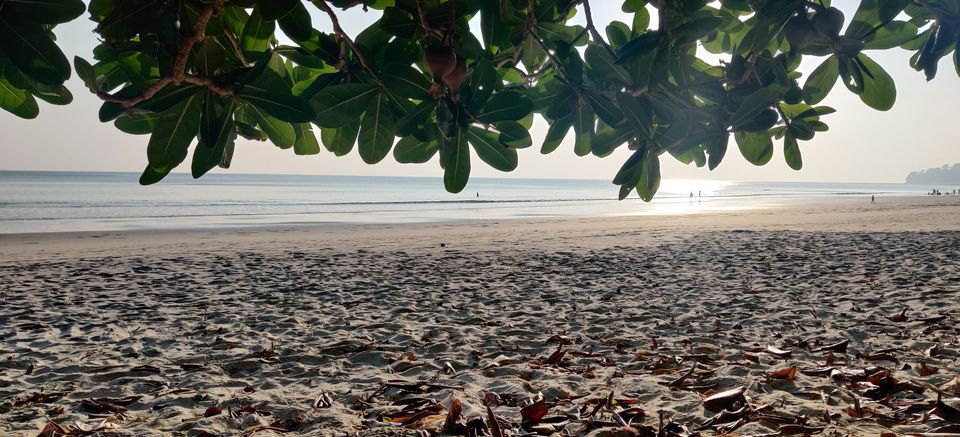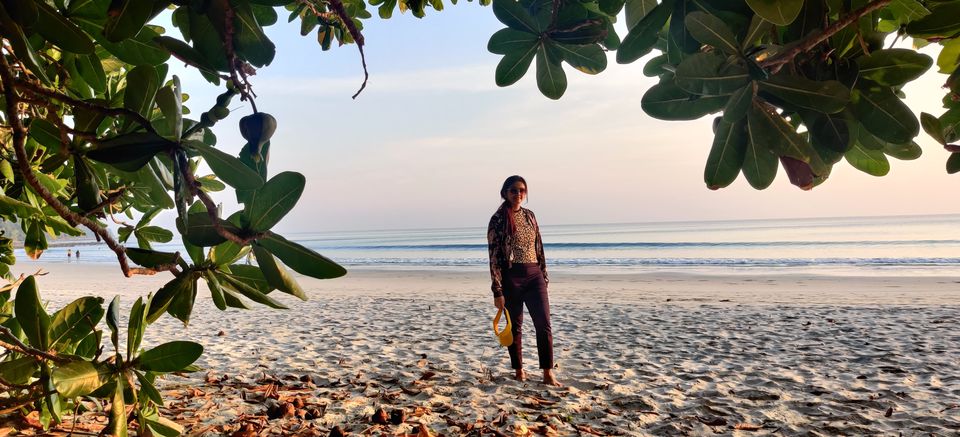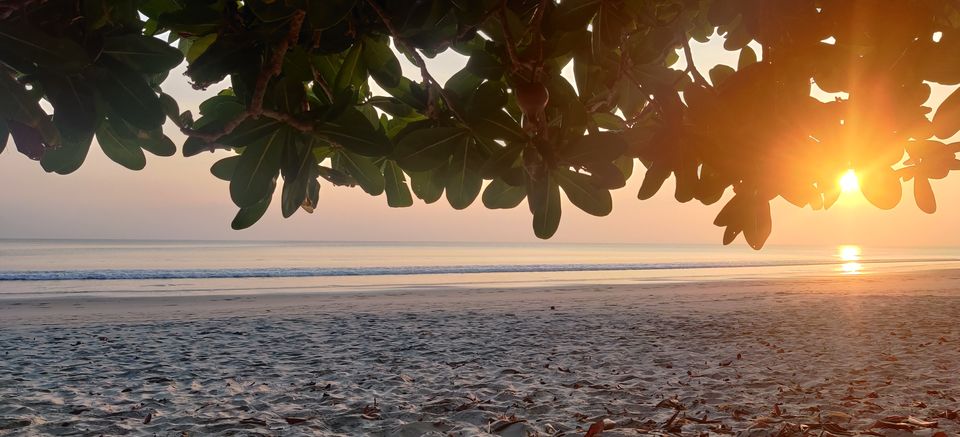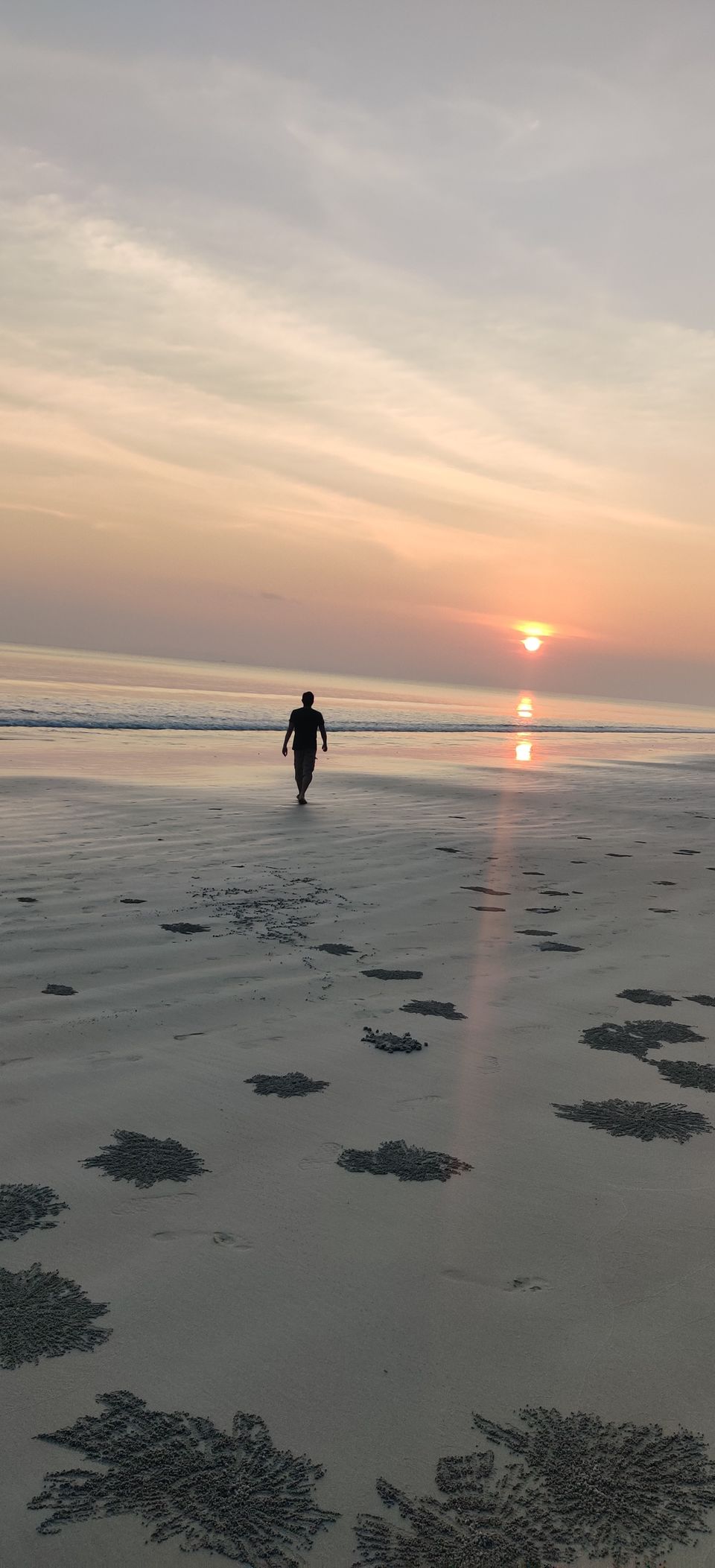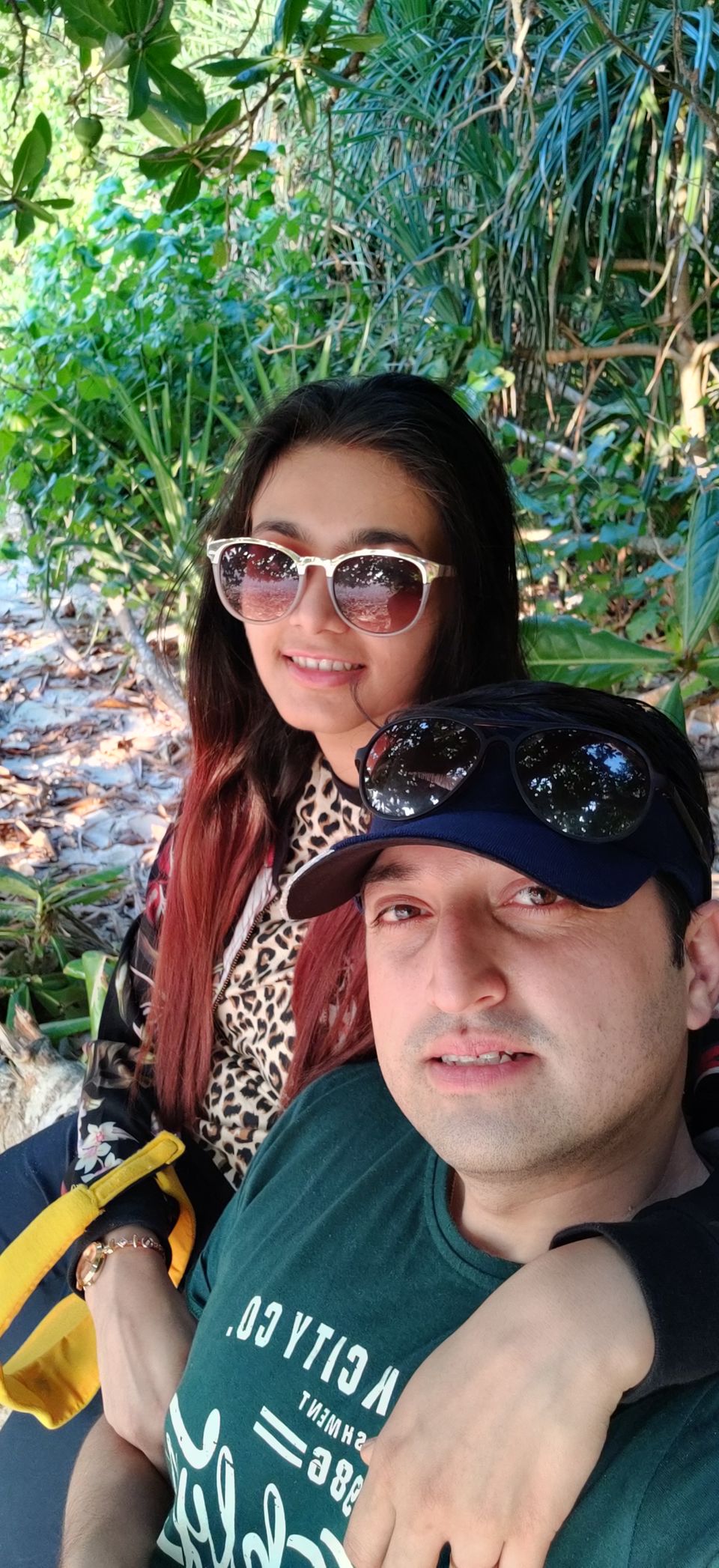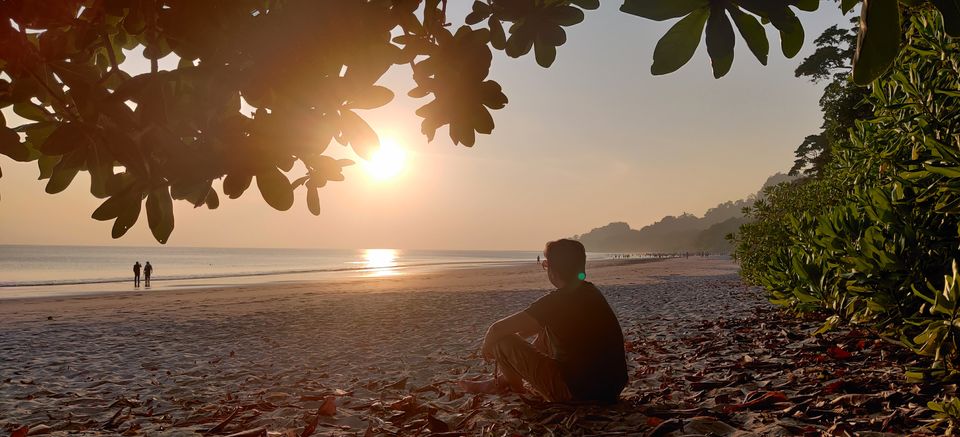 Holi at the Symphony Resort
Our resort had a beautiful private white sand beach offering a scenic sunrise view and a perfect place to unwind. Since the 10th was a holi we thought of celebrating it in the resort itself. Public gathering were avoided due to corona scare but we still made the best of our time taking all precautions. The resort did set a small space offering Jalabis with music which really added to the fun. The night walks along the beach will make you capture a few best memories of your Andaman trip. We spent the entire day at leisure with a short trip to the local market which was around 2 km from our resort.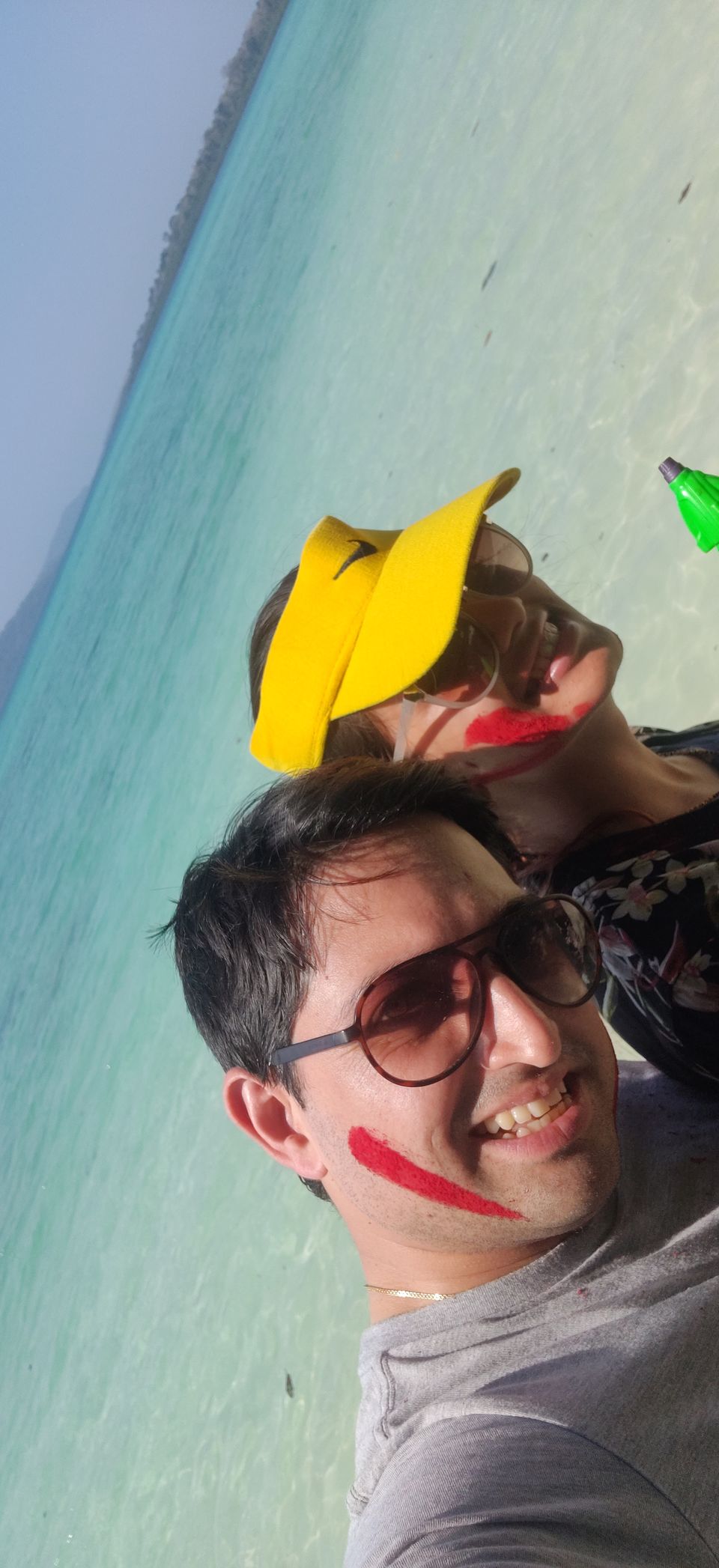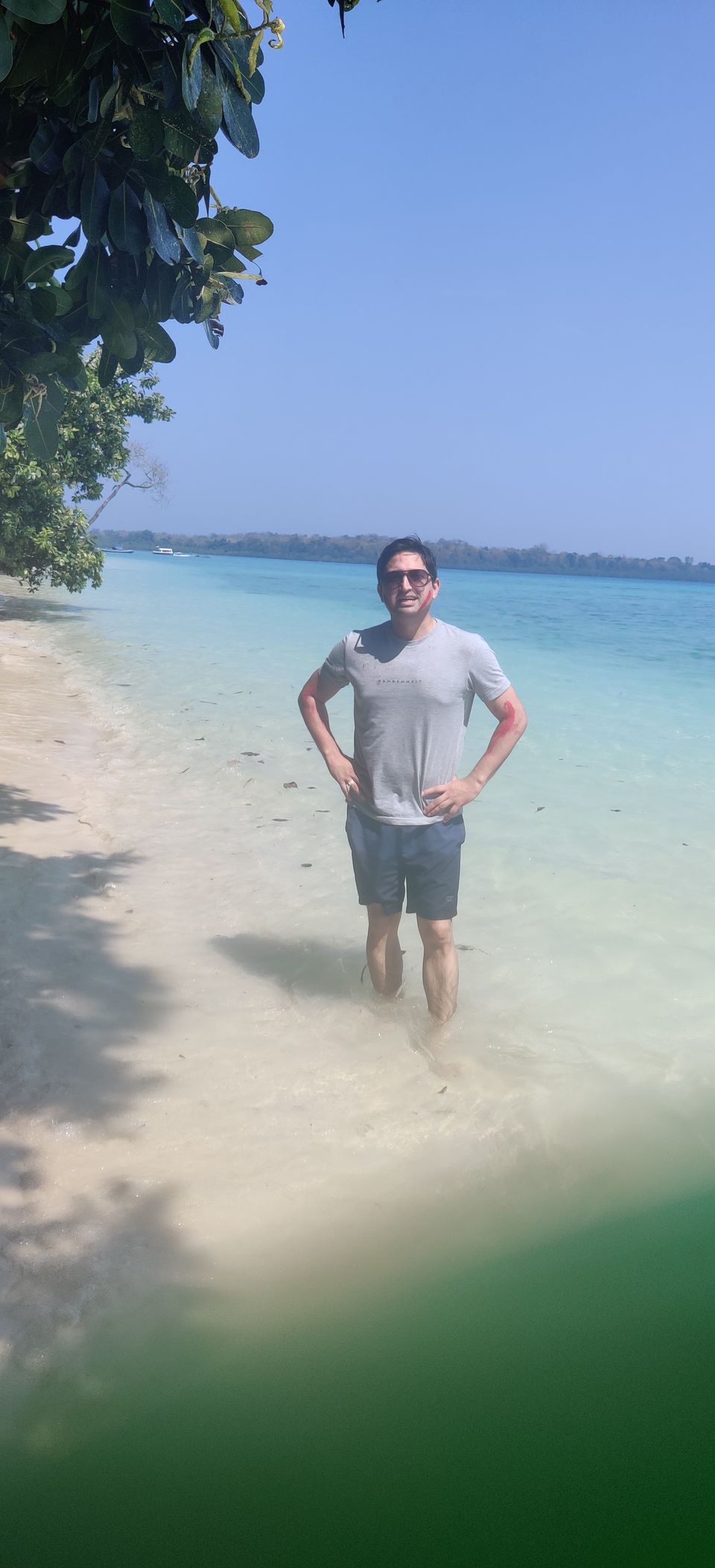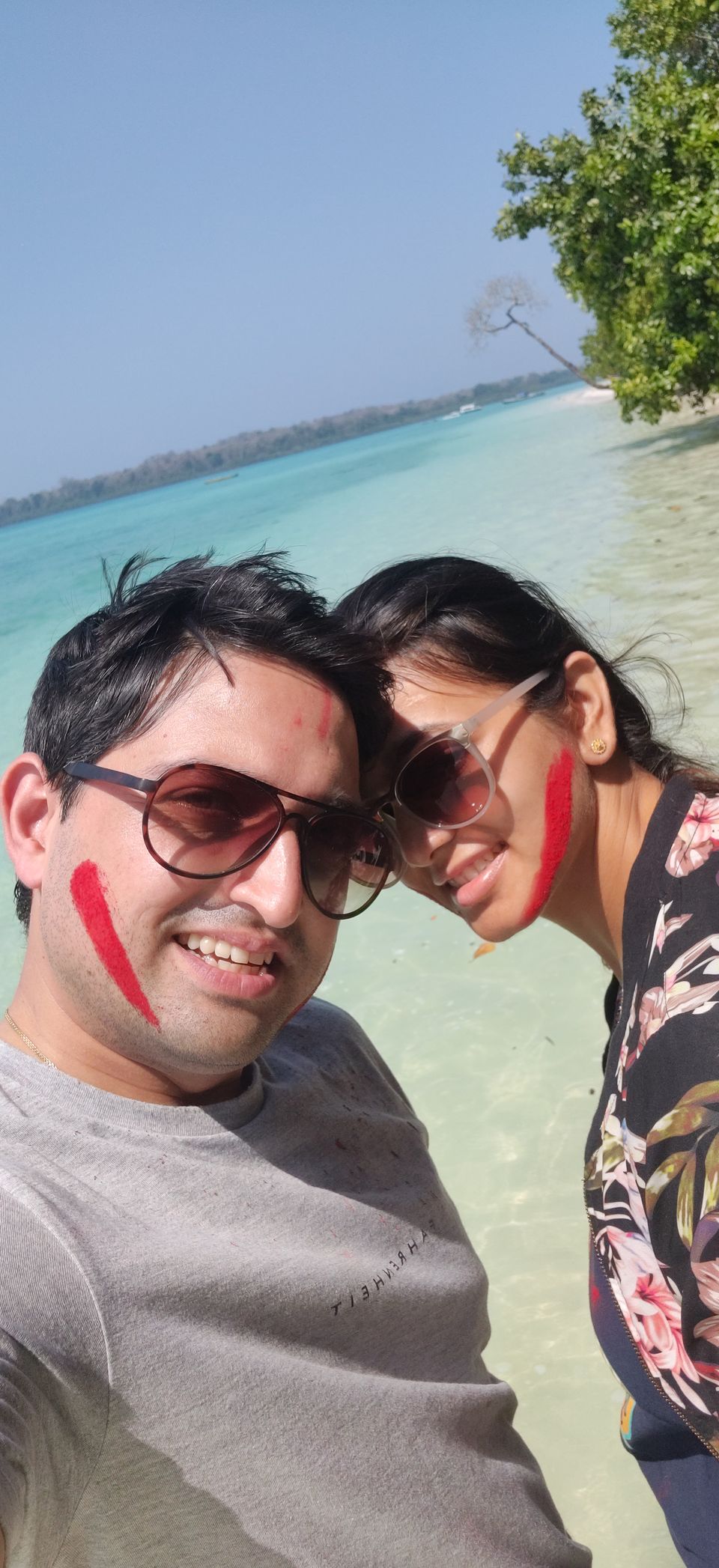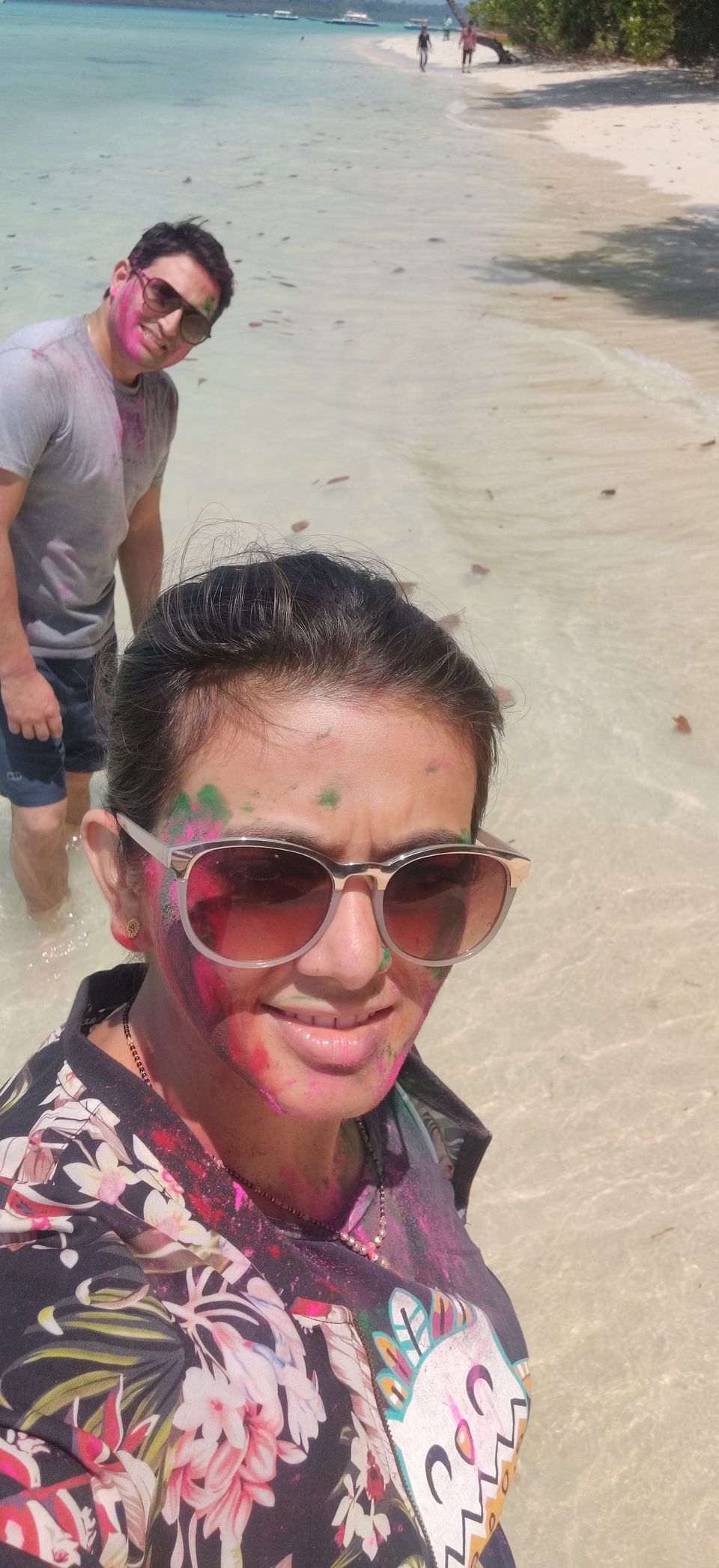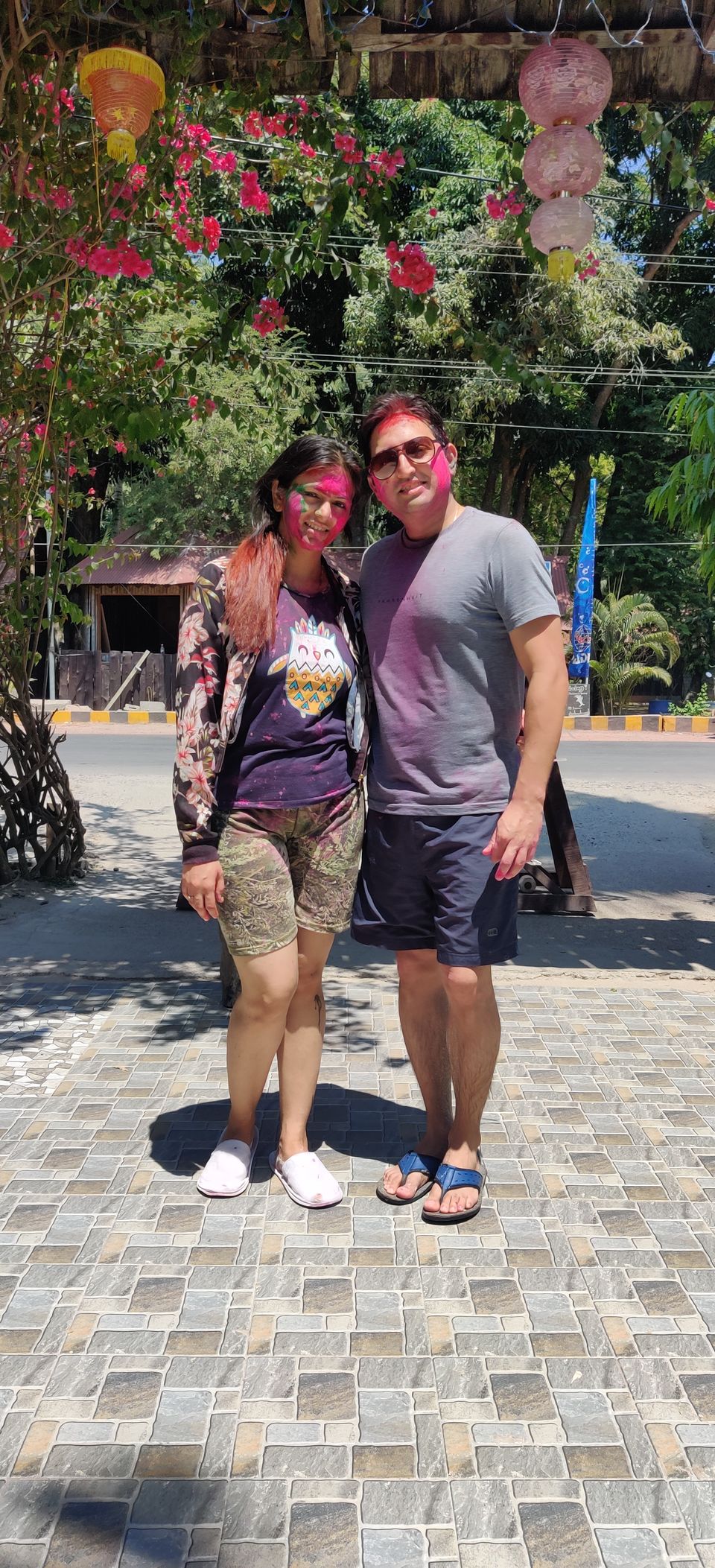 Scuba Diving Experience & Elephant Beach
Scuba diving experience is something you can not afford to miss during the Andaman trip. Nemo reef is very famous for hosting such activities. I had done scuba earlier at Tarkali in Maharashtra but this experience was way better. I would recommend to start as early as possible in the morning to have the best experience. The place gets crowded later and the hence the clarity reduces.
Elephant Beach is another renowned tourist attraction at Havelock island ideal for water sports and for leisure tour.Post our Scuba we had our breakfast at the resort and started for Elephant beach. You have to plan well with all your activities as the beach closes by 3 pm. You can reach the beach from the main jetty which is approximately 20 minutes by boat from the Havelock Island dock. You can book your activities prior to your departure . The process in managing the crowd is quite streamlined. The beach offers activities like jet Ski, galss boat ride, swimming, banana boating, scuba diving, sea walking, snorkeling & boating. If you do not like crowded places you may not found this place very fascinating.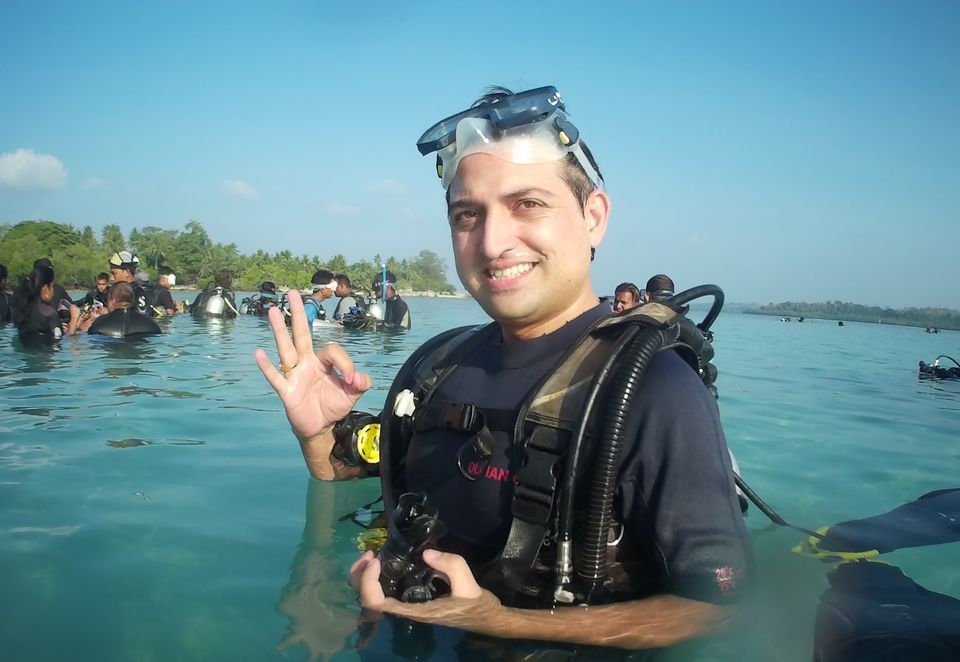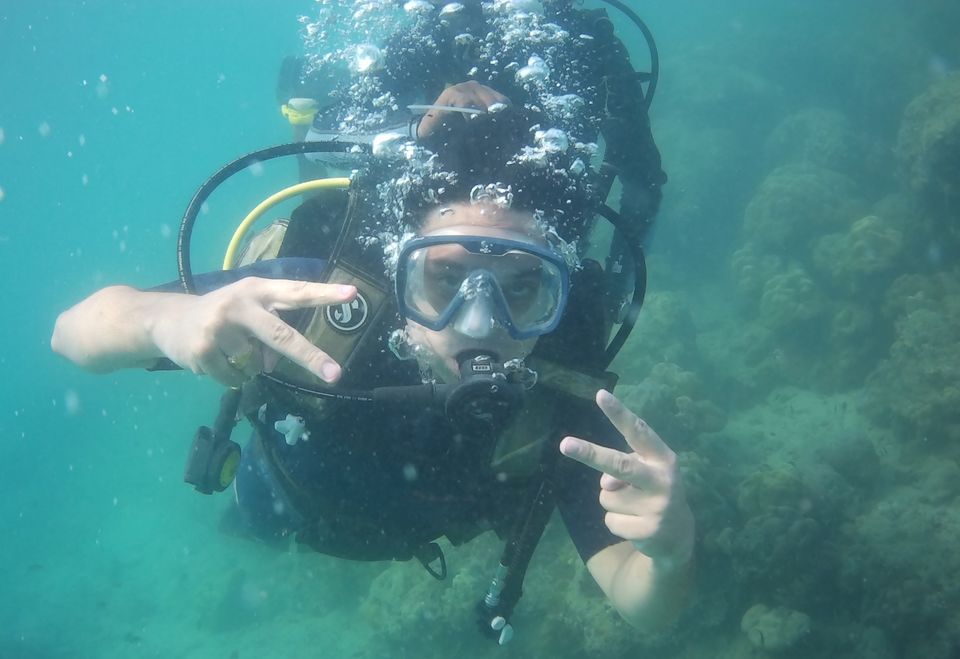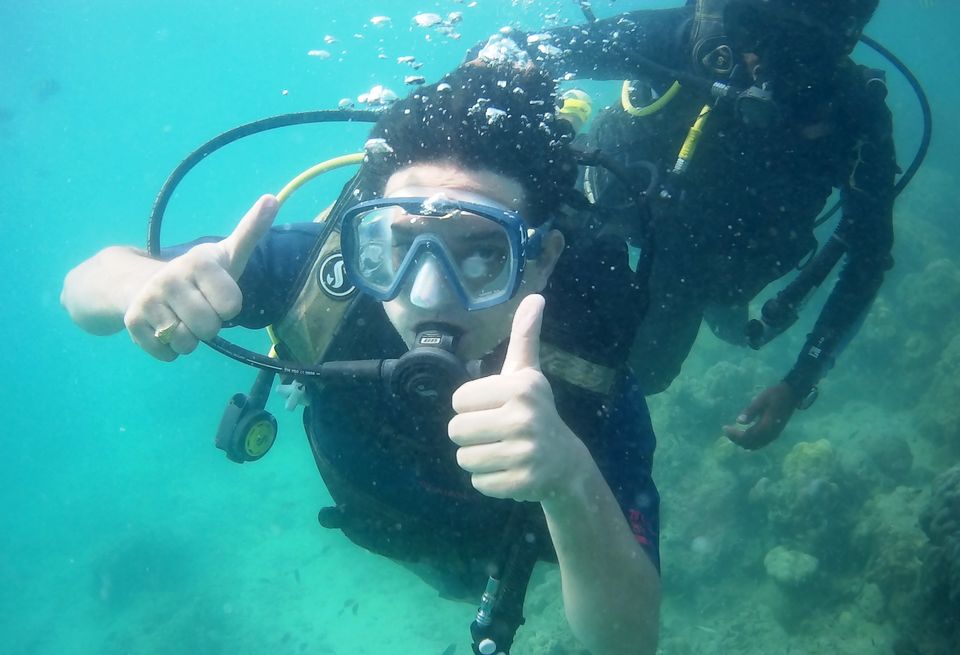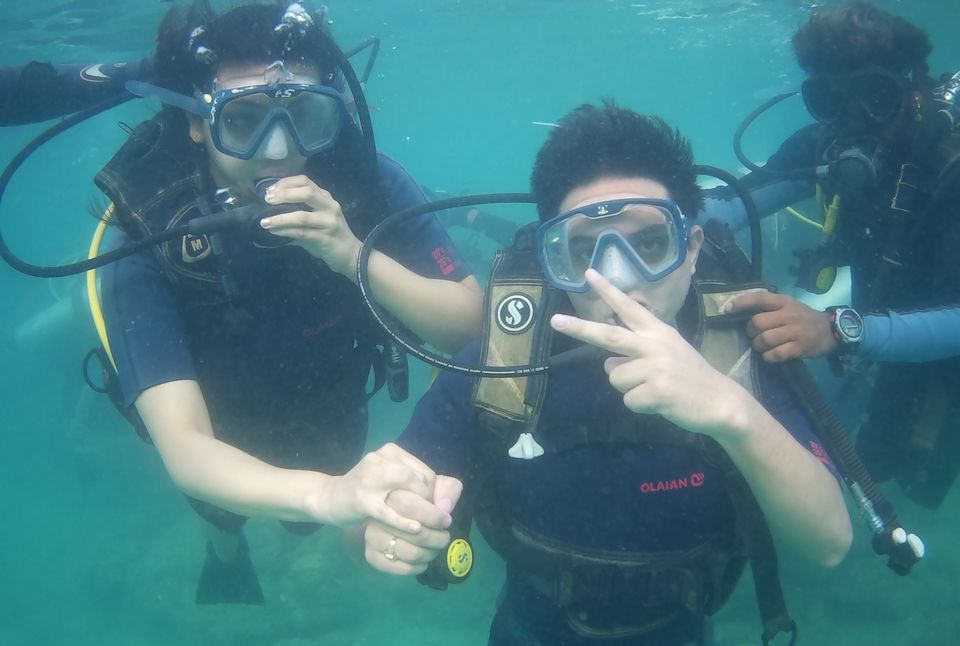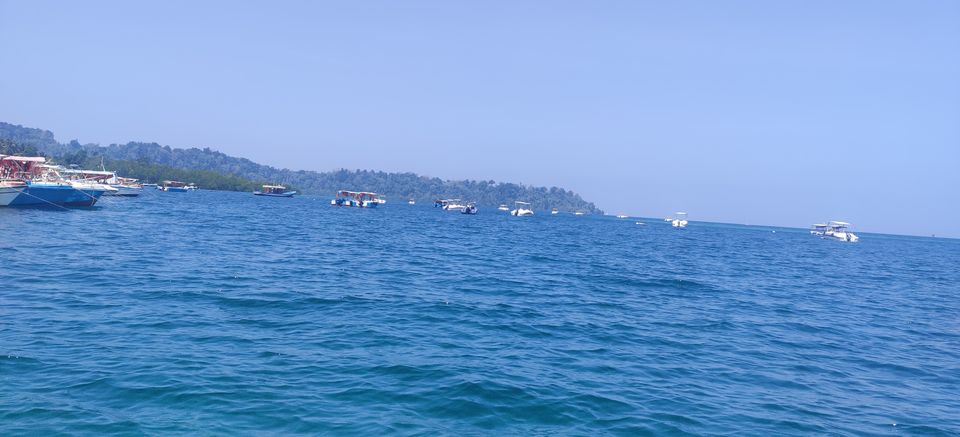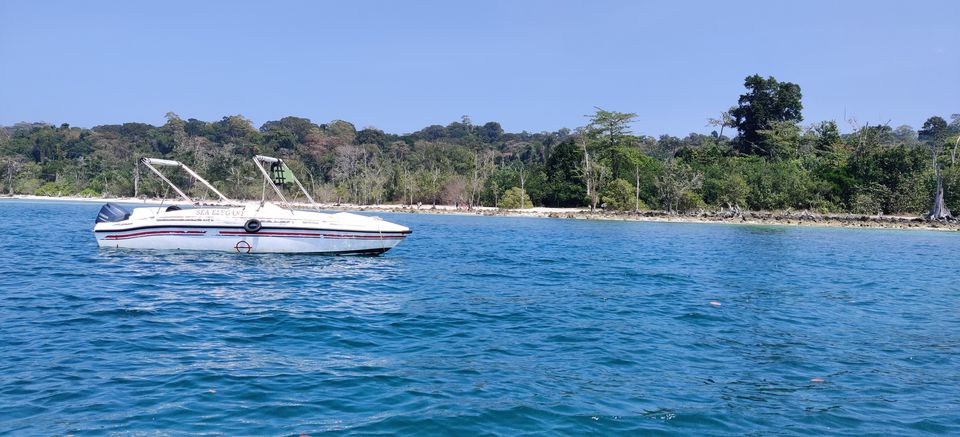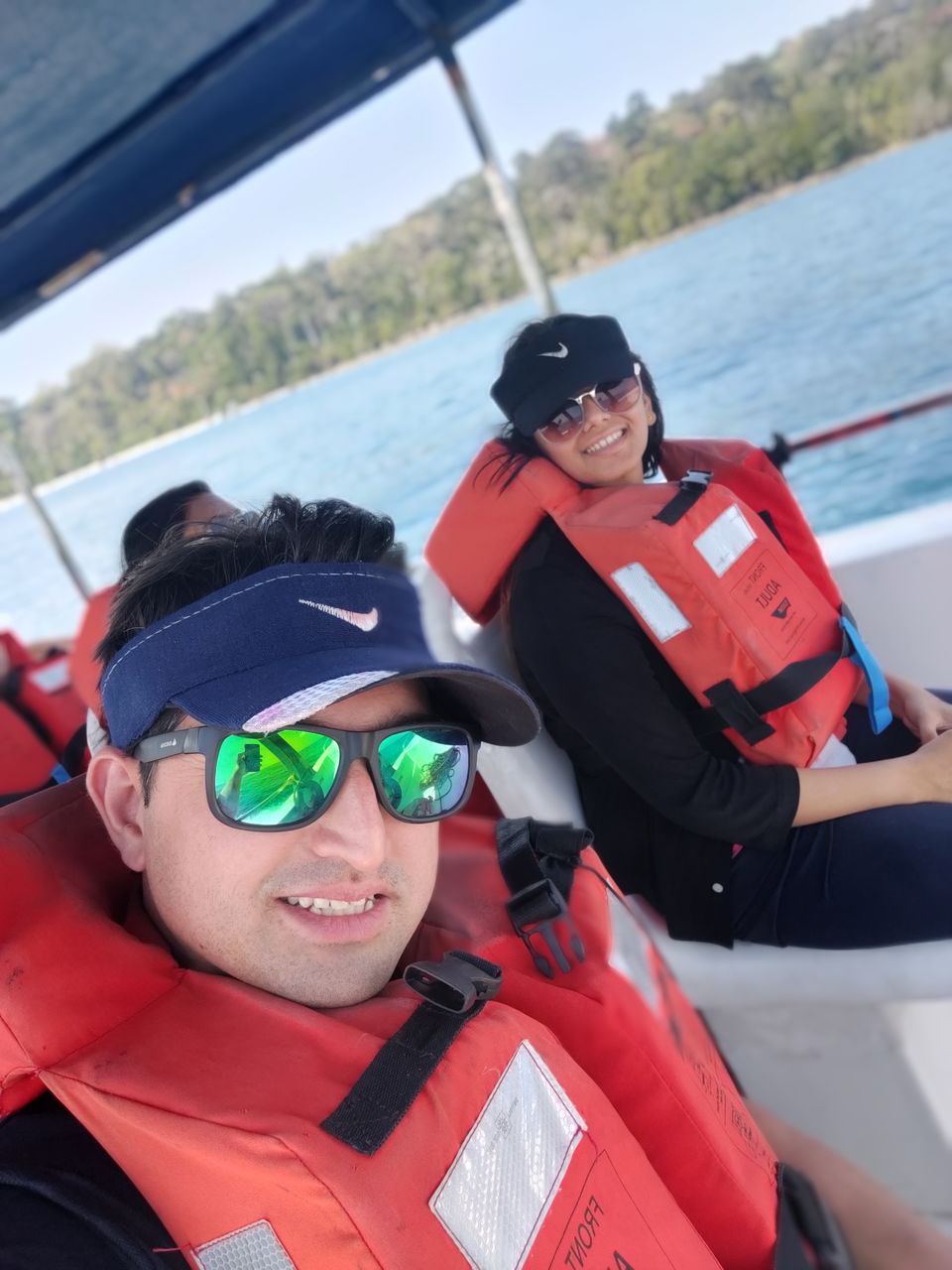 Travel Tips:
- Macruzz is quite punctual, efficient, spacious and comfortable. please click on Macruzz booking for tickets availability.
- If you take a hotel at the govindnagar beach all the eating joints, market,ATM is at walking distance.
-You can also do the Scuba diving at Neil as Nemo is quite crowded.
- Please keep enough cash with you during the entire trip. There are only few ATMs and which sometimes run out of cash.
-You can have lunch or high tea at Taj Hotel situated at Radhanagar beach. Please ensure you make prior booking.
- Phone network is a major issue across Havelock and Neil. Wifi is available occasionally only at certain areas(hotel lobby etc).
- Elephant beach will be very crowded. If you are keen on a smoother experience you can also save time and enjoy water activities at Bharatpur beach at Neil Island.
- Havelock Island Travel Guide will give u good insights of the Island and its attraction.
Day 5
Stay : Summer Sand Beach Resort, Neil
Summer Sand beach resort is one of the popular resort at Neil Island. It's an amazing property spread over both sides of the road. The beach side of the property has villas but however, we stayed at the pool access room which had an ethnic feel with wooden interiors. The landscape of the hotel is very well done with the canal themed swimming pool and wooden bridges over them. Although for a night we had a great staying experience. Kudos to the entire resort team along with the General Manager himself who were excellent in showcasing unparalleled hospitality coupled with seamless service attitude. With the pool view room along with cheerful music and classy cocktails being served at the pool bar the evening at the resort turns very lively and happening.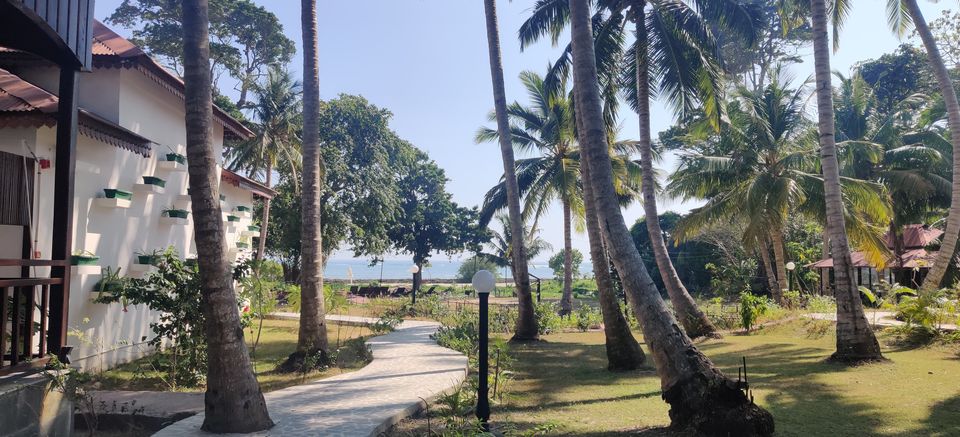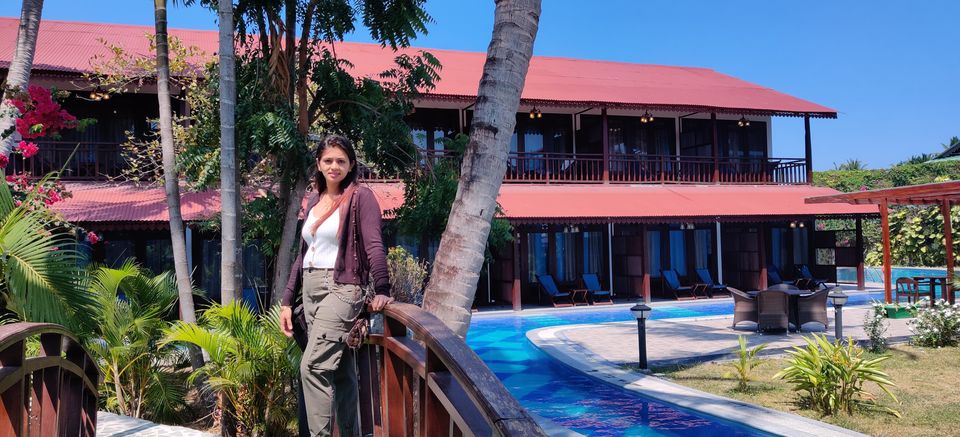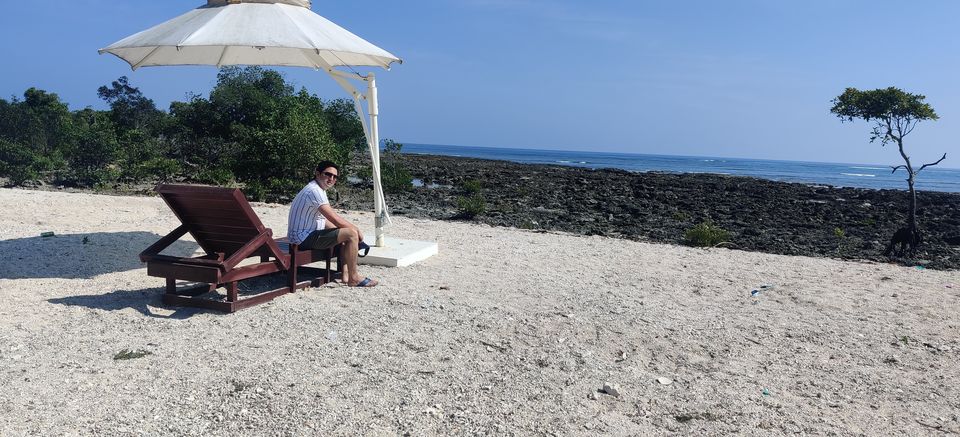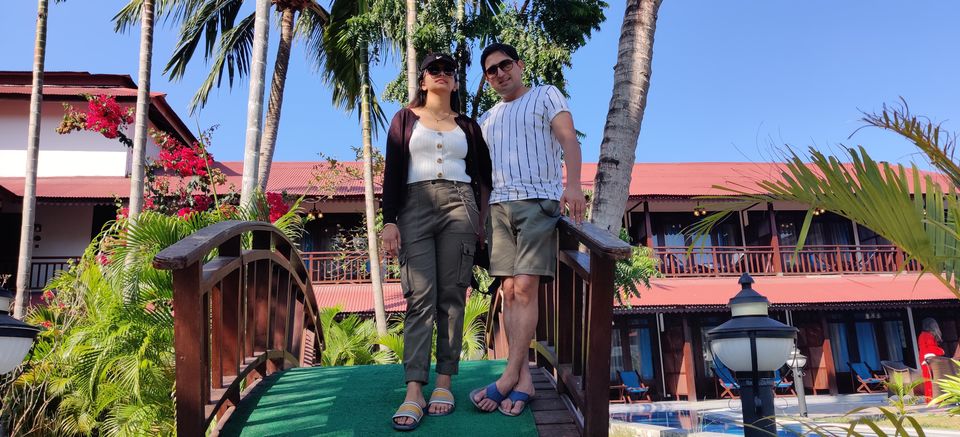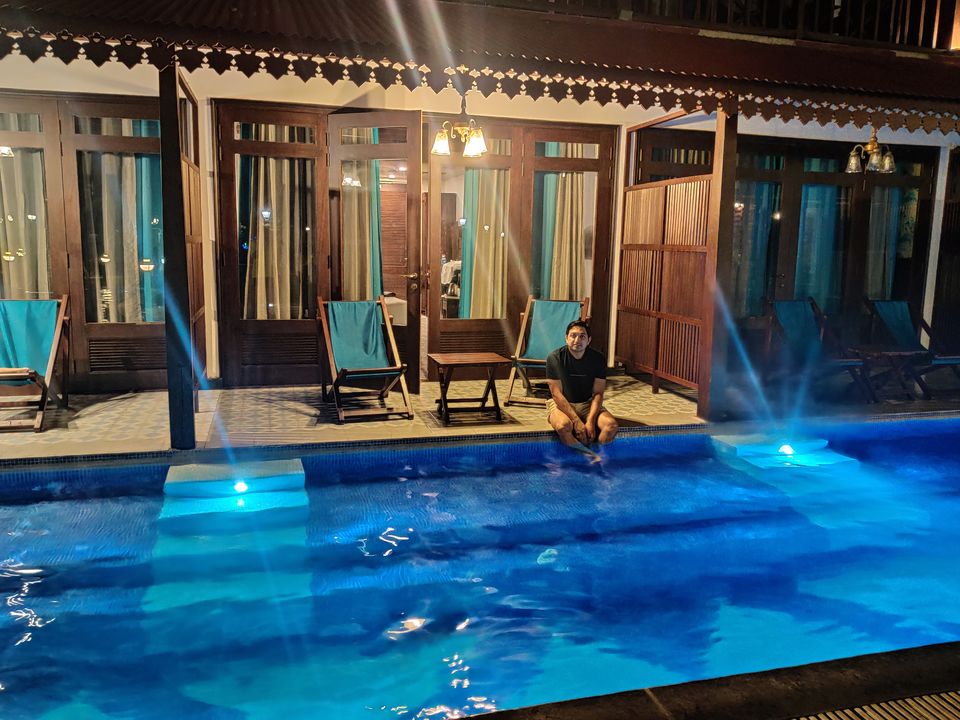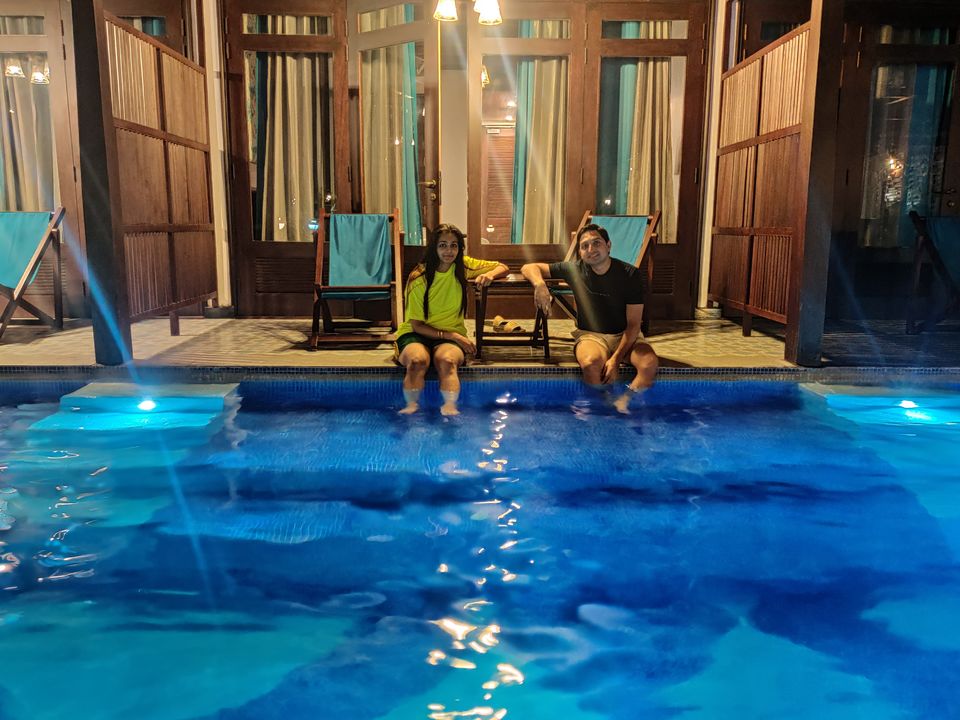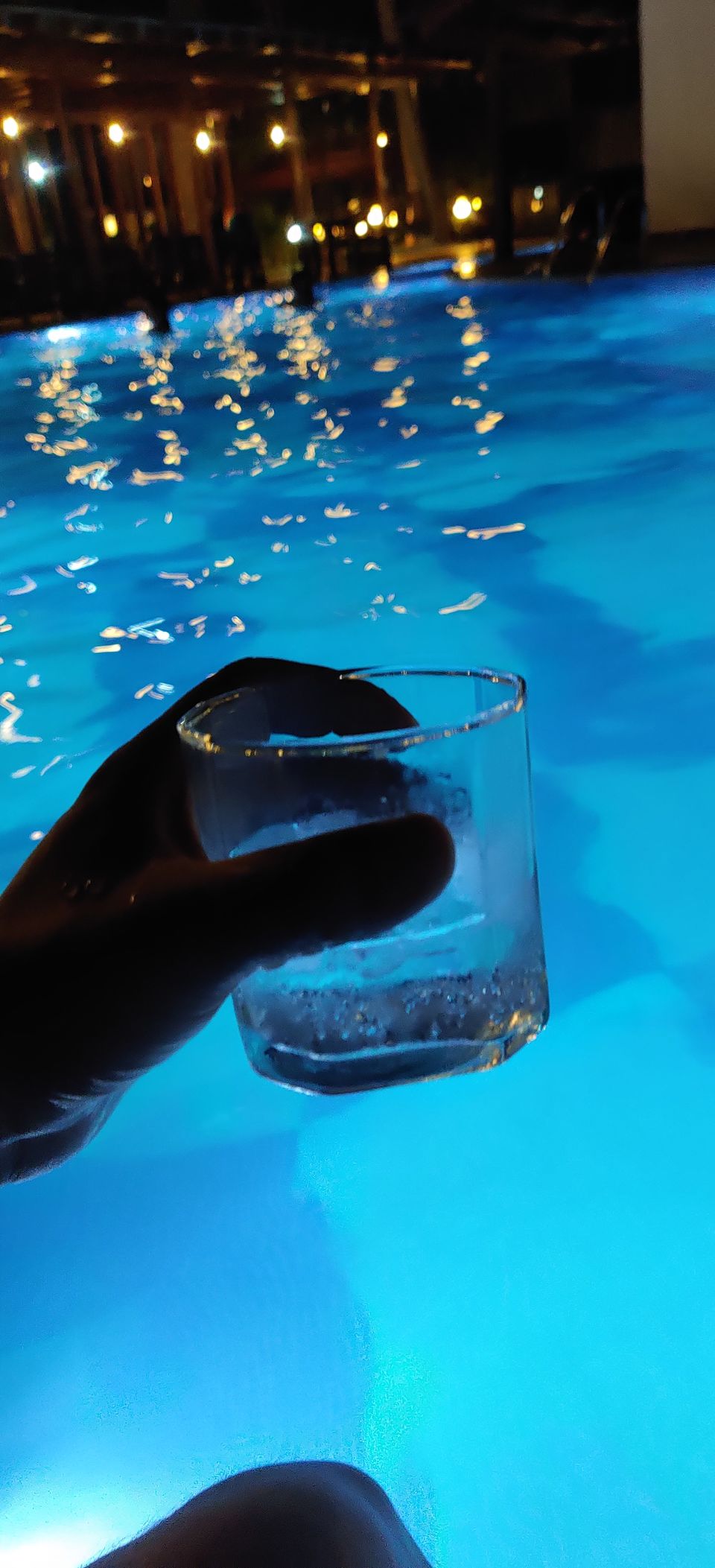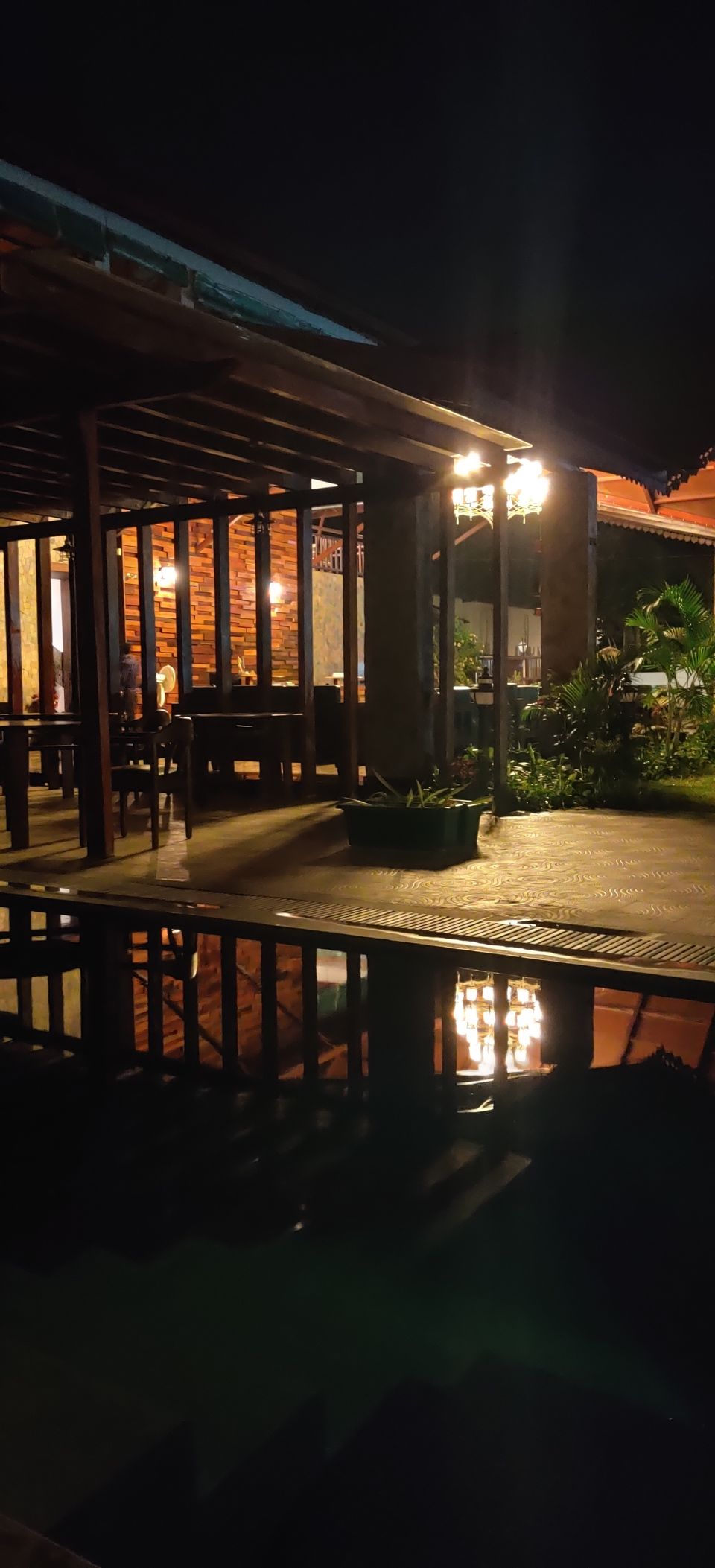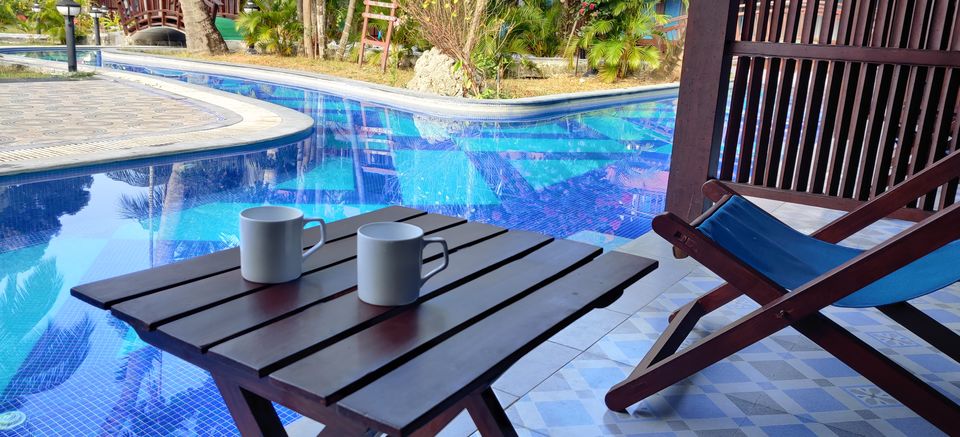 Dining : Summer Sand Beach Resort - Breakfast & Lunch
Despite the remote location the quality and taste of food was exceptional. The breakfast buffet had wide range of choices and the staff was also very attentive. the resort is known for selling a speciality sweet called 'Khopre Ke Laddu'. You can order and carry it back home as a memory as the shelf life is good.
Aquays Hotels & Resorts - Dinner
We had planned for a dinner at TSG resort based on the recommendation from our resort staff but however the plan did not materialize. Actually we had hired bicycles on our way back from laxmanpur beach and we were on our way to TSG for dinner but however we were chased by a pack of dogs which compelled us to return and dine at a the Aquastay hotel and resort which was just next to our resort. I would not recommend to cycle at night while your stay at Neil.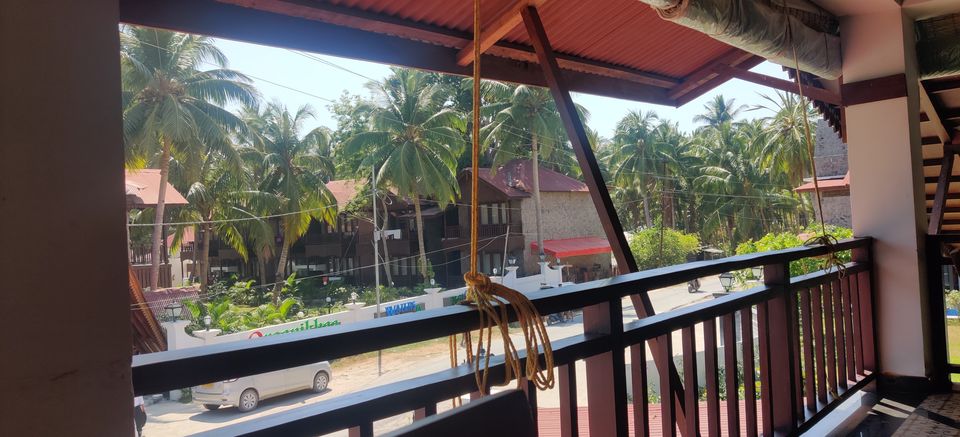 Sight Seeing Experience:
Neil is a very small island and has its own rustic charm, with a lusciously green landscape of rice paddies, fruit plantations and coconut palms. We boarded Makruzz again from Havelock around 10 am in the morning and reached Neil by 11 am. The jetty is 500m north of the bazaar. Neil is a perfect destination for one to relax and the magnificent biodiversity, unexplored coral reefs,tropical woodlands, white sandy beaches with vast greenery make it a perfect undeniable bucket list destination.
Cycling along the flat roads through quiet clusters of homes is the best way to soak up Neil's character.
Laxmanpur Beach
The Island is only 7 km long divided into 5 set of beaches so all the tourist attractions are close by and easily accessible. We started at around 3 pm from the resort for Laxmanpur beach to experience the sunset but before going there we took a detour to see the coral bridge which is also one of the popular tourist spot. The place is known for naturally mesmerizing beach and exquisite marine life consisting of several types of fishes and corals. Post experiencing a hypnotic sunset at the laxmanpur beach we hired bicycles to commute for the rest of our trip. Roads in Neil are pretty easy to ride on (no sharp curves or elevations) and the island is navigation friendly, hence cycling or riding through Neil can be quite an adventure.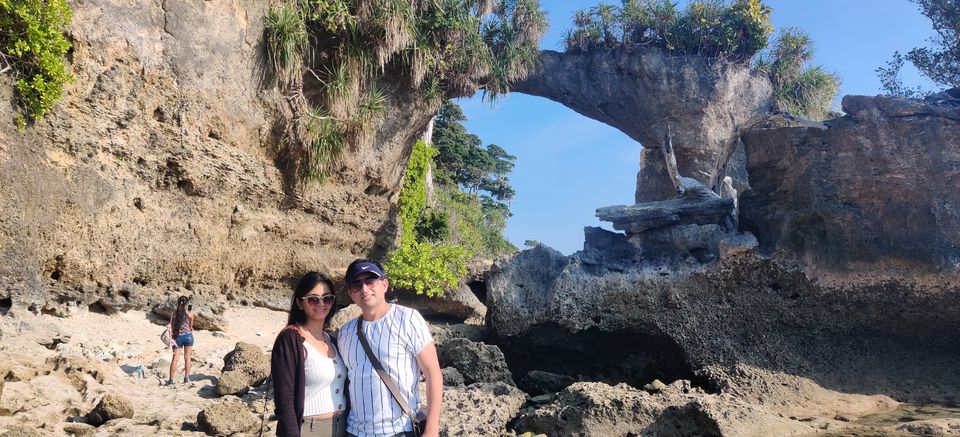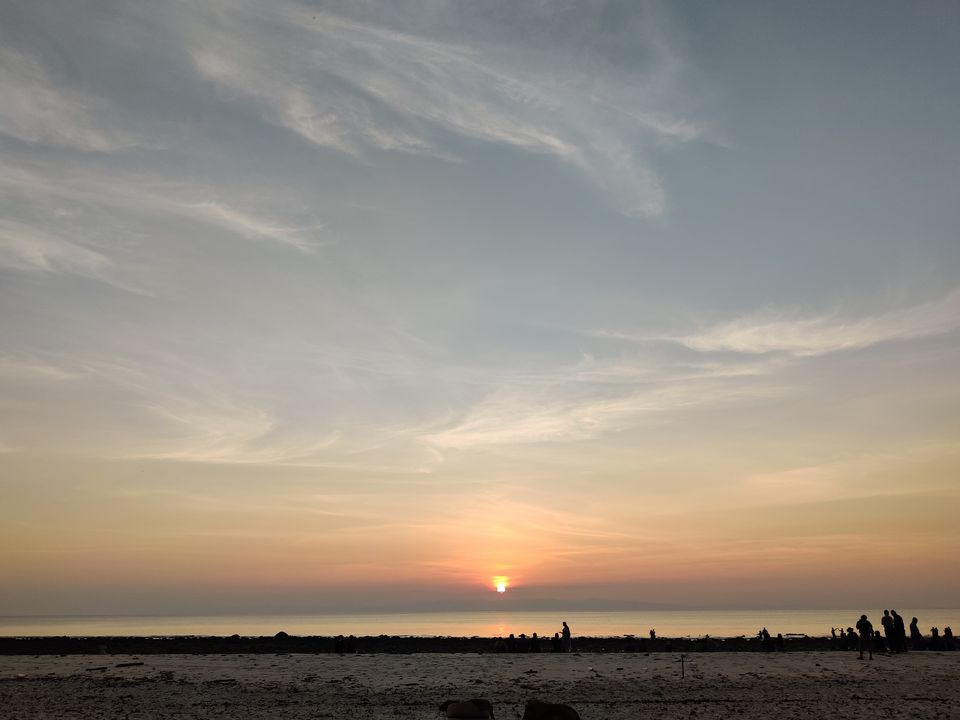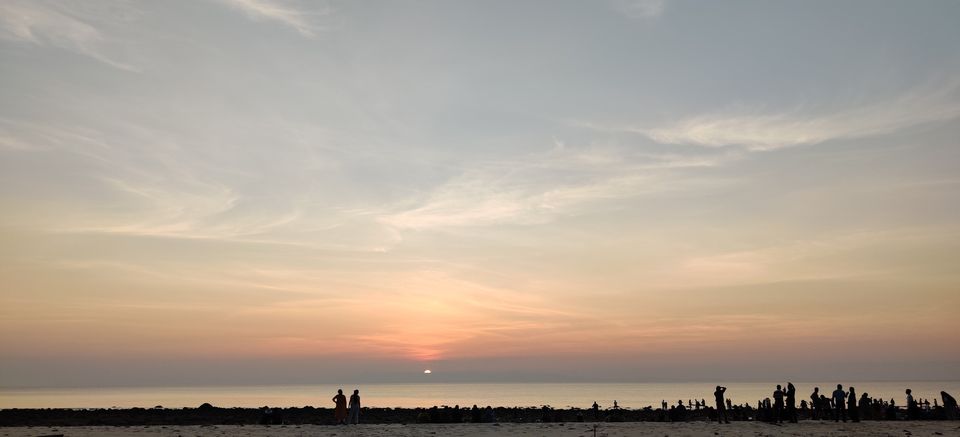 Sitapur & Bharatpur Beach
Sitapur beach lies at one extreme end of the island and witness a sizable burst of activity during the sunrise. We started in our bicycles at around 5 in the morning and it took us around 20 minutes from our resort to reach. Not only the sunrise but the morning bicycle ride along the way was equally rejuvenating. We returned our cycles, had breakfast and made our way to Bharatpur beach after checking out from our hotel. Bharatpur beach is known for its water sport activities and is much less crowded then the elephant beach. Since we had already had our share for water activities at elephant island we just relaxed and had our own time there before taking our ferry back for Port Blair.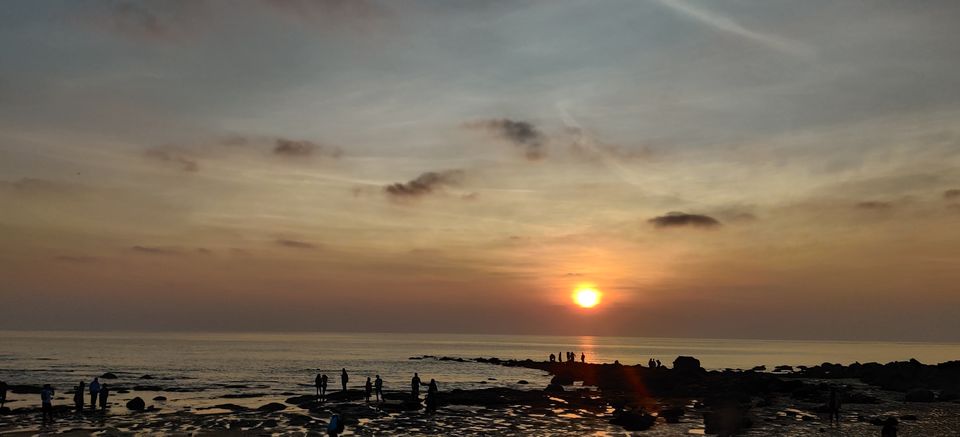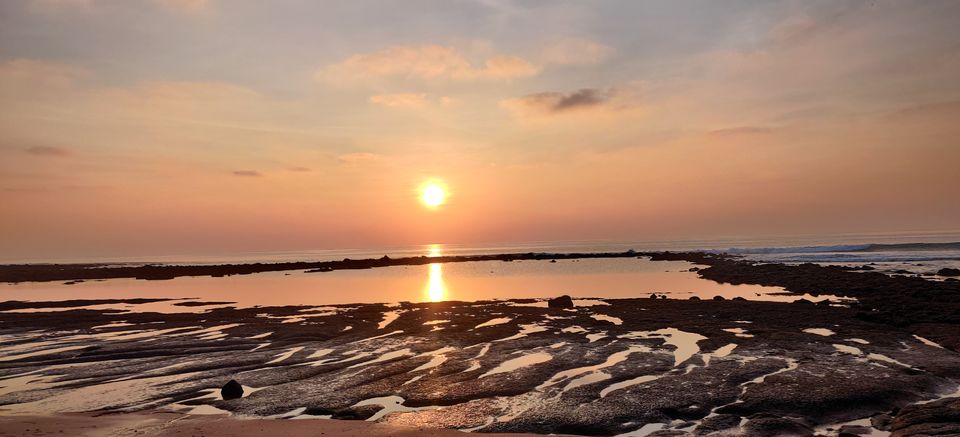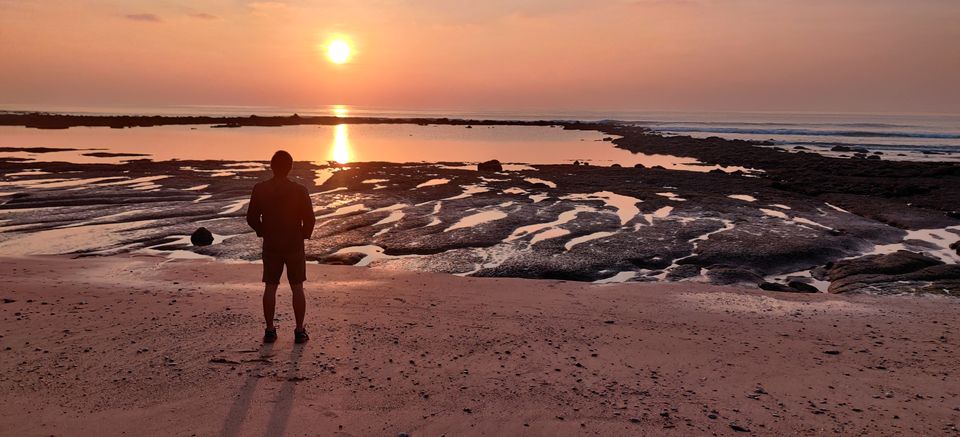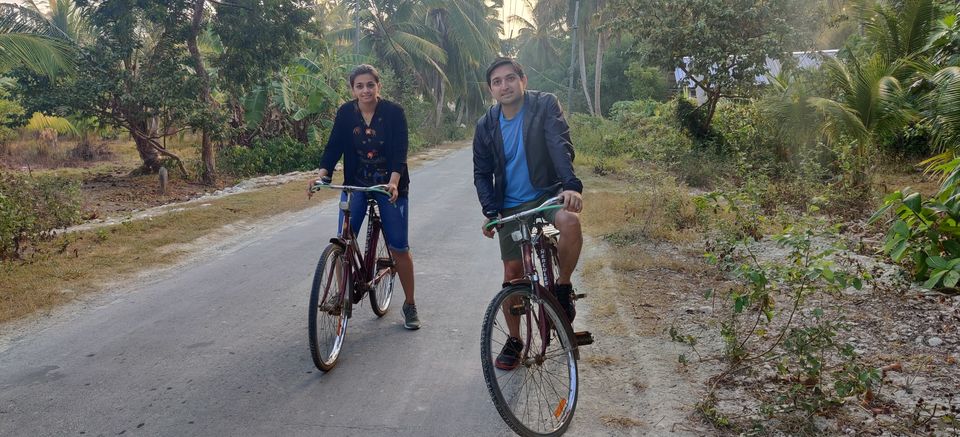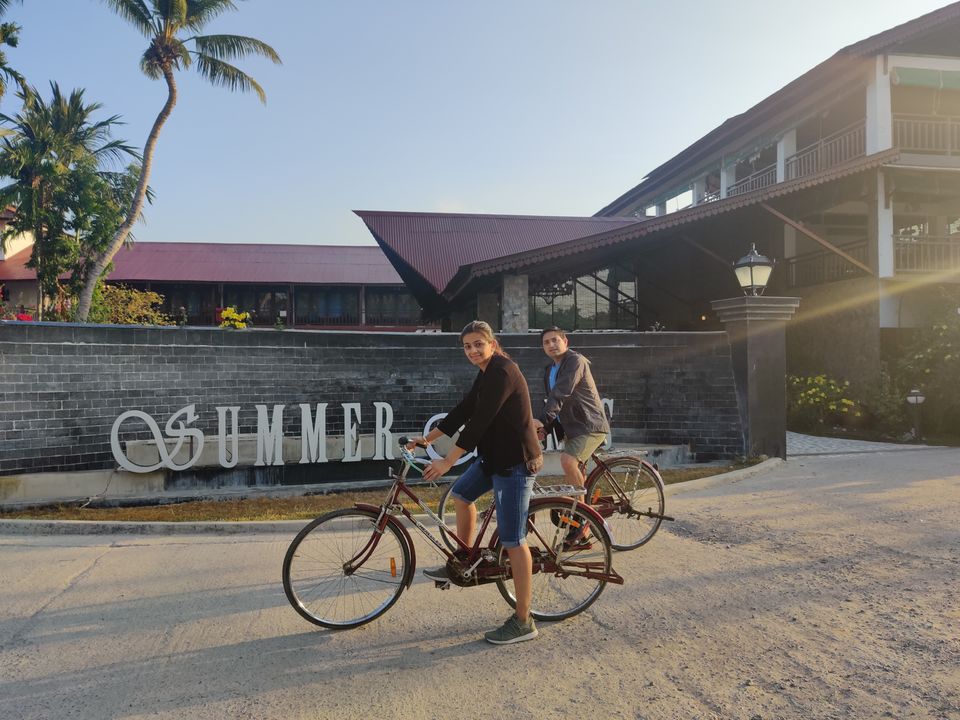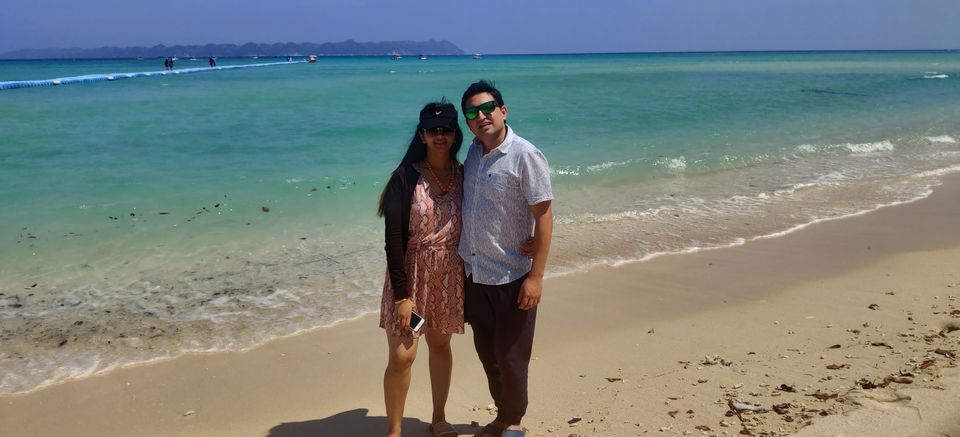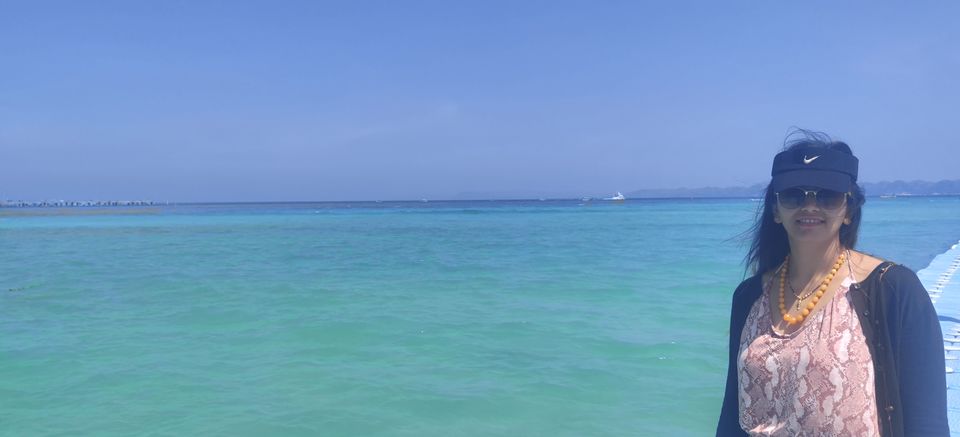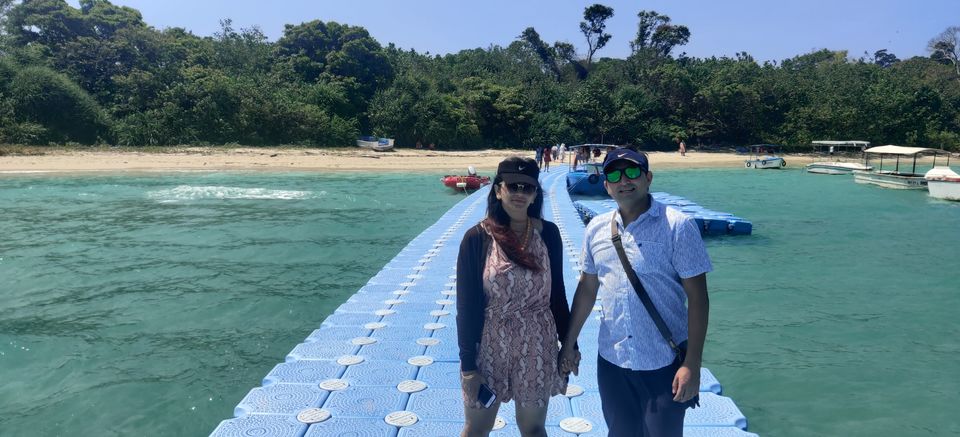 Travel Tips:
- Neil is a perfect place to relax and unwind yourself. If you are looking for a peaceful time on your vacation you can stay for more days at Neil Island.
- If you want to hire a bicycle see if you can pre book it prior to arrival. We really had a hard time to find one and good quality bicycles are available with only few vendors.
-Neil Island Travel Guide will give u good insights of the Island and its attraction.
Day 6:
Stay : Sentinel Hotel, Port Blair.
Dining: Hotel Sentinel(Lunch), Sea Shells, Port Blair(Dinner)
Since we reached the Hotel around 12:30 we decided to have our lunch at the hotel itself. We ordered for normal vegetarian food which was simple and decent in taste.
For dinner we thought of going to the lighthouse cafe but however on reaching did not had a very welcoming experience. We then finally decided to go to Sea Shell again but this time to their open air rooftop lounge bar called Amaya. Amaya is probably the best happening restaurant in the quite city of Port Blair. They have live music during dinner time which definitely adds to the ambiance. It is basically a bar with a continental menu serving exceptional cocktails with mouth watering food. I would suggest you to at least have your one meal at this restaurant/lounge.
Sight Seeing
As this was our second stint at port Blair we had decided only to go to Chidiya Tapu and local market on the last day.
Chidiya Tapu & Aberdeen Bazaar
We started for Chidiya Tapu at around 2:30 pm as our cab driver recommended to go early if we have to also see the Chidiya Tapu Biological Park (Bird Island Biological Park) which closes by 5 pm. Set approximately 22 kms from Port Blair is this place famous for sunset and strolling. The roads were not that great due to ongoing repair work and the journey took a longer time from usual. The Chidiya Tapu Biological Park (Bird Island Biological Park) came into existence in 2001 with the aim to conserve and study endemic and endangered species of animals found in the Andaman and Nicobar islands. Since then the park has been a centre for biodiversity and conservation where one can catch a glimpse of the rich fauna of the islands. A green and dense jungle like environment cleverly recreates the natural habitat of the animals here. Sprawled over 40 hectares, the park is covered with a variety of plant, right from the majestic Mahuas to the exquisite Padauks. After the visit to the park we started for the sunset point which was around the same vicinity. The sunset experience at Chidiya Tapu was again a mystical and indelible experience. The fallen trees, crystal clear water and the endless stretch of sand meeting the vast blue sea makes a great back drop for photo enthusiast. After capturing some memorable experience we made our way back to Port Blair to explore some local touch and flavour of the Aberdeen Bazzar.
Aberdeen Bazaar in Port Blair is the most populous and famous commercial hub of Andaman. Locals and tourists flock the market during holidays and weekends to shop in this shopping extravaganza, at Port Blair. Being our last day we also bought a lot of local items to take back as a memory.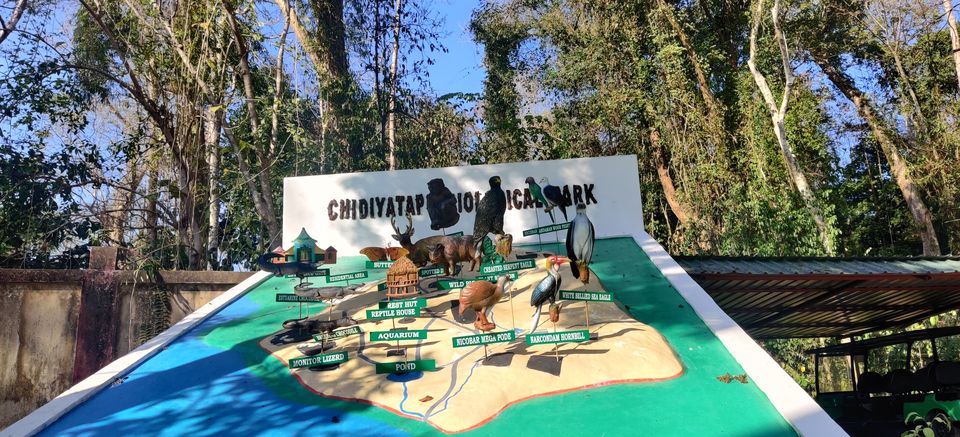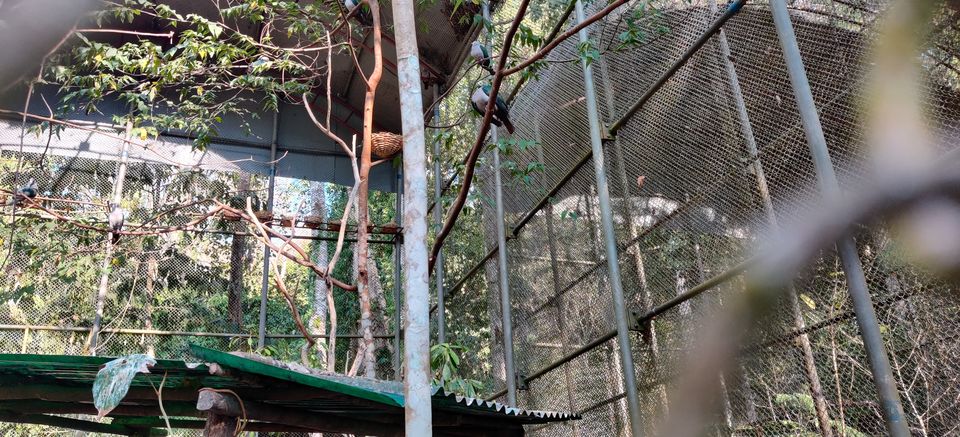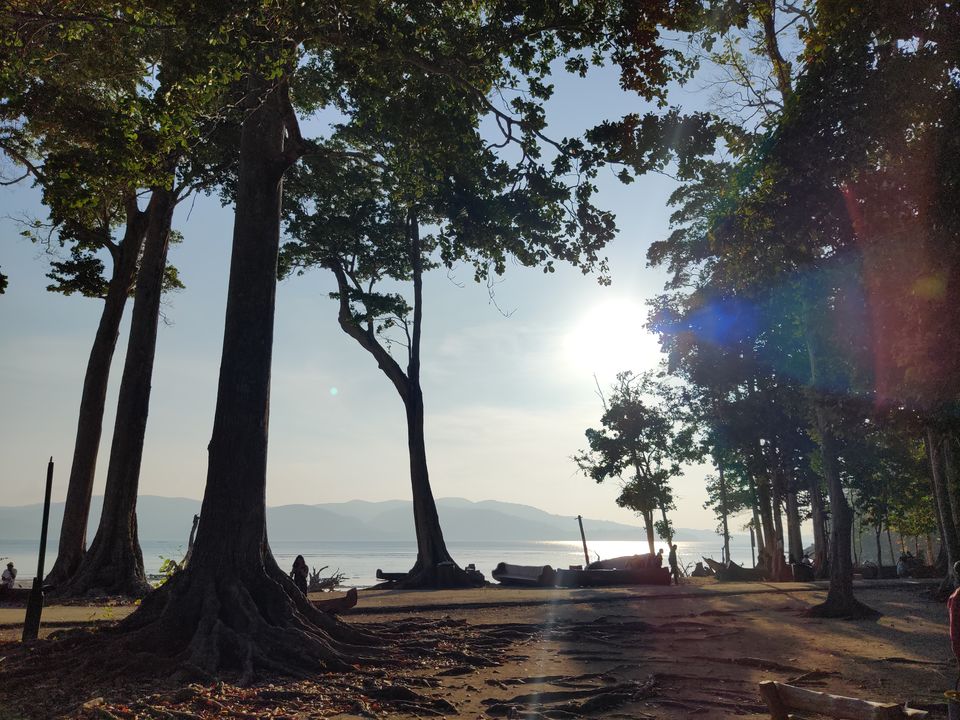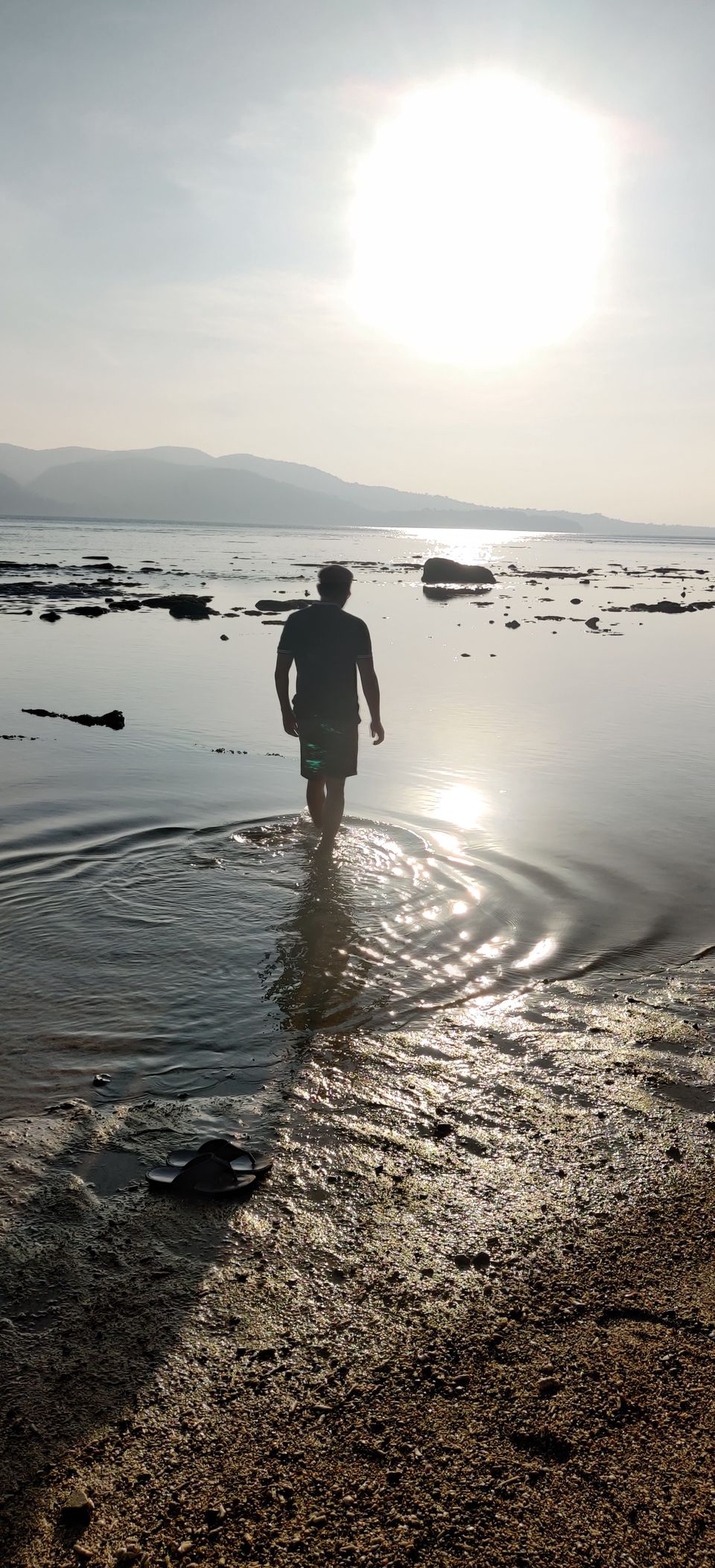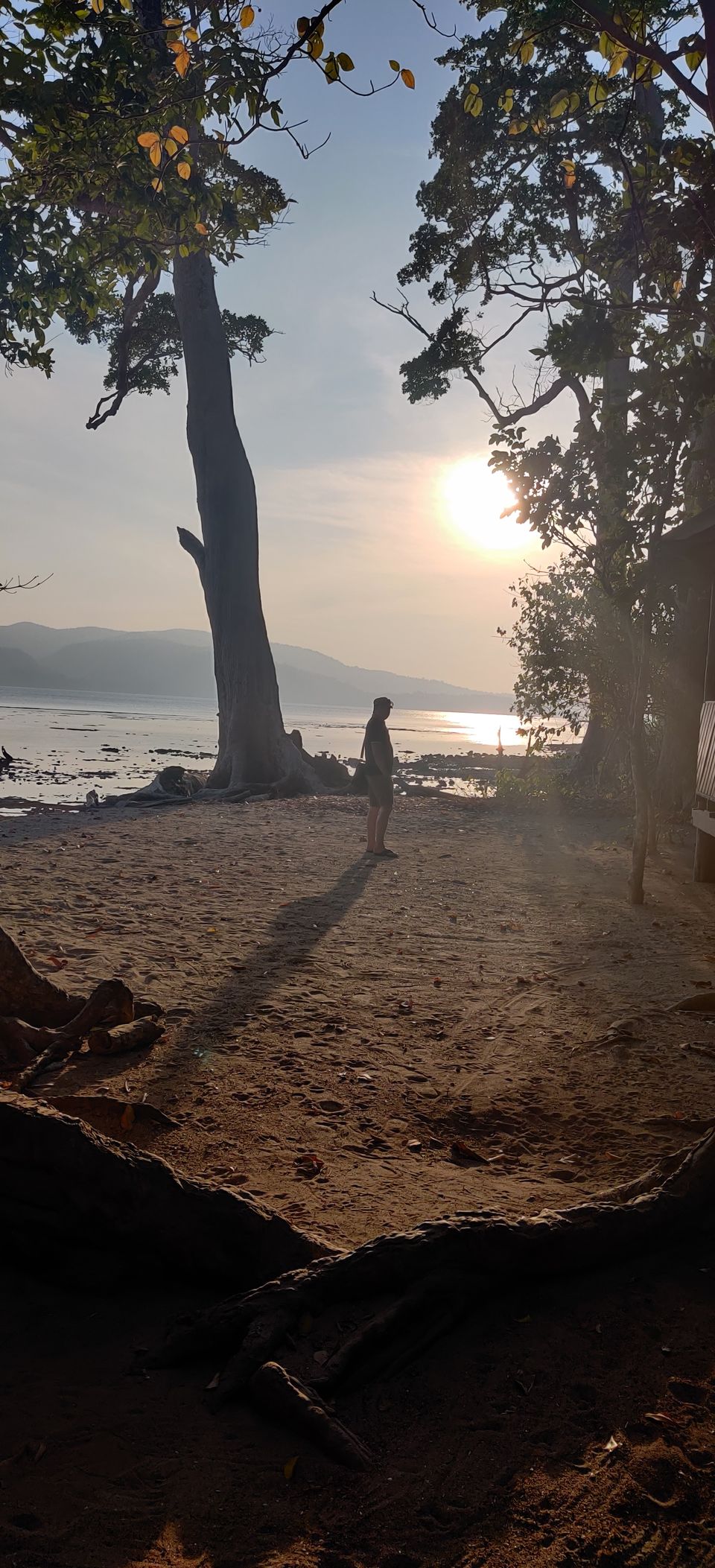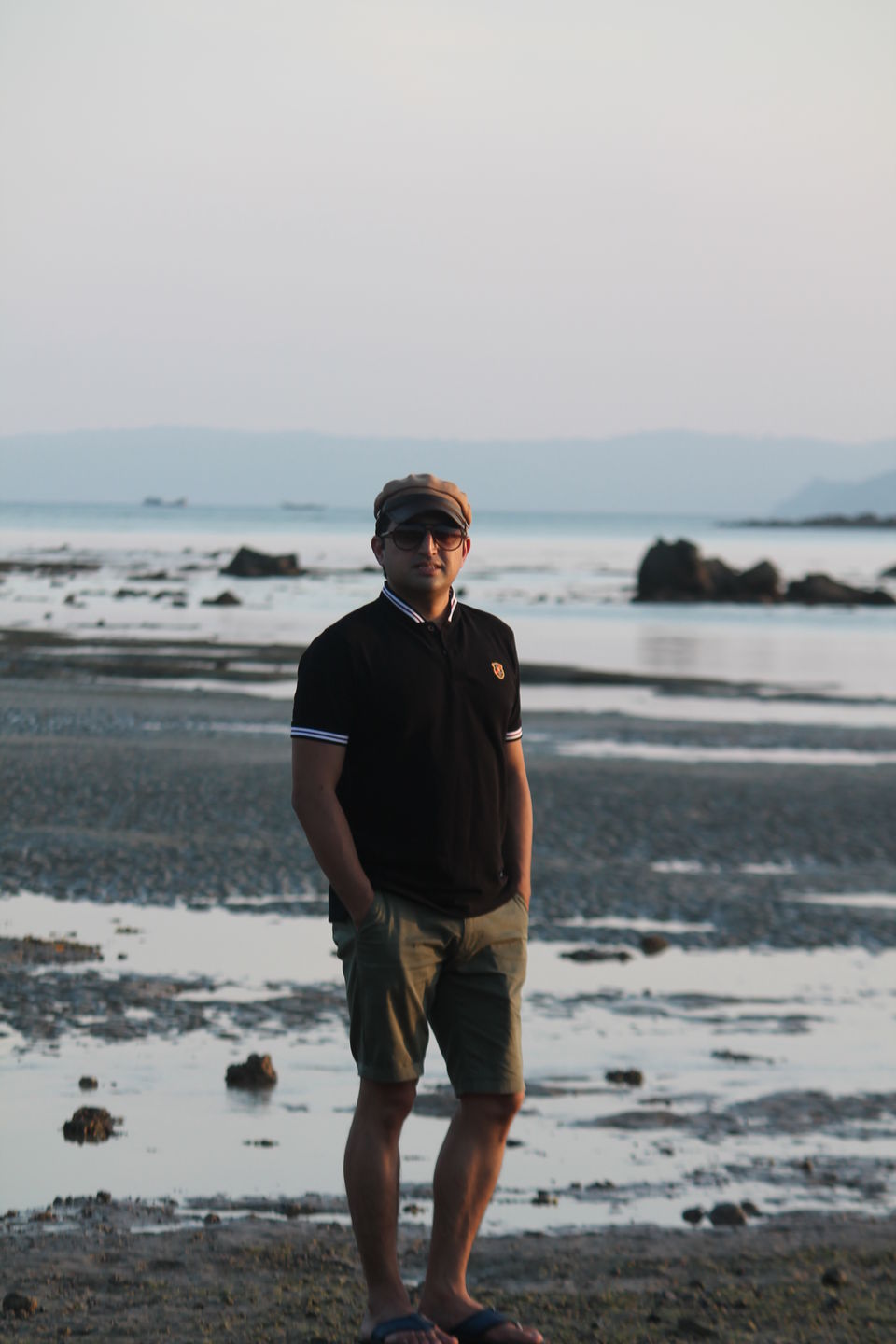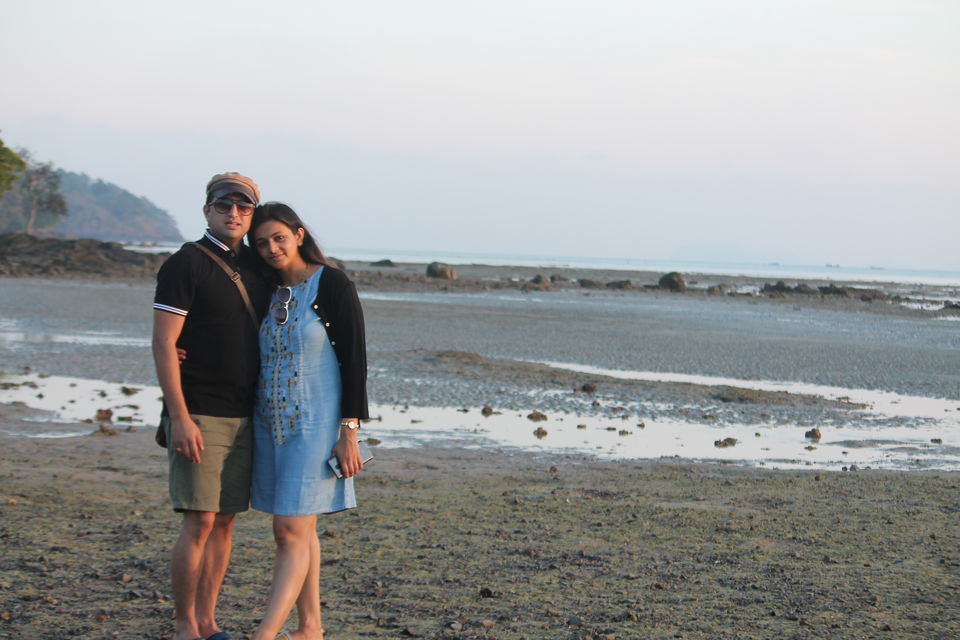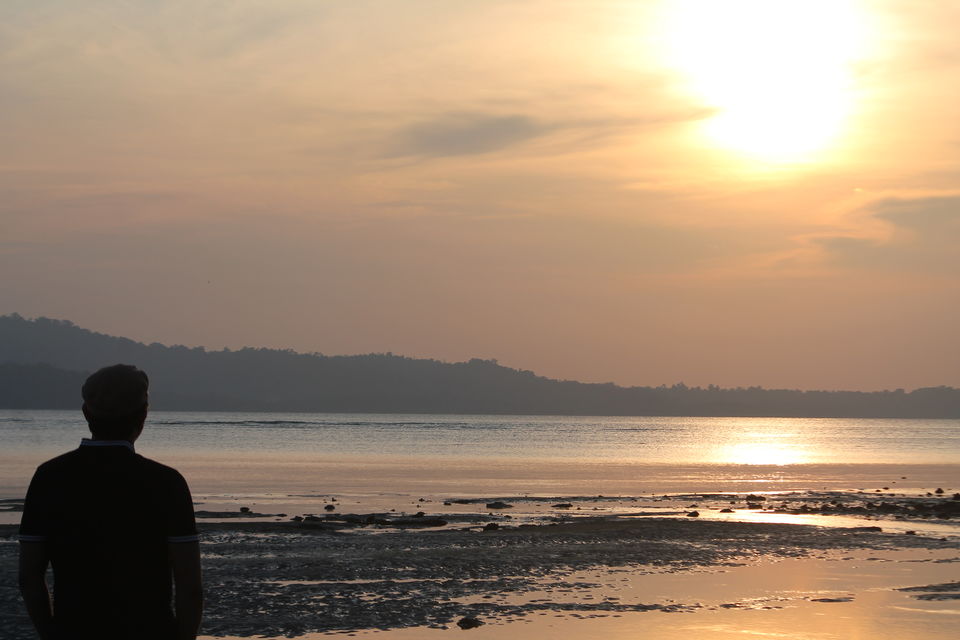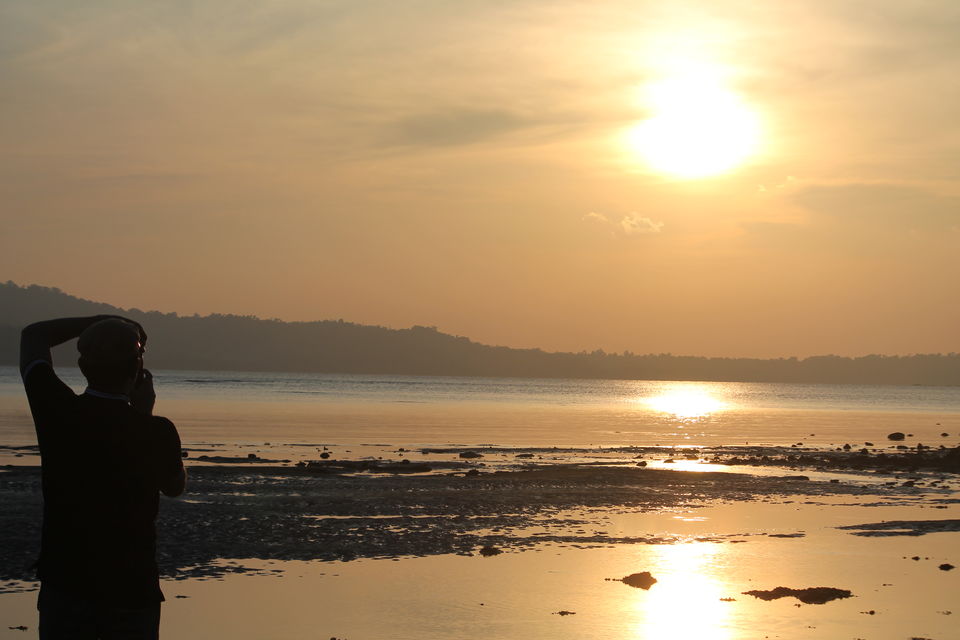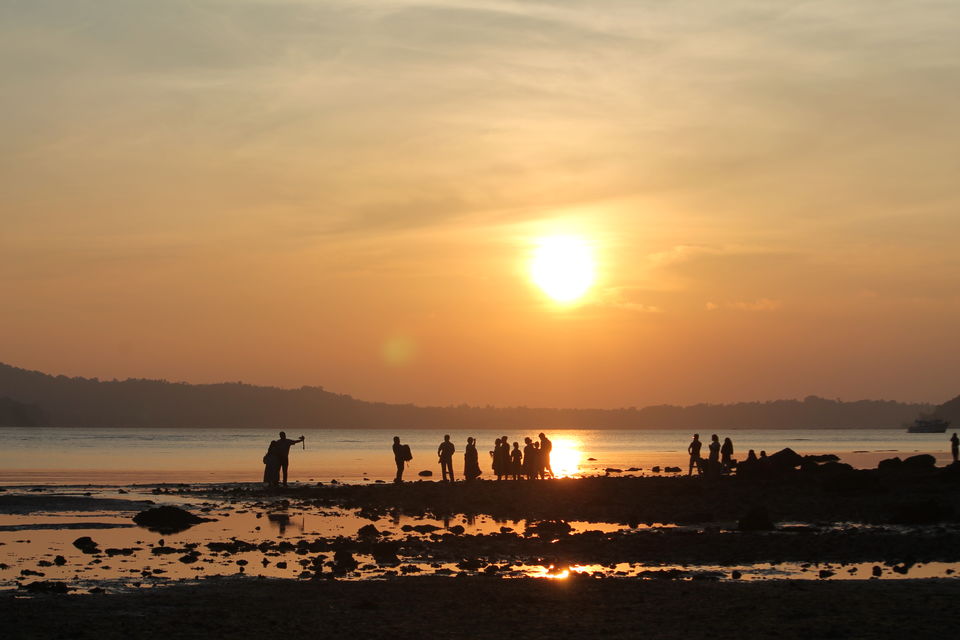 Travel Tips:
- If you have 2 days at Port Blair you must visit Chidiya Tapu and its biological park.
- Aberdeen Bazaar is a good place to shop for local stuff and mementos. You may require good negotiation skills.
- Please checkout early and reach the airport 1.5 hrs before on the day of departure.The airport is small and long ques can pose a delay .
Everyday in Andaman seemed like an unparalleled experience. This 6 day trip has given us some quintessential and unique memories which will continue to dazzle our minds forever.