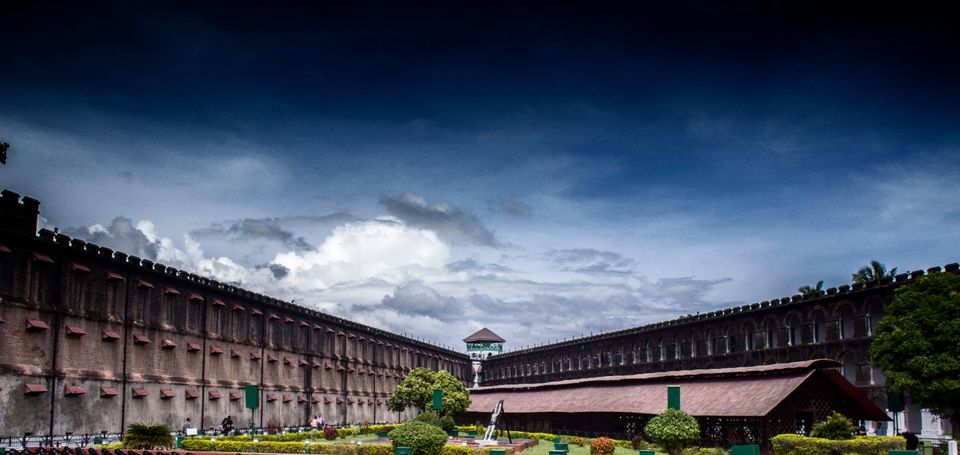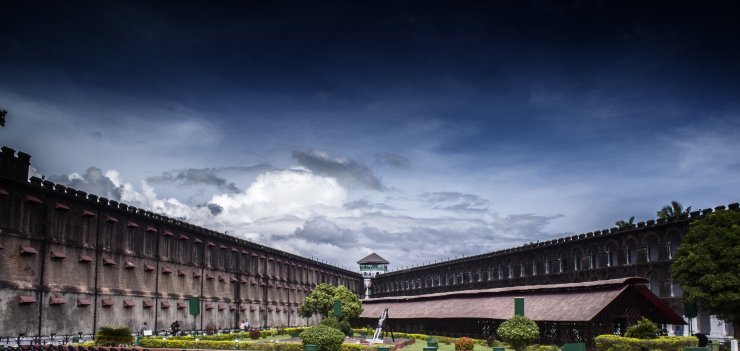 This blog can be helpful to ones who wants to visit Andaman Island, It consists of most of the details that can guide you through the costing and must visit places.
Also you can visit my video blog: https://youtu.be/Ez-f4PDytvw
and my Scuba Diving video for North Bay Island https://youtu.be/TzTOAky66mc .Request you to share it if you find it useful.
Andamans aka Kalapani, well the reason behind calling Andaman as Kalapani comes from two words Kal(Death) + Pani(Water) which means Water of Death. Greatest freedom fighters has completed their conviction at Cellular Jail of Port Blair. Andaman was mainly meant for convicting the freedom fighters. Now it has become a famous tourist destination, well my intention through this blog is to share some details like places of interest, cuisine and budget for the entire Andaman Visit so that anyone who wishes to visit Andaman can get some help through this blog.
Total Budget for the Trip :
Well Andaman Trip can be completed in as low as 70,000 for two and as high as you would like to go. Let's get into the details later.
Ways to Reach :
Air or Water, Connectivity is to Port Blair by both routes. Travelling through sea can also be an adventurous trip but it's a no no for people who are prone to seasickness, better is you opt for Air.
Through Sea : Boat trips can be done either from Chennai,Vizag or Kolkata. Tickets cost can vary from 2500 to 8000 per person. Follow regarding further details. http://www.andamanbeacon.com/andaman_ship_schedule_fare.html
By Flight : Ticket cost can be from 3500 which is cheapest for Indigo flights but avoid weekend tickets as they can be costly, use HDFC smart buy or musafir or paytm for best discounts. Ticket costs are from Chennai, from kolkata it may vary by 1000 on the higher side.
Important Contacts to be kept in Mind:
1.For Cruise Bookings:http://makruzz.com/site/
http://greenoceanseaways.com/tickets/portal
Makruzz is the best option for inter island connectivity, donot opt for govt ferry till you have no option left.
2.For booking through sea to Andaman:http://www.andamanbeacon.com/andaman_ship_schedule_fare.html
3.For Scooter Booking in Port Blair:
Saro Travels:9933227218/9434271812
For booking at Neil and Havelock hotel can easily help out.
4.Some important Contacts for Local Help in Andamans:
Apresh : 9531825883
Marry : 9531842168.
Stay Options:
For Port Blair : If you are a bachelor and travelling with friends then guest houses are the best option like Kevin's Bed and Breakfast, Jaimathi Inn for budget concerns. For hotels some of the good ones are Sinclair's Bay View, J Hotel, Shompen Hotel etc. Please avoid OYO as properties are not at all good , you may encounter mice running all around the room and even cockroaches. And if you are with family better opt for a good hotel like Shompen, J Hotel, Airport hotel, Sinclairs Bay View, Keys Select or The Sea View Residency. Stay cost can go from 2000 to 8000 per night for the options i mentioned.Make sure to check out with Aparesh and Mary for good budget stay options , they are very reliable in this.
For Neil Island: For all-Best in budget is Holiday Inn Resort an excellent stay , make sure to book it from website where you can avail attractive discounts, also Summer Sands and Cocon Huts are good options. Stay cost can be around 2000 to 10000 per night.Well my stay was Holiday Inn Beach Resort.
For Havelock : There are some good beach properties at around Govindnagar Beach like Symphony Palms, Havelock Island, Sea Shell, Silver Sands and Oriental Resort, Radhakrishna Resort can be considered but feels like in Jungle.Best is Coral Reef.Also you can book the Dolphin Resort ,a government property in advance as it's also a beach property. Stay Cost can be from 2000 to 15000.My Stay at Havelock Island. Coral Reef Beach Resort.
Note: Please don't rely on makemytrip for hotel bookings as you might end up in disaster as i have faced the same , luckily i called 5 days before at hotel to confirm my booking and i found that hotel didn't even get it, then i had to directly book it from hotel's website, also i saw a couple who faced same issue and were totally helpless as network connectivity for reaching makemytrip for any issues is also very poor, they had to re-book directly at the property. For Bookings you can also reach out to some people :
Apresh : 9531825883 and Marry : 9531842168.
Now let's come to the number of days required :
Well even 15 days are not enough for entire end to end visit. Whereas you can complete in 7 days if you like travelling on a very hectic schedule.
Port Blair : At least 5 full days to cover most. Jolly Buoy, MGM and Wandoor Beach 1 day. Ross, North Bay(Must Try Scuba Here) 1 day. Baratang 1 day. Carbyn's Cove Beach, Cellular Jail , Chatham Saw Mill, Museums and Chidiya Tapu 1 day. Mount Harriet half Day and rest of the entire day for relax and shopping.Check Out some amazing places which should not be missed at Port Blair.(Cellular Jail,Carbyn's Cove Beach,Ross Island)
On Day One of our trip we covered Carbyn's Cove Beach and Light-and-Sound Show in Cellular Jail.One can easily hop these spots on two wheeler.
Ross Island is all about British and Japanese ruins.
Very near to Phoenix Jetty the sharing boats for Ross and North Bay leave, make sure to reach before 10AM for both Island visit, as Scuba in North Bay is best.
We did Scuba at North Bay Island after Ross visit.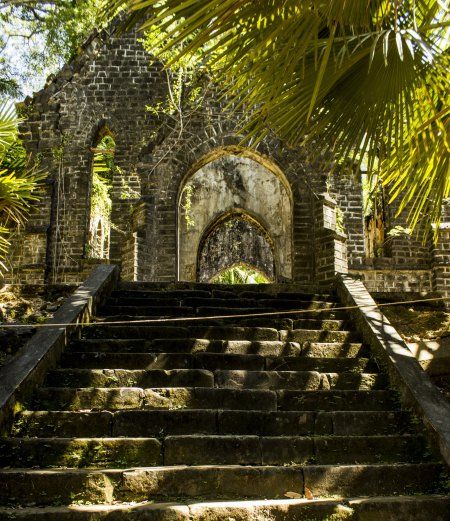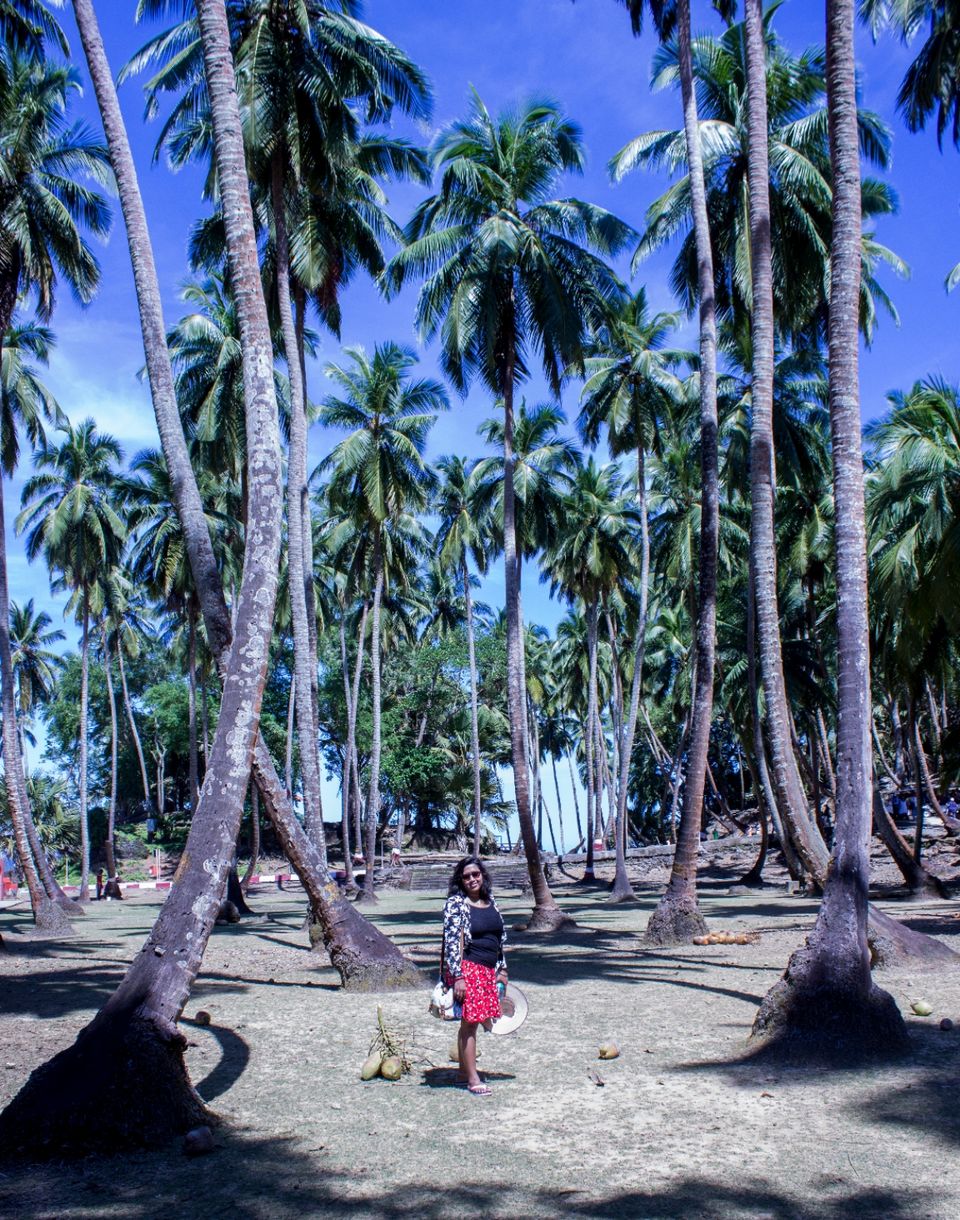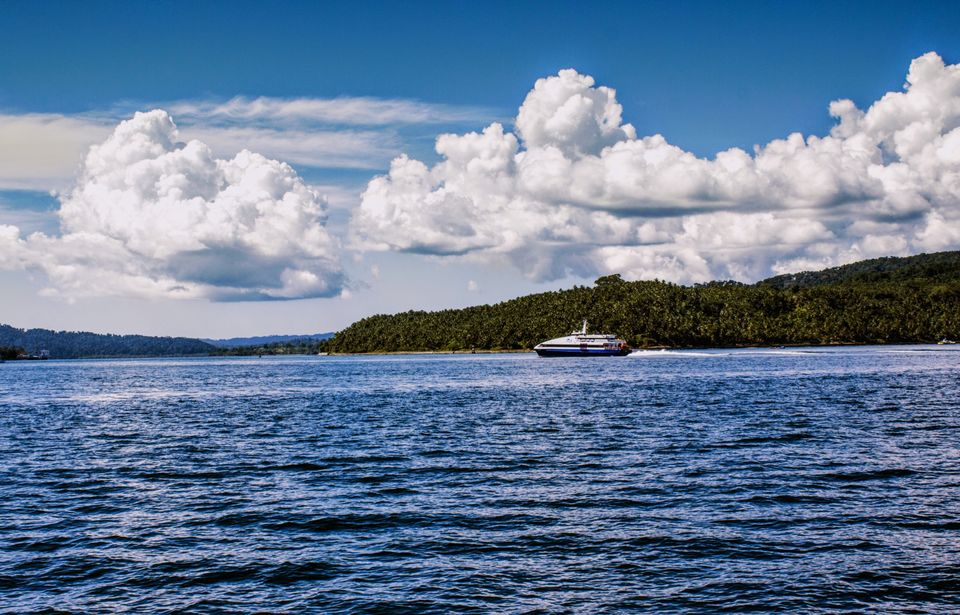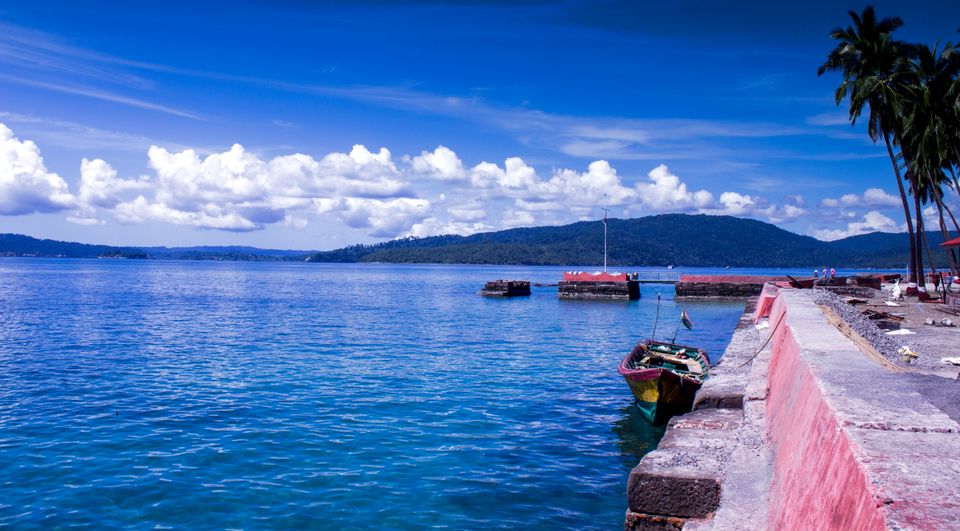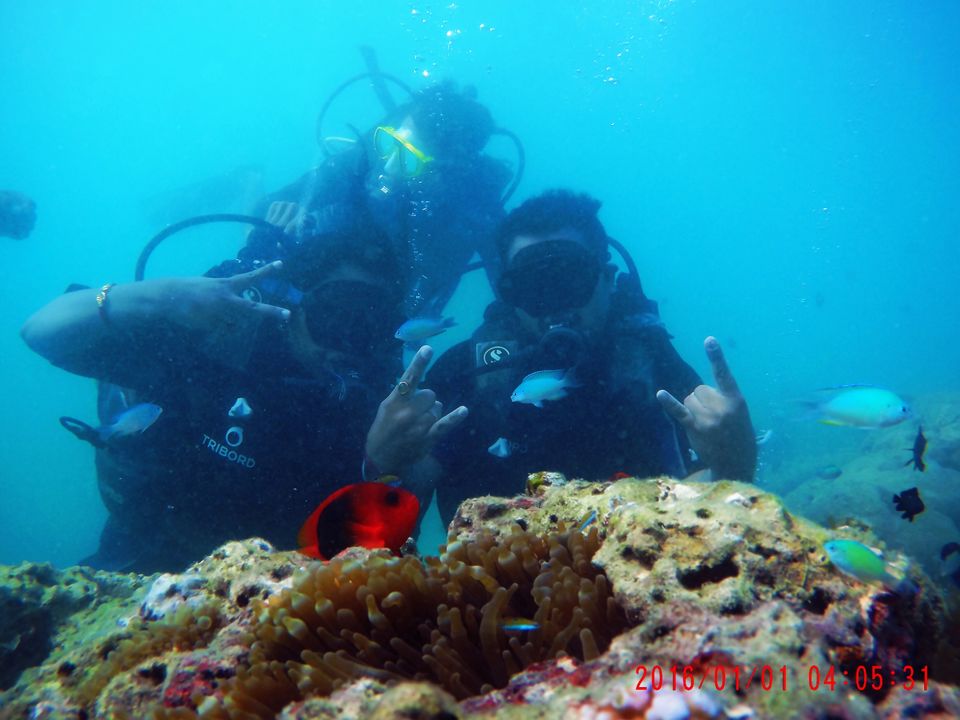 Well we boarded Makruzz cruise for our trip to Neil Island, cruise is very comfortable and fully AC with options of quick bites on the way.
Neil Island : At least Two Days but 3 days is better as it's also a relaxing place. 1 day for natural Bridge (prefer to go early morning before 7AM as it's a low tide time), Lakshmanpur(amazing sunset point to relax) and Bharatpur Beach(prefer high tide time for water sports, safest place to swim), Make sure to enjoy a cup of coffee/masala tea at Lakshmanpur beach. 1 day Sitapur for Sunrise and a day to relax and do shopping , prefer to do shopping here at Neil Islands for coral jewellery , Shells and pearl sets as its cheapest in Neil among all other islands. Must Buy : Pearl sets(starts from as low as 80 rs), Coral sets(starts from 50 Rs), Shakha (bengali bengal made out of shell, cost can be as low as 150 per set).Views of Neil Island.(Jetty,Natural Bridge,Bharatpur Beach,Lakshmanpur Beach)
We Reached Neil Island on 3rd Day of our trip and relaxed in hotel after visiting Lakshmanpur Beach.
One can easily hop around Neil Island on two wheeler as this Island is very small.
Sitting on the white sand, reviving childhood by building Sand Castle and then enjoying setting sun with a cup of masala tea or coffee with a plate of Onion fries is what this beach has to offer.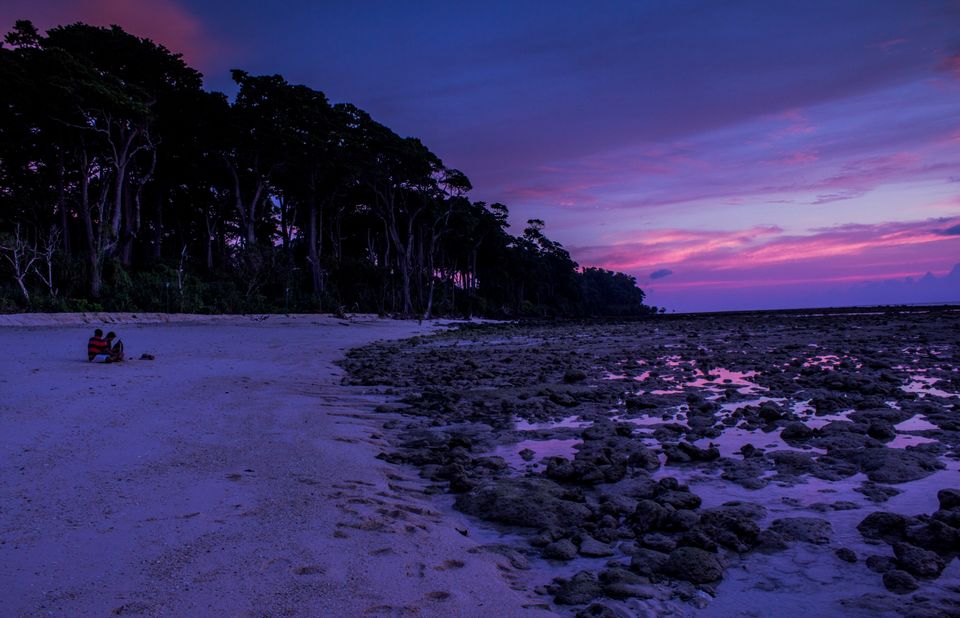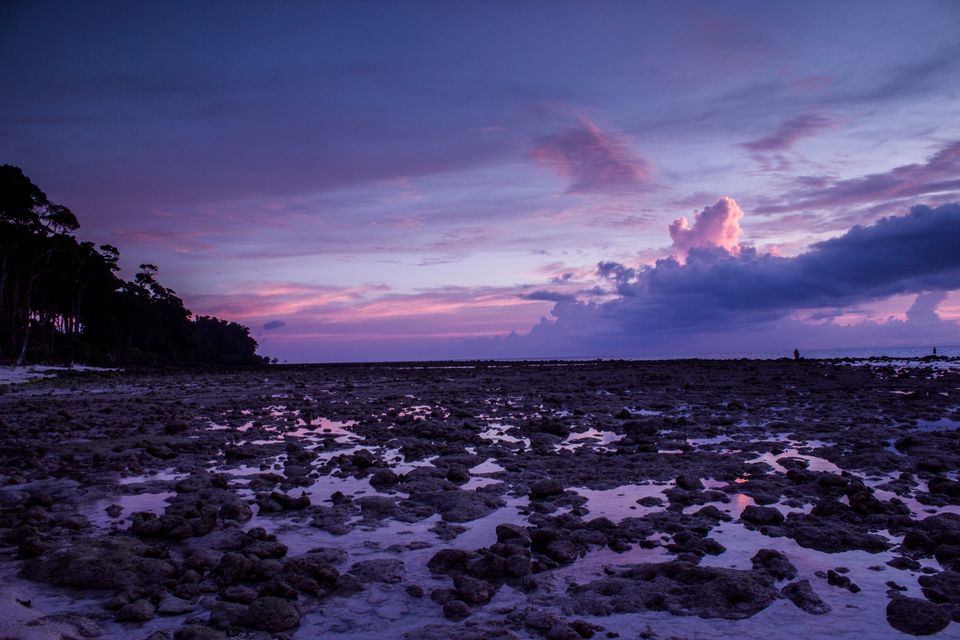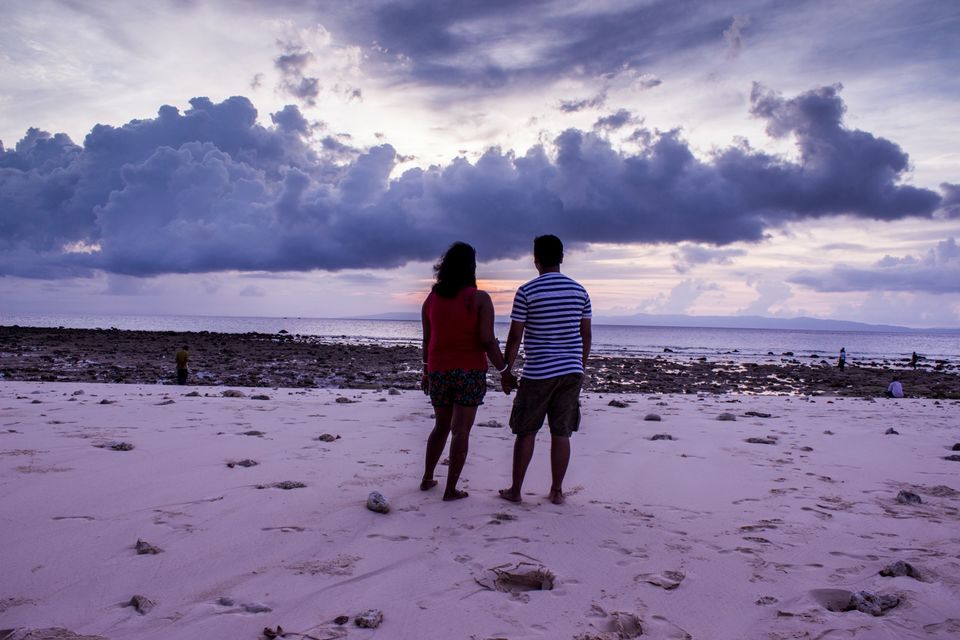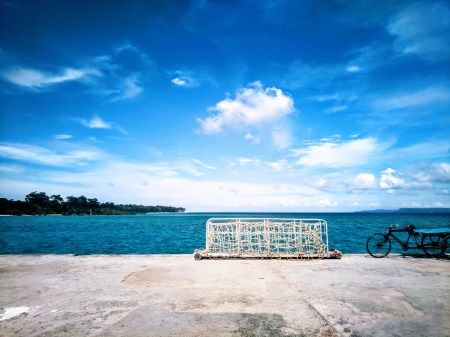 This beach hosts water sports , jet ski ride can be done here as Scuba won't be as good as North Bay. Make sure to take a glass boat ride but only before 12 PM .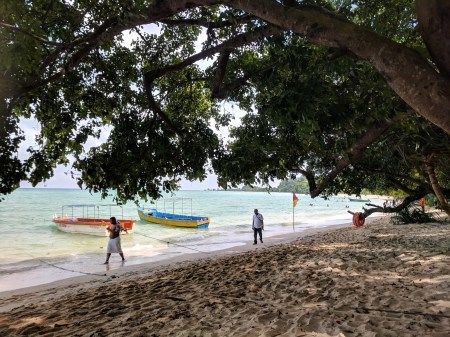 Could not help myself from visiting Lakshmanpur beach again..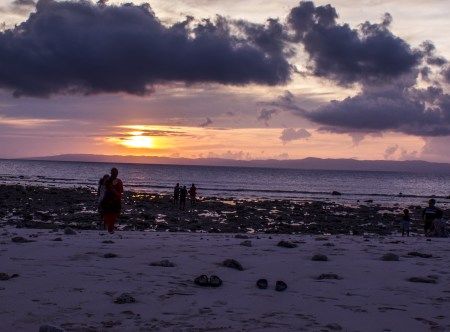 Havelock : At Least 2 Days, but 3 days is much better as it's a place to relax and enjoy. 1 day for Kala Pathar (Sunrise ) and Radhanagar (Sunset). 1 day for Elephanta beach for some water sports , Sea Walk or Snorkelling here. 1 full day for Scuba which is also best here after North bay.Views of Havelock.
We reached Havelock on 5th Day of our trip, and relaxed in hotel after dinner at Something Different. Something different has some tantalizing delicacies to offer. Make sure to treat your taste buds here.
First we went for Elephant beach in morning at about 10:30 AM on a shared boat which cost us 750 per person.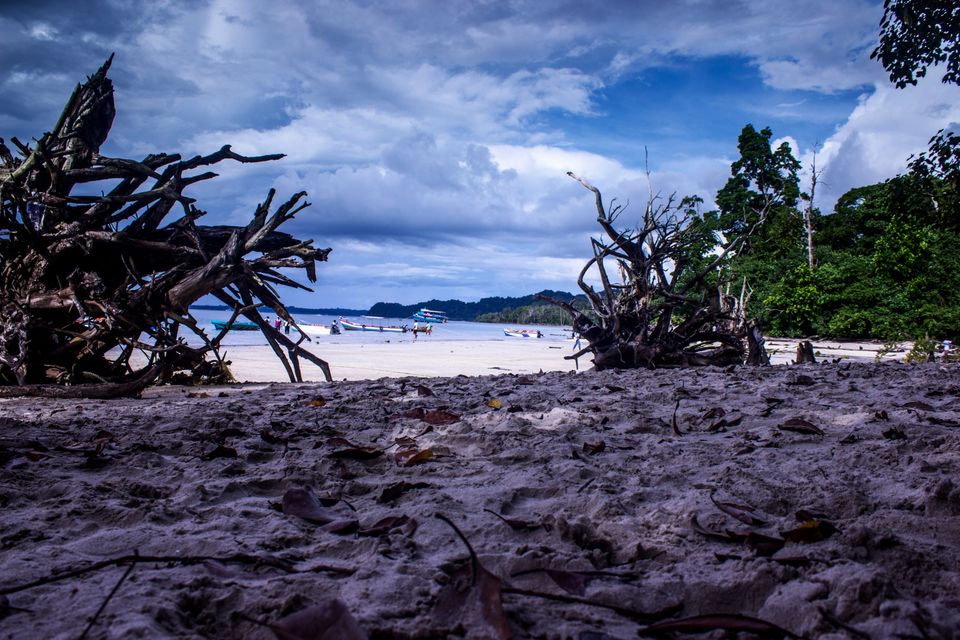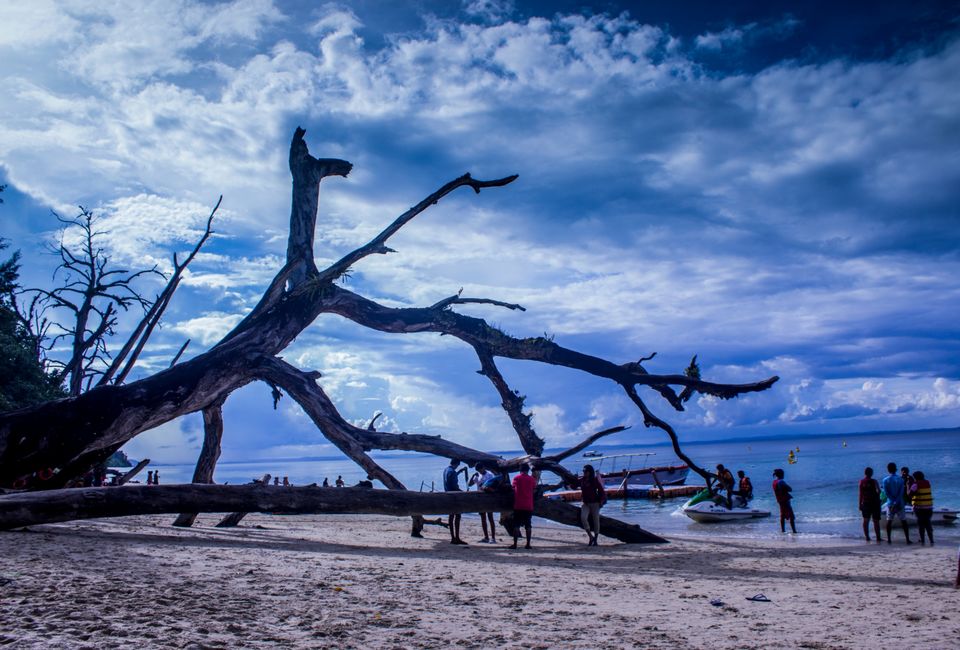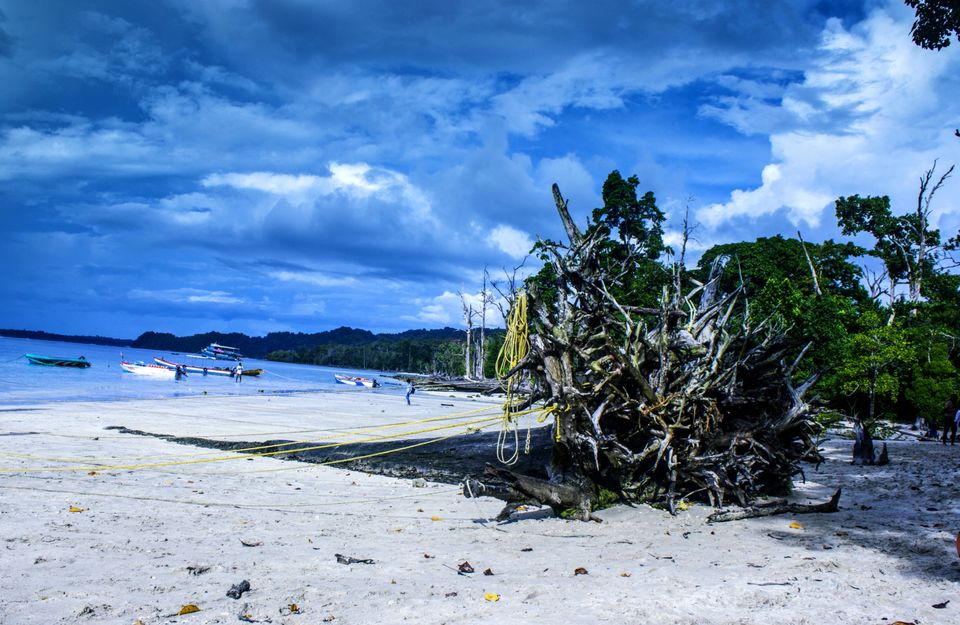 Asia's Third most beautiful beach according to Tripadvisor rating. Just an hour ride from Coral Reef Hotel Havelock.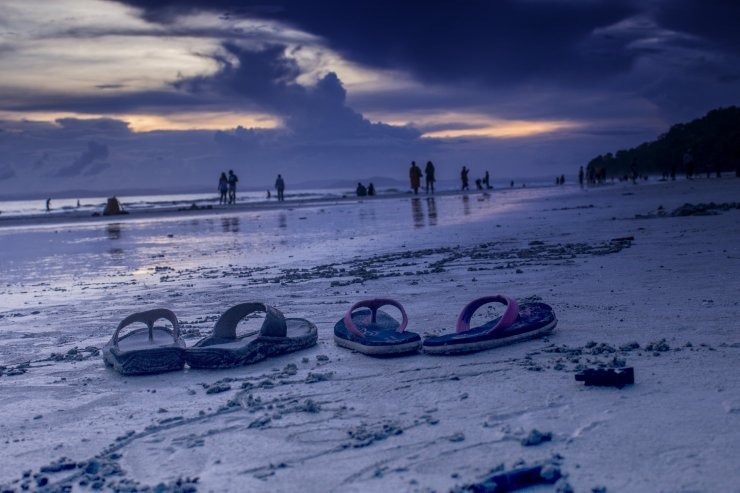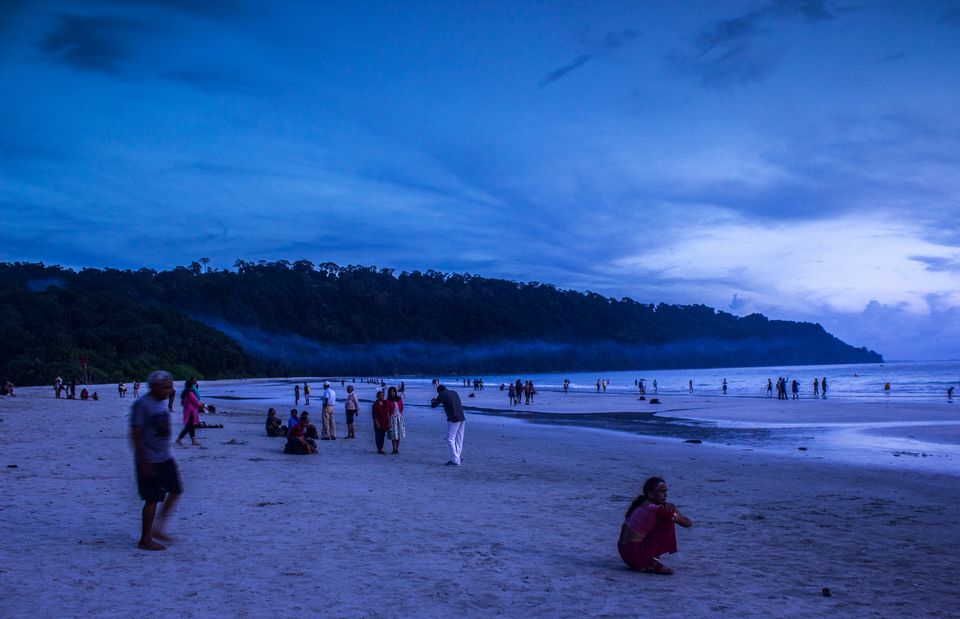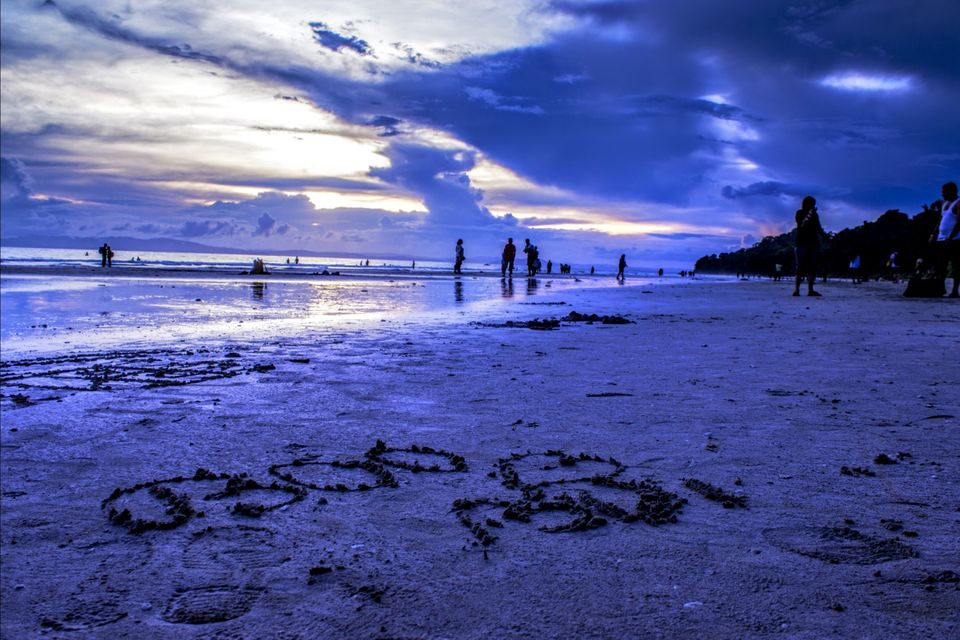 We Returned to Port Blair from Havelock on 7th Day of our trip and visited Chidiyatapu Beach .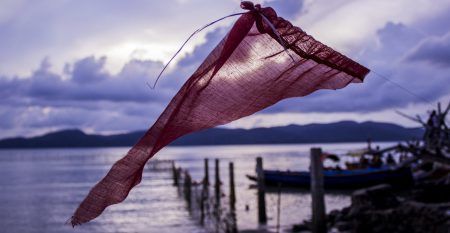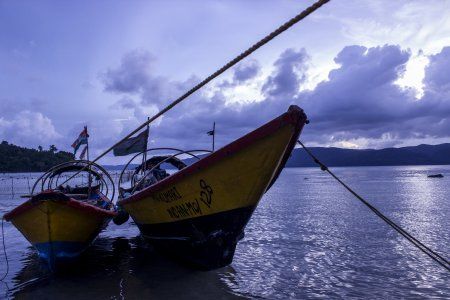 On Our Second Last Day of Trip we visited Baratang Island and covered Mud Volcano and Limestone Caves. You can either book a private cab for this trip or board a sharing bus which costs 1500 per person including everything, but private cab will cost 3500 just for cab and rest excluded.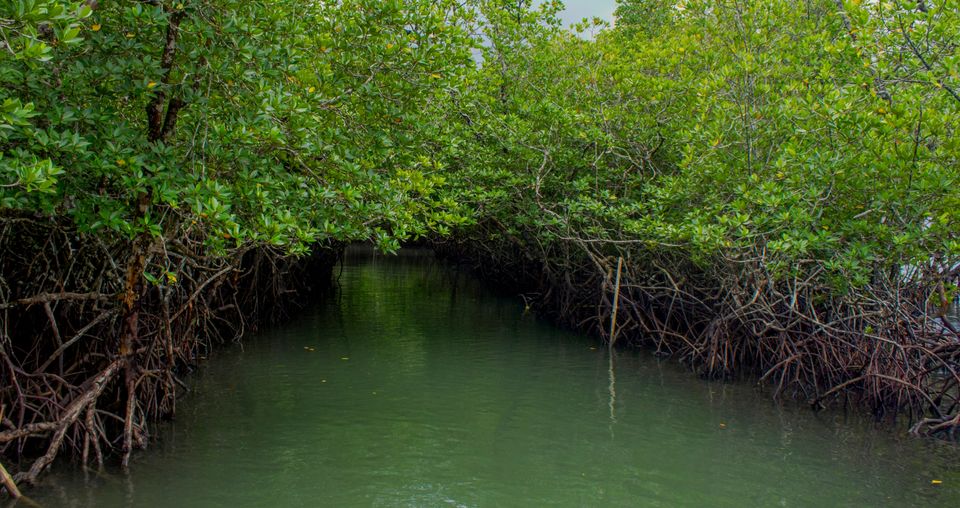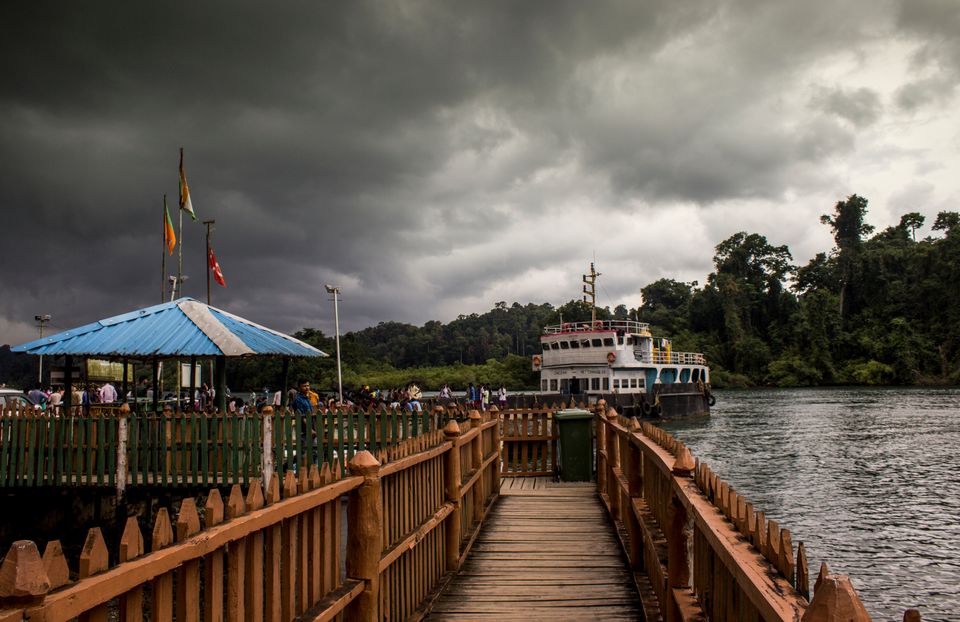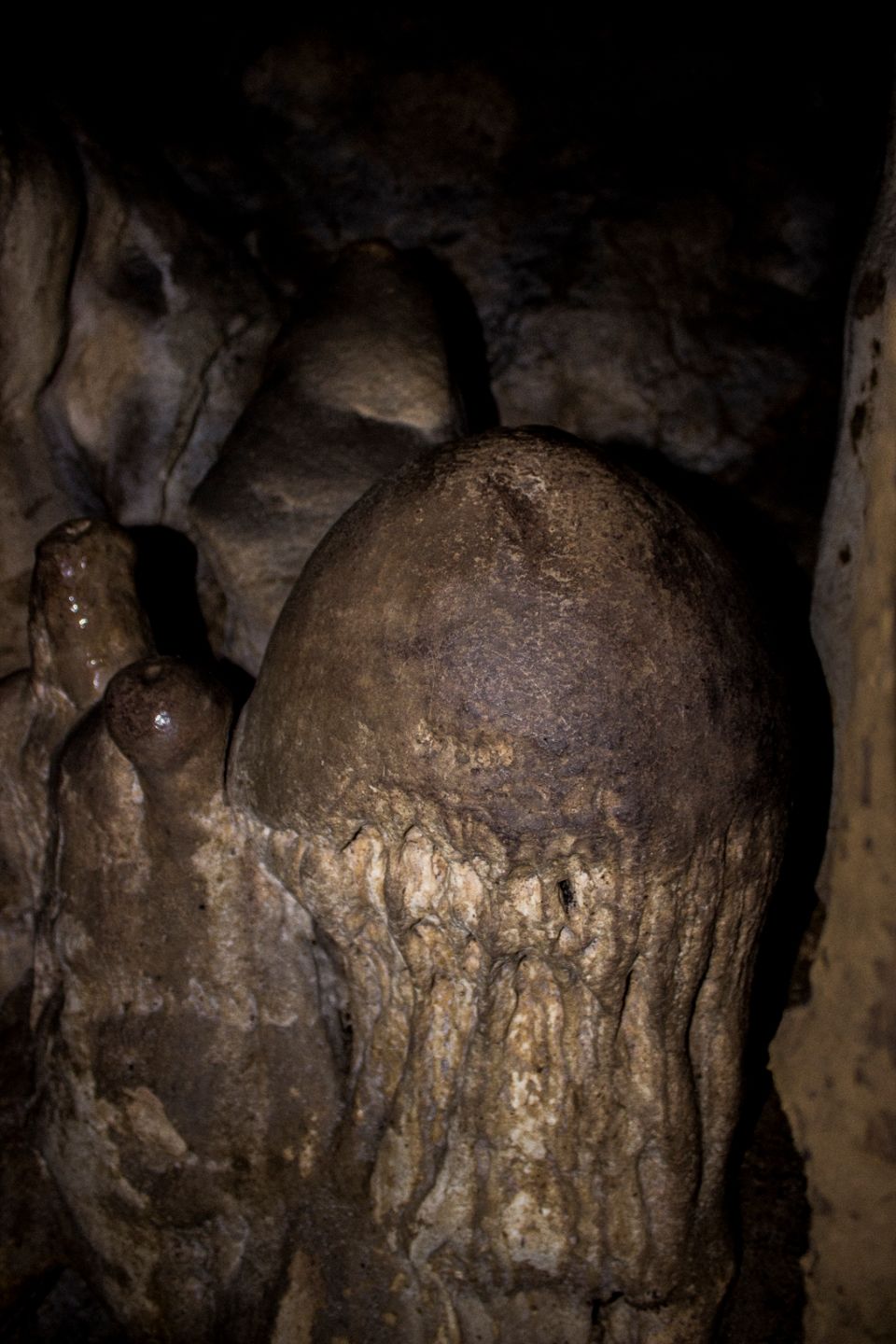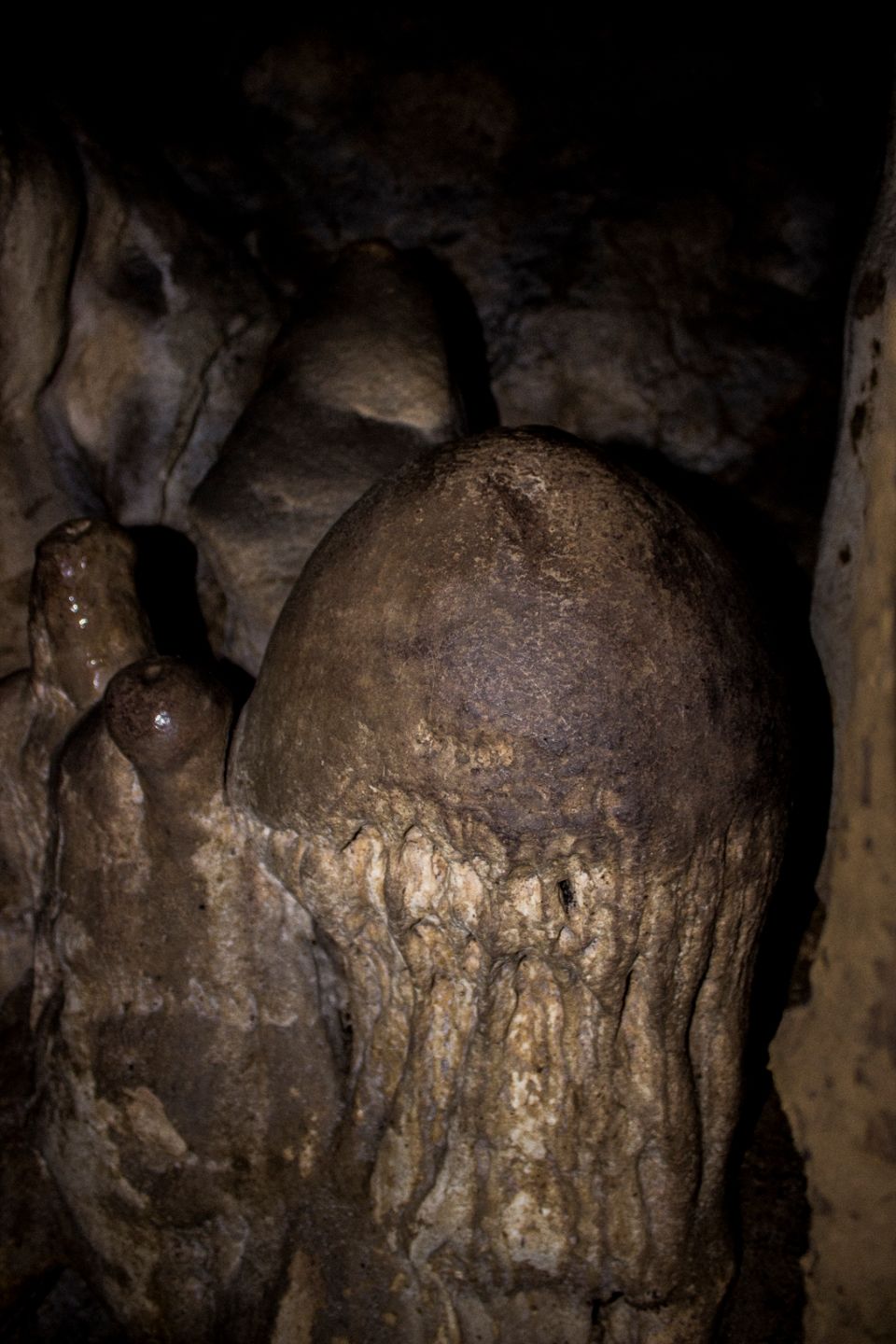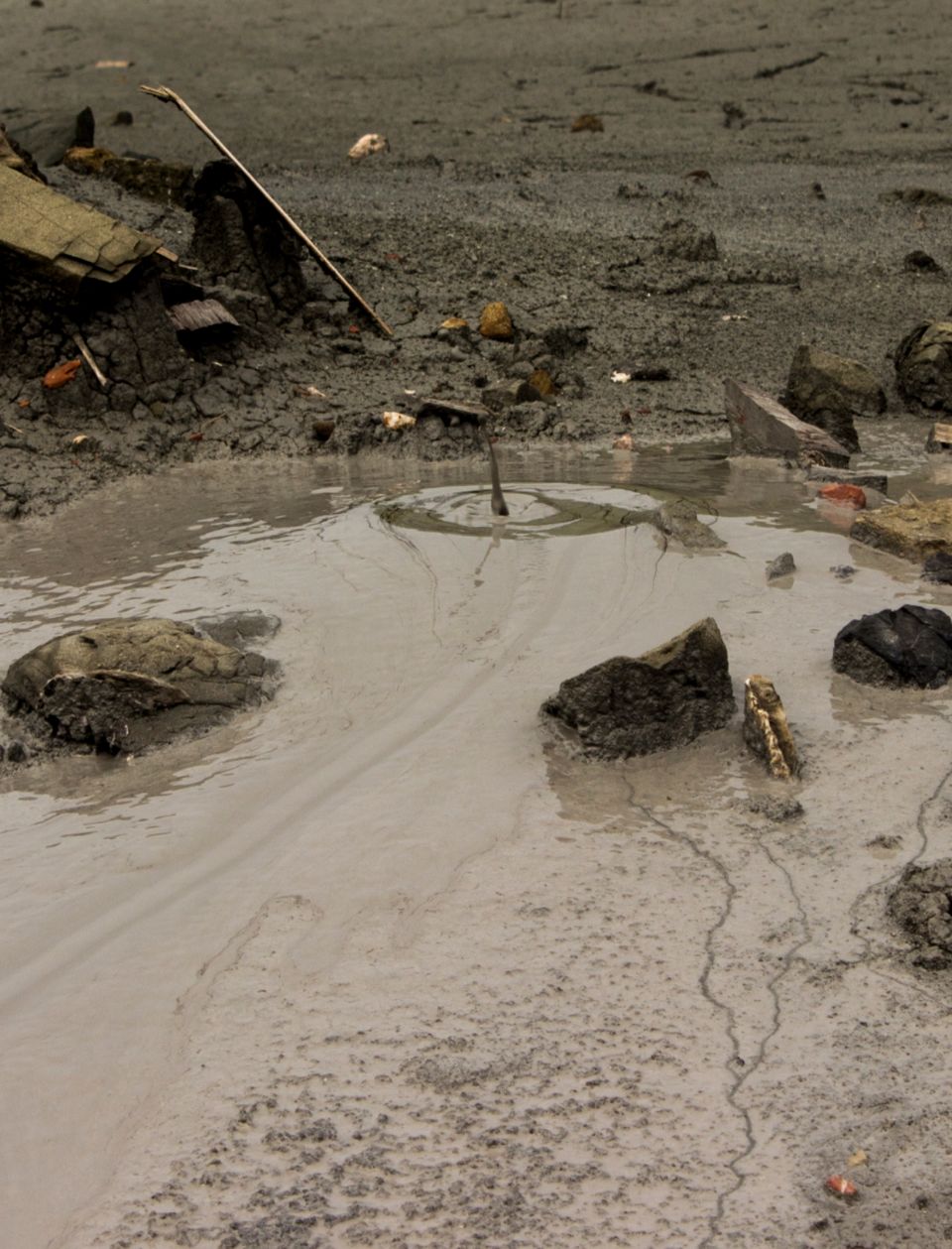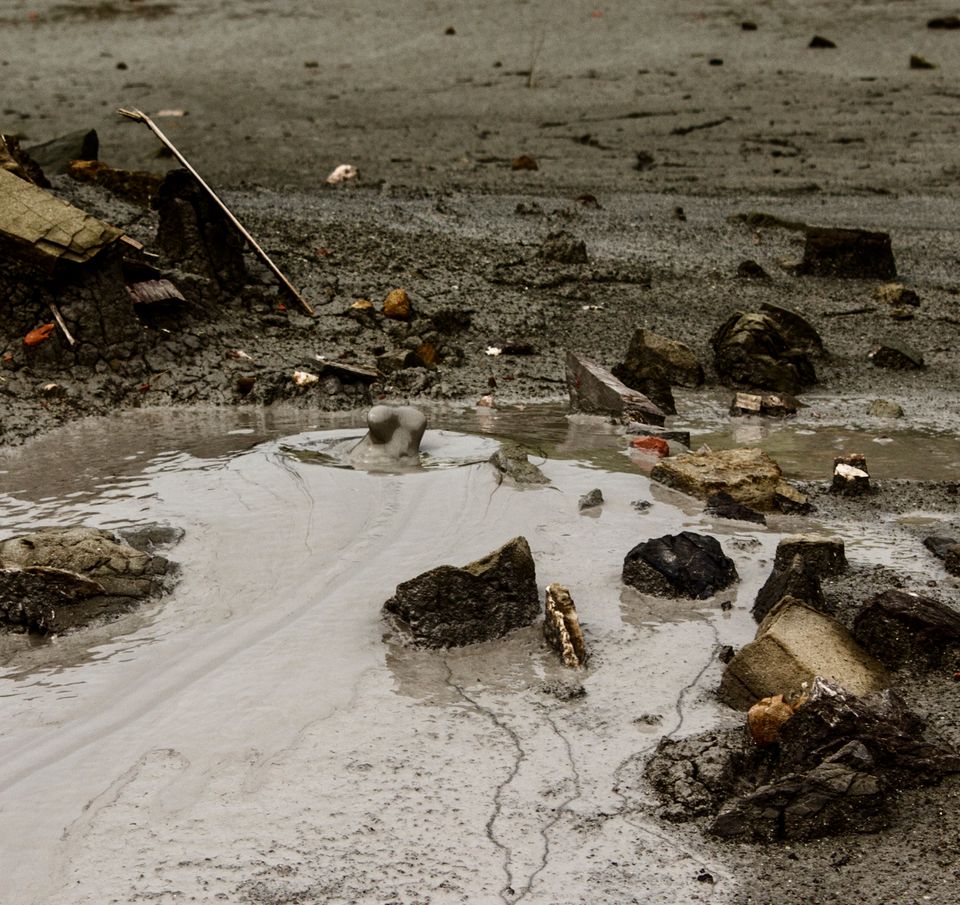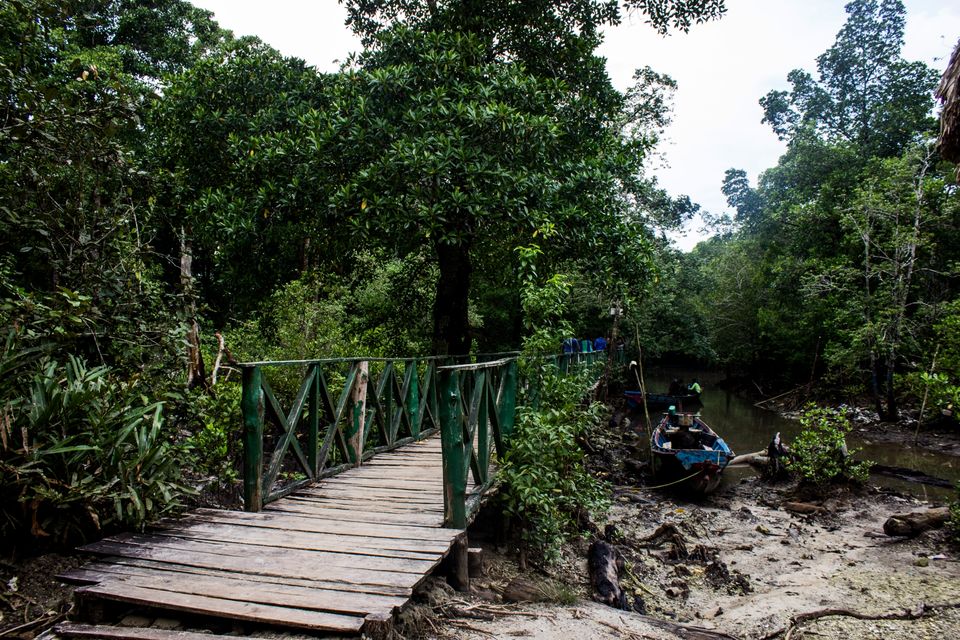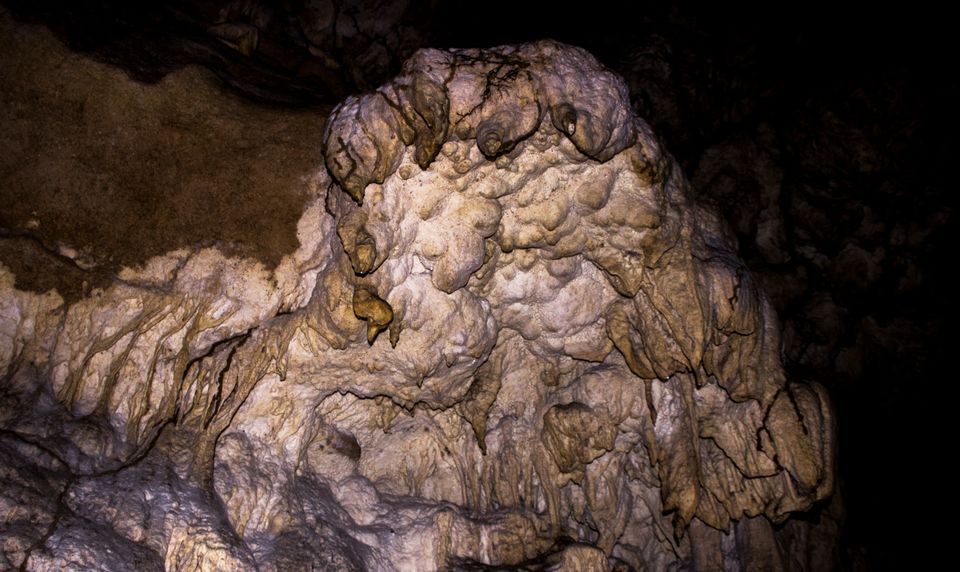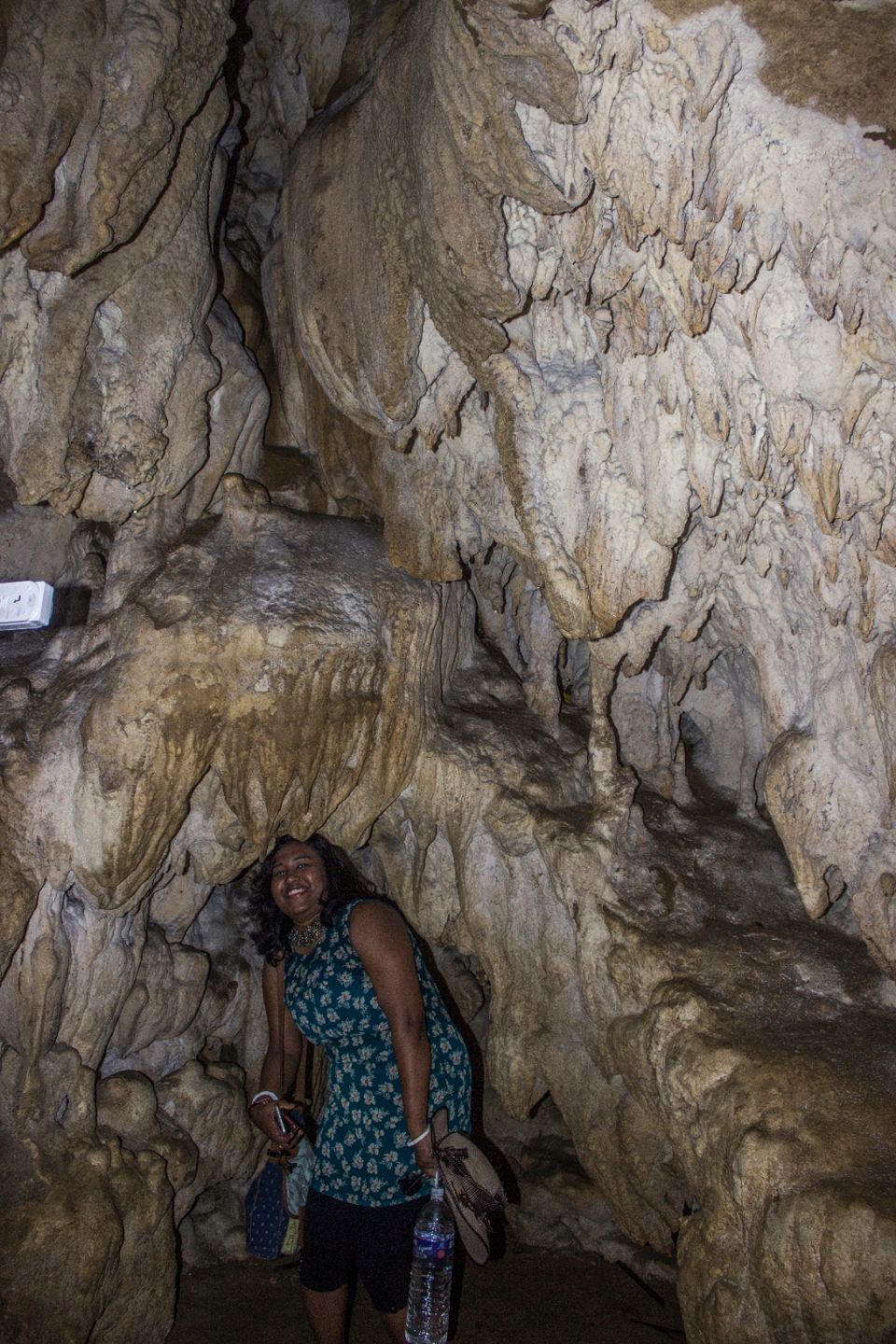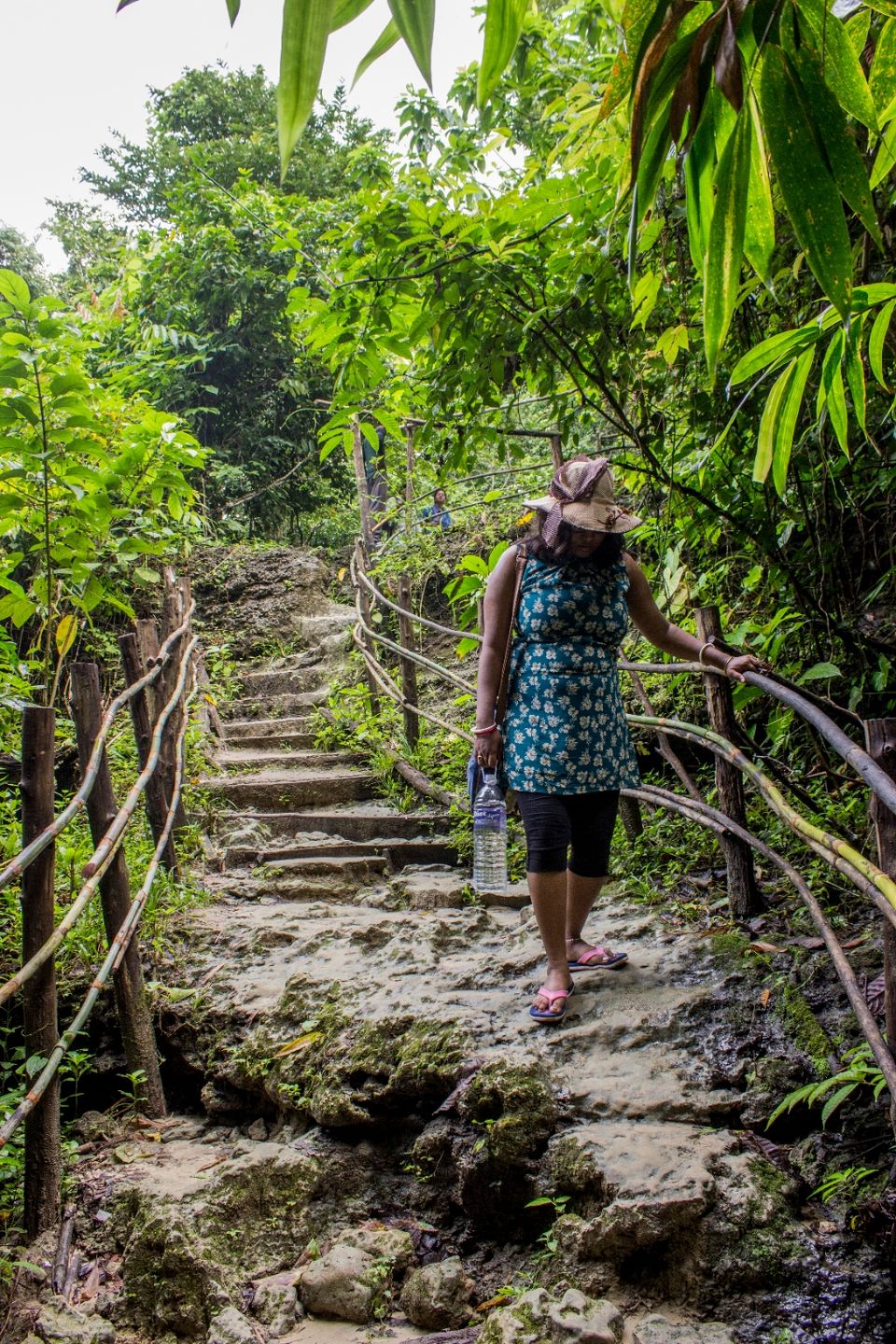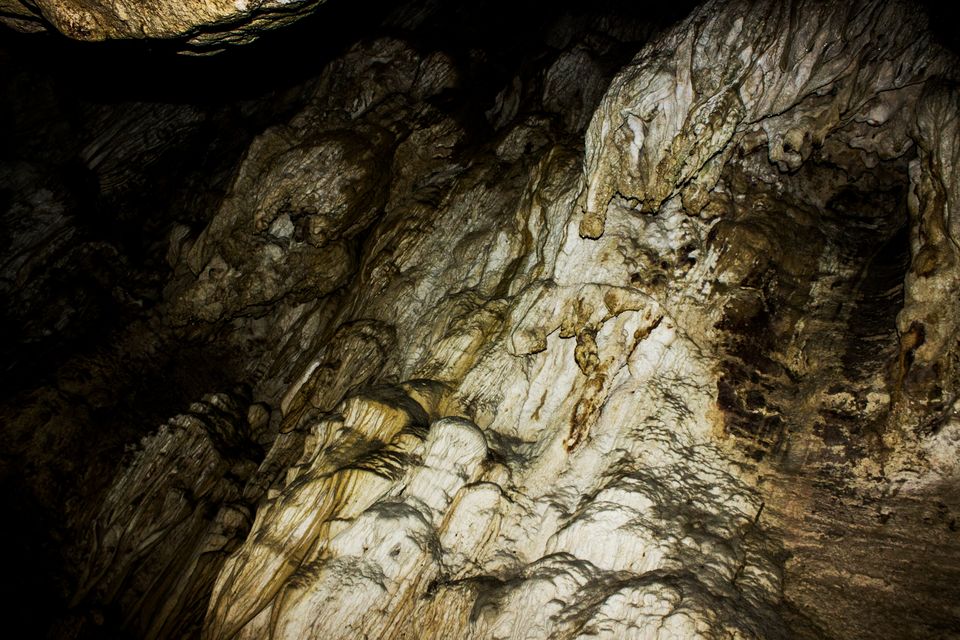 Now lets come to fooding cost when you are at Andamans.
Fooding Cost : For Veg minimum plate cost is 180 Rs/person. For Non-veg its 210 Rs/person.
Port Blair : For Veg best option is Annapurna or Amaya. Cost for 2 : 500 minimum. For Non- Veg best is Light House Restaurant. Cost for 2 : 600 - 2000. Must Try : Singapore crab Chilly, Lobster Chilly, Light House Special Murg.Lobster must not to be missed here: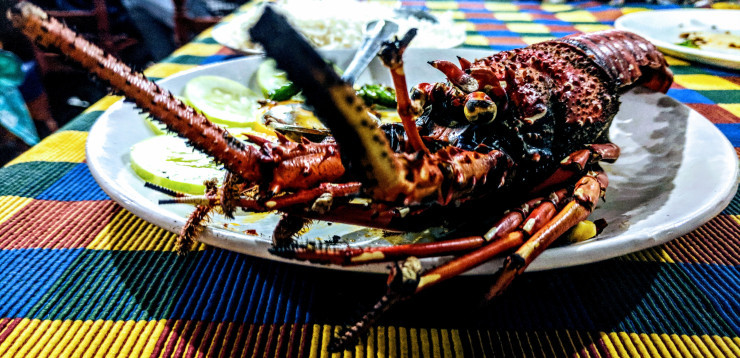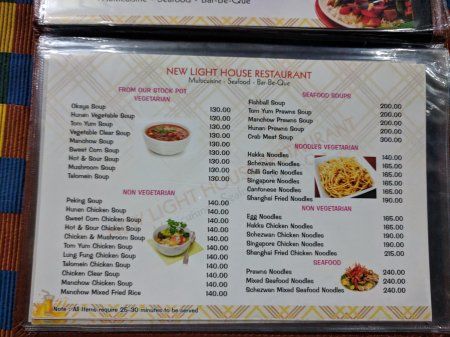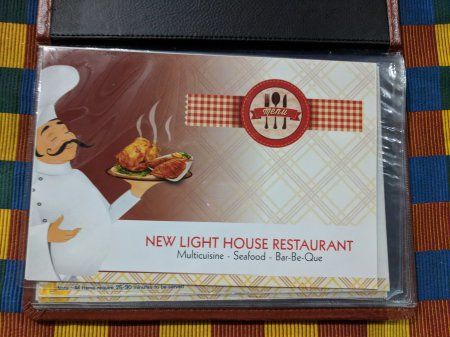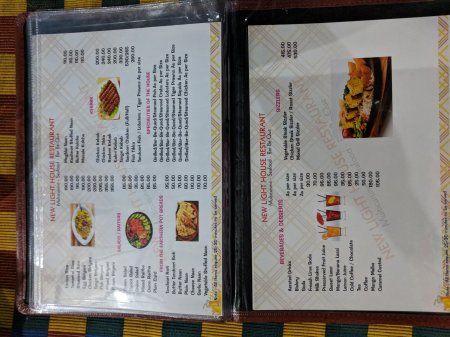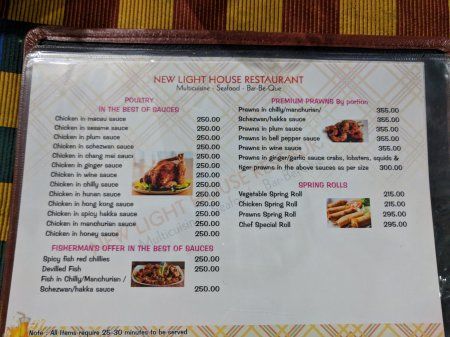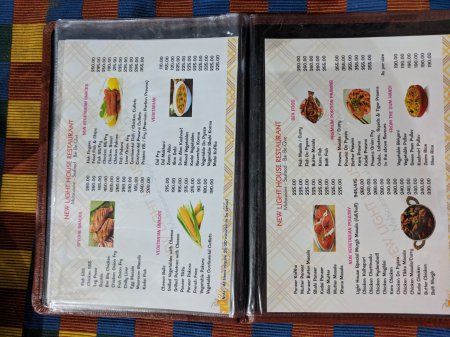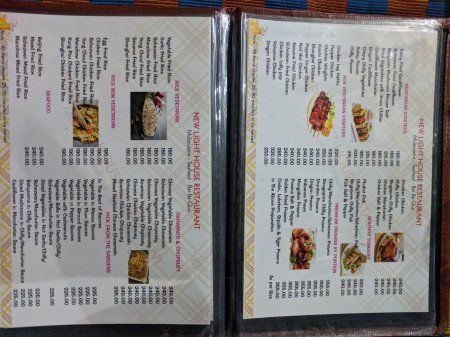 Havelock : For Veg the only option is Shakahaar. Cost for 2 : Minimum 600. For Non-Veg there are places which are must try like Barefoot Near Jetty, Something Different 10 mins from Jetty, Full Moon Cafe and Fat Martins Cafe.
Something Different : It's a must visit when you are at Havelock. They provide free pickup till Beach No. 5. Must Try Dishes : Pizza(any as it's their signature), Tandoori Fish in smoky flavour, Kitkat Shake, Chocolate Mousse and Garlic Prawn Pasta , any Lobster dish and Murg Biryani. All are their signature dishes. Cost for 2 : 1000 - 2200Tandoori Fish: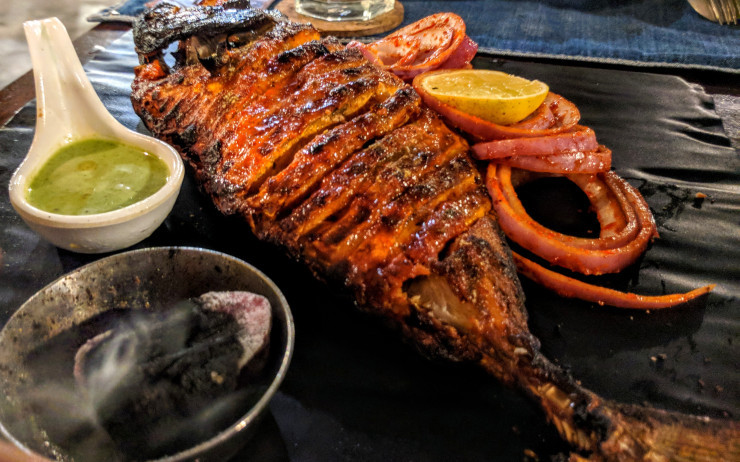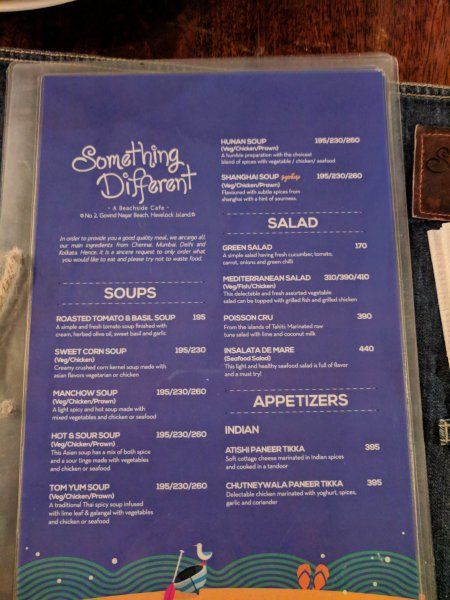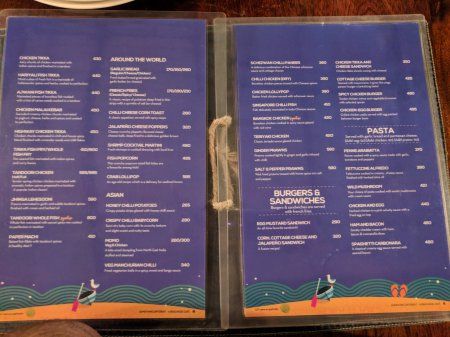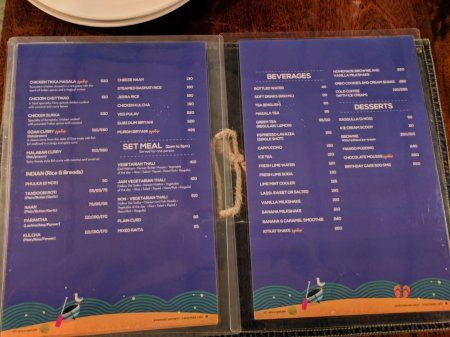 Neil Island: There are some good options available here, Bharatpur beach can be best for food, AND restaurant is a good option here and also The Restaurant. Also you can try out Holiday Inn Resort's Restaurant as they serve amazing food as well. Must Try : Crab Masala at both the places. Cost for 2(Non-veg) : 700 - 1500 at all around Neil Island. Cost for 2 (Veg) : 500 - 1000 Neil is cheapest among all three for food.
Island Tour Options and Cost: For Havelock and Neil Scooter is the best option like Activa or Jupiter (500 for 24 hours). For Port Blair some places can be visited on Activa like Carbyn's Cove, Cellular Jail, Museums. For Chidiya Tapu , Mount Harriet and others make sure to hire a auto, fare can vary from 800 to 1200. As if you wish to drive , then it can be tiring. Auto fares can be 20-30 per Km, don't bargain much with autos as they lead the toughest lives there due to high living cost. Make sure to book a ticket for Baratang in advance from Saro Travels which is 1600 per person including food. Contact at 9933227218/9434271812, activa for rent is also available here.
For Inter Island Connectivity : Government ferry can cost upto 250 per head , but best is Makruzz ( http://makruzz.com/site/ ), amazing service , ticket price starts at 1000 per head. For Elephanta beach trip cost can be 950 per person, make sure to go before 10 AM at Jetty to get the tickets. For Ross Island and North Bay trip cost can be 1000 per head, and Scuba is at 3500 per head at North bay. For Jolly Buoy Island trip cost can be 800 per head. Cellular jail visit is 50 per head. Mount Harrient can be somewhere around 1000 per head. Ross and Smith Island visit is best via chopper which costs around 6000 per head as it's at 12 hours distance from Port Blair.Normal cost via jetty can be lesser but not sure about the cost and may take more than 12 hours to reach.
Shopping :
Must Buy : Uncut Black Pearl, Uncut White Pearl, Pearl Sets, Coral gemstones, Jarua artifact made out of fish Bone, shell artifacts, Coral sets and Shakha (bengali bengal), Uncut white pearl or black pearl bracelet.
Best place for shopping of Junk Jewellery and Pearl : Lakshmanpur Beach and Bharatpur beach at Neil Islands, here these items are cheapest. Coral sets, Pearl sets or Shell sets , Shakha . Price for Coral sets starts from as low as 80 Rs , for Pearl Sets starts from 100 Rs, Shell sets starts from 60Rs and Shakha set starts from 150 Rs per pair, Pearl starts at 80 per piece. Make sure to buy uncut pearl bracelet which is a unique item at 150 - 200 Rs.
For Uncut Pearl, Coral Gemstone : Vyas is best shop for all these and some unique jewellery. Also Abrdeen bazaar has some more shops which you can visit. Uncut Pear costs 500 per piece, Uncut Black Pearl Pendant costs 800 per piece, Coral gemstone costs 40-50 Rs per carat, check its originality with lemon juice (if color changes than duplicate), if consists small holes or marks like hole then original.
Important Points to Note:
Turtle meat or Egg is banned.
Raw Coral banned.
Turbo and Torchus Shell banned.
Make sure to not pick anything from sea shore.
Traffic rules are very strict there.
Make sure to take bills for shell items, pearl items you purchase.
Scuba in North Bay and Havelock is best but North Bay on number 1.
For further details on prices of food you can check out my reviews on tripadvisor.Make sure to try Sea Walk in havelock , its altogether a different and unique experience you can have.
Barefoot : It's another must visit. Must try Dishes: Tuna Steak, Seafood Pizza , Havelock Dreams Mocktail and Brownie dessert. Cost for 2 : 1200 - 2500 Full Moon Cafe and Fat Martin's Cafe are also good places for dining in.Sea Food Pizza and Tuna Steak:(Total Cost of These with some Mocktails and Chicken was 2500.)