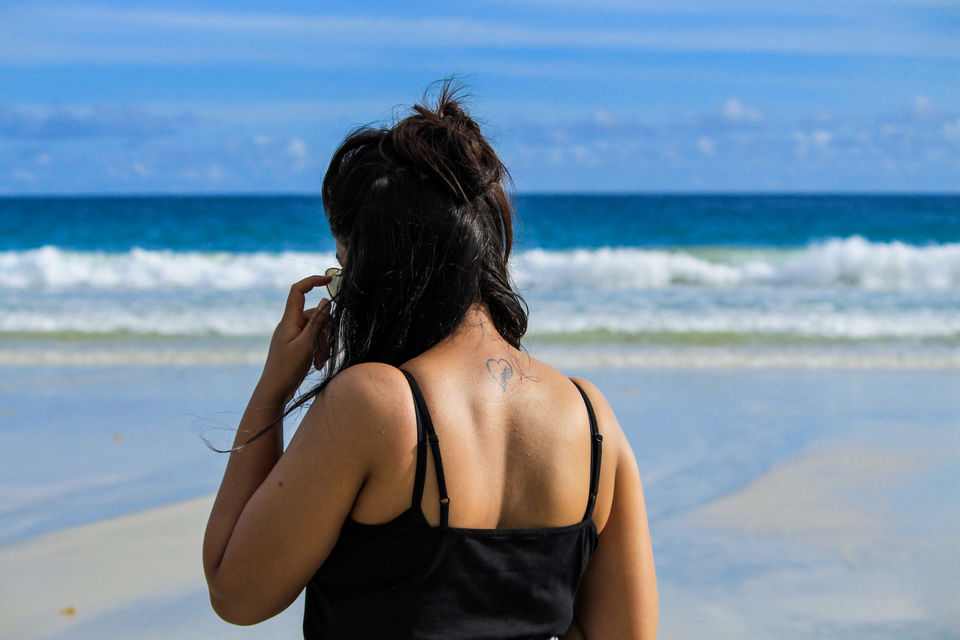 Travel for me has always been a simple act - pack a bag and leave! And the first choice has always been hills. I am a complete mountain baby and I run to the hills at the very first chance that I get. But this one was different. It was Amma's 60 th birthday and we had to plan something special for her. After a lot of brainstorming, we finalized on Andamans. I was extremely apprehensive - this was my first exotic trip to the beaches and also, what are beaches in comparison to mountains, right?!
But all this and many other doubts and worries were about to be shattered in this 5 day trip. Here is one such trippy account - A Mountain Girl On An Island.
We started our journey at 3:30am on a Saturday morning. Our ( Go Air) flight was at 5:30am, a connecting one - with a stopover at Kolkata. We landed in Port Blair at around 11:30am. The airport was tiny! I kid you not! It looked like a mini-model of a wannabe cool and hep airport that could unfortunately never see the light of approval! After waiting at the luggage belt for 20 minutes and patiently dealing with the crowd, we finally exited.
We had booked the package through Travel Triangle and the tour agency guide was at the exit door to pick us up. While our representative Mr. Debashish walked us through the itinerary, our driver Mr. Zaheer dropped us at our hotel in Port Blair, J Hotel. We were extremely picky while choosing our hotel in Port Blair as one of my friends had pre-warned me about the fact that there is no co-relation with the star (*2/3/4/5 star) and the services offered. but thankfully, J Hotel turned out to be fab in terms of customer service. The wifi sucks here but the ever smiling and thoughtful staff makes it up for it. The guard, Mr. Dharma is one kind soul and his infectious smile can totally make your day!
Our room (105) was spacious and had a huge dressing table! We freshened up and ordered lunch from the hotel restaurant - Rice, Fish curry & crunchy munchy papad was finger licking good! No offence to Mr. Colonel Sanders and his chain of Kentucky Fried Chicken stores, but the chef at J Hotel changed my definition of finger licking good!
Later on, we headed to Chidiya Tapu Beach. It was a 40 minute drive from J Hotel. Also known as Sunset Point and Bird Island, it is one of the best places to see the sunset in Port Blair.
The road to the beach crisscrosses through dense jungle that opens up along the coastline a few times. There are "beware of crocodile" signboards at the beach. Mr. Zaheer informed us that prior to the Tsunami that hit the area in 2004, these crocodiles were kept in a zoo next to the beach. But after the Tsunami, well, the mighty creatures were back to their original home and hence the sign board. The authorities have marked a portion of the beach and the visitors can only walk around in that area. Although it was cloudy, the setting sun had left the sky blushing.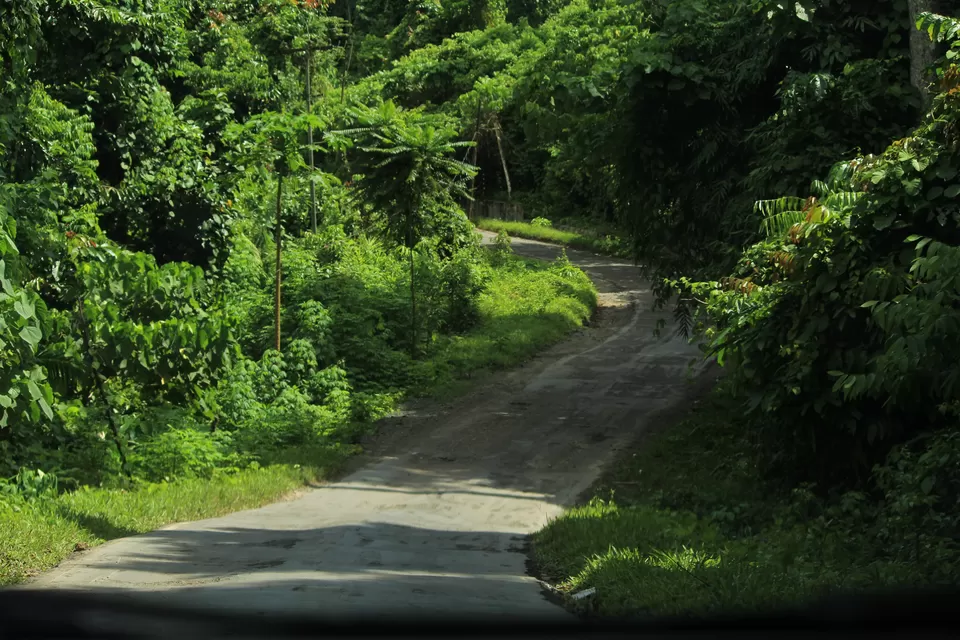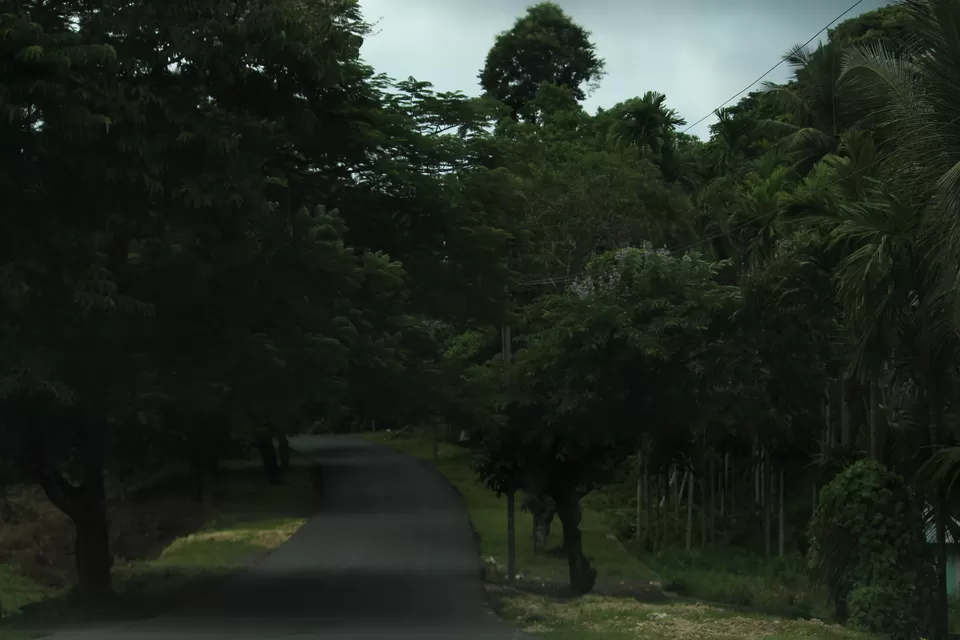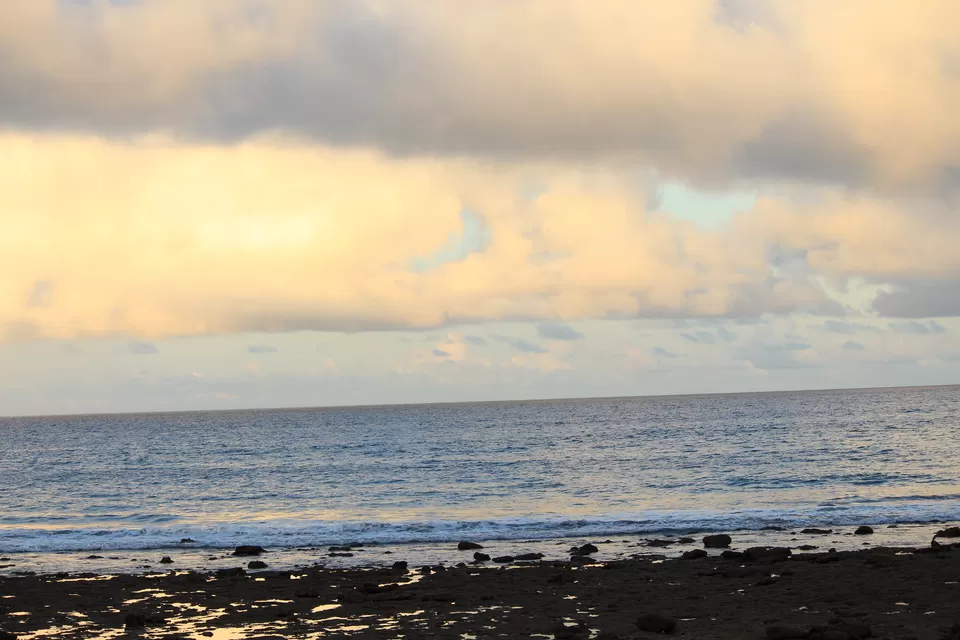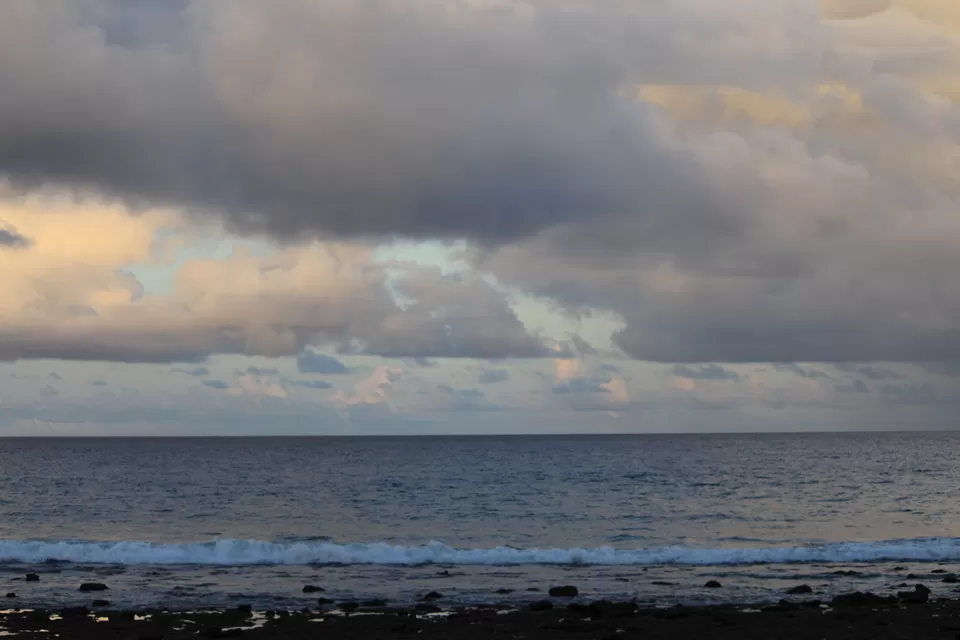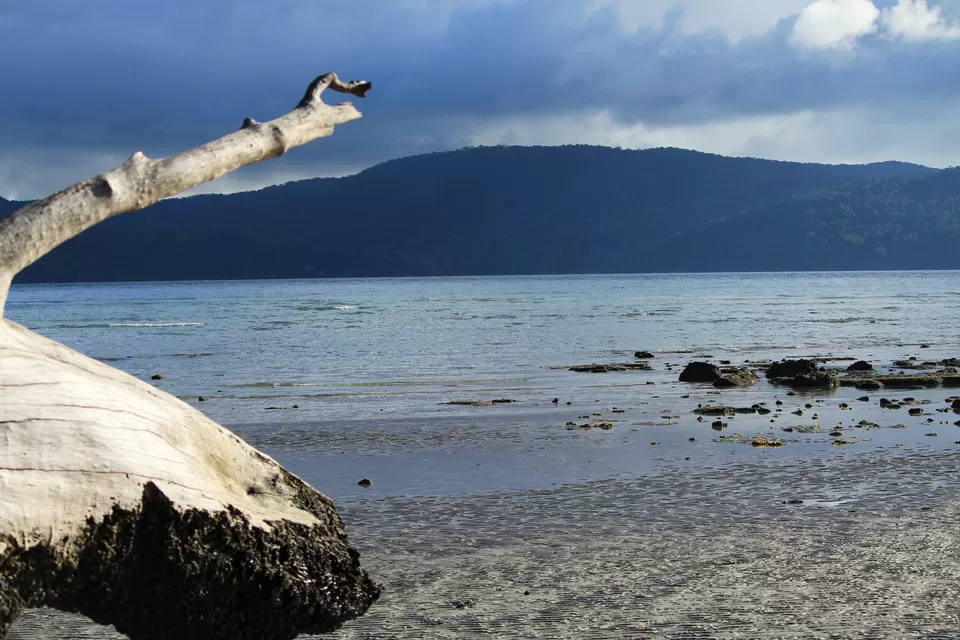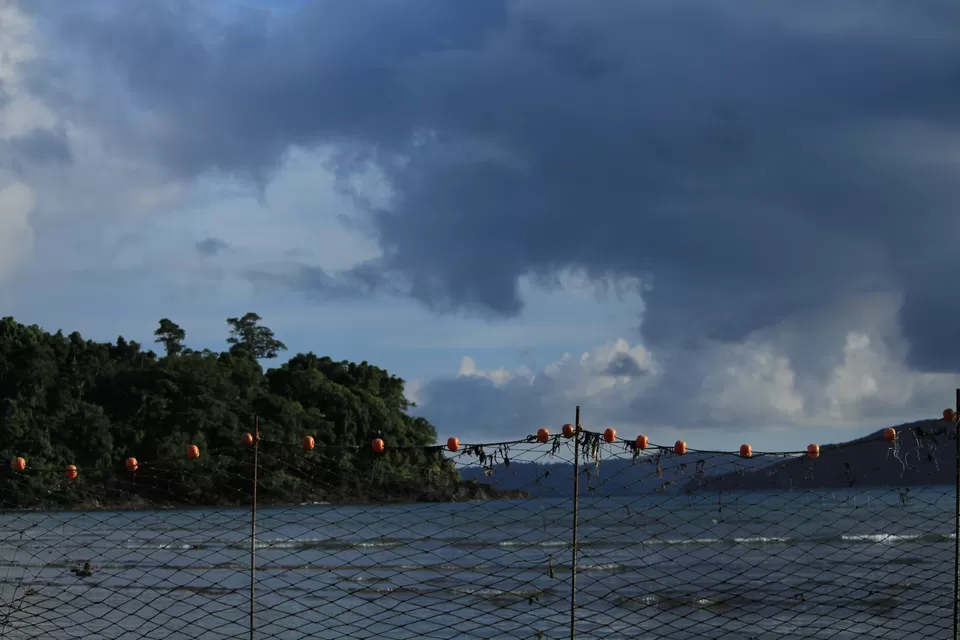 Day 2 started with us checking into Macruz - the ship journey to Havelock Island. The cruise was a double decker and was impressive! They also had a reasonably sized cafeteria but their tea and coffee was far away from being okay! Our co-passengers, well, the word loud would be such an understatement for them and their behavior. One lady out of nowhere started singing 'Satyam Shivam Sundaram' and she didn't stop for the next 40 minutes! Resolute, I must say! Woh lagi rahin! It was a 2 hour ride and we were at the mercy of God and the Captain!
Havelock Island, the largest of the islands is named after a British general, Sir Henry Havelock and consists of mainly Bengali settlers.
Mr. Khan was at the Havelock port to receive us and our driver, Mr. Praveen dropped us at our hotel, Symphony Palms. Their reservation team was on an off (since it was Sunday) and we therefore had some difficulty in checking-in. But it was resolved in about 20 minutes (once they had a word with our travel agent). We were staying in Symphony Casa (room number 30) and the property was divine! A cup of kadak chai later, we were on our way to Radhanagar Beach.
Also known as number 7 beach, Radhanagar is one of the most popular beaches on Havelock and was named 'Best Beach in Asia' in 2004. The coconut water sellers, the fruit chaat lorries added to the overall feels of the place. The beach is extremely well maintained and is clean. It has a little restaurant that hosts buffet during lunch time and tea/snacks after 4pm. The white powdery beach is a treat to watch and experience. We spent the day swimming, making sand houses and taking sun bath. And the unlimited supply of coconut water and fruit chaat was cherry on top.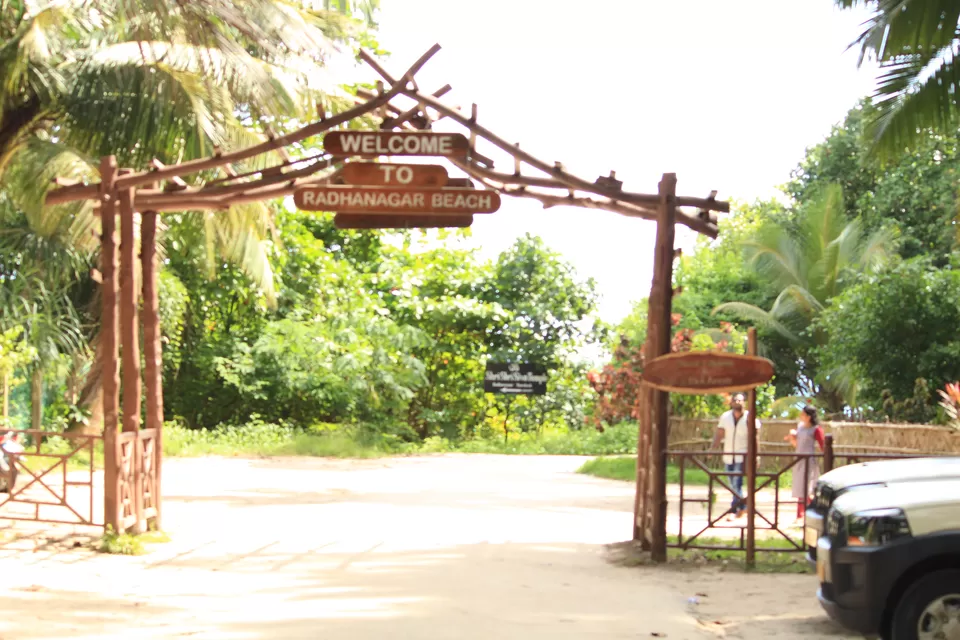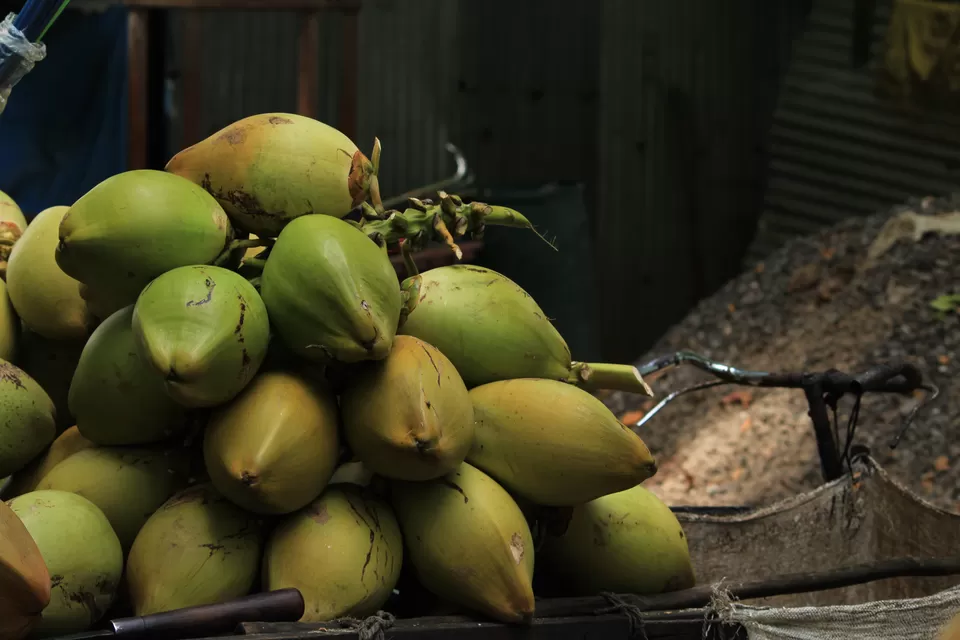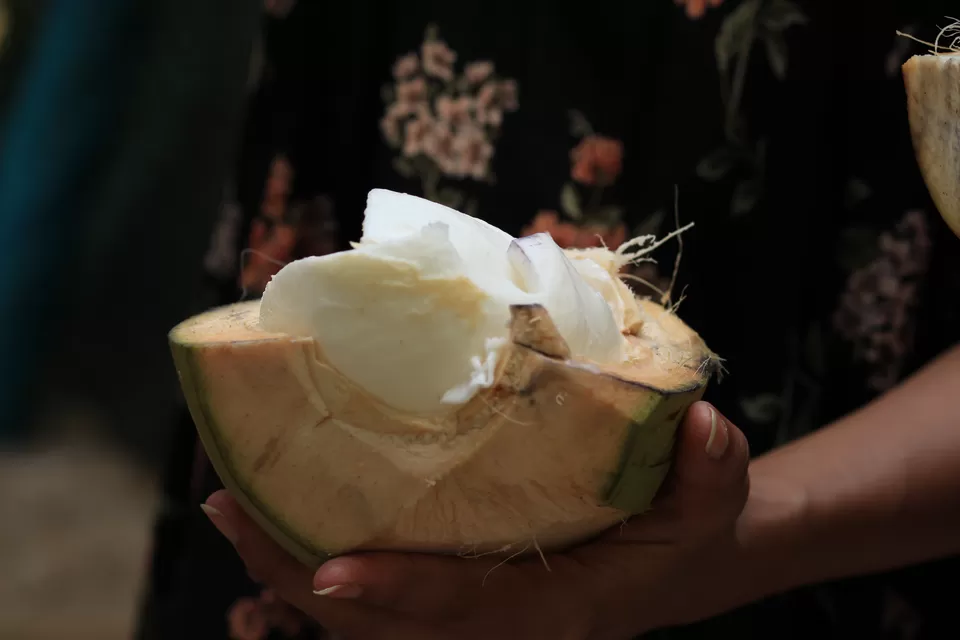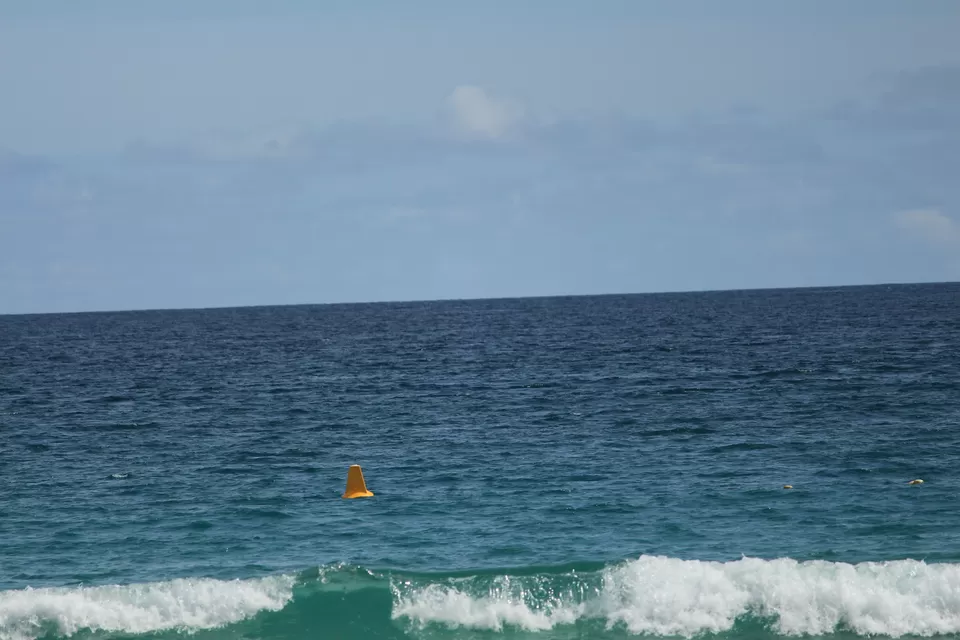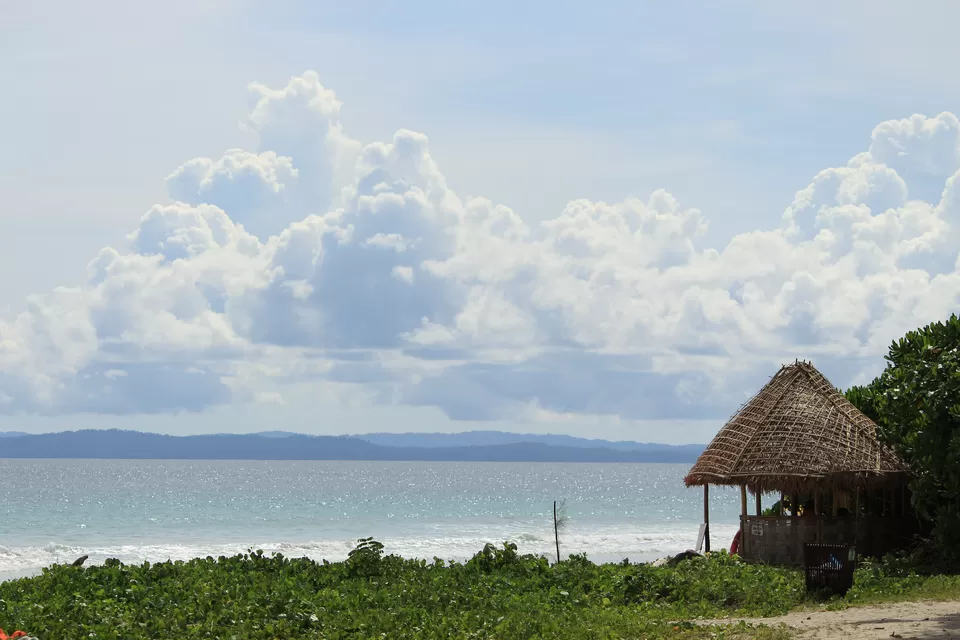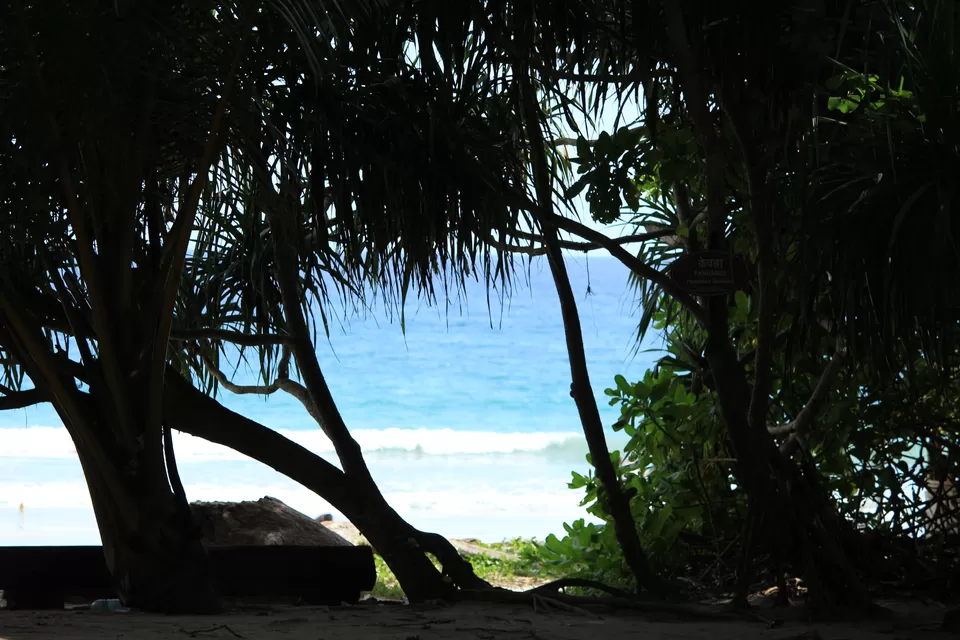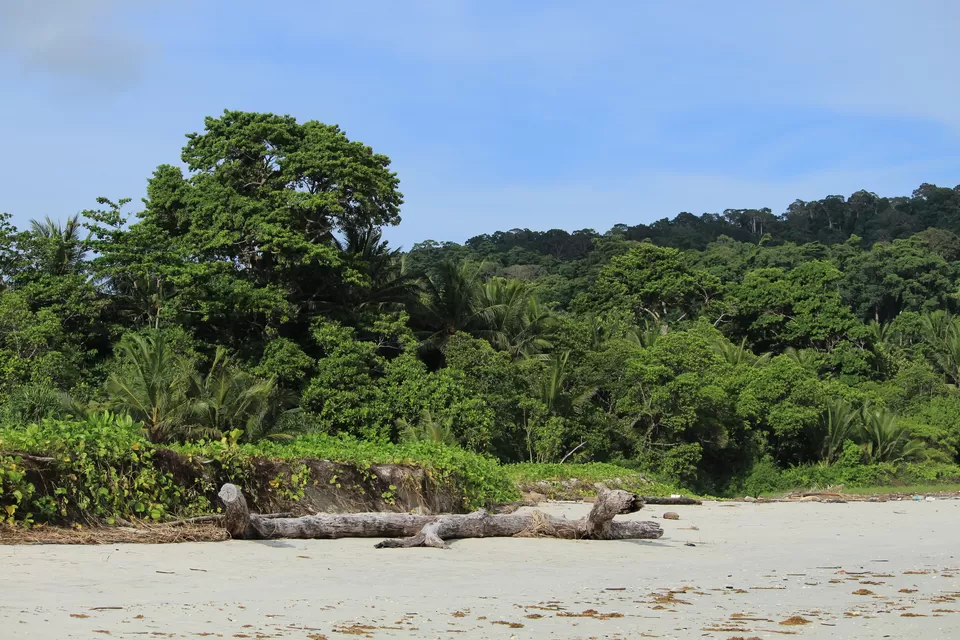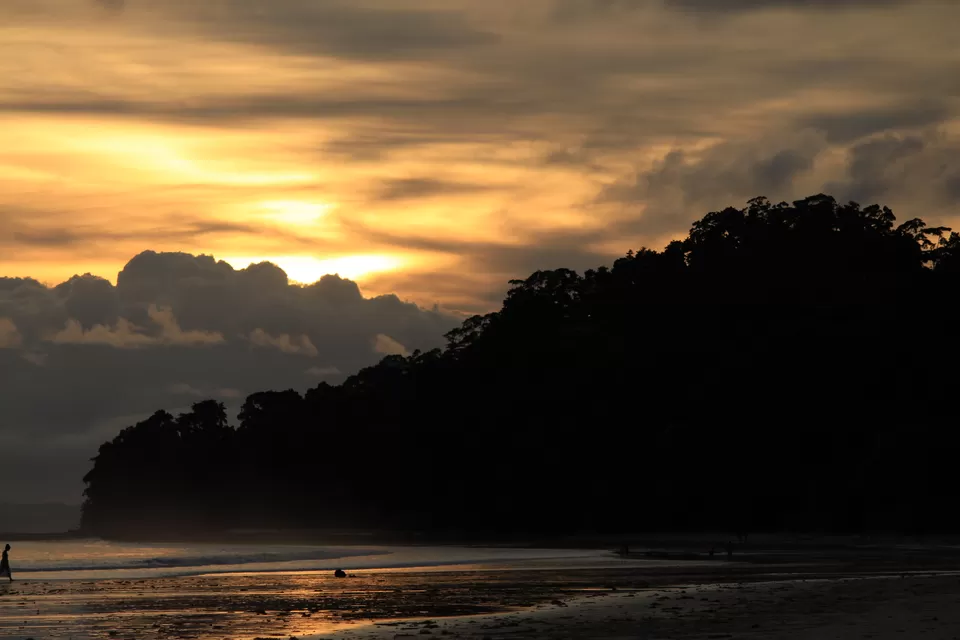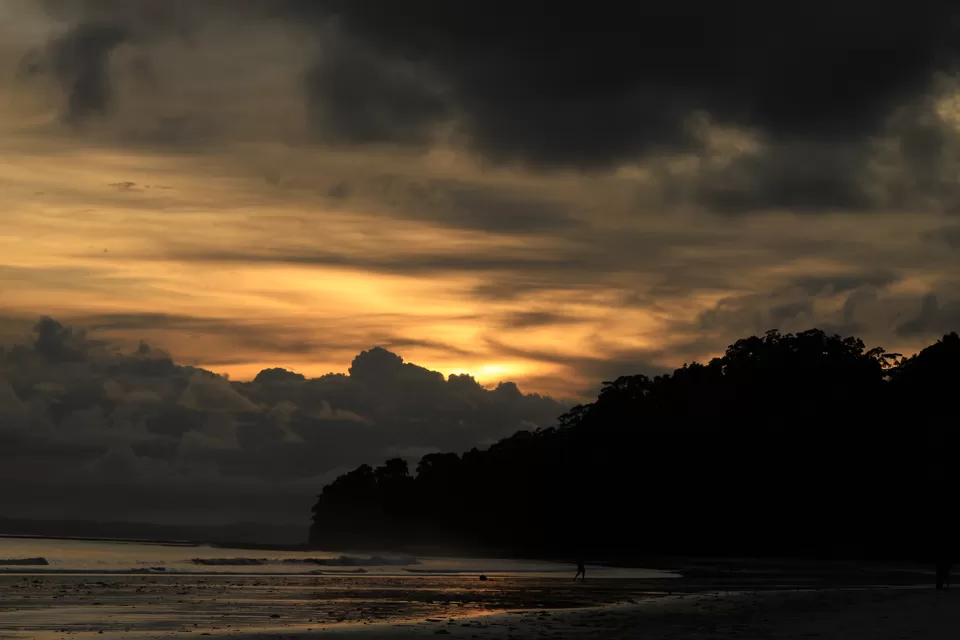 At Symphony Palms, we were served scrumptious dinner! Part of their staff were from Delhi and Uttarakhand and there was this instant connection! They also made Shahi Tudka on our request. With happy belly and happy heart, we decided to walk on the beach. Mr. Moon had indeed jazzed up the place!
"The moon was up, painting the world silver, making things look just a little more alive."
I tried taking pictures with Canon 700D at f/4, 1/6 sec exposure time, ISO 1600 and these are the shots that I got. Please suggest alternate settings that I could have used to get better clicks.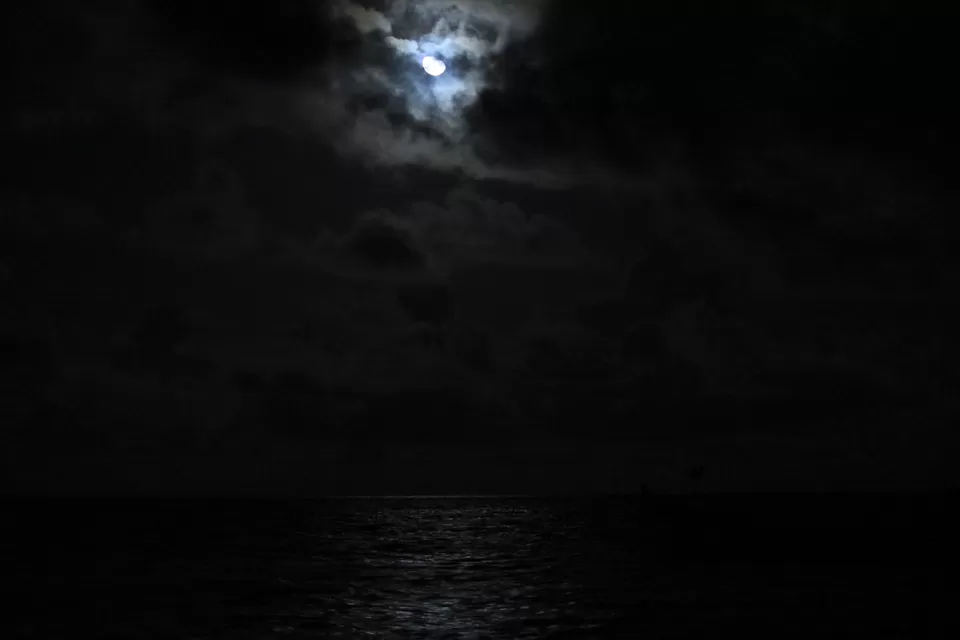 Day 3 - We got up at 4:30am to capture the sunrise shot.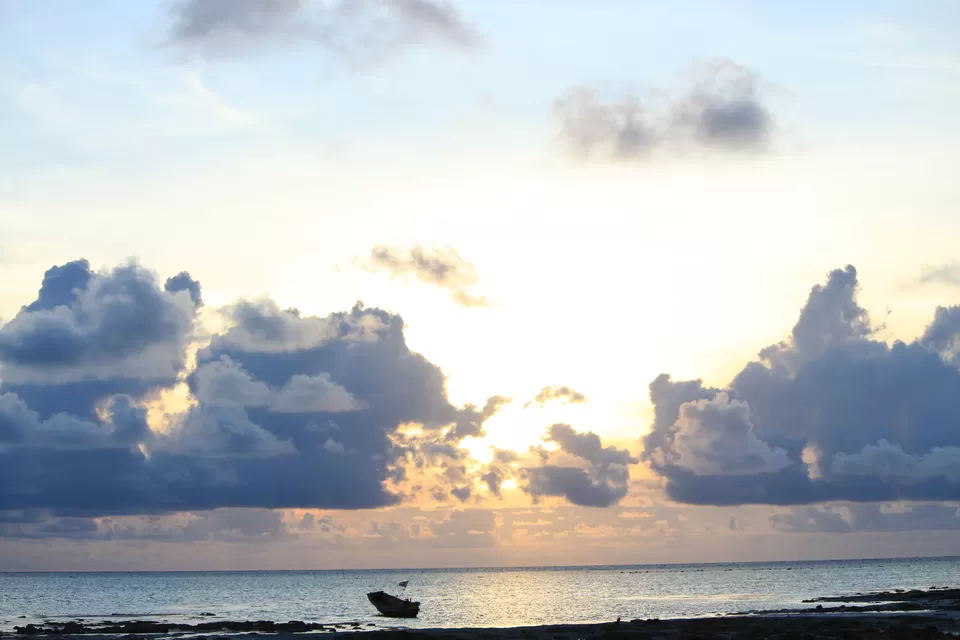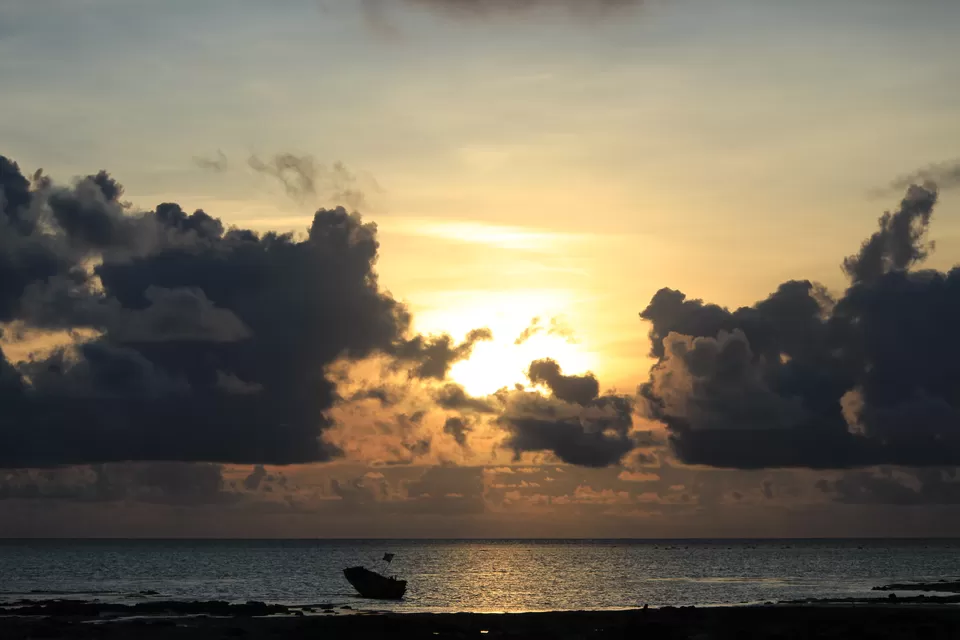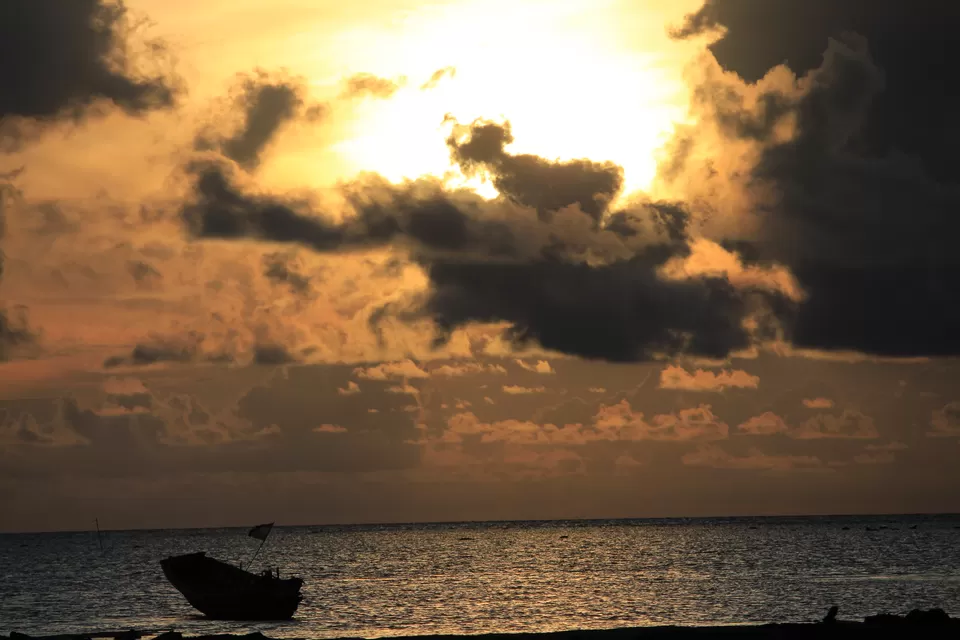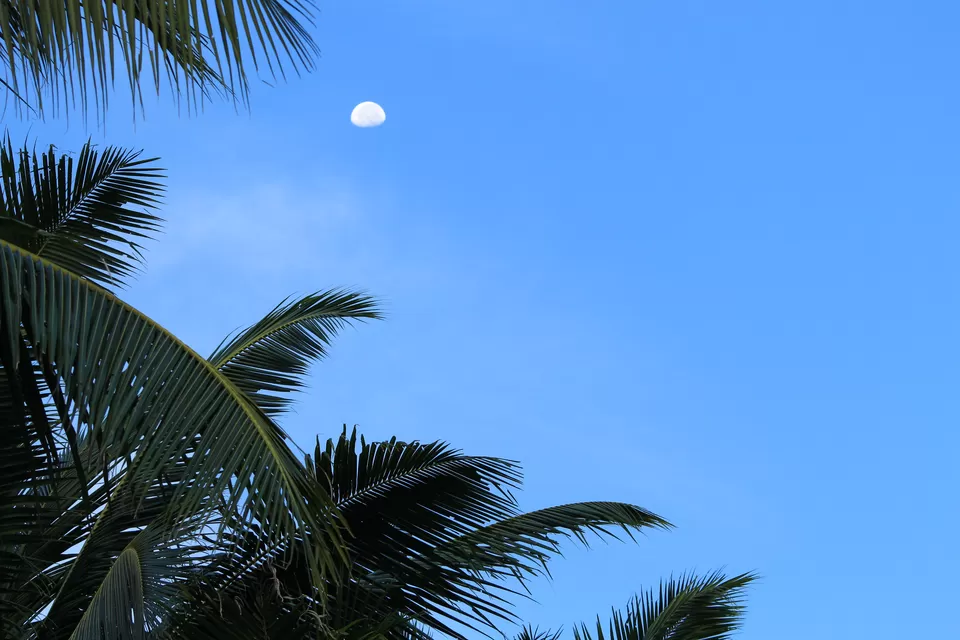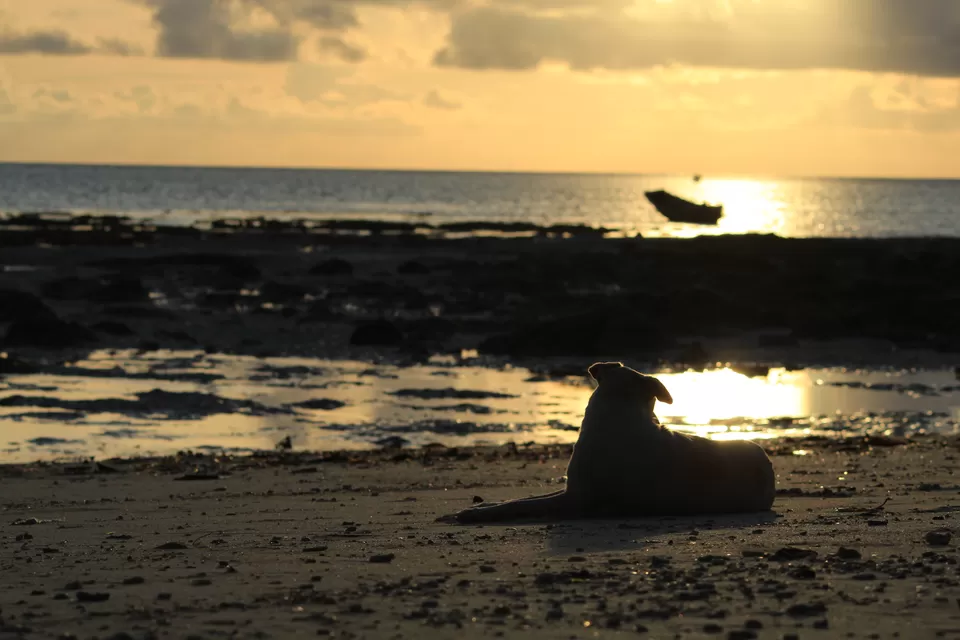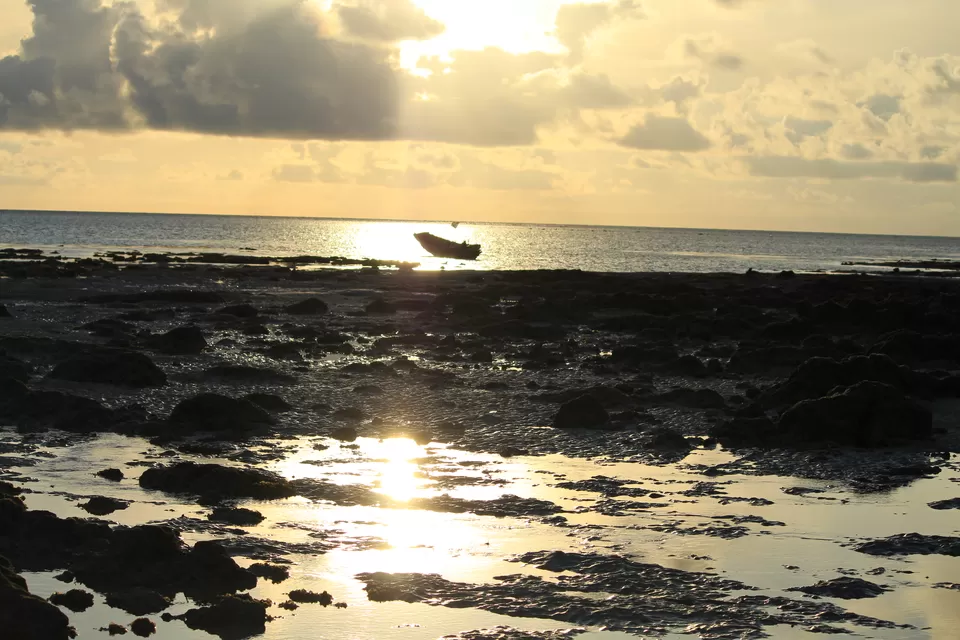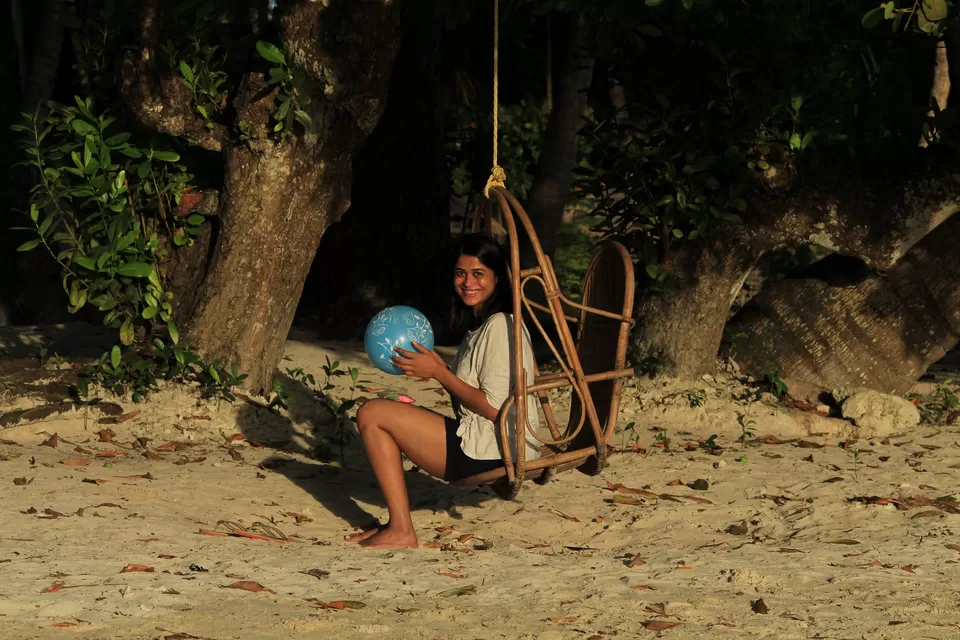 Also, it was Amma's birthday! My sister had got balloons and we surprised her with a colorful bunch early morning.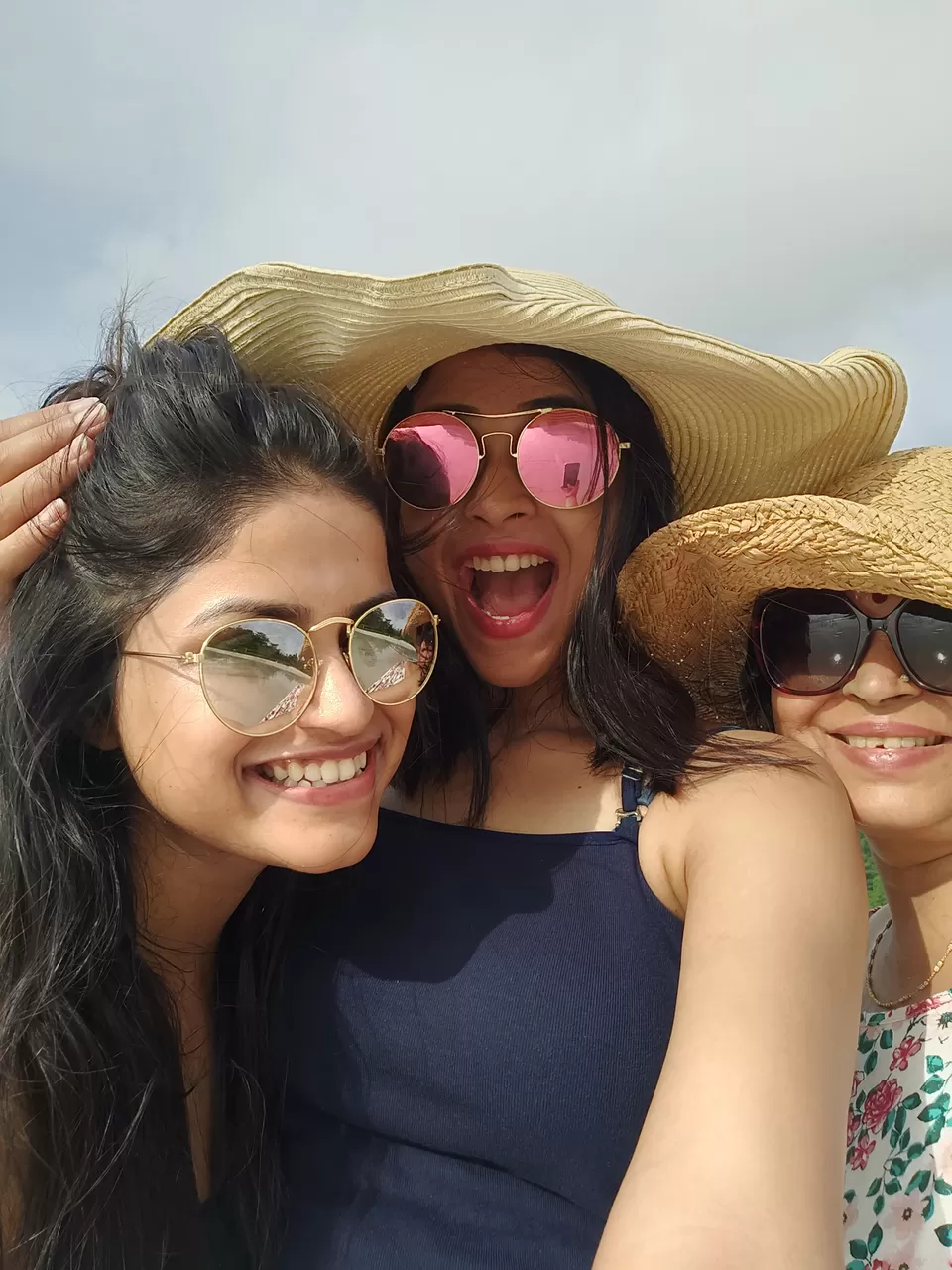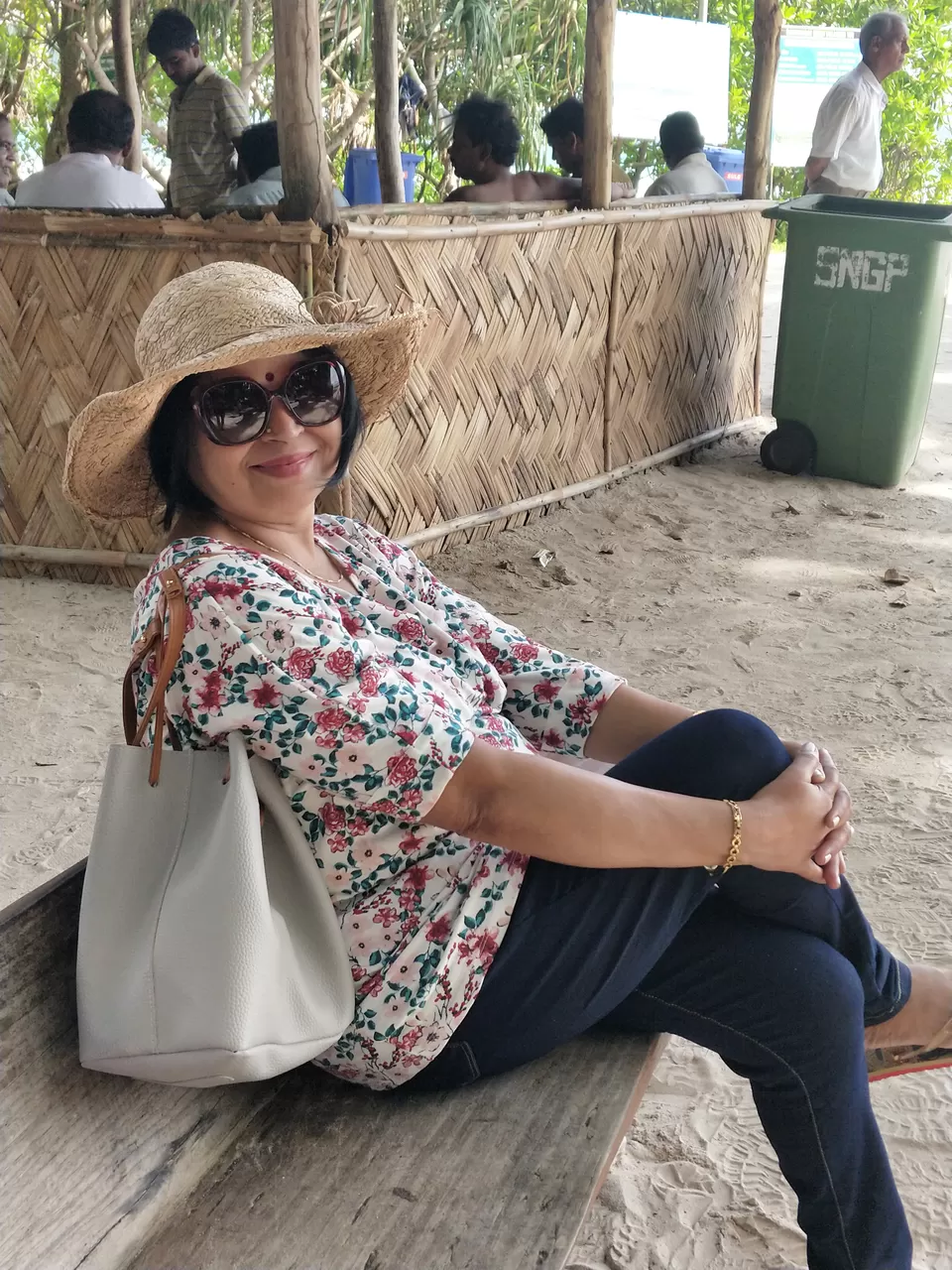 This was also the day when we did Scuba Diving! No, I don't know how to swim and yes, I am hydrophobic, but, I still did it! My sister who is claustrophobic did it too! And we loved the experience! You can read all about it here.
After a round of superb breakfast spread, we were on our way to Elephant Beach. We took a jetty and reached the beach in 30 minutes. The jetty ride to Elephant beach passing through the light house is amazing. This beach is an ideal site for snorkeling. It has a rich coral reef formation and amazing underwater marine life. The white sand beach and the blue green water is alluring indeed.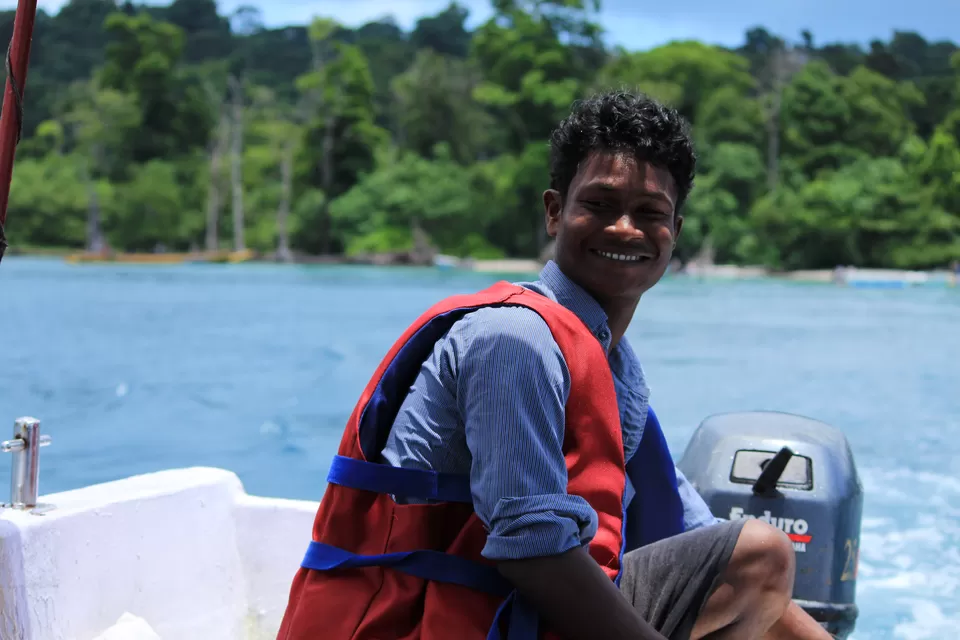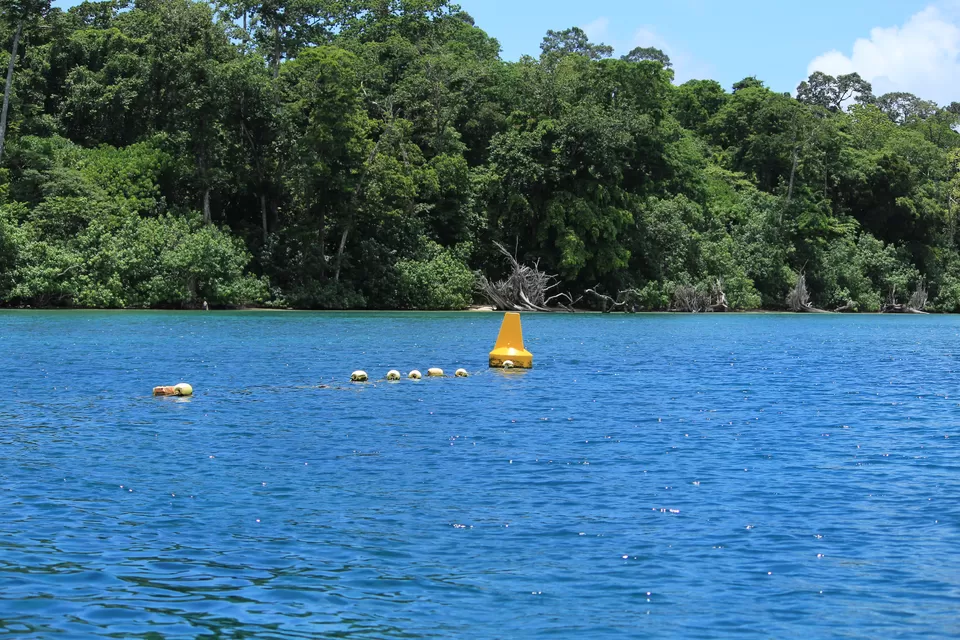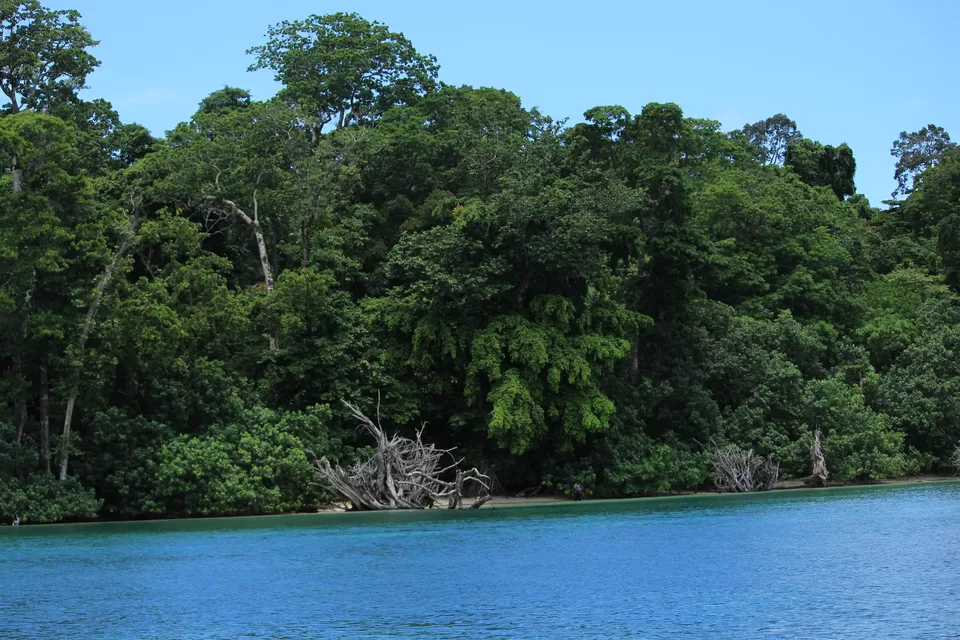 From there we hopped on to Macruz for our next destination - Neil Island. Mr. Vibhash picked us from the port and Mr. Pintu dropped us to our hotel, Pearl Park Resort.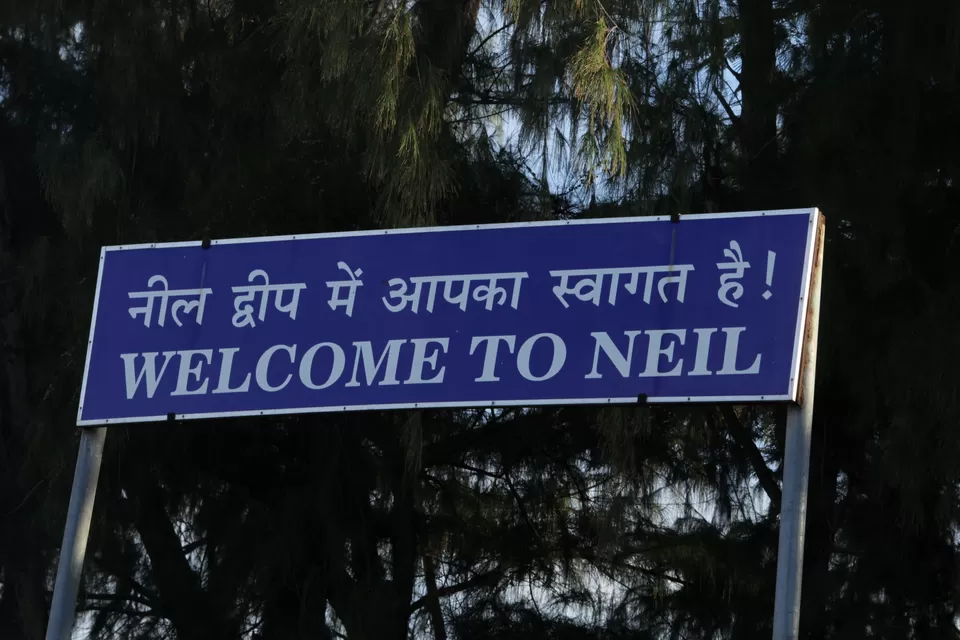 Neil is a tiny but beautiful island located 37 Kms. to the south of the Andaman Islands. You can walk the whole island in about two hours. Known as the 'vegetable bowl' of the Andamans, Neil is one of the hot tourist spots with its unexplored coral reefs, white sandy beaches and tropical forest and vegetation. The beaches here are named after mythical characters of the Ramayana (Bharatpur, Laxmanpur, Sitapur etc). After the hustle-bustle of Havelock, Neil with its relaxed vibes felt like the perfect place to chill out!
Our hotel, Pearl Park Resort was located along the Laxmanpur beach and our sea facing room (yay!) offered a brilliant view. The sunset point was under a minute's walk from our room and the evening was astounding. Newton could have rediscovered gravity sitting there and Romeo could have done a better job at romance!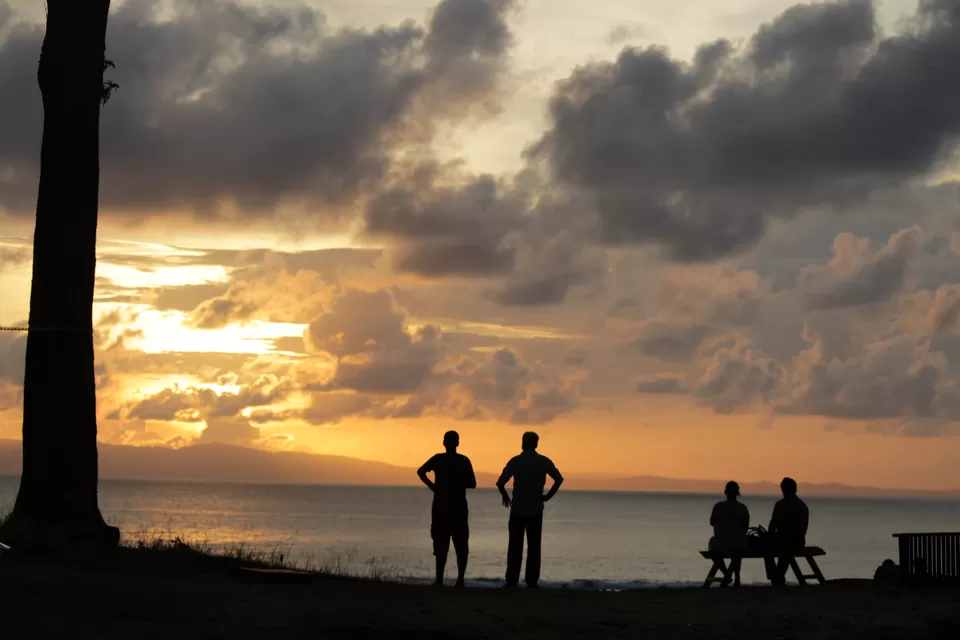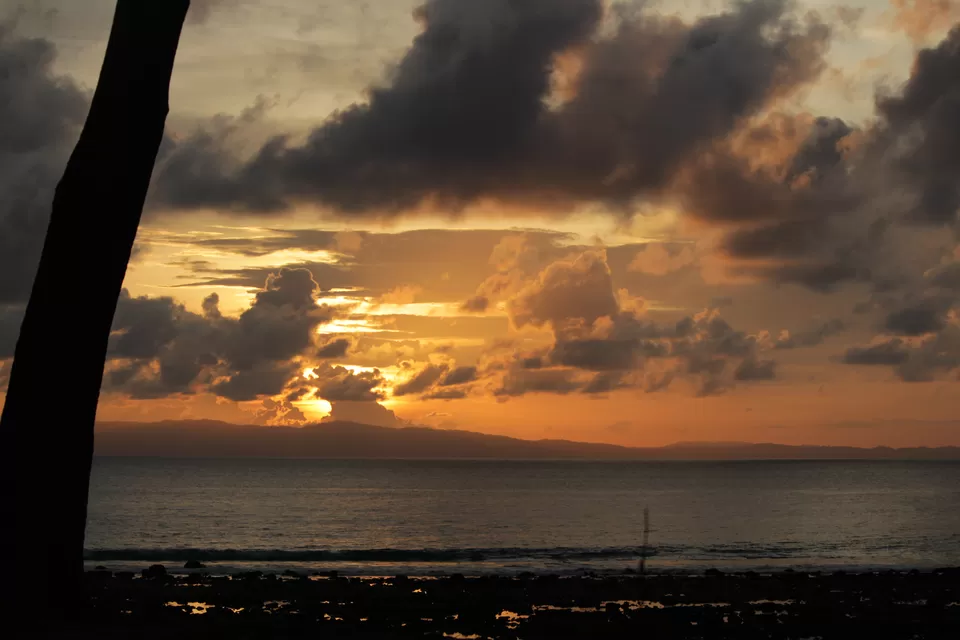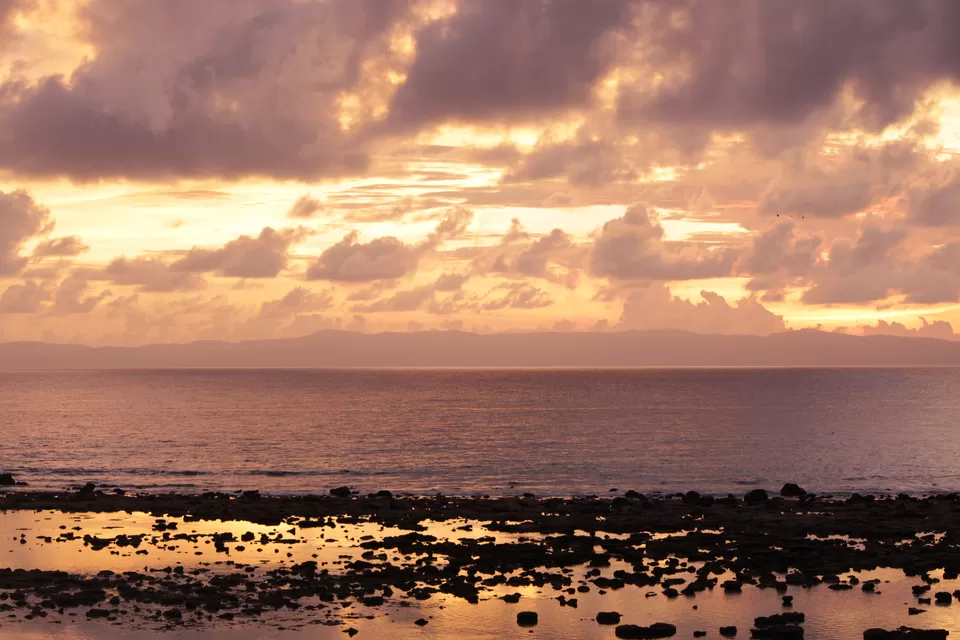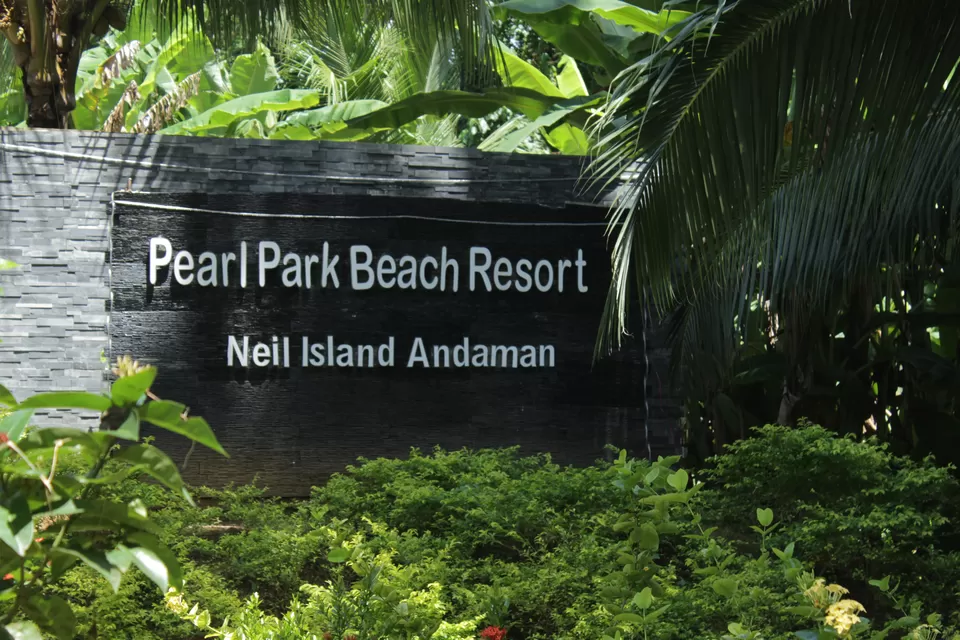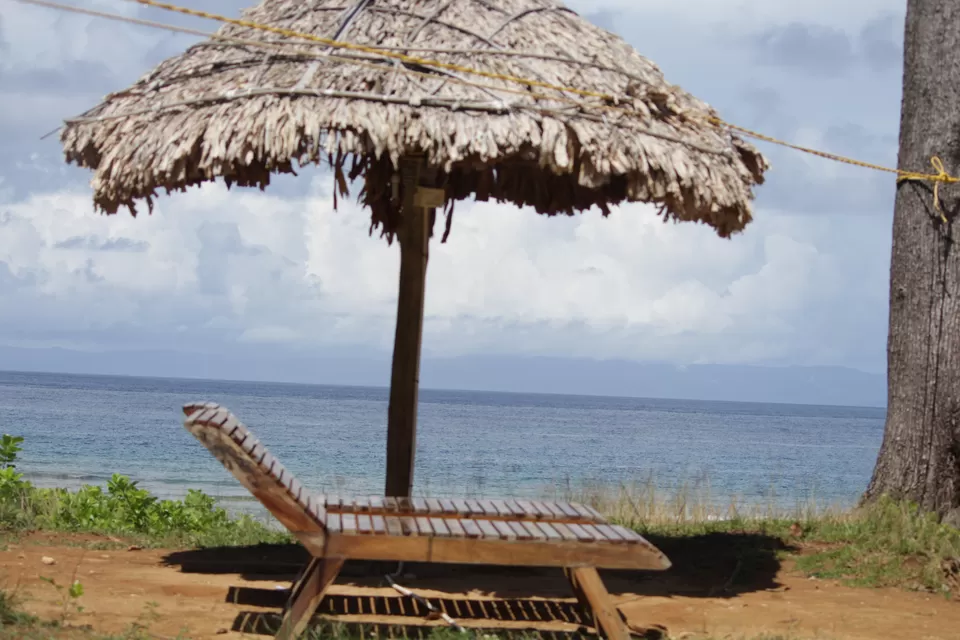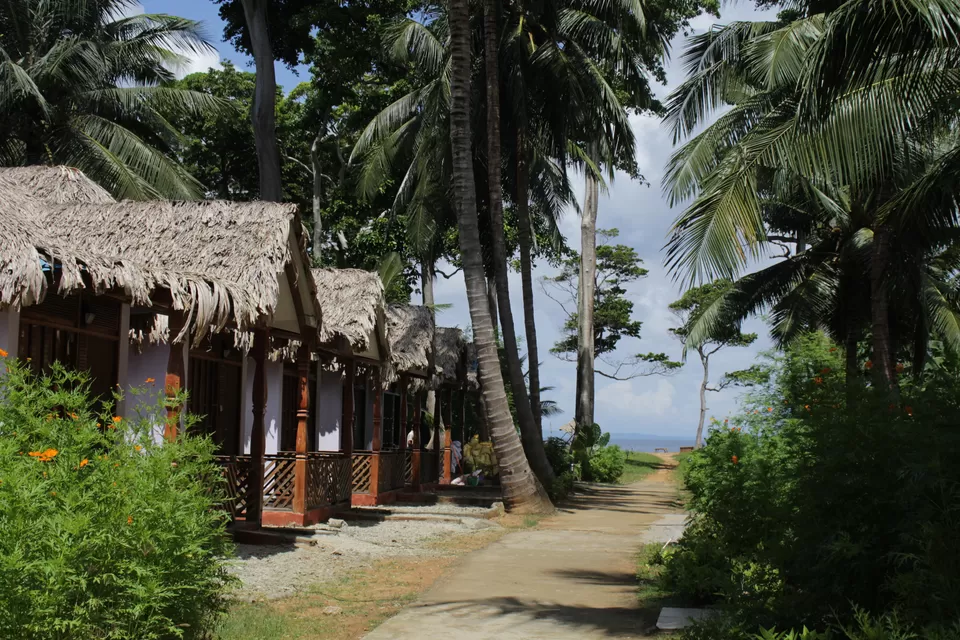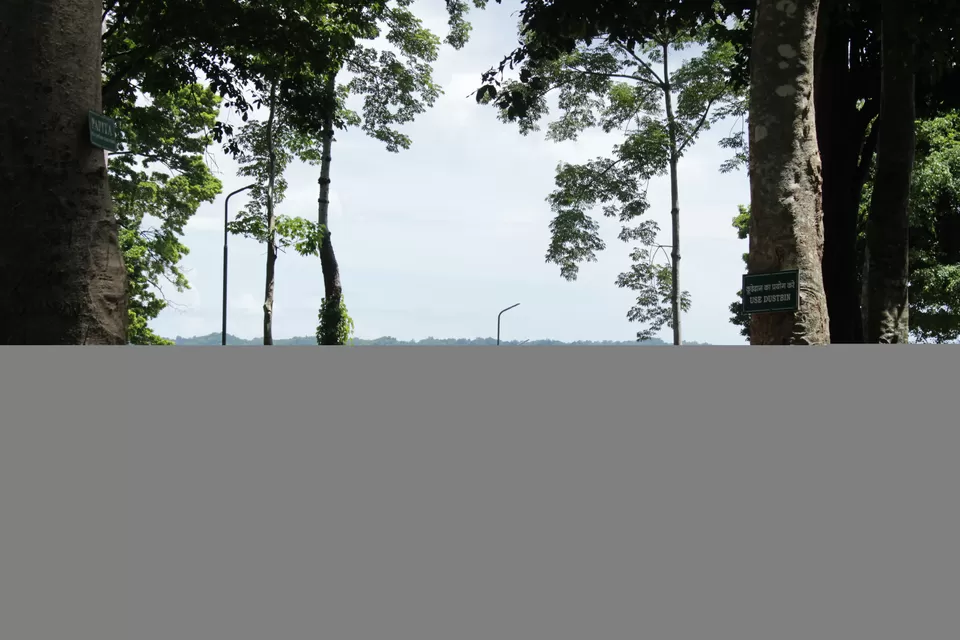 The (restaurant) staff at the resort was friendly and considerate and the chef (a Nepali) made yum food!
The next day we visited Natural Bridge and Bharatpur Beach.
Natural bridge - the naturally shaped bridge-like rock also known as the Howrah Bridge has two living natural corals formed just like a bridge. The rock formation was called by the Bengalis who settled in the island in the early days and they refer it as the Rabindra Sethu and later called it the Howrah Bridge. It is best seen during low tide as the retreating sea leaves behind many a secret. It was here that I almost got killed. I wanted a better picture of the bridge and asked the guide if we could walk a little more farther. After a minute of analyzation (him calculating how much time do we have before we get hit by high tide), we were on our way to a point (farther away from the usually recommended point). The waves were becoming huge by the second. But that point was perfect - I got the shot that I wanted. On the way back, I slipped and fell - the most hilarious (ofcourse in hindsight) was I fitted into that freaking coral and I just couldn't get up! A minute later I got some help from my sister and the guide but only after the high tide waves had hit me left, right and center! The only good thing was I wasn't carrying my camera - it was with the guide (safely). God alone knows what I would have done if anything were to happen to the camera! Phew! I had bruises all over my hands and legs but I was happy that I was alive and that I had got the shot!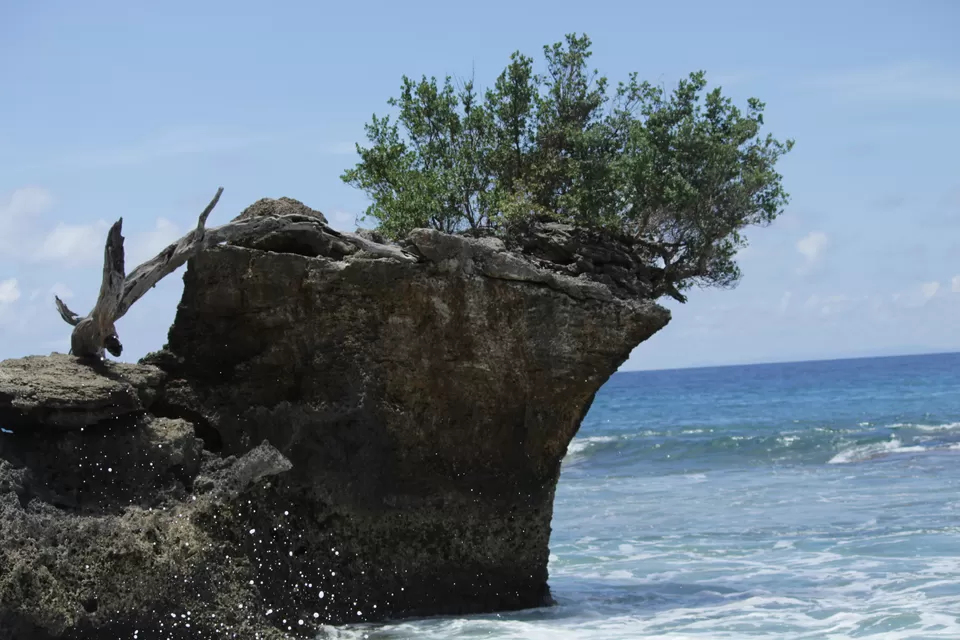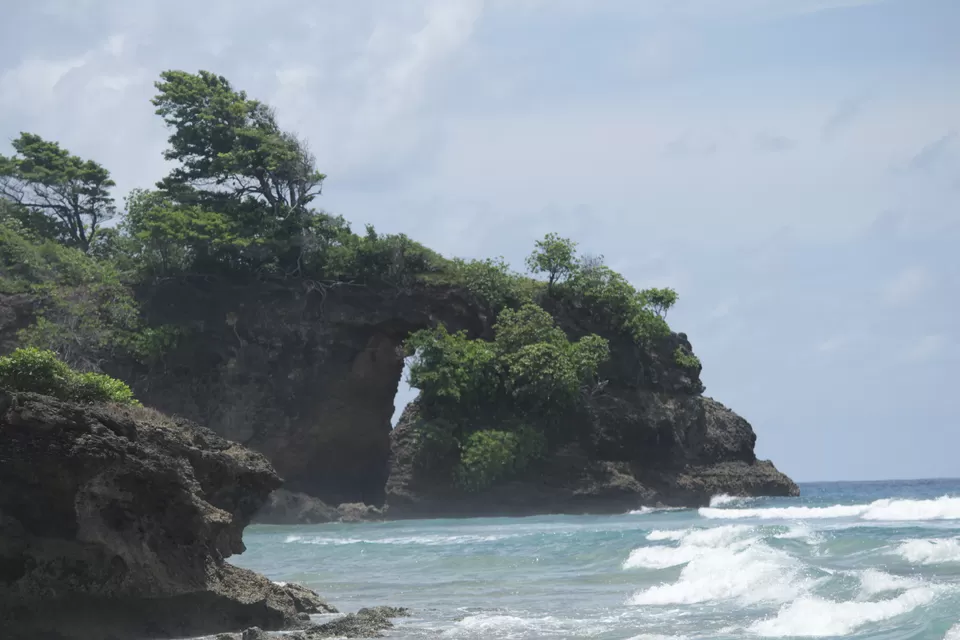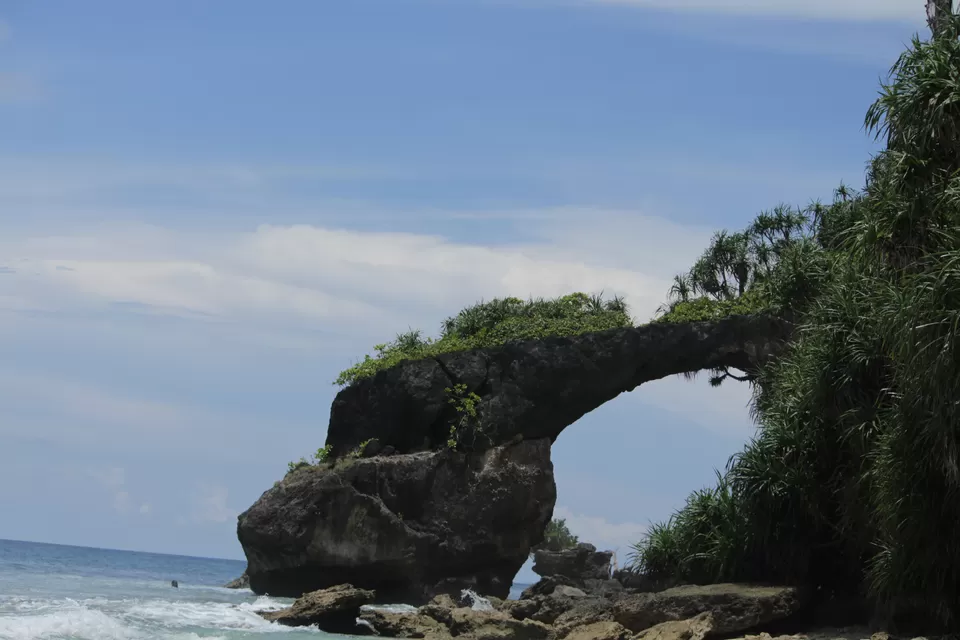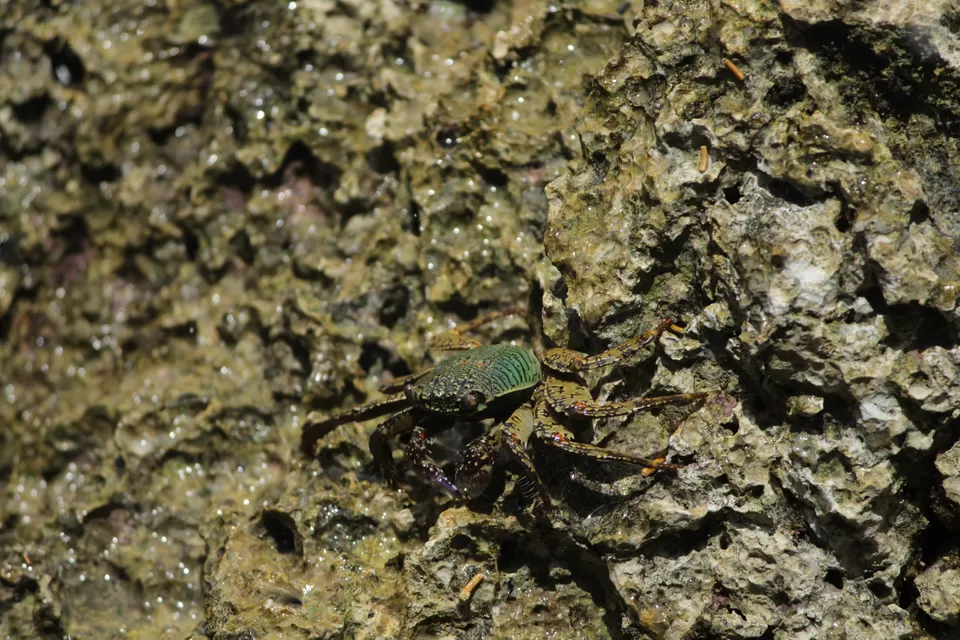 After this little adventure, we headed to Bharatpur Beach. The beach is famous for coral viewing and other water sports activity. The colour and form of vegetation along the beach soothes the senses. Instead of indulging in those activities ('coz we had done all of it in Havelock), we decided to spread the beach tapestry and chill! I tried making sand castles, which was an epic fail! My sister on the other hand, was successful at making a lavish yet affordable looking shed!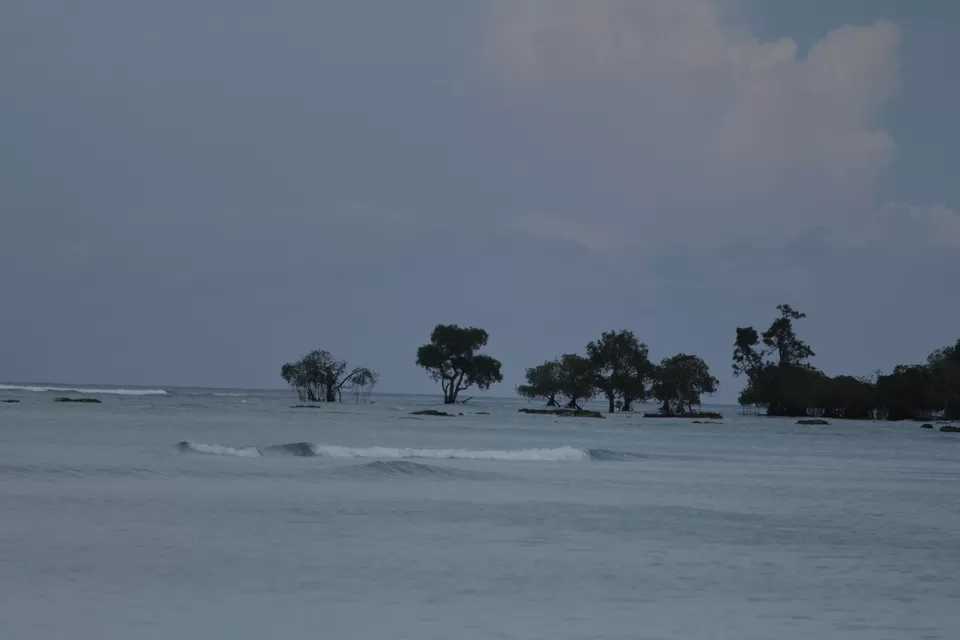 After a mouthwatering lunch (fish and rice) at a nearby Bengali restaurant, we headed back to the port to board our ship back to Port Blair. This time we had our seats in the deluxe category instead of premium (deluxe is much better than premium and plays coke studio)! The sunset view from the vessel was spectacular!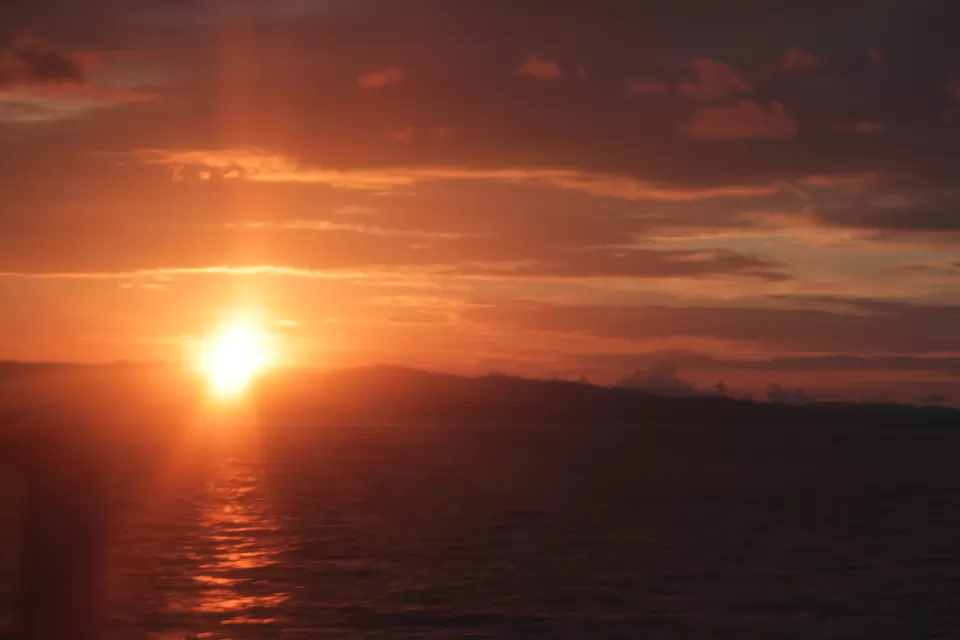 Mr. Zaheer picked us from Port Blair and we headed to the doctor - so that I could get a tetanus injection (the doctor said that the coral could be poisonous and it is better to get the injection). A moment of silence followed by a high-pitched curse, I was out of that clinic! Damn the nurse! The injection felt like she had stabbed me, almost killed me and stabbed me again!
Next morning, we got up at 4:00am and went to Corbyn's Cove. The drive to the beach is a stunning visual treat. It is encircled by lush green coconut palms and is only 8 kms from the City center. The bunkers along the beach were built by the Japanese army during World War II. Speed Boating and Jet ski are the two water sports activities that one can enjoy here.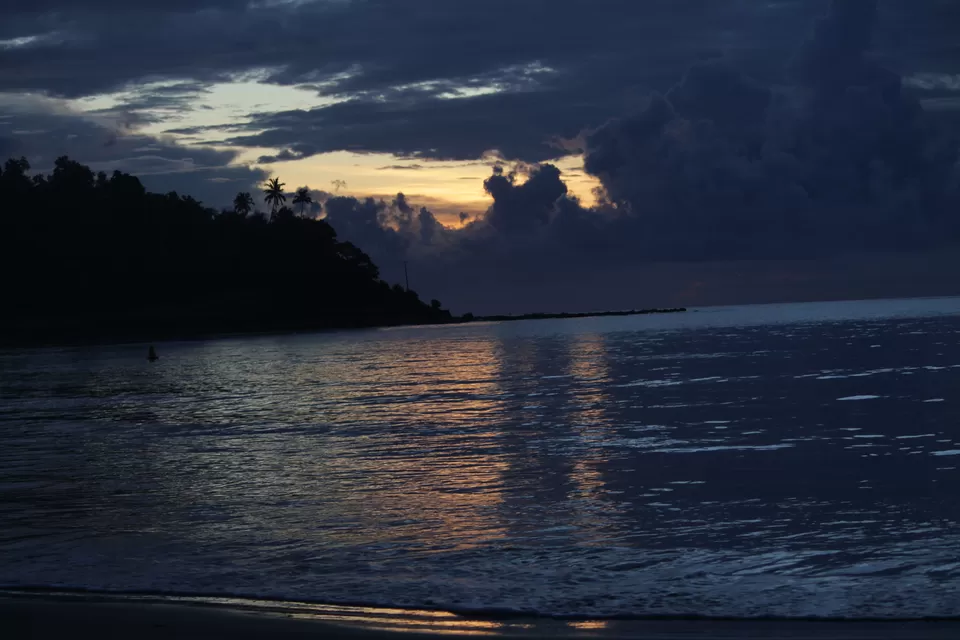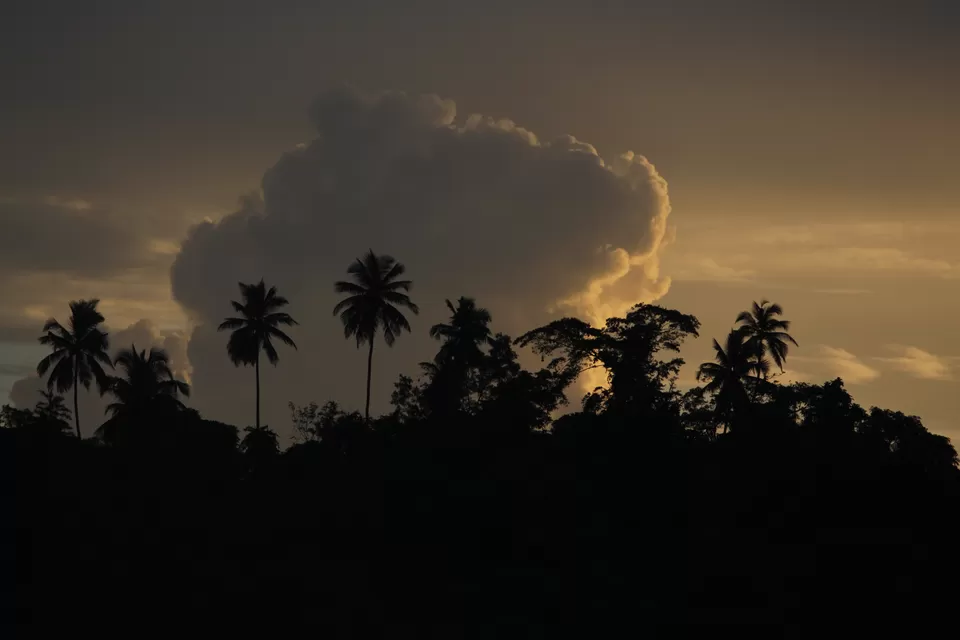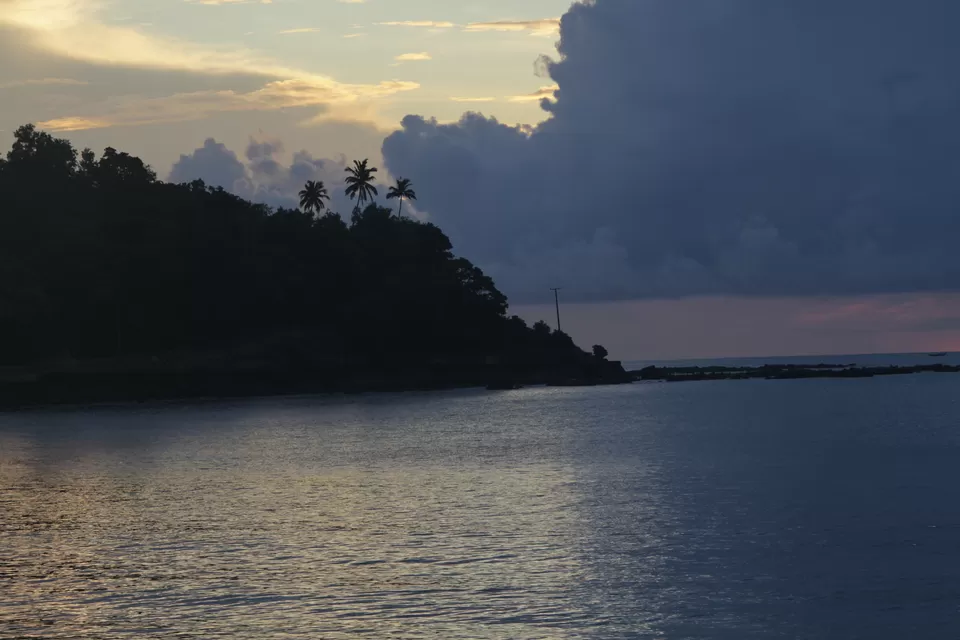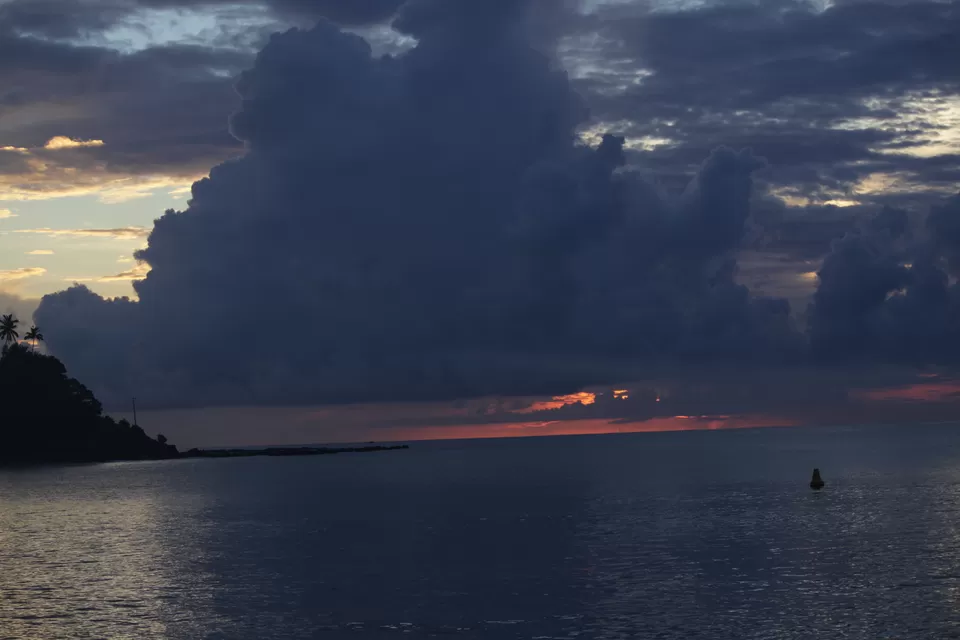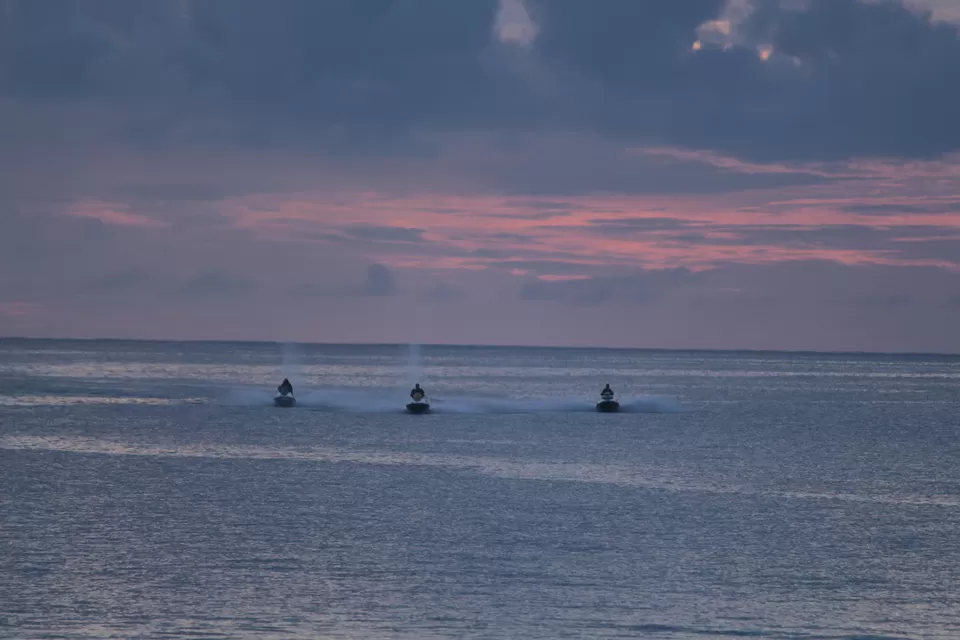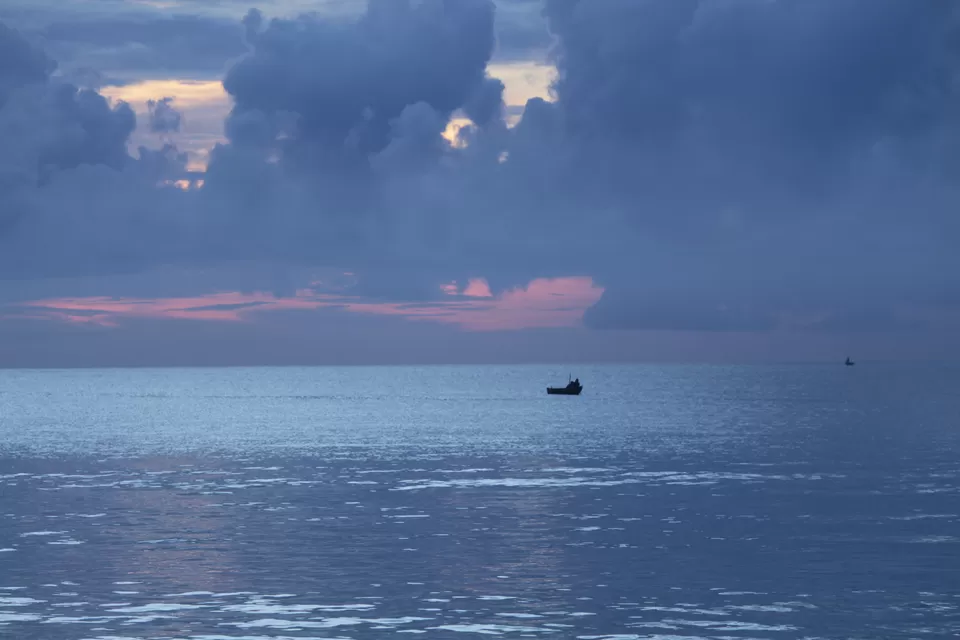 Back at the airport, we were looking at the pictures, rating the places and I was reminded of these lines...
"At the end of the day...we are anchoring into the peaceful lagoon, smiling at the majestic sun and its flirting rays, slowly slipping into the glittering ballroom of immense night skies, sipping on the platinum moon liquor under the blues of rippling waves kissing my golden foot hanging over the board of gently rocking boat, and diving into the bed of galaxies whispering magical stories of their eternal lives connecting souls...till the dawn..."
A mountain girl at heart, I was awestruck by the beauty and grandeur of Andamans. For all those wanting to experience the exotic tropical life, Andamans wouldn't disappoint. And as far as I am concerned, I shall always carry a little bit of mountain wherever I go!
Follow me on Instagram: http://instagram.com/trippytravelette/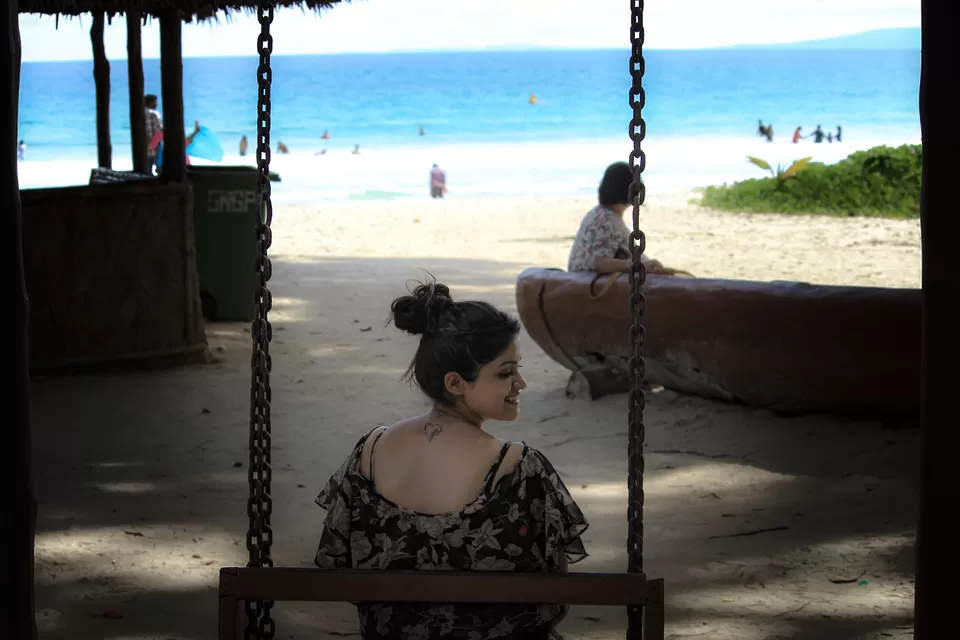 Frequent Searches Leading To This Page:-
weekend getaways from andaman and nicobar islands, best tour package for andaman nicobar, andaman nicobar honeymoon package, andaman and nicobar cheap tour packages, Andaman trip package cost