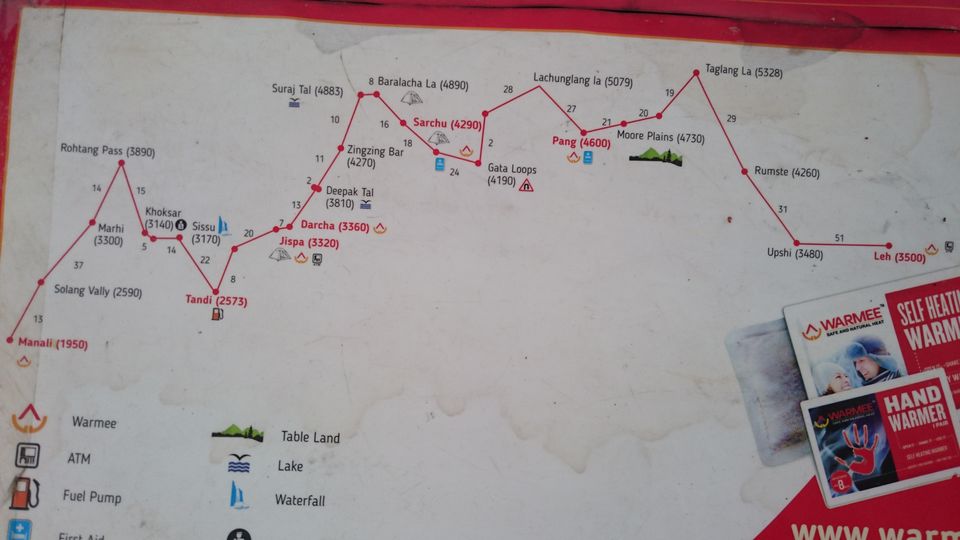 On this day I started from Srinagar at 4 in the morning. It was strike in Srinagar on this day, so this was the only vehicle available and that too till Kargil only. On my way to Kargil, I passed the famous Drass.( one of the coldest inhabitant village). Also I crossed the mighty Zojilla Pass.I reached Kargil at 10 and I was damn hungry. Hungry and seeing delicious momos forced me to step into a small Cafe who served real watery and delicious momos. Finally at 5pm I reached Leh. I asked my brother who earlier went to Leh as were to stay in Leh, he suggested me the changspa road. So I directly went there and guess what? There were more foreigners than the local people. So after searching for many guest houses I went to a guest house and booked it for a night. The guest houses there are not really expensive. And in that area you can find many good cafes where you can spend your evening with quality food.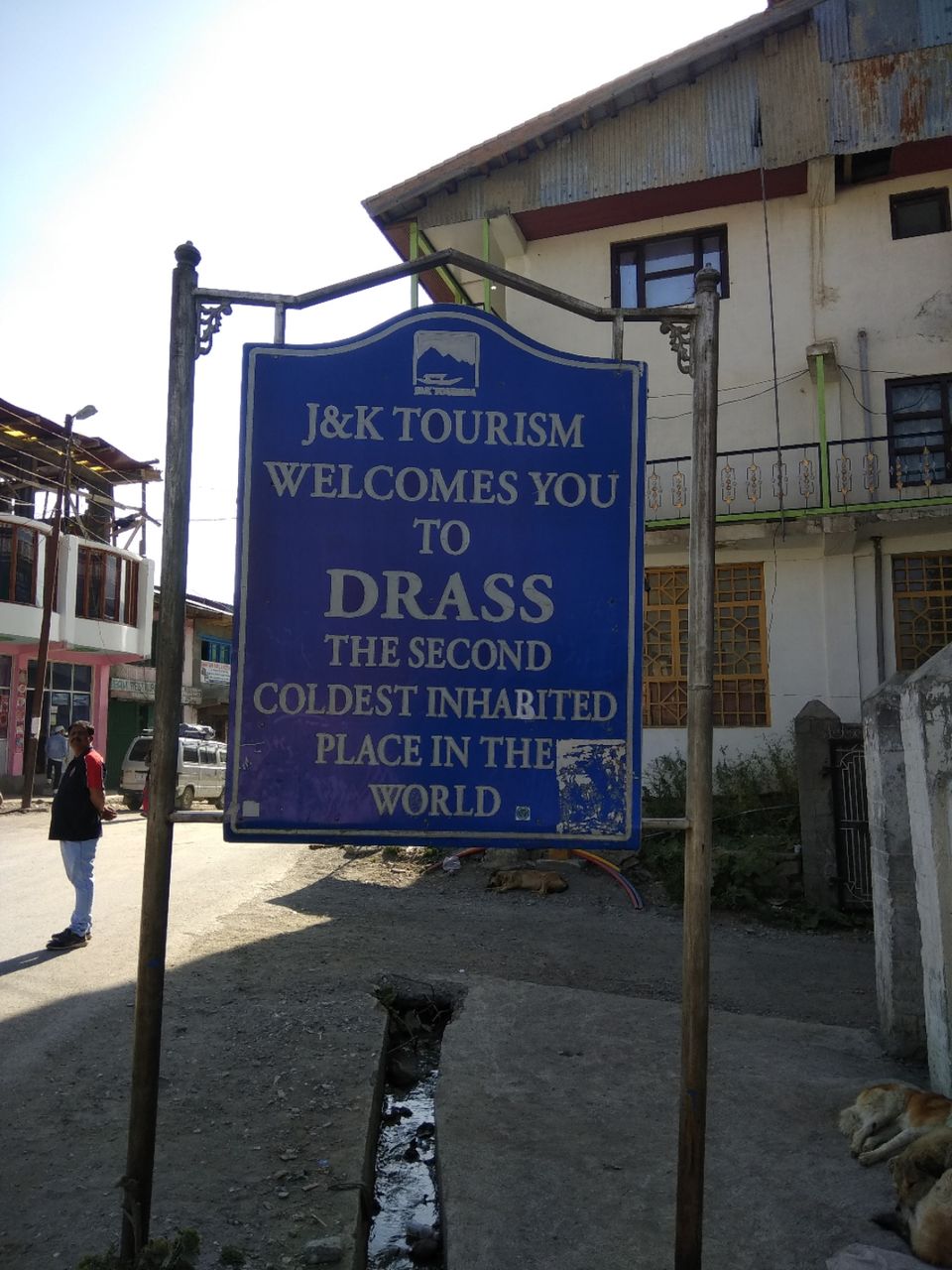 This day I woke up a little late because I was damn tired. So I thought of spending the day seeing local places. I went to a German Cafe and had breakfast there. Its on the same Changspa road. I was roaming on the road and seeing a bike rental shop, I don't know what clicked my mind and straight way went there and asked them for a rented bike. After all the formalities I rented the bike, filled the fuel tank and left for nubra valley. Its is one of the famous valley of famous valleys of ladakh region and a tourist attraction as well. Also in between you would pass through the famous-the mighty Khardungla Pass( highest inhabitan motorable all weather road-18380 ft). I left from leh at 2.30pm and the road to nubra valley is quite smooth except some 14 kms ( Khardungla Patch). But ensure that you fill your Petrol tank fully because you won't find any fuel station till Diskit which is 120 kms from Leh. In between I found many bikers as well and I joined 3 bikers namely Pradeep, Gaurav and Akram from Hyderabad, Dehradun and Bangalore respectively. We reached Hunder(a place in nubra valley) at 10pm. Without doing anything we searched for an accommodation to crash in for the night. There you can find many camping tent guest houses with great setup and surrounding and at reasonable rates( you need to bargain as well). We parked our bikes and went inside the tents, every tent is the same with a proper double bed and a washroom. It was quite clean and after getting fresh we went in the lawn and had dinner. One problem is there in Hunder that the lights are turned off everywhere at 11pm. So after dinner we didn't have any time and we were tired as well. So finally we were off to sleep.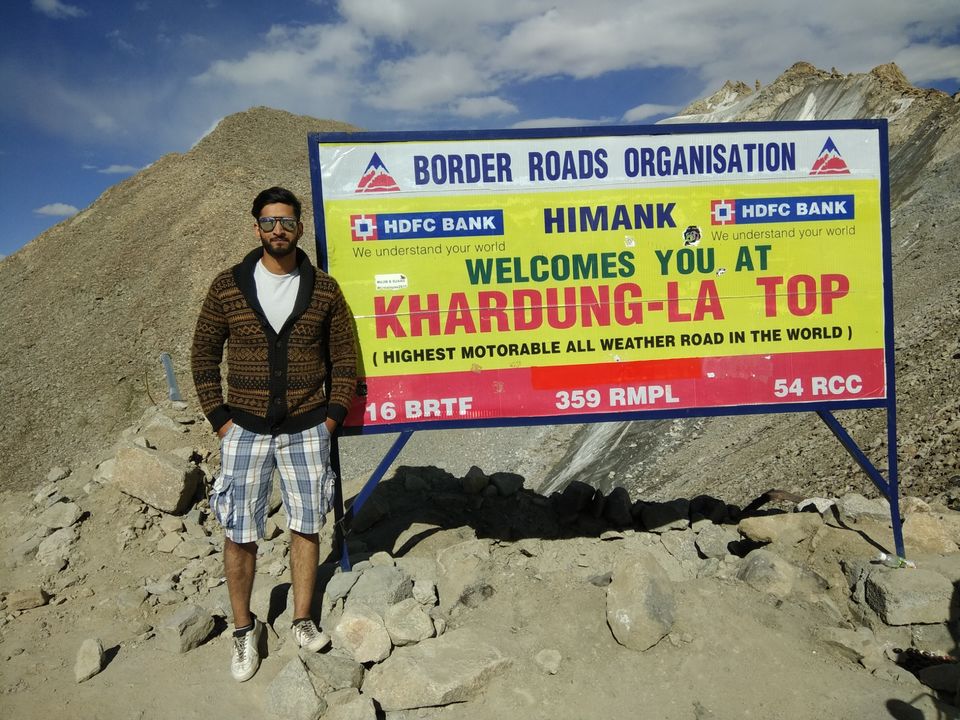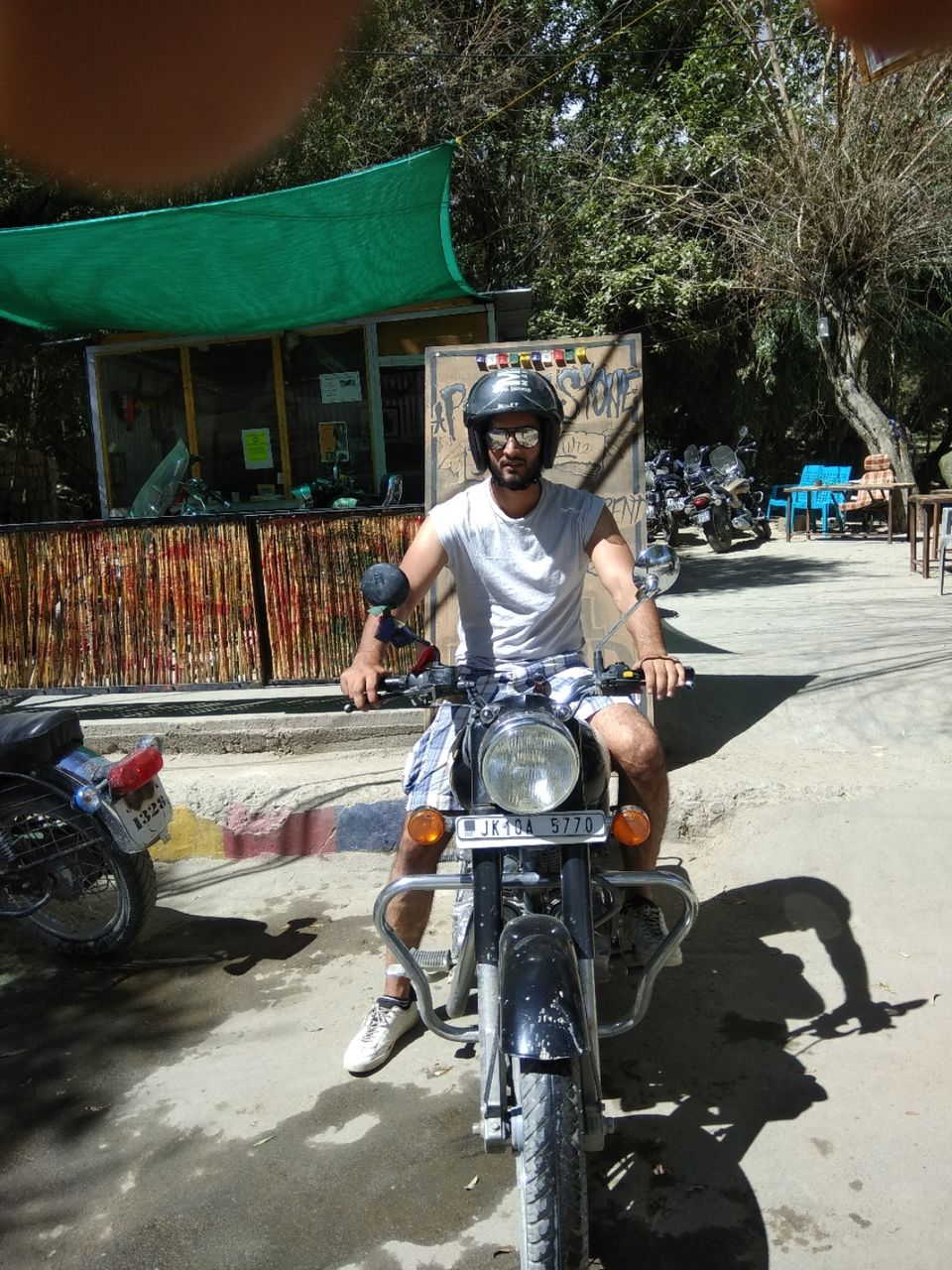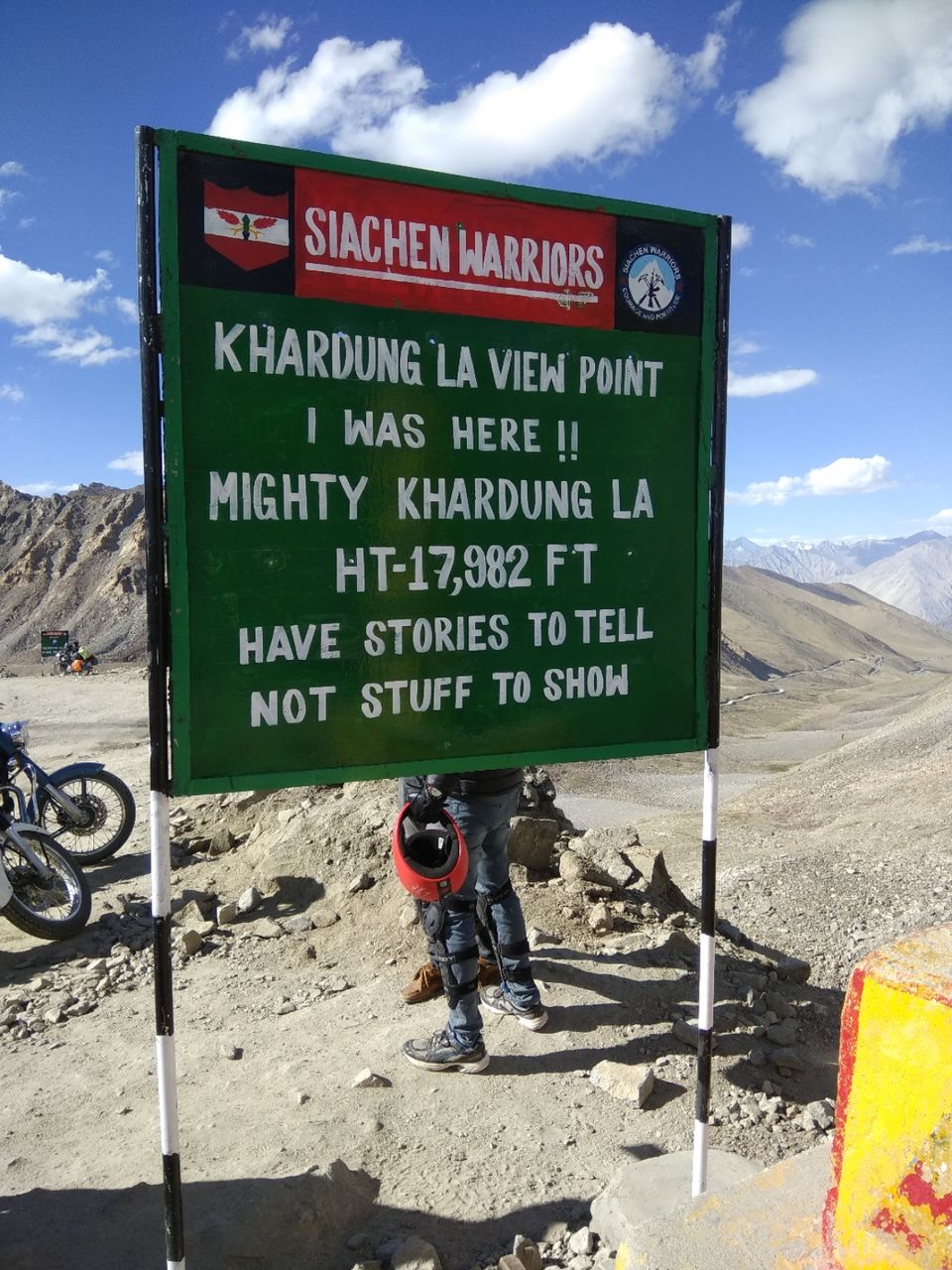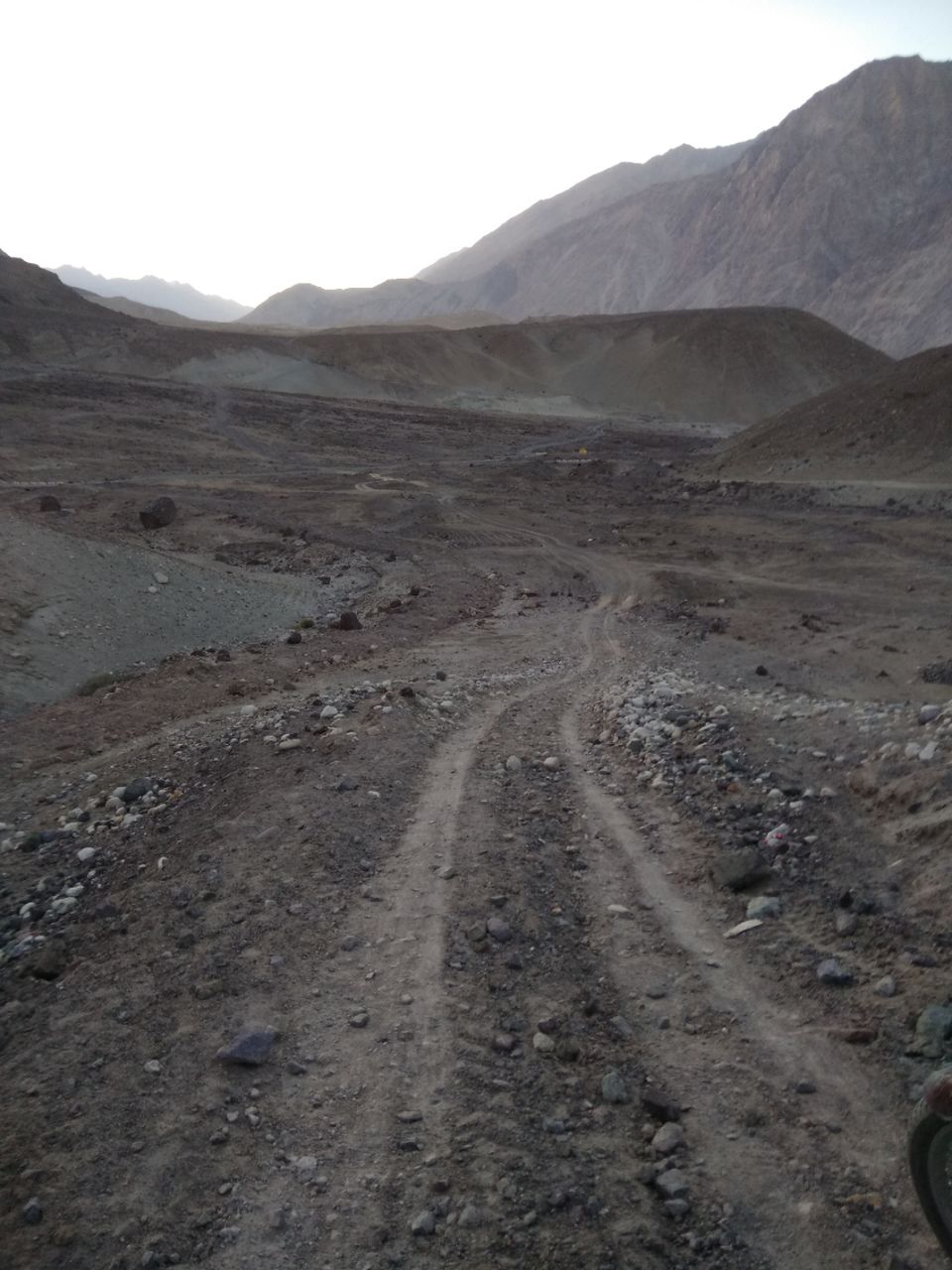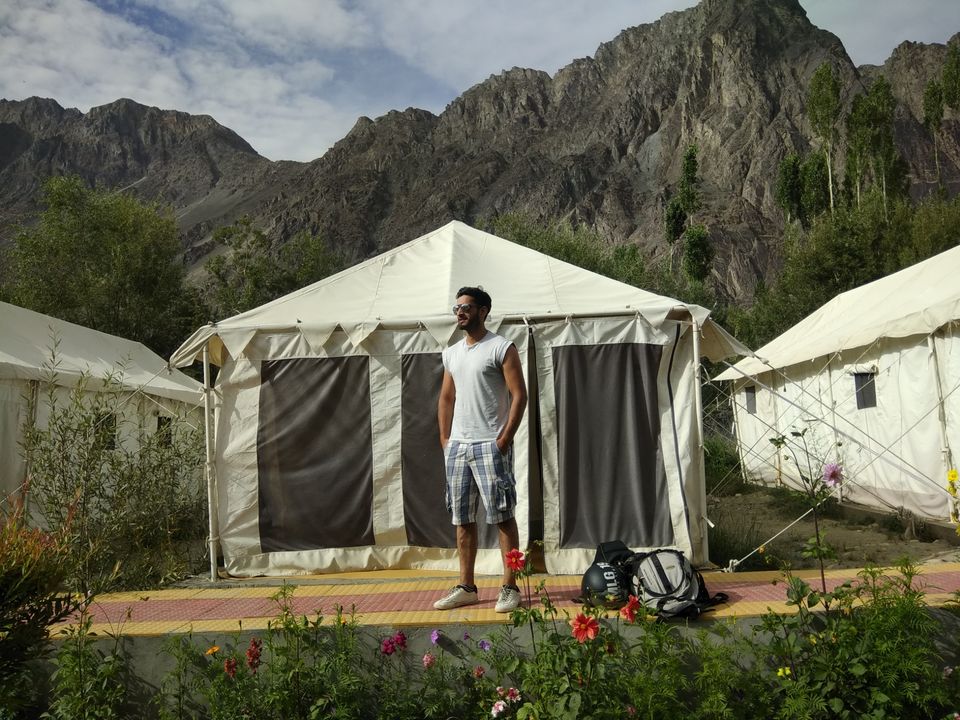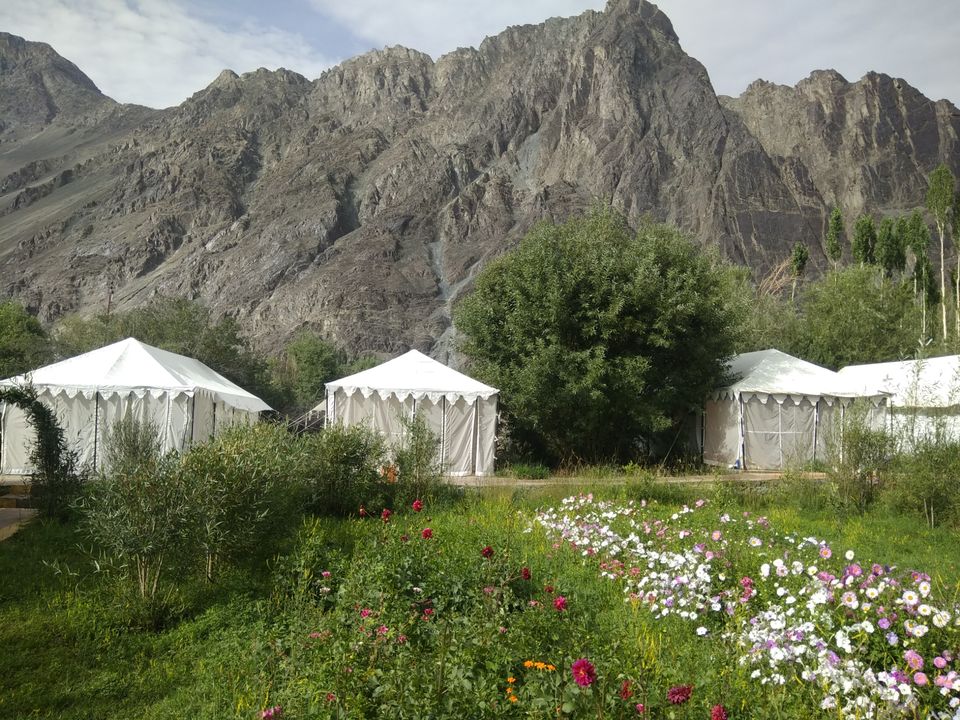 We woke up at 8 in the morning and after having a good breakfast we went to take the famous camel ride in sand dunes( double necked camel) and after that went to the famous Diskit monastery. The Monastery is quite big with around 150-200 stairs. There arr two parts of the monastery and are located at different sides after entering through the main gate. The view from the monastery is quite scintillating. We wanted to go to the pangong lake through nubra valley because it is the short cut route and it would save one day of our trip. Otherwise we had to go back to Leh and from there to pangong lake. But the road from nubra to pangong is quite tricky and dangerous but adventurous as well. So we gave more preference to adventure and went ahead to pangong lake and this turned out to br my one of the bravest and adventurous decisions. The road is full of water fall crossings and water with height of more than 2-3 feet and with a great flow. My shoes were full filled with water and clothes were all wet. Cigarettes and tea in between kept me alive. This road is fucking dangerous and if you are good in biking only then choose this road. We reached pangong at 11pm and there also we stayed in camping tents besides the lake only. The view of the lake from the tent at night is something that one shouldn't miss. We were as usual tired and were off to sleep without even having dinner.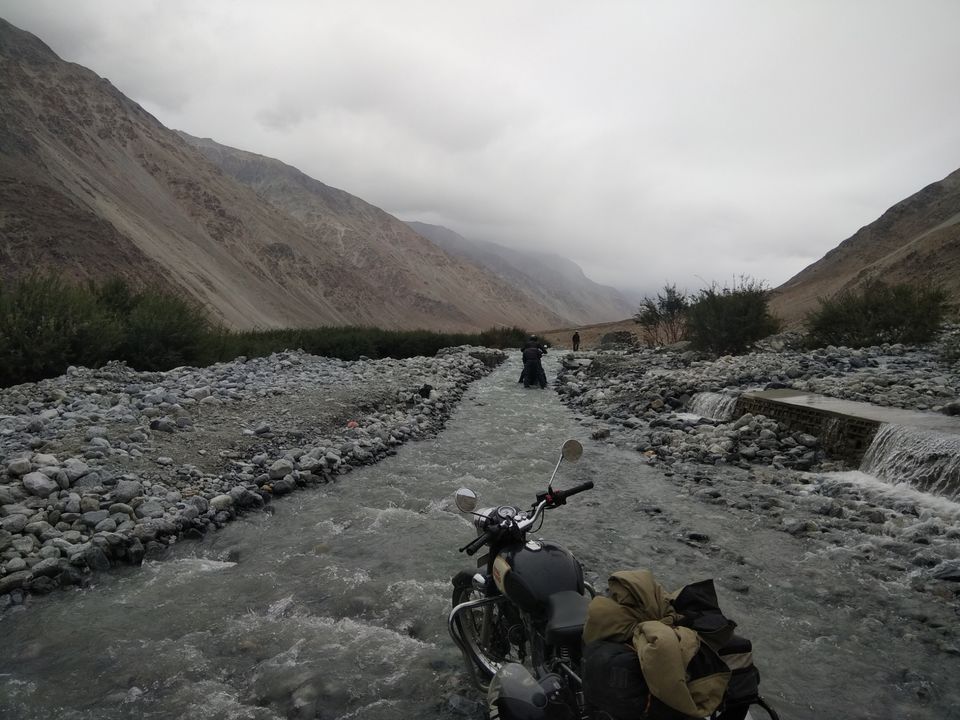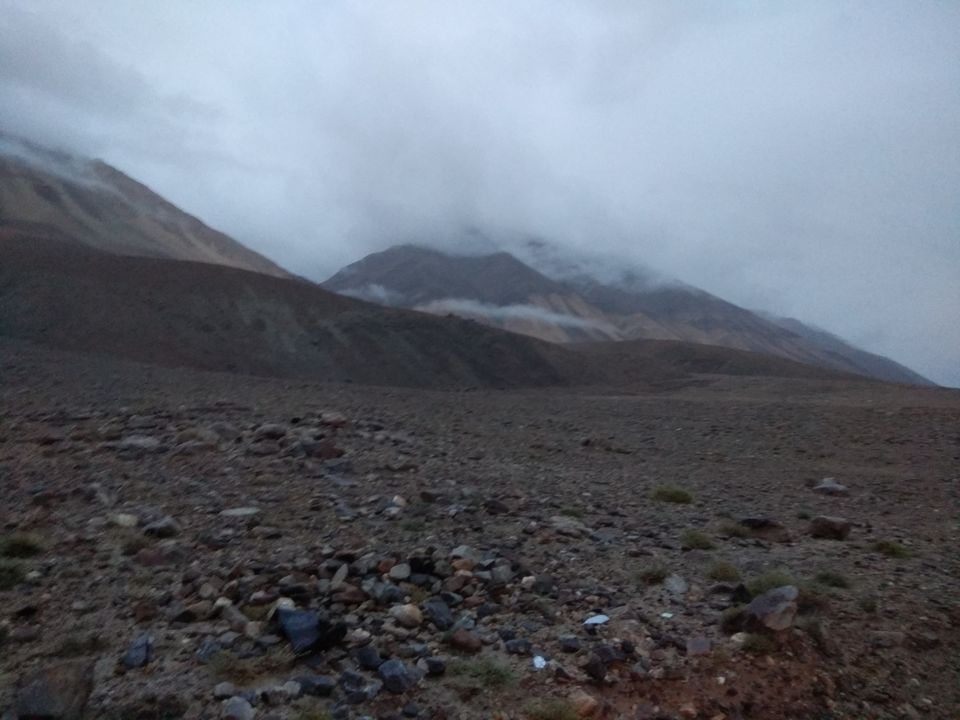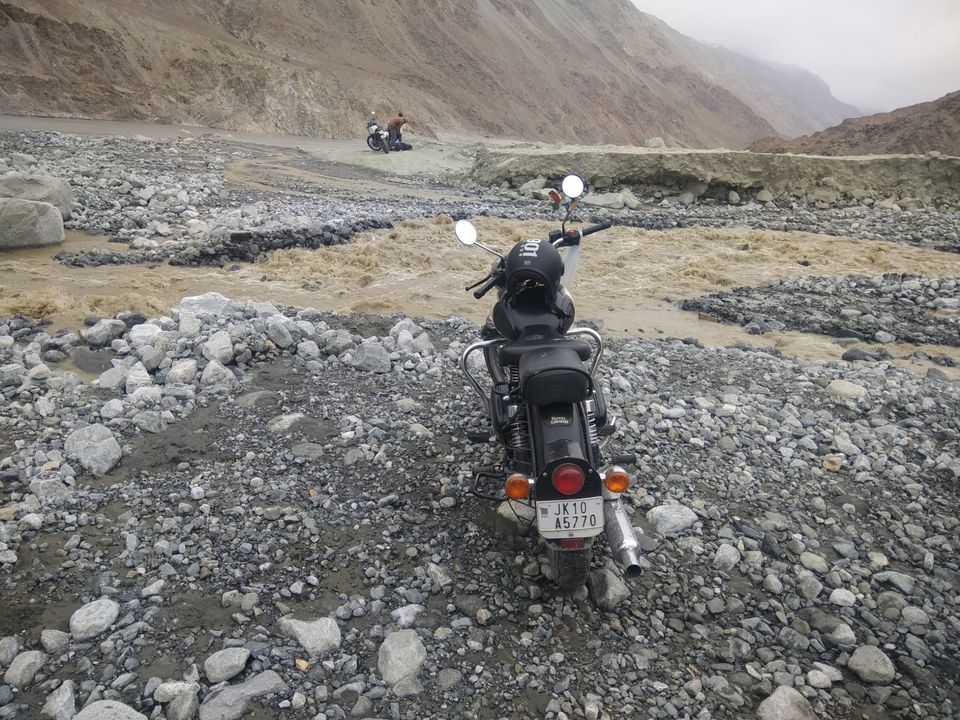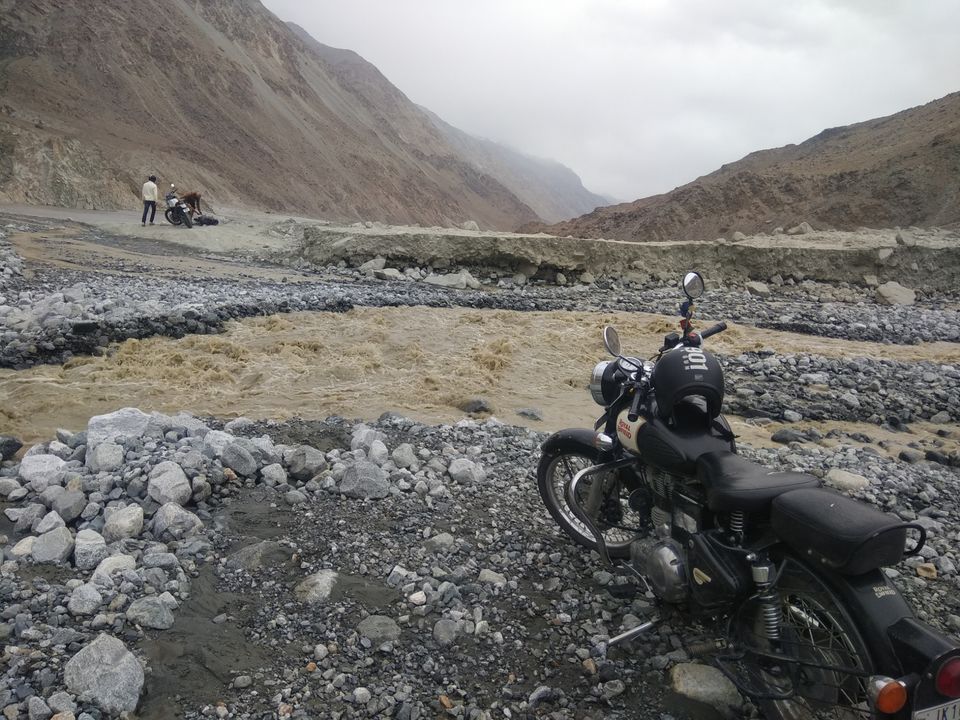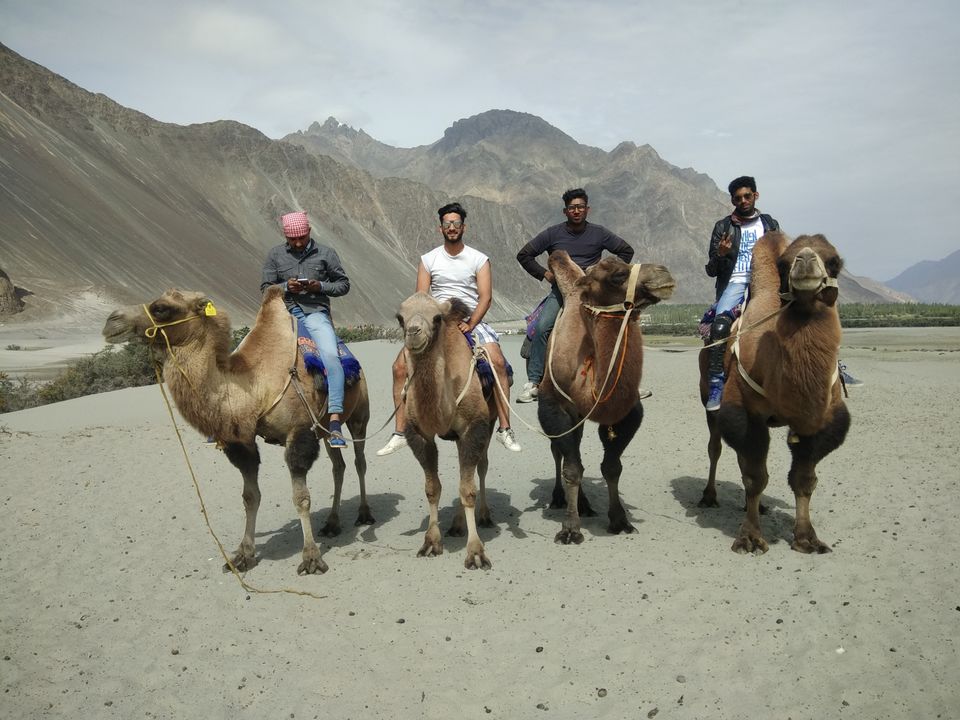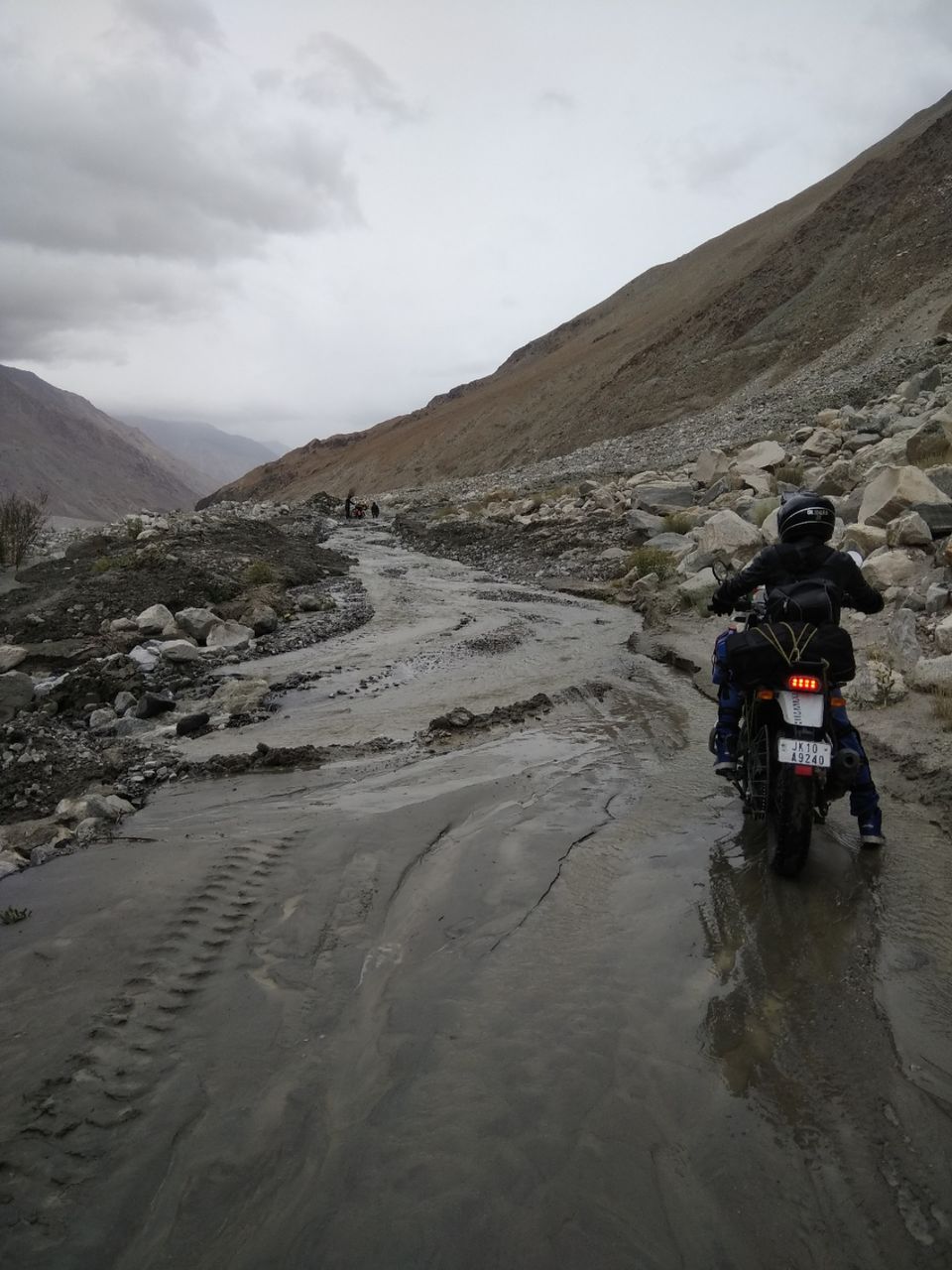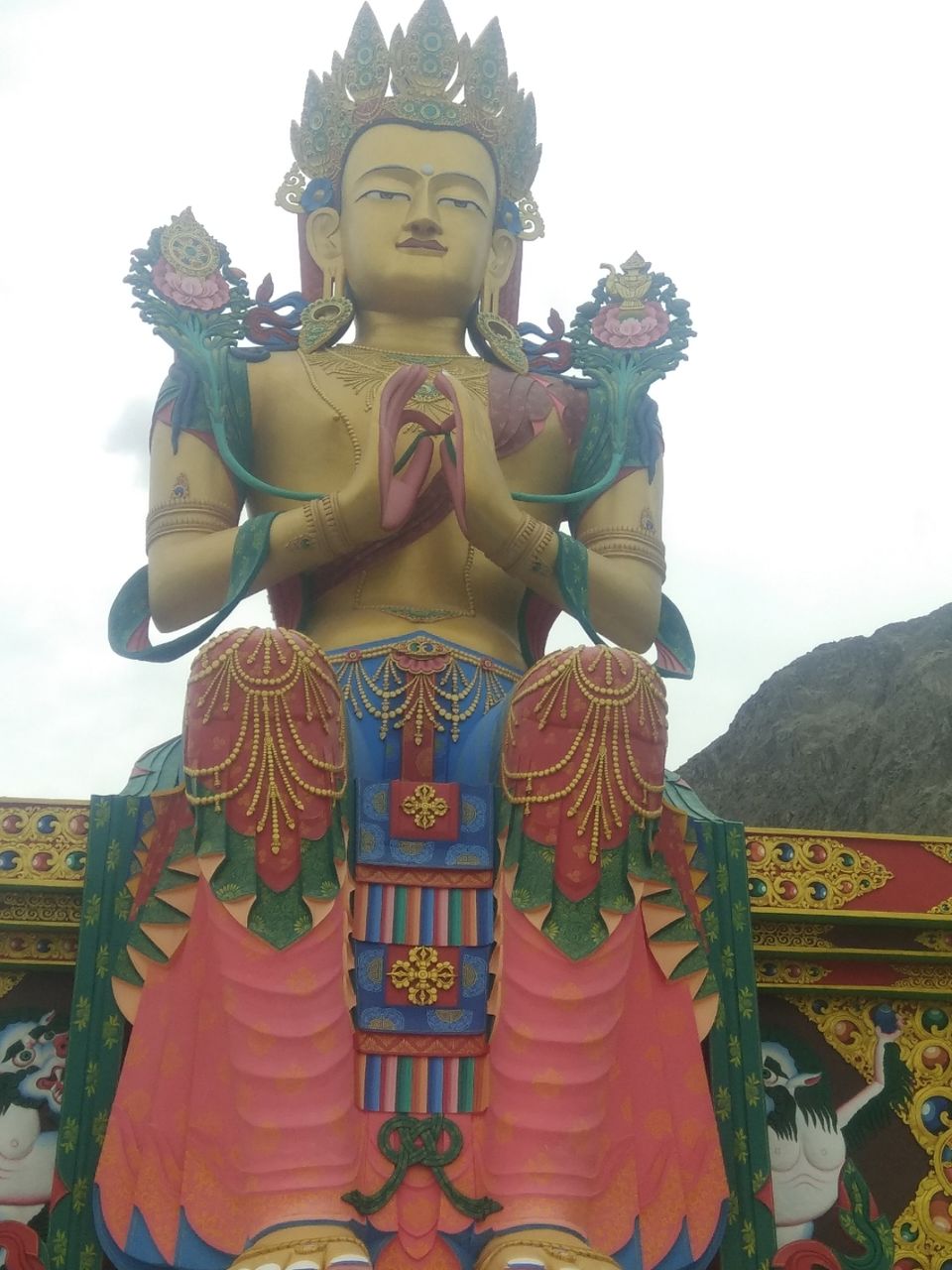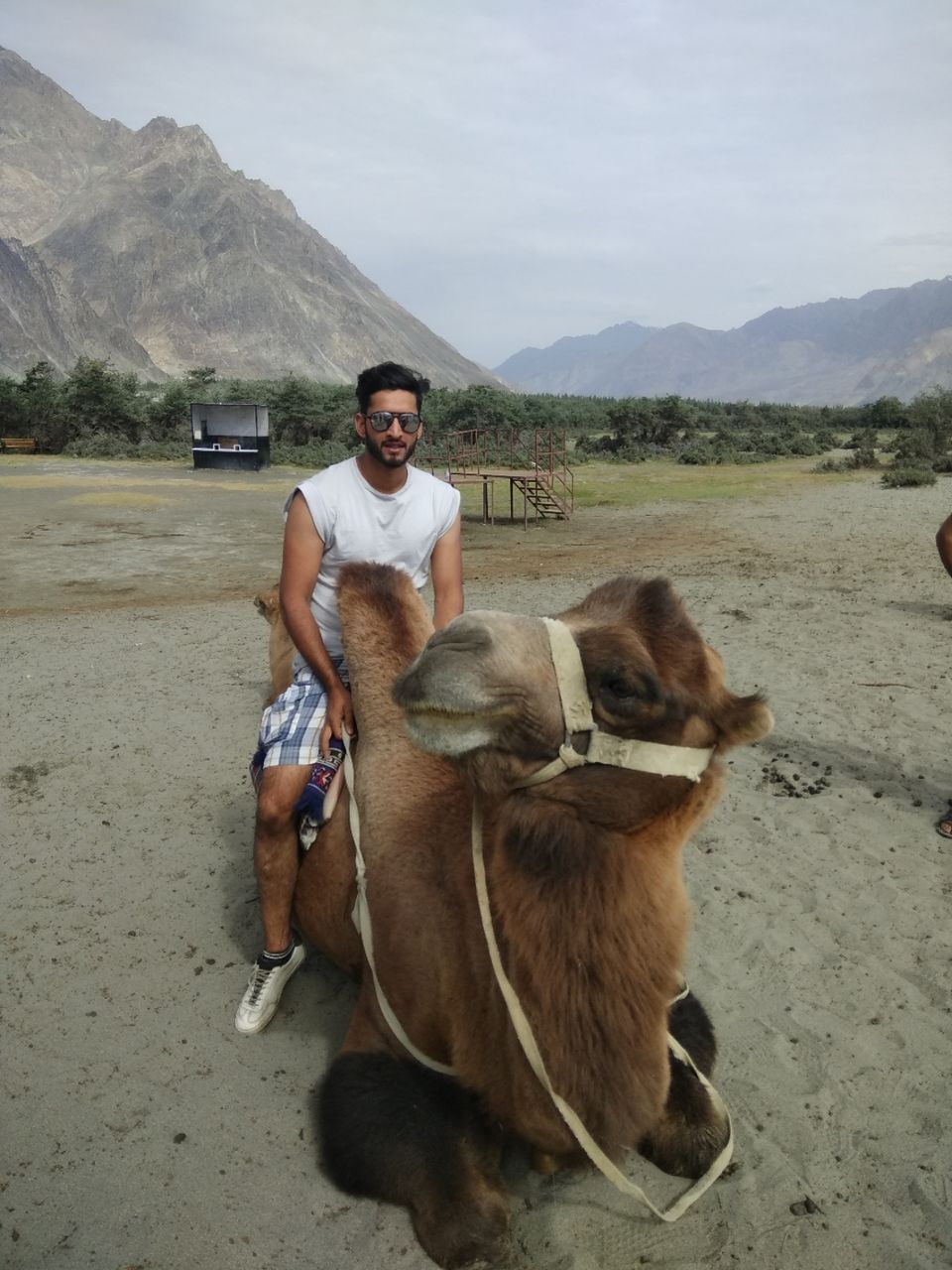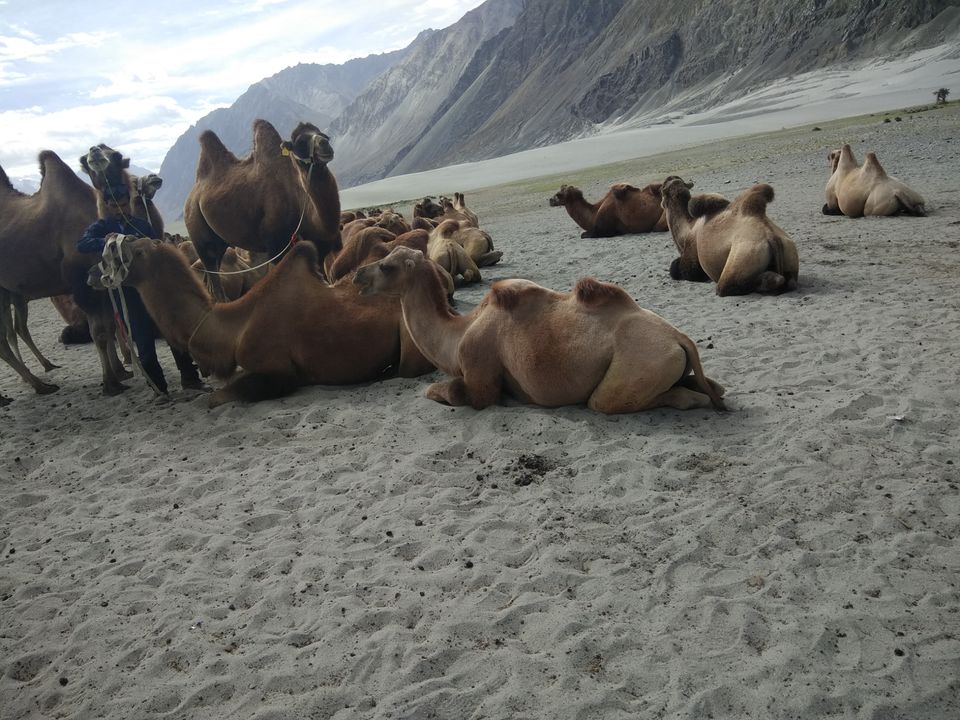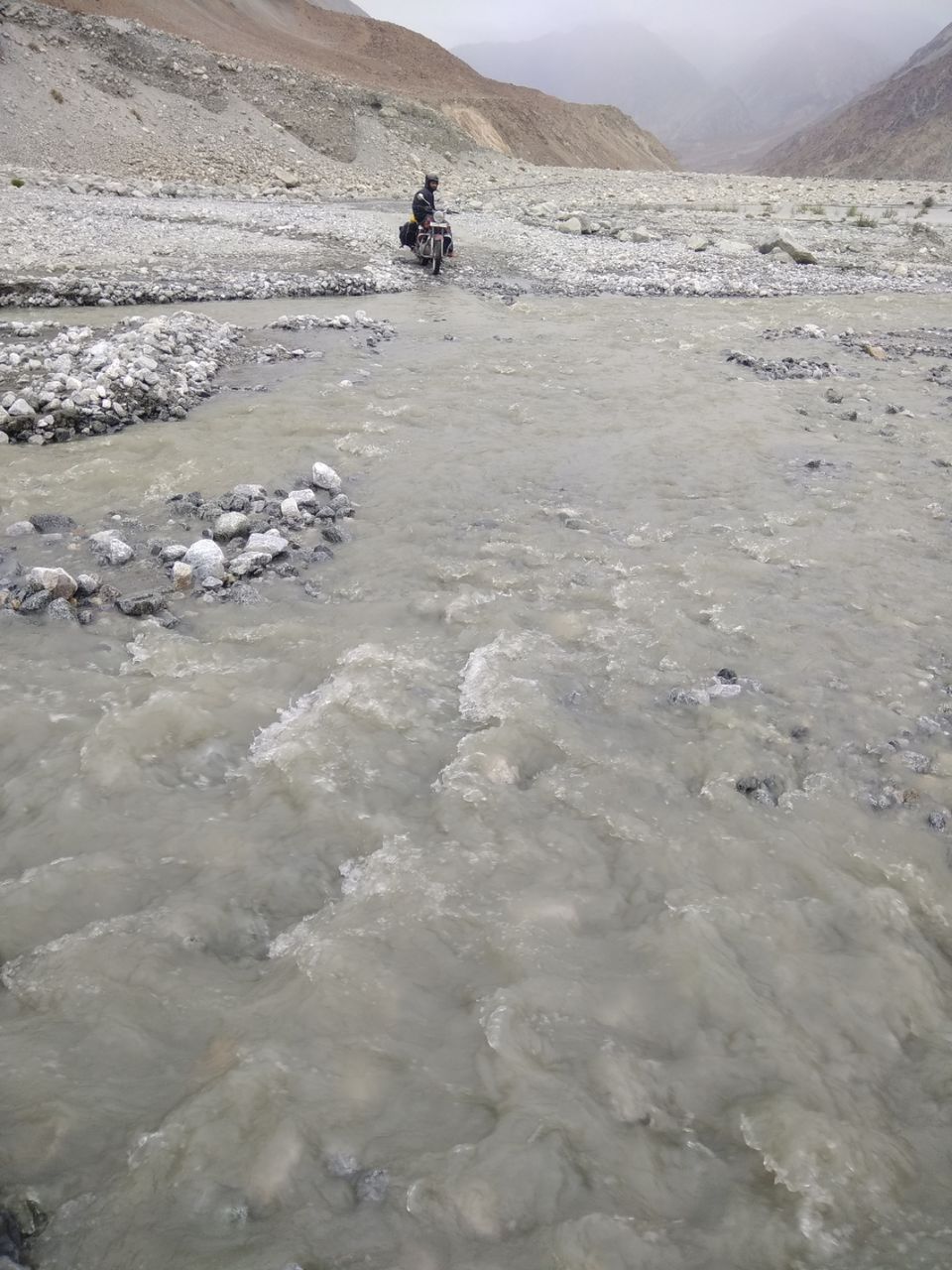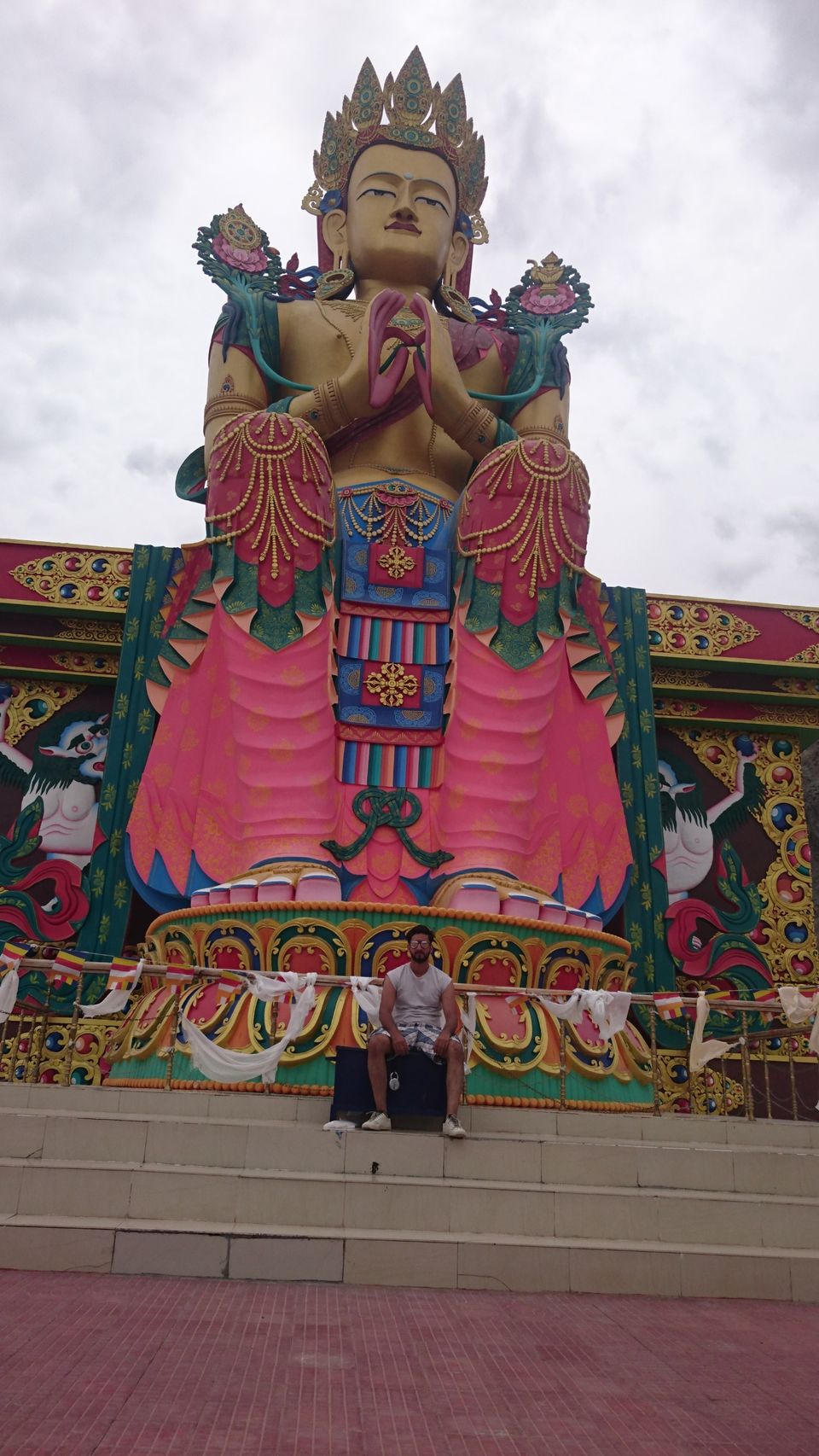 After waking up we straight way went to the famous Pangong Lake. The lake is very very beautiful with Crystal clear blue water. Don't try to taste the water as it is very salty. This is the lake were the shooting of the famous bollywood movie 3 idiots took place. Their you can see the things that were in the movie like the 3 ass seat, the scooty and the famous kissing spot. The tourists keep themselves busy in clicking photographs using these things. After the sight seeing, the other people decided to go to the Tsomoriri lake. I didn't go there because of two reasons :
1. Its the same as Pangong( pangong being better)
2. You will miss the famous Changla Pass.
So again I was solo, traveling back to Leh. During the way you will cross the famous Changla pass( this is the second highest pass-17688 ft ). I reached Leh at 6pm and again stayed in a guest house at Changspa road. After putting my bags in the guest house, I went to the Leh main market and had some tasty momos. I window shopped at almost each shop. And then I went to babylon cafe, they have a nice rooftop set up and ordered some food and had dinner there.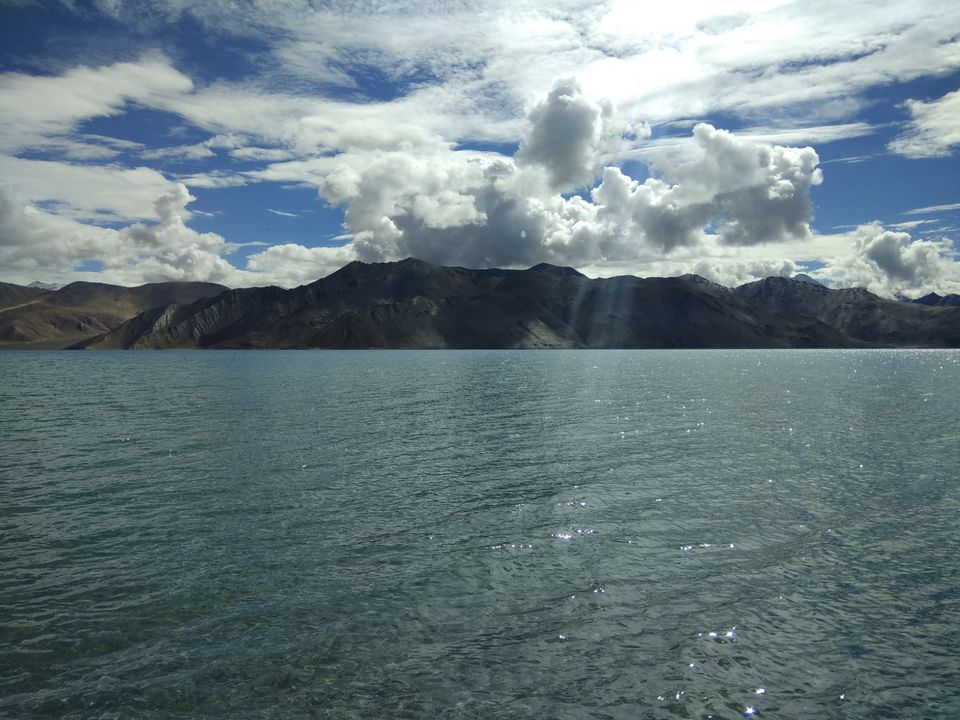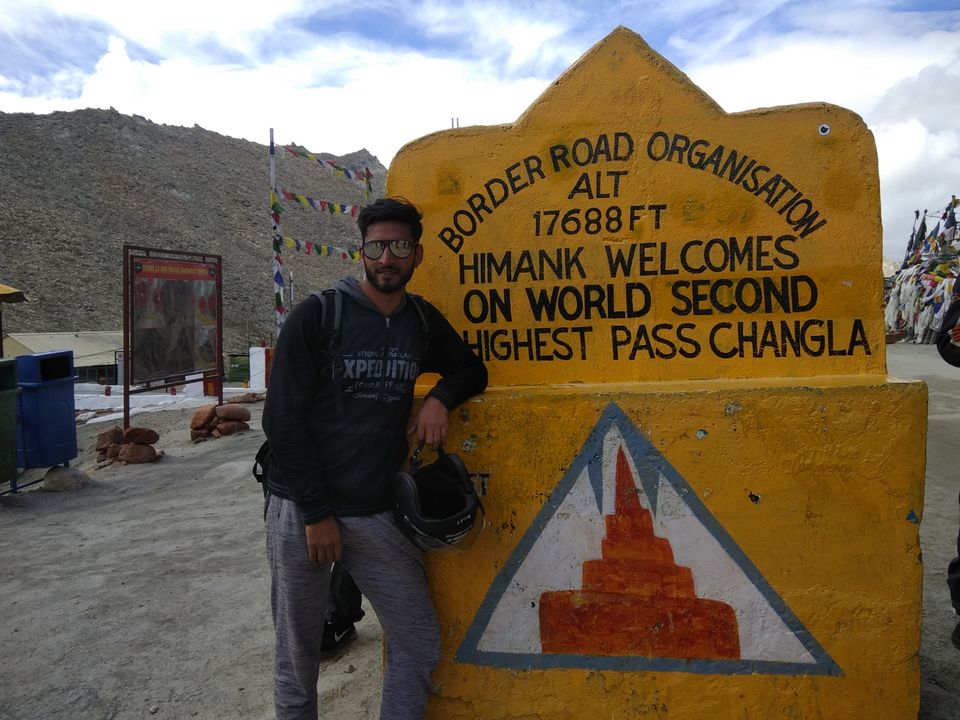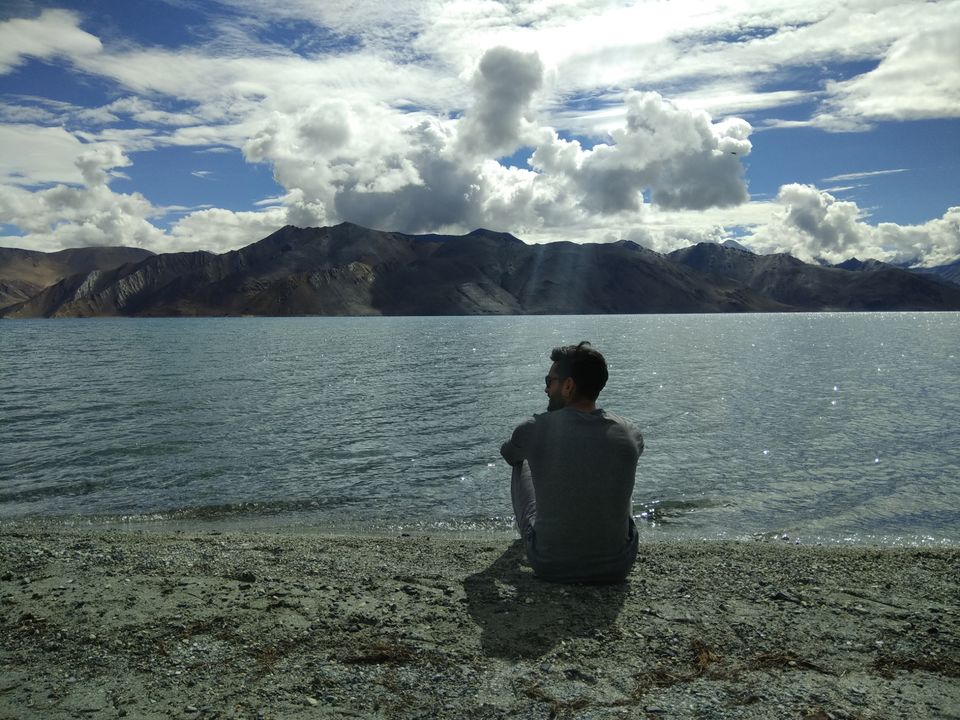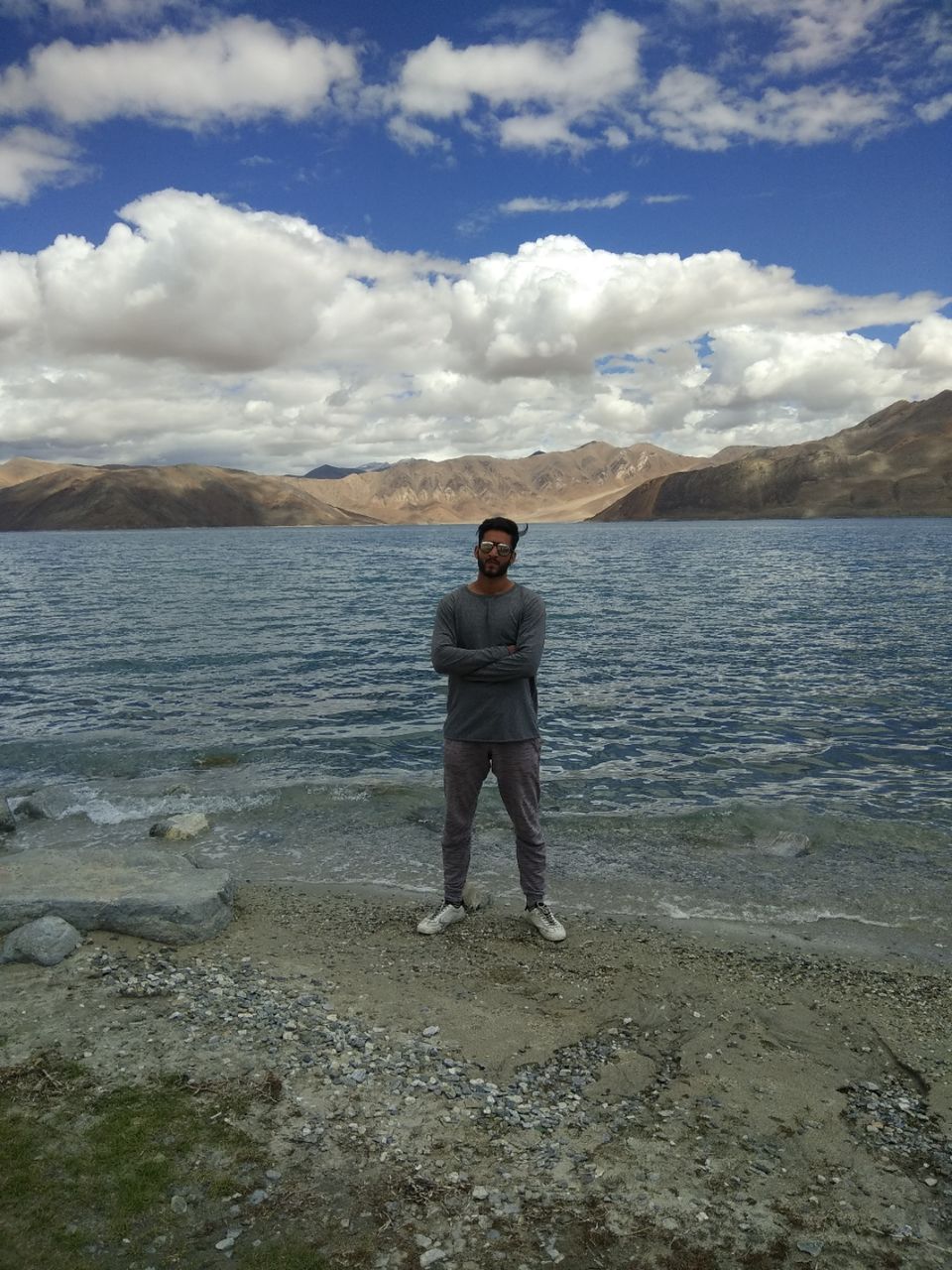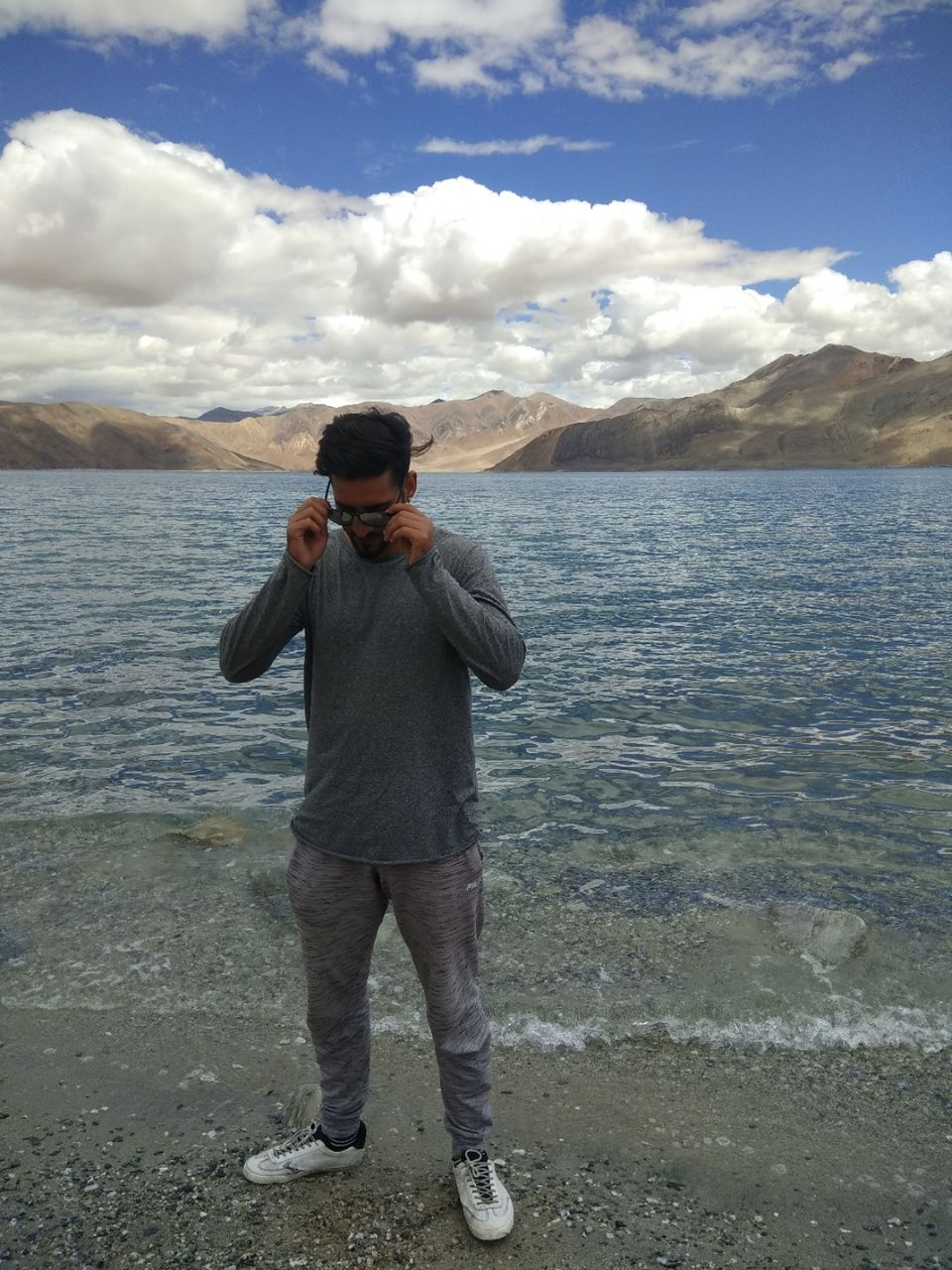 I was continously riding for 4 days, so I decided to take a break. This day I kept for the local sight seeing. I woke up quite late and then after having some food, I went to the famous Leh palace. It is a seven story ancient building with a temple inside. Then I went to Hall Of Fame. It an army center in which there is a museum where the pictures of our brave soldiers are kept along their contribution written. Also there you can see the weapons conquered by our army during wars. The detailed description of the famous Kargil War is written there. We should go there to see the contribution of our army towards the people and the society. After that I again went to the market and brought some candies for home. The Ladakhi candies are very famous and quite tasty as well. Being a hard core non vegetarian, I couldn't resist the mutton barbecues( a shack run by a kashmiri). So. I asked him to make a couple of them. The barbecues were more than yummy, so I asked him to make a couple more. It was getting late, so I decided to call the day off and went to my room.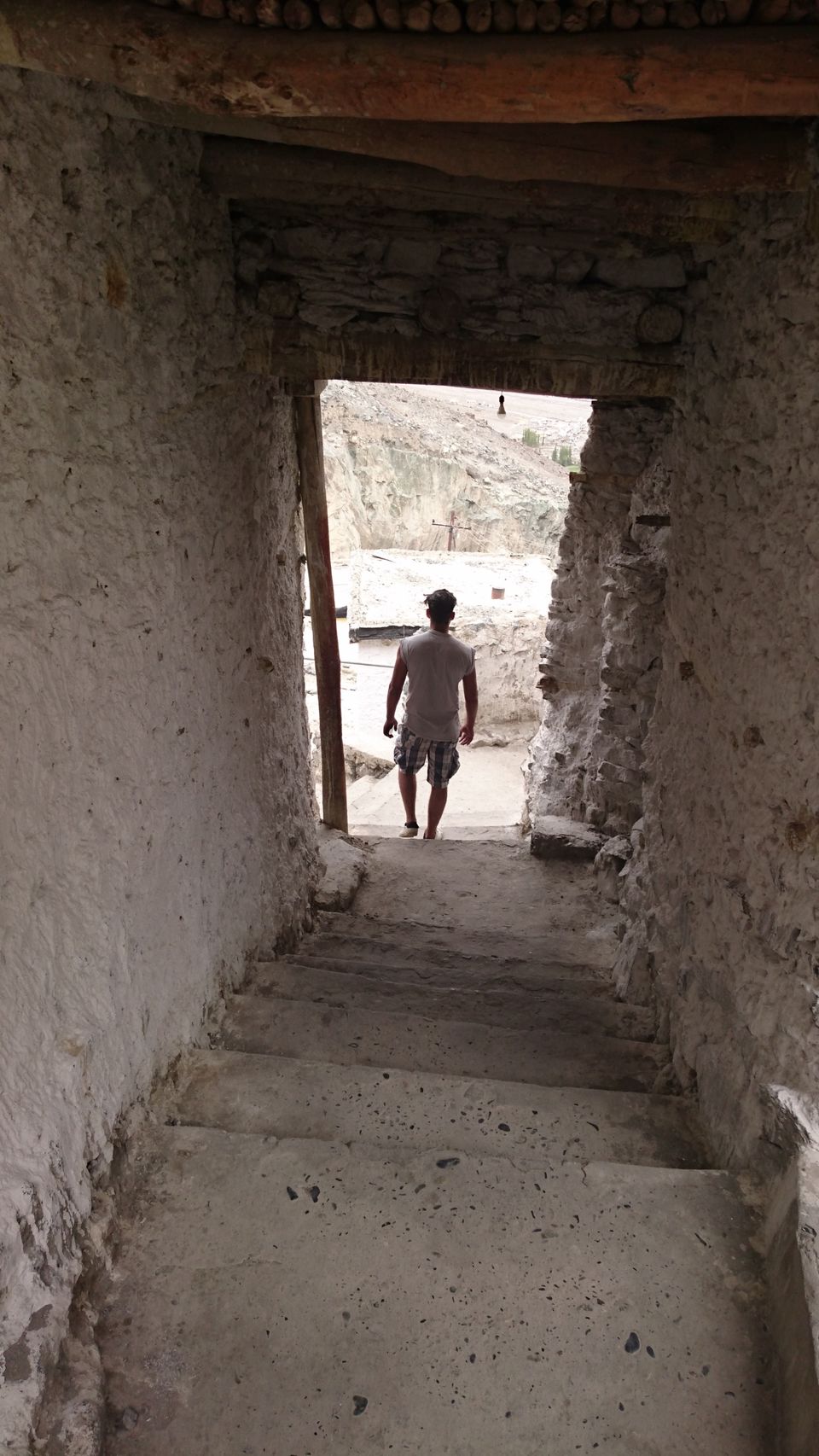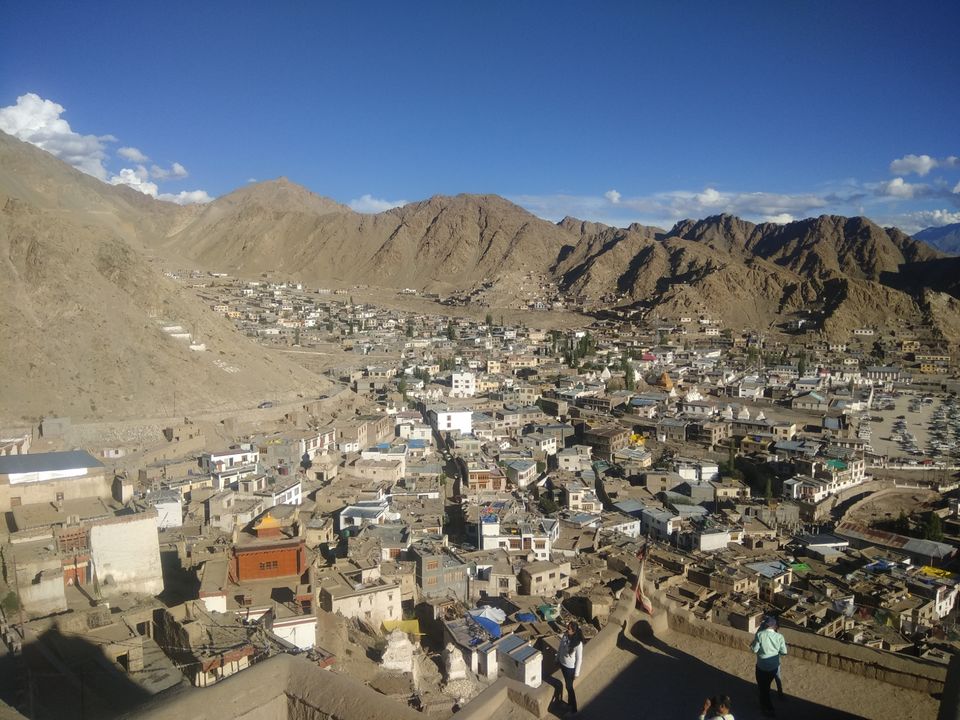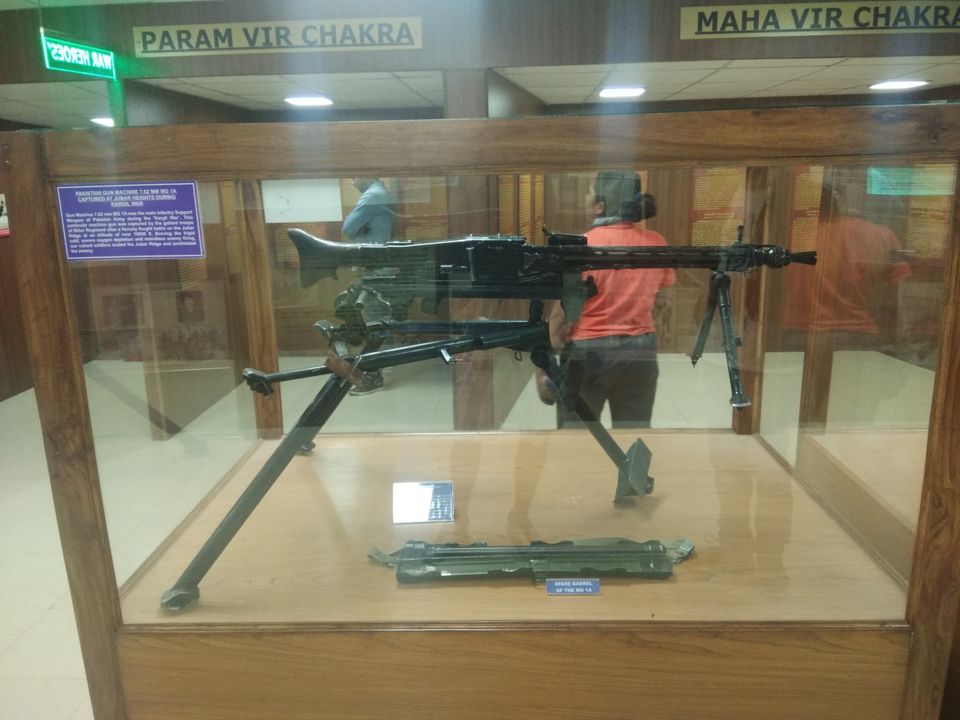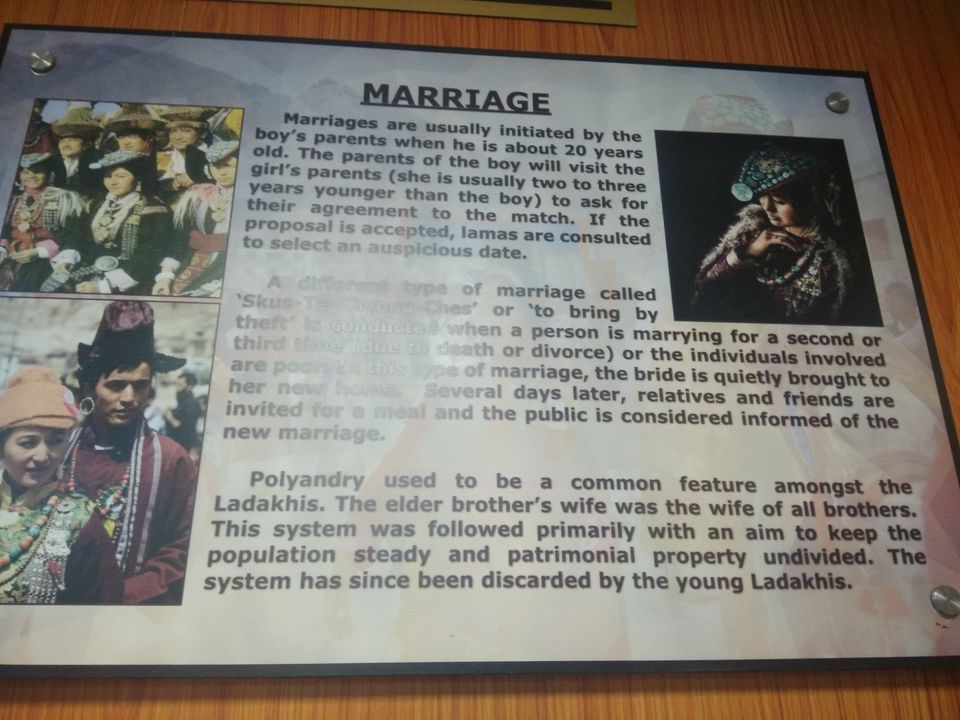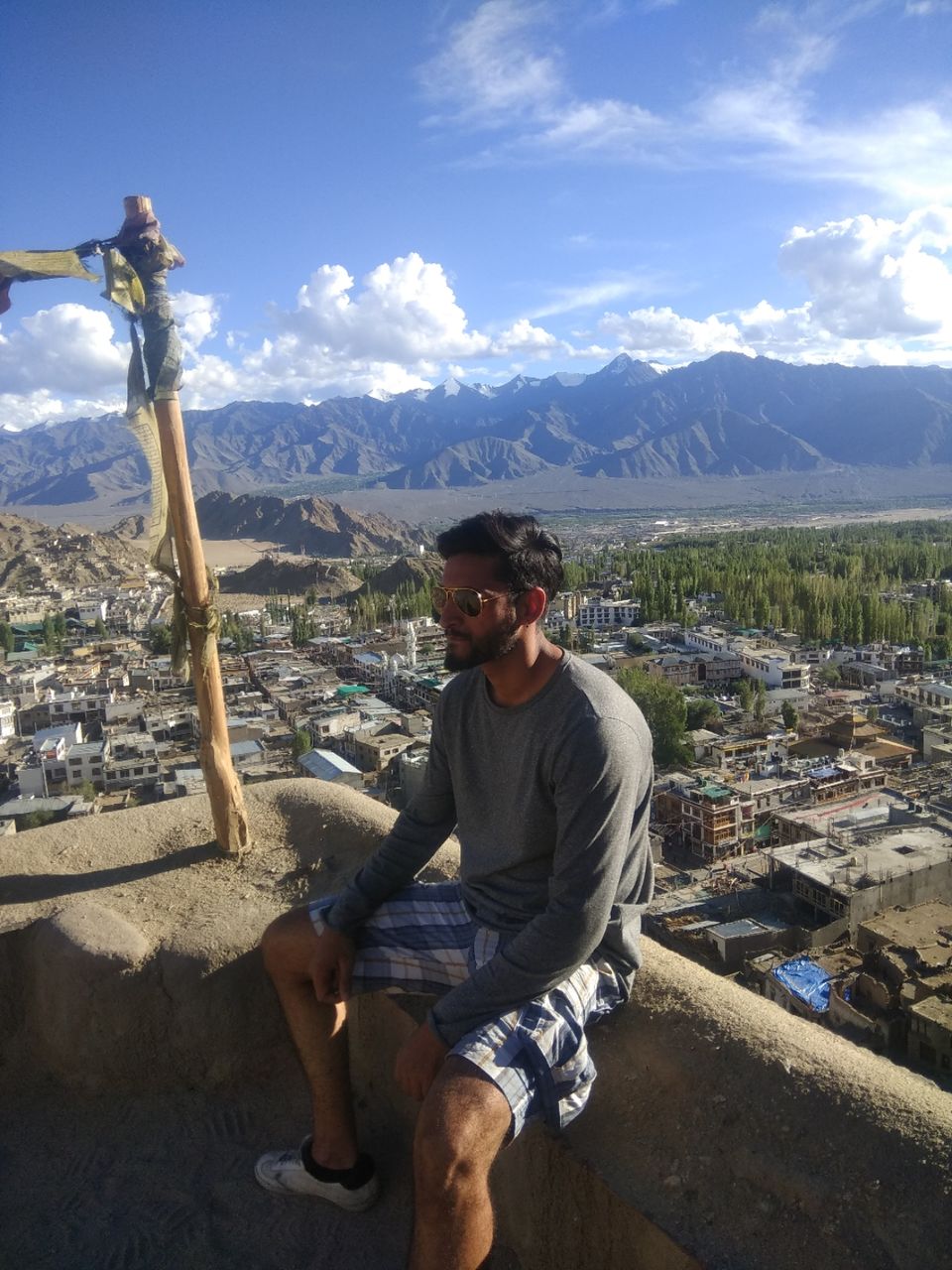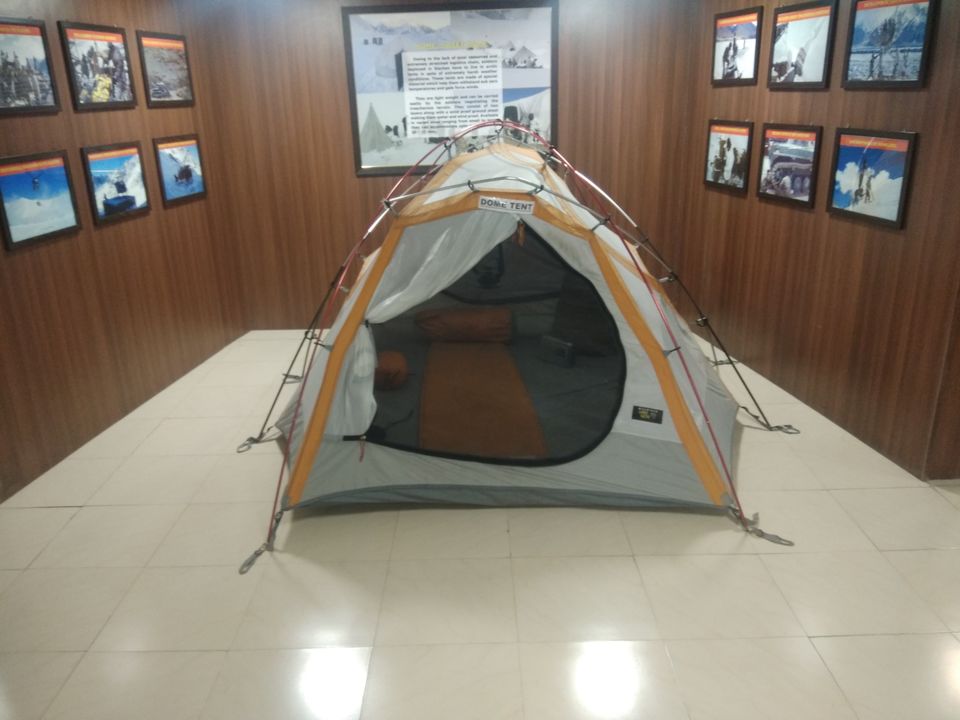 Initially my trip was upto Ladakh only but I decided to extended it to Manali because I wanted to cover all the famous passes. And I am super glad that I extended it. The road from Leh to Manali is one of the most beautiful but one of the dangerous as well. Its between mountains and you can to cover as many as 5 dangerous waterfall crossings and as many as 7-8 small water crossings. The big one's are very dangerous and life threatening as well. Death will play hide and seek with you on this road. There were many instances where I thought that I should return back but somehow my will power helped me to cross those obstacles. Also you will cross the famous Tanglangla Pass( 17582 ft) and the Gata loops( a road of 71 hairpin loops). I started my journey at 7am from Leh and at 10 pm I reached Keylong( a village in between). So I decided to stay there for the night. Also on this route, you should carry fuel with you because for 365 kms you won't find any filling station.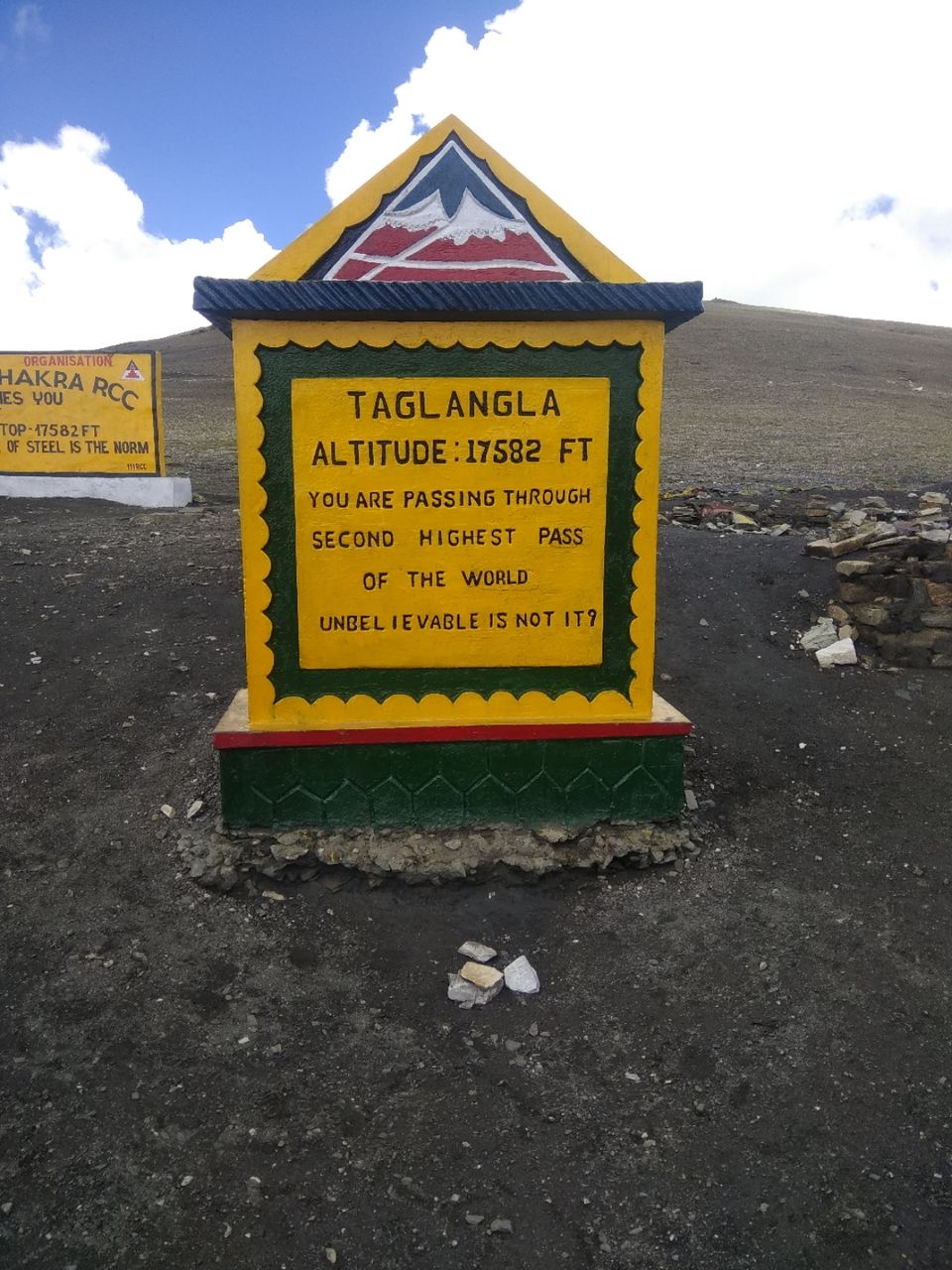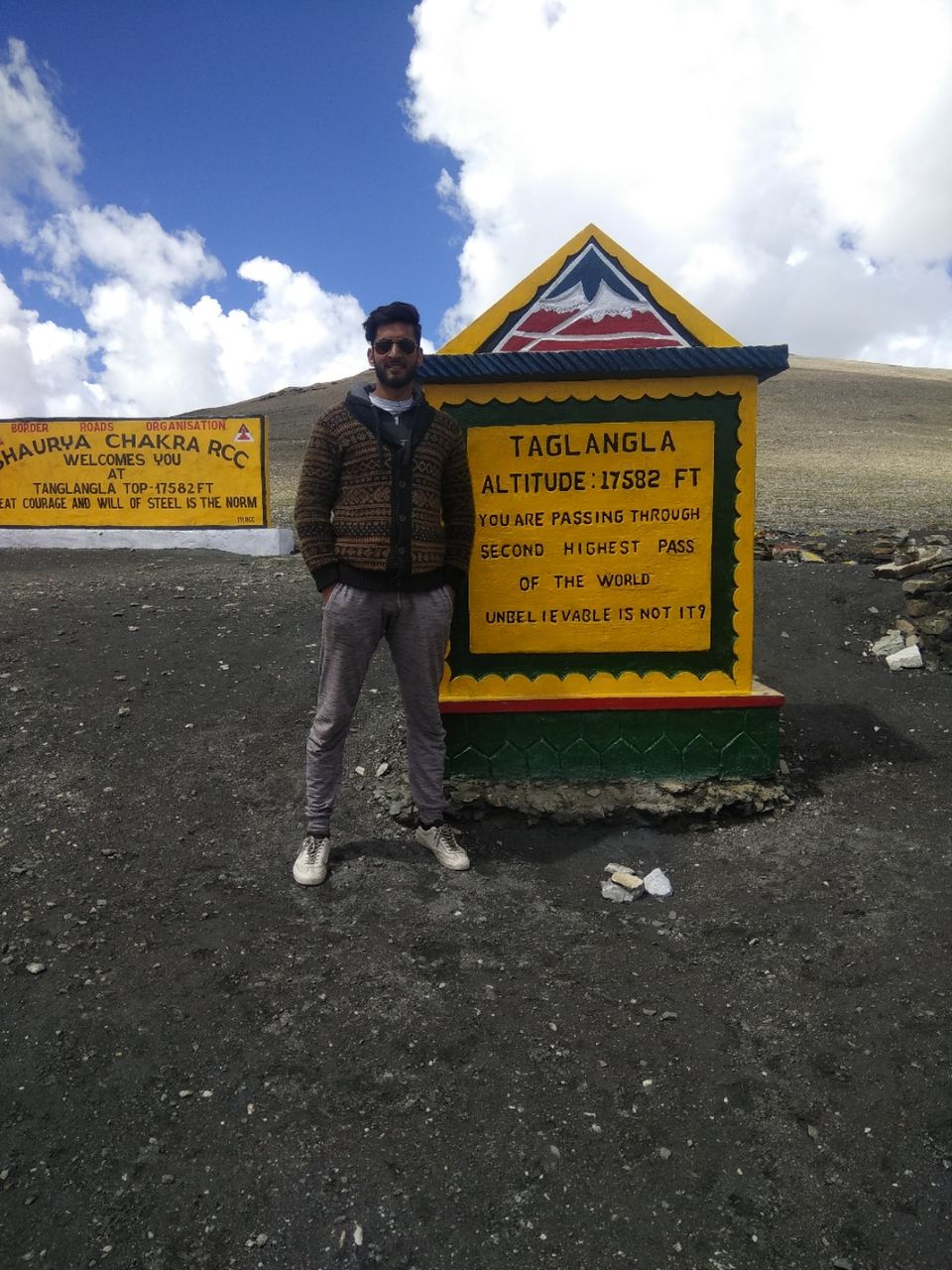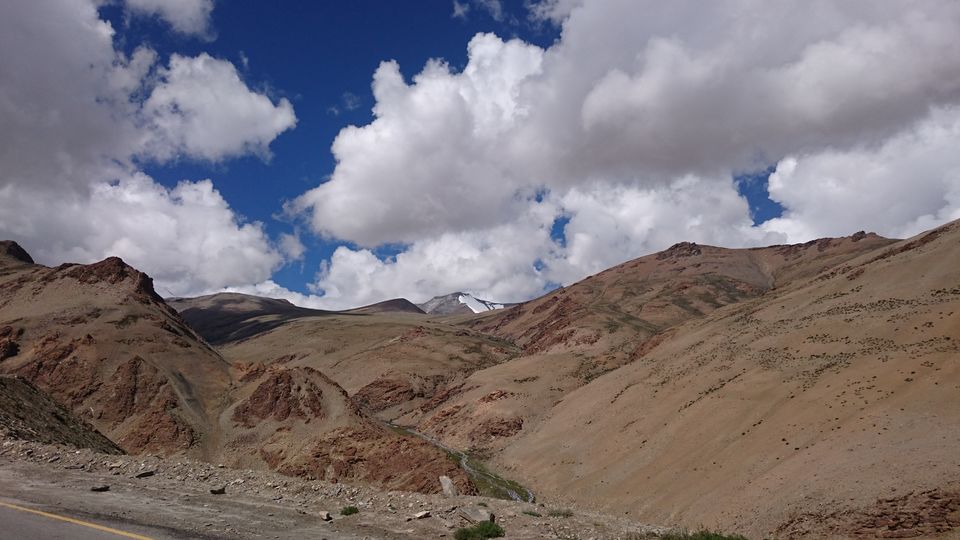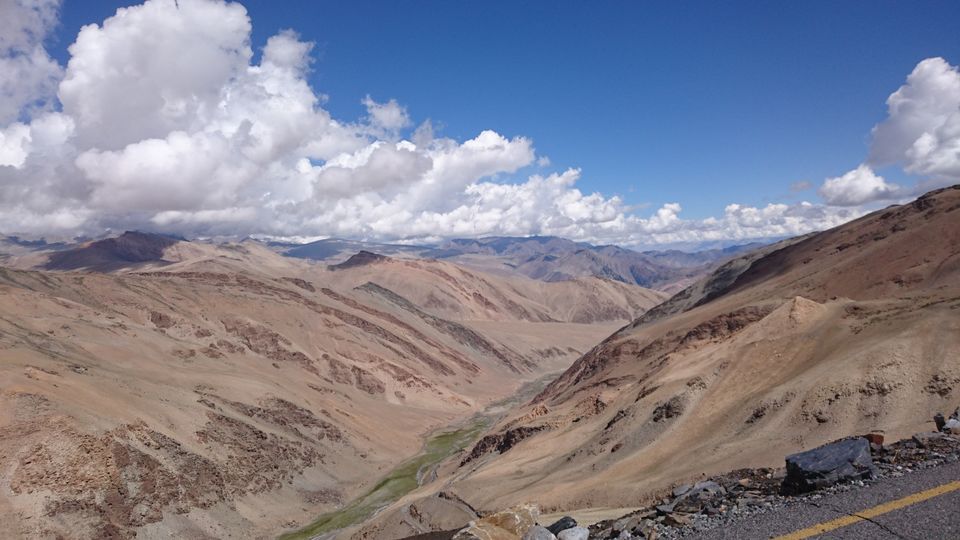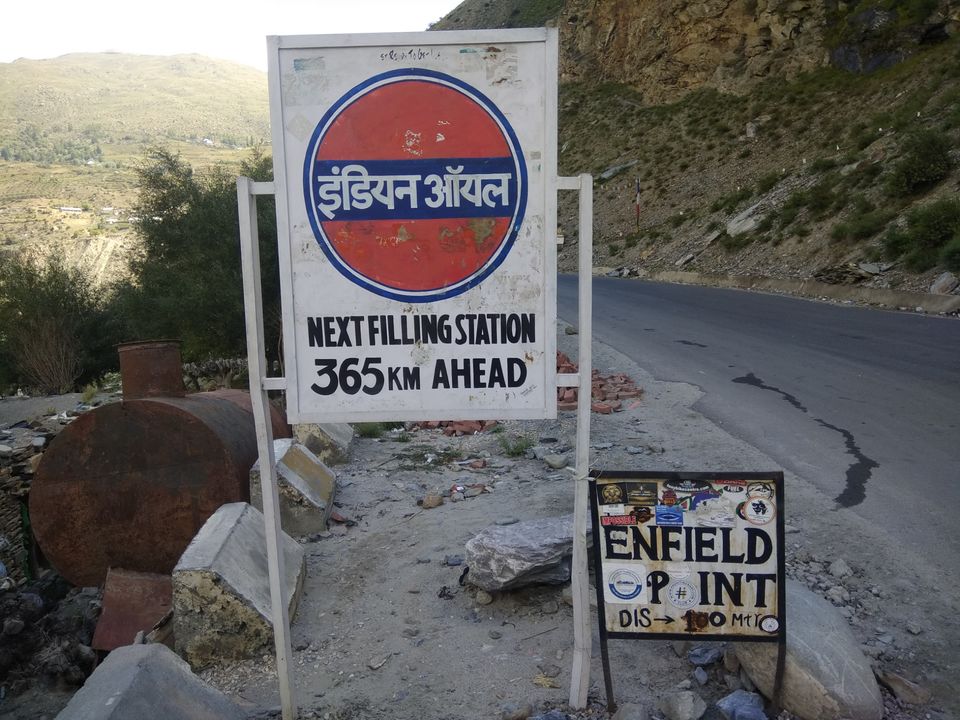 I started my journey at 9am and reached manali at 5pm. This route is again quite dangerous. On this way you have to pass the famous Rohtang Pass(13058 ft). The road from Rohtag to Manali is very very dangerous. You will find zero visibility with cloudy weather, fog and skiddy roads. But the view is breathtaking and beautiful. On this route as well you will cross many waterfalls.