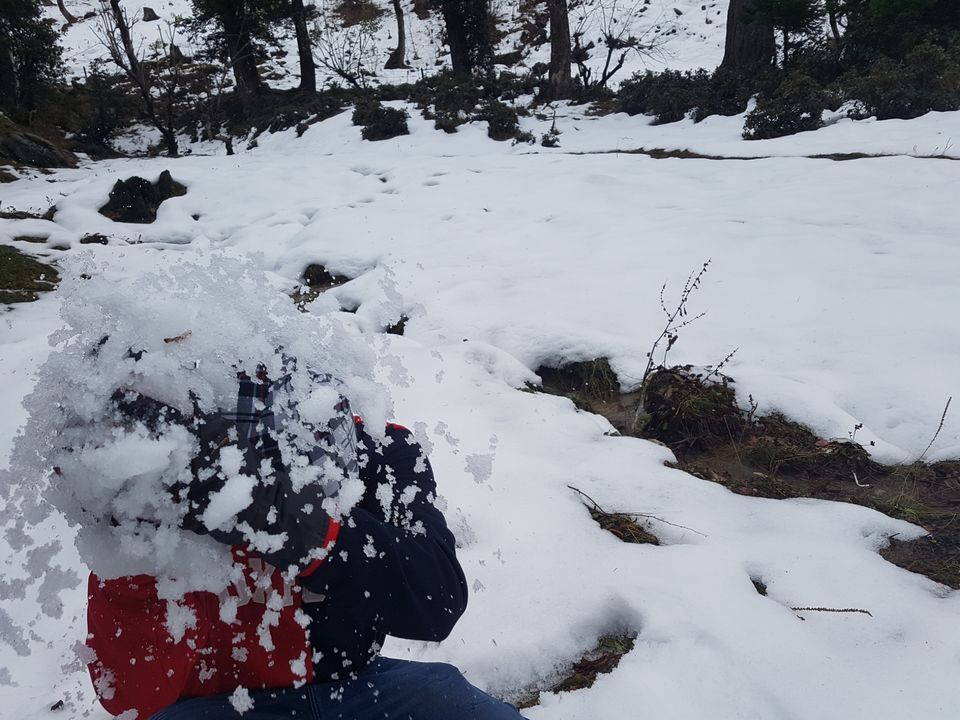 Adventure Journey, planed & booked for Gwalior & Jhansi but safe landed in Manali,
Hello Travel world
Greeting of the day
Hope all is well
CheLa The Excited Traveler welcome you again
Now I am explain my suddenly Manali tour,
It's 2nd weekend of November again explore in hill station. But first I was planned for Jhansi and Gwalior approximately 25 days before in advance by IRCTC train
With confirmed tickets.
It was a group tour with my class mates of
Oxford English Classes
New Delhi.
We were 6 members in our group . On Thursday evening took  ordinary bus from ISBT kasmiri gate ,close to metro station.
When I crossed Delhi , cancelled my train tickets of Jhansi, Gwalior Trip.
Next day on Friday we reached 3pm Manali bus stand ,than check in hotel  Chelsea,we got off time amazing deal 3 double bed family room in just 1000 rupees. All group members were excited for snow point. We already booked taxi for gulaba snow point. In evening time we enjoyed get together in manali, take little little , roasted chicken , fish fried.
Everybody danced on manali trance beat.
It was a nice Friday night
Oh it's Friday let's party !
Next day , Saturday morning
First we were dressup in winter mood , took chaa chuski and boarded for snow point
On the way we took breakfast/ Early lunch
Tea/ Stuff Prantha / Fried  Rice
11 am we reached snow point Gulaba , close to barrier point taxi parking area's.
We walked 2 km to enjoy too much ice back ground and ice play ground.
In between we missed each other and make two group. Everybody excited for capture the memories.lots of fun in ice , trekking to top of the mountain .
In evening we meet at 4 pm , 2 members were lost they came nearly 5:20 pm, than back to Hotel Chelsea at 7 pm.
Everybody felt awesome and check click of white background.
मुसाफ़िरों से मोहब्बत की बात कर लेकिन
मुसाफ़िरों की मोहब्बत का ए'तिबार न कर
We spent almost 2 night in manali than back to Delhi bus was started 3pm ,we reached early morning 5:20 at majnu ka tila, this time we booked city land travels Volvo seats . It was a amazing journey Delhi - Manali - Delhi .
मुसाफ़िर हैं हम भी मुसाफ़िर हो तुम भी
किसी मोड़ पर फिर मुलाक़ात होगी
Hope I traveled back to back Hill stations, mountains, trekking .
Thanks for pay attention .
Salute my all viewer ,you motivate me to travel much more .
Safar ka hi tha m Safar ka 
hi RHA
दिन में परियों की कोई कहानी न सुन
जंगलों में मुसाफ़िर भटक जाएँगे
Geet gata chal re sathi
It was off time .... early season attendance  in Manali,
In 2020 Shimla kufri will be my first snow point destination , plan to travel by UNESCO Heritage Toy Train Kalka to Shimla.
Let's see what happens, but I m excited for all upcoming hangout .....
आए ठहरे और रवाना हो गए
ज़िंदगी क्या है, सफ़र की बात है