With 5k in my account, one Friday lazy afternoon I was getting bored at my workplace. Suddenly my phone vibrated with a wassap text " Let's go to Manali". I replied back - "Only 5 k in my account". After 2 min, I received a message "That amount is sufficient"
Left from the office little early, rushed back to home picked up 2 pairs of denim, 2 sweat shirts & 1 denim jacket. Booked a Volvo with red bus app got additional discount of Rs 200.(Bravo!! I have saved 200 bucks)
The bus took off from New Delhi around 10 and reached Manali around 8:30. "Manali looks beautiful". Got fresh, hired a bike just for 800 bucks and all set for Rohtang ride.
There is a trick for all those, who think the border security people don't allow to return back the same day. You just need to return back after 5 p.m, then they will not stop you.
Started our journey and got excited to see mountains filled with snow. We started with Gulaba. I enjoyed every second on the road.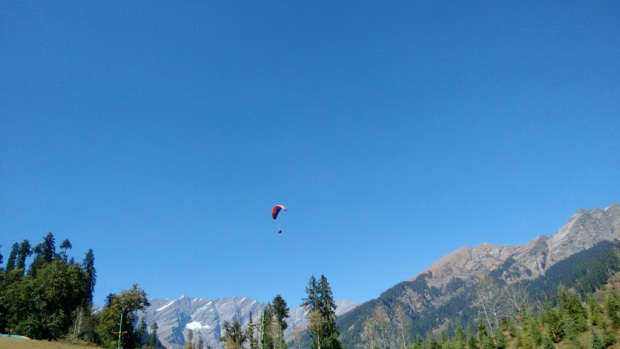 We stopped for paragliding few kilometers before Rohtang point, must try for everyone. Paragliding is a substitute for all the girls/guys whose childhood dream is to become a bird in next birth.
After driving for another half n hour, we have finally reached Rohtang pass. The view was amazing. "Heaven On Earth"
I was wearing a sweat shirt, and the temperature was (-8 degree). I was shivering and my friend was completely frozen as he was driving from past 3 hours wearing just a polo t-shirt (with 0 experience of riding on the hills). It was already dawn, we cannot find anyone there to help us. Icing on the cake was, we could see our petrol indicator pointing half. Somehow, we managed to come done few kilometers bought some warm clothes and asked for petrol from a bike gang they were traveling to Leh).
Experience never before, it was just a trip to remember lifetime. A must try food lovers - Jhonson Cafe, Chopsticks.
This blog was originally published on 'PAPIYADIGITALMARKETING'