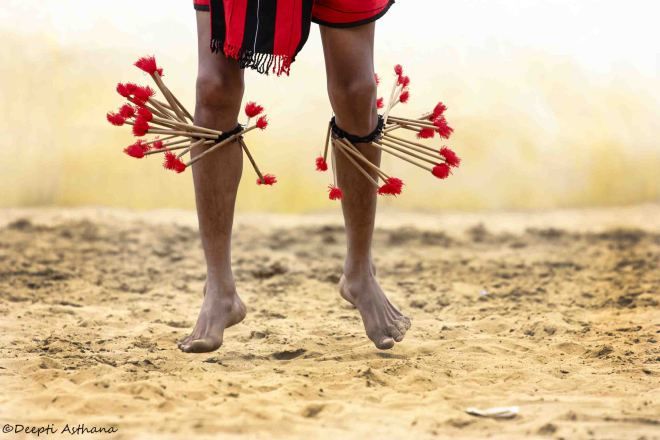 If you are thinking its too early to plan for Hornbill, you are probably wrong. The acclaimed festivals attracts tourist from all over the world and you might end up being homeless in Nagaland as all the hotel get booked by August. So it is the right time to know about how you may plan your trip to Hornbill.
Hornbill festival is one of the most famous festivals in the Northeast and the credit goes to Nagaland Tourism for making it such a huge success. The festival is a week-long cultural extravaganza, being conducted for the last 13 years but in the last few years, it has caught the eyes of travelers as well as photographers from around the world. It showcases the culture and practices of Nagaland in the most beautiful manner possible. Most of the people, dressed in their traditional attire, are very educated and modern; you might drool over the beautiful Naga girls wearing high heels or masculine Naga boys with their funky hair-do. It is one of the most well-organized festivals I have ever visited .People don't push or grope you, no one throws food packets on the road and most importantly they treat you as the guests should be treated with a never ending smile and a helping hand.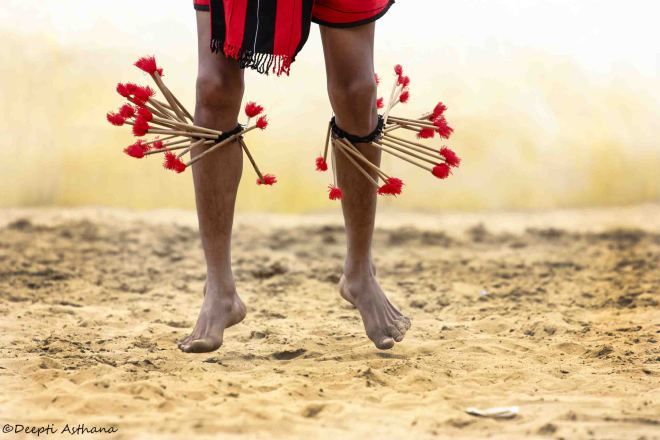 Flying high
The Festival
The festival is held at Kisama Heritage Village which is 10-15 kms away from the capital, Kohima. There are 16 tribes which participate in this annual festival from 1st Dec- 10th Dec. Having seen the excellent response over the last few years, the festival days have been extended from 7 days to 10 days. Fondly known as the "Festival of festivals", there is something for everyone- culture, food, arts, music, shopping or history. These tribes have a showcase community hall called 'Morung' which is being built and decorated in the traditional way. The kitchen, the rooms, the utensils and the music instruments used by that particular tribe will be on display. Representatives from each clan will provide you information and familiarize you with their tradition. What's even better is that they cook fresh tribal food in the same kitchen and you can taste it with freshly brewed rice-beer in the typical wooden mugs. Exploring each 'Morung' one by one kept me engaged the whole day and at times we had a quick chat with the headman as well. Thankfully language is no barrier here and Nagas can speak fluent English.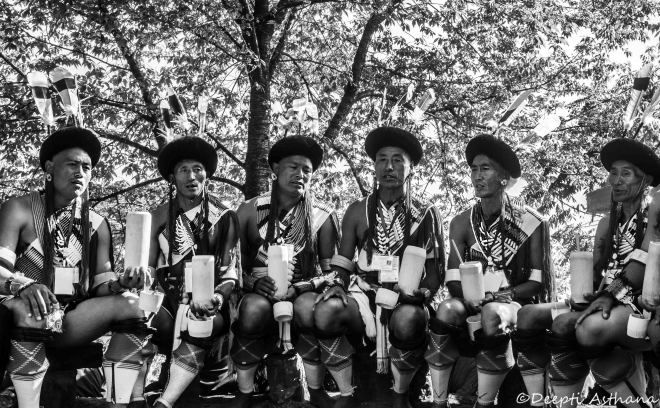 The songs and sounds of Nagas
Things to do in Festival
There are different events spread across the 10 days, so do collect a free copy of "Hornbill guide" at reception for the event schedule. The one event which I absolutely loved was "Naga chilly eating' competition, naga chilies are supposed to be the hottest and Nagas as well as tourists from all over the world participate in this chilly eating competition and their reactions are just priceless. Besides the usual showcasing of Naga dance, music, art, ethnic foods, handlooms and handicrafts, many other interesting contests and activities are organized in the main arena, I thoroughly enjoyed dance performances from the different states of North-East. Photographers from all over the globe come with their huge lenses to capture the beautiful art forms and it's a great place to exchange your passion for travel and photography with others and make new friends.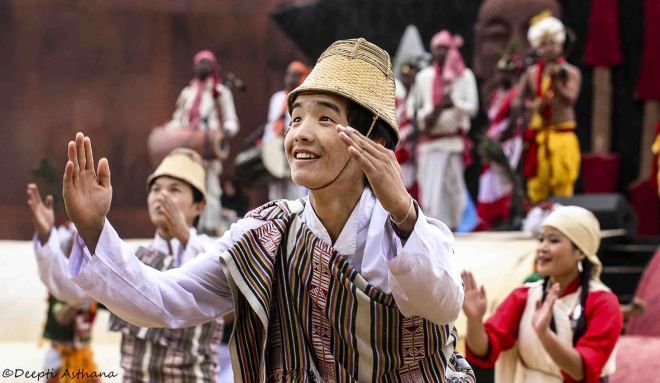 Dance performances by various states of Northeast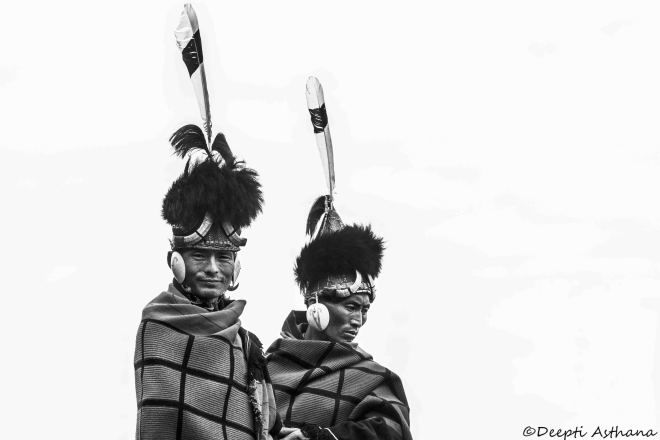 The Phom tribe and lovely hats
For the shopaholics, there are many interesting things you can pick up but do not expect much bargain here. The knives, bamboo souvenirs, the variety of pickles, traditional shawls, bead jewelry, etc. I picked two wooden beer mugs for my dear husband to make him happy after my long solo trip. There are also night bazars and carnivals in Kohima where you might find a cheaper deal. You can also relish street food if you are non-vegetarian and taste some Naga delicacies if you are really experimental with the food- Dog meat, snails, all sorts of sausages, frog, etc. There are some life saver vegetarian stalls of Eastern food – Jalebis, pakaudas, samosa due to Bihari settlement in Nagaland. The best bit about the festival is music, bands from North-East as well as some famous International bands perform during the festival in Kohima. The venue is little far from the main center but you can't afford to miss these performances. The crowd is manageable and you can easily get the tickets and seats.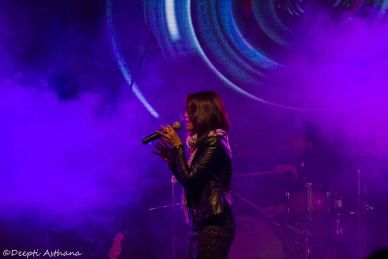 Naga bands performing on Day2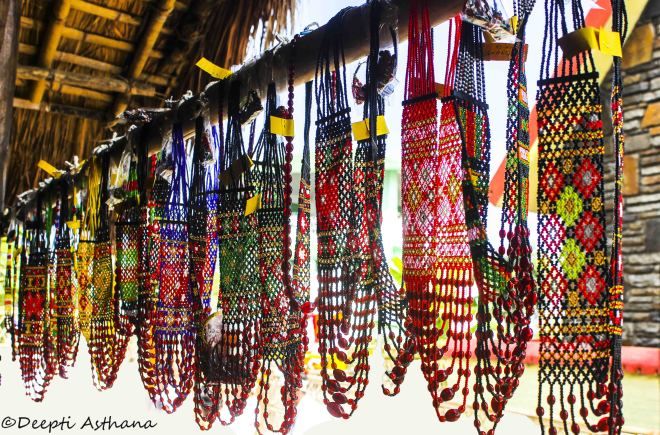 The Beads of Nagaland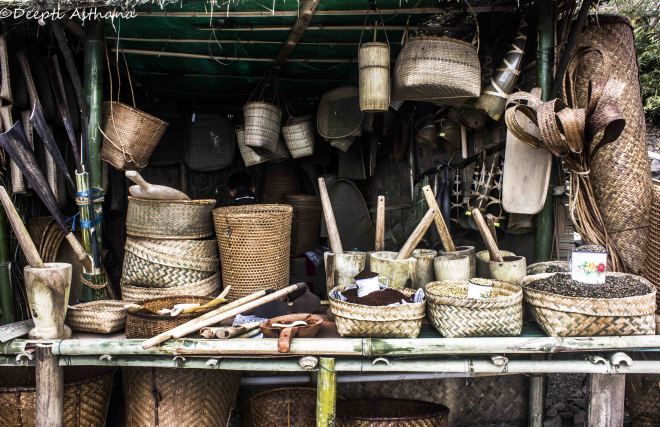 The souvenirs shop.. Beer mugs was the best buy..;)
Stay Options
So if you have made up your mind to attend the famous festival , please ensure that you get the hotel booking done at least 5 months in advance. There are not many hotels in Kohima and most of those would be booked by July. I found "The Heritage" in Kohima pretty good and there are many other standard clean hotels around, but do not expect a lot of luxury. However, with the increase in tourist inflow, a lot of guest houses, dorms, youth hostels etc. have been made available by the local people. There is a new initiative of luxury camps coupled with chopper ride from Dimapaur to Kohima if you are ready to splurge a handsome amount of money check link here http://www.kohimacampnagaland.com/ For people who wake up at the last moment can also save accommodation by fixing up a tent in Kisama Heritage Village itself which is being arranged by Nature Hunt Eco camps http://www.naturehunttours.com/necocamp/ . Find out more information about stays here- www.hornbillfestival.com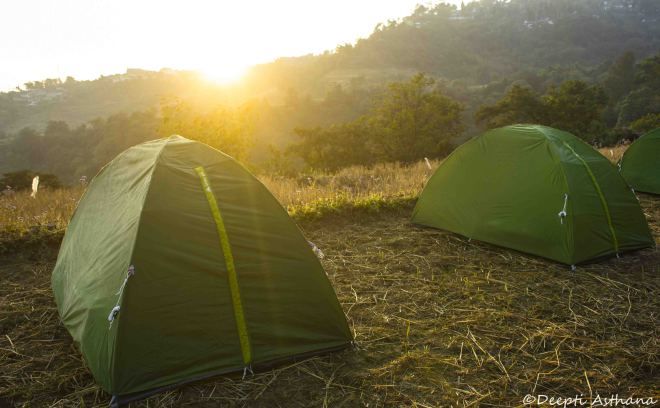 And that's my abode in Kisama village
How to Reach
To reach Kisama, the best way is to fly to Dimapur and get to Kohima by Taxi. There are shared taxis running from Dimapur railway station to Kohima which charge 220/- per person. In case you choose to fly to Gihuwati instead of Dimapur, then can also board a train from Guwahati to Dimapur in the morning (6:30 AM) which takes approx. 4-5 hours (Jan-Shatabdi Express). From Kohima, Kisama is just 10 kms but you would end up paying 400-600/- due to the festival season. Yes, be ready to spend a little more if you are off to visit Hornbill and be generous in your tips.
What else to do
World War II Museum is must visit along with the War Cemetery. It has immortalized the famous "Battle of Kohima". If you are willing to combine a few more places in your itinerary then plan a 2 day trek to Dzukou valley – The valley of flowers and The Japfu peak to be with nature but ensure that you fix a guide for yourself and carry sleeping bag and dry food along. You can also visit the Khonoma village which is again a tourist village also known as 'First green village of Nagaland' which emphasizes on conservation. If you are ready to explore some real villages travel further to Mokokchung or Mon and can end your trip at Jorhat in Assam; opening the new getaways to tea garden and Majuli (Asia's largest river Island) or else you can enjoy the beautiful wildlife of Kaziranga. Well I did all of that as well as Meghalaya.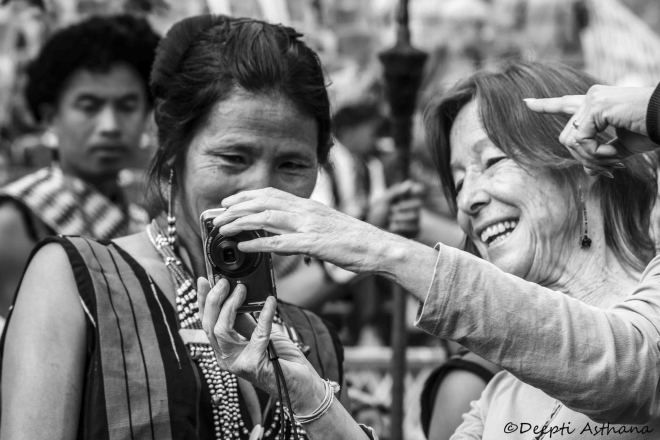 Love from guests
Permits and other essentials
And now the most important thing is 'The Restricted Area Permits' which are no longer a necessity for foreigners who want to participate in this festival. However, Indians still need an 'Inner Line Permit' to visit the state. You can easily get a permit from Guwahati, Kolkata, New Delhi, Dimapur, Kohima or Shillong or you could simply download the application form Nagaland Inner Line Permit (ILP). The foreigners however still have to register themselves at the Foreigner Registration Office once they enter Nagaland. Start the process for permit at least two weeks beforehand to receive it on time. You may contact a local or tour operator for the same. About weather, one may feel little hot on the bright sunny days on the top of the hill but it is always advisable to carry a jacket/sweater along with you since the day ends very early and by 3 pm the sun disappears behind the hill. Kisama, hilltop. Ensure buying packaged water bottles.
You may find more related articles and pictures on datravelography.com