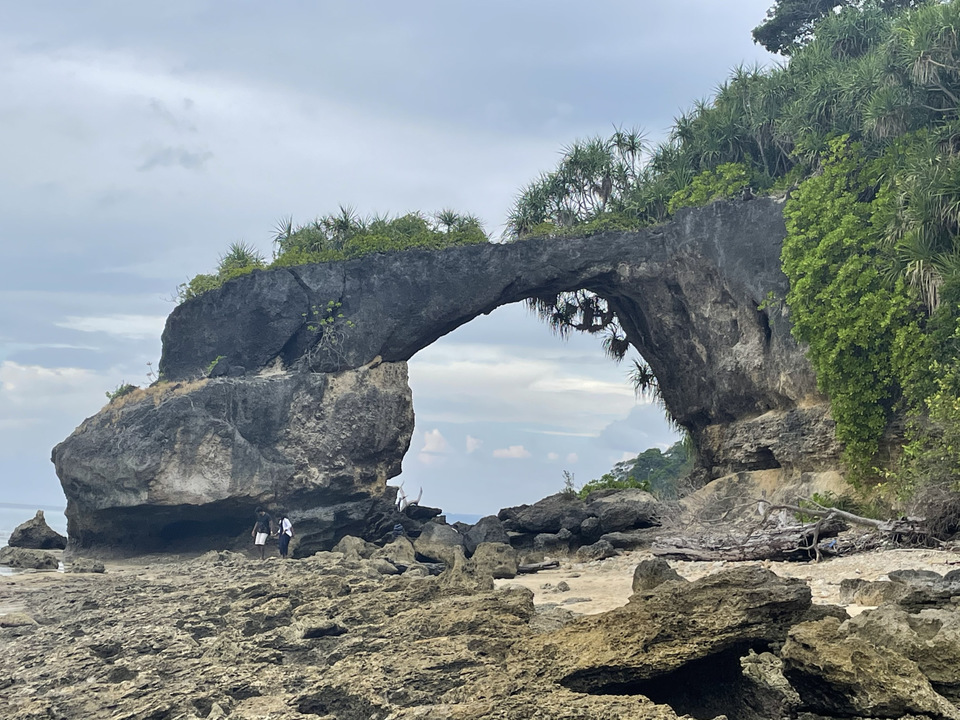 I had a few blogs before this. Most active ones are my trek blog http://balutreks-balachandra.blogspot.com/ and the China experience blog https://china-diary.com/. Though I have been a travel buff for long, I didn't record my non Chinese travel experiences as a blog. I am starting it now, with the latest trip to the wonderful Andaman islands. I hope to catch up with the older trips.
The Covid-19 pandemic had severely affected travel across the globe and India was no exception. I have been working from home for more than a year and was rearing to have a break. As the Chinese New Year holidays were approaching, I was just wondering where to go without being affected by the Covid-19 impact, and Andaman was a name that prominently came into the mind. We checked with Nirmala travels, with whom we had done trips before. They did have a package, but due to low turnover, they were ready to do a customized tour for us.
I approached Pramod to find out if he was interested. He was keen and checked with Vimal travels, with whom he had travelled before and got back with a better deal. While Nirmala had given individual prices, Vimal offered couple price. While there were differences in the services, the Vimal offer looked good. Pramod further negotiated for better accommodations and an onward train ticket to Chennai for a reasonable price (57K per couple for travel and accommodation, excluding the food). We decided and paid the advance.
Next step was to get Covid-19 RTPCR report within 48 hours of the flight time. As the flight was on 12 th afternoon, we gave the samples at Padmashree labs in Vijaynagar on 10 th afternoon and were told that we will get the reports by the next afternoon, well ahead of our departure by train to Chennai.
Mr. Bhargav, the coordinator at Padmashree called the next afternoon, saying that three of the reports are OK, but one is inconclusive, possibly due to low sample volume. This was an unexpected turn. Prabha akka gave a sample once again that afternoon. This meant we were going to get a soft copy of the report only the next day when we were in Chennai.
Day 1, Friday 12-02-2021: The journey by Chennai express was comfortable, and we reached Chennai Central at 4:15 in the morning. Pramod and I tried to explore the possibility of using a retiring room, but they were all closed. We went out in search of a hotel and after seeing a couple of hotels, chose to stay in Rijab near on Raja Muthiah road. We slept for some time, freshened up and walked out. After checking few places, we had breakfast (idly wada and masala dosa) at the nearby Andhrabhavan restaurant. Pramod wanted to do some shopping at T Nagar. We took an ola cab to T Nagar. Most stores there were selling jewelry and sarees. He could buy a belt at Khadim's and a waist pouch at a very impressive Saravana stores. The autos in Chennai charge very high prices, and don't use a tariff meter. We realized that Ola cabs were more reasonable and comfortable. It was already 11:30 by the time we came back to the hotel. We left the hotel at 12 noon and took a cab for the airport. On the way, I received the remaining Covid-19 report by WhatsApp and requested the cab driver to stop at a place where could take a printout of the report. It was a big relief once that was done!
We were at the airport around 13:00 and our GoAir flight to Port Blair was at 14:50. As expected, there were more formalities due to the Covid-19 report check.
The flight was full. Most people were wearing the mask and face shield that were given. Some of them were also wearing the body suite. There was no food served, but they were selling some snacks. Thanks to the heavy breakfast, we were not hungry. The flight took 2 hours and we reached Port Blair at 17:00. It took some time to come out and we had Debashish, the local coordinator of Welcome Andaman Travels, and Madhu the driver of an impressive Tata Hexa, waiting for us. Debashish explained the plan. As it was already late, the only possible thing for that day was to witness the sound and light show at the Cellular Jail, and a regular visit of the Jail was planned for the 16 th.
We attended the sound and light show of Cellular Jail at 19:30 to 20:00. It was a brilliantly created program aimed at telling the story of the cellular jail. There is a nice outdoor gallery made for people to sit and witness the history of the horrid colonial times.
For those interested, Andaman island was used as an exile for political prisoners by British since the first war of independence in 1857, but the Cellular Jail, also known as Kālā Pānī (black waters), was built between 1896 and 1906 using the bricks brought from Burma. A total of 696 cells, each measuring 4.5×2.7 m were part of a seven-winged three-story structure. The idea was to have solitary cells for prisoners preventing communication with each other. It is believed that a total 80,000 political prisoners were imprisoned there and only a very few survived. Some of the revolutionaries housed at the Cellular Jail were: Fazl-e-Haq Khairabadi, Yogendra Shukla, Batukeshwar Dutt, Babarao Savarkar, Vinayak Damodar Savarkar, Sachindra Nath Sanyal, Bhai Parmanand, Sohan Singh, Subodh Roy and Trailokyanath Chakravarty. The Savarkar brothers, Babarao and Vinayak, did not know that they were in different cells in the same jail for two years!
Post-independence, the government broke some wings of the jail, but then stopped it due to public pressure to maintain it as a monument. Ever since, it has become a symbol of the supreme sacrifice of our freedom fighters. When we visited, there was a repair work going on as they were expecting President of India to visit.
The sound and light show touches one's heart with the pain and torture the revolutionaries faced during their time here. Many died while fasting during protests, some during the force feeding, some committed suicides and many were hanged. The building, the lawns, and the trees around are witness to the suffering and serve as characters of the show. While the show was touching, having seen such shows in China, I feel it could be improved both in content and effects.
We spent some time looking at the statues in the part opposite to the jail and reached the hotel Sand heaven (in front of the airport) at 21:00. We ordered room service, had our dinner, and rested. The room at hotel Sand Heaven was spacious and nice.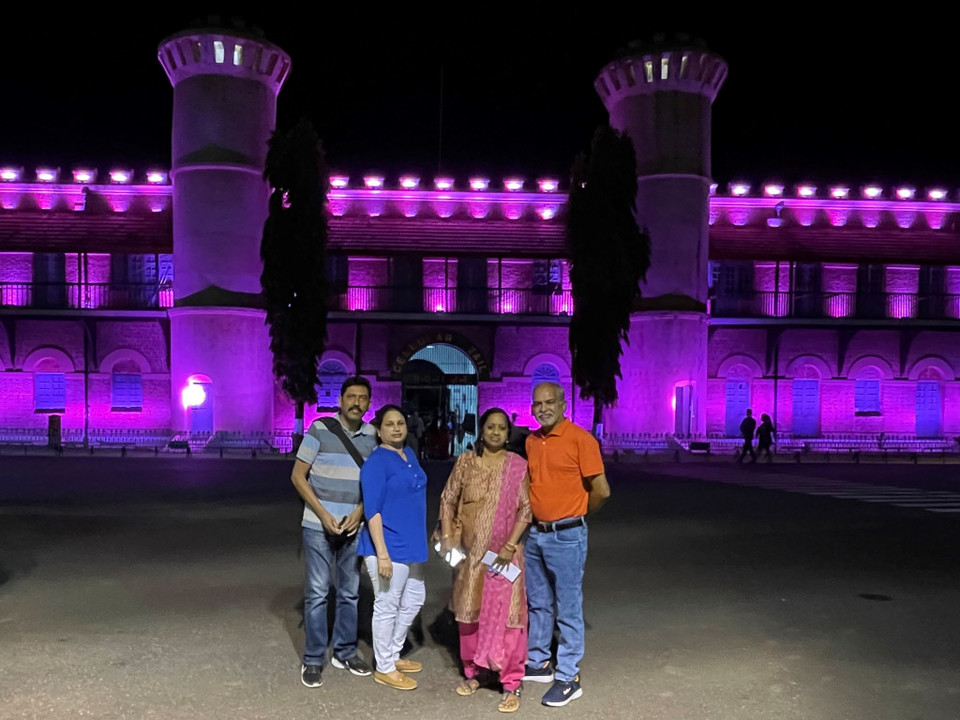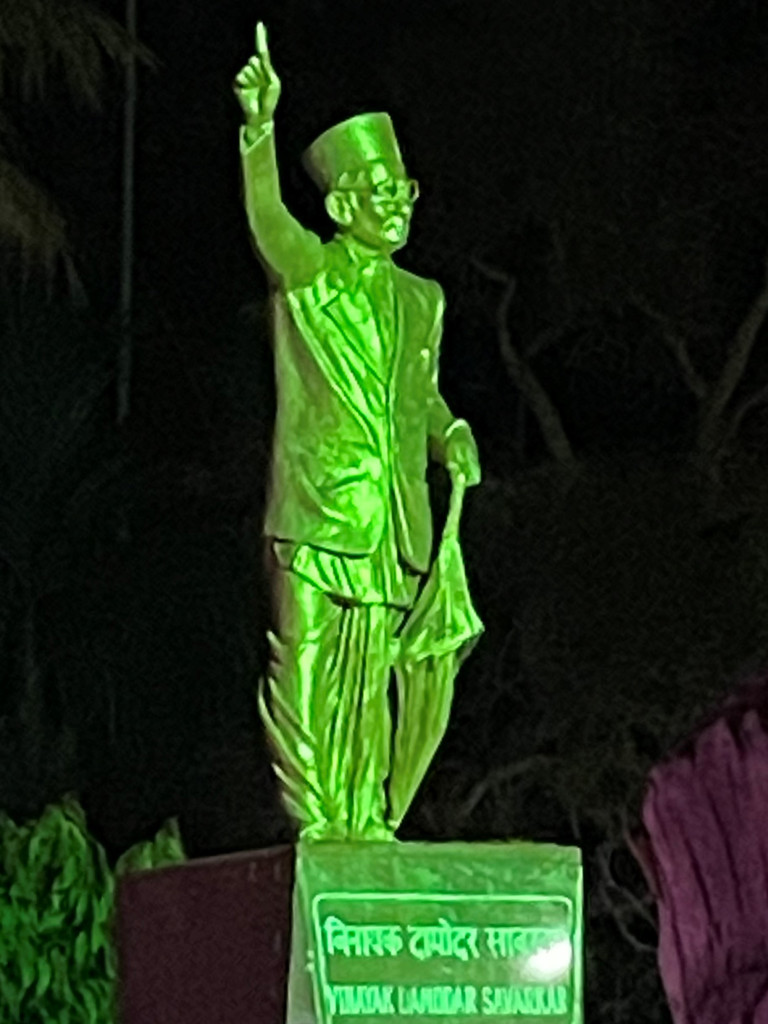 Day 2, Saturday 13-02-2021: Next morning, were picked up at 6 am (too early for a 9 am cruise). The hotel provided packed sandwich for breakfast that we had while on the cruise. Madhu dropped us to the Jetty. Here we had to get our Covid-19 reports validated. We caught one of the Makruzz ferries to Havelock island. The journey was scenic, and the cruise ship was comfortable. They played videos of safety instructions and Andaman tourist highlights. The cruises are totally closed, fully air conditioned and all the view is through the large glass windows. I would prefer an open corridor all around the cruise as I had seen in other places. We reached the dock at Havelock at 10:00. It was a bit of mess to get the luggage once we reached, as people were flocking. We were picked up by Lakshman at 10:20 and were taken to the hotel by a Xylo SUV. It was a 5 minutes' drive to the hotel Symphony palms. Lakshman, like Debashish, belonged to the repatriated Hindu families from Bangladesh during the 1971 war. In fact, most inhabitants of Havelock and Neil Islands are third generation of the Bengali settlers.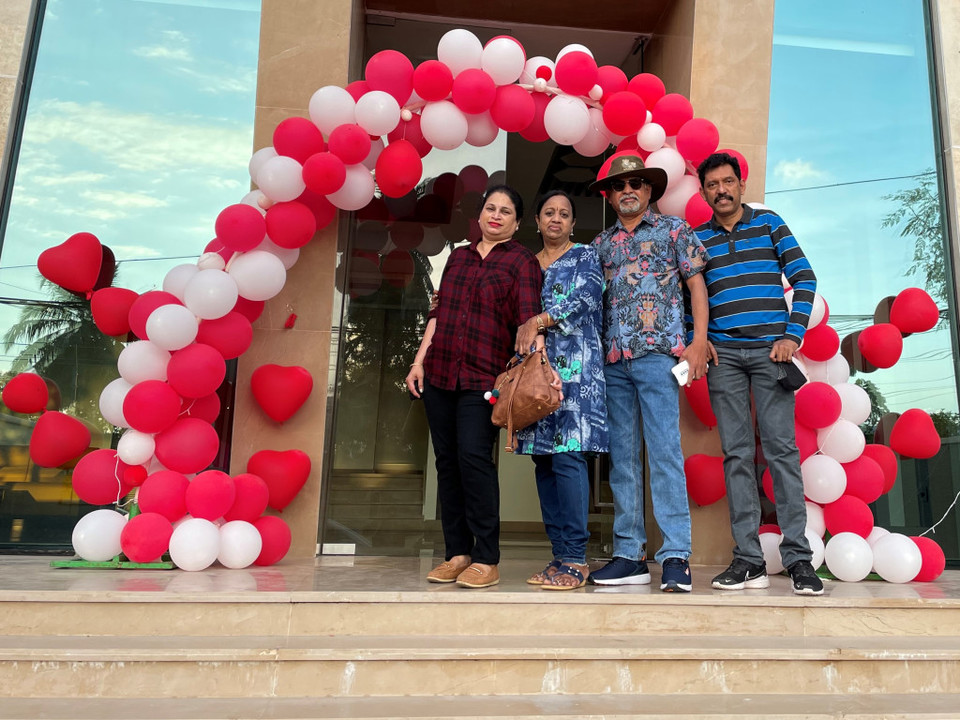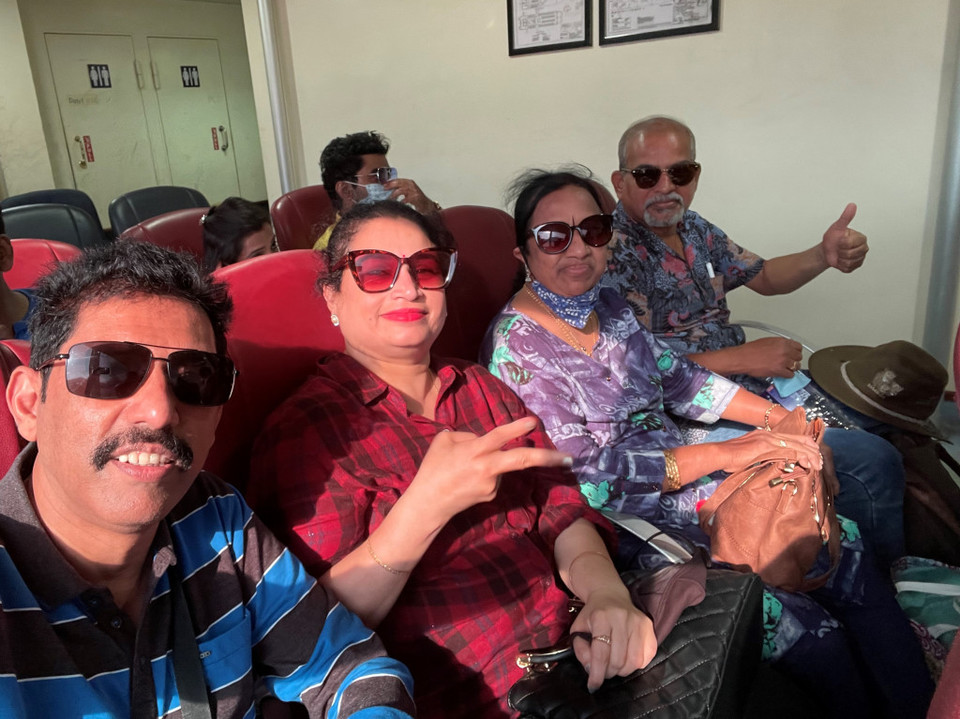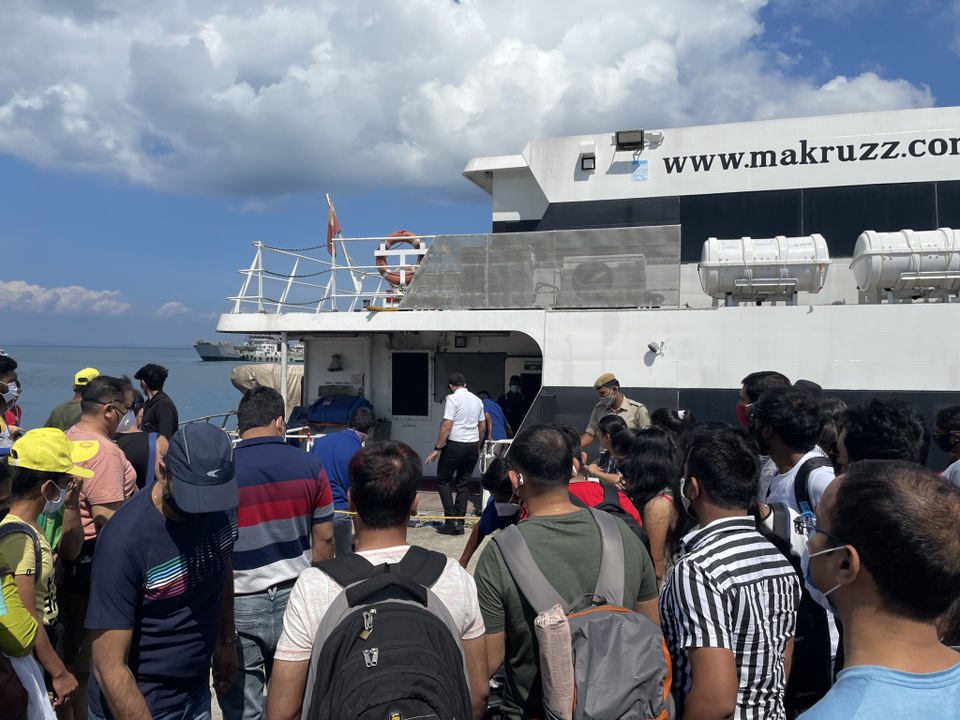 Havelock Island was named after a British general, Sir Henry Havelock, who served in India. In December 2018, it was renamed as Swaraj Island as a tribute to Subhas Chandra Bose. Bose had hoisted the Indian flag at Port Blair on 30 December 1943 and proclaimed the Andaman and Nicobar Islands as territories liberated from British rule. Havelock is one of the few places that the administration of the Andaman and Nicobar Islands union territory of India has permitted and encouraged development of tourism, with a focus on promoting eco-tourism. It is about 90 square kilometers in size.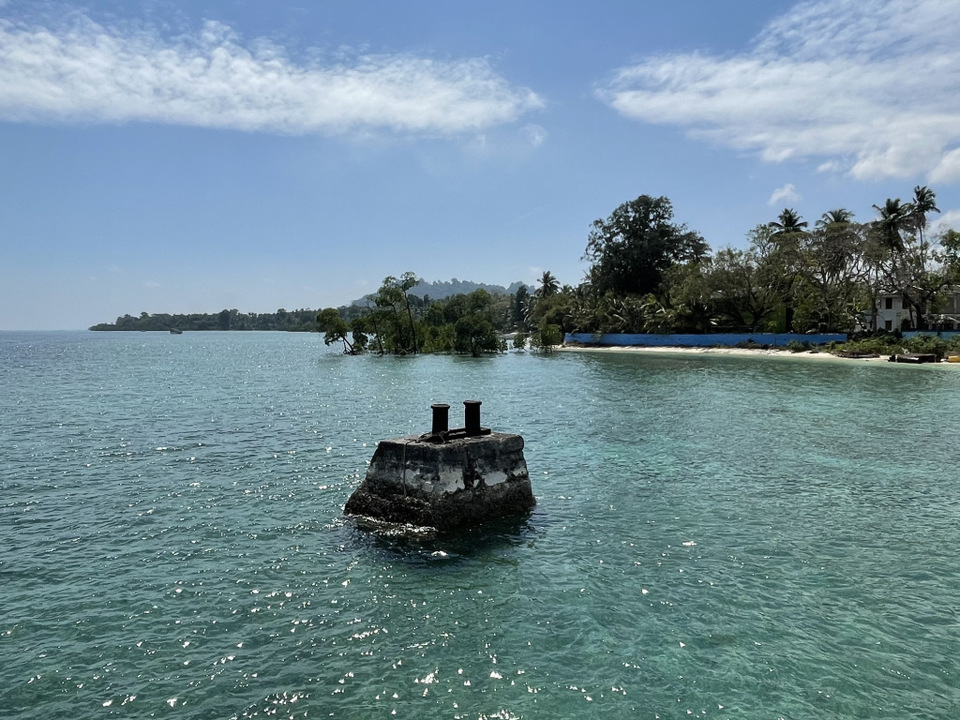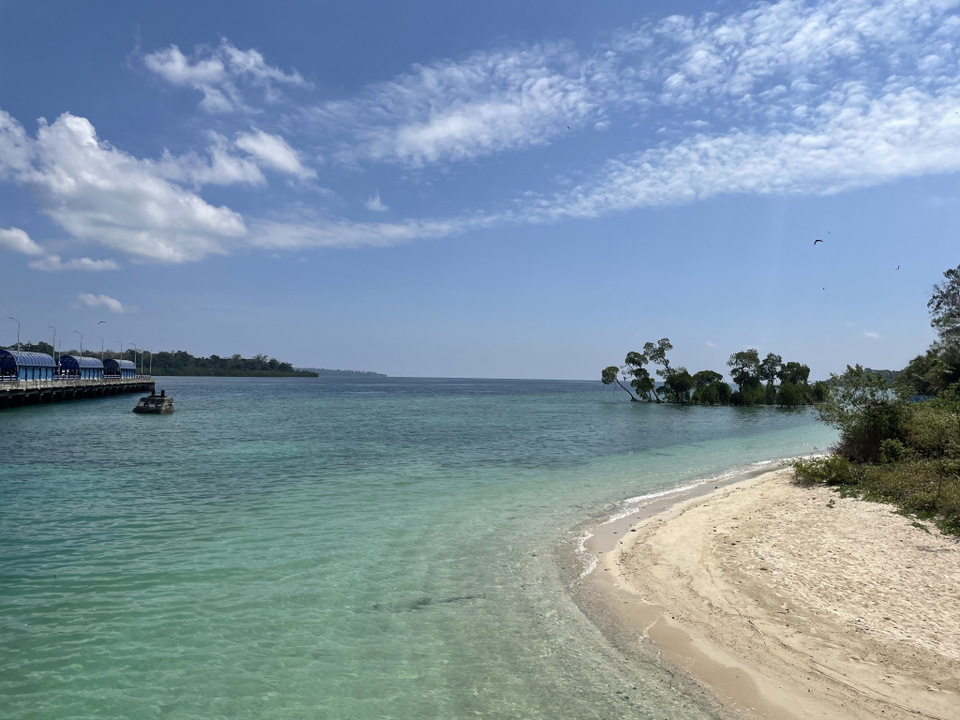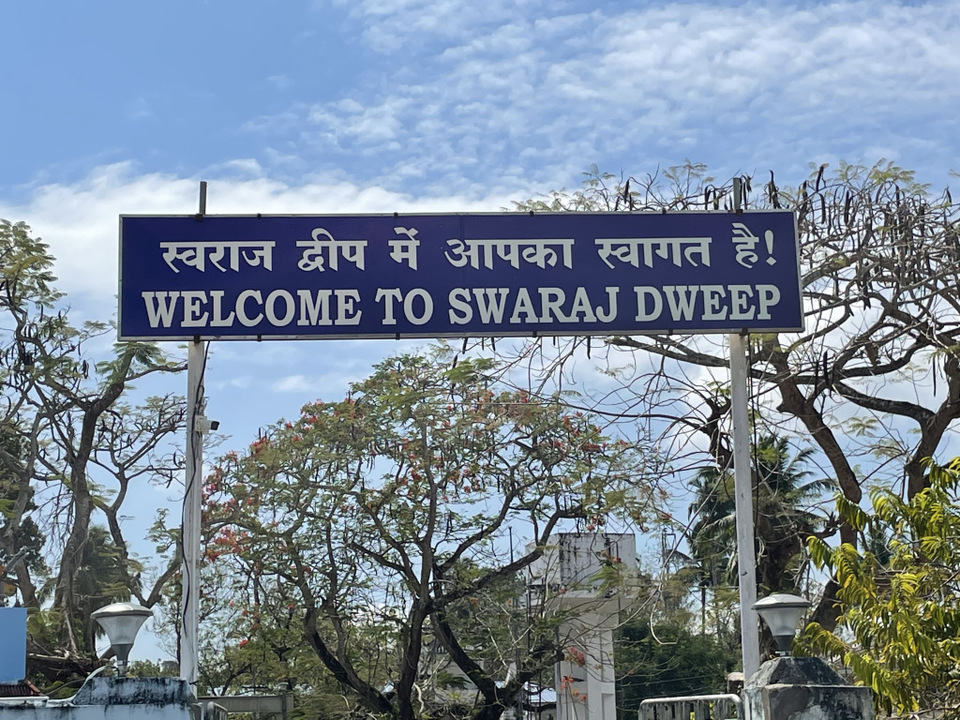 Symphony Palms is a large and convenient Beach Resort with properties either side of the road and half of the cottages close to the beach No. 5, also known as Govind Nagar Beach. It is relatively new, has modern facilities and luxurious cottages. Our cottages were on the opposite side of the beach but were at walking distance from it. The resort has a beautiful landscape with coconut and variety of other trees.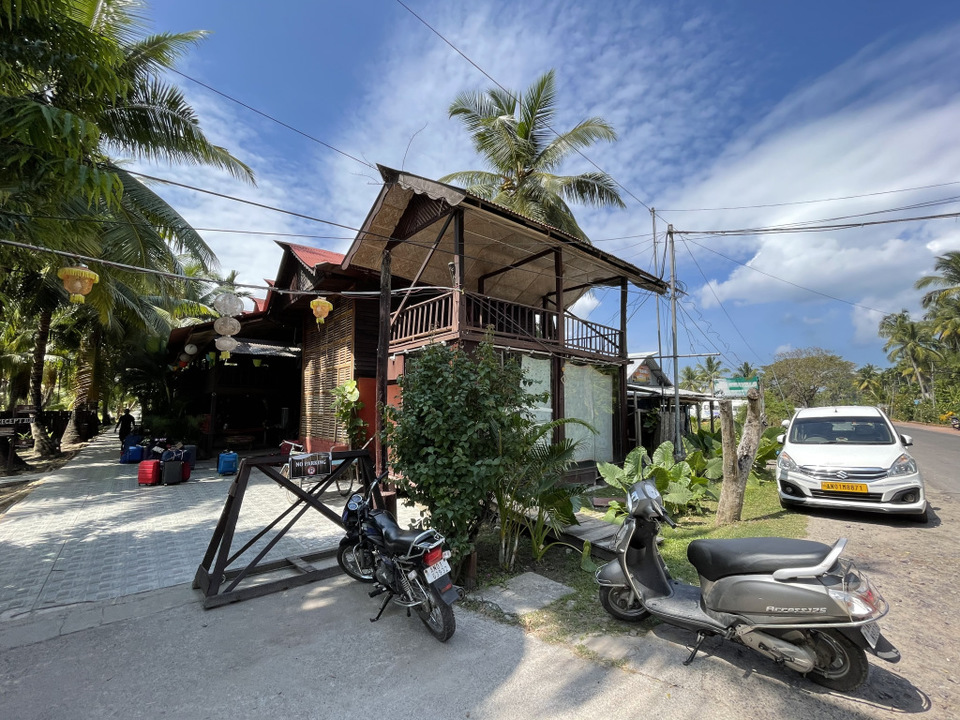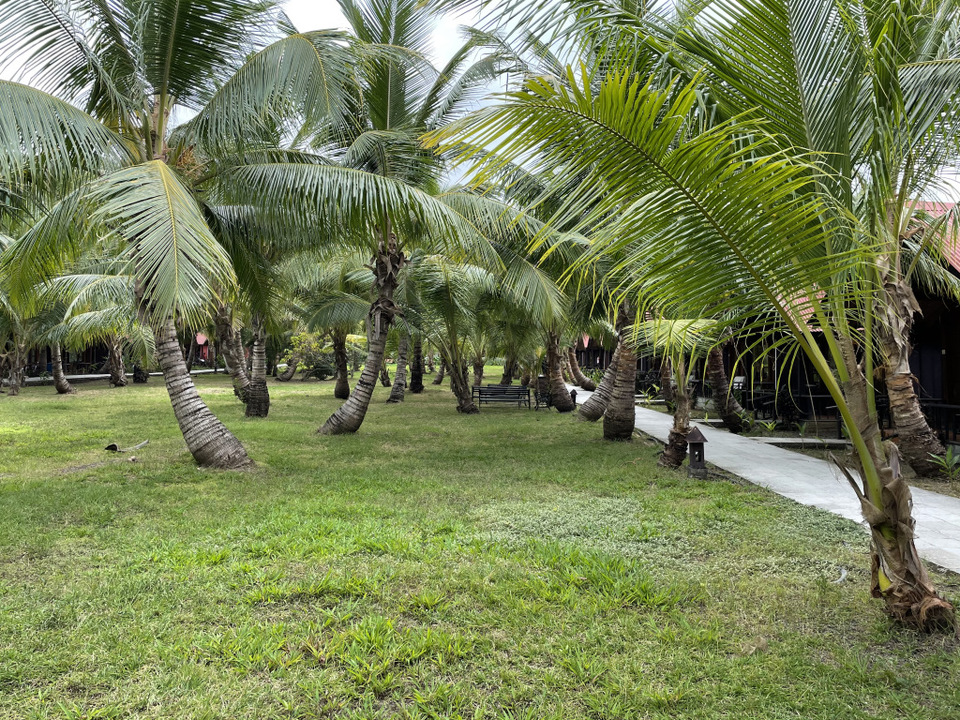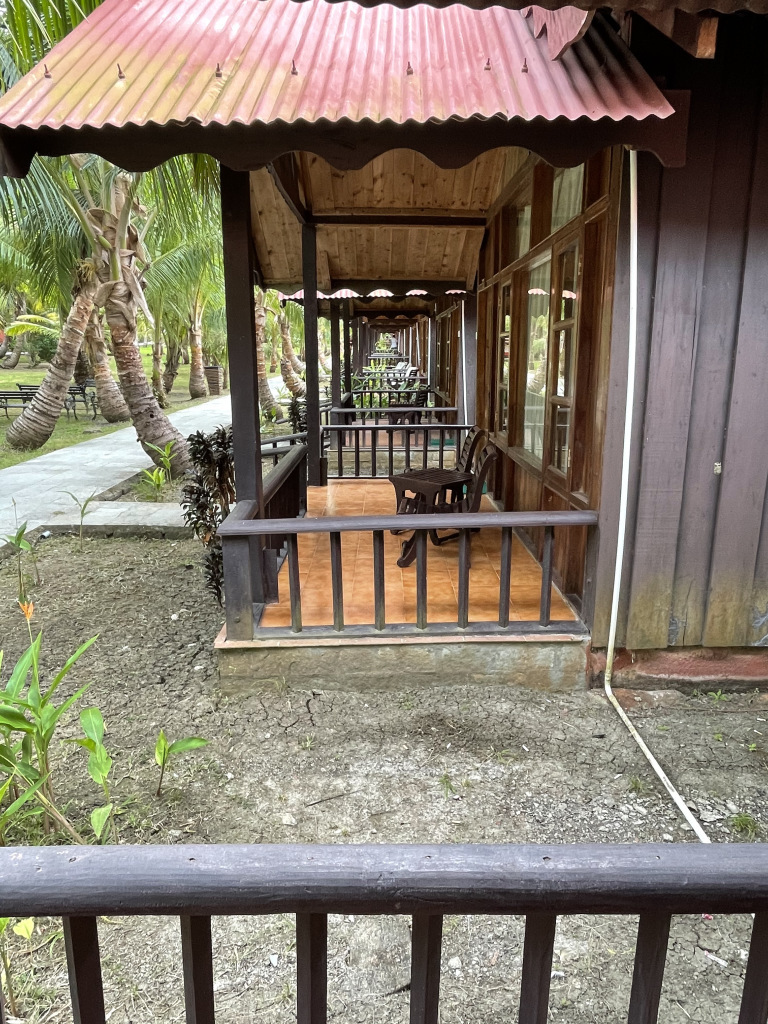 The first activity of the day was going to be Scuba diving. Having done sky diving in Beijing on first January 2020, we were eagerly looking forward to this new adventure.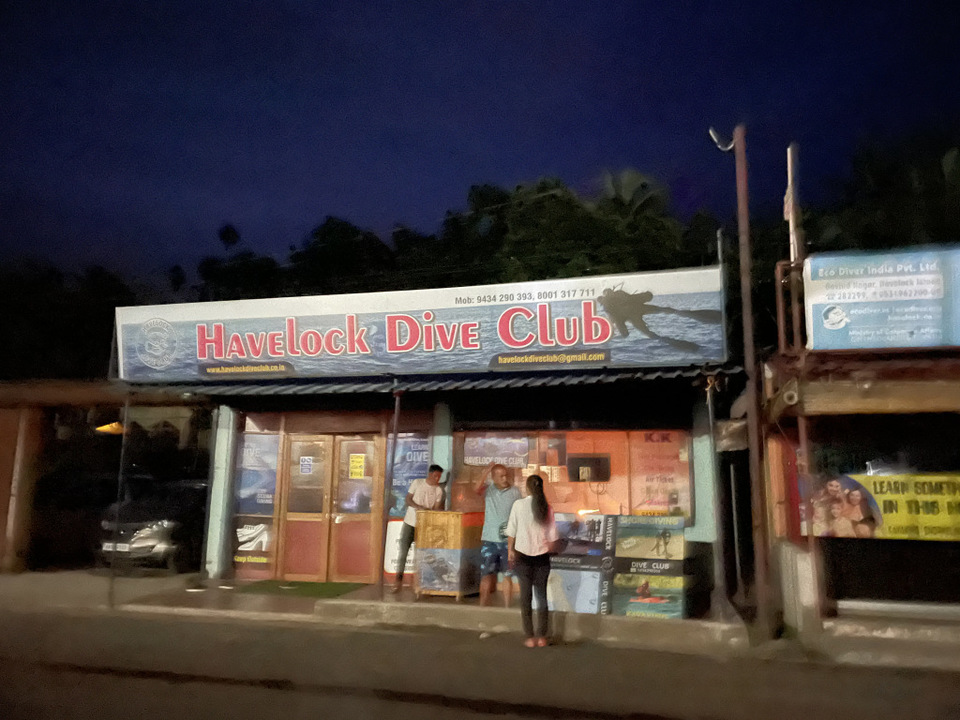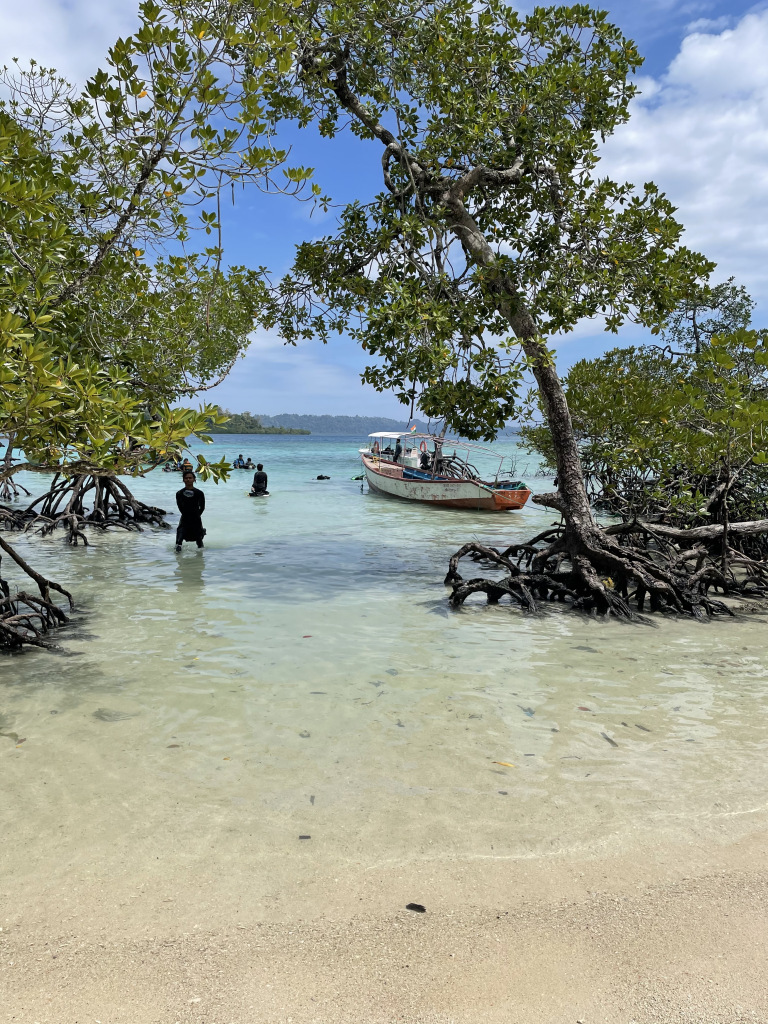 Lakshman picked up at 11:00 from the hotel and dropped at Havelock dive club that was at a short distance. We had already paid the charge of Rs 3500/- per head to Debashish at Port Blair. The person at the club gave us medical forms to fill. The list was large, unfortunate for Pramod, he was told he cannot do the scuba diving as he was taking hypertension medicine. This was indeed disappointing as they had joined the trip looking forward to this adventure. An open jeep took us to the beach the beach for Scuba diving. Manoj, the diver explained us the precaution s to be taken. He also explained Pramod why they can't take risk. Of course, as Havelock is an island with little medical facilities, it makes it difficult for them if there is any emergency. Also, when you go down into the water, the pressure increases. At 11:30, there was briefing and training in terms of signs to use when we were underwater. Manoj was Hema's guide diver and Yohan was my guide diver. Over the diving suites, they fix heavy lead belt and oxygen cylinder. We went down around 12:00. What we saw under water was a wonderful world. Water was very clear. There were so many different coral reefs and big and small colourful fish. We reached the floor of the ocean, about 25 feet deep. The guides let us to stand on the seabed and spend time at the sea anemones where there were clown fish (Nemo). My guide also created rings when he exhaled that made the video look special. It was around half an hour of amazing under water experience. On our return, we met Arwin Noel Monteiro, a diver, hiker, and an explorer from Mangalore, who left his HR job for being a diver and a coach at Havelock. He has hoisted Karnataka flag on a Rajyotsava day underwater.
Scuba diving at Havelock was indeed a wonderful experience. You can see the glimpses of our dive here:
https://www.youtube.com/watch?v=0x6S5oT1Ems&t=6s
https://www.youtube.com/watch?v=WdkjONQGoFI
https://www.youtube.com/watch?v=Qv-6IxzzBC8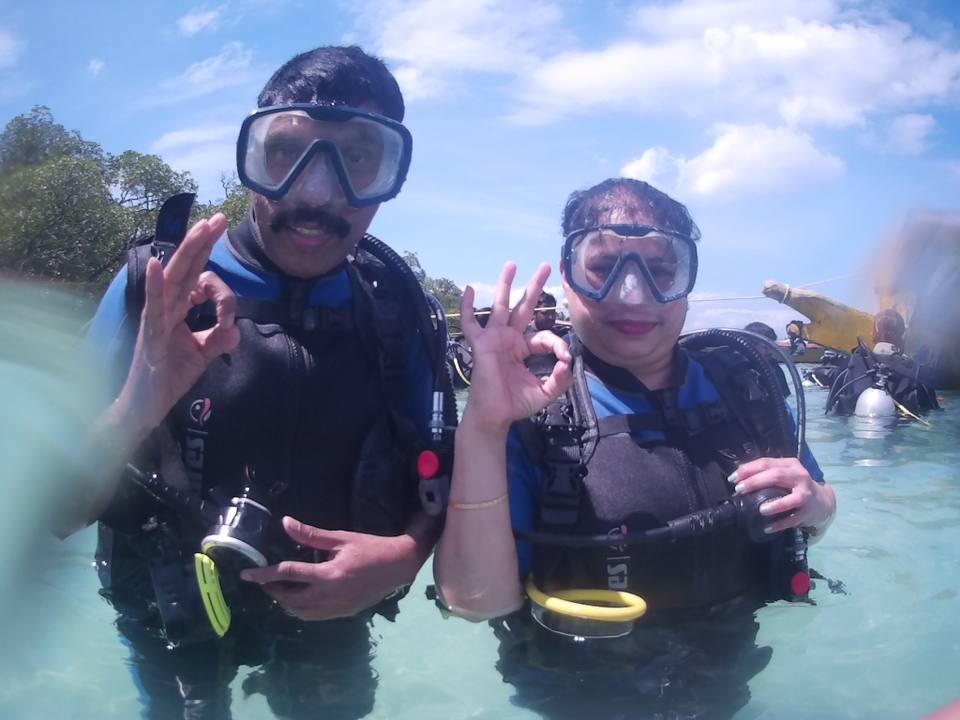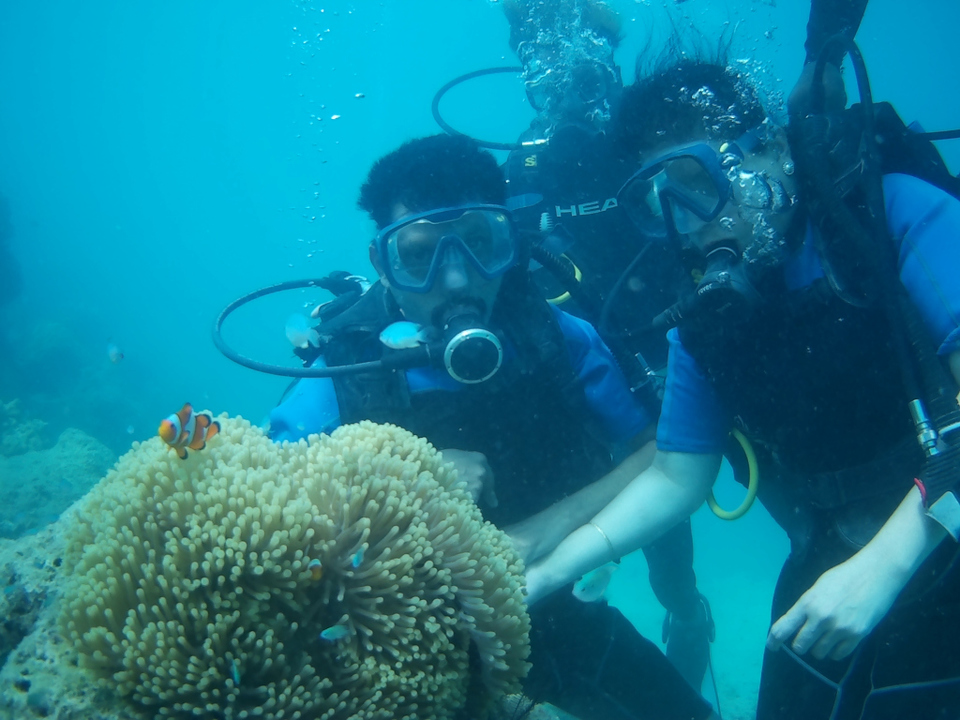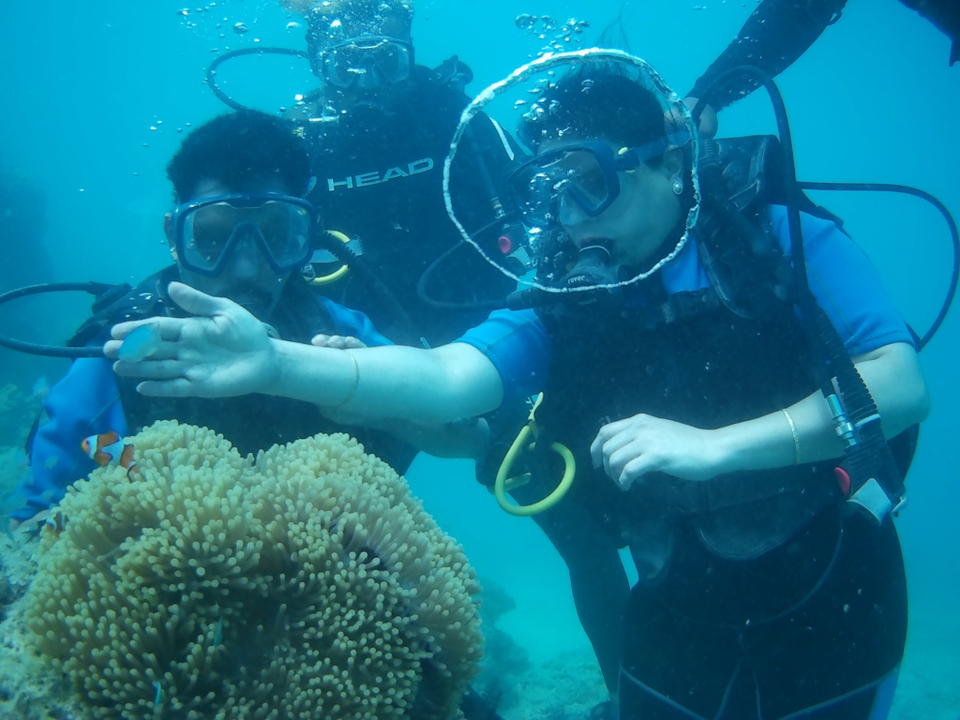 Arwin suggested us to do snorkelling at Elephant beach and night kayaking to see the bio-luminescent bacteria in water.
We came back at to hotel and walked to a nearby Golden spoon restaurant for lunch. We ordered special red snapper preparation and prawn curry with chapatis. The food was delicious. After lunch, we came back to the hotel and took a brief rest. We were picked up at 15:30 and taken to the Radhanagar beach.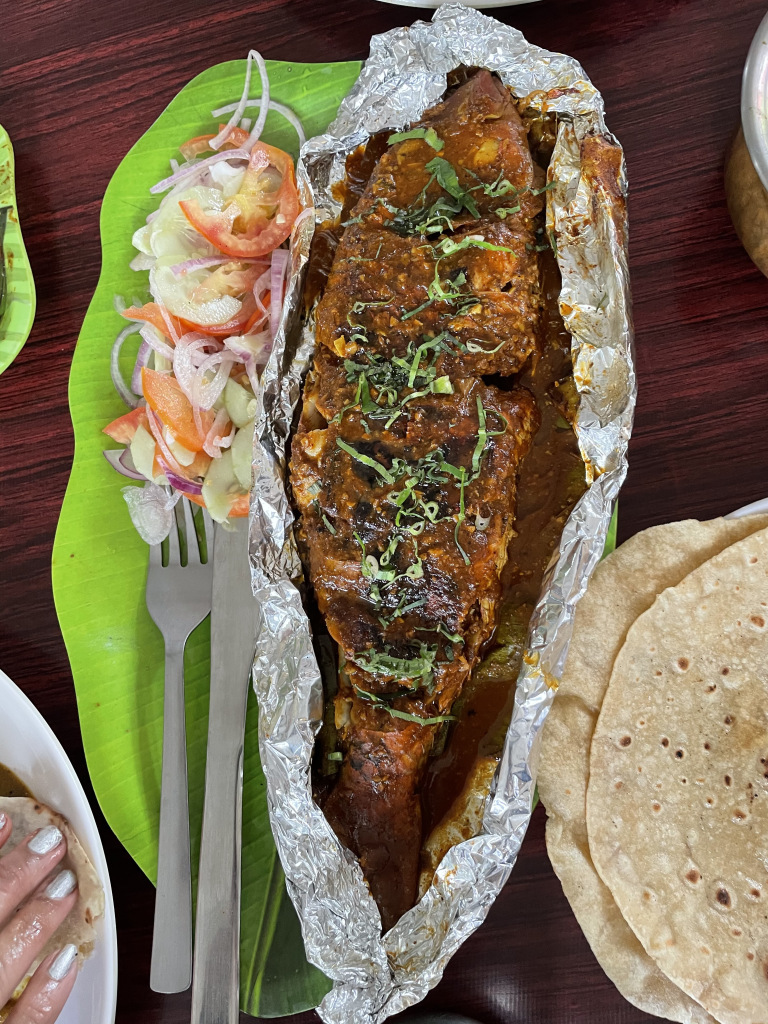 Radhanagar Beach is known as one of the best beaches in India. The turquoise water, white sand and green trees makes it an amazing sight. The beach is also known as Beach No. 7. Times Magazine has rated it as the "7th best beach in the world". As it was a cloudy day, there was no sunset seen. We got into the water and enjoyed playing with the waves. We were there till 18:00 and came out once the lifeguards started calling people back. Lakshman dropped us back to the hotel. At 19:30, we were picked up by Prakash, a new driver, in an Ertiga. There was power outage in the island as some work was in progress. We reached the site of kayaking where we were shown how to use the paddles. Kayaking started at 20:00 in pitch dark waters. Two of us in a kayak, following the guide's instructions. Guide had a head torch to point at directions. We kayaked to deep places covered by Mangroves. There were about 10 kayaks and two guides. The guides showed the bio-luminescence that could be seen by dipping your hands in water. As it was a dark night, the bio-luminescence was a great spectacle. The blue-tinted glow underwater is due to a phytoplankton, that moves inside the water, and glows at night. The guide had collected our phones and kept with him in waterproof bags. He used the phone to click pictures of us in the dark in the kayaks. The night sky was filled with bright stars making it a memorable experience.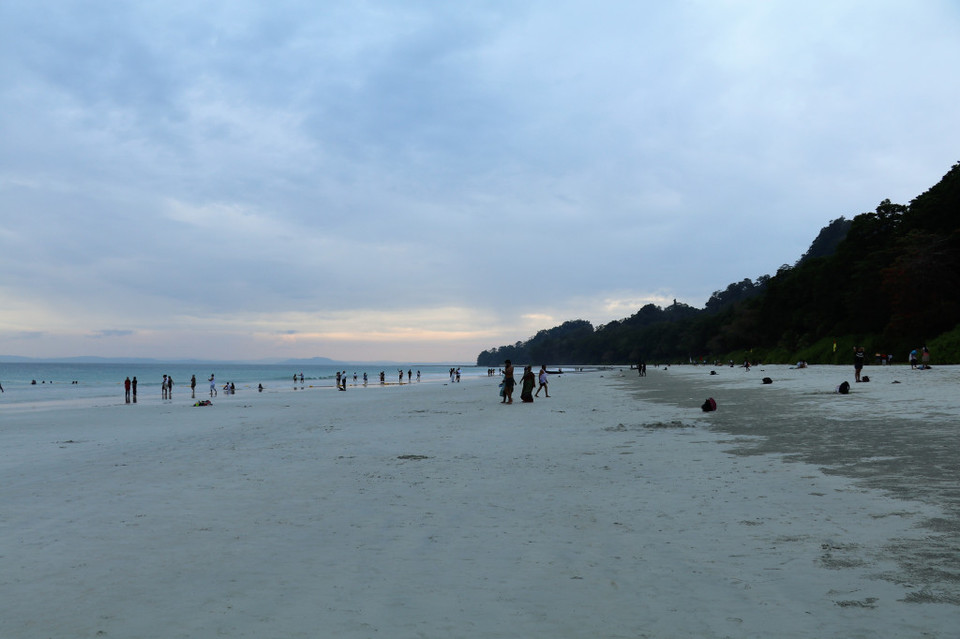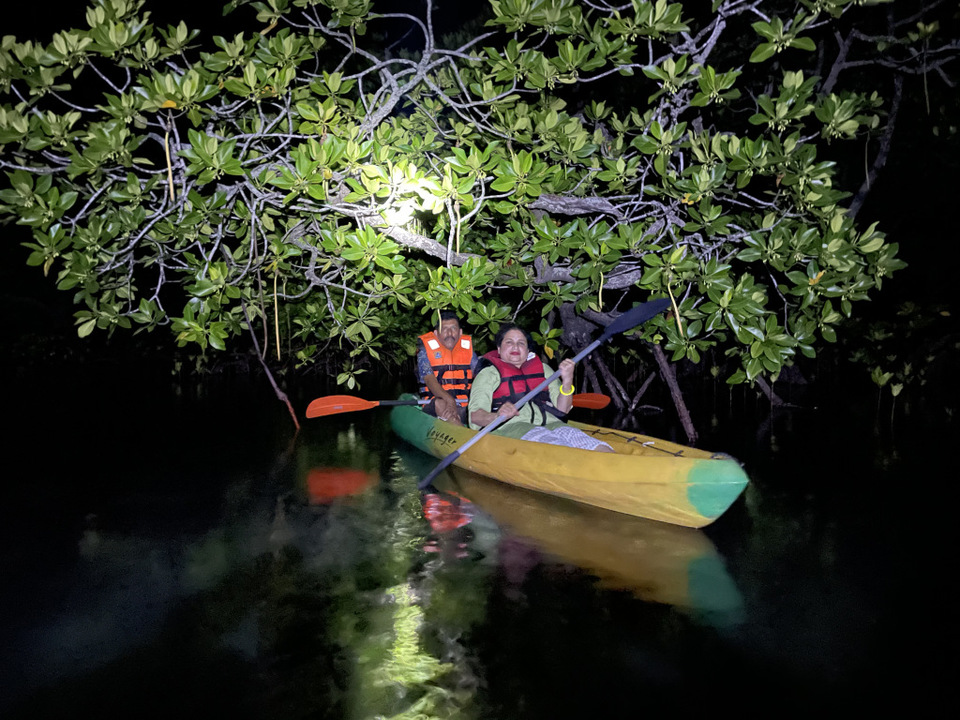 Kayaking costed us Rs. 2500 per person and last for about 45 minutes. It is a bit strenuous, but amazing view of the bio luminescence is wonderful. Prakash picked us and brought back to the resort at 21:00. We visited the lounge in the first floor that had live music. The singer was versatile and sand many popular retro as well as modern movie songs. We returned to the rooms after couple of hours.
Day 3, Sunday 14-02-2021: Next morning we went to the opposite side where the private beach of the resort is. This is a part of the Govind Nagar beach. This is also pristine, and we witnessed a beautiful sunrise at 5:40. The water is very clear, with different kinds of shells running underneath. We returned at 6:30, had sumptuous breakfast at the restaurant and had a photo session in the resort lawns.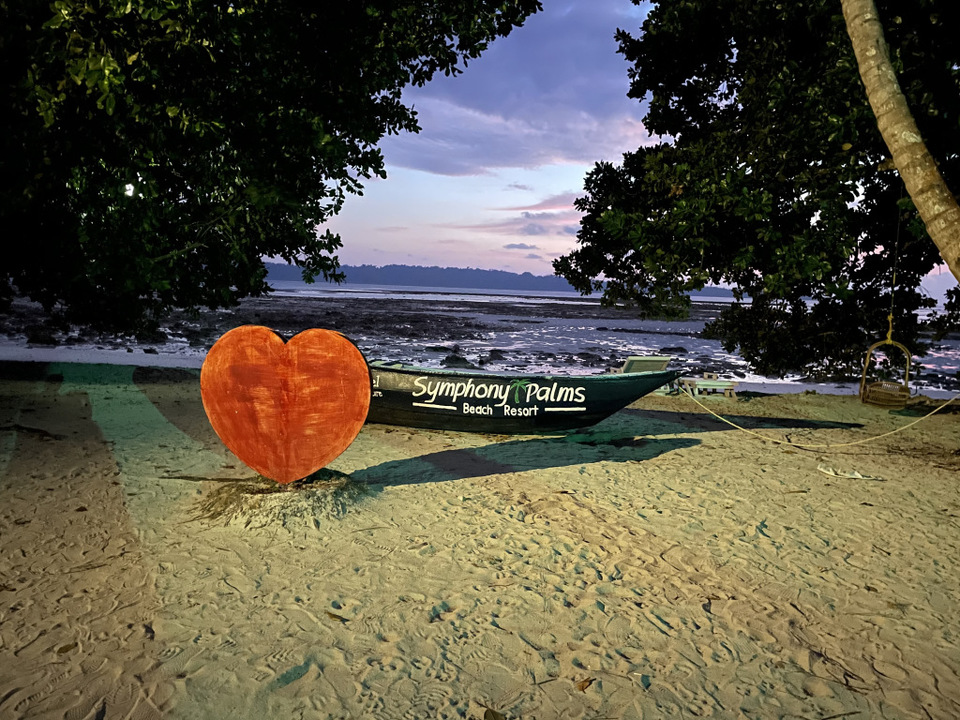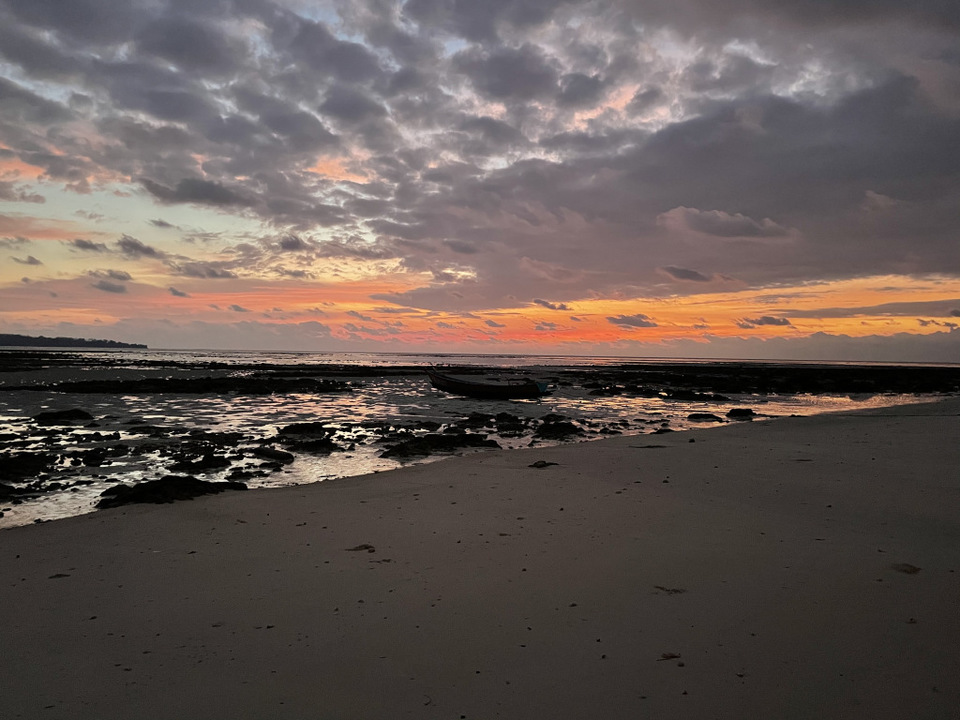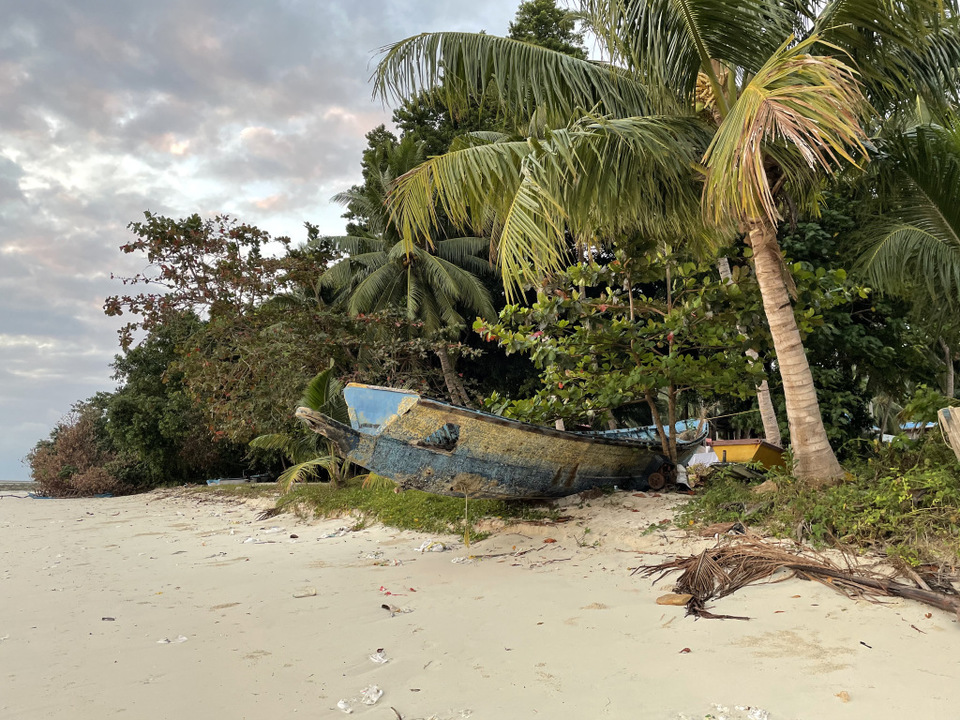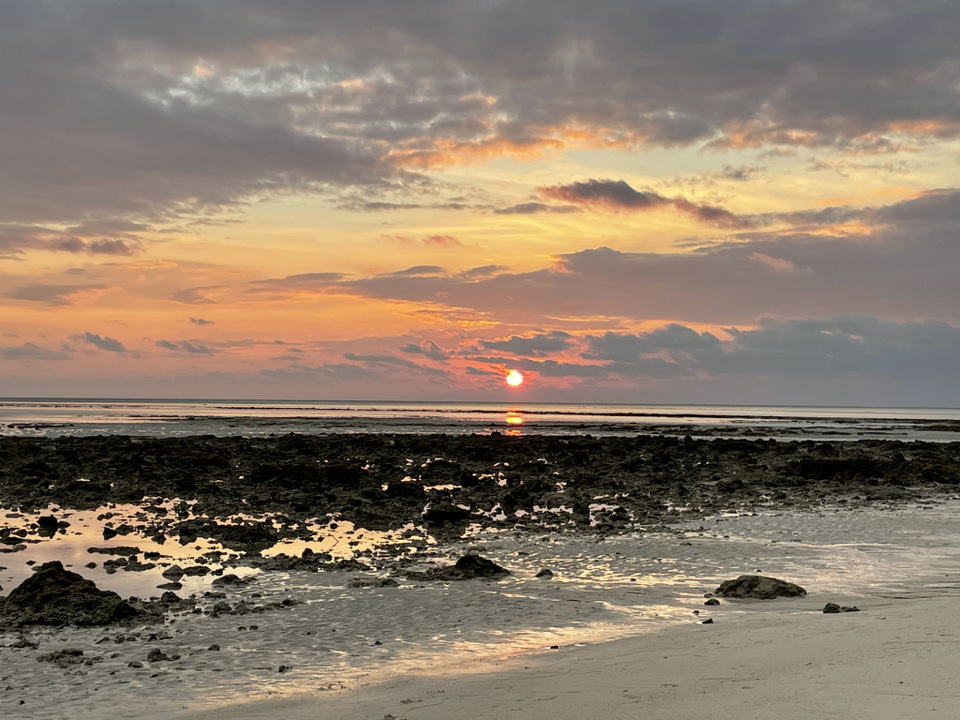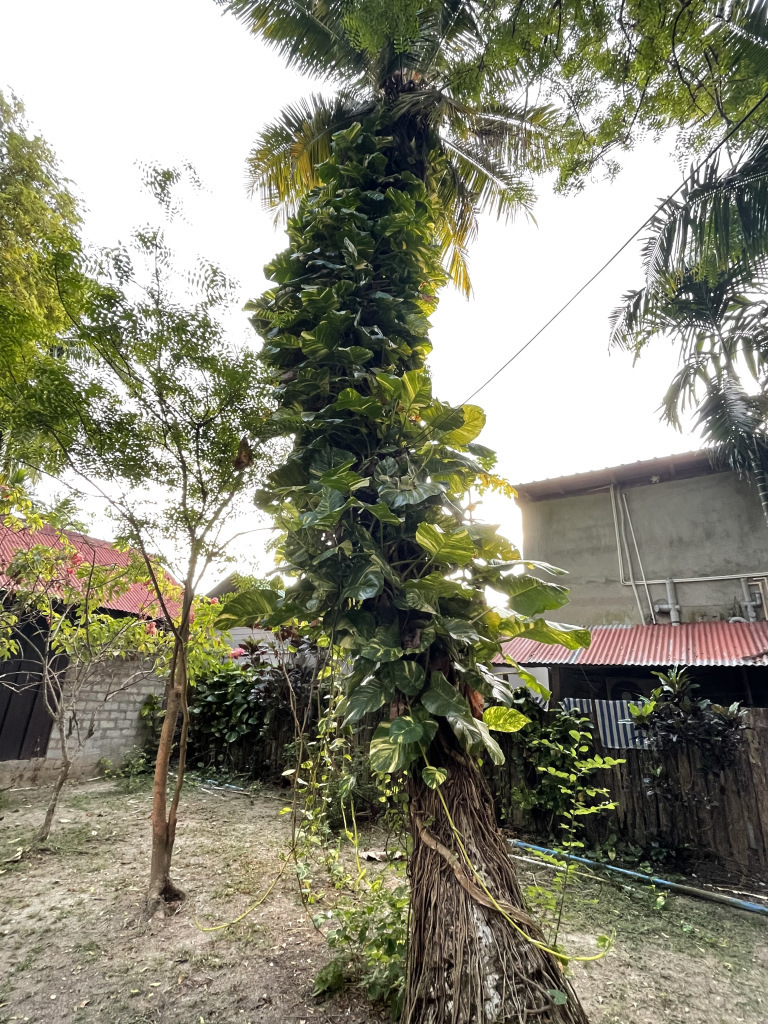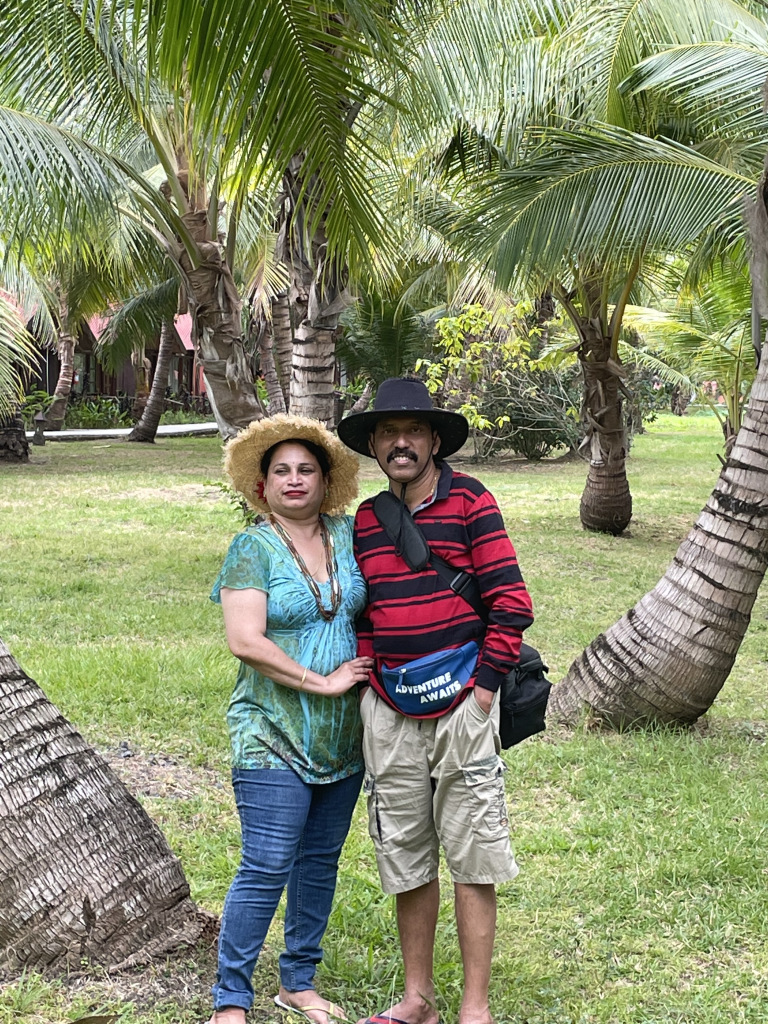 At 8:30, Lakshman picked us up and dropped to small dock from where we caught a boat at 9:00 to Elephant beach. The small 10-seater boat was called Black stone. The trip took about 20 minutes. Elephant Beach seems to have gotten the name due to the elephants living in nearby jungles long ago. It is very famous for the bright coral reefs that one can find at a depth that is as shallow as just one meter. This makes it an ideal location for snorkelling. Elephant beach was also brimming with many other activities, but we had already decided that we will go for deep sea snorkelling that costs Rs. 1000 per person. There were change clothes available for renting, but we opted to buy the Andaman T shirts. Pramod and Prabhakka went for snorkelling first. They liked it so much that they went for a second round after we finished our turn.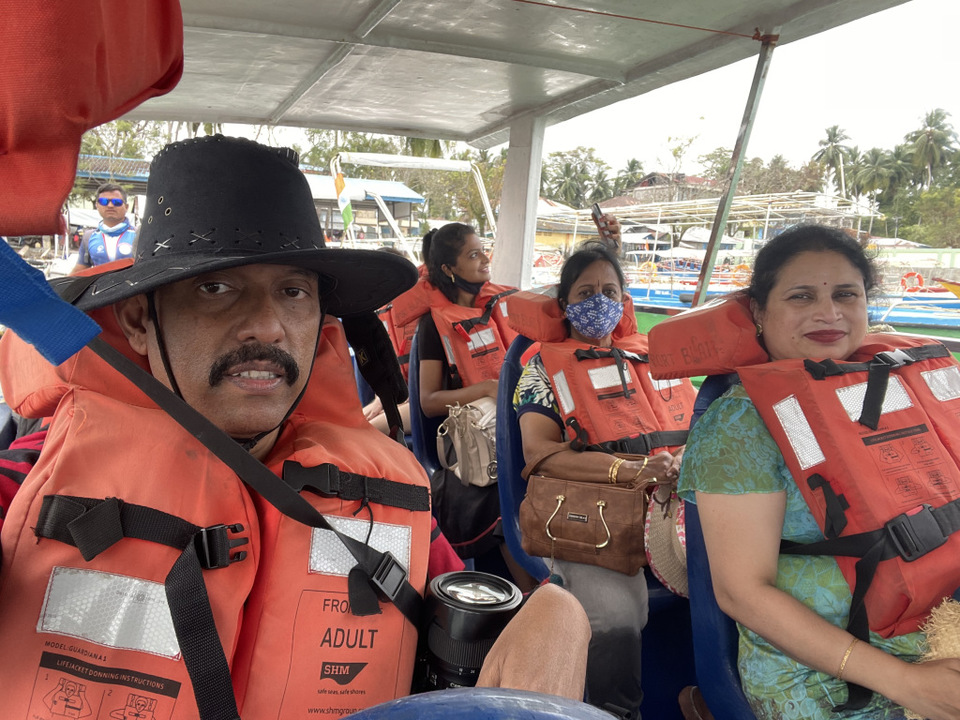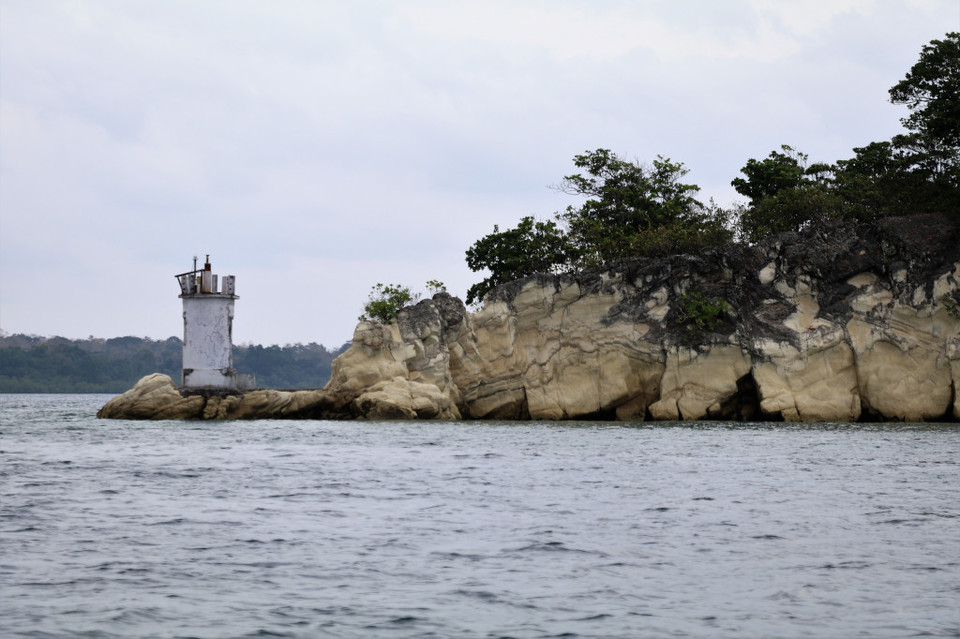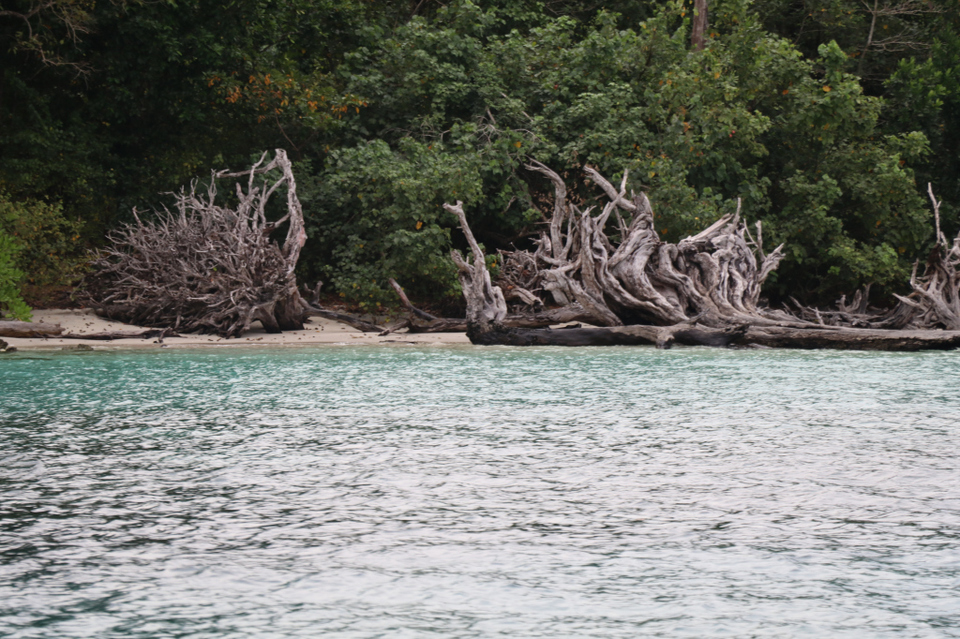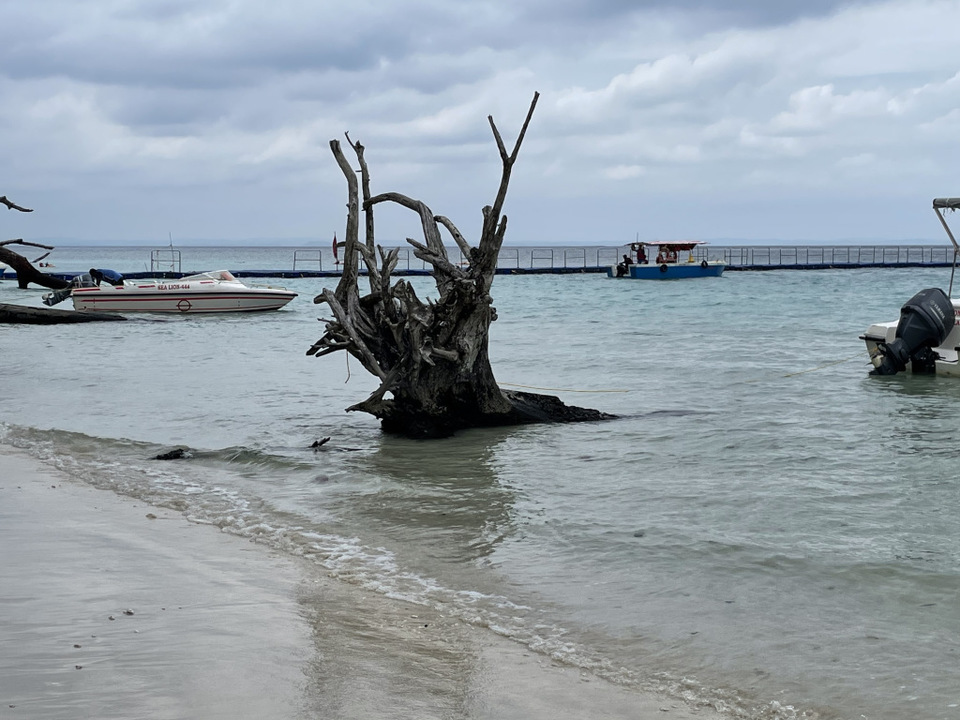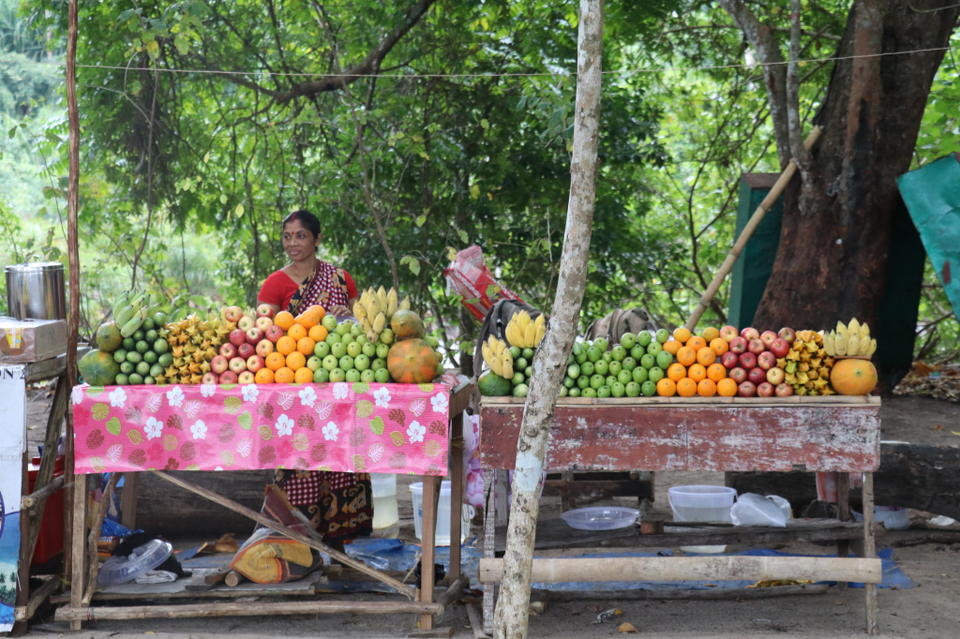 Deep sea snorkelling is a different experience compared to scuba diving. Without getting into water, one can witness the beauty of underwater vibrantly coloured fish and coral through the magnifying glass fitted to the respirator. Our guide had a pack of feed and the colourful fish came in big bunches attracted by it. You can see it in the videos shown.
https://www.youtube.com/watch?v=tqrcVDJ8r1Y
https://www.youtube.com/watch?v=SWn7LKFfVbk
We left the Elephant beach at 12:10 and reached the Havelock jetty at 12:35. There we bought fresh mangos and rose apples that were yummy.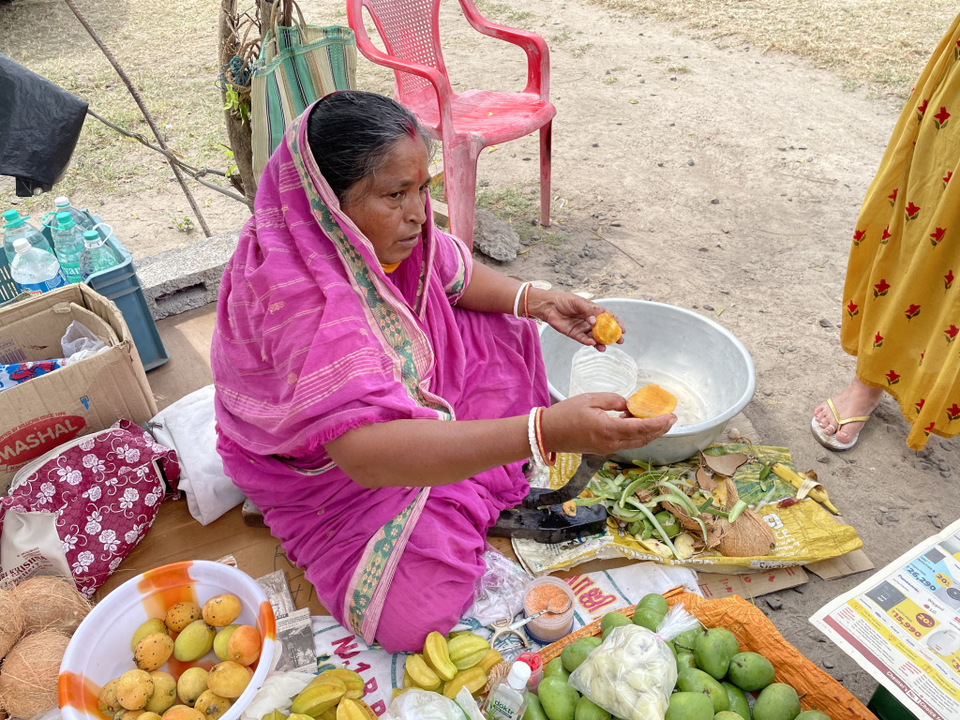 Having tasted food at the Golden spoon restaurant the previous day, we though we will try a different restaurant, and went to Aquay's opposite to the hotel. Contrary to the previous day, the food took long time to arrive and the serving order was strange with starters coming in the end.
That afternoon onwards was free. Had we known earlier, we could have planned something, but had to take rest. We hired a Honda Activa (400 per day, 2000 advance) from a nearby shop and went in search of petrol. At the petrol bunk there was a long queue as they wanted to give 'rest' to their gen set! It was only after 30 mins we got the petrol. On the way back, we visited Havelock dive club to get the scuba diving videos copied on my mobile. With frequent power outage, we were lucky to have power for a short while for the copying to be done.
Later we went around the hotel property to see the garden filled with fruits and flowers. That evening we dined at the hotel restaurant. Once gain it took too long to serve as there were lot of guests and only few people to serve. There was a nice buffet, but we didn't realise before placing the order!
Day 4, Monday 15-02-2021 5:00 am Next morning went to see the sunrise at Kala Patthar beach. As there was only one Activa, it took multiple rounds to reach. The drive was very beautiful, and the sunrise was certainly one of the best with the sky changing colours every moment and the clouds reflecting the shine. The Sunrise was at 5:40. Kala Pathhar is a very beautiful beach with unique black rocks that contrast with the white sand and the blue sea. The dead corals lying in the beach looked awesome with different designs on them.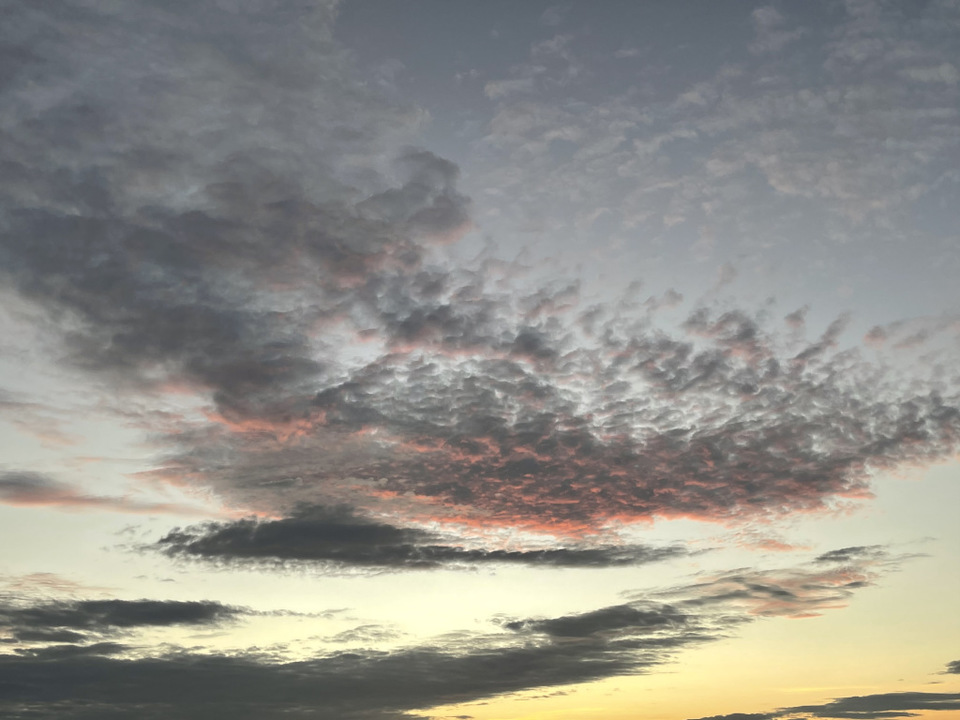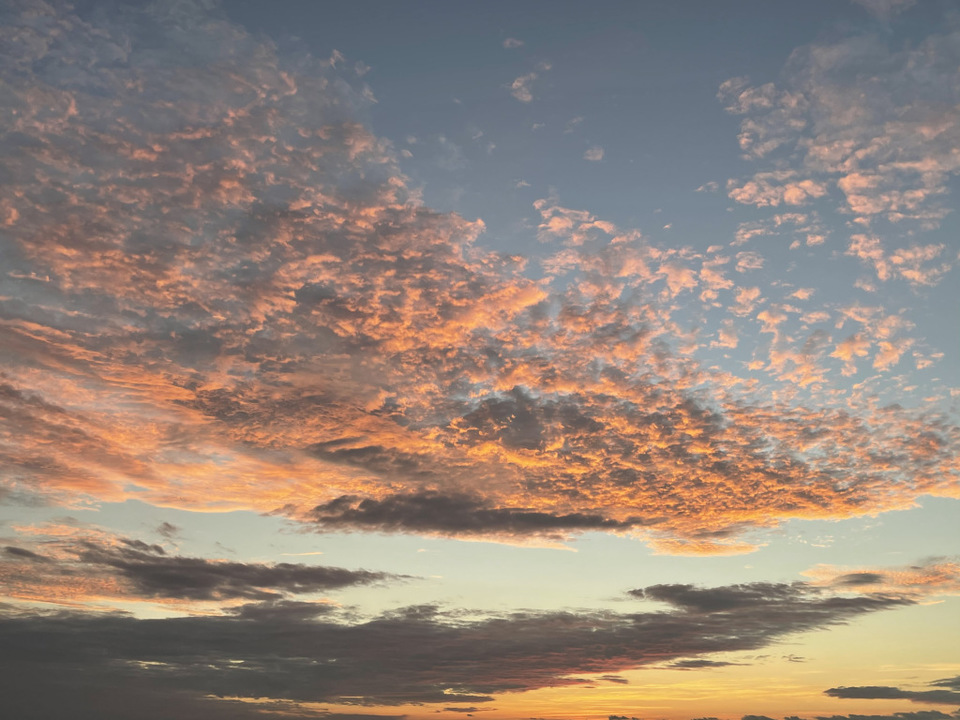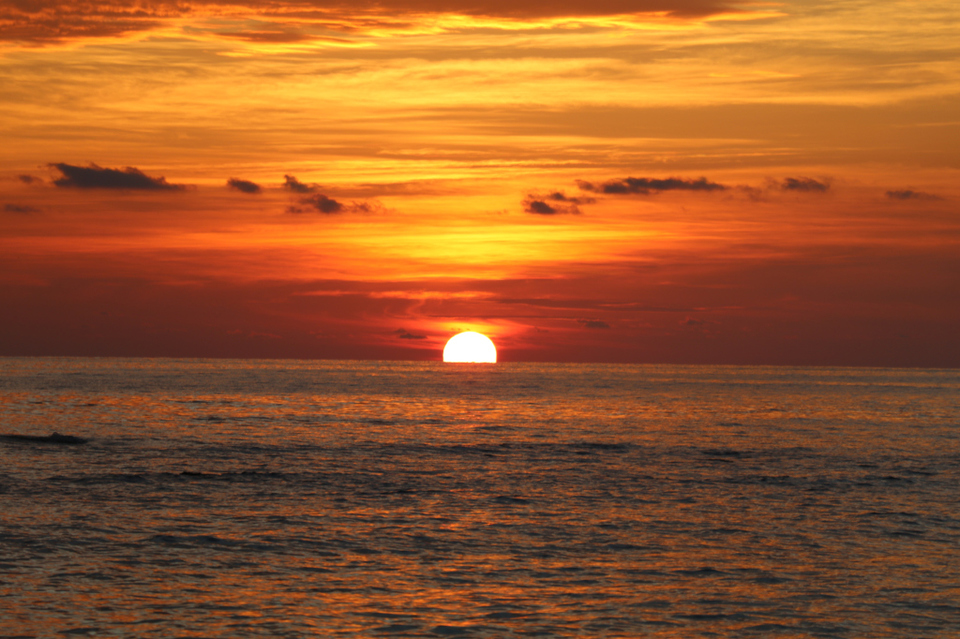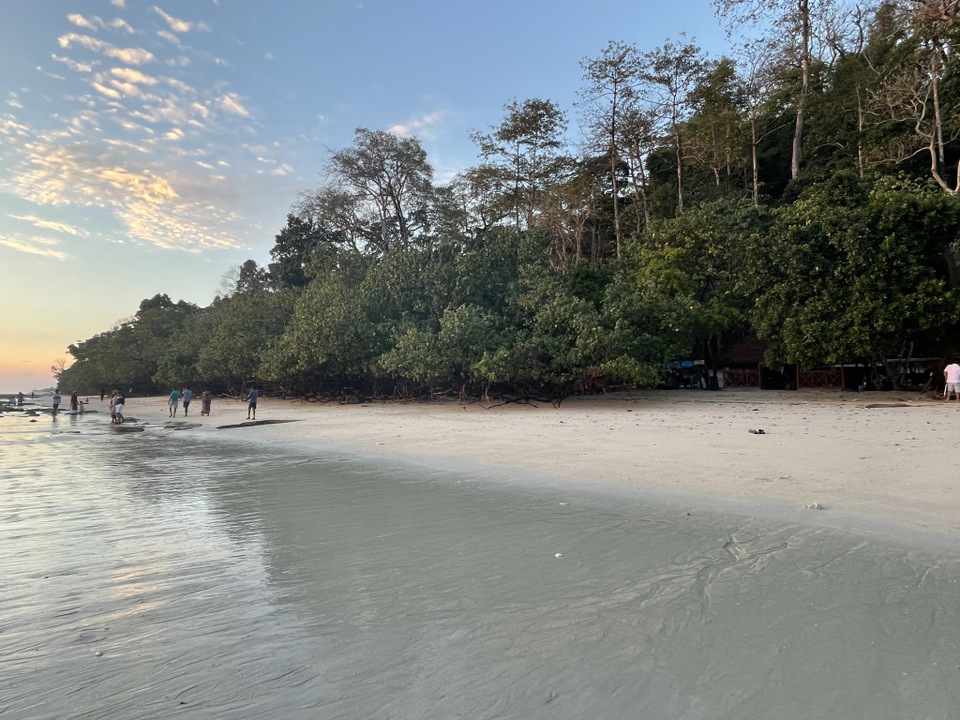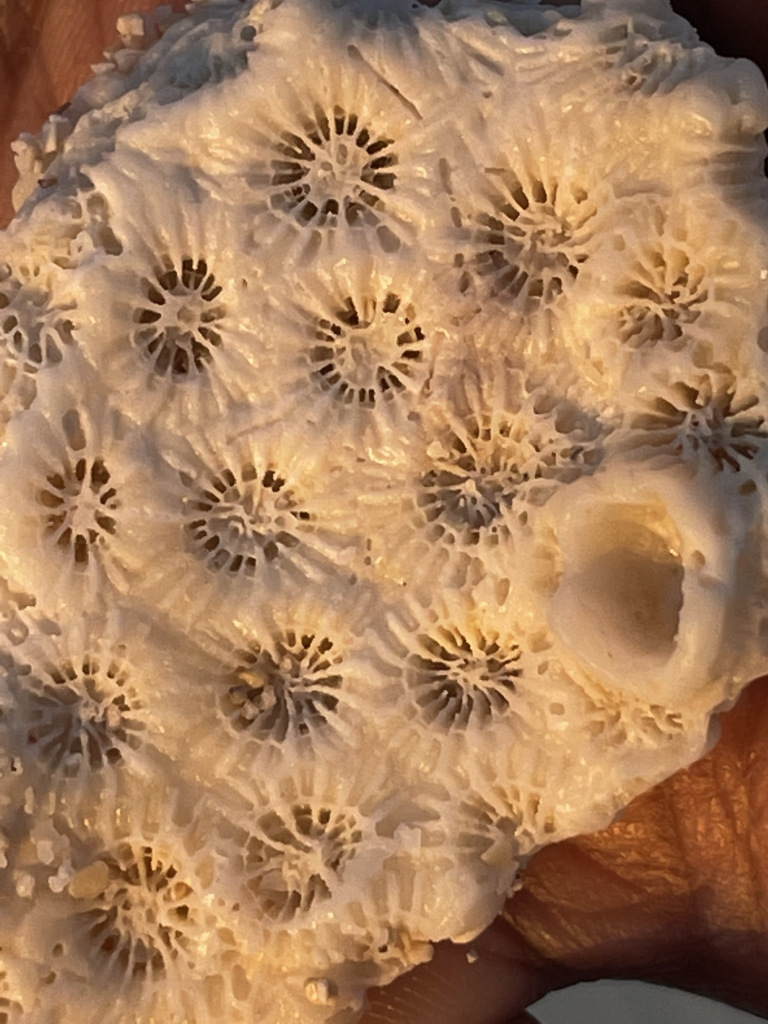 After couple of rides, we were back in the resort at 7:25. We had a nice breakfast at 8:00 and checked out at 9:00 to leave for the Neil island. reach the jetty at 9:10. The cruse to was scheduled at 10:00 and left at 10:15. Here once again our Covid-19 test reports were checked before letting us in. The cruise was like the earlier one.
https://www.youtube.com/watch?v=n6R1dOLpZMU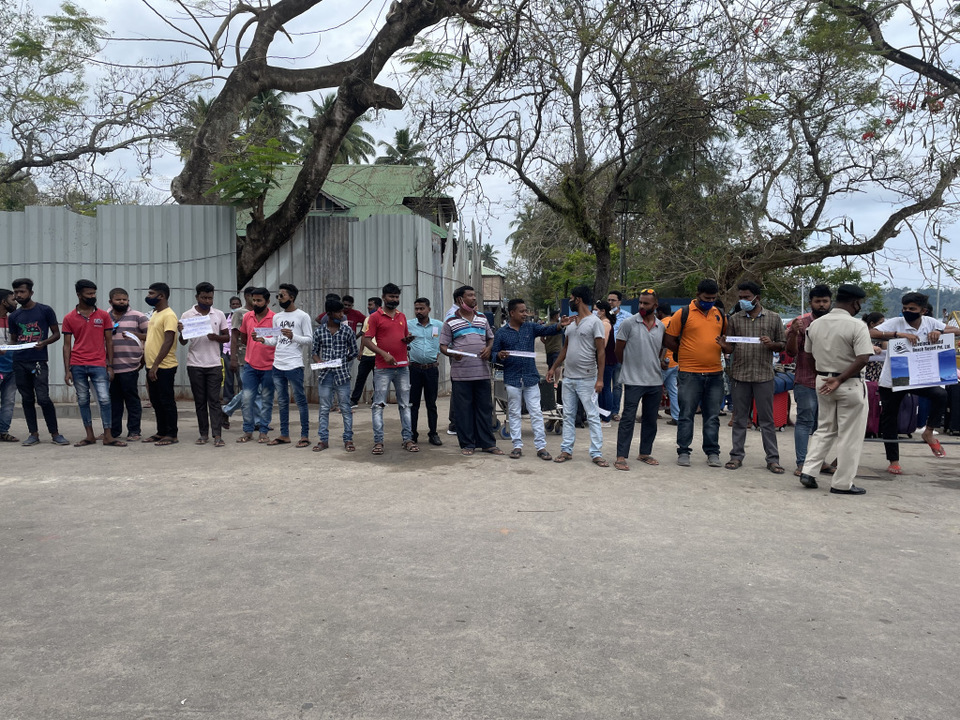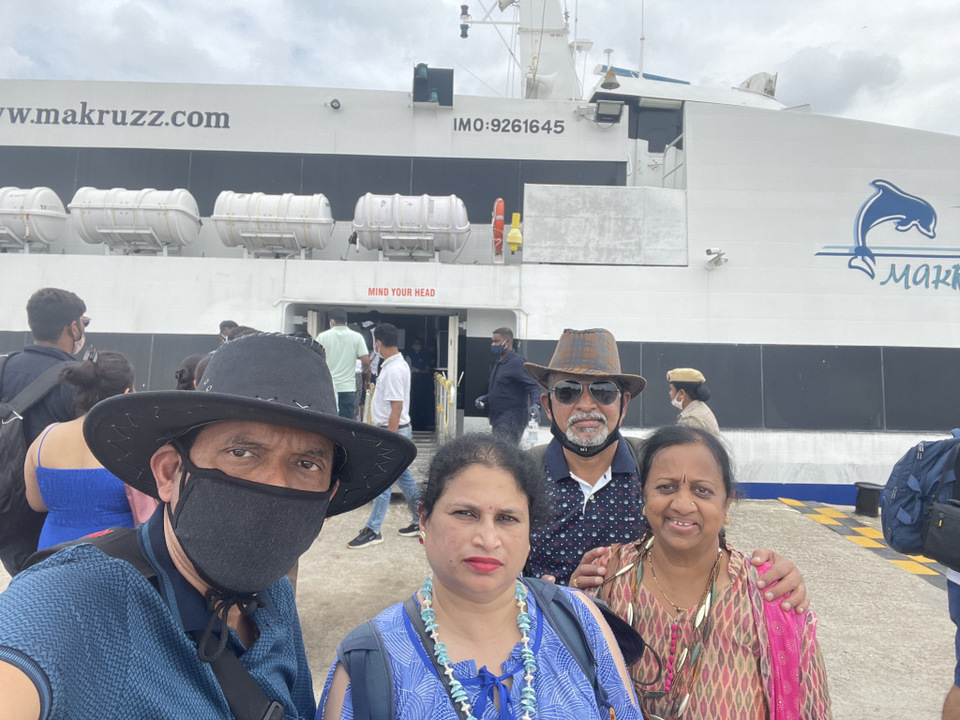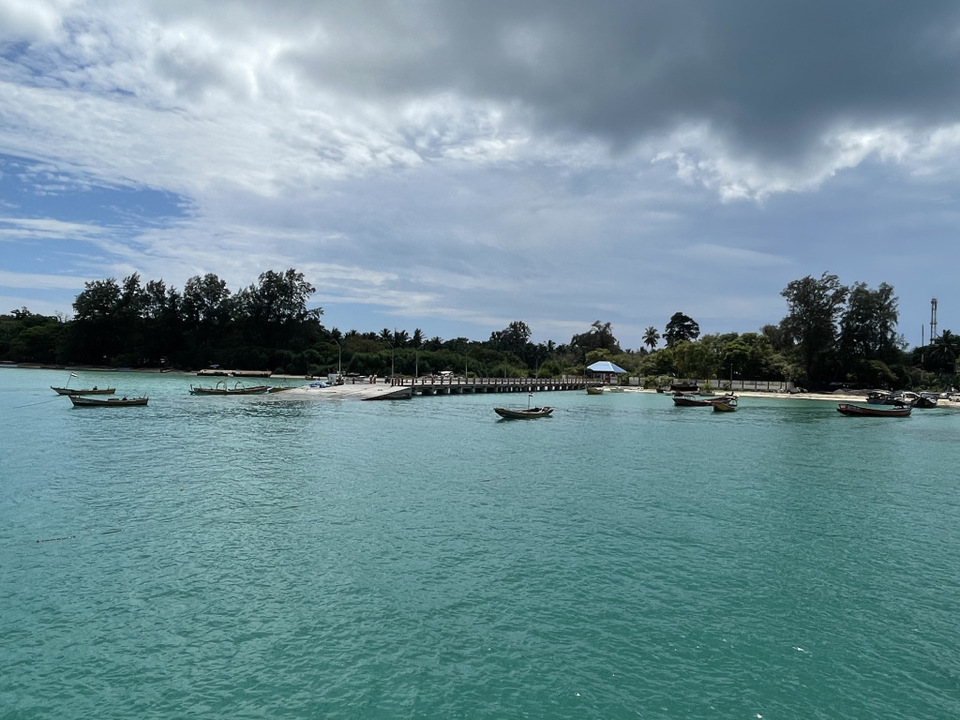 We reached the Neil island (Shaheed dweep) at 11:30 and were picked up by Sujoy Roy. After about five minutes' drive we checked into Summer sands beach resort at Sitapur village. This resort also belonged to the same group that owned two of our earlier stays, in Port Blair and Havelock. It was unique with a canal like swimming pool running through it. Some rooms had access to the pool, but ours was on the first floor. The rooms were, though not as spacious as the earlier, were clean and tidy.
Based on a hotel staff's recommendation, we walked to a nearby restaurant "blue sea". This is run by family of Balaram, a third generation repatriated Bengali. After checking what they had, we ordered fresh red crab curry and stir-fried squid. Till the food was made, we walked to the beach behind the restaurant. This was a part of the Ramnagar beach, very scenic and was exclusive for us. I wish we had more time to spend there. After spending about half an hour clicking pictures, we returned to the restaurant. The food was the best we had tasted so far, and the restaurant owner was very courteous.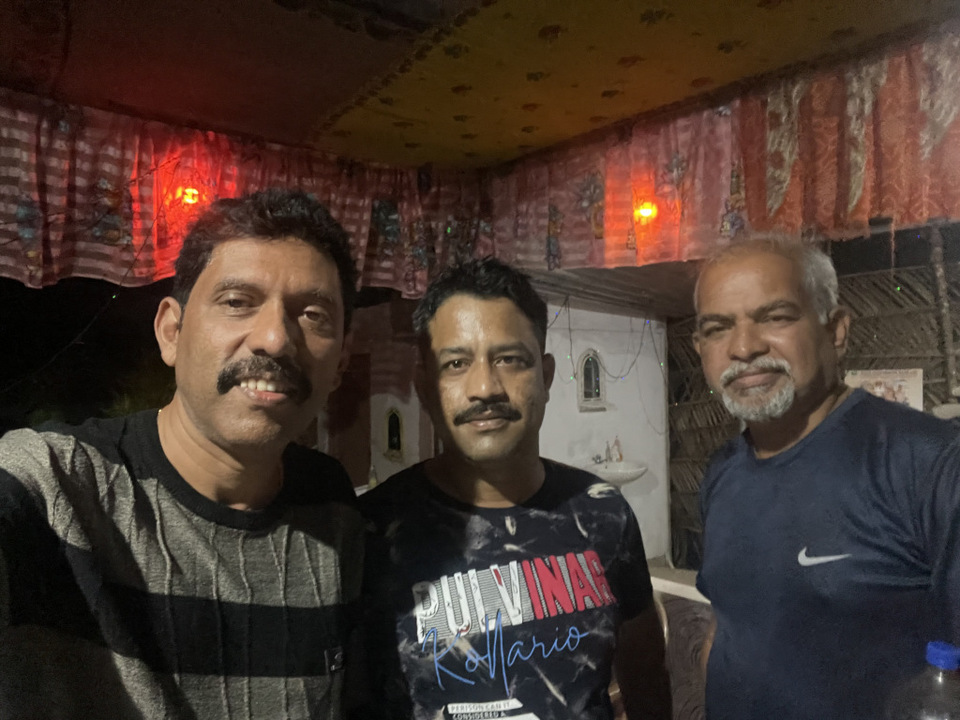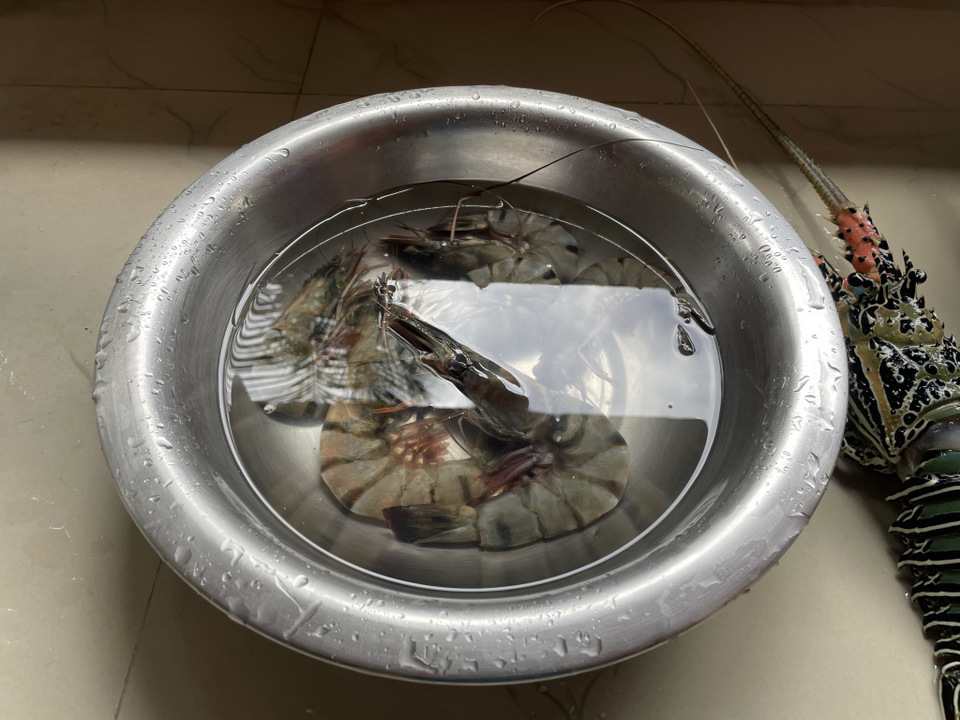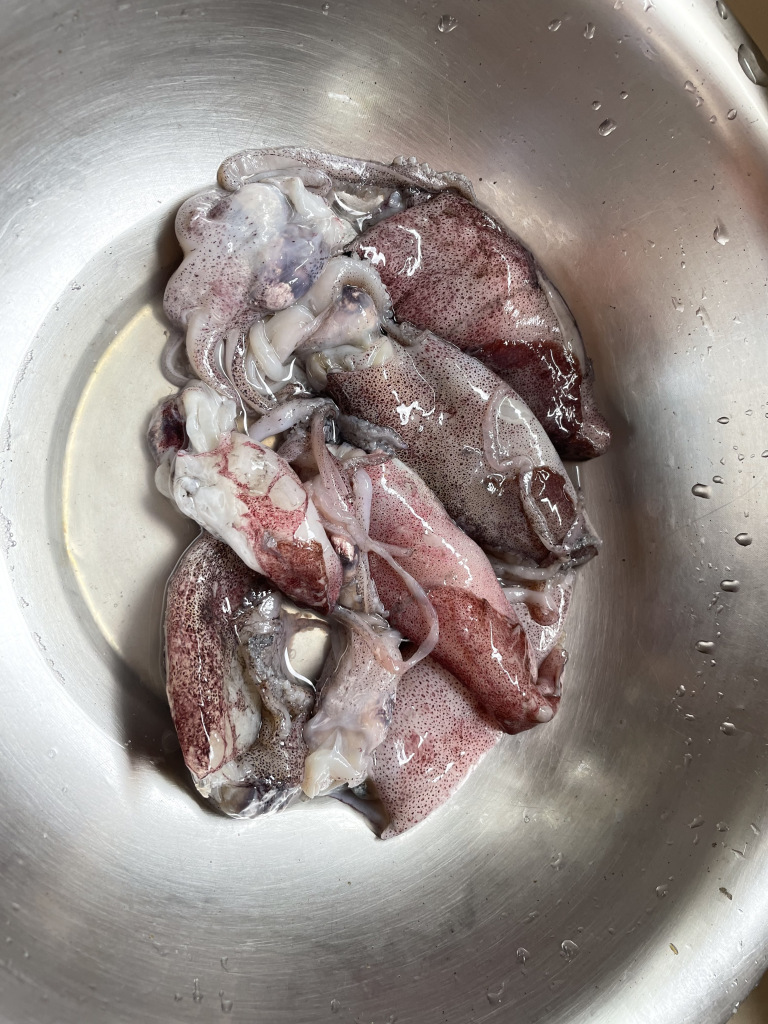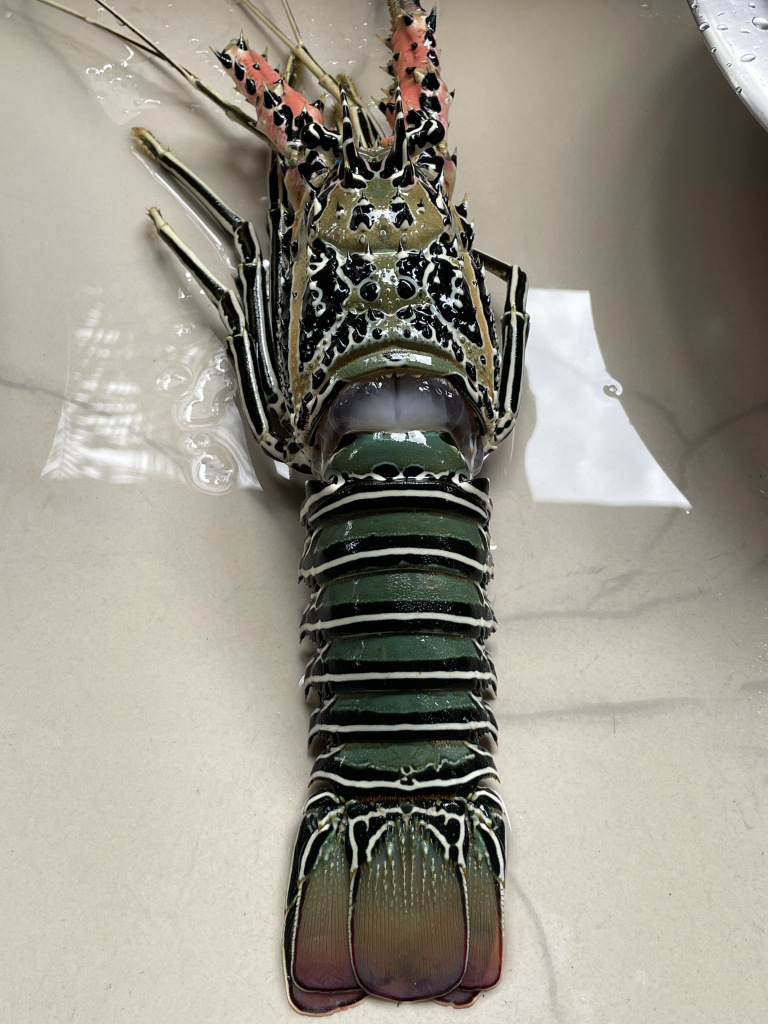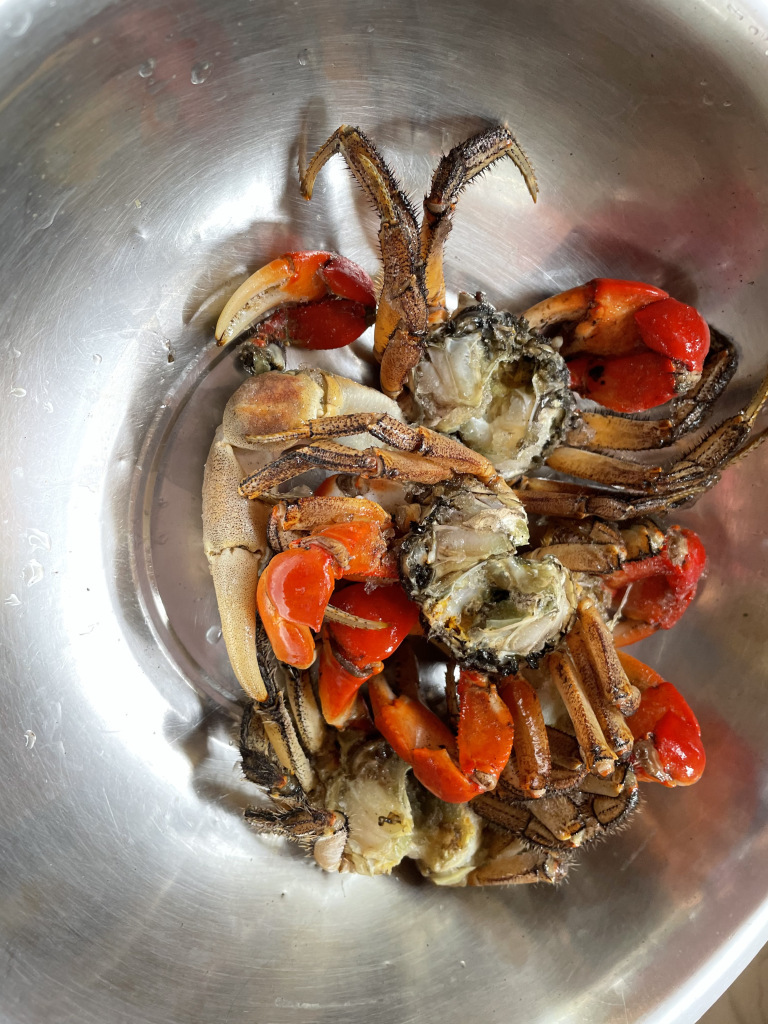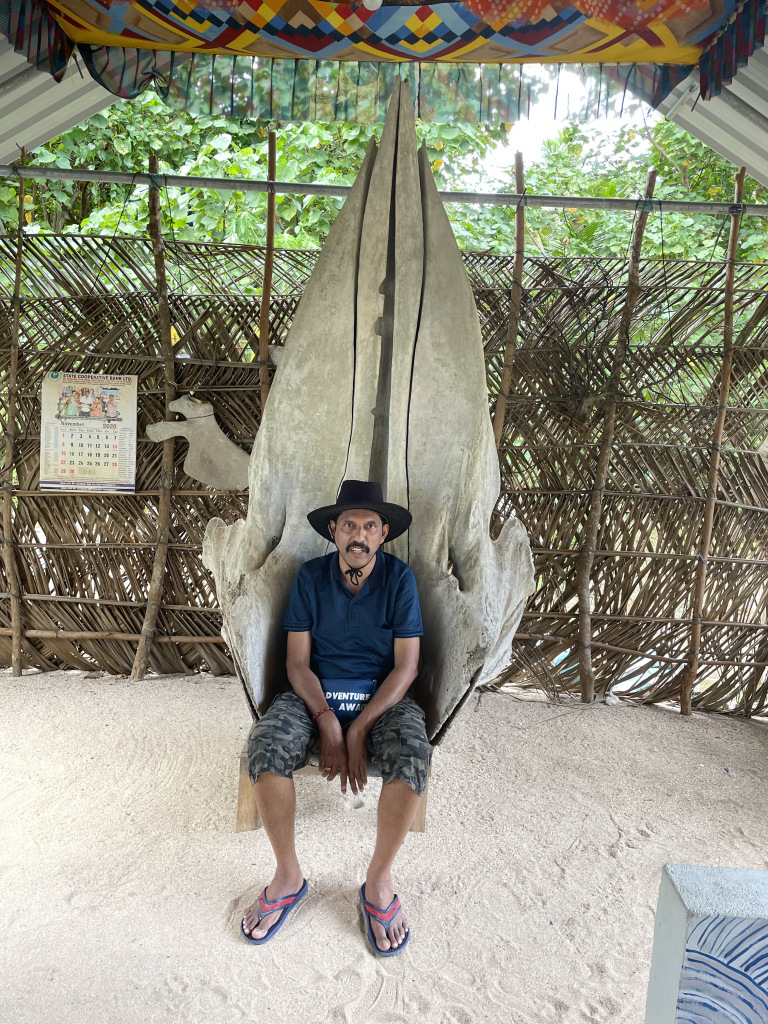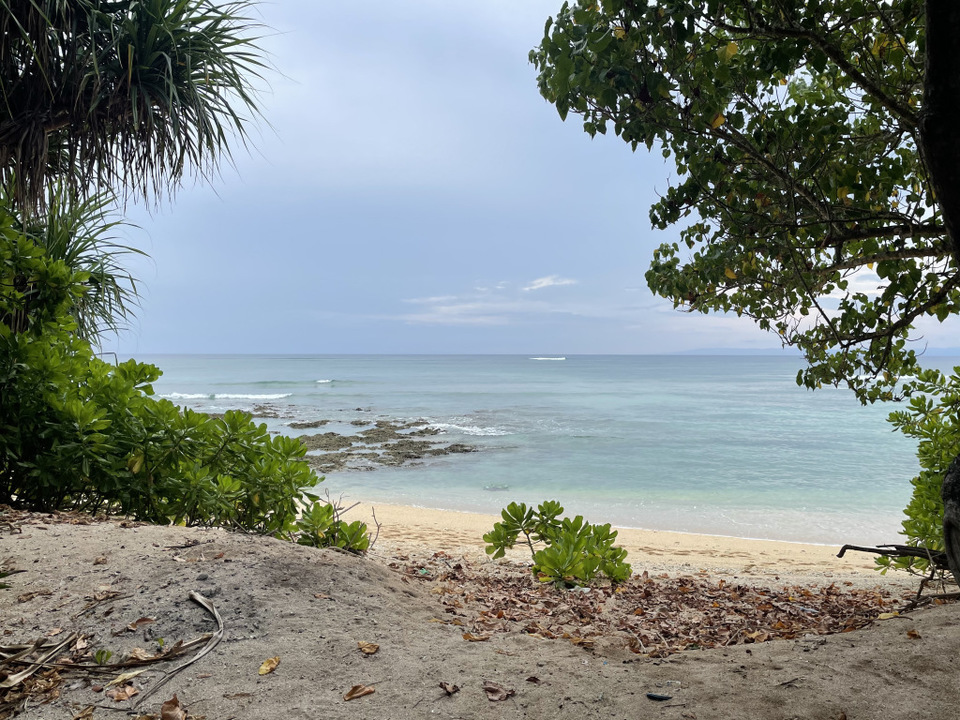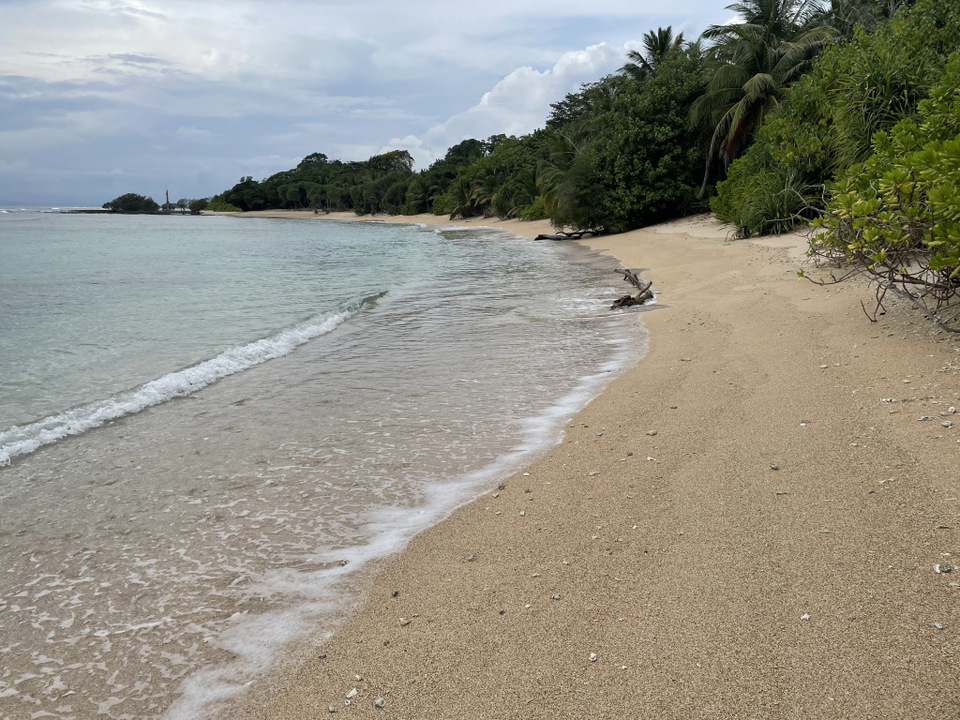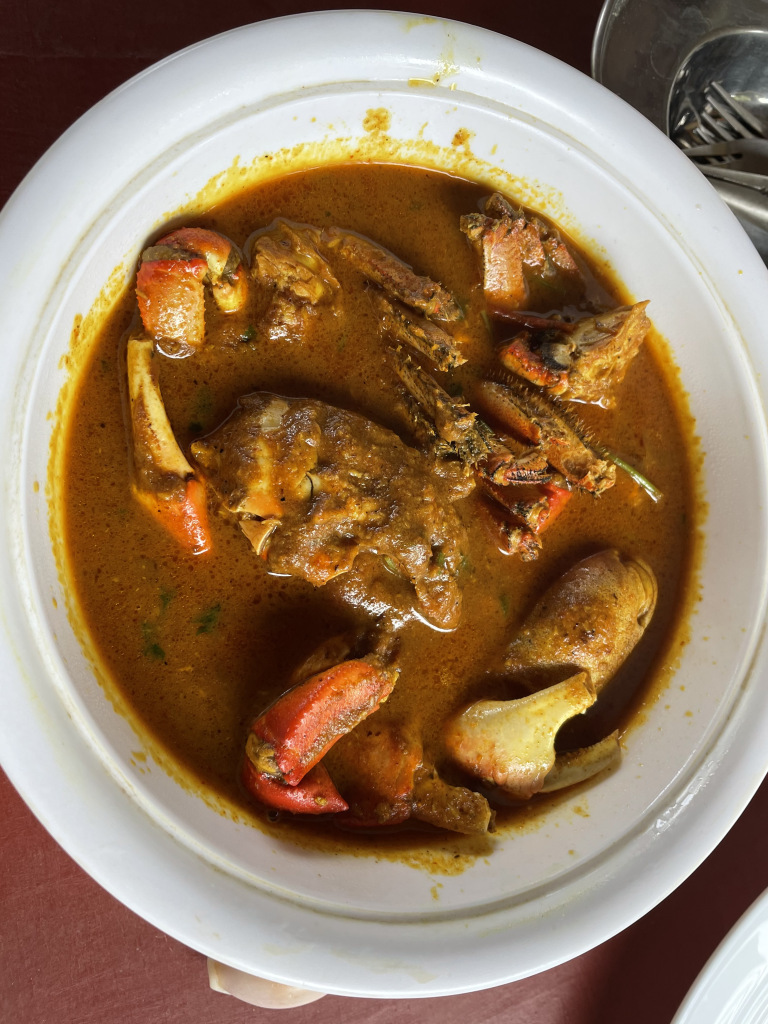 The program for the day was to visit the Lakshmanpur beach. As we were finishing our lunch, it started raining. We called Sujay Roy and asked to pick us up from the restaurant. At 14:00, we proceeded to Lakshmanpur beach to see the famous Howrah bridge. The beach was rocky due to the low tide. All along there were dead corals and, in the water, there were many live corals of different kind. It is a short walk to the Howrah bridge. Sujay introduced us to a guide, Satyajit Ray (we were impressed by his name 😊). Howrah bridge is a large natural stone bridge, also called Rabindra Setu or Coral bridge. The stone bridge is an imposing structure, popular photo spot for tourists. Ray showed us different sea creatures in shallow water of the low tide and very nicely explained the related information. He also took us to a small distance to witness a family of Nemo (Clown fish). The Clown fish have a symbiotic relationship with sea anemones. Clown fish body has a mucus layer which is immune to the toxins the anemone produces to capture its prey. The anemone provides shelter from predators and the Clown fish removes the parasites and drives away intruders. We had seen many Clown fish its families underwater during the scuba diving, nut this was a different experience watching them in shallow waters. The fish seemed to get attracted by the gold ring. The visit to Sitapur beach was a wonderful experience. The guide charge for the stone bridge was Rs 500/- and for the Clown fish family was Rs. 400/-. It was indeed worth it.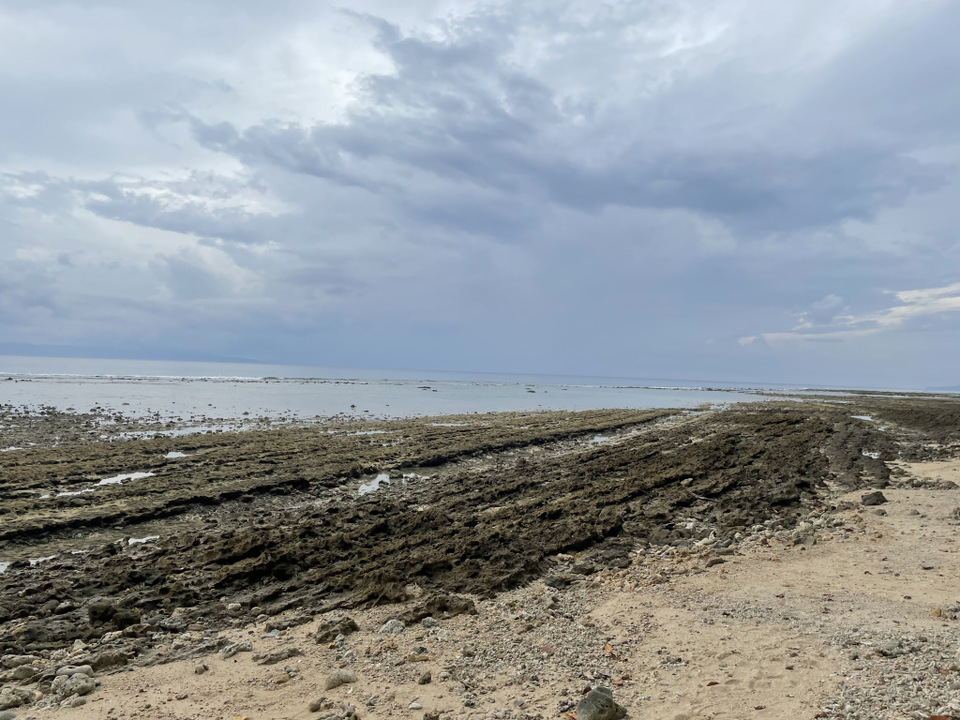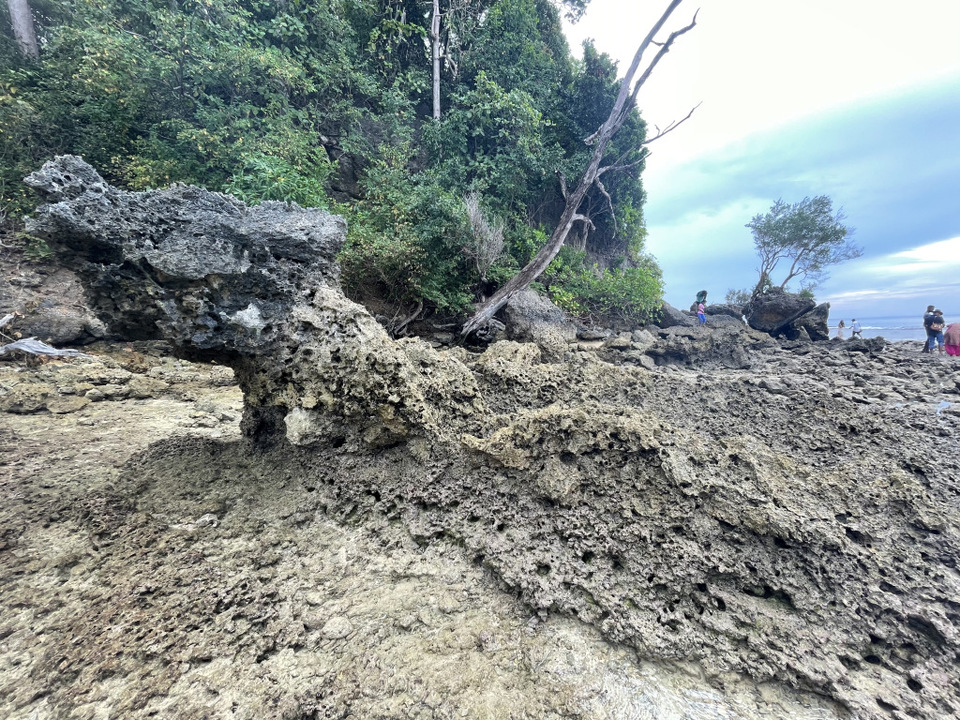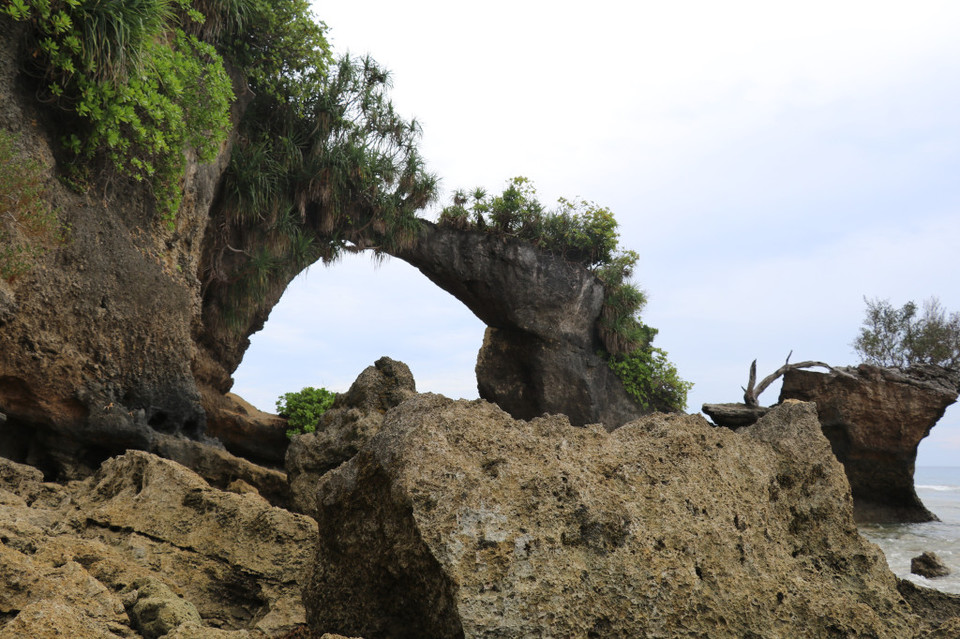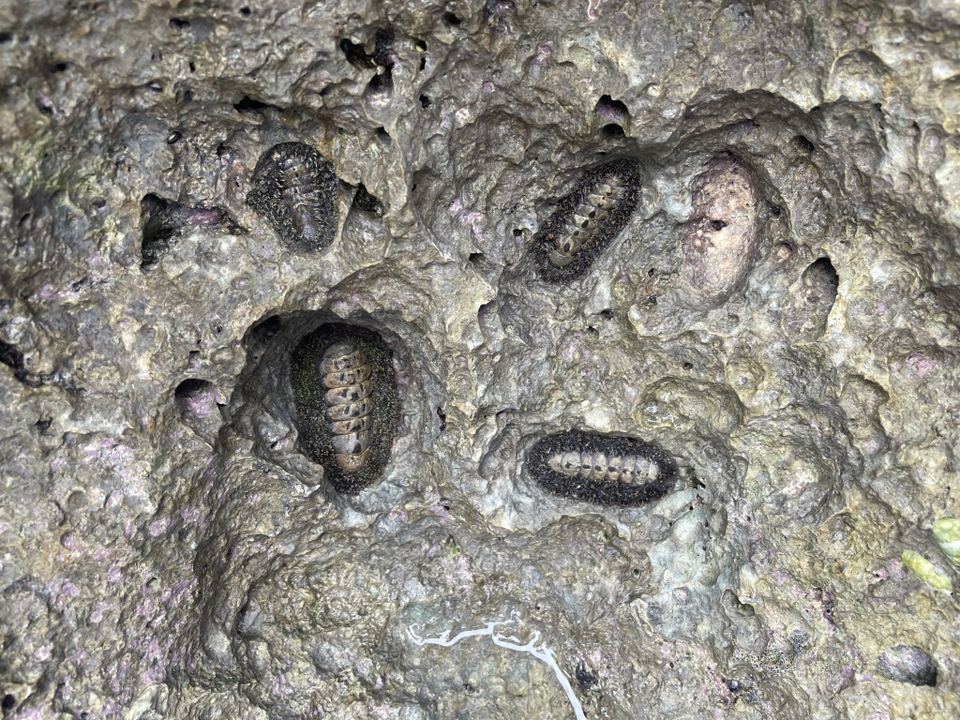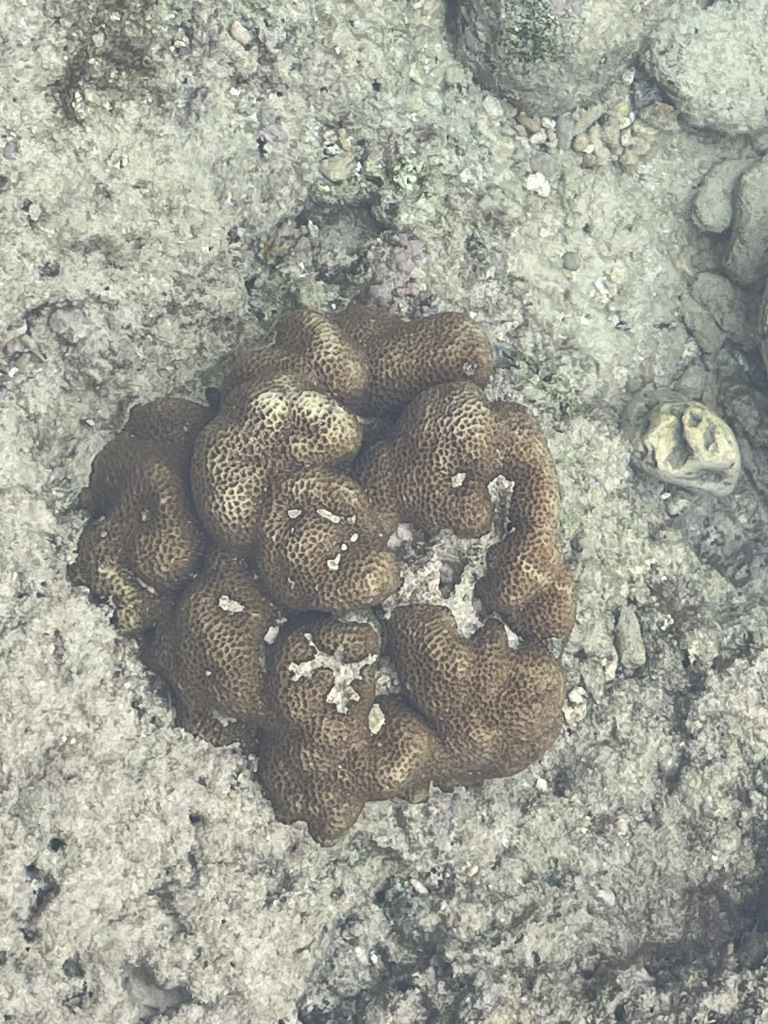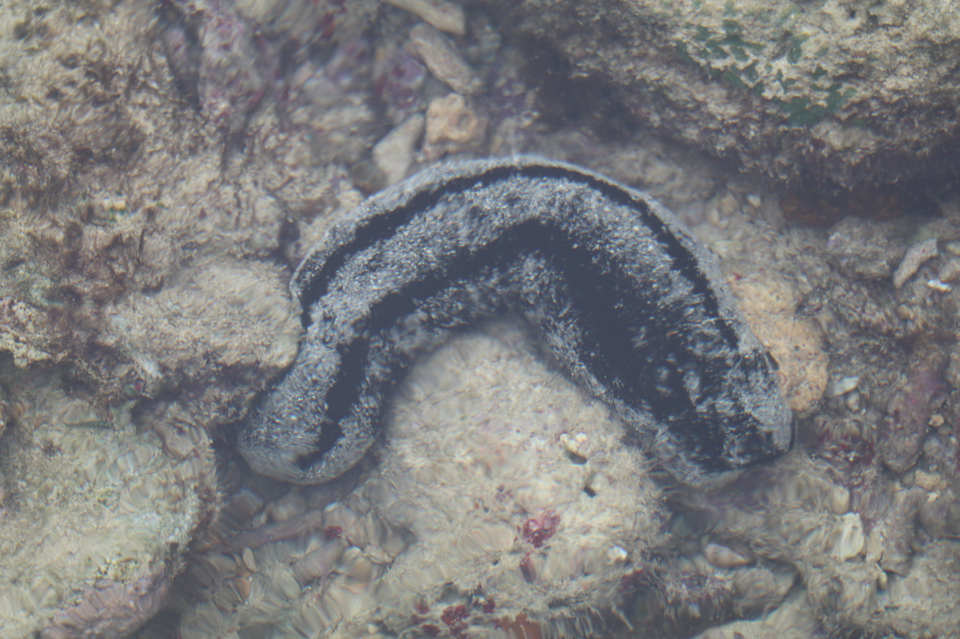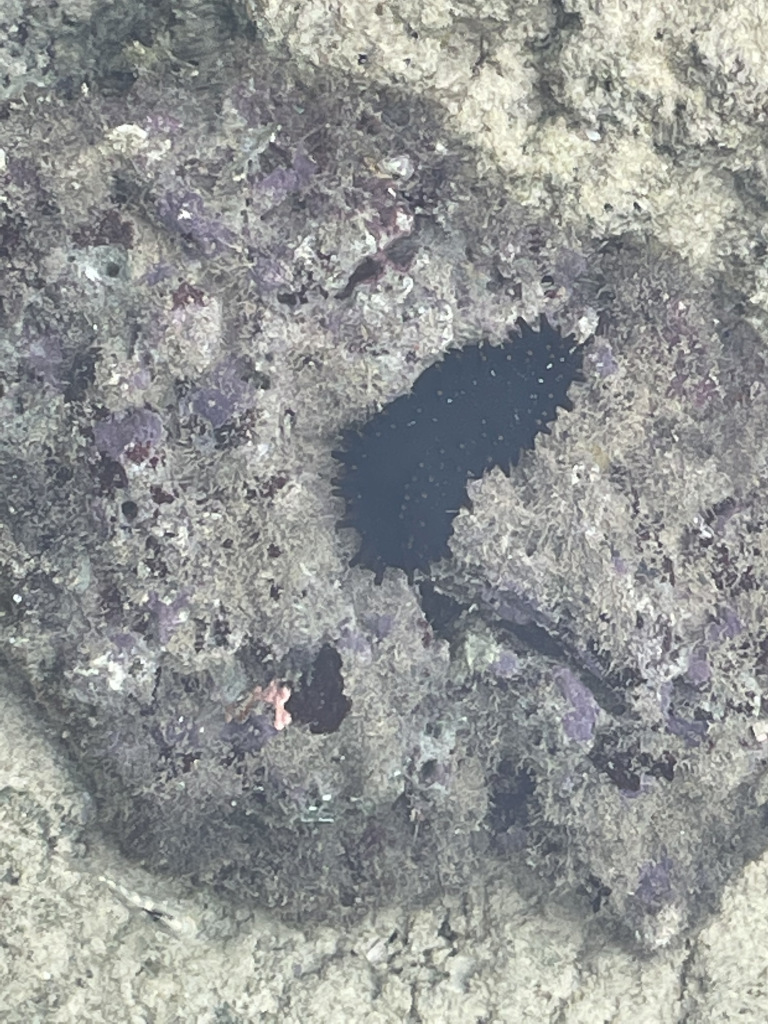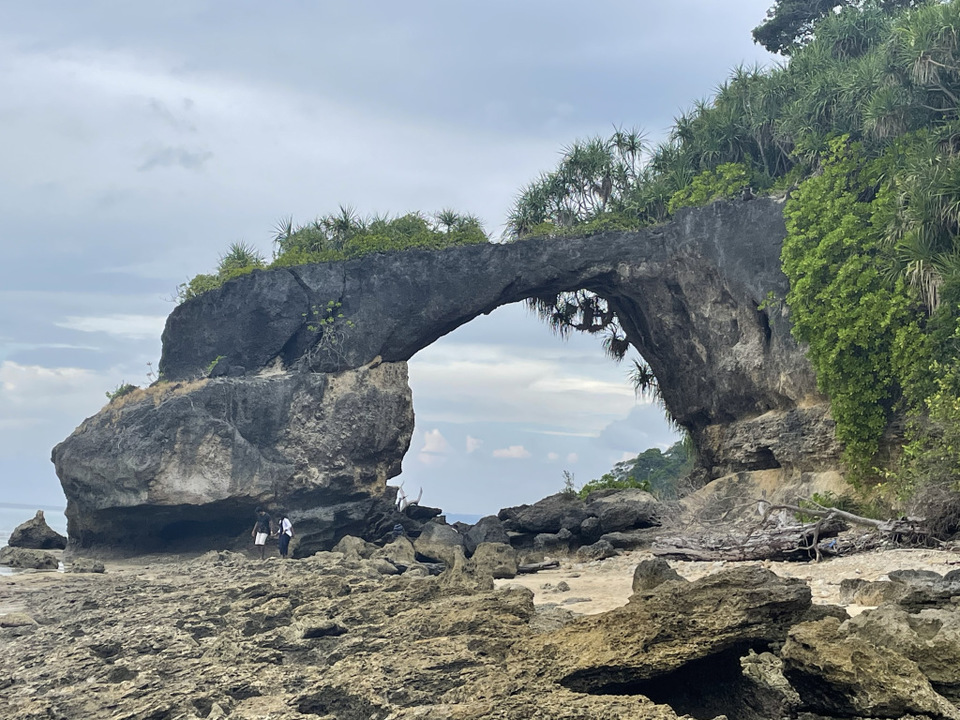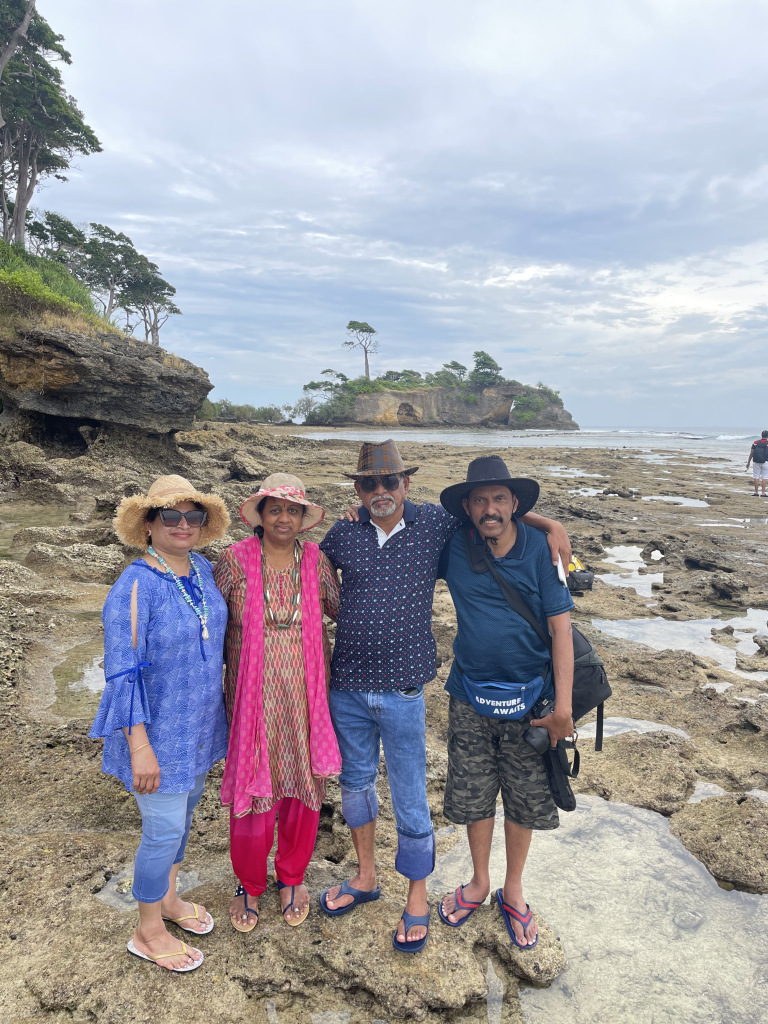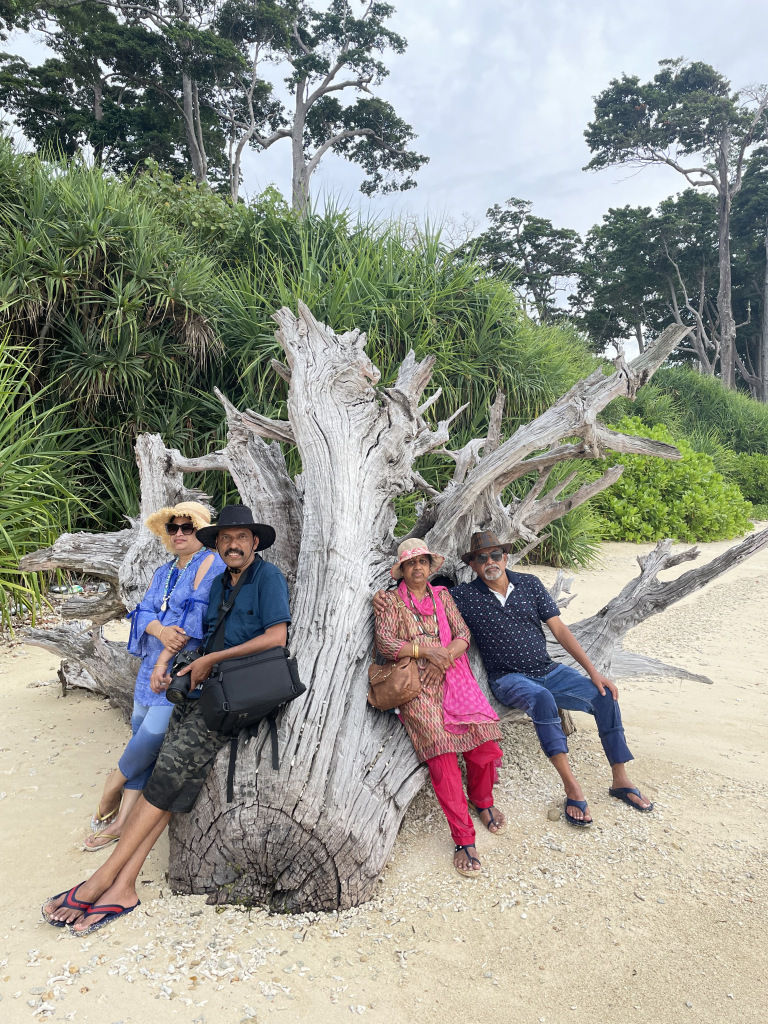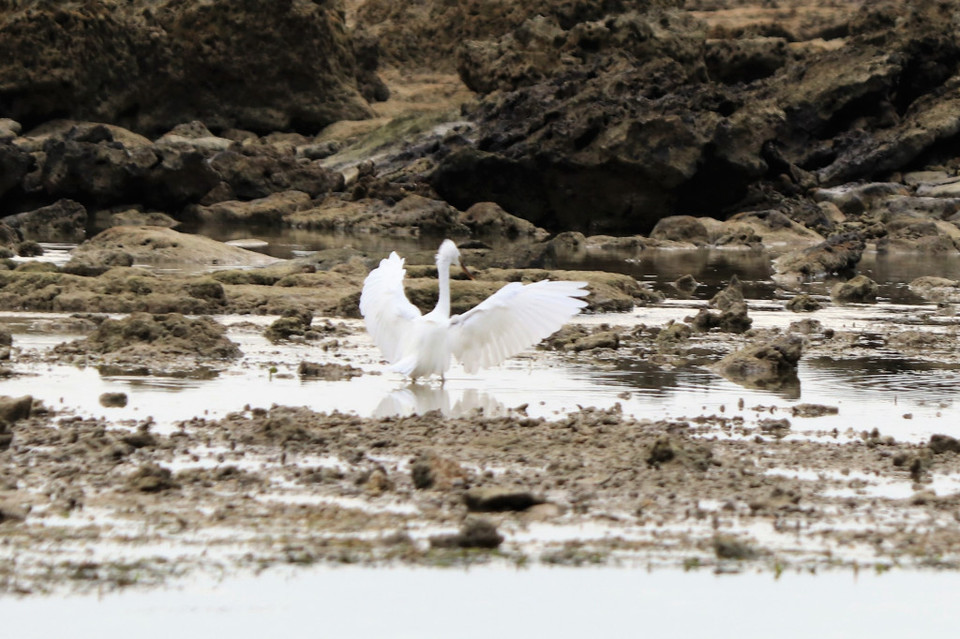 https://www.youtube.com/watch?v=wszeSuyC8FQ
https://www.youtube.com/watch?v=2kPEhmWcexM
Sujay then came and picked us up and dropped at the Sitapur beach at 16:15. Sitapur beach is known for both sunrise and sunset at different places. We were looking forward to the sunset. We had a tea from a hawker who was originally from Andhapradesh. Sitapur beach, like the other beaches also has a large section of shops that sell conchs, decorative shells, jewellery, and memorabilia. I shopped for a large conch and some other local items. There are convenient benches on the beach to view the sunset. As it was cloudy, there was no sunset, but the colour of the sky was amazing. We came back to Summer sands hotel at 18:00, and after some time, took an auto to Blue sea restaurant by paying Rs. 50. This time we ordered red snapper fry, tiger prawn curry and a large green lobster stir-fry. The food once again was very delicious. Around 22:00, we walked back to the hotel.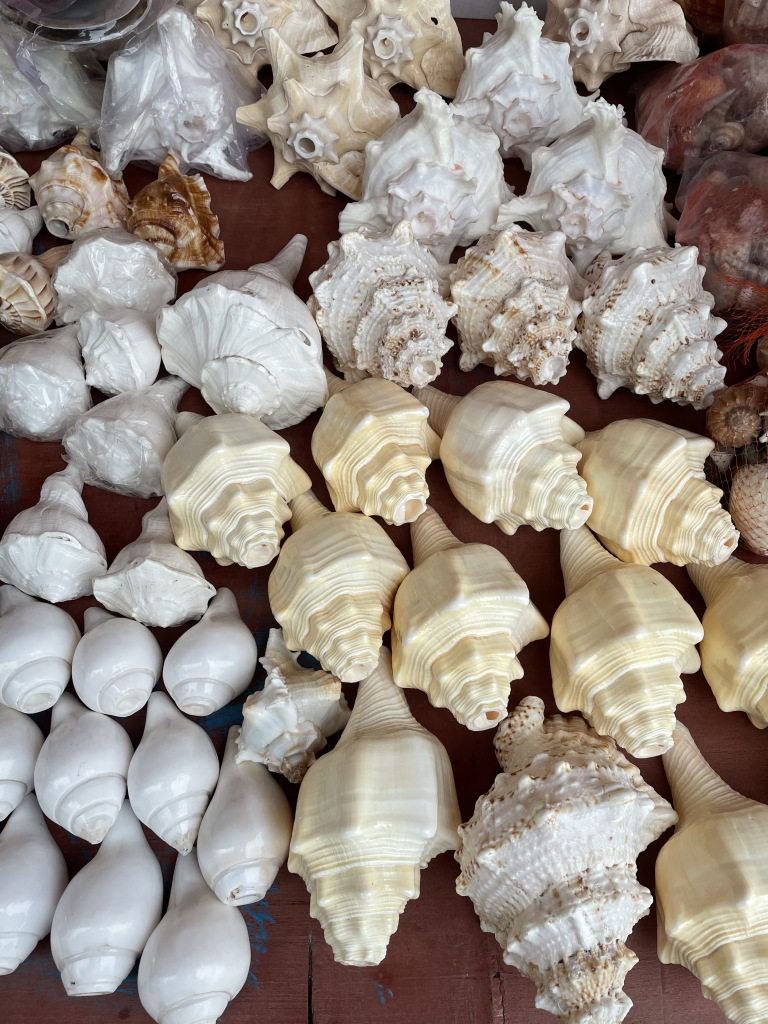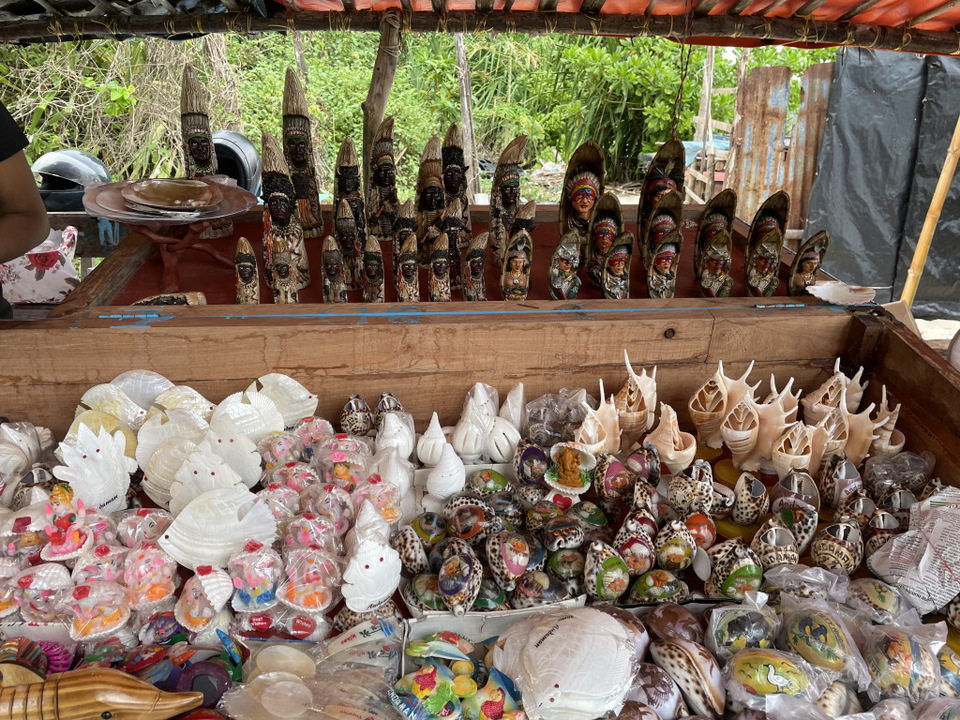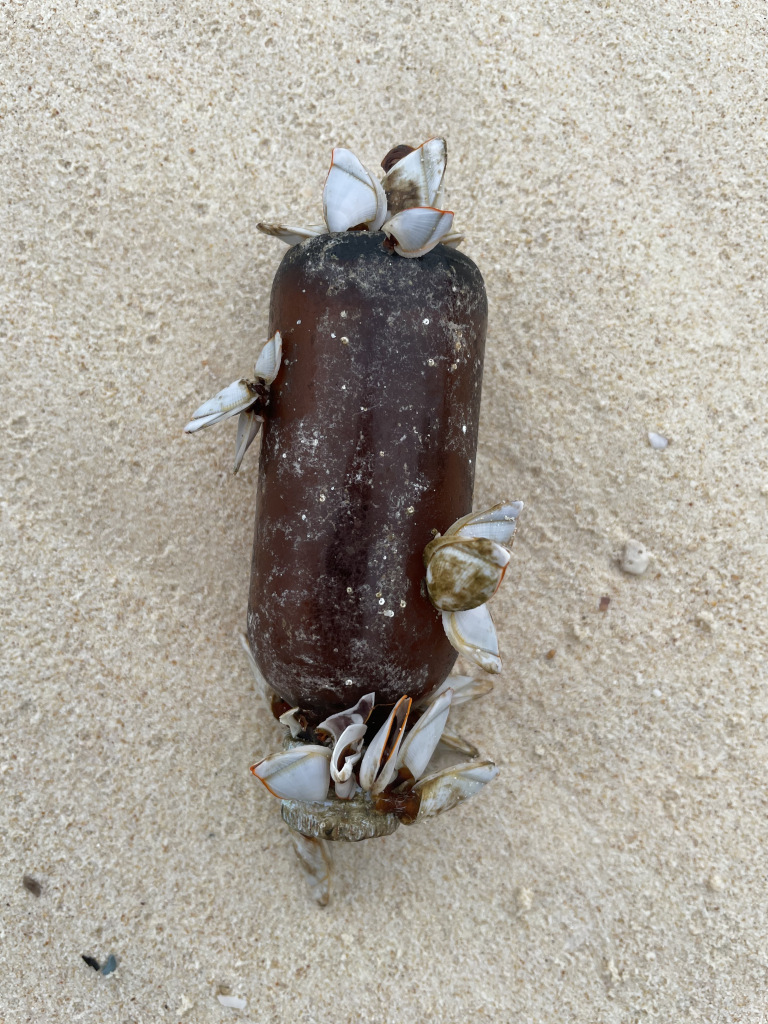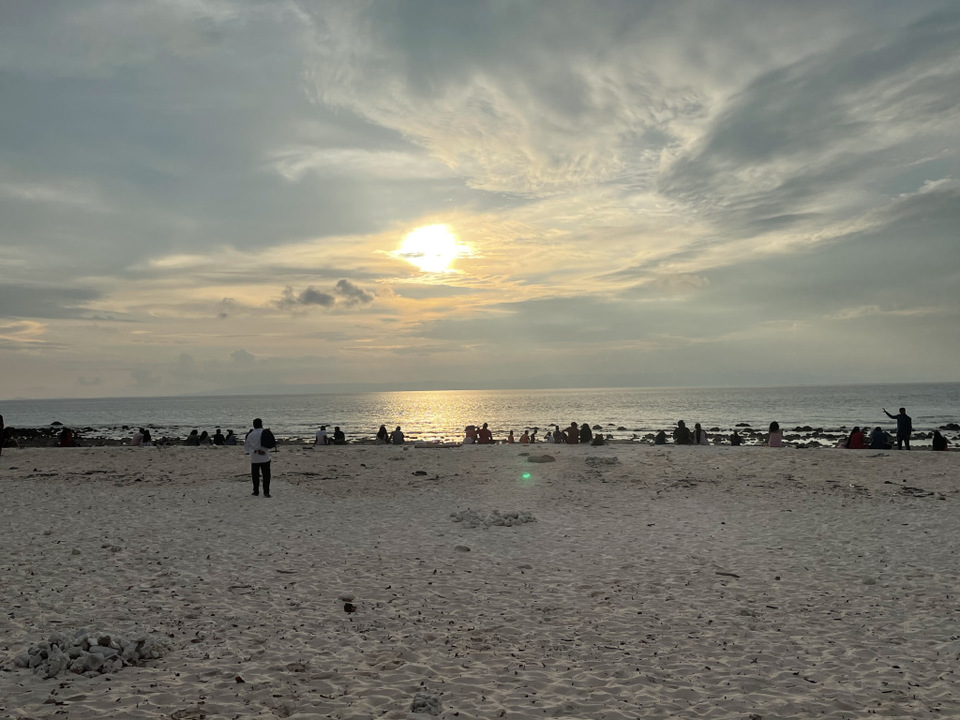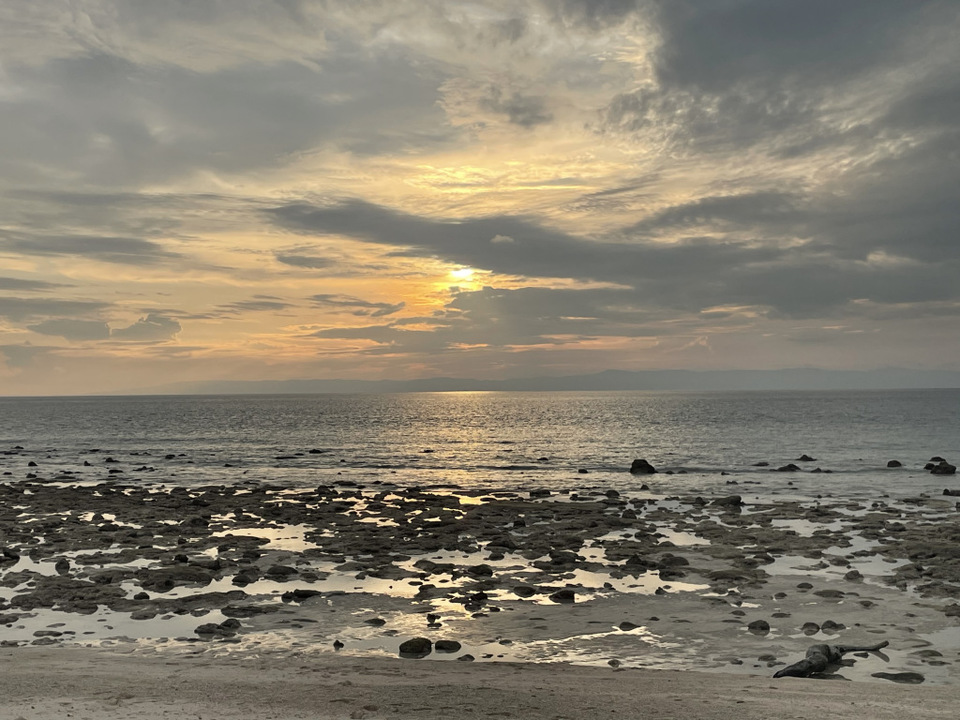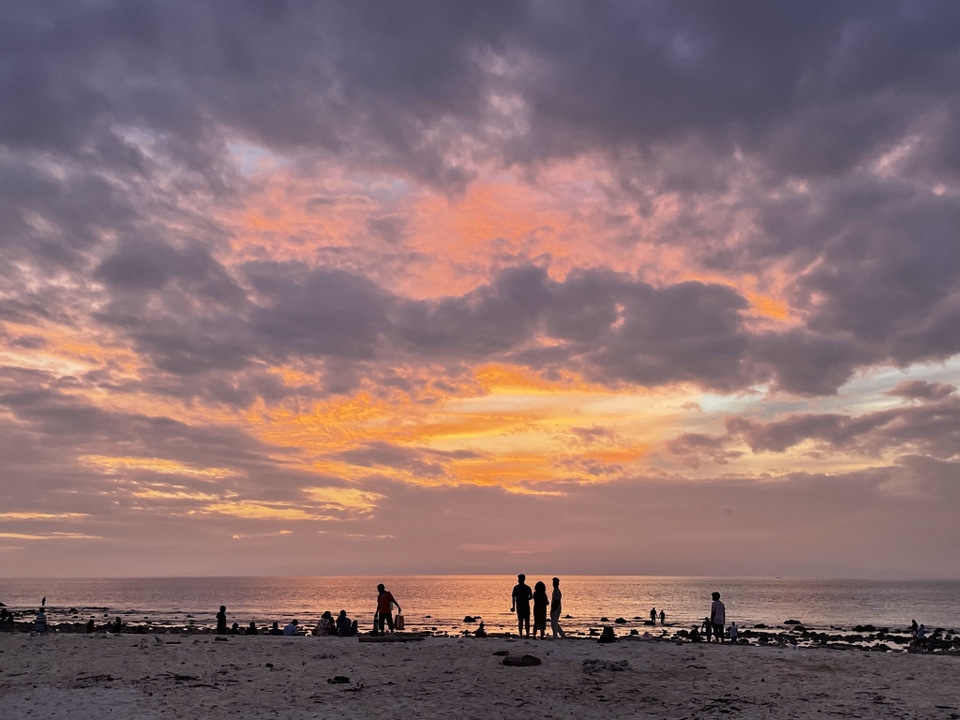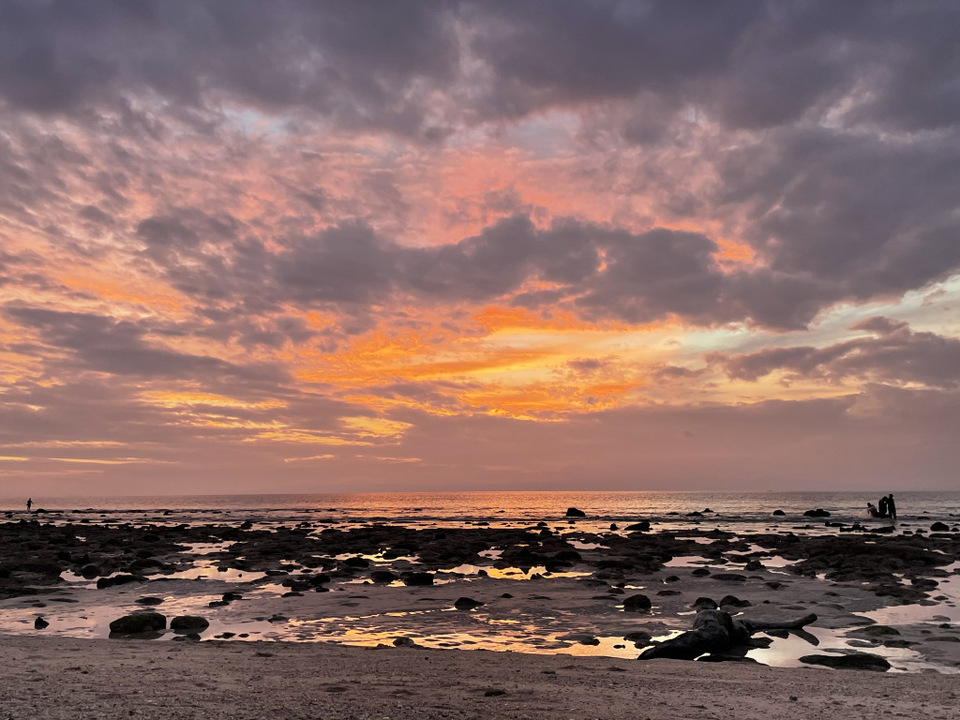 Day 5, Tuesday 16-02-2021: The program for that day was a short visit to the Bharatpur beach and voyage back to Port Blair. We had early breakfast and checked out. We were picked up by Sujay Roy at 8 am and were taken to the Bharatpur beach. As we wanted to try the glass boat ride, he introduced us to his contact, who was charging Rs 800/- per head. We chose the contact of Govinda given by Balaram, the restaurant owner and booked a ride for Rs 500/- each. This was a different experience, with the boat having a magnifying glass bottom through which one can see the fish and corals. The boat boys didn't seem to enthusiastic (possibly due to the low price!). We did some more shopping at Bharatpur beach and were dropped to the Jetty at 10 am to catch the cruise at 11:30 to Port Blair (once again too early). After verification of the Covid-19 report, we got into the Makruzz cruise for Port Blair. Ross island was not in the itinerary, but as we insisted for it, Madhu picked us up at 13:00 from the jetty and dropped at the dock where we caught a boat to the Ross island (Netaji Subhash Chandra Bose island). The 10-seater boat was called "Rock and roll". Cost for the round trip from Port Blair was Rs. 370/- per person. It took 10 minutes to reach Ross island. We were given one hour to see the island, a bit rushed. We hired a buggy (Rs 100/- each, shared with couple of other people) to go around the island as we had short time. There is an entry fee of Rs 30/ per head for Ross island.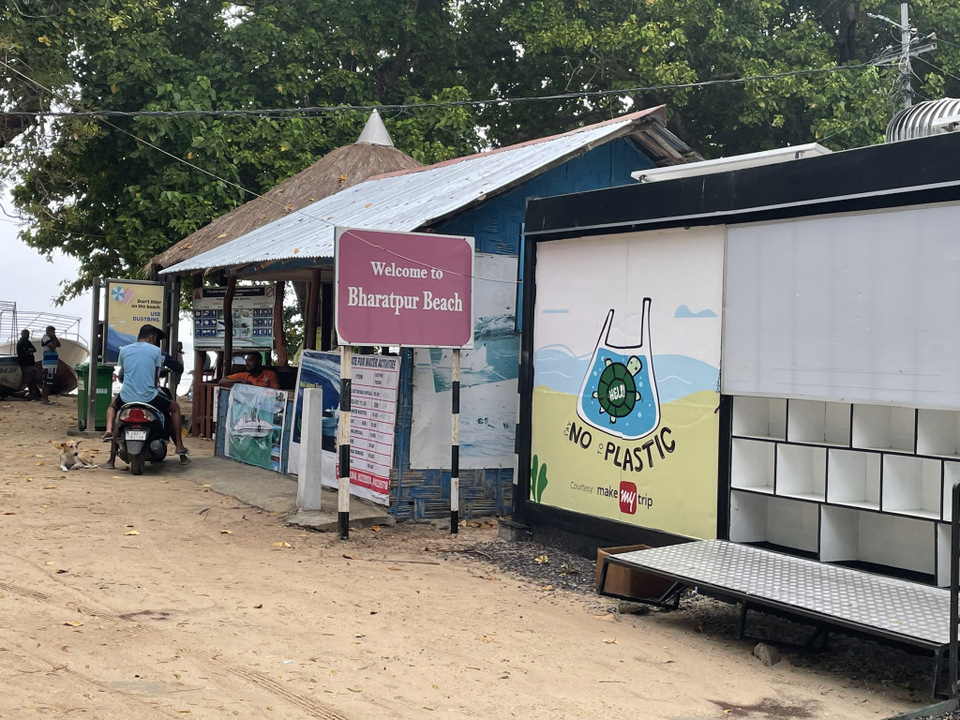 Ross Island was named after Captain Daniel Ross. He was a hydrographer employed by the East India Company who was known as "the Father of the Indian Surveys". The small island is renamed as the "Netaji Shubash Chandra Bose Dweep" by prime minister Narendra Modi in 2018. It was the capital of Andaman and Nicobar Islands during the British occupation and was known as a penal colony for convict settlement. It has ruins of many British buildings that speak for a lost history. The buildings were build using prisoner laborers are now covered with peepal and banyan tree roots. During World War II, the island was invaded by the Japanese army, forcing the British to evacuate. There is still a Japanese bunker in the island. In 1941, Netaji Subhash Chandra Bose hoisted the national flag here.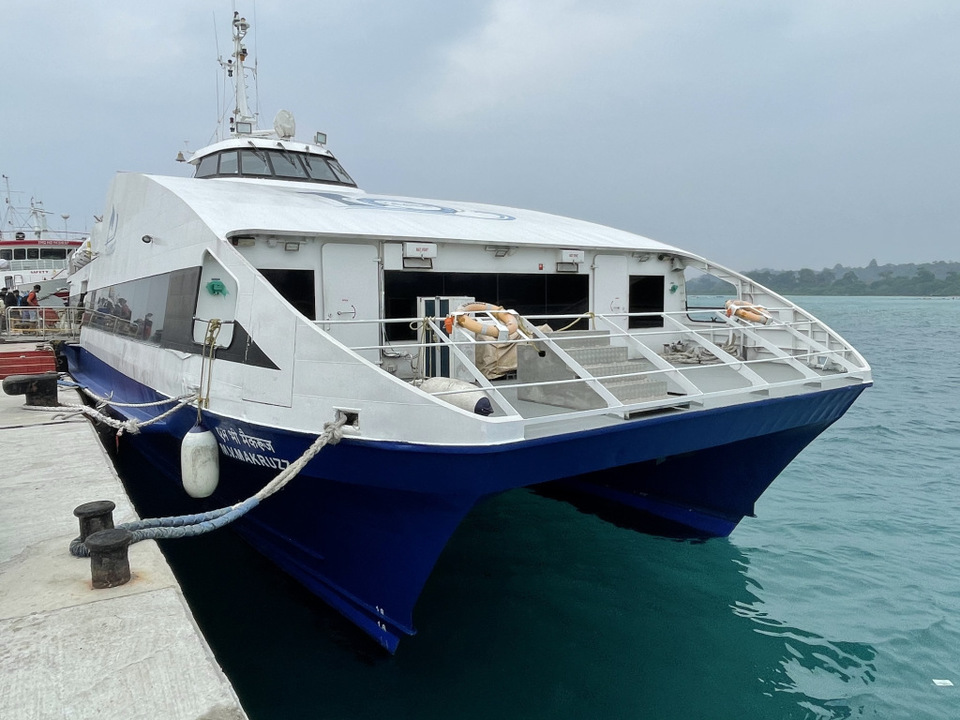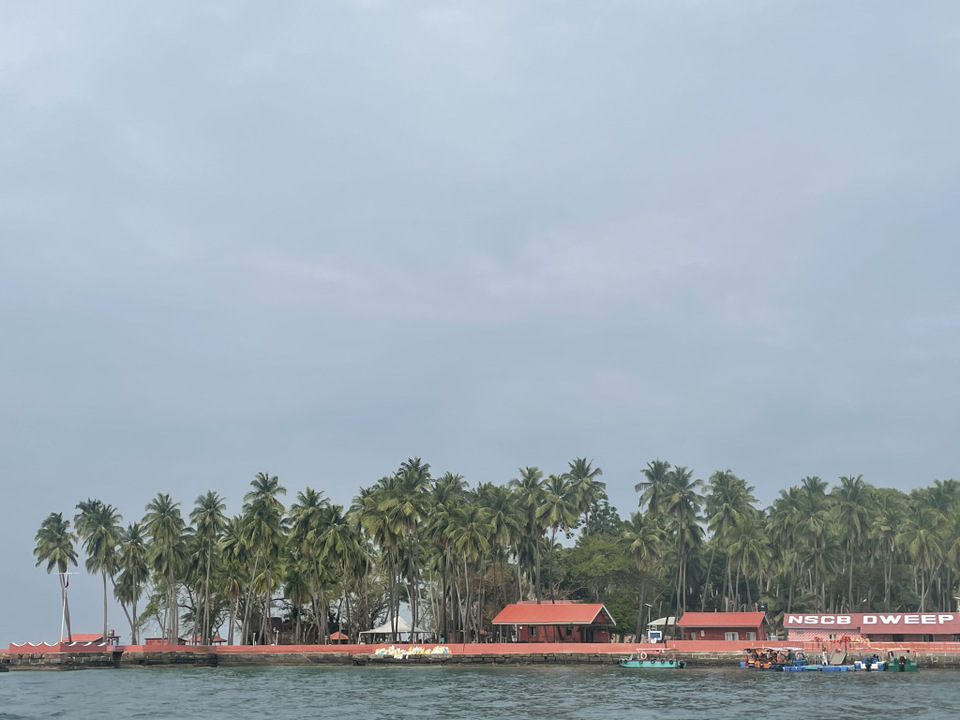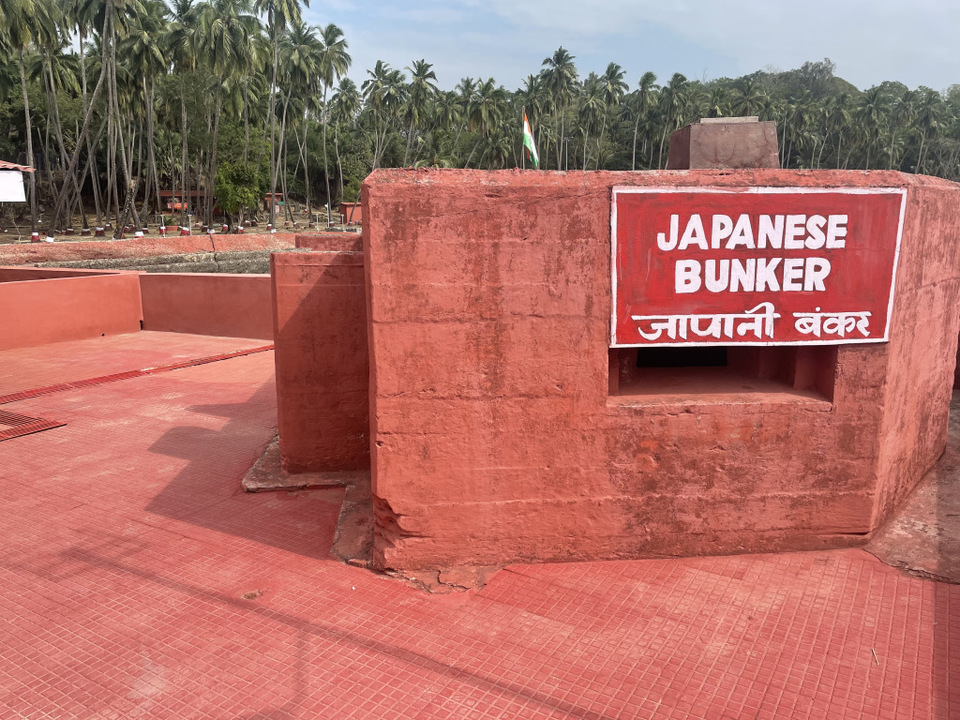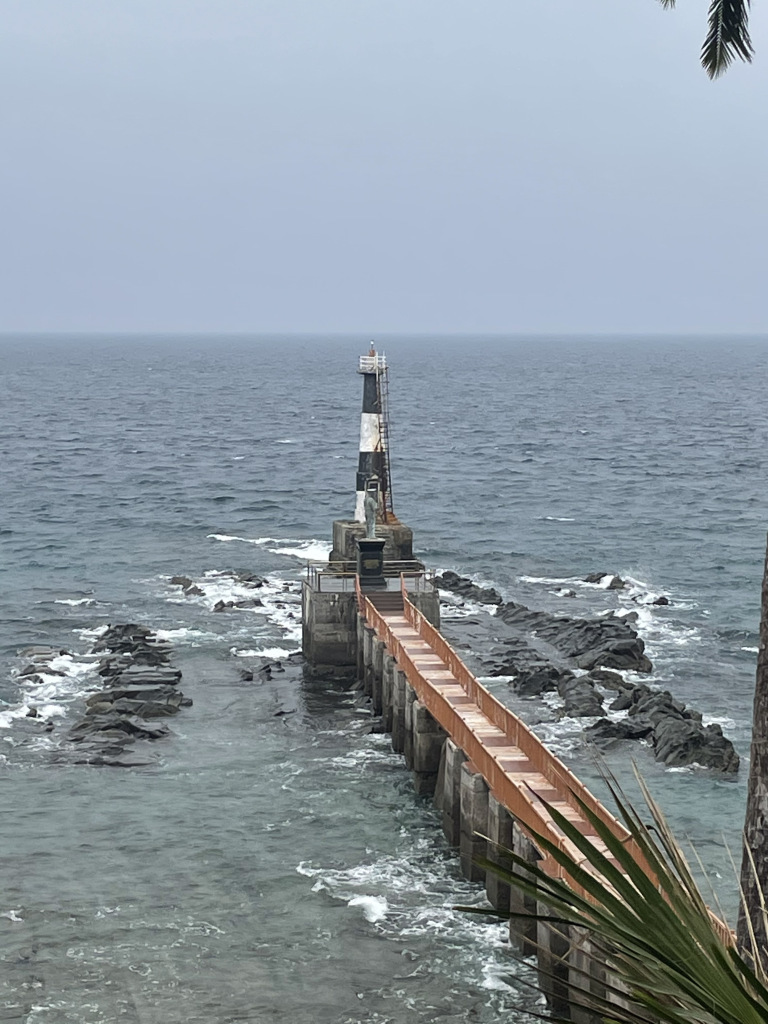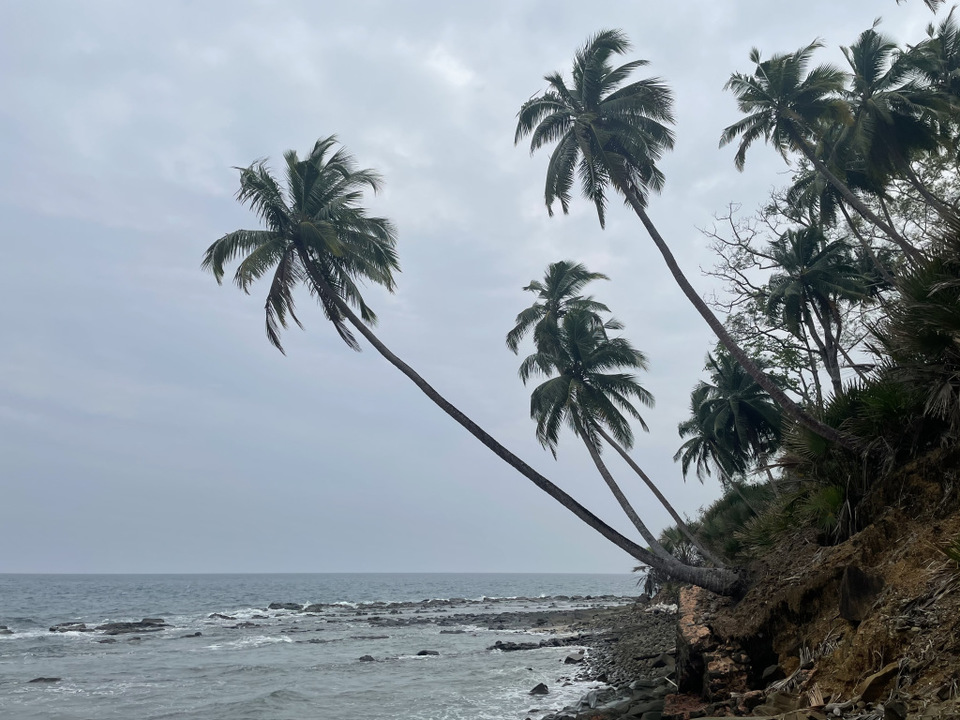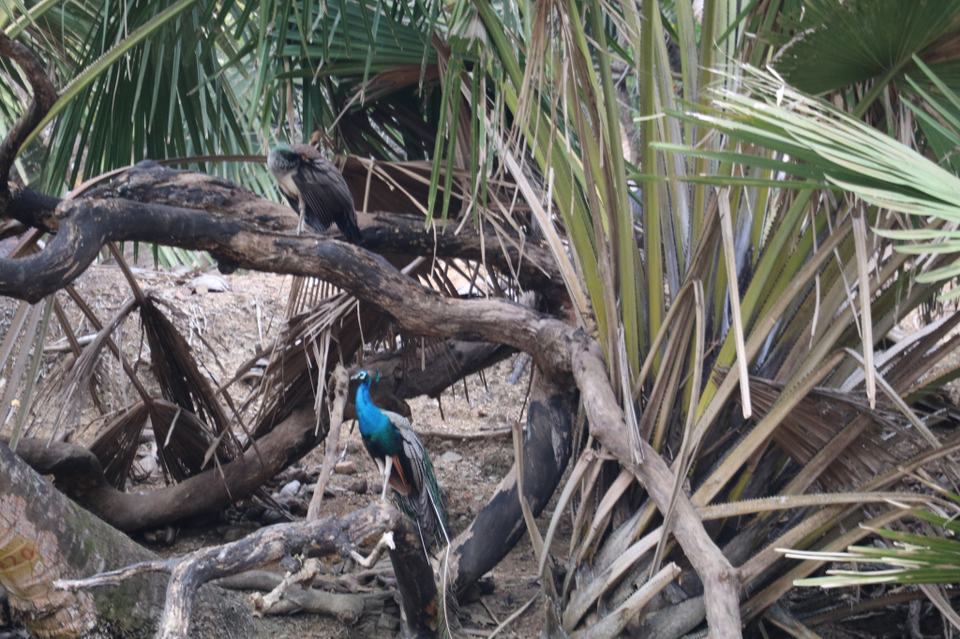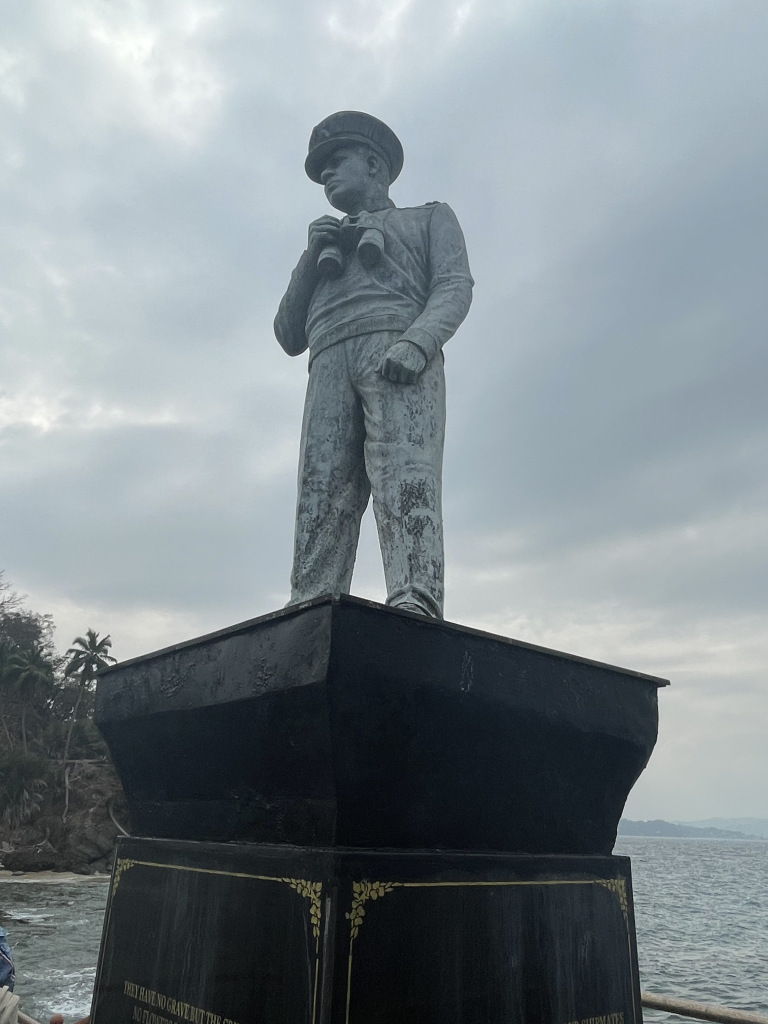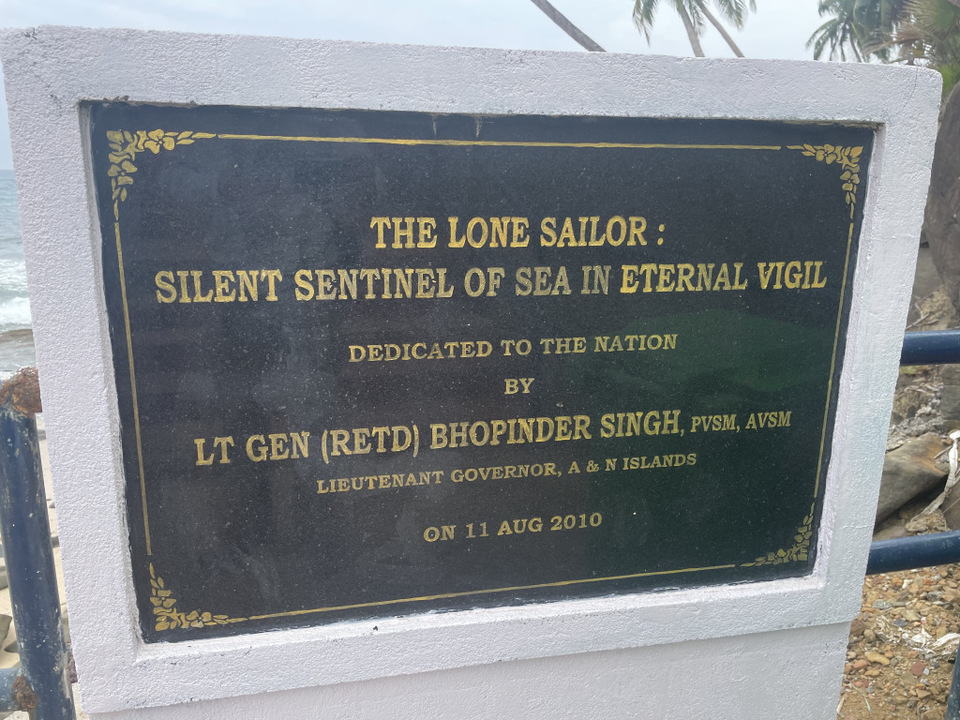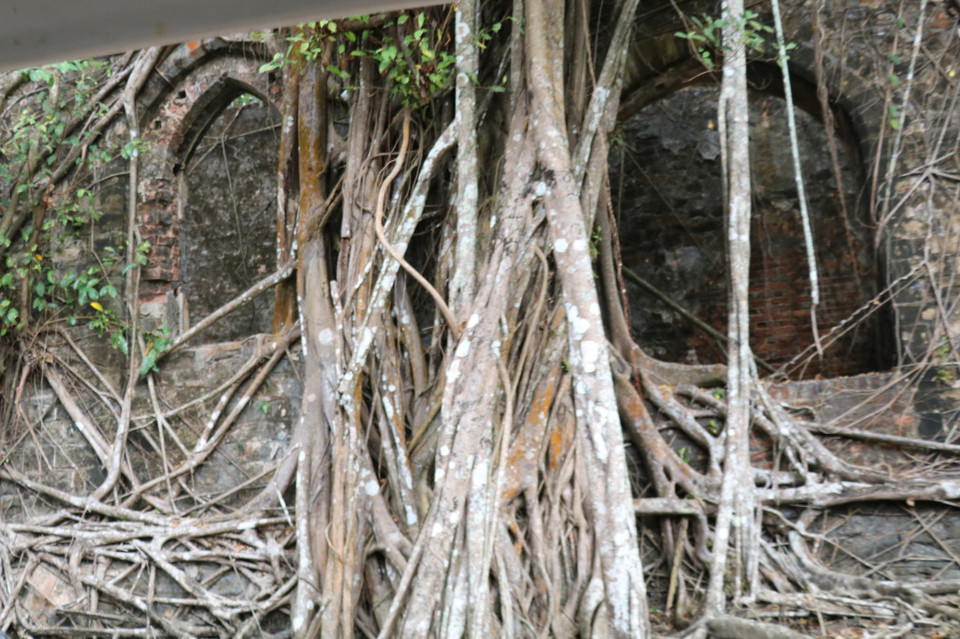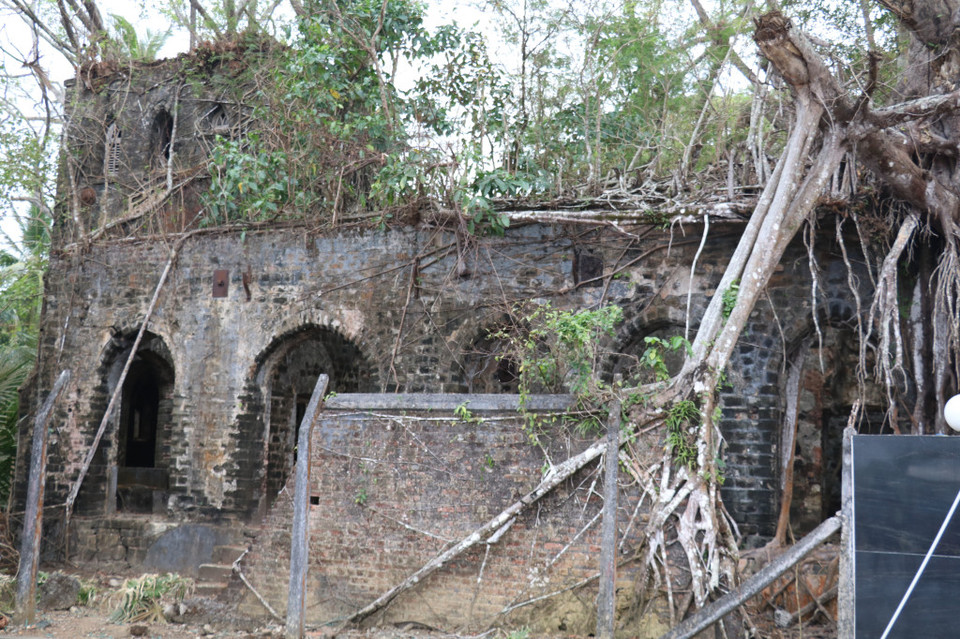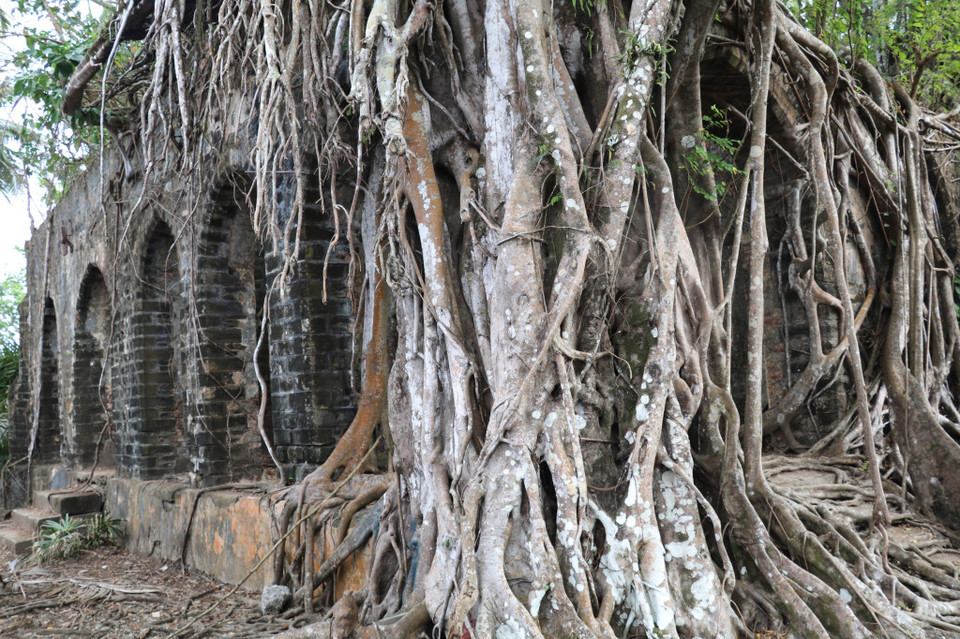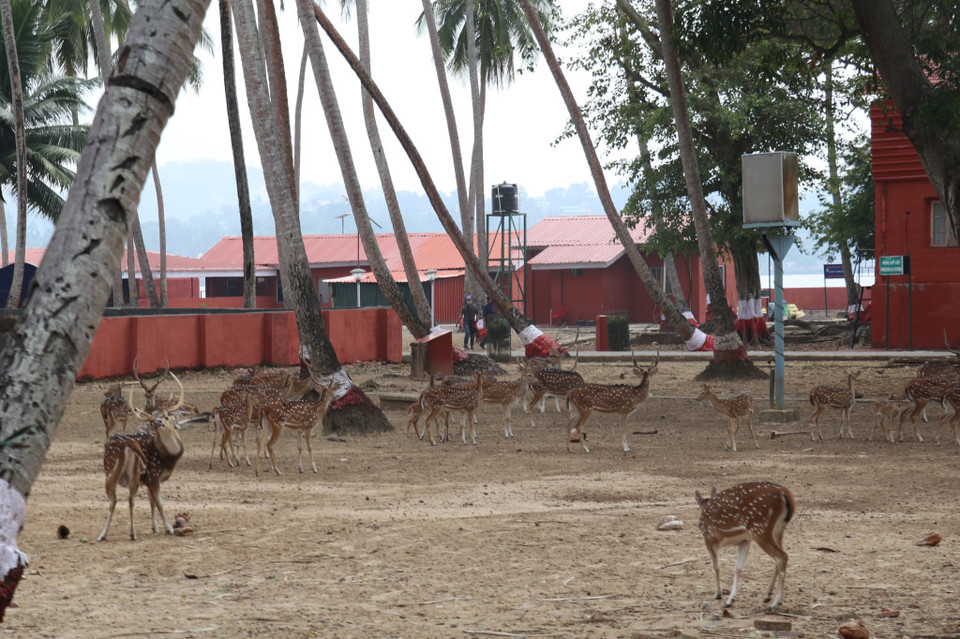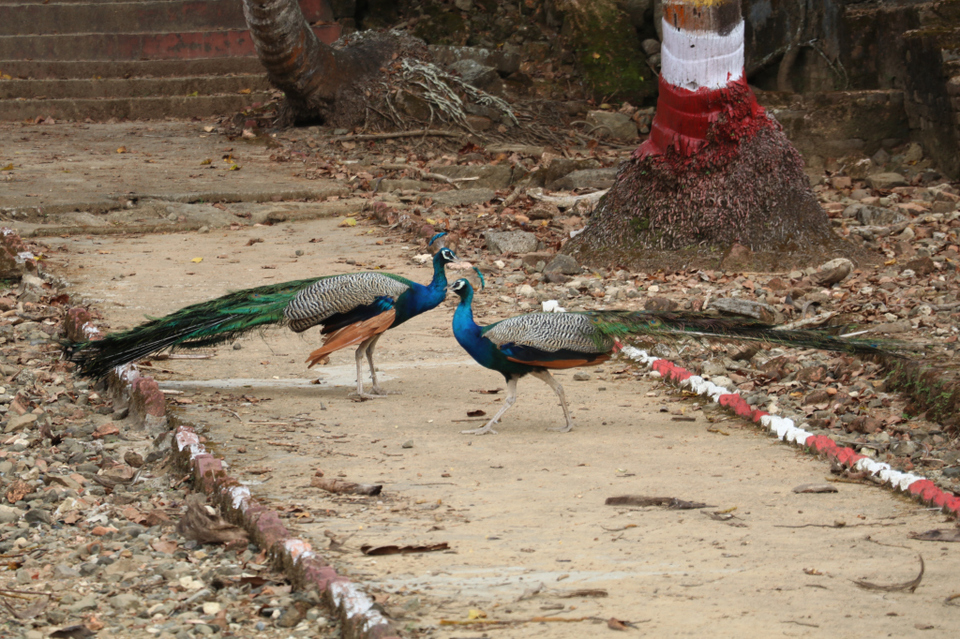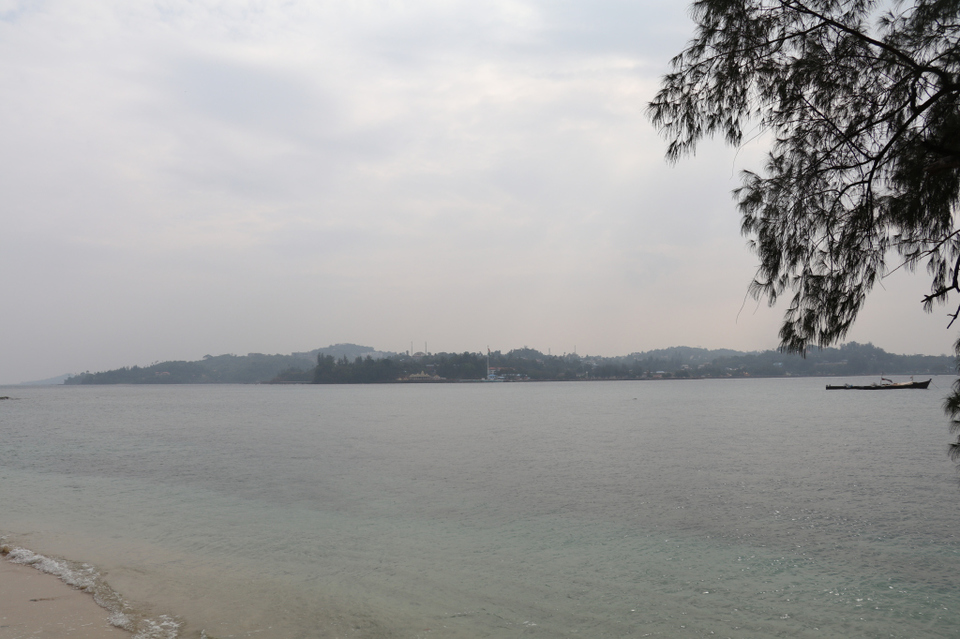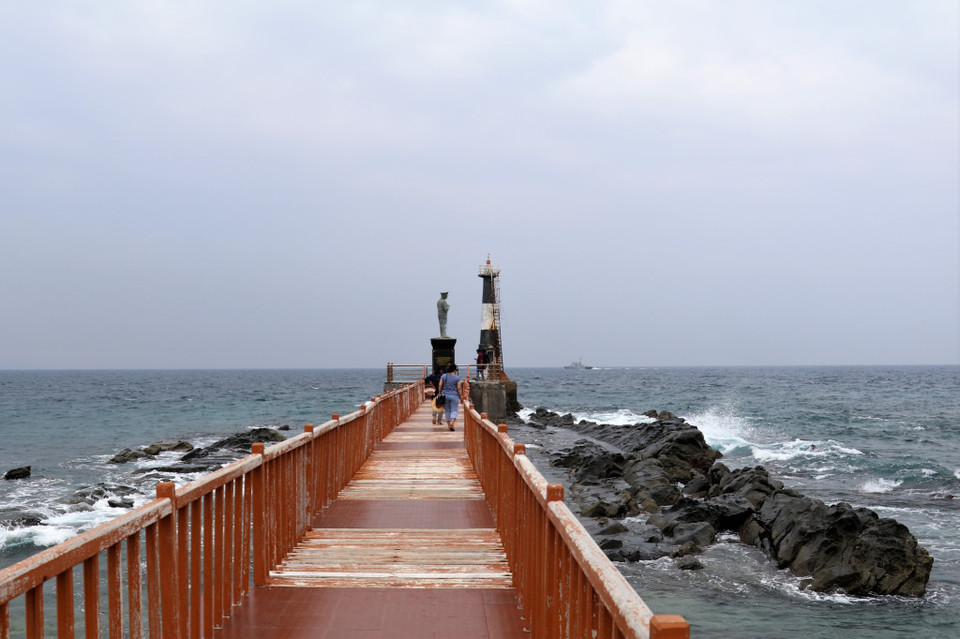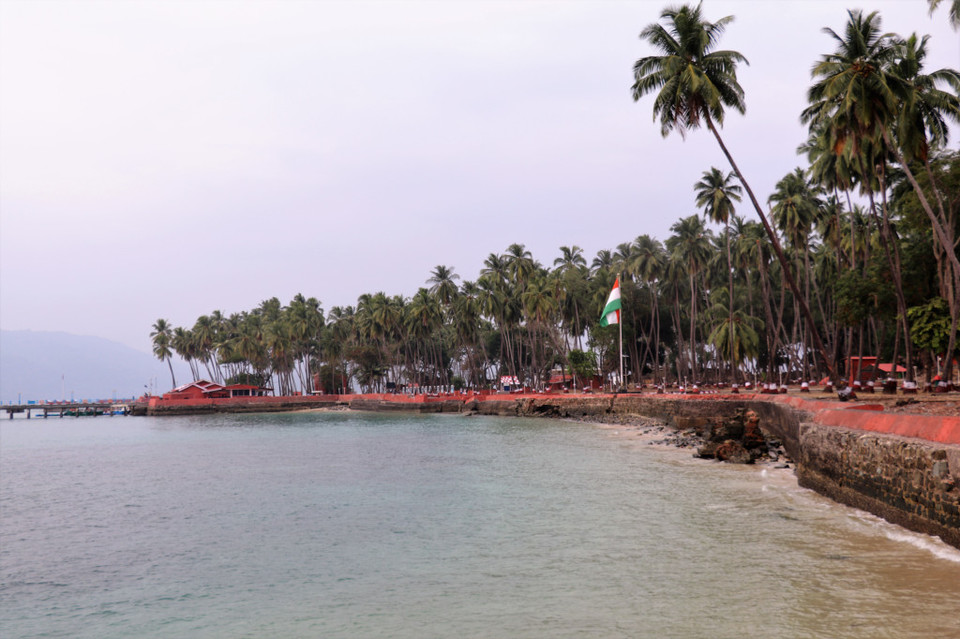 The place is picturesque with a thick forest. Deer and peacocks roam around freely. At the highest point, the buggy was stopped for 15 minutes to let us visit the light house and the "lone sailor". The wooden bridge leading to the light house was a very beautiful sight. After getting down from the buggy, as there were few minutes left, we visited a small museum. This has an exhibition of old photographs. As the other people in our boat took much longer time, we had to wait before the boat left for Port Blair.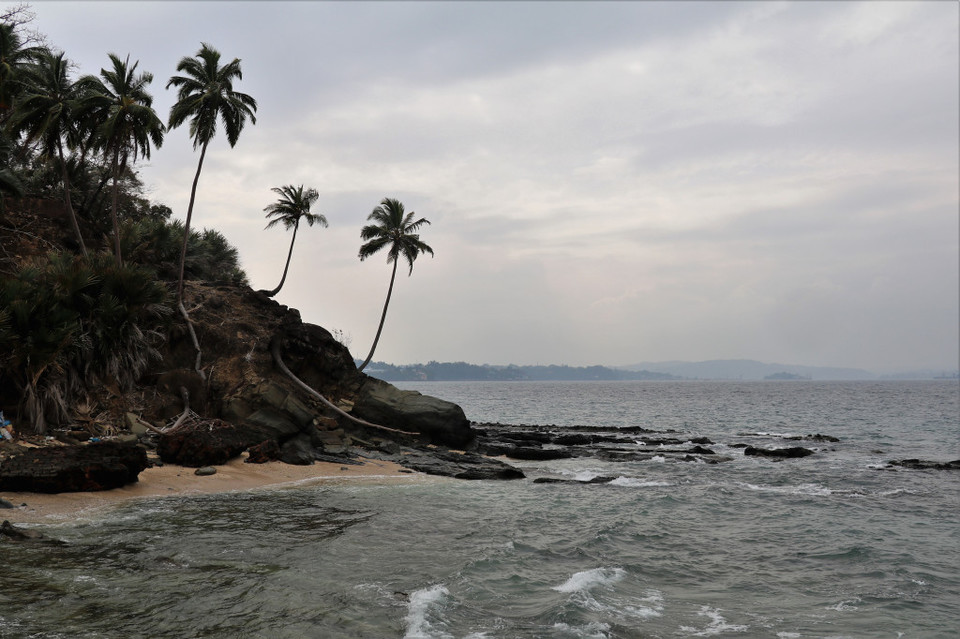 Once we returned, as we didn't have lunch, we visited a snack place near the jetty at 15:20 and had samosa and chat. I called Madhu, who asked us to walk to the cellular Jail. There he was waiting for us with the tickets. We walked through different parts of the cellular jail reliving the horrors our freedom fighters faced during the British rule. The very thought of Veer Vinayak Damodar Savarkar and sacrifices of people like him gives goosebumps to anyone who cares for the freedom of the country.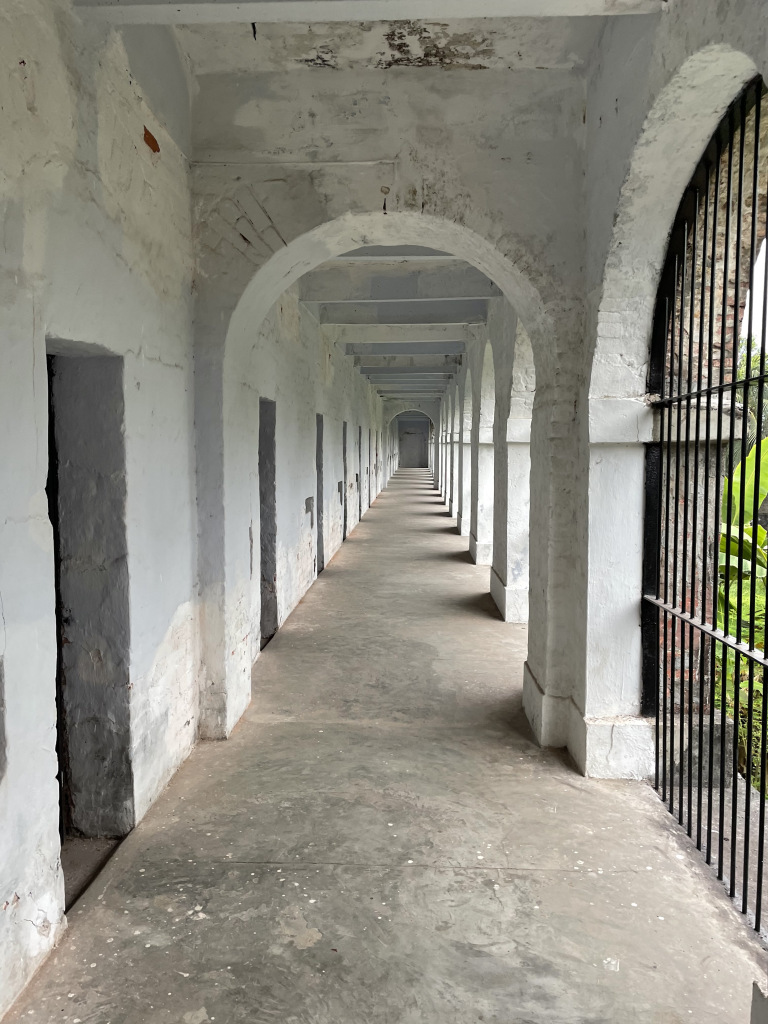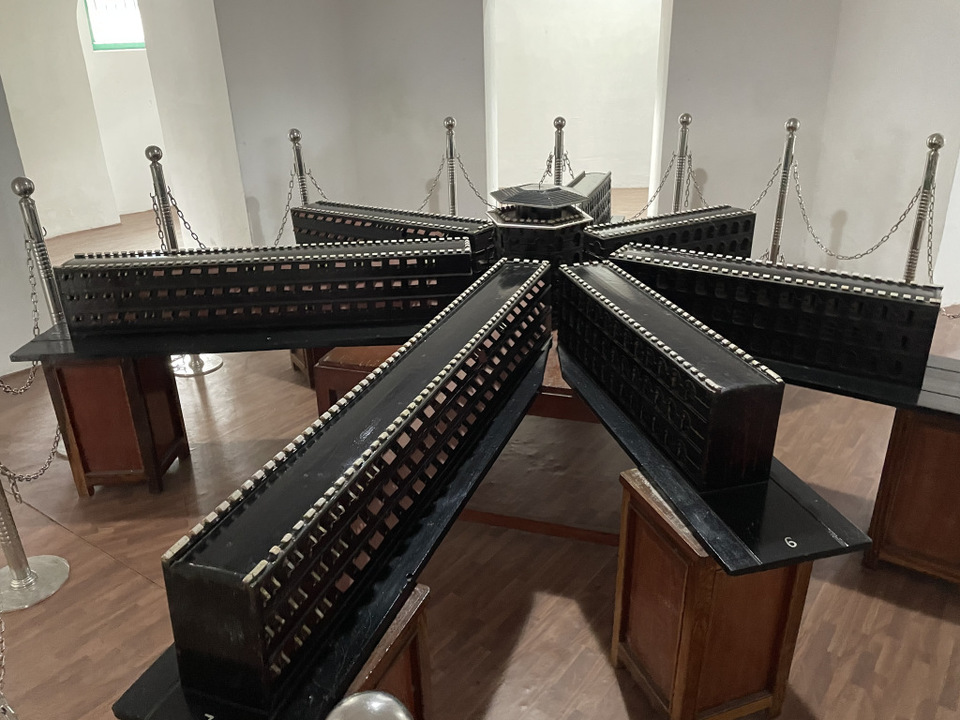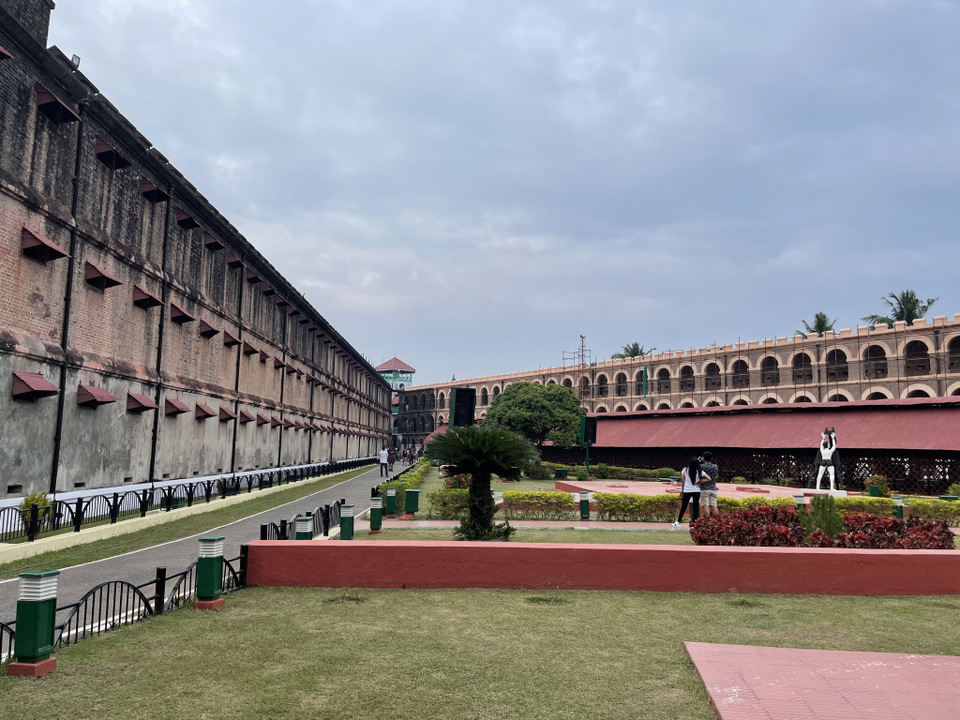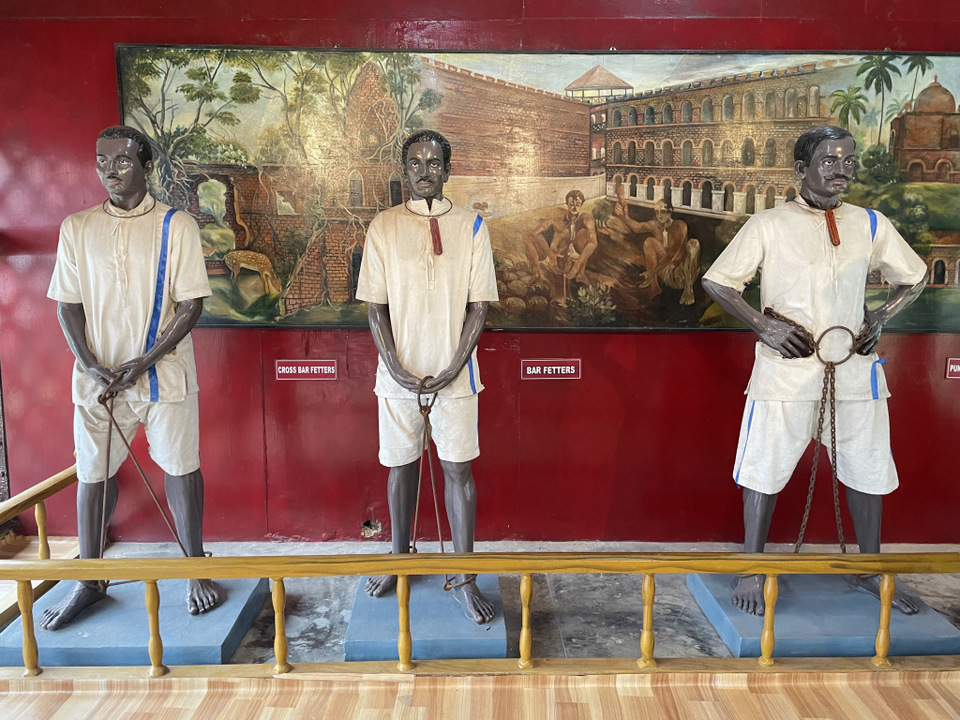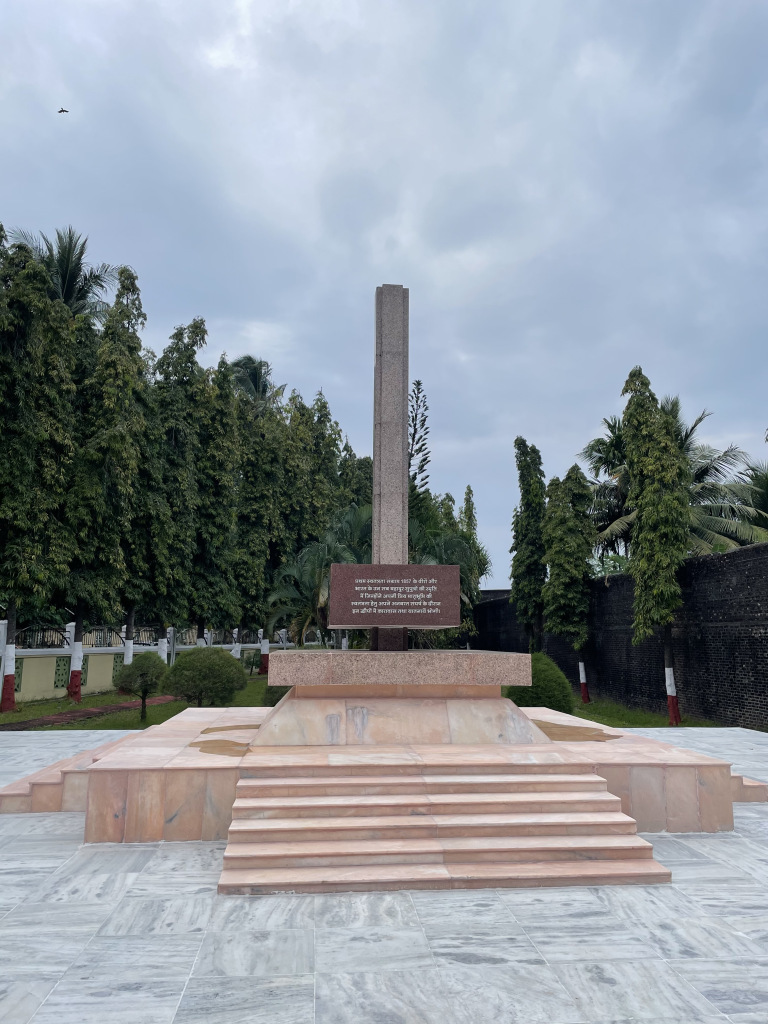 There was a visit to Corbyn's Cove beach in the itinerary. We opted not to do it and asked Madhu to drop us to Aberdeen bazar, a local market. On the way did some shopping. At the bazar, we had dosa at Kattabomman restaurant. From there we walked to another restaurant to have falooda. We caught two auto rickshaws to get back to Sand heaven.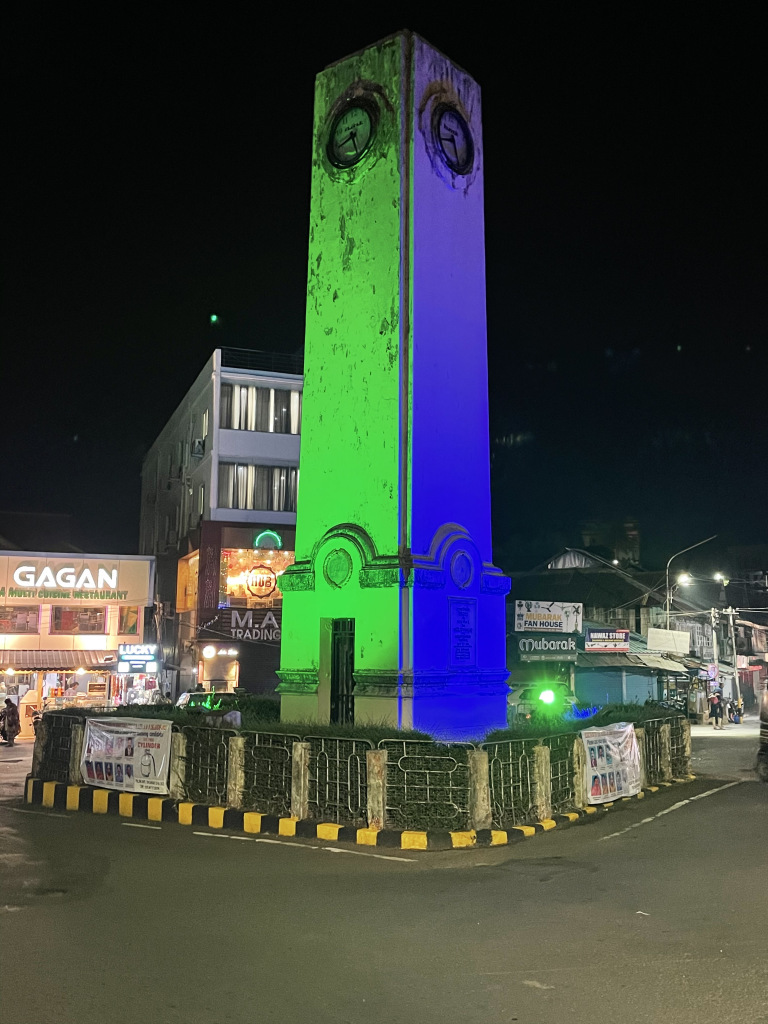 Day 6, Wednesday 17-02-2021: Next morning, we had breakfast at the hotel and checked out at 9 am. Debashish came to visit us and took the video feedback about the trip and about Welcome Andaman travels. He also refunded Pramod's share of the scuba diving fare.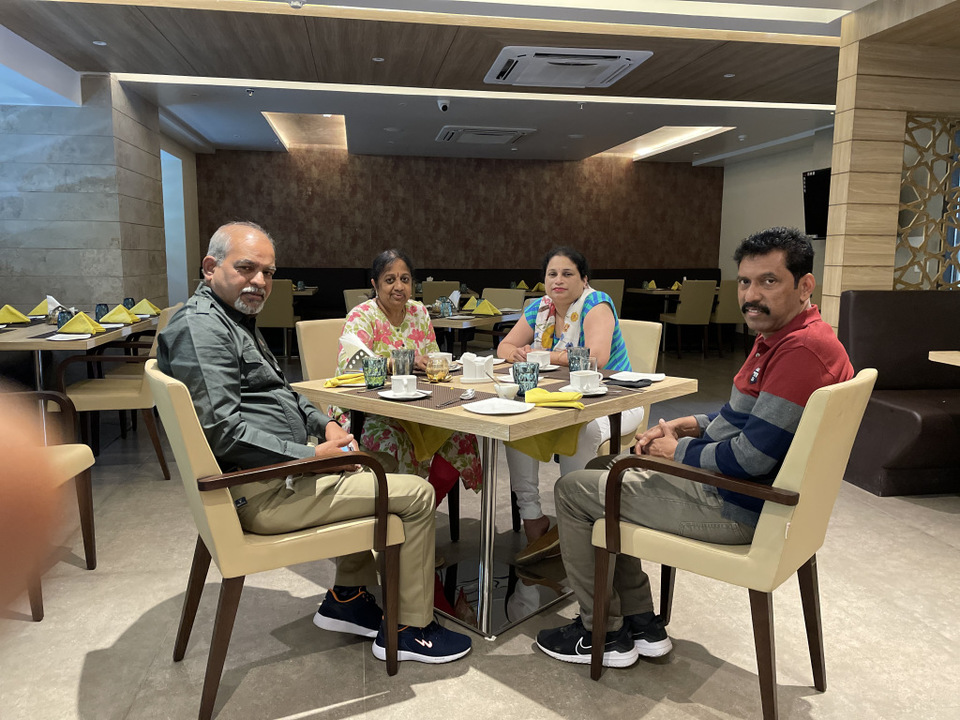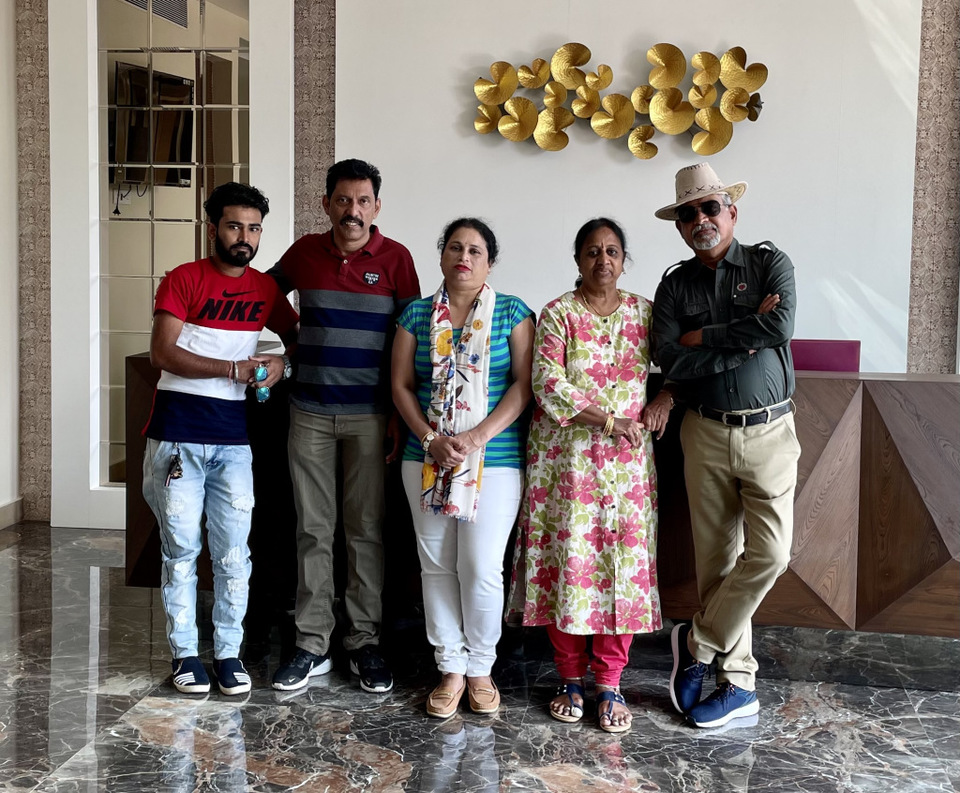 The airport is right front of the hotel and Madhu dropped us there. A much bigger international airport is being built there. The Air India flight was at 11:40. The check in procedure was quite long. The journey was comfortable, and we got good lunch on board. We reached Chennai airport at 13:55. Bhargav, my son, came to receive us in our car and we had lunch and Talapakatti restaurant on the way back. We dropped Bhargav near to his college and proceeded towards Bangalore at 16:30. On the way we stopped for tea and enjoyed further shopping for clothes and footwear at couple of factory showrooms. It was 23:45 when we reached home after dropping Pramod to Gokula.
Andaman trip was wonderful and gave me a much-needed break from the yearlong "work from home". It was a good a good mix of nature and adventure. The stunning beauty of Andamans, the thrilling water sports, the delicious food and the hospitality of the locals will forever remain green in our memories. On something that we could not do, I feel we missed Baratang island which is known to be unique and missed seeing the local 'Jarwa' tribe. In a way, I feel it is good that the clan is protected from being a showpiece for the urban world! I hope to go once again to visit Baratang.
Thanks to Pramod and Prabakka for their lively company and Thanks to Vimal travels and Welcome Andaman group for a well-organised trip. After our return, I got to meet Mayur of Vimal travels who gifted me a coffee mug with our photo at Andaman. That was a pleasant surprise!