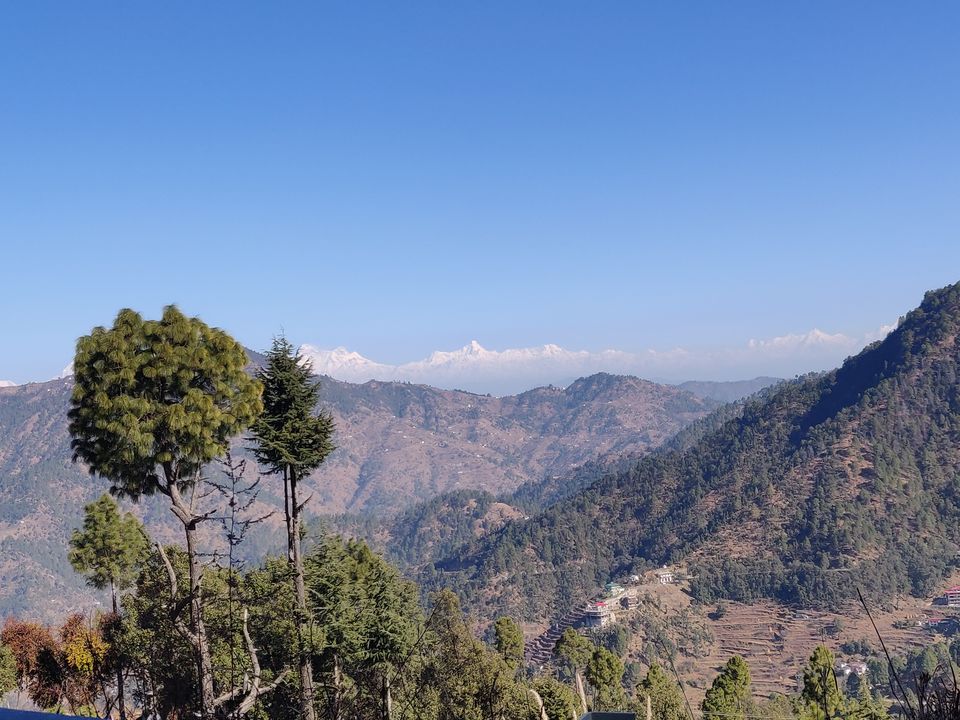 This journey was taken in the month of January this year.
It's been more than a week since we returned from our hilly sojourn in Nainital. The weariness of our city routine has overtaken the refreshing energy we soaked in from the mountains. Fortunately though, our taste buds are still relishing the pickles that my chef-father happily made from those pahaadi lemons, our only souvenirs from this trip.

Nainital in our mind, was always that cliché destination where honeymooners and families traveled for their ultimate vacation. Something like Mahabaleshwar – a pretty hill station where you relax in a fancy resort, enjoy majestic valley views and gorge on wood fired pizzas at posh cafes.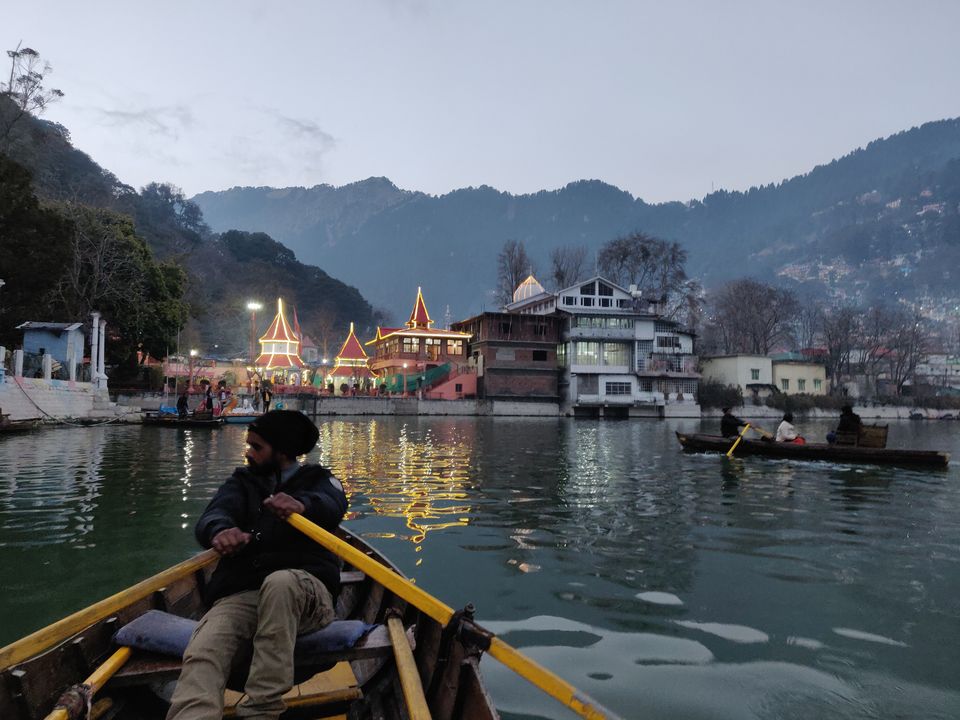 We had made up our mind to head to Uttarakhand. A random decision and our parents' last minute readiness was going to make it all fun.
11 Jan 2019.
It is a Friday and we are battling our anxiety to reach the airport after office, as we fly direct from Mumbai to Delhi with our favourite airline, Jet Airways. Our journey is towards Ramgarh, about 336kms from Delhi airport!

Reaching Delhi and not having the infamous local food is a sin! At 2200 hrs, we have lost the hope of digging our fingers in Chandni Chowk's chhole and parathe. Our hunger pangs take us to "Gulati" restaurant for a lip smacking dinner. It is under 10 degrees and we were loving our hot daal makhani, butter soaked tandoor rotis, subzi and kheer.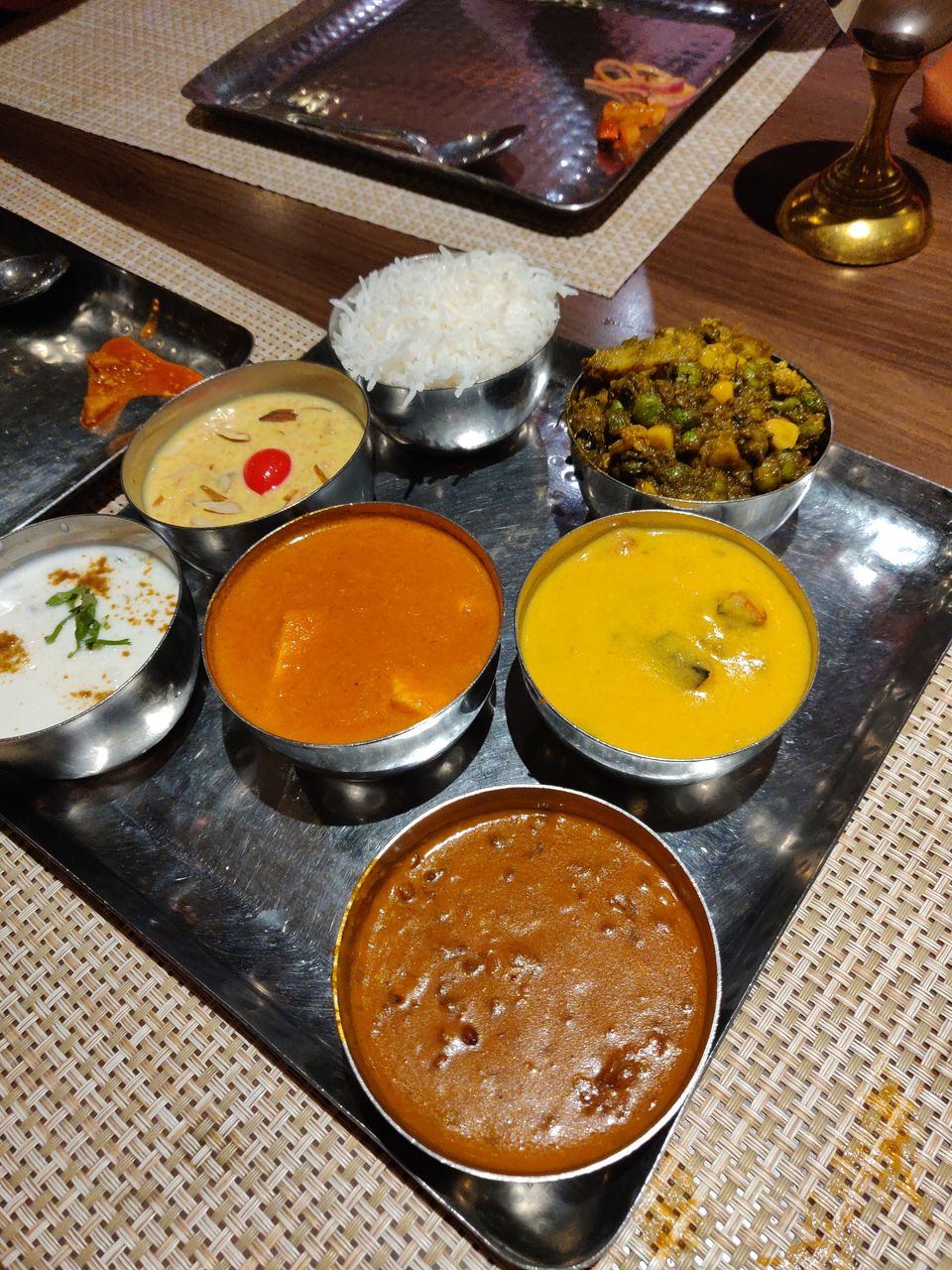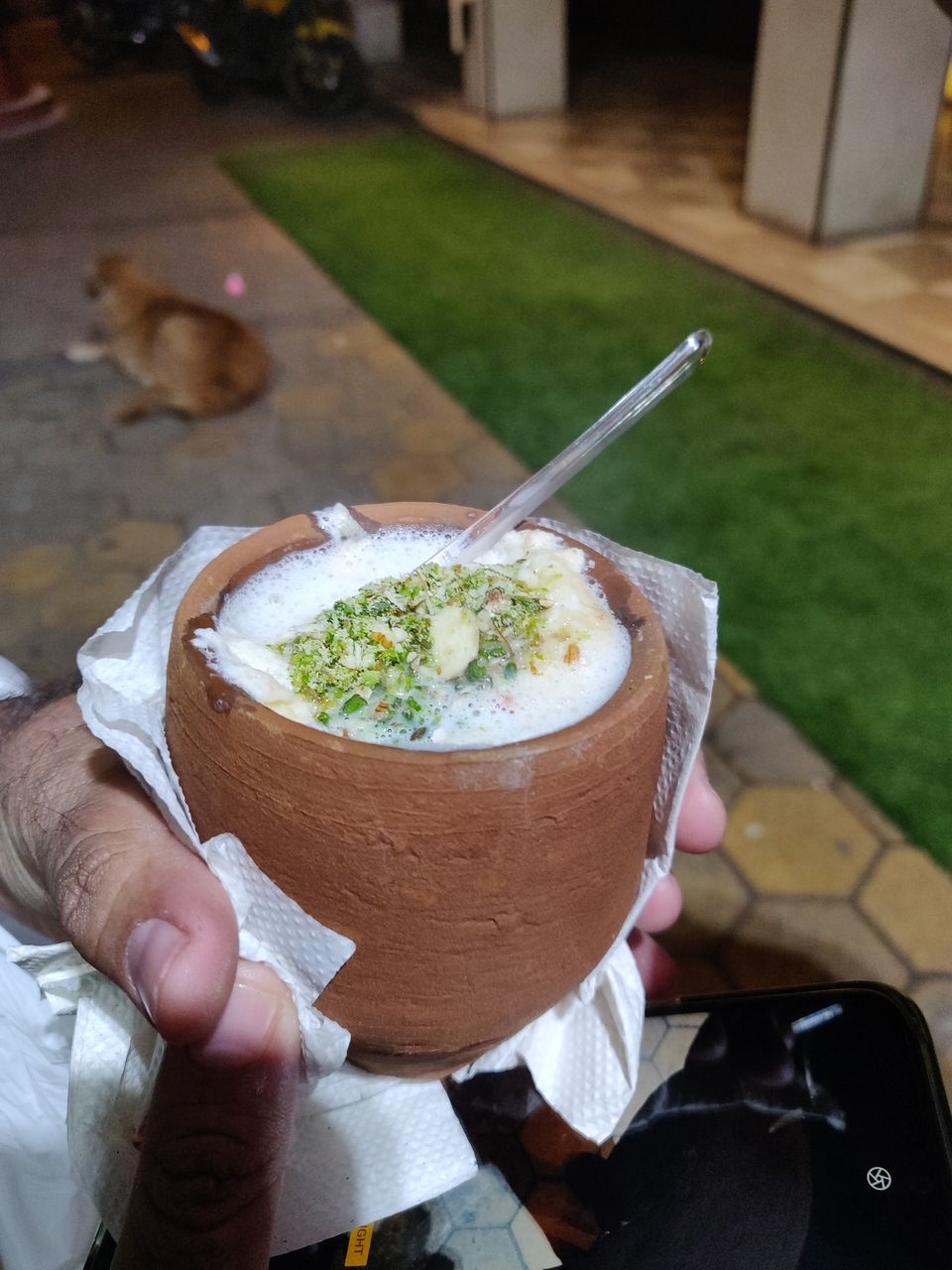 All we have to do now, is doze off in our car. We zip past the India Gate, unable to fathom whether it is the fog or Delhi pollution that keeps our gaze away from this mammoth historical monument.
The journey to Ramgarh has begun! In between naps and rare bumpy roads, our hearts long for THAT quintessential dhaba playing Tere Mast Mast Do Nein where we can taste our first cup of chai, in this chilly winter. At 3 am, we finally find one. The honking of trucks, fairy lights around and speeding of vehicles on the highway beautifully add to the drama.
Our excitement levels are high, as we continue driving. At around 5am, fog has made its ugly appearance, making our driver to slow down. It is this delay, perhaps, that make us reach our haven for 3 days – Avaas Bed & Breakfast, Ramgarh, at almost 1000 hrs on Saturday.
Slow travel now looks like a real thing!
Finding Avaas is sheer luck, thanks to Mahesh's non-stop research for the best stay in and around Nainital. There are countless options near the Nainital lake but we choose to find something far away from the touristy spots. Our homestay is 17kms away from Nainital lake.
We check in into a plush wooden chalet. Generous hints of perfectionism and aesthetics can be seen throughout the property with artefacts proudly displaying themselves at the right places.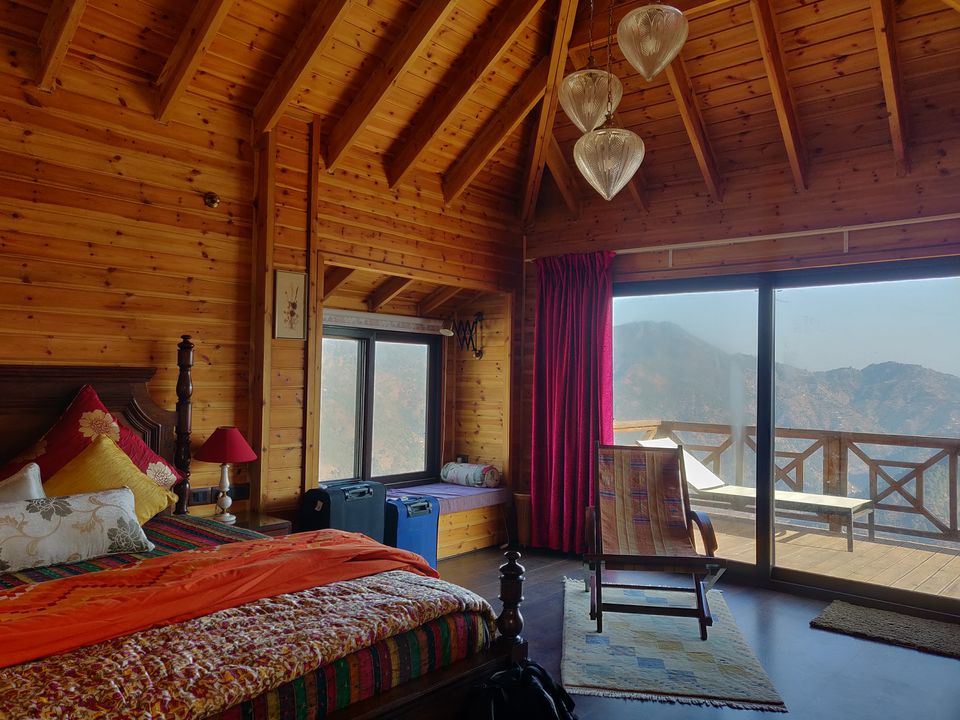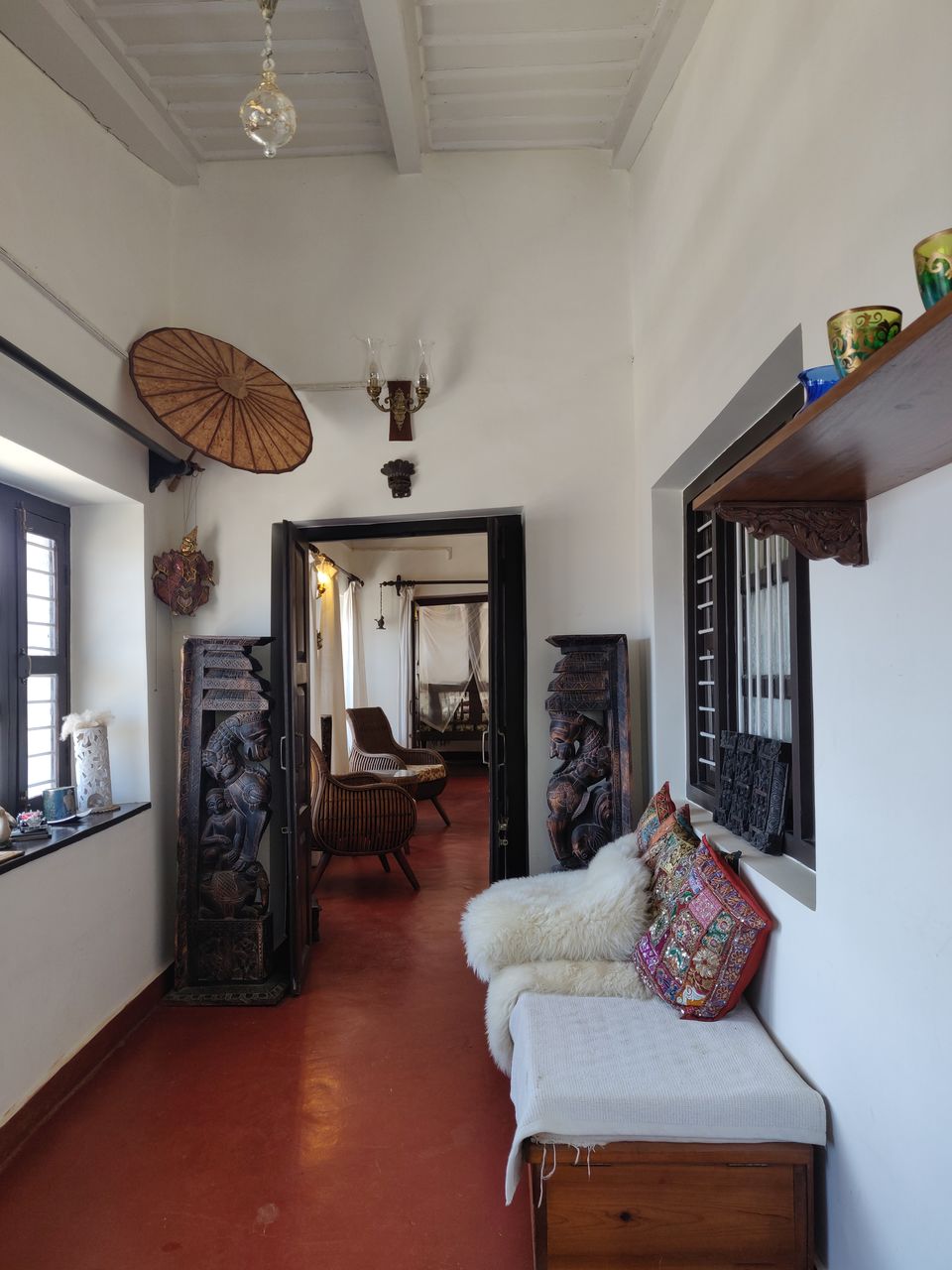 Not feeling sleep-deprived and too afraid to bathe ourselves in 3 degree temperature, we hurriedly drop our bags and head to the open "gallery", to gobble down our first feast for the day.
We can feel happiness in the air, quite literally, as we gorge on every bite of hot puris and aloo subzi and discover the beauty in and around Avaas. The owner, Arvind Seth, is a gem of a person and welcomes us with a big smile. His mother, a fit and active woman, has prepared pickles from home grown lemons and ensures that we have a hearty breakfast.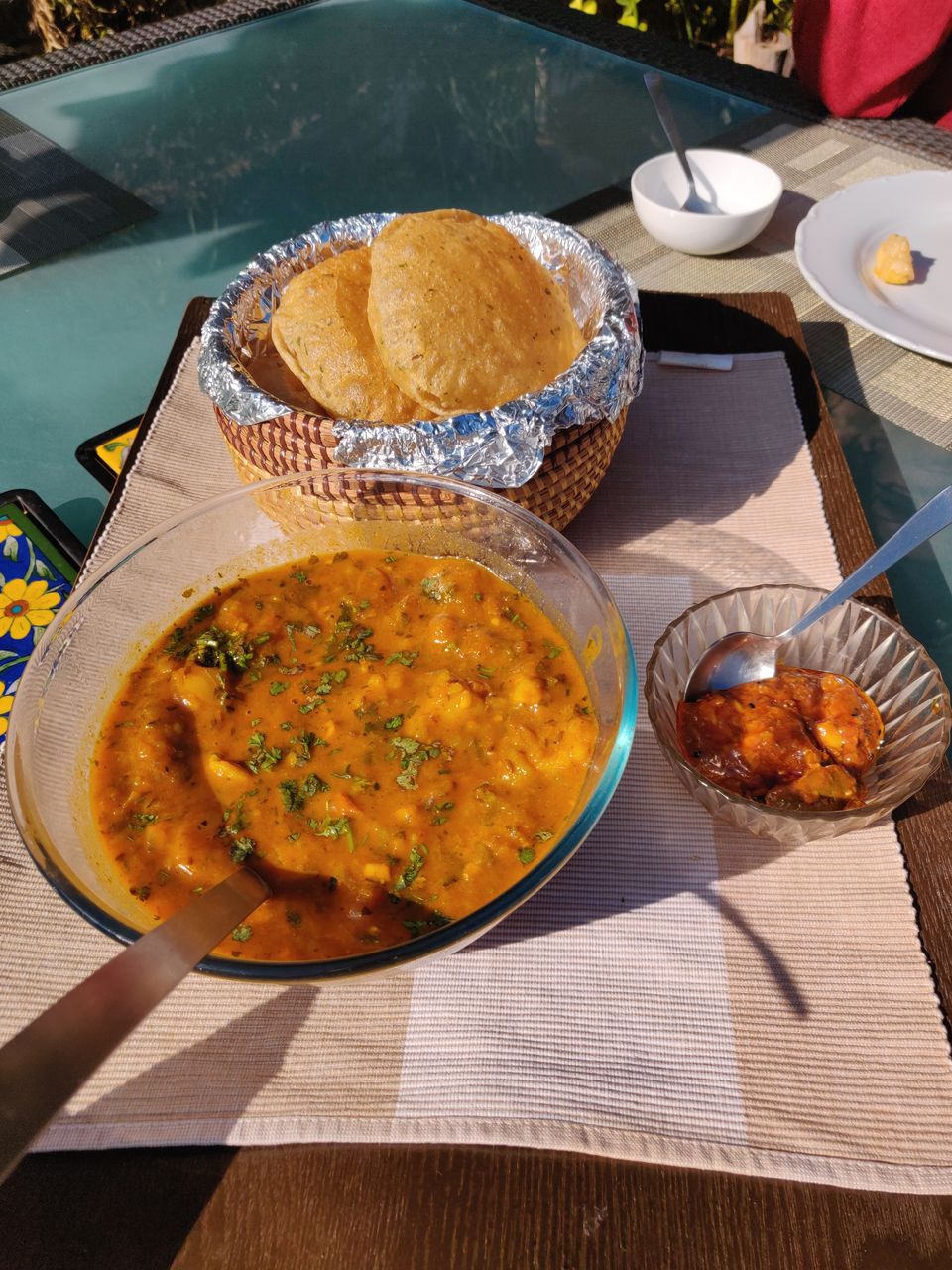 We have no intentions to rush and go for "sight-seeing". We take our own time to freshen up. Puris have done their magic on us and we fall asleep. Lunch time is simple, with a non-spicy Fried Rice and Manchurian.
Thinking we have been fair to ourselves and our driver, after a 10 hr road trip, we are ready to explore Nainital in its true sense.
We first seek blessings at the Naina Devi temple.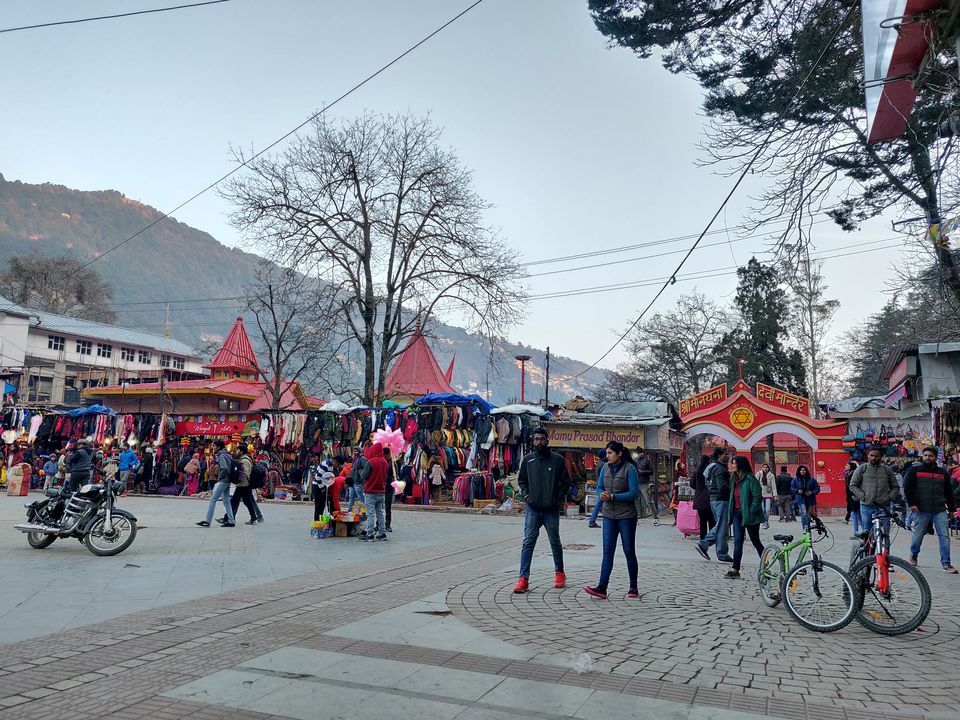 While buying the offering thaali, we spot Nainital's popular Bal Mithai, peeping from behind the mithai shops.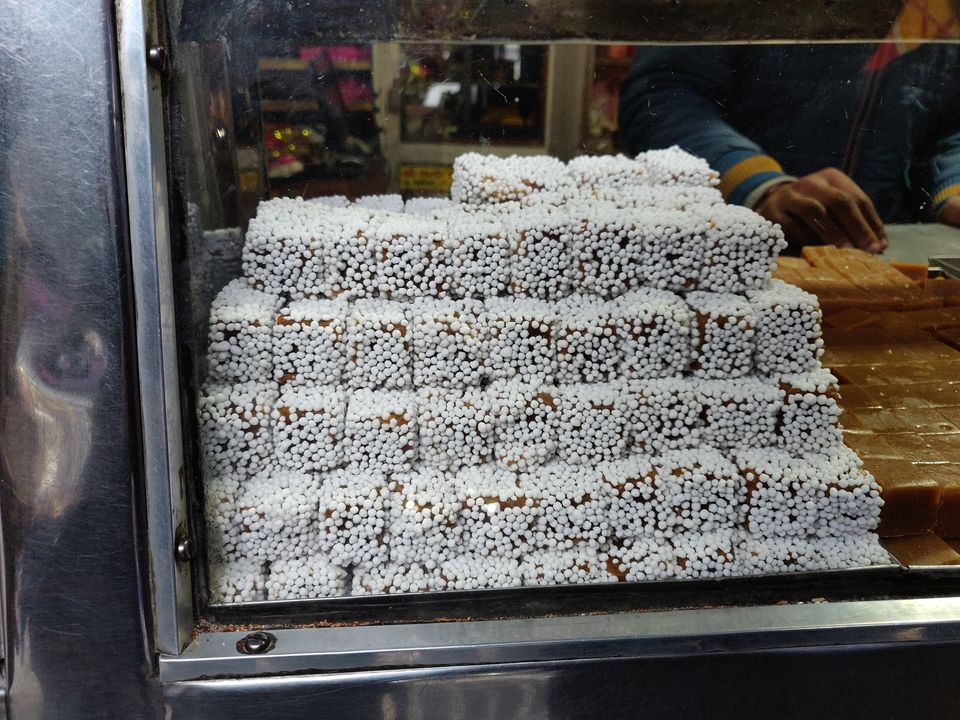 The Naini lake is out there, as if waving out to us, to hurry up, lest we miss its beauty after the sun goes down. Our toddler clearly has an agenda – to enjoy boating!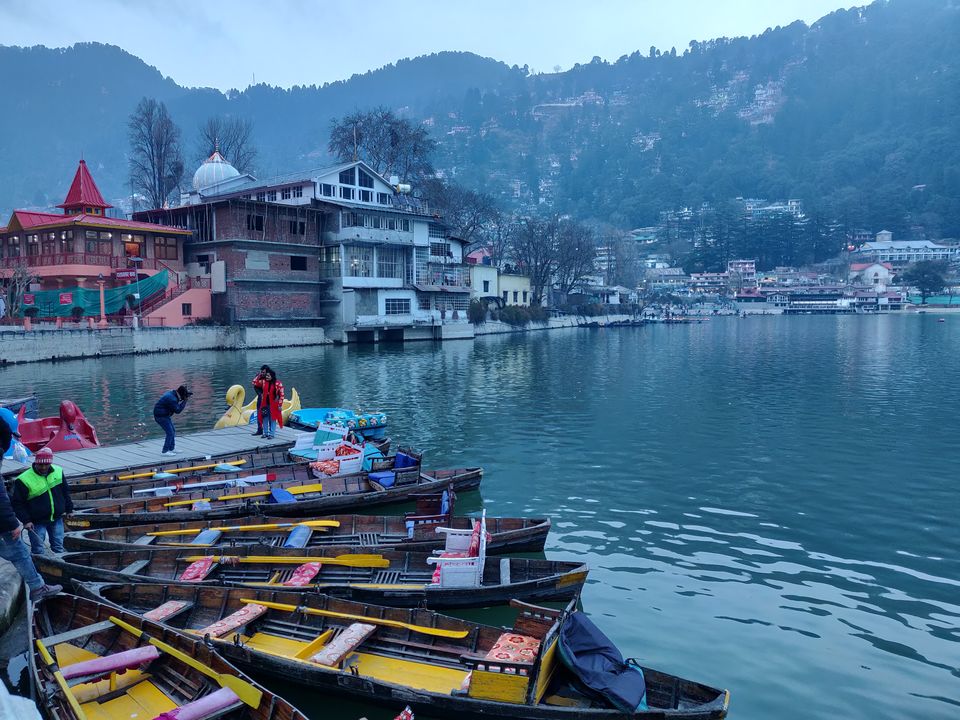 The air is cooler. There's a sense of calmness everywhere. We hop on, in our boats to take in the sights. As we move ahead, with the boatman patiently rowing, the temple bells continue to accompany us. Slow and soft. Almost magical. The hills are lit up as dusk approaches. We are in awe. It isn't really a touristy season and we thank our stars. The lake seems to be ours as we continue floating in our dreamland.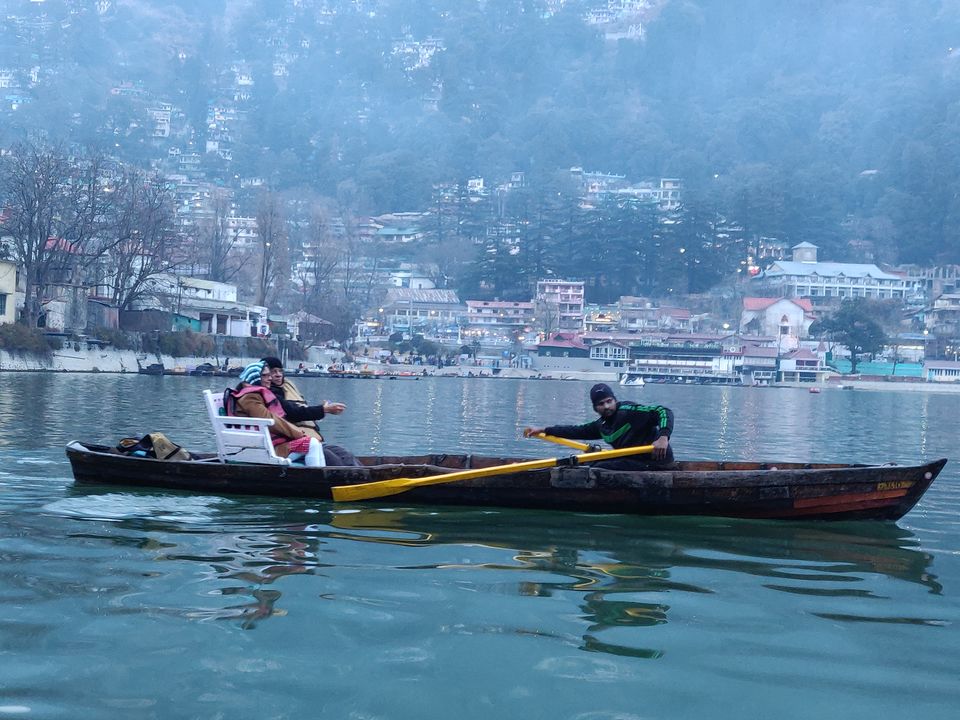 "Let's hurry, the Mall road doesn't allow vehicles after 6pm", our thoughts are interrupted. We rush to get back to our car, for it's a task for the elderly travellers to walk along the Mall road. We bid them adieu and continue walking. There's no haste, there's no crowd on this Mall road, I tell myself. There are just some regular shops selling winter wear and accessories.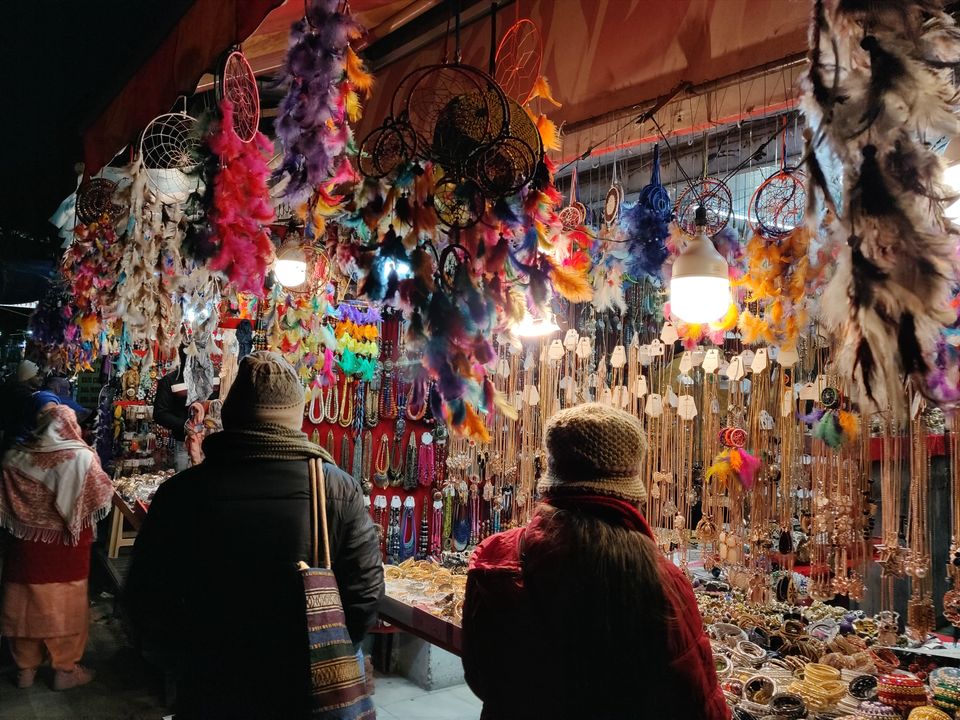 The hills continue to glisten and stand tall against the dark sky.
Our stomachs now growl for some hot food. We have our first taste of the local delicacies – Aloo Chat and some Besan Wraps (chickpea flour wraps stuffed with veggies). It isn't enough. We move ahead to treat ourselves to some sweet corn. It's super fresh and juicy, unlike the ones we get in our cities. We have read somewhere about Chandni Chowk's popular Doodh Jalebi. We come across this shop to fulfil our promise! Clearly, day 1 looks lovely!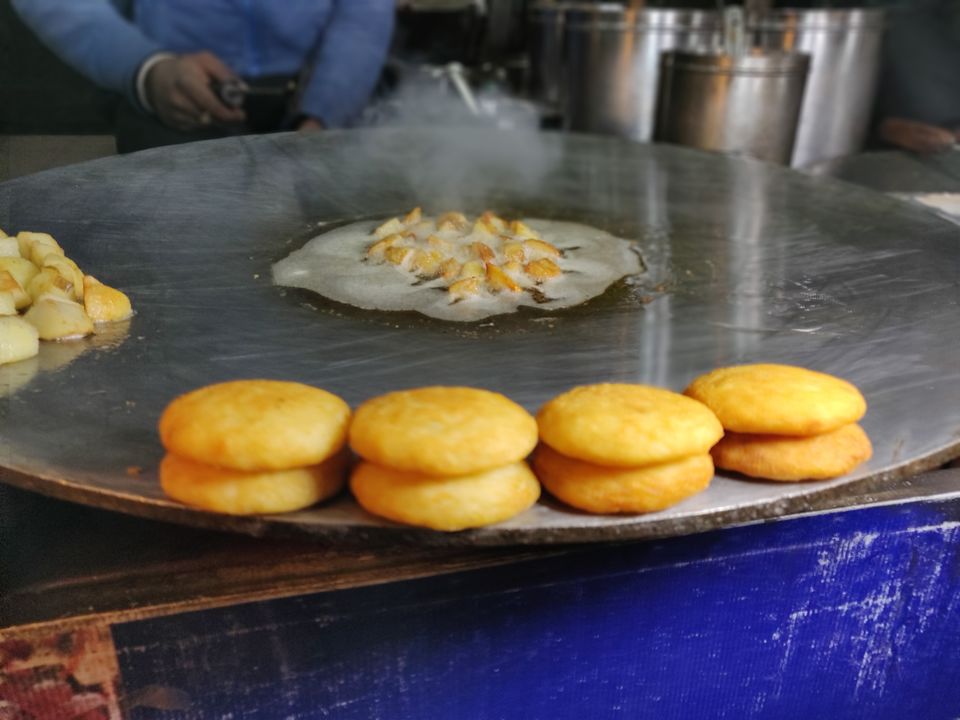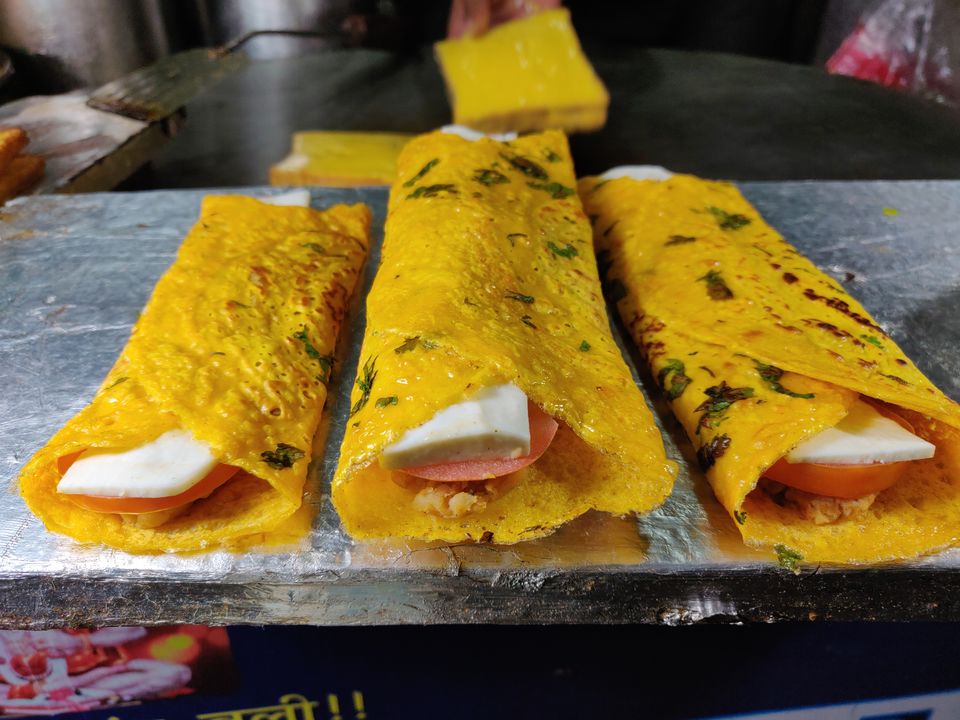 Our next day is reserved for all the "tals" (lakes) and Mukteshwar temple. Our elderly folks are already feeling lucky to get a glimpse of Lord Shiva. At the base, one can request the locals for "palkhi" (carriage) to enable senior citizens to visit the temple. For us, it's going to be an adventure as our guide tells us about a simple trekking route to reach the temple. We join another local, who takes us to Chauli ki Jaali first. Our toddler is curious and happily climbs the majestic Kumaoni mountain.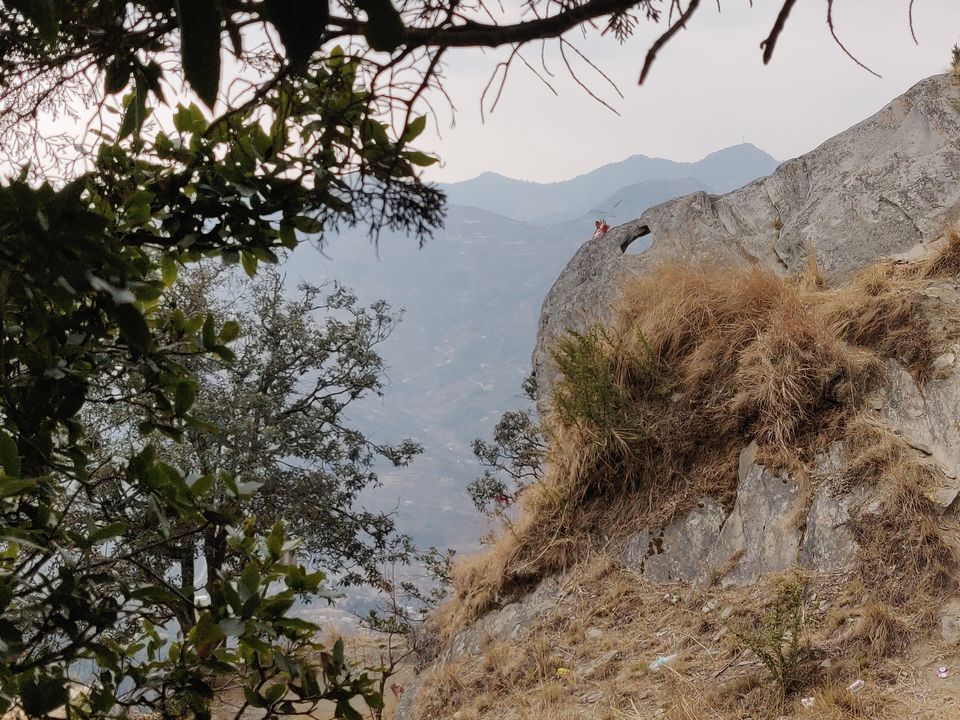 We set our eyes on the Chauli ki Jaali. Chauli means rock and Jaali means hole. It's easy to miss if you don't have a guide with you or there are no people around. It is believed that the goddess and the demon had a fierce battle at this place. It gains even more importance during Maha Shivratri as people cross this jali. It was unimaginable for us at that moment but we were easily drawn towards the mesmerising views of the Kumaon valley.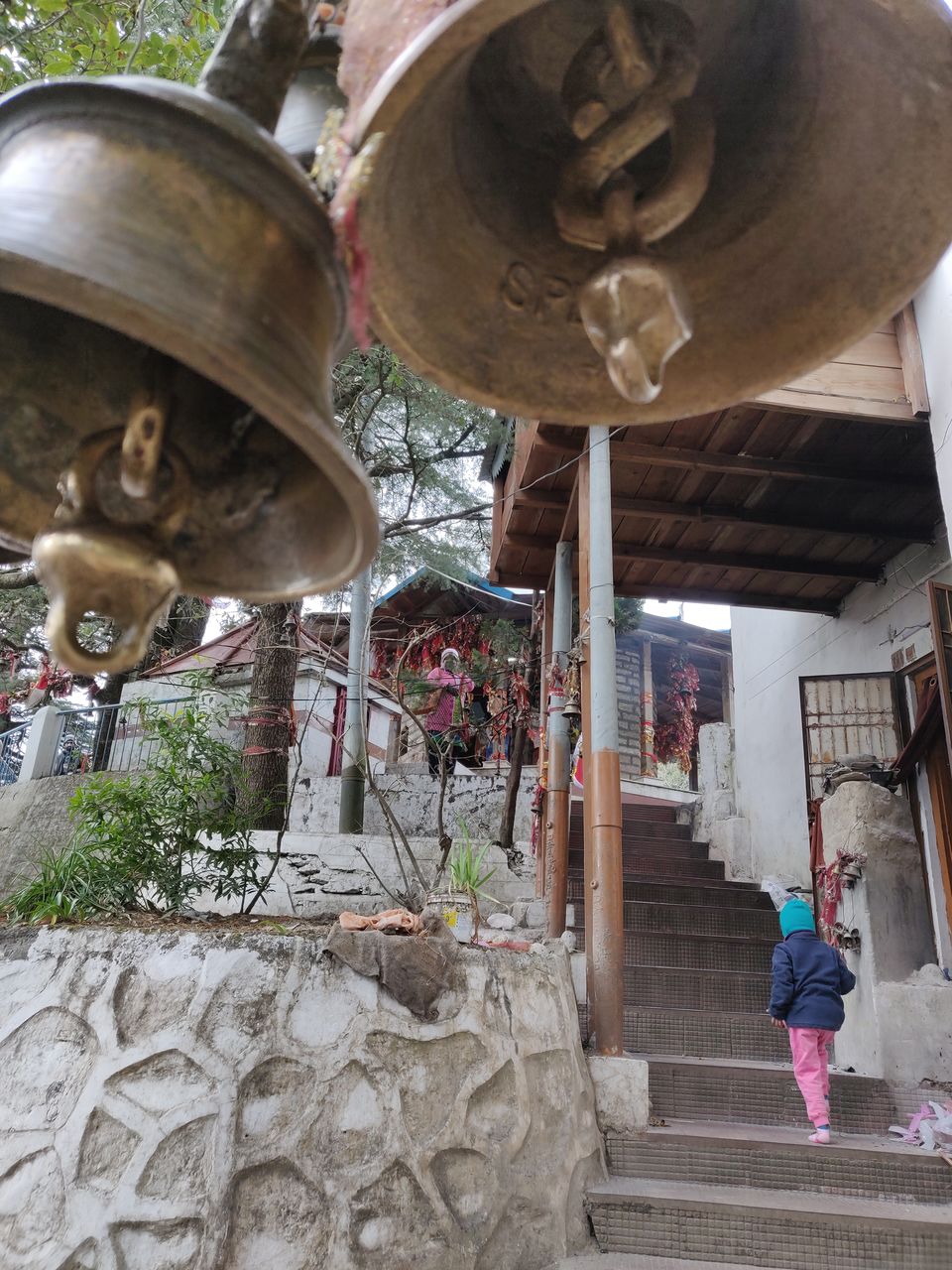 After a peaceful Darshan at the Mukteshwar temple, we ascend down to be welcomed by a stall selling Malta juice.
"Yeh Malta kya hain", we ask.
"It's a fruit, something in between a lemon and an orange. Organically grown and great for your health", the stall owner proudly says.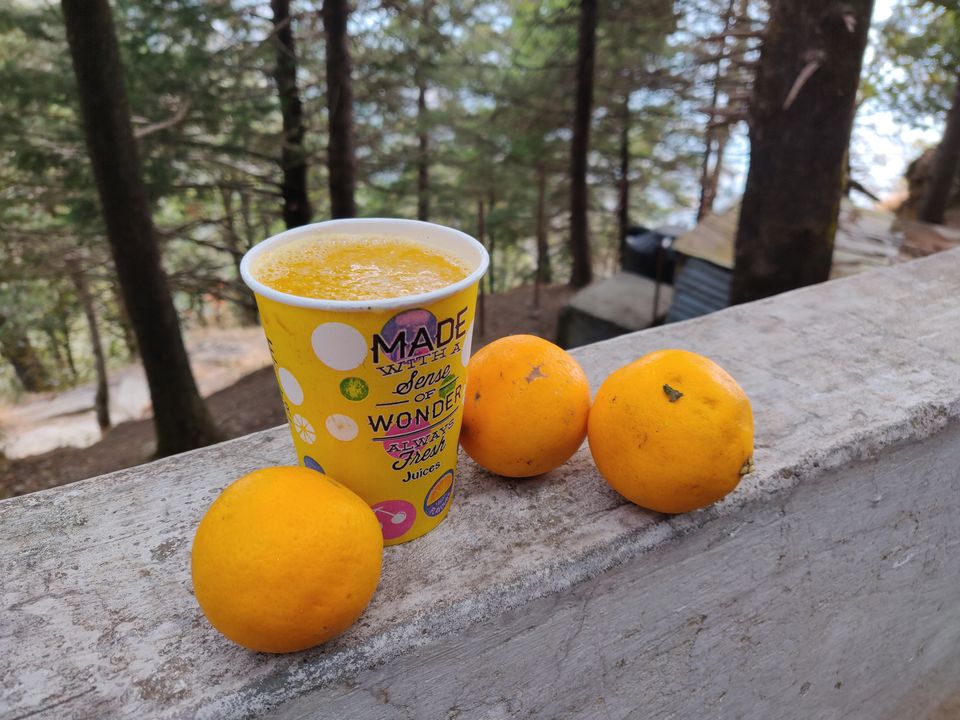 He also sells lemon juice and we shamelessly request our driver to pose with a BIG size lemon and a stone to show the difference between both!
Our next halt is at Naukuchiatal. We zoom past Bhimtal as it is sunny and a glimpse from the car looks good enough. Colorful shikaras lined up at the entrance remind us of Dal Lake, Srinagar. We take a happy ride, with few tourists in sight and more bird songs to accompany us during our boat ride.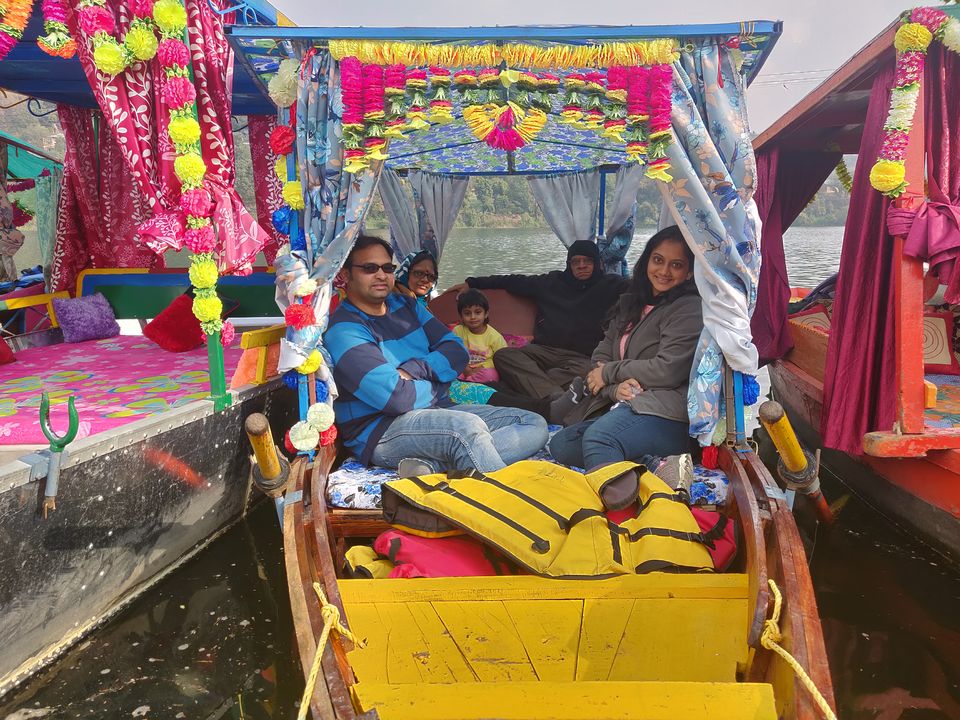 We are back at the entrance and we spot this cutesy, Instagrammish little restaurant, "Yellow Dolphin". After a yummy meal, we leave for Sattal (seven lakes).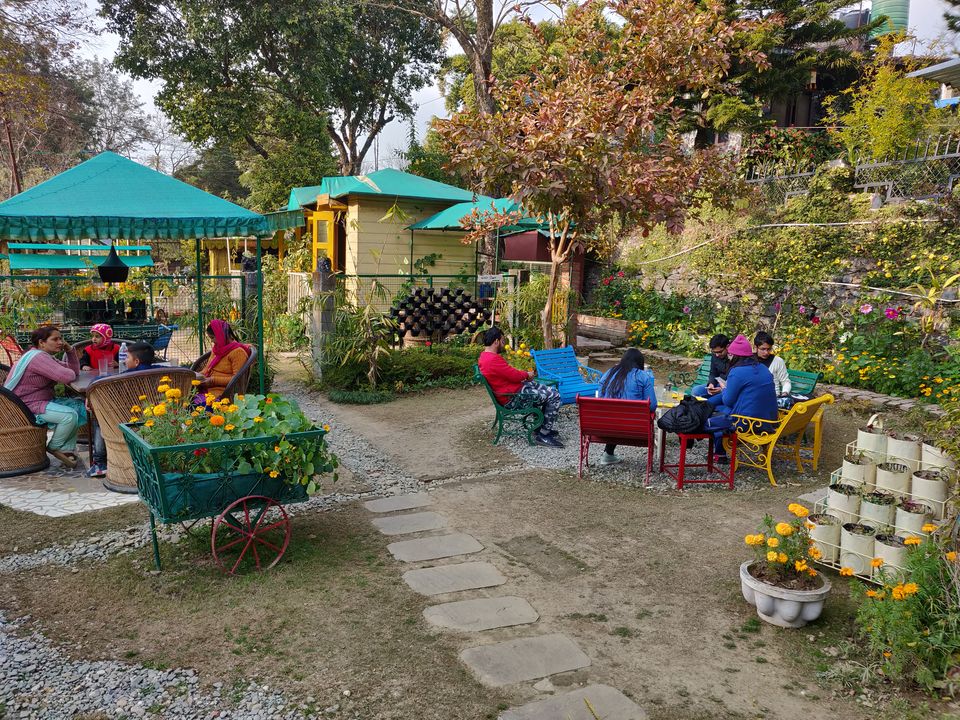 With the evening getting darker, we spot an anonymous and unmanned lake before Sattal. We are more interested in this one and promise ourselves to check it out on the way back. We say hello to Sattal – it could be better to explore it in summers, with flowers blooming around. We come back to this mysterious lake to find only 5 souls here, taking in the peaceful vibes with them.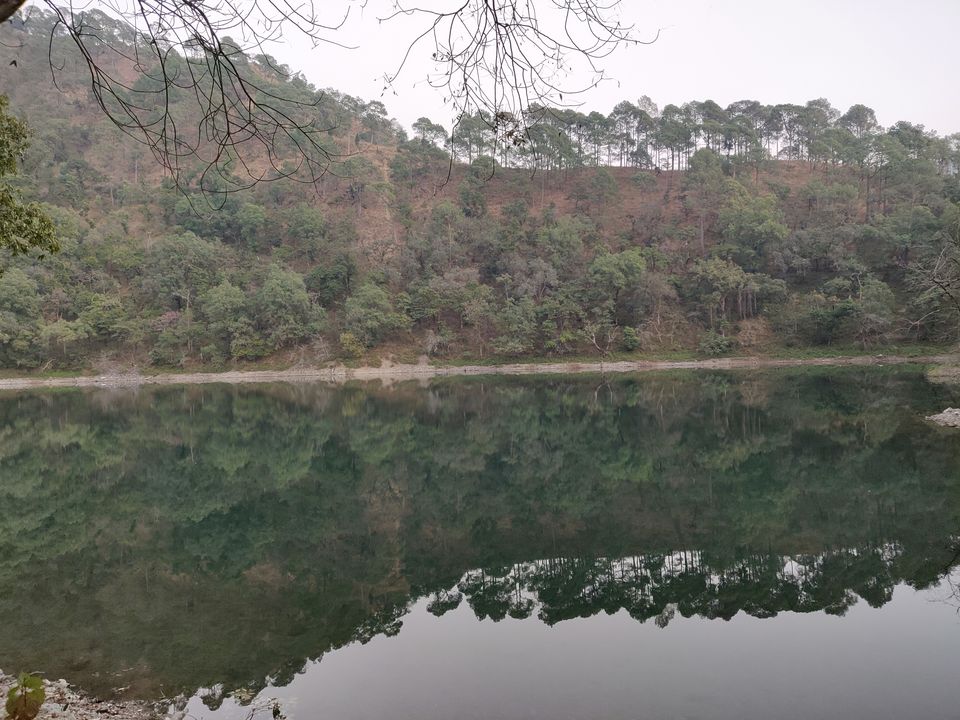 It's eerily silent. We are only surrounded with the sound of the forests and the crackle of the dried leaves beneath our feet. We take quick steps towards our car as the temperature continues to drop rapidly.
Back home, at Avaas, Arvind casually chats with us about our day that is well spent. His chefs have fulfilled our request to taste the delicious Kumaoni cuisine.
"They have been at it since morning", he proudly claims.
Like excited children, we hover over the beautiful spread of local cuisine – Kumaoni raita, Bichchu Buti ki subzi, Dubuk (bhat ki dal), Kauhat ki daal, Gajar ka Halwa and more!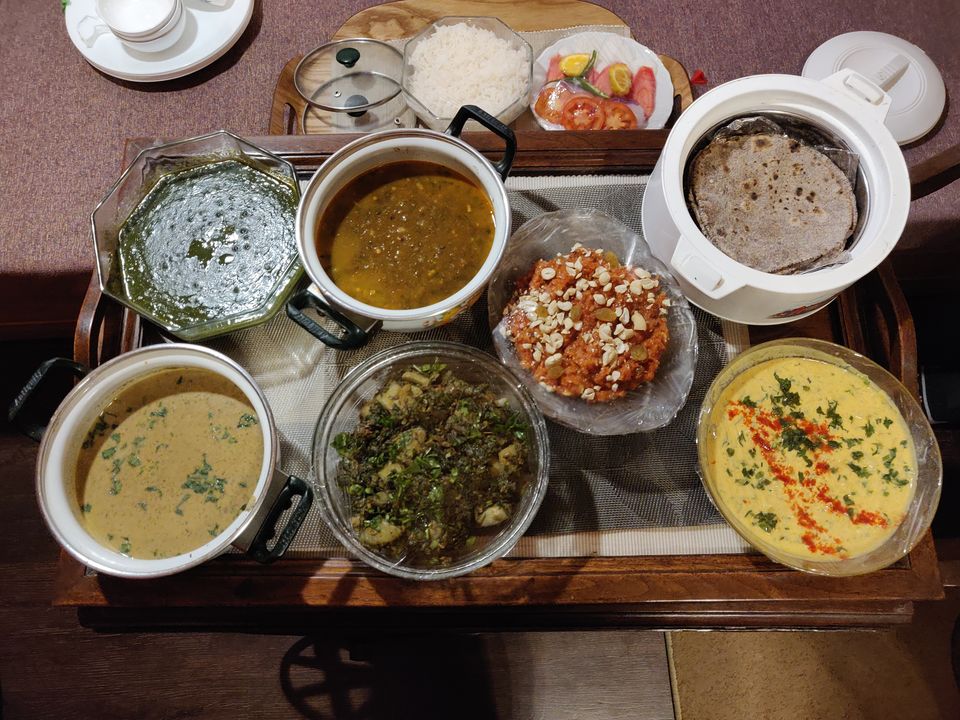 Our dinner is soon backed by some interesting travel gupshup with Arvind as he recommends us to explore Jageshwar, a cluster of temples dating back to 7th and 10th century, famous for its architectural beauty amongst deep deodar forests. Our Day 2 ends with a content tummy, eagerness for Day 3 and a peaceful sleep.
It's a sunny morning as we await our first cup of coffee, bread rolls and cheese sandwiches for breakfast. Life looks like straight out of Enid Blyton books! Arvind warns us to carry extra food for the toddler, as getting anything to eat in Almora is slightly difficult.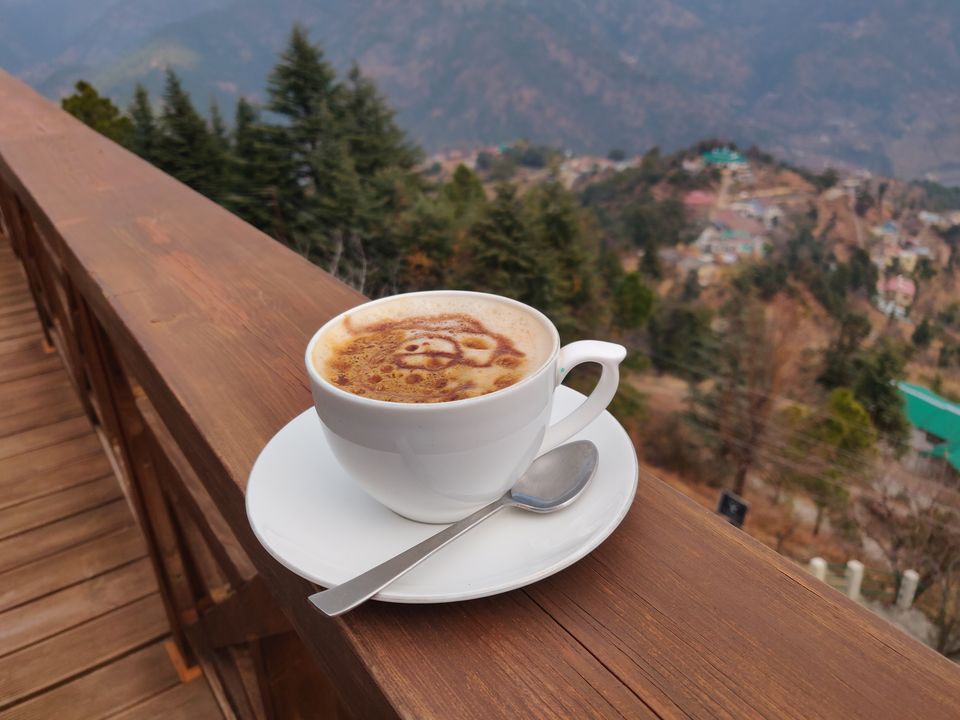 We leave our homestay at about 1000 hrs. An early start is preferred, if travelling to Jageshwar, as you can get more time to explore the temples, Dandeshwar included. The roads are good and the Himalayas look even closer to us now. I check for pictures of Jageshwar on Instagram, only to discover that National Geographic Traveller India has featured it as one of the top 29 offbeat places in India for 2019. What a great start of the New Year!
Our 3hr journey is dotted with sights of the forests and loads of eagles and big birds that look like vultures.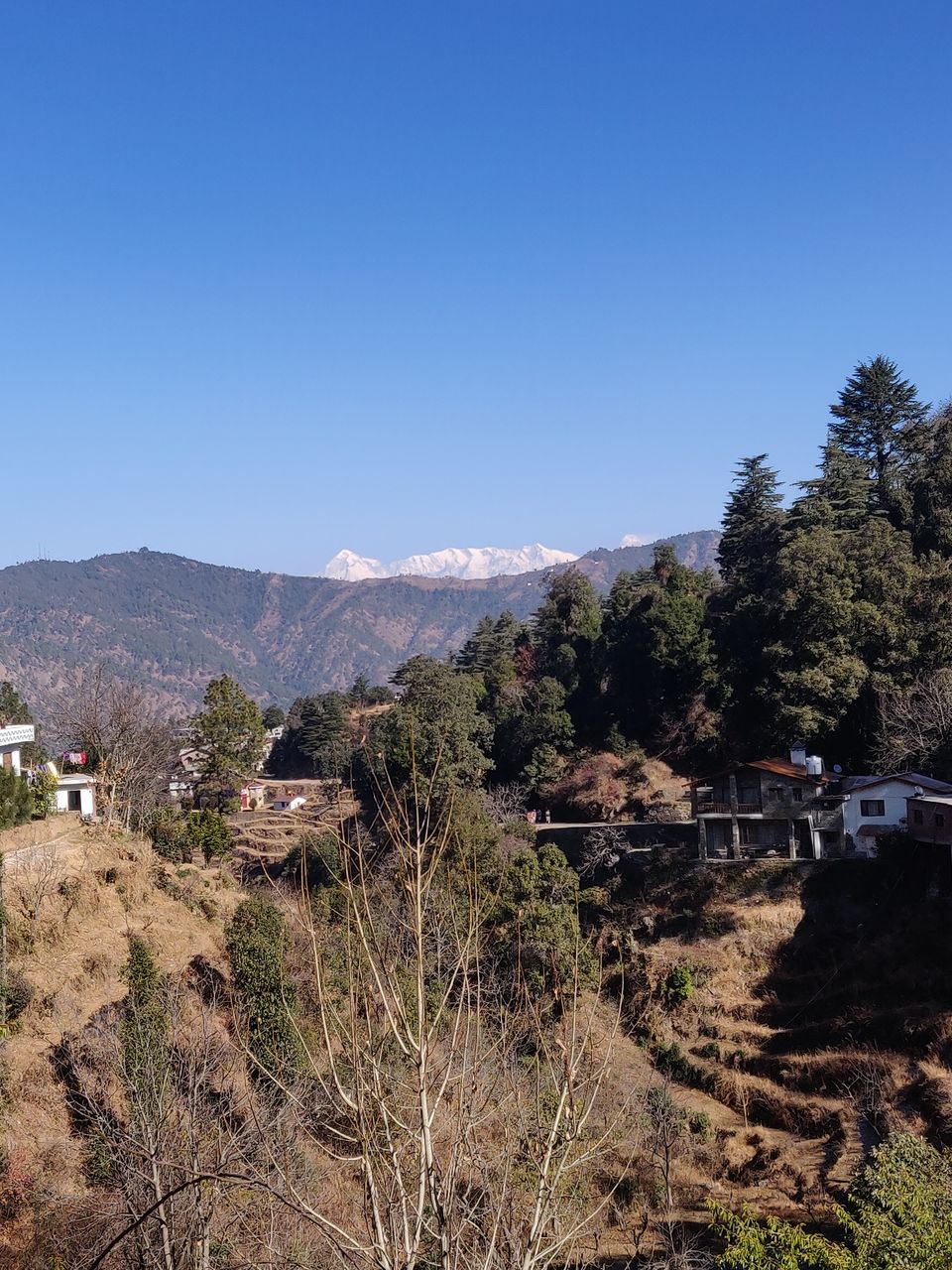 We finally reach Jageshwar. At first, we are a little disappointed, as we realise that the sanctity of this place is lost due to some construction work and little shops selling pooja items right in front of the temple. We first visit the Jageshwar Archaeological museum and we are spellbound by the collection of stone sculptures dating back to the 7th, 8th and 9th century. The ashta-dhatu (8 metals' alloy) statue of "Paun Raja" stares at us right in the eyes and it's hard to not look at it thrice.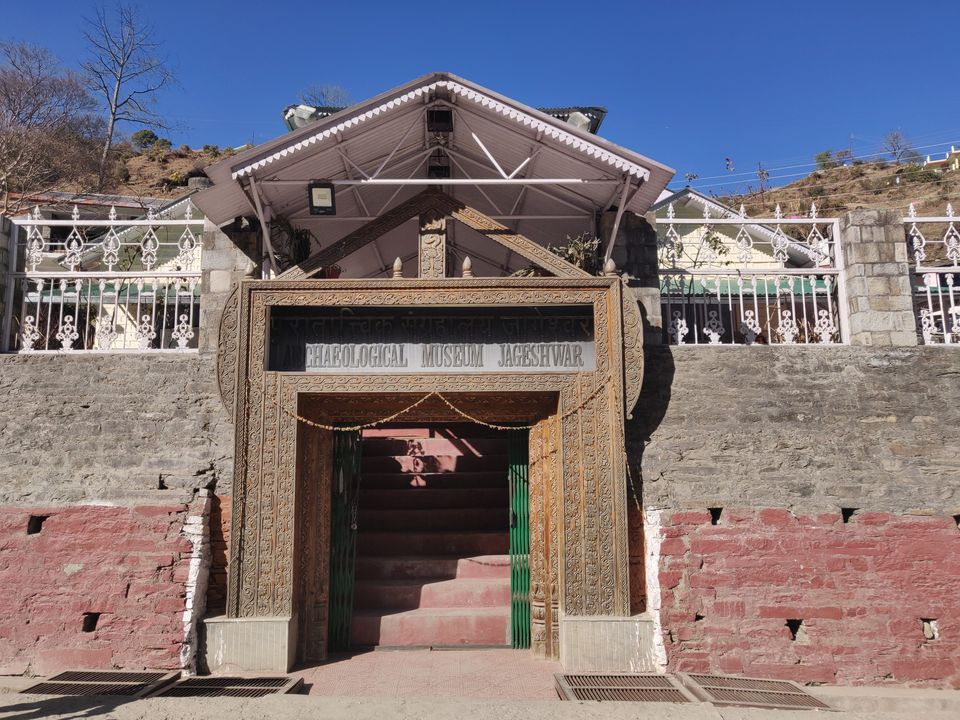 We head towards the main temple. It's about 1500 hrs and very cold. The tall Deodar trees surround the quaint temples. There are hardly any people around as it's not much of a festive season. The premises are quite with the exception of a group of few people huddling next to a bonfire. The pandits signal us to move towards the Maha Mrutyunjai temple – this is where the shiva linga is present. He shows us Lord Shiva's third eye, which was carved on the linga years ago. This is like travelling back in time. The temple is smoky inside, with old trishuls kept everywhere. Our eyes travel to each such detail, to the doors, the intricate stone carvings and aged temple bells.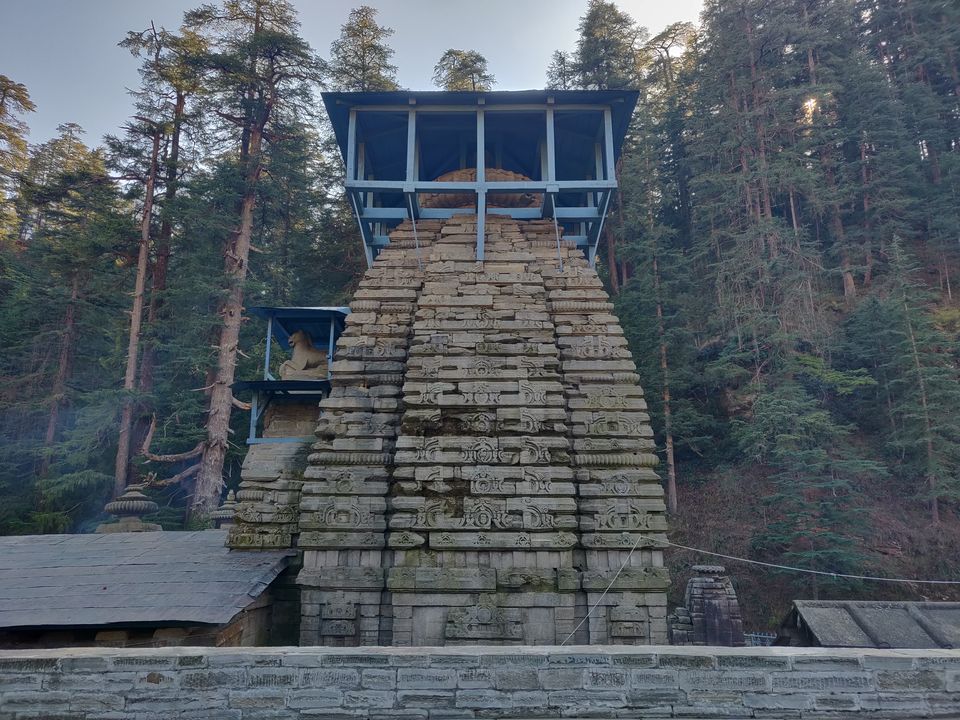 As we explore the other smaller temples, we realise it's getting cold and darker and we must also see Dandeshwar, which is about one km from here. We stop at Dandeshwar – not a soul here! No shops and no construction and it instantly becomes our peace haven. You are in awe even before entering the temple.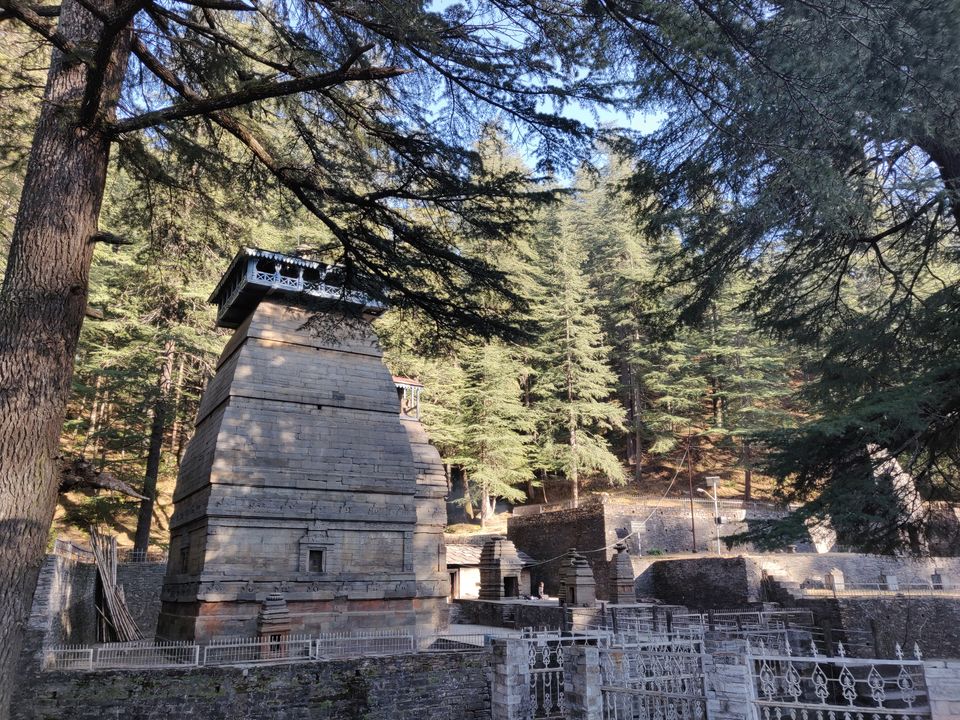 We start travelling back to our homestay. This trip is truly a magical one! Next morning, as we prepare ourselves for our 8-9 hr long trip to Delhi, Arvind's mother starts packing homemade jams for us. Apple, cinnamon, mixed fruit and the works! The owner excitedly places lemons in our toddler's hands – these are truly some lovely souvenirs.
Rahat Fateh Ali Khan's rustic songs give us the real feels, as we drive back to Delhi, crossing Moradabad. Village scenes rule and we also spot jaggery making factories in huge numbers.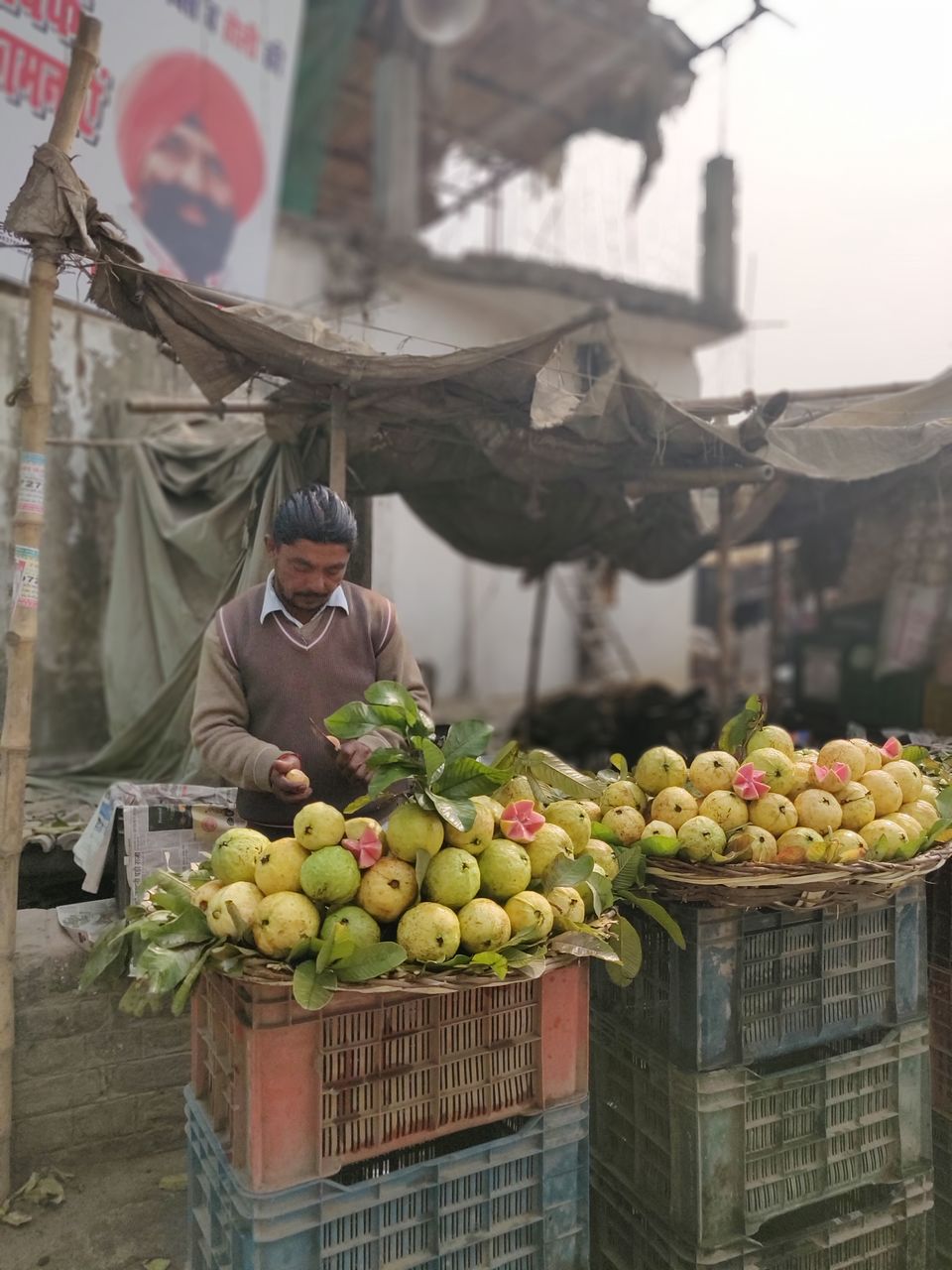 We stop by for lunch at a traditional South Indian restaurant that doesn't fail to impress our parents. We are finally closer to home.
To sum up, our trip to Nainital was a short and sweet one; with few destinations covered and more memories in our heart. With lesser sight seeing and more relaxed travel. And a renewed hope to go back to the mountains to soak in the sunshine and recharge our batteries again.